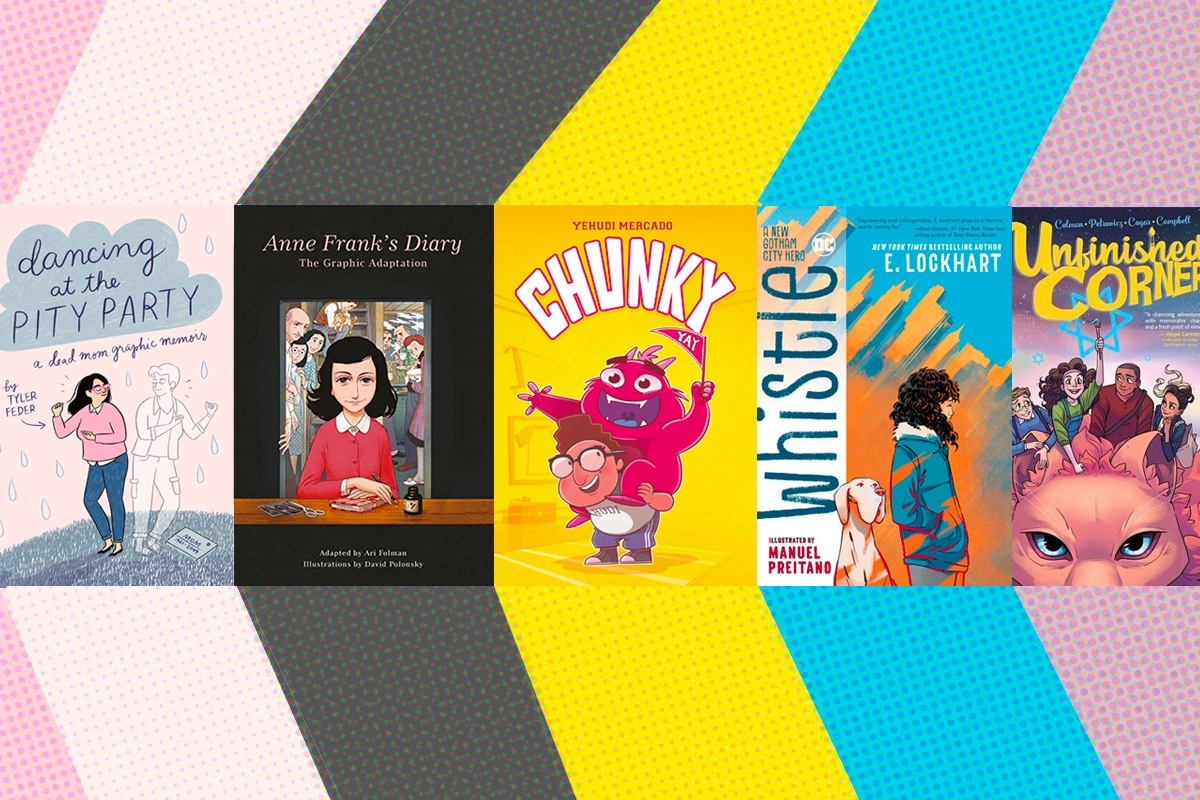 Art Spiegelman's "Maus" is now on the Amazon Best Sellers list after news came out that a Tennessee school board banned the Pulitzer-winning book about the Holocaust from its 8th grade curriculum for "nudity" and "profanity."
It's heartening to see so many people going out of their way to read this graphic novel, which is based on the survival story of Spiegelman's own Polish Jewish father and tells the story of his war experience, depicting Jews as mice and Nazi as cats.
"Maus" tends to be one of the first Jewish graphic novels people think of, and for good reason — the two-volume epic is masterfully told and meticulously researched and crafted. But "Maus" wasn't necessarily made for kids (which is not to say 8th graders shouldn't read it; they should). There are, however, a lot of great Jewish graphic novels that were explicitly made for kids, and not all of them are about the Holocaust!
There are a few hills I will die on and one of them is that yes, absolutely, reading graphic novels (or comics, as most people call them) absolutely counts as reading. In fact, I would argue that it expands both your kids' reading abilities and visual literacy.
With that in mind, I have put together a (not comprehensive!) list of Jewish graphic novels that were made with young audiences in mind:
Israeli cartoonist Rutu Modan is one of the most celebrated Israeli cartoonists of all time, having won an Eisner (the Oscar of the comics world) and accolades for her very Jewish adult books "Exit Wounds," "The Property," and "Tunnels".
"Maya Makes a Mess" is not a very Jewish book, but it is a lovely comic for early comics literacy — fun and funny and quirky. It's Modan's first children's book, and is inspired by a conversation she had with her own daughter about table manners. It tells the story of Maya who, well, makes a mess whenever she's at the dinner table, and who gets an invitation to have a meal with none other than the queen of England!
The fourth installment of Libenson's "Emmie and Friends" series tells the story of Brianna and the eight months leading up to her bat mitzvah. With a mixture of comics and prose, Libenson shows us Brianna's process for preparing for the important coming-of-age Jewish ritual, and we see her learning what true friendship means. It's a lot of fun.
"Anne Frank's Diary" by Anne Frank, adapted by Ari Folman, illustrated by David Polonsky
Did Anne Frank's diary need to become a comic book? Well, even if it didn't, it certainly couldn't have found a more masterful team to adapt it. Ari Folman and David Polonsky are the filmmaker and artist behind the incredible "Waltz with Bashir," and with this book, they've added layers of meaning and poignancy to the story of Frank's life. It's a breathtakingly beautiful comic book.
The "Hereville" series by Barry Deutsch
A fantasy series starring a feisty Orthodox girl? Um, yes. Mirka, the heroine of the Hereville trilogy of graphic novels, is an absolute delight, as is the fantasy world woven by creator Barry Deutsch, set in the fictional Jewish Orthodox enclave called Hereville. There are trolls, magic fish, and mythical swords, and all through it is Mirka, spunky, smart and indomitable.
"Whistle" by E. Lockhart, art by Manuel Preitano
Whistle is a Jewish DC superhero — their first new one in 40 years — and her real name is Willow Zimmerman. She names a dog named after Fran Lebowitz, she bakes rugelach and serves her mom, who has cancer, bagel with lox, she has an epiphany in a Lower East Side synagogue, and she's passionate about social justice. Basically, she's pretty darn awesome. E. Lockhart has truly created the Jewish superhero graphic novel I wish I had when I was growing up.
"The Unfinished Corner" by Dani Colman, art by Rachel "Tuna" Petrovicz
I can't believe "Unfinished Corner" is a comic that exists because it's literally everything I've wanted in a comic. Mythical Jewish creatures! Lilith as a villain! A group of Jewish day school art kids trying to fight them! A bat mitzvah tale! Lots of fun Jewish jokes! The writing is funny and sharp, and the art is just so delightful and bright. I'm glad this books exists.
Jewish writer Lauren Tarshis' best-selling "I Survived" has gotten the comics treatment, and this installation tells the story of Max Rosen and his sister, two Jewish kids trying to survive the Nazi invasion of their city. If you want a comic to teach your kids about Jewish resistance and the Holocaust, this is a great choice — it's action-packed and tailored for kids.
This graphic novel, set in the universe of R. J. Palacio's best-selling "Wonder" book, tells the story of Grandmère, Julian's grandmother and the family that hid her from the Nazis in occupied France. Palacio told Kveller that she was inspired to write this book by the Trump presidency, as well as by her husband's uncle, a school principal who wanted a book that would help to introduce the Holocaust to 4th and 5th graders.
"Sylvie" by Sylvie Kantarowitz
"Sylvie is" an autobiographical tale that tells the story of Sylvie, who immigrated to France from Morocco with her Jewish family. It captures her imaginative childhood, grappling with being the only Jewish family in town and following her passion for art.
"Chunky" by Yehudi Mercado
This delightful graphic novel memoir tells the story of Hudi, a fat and creative kid from Texas whose parents try to urge him to get more active by pushing him into the world of baseball. Hudi has an imaginary friend — Chunky, a delightful fat demon who becomes his own personal cheerleader. It's a great book for everyone who has ever felt different, and it's hard not to fall in love with both Hudi and Chunky while reading this big-hearted book.
"Hidden" by Loic Dauvillier, illustrated by Marc Lizano
"Hidden" is another Holocaust graphic novel made for kids. Dounia tells her granddaughter the story of surviving the Holocaust in Nazi-occupied Paris, aided by friends and neighbors who hid her while her parents were taken away to concentration camps.
"Survivors of the Holocaust" edited by Kath Shackleton, illustrated by Zane Whittingham
This book tells the story of actual child Holocaust survivors in their own words. It's a powerful introduction to the scope of the horror of the Holocaust in a way that is told by and tailored to kids, telling stories of survival and strife from across Europe.
A Judaism deep cut right here. Deutsch has illustrated Pirkei Avot, the section of the Mishnah that has become one of the most cited Jewish texts. This whimsically illustrated book features the text alongside interpretative illustrations. It's for everyone, and, according to Deutsch, even doubles as a coloring book! How can you not love that.
Jewish illustrator and cartoonist Tyler Feder drew this touching autobiographical tale about how she dealt with the loss of her Jewish mother while she was in college. It's a beautiful, heart-wrenching, and incredibly open document about loss and grief, with Feder unspooling the story of her relationship with her mother: from dealing with her mother's cancer, to sitting shiva for her, to learning how to live in a world without her while honoring her memory.
The post 14 Jewish Graphic Novels for All Ages appeared first on Kveller.