Keep your kids entertained during the summer break with these free printable summer coloring pages for kids.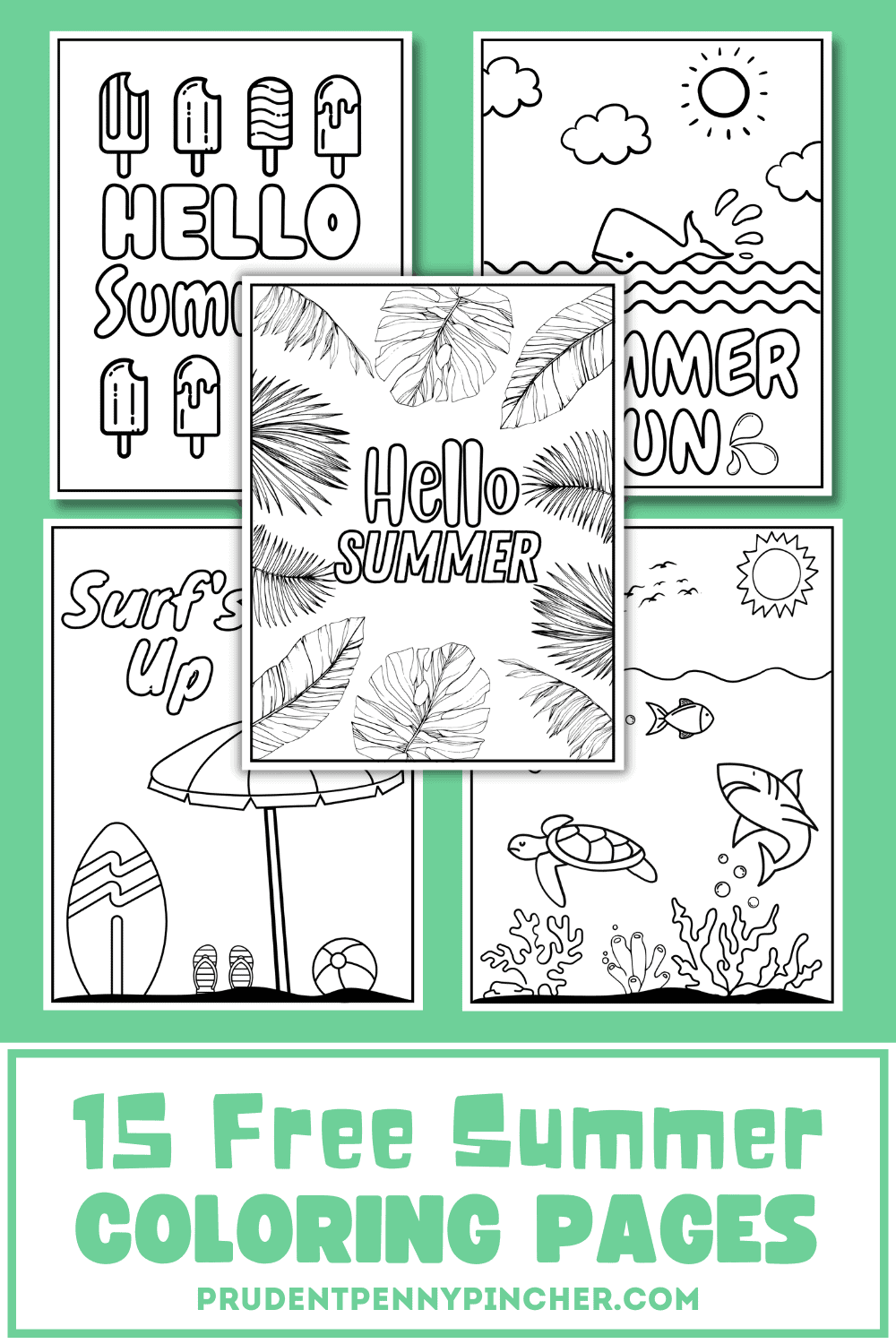 There are all kinds of fun-themed summer designs like beach scenes, ocean sea life, sea shells, and other outdoor activities for summer. Cool off inside on hot days with some of these free coloring sheets! Whether you are looking for printables for toddlers or bigger kids, there are plenty of free coloring pages to choose from for all age groups and for both girls and boys. These printable sheets will help improve hand-eye coordination, creativity, relaxation, and fine motor skills. Coloring is especially a fun activity for kids to do in the summer when there's not a lot to do!
All you need is crayons or markers, a printer, and some printer paper to make these printables. These free printables are the size of regular printer paper so printing them out is easy.
Instructions:
Click the image you want to print to show the full-sized image.
Right-click on the image and Click Save.
Download the image to a file location of your choosing.
Open the image in Preview and go to File —> Print to print it out.
Free Summer Coloring Pages for Kids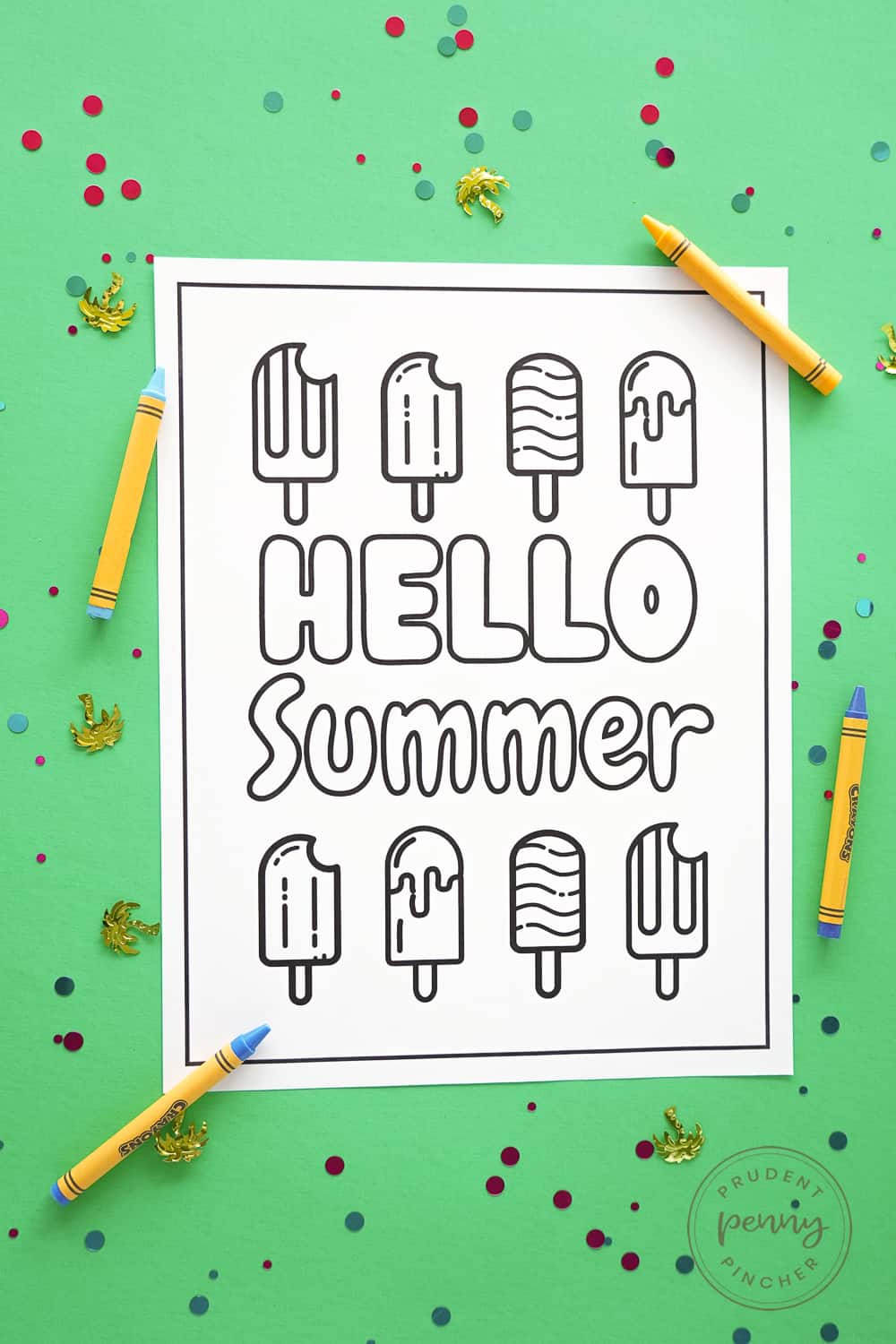 Nothing says summer like ice-cold ice cream and popsicles on a hot summer day. Your kids will have fun filling in the colors for these assorted popsicles with vibrant colors like red, blue, purple, orange, and more!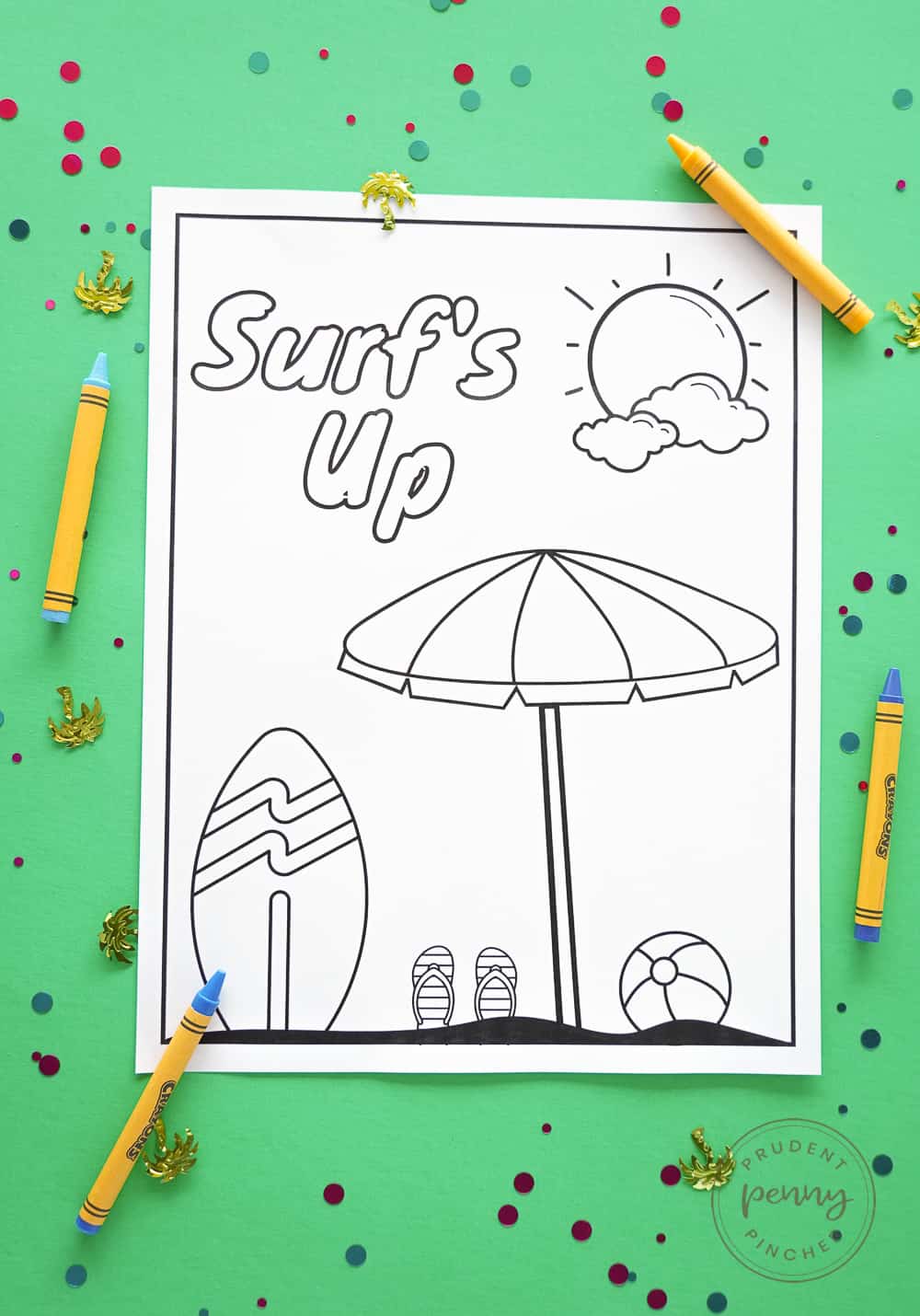 Get some beach vibes going with this awesome coloring page depicting a beach scene. It features a surfboard, flip-flops, a beach ball, and an umbrella. Summertime is the perfect time to dream of a trip to the beach even if you live far away.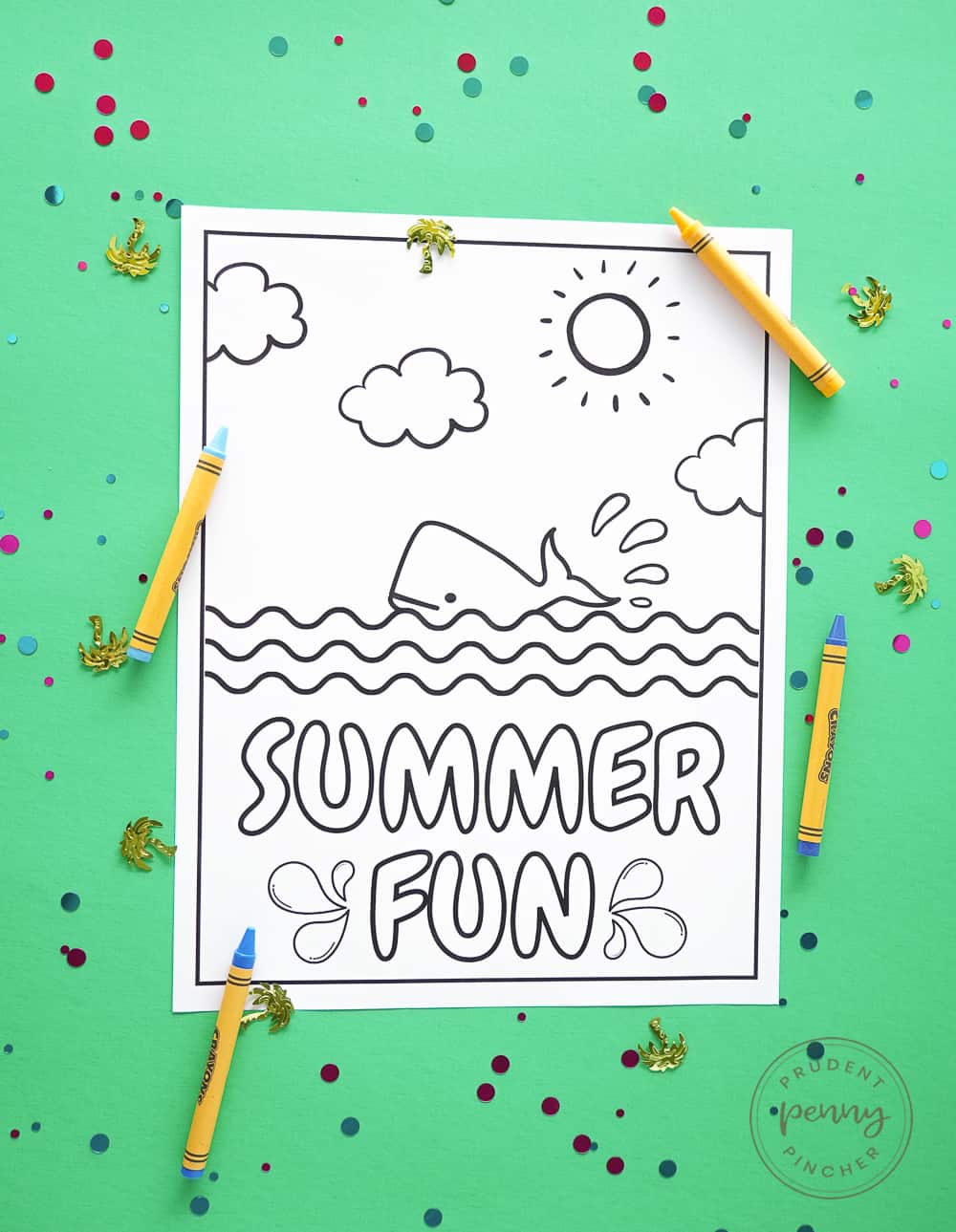 This coloring page is the definition of summer fun and is perfect for younger children. It shows a whale in the ocean splashing around in the sunshine. Kids will love the ocean and sea life theme going on here.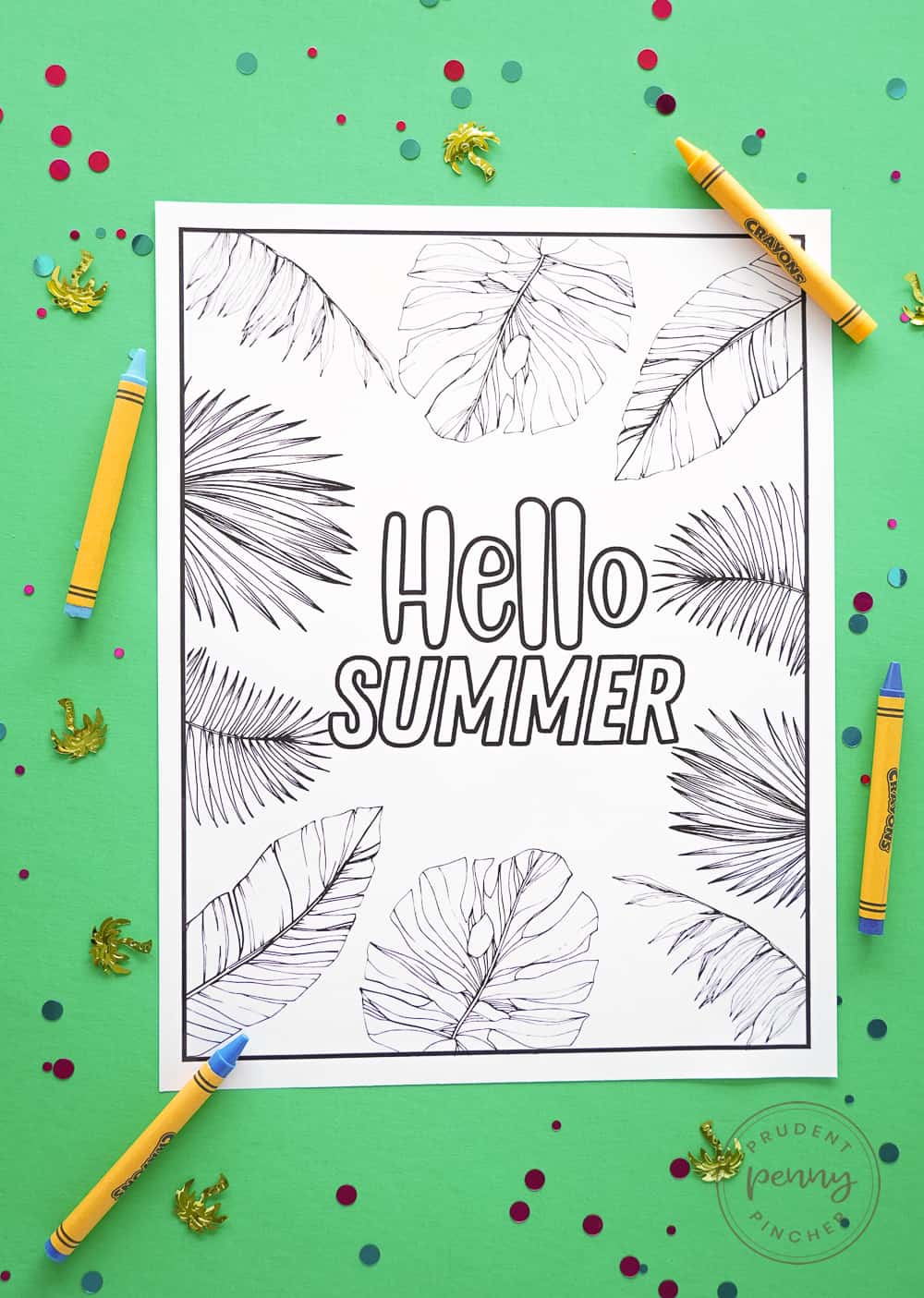 Hello Summer Framed with Palms
The greenery of summer is definitely palm trees! This palm tree coloring page has a tropical feel all ages will love. They can color the leaves in various shades of green and decorate the words.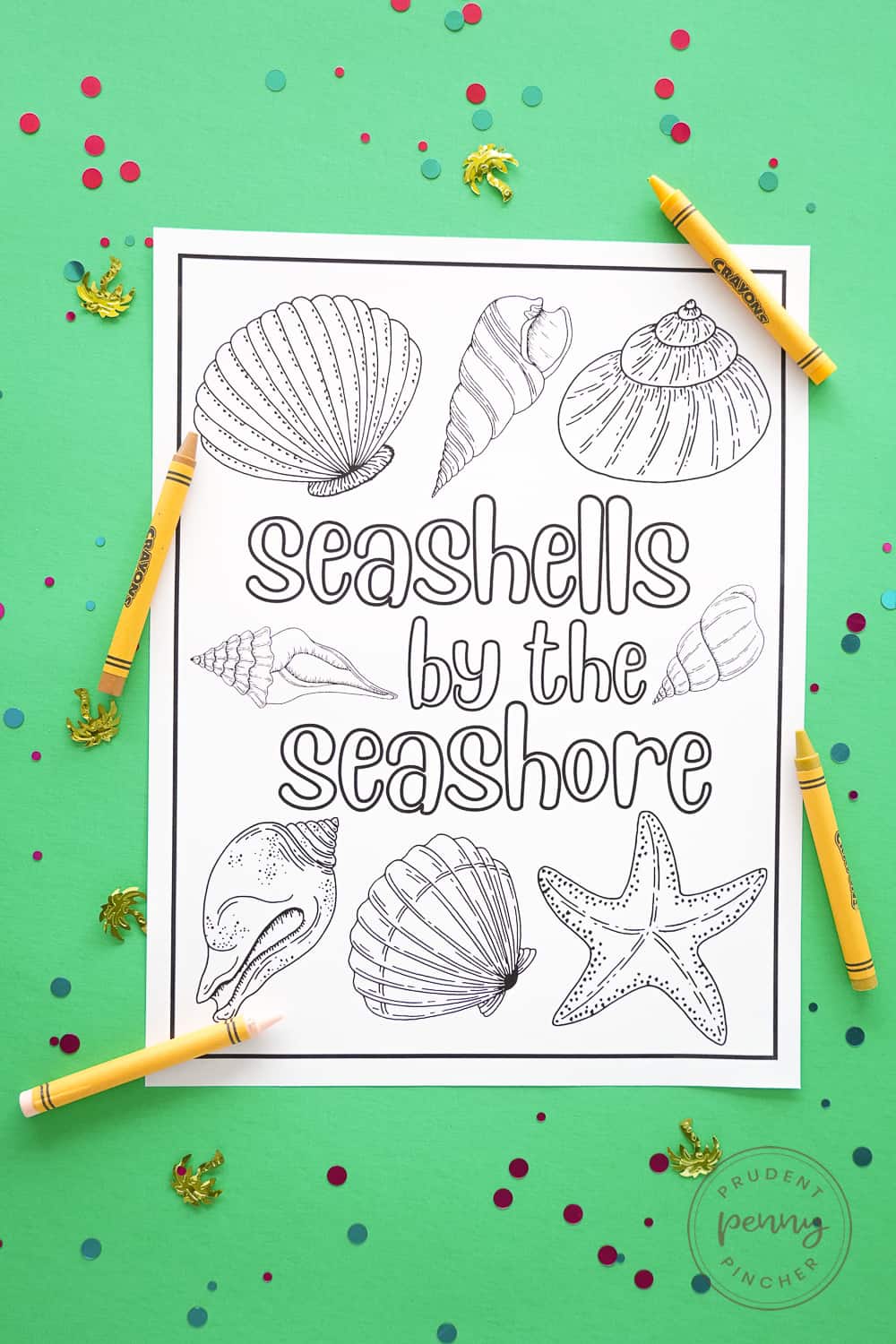 Your kids will have fun decorating all these seashells. If you can't collect shells at the beach, then this is the next best thing! This coloring page has some major coastal vibes! It would be a great choice for all ages.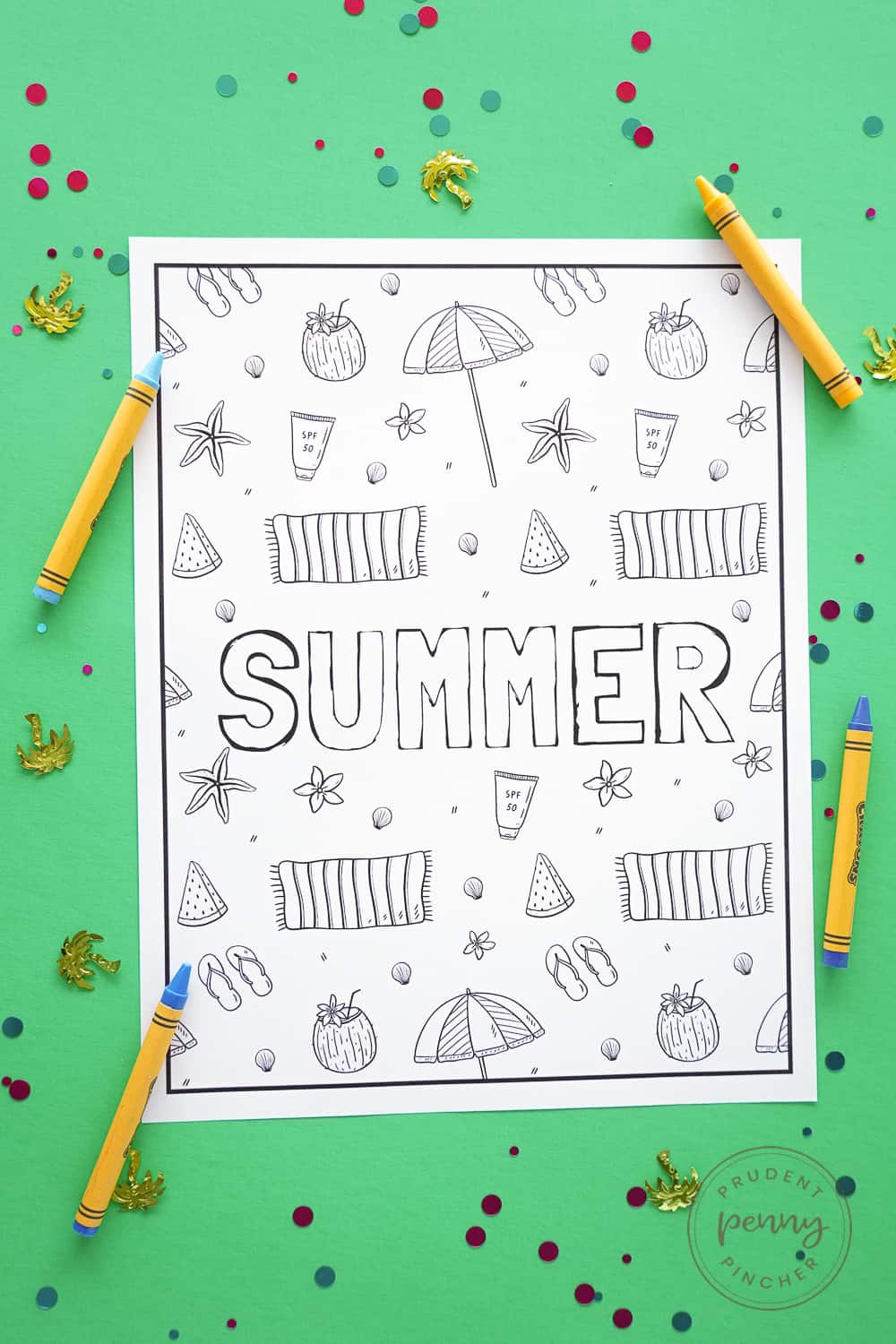 This coloring page is reminiscent of relaxing on the warm sand at the beach. It has beach towels, flip flops, tropical drinks, and seashells in a fun patterned background. Everything you need to have a great time at the beach! If you have a tropical trip planned, then these would be perfect to bring along to keep the older kids or even teenagers entertained on the trip!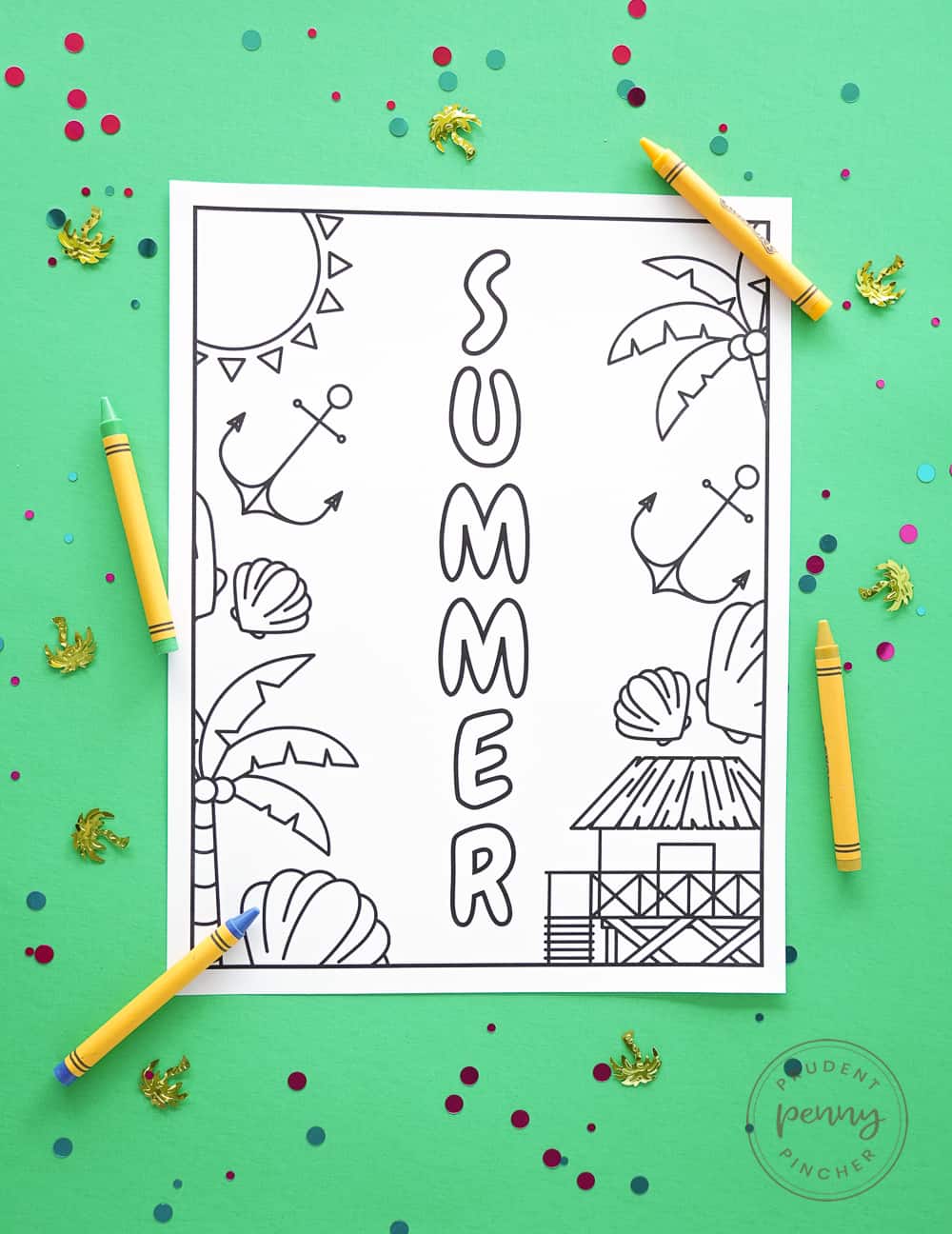 This summer coloring sheet has everything in it to help you dream of sailing away to a tropical paradise including an anchor, sun, palm trees, a tropical hut, and shells! It is a great activity for children of all ages. They will love spending time filling in the designs on this one.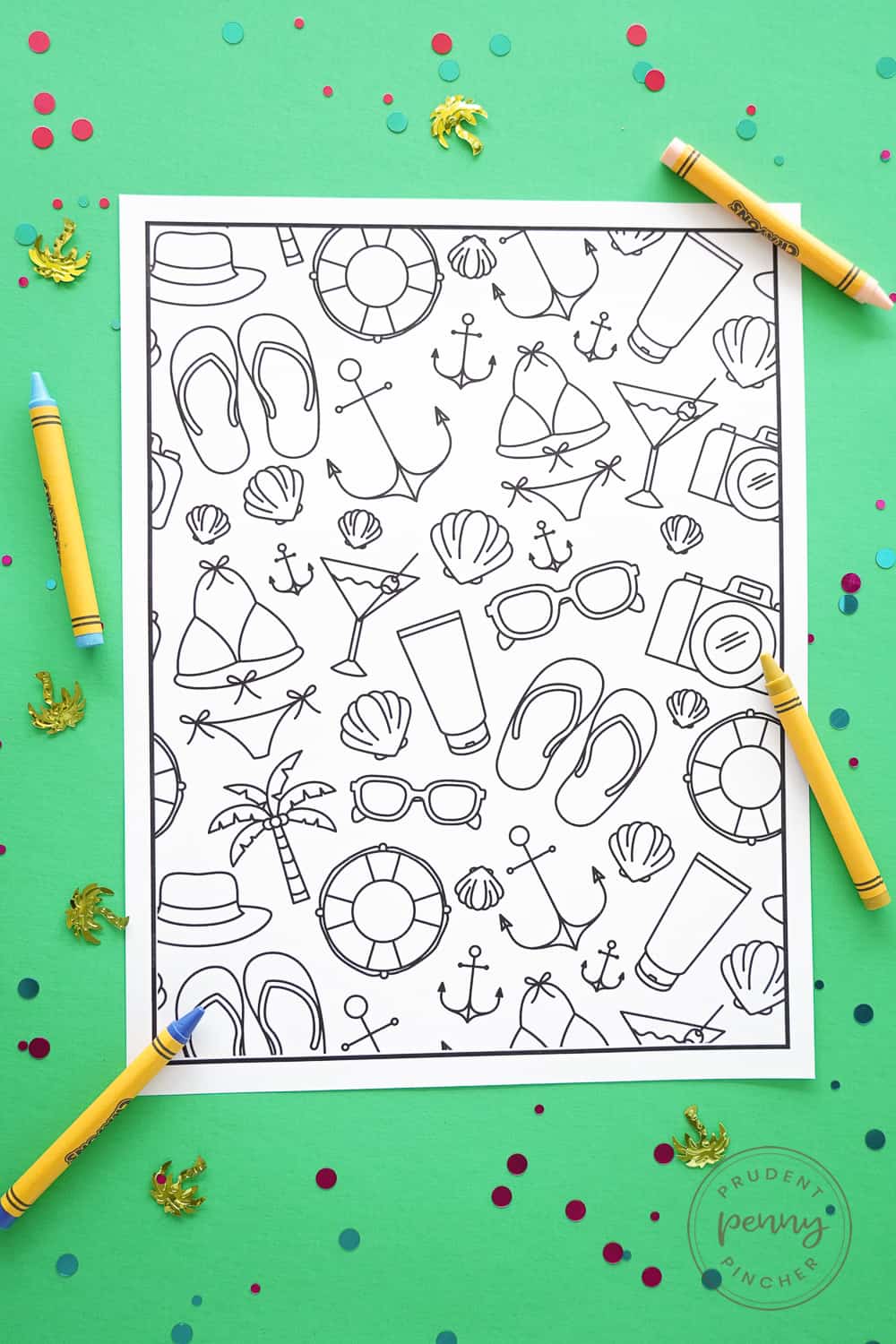 The title says it all. This patterned background features everything you would bring to the beach — a camera, sunscreen, flip flops, a bathing suit, and much more! Kids will love the beachy theme of this summer coloring page.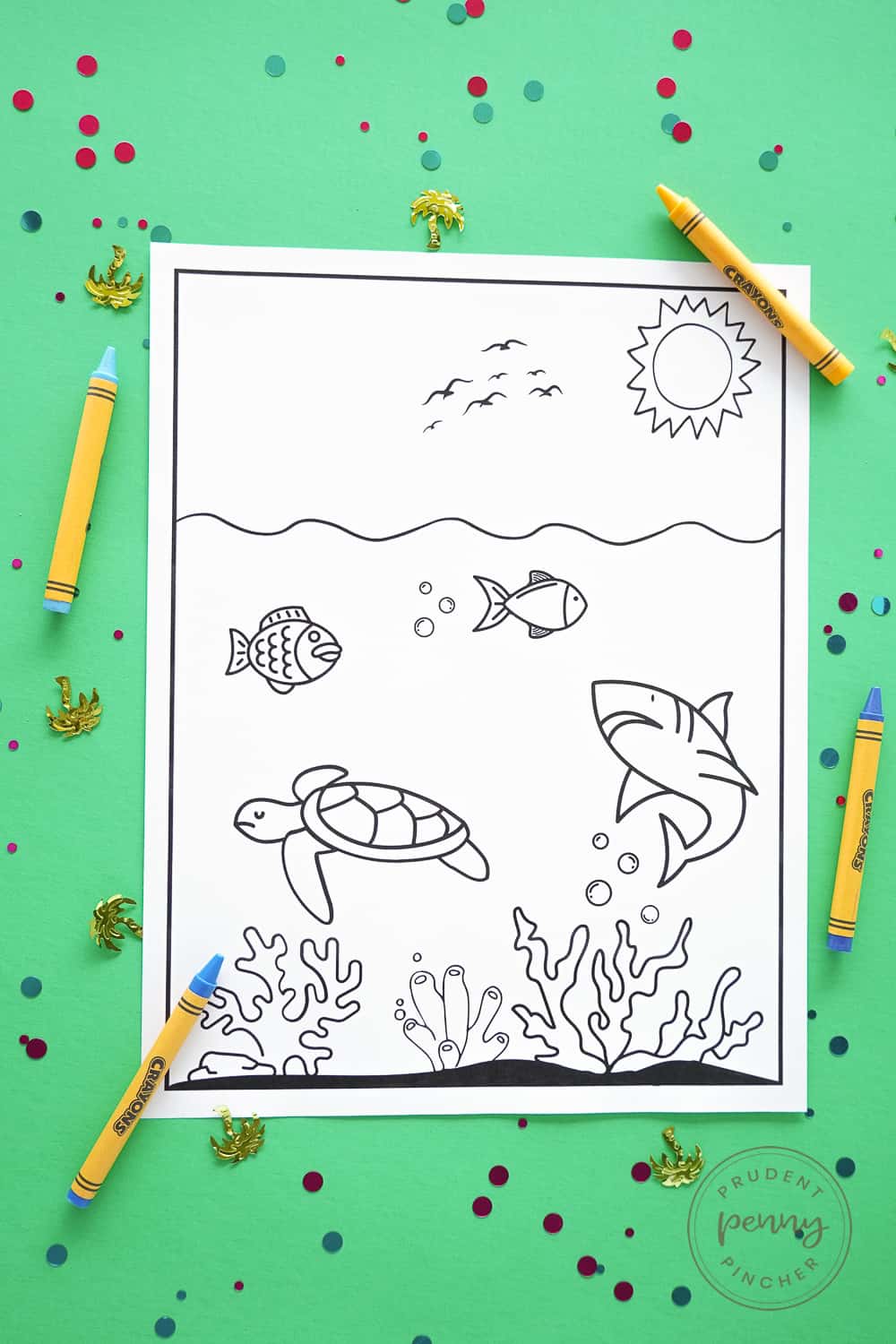 Explore the ocean life down under with this ocean-themed page. It has a sea turtle, coral, a shark, and some fish! Your kids will love adding some color to this sea life printable.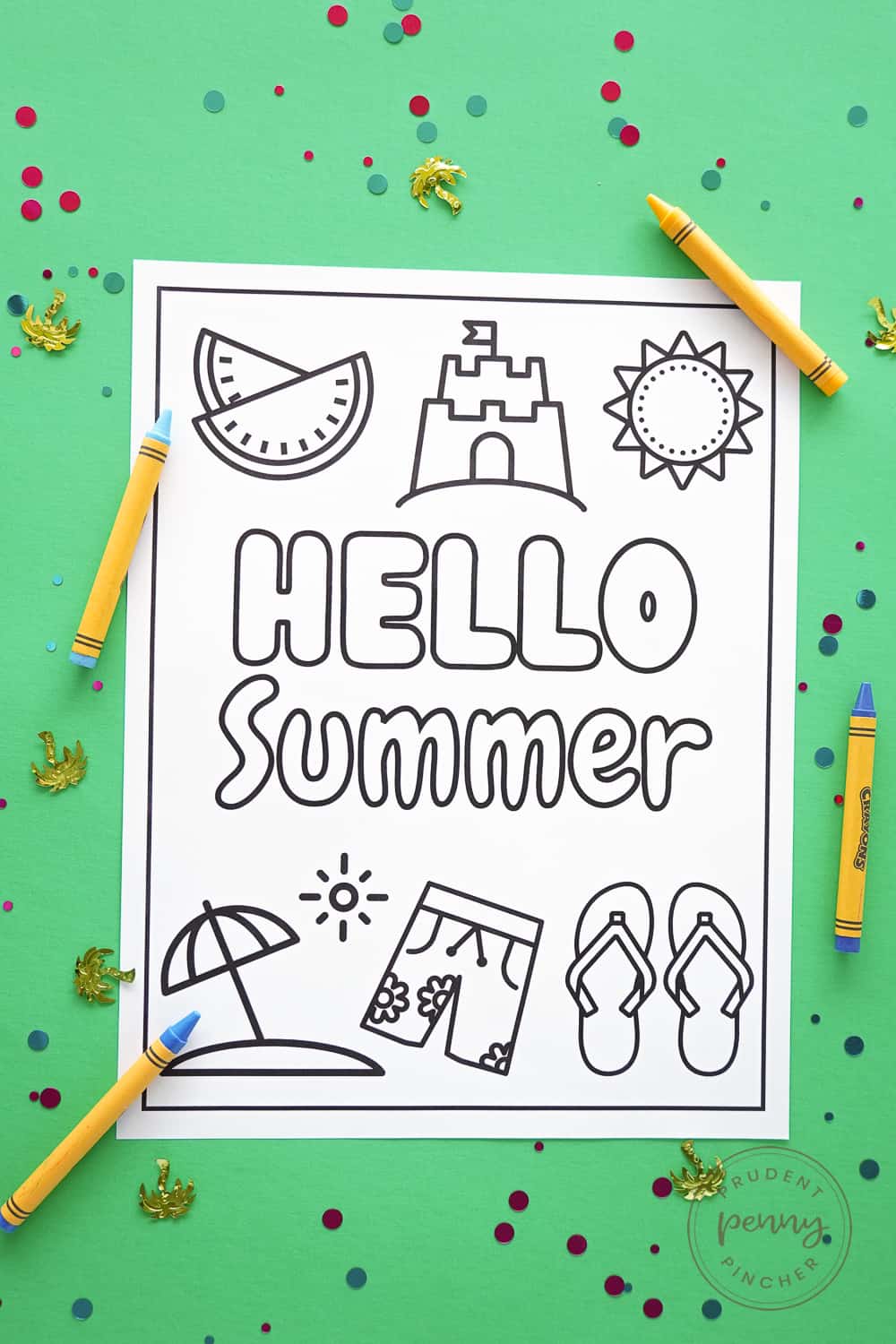 This is a really easy beach-themed coloring sheet that is perfect for younger children like preschoolers or kindergarteners. It has sun, sandcastles,  watermelon, beach shorts, and flip-flops! This coloring sheet promotes creativity and relaxation for the young ones especially.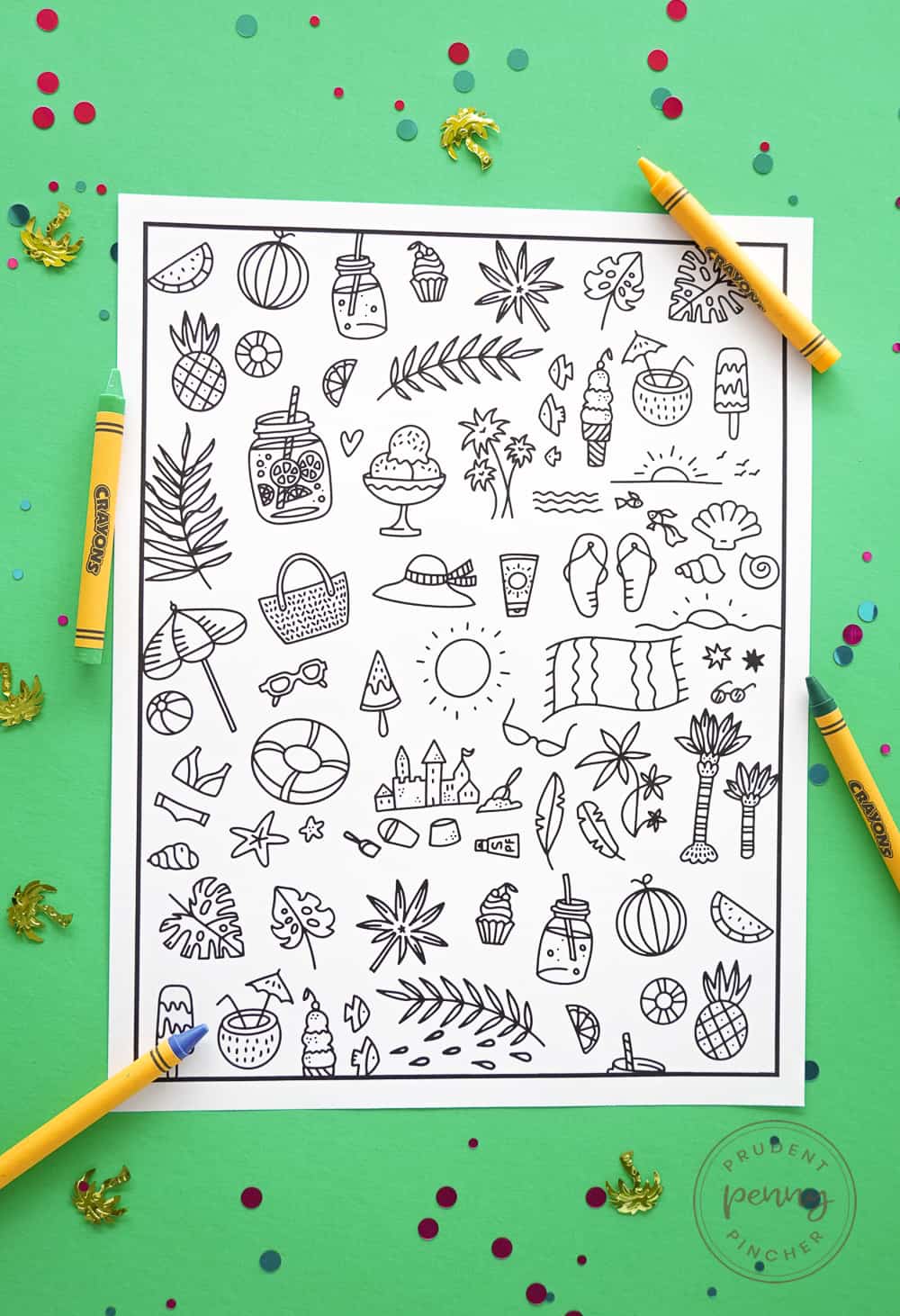 This one is perfect for older kids like teenagers because of all the details here that require fine motor skills. There's a lot of room to add your own creativity to it. This patterned background has everything that you can think of to get a summer vibe like pineapples, ice cream, seashells, sunglasses, palm tree leaves and so much more.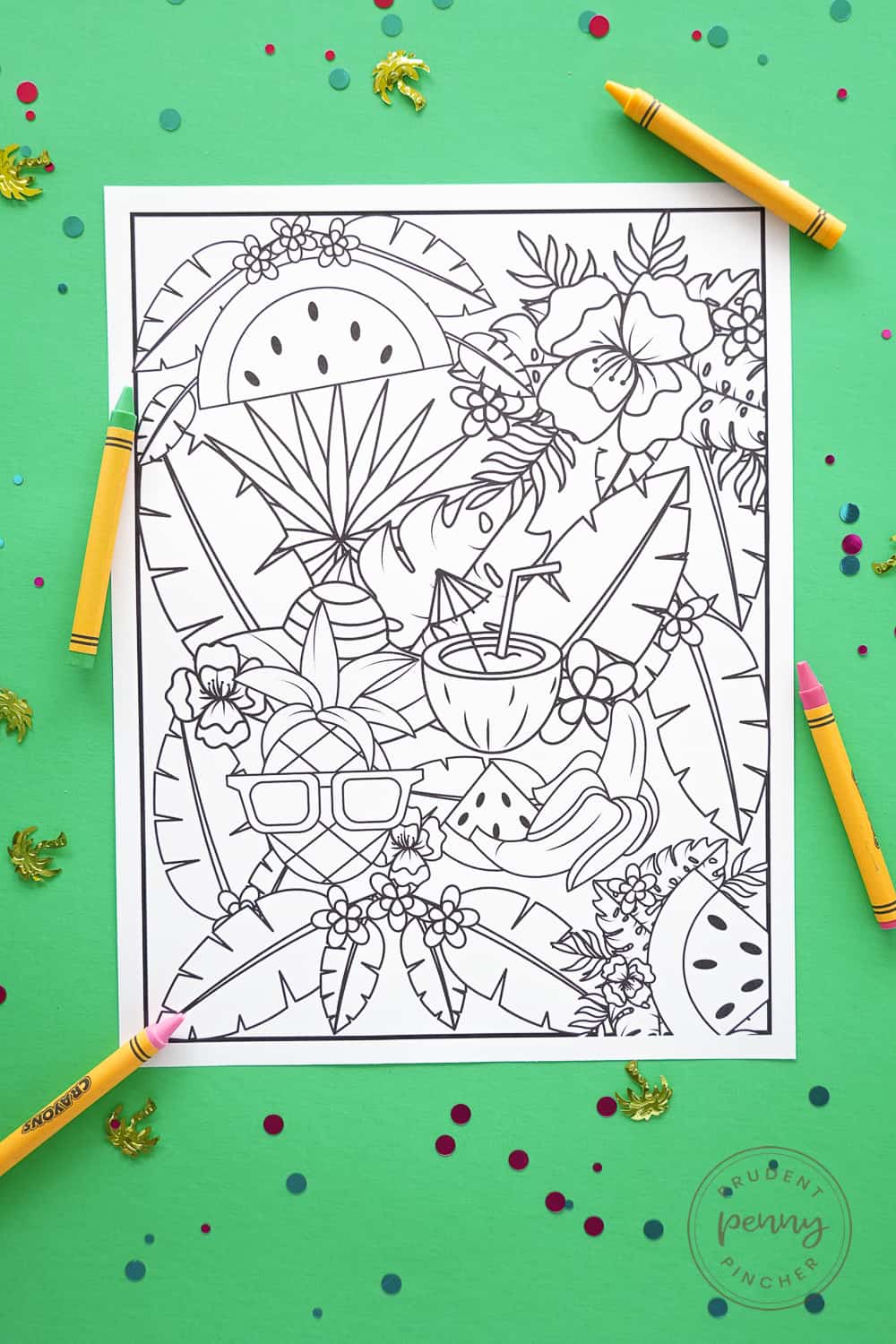 There are assorted tropical images like palms, tropical flowers, summer fruit, and more. This one will take a while to complete so perfect for a boring summer day when there's not a lot to do. It will keep your bigger kids or teens entertained for at least an hour!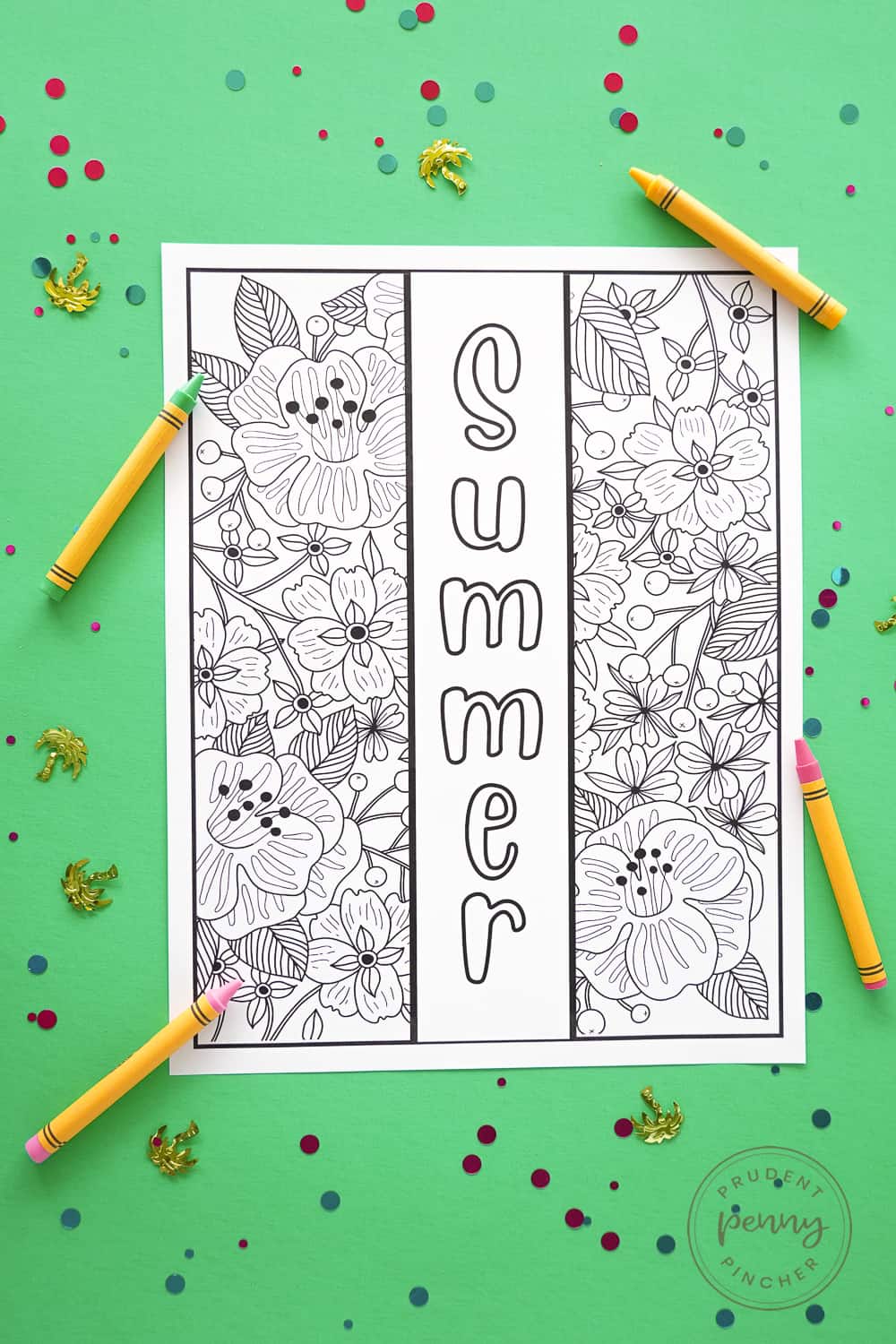 These intricate flower coloring sheet is great for teenagers or even adults. There's a lot of detail here to make really beautifully detailed and colorful flowers.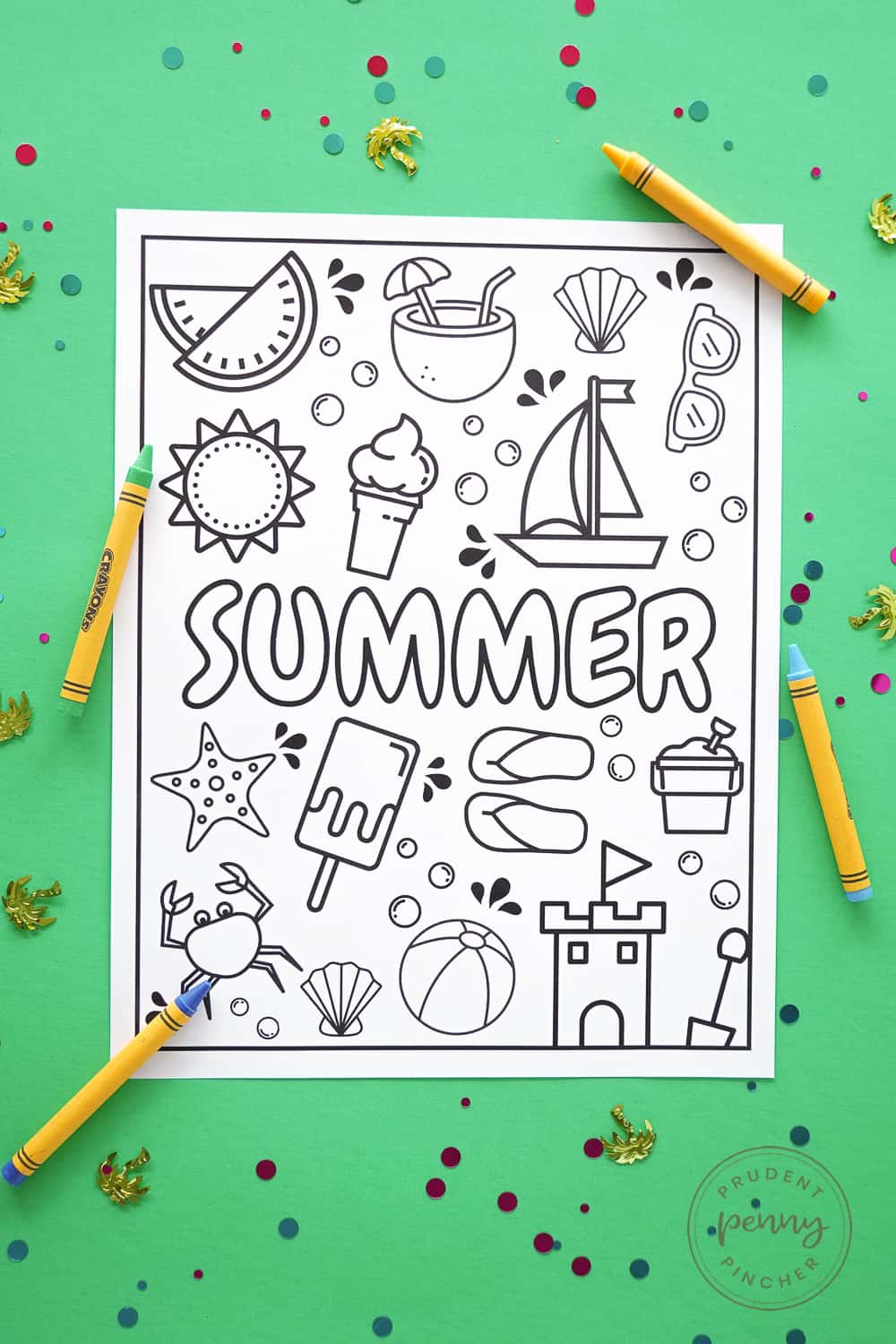 Have fun in the sun with this beach themed printable. It has all your beach favorites like a sand castle, beach ball, starfish, ice cream, boat, and more! All ages will enjoy this coloring in the details on this page.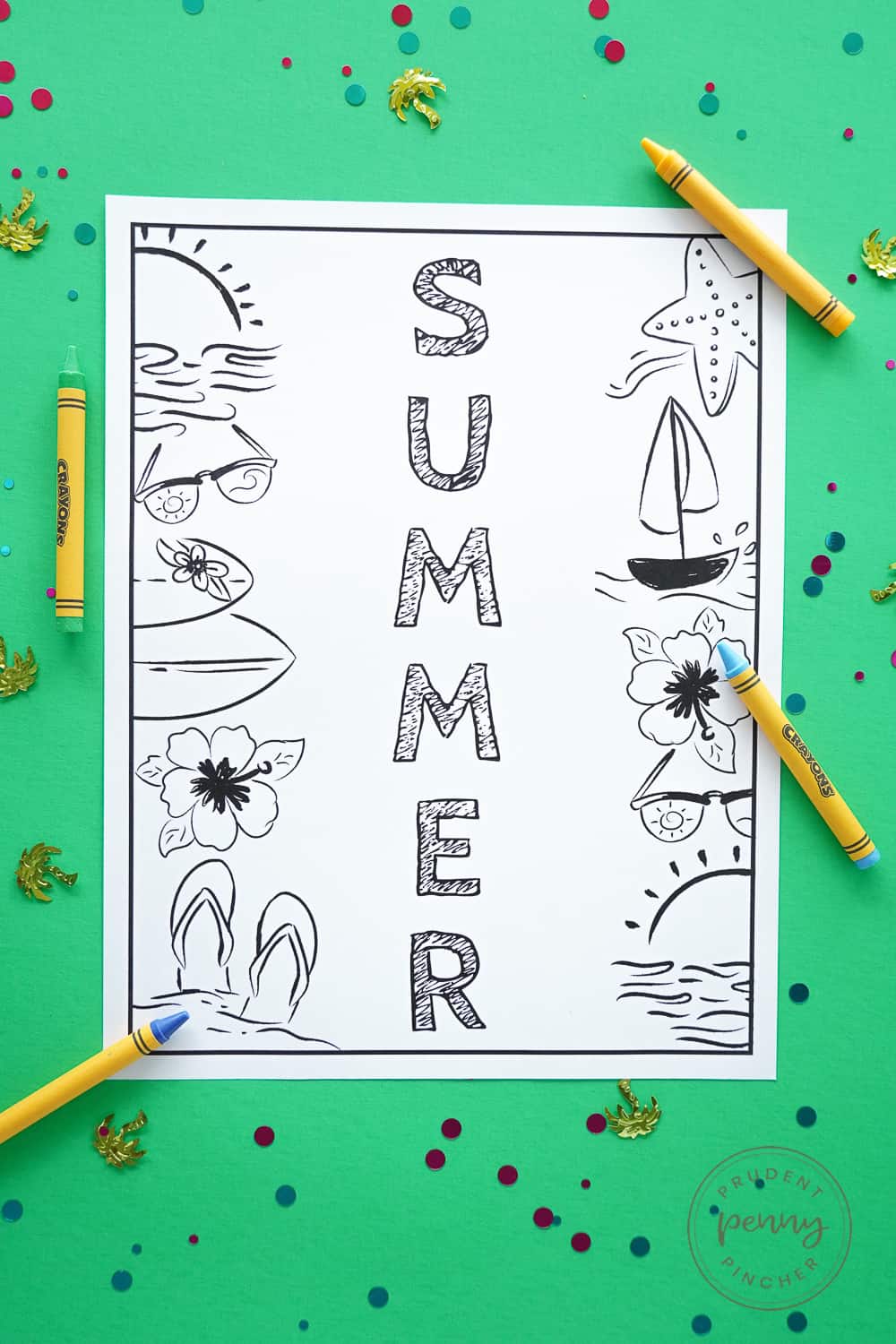 Sail away on a tropical getaway with this fun coloring sheet that has a sailboat, sunset, surf board, and flip-flops in the sand. There's even some space in the middle to add some of your own doodles or drawings to really make this yours!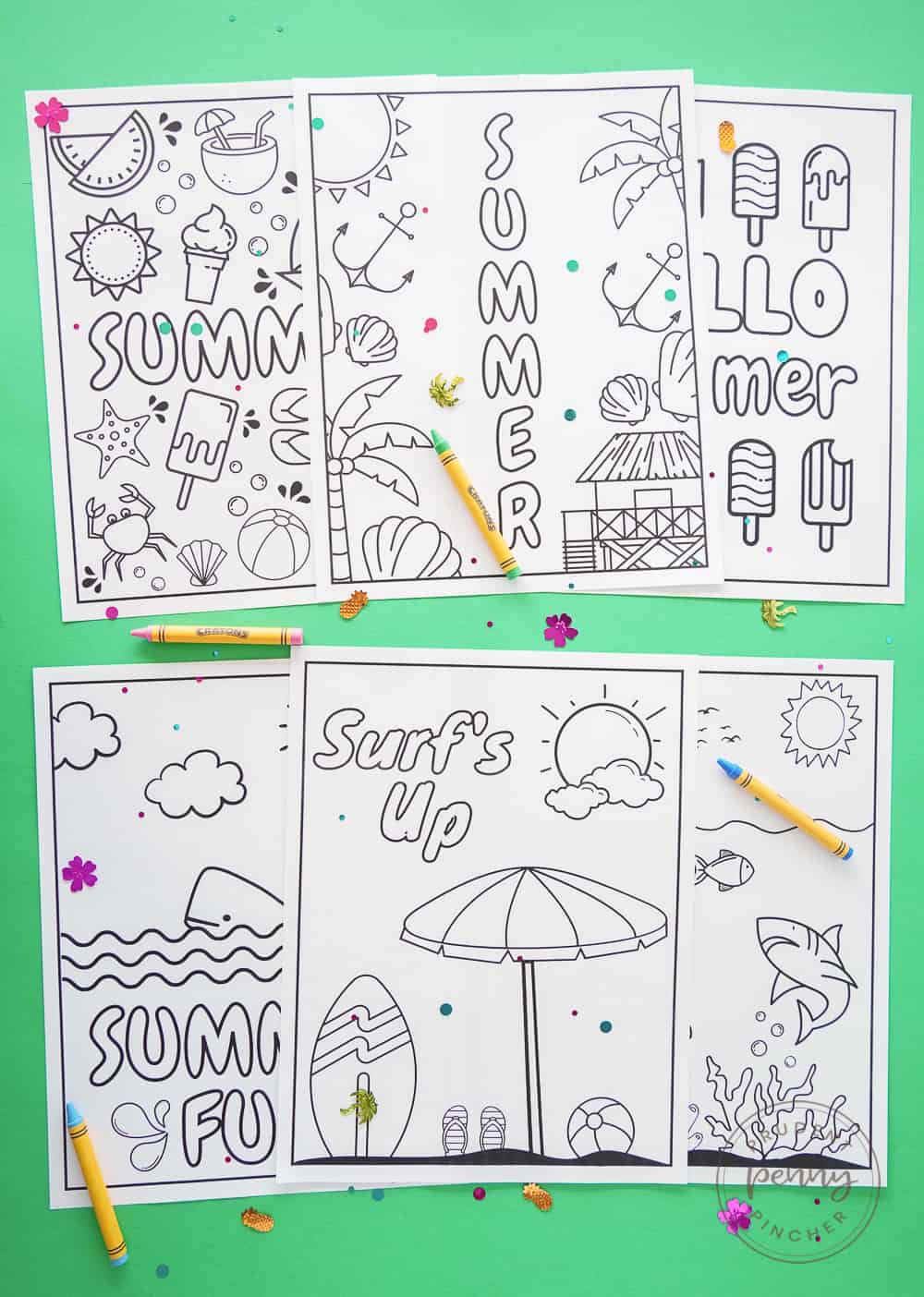 Related Posts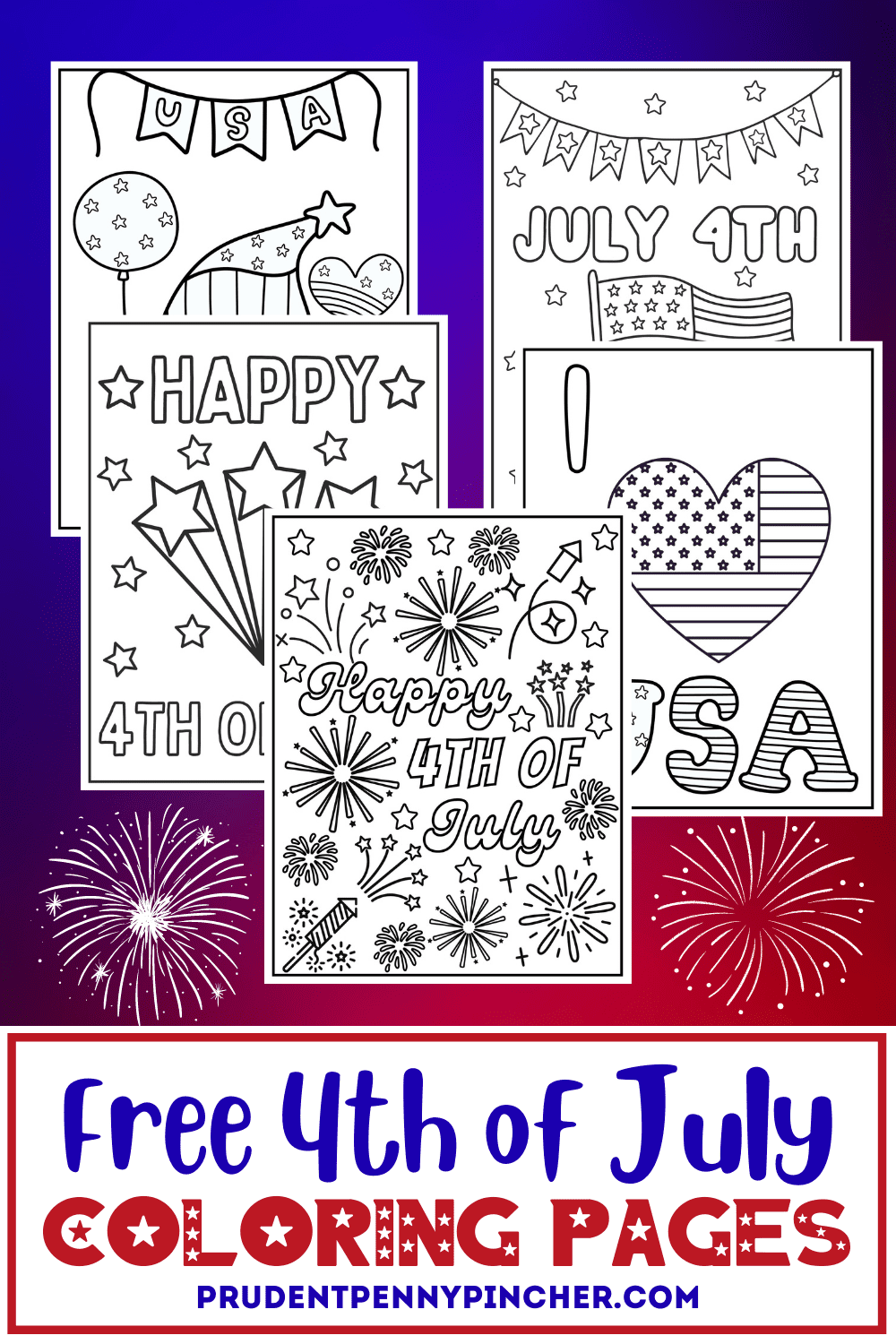 Free 4th of July Coloring Pages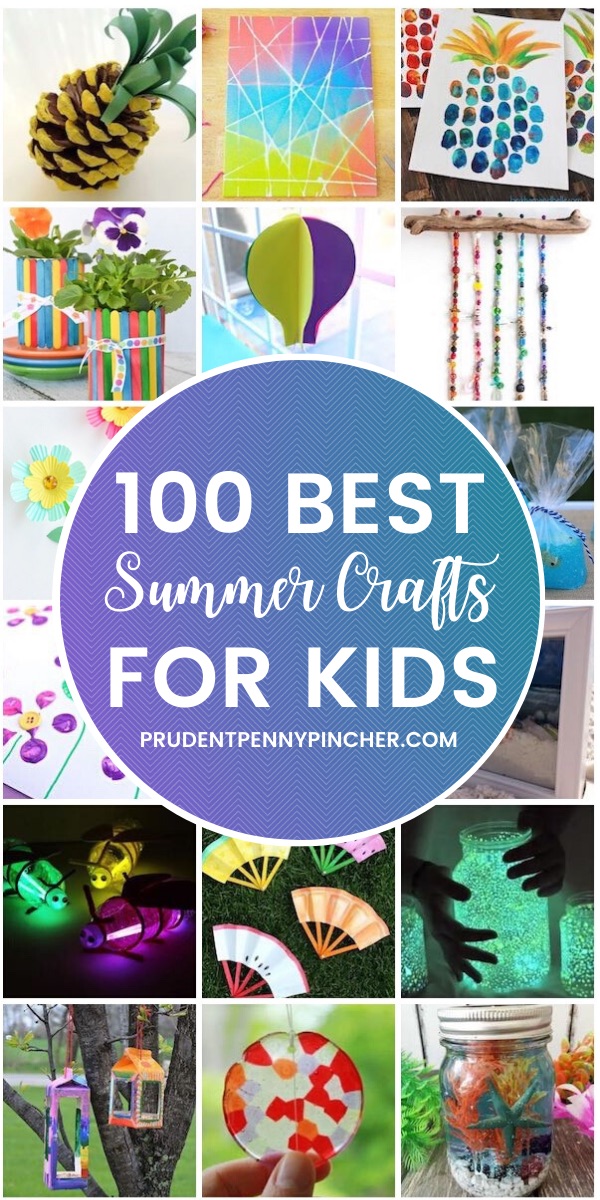 100 Best Summer Crafts for Kids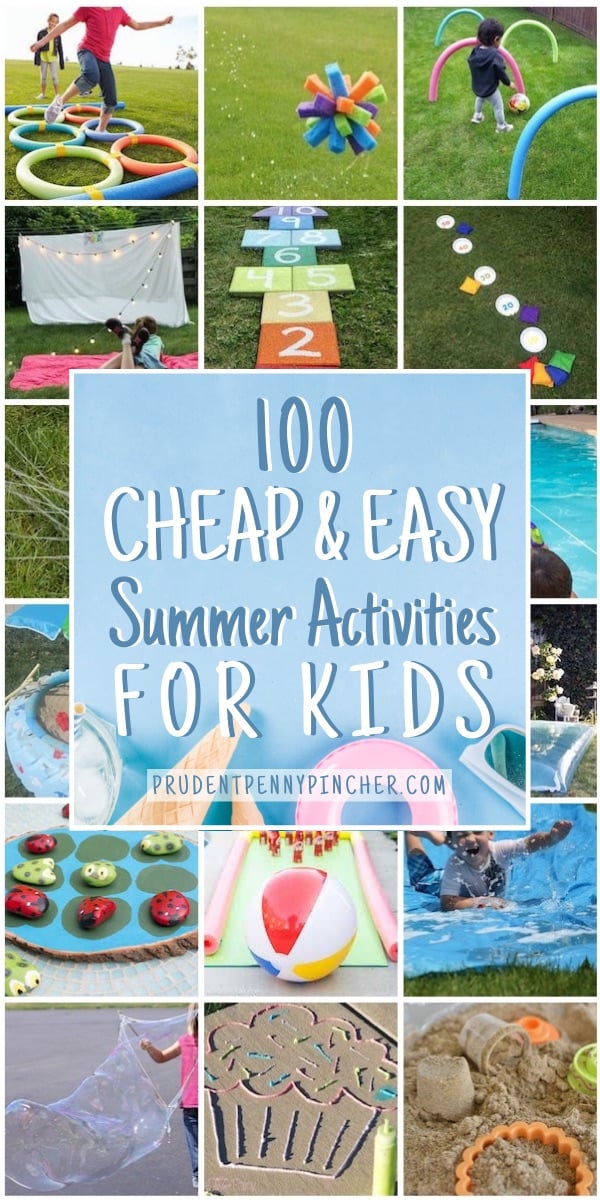 100 Cheap and Easy Summer Activities for Kids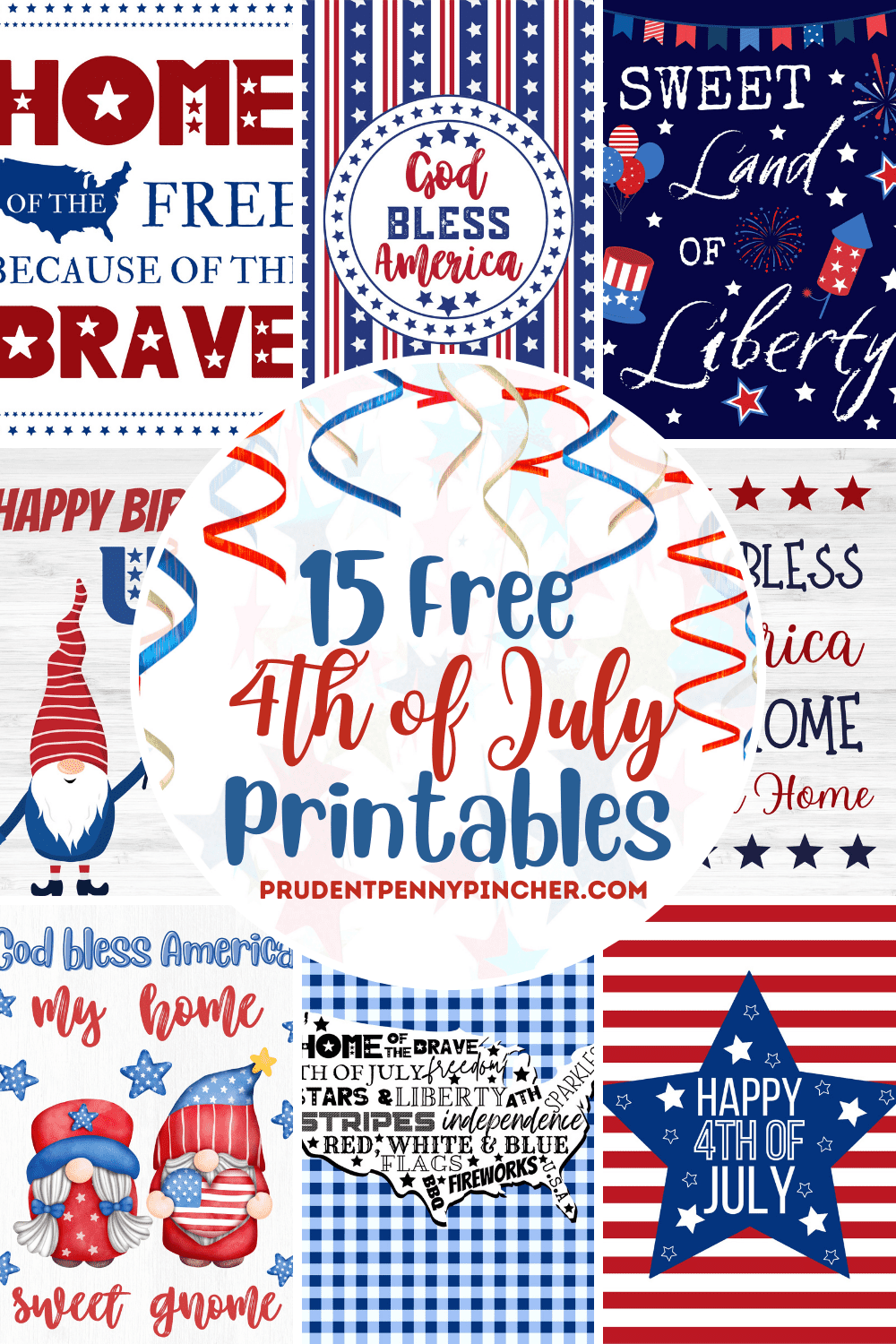 15 Free 4th of July Printables
Looking for more summer ideas? Be sure to check out all my summer posts, which include crafts, decor, food, and more!
The post 15 Free Summer Coloring Pages for Kids appeared first on Prudent Penny Pincher.