Get some fantastic unicorn coloring pages for hours of fun!
Coloring is a great activity for kids of all ages, and it can be especially fun when they get to color their favorite characters or objects.
And guess what is one of the most popular character toddlers and kids a like adore?
Unicorns!
Unicorns make a great choice for coloring pages or course! 
With cute baby unicorns to realistic ones to things assoicated with unicorns like unicorns, castles and little girls, it's no wonder that many children just adore unicorn coloring pages to fill their time when bored.
One great thing about unicorn coloring pages is they can help kids learn about the different colors, shapes and can help with learning to cut and color within the lines.
They can also help improve hand-eye coordination and fine motor skills.
So if you're looking for a way to keep your child entertained and engaged, then download these totally FREE unicorn coloring pages that you can download instantly (no email required).
Just click on the image below and get your free coloring pages filled with unicorns!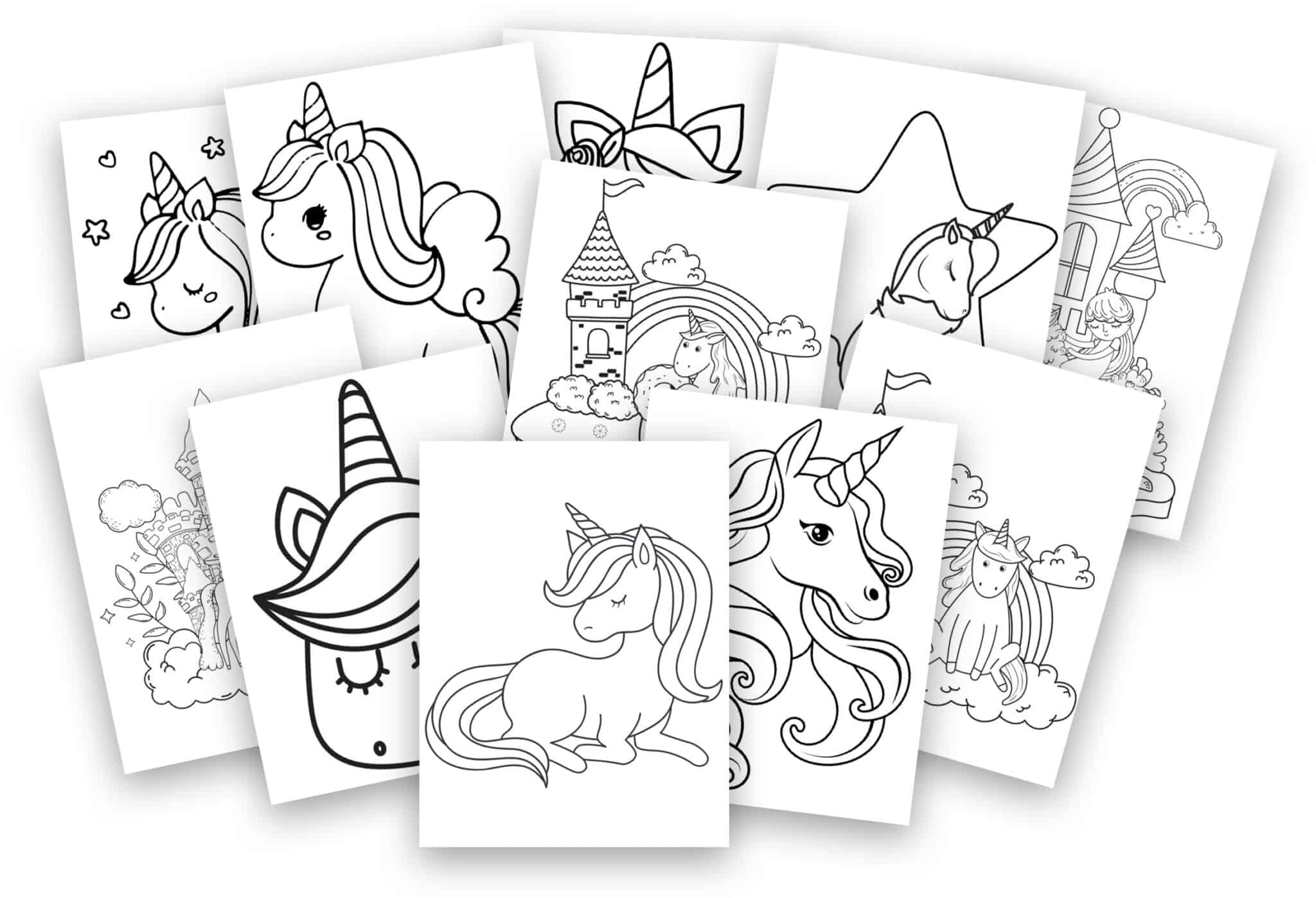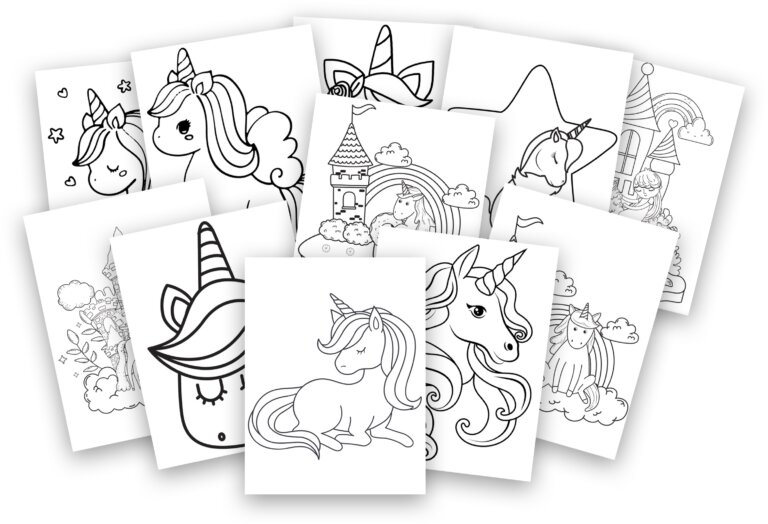 *just click on the image above to get your unicorn coloring pages PDF for free!
Unicorn Coloring Pages Printable
Coloring pages are a great way to relax and have fun.
And what could be more fun than coloring in pages of unicorns?
These printable unicorn coloring pages are perfect for any kid who loves these majestic creatures!
There are several different pages to choose from, including baby unicorns, fun unicorns and other objects unicorns love.
Each coloring page is full of beautiful designs that will keep kids entertained for hours on end. Plus, they can proudly display their finished artwork once they're done!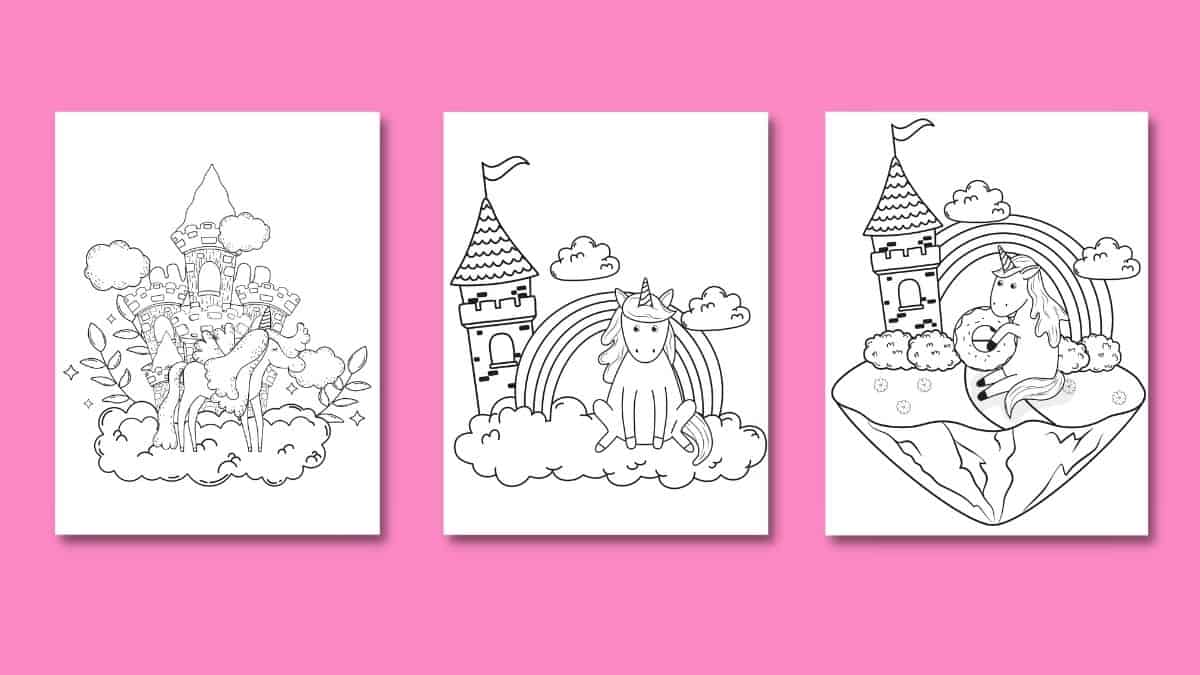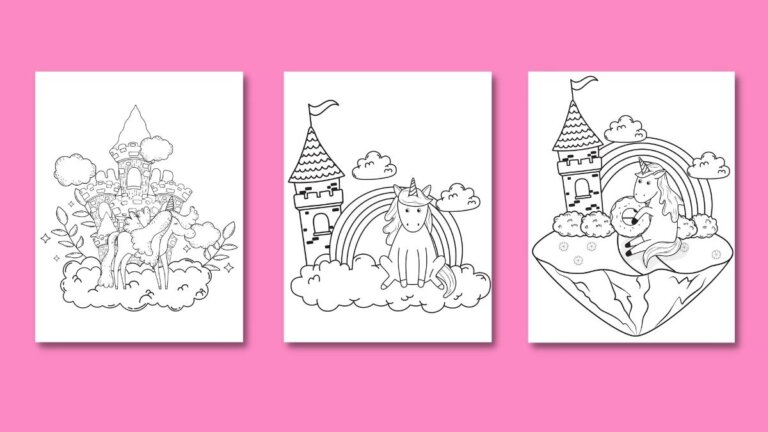 Cute Unicorn Coloring Pages – 61 Pages!
You child can use markers or crayons to color these cute unicorn coloring pages.
I've included easy unicorns to color and cut and some more intricate designs such as unicorns in castles.
This coloring template pack is perfect for toddlers who love unicorns and little kids who love to color!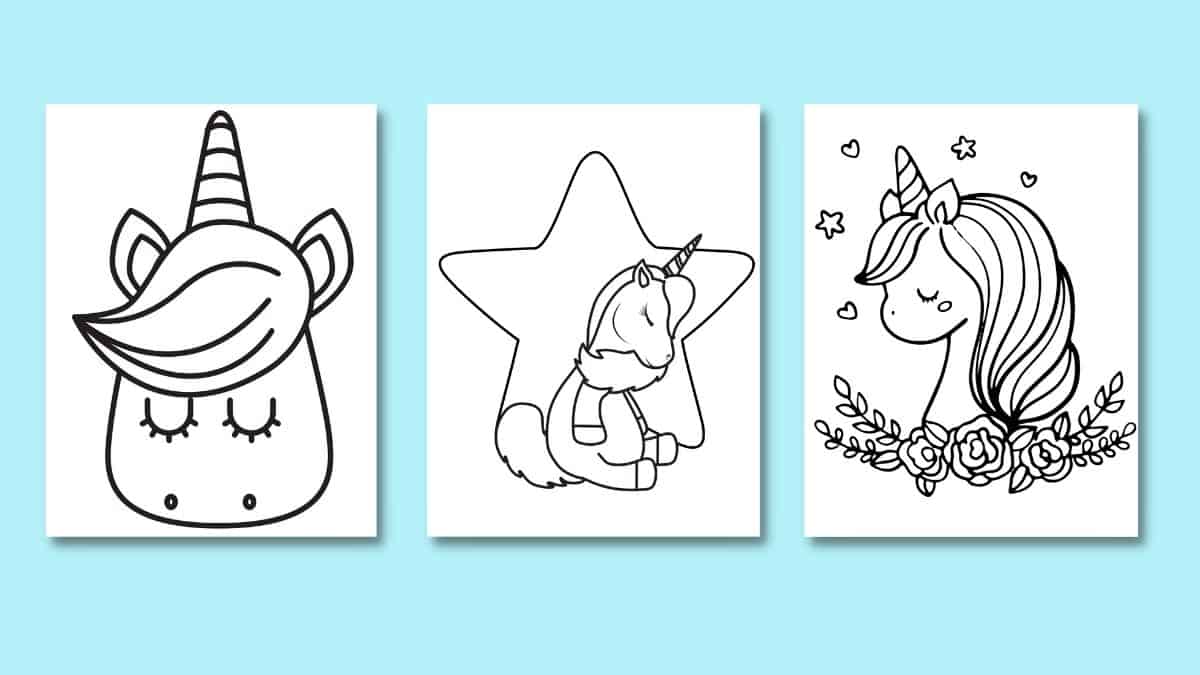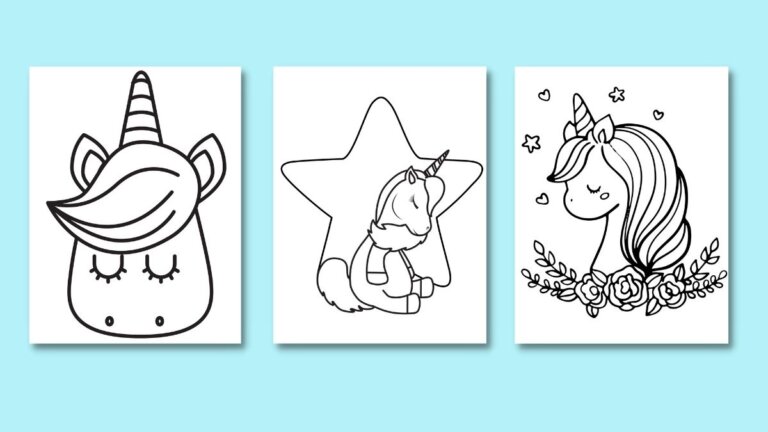 Printable Unicorn Coloring Pages
Simple click on any of the images in this post and you will be directed to a PDF.
These are printable unicorn coloring pages and once printed your son or daughter can start coloring.
Trust me, your kid will have hours of fun looking at all the coloring pages and pegasus and deciding which one to color first!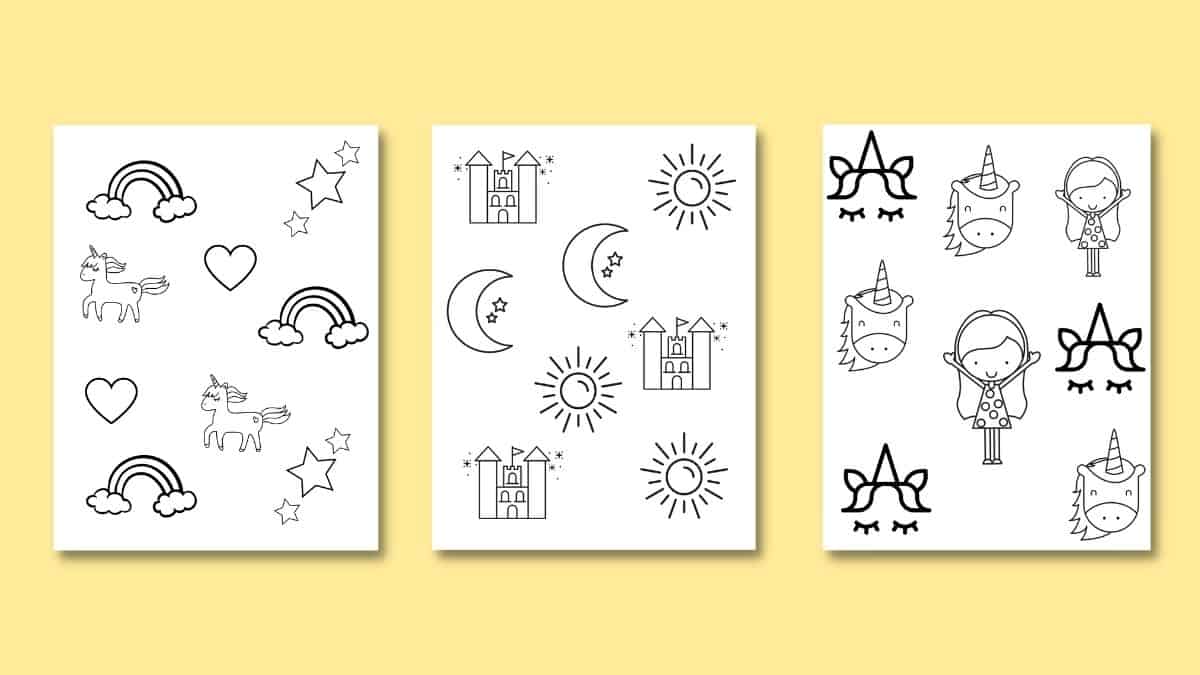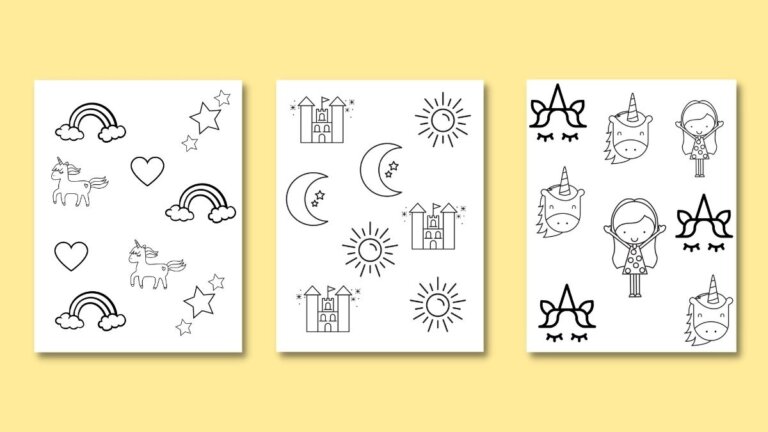 There are even pages with multiple unicorns and unicorn objects like rainbows, hearts, suns, moons and castles.
You can even cut out these objects and play Bingo or create a matching game with them to help your kid strengthen their memorization skills.
6 Unicorn Crafts You Can Do With Your Coloring Pages
Now that you have your unicorn coloring pages, there are all sorts of things you can do with them!
Here are just a few ideas to get you started.
1. Cut out the Unicorns and Glue them onto Construction Paper to Make a Poster or Banner
Kids like cutting and glueing and this craft idea has all of that and more.
2. Make a Book out of the Coloring Pages
Once your little one has colored a few pages of their unicorns, you can create a book by folding each one in half and stapling them together or just stapling a few together.
This is a great way to keep your coloring pages neat and tidy, and it also makes for a nice little book to take with you on trips or to give as a gift.
3. Tape the Unicorn Coloring Pages to the Walls to Create a Colorful Mural
This is a great way to add some life and color to any room, and it can also be a fun activity that the whole family can participate in!
4. Trace the Unicorn Coloring Page as a Template
Before your little one colors all 61 pages, reserve a few to have your child trace unicorns as a template.
When they do this they can decorate the unicorn they want with a silly face or a big face or small one!
5. Frame Some of the Unicorn Coloring Pages and Hang them on the Wall as Art
Not only will this brighten up your space, but it will also serve as a reminder for your child of all the fun they had coloring these pages.
6. Glue Magnets to the Back of the Unicorn Coloring Pages and Use them as Refrigerator Magnets
If you have extra magnets, why not cut out the smaller unicorns and use those as magnets?
You can even laminate them and then put a magnet on them so they are more durable and will last a long time!
Get Your Unicorn Coloring On!
Unicorns are majestic creatures that have captured our children's imaginations for centuries.
The coloring pages you just printed out can help bring this mystical creature to life and offer a creative outlet where your creativity can run wild!
There's no limit to the things you could do with these unicorn-themed crafts and no limit to your child's imagination either!
What has been your favorite unicorn coloring page that you have color so far?
Let me know in the comments below.
Please pin me!