If you're looking for some cool Sukkah decorating ideas, you are in the right spot! Find out more about hanging kids sukkah decorations and then scroll down for more ideas for this holiday. This post contains affiliate links.
---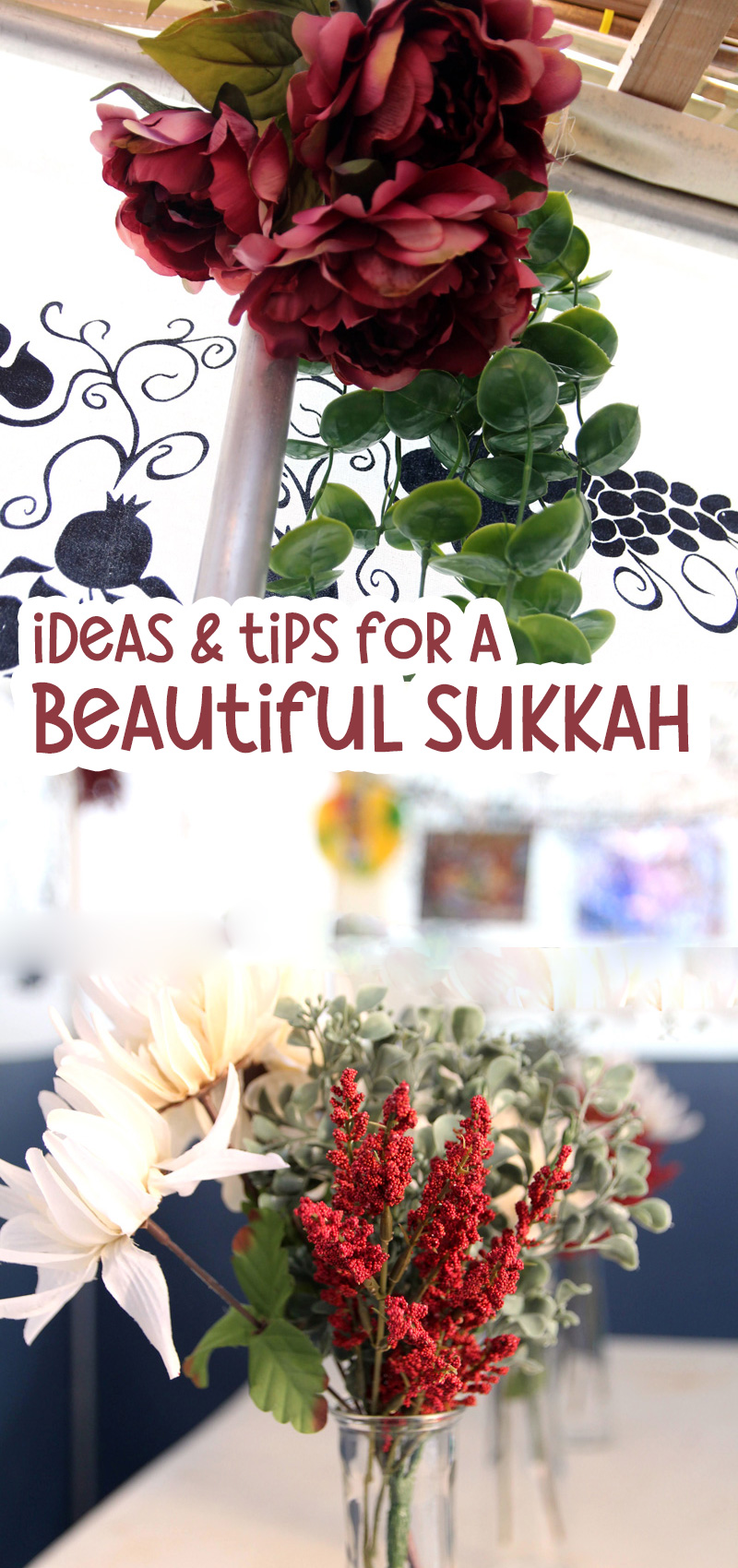 Last year was our first year building a Sukkah and we knew that there's no going back! I decided that I need to keep a yearly-updated post featuring our Sukkah and how we decorate it.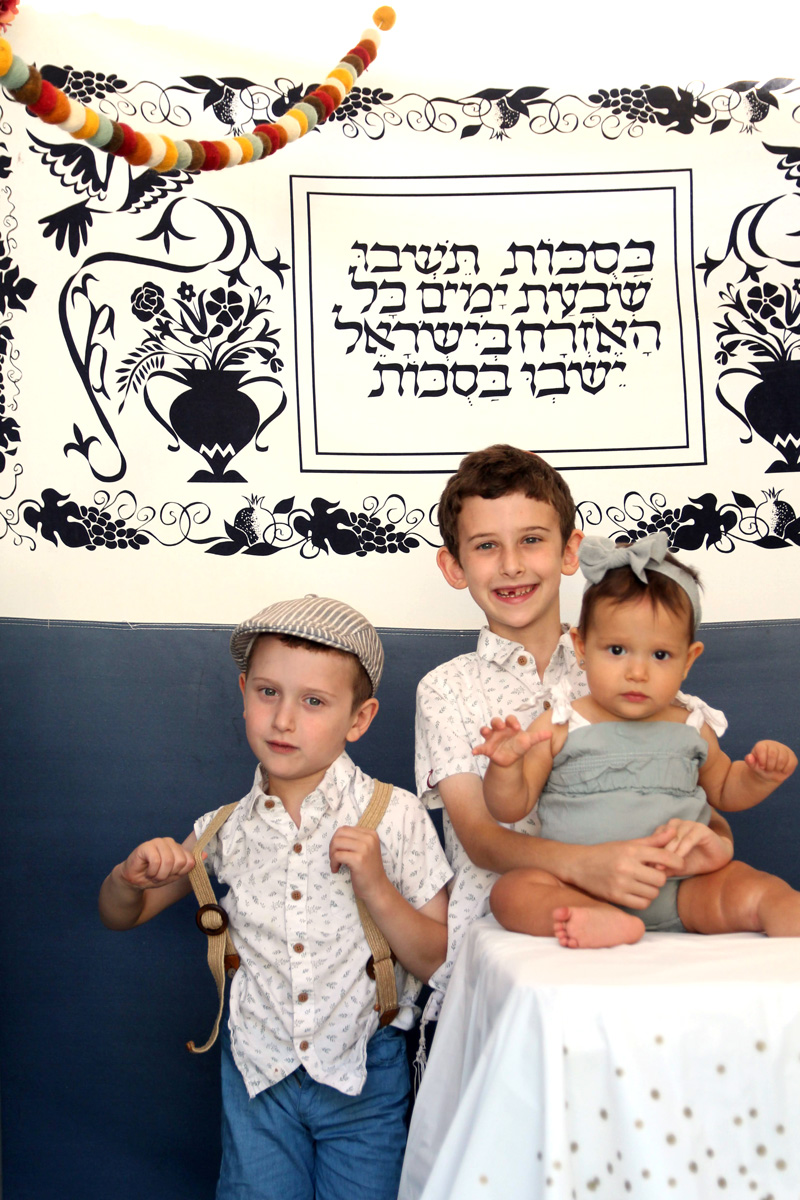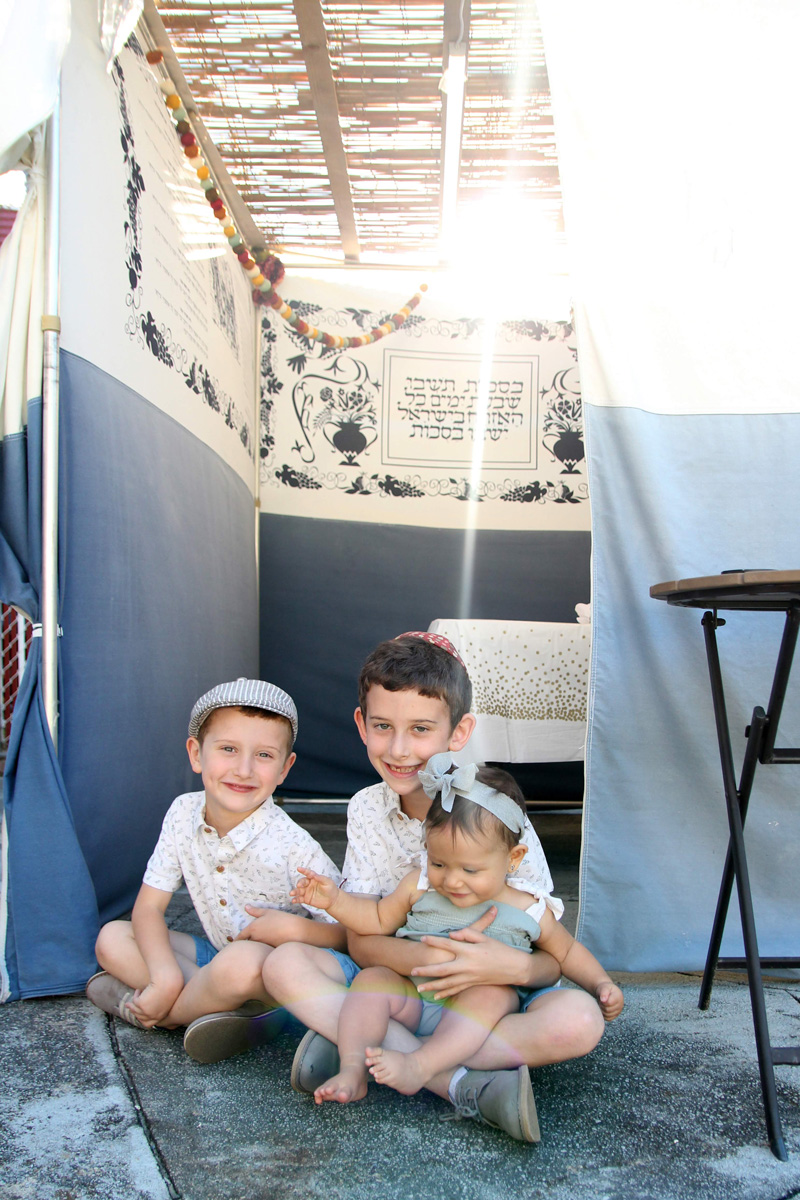 Table of Contents
[Open][Close]
So full disclosure: I'm a novice! But I'm also a creative and hope to share what we do as we go along so that you can gain some inspiration. Because that's what this post is all about: Sukkah decorating ideas and inspiration!
Some we have personally tried, some I'd like to try. All are incredibly cool Sukkah decorating ideas.
Tips for Sukkah Decorating
One of my best tips for decorating a gorgeous Sukkah is to choose a general color scheme and have a few elements throughout that pull things together.
While Sukkahs tend to be decorated slowly over the years by collecting decor from various places, having these grounding elements can really help de-clutter things.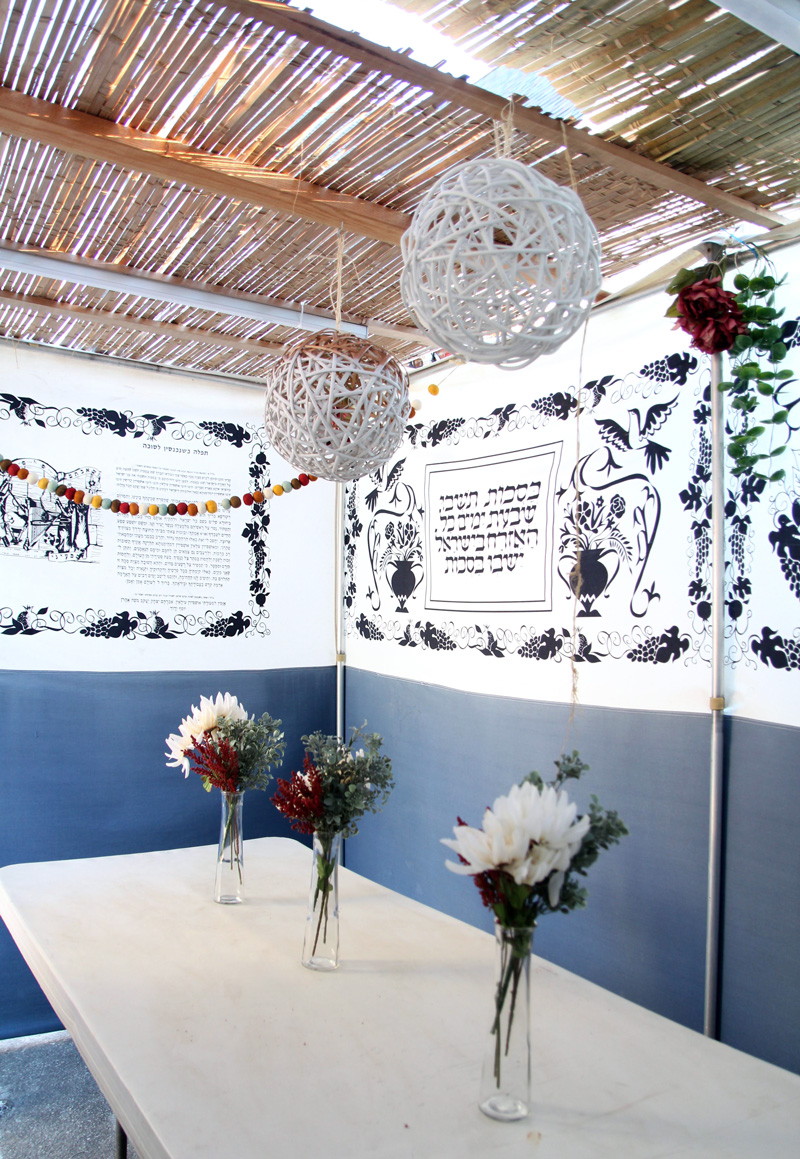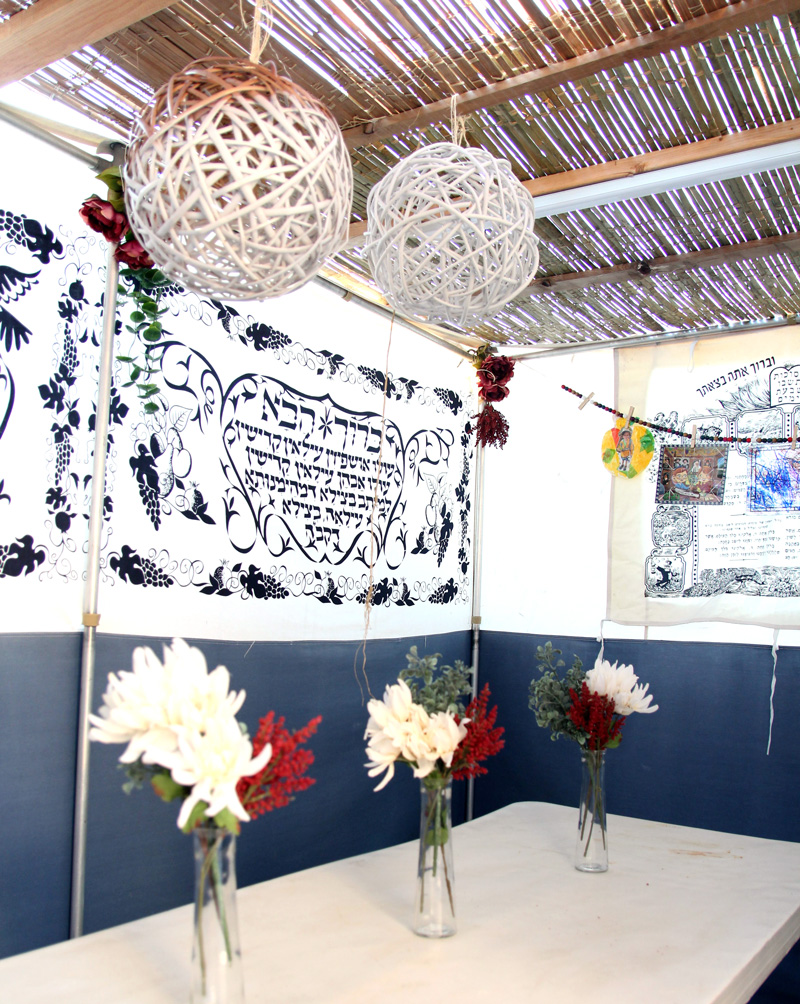 I chose fall colors – burgundy, cream, mustard, greens, teals. You don't have those colors screaming out to you in our Sukkah, but they do help to create a general scheme.
Less is more! Don't overload – just accessorize – and you'll have a stunning temporary home without breaking the bank.
Zip ties are a fabulous tool for hanging items from poles or schach. Thumb tacks can be hammered into wood walls for a durable decoration.
I hope to eventually share some waterproofing tips, but meanwhile think in terms of what can "recover" getting wet. Fabrics: yes. Fabrics that are too absorbent can hold too much water and sag, drip forever, etc. so keep that in mind.
Plastics: yes.
Add that together and "silk" flowers should be good go go.
Wood elements need to be properly sealed or risk warping.
Natural materials like jute hold up well.
And of course, make sure that everything dries thoroughly before storing.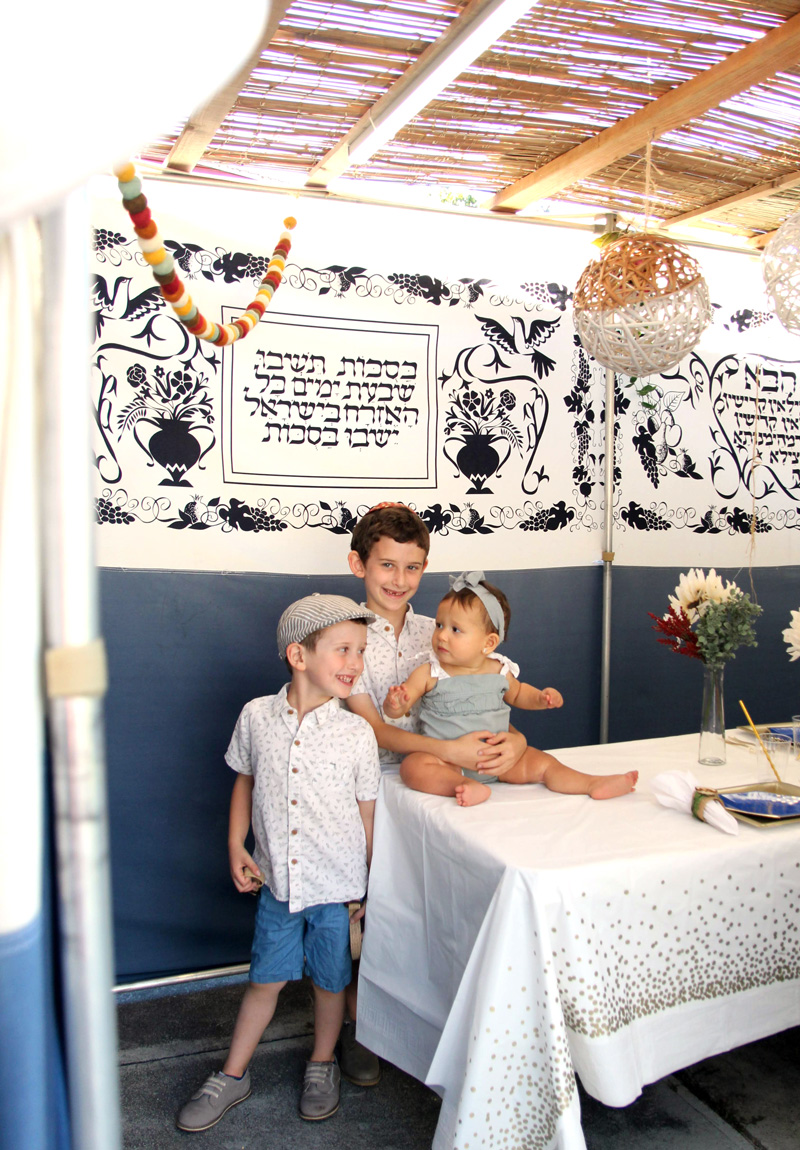 Sukkah Decorating Ideas for throughout your Sukkah
For the Walls
Our Sukkah is canvas with walls that are full of different Sukkot prayers and drawings. For that reason, we go easy on the wall art. However, a lot of the ceiling decorations in the next section were hung along the walls, rather than zig-zagging across the ceiling.
Canvas Sukkahs present a unique challenge in that it's harder to hang things. Some of these solutions can help you overcome that.
Floral bouquets – I grouped faux florals into bouquets and zip-tied them together. These were hung face down, or stems pointing outward, from the poles.
Use these to bring a very fresh vibe to the Sukkah and to reuse them from year to year! They typically stand up well to rain – just make sure they dry completely before storing them.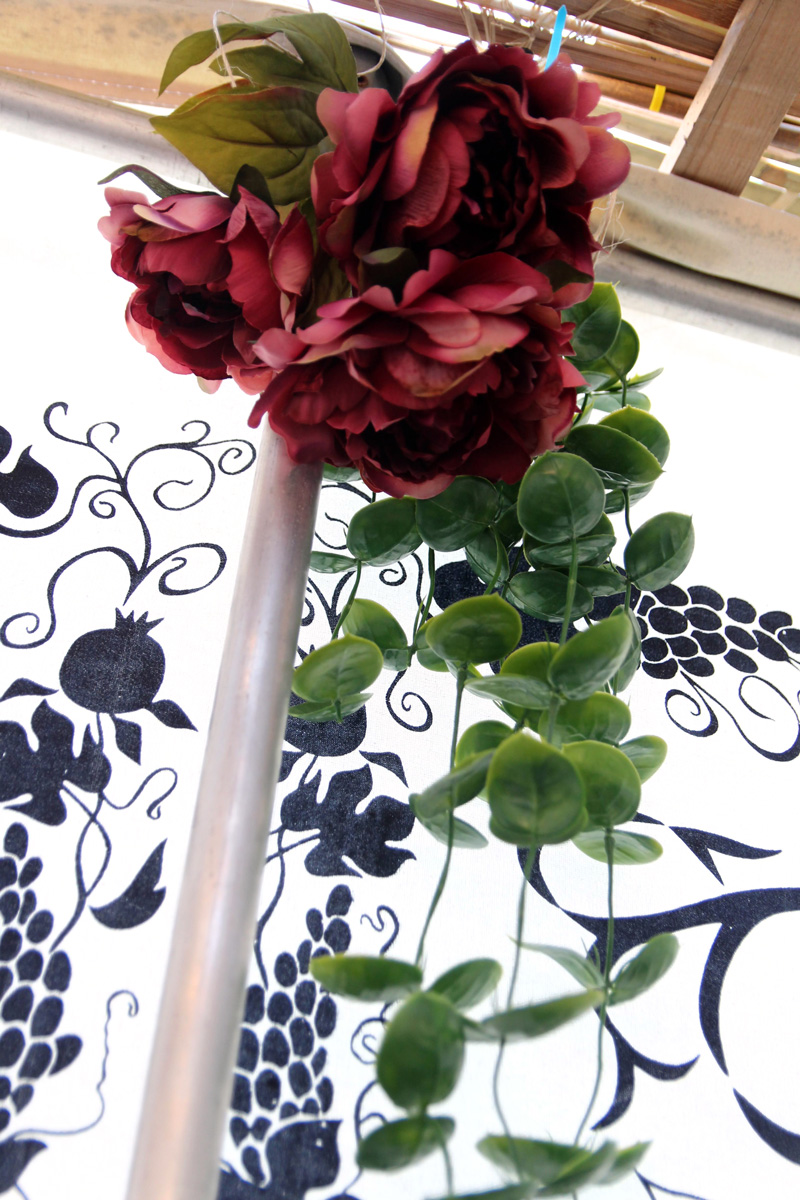 Beaded Sukkah Clothesline for kids' art – the centerpiece of the Sukkah, this display took up a whole wall. It was a really cool centralized way to hang the kids' and my own) art so that it looks fabulous.
FYI that lulav project can be found here. The coloring page with the lulav and etrog is here.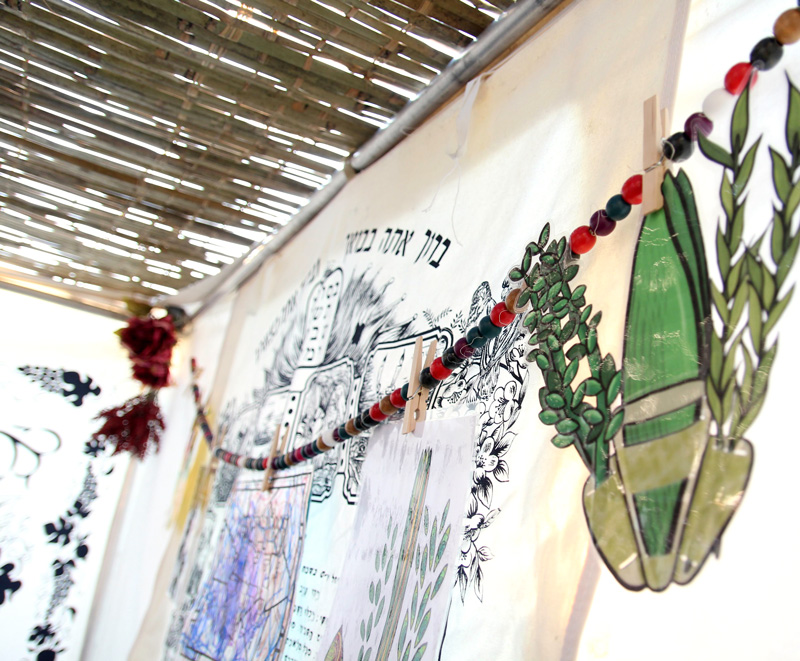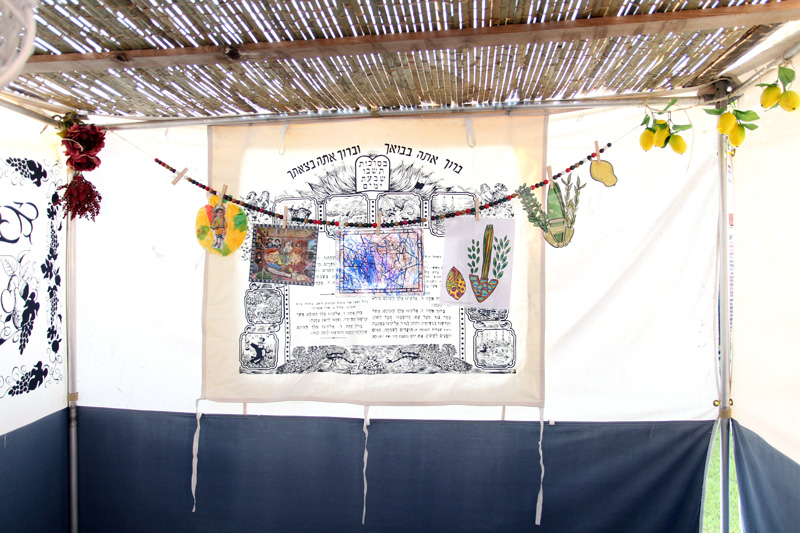 Tapestry – I purchased this one at Michaels (you can get similar on Amazon.) While not Sukkot-specific, it's a fun idea for an outdoor vibe.
Hanging wall tapestries that are made from rugged materials are a fabulous solution for canvas sukkahs because you can hang them from the ceiling poles. I painted the wood portion with outdoor Mod Podge. The canvas itself seems pretty hardy for the outdoors – just make sure anything that gets wet dries completely before storing it.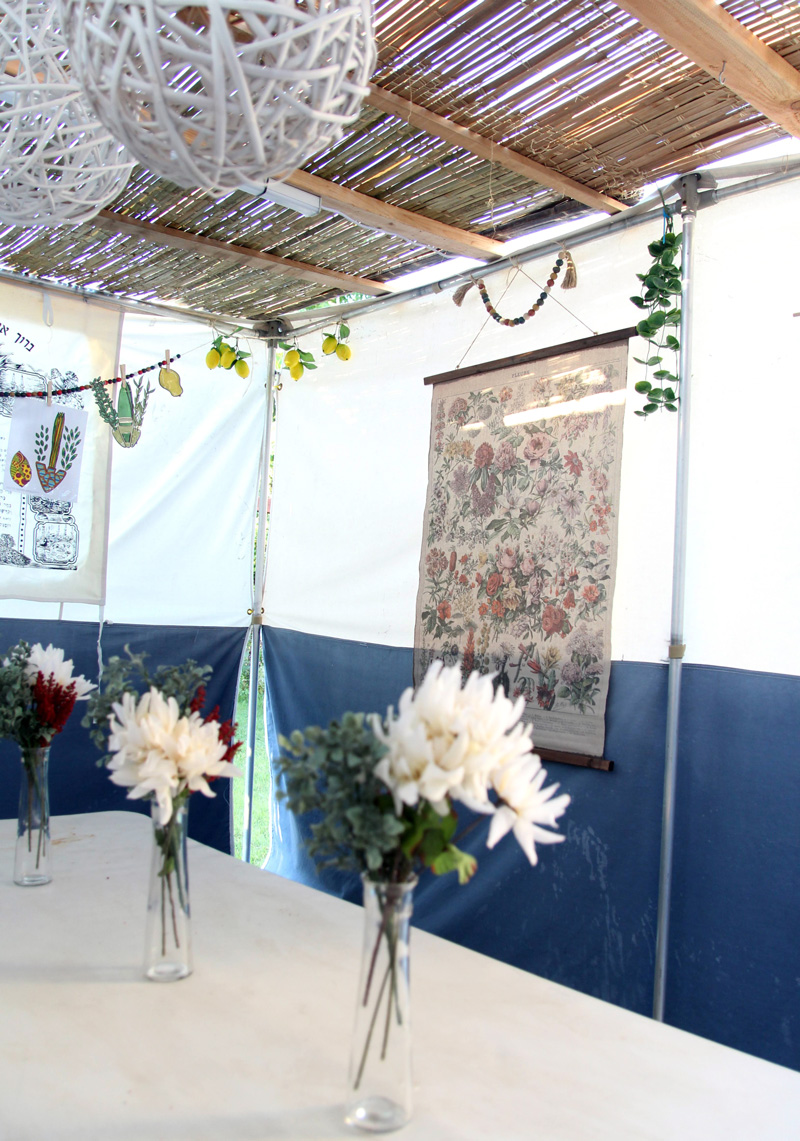 Mural – If you want something Sukkot-related, I recommend a large Sukkah art mural. It's not cheap, but it'll massively upgrade your Sukkah, and will hold up for many years. It covers a wall and is absolutely gorgeous. Full disclosure: this is a fundraiser for my sister's neighborhood shul (I don't get a kickback but her neighborhood is so warm and inviting every time I visit!)
For the Ceiling
The ceiling was definitely the focal point of our canvas Sukkah, although we still kept things relatively simple.
Wood balls – Two large rattan centerpiece balls (similar to this but bigger) were hung from twine from the bamboo mat that was our schach. They hung quite low over the table, serving the design function of a chandelier without giving lights. (For lighting we used an LED shop light, and string lights outside leading the way.)
These can be quite heavy so plan accordingly!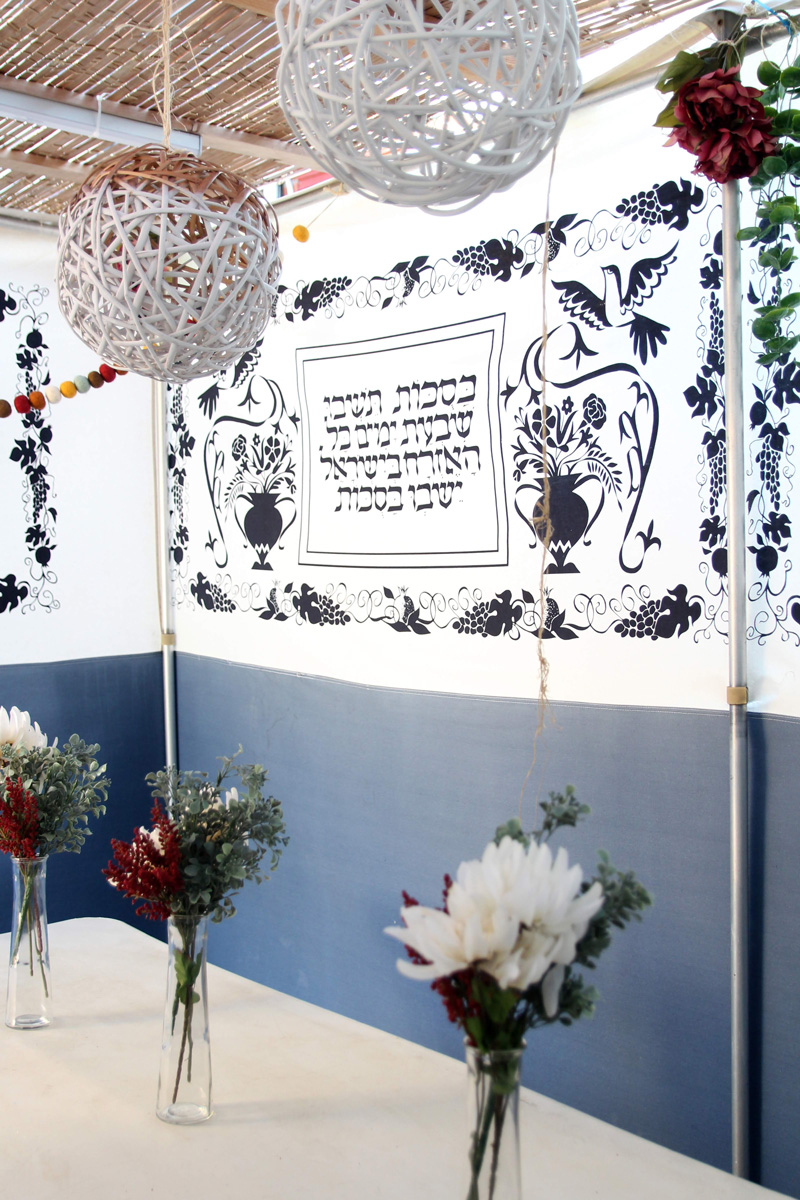 Felted Pom Pom Garlands – One of my favorite Sukkah decorations, the pom pom garlands that I bought (similar to this) added a cozy touch. These types of decorations make the Sukkah feel more like home and add a high-end, classy look that's perfect for fall!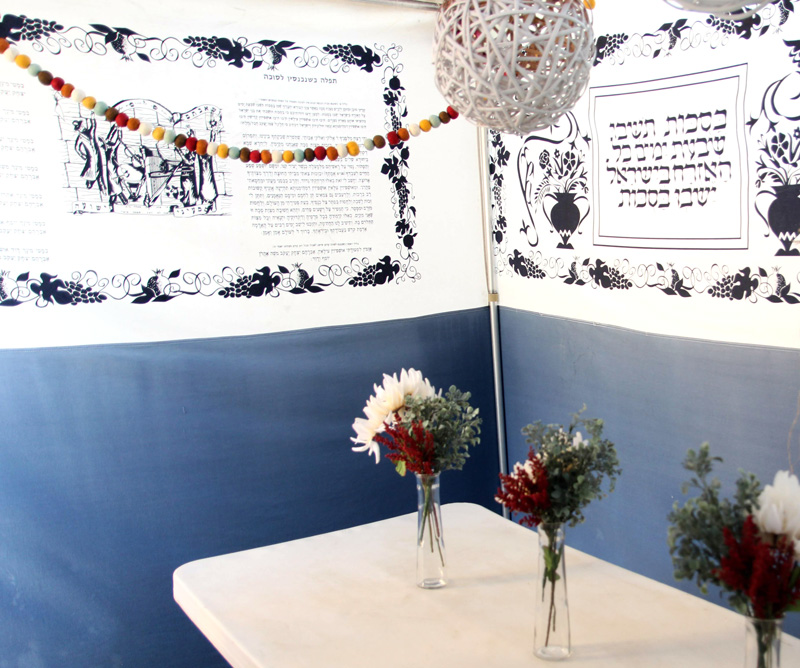 Hanging greens – I got some hanging fake plants, similar to this, to go with my floral bouquets.
Floral garlands – Adding various layouts and elements in different recurring themes is a great way to create interest. Floral garlands like these are the perfect complement to your bouquets, easy to hang, and fill lots of space.
Lemon garland – I got a mini lemon garland at a local store. It's not the best quality, was short and underwhelming, but it went with the flow. It's a fabulous little touch for families with small kids that need a little more Sukkot vibe to keep the atmosphere appealing for them. And it doesn't interfere with the rest of your decorations.
Wood bead garlands – You can get garlands similar to our clothesline as standalone decorations, not just for kids' art. Purchase them pre-made or make your own.
For the Table
Flowers – I lined up faux flower bouquets in dollar tree vases. Of course, real flowers are weather-hardy too! However, they are unlikely to look very fresh for the entire holiday unless you purchase them right before. So I chose no-maintenance faux bouquets.
And they can be repurposed for the next occasion you host!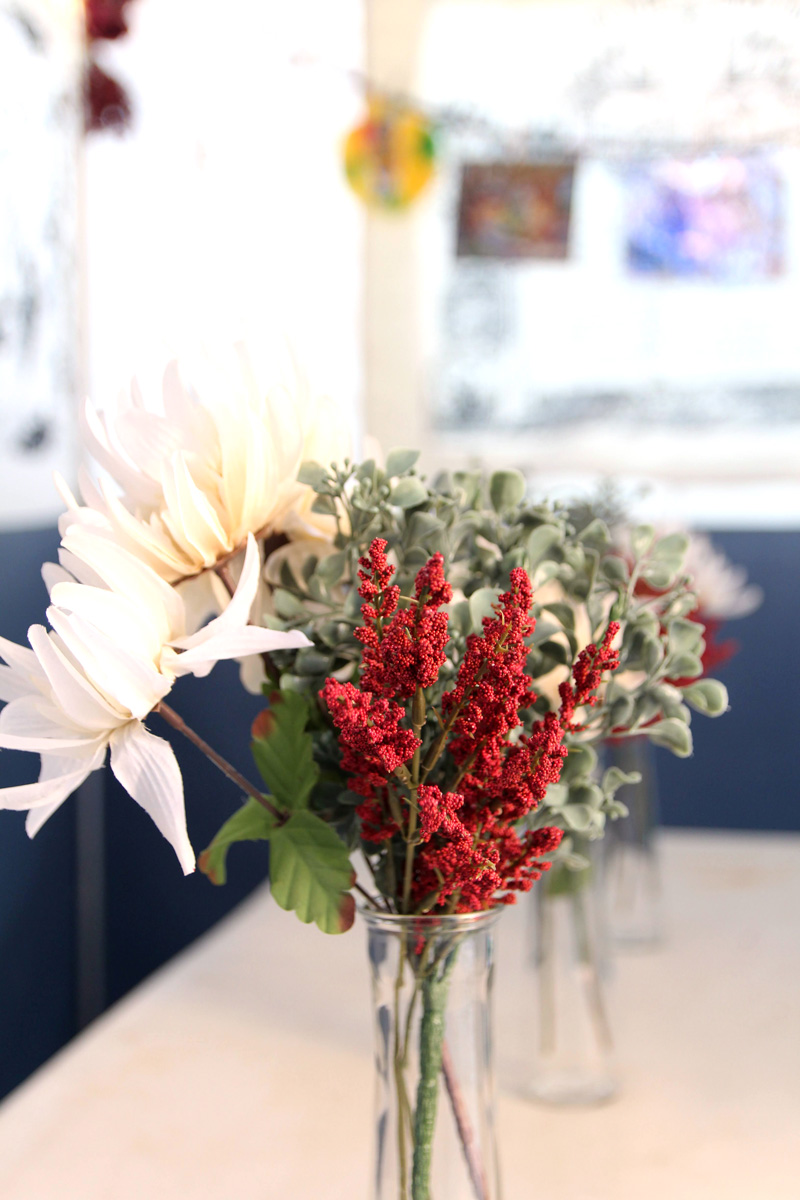 Centerpiece – While I made this vase centerpiece with dried lemons to decorate my home in the spirit of Sukkot, and not my Sukkah, it can be used outdoors as well! Just make sure to use an outdoor-friendly filler.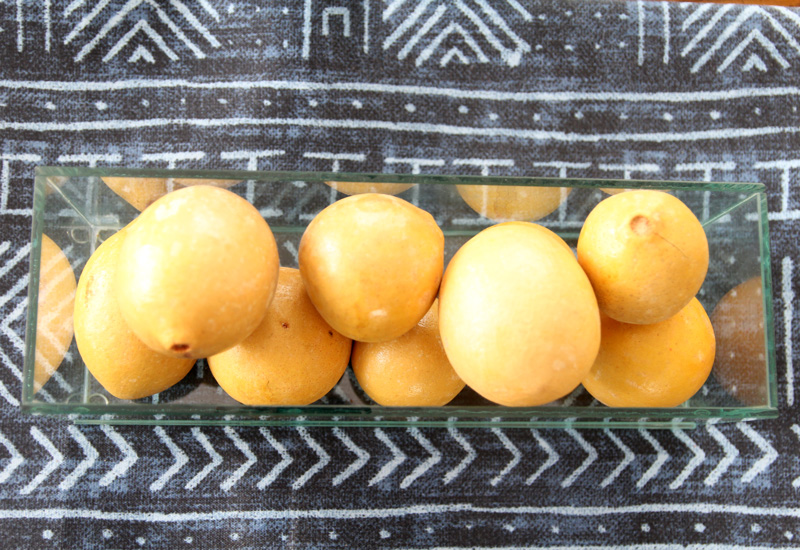 Place cards – There's nothing like gorgeous place cards to seat guests quickly, make everyone feel more welcome, personalize your settings, and decorate that table! We love place cards all year round, but especially on Sukkot we find that space is too tight to have people milling around not knowing where to sit. These are the new ones I created this year, but I have loads of styles in my shop. The best part: you can simply print at home however many you need!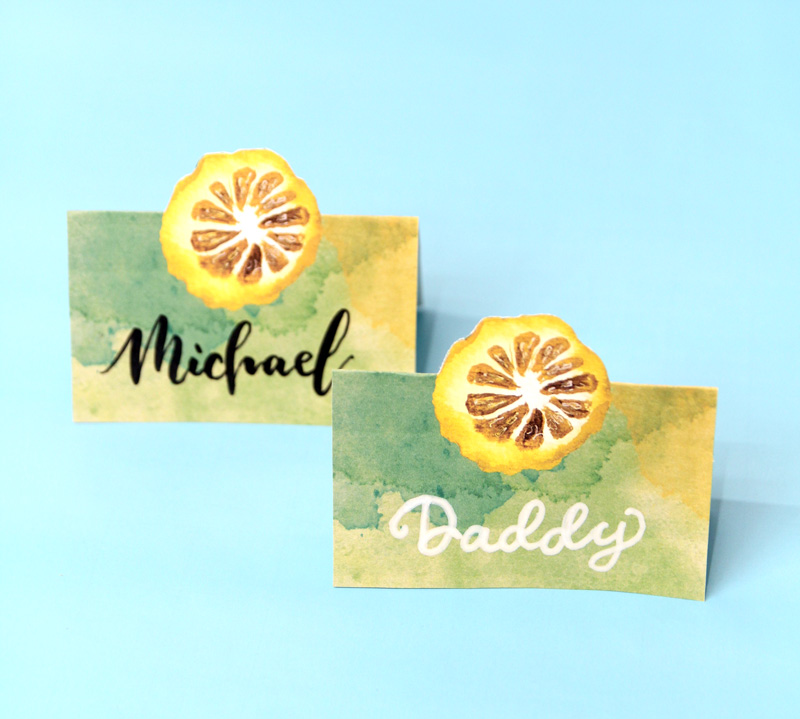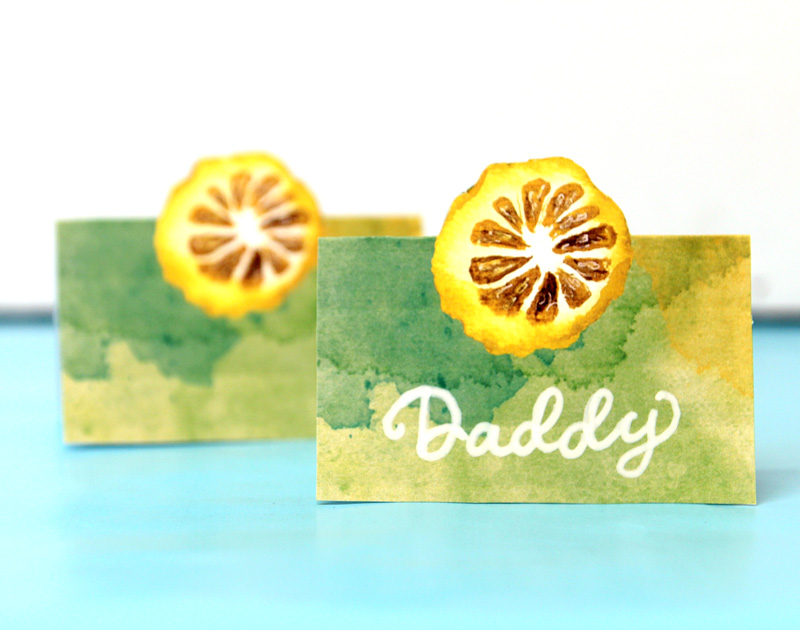 DIY napkin rings – I love drying Etrog slices and I love turning them into cool Sukkah decorations! My favorite? These napkin rings I made last year.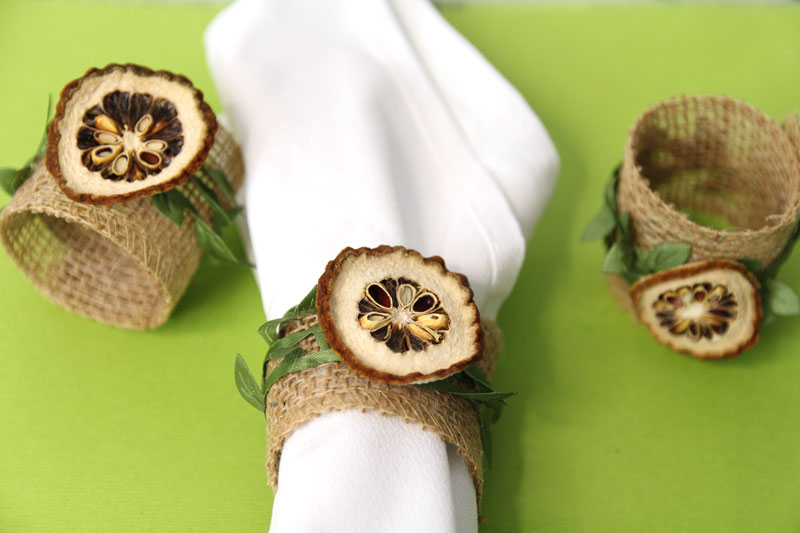 Printable napkin rings – If you're not about to sit down and craft, you can get the printable version that's based on the Etrog slice napkin rings! The watercolor art was made special for this design. They fold flat when not in use and feature glueless assembly.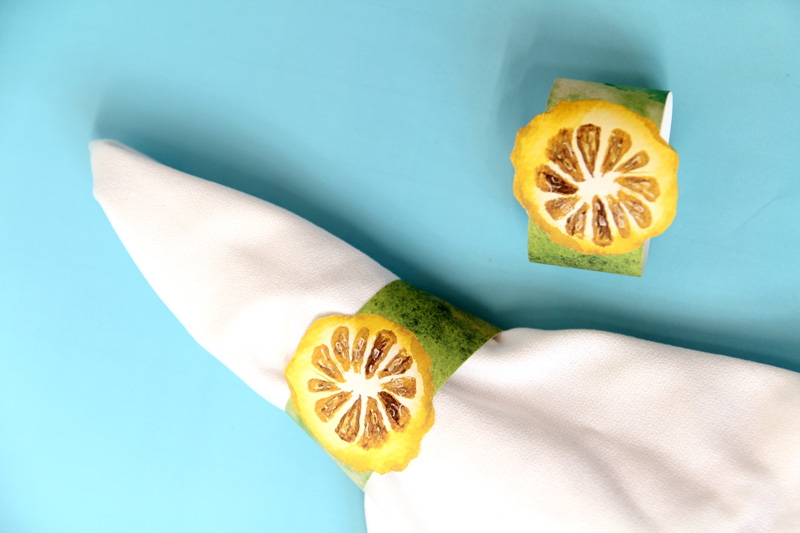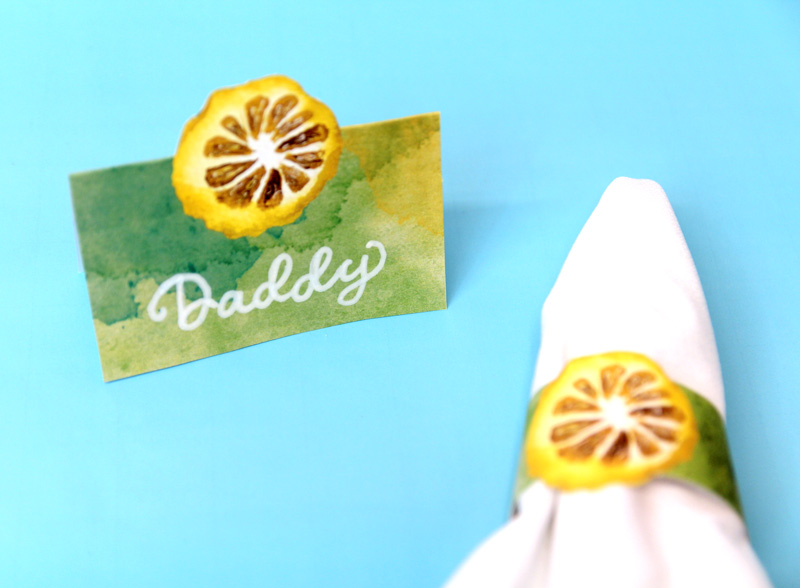 Place settings – Your table setting is everything! I chose a more modern vibe that didn't quite go with the decor. You can keep things neutral, opt for rustic, or use your regular dishes.
If you want to make life easier and use disposables, you can get kits on Amazon to make the matchmaking process go smoother.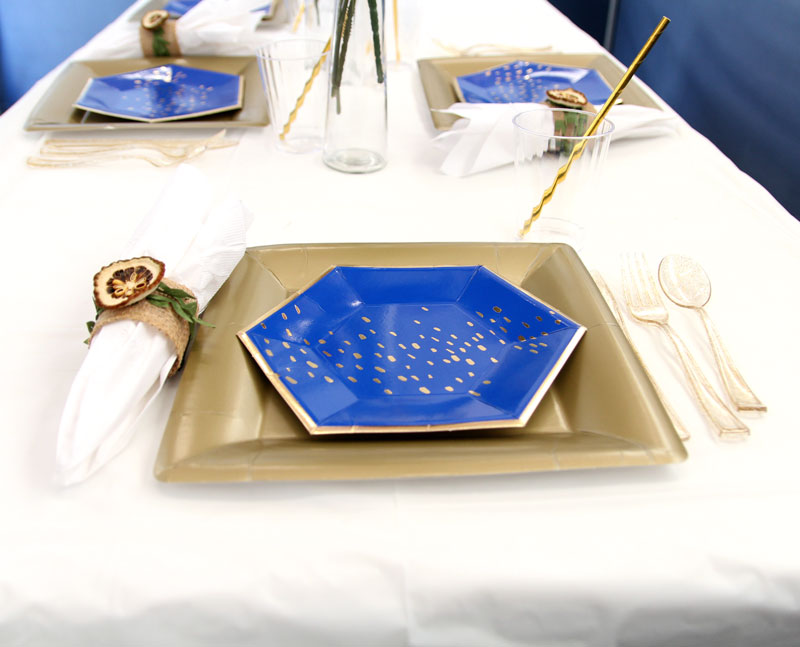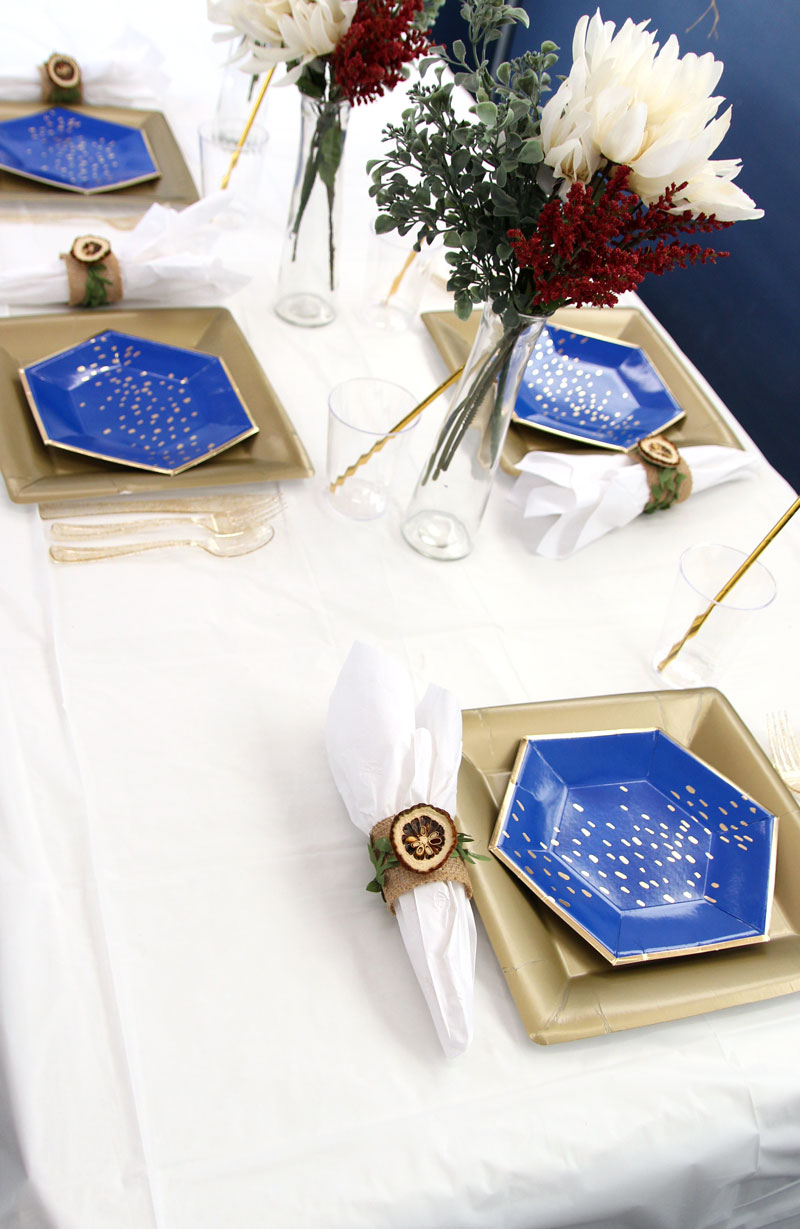 Got any cool Sukkah decorating ideas to add to the list? Comment below! Chag Sameach from our family to yours!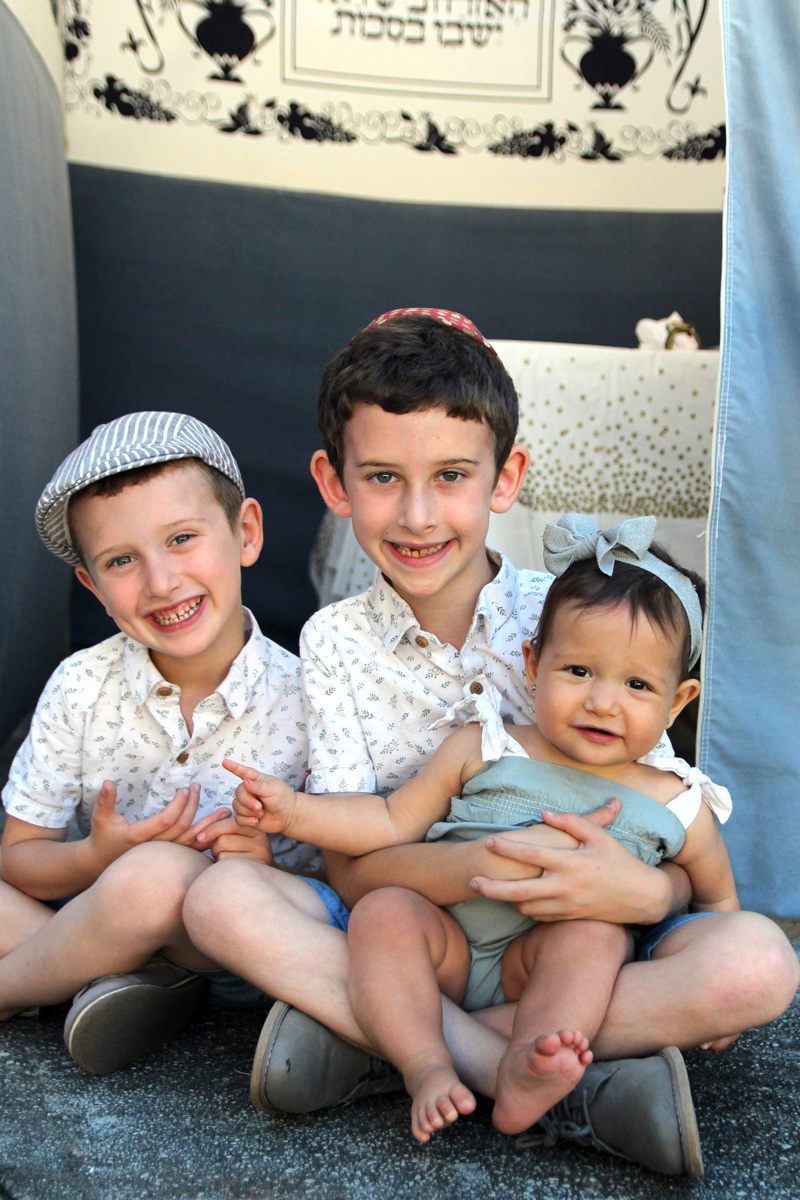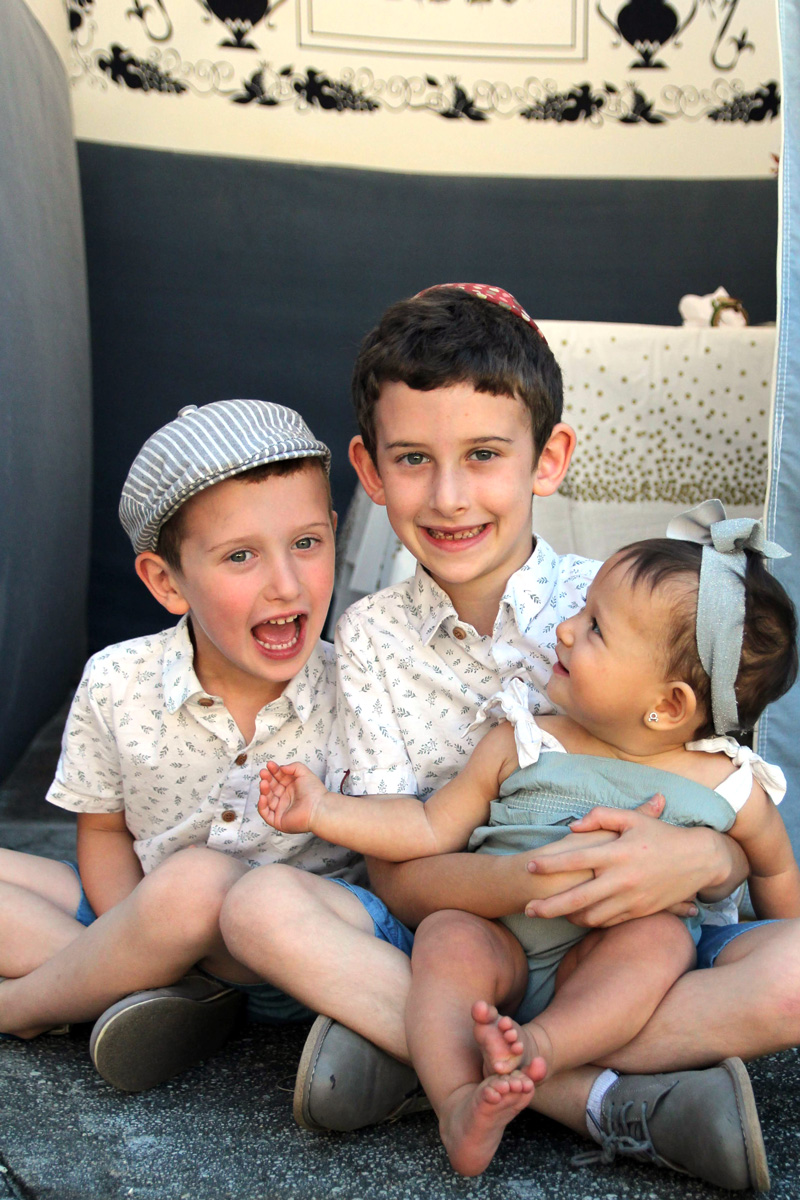 The post Cool Sukkah Decorating Ideas appeared first on Jewish Moms & Crafters.