Just when you think camping fun can't get any better!
These glamping accessories are great ways to go from camping to glam camping instantly.
DIY glamping (Do It Yourself glamorous camping) is trendy, easy and fun.
You can find rugged and practical camping gifts as well as cute and sassy ones!
And, if you are looking for gifts for glampers … we've got suggestions for those too! 
Psst we're compensated…see our disclosures.
DIY Glam Camping Ideas Start With Fun Glamping Accessories
Our simple tips and ideas add pretty touches to your camp adventures. 
The point is to reflect your personal taste with a few stylish touches.
You can go easy or all out … it's totally up to you, just make sure you have lots of fun on your glamping adventure!
---
Bar And Kitchen Glamping Accessories
---
You can glamp in a tent or RV … It's all about creating a cozy setting with elegant and whimsical little touches that make glamping special.
Instead of chowing down on plain old camp food, create easy and slightly-gourmet food and drinks to match the glam camping experience.
Unique bar and kitchen accessories are fun additions to your glamping gear and they make great gifts too. Here are a few ideas…
---
Talk about fun glamping accessories for your camp bar!
Whether you are shaking a freshly-squeezed lemonade or an afternoon cocktail, this cocktail shaker set is it!
This Camp-Themed Cocktail Shaker Set displays the message: Camp, Hike, Cook, Drink, Eat, Repeat.
It has a jigger and muddler too.
With the decorative gift box, you don't even have to wrap it if you want to give this set as a gift!
&
---
We have lots of Camping Cocktail Drink Recipes too!
P.S. One of my personal favorites is the secret recipe I got from Kona Grill: Strawberry Basil Lemonade! YUM!!!
---
Let's Go Glamping Straw Decor Set
Some of the fastest, easiest and cutest DIY glamping accessories are the ones that decorate food and drinks!
This adorable Let's Go Glamping Straw Decor Set is bright and colorful with a whimsical glam camping theme.
They really perk up a campsite but they are also fun gifts for glamping-themed gift baskets!
&
---
Some would call these cheap glamping accessories. I prefer to call them inexpensive, fast, and fun glamping accessories!
These festive Happy Camper Cocktail Napkins are a quick way to add pizzazz to your glamping theme!
They are colorful, whimsical and outright adorable!
They also make totally cute little glamping gifts for your friends who would rather glamp than camp! 
&
---
These happy camper napkins make really cute camping stocking stuffers during the holiday season!
---
If you are letting your inner chef take control of your camp meals, you may want to add a fun Camp-Themed Cutting Mat Set to your kitchen gear DIY glamping kit!
You'll love these things because there are 3 different sizes in each set for small, medium and large food prep jobs.
They are lightweight, flexible and can be hung on a hook too!
The set is so cute,  it's one of those glamping RV ideas that can be used as decoration in the kitchen (instead of being hung on a hook inside a cabinet door where they are hidden from view). 
&
---
Who wouldn't want a blended coffee mocha or frozen margarita while out in the wilderness???
This Extreme Daiquiri Whacker has a two-horse powered Homelite motor which means you are not restricted by extension cords or generators.
It is one of the most appreciated pieces of gear in my DIY glamping kit.
I'll take my blended mocha with a shot of fresh whipped cream, please!
&
---
Vintage Travel Trailer Wine Bottle Stopper
If wine is your preference, using a stylish Vintage Travel Trailer Wine Bottle Stopper is a cute glam camping accessory that adds to the glamping bar.
This is an oh-so-easy touch when it comes to do it yourself glamping! 
&
---
Welcome To The Trailer Wine Bottle Insulator
Keeping beverages chilled while camping can be a challenge.
If white wine is on the menu for your glamping experience, it is fun to use a cute Welcome To The Trailer Wine Bottle Insulator to keep your wine at the right temperature.
&
---
Picnic Stix Wine Glass and Bottle Holders
Playing a leisurely yard game like Bocce Ball during your glam camping happy hour doesn't mean you have to forgo a glass of wine.
Using Picnic Stix Wine Glass and Bottle Holders is a savvy alternative to a standard table or setting your wine on the ground.
This is one of those unique glamping ideas you'll probably use at home too!
&
---
Happy Campers Wine Bottle Label Stickers – Set of 4
Glampers can agree that no matter which wine they are drinking … it always tastes better when it is served from a "glamping bottle"!!!
These Let's Go Glamping Wine Bottle Label Stickers turn regular bottles of wine into glam-worthy pleasures.
If you are looking for glamping gifts to send across the miles, these labels are a great choice because they are super cute and easy to ship!
&
---
Can you think of anything sweeter than a heart-shaped campfire cherry pie?
These Heart Shaped Pie Irons make fun gifts for glamping on DIY glam camping trips that include a few nights of campfire cooking with "meals on sticks" when the regular square shape pie is just not cute enough! 
&
---
No matter how you make it, camp coffee is better than any other coffee on the planet … it has to be the outdoor setting that makes it taste so good!
When glamping, consider using a simple Java Press Coffee Maker for a perfect cup of joe.
If you need ideas for glamping gifts, consider a coffee press, a glamping themed mug and small bag of freshly roasted coffee beans tucked into a small gift basket.
Coffee drinking glam campers will love receiving this unique gift!
&
---
Yes, you can use a regular camp coffee mug but WHY would you when you are glamping?
A quirky camp-inspired Cute Retro Trailer Coffee Mug is a much better choice when glam camping!
You don't have to leave your glamping girlfriends out of the fun either because this is one of those glamping accessories that is actually available in an entire set of 4 mugs each with a unique color and retro glamping theme!
&
This mug is awesome but don't miss the rest of these super cute vintage camper gifts!
---
Retro Camper Desert Pot Holders
Normally, I like using heavy duty heat resistant gloves when cooking over the campfire. But for "cooler" cooking, whimsical Retro Camper Desert Pot Holders are the perfect option when cooking in a glamping camp kitchen. 
Oh, by the way, if you need menu planning glamping tips  and ideas for yummy almost-gourmet recipes, check out our Camping Recipes List for tons of options!
&
---
These Camping Dish Towels make awesome gifts for glampers who have to do their own dishes on DIY glam camping trips!
Using cute kitchen glamping accessories actually makes doing kitchen chores … well ALMOST fun! LOL 
The whimsical designs and the sayings on the two towels, Home Is Where You Park It and Life Is Better When You're Camping, put a little spring in my step when I think about drying dishes with them. I don't know about you … but … I just love anything that can make me happy to do dishes! 
Home Is Where You Park It Towel
Camping Dish Towel Set
&
---
The best gifts for glamping are lightweight, easy to transport and add a bit of luxury to a glam camping adventure … these Portable Wine Bottle Folding Bags do all of that and more!
These collapsible bags allow you to transfer your favorite wine from the original bottle into a bag that is leak-proof, portable, foldable, washable (even dishwasher safe) and reusable.
When the pouch is empty, it folds down so small it will fit in your pocket … the transfer funnel folds too!
& 
Portable Wine Flasks
Reusable Flexible Bag
Folding Funnel
Bags Fold When Empty
&
---
Grooming, Pampering And Glamping Gifts
---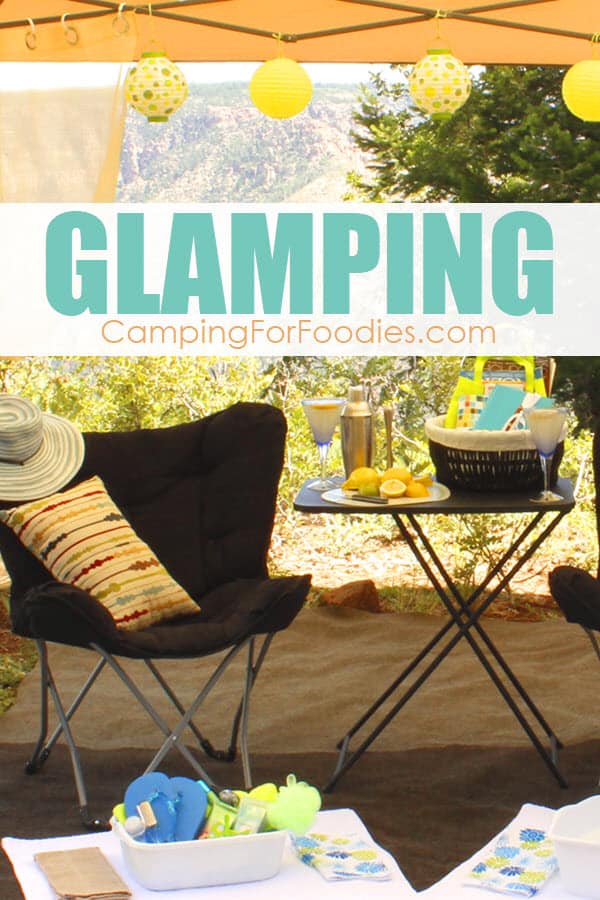 Regular camping includes getting a little dirty and personal grooming takes a backseat to rugged outdoor experiences.
Glamping, on the other hand, is a bit prettier and pamper-filled.
Here are a few DIY glamping ideas for girly-girl glamping activities with grooming accessories that also make great gifts for glampers! 
---
Happy Camper Glamping Sleep Mask
One of my biggest glamping tips is to eliminate all forms of being in a hurry during your glamping experience.
Sleeping as long as you want with no rushed schedule and no alarm … really sets the tone for ultimate rest and relaxation … doing it with a Happy Camper Glamping Sleep Mask is like putting the cherry on top of a sundae!
It is also one of the CUTEST GLAMPING GIFTS OF ALL TIME!
&
---
Body And Earth Spa Gift Basket
Spa gift baskets make great gifts for glampers who enjoy a bit of personal pampering on DIY glam camping trips!
This Body And Earth Spa Gift Basket includes shower gel, bubble bath, bath salt, potpourri, body scrub, body mist, body lotion and soap all nestled in a pretty wicker basket.
The natural ingredients help to moisturize and soften dry skin which is of supreme importance when glamping. 
&
---
Most of your glamping experience will probably include a modern toilet … but, you may decide to take a hike out in nature for the day and need to find a place to … well, you know!
When that happens on a regular camping trip you just use an old tissue you have stuffed in the bottom of your backpack.
BUT, when you are glam camping you have to do better!
So, make sure you pack a Gotta Tinkle! Mini Toilet Paper Roll in your gear as you hit the trail!
These make funny, practical and cute gifts for glampers too!
&
Gotta Tinkle! Mini Toilet Paper Rolls
Mini Travel Size Toilet Paper Rolls
&
---
Waterproof Compact Hanging Personal Care Hygiene Purse
Some of my favorite glamping activities are DIY manis & pedis! 
I start by putting travel-sized bottles of liquid soap, moisturizer, minimal makeup, nail polish and fun jewelry in a Waterproof Toiletry Bag that is compact and easy to carry.
&
---
Now, you'll need a few things for your DIY beauty treatment!
I love making "basket" gifts for glampers out of these items but instead of using a traditional gift basket, I use the foot tub as the basket and then fill the bottom with a little gift basket filler paper. 
Then I place the other items around the tub, wrap it in a big clear cellophane gift bag and then use a ribbon to finish it off with a pretty bow! 
Here are the items I use for my DIY glamping mani and pedi treatments:
&
Amope Pedi Wet/Dry
Sponge Loofahs
Manicure Set
Foot Bath Tub
Foot Soak
Body Wash
Cuticle Oil
Nail Polish
&
---
Glamping Lights & Illumination Accessories
---
---
Mood lighting is essential for DIY glamping after the sun goes down.
There is nothing worse than a super-bright utility type of light when you are glam camping.
You should have a bright work-type light available in the event you need to do some sort of task at night … but, for the most part, keep your lighting low with candles, soft string lights and lanterns.
Here are a few ideas…
---
Coleman Campfire Scented Citronella Candle with Wooden Crackle Wick – 6 oz Tin
Can you even begin to think of a sweeter scene … NO bugs are around because you are burning a bug deterring candle…
a citronella candle that smells like s'mores…
while you are eating almost-gourmet smores camping at your glammed-up campsite?!?!
Now, THAT is a sweet camp scene!
&
---
Natural Lemongrass Citronella Mosquito Repellent Candles
This is one of those unique glamping ideas that is stylish and totally functional because candle light is so soft and pretty and if you use Natural Lemongrass Citronella Candles you can ward off mosquitoes too!
It is probably no surprise that my favorite glamping lights are powered by fire rather than bulbs!!! 
&
---
Thinking you want a little more protection from the bugs beyond good-smelling candles? 
See how to keep bugs away so you can enjoy your glamping experience!
---
String lights are commonly used when camping.
When looking for lighting glamping accessories, I recommend using Solar String Lights that have a soft warm glow. 
It is a plus using lights operated with solar power so you don't need to worry about electrical plugs or batteries!
&
---
I just LOVE our Luci Inflatable Solar Lights!
They can be hung from almost anywhere … plus, they are lightweight and compact which is great for transportation and storage.
They come in a variety of colors which helps create a special glamping mood.
&
---
---
Glamping Decor Ideas
---
---
Decorating your campsite area and inside your tent or RV is totally a glamping thing.
There is no practical or utilitarian use for glamping decorations … they are just cute and fun! 
Don't you just love the idea of glamping gear that is hanging around "just because" it feels pretty and makes you smile?!? 
Here are a few glamping decor ideas…
---
You can easily add a splash of color around your entire campsite with Flags Decoration Bunting Banners.
They look adorable hanging from trees, awnings and tents.
One of the things I really like about this glamping decor idea is that these things are cheap, lightweight, easy to pack and create a huge impact!
It can also be a homemade glamping DIY craft project you do in advance of your do it yourself glamping trips! 
&
---
Glamping would NOT be glamping without cute throws!
When it comes to DIY glamping, it is easy to swap out a normal camping blanket with a stylish one.
You can use a throw with a sophisticated color scheme or use one with a whimsical retro glamping theme like this Camp Casual Throw.
I like glamping accessories that can be used on a glamping trip or at home … they also make great glamping gifts for your girlfriends too!
&
---
Home Is Where You Park It Throw Pillow Cover
Using decorative cases for throw pillows allows you to change a color scheme instantaneously.
You can use them inside tents, RV trailers as well as on your outdoor glamping furniture.
Look for Cute Throw Pillow Covers that make you smile!
You can use gorgeous bright cases with fun textures and geometric designs, but I especially like cases with glamping sayings, quotes and images!
This is one of those fast, easy and affordable RV tips and hacks to turn camping into glamping.
&
---
Putting a flag up to mark your temporary home is one of those popular glamping RV ideas but not as popular when it comes to tent glamping accessories.
I think the reason is because it is really common for RVers to have personalized flags at their campsites … so it just makes sense to use adorable flag glamping decorations when you are glam camping.
I encourage DIY glamping tent campers to use one of these too! Choose a Fun Camping Flag that fits your glam camp style.
&
---
Let's Adventure Glamping Doormat
Dirty glamping gear is not acceptable!
That's why this Let's Adventure Glamping Doormat is the perfect mat to place at the entrance of your tent or RV.
It stays with the glamping theme while performing the needed function to keep the dirt out of your glampsite.
This indoor/outdoor mat makes a great glamping gift too.
&
---
Here are a few lightning-fast decorating glamping tips … Use photo booth props to add glamping style around the campsite and as a fun outdoor photo booth glamping activity!
Capturing memories of your glamping experience is a must!
And, using a whimsical Happy Camper Photo Booth Props Kit makes it so easy!
&
Happy Camper Photo Booth Props Kit
Wooden Dowel Sticks And Adhesives
&
---
Entertainment Glamping Gear
---
---
It's all about the setting!
I would be the first person to tell you to put away electronic devices and get back to nature when it comes to camping.
But, glamping is an entirely different experience.
Watching a fun "chick flick" under the stars with a slight evening breeze while lounging in a comfy chair is an awesome DIY glam camping experience!
Here are a few entertainment glamping ideas…
---
There are some luxuries that come with having your phone on glamping trips!
So, you need a PopSocket that fits the theme of your other glamping accessories!
This Happy Camper PopSocket is one of those gifts for glampers who want to stay connected … stylishly!
&
Happy Camper PopSocket
Grip/Stand For Phones/Tablets
&
---
Adult coloring books have become super popular as people realize the creative activity of coloring is a wonderful way to reduce stress!
Being surrounded by pretty things while relaxing is my focus when I am glam camping.
Using Assorted-Stick Twig Colored Pencils to color a glamping-themed adult coloring book, like this Happy Campers Coloring Book, is a way to combine a little rustic natural feel to a relaxing glamping activity.
These also make unique gifts for glampers!
&
Happy Campers Coloring Book
Assorted-Stick Twig Colored Pencils
&
---
It makes a perfect glamping movie!
One of the most classic chick flick's is Breakfast at Tiffany's which is just one of the movies in The Audrey Hepburn DVD Collection set!
If your DIY glamping trip is long enough, you may need an entire series!
Whichever you choose, watching a girly-girl movie under the stars is totally fun!
When people ask me how to turn camping into glamping in unique ways, I say this one is off-the-charts!
&
---
Movie Projector for Indoor/Outdoor with Speakers, Compatible with Fire TV Stick, PS4, HDMI, VGA, AV, USB
Drive-in movies are a thing of the past but that doesn't mean you can't watch your favorite flick under the stars on your next glam camping trip!
Outdoor/Indoor Movie Night Portable Projectors are designed for tons of fun and should be on your glamping equipment list.
And, whatever you watch … don't forget the popcorn! 
&
---
Camp Chef Portable Outdoor Movie Screen
Some people display the movie image from a portable movie projector directly on the side of an RV, others string up sheets using bungee cords.
But, the best viewing happens if you use a Portable Outdoor Movie Screen that sets up and packs away easily.
This is not one of those "must have" glamping products but is one of those "really nice to have" glam camping gadgets! 
&
---
Ahhhhhhhhhhh, music … it is one of the biggest influences on setting a tone for any environment … and that includes glam camping!
Using a Bluetooth Speaker let's you take the music with you throughout your glamping experience.
I recommend having a variety of music so you can set any mood you desire as you relax during your trip.
I like listening to spa music when soaking my feet for my DIY pedicure and listening to smooth jazz for afternoon happy hour.
In other words, a wide range of music and a good sound system are at the top of my DIY glamping equipment list.
&
---
Travel journals are awesome activity accessories for glamping trips because rest, relaxation and reflection usually result in a few "ah-ha moments" … some can actually be life-changing in a positve way! 
This Glamping Queen Travel Journal includes lined pages and writing prompts for journaling … plus, blank pages for doodling, photos and momentos.
It makes a really fun glamping gift to be given before the adventure begins!
&
---
Hiking is a normal camping entertainment activity but when it comes to hiking on glamping trips … you have to turn up the volume on the pretty and comfort factors!
This Ultralight Backpack Cooler Chair is the perfect glamping gift for women who are doing DIY glam camping or those going to a glamping resort … in either case, stylish hiking is in order!
This backpack cooler chair has a sassy 3-in-1 design … it's a lightweight backpack … a mini stool chair … and a built-in cooler bag for drinks and snacks!
I personally love the blush color but it also comes in teal!
& 
Ultralight Backpack Cooler Chair
Compact Lightweight Backpack
Portable Folding Stool
&
---
Glamping Furniture Accessories
---
Comfy, cute, stylish and colorful is the name of the game when it comes to glam camping furniture.
It also needs to pack easily because you are not going to rent a U-Haul or hire moving men just to help you get set up on your DIY glamping trip!
Here are a few ideas…
---
I don't know about you but when I'm relaxing on glamping trips, I want my friends and family to give me a little space.
That is no problem when I'm kicking back in my I'm Unplugging Hammock which is THE COOLEST HAMMOCK EVER!
I love having my magazines, glasses and drinks easily within reach after I wake up from my mid-day nap!
This thing folds up into itself for easy carrying too!
---
 Accessory Bag Holds Drinks, Magazines etc
 I'm Unplugging Hammock
 Folds Into It's Own Carrying Bag
&
This hammock makes a super fun gift for anyone who likes to relax while camping, we have tons of other ideas for camping gifts that are perfect for men, women, kids and couples too!
---
Portable Bamboo Outdoor Wine Table
Some glamping gifts are so cool, you'll want to use them at home after the glamping adventure is over!
This Portable Bamboo Wine Table is one of the most unique glamping furniture accessories you will ever find … it is an awesome little table to hold wine, cheese and snacks … anywhere you can take a rest and enjoy the activities of the day.
It lays flat for transportation, has handles making it easy to carry to your picnic spot and then you just screw the stem into the pedestal and then push it into ground … that's it … you're picnicking!
It is the perfect gadget to have while playing lawn games like bocce ball. 
&
---
Some people go crazy with big, plush glamping furniture when they are glam camping in a semi-permanent location …
but, if you are creating your own DIY glamping kit for temporary trips …
I recommend you limit your load when it comes to weight and space requirements for transporting your glamping gear. 
Having a fun Fun Portable Chair that is comfy, easy to pack and cute is important.
Choose a color that fits your style and adorn it with a fun throw pillow.
&
---
Like I said earlier, you can glamp in a tent or RV.
If you are in a tent, getting off the ground and creating a comfortable sleeping atmosphere is huge when glamping.
You can add pretty sheets, pillows and blankets but you should start with a solid base like an Airbed Cot.
&
---
The gentle sway of a rocking chair is the ultimate in relaxation!
Finding a flat surface for a traditional rocking chair is not always easy on glamping trips … and … THAT is why this Portable Folding Rocking Chair is so cool!
The "feet" of the chair are not rounded like they are with ordinary rocking chairs … this chair stays steady on uneven surfaces and the rocking action is achieved by a spring!
It conveniently folds for transportation and storage which is what you need when DIY glamping. This awesome rocker makes the perfect glamping gift! 
& 
Portable Folding Rocking Chair
Folds For Transportation
Spring-Action Rocking Technology
&
---
Glamping Tent
---
Dream House Heavy Duty Glamping Tent
Yes, you can really go over-the-top when it comes to tent glamping ideas! 
Check this one out… Creating a DIY glamping adventure in a normal tent is totally doable but if you want to take it to the next level, you'll want to use a Glamping Tent. 
I have to admit, I have not used a glamping tent but I certainly would never discourage any glampers that are more ambitious than me. 
&
---
Clothing And Bags Glamping Accessories
---
---
Adorable bags and clothes are an absolute must when glamping!
Add glamping-themed tees, bags and pajamas to your DIY glam camping trips.
Here are a few ideas…
---
This Glamping PJ Set is sooooooooo cute and comfy!
My guess is that you will want to wear them everywhere!
Oh, by the way … it is totally encouraged to wear cute glamping pajamas till just after 12 noon!
That time extends by two hours if you are sipping mimosas for a fabulous glamping brunch!
&
---
More Glamping Tips And Gift Ideas
---
Glamping With MaryJane: Glamour + Camping
This whole glamping thing … where did it come from?
If you have not discovered the book Glamping With MaryJane: Glamour + Camping, you might want to check it out. 
It's all about glamorous camping and includes stuff about trailers, backyard glamping, housekeeping, entertainment and more!
It even spotlights women who settled in the West and their 3 G's of grit, grace and glam!
It makes a great addition to your DIY glamping kit!
&
---
Wherever your glam camping trip is located, odds are that you will be carrying keys and fobs during your experience.
This totally adorable Glamping Key Fob Strap is the perfect accessory for the task!
It is available in lots of colors and makes great gifts for glampers that can be used well after the glamping trip has ended!
&
---
For really special glamping trips, make sure you capture your memories in a stylish book like this Our Adventure Book Scrapbook/Photo Album.
It is really fun to create a book to give as gifts for glampers who joined you on the adventure!
You can fill them with photos you took on your glamping trip as well as glamping-themed embellishments like these Happy Camper Stickers.
&
Our Adventure Book Scrapbook/Photo Album
Happy Camper Stickers
&
---
Inexpensive glamping-themed jewelry accessories make totally fun pre-trip gifts for glampers going on a trip!
One of the best things about giving glamping gifts to your friends prior to the trip is the excitement and anticipation about the upcoming adventure!
&
Stainless Steel Bangle Bracelet
Silver Pewter Campfire Earrings
&
---
Some gifts for glampers are meant to be used in a home, cabin or RV like this adorable Happy Campers Pendulum Clock designed by artist Michelle Allen.
The "tow vehicle truck" acts as the clock pendulum, and the hands of the clock are adorned with hand-painted hearts. 
&
---
You can't get more DIY glamping than buying, restoring and decorating an old camper into your very own DIY glamping camper!
These books make perfect gifts for glampers who like to do restoration projects and share experiences with other glamping gals!
Here are a few titles that make glampers anxious to pick up their tools!
&
Teardrops And Tiny Trailers
Vintage Trailer Style
Vintage Camper Trailers
Sisters On The Fly
&
---
The really cool thing about DIY glamping accessories is that they are not only made for humans!
Dogs are totally welcome on DIY glam camping trips … so … Don't forget to pamper your pooch! 
This Glamping Dog Collar is so fun for dogs who glamp (and the people who love seeing them look so cute)!
These collars make great gifts for glampers who travel with their precious pups! 
&
---
How To Plan A Glamping Trip
Now that you know all of the pretty accessories you will be taking on your trip … make sure you plan the other important aspects of your glam camping adventure!
We have a FREE printable camping trip planner template and show you exactly how to plan a camping trip!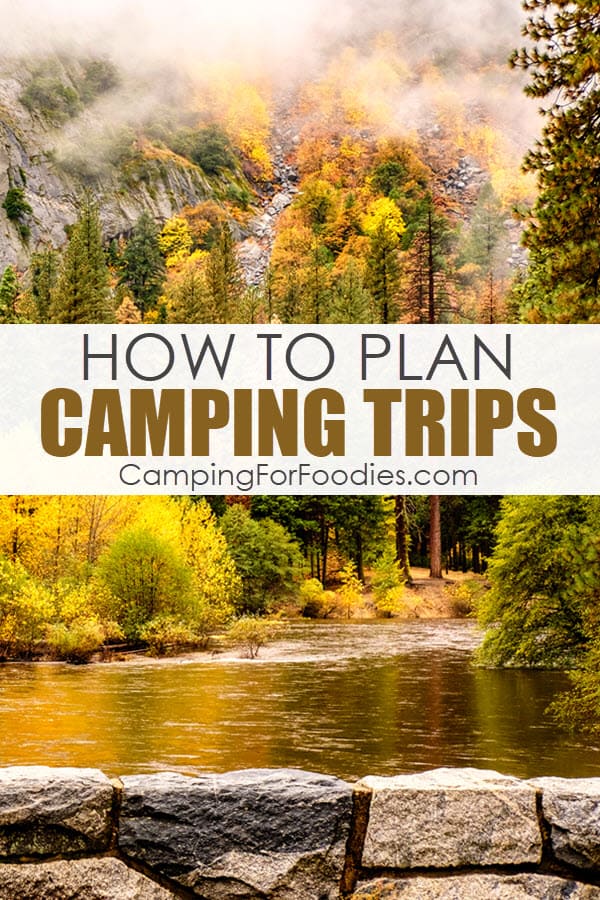 ---
How To Find Glamping Destinations
If you are not quite sure where to go glam camping … try using the Hipcamp app.
It features unique, one-of-a-kind camping destinations located on private farms, ranches and vineyards.
We think it is one of the best camping apps to help you add some style to your experience.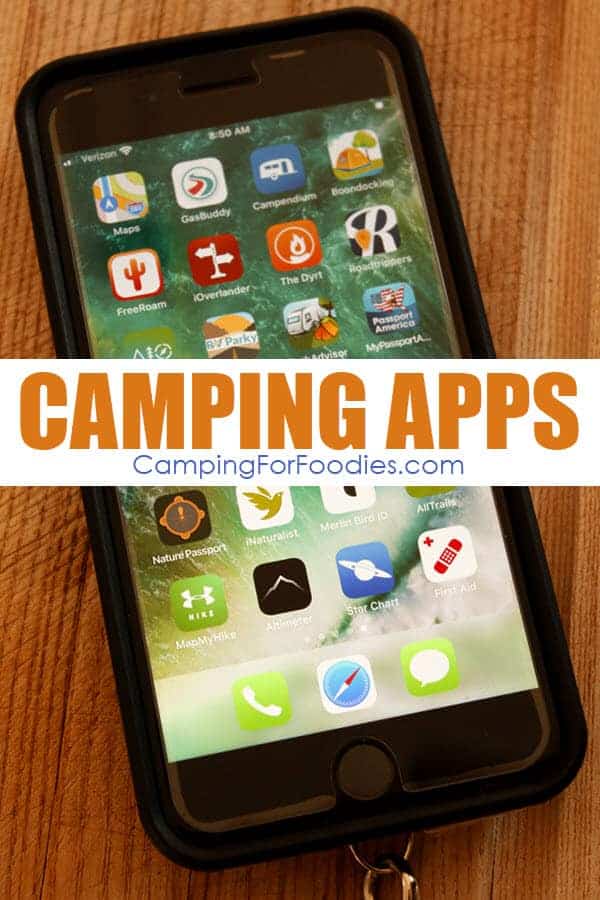 ---
Glamping Food And Drink Ideas
---
Make your food and drink menu reflect the glamorous part of glam camping! Here are some ideas for that…
---
Check out our Camping Recipes List page for tons of fabulous meal ideas for your glamping trip
&
---
Thinking you want a fun drink option or two for your glam camping trip? We have lots of recipes on our Camping Cocktail Drink Recipes page which includes alcohol-free versions too!
&
---
DIY Glamping Video
---
You can see my VIDEO: How To Turn Camping In To Glamping to see how I created my glamped-up dining room!
---
If you are giving cute glamping gifts, you'll want the gift wrap to look adorable too! Check out our Fun Camping Wrapping Paper And Creative Gift Wrap Ideas post for inspiration!
&
---
Our Cool Camping Products Make Great Gifts!
Cutting Mat
Mat Set
Shaker Set
Hammock
&
---
If you need camping recipes and menu ideas, you can find them here at the Camping For Foodies Camping Recipes list.
Don't miss a thing…sign up for Camping For Foodies email updates!
Your purchase of our products will help support World Vision ® Building a better world for children.
---
Pin It For Later!
---
Pin It For Later!
The post Cute Glamping Accessories And DIY Glam Camping Ideas And Tips appeared first on Camping For Foodies.