Help kids learn their numbers and improve reading skills with summer color by number printables that are fun to color. Each coloring page features a familiar summer-themed item that kids will love.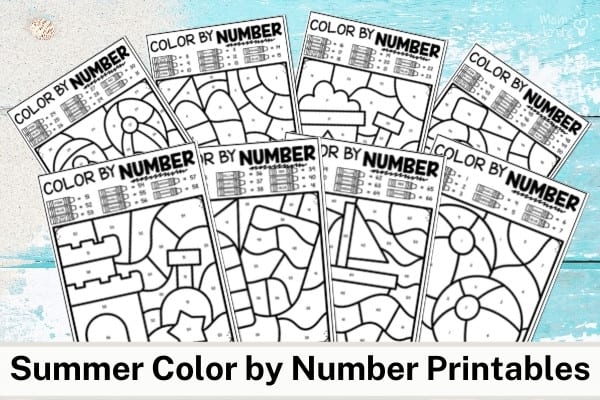 Looking for a fun summer activity that will keep the kids entertained? Check out these free summer color by number pages! This activity is perfect for all ages and can be enjoyed by the whole family.
How Coloring by Number Help Improve Reading Skills
The names of the colors are written in the crayon outlines at the top of the coloring pages.
Kids who enjoy coloring by number worksheets will get a lot more out of them if they take the time to read the numbers and color the picture accordingly. Not only does this practice improve reading comprehension, but it also helps kids learn their numbers.
Of course, even without this added benefit, coloring books are still a fun way for kids to pass the time with a quiet activity.
Number Recognition and Counting
The numbers included in each page are listed throughout each picture, so kids can learn to recognize them. Count along with your child as he colors by number, or have him find specific numbers within the image.
You can also take this opportunity to talk about basic mathematics concepts like addition and subtraction.
Learning Colors
Your child will also benefit from learning about colors through these coloring pages. Each number features a different color, and kids can learn to identify the color as they color each item. Color names are listed at the top of each page, so your child can work on learning those as well.
Coloring by number pages also help improve fine motor skills and hand-eye coordination as kids carefully fill in the lines. Your child will love to show off his completed coloring pages to friends and family, or add them to a scrapbook.
When your child reaches a certain age, you can encourage them to start choosing their own colors rather than relying on the suggested ones. This lets kids express their creativity while building reading and math skills at the same time!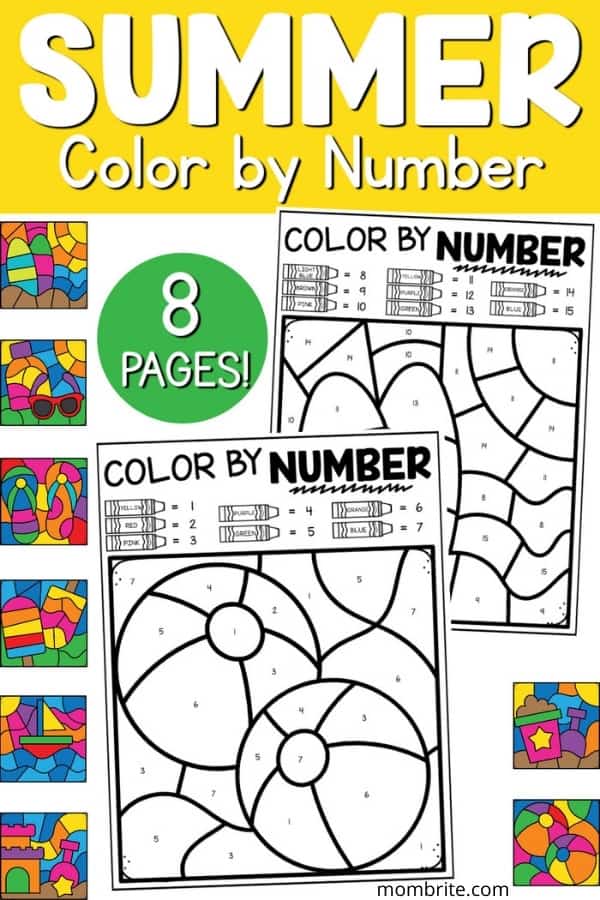 How to Use Summer Color By Number Pages
To get started, all you have to do is print the color by number summer printables and give your child crayons or colored pencils. The colors needed for each puzzle are listed at the top of the page. Just grab the colors they need and you have an interesting activity that's great for while waiting for dinner, about to head to bed, or when they need a quiet break mid-afternoon.
You can let your child color by number without any guidance, but it is always fun to go through the numbers together.
The pages include these summer fun pictures:
Beach balls
Surfboards
Shovel and pail
Flip flops
Popsicles
Sunglasses
Sand castle
Sail boat
Ways to Use Color By Number Summer Pages
You can use these coloring pages to help your child learn their numbers. You can also combine them with a fun summer theme for a complete summer picture set.
For example, you might use the beach ball color by number together with a few sheets of tissue paper and have your child create a sun-shaped suncatcher for the window. Just trim the pieces of colorful tissue paper and use some contact paper for placing the parts of the beach ball.
You can print out extra copies of each easy color by number page to make a matching game. To do this, print one copy on a thicker cardstock for durability. Then color a second page. Cut the second page apart and let kids match the pieces. Laminate them to reuse them year after year.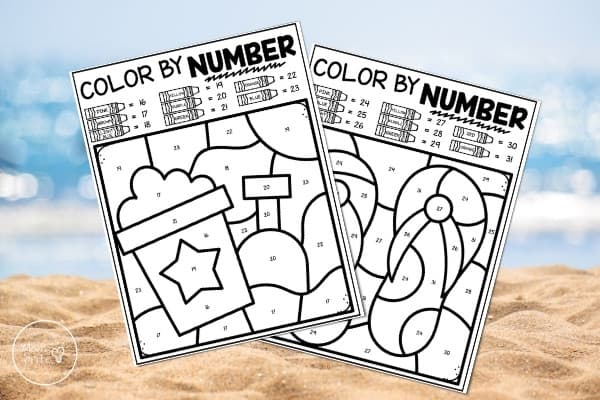 Download the Summer Color By Number PDF
When you're looking for ways to keep your child occupied during the summer break, print out these Summer color by number pages from mombrite.com and have some fun while learning!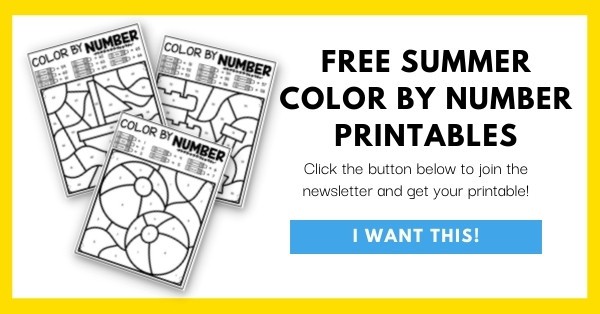 ---
Related Posts: