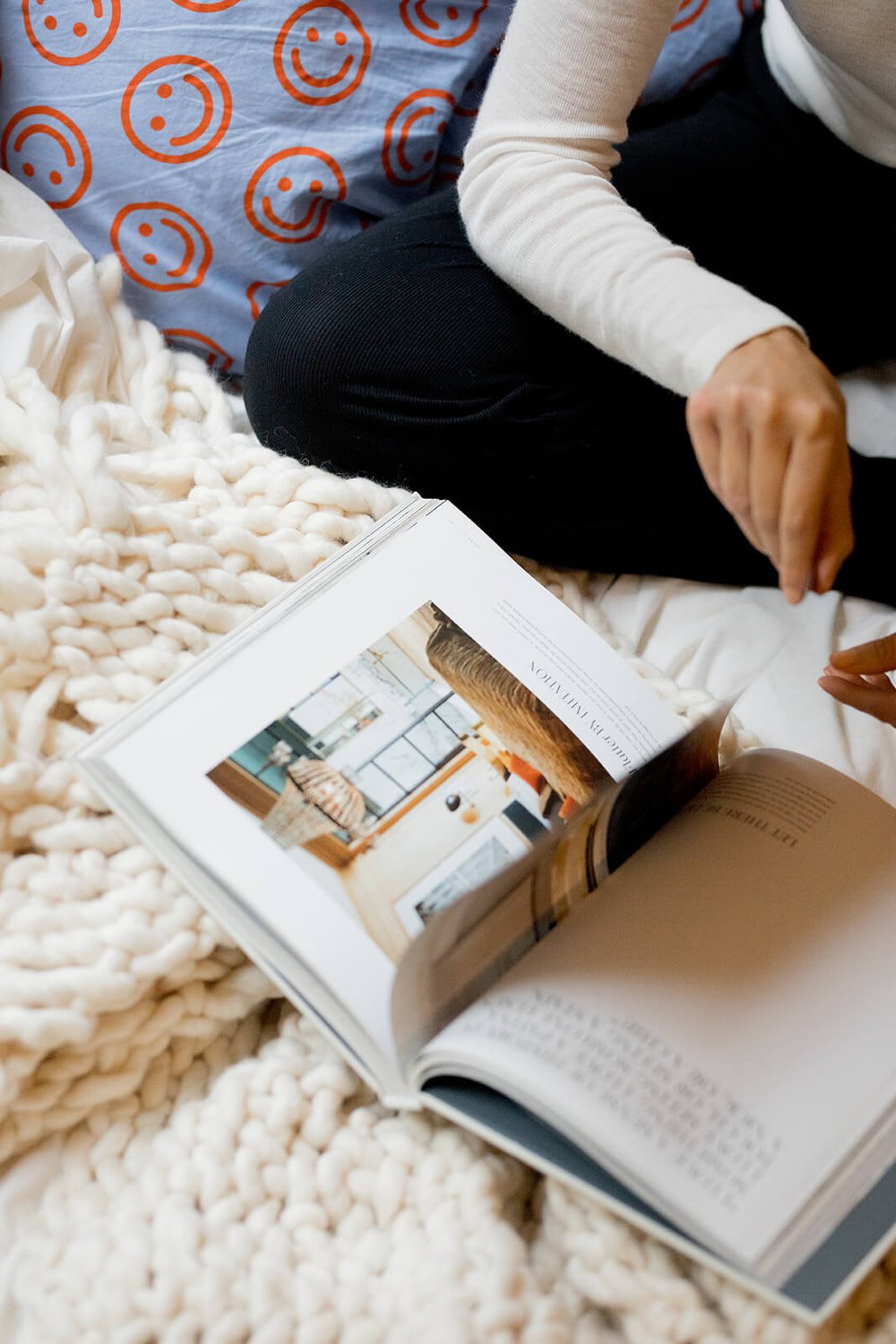 The written word is a place of refuge for me.
It's a space where I cannot be interrupted, corrected, or needlessly criticized, a place where I can feel my feelings without judgment. But lately, my words liquefy and fail me when I need them most, especially in the face of war, human rights rollbacks, and the continued climate crisis. There's so much to say but few words left to use, not to mention that some of my feelings don't even seem to have appropriate words to describe them. 
I purchased a whiteboard a few weeks ago to try and capture the tasks and thoughts on my racing mind, but I quickly realized I found much more enjoyment in scribbling and doodling than I did plotting out my to-dos. And when good old Pinterest started serving me up advice on art journaling, I realized that I still had all those same thoughts from before, but maybe I just needed to try a new way of expressing them. So thanks to one-too-many aesthetic videos, I've decided to start my own art journal, where I can express more of my feelings in shapes and colors and very, very bad drawings of stick figures—no words (unless they come to me), and no rules.
"Imagine being able to walk into a rich landscape of your thoughts and feelings, where your dreams and anxieties are as concrete as forests and rivers," says Saudamini Madra, an LA-based artist who turned to art to de-stress from a fast-paced work life. "Art journals are where you can visualize these amorphous concepts as a tactile scene and better relate to yourself." Madra, whose work as a mandala artist, says that she's found art journaling to be an oasis of expression, especially during these times. 
It's a respite for me, too, to spend time with images instead of words. Outside of the restrictions of language, there is no need to self-edit, to come up with some deep insight, or to accurately express myself. The practice also brings me back to moments of presence in my childhood, where I'd sit at the kitchen table with my cousins, drawing and chatting and generally having no place to be. (Seriously, when was the last time you sat and doodled with your old school supplies?)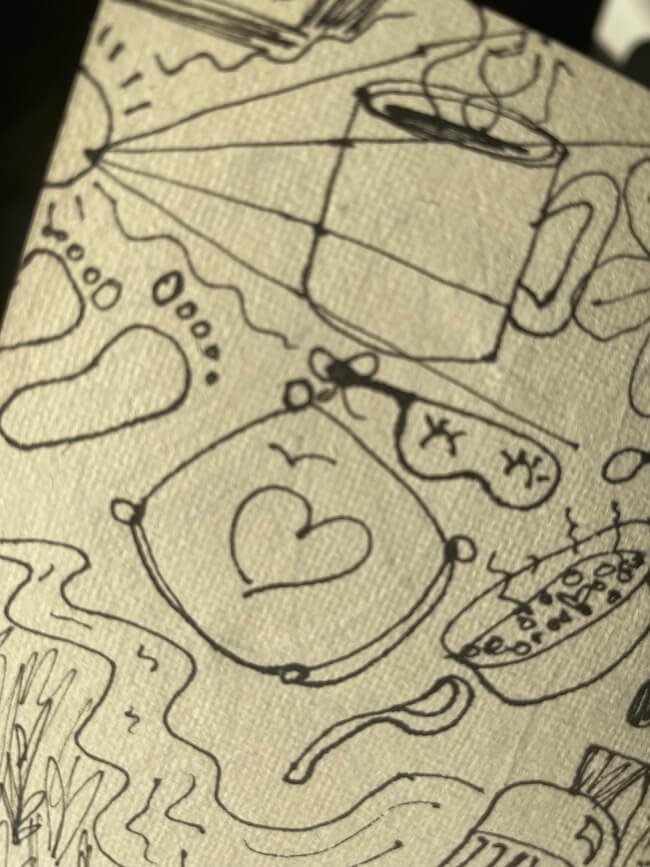 Dr. Elizabeth Warson, a trained narrative therapist who uses an arts-informed approach to navigating stress reduction and pain management, says I'm not alone—creative journaling can lower anxiety on self-reported scales. But many people have hesitations about starting, mainly because they assume you must be an artist to keep an art journal. But that's like assuming you must be a writer to keep a diary.
Like written journaling, there are actually few barriers to entry when it comes to keeping an art journal. Sure, you can go all out with aesthetic stickers and washi tape, incorporating dried flowers and old concert ticket stubs. But you don't have to have all the fancy accessories to express yourself—just a pen, a spiral notebook, and maybe those crayons you brought home from Bob Evans all those years ago, still sticky with maple syrup.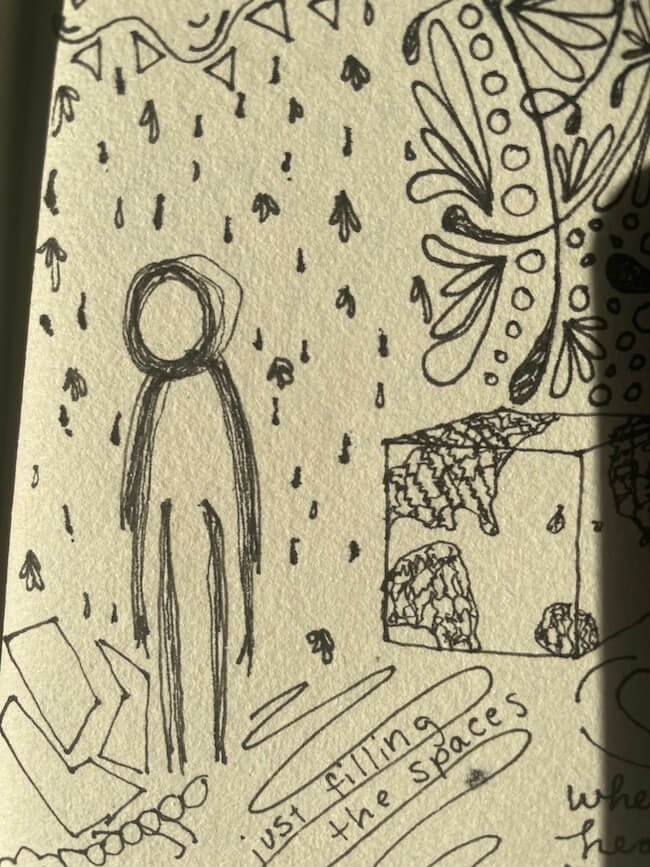 Visual journaling is beneficial for those who find pressure, not pleasure, in words. Maybe you'd rather not revisit your bad handwriting or don't have time to keep a detailed written journal. Maybe verbal processing is particularly challenging for you.
Whatever your reason for exploring art journaling, here are a few tips I've picked up along the way to help you face your first intimidating blank page.
Center pleasure in the process; I can't stand how colored pencils lack saturation, so I use crayons or markers instead! Creating a sustainable habit starts with enjoying it.

Your work can be as realistic or as abstract as you'd like. I find that words can fail me, and drawing realistic hands might, too, but blobs of ink and color are simple and reliable.

Remember: You do not have to produce to post about it on social media. (You can if you want!) But there is no pressure to share a polished piece of artwork; I'm intrigued by the Wreck This Journal process because of this very idea.

If you currently have a therapist, ask if they have experience with art-informed therapy. "I recommend working with a therapist who can guide the process," says Warson, or at least following published guidelines from experienced expressive arts therapists. Having a witness to our creative healing process can help us form words (and verbalize feelings) for the images we're drawing.
All set? Here are some prompts to get you going!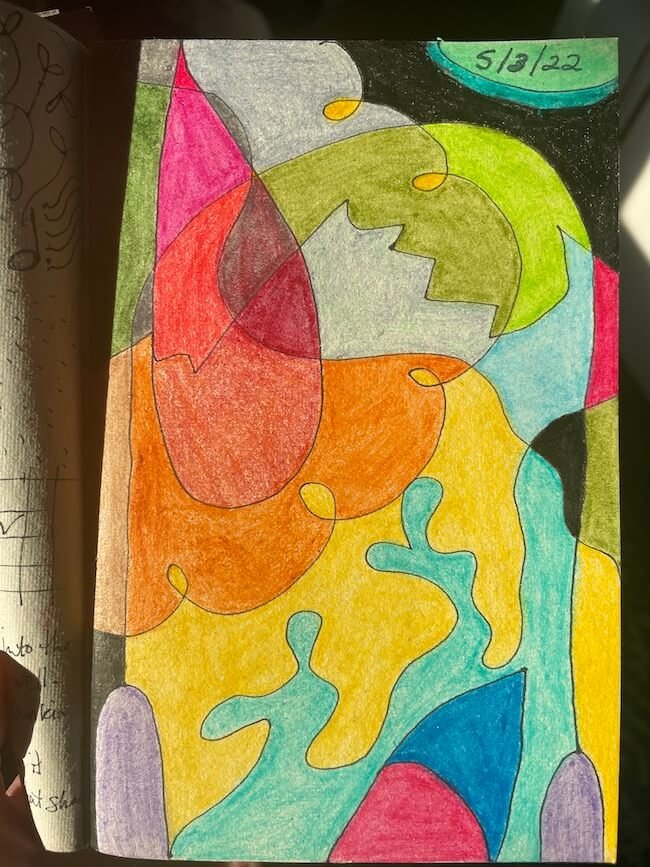 Document your day by drawing outlines of the things, places, and people you interacted with. Art journals can also trace our personal histories like diaries, not just our feelings in the abstract.

Dedicate an entire page to scribbles; no structure, no intention other than being present and connecting pen to paper for a minute or two. After, you can color or shade in spaces, look for shapes in the squiggles, or even flip to the next page and start again.

Or add intention to your lines—each line can symbolize a feeling or thought you are experiencing. I recently did this during a state of overwhelm, and once I was done, I colored my anxious lines in with soothing, happy colors as I processed my feelings.

Free draw to your favorite music; what images come to mind with the rising and falling of the melody?

Freewrite on a sticky note or small paper until it's full. Paste it into your journal and draw around it—what colors and shapes come to mind from what you've written? Or do this the other way around, by starting with free sketching, then write about what you see.

Recycle old magazines and clip out images and words that resonate with you. I find this helps me release some of the worries that come with creating something entirely from scratch.

Dr. Warson suggests to doodle on a 4x4 piece of paper for 1-2 minutes. This gives you a small and accessible starting point without the heavy expectations of filling a full page—or starting the first page of a large journal. (You can even create visuals on posters, shadowboxes, or other canvases; art journals do not have to be confined to books!)

Or choose one of the prompts Dr. Warson offers in this article from GoodTherapy.

Starting by coloring pre-drawn pages can be less intimidating. Madra recommends mandalas, as they are meditative and designed to focus your attention (you can get started with her downloadable mandala coloring book or head here for more of our favorite coloring books). 

And finally, you can use your own interpretation of these journal prompts, replying to them with artwork that's as abstract or as detailed as you'd like. Let shapes and colors depict your feelings as you read each prompt.
When I'm in my feelings, the lines on a blank page can be discouraging. What do I say when the world is already full of words? Instead, I'm looking forward to the comfort of my art journal, the soothing scratch of my crayons, the blank page welcoming me to just be here now.
Because while my words might still fail me, this art journal is a safe space where my self-expression can succeed.
---
Emily Torres is the Editorial Director at The Good Trade. Born and raised in Indiana, she studied Creative Writing and Business at Indiana University. You can usually find her in her colorful Los Angeles apartment journaling, caring for her rabbits, or gaming.
---
RELATED READING
---
Featured image includes model Norrine Maupin wearing shirt by BAABY; pants by LACAUSA; pillowcase by Baggu