This free Martin Luther King Jr. Color By Number printable is a great way to educate your kids about this historical figure while sparking their interest in U.S. History.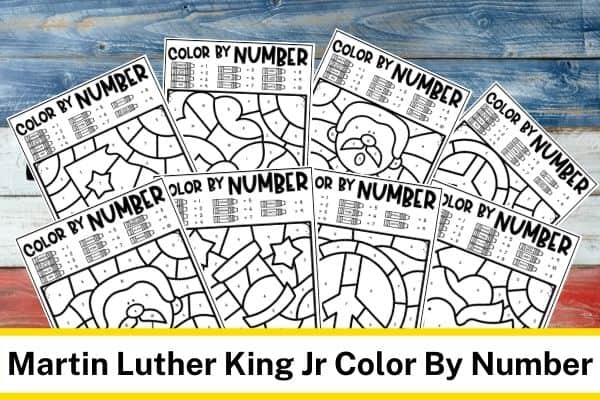 The 3rd Monday of January marks the annual celebration of Martin Luther King Jr. Day in the United States. This is a day dedicated to honoring the legacy of Dr. King and his fight for civil rights and racial justice during the 1950s and 1960s.
Martin Luther King Jr.'s life was incredibly influential, inspiring countless people around the world with his passion for peace, equality, and human dignity. His words still ring true today: "Injustice anywhere is a threat to justice everywhere." As we remember him this year on MLK Day, let us reflect on what he accomplished —and how far we have yet to go—in achieving racial equity in our society today.
A fun and educational way to celebrate MLK Day with your kids is with a free Martin Luther King Jr. Color by Number printable. Print out this free PDF and then color with crayons, markers, or colored pencils for a fun activity this January.
There are so many ways you can use this printable coloring page. Whether you print one copy for your homeschool kiddo or need a whole set for your classroom, learning about Martin Luther King Jr. and his work is sure to make for a great day of honoring MLK Jr.
Who Was Martin Luther King Jr?  
Martin Luther King Jr. was a civil rights leader and Baptist minister who is remembered as one of the most influential figures in American history.
He was born on January 15, 1929, in Atlanta Georgia to Reverend Martin Luther King Sr. and Alberta Williams King. His father's work as a pastor at Ebenezer Baptist Church led him to become an advocate for social justice from a young age, with his mother providing strong support throughout his life.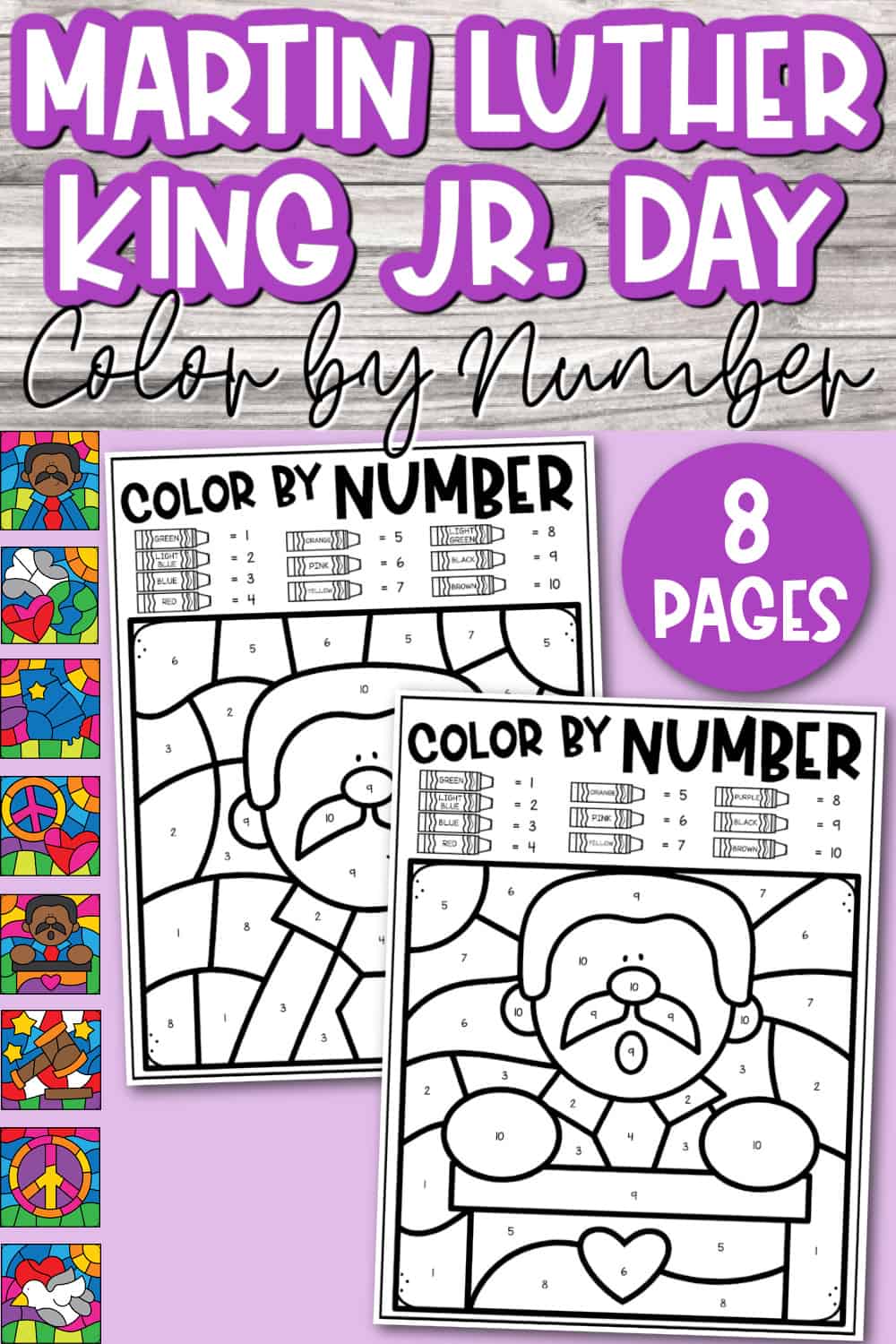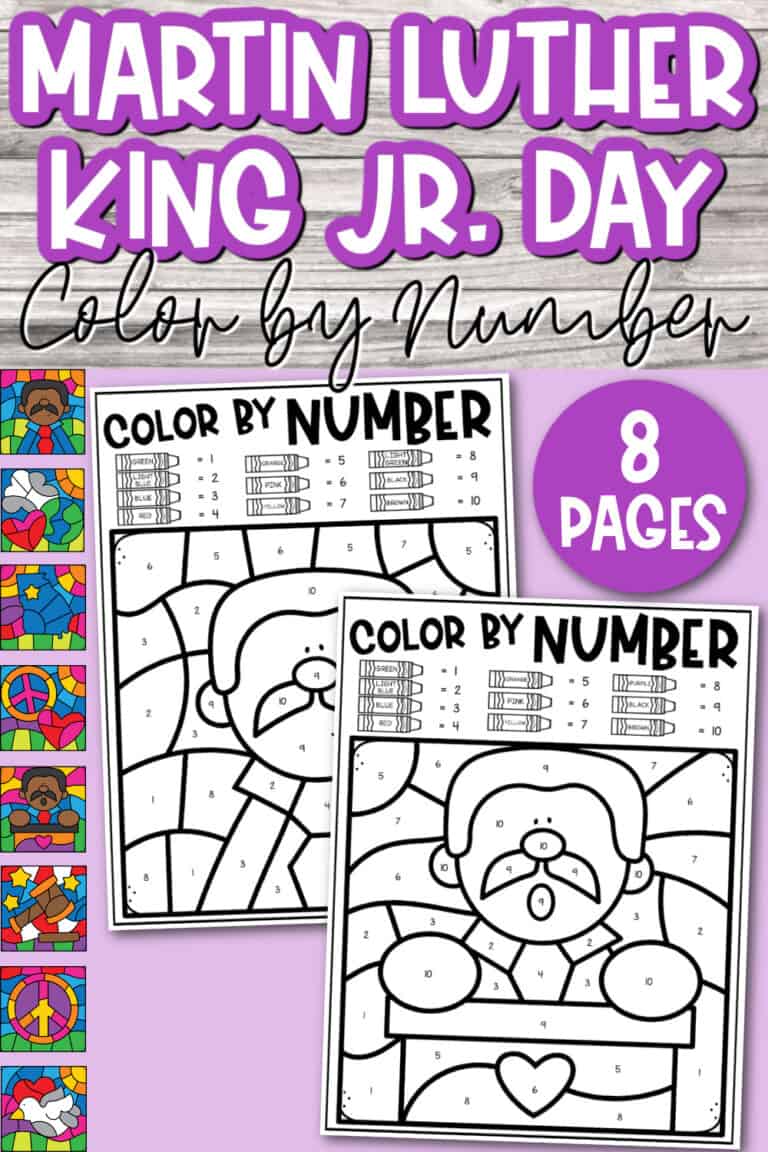 In 1955 he launched the Montgomery Bus Boycott which sparked the Civil Rights Movement across America and catapulted him into becoming one of its most recognizable faces. Through non-violent protests such as marches and speeches, he became known worldwide for his struggle against racial injustice, leading to numerous awards including the Nobel Peace Prize in 1964 – making him both the youngest man and the first African American to receive it.
On April 4th, 1968 he was assassinated by James Earl Ray on a balcony at The Lorraine Motel in Memphis Tennessee but his legacy continues today through memorials like The Martin Luther King Jr Monument located on The National Mall in Washington DC.
How to Use the Martin Luther King Color by Number Printable
After you print the free coloring page, kids will match the numbers in each section to the crayon at the top of the page. Using crayons, markers, or colored pencils fill in the area to make a colorful picture of Dr. Martin Luther King Jr.
Once your child is done coloring, consider adding to the activity with a quick history lesson. Reading a brief bio about Dr. Martin Luther King Jr. will help kids better understand who he was and what he did to help make America a more equal place for all people.
Martin Luther King Jr. Color by Number Ideas
I've pulled together a few ideas that you can easily do with your kids or in a classroom. Grab a book, read some of his inspiring words, and encourage your own kids to dream about the future.
A great children's book to read is I am Brave: A Little Book about Martin Luther King, Jr. It's part of the Ordinary People Change the World series that my kids adore and has a great message about how regular people can make a huge difference in the world.
For older kids, Martin's Big Words by Doreen Rappaport is a wonderful book that quotes MLK Jr.'s speeches and plenty of information on his life. It also includes exercises to get kids thinking about their role in justice, equality, and peace.
A great way to follow up reading is to have your kids create a picture of their dreams for the future. Maybe it's all about equal rights and just respect in general, or maybe they want everyone to be able to go to school and get whatever job they want.
Answer some questions together that get kids (and moms!) thinking like, What does equality mean?  How is this different from justice?  Do these ideas apply today? What are some of the things that still need to be done in order for everyone to have equal rights?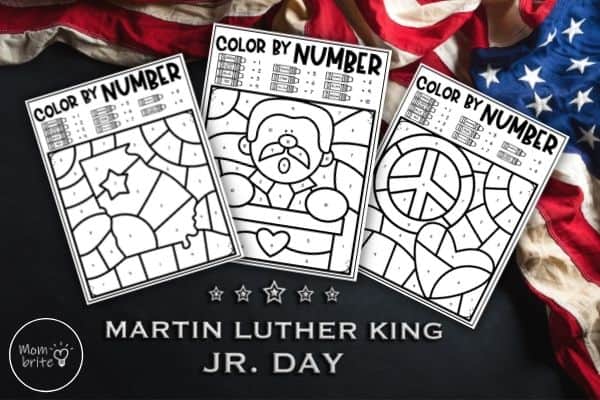 Download The Martin Luther King Jr. Color By Number PDF
I hope that this free Martin Luther King Jr. Color By Number sparks many conversations about his life and work. Martin Luther King Jr. Day can be an excellent opportunity to dive deeper into his story and what you can do to make the world an even better place for everyone!
Click here to download the pdf version of the Martin Luther King Jr. Color by Number printable.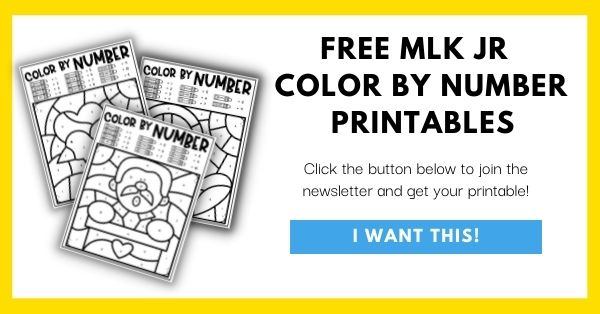 ---
You might also like: