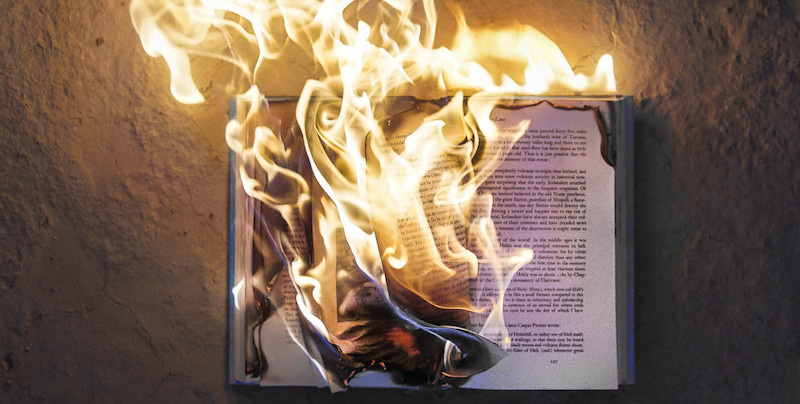 These past few weeks, Pennsylvania's Central York School District students have been protesting outside their schools after their school board's conversation about a proposed diversity curriculum turned into a list of banned books.
Last October, the Central York school board unanimously banned a list of resources written by authors of color and featuring main characters of color. The banned resources range from I Am Not Your Negro, an Oscar-nominated PBS documentary about James Baldwin; to a statement on racism from the Pennsylvania Association of School Administrators; to a children's coloring book featuring African Adrinkra symbols; to an African-themed cookbook. (The four-page list of banned resources can be accessed here.)
Said an anonymous Central York teacher to the York Dispatch, "Let's just call it what it is—every author on that list is a Black voice." (Every member of the school board is white.)
School board president Jane Johnson said in a statement that the fact that all the banned materials are by or about people of color is a coincidence. Meanwhile, some parents supported the ban: "I don't want my daughter growing up feeling guilty because she's white," said York parent Matt Weyant.
Books on the banned list have been removed from the libraries' shelves, and teachers' curricula have been impacted. Now, educators are worried they'll be punished for mentioning certain historical events or race-related ideas in the classroom at all. Patricia Jackson, a teacher in the Central York School District for over 20 years, expressed her concern to CNN: "There are teachers looking over their shoulders wondering if someone's going to be at their door darkening their door, saying you said something or you mentioned something that you were not supposed to."
"I have to now, with this resource ban, think twice about whether or not I should or could use a James Baldwin quote as an opening for my class," Central York High School teacher Ben Hodge told CNN.
After a full year of the resources being quietly banned in Central York classrooms, students only learned about the ban this month—and took immediate action. On September 10th, following several protests by students, educators, and parents, and a condemnation from PEN America, Johnson released a statement upholding the ban, saying the materials were banned because of concerns from parents. "The board believes that the fundamental purpose of school is that of . . . objective education without indoctrination from any political or social agenda," Johnson said.
In a guest editorial in the York Dispatch, Edha Gupta, one of the student protest organizers, let the district know that the protests won't end until the book ban does: "This issue is not political, but moral, and I will not rest until I see the reversal of this ban before this district becomes my alma mater. Enough is enough."
[h/t CNN, York Dispatch, York Daily Record]