Click here to read Quick & Easy Mosaic Coloring Page Activity to Make for Your Kids on Hands On As We Grow®
---
Clearly it was time for mom to intervene with a quick activity. Enter the simple flower mosaic coloring page activity!
The beauty of this type of art activity is that it is great for any age and also requires very little prep and no fancy schmancy materials.
Besides being low prep, it can also be modified and adapted to any shape, holiday, or season.
Want to color a mosaic shamrock? Go for it. Mosaic star? Definitely! Mosaic groundhog? Sure, I mean, if you're into that sort of thing.
This other super simple mosaic activity uses paper–don't miss it!
This activity would also work as a quick win on the back of a restaurant placemat if the activities on the front have been completed in record speed and your kid is on the verge of climbing up the fake schefflera next to your table.
Make A Simple Mosaic Flower Coloring Page
To Make Your Own Mosaic Flowers, You Will Need:
white paper or cardstock
markers
crayons or coloring medium of your choice
How To DIY A Mosaic Coloring Page for Kids
First, draw a simple flower shape on the white paper.
I experimented with several shapes before landing on this basic puffy flower shape.
Unless you are an art genius, I recommend doing your flower drawing in pencil first so that you can erase mistakes.
Don't worry if you have no artistic bone in your body and your flower. Your kids won't care.
Or maybe they will tease you mercilessly and compare your flower to last night's mashed potatoes, I don't know.
It will provide a great teachable moment about how flowers are all different and imperfect and beautiful and LEAVE ME ALONE ALREADY.
Here are more great drawing activities to do with your kids!
After this, it's time to create the mosaic lines on your coloring page.
This step requires a very specific approach called do whatever you want. No, really. Anything goes.
Draw lines from one side to the other, connect them willy nilly at any point you want.
Make circles, squiggly lines, stripes, make the shape of a placenta. There are no rules. (Though perhaps someone should make a rule about no placentas in kids crafts.)
Older kids can create their mosaic designs on their own; younger ones can do it with help from you or you can do it for them.
Like I said: no rules.
For older kids, you can make more "mosaic" pieces.
For younger kids whose coloring stamina may fizzle out more quickly, only draw a few lines.
Color Your DIY Mosaic Coloring Page
After this, it's time to color!
Break out crayons, watercolors, paint ground from berries foraged in the woods, whatever your kids want to use.
Don't miss tons more things to do with crayons!
I've found that quiet coloring activities like this are perfect for setting out when I want to read aloud to my kiddos.
They pay attention just as well, if not better, than they do when just sitting doing nothing with their hands.
So go ahead and grab a great read-aloud the next time your kids are quietly engrossed in an activity!
Double mom win.
I did this quick and simple mosaic coloring page with my two-year old and my six-year old.
My seven-month old baby didn't want to participate. She probably didn't like the discrimination against placentas.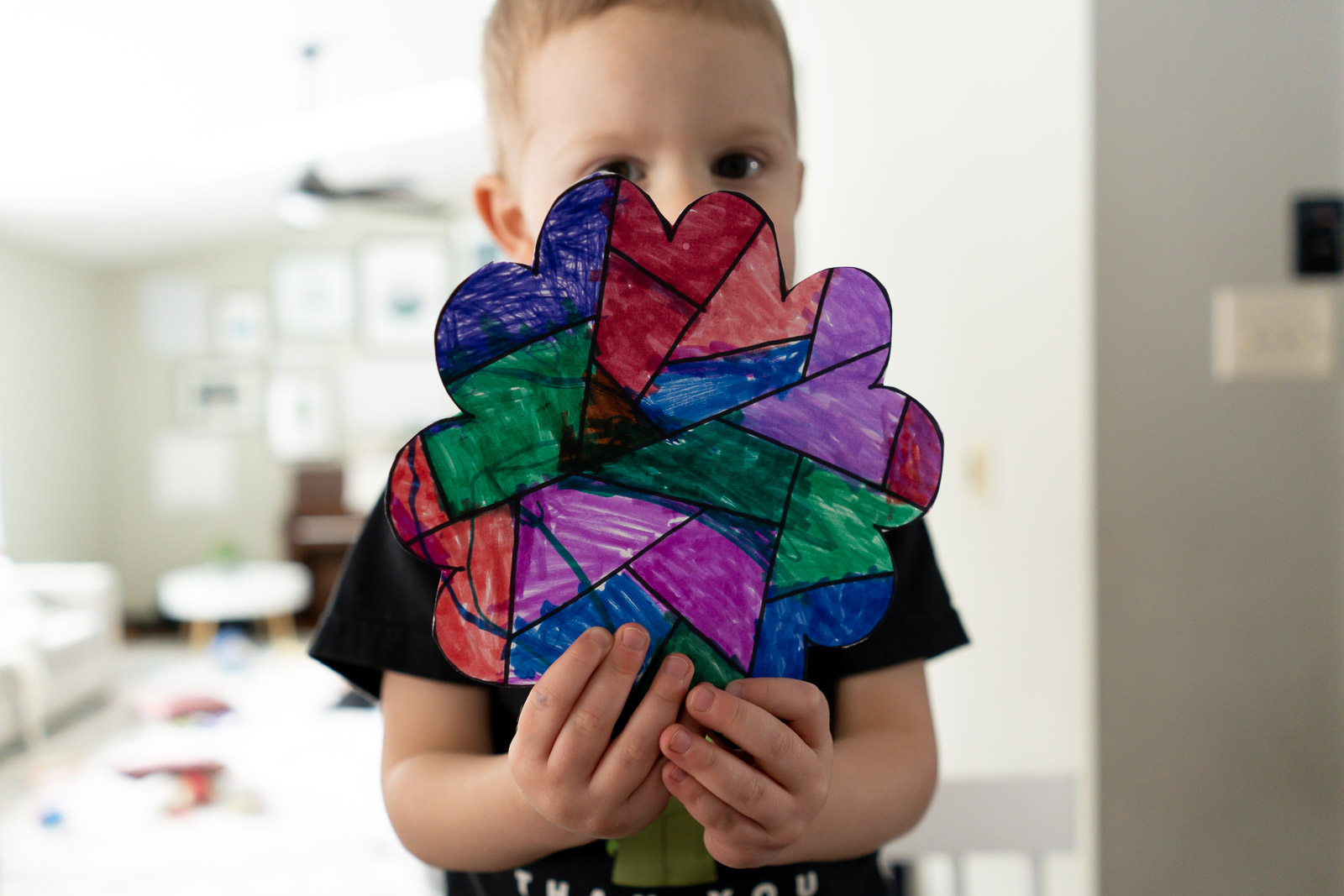 Download FREE Creative Week for Toddlers & Preschoolers PDF here!
Other Ideas for Your Mosaic Coloring Activity
Change up the outline shape. Instead of a flower, make it a car, a star, a heart, dare I say, a placenta. No, I daren't say that.
See what shapes emerge after you draw all of the lines through the shape. Can you find a triangle? How many? How about a trapezoid, if you are so inclined?
Turn it into a color by number. But instead of drawing a number in each mosaic shape have them based on how many sides the sections have. 3 sides, red. 4 sides, blue. And so on.
Take turns tossing pennies onto your mosaic coloring page after it is finished. Try to get it to land completely inside one of the shapes. Say the colors out loud, and the shape if possible.
Make it a crayon resist project by using crayon instead of marker for the outline. Kids love the magic of resist art projects!
Try having kids do a repeated shape inside each mosaic shape like a zentangle coloring page.
What simple coloring activities have your kids enjoyed lately?