This fun Rainbow Coloring Page Game will get your kids excited about spring and St. Patrick's Day! It's the perfect homeschooling game to complement a weather lesson or celebrate rainbows at a birthday party.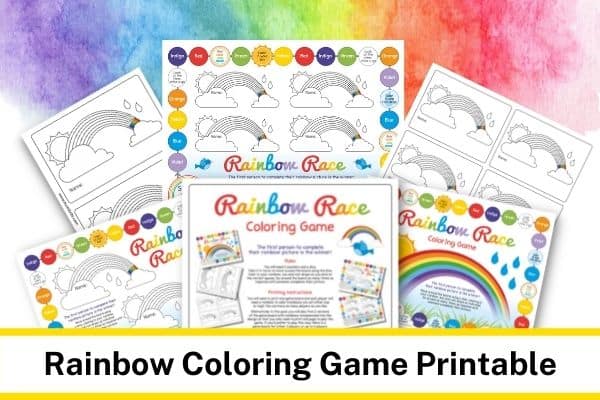 Get ready for spring and St. Patrick's Day with a fun printable rainbow activity!
This rainbow coloring page game isn't just about staying in the lines. It's a colorful twist on completing your rainbow faster than the other players. Let's get started!
This game is perfect to play as a homeschool game to accompany a weather lesson, to entertain your class during a St. Patrick's Day classroom party, or even to celebrate rainbows at a birthday party!
Rainbow Coloring Game Printable PDF
One of the best things about this rainbow coloring page is how versatile it is for different lessons or parties! There are many ways to use the game board and color sheets in almost any setting.
Print a set for a unicorn party, to celebrate the first day of spring, or even to use for a fun family game day.
How To Play This Rainbow Race Spring Game
Setting Up the Rainbow Activity
To get started, you're going to print out the game board and rainbow coloring page pdf. You'll need one copy of the coloring page for each player and one game board for the group. The great thing about this rainbow game is that you can have as many players as you want!
You'll also need a set of game board markers that contains the colors of the rainbow (red, orange, yellow, green, blue, indigo, and violet) and a die. If you don't have enough markers for each child, then all the kids can share a set.
If you're playing the game in the classroom it's best to split into groups of 2-4 people. The rainbow pages come in two different sizes, 2 per page and 4 per page. Use whatever size works best for your activity.
To make the board reusable and more durable, you can print it on cardstock and laminate it. This helps a lot if you're using it in a classroom setting and want to recycle the spring game each year.
Lastly, you need a token for each child. You can use whatever you have available, such as Monopoly tokens, mini animal figurines, or even simply different colored bingo chips.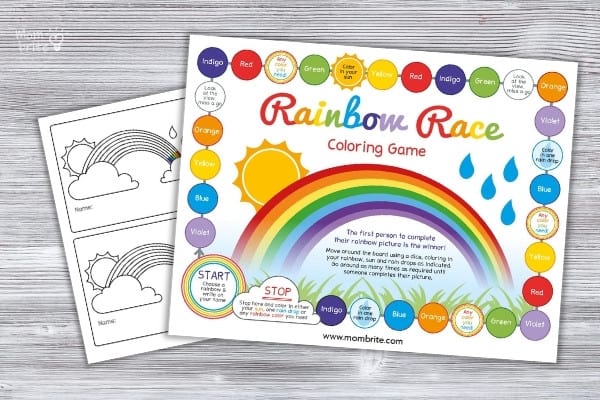 Rainbow Race Coloring Game Rules
Once each player has their supplies, it's time to begin! First, the players should place their tokens at the START circle.
Players take turns rolling the die and following the directions on the spot they land on. Color the rainbow, sun, and clouds in as you move around the game board.
Go around the board as many times as you need to until a player completes their rainbow coloring page! The first person to fully color in their rainbow, sun, and clouds wins!
Rainbow Coloring Game Ideas
For an added treat and to practice learning colors, place Skittles rainbow-colored candies on each band of the rainbow. Instead of coloring in the rainbow coloring pages, you can eat the Skittles when anyone rolls the matching candy color. The first to finish eating all the Skittles wins!
Another fun twist on this game is calling out colors and playing as a group for a fun team activity. Roll the die on the teacher's desk or overhead projector and let each student color in the matching colors.
Use a stuffed animal that matches the occasion and let whoever is holding the animal be the caller for one round. They then pass the toy to someone new and the game continues.  
Try incorporating different spring or St. Patrick's Day activities for children into your classroom or homeschool co-op parties.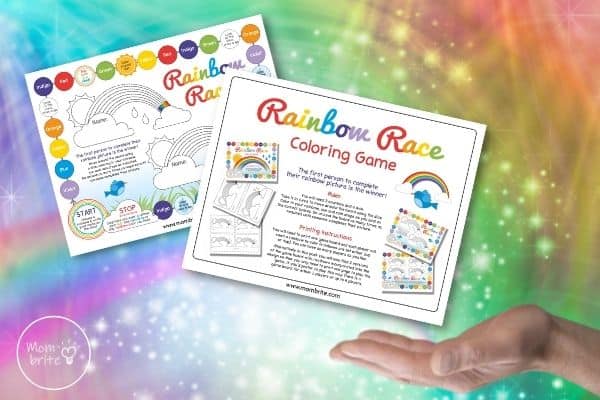 Download Rainbow Coloring Page Game PDF Here
Whether you are using them for St. Patrick's Day or spring-related activities, these free printable rainbow coloring page games are sure to be an instant favorite.
Make sure to tag @mombrite in pictures of how you're celebrating with this rainbow coloring page activity! We love seeing our ideas come alive in other classrooms, homes, and schools.
Print them out today and see how much fun learning can be!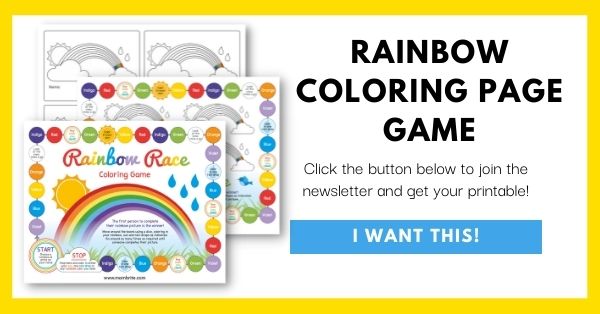 Here are a few more spring-themed printables to try out:
What other activities do you do for Saint Patrick's Day in your classroom? Share with us by leaving a comment below!