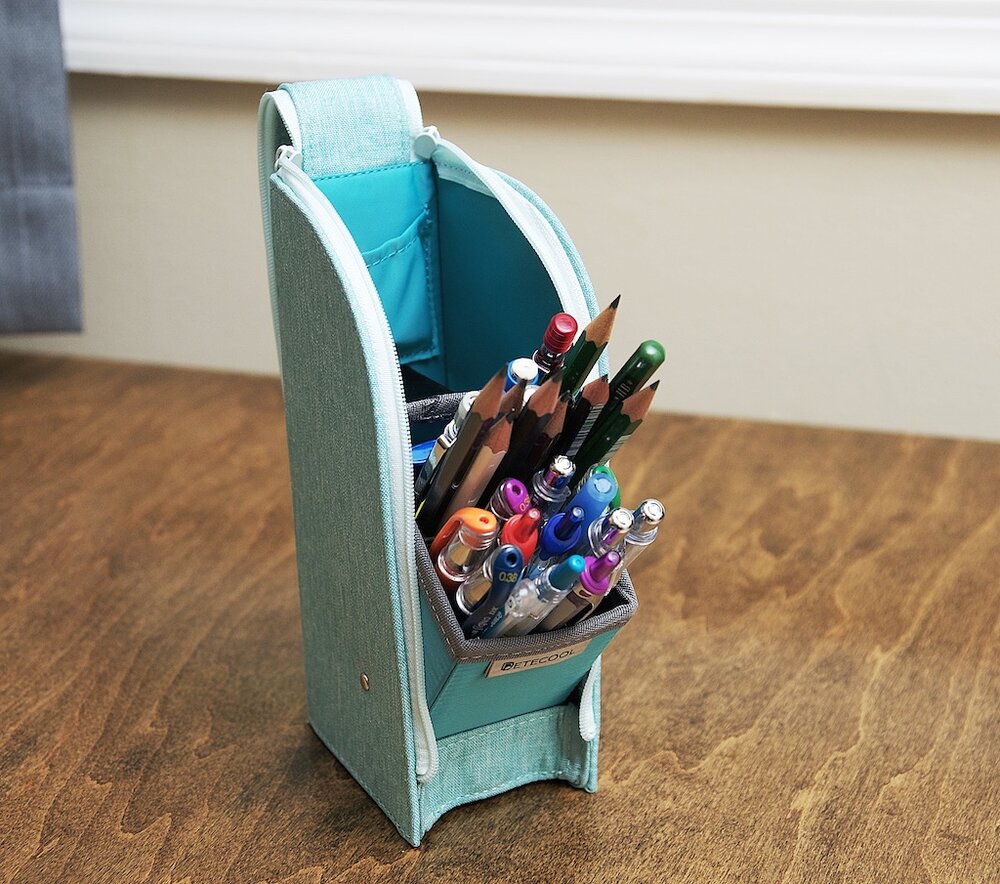 (Jeff Abbott is a regular contributor at The Pen Addict. You can find more from Jeff online at Draft Evolution and Twitter.)
I haven't had much use for pen cases over the past year and a half, but that doesn't change my "need" for acquiring more interesting pen cases. The latest quirky pen case to make its way to my desk is the Raymay Detecool. The premise is pretty simple: this is a case that operates as an art station for your pens and pencils, but it easily packs up for easy transport.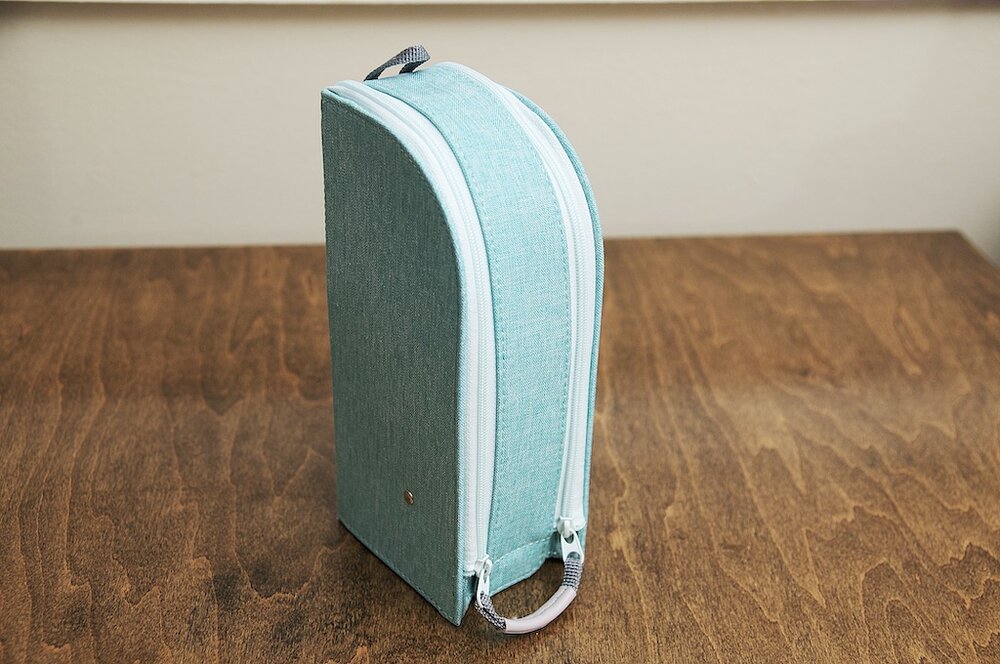 Admittedly, I've never had much use for cases that hold a large number of pens/pencils, but doesn't change the fact that they're hella cool. When I'm out and about, I typically have one to three pens on me depending on the nature of my outing — never close to 30 like the Detecool can hold. It seems like the perfect use case for this case is for actual artists who want to carry things like colored pencils or a collection of colored pens for drawing, coloring, and other artistic endeavors that I've never pursued. I imagine plopping this case on a desk or work surface, opening it up, and tilting out the box to display all my colored pens/pencils for easy identification and grabbing. I almost want to buy a set of colored pencils or pigment pens just to load out this case and revel in the organizational beauty.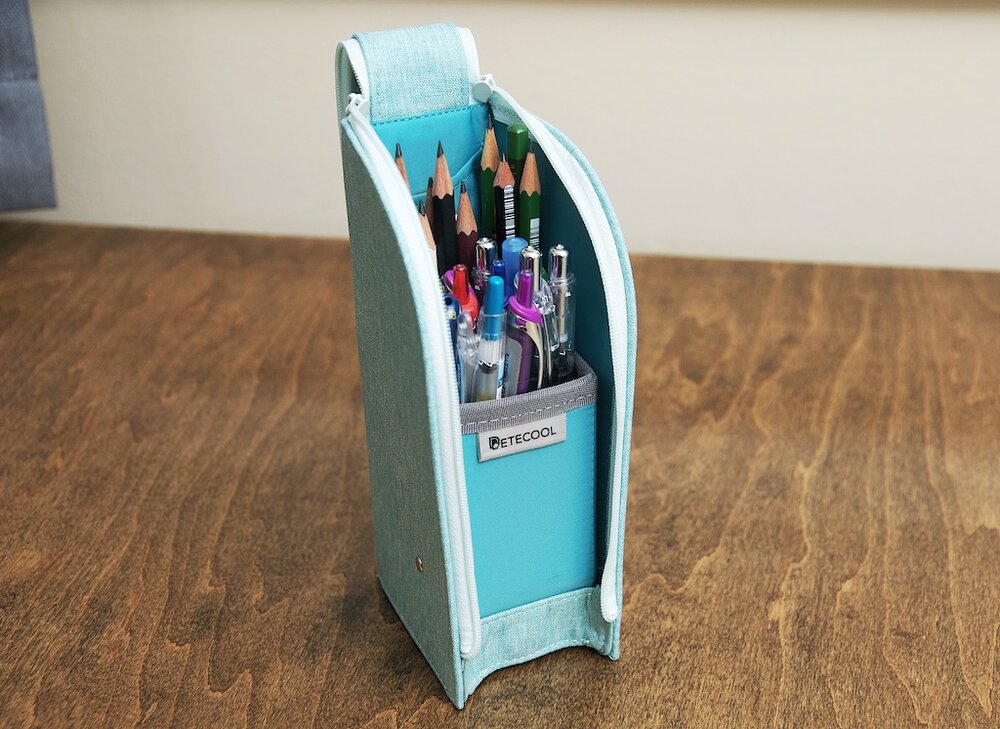 Regardless of what you load this case with, it will likely be touching whatever is next to it. There are two compartments that hold pen-shaped objects, so this isn't a good solution for more valuable pens that you don't want to be scratched or making constant contact with other things. Again, it seems like the perfect use for this case is with low-cost pencils and drawing pens where you don't care so much about little scuffs and scratches since the instruments are disposable.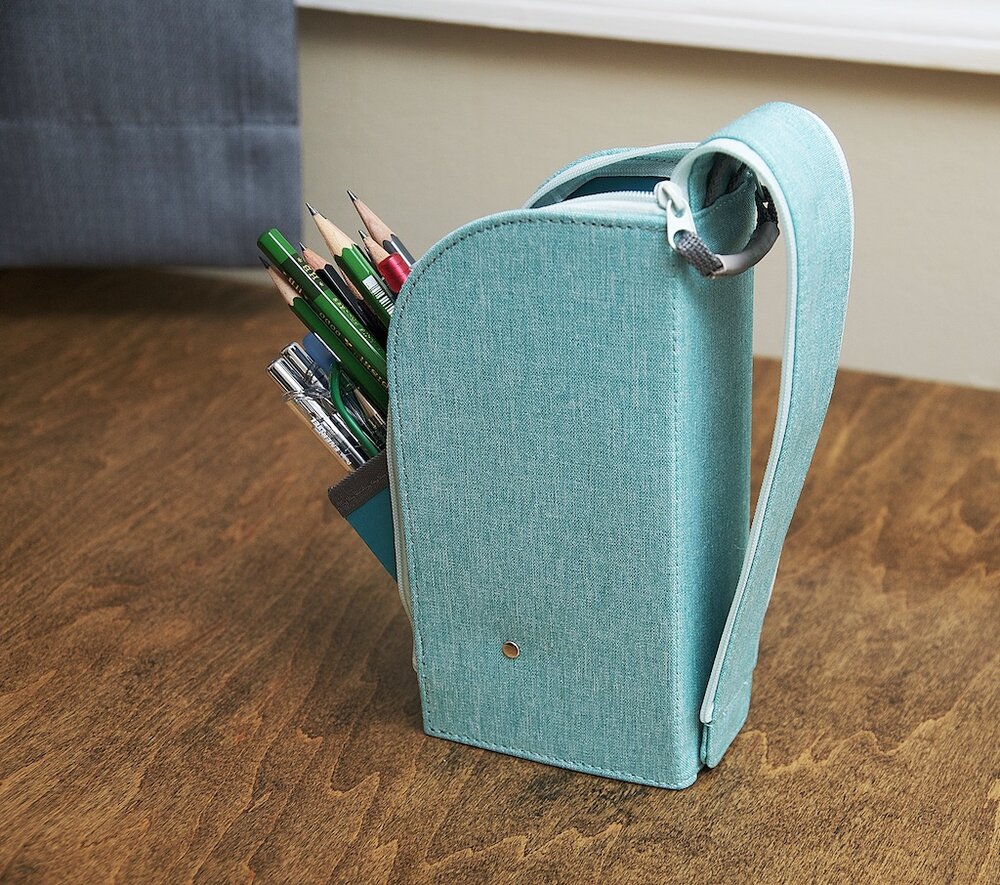 And if it wasn't obvious, this lower area with the two compartments tilts out to a 45-degree angle to conveniently show the pens/pencils and make it easier to grab what you need. It's definitely still usable when the compartments are "retracted" into the case, but it's more difficult to see everything in the cluster of stuff.
Above the tilting compartment, there's a small pouch at the top of the case. This is the perfect size for a small eraser or sharpener, but be warned that it is indeed small. I couldn't fit a case of mechanical pencil lead because it was too tall. I could barely fit a rectangular eraser, but a small sharpener fit perfectly. Short ink cartridges, spare mechanical pencil erasers, and other really small bits and bobs will do great in this little pouch.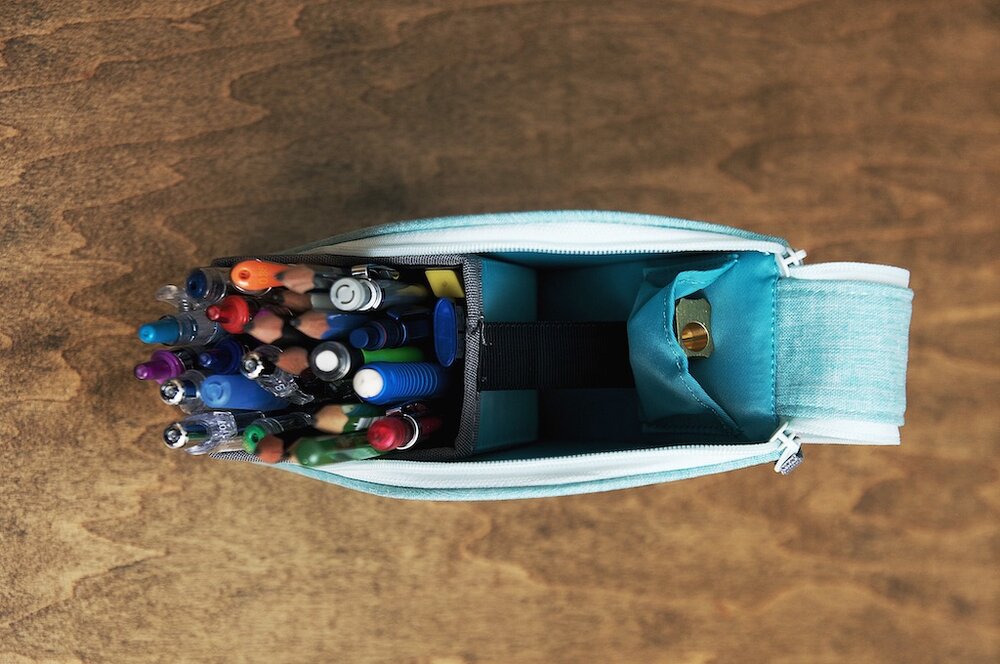 So, what all can you fit in this thing? In my really scientific testing of jamming as many pens and pencils as I could find into the case, I came up to 28 pens/pencils and two pencil lead containers. With this many items, it was still comfortable enough to grab what I needed from the case without any difficulty. If you add too many things, they become tight and difficult to pull out, which means the whole case just comes along when you grab a pencil, etc. I don't know about you, but 28 writing instruments is crazy, and I don't think I'll ever need to take that many things out with me. Again, it seems like this would be a perfect case for taking a collections of colored pens/pencils out to do some drawing or working in a coloring book on the go. Easy to use when opened up and tilted, but packs up quickly and securely.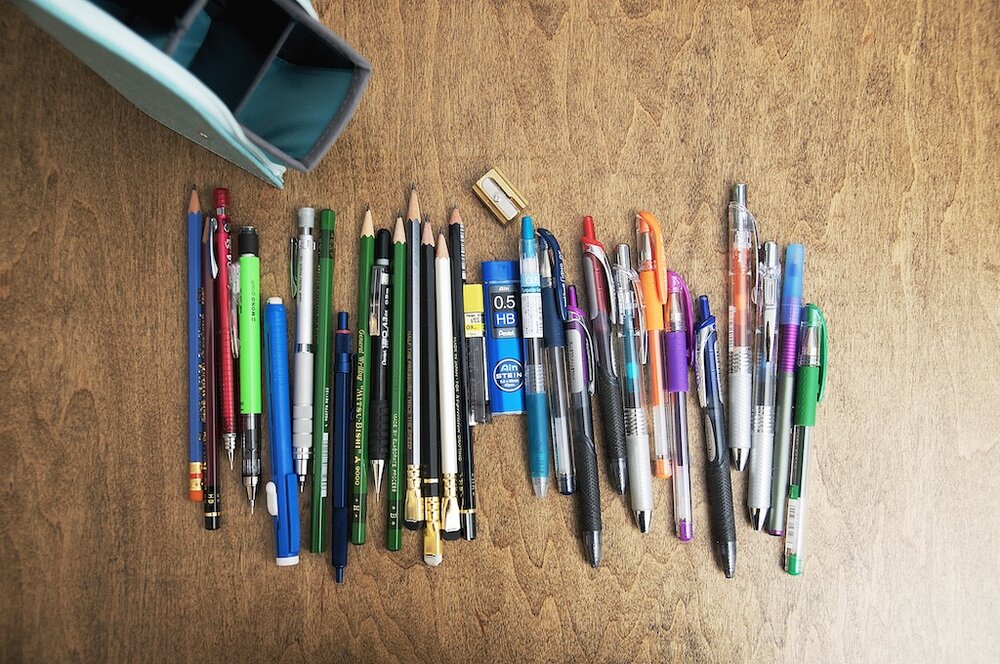 Speaking of packing up, this thing is convenient. Simply tilt the compartment back in place, flip the flap over to the front where the magnets pop into place, and then zip up the panel with the smooth double zip pull. Opening it up is just as easy, and there's a matching magnet on the back of the case to keep the flap/door out of the way while you're using your pens and pencils. I could imagine this case being incredibly fussy and frustrating to use, but Raymay have done a great job in designing this perfectly for convenience. It's so easy to use and hasn't caused me any trouble. Granted, this is a larger case and you'll definitely need two hands to open/close the case.
When the case is closed, everything inside stays where it's supposed to be. I tested this out (again, very scientifically) by flipping the case upside down, batting it around on my desk, flopping it on its sides, spinning it, shaking it, and tossing it around, and all the pens and pencils stayed in place. The sharpener I had stowed in the pouch sometimes came out of the pouch, but it surprisingly stayed in place most of the time.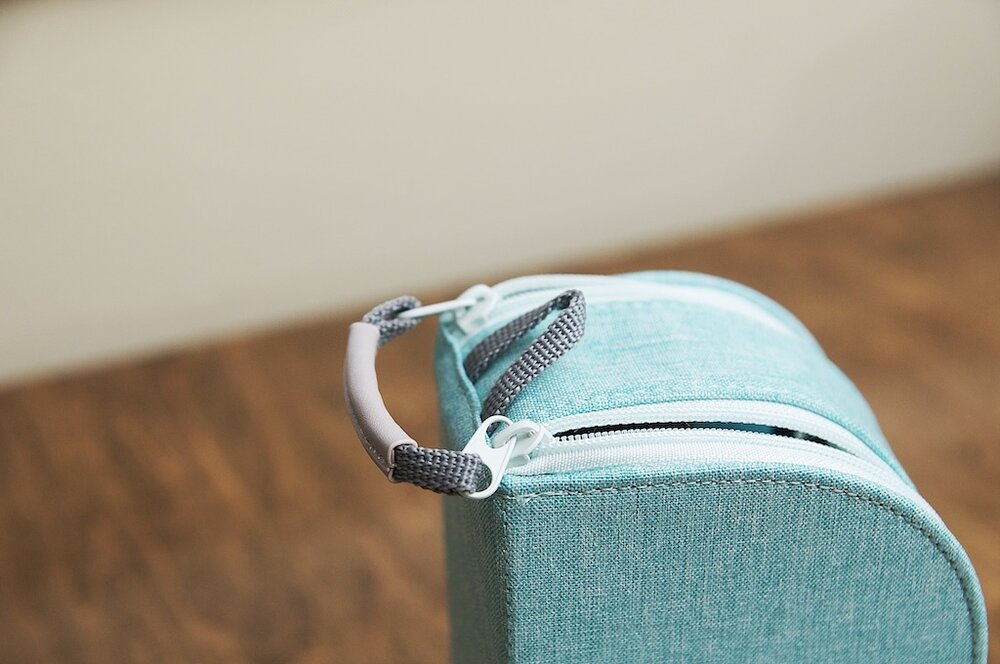 As far as what you can store in this case, there aren't many limitations. From my testing, I was able to store almost anything except for new unsharpened pencils. They're just a tad too long for the case to close properly. But, a new pencil that's only been sharpened once fits just fine. So you can't cart around brand new unsharpened pencils, but I believe most colored pencil sets are pre-sharpened anyway, which is perfect.
Aside from the great usability of this case, the quality of materials is great for the price. It won't protect the insides if something heavy crushes the case, but it won't have any problems protecting its contents when thrown in a tote or bag with other objects. The zips are good quality, and the zip pull is easy to use. There's even a nifty loop on top of the case that you can use to hang out secure the case to something else. If the inside of your bag has a clip or something, you could clip the case in place to ensure it stays upright. Heck, you could even clip this to your belt loop if so inclined. Overall, this is an extremely functional case that just works as intended. It's not for everyone, but it really hits the mark for the intended audience. Well done, Raymay.
At $21.00, the Raymay Detecool is a great value. There's a lot of design and material that make this case so successful, and the price is more than fair. And if the blue-green version I have isn't your thing, there are plenty of other options as well.
(JetPens provided this product at no charge to The Pen Addict for review purposes.)
---
Enjoy reading The Pen Addict? Then consider becoming a member to receive additional weekly content, giveaways, and discounts in The Pen Addict shop. Plus, you support me and the site directly, for which I am very grateful.
Membership starts at just $5/month, with a discounted annual option available. To find out more about membership click here and join us!