When an East Coast vegetarian, a North Carolina native and an almost-8-year-old all give brunch two thumbs up, you know you've found a restaurant concept that works.
Welcome to Royal Caribbean's newest dining venue, The Mason Jar.
Found exclusively (for now) on Wonder of the Seas, the latest holder of the "world's biggest cruise ship" title, The Mason Jar will feed your soul (and, dare I say, pad your belly) with Royal Caribbean's take on Southern comfort food for brunch and dinner.
You will find lots of fried foods, decadent baked goods and rich sauces. Vegetables are in short supply – I think there was some spinach hiding beneath mounds of gooey pimento cheese in my omelet, but I hardly noticed it. When my daughter needed a snack before our 12:30 reservation, I took her to the buffet and made her eat fruit because we were about to have a very unhealthy lunch.
It was worth every calorie.
The ambiance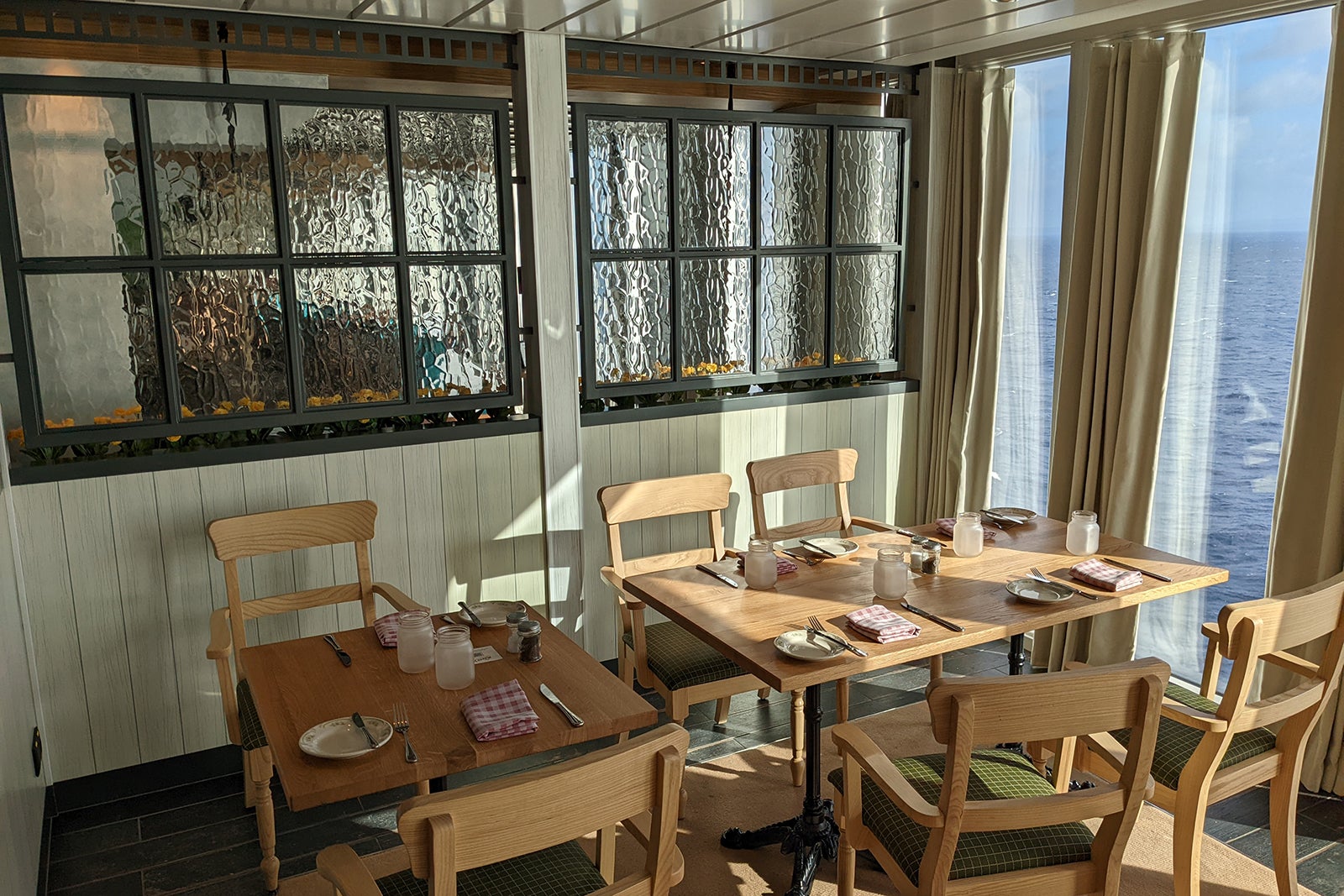 The Mason Jar is located on Deck 15, right next to Wonder of the Seas' buffet restaurant, the Windjammer Café. The far wall is floor-to-ceiling windows looking out to sea, letting light flood the interior space. The homey bar area is enhanced by rocking chairs and a three-person porch-style swing by the windows, so you can pretend you're drinking iced teas on mee-maw's front porch, instead of hand-crafted cocktails in a floating resort.
Related: First look at Royal Caribbean's Wonder of the Seas
A band plays country classics by the bar, which sets the mood, but as we were seated at the high tables by the bar (instead of the regular dining area in the back), it meant we had to lean in and yell to have a conversation over "Wagon Wheel" and "All My Exes Live in Texas." I love me some live music, though, so I'll take it.
A new restaurant with an inviting menu is bound to get attention, and the line to get into The Mason Jar was more time-crunched New Yorker than slow Southern summer. My party of four arrived a few minutes shy of our reservation time and the line was out the door. As a couple of walk-ins in front of us were turned away, I heard them grumble, "Why is it so hard to get a meal around here?"
Hey, folks, an enormous buffet's right next door, and FYI, on a ship carrying thousands of people, you, unfortunately, need to trade spontaneity for advanced meal planning.
I had already learned my lesson in cruise ship dining best practices. My daughter was equipped with a coloring book and colored pencils for the inevitable wait between ordering and the food arriving.
The drinks
Cruise ships today are all about the mixologist-invented cocktails; leave your frozen daiquiris and Bahamas Mamas on the pool deck, please.
The Mason Jar does have a bar you can patronize without reservations, but only if you can find a seat. After navigating the hordes at the entrance, the three adults in my party were definitely ready to wet our whistles.
I have no idea if I like whiskey, but I'm a sucker for any drink that comes with a mini crustless PB&J as a garnish. The PB&J Old Fashioned is made with Skrewball peanut butter whiskey (who knew that was a thing?), Kentucky bourbon, strawberry jelly and walnut bitters. It was smooth and delicious – and not at all like anything I'd pack in my kid's lunchbox.
My friends ordered the Southern Belle (Buffalo Trace bourbon, fresh mint, lemon juice, blueberries and club soda), which was as sweet as your date at the cotillion, and the No Joke, Smoke & Coke (smoked Buffalo Trace Bourbon on the rocks, topped at the table with a can of Coke), which my daughter said "smelled like marshmallows" and she wasn't wrong. Don't be caught unawares like we were; if you order a drink involving smoke, be prepared for some tableside theatrics when it arrives.
You may like mimosas with your brunch, but these drinks were more creative, tasty and appropriately Southern than your usual spiked OJ. And mee-maw says it's ok to start drinking even if your reservation is before noon. You're on vacation.
The food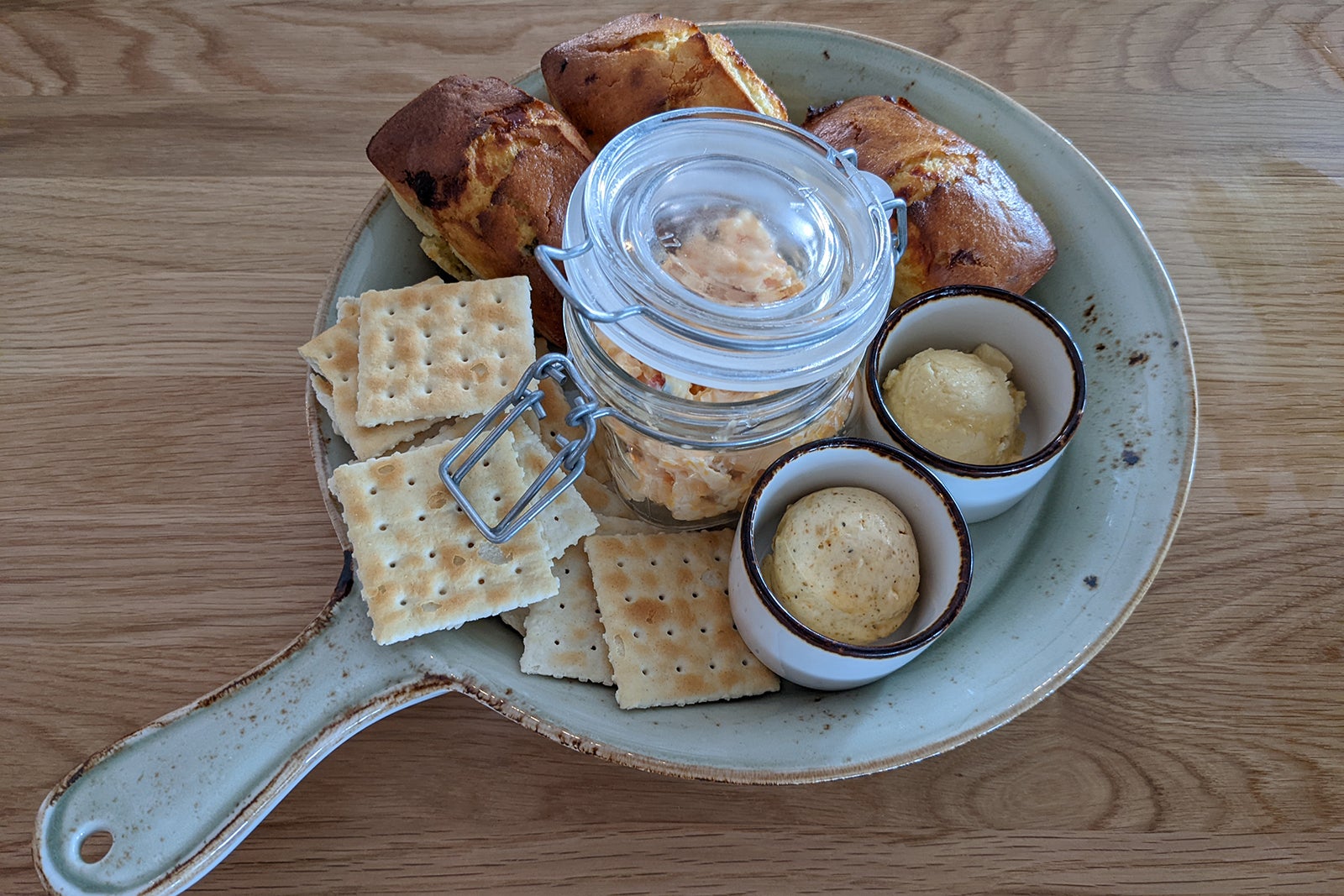 I planned my Mason Jar meal for brunch because let's be honest: As a person who does not eat meat or shellfish, I could not find anything other than a couple of sides I could eat on the dinner menu. (As in, even the fried green tomatoes come with bacon jam.)
Brunch is also hands down my favorite meal. Yet every time I struggle to make the critical decision: Sweet or savory?
At The Mason Jar, you don't need to sweat the decisions. You just order your savory dishes for your main with the sweet stuff "for the table." Or, if you're nearly 8, you order the Elvis-inspired French toast stuffed with bananas, chocolate and peanut butter and refuse to share.
Every table gets "Doohickeys for Y'all," a plate of Saltines and jalapeno cornbread served with pimento cheese spread and Cajun and whipped honey butter. My friends skipped this course. Don't. Not only is pimento cheese spread possibly my new favorite food, but that cornbread is moist in a way that mine never is. (Or maybe that's the honey butter talking.)
The waiter, who kindly asked about food allergies, convinced me to order the spinach and pimento cheese omelet, and I loved it as much for the gooey cheese as for the perfectly spicy potatoes that came with it. I'd return for the potatoes alone.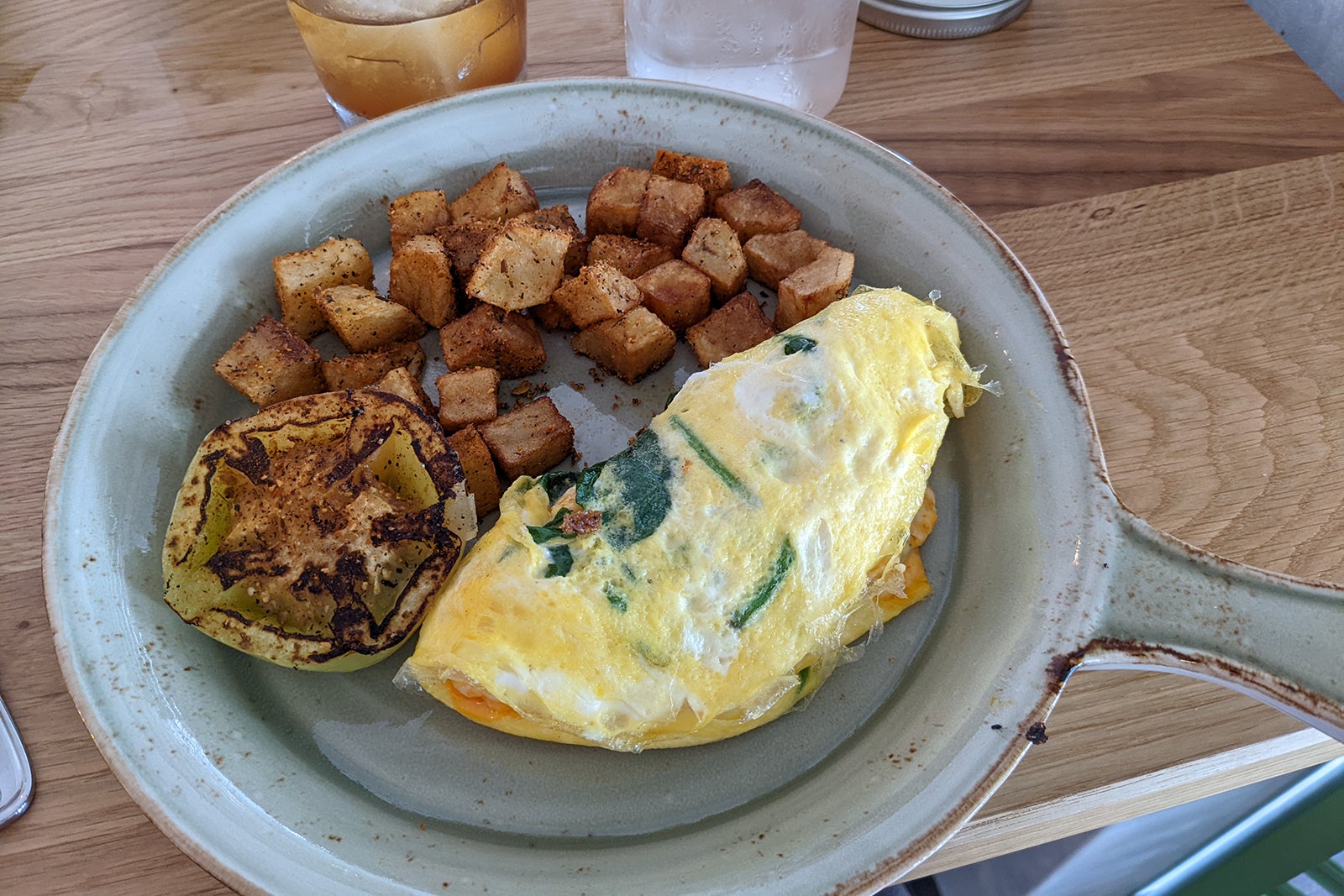 My North Carolina friend ordered the shrimp po'boy and said his only complaint, being a true Southerner, is that the fries were cold. My Philly friend ordered the crispy chicken sandwich and practically needed a degree in advanced geometry to figure out how to fit said sandwich inside her mouth to eat it. (Consensus was to remove the top bun and eat the rest with a fork and knife.)
My daughter ordered the peanut buttery banana overnight oats when the waiter thought the peanut buttery banana French toast was unavailable. (Side note: If peanut buttery banana dishes are a Southern thing, I may need to rethink my desire to live in the North.) Always the critic at the table, she didn't understand why her oatmeal was cold. Consider that a warning to all y'all unaccustomed to refrigerated oatmeal.
The French toast had that ooey-gooey center that had me sneaking my fork over for "just one more bite." She nearly took my eye out. Grownups, order your own damn French toast.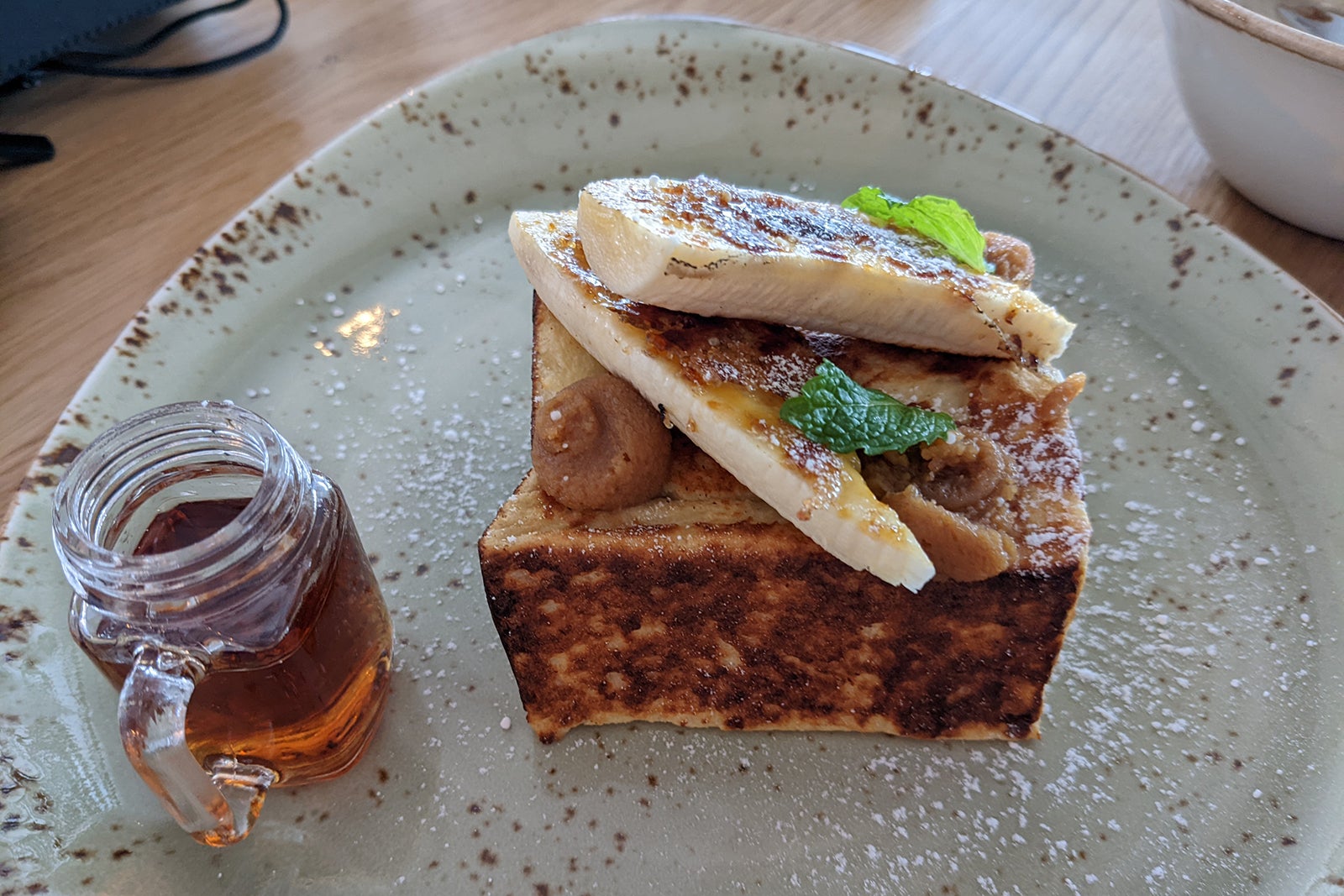 Instead, we "adults" had ordered the giant, plate-sized cinnamon roll and Dr. Seuss-worthy stack of red velvet pancakes layered with sweet cream cheese glaze for the table. I'd like to say that we took one bite and said, "It's not as good as I thought it would be" and stopped right there. Nah, I'm not ashamed – we had ourselves some brunch dessert and it was finger-lickin' good.
(I did, I admit, lick some of that chocolate-peanut butter French toast filling off my daughter's finger when she offered me some – since she wouldn't let me take another forkful. I carried her for 9 months and took her on the world's largest cruise ship and this is my repayment?)
Bottom line
Brunch is $24.99 per person at The Mason Jar; dinner, which adds barbecue meats to the southern-friend sandwich options, is $39.99. Kids ages 6 to 12 are charged $10.99, whether they let you share their French toast or not. Cocktails are $13. Reservations are a must; walk, don't run to reserve a dining time as soon as you board. If you want to take a chance as a walk-in, prepare yourself for likely disappointment.
Whether you like Southern cuisine, a quality cocktail or a decadent brunch, I definitely recommend The Mason Jar for a casual, relaxed meal, especially with friends who will swap bites with you or join you in ordering extra dishes for the group. I also recommend chasing that calorific repast with a good hour at the gym or an evening spent two-stepping the pounds away.
Photo by Erica Silverstein/The Points Guy