It's finally here – the Vinca Blossom Quilt pattern release! I am SO excited about this pattern, and I know you're going to love it, too! I've had some wonderful ladies test the pattern and they all appreciate how easy and versatile it is.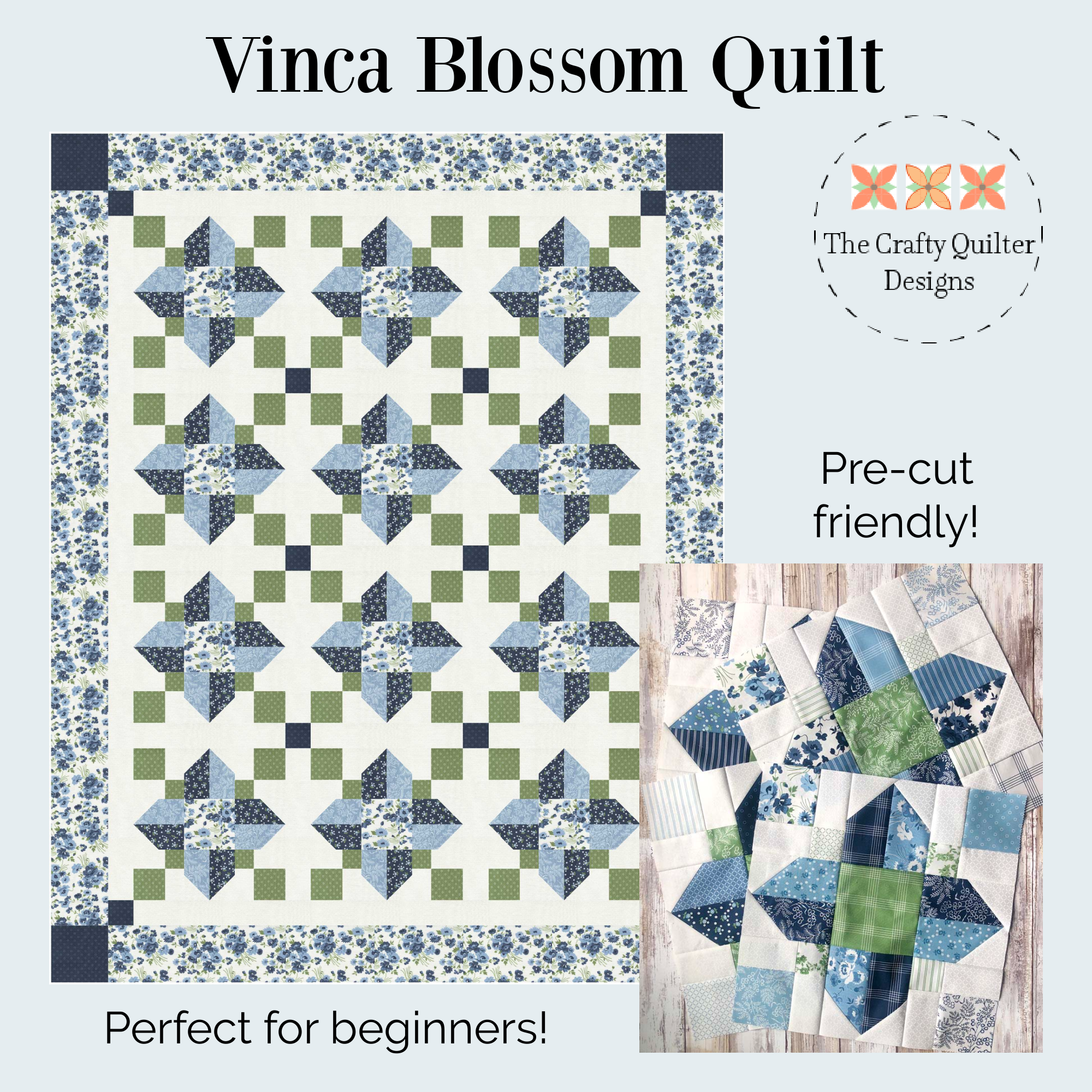 Vinca Blossom Quilt
The Vinca Blossom quilt pattern is available as a pdf in my Etsy Shop. Plus, you can use the discount code VINCA20 and get 20% off until May 15, 2023!
Vinca Blossom offers four different quilt sizes, plus you can make a table runner by using the baby size instructions. This pattern is precut friendly and scrap friendly, and it's easy enough for a confident beginner to make. If you're using yardage, the strip piecing makes it a fast project, too! The Vinca Blossom Quilt checks all the boxes for a fun, versatile and easy pattern to make.
Vinca Blossom gets its name from the Vinca flower which has four petals that end in a point. Once I had designed the pattern, I knew what the name had to be. The quilt block measures 12 1/2″ square (unfinished) and it's so sweet – even on its own.
Vinca Blossom pattern testers
I am so thankful for the ladies that offered to test my pattern. They were very responsive and offered some great feedback that helped make this a very user-friendly and accurate pattern. Enjoy their beautiful quilts!
Debbie made the throw size and quilted it herself. It's just beautiful and looks like a fresh bunch of Vinca flowers. She can be found on Instagram @debbies.whimsies
Great pattern!  It's very well written and easy to follow. I made the throw size with leftover Abby Rose charm packs and fat quarters.  I love that your pattern can be used with yardage, any type of pre-cut or even scraps. 

This is a great pattern for beginners and experienced quilters alike.   The design is very versatile. Despite the name, it's not overly floral in appearance so depending on fabric used it would be suitable for gifting to anyone.

Debbie
Debra made the twin size using four charm packs for variety (but three would have been enough). It's quite charming and lovely! She can be found @debrasander on Instagram.
The pattern is wonderfully written. I found the strip piecing in the assembly instructions to be perfect. For the most part, the pattern is awesome and I can see it in many different fabrics.

I used the Stripology ruler by GE Designs for Creative Grids which was a timesaver. I also used the seam tape (from Cluck Cluck Sew) to speed up piecing the folded corners and a corner trimmer by Doug Leko. Overall lovely design.

Debra
Isabella made the throw size using a scrappy mix of bright colors. This is so happy looking! She can be found @all.about.mycraft on Instagram.
Your pattern is fabulous! I made a throw size and I love it!

I made a scrappy one and your Bonus scrap instructions are great. Really a plus because you write down exactly the process I make every single time to convert a quilt pattern into a scrappy one.

Isabella
Sue's version of Vinca Blossom is so soft and pretty. I love the color palette for her throw-size version. You can find Sue on Instagram @sue.nixon5.
Mariam made the queen size and she quilted it herself! Mariam can be found @myfabriccreations on Instagram. You'll want to check out her double-sided table runner she made using Vinca Blossom blocks in other fabrics.
Cheryl really enjoyed making the throw sized quilt (and it turned out so pretty). She used yardage and took advantage of the quick strip-piecing methods given in the pattern. You can find Cheryl @chersmith22 on Instagram.
Heather's beautiful throw size came together quickly with a charm pack of Renew by Sweetwater for Moda Fabrics. She says it's a great pattern for the confident beginner. You can find Heather on Instagram @hfeeney19.
I was so happy to see this dark background fabric used by Jessica for her throw-sized quilt. It really adds drama and depth to the quilt! She also made a matching pillow using one extra block. You can find Jessica on Instagram @blackdragonalchemy.
Karen made this adorable baby-size Vinca Blossom quilt. It's also just the right size for a table topper or wall hanging. You can find Karen on Instagram @from_karens_kitchen.
Lu made the throw-size quilt and she made it look right at home in a garden of tulips. The coral border really frames it nicely. Lu says this is a great pattern that makes a successful finish for beginners to advanced. You can find her on Instagram @she_who_quilts.
This lovely baby-size quilt was made by Mary. Her fun mix of prints is just perfect for any gender and would also make a great table topper. You can find Mary on Instagram @theartfulcello.
I can't thank these pattern testers enough for their lovely work, their time and diligence, and their thoughtful feedback on the pattern. They really showed how versatile and beautiful Vinca Blossom can be! I also had a great technical editor, Lisa from Mountain View Quilts, who made sure all of the math was correct (among many other things). Thanks to all of you!
More Vinca Blossom info
Since you made it this far, I'm going to fess up and tell you that I haven't gotten my own cover sample made for this pattern. I made a table runner and I made a square Christmas version last year, but I'm woefully behind schedule here. But, it's next on my list as soon as I get my next pattern release done (which is next week)!
I also want you to know that I have a free tutorial for the Vinca block itself. It's the genesis of this pattern and you can see how the block is made. I had many requests for a full pattern with different size options, so I have finally delivered. The pattern includes full color diagrams with pressing arrows, fabric requirements, and a coloring page plus bonus scrap instructions.
Make sure to use the code VINCA20 to get 20% off the price of Vinca Blossom. It's good through May 15, 2023. You can find it in my Etsy Shop HERE.
Thank you so much for visiting today and happy quilting!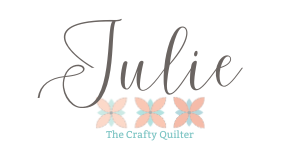 The post Vinca Blossom Quilt pattern release! appeared first on The Crafty Quilter.