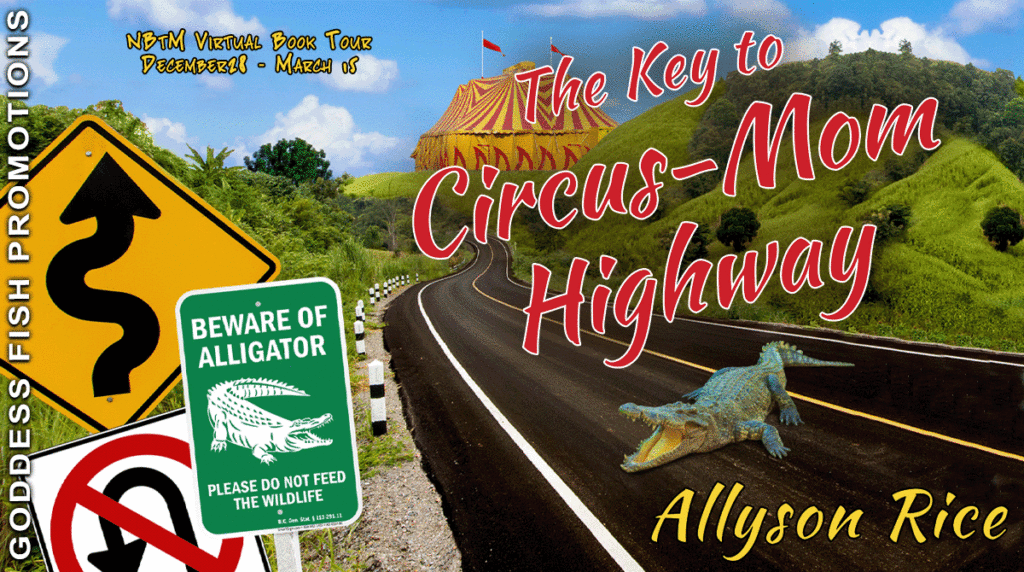 This post is part of a virtual book tour organized by Goddess Fish Promotions. Allyson Rice will be awarding a $20 Amazon/BN GC to a randomly drawn winner via rafflecopter during the tour. Click on the tour banner to see the other stops on the tour.
When Writing a Flawed Protagonist… Use Humor
When writing protagonists, you want them to be flawed. You want your protagonist to be human, and since none of us humans are perfect, the fact that your protagonist isn't perfect either makes her relatable. You want your reader to feel for your character and her struggles and root for her throughout your book.
In the case of Jesse, one of the three siblings in my recently released novel The Key to Circus-Mom Highway, I wanted to add another wrinkle. One of the themes within the book is how we often make snap judgments of others based on the way they look, or speak, or act, and they're not always accurate assessments of the person. They're usually more about our own preconceptions. It takes getting to know them a little before we see beyond what made us initially judge them.
Personally, I love the character of Jesse. I think she's hilarious. But… she starts as a bartender in a strip club, has arms covered in tattoos, she swears a lot, and presents herself in "an aging tough-girl, you-wouldn't-hire-her-to-babysit-your-kids kind of way. Like if Joan Jett and Reese Witherspoon had a love child…" I knew the tattoos and particularly the swearing were going to be off-putting and make some readers judge her negatively. (The strip club job she quits right away with relief once she receives the call from the lawyer about her deceased birth mom and the inheritance). I knew that the process of making readers root for her was especially important since among the three siblings, Jesse is the one that leads the action.
There are two ways I attempted to do this. First, little by little I let the reader in on Jesse's backstory–the difficult things that have happened to her that have made her act the way she does. Since we've all had difficult things we've been through in our lives, how can you not respond compassionately to someone else once you know the struggles they've been through? Second, and this was key for me with Jesse's character, was to use humor. She's smart, funny, and sarcastic at times. As I wrote dialogue for her, it often made me laugh out loud. She has no filter. It felt like the lines were coming from her, the character, and not me, the author.
When the BookLife review in Publisher's Weekly came out and said of Jesse, "Refreshing in her underdog melancholy and snarky repartee, she'll have readers cheering as she gains wisdom along the back roads of the American South. Her irreverent humor lightens her anger at her birth mother, even as she faces new family challenges," I felt like I had been successful!
If you get a chance to read the book at some point, drop me a line through my website http://allysonrice.com and let me know your thoughts. I'd love to hear whether your views about Jesse (and her two siblings, Jennifer and Jack) changed along the way.
In an attempt to secure an unexpected inheritance—and hopefully find a few answers—two estranged sisters and their newly discovered brother embark on a comically surreal trip through the Deep South to retrace the life of the mother who abandoned them as infants.

On a Tuesday afternoon, sisters Jesse Chasen and Jennifer McMahon receive a phone call notifying them that their birth mother has died, leaving behind a significant inheritance. But in order to obtain it, they must follow a detailed road trip she designed for them to get to know her—and that includes finding a brother they never knew existed.

For the next week, this ill-assorted trio treks across Louisiana, Mississippi, Alabama, and Georgia to meet their mother's old friends, from circus performers to a juke joint owner, each of whom delivers a shocking vignette into the life of a young mother traumatized by loss and abuse. Along the way, these three siblings—Jesse, whose fiery exterior disguises a wounded, drifting musician stuck in a rut; Jennifer, whose carefully curated family life is threatened by her husband's infidelity; and Jack, whose enigmatic Jackie, Oh! persona in the New Orleans drag queen scene helps him escape the nightmares of Afghanistan that haunt him at night—must confront their own demons (and at least one alligator). But in chasing the truth about their real mother, they may all just find their second chance.

This uproarious debut novel is a reminder that sometimes, the family you'd never have chosen may turn out to be exactly what you need.
Enjoy an Excerpt
Westley re-entered with five boxes of food that said Zunzi's on the side. "Best sandwiches in Savannah! We're going on a traveling picnic. There's a young couple, just got married, staying here tonight too, so they're going to join us. I hope you don't mind."
Duke and Ivy Parker had met at the Monster Truck Destruction Tour in Lubbock, Texas a mere two weeks ago. Christian Rock radio station KZOL was having their annual Monster Truck ticket giveaway to the first two callers who could answer these two questions correctly:
1) What former WrestleMania star has driven a Monster Truck in a movie and has also founded a church? (answer: Dwayne "The Rock" Johnson); and,
2) According to Wikipedia, what Christian Grindcore band has said that their band name was inspired by Revelations 3:15-16? (answer: Vomitorial Corpulence)
Complete strangers, Duke and Ivy had been the first two correct callers, at number fourteen and number thirty-one, respectively. When they both showed up at the Monster Truck event wearing the same vintage edition Bigfoot Monster Truck t-shirt, they were convinced that it was The Lord that had guided them to each other in Section 104 Row 25 Seats 16 and 17. They knew it was literally "a match made in Heaven," and so they eloped.
Right on cue, Ivy and Duke, an excruciatingly gung-ho couple in their early twenties dressed in color-coordinated NASCAR gear, entered, holding hands.
About the Author: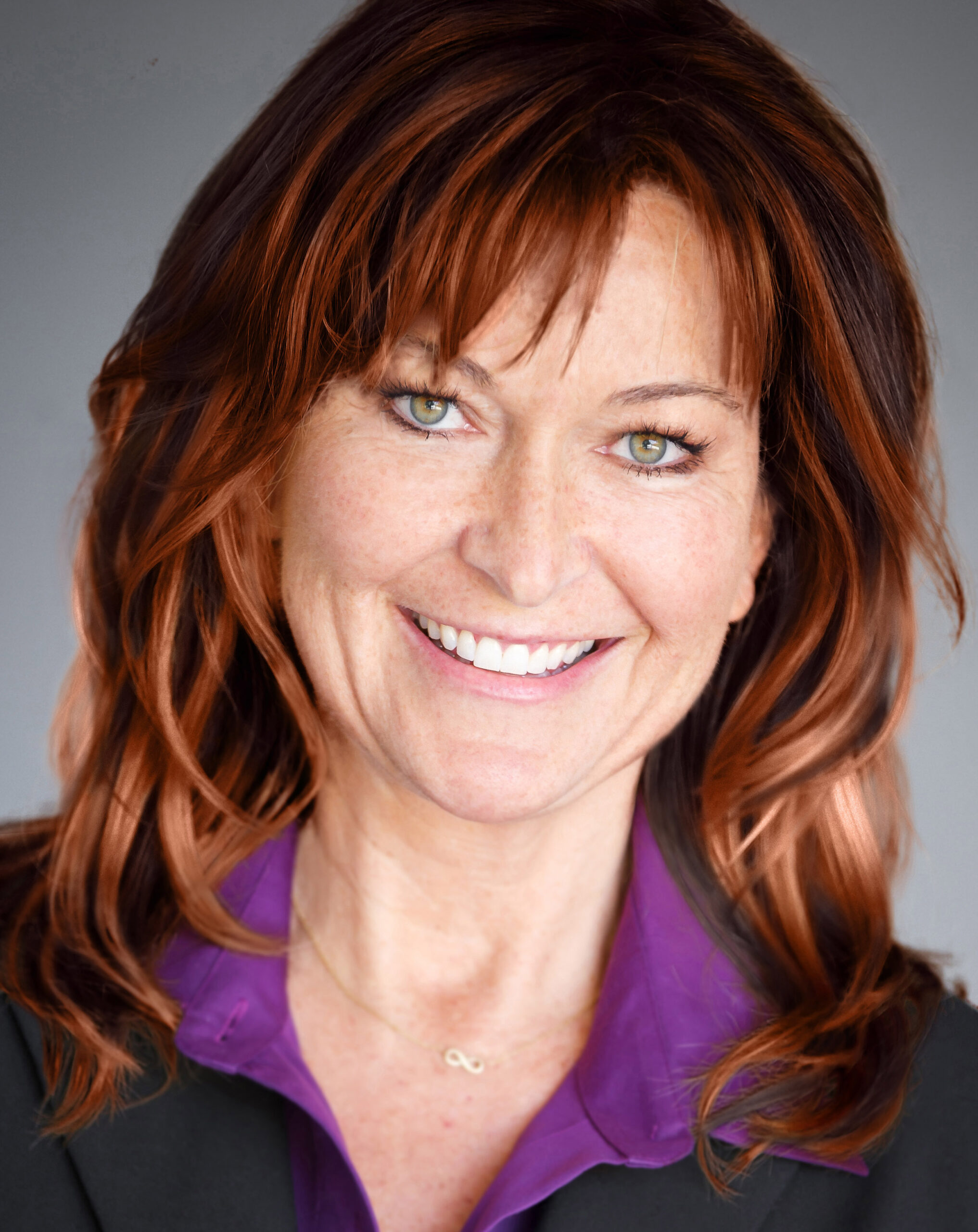 Allyson Rice is the author of the novel The Key to Circus Mom Highway. ("Fans of family drama, road trips, and non-stop laughs will love this cross-country adventure."–BookLife/Publisher's Weekly). She's an award-winning mixed media artist, and a producer with Atomic Focus Entertainment.
After spending many years as an actress on stage and on television, she left acting and spent the next decade running yoga/meditation retreats, women's retreats, and creativity retreats around the country. After that, she pivoted to focus once again on her own creative work. In addition to her writing and art, she's also a photographer (her work was most recently seen in an exhibition at the Soho Photo Gallery in NYC).
Some random bits of Allyson trivia: 1) She's been skydiving, paragliding, bungee jumping, ziplining through a rainforest, and scuba diving with stingrays; 2) she has an extensive PEZ dispenser collection; 3) she played Connor Walsh on As the World Turns for seven years; 4) she's been in the Oval Office at the White House after hours; 5) she's related to the Hatfields of the infamous Hatfield/McCoy feud; and 6) her comedic rap music video "Fine, I'll Write My Own Damn Song" won numerous awards in the film festival circuit and can now be seen on YouTube.
Also available from Allyson Rice is her line of women's coloring books (The Color of Joy, Dancing with Life, and Wonderland), and The Creative Prosperity PlayDeck, an inspirational card deck about unlocking and utilizing your creative energy in the world. She's currently at work on her second novel and her fourth women's coloring book. But she is most proud of being mom to musical artist @_zanetaylor.
Website | E-commerce site | Instagram | Facebook | Twitter | Goodreads
Buy the book at Amazon, Barnes and Noble, Kobo, or Target>.