27 Fun Things: Noise Pop Festival, SF Ballet Sensorium, Vintage Fashion Fair + More Bay Area Events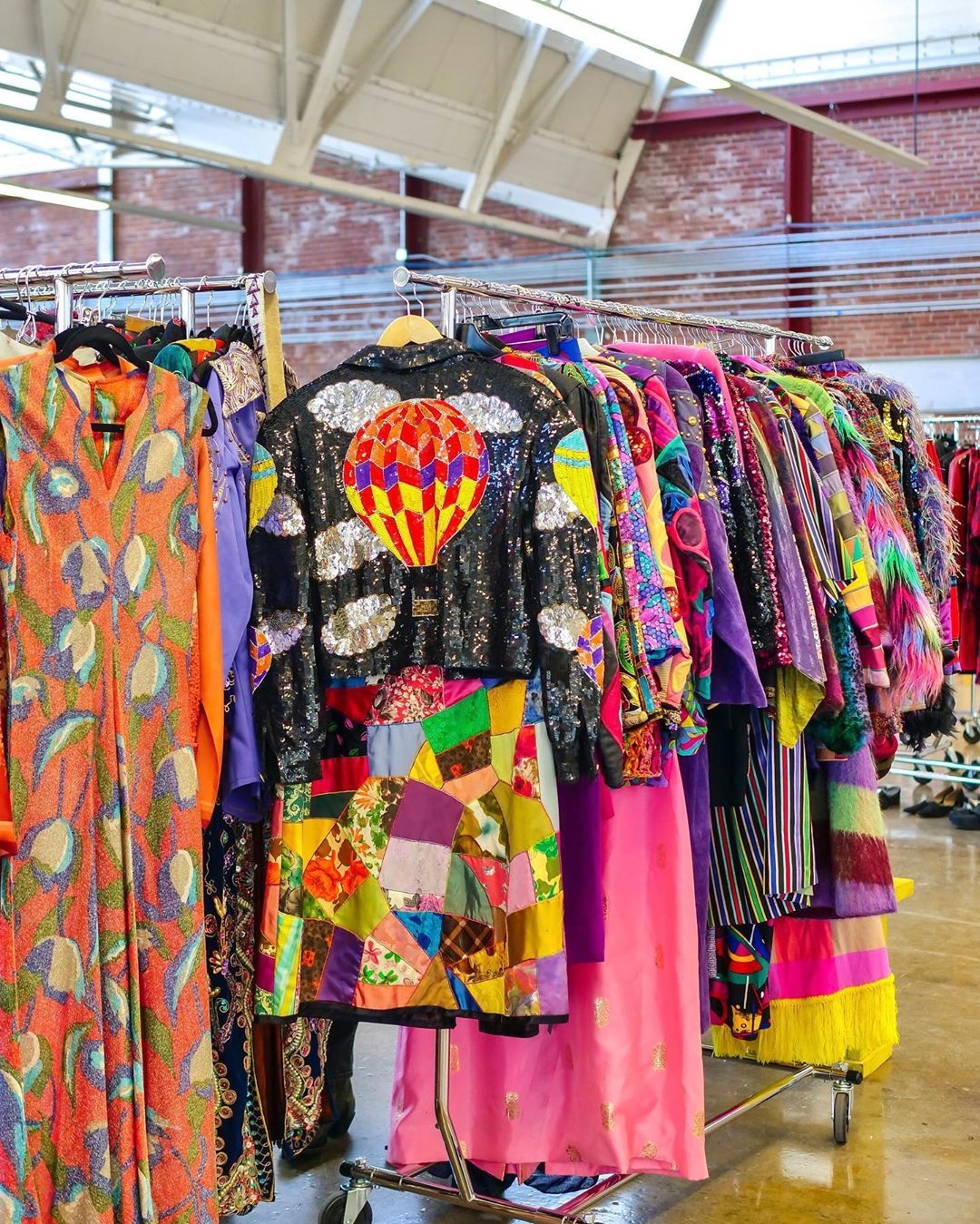 It's Leap Week! No, that's not really a thing, but there will be a Leap Year party and it looks pretty fun.
But seriously, you will be jumping for joy with the return of San Francisco Ballet's dynamic experience Sensorium; the return of the mega vintage fashion show A Current Affair; Goat NightLife at Cal Academy; six nights of Noise Pop shows; a variety of Black History Month celebrations; and, of course, new restaurants and bakeries.
---
Have a great week!
Monday, February 24th
Noise Pop Festival
Through March 1
Venues around the Bay Area
Clear your calendar for six days of concerts, films, art exhibits, and happy hours as Noise Pop makes its annual return. Performers include Raphael Saadiq, Maya Jane Coles, Best Coast, Duster, Helado Negro, Shigeto Live Ensemble, Jamila Woods, Injury Reserve, Bag Raiders, and Lower Dens. // Prices vary; find tickets at noisepopfest.com.
WhistlePig Whiskey Dinner
6:30pm to 9:30pm
The Saratoga, 1000 Larkin St. (TenderNob), thesaratogasf.com
Whiskey connoisseurs need no introduction to WhistlePig. The New England brand of carefully crafted rye whiskeys will star at a special pairing dinner tonight at The Saratoga. On the menu: the 18-year double malt and 12-year world cask finish, to be paired with suckling pig, brussels sprouts slaw, barbecued shrimp, and more. // Tickets ($85) can be purchased on Eventbrite.
Fillmore Jazz Documentary Screening + Party
7pm to 2am
Boom Boom Room, 1601 Fillmore St. (Pacific Heights), boomboomroom.com
Relive the Harlem of the Westthat 1940s and '50s heyday of jazz and swagga in the Fillmoreat Bay Area Video Coalition's launch party and screening of the new TV documentary, They Can't Take That Away: The Legacy of the Fillmore. See the film, then stick around for live music all night. // Tickets available at the door.
Tuesday, February 25th
Lit Flicks
7:30pm
Alamo Drafthouse, 2550 Mission St. (Mission), drafthouse.com
Litquake and Alamo Drafthouse are launching a new screening series focusing on movies adapted from books. It kicks off tonight with Out of Sight, the blockbuster starring J.Lo and George Clooney and based on the novel by Elmore Leonard. Look out for a special introduction by author Eddie Muller (Noir City). // Tickets ($16) are available at litquake.org.
Michelin-Starred Chef Collab
Seatings from 5pm to 9:45pm
Sorrel, 3228 Sacramento St. (Laurel Heights), sorrelrestaurant.com
SF Michelin-starred restaurant Sorrel is cooking up a new guest chef dinner series. On deck tonight is a collaboration between Sorrel's own Alex Hong and chef Jon Yao, of L.A.'s Taiwanese-American restaurant, Kato, which also has a coveted star. Each chef will create three dishes for a one-time-only six-course dinner. // Dinner ($165) can be reserved at Resy.
SF Energy Fair
3pm to 8pm
San Francisco County Fair Building, 1199 9th Ave (Golden Gate Park), goldengatepark.com
Learn how to do your part in conserving energy resources and making more green energy sources during this daylong event full of workshops, demos, home upgrade rebates, and more resources to make your home energy-efficient. // Free, register at Eventbrite.
SF Ballet's Sensorium
7pm to 11:30pm
War Memorial Opera House, 301 Van Ness Avenue (Civic Center), sfballet.org
Want a taste of the San Francisco Ballet plus a little extra? Tonight's Sensorium provides the opportunity to see two showsEdwaard Liang's The Infinite Ocean and Mark Morris' Sandpaper Balletamid a whole experience of visual art installations, fashion-y exhibits, and an afterparty where you can dance and drink into the night. // Tickets ($35 and up) are on sfballet.org.
Mardi Gras in the Mission
6pm to 10pm
20 venues across the Mission
Blondie's Bar, Laszlo, Make-Out Room, El Rio, Bissap Baobab, and Evil Eye are just a handful of the neighborhood spots participating in tonight's Mission-wide Mardi Gras festivities, all organized by the group behind Carnaval San Francisco, which goes down in May. Hop from bar to bar and see samba drummers, salsa dancers, all the costumes, and more. // Free to attend, portion of proceeds at each venue will support CANA, the nonprofit that runs the main Carnaval San Francisco parade; find more details on Eventbrite.
Wednesday, February 26th
Art, Conversation & Food
6:30pm to 8:30pm
Minnesota Street Project, 1275 Minnesota St. (Dogpatch), minnesotastreetproject.com
Get together with Besharam chef Heena Patel and paper artist Zai Divecha, who'll be talking about their Gujarati heritage and how it inspires their art forms. There will be food and drink, a paper-folding demo, and a silent auction of some of Divecha's pieces. // Tickets ($150) can be purchased on Eventbrite and support the Pratham Institute.
A Destination Restaurant in Palo Alto
Ettan, 518 Bryant St. (Palo Alto), ettanrestaurant.com
Open Tuesday through Sunday
If you're in the South Bay, check out Ettan, a new Cal-Indian restaurant helmed by chef Srijith Gopinathan, who earned Michelin star status at San Francisco's Campton Place. The interior is drop-dead gorgeous, with a multi-story balcony and a stunning domed skylight. Dive into dishes like chutney samplers, cast iron monkey naan, tava fried copra beef, kerala fried chicken, and more.
The Golden Arches in Black America
7pm
JCCSF, 3200 California St. (Presidio Heights), jccsf.org
Hear from Georgetown University historian/author Marcia Chatelain and Cal prof Brandi Thompson Summers as they explores the dynamic between fast food companies and the black community, whose neighborhoods are dominated by fast food. But there's a twist: These restaurants have actually created black wealth. // Tickets ($20) on Eventbrite.

Thursday, February 27th
The Campfire Room
Dinner hours, Tuesday through Sunday
Prairie, 3431 19th St. (Mission), prairiesf.com
Popular Italian-American spot Prairie is launching a cozy new dining experience: The Campfire Room is a 14-seat, family-style communal table where dinners begin with a welcome cocktail, followed by six-course meals made on Prairie's three grillsthink local vegetables, a whole grilled Mt. Lassen Trout, handmade pastas, and coal-roasted dry-aged Liberty duck.
Goat NightLife
6pm
55 Music Concourse Dr. (Golden Gate Park), calacademy.org
Cal Academy's weekly soire has some pretty special guests tonightgoats from Goatlandia Farm Animal Sanctuary. Meet some friendly farm creatures as well as Goatlandia founder Deborah Blum, and check out a planetarium presentation of S.P.A.C.E. G.O.A.T.// Tickets ($15) can be purchased on calacademy.org.
Sting's The Last Ship
7:30pm tonight, shows through March 22
Golden Gate Theatre, 1 Taylor St. (Tenderloin), shnsf.com
Snag tickets to The Last Ship, the musical inspired by Sting's album, The Soul Cages, and about a son coming home after 17 years at sea to find that his townand his girlfriendhas changed. // Tickets ($70 to $275) are on broadwaysf.com.
Superfine! Art Fair
7pm to 10pm tonight, through Sunday
Fort Mason, 2 Marina Boulevard (Marina), superfine.world
Superfine! Art Fair's first San Francisco event is a perfect chance to build your art collection with pieces starting at $100 from more than 60 local and international artists, collectives, and galleries. If you want first pickand complimentary bubbly, live music, and performance artpurchase th Champagne Vernissage ticket for tonight. // Tickets ($12 and up, $44 for tonight) are available on Eventbrite.
Friday, February 28th
Mystery Wine & Pizza Night
6pm to 11pm
Story on Union, 2136 Union St. (Marina), storyonunion.com
One thing is for certain: There will be wood-fired Neapolitan pizzas, made by chef Rafi Bildner (Hilltown Hot Pies), and wine. But the latter is the mystery. It could be a $40 Chianti or a $150 Barolofind out when you unwrap the bottle. // Tickets ($85) are on Eventbrite.
Uncanny Valley: Being Human in the Age of AI
Through October 25
de Young Museum, 50 Hagiwara Tea Garden Dr. (Golden Gate Park), deyoung.famsf.org
What does it mean to be human in the age of artificial intelligence? A new contemporary art exhibit at the de Young explores this existential question through themes of subjectivity, inequality, and neutrality. // Included with de Young general admission, purchase on famsf.org.

Black Homecoming
6pm to 9pm
Radio Africa Kitchen, 4800 3rd St. (Bayview), radioafricakitchen.com
Celebrate black excellence, history, and contributions to San Franciscoas well as Black History Monthat this community-centric evening highlighting a wide variety of performances, including spoken word and dance, by black artists. There will also be DJs and free food and drinks by Radio Africa Kitchen. // Register for the free event on Eventbrite.
Amnesia Closing Party
8pm to 1am
Amnesia, 853 Valencia St. (Mission), amnesiathebar.com
Bid Amnesia a final farewell before it closes for good on March 1st. The Valencia Street venue is going out with a bang, with three bandsSandy's, Ton Drima, and French Cassettesand two DJ sets tonight. // Purchase tickets ($15 in advance, $20 at the door) on Eventbrite.
Saturday, February 29th
A Current Affair
10am to 6pm
The Craneway Pavilion, 1414 Harbour Way South (Richmond), craneway.com
Fashion lovers, head to the East Bay today to shop one of the biggest vintage marketplaces around. Expect more than 70 retailers with vintage clothes, jewelry, and accessories for men and women dating from as far back as the Victorian era. // Tickets ($12-$20) can be purchased on Eventbrite.

Leap Year 2020 Party
7pm to 11pm
Dirty Habit, 12 4th Street (Downtown), dirtyhabitsf.com
Celebrate the year's bonus day at Dirty Habit with tarot card readings by drag performer Mutha Chucka, speciality cocktails, and live DJ beats. // Tickets ($20) are on Eventbrite.

Great Wines of Italy Grand Tasting
3pm to 6pm
Presidio Golden Gate Club, 135 Fisher Loop (Presidio), presidio.gov
More than 200 winesall with a minimum score of 92 pointsfrom 90 boutique and renowned Italian wine labels will be on hand for the tasting. // Tickets ($145/GA) can be purchased on Eventbrite.
Black History Month Community Yoga with Lululemon
Bei Hotel, 50 8th St. (SoMa), beihotelsf.com
Celebrate Black History Month with a yoga flow class led by Black to Yoga's Zenovia Forbes and meditation with Nkechi Njaka. Stick around afterward for light refreshments. The class is free, but donations can be made to Oasis for Girls, a SF-based nonprofit that support young, under-resourced girls of color. // Register on Eventbrite.
Napa Beer Mile
Noon to 8pm
Start at St. Clair Brown, 816 Vallejo St. (Napa), napabeermile.com
Skip the wine and spend the day appreciating Napa's craft breweries via a one-mile walk with six beer pit stops, complete with half-off pricing. After getting a stampand a brewat each stop, proudly sport your commemorative Napa Beer Mile cap. // Tickets ($25, includes punch card, half-off pricing, and cap) can be purchased online or in person.
Sunday, March 1st
Hahdough Bakery
Hours TBA
Hahdough, 1221 Fell St. (Lower Haight), hahdough.com
End your weekend on a sweet note with some goodies from this new German bakerythink apple pie, tortes, cake, cupcakes, pretzels, cream and jam-filled donuts, plus coffeeopening today.
Breakfast Sandos in the Outer Richmond
7am to 4pm daily
Devil's Teeth Baking Company, 3619 Balboa St. (Outer Richmond), devilsteethbakingcompany.com
Everybody's favorite breakfast sandwiches are now available in the Outer Richmond thanks to the opening of Devil's Teeth Baking Company's second outpost. Moving slow this morning? Grab a personal pizza from 11am to 3pm exclusively at this location.
Thrive City Farmers Market
8am to 1pm, weekly
Thrive City, 1725 3rd St. (Mission Bay), chasecenter.com
Is there anything the new Warriors arena doesn't have? Thrive City, the venue's outdoor gathering space sponsored by Kaiser Permanente, is officially home to a weekly farmers market. Swing by to pick up your fruits, veggies, flowers, and more for the week. // Free to attend, details on Facebook.