7 New Year's Eve Outfits To Copy for Any Possible Plan
Getting dressed on New Year's Eve isn't like getting dressed on any other day of the year; it's the outfit of all outfits, the singular most important look of the year.
If you're looking to save money, time, AND a headache this holiday season, we've got you covered.
Even if you don't consider yourself a sucker for sparkles or if you generally avoid metallics like the plague, New Year's Eve is the day of the year you can throw all of your usual style rules out the window. It's a time to get dressed up and celebrate one year coming to an end and a new one beginning, and you don't want to do that in any old top or jeans.
Whether you want to feel as glam as possible or are looking for a look that will feel both cozy and festive, you should start the new year feeling your absolute best. From satin to metallics to a healthy dose of sequins, we've got your New Year's Eve outfit covered—no matter what your plans are.
For a formal party
If there's ever a time to bring out a dress that's going to make you feel like a million bucks, it's New Year's Eve. Opt for a sexy off-the-shoulder number, then make it more festive with sparkly accessories that will start your 2023 off with a bang.
dress (plus)| bag | heels | tights (plus)
For a dinner party
Getting a nice dinner for your New Year's? Leather pants, a turtleneck, and silver details make for a chic combo to sit and sip down your cocktails in. The pop of silver against the black will make the look feel obviously festive, but without being too on the nose.
belt (plus)| heels | turtleneck (plus)| pants (plus)
For a party at a friend's house
A party at a friend's still calls for dressing up, and a pop of Barbiecore pink will help you stand out from the sea of sequins that'll take up the living room. Make the look monochrome with shoes and a bag in similar pink hues—but obviously adorned with a little something extra to make them festive for the occasion. 
 bag | dress (plus)| shoes | earrings
For a night out with friends
If you'll be dancing the night away when the clock strikes midnight, it's time to bust out some sequins. With a sexy corset top, sequin trousers will make you feel as festive as possible, without needing to worry about the perils a dress would come with on the dance floor.
top (plus)| hoops | pants (plus)| heels | bag
For a trip to a cabin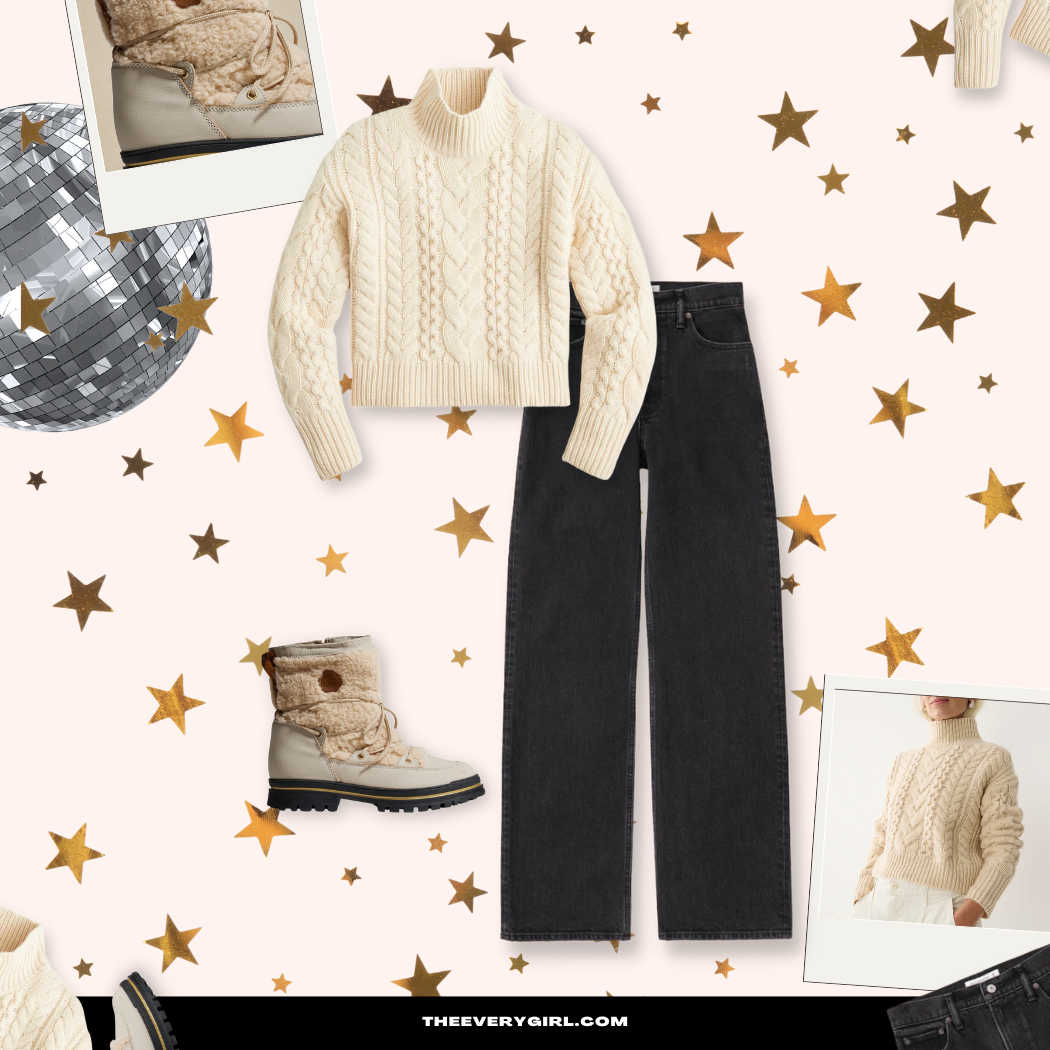 Traveling to a cozy cabin for your New Year's? That calls for cable knit. Pair a chunky, cropped cable-knit sweater with a pair of relaxed jeans and cozy-chic snow boots for a look that perfectly emulates your dreamy night.
sweater | jeans (curve) | boots
For a fancy date night
A fancy date on New Year's Eve calls for an outfit that's a notch above what you'd wear on a normal date. Layer a strapless jumpsuit over a cropped button-up, then top it off with a belt for an outfit that'll make everyone wonder, "who is she?"
shirt (plus) | jumpsuit (plus)| bag | heels
For a cozy night at home
Sometimes, a cozy night at home for NYE is exactly what the doctor ordered. Ring your 2023 in with a pair of elevated sweats, cozy slippers, and a bottle (or two) of champagne.
hoodie (plus) | slippers | sweatpants (plus) | champagne coupe
The post 7 New Year's Eve Outfits To Copy for Any Possible Plan appeared first on The Everygirl.