Babies In Motions October 2021 Review + Coupon
Disclosure: This post contains affiliate links. I received this box for review.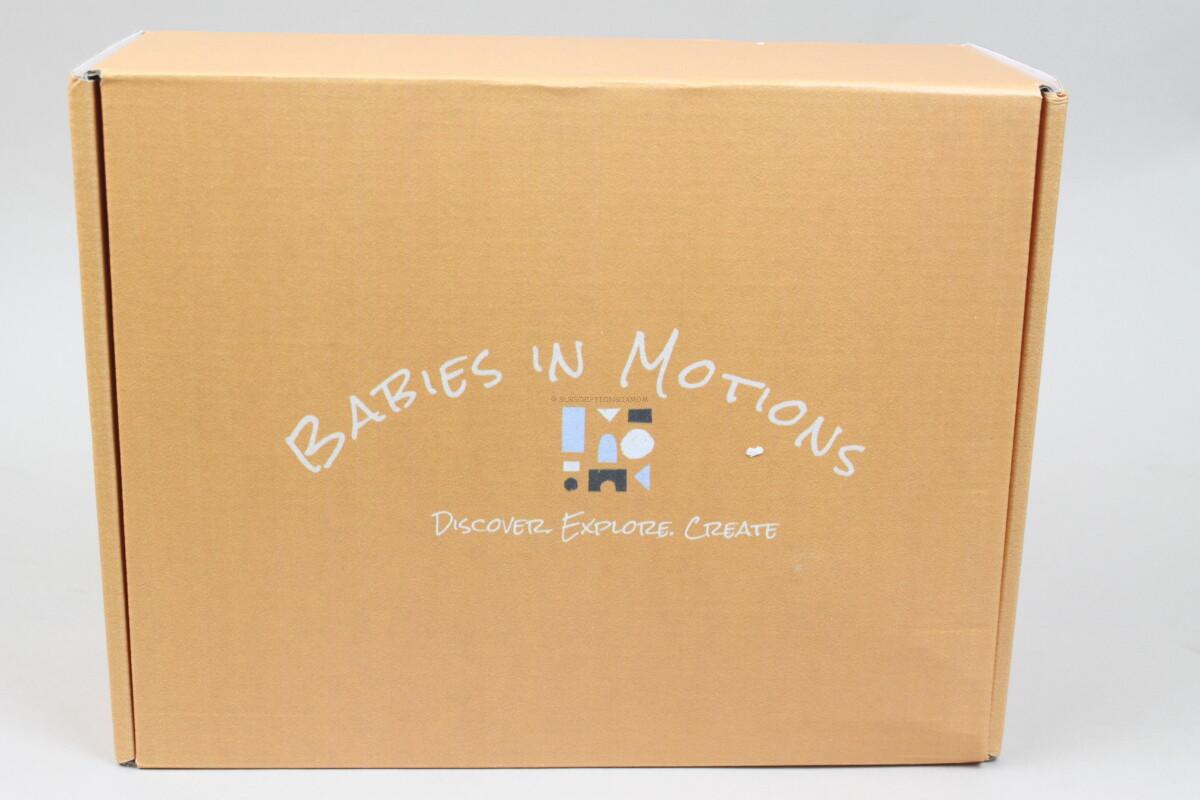 Babies in Motions is a subscription box for children from 6 weeks to 36 months.
Boxes focus on the five developmental domains: social development, emotional development, cognitive, physical, and language & communication. Boxes are broken down by age. Babies 6 weeks to 15 months will get the "Discover" box. Babies 15 months to 25 month receive the "Explore" box. and Toddlers 24 months to 36 months receive the "Create" box.
Each box contains two or more educational toys, one age-appropriate book, two caregiver/parent appreciation gifts, and one activity card explaining activities and how to use them to provide healthy growth to your child.
Subscriptions are bi-monthly. The month-to-month plan is $39.99/box, but it's only $29.99/box if you subscribe for a year.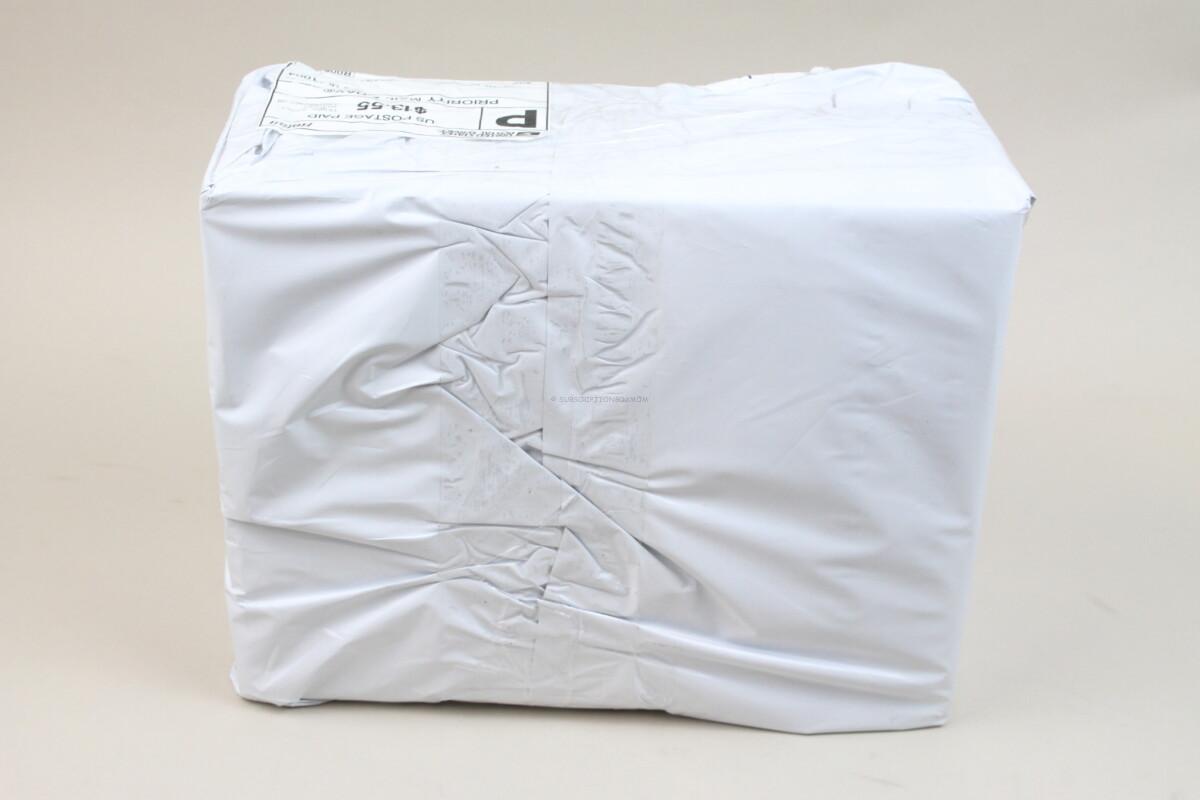 The box shipped in a white poly mailer bag.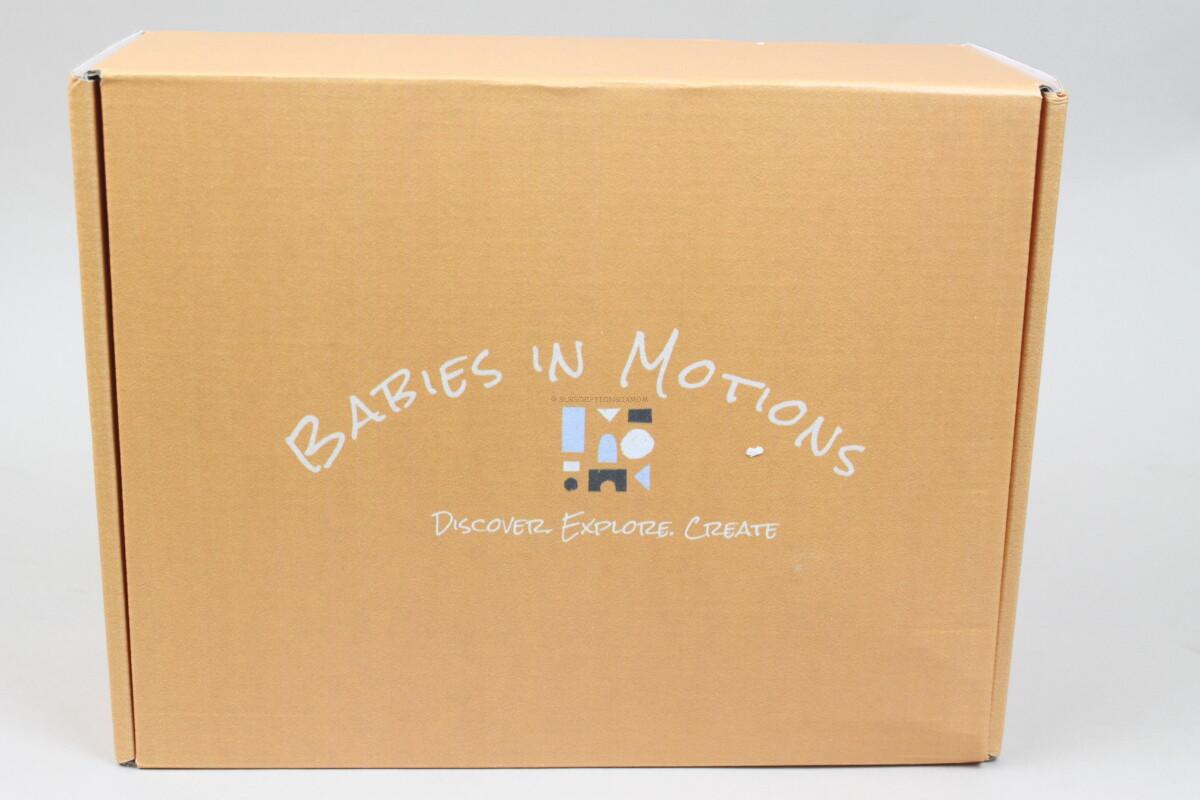 The box is a pretty orange color with the Babies in Motions logo on the top.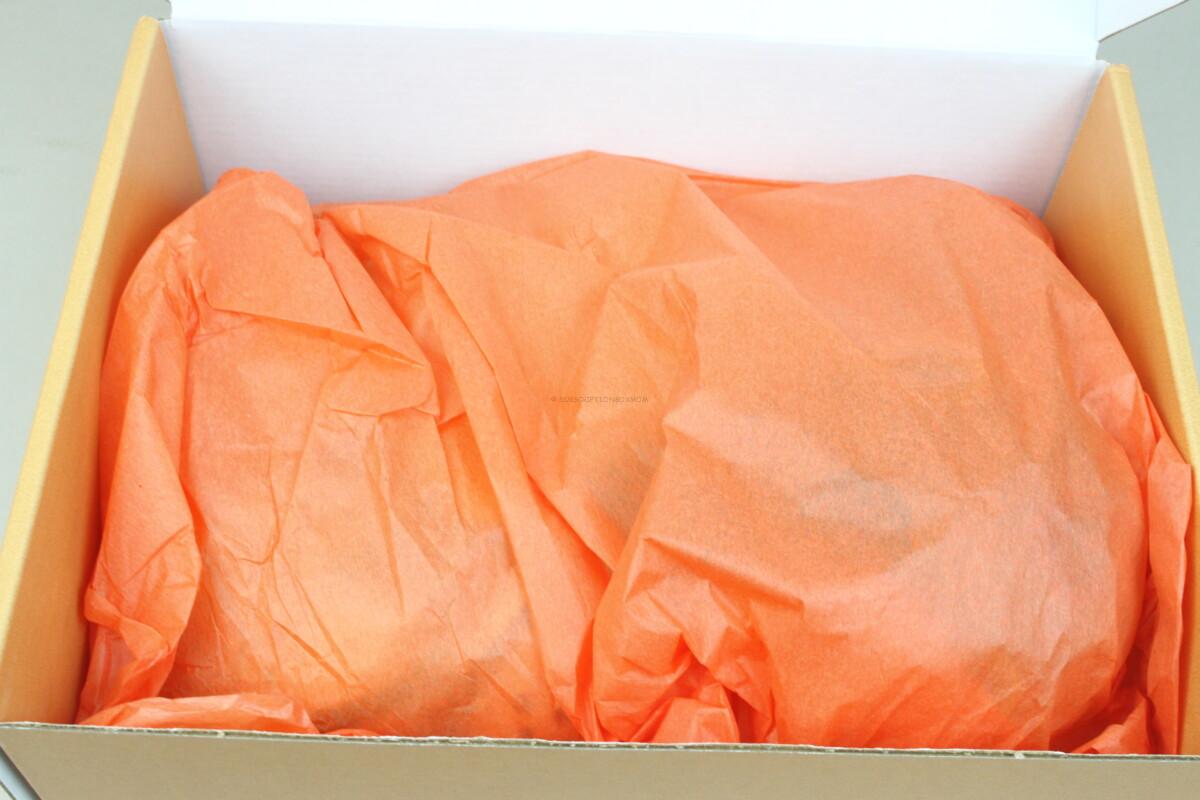 First Look. Everything is wrapped in orange tissue paper.
Activity Card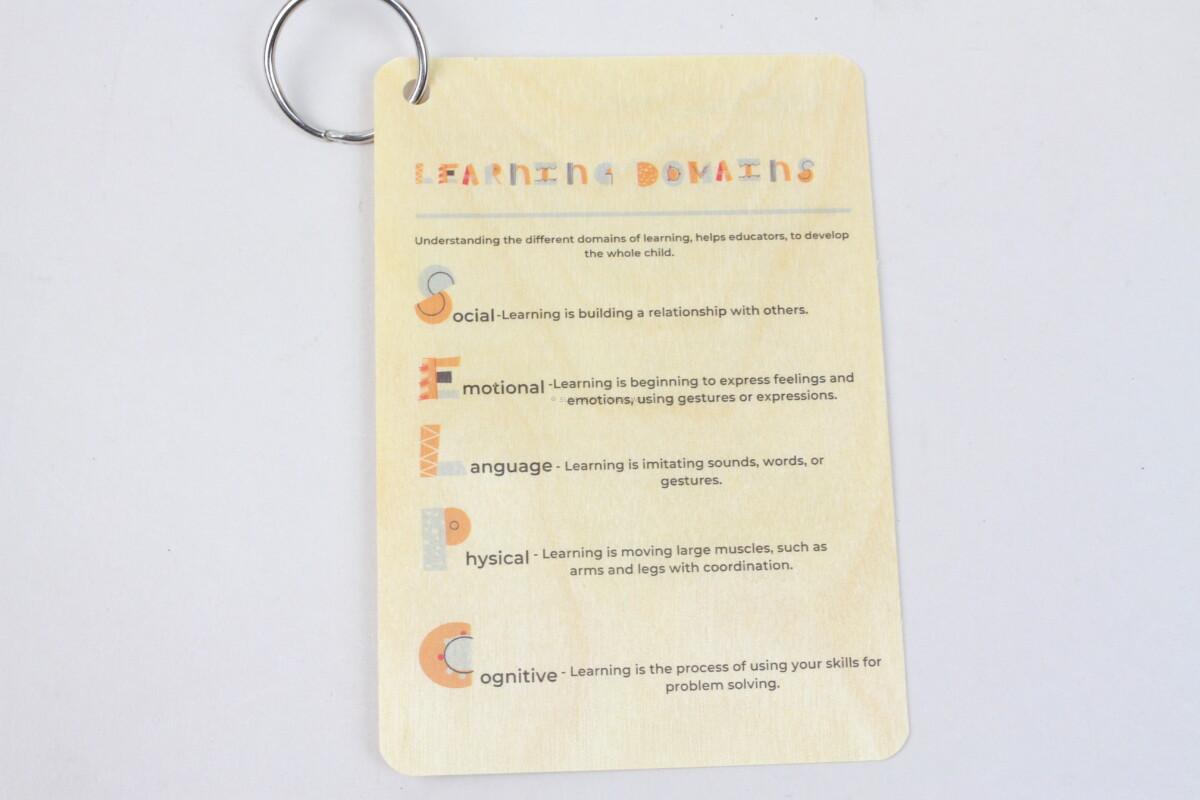 The front of the card has the five learning domains and a description of each one.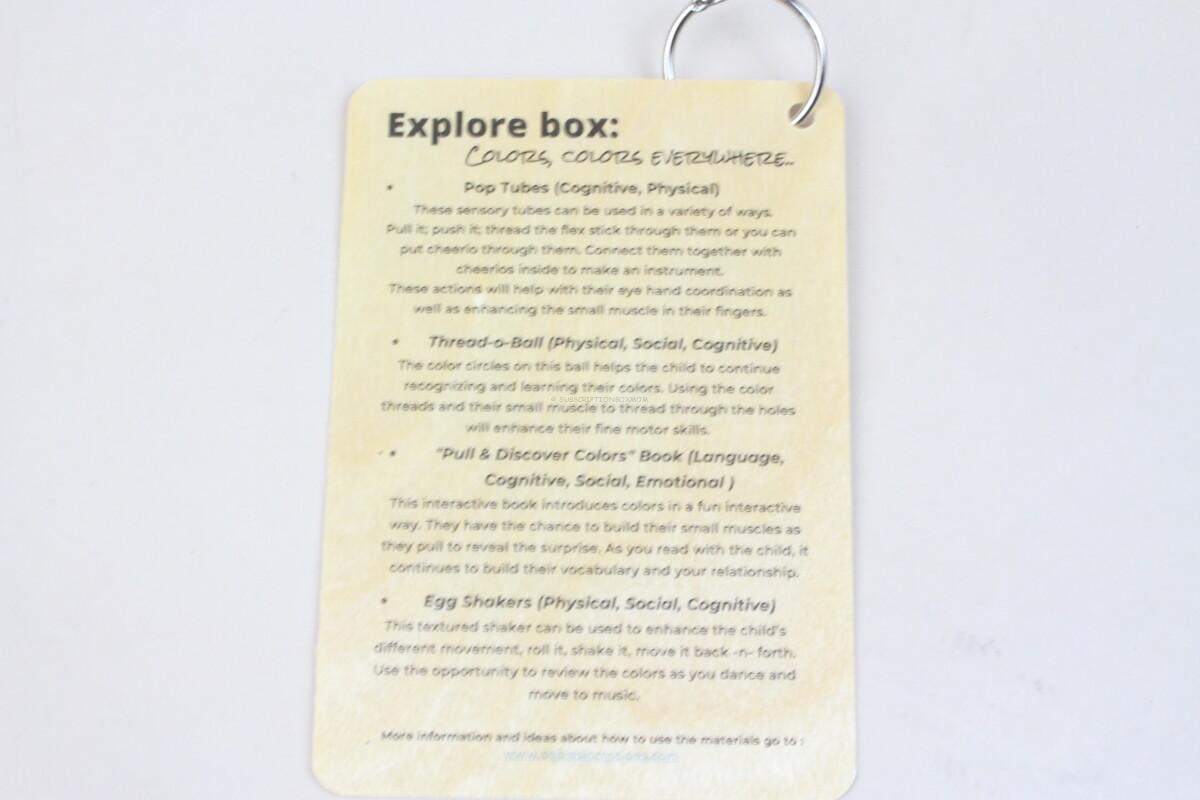 The other side has a list of items in the box, with what learning domains they help with and a description of each item.
Pop Tubes (Cognitive, Physical)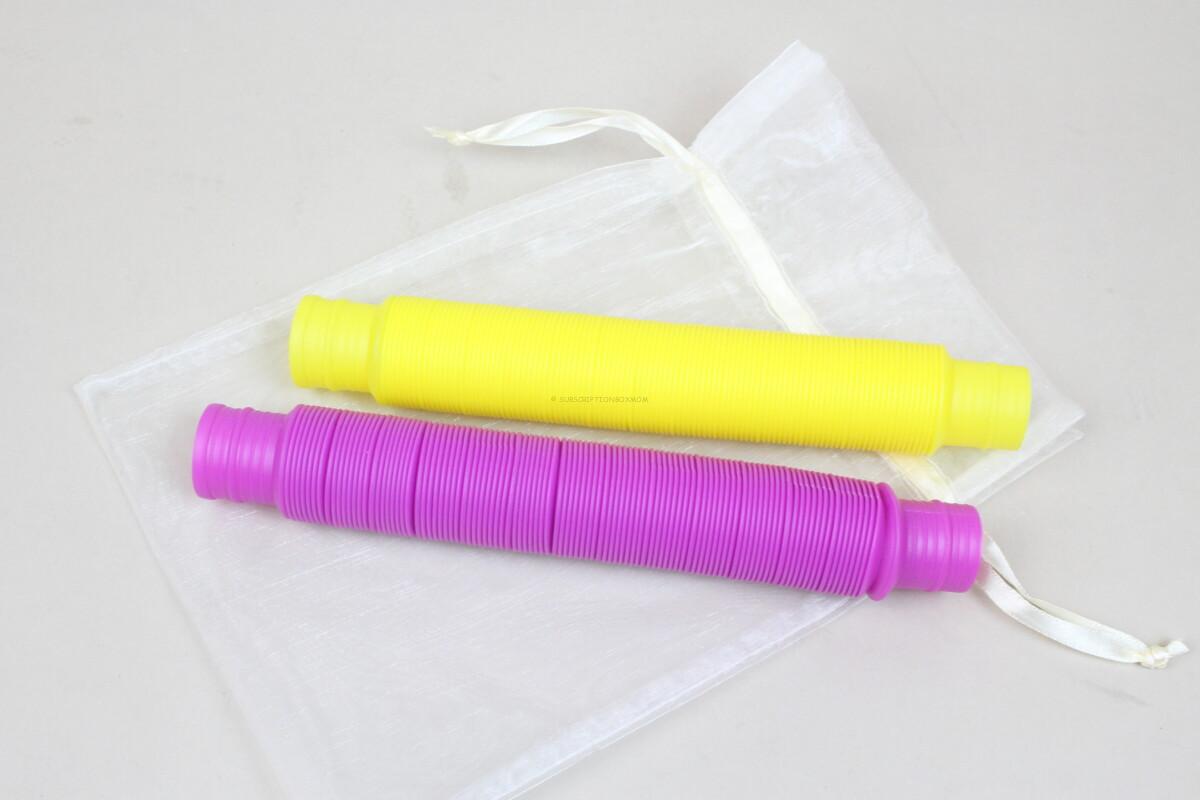 Each of these tubes stretches and pushes in. You can also connect them in a circle with cheerios inside to make a musical instrument. While these are designed for younger children, my 9-year-old would also play with these as a fidget.
Egg Shakers (Physical, Social, Cognitive) $3.99 each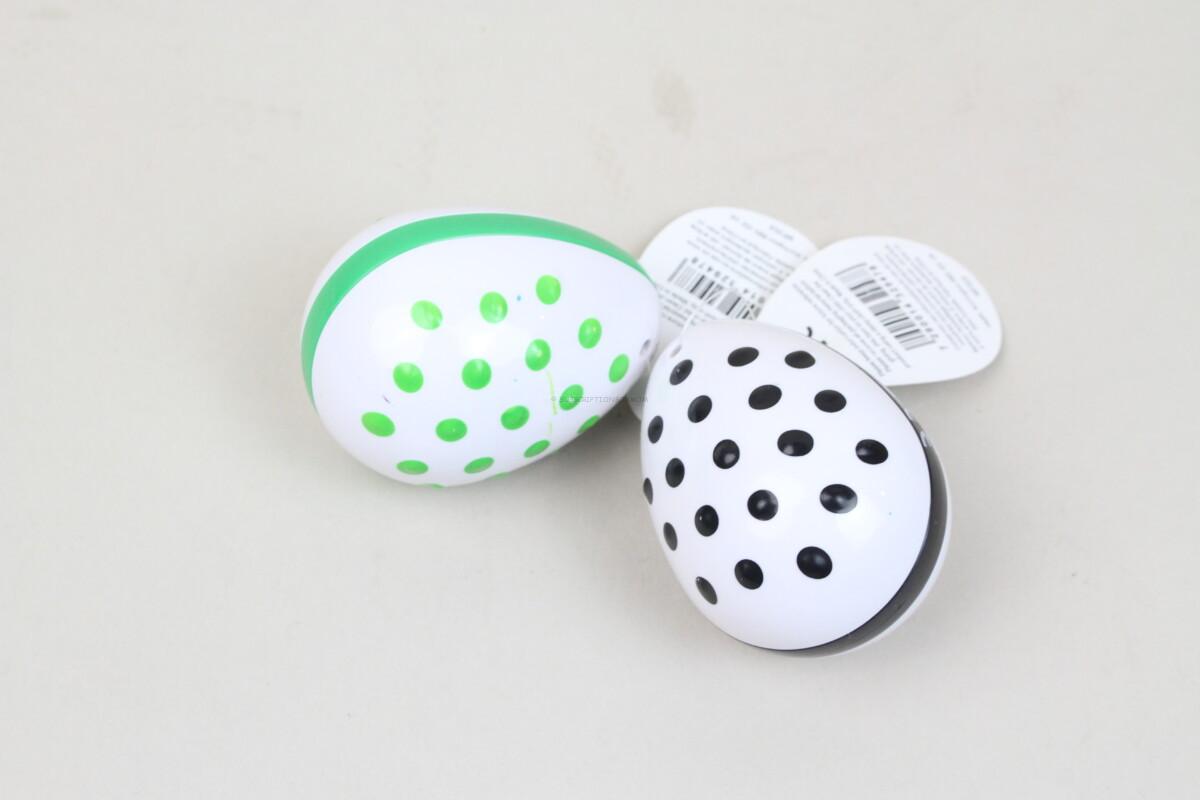 These shakers help children enhance the child's different movements. They can be shaken or rolled. You can also play some music and children can shake and dance to the beat. Each egg has textured dots children can run their fingers across. Children can also learn colors from each egg.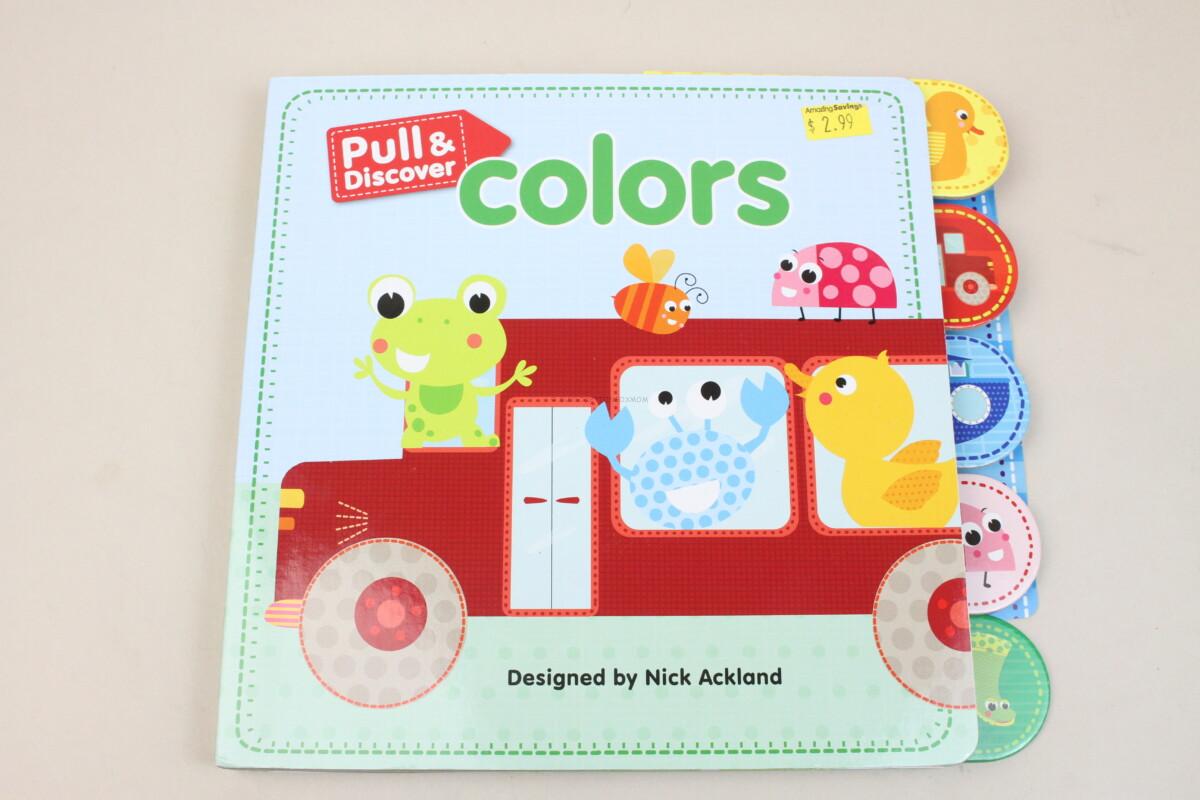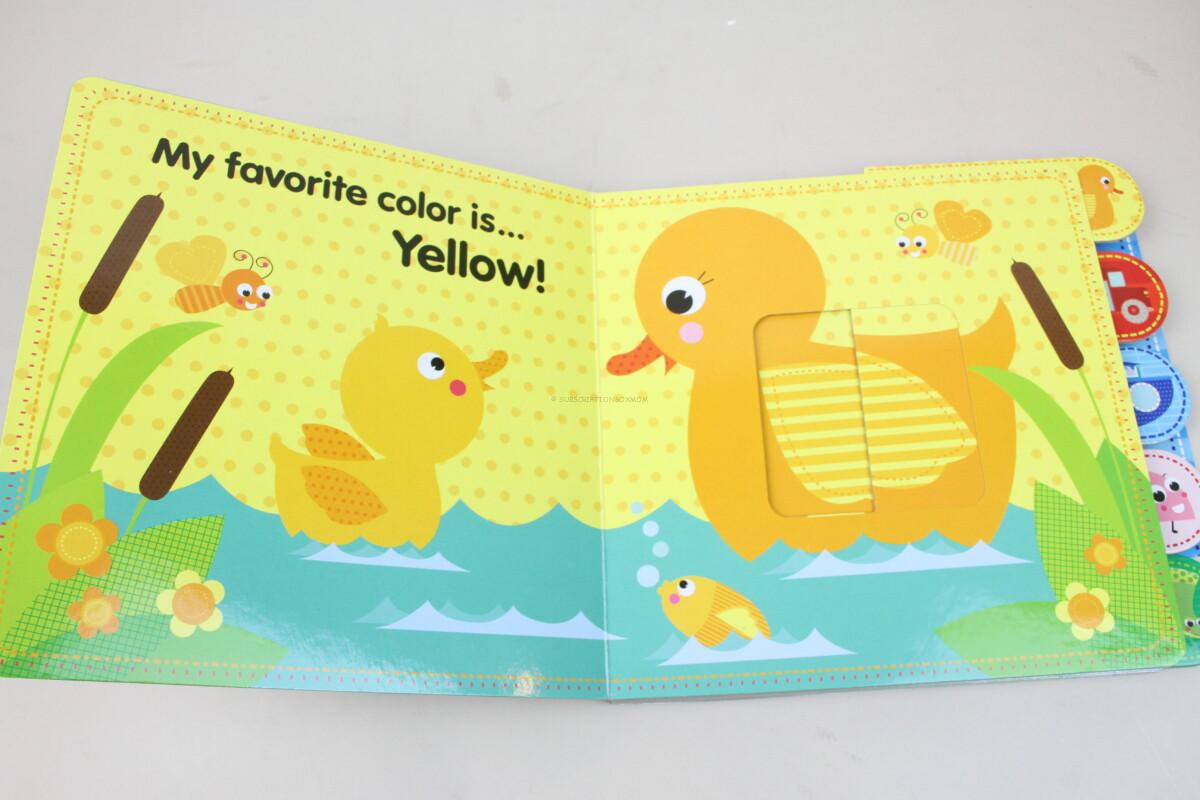 Children will learn their colors with this board book. Each page has an interactive pull tab and features a different color. The book features yellow, red, blue, pink, and green. Not only will children build their vocabulary with reading, but they will build their small muscles with the pull tab.
Thread – O- Ball (Physical, Social, Cognitive) $19.94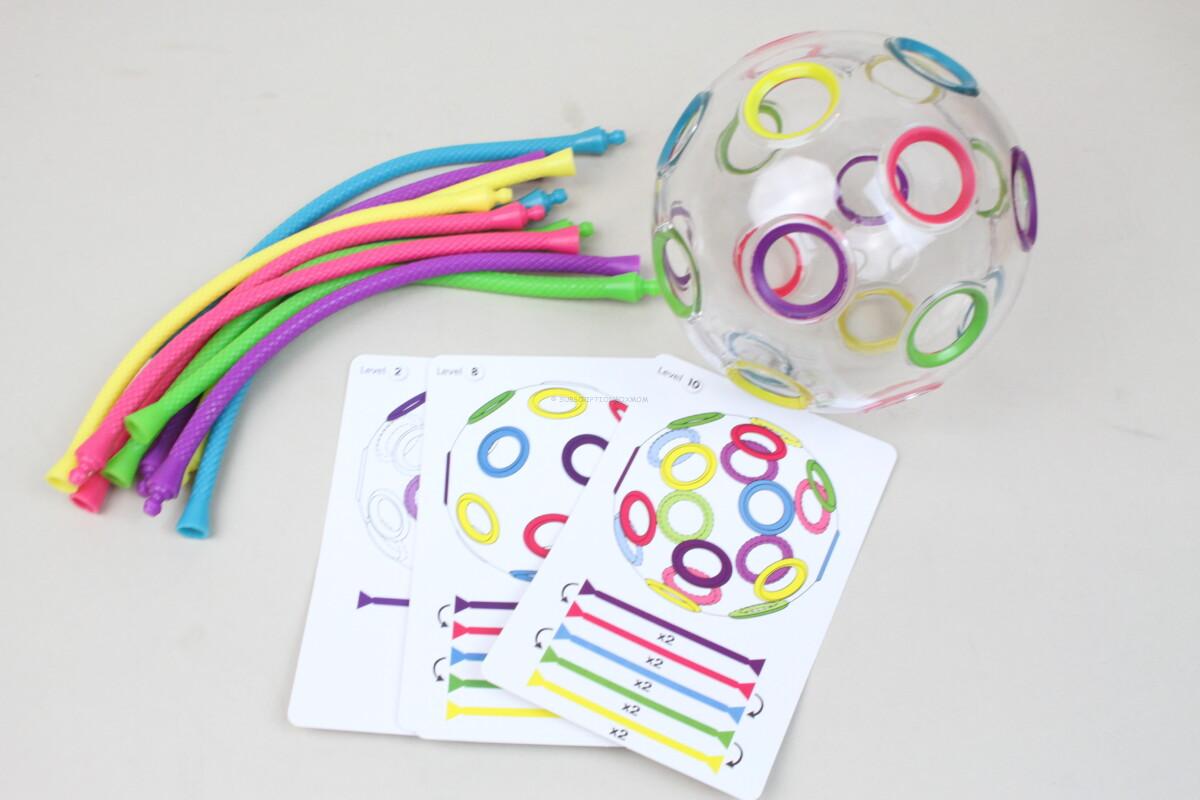 This toy was my favorite one in the box. Children can learn their colors from the different circles on the ball. The rubber thread can be strung through the corresponding circles and connected in a circle. There are cards included to challenge kids to use more and more threads in the ball.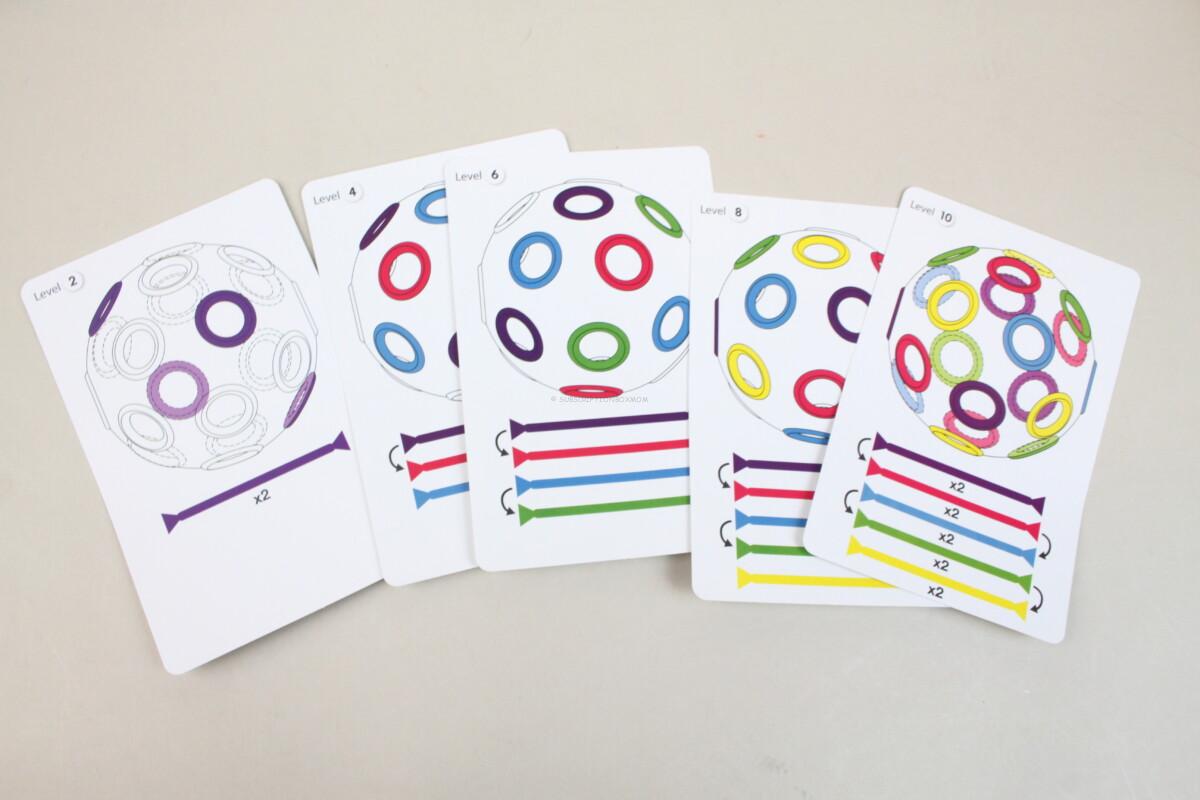 This is a closer look at the cards. There was also a sheet of instructions with four different ways to play with the ball.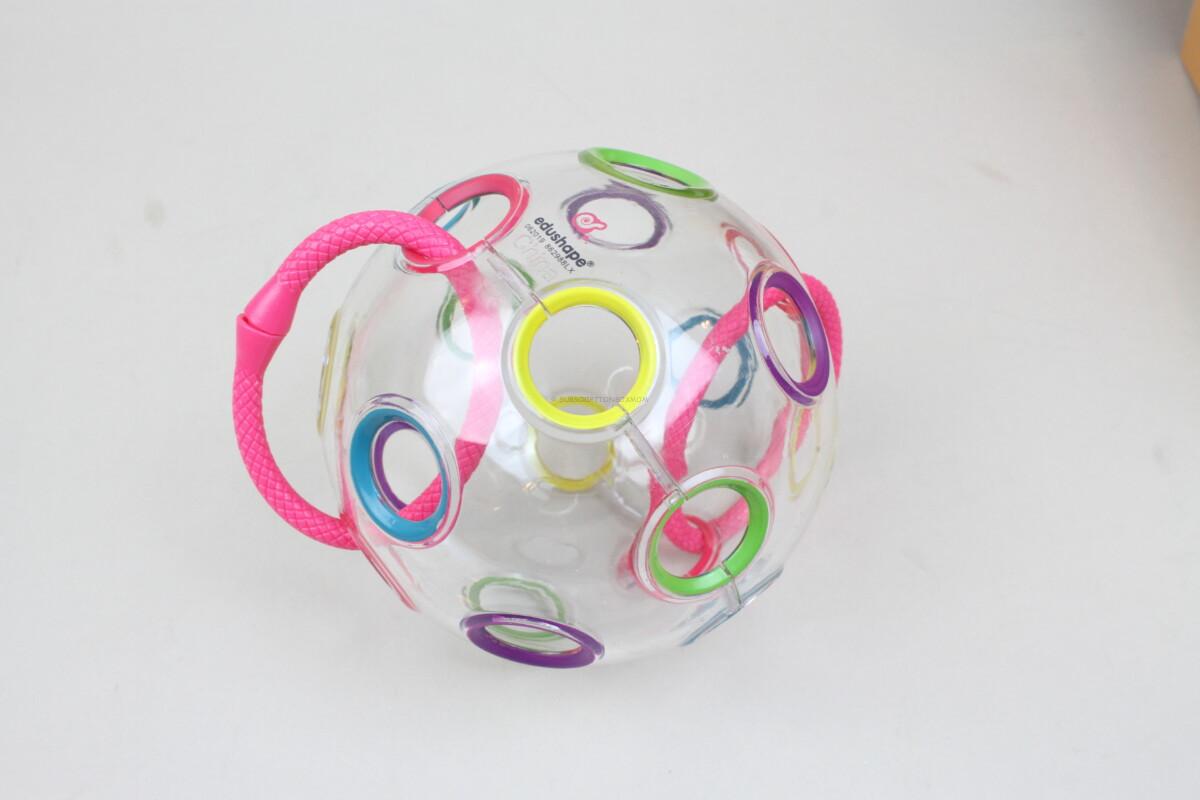 You can attach a thread on each side to give little ones an easy way to hold the ball. This is a toy that will grow with your child.
Dayne Lee "What Shall I Conquer Today" Planner – (Mom Gift) $9.99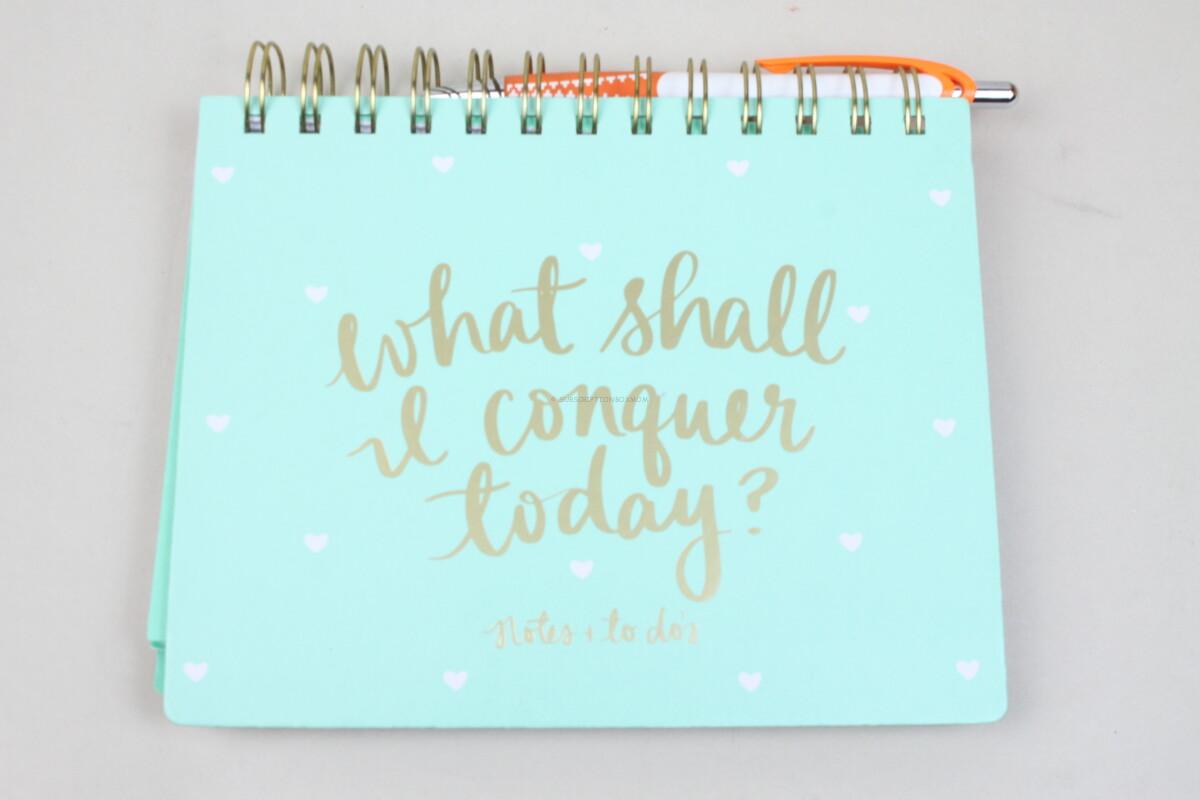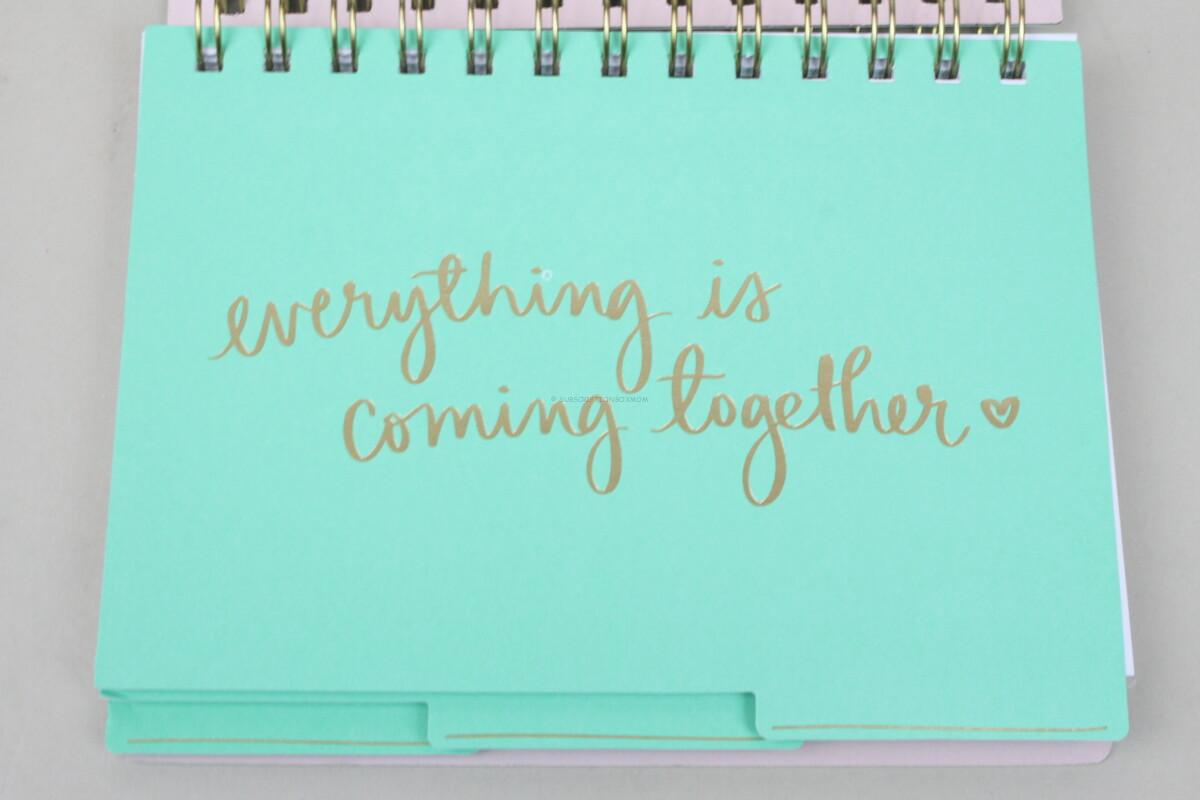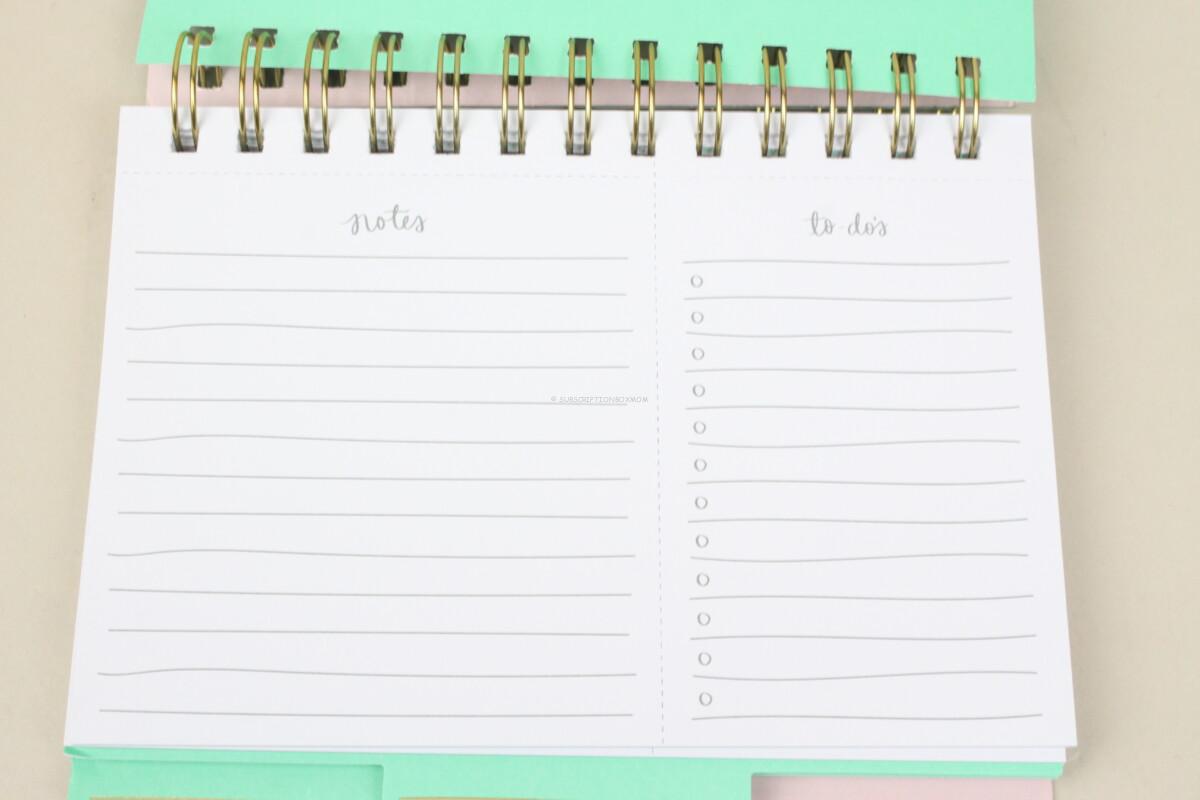 The planner is divided into three sections, but the paper in each area is the same. The left side has an area for "notes", and the right side has a "to do" list. Each area has perforated edges, so you can easily tear them out of the book. You can use this to plan your groceries or keep a running list of things you need to do in a day.
"I am part of a child's village" Pen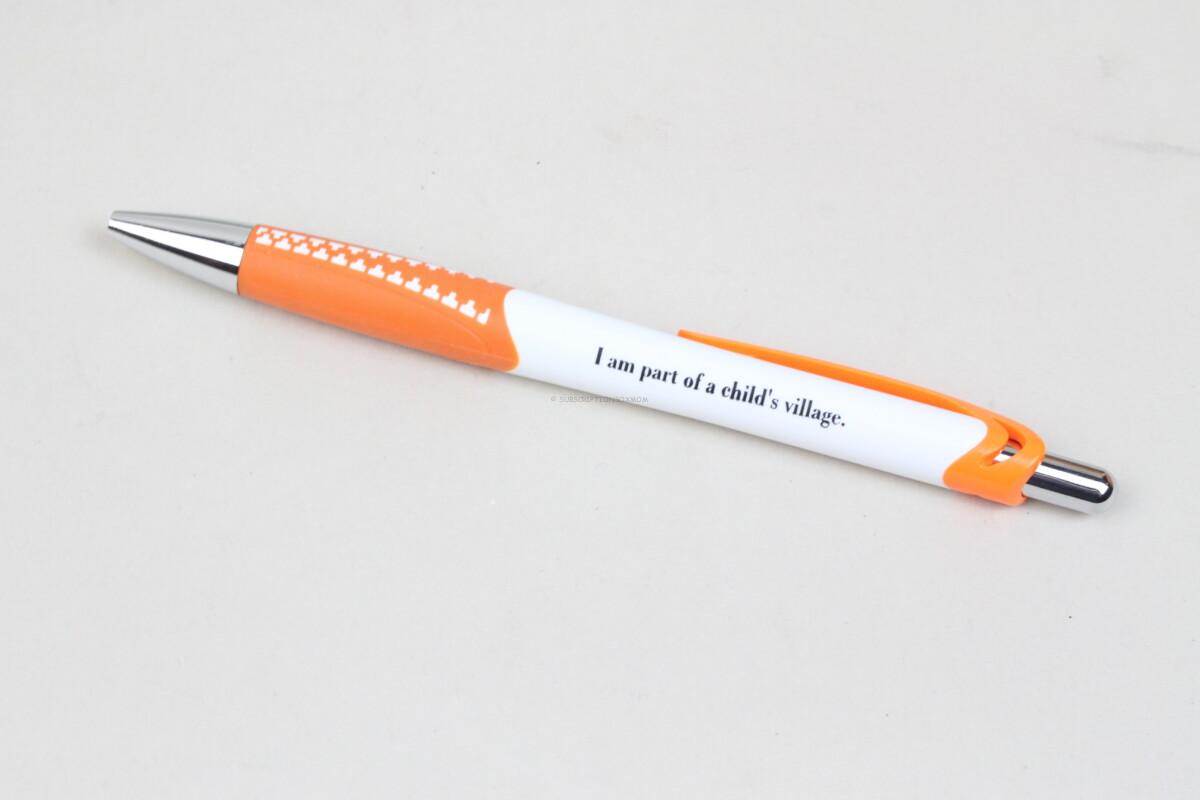 I don't know the company behind this pen, but it's a nice pen. I only use clickable pens, so this one passes the test. The side of it read, "I am part of a child's village."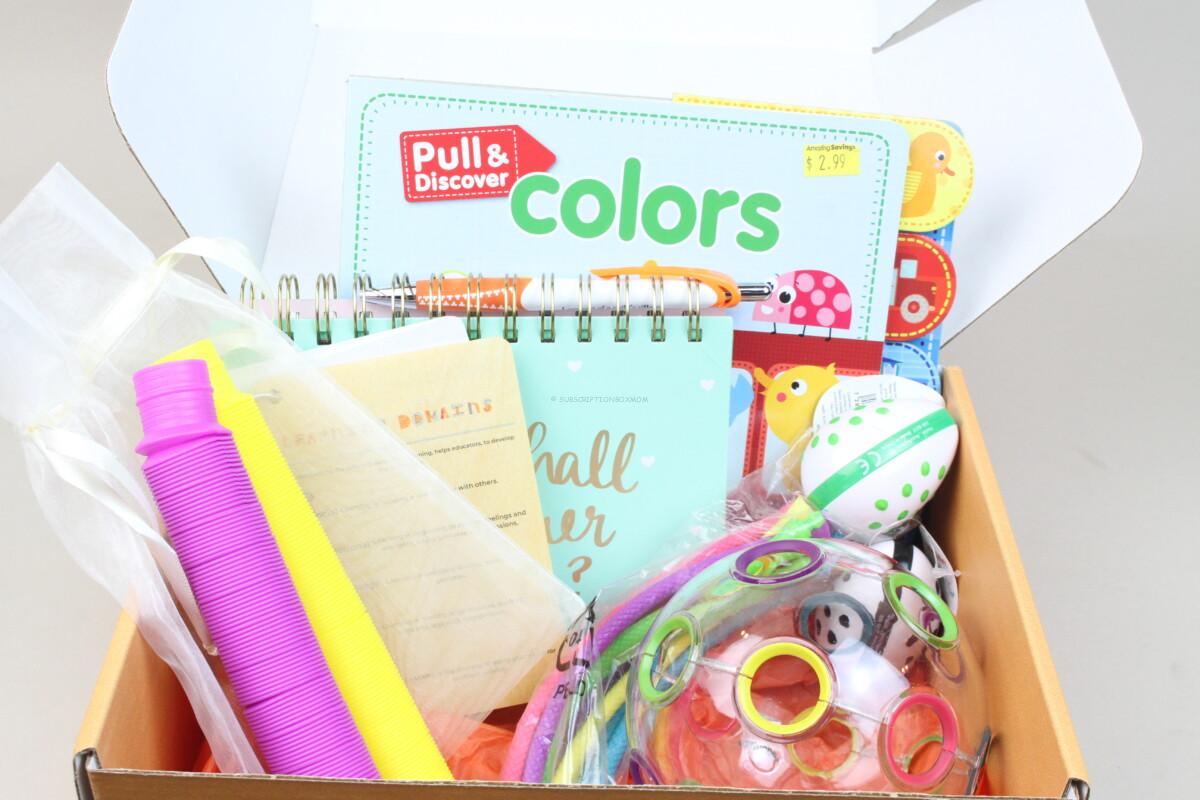 Final Thought: Babies in Motions sends well thought and education boxes for babies and toddlers. The Thread-O – Pull was my favorite item in the box. This toy is great for babies ad they grow. If you want to subscribe, use the code FREEPSTBX for a FREE past edition box.
Do you like FREE SUBSCRIPTION BOXES?  Click HERE to see my free subscription box list.
The post Babies In Motions October 2021 Review + Coupon appeared first on Subscription Box Mom.