Estate Tours, Etiquette Class, And Elegance: Living The Downton Abbey Experience In The English Countryside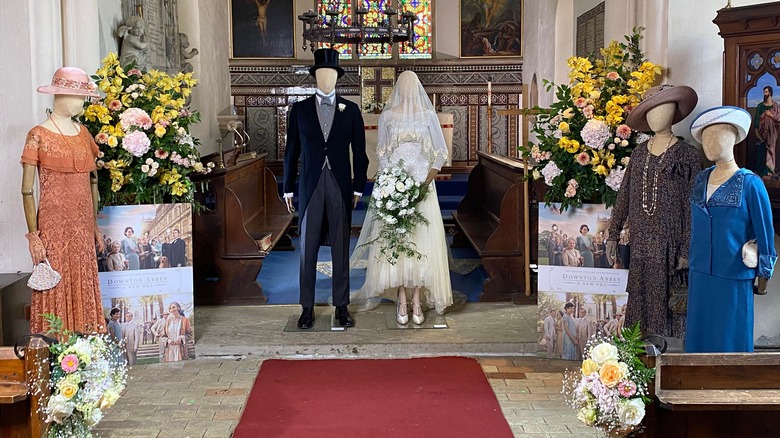 With a durable run of six seasons of television and two theatrical feature films, "Downton Abbey" has endured as a global phenomenon that keeps viewers coming back to spend more time with their favorite characters. Everyone comes to the franchise for different reasons, but one of the biggest is its ensemble. Anecdotally, I've noticed that both "Downton Abbey: The Motion Picture" and "A New Era" are able to captivate newcomers without the baggage of prior knowledge. While newcomers may miss the added context of earlier seasons, this sprawling cast is so good at what they do, you can immediately understand the kind of people their characters are and the roles they have to play at the estate.
While "Downton Abbey" is certainly a period costume drama that weaves landmark moments in history, such as WWI or the Spanish Flu, into the show's narrative, it's also a melodrama which lightly pushes and prods at the unspoken inequalities of the aristocratic Crawley family and their downstairs workers. It's pretty clear that some of the allure of "Downton Abbey" is the notion of living out an early 20th century fantasy of being waited upon, and having access to the monumental locations of the English countryside.
With "Downton Abbey: A New Era" now available on 4K, Blu-ray, DVD, and Digital, I was flown out to the natural beauty of the English countryside to live out the "Downton Abbey" experience. Universal and Focus Features had a bunch of cool stuff in store for me and the other journalists who participated, and as someone who really enjoyed the series when it was airing (and quite liked "A New Era," as well), I was excited to get things rolling. Join me as I tell you all about what I saw, and what I ended up learning about "A New Era" in the process.
Day 1: Down Hall Hotel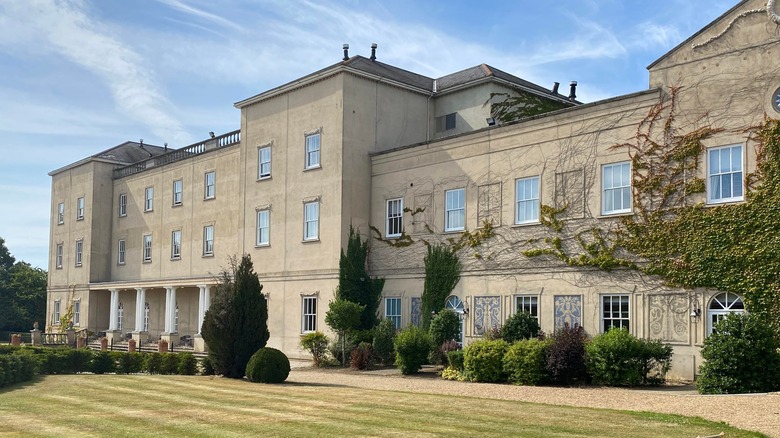 After a small delay at Boston Logan, I was on my way to London to start my adventure. The long flight, coupled with the disorienting adjustment to the time difference, meant that I was about ready to pass out the moment I got to my home base. But let's just say the moment I laid eyes on where I'd be staying, I woke up very quickly. Surrounded by greenery as far as the eye could see, the Down Hall Hotel & Spa in Bishop's Stortford was a sight to behold.
There are some places you can tell possess such a long history just by taking note of the architecture and how the property is constructed, and this was a perfect example. Down Hall has been utilized in a number of different ways since the 10th century, ranging from private homes to a girls' boarding school. Similar to the fictional Downton, the estate had also been used as a hospital for a number of years during WWI.
After I got settled in a gorgeous room, which featured a fantastic view of the front of the hotel, I did some more exploring of the Down Hall grounds. It's difficult to not feel the history of the place as you walk throughout its corridors. I knew I was way out in the countryside because when you walk around, you're surrounded by gentle grass, warm sun, and total peace. Before I settled in for the night, a delicious BBQ dinner buffet was held outside for the different outlets that were there to cover the week's event. I was offered a Pimm's cup to satisfy me, but given that I don't drink, they were more than happy to offer me a mocktail. (Yeah, I go hard.)
After everything that happened that day, I had to remind myself that, upon my arrival, I was made a Lord.
Wait, A Lord?!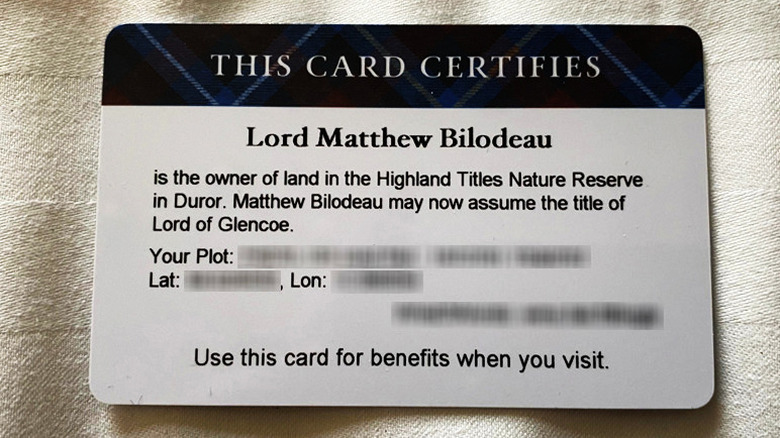 You're reading that correctly! In one of the most "Downton" things that could have happened to me, upon my arrival, the representative for the event handed me my press kit, some other little goodies (tea will never go to waste at my place), and then finally, a decree telling me that I was now officially Lord Matthew. I initially thought I was way too jet-lagged to believe this, but once I got back to my room, I had to explore further to see what I was getting myself into. Here's what I found.
After going through with the online confirmation, I was officially Lord Matthew of Glencoe. I technically now own a 1 square foot plot of Scottish land in my name. Is this what power feels like? The generous gift was set up through a nature reserve called Highland Titles, which sells out plots of land, among its hundreds of acres, to the public in order to maintain and protect its environmental status.
Considering how much the Crawleys already possess, one of them acquiring a new title or plot of land is like breathing to them. I don't possess any real power with the title (this is the same thing handed out in this year's Oscars goodie bag), but the card says I'm a Lord, so by hell, I'm a Lord! Will I take this opportunity to change all of my legal documentation? I have to try, at the very least.
Day 2: Belchamp Hall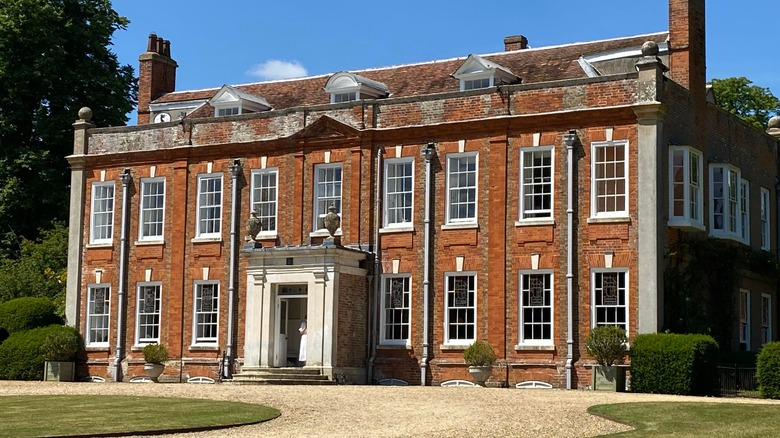 After partaking in a delicious English breakfast, I was off to spend the day at a location that those who have seen "A New Era" may find familiar. I had arrived at Belchamp Hall, the location seen at the top of the film which hosted the wedding reception for Tom (Allen Leech) and Lucy (Tuppence Middleton) on their big day. Registered as a historical landmark, Belchamp is noted as a Queen Anne period country estate that's been around since the early 18th century. Much like Down Hall, I was surprised at how tucked away this place was, as if it were part of its own hidden world.
Upon our arrival, the grounds were set up not unlike how it was depicted in the film, as if we had been invited to the wedding ourselves. There were plenty of scones, sandwiches, and tea made available, and in the middle of the big white reception tent was a wedding cake to round it all out. It was toward the end of our day when the cake was cut, which was made so much more memorable by the estate's owner, Charles Raymond. The first slice was made with a traditional cake knife before Raymond, with the biggest grin on his face, traded the small cake knife for a freaking antique sword to make the second slice.
On My Best Behavior In Etiquette Class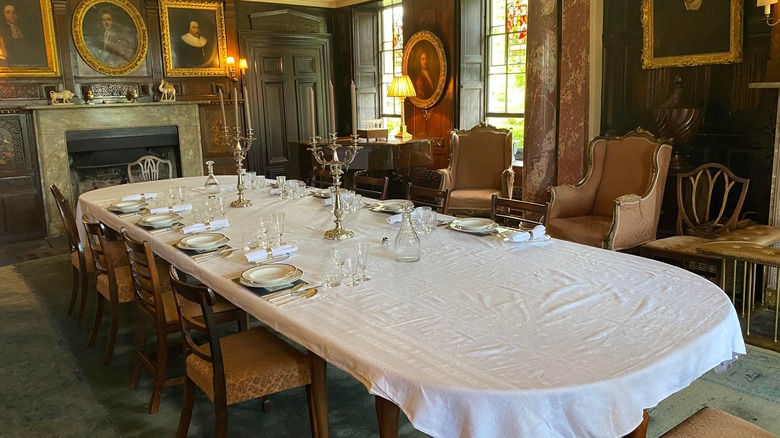 Whether you're a part of the downstairs staff or hold a personal invitation to dine with the Crawleys, carrying yourself with proper dining etiquette is very important in the world of "Downton Abbey." Traditions have obviously changed throughout the years, but you'd be surprised at how much remains the same. Naturally, my first activity of the day was an etiquette class hosted by Philip Sykes, principal of the British School of Etiquette. Admittedly, I wasn't sure if British dining etiquette would suit me back home, but Sykes quickly made me realize how much I was doing wrong.
For example, when you're getting ready to take your seat, you enter from the left, and exit from the right so you don't bump into the person sitting next to you. It can also be considered rude to salt your food before trying it, so if, after your first bite, you still need to season it up a bit, don't make a show about it. Also, if a sauce is made available, you would scoop up a small amount and place it on the side of your plate, not directly over your food.
Of course, if I were invited to a traditional meal at "Downton," I would be dressed up in something nice. You know what I don't want on my suit? Soup! And how would I avoid making a soupy mess on my shirt? When you're using your spoon, scoop it up away from you to avoid splashback. Forget 20th century dining habits: This is genuinely something I intend to incorporate in my eating habits going forward.
Philip was a wonderful teacher who not only had a great sense of humor, but was very open and receptive to all of us. If I had grabbed the wrong piece of cutlery, he kindly guided me until I was in the right direction, like the best of teachers.
Attempting To Make Carnations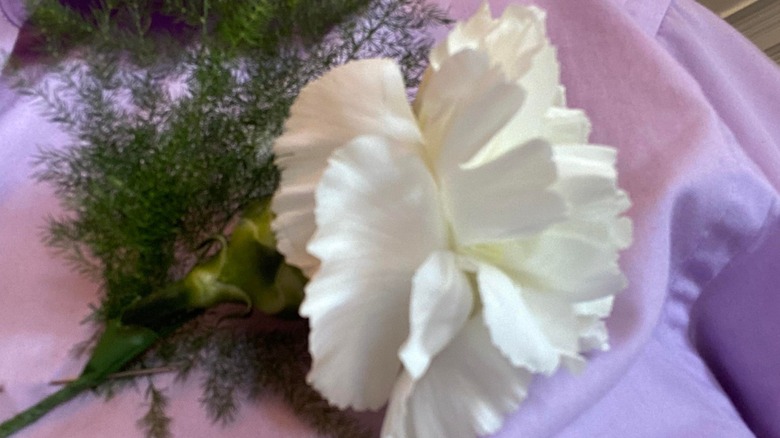 Given the nature of weddings, flowers were in full bloom at Belchamp. Even the church across the way (more on that later) was adorned in these gorgeous floral arrangements. Tracy Goodwin of Creations Flowers, who put those together, led our next activity, which was learning how to make carnations. In a way, this brought me back to childhood, not because of what we were doing, but in how badly I did it. Between the wire and the tape, my carnation wasn't exactly agreeing with me. Thankfully, Tracy was kind enough to get me where I needed to be. I think it turned out OK. I gave it my best go, and that's all that matters.
In The Company Of Costumes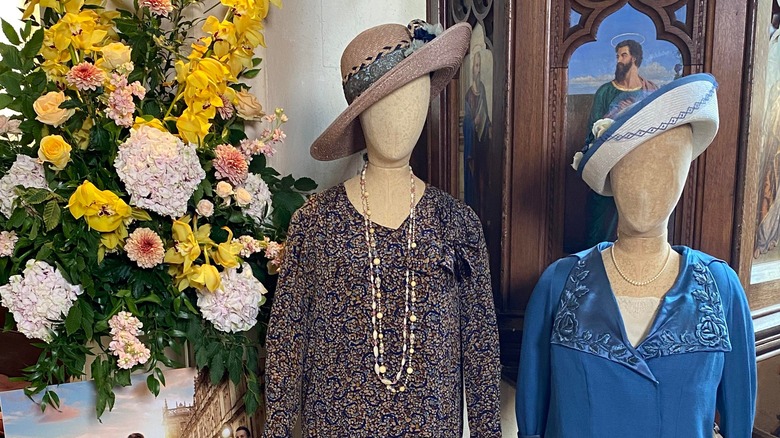 With all of the excitement going on at Belchamp, my day concluded with paying a visit to St. Mary the Virgin, a 14th century church used as the shooting location for Tom and Lucy's wedding ceremony in "A New Era." (If you're wondering if the church is actually that close to Belchamp Hall, given that wide overhead pan across the estate, the answer is yes.)
Within this beautiful space, I had the pleasure of speaking to "A New Era" costume designer Anna Robbins, who has been designing for "Downton Abbey" since the series' fifth season. It was the perfect interview location considering Robbins' costumes were propped up throughout the church. A bunch of costumes from the wedding scene were on display, showcasing the threads of characters like Lady Edith (Laura Carmichael), Cora (Elizabeth McGovern), Cousin Isobel (Penelope Wilton), and Maud Bagshaw (Imelda Staunton).
A Picture Of A Sausage Says A Thousand Words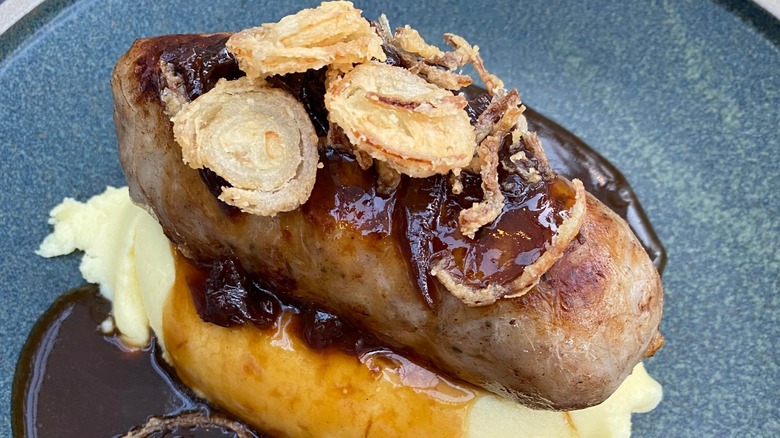 I couldn't pass on the opportunity to make a note about dinner that night. After a long day at Belchamp, we were transported to a delightful restaurant in Braintree named The House by Hilly Gant. I had ordered the sausage, and ... just look at it! Everyone at my table made the same jokes you're undoubtedly thinking of right now. I could see the Dowager (Maggie Smith) just rolling her eyes.
Day 3: Wrest Park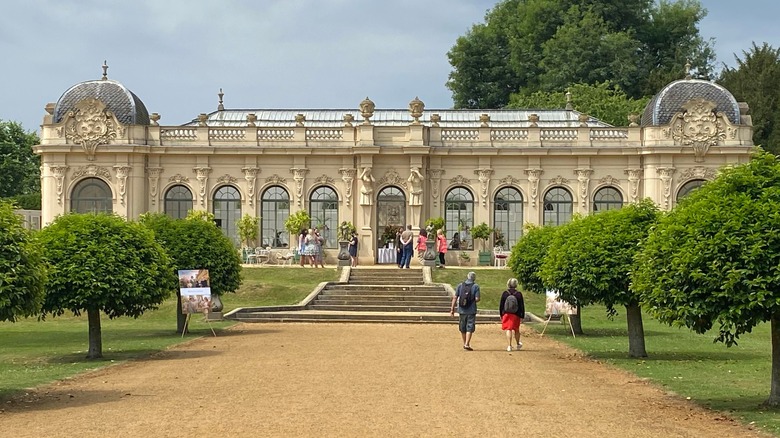 On the last day of my "Downton Abbey" adventure, I got to spend the day at Wrest Park in Bedfordshire. The massive countryside estate stood in as one of the exteriors of the French villa the Dowager inherited in the movie. It was the Orangery, specifically, that served as the location for the big party towards the second half of the film.
Before I could soak everything in, I was already on my way to do my junket interviews! I first got to speak with Jim Carter and Raquel Cassidy, who play Mr. Carson and Phyllis Baxter, respectively. I haven't been around a lot of celebrity talent, so I was admittedly a bit starstruck when I entered the room. Thankfully, Jim and Raquel were so kind, and made our brief conversation feel vibrant. From there, I went on to speak with the director of "A New Era," Simon Curtis ("My Week With Marilyn"), who was also a delight to speak with and told me about working on the fictional film within the film.
A Tour So Nice, I Went On It Twice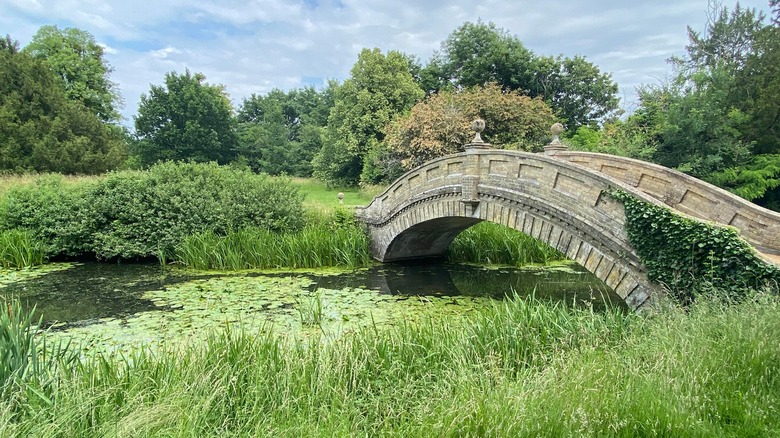 After getting to speak with the talent of "A New Era," I got to go on the garden tours around the estate, where I learned quite a bit about the sprawling estate. Needless to say, Wrest Park has undergone a significant amount of changes throughout the centuries. There used to be over 1,700 acres of land, which now averages only around 92. The Orangery from the film had been built around 1839. Within it lies a faux fireplace that is well over a hundred years old, but doesn't actually work. It was there where we set up base and enjoyed some food to live music.
One of my favorite little details involved the trees. Our guide asked us what color we thought trees were. Naturally, we all responded green. When we turned a corner, the trees were not only green, but the row we were looking at had been planted long ago, ensuring that each different kind of tree would grow next to one another in different shades. The tour was very informative, and gave me a better understanding of the rich history this property has experienced across the centuries. There was also a surprising sighting of a family of swans, which made me very happy.
Going Out Flapper-Style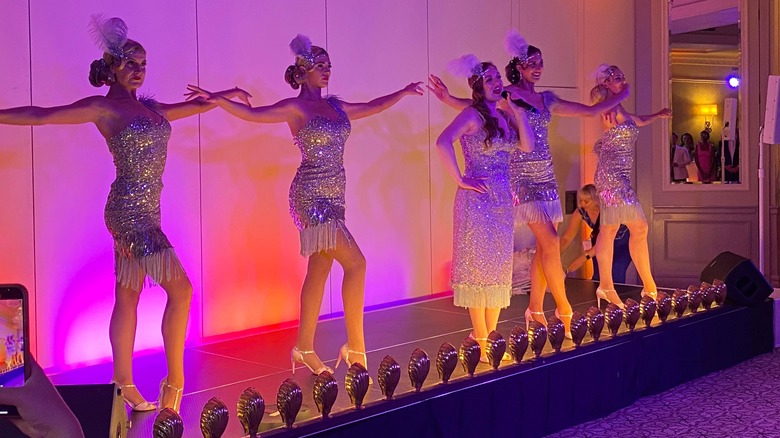 Before I packed everything up to come home, my "Downton Abbey" experience wasn't quite finished. After spending the day at the location where a swinging '20s party took place, I found myself back at Down Hall where the Universal folks had a surprise waiting for us. Prior to entering the party, I was gifted with a necklace from Reeds, since "Downton Abbey" now has their own line with them.
Once I was outside with everyone else, a group of Flapper dancers took the stage and proceeded to kick off the best ending to my U.K. adventure! This was exactly the kind of spirited party where the Crawleys would find Cousin Rose. I can't dance to save my life, but the company of wonderful people eventually brought me into the circle. I'll bet there's a video of me somewhere, but if you happen to find it, never let me see it.
Final Thoughts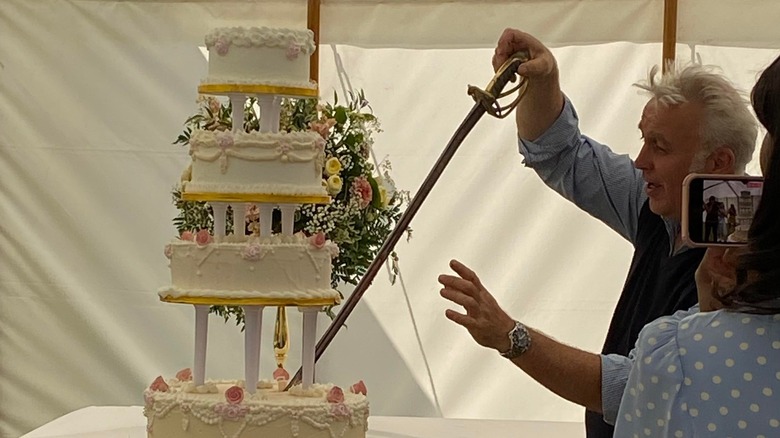 It's one thing to see these locations on the screen. It's another to see them right in front of you.
"Downton Abbey" thrives on letting us spend time with these beloved characters and their day-to-day activities, and to an extent, this trip felt the same way. I may not have been in the company of butlers, footmen, and aristocratic members of British high society, but I was happy to spend the week in the company of my peers, whether they're in print, TikTok, Instagram, or YouTube. I ended up making a lot of friends, with whom I'll share these memories.
Between the food, activities, and access to the bar, it truly felt like I was at an adult summer camp. Everyone, myself included, was having a great time. Once again, I'd like to thank Universal and Focus Features for this eventful adventure through the world of "Downton Abbey."
"Downton Abbey: A New Era" is now available on 4K, Blu-ray, DVD, and Digital.
Read this next: 20 Underrated Rom Coms You Need To Watch
The post Estate Tours, Etiquette Class, and Elegance: Living the Downton Abbey Experience in the English Countryside appeared first on /Film.