Eurovision: This Is What The Song Contest Looked Like 20 Years Ago

Make the most of your time in lockdown with a daily dose of celebrity news and guides to the best shows. Sign up to the entertainment newsletter.
As you're probably well aware by now, this year's Eurovision Song Contest – which had been scheduled to take place on 16 May – will no longer be going ahead due to the coronavirus crisis.
Fortunately, there's been plenty to give fans their usual annual dose of joy, unity and nostalgia that the contest delivers each year.
Joy and unity have been delivered aplenty, both in the weekly Eurovision Again events and the special broadcasts put together by both the BBC and European Broadcasting Union.
And for the nostalgia side of things, allow us to take you back in time 20 years, to what was an extremely eventful Eurovision in the year 2000...
The first Eurovision of the new millennium took place in Stockholm, following Charlotte Perrelli's win a year earlier (still a staple of certain gay bars around the United Kingdom)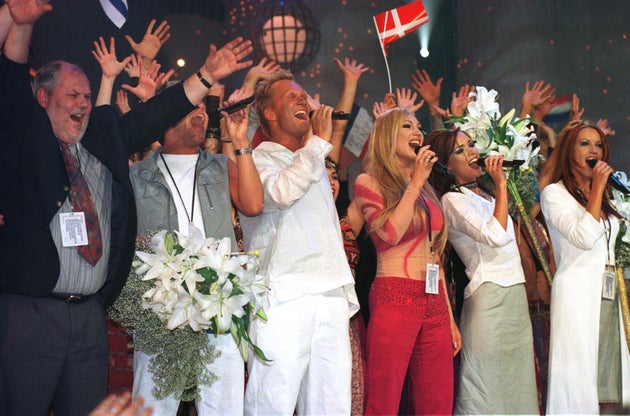 Her winning track Take Me To Your Heaven is a tune, yes, but check out her 2008 entry Hero for a real Euro-banger.
Four years before the current "heart" logo was introduced, each host country had their own motif, which would displayed throughout the contest. Sweden's was decidedly Kylie Minogue-esque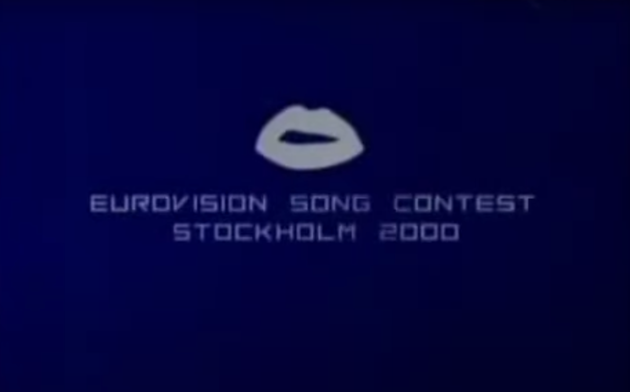 The flag of each competitor was projected into the middle of a version of the mouth seen on stage during the performances. This design was pitched as a permanent Eurovision logo, before the EBU settled on the heart emblem that has been in place since 2004. 
The early favourite was Ines, representing Estonia with her song Once In A Lifetime
Although it didn't make the top three, Once In A Lifetime did give Estonia its highest ever placing at Eurovision at that time. However, Ines later admitted that she was met with a lukewarm response when she returned to her own country, having not reached the heights expected of her in the weeks leading up to it.
Nicki French represented the UK with Don't Play That Song Again
The singer – who previously enjoyed chart success with her dance remix of Total Eclipse Of The Heart – remains a Eurovision favourite (and Pride staple), particularly here in the UK. 
The UK had quite the drop down the leaderboard compared to 1999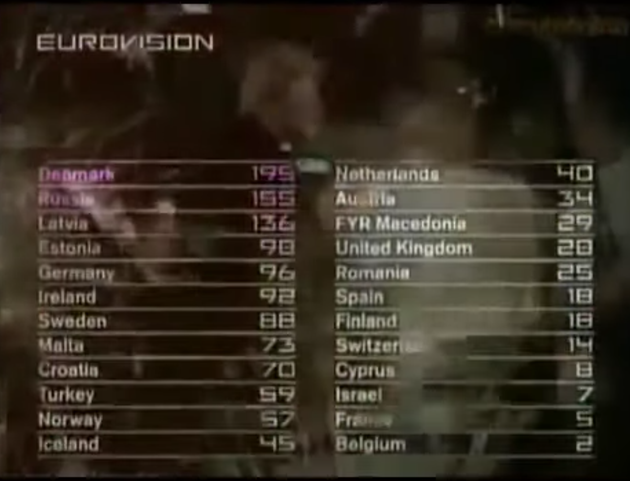 Despite finishing in second place a year earlier, 2000 marked our lowest ever showing at that time… but of course, there was worse to come for the UK at Eurovision in the 20 years that followed.
Ireland went for a rather on-the-nose approach with their entry, Millennium Of Love
Still, it didn't do all that badly at all, finishing in sixth place overall. According to the song's Wikipedia page: "It was a song before its time as today everyone is talking about the importance of carbon footprints." So there you have it.
What happens if you cross Ali G and Elvis Presley?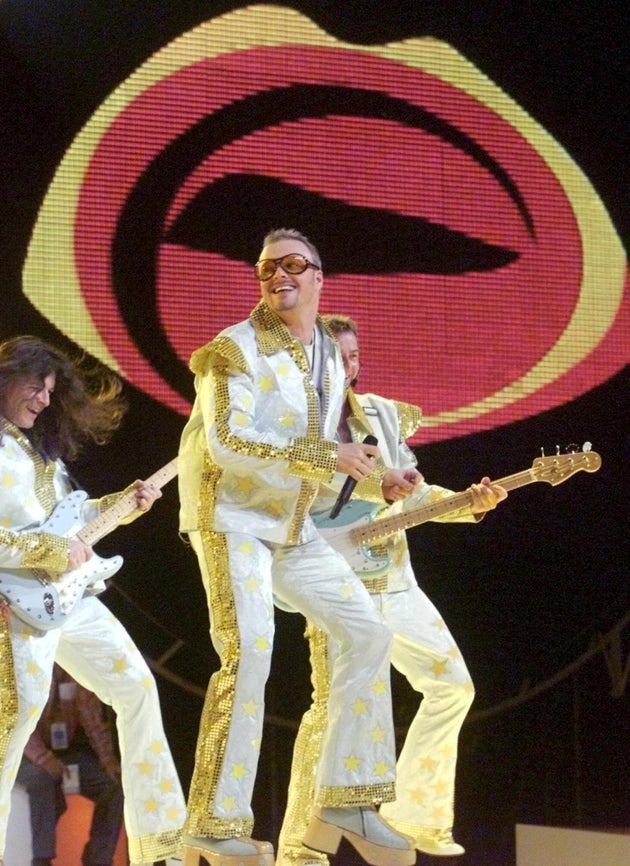 Germany's entry, apparently. Meet Stefan Raabe, who is not afraid of a bit of a bit of gold fabric, or a platform boot.
And while Sweden are known these days for sending clever pop rather than gimmick-led acts to Eurovision, there's always exceptions, aren't there?
Honestly, we're not sure what's going on here... but we definitely don't hate it. 
It wasn't a great year for Belgium, who came bottom of the pile with just two points 
Belgium don't actually have the best of luck when it comes to Eurovision. They've won just once in 61 years of competing, failing to reach the final for five consecutive years in the mid-2000s.
Israel's performance was quite a controversial one, with PingPong waving the flags of Israel and Syria in a call for peace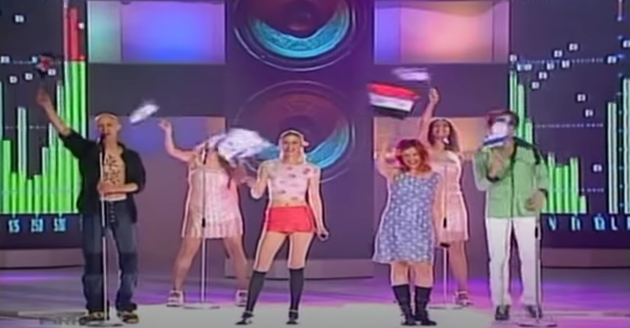 A similar protest came when Eurovision arrived in Tel Aviv last year, and Icelandic entry Hatari were seen waving scarves with a pro-Palestine message.
PingPong's performance also briefly featured two male dancers kissing 
Lativa's entrant was... enthusiastic, to say the least
They say don't play to the camera, but apparently Brainstorm – who finished in a respectable third place – didn't get the memo.
It did look at one point like Russia might bag the win on the night 
As has come to be expected from Russia, they pulled out all the stops, this time with Alsou's song Solo.
But as soon as the points began rolling in, it was obvious that it was going to be Denmark's win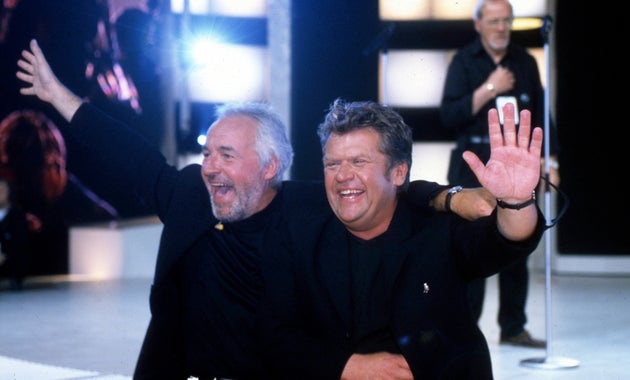 Despite sounding nowadays like it was recorded in the 1970s, Fly On The Wings Of Love brought the Olsen Brothers Denmark's second Eurovision win ever.
The song itself would later be reworked into this slightly appalling dance remix
Later in 2000, this version surpassed the original in terms of chart success, peaking at number seven in the UK.
The Olsen Brothers also broke the record for the oldest Eurovision winner in history, at 50 years old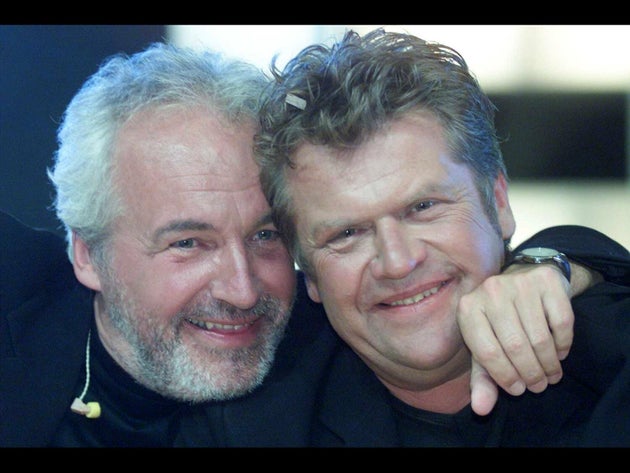 It was a short-lived record, though, and the following year it would be beaten by Estonia's Dave Benton, older by just 40 days.
Their win was a controversial one, because of the use of a vocoder, which some suggested was cheating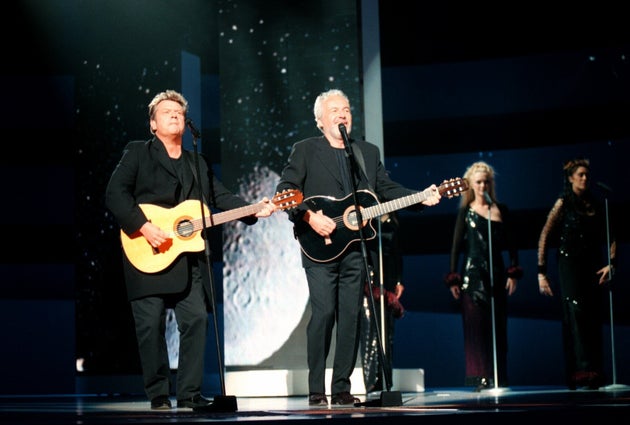 Well, by "some" we mean "the Russian entry" (y'know, the one that finished in second place), though their complaint was eventually disregarded by Eurovision bosses.
Imagine if they'd been there for Madonna's performance last year is all we can say...
With any luck, Eurovision will be back bigger than ever in 2021. But until then, let's enjoy this winning tune from 20 years ago...