I didn't set out to spend Valentine's Day at an all-inclusive resort in the Dominican Republic. But fate — or maybe a secret nudge from Cupid himself — intervened, and I discovered my partner, Matthew, and I would be at Secrets Cap Cana for two nights that just happened to include Feb. 14.
For more TPG news delivered each morning to your inbox, sign up for our daily newsletter.
We've been together for over four years and have been lucky enough to spend a few Valentine's Days traveling together, but we've never been to a tropical resort for this heart-themed holiday — let alone an adults-only resort surrounded by other couples, honeymooners and, in our case, about 100 people from the construction industry who were there on a work retreat. But after a stretch of freezing weather in New York City, where we are based, we were up for anything and looking forward to the all-inclusive experience.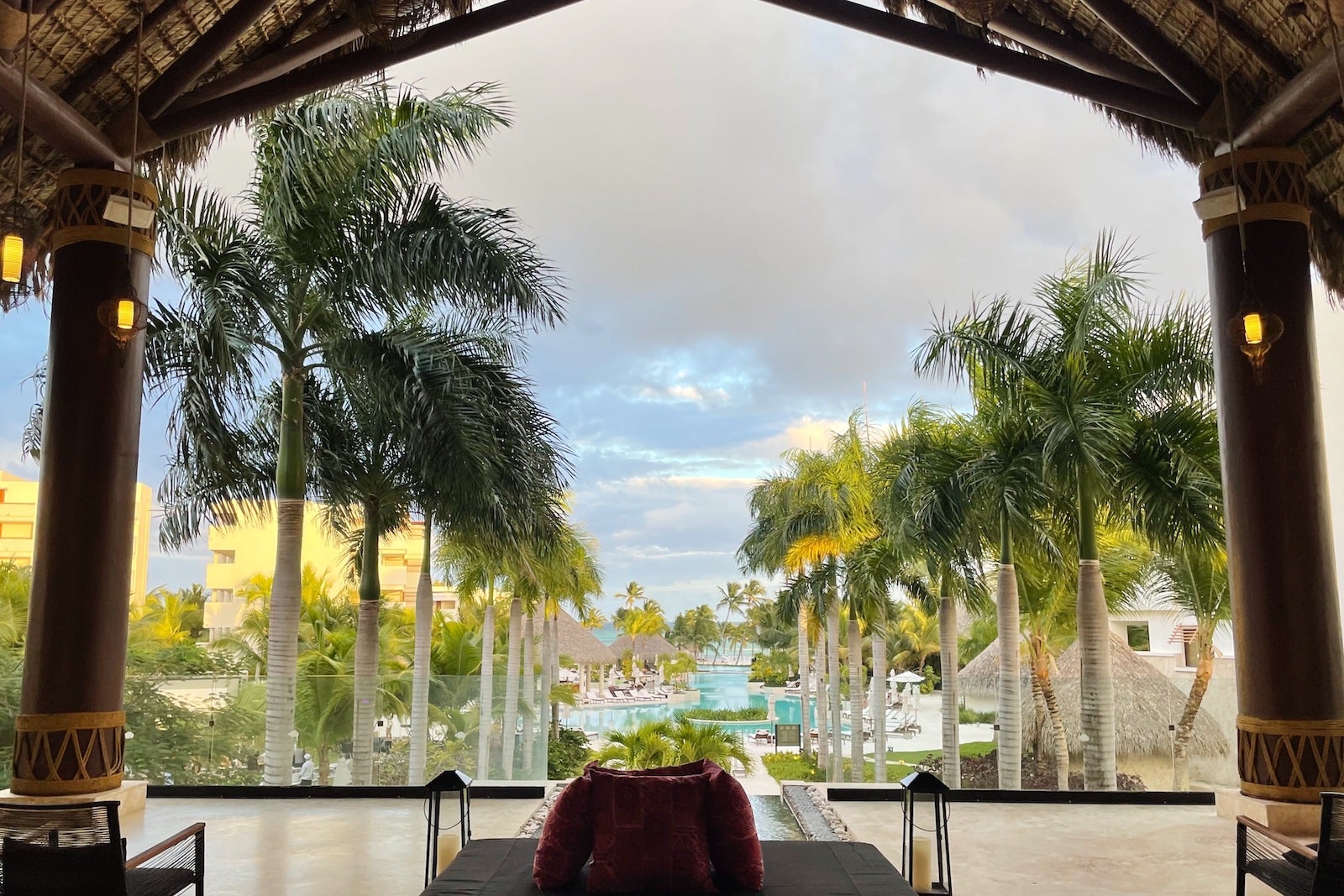 Pricing
This particular Secrets resort is located on a truly beautiful stretch of beach about 20 minutes from the Punta Cana International Airport (PUJ). As part of the AMR Collection of resorts, you'll soon be able to earn and redeem World of Hyatt points for a stay here. Until then, cash rates start around $520 per night for two people. But in the winter and over Valentine's Day, it's (understandably) more expensive, and our room cost $742 a night. Still, that seemed worthwhile to experience a couple of nights in the Caribbean over a busy holiday weekend, especially since our meals would be included.
Getting into the all-inclusive spirit
At check-in on Sunday afternoon, we met our friendly personal concierge, Yafreisi, who gave us her cell phone number for anything we could need during our stay, and helped us coordinate all the reservations and activities we had booked in advance, which included a special beachfront Valentine's dinner that cost an extra $200 as well as COVID-19 tests to get back into the U.S.
Yafreisi let us know that, since it was Valentine's Day, they had changed elements of the planned beach dinner, but that she'd tell us more details the next morning. She also mentioned that its price, quoted as $200 online, would only be $130.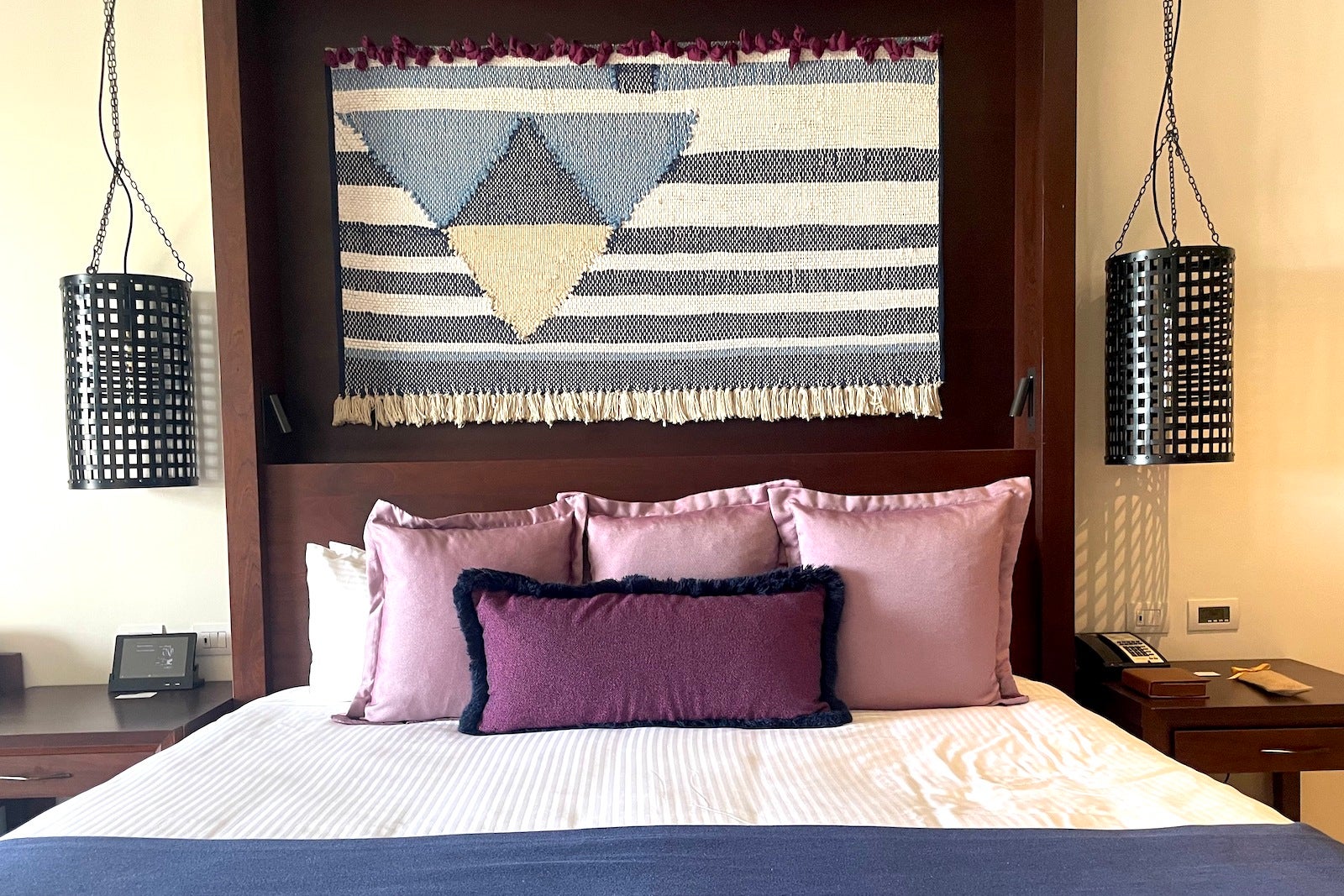 Secrets is a resort brand that caters to people's romantic side, which we quickly realized when we got into our third-floor Junior Pool View Suite.
It featured simple and sleek wood furnishings, limestone tiling, and textiles in warm purple, pink and periwinkle tones that contrasted nicely with the views of the sea and the lush grounds outside our window. I especially liked the woven art hanging above the bed that served as the focal point.
All in all, the ambiance was the opposite of all-inclusive rooms I've stayed in before, where the color scheme seemed mostly based on bland shades of cream and dull lighting more reminiscent of a hospital room than a romantic retreat.
Just beside the bed, a sliding wooden door opened to reveal a shower with two rainfall showerheads and a glass wall looking into the room (or into the shower, depending on where you were standing). That's probably romantic for a lot of people — but unfortunately we were pretty sunburned from our previous days in the Dominican Republic, and to us, showering was a form of punishment for only packing SPF 30.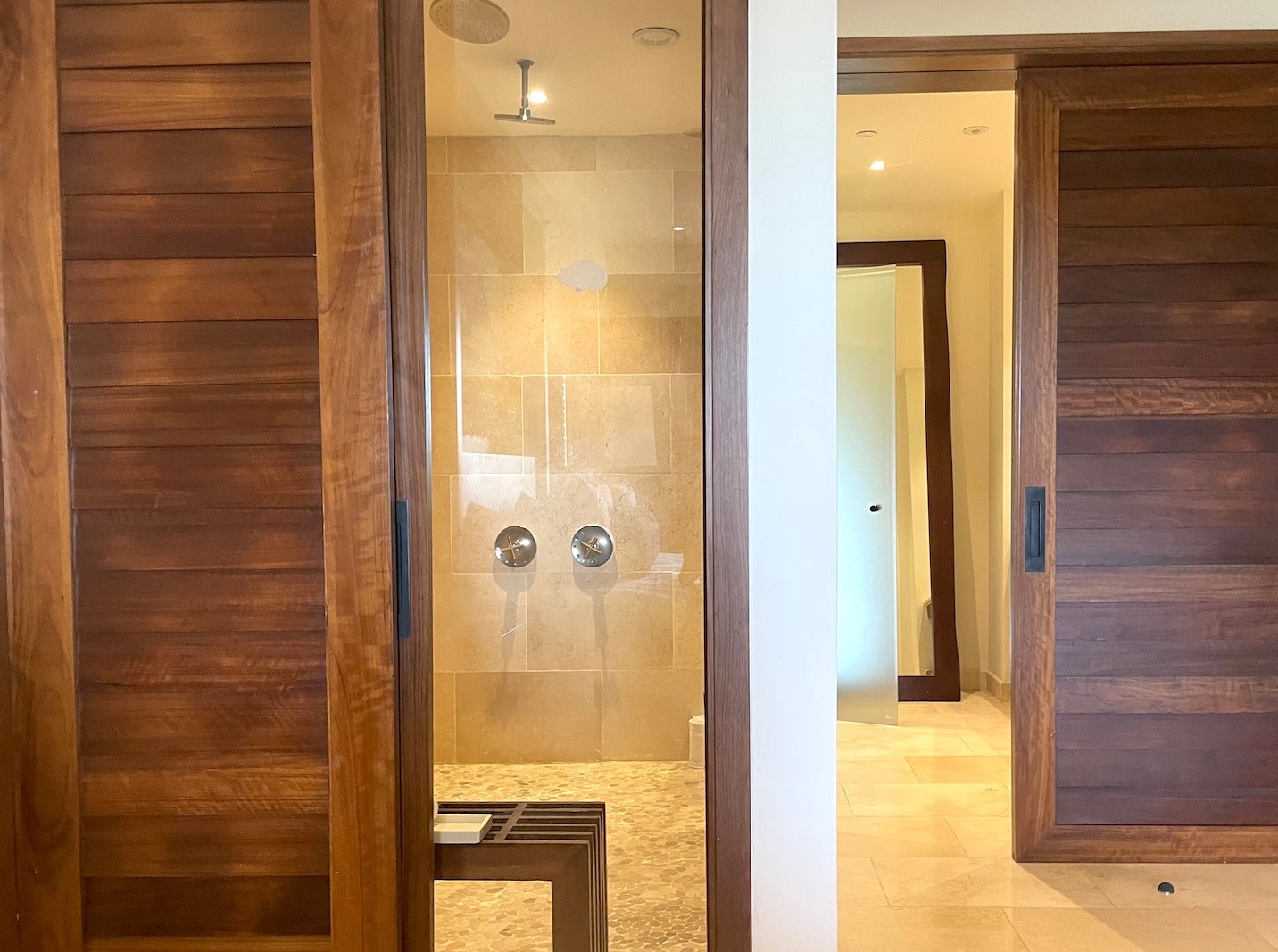 On the balcony, a soaking tub was installed on one side of the space while a bench full of pillows occupied the other wall. Looking out at the balcony, I wondered how much privacy there was — especially for people who wanted to use the soaking tub for an actual bath. While I didn't think anybody could see into the area from above or the buildings across, the only thing separating the tub and the balcony immediately next to it was a mesh-like divider.
If that room had the same setup, the neighbor's balcony seating would basically be back-to-back with our tub. Rub a dub dub.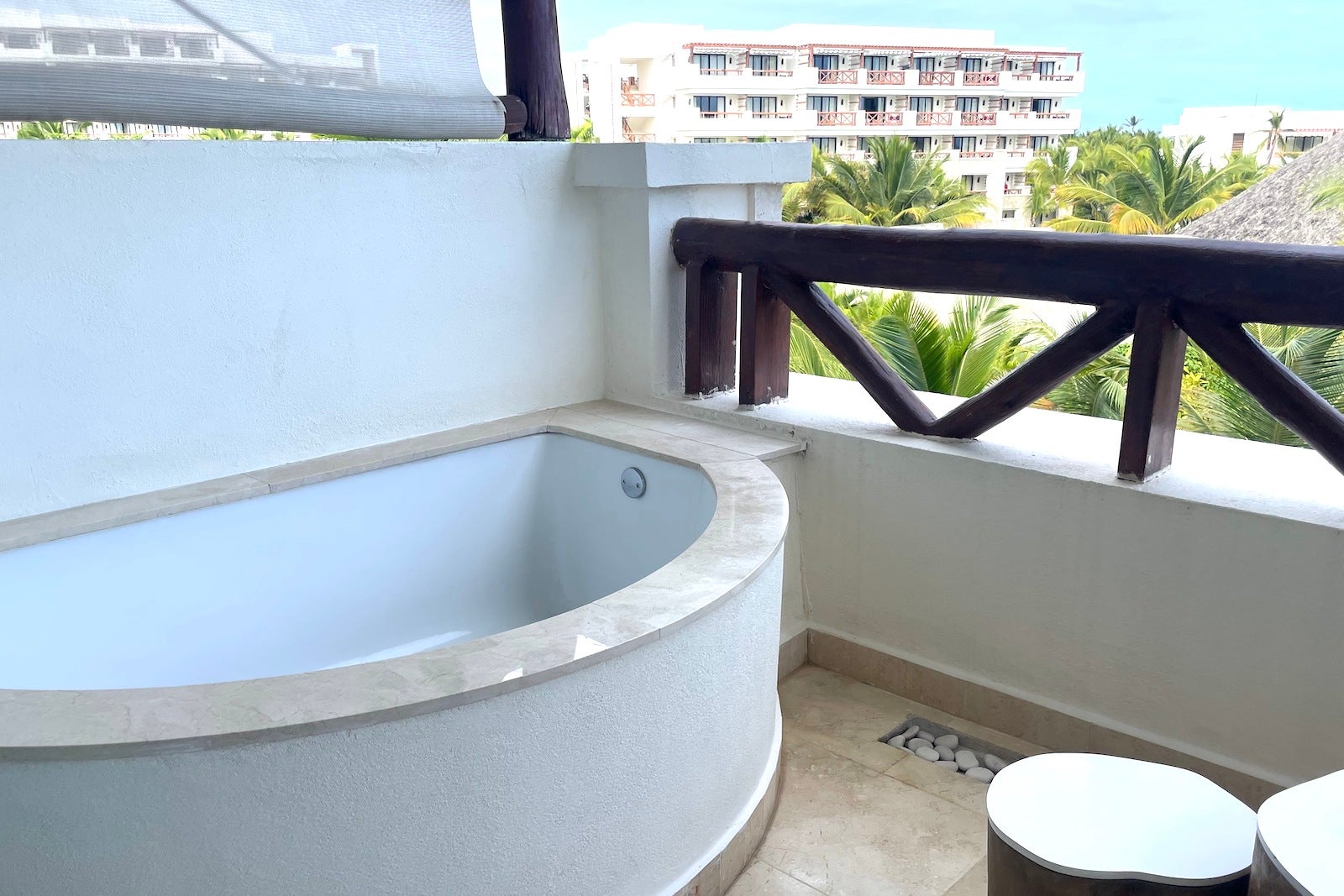 We spent Saturday evening at the swim-up pool bar, where we met a handful of other couples and some of the folks on the construction company retreat. Nobody seemed to care that the next day was Valentine's Day, though everyone seemed to be enjoying themselves.
We went for a late-night walk on the beach and had it completely to ourselves. But later, back at the room, my balcony fears were realized when we were having a beer from the minifridge on the balcony couch. We heard our neighbor's balcony door open and suddenly realized a man was relieving himself — perhaps into the tub or maybe straight off the edge. Thankfully, we couldn't see him and we took our drinks inside. It certainly made us think twice about using our own tub.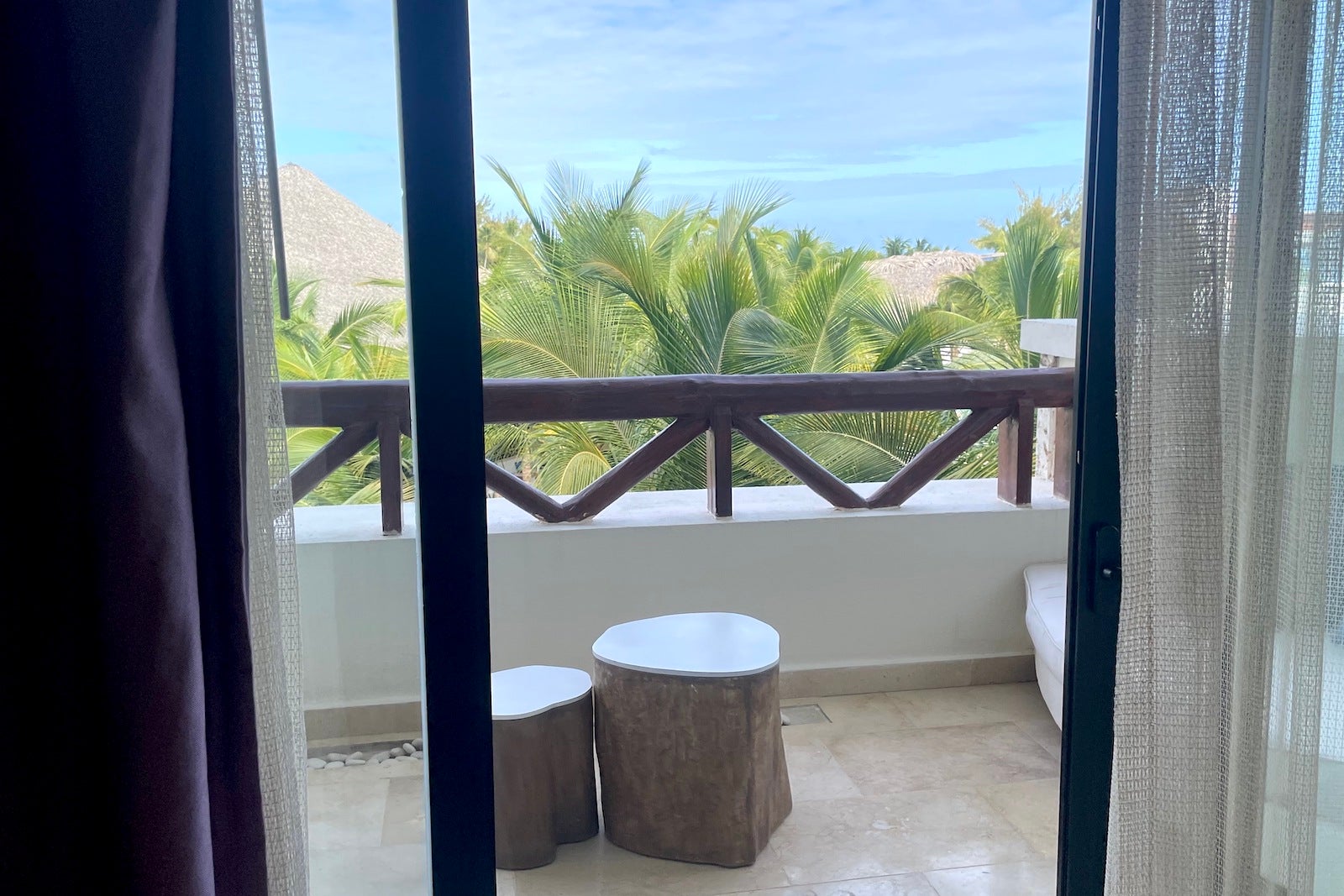 Matthew and I lean into kitsch — and Valentine's Day is the perfect time to do that. Neither of us needs one particular day to celebrate our relationship, but we always have fun with it. After taking it easy on Valentine's Eve (mainly nursing our sunburns with aloe and rosé wine) we called it an early night to prepare for a day of romance … or, at least, another beach walk and a swim.
Romance in paradise
Each morning at Secrets starts with a text message from your concierge with the day's activities. Quickly, I noticed that there was a "Valentine's Day Romantic Dinner" option by the pool for $130 per couple including a bottle of wine or Champagne. I hoped this was different from the beach dinner I'd requested. Beyond that, no other special activities to celebrate seemed to be on offer.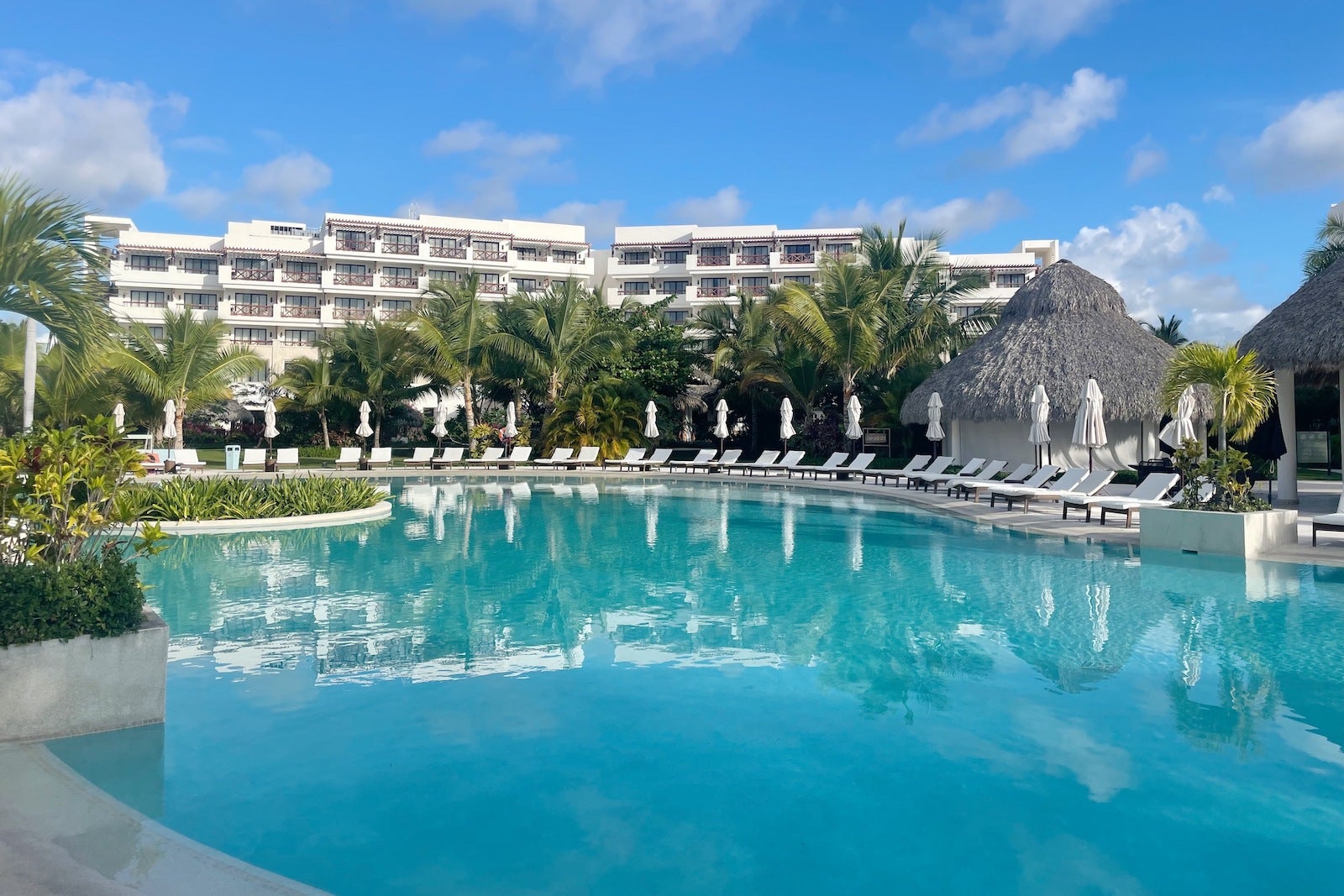 For breakfast we hit the buffet, expecting there to be decorations or special Valentine's Day-themed station or treats, but we didn't see any. The food was fine and I'm glad I waited in the short line at the omelet station for a delicious ham-and-cheese creation. I washed it down with a glass of Champagne with a grape swimming at the bottom.
As Matthew and I took stock of all the couples around us, we tried to pick out which couples might be honeymooning (there were three, according to the day's newsletter).
During the morning we camped out on the beach, which again, was truly stunning. The palm trees had the most beautiful curves and shapes, the sand was soft and white and the water was turquoise and a comfortable temperature. The service on the beach was quick, too; quicker than I'd experienced at some other all-inclusive resorts, and the drinks we ordered — including a Miami Vice frozen cocktail — were great.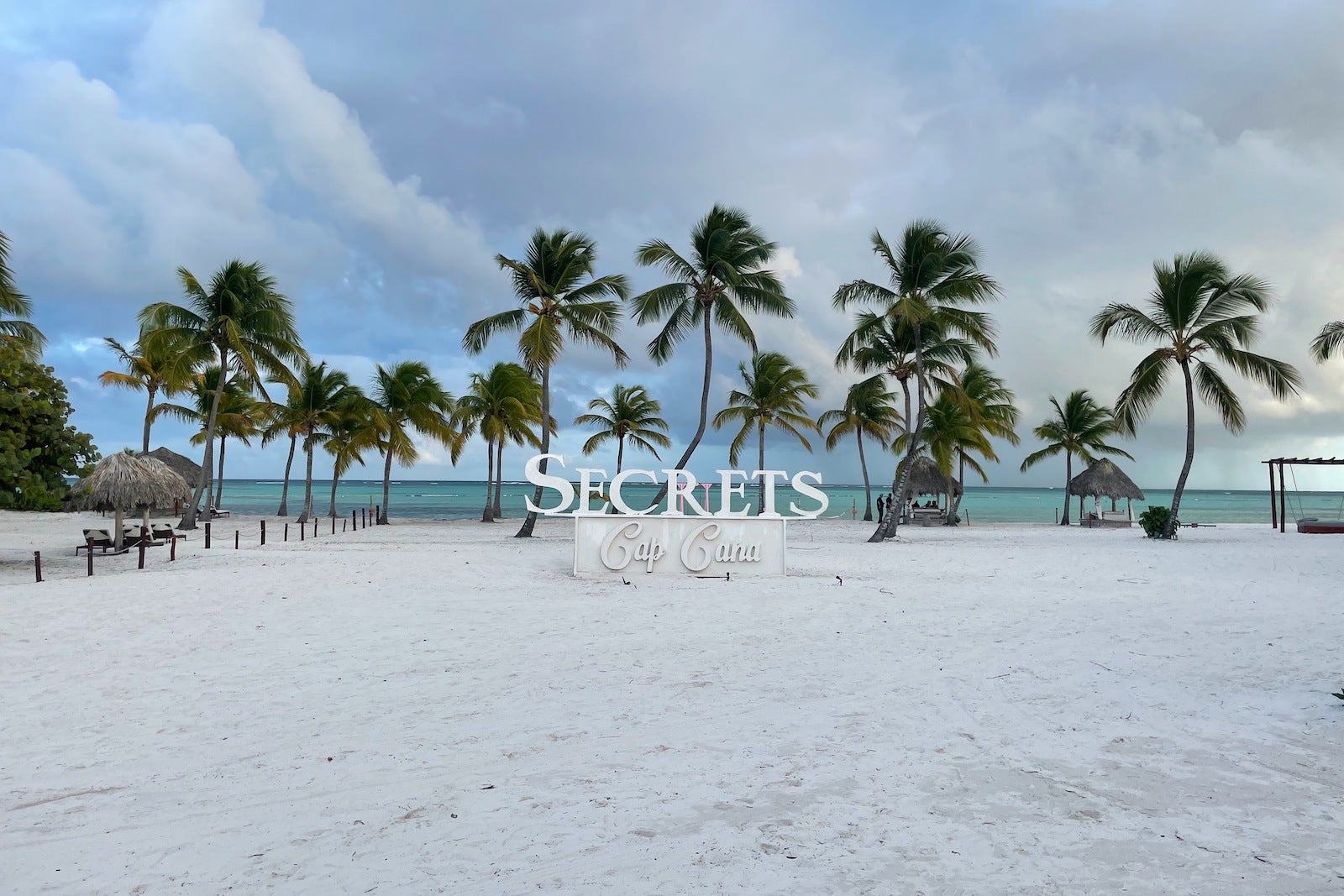 While the resort is adults-only, we saw a lot of kids on the beach, mostly walking with their parents back and forth between the various other hotels in the area. It wasn't a problem for us, but if you want a vacation where you genuinely don't see anyone under the age of 18, try to avoid the beach.
We pretty much spent the entire day in the sea or in the pool. If I hadn't known it was Valentine's Day, I wouldn't have realized it due to the lack of decorations or amenities like special cocktails on offer.
When we got too hot at the beach, we retreated to the pool to relax in the shade by the swim-up bar, where the party always seemed to be going strong.
At the pool, people were hanging out in the water, talking and making friends — exactly how it's done at an all-inclusive resort. A friendly woman was offering to put sunscreen on everybody whose skin looked concerning, and one man seemed to be in a Zoom meeting in the pool with a dress shirt on. Maybe he was trying to fool his coworkers into thinking the tropical background was artificially generated.
Later in the afternoon, our concierge came to let us know dinner was on the beach at 6:30 p.m. and that we'd need to pick our bottle of wine from a list of about 10 options. (We selected the Woodbridge White Zinfandel that retails for about $6.)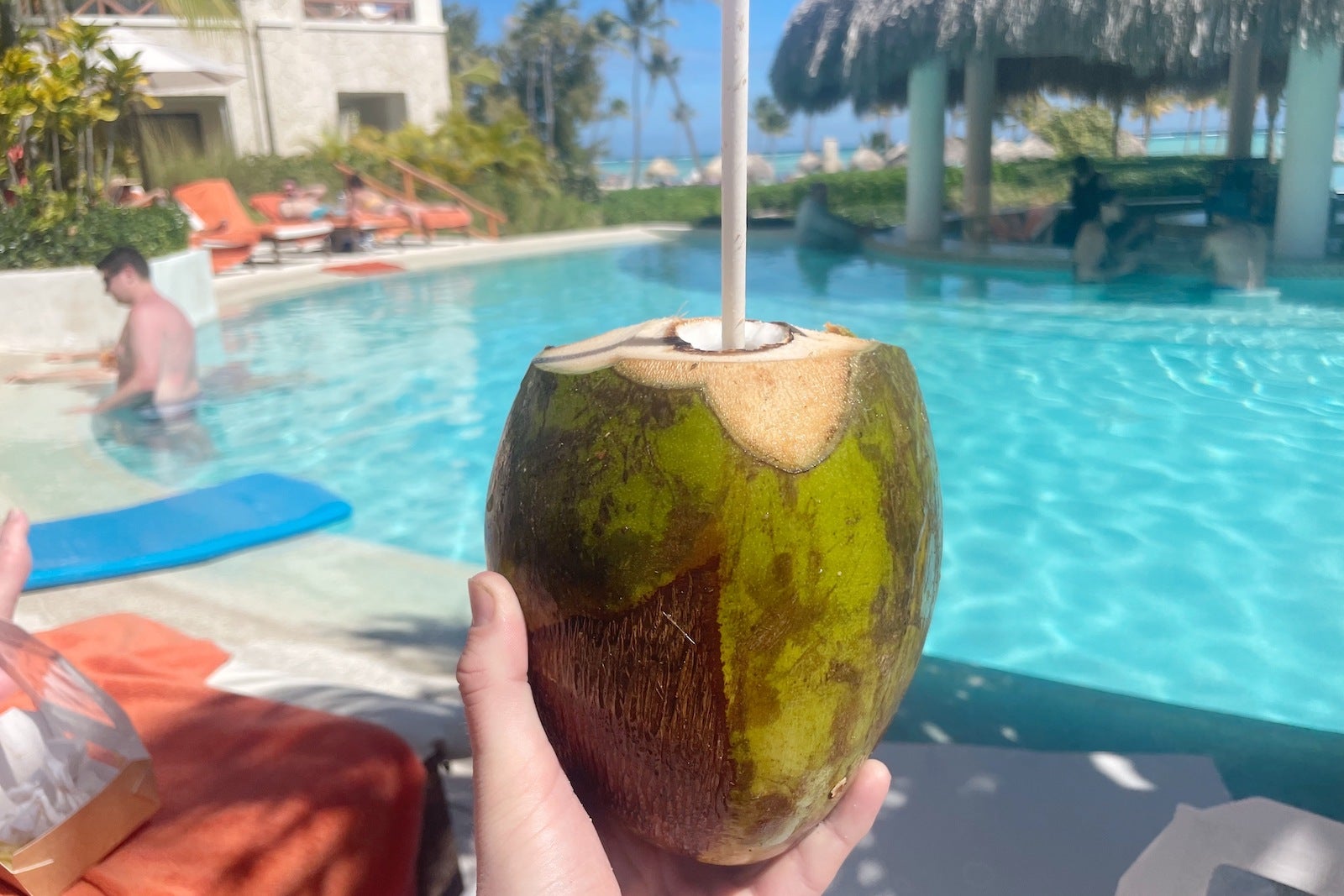 At 3 p.m. we left behind our towels and a few other random things we had brought to hold our space (sunscreen and a tote bag with meaningless contents) and met up with Yafreisi to head to the on-site medical clinic for COVID-19 tests so we could reenter the United States. Unfortunately, the tests were not included in the room rate; we paid an extra $30 per person, but that was worth it for the convenience.
While the experience was quick and seamless, the test itself was the most physically painful one I've ever had — to the point that my eyes welled up with tears due to the discomfort. Within 15 minutes, however, we had our negative results and Yafreisi asked us if we were going back to the room or the pool.
It's our last day in paradise, we told her, so we were going back to the pool.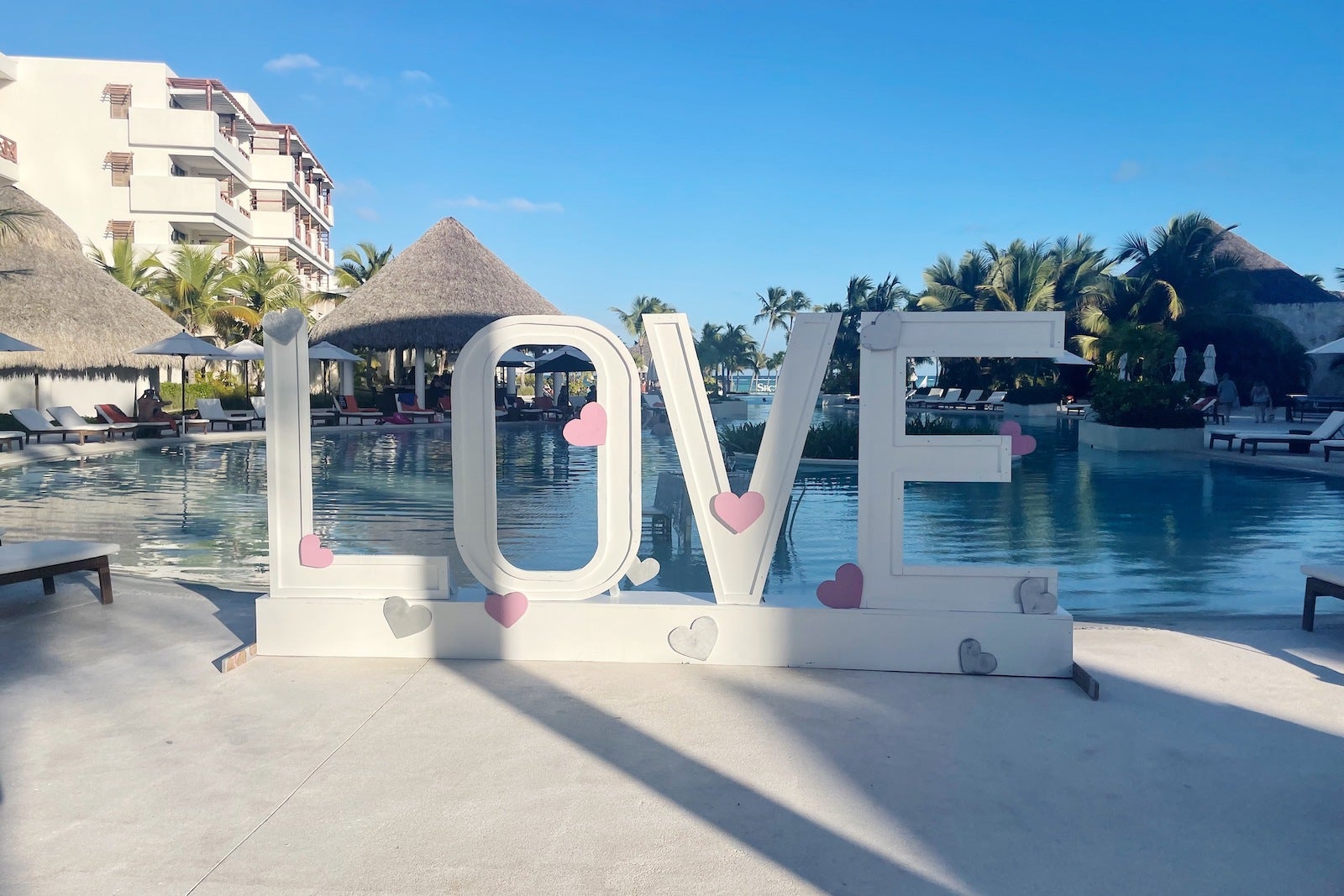 That's when the magic of Valentine's Day finally began. After spending a few more hours in the water, watching people dance their hearts out to '80s music played by a live band, we decided to go back to the room. On the way, we saw that a giant sign proclaiming "LOVE" had been placed at the front of the pool.
A sweet surprise
When we arrived back at our room, I thought we were in the wrong place: A banner that said "Happy Valentine's Day" had been placed around the door.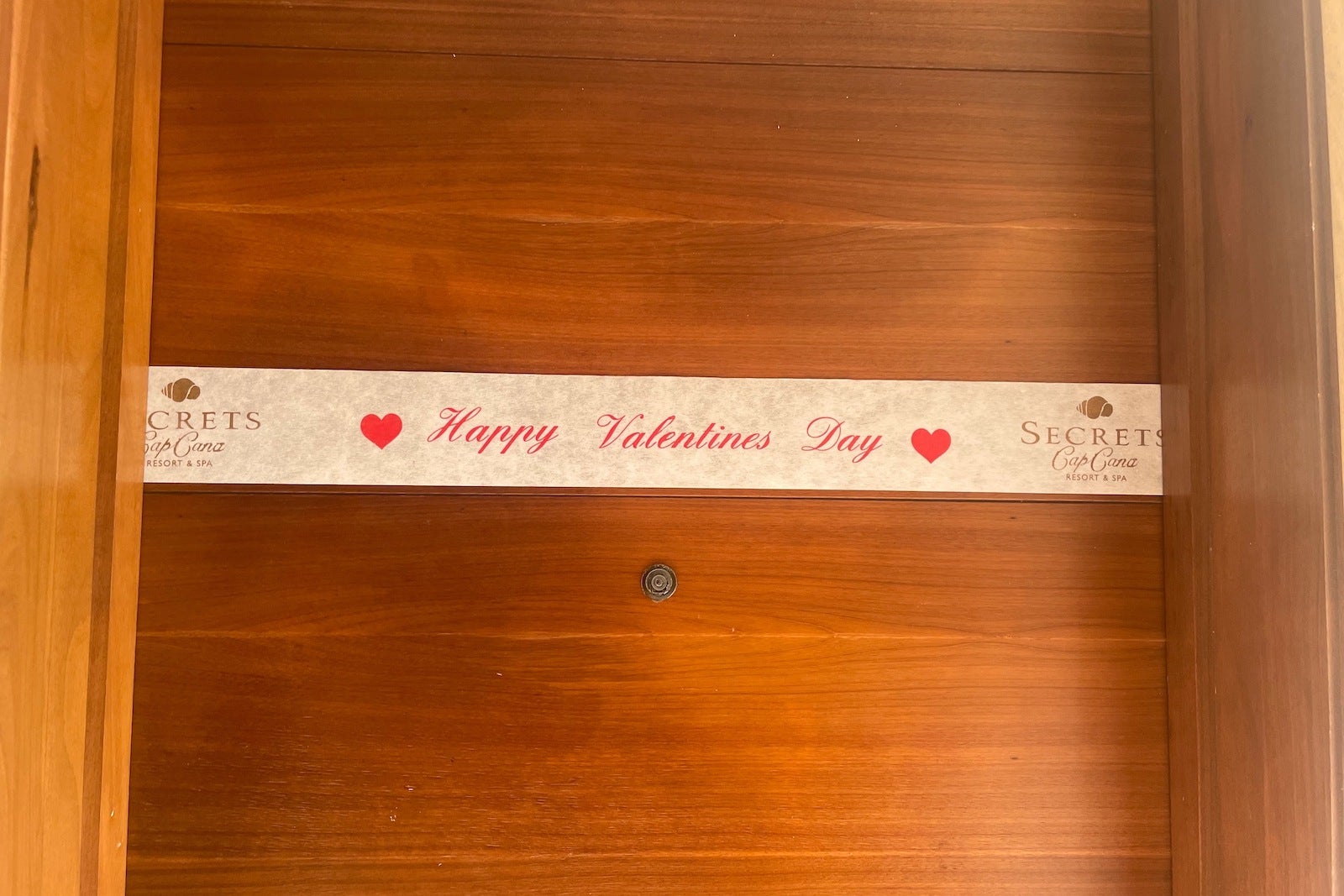 Inside, a trail of rose petals led to an ice bucket with a bottle of Champagne, and the bed was covered in even more rose petals spelling out the word, "Love," with a note from our amazing concierge thanking us for our stay and wishing us a happy Valentine's Day. I knew you could book (and prepay for) this fanfare, but we hadn't. (At the time, I didn't think shelling out an extra $100 for the roses that'd we'd simply dust off later was worth it — I now admit I was wrong.)
Either Yefreisi was truly the nicest person in the world (yes) or maybe she felt bad for how rough the COVID-19 test was. Either way, it was a very special touch and just the amount of kitsch we like. It was meaningful, thoughtful and set the tone for the night.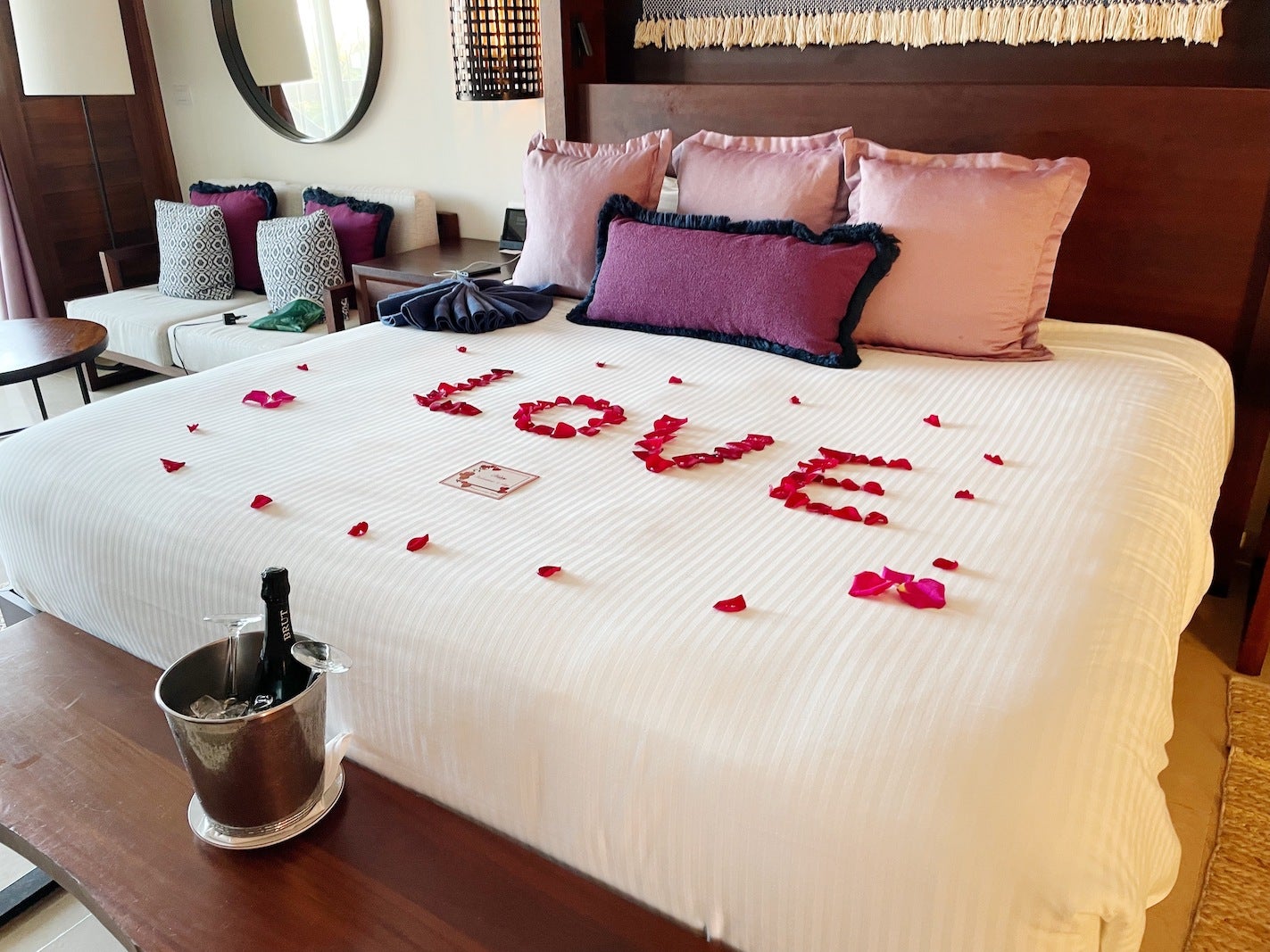 We dressed for dinner and headed to the beach not knowing what to expect — or what we'd be eating. On the way, we ran into a throng of visibly drunk vacationers in the mostly empty pool who decided to engage us in very uncomfortable conversation about our sunburns. If there's one thing I have learned during my time at all-inclusive resorts, it's that vacations with free-flowing alcohol give too many people the perceived permission to just say whatever they're thinking.
A beach banquet
Once at the beach, however, we found a very beautiful setup of tables draped with white tablecloths, fresh flowers, a full bar and a welcome cart with a special drink that was handed to us on arrival. Our table faced the beach where a woman on a small stage sang tranquil love songs as her partner played a keyboard.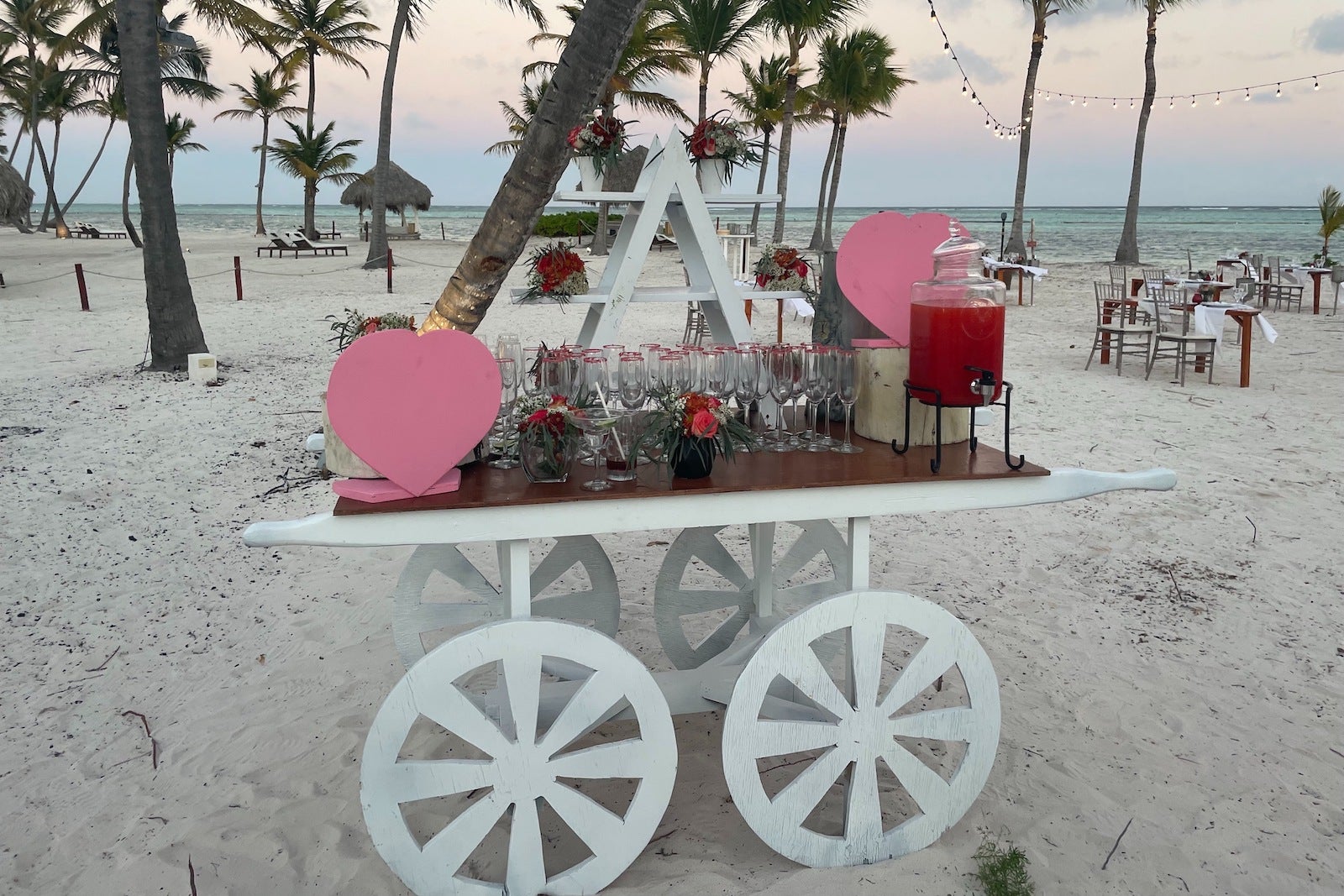 The waiters were hyper-attentive and incredibly friendly — which helped soothe us after our uncomfortable encounter on the way to the meal. A photographer came around for a photoshoot where we switched from one romantic pose to another. The people around us ate it up.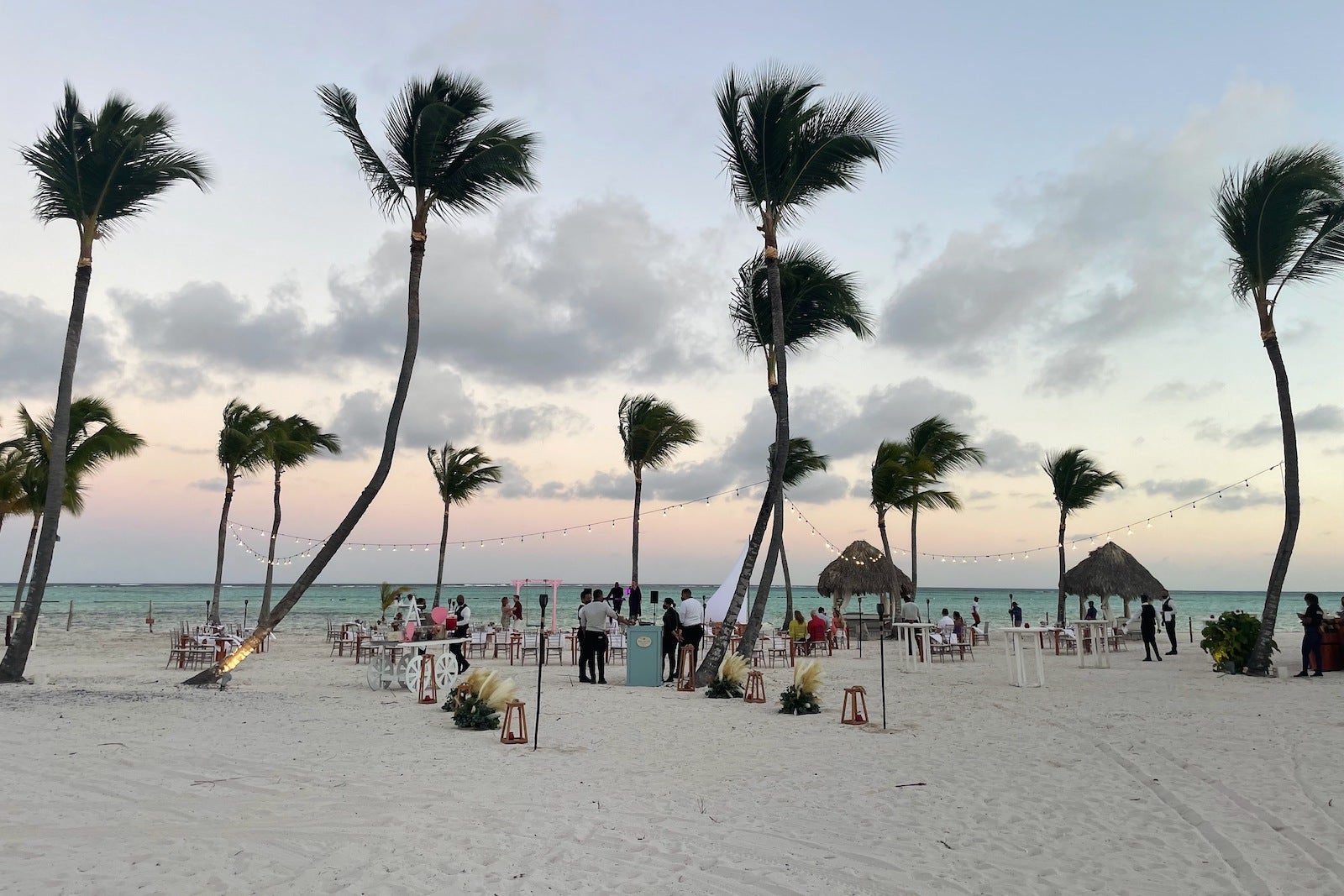 Speaking of eating, the food was delicious — easily the best meal I had in the Dominican Republic. We had fried plantain tostones with smoked salmon, lobster ravioli, a beef filet and jumbo shrimp with caviar emulsion and port, followed by a desert of a creamy chocolate cake with berries.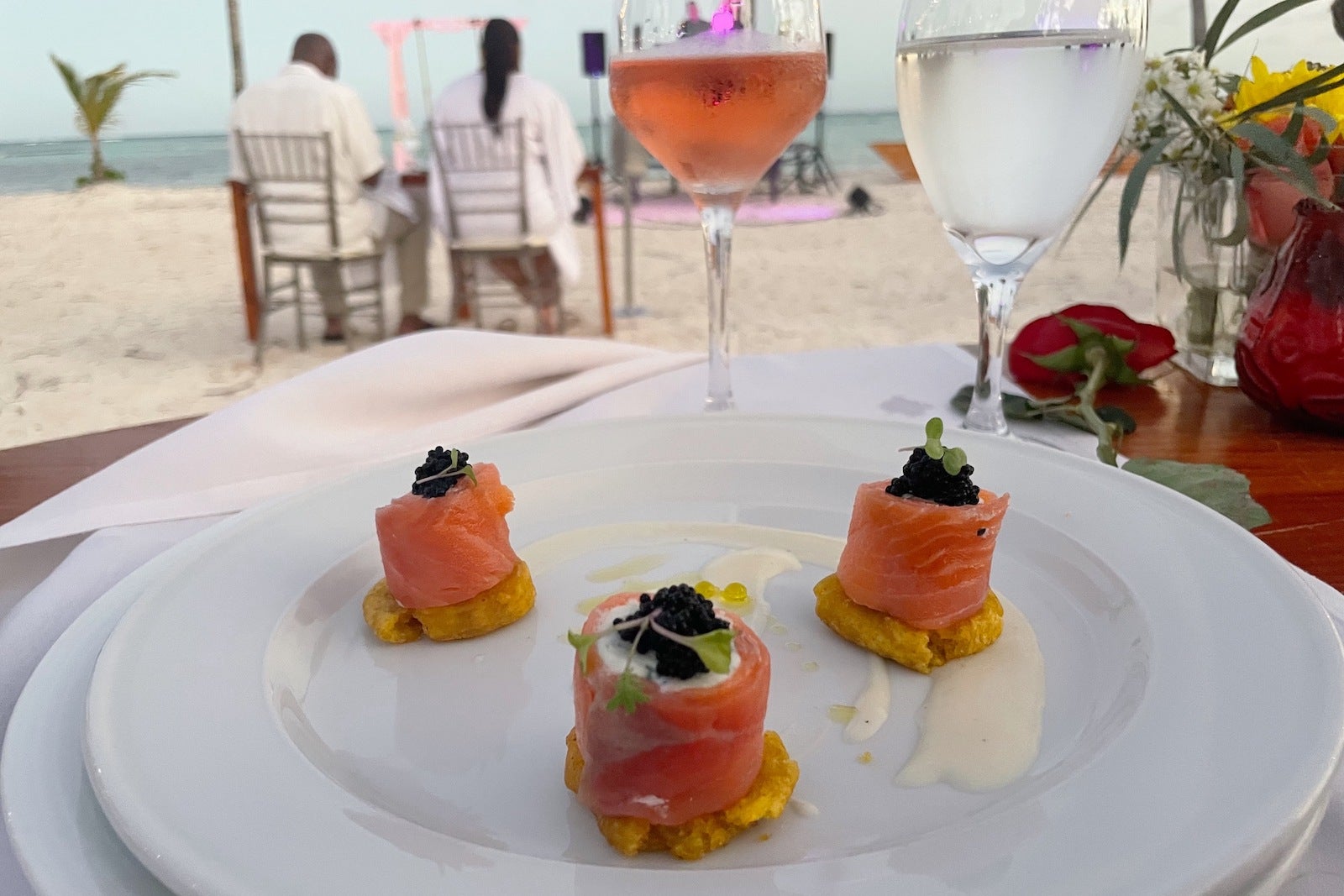 Watching the sunset on the beach with my boyfriend, eating delicious food, drinking a glass of wine (yes, it was real glassware they brought down to the beach) and listening to music felt like a truly magical experience — and worth the extra cost. Everyone around us was having a great time — people were smiling, kissing and holding hands. It didn't feel contrived and I ended up being so happy to be there.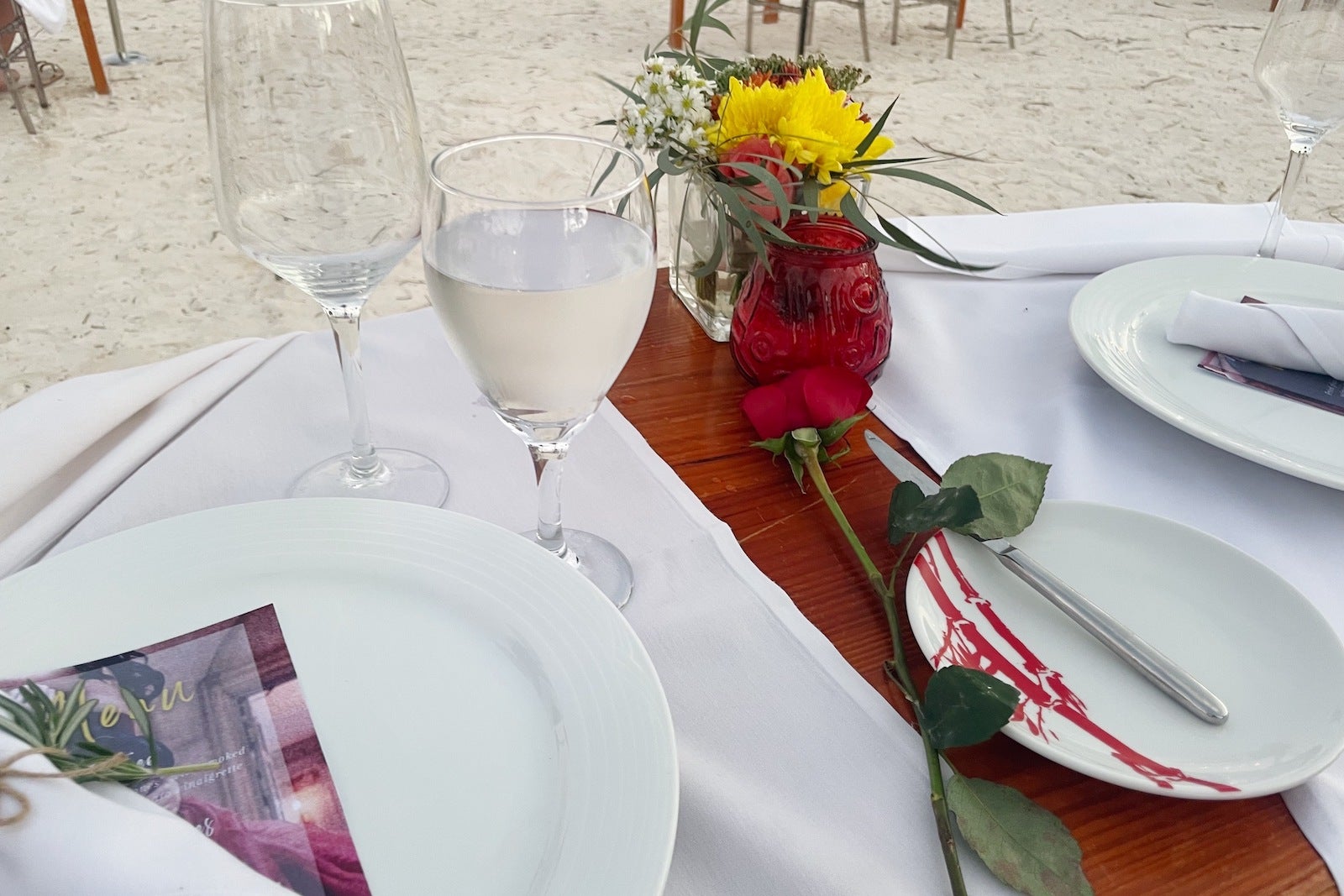 After dinner, which lasted about two hours, the bar traded our glassware for beach-friendlier cups so we could walk along the water.
One thing that surprised us about the resort was that bars closed rather early; after our walk, it seemed like the only place to hang out was at the lobby bar. We stopped by for another cocktail and found ourselves surrounded by people there for the aforementioned work conference. The lobby was beautiful and had a great ambiance, so it was a fitting option for a nightcap or pre-dinner drinks.
Queen of hearts
To end the night, we went to the resort's indoor amphitheater for the 9:30 p.m. show, a tribute to Queen. We got there about 15 minutes early and it was already packed, but luckily we were able to find two seats in the front row all the way to the side.
I love most music and was excited for the show, but even given that, I was completely blown away. Turns out if you want to hear one of the best Queen cover bands ever, you need to get to Cap Cana. Waiters served drinks during the performance and the audience members, who skewed slightly older, rocked their little Valentine's Day hearts out.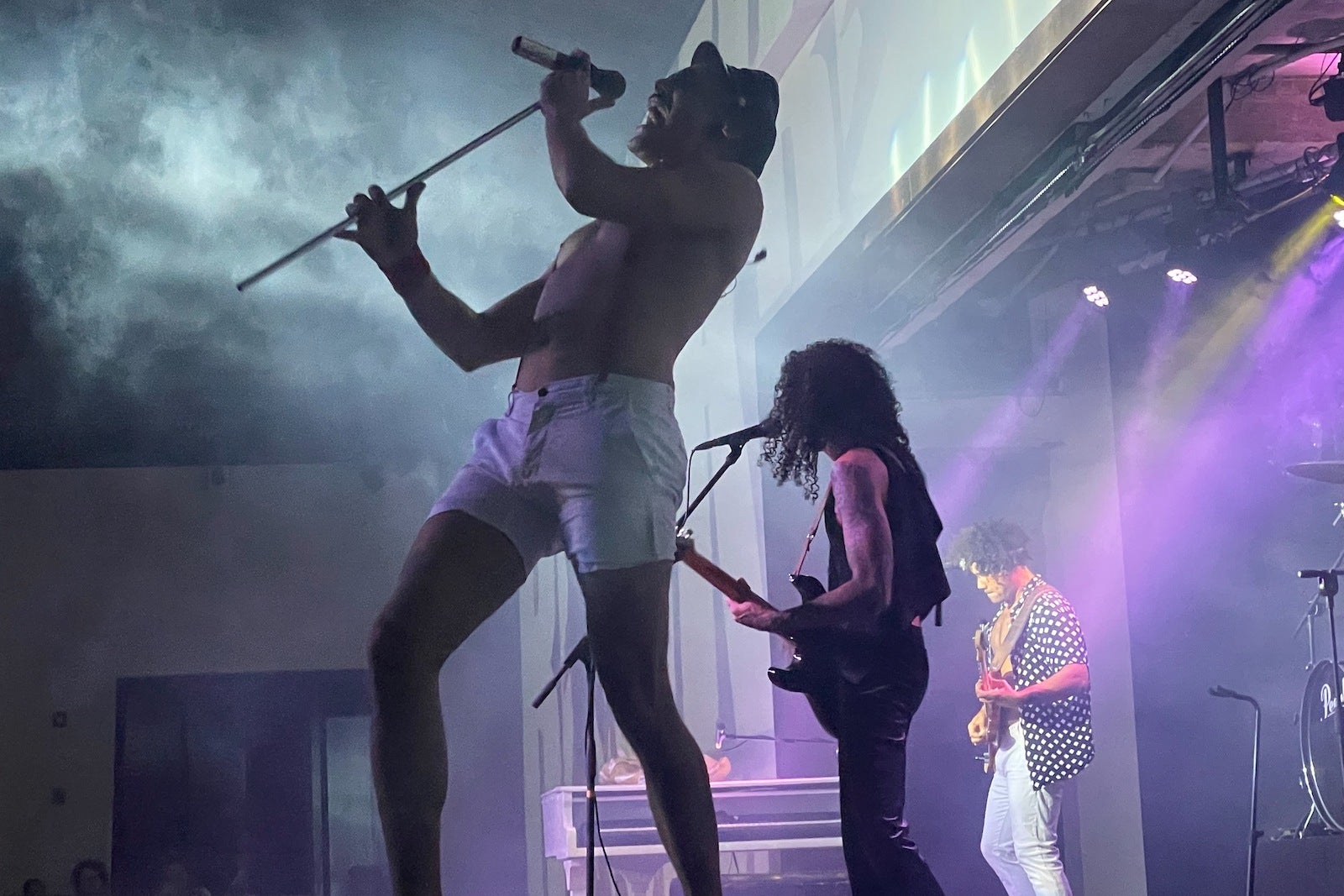 After, we followed the crowd as it streamed back to the lobby bar for a nightcap in rocking chairs on the deck overlooking the pool and the ocean. Everyone seemed happy and relaxed, just like us. Must have been the multiple nightcaps. On a high from the rock show and our beautiful dinner on the beach, we were sad to leave the next day.
Ultimately, our mini-vacation at Secrets turned out to be a fantastic way to spend Valentine's Day. To be out of the cold of New York City and relaxing in the warm sun on the beach in Cap Cana was enough, but the dinner, the music and the sweet surprise in our room made it truly special.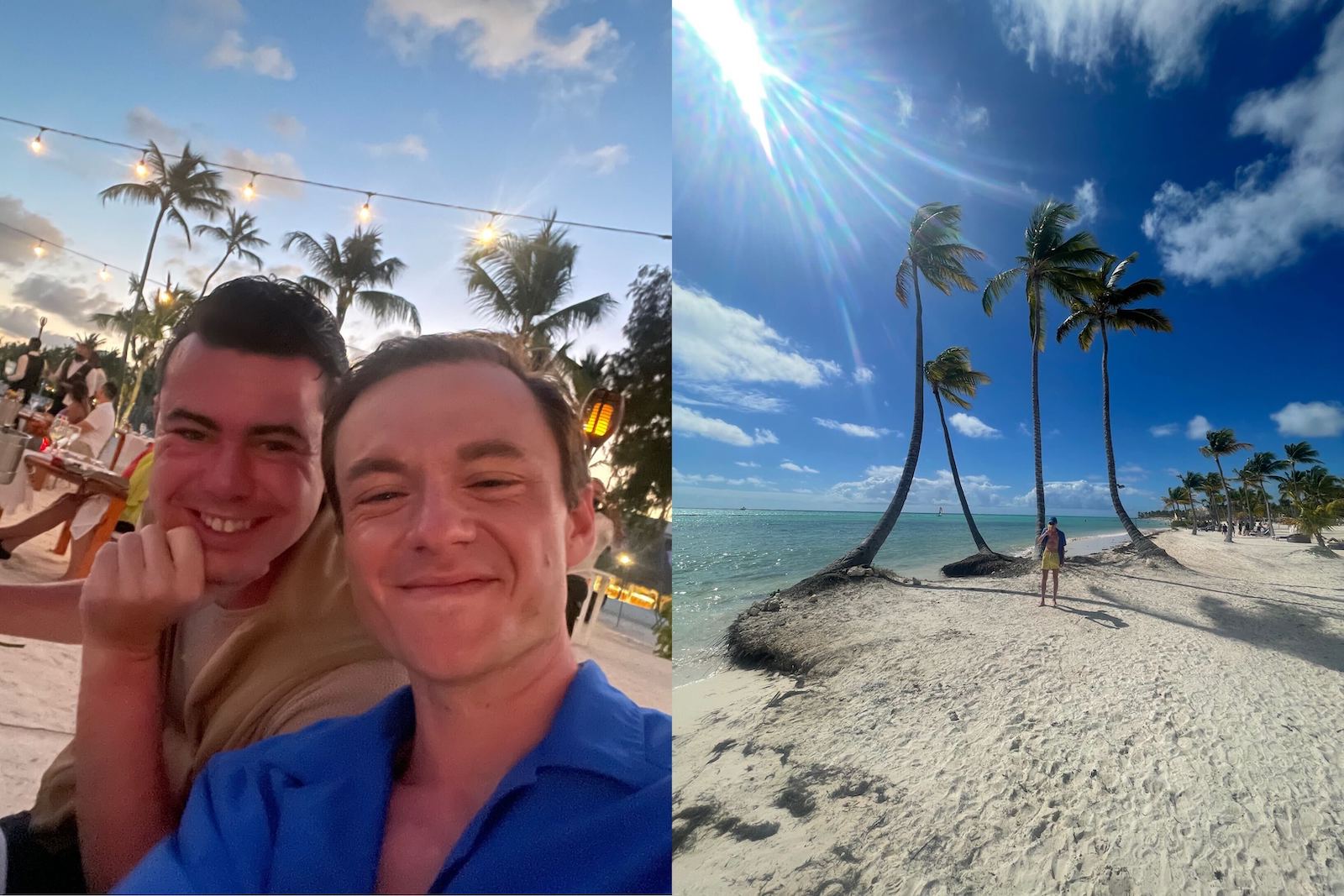 Even if it's not Valentine's Day, you can still have a beautiful beach dinner for a romantic treat or reserve a platform bed in cabanas by the water for the day. I'm sure a couple's massage would have been excellent, too, but our sunburns ruled that out.
Next time, I would probably book the Experience Love Unlimited package for $199 per couple. It comes with a couples massage, mimosas delivered to you in bed and an in-room welcome gift, which sounds like a pretty good deal.
Sure, all-inclusives can take the decision-making out of your travel plans, and help you save money on food and drinks. But the special extra details that we experienced just made our stay all the sweeter. For me, spending Valentine's Day with my best friend will always be enough, though getting to celebrate in paradise this year felt truly magical.
Featured image by Tanner Saunders/The Points Guy.