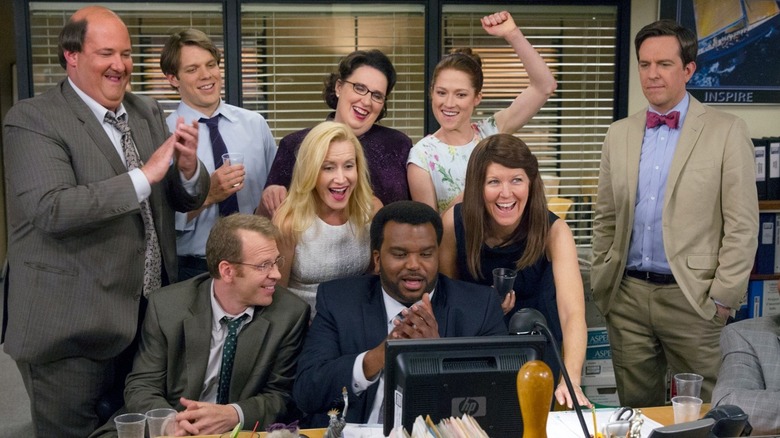 Incredibly, "The Office" has only gotten more popular since its finale aired in 2013. In 2020, the Emmy-winning series earned the impressive and perhaps surprising honor of being the most-streamed show of the year. It makes perfect sense: "The Office" is my number one choice for comfort viewing, and it works perfectly both as a show to have on in the background as well as a program to devote your complete attention to (trust me, it's much better this way).
One of those shows that you can watch over and over and over again, "The Office" is full of spectacular characters, and its documentary-style filming approach has made the series feel completely timeless. Some brilliant writers have graced the show, including creator Greg Daniels, Michael Schur, Jennifer Celotta, Paul Lieberstein, Mindy Kaling, B.J. Novak, Gene Stupnitsky, and Lee Eisenberg. The fact that so many great episodes of "The Office" don't even appear on this list speaks very highly to how uniformly excellent the show is. Here are the 30 best episodes of "The Office," ranked.
Women's Appreciation (Season 3, Episode 22)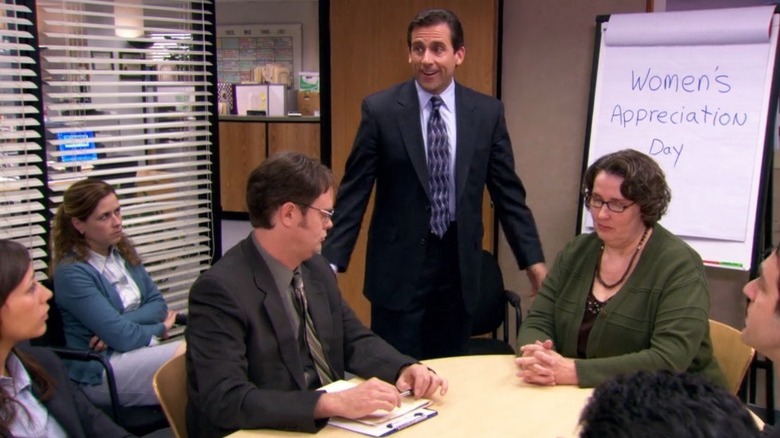 One of the many standout episodes in the third season, "Women's Appreciation" finds manager Michael Scott attempting to form a bond with his female co-workers. It all kicks off with a visibly shaken Phyllis Vance, who has just been flashed in the parking lot. This leads the office to unite around Phyllis, including Dwight Schrute heroically charging out to try and apprehend the flasher. 
Most episodes of "The Office" take place in the confines of Dunder Mifflin, but "Women's Appreciation" goes on a trip when Michael takes the ladies to the Steamtown Mall. Sure, one could effectively argue that Michael is being a bit sexist here — he did thank Karen Filippelli for calling him misogynistic — but he's really just doing his best. 
It's always fun to see the cast leave the office walls behind, and this episode features plenty of great moments, including Angela Martin lamenting her frustrations with the mall and revealing that she regularly settles on buying outfits made for large colonial dolls, which is comedy gold. It's all punctuated by a brilliant scene at the food court, where Michael ends up talking about his relationship with Jan and delivers the funniest line of the episode: "Jan has this schoolgirl fantasy ... I just, I feel uncomfortable wearing the dress."
If you or anyone you know has been a victim of sexual assault, help is available. Visit the Rape, Abuse & Incest National Network website or contact RAINN's National Helpline at 1-800-656-HOPE (4673).
The Dundies (Season 2, Episode 1)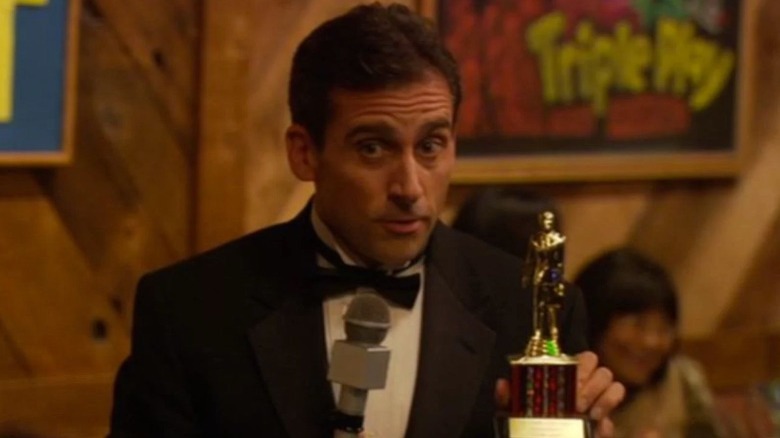 The Dundie Awards are the Dunder Mifflin Scranton branch's equivalent of the Oscars — according to Michael, anyway. To everyone else (except Dwight), they're an exhausting process where they have to endure Michael making terrible jokes; the free food and drink make it just about bearable. Oscar Martinez explains it best: "The Dundies are kind of like a kid's birthday party, and you go, and there's really nothing for you to do there." The Season 2 premiere, "The Dundies," gives us the new and improved Michael Scott, whose hair is no longer greasy and slicked back, which instantly makes him feel more approachable.
"The Dundies" offers audiences the first real opportunity to see Michael be genuinely vulnerable. For much of Season 1, he's abrasive, arrogant, ignorant, and generally unpleasant, but the second season takes big strides towards making him a lovable character, and that all starts here. That's not to say Michael is suddenly an angel; he's still as awkward, uncomfortable, and consistently offensive as he was before. 
During the ceremony, which takes place at the local Chili's, Michael is savagely heckled by another table, and we see a new side of Michael. What's surprising is the way his employees rally around him. In the first season, you'd expect everyone to just laugh or walk away, but here they seem genuinely invested in Michael's well-being, which suggests for the first time that there may be a lot more to him than we initially thought.
Booze Cruise (Season 2, Episode 11)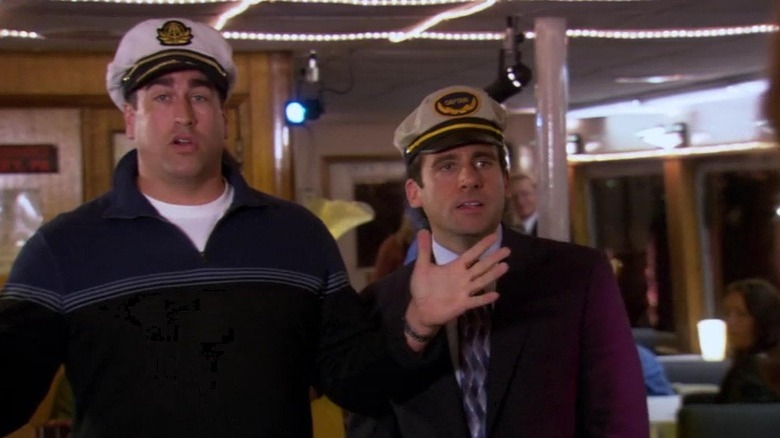 After a hilarious cold open where Jim Halpert has put all of Dwight's belongings in the vending machine, the Scranton branch is off for a trip on a booze cruise ... in January. When the gang arrives, Michael comes face-to-face with his greatest adversary to date, Captain Jack (Rob Riggle). Each and every one of Michael's attempts to dominate attention (the boat is supposed to provide an opportunity for his great motivational speech) is usurped by Captain Jack, and rightly so, as the Dunder Mifflin employees are not the only ones on board. 
Watching Michael go head-to-head with someone and losing over and over is hilarious and cringeworthy, as amplified by Michael trying to take credit for Roy finally setting a date for his wedding with Pam, when in fact it was Jack who motivated him. It wouldn't be "The Office" without some chaos, and Michael's speech leads to people thinking the ship is sinking, and desperately trying to evacuate.
The episode also provides some big-time development in the story, with Jim breaking up with Katy (Amy Adams), and plans for Roy and Pam's wedding finally moving forward. Jim also reveals his crush on Pam to Michael, which becomes a key plot point later on. To top it all off, there are plenty of great beats, like Dwight thinking he's actually steering the ship. Best of all is Michael participating in the dance contest, moving so passionately and erratically that he clears the entire dance floor.
The Injury (Season 2, Episode 12)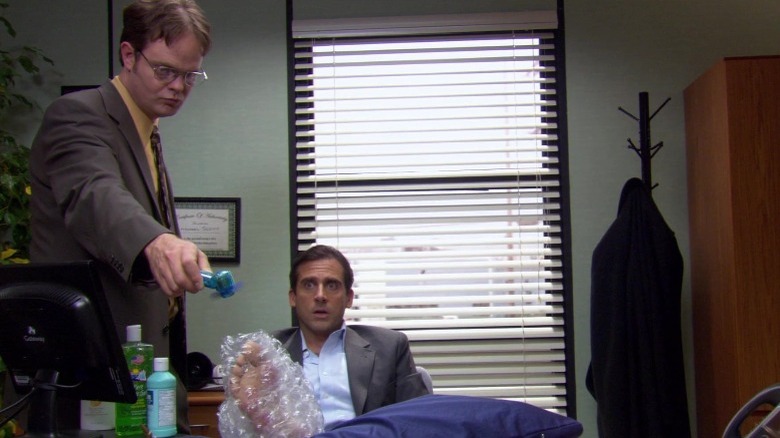 Michael calls Pam in agony, attracting the attention of the entire office. Has a family member died? Was he involved in a horrible car crash? Did he receive life-altering news? It's actually none of the above, as Michael has burned his foot on his Foreman Grill. One of the most ridiculous set-ups imaginable makes way for a classic episode of "The Office." Michael is rarely as unbearable as he is in "The Injury," in which he acts worse than a petulant child demanding to be catered to at every possible moment. 
Coinciding with the absurdity of the grill burn, Dwight freaks out and races to Michael's rescue, which results in him crashing his car, resulting in a serious concussion. The writers of "The Office" are master storytellers, and what feels like an episode about Michael is actually an opportunity to humanize Dwight. Because of his concussion, Dwight becomes a great deal more personable, and huge strides forward are made in his friendship with Pam.
The Client (Season 2, Episode 7)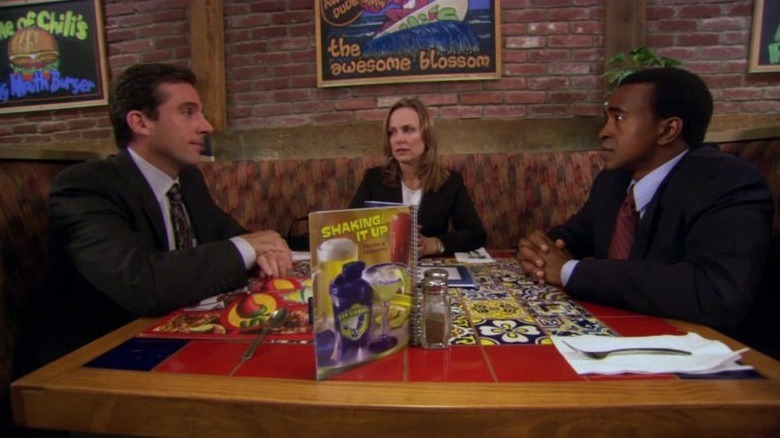 "The Client" is absolutely essential for how we finally see why Michael Scott has his job. Things seem shaky at first, with Michael interrupting a business meeting at Chili's to order an awesome blossom, but it soon becomes apparent that Michael knows exactly what he's doing. Over the course of the episode, it's clear that Michael shines through interpersonal relationships. He understands exactly what the client, Christian (Tim Meadows) is looking for, and despite growing concerns from Jan, he's able to establish a deep personal connection with Christian in a matter of moments, telling a joke he loves, and even getting him to sing about baby back ribs.
Up until now, and especially in the first season, Michael has been grossly incompetent, seemingly incapable of doing something as simple as signing documents. Here, Michael shines as a charming, personal guy who you'd love to get a drink with, and, perhaps more importantly, do business with. It's all made especially clear in a great shot at the end of the meeting, with Jan sitting incredulously in-between Christian and Michael as it dawns on her that Michael is actually good at this. 
It all culminates in a kiss between Jan and Michael, which sets up one of the most chaotic romantic relationships in television history. That's all to say nothing of the excellent B-story, which finds the rest of the office uncovering Michael's movie script, "Threat Level Midnight" — but we'll get to that later.
Money (Season 4, Episode 7-8)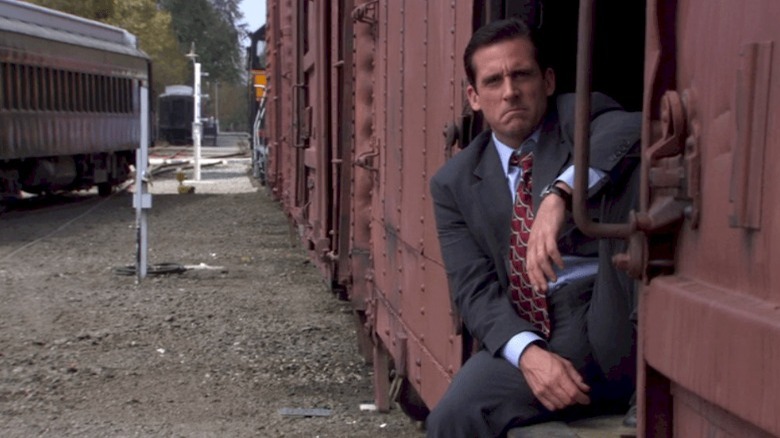 Season 4's "Money" features two top-tier storylines: Jan Levinson's out-of-control spending putting huge pressure on Michael, and Jim and Pam going to spend the night at Dwight's bed-and-breakfast. Dwight is dealing with the end of his romantic relationship with Angela, and Michael has taken on a second job as a telemarketer to try and make ends meet. Jim and Pam going to Schrute Farms is full of comedy gold, with Pam becoming a master of puns with quips like "Beets Motel" and "Embassy Beets," and Dwight listing the themed rooms as America, Irrigation, and Nighttime. Pam jumps on Nighttime (frankly, I'm desperate to see what the America and Irrigation rooms are like). The episode is full of surprises, including one of the most touching moments in the series when Jim and Dwight have a sincere heart-to-heart in the office stairwell.
Meanwhile, Michael enlists Oscar for help with his finances, but the news isn't good, and Michael is in deep financial trouble. It all culminates in Michael trying to run away from his problems — quite literally, by trying to leave on a train, which gives us the classic line, "I am running away from my responsibilities. And it feels good." Something about Michael at his lowest, singing "Runaway Train" by Soul Asylum, feels deeply cathartic; Michael is rarely as relatable as he is in this moment. "Money" succeeds in pulling off the expert blend of humor and heart like only "The Office" can.
Business School (Season 3, Episode 17)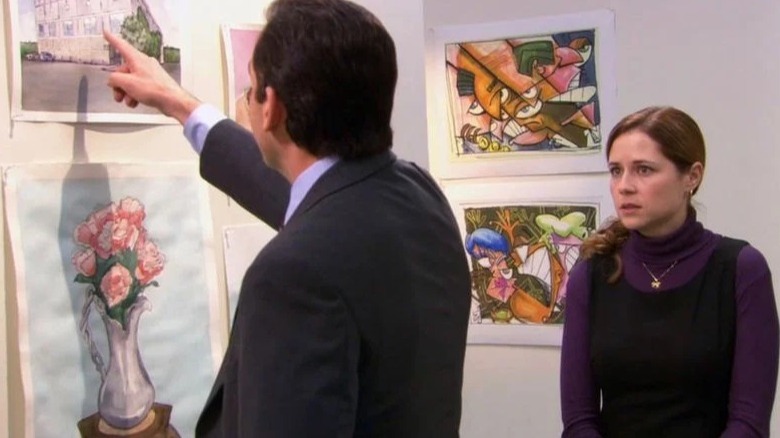 "If you bring your boss to class, it automatically bumps you up a full letter grade. So, I'd be stupid not to do it ... right?" asks Ryan Howard in a talking head, perfectly delivered with apprehension that we soon learn is well-justified. Such is the setup of "Business School," in which Ryan enlists Michael to give a talk for his class. Unsurprisingly, it's an unmitigated disaster, with students questioning the viability of Dunder Mifflin, greatly offending Michael. The tides of change are certainly against him, which is beautifully expressed in a shot where Michael instructs everyone to take notes, and the camera pans to everyone typing away on their laptops.
Then we have Pam, who is participating in an art show and hopes that her co-workers will attend. Ultimately, nobody comes out to support Pam except Oscar, whose boyfriend Gill is scathing in his critique, calling her work "motel art" that lacks "courage and honesty." There are a lot of uncomfortable moments in "Business School," but it concludes with one of the most heartwarming scenes of the entire series. Michael shows up at the last minute and is in awe of Pam's work, lovingly telling her that her paintings "could be tracings." He then buys Pam's painting of their office building, which moves Pam a great deal. It's the perfect conclusion to this genuinely great episode, and it goes a long way in developing Michael and Pam's friendship, a key tenet of the series.
Beach Games (Season 3, Episode 23)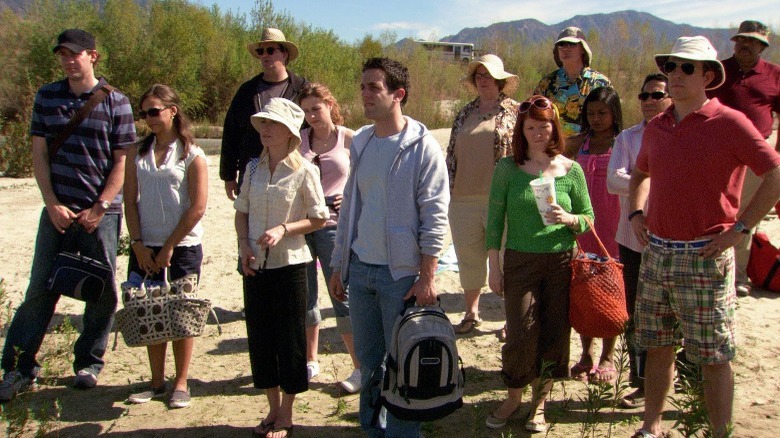 The stakes are high in "Beach Games," as Michael is convinced he's a shoo-in for a big-time corporate job, leaving his manager position wide-open for someone else in the office to claim. In order to decide who's truly worthy of his illustrious job, he takes the office out to the beach, where he's organized a series of events and activities to see who's really up for the task. It's one of the many great episodes where the workers of Dunder Mifflin get to leave the workplace, and the group unites in a sing-a-long rendition of "The Gambler" by Kenny Loggins on the way to their destination.
Perhaps the most important part of "Beach Games," and what really makes the episode sparkle, is Pam's evolution. The toughest task Michael presents to his employees is a walk across burning coals, and he himself is unable to do it. Pam summons the courage to go for it, despite being denied by Michael. She then goes to the group and delivers an impassioned speech, where she openly mentions that she misses her friendship with Jim, right in front of him and his then-girlfriend Karen. Pam's had many fantastic moments in the early seasons, and she's probably the single most underappreciated character on "The Office." "Beach Games" provides her biggest leap forward as a confident, outspoken individual; she's finally broken free from her relationship with Roy, and she's ready to make her mark on the world.
Customer Survey (Season 5, Episode 7)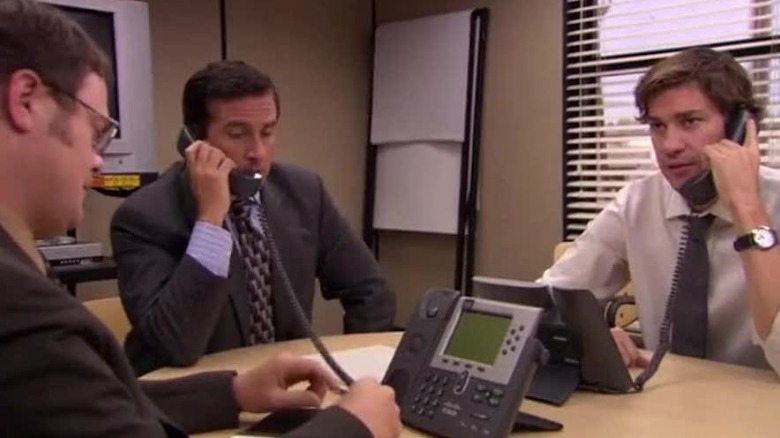 There's something fishy going on in "Customer Survey." Both Dwight and Jim's feedback from clients is suspiciously low, worse than it's ever been. Jim isn't surprised when he hears Dwight's feedback is poor (and neither am I, the man is quite aggressive in his sales approach), but with Jim's feedback being equally abysmal, he joins forces with Dwight to try and figure out what's really going on.
While the two end up working together, Jim can't resist mocking Dwight in one of the single best scenes in the entire series, and it's exactly why "Customer Survey" is one of the best episodes of "The Office." Michael has assembled Dwight and Jim for more of a micro-management approach and observes Dwight and Jim on a mock sales call. Jim's the client and Dwight is the salesman, and Jim's performance as Bill Buttlicker is one for the ages. 
Jim knows exactly what buttons he needs to push to incense Dwight, and in this eye-watering funny sequence, he pushes them all. It leads to Dwight shouting at the top of his lungs, "Buttlicker, our prices have never been lower!" If you can even hear what's going on after that underneath your own laughter, Jim demands to speak to Dwight's manager and says that he'll buy $1 million worth of paper products if Michael fires Dwight. It's ridiculous and absurd, yet it's a moment that fits these three characters so beautifully that it feels completely believable and relentlessly hysterical.
The Deposition (Season 4, Episode 12)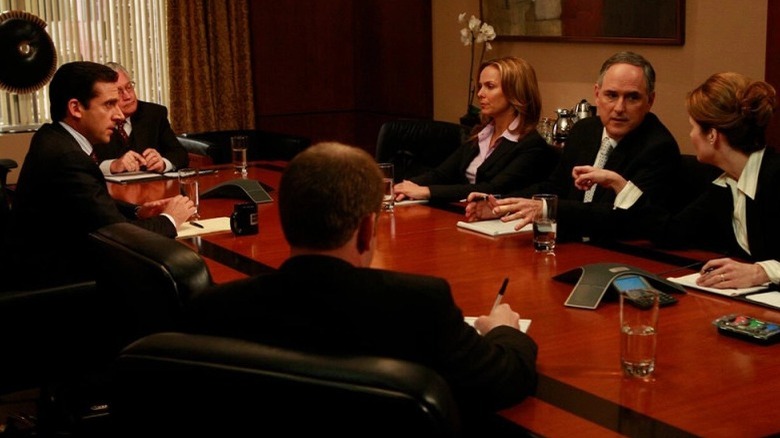 "The Office" is a show that's excellent at using limited space. After all, most of the series' episodes take place within the confines of the Dunder Mifflin office. "The Deposition" takes things a step further, as most of the episode takes place within a single meeting room. The episode is one of the more serious in tone that the show has to offer, as it focuses on Jan's deposition resulting from a lawsuit after her dismissal. That doesn't stop the show from sneaking in plenty of jokes, and the reading of Michael's diary as evidence provides an array of gags.
"The Deposition" shows just how far Michael is willing to go to protect Dunder Mifflin, a company that ultimately couldn't care less about him. Still, Michael is nothing if not a fiercely loyal person, and the previous episodes in Season 4 have explored how Jan and Michael's relationship is deeply toxic. Michael has shown time and time again that he loves his job and the people he works with and considers them the most important people in his life. It should come as no great surprise then that Michael ends up taking the company's side over Jan, losing him millions of dollars in the process, and putting the knife in the back of his relationship that will eventually lead to one of the finest episodes in television history.
Company Picnic (Season 5, Episode 28)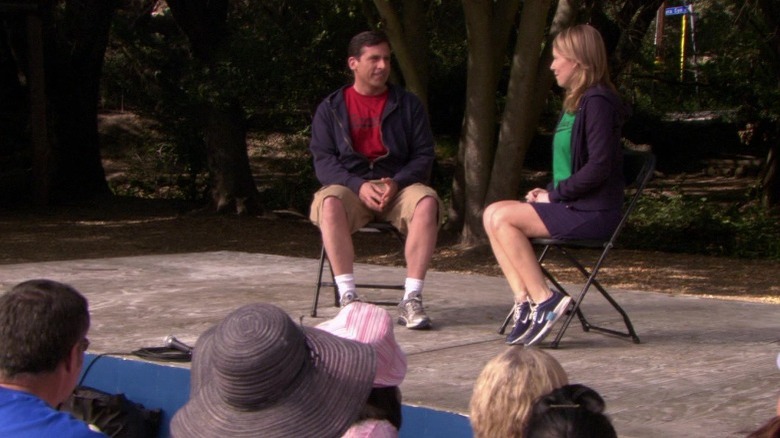 "The Office" has a real knack for knocking it out of the park when it comes to season finales, regularly offering hilarious hijinks while cleverly layering plotlines to set things up for the following season. As the season finale of Season 5, "Company Picnic," puts things into gear, the Scranton branch of Dunder Mifflin heads to a company retreat and provides an all-important Holly and Michael reunion. The pair are tasked with putting on a show as entertainment, that they call "Slundunder Mifflinaire." Unfortunately, the skit reveals that the Buffalo branch is being shut down, which puts a real damper on the day, as the workers of Buffalo had no idea.
It leads to some serious animosity towards corporate, which takes us to an epic volleyball tournament, where the Scranton branch is going to face off against the corporate team. What started as a game for fun turns serious as the branch is determined to take down corporate to get back at them for closing the Buffalo branch. Pam, the standout player for Scranton, ends up rolling her ankle, which leads to a beautiful scene at the hospital where Jim and Pam discover Pam is pregnant. In a call back to the proposal in "Weight Loss," we cannot hear the dialogue, but we can see from Pam's excited face and Jim's perfect expression, bursting with joy, that Pam is pregnant. It's a perfect moment that ends a brilliant season.
Fun Run (Season 4, Episode 1-2)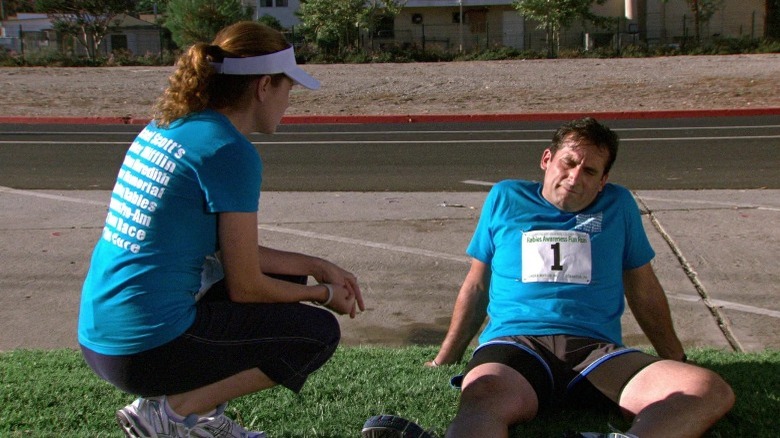 Things are looking up for Michael Scott. He may not have bagged the corporate job, but he's ready to start the year with a bang. That bang, however, is not managing his way to new heights, but instead running over his employee Meredith with his car. To nobody's surprise, hitting her with his car has made Michael a pariah in the office. Upon the discovery that Meredith has rabies, the trip to the hospital may just have saved her life. Naturally, Michael sees himself as something of a hero and organizes a charity run to raise awareness for rabies.
The charity event, the economically titled "Michael Scott's Dunder Mifflin Scranton Meredith Palmer Memorial Celebrity Rabies Awareness Pro-Am Fun Run Race for the Cure," ultimately aims to get Michael back in the Scranton branch's good graces. The episode provides a terrific showcase for Steve Carell, who plays Michael at his most desperate to be respected and, most importantly, liked by his workers. They don't raise much money (there's already a cure for rabies), and nobody really cares to participate, even though Michael makes it mandatory. Still, there's something spectacular about Michael's unwavering determination to pull off the event that nobody wants. Add to it the beginning of Jim and Pam's long-awaited relationship, and the end of Dwight and Angela's secret trysts, and you have one heck of a great episode of "The Office."
A.A.R.M. (Season 9, Episode 22-23)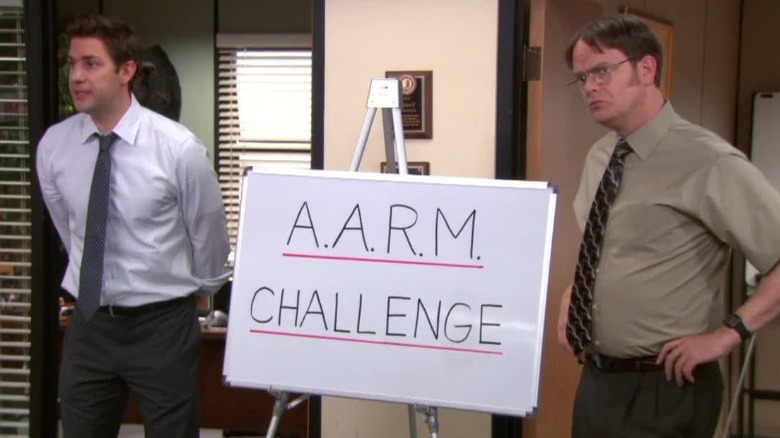 Dwight Schrute is the manager! The world's most devoted employee has finally ascended to the job he's always dreamed of. After he briefly had the job in Season 7, until he fired a Beaumont-Adams revolver in the workplace, Dwight is finally made manager for real in the penultimate episode of "The Office." There's a ton going on in this double-length episode, including but not limited to Darryl reappearing for one last day at Dunder Mifflin, Jim's quest to find an assistant to the assistant to the regional manager, and Dwight weighing his romantic prospects and forming a bond with Angela's son. 
There's also the conclusion of the teapot letter, that's had fans wondering since it appeared in Season 2's "Christmas Party." Brilliantly, the episode refuses to show us the contents of the letter, but Jim and Pam's faces tell us everything we need to know. There's even an Andy storyline, which doesn't really make much sense. Frankly, it's quite devastating to see how far his character has fallen over the last two seasons, so the less said about it the better.
It's also one of four episodes, that despite seeing dozens of times, makes me cry without fail. Whether it's Jim's impassioned speech to Dwight about love or Dwight finally proclaiming his love to Angela, "A.A.R.M." is a great reminder that "The Office" is every bit as good at heartfelt emotional drama as it is pitch-perfect comedy.
Pool Party (Season 8, Episode 12)
Season 8 of "The Office" gets a bad rap. With Steve Carell no longer in the show, you can feel the wheels turning as the creative team tried to figure out the show without its main character of seven seasons. One of the solutions was the addition of James Spader as Robert Califonia, the new CEO of Sabre, who just so happens to spend half of his time working out of the Scranton branch. In Season 8's finest episode, "Pool Party," Robert is selling his massive Scranton mansion and invites the entire office to come party and celebrate the house before it's no longer his.
It's true that there's no replacing Michael Scott, but "Pool Party" makes a strong case for Robert, who's both imposing and beguiling, particularly when bringing a group through his house on tour, stopping in the cinema room, and lamenting how his room designed for erotic cinema was used to screen stuff like "Marley and Me." The episode features great moments for Erin, the receptionist, and her efforts to get back together with Andy, thanks to an assist from Dwight. Kemper's performance is so effortlessly charming, even when she's being aggressive in courting Andy, and she's in top form in "Pool Party."
Scott's Tots (Season 6, Episode 12)
Yes, "Scott's Tots" is unbearable, and yes, it's excruciatingly difficult to sit through. There have even been studies on just how tough to watch it is. So, why on Earth is it here? Well, cringeworthy comedy is a bonafide staple of "The Office," and the show is never as deliciously cringy as it is in "Scotts Tots." A decade prior, Michael promised an underprivileged group of high schoolers that he'd pay for their entire college tuition, as he assumed he'd be a millionaire by then. Everyone is quite horrified that Michael would do such a thing, except for Stanley, who finds it incredibly funny. (Admittedly, I find it quite hilarious as well.) What follows is a crushing twenty minutes where Michael is forced to face the reality that he won't be able to fulfill his promise, which crushes the dreams of an entire room of high school graduates.
"Scott's Tots" also deserves a lot of credit for its fantastic subplot, which finds Dwight planning Jim's demise via an employee of the month contest. Thanks to Dwight's masterful manipulation, Jim awards himself, and a cake arrives with a picture of Jim and the wording, "It could only be you," which is one of the show's most ridiculous moments. It's hugely rewarding to finally see Dwight have the upper hand after falling for so many of Jim's pranks, and "Scott's Tots" is the show at its absolute cringiest.
Basketball (Season 1, Episode 5)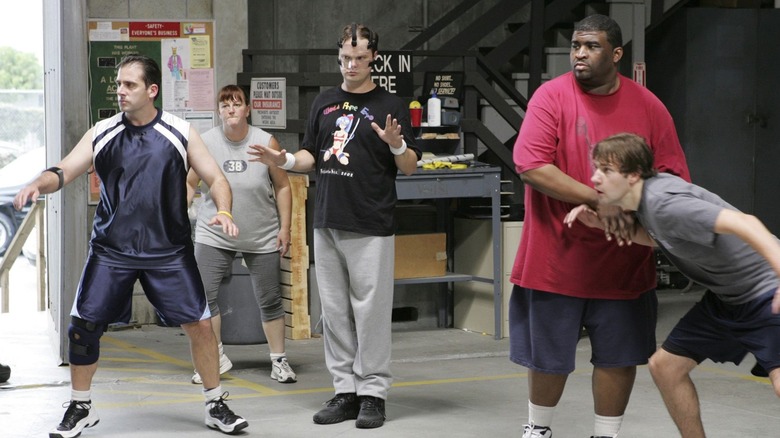 Part of the reason the first season is not entirely a fan favorite might come down to the American adaptation initially struggling to figure out exactly what it's supposed to be. The first episode feels like a pale imitation of the British original. On reflection, the six-episode first season is actually pretty great, and much of that comes down to the episodes "Diversity Day" and "Basketball," with the latter managing to turn the sitcom into a compelling sports drama for 20 minutes.
The episode centers around a basketball game between the office employees and the warehouse workers downstairs, where the losing team has to do the unthinkable: work on a Saturday. There's a heated rivalry between Jim and Pam's fiancé, Roy, which shines on the court. The episode is also a great example of Michael's complete inability to understand his own employees and what they can do. He bypasses Phyllis and Kevin, who are both impressive shooters, and opts for players like Stanley instead, who, when on the court, looks like he's never touched, or even seen, a basketball in his life. 
With the exception of Stanley, Michael is probably the worst basketball player there is and frequently exhibits terrible management skills. Perhaps most importantly, "Basketball" shows a Michael totally desperate to be liked, through his cringeworthy attempts to try and impress the warehouse workers. It's an essential part of his character, and "Basketball" provides vital character building while also being hugely entertaining.
Threat Level Midnight (Season 7, Episode 17)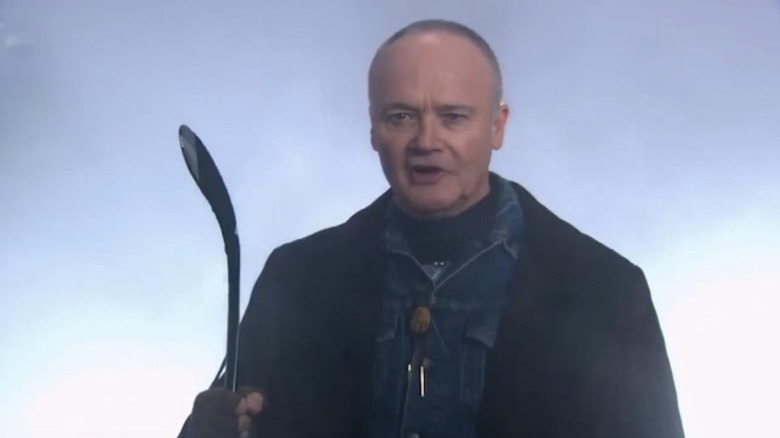 "The Office" is no stranger to making fans wait for things. After all, fans waited with bated breath for Jim and Pam to finally get together, and that didn't happen until the fourth season. There are tons of deep cuts and references that make the show special, one of which first emerged in the second season's "The Client," where a movie script written by Michael Scott himself was found, titled "Threat Level Midnight." Now, five seasons later, Michael has finally completed his movie the office gets to see it.
"Threat Level Midnight" is a delightful celebration of "The Office" at its silliest, and it's a bonafide fan-favorite episode that only improves with excessive rewatching. It's an awesome opportunity to see past characters, and Michael's spy thriller even has time for an exquisite dance number, where you'll learn how to do the Scarn (it involves jumping to the left and right, meeting friends, and tying yarn). It's an episode that's complete fan service, and as a fan, the service is rarely as satisfying as it is here. There's even an elaborate shot where Toby's face explodes — the most expensive shot of the film, Michael admits, but it's completely "integral" to the plot.
Casino Night (Season 2, Episode 22)
Michael is organizing an (illegal) casino night for a charity fundraiser, and in one of the many chaotic moments of the Season 2 finale, he ends up inviting both Jan and his real estate agent, Carol (Carell's real-life wife, Nancy Carell), as dates. There's plenty more fun to be had observing our beloved Dunder Mifflin employees gamble. Toby taking some quiet revenge by defeating Michael is hugely satisfying, as is gambling savant Kevin being bested by Phyllis, who didn't even realize the cards in her hand were any good. As with every great episode of the show, it shines in its small moments, like the way Dwight's face lights up when Michael kisses him on the cheeks. Plus, there's Creed, whose constant stealing leads to him winning the tournament.
The real reason "Casino Night" is so great, though, is that it finally delivers a long-awaited moment. After waiting with feverish anticipation for two seasons for Jim to finally profess his love for Pam, he does it. For nearly 30 episodes the two have flirted with inside jokes, schemes to mess with Dwight, and knowing glances. The episode finally delivered the kiss that fans have wanted since the very beginning. Jenna Fischer's reaction to Jim is powerful and nuanced, but John Krasinski is incredible as Jim, boldly exposing all his emotions in a last-ditch effort to be with Pam.
Goodbye Toby (Season 4, Episode 18-19)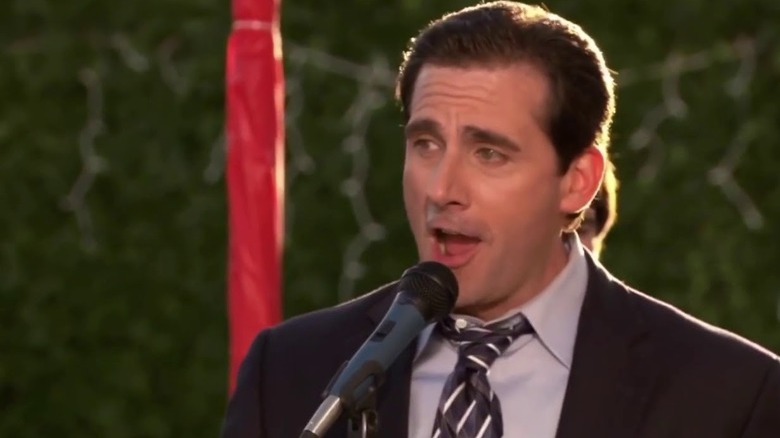 One of the funniest inter-office relationships in "The Office" is Michael and Toby. Toby is practically the human equivalent of Michael's punching bag, as he seems to completely and utterly despise every single thing Toby has ever done, and it's a relationship that's delivered some of the most shocking and hilarious lines in the series. When the news hits that Toby is leaving Dunder Mifflin for an extended stay in Costa Rica, Michael is positively euphoric. The Season 4 finale, "Goodbye Toby," also ups the stakes by introducing a new character: Holly Flax, Toby's HR replacement. Holly is sweet and quirky, and one of the pitch-perfect storylines in the episode comes from Dwight telling Holly that Kevin has special needs and is working at Dunder Mifflin as part of a program. Holly finds herself drawn to Kevin, who misinterprets Holly's interest as sexual.
Then there are the scenes that make this episode infinitely memorable, especially Toby's exit interview. Michael is so excited to tear into Toby like never before, but Holly has to be present per HR rules, and Pam also comes in to take notes. Watching Michael desperately trying to resist being malicious to Toby to impress Holly is divine comedy and features Steve Carell at his most exciting. There's also Michael singing "Goodbye Toby" with breathtaking passion, and Jim's thwarted plan to finally propose to Pam, which gets hijacked by Andy proposing to Angela.
The Lover (Season 6, Episode 7)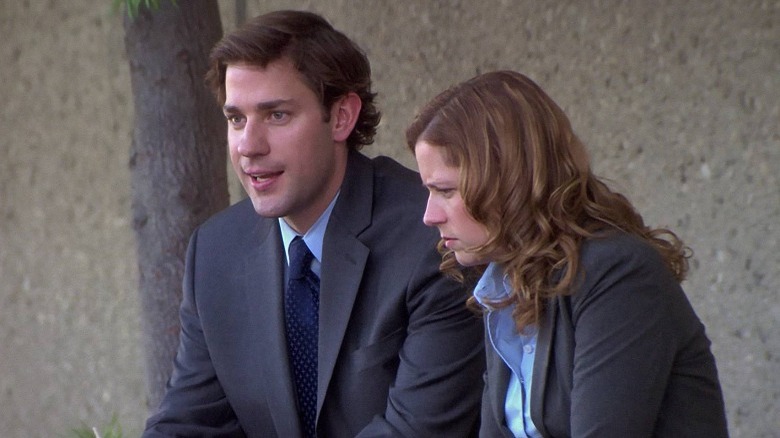 What would you do if your boss started dating your mother? That's the nightmare Pam endures in the Season 6 standout, "The Lover." The entire episode is a sensational showcase for Jenna Fischer, and it's hard to believe she wasn't even nominated for an Emmy for "The Lover," let alone a nomination. Fischer's Pam delivers a masterclass in storytelling via facial expressions when she goes from genuine excitement over Michael's new girlfriend to complete and utter devastation when she realizes that Michael is dating her mother. Simply by repeating variations of the same line, Fischer is able to convey more than most actors could merely dream of.
Pam and Michael's relationship is one of the most important interpersonal relationships in "The Office," and their developing friendship is key to the show's emotional heft. Seeing the pair spar is unexpected, but it's hugely rewarding and full of brilliant lines, few as shattering as "Don't call my mother your lover." For eagle-eyed viewers, check out Stanley cheering in the background during Pam's "No More Meetings!" chant, as it's some of the finest background work the series has to offer.
Gay Witch Hunt (Season 3, Episode 1)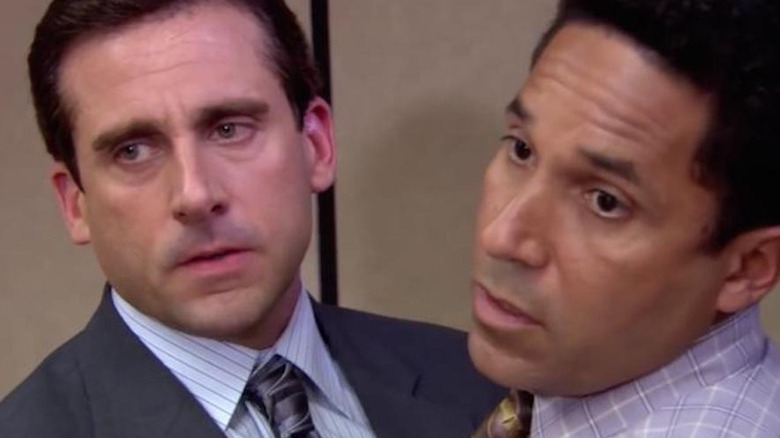 We already covered how uncomfortable it is to watch "Scott's Tots," but I'd like to nominate "Gay Witch Hunt" as the most difficult episode to sit through. That's not necessarily a bad thing, however, as the episode is a masterstroke in cringe comedy. The reason this episode in particular is such a difficult to watch is the way it perfectly understands the fear and discomfort of coming out in the workplace. As queer people, we all have that worry when starting in a new office that coworkers will reject our very existence, and that's something that's played to perfection by actor Oscar Nunez.
The Season 3 opener reveals some major changes to the show, primarily that Jim has transferred to the Stamford branch, which brings us some great new characters. "Gay Witch Hunt" properly kicks off with Toby warning Michael about a remark he made to Oscar, which he found offensive as Oscar is actually gay. What should have been just another day at work for Oscar quickly turns into a nightmare as a deeply uncomfortable and wildly funny office meeting results in Michael forcibly outing Oscar. In the most bewildering moment, Michael forces Oscar to kiss him to show everyone that he isn't homophobic. It's a fascinating look at Michael and his extraordinary ignorance. As Oscar says, "This has been the worst, most backwards day of my life," and while that's certainly true, it's all rather spectacular to watch unfold.
Golden Ticket (Season 5, Episode 19)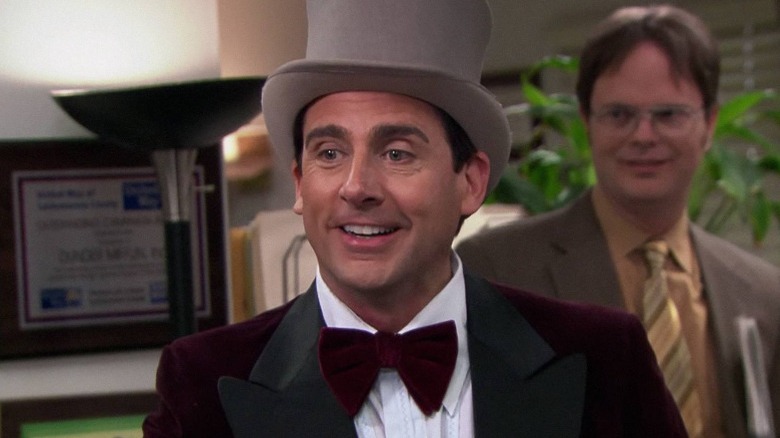 After a top-tier cold open involving knock-knock jokes and the KGB, Michael is keen to spice things up in the Scranton branch. He has a major new idea to drum up excitement: a golden ticket promotion, inspired by the classic Willy Wonka character. Ever one to commit to a bit, he shows up in a top hat and a velvet suit. The promotion has Michael placing five golden tickets in paper shipments, entitling the recipient to 10% off their order. Things go awry when the winning client receives all five tickets, entitling them to a whopping 50% off. The madness snowballs when the client is Blue Cross, one of the branch's biggest clients, resulting in potentially massive losses for the company.
Twist after twist happens, and Michael, assuming he's about to be fired for the massive financial loss, makes Dwight take the blame. In a hugely satisfying twist of fate, CEO David Wallace ends up loving the idea, and Dwight is celebrated. David even laughs at Dwight's "that's what she said" joke, driving Michael up the wall. "Golden Ticket" is a hilarious episode that adds layer after layer of chaos, and it all culminates beautifully, with a Michael line that perfectly summarizes his character's shamelessness. When it is finally revealed to David that it was actually Michael's idea, he says: "Well, David, I will be honest with you. I do want the credit, without any of the blame."
Garage Sale (Season 7, Episode 19)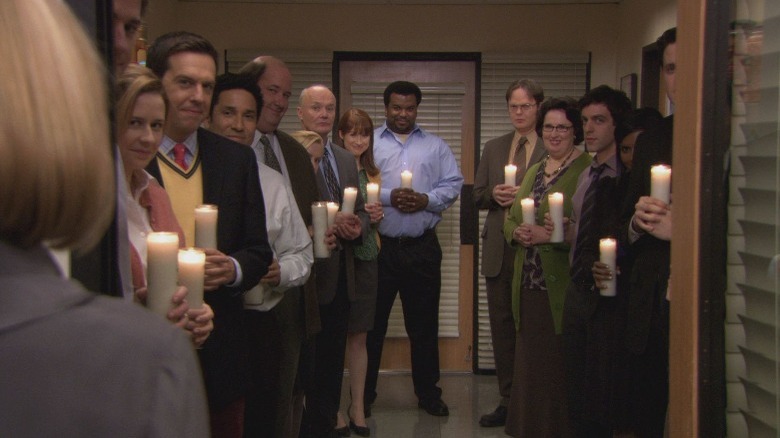 Love has never been easy for Michael. Between Donna, Carol, Jan, and Helene, he's never managed to find the one. He met Holly, but Holly had to go back to Nashua. From the moment they met, though, it seemed as if they were destined to be together. Thanks to Sabre CEO Jo Bennett (Kathy Bates), Michael and Holly were reunited, and their inevitable nuptials seemed like a foregone conclusion. That may be, but it doesn't make the fateful proposal any less stunning. While the majority of the episode centers around an actual company garage sale (Professor Copperfield's Miracle Legumes live rent-free in my mind), what really matters is Michael finally cementing the love of his life.
We've waited for what feels like an eternity for Michael to find the love that he's so desperately been longing for, and Holly is truly his perfect match. His proposal to Holly is exquisite and incorporates what means the most to him in the world — his coworkers. Holly and Michael walk through the hallway, lined with the employees of the Scranton branch, and candles cover the annex as Michael makes his heartfelt proposal. It's a sequence that I have never made it through without crying, and I never want to. It's a lovely scene that makes "Garage Sale" one of the very best episodes in the series.
Goodbye, Michael (Season 7, Episode 22)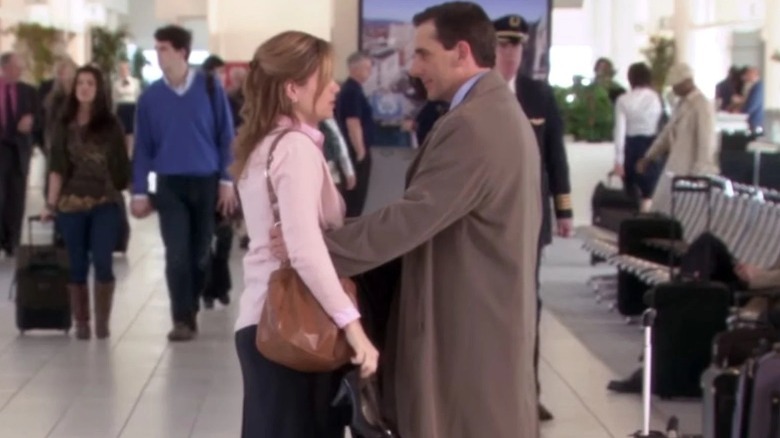 Saying farewell to your favorite characters is never easy. For seven years, Michael Scott had been the heart and soul of "The Office," with the majority of episodes centering around his exploits. It was a major shock to both fans and the employees of Dunder Mifflin when Michael announced his departure at the very end of "Garage Sale." There was a lot of pressure on everyone to nail the exit of the show's most important character, but thankfully, "Goodbye, Michael" is a smashing success. What's really impressive is the way the episode closes Michael's character arc. He's no longer a man needing to be the center of attention. Instead, he doesn't actually say goodbye to anyone, departing a day early without telling his employees. It speaks massively to how far Michael has come as a person, and it's simply beautiful to see.
It offers Michael a moment with each and every employee at Dunder Mifflin Scranton, and the results range from hilarious ("He has the lowest opinion of anybody," Michael says of Toby), to heartbreaking (I doubt there's any acting in the gut-wrenching goodbye between Michael and Jim). Best is his sweet and cathartic scene with Pam that closes out the episode, as their relationship has always been so essential to the show's existence. While the series may have never fully recovered from Steve Carell's departure, "Goodbye, Michael" marks the end of an era with tremendous heart.
Broke (Season 5, Episode 25)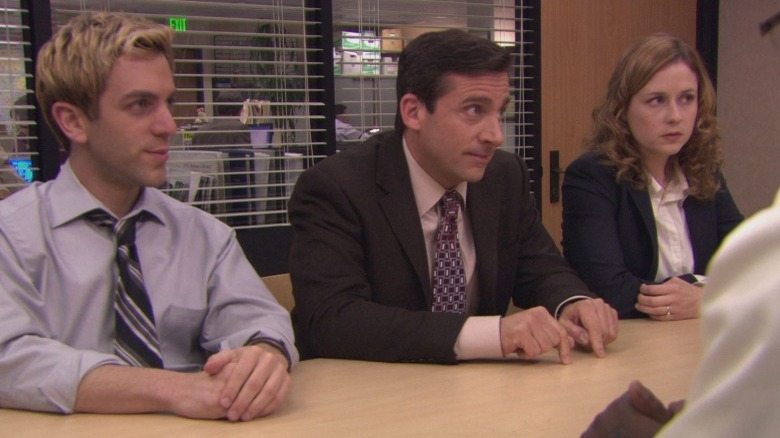 The longer a show goes on, the more necessary it becomes for the creatives to shake things up. "The Office" hit the goldmine with the ridiculous yet oddly-fitting multi-episode story arc of The Michael Scott Paper Company, which found Michael, along with Pam and Ryan, making their own paper company to rival Dunder Mifflin. Miraculously, Michael is pretty good at business, and his super low prices find Dunder Mifflin losing clients left and right. Or, perhaps he's not so great, as his company ends up completely broke. That's not info that the Scranton branch is privy to, however, so they make an offer to buy out Michael's company.
"Broke" is so wildly satisfying as it offers Michael a fantastic redeeming moment. After Dunder Mifflin has refused to take him seriously for years, Michael is in the driver's seat to get the respect and recognition he's been longing for after working for the company for 15 long years. It's so uniquely thrilling to see Michael become a hero instead of the lovable, bumbling fool he's been for so long. While episodes like "The Client" have shown Michael's prowess, "Broke" finally delivers every ounce of what makes Michael a great manager. He's supported with great performances by his paper company coworkers Pam and Ryan, and Jenna Fischer and B.J. Novak infuse the negotiations with delightfully nervous energy as they're genuinely terrified that Michael is going to ruin it all. But, gloriously, he doesn't.
Diversity Day (Season 1, Episode 2)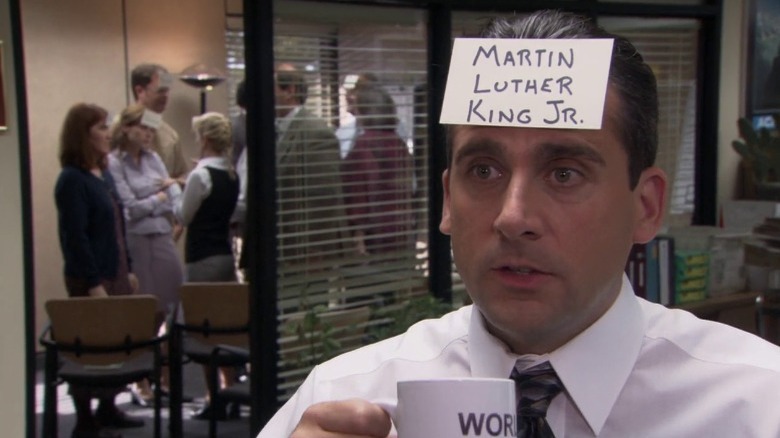 After a dull and unoriginal pilot, "The Office" revealed the kind of show it could be in its second-ever episode, "Diversity Day." A particularly egregious incident involving Michael Scott's Chris Rock impersonation leads to a consultant coming to deliver a seminar on the value of diversity. While the pilot feels like a hollow impersonation of the UK series that inspired it, "Diversity Day" is completely unique to the American version of the show. It tackles hot button issues of diversity and political correctness head-on, and it's full of great cast dynamics, proving that "The Office" could be so much more than a pale imitation of its British counterpart.
It's an episode of television that pushes the limits of what can and cannot be said, thanks to an edgy script from B.J. Novak. It's the kind of thing that almost certainly wouldn't be made today, according to guest star Larry Wilmore, as it takes joy in being politically incorrect. That's a real shame, as it's challenging, cringey, and altogether excellent TV. "Diversity Day" is a conversation starter that shows Michael to be the kind of guy who is deeply passionate about making the world a better place, but his ignorance ends up doing the exact opposite of what he sets out to do.
Niagara (Season 6, Episode 4-5)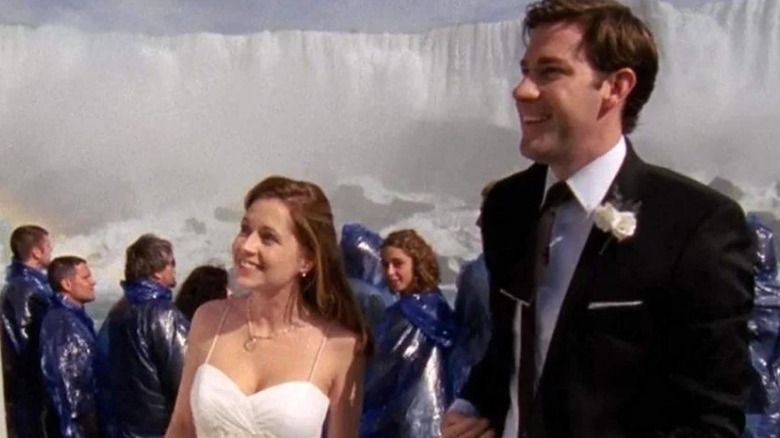 It's wedding time! It's taken six long years, but the marriage of Jim and Pam finally happened in season six, and it's a sensation. There are plenty of hijinks with the entire office traveling to Niagara Falls for Jim and Pam's wedding, including attempts to hide Pam's pregnancy, torn scrotums, and ripped veils. There's so much brilliance in practically every moment of "Niagara," written by Mindy Kaling and Greg Daniels, and directed by Paul Feig.
The dance down the aisle is such a tremendously special moment — which inspired an impromptu reunion of sorts during the pandemic — and every character has their own unique moves that match their personalities to a tee (Oscar voguing down the aisle has my vote for the best moves). The episode manages to take a viral trend and make it feel utterly timeless. 
Part of the exquisite dance montage also reveals where Jim and Pam went while everyone was waiting, showing their wedding vows and union aboard the Maid of the Mist next to Niagara Falls. Even though the dance wasn't what they expected, our beloved couple was still able to get married the way they wanted, on their own terms, and that's a beautiful thing that doesn't happen nearly enough. "Niagara" could have gone horribly wrong, but it stands as one of the great episodes of "The Office," and it's a perfect testament to Jim and Pam's undying love.
Finale (Season 9, Episode 24-25)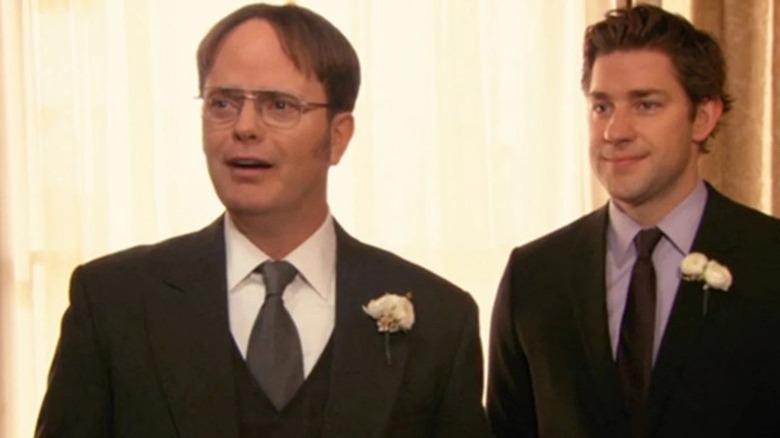 After nine wonderful seasons, "The Office" concluded with "Finale," which largely centers around the wedding of Dwight and Angela. It takes place one year after the previous episode "A.A.R.M.," where the wedding coincides with a panel discussion for the documentary. It's the perfect device to bring the entire cast back for a final hurrah, including a surprise appearance from Steve Carell. There are some extremely touching moments, such as Erin finally meeting her birth parents, and Pam and Jim finally preparing to make the move to Austin, leaving Dunder Mifflin behind for good. The episode, written by series creator Greg Daniels, ties up all the loose ends and gives all the warm fuzzy feelings you can pack into an hour of television. Pam gets the last line that offers the quintessential explanation of the show: "There's a lot of beauty in ordinary things. Isn't that kind of the point?"
While the series finale offers many satisfying conclusions, "The Office" has always been devoted to reflecting a (heightened) reality, and not everyone gets a happy ending. Toby, for instance, is as lonely as he's ever been, Meredith is still Meredith, Creed winds up behind bars, and Ryan and Kelly run off together, doomed to repeat their toxic on-and-off relationship ad nauseam. The show could have easily wrapped a pretty bow on everything, but by giving everyone a unique ending fitting to their characters, "Finale" is a satisfying and fulfilling conclusion to an exquisite nine-season run.
Stress Relief (Season 5, Episode 14-15)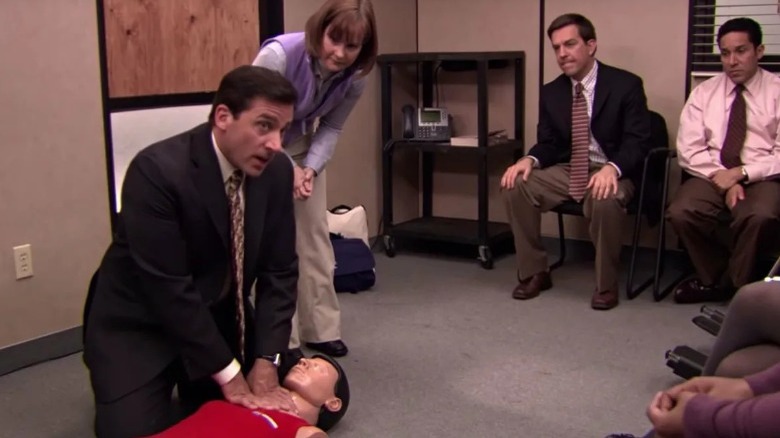 In "Stress Relief," the most-watched episode of the series, Dwight decides to create an extremely realistic fire drill to get the Scranton branch up-to-date on fire safety, which goes horribly (and fantastically) awry, leading to the most chaotic opening in the series history, ending in Stanley having a heart attack. In the aftermath, Michael tries to make the office environment less stressful, but soon discovers that he himself is the source of many people's stress. So, he comes up with the Roast of Michael Scott.
Before that comes, we see what may be beat-for-beat the single funniest scene the show has ever done: CPR training. It's deranged, absurd, and totally unpredictable. Michael does compressions to the tune of "Staying Alive," which leads to Andy singing, and the camera zooms out to ingeniously reveal Kelly getting up to dance along. Since everyone gets distracted, the CPR instructor says they've failed and the dummy has died. Things don't end there, as Dwight cuts the face off the dummy and places it on his own, making noises to replicate the one and only Hannibal Lecter.
If you can believe it, the episode gets even better, when the Michael Scott roast takes full swing. His employees take immense pleasure in tearing him a new one. Michael is devastated, but returns after a long absence with some delightful roasts of his own, which manages to heal the tense atmosphere of the Scranton branch.
Dinner Party (Season 4, Episode 13)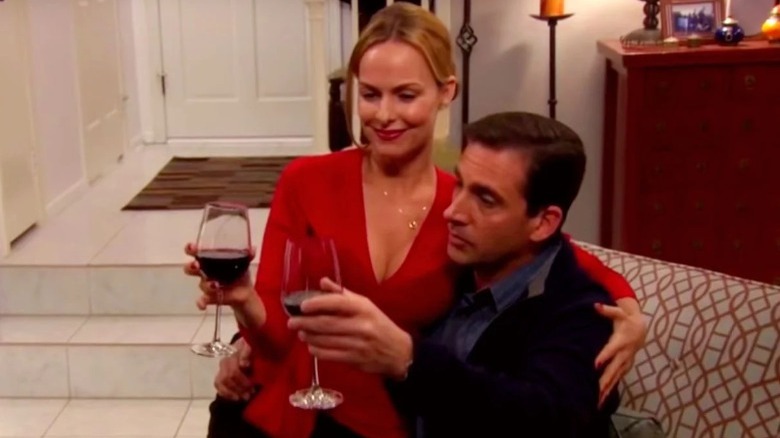 It's the dinner party Michael's been trying to organize for years, and he's finally done it: Jim and Pam (and Andy and Angela, along with Dwight and his former babysitter) are coming over for dinner. Season 4 has played around with the increasing fragility and toxicity of Jan and Michael's relationship, but "Dinner Party" lays it all bare, including Jan's candlemaking business, a video camera set-up in their bedroom, and Michael's Dundie Awards relegated to a low shelf. This is my pick for the funniest episode of the show, and Michael putting his tiny plasma tv against the wall is a comedic revelation.
The idea of perfection gets thrown around haphazardly these days, and it's easy to drop into hyperbole. With that said, allow me to say: "Dinner Party" is perfect. There's not a wasted moment nor a purposeless line. Everything is delivered to such an extraordinary degree, and each and every rewatch of "Dinner Party" reveals new details. Whether it's a chaotic game of charades, a heated discussion about having kids ("Snip Snap Snip Snap Snip Snap!"), or listening to music by Jan's former assistant, this is an unforgettable episode of television. It's a sensationally paced episode that shows exactly what makes "The Office" such an enduring classic — intriguing relationship dynamics, richly developed characters, and some of the funniest cringe comedy the world has ever seen.
Read this next: The 15 Best Anthology TV Series Ranked
The post The 30 Best Episodes Of The Office, Ranked appeared first on /Film.