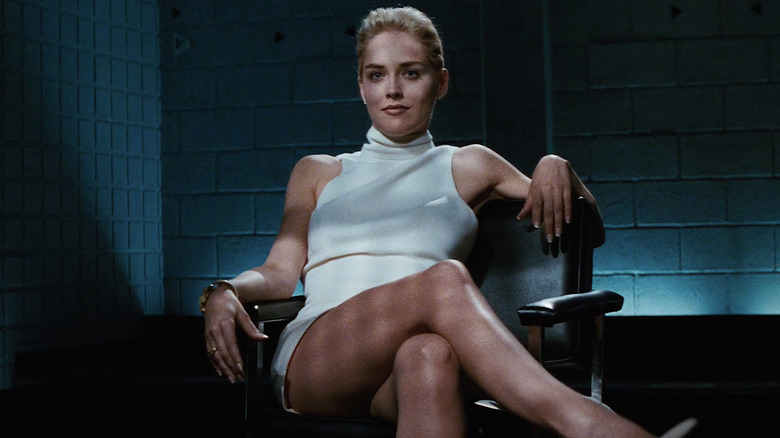 The "thriller" is not really a genre unto itself. There are action thrillers, erotic thrillers, supernatural thrillers, and even more drama-oriented thrillers with deeper character development. Still, there are some common threads that tie them all together. First and foremost, thrillers are plot-driven films with strong elements of suspense. They usually have shades of film noir (if they're not straight-up noirs themselves) and are often violent, but crucially also contain mysteries and surprising twists that keep you hooked from beginning to end. 
Alfred Hitchcock was considered the "master of suspense," but that's because he was almost exclusively making thrillers, be they spy thrillers like "North by Northwest," horror thrillers like "Psycho, " or psychological thrillers like "Vertigo." More modern directors like Brian De Palma, Martin Scorsese, Bong Joon-ho, and David Fincher are all working in Hitchcock's long shadow. These filmmakers make thrillers full of sex and violence and intrigue, but almost always in service of the plot. Ultimately, the thriller is the super-genre that subsumes other sub-genres and best taps into the foundational appeal of all storytelling: our primordial need to know what happens next.
American Psycho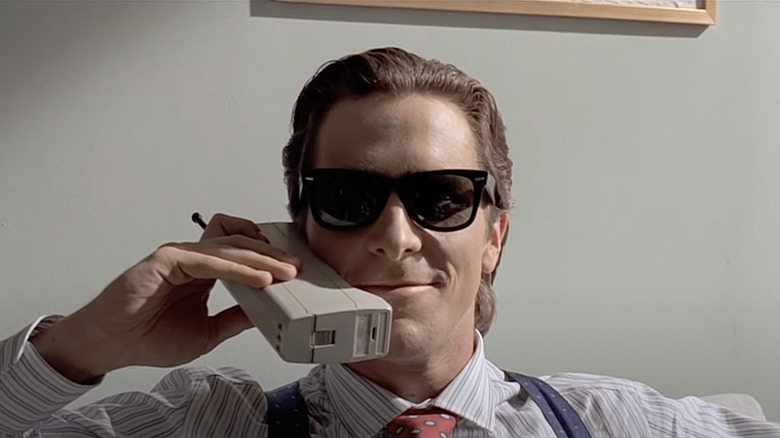 In "American Psycho," Christian Bale plays serial killer Patrick Bateman, his major breakout role. Adapted from a cutting satire of 1980s Wall Street culture by novelist Bret Easton Ellis, Bateman is a Manhattan yuppie by day and a sadistic killer by night. He craves two things: fitting in with his fellow New York elite, and the thrill of killing. His day-to-day life revolves around a very elaborate skincare routine, making reservations at all the right restaurants, and random acts of horrifying violence. But as his crimes escalate and a private detective (Willem Dafoe) starts asking tough questions, Bateman's fragile mask of sanity begins to slip.
• Starring: Christian Bale, Chloë Sevigny, Reese Witherspoon
• Director: Mary Harron
• Year: 2000
• Runtime: 102 minutes
• Rating: R
• Rotten Tomatoes Score: 69%
Animal Kingdom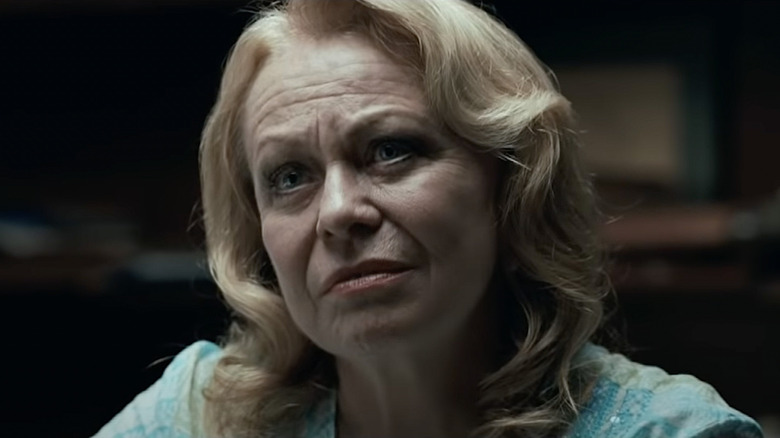 If you grew up in a toxic household, the family dynamic in "Animal Kingdom" could either be triggering or a great relief. In the film, we see the Cody family through the eyes of young Joshua, who is taken in by his grandmother Janine after his mother overdoses. However, the diabolical Janine lords over her little nuclear crime family with sickening Freudian machinations. This scheming matriarch uses her children as murderous pawns, and as she brings Joshua into the fold, a cop named Leckie (Guy Pearce) may be his only hope. This phenomenal and disturbing Australian thriller is the reason why Ben Mendelsohn showed up as a scheming low life in every Hollywood crime noir made in the decade that followed.
• Starring: Ben Mendelsohn, Jacki Weaver, Guy Pearce
• Director: David Michôd
• Year: 2010
• Runtime: 113 minutes
• Rating: R
• Rotten Tomatoes Score: 94%
Basic Instinct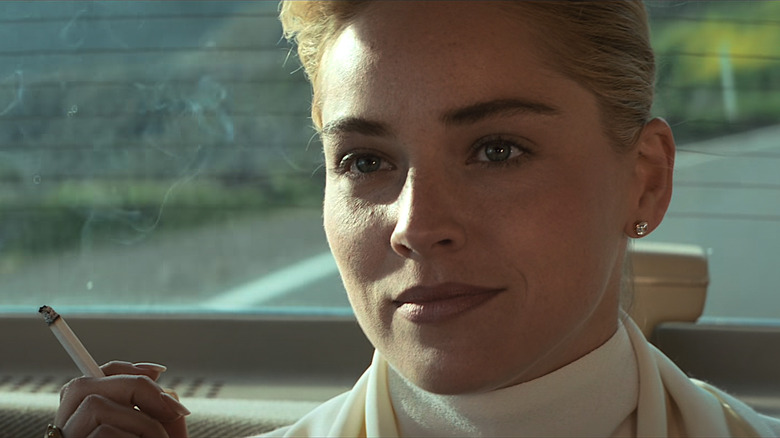 Sharon Stone is one of cinema's greatest femme fatales, and she sizzles in "Basic Instinct" as the seductive mystery novelist Catherine Tramell, whose rockstar lover is murdered with an ice pick, just like in one of her books. Is this a confession or an alibi? San Francisco homicide cop Nick Curran (Michael Douglas) catches the case and then feelings for Catherine, too. But there's a thin line between sex and murder, and as Catherine toys with Nick, bodies pile up. Screenwriter Joe Eszterhas' "Basic Instinct" script was written in 13 days and sold for a record $3 million. Director Paul Verhoeven then turned it into a modern-era Alfred Hitchcock-style neo-noir with way more sex and violence.
• Starring: Sharon Stone, Michael Douglas, George Dzundza
• Director: Paul Verhoeven
• Year: 1992
• Runtime: 128 minutes
• Rating: R
• Rotten Tomatoes Score: 56%
The Big Heat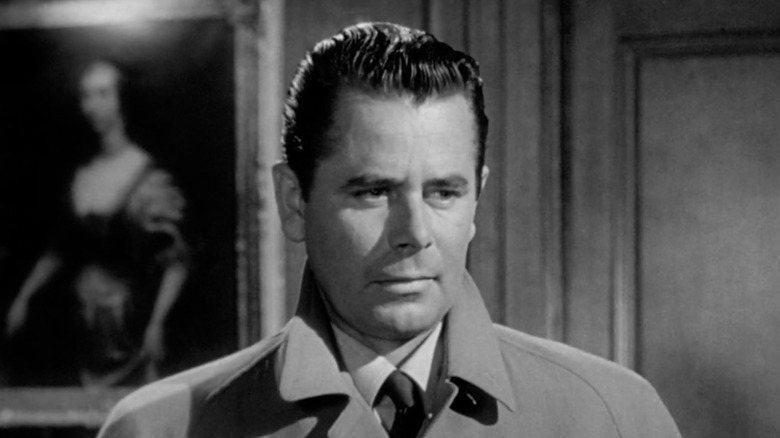 When detective Dave Bannion (Glenn Ford) starts investigating the supposed suicide of a fellow cop, the officer's mobbed-up mistress points to a larger story. When she dies too, Bannion uncovers a web of corruption stretching back to his own cop shop and beyond. Soon, Bannion and his family are in danger from a pair of brutal gangsters. The early expressionist works of Fritz Lang inspired the visual style of American film noirs, so it's only fair that the director himself got in on the action too. Naturally, he's more than up to the dark task.
• Starring: Glenn Ford, Gloria Grahame, Jocelyn Brando
• Director: Fritz Lang
• Year: 1953
• Runtime: 90 minutes
• Rating: NR
• Rotten Tomatoes Score: 100%
The Big Sleep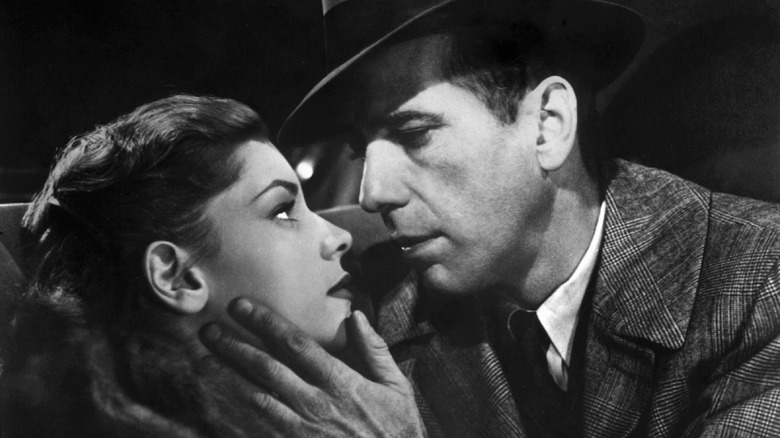 Humphrey Bogart plays private eye Phillip Marlowe in this classic Howard Hawks adaptation of the hard-boiled Raymond Chandler novel. Marlowe is hired to help a young woman resolve a debt, but is soon pulled into a mystery plot so complex that when Hawks called Chandler from the set for help keeping things straight, the author couldn't provide the answers. Whether or not the film makes sense remains an open debate, so there's a genuine challenge as you watch Bogey's fast-talking tough guy puzzle through the clues. This is also Bogart's second collaboration with Lauren Bacall. The two wed three months after filming, and their chemistry is red hot, even in black and white.
• Starring: Humphrey Bogart, Lauren Bacall, Martha Vickers
• Director: Howard Hawks
• Year: 1946
• Runtime: 116 minutes
• Rating: NR
• Rotten Tomatoes Score: 97%
Black Swan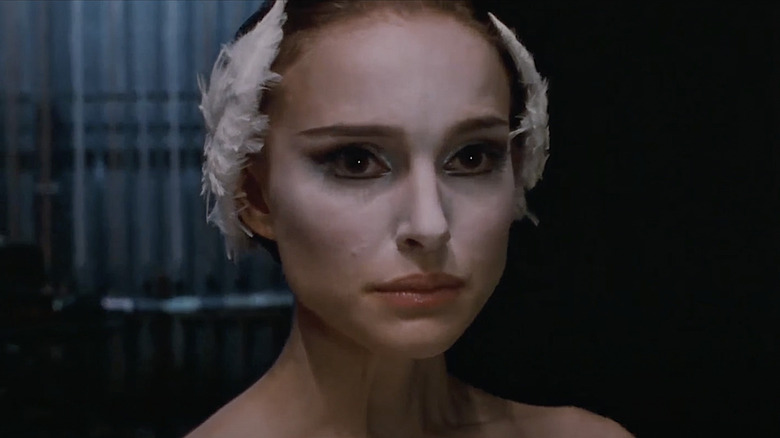 "Black Swan" writer-director Darren Aronofsky is the great master of the mind-bending modern psychological thriller genre. In an Oscar-winning turn, Natalie Portman plays Nina Sayers, a gifted ballerina vying for the lead in her company's production of "Swan Lake." Nina lives with her overbearing stage mother in a tiny womb of an apartment, her life wholly dedicated to dance. But when she becomes the latest fetish object for the ballet's egotistical director (Vincent Cassel) and starts a psycho-sexual romance with a rebellious fellow dancer (Mila Kunis), the balancing act between her physically grueling career and life of unfulfilled desire begins tearing her apart.
• Starring: Natalie Portman, Mila Kunis, Vincent Cassel
• Director: Darren Aronofsky
• Year: 2010
• Runtime: 108 minutes
• Rating: R
• Rotten Tomatoes Score: 85%
Blood Simple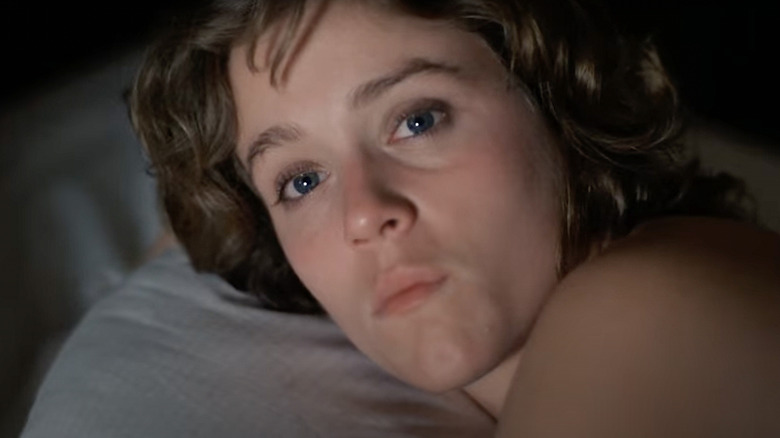 "Blood Simple" is the darkly comic feature debut of the greatest filmmaking duo of the modern era, writer-director siblings Joel and Ethan Coen. In it, small town bar owner Julian hires a private eye to kill his cheating wife, Abby, and her lover, Ray, but the P.I. decides to take the money and just kill Julian instead. When Ray discovers the body, he thinks Abby killed Julian and sloppily tries to cover up the crime. A classic Coen black comedy of bloody errors ensues, all handled with a stylish tongue-in-cheek. The Coens love crime stories about regular people doing wrong, and their first feature feels like a mashup of their masterworks "Fargo" and "No Country for Old Men." Revisit this fantastic film. You won't be sorry.
• Starring: John Getz, Frances McDormand, M. Emmet Walsh
• Director: Joel Coen
• Year: 1984
• Runtime: 96 minutes
• Rating: R
• Rotten Tomatoes Score: 93%
Blue Velvet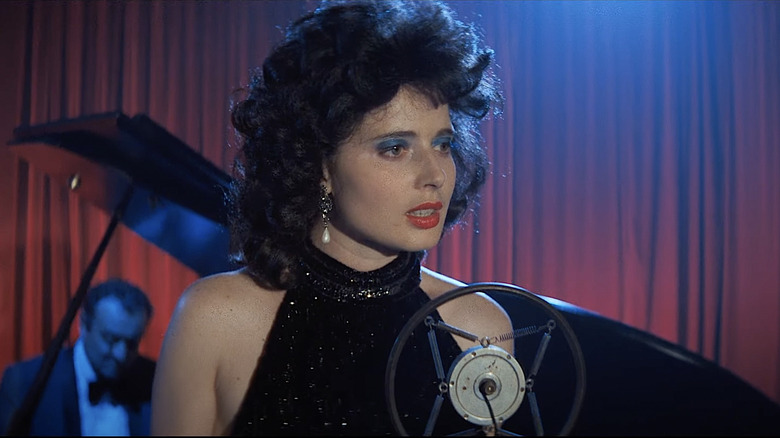 David Lynch's films are not for the squeamish. Everything the writer-director does takes a psychedelic sledgehammer to established filmmaking conventions. Here, his deconstructionist approach to the thriller genre starts with a simple thread: Jeffrey Beaumont (Kyle MacLachlan) comes home from college after his father has a stroke, but during his walk home from the hospital finds a human ear. Jeffrey links up with a local detective's daughter (Isabella Rossellini) to solve the mystery, but that leads him to an encounter with a depraved sexual sadist (Dennis Hopper). Beware that this film is simultaneously satirical yet realistic and grim in its depictions of violence, an odd combination that is both hypnotic and unsettling.
• Starring: Kyle MacLachlan, Isabella Rossellini, Dennis Hopper
• Director: David Lynch
• Year: 1986
• Runtime: 120 minutes
• Rating: R
• Rotten Tomatoes Score: 94%
Le Boucher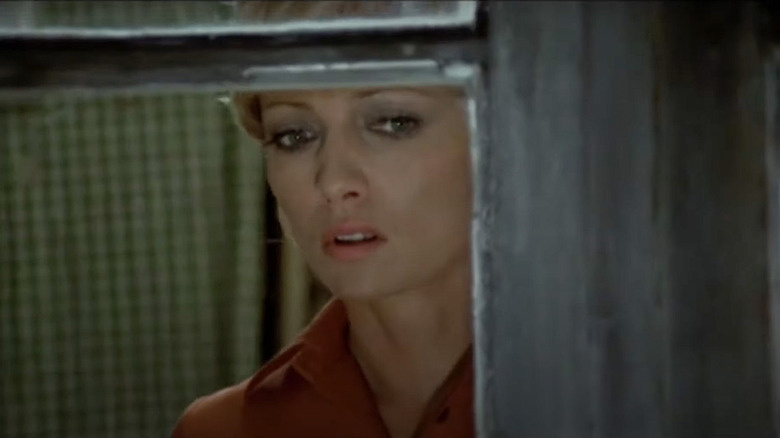 "Le Boucher" is set in a small French village and follows a troubled butcher, Popaul (Jean Yanne), who is traumatized from his war service. He falls for a young teacher Hélène (Stéphane Audran), and the two go on a series of dates, but she declines to make the relationship intimate. When a string of mutilated human bodies is discovered, Hélène finds possible evidence connecting Popaul to the crimes, but wants to investigate herself before she goes to the police. If the pretentiousness and cheap production values of mid-century French films have annoyed you in the past, don't worry; "Le Butcher" is a cut above the rest. 
• Starring: Stéphane Audran, Jean Yanne, Roger Rudel
• Director: Claude Chabrol
• Year: 1970
• Runtime: 93 minutes
• Rating: PG-13
• Rotten Tomatoes Score: 100%
The Bourne Identity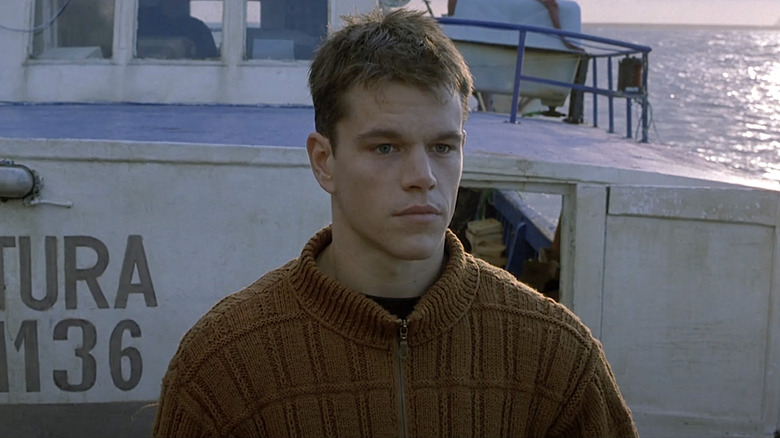 "The Bourne Identity" isn't just a brilliant action movie. Thanks to the excellent mystery plot, it's also a taut thriller. In it, Matt Damon plays an amnesiac who wakes up on a fishing boat with no memory of who he is. When this wayward loner suddenly realizes he has a sophisticated set of spy skills, the apparent super-soldier must outwit and outfight a slew of assassins sent to stop him from uncovering his real identity. Meanwhile, this forgetful hero must decide anew what kind of man he will become. The two immediate sequels by shaky-cam auteur Paul Greengrass are also gripping, but the original best exemplifies the violence, mystery, and suspense of the thriller genre.
• Starring: Matt Damon, Franka Potente, Chris Cooper
• Director: Doug Liman
• Year: 2002
• Runtime: 119 minutes
• Rating: R
• Rotten Tomatoes Score: 84%
Cape Fear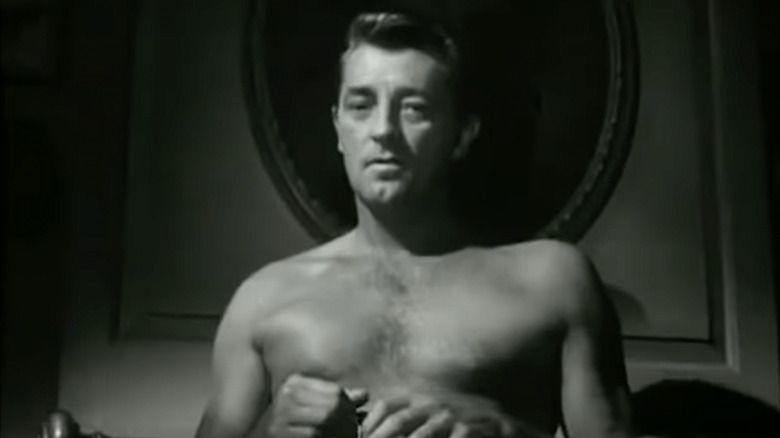 John D. MacDonald's 1957 novel "The Executioners" has the rare distinction of being adapted into two fantastic films. Martin Scorsese's 1991 effort, which stars Robert De Niro, was dismissed by critics as violent trash (which is exactly why it's so good), but remains an underrated and stylish homage to Alfred Hitchcock. However, the original 1962 black and white adaptation starring Robert Mitchum remains the best version, contemporaneously imitating Hitchcock's style. Like De Niro, Mitchum has the ability to be simultaneously charming and terrifying. He leans into his unsettling charisma as Max Cady, a convicted rapist released from prison who begins terrorizing the family of the lawyer (Gregory Peck) who sent him away. 
• Starring: Gregory Peck, Robert Mitchum, Polly Bergen
• Director: J. Lee Thompson
• Year: 1962
• Runtime: 106 minutes
• Rating: NR
• Rotten Tomatoes Score: 96%
To Catch A Thief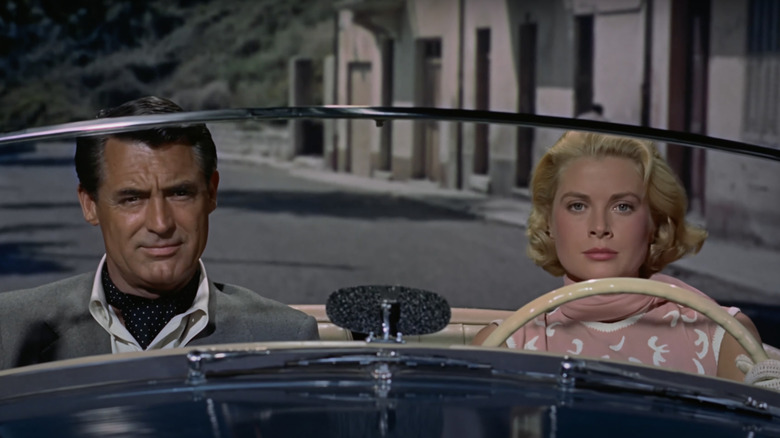 In "To Catch a Thief," Cary Grant plays John Robie, a retired cat burglar living well on the French Riviera who is forced back into action by a crook who's imitating his modus operandi. John begins following a wealthy young woman Frances (Grace Kelly) to see if this new thief strikes, and although the two fall for each other, Frances suspects that John was running a con when her valuables go missing. So, the former crook must track down the real culprit to prove his innocence and win back his girl. Orson Welles famously slammed Hitchcock's later films, calling them lazy, popular trifles that were "all lit like television shows." Hitchcock himself, however, showed no remorse for churning out a string of entertaining, acclaimed, and lucrative thrillers.
• Starring: Cary Grant, Grace Kelly, Jessie Royce Landis
• Director: Alfred Hitchcock
• Year: 1955
• Runtime: 106 minutes
• Rating: PG
• Rotten Tomatoes Score: 94%
Chinatown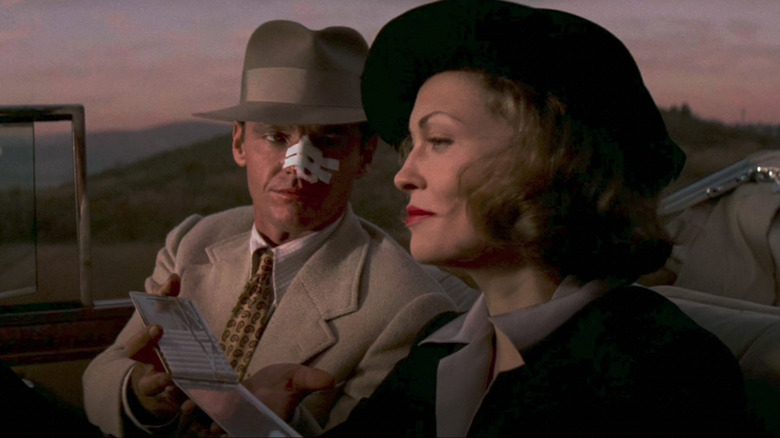 Some of the best thrillers are also film noir detective stories, and "Chinatown" might be the pinnacle of this intersection of genres. Jack Nicholson plays private eye J.J. "Jake" Gittes, who is hired by a predictably untrustworthy femme fatale to spy on her husband. When this suspicious woman turns out to not be the man's wife at all and the husband dies under strange circumstances, Jake is lured into a tangled web of corruption that goes right down to the literal foundations of Los Angeles. The mystery is rooted in all the oldest motivations for murder — love, sex, money, and power — and keeps you guessing until the horrifying answers are revealed.
• Starring: Jack Nicholson, Faye Dunaway, John Huston
• Director: Roman Polanski
• Year: 1974
• Runtime: 131 minutes
• Rating: R
• Rotten Tomatoes Score: 99%
Collateral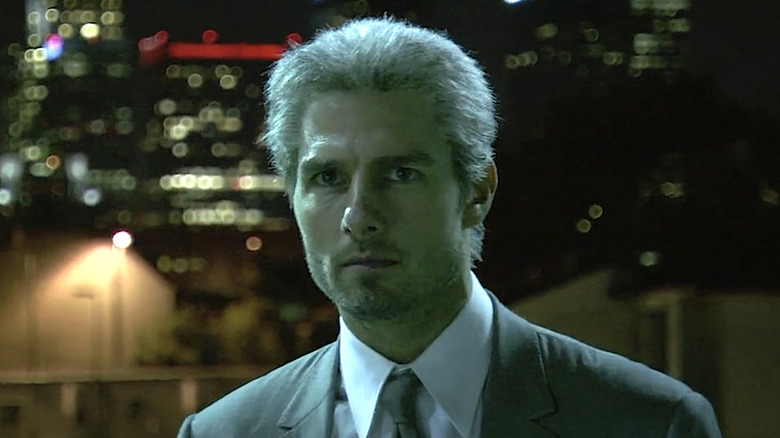 Michael Mann made the greatest crime film of all time with "Heat" in 1995, and then used his stylish neo noir instincts for this more psychologically twisted crime thriller in 2004. A silver-haired Tom Cruise plays brilliantly against type as Vincent, a cold-blooded hitman who strikes suddenly, and with an utterly detached professionalism. Vincent has come to Los Angeles to execute a contract, and forces cab driver Max (Jamie Foxx) to escort him around the city of angels while he does his devilish work. But when Max realizes that Vincent's next target is a woman he'd asked out on a date earlier in the night (Jada Pinkett Smith), this ordinary working man must overcome Vincent's mind games and make a heroic stand.
• Starring: Tom Cruise, Jamie Foxx, Jada Pinkett Smith
• Director: Michael Mann
• Year: 2004
• Runtime: 120 minutes
• Rating: R
• Rotten Tomatoes Score: 86%
The Conversation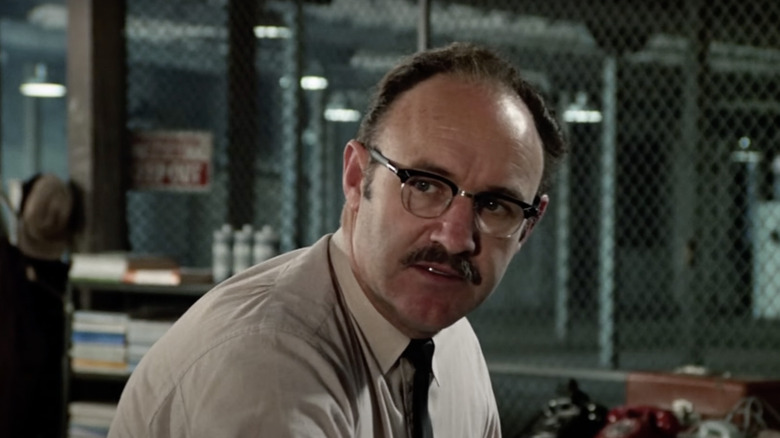 "The Godfather" and "Apocalypse Now" director Francis Ford Coppola makes two kinds of films: all-time masterpieces, and small, niche films dedicated to his fixations. "The Conversation" is the latter type, a thoughtful and methodical Watergate-era paranoia thriller. Gene Hackman plays surveillance expert Harry Caul, who is hired by a mysterious client (Harrison Ford) to spy on a young couple. When Harry makes an audio recording of a cryptic conversation that recalls a job that went badly, he becomes convinced that they've all been swept up in a larger conspiracy. Caution: This is not an action-packed spy movie, but rather a subtle psychological thriller that thrives on ambiguity. "The Conversation" wants you to think about its themes more than its plot. 
• Starring: Gene Hackman, Harrison Ford, John Cazale
• Director: Francis Ford Coppola
• Year: 1974
• Runtime: 113 minutes
• Rating: PG
• Rotten Tomatoes Score: 97%
Dead Calm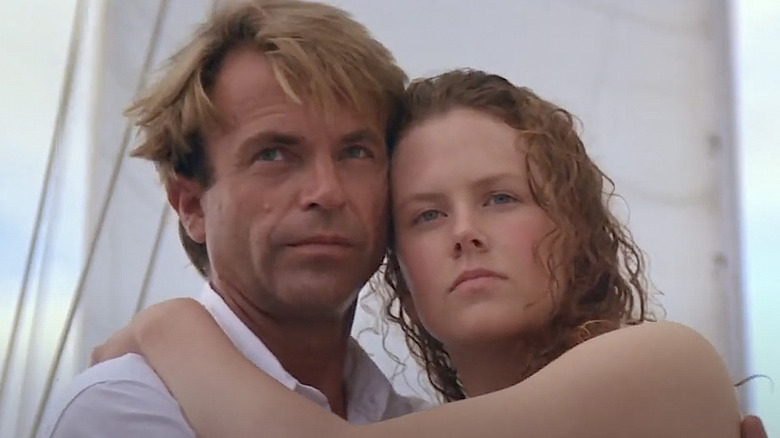 Fun fact: "Dead Calm" was adapted and left unfinished by Orson Welles in the 1970s. It wasn't until 1989 that Charles Williams' 1963 novel finally came to the big screen, with Nicole Kidman and Sam Neil playing Rae and John Ingram, a couple grieving the loss of their child. They set sail on their yacht to reconnect, but soon spot a sinking schooner with a sole survivor, Hughie (Billy Zane), who says his whole crew died of food poisoning. Odd story, and when John investigates, Hughie abducts Rae and sails away, leaving John on the sinking ship. This well-acted thriller has loads of tension as the ordinary couple struggles on the high-seas to survive a serial killer.
• Starring: Sam Neill, Nicole Kidman, Billy Zane
• Director: Phillip Noyce
• Year: 1989
• Runtime: 95 minutes
• Rating: R
• Rotten Tomatoes Score: 83%
The Departed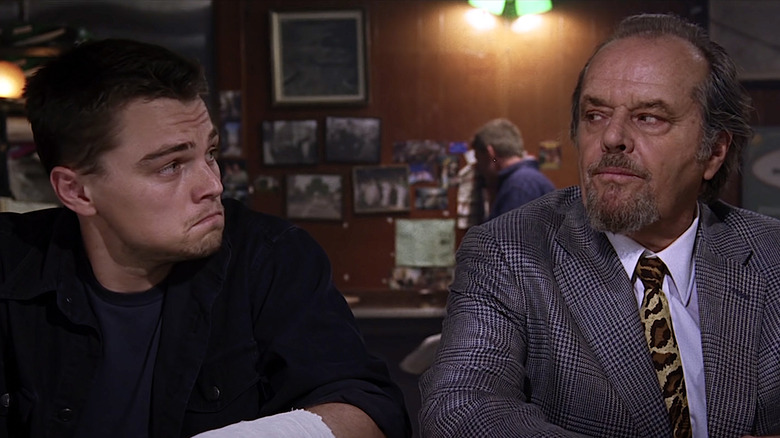 Not all gangster films have the structure of a good thriller, but Martin Scorsese's detour from New York-based mob sagas to the world of Boston's organized crime does. Jack Nicholson is at his sinister best here, playing Frank Costello, a larger-than-life version of the notorious real-life gangster Whitey Bulger. Frank plants a mole in the Boston Police Department (Matt Damon), but the cops have one (Leonardo DiCaprio) in Frank's crew, too. As such, "The Departed" has double the thriller suspense quotient, as these two talented spies work at cross purposes in an exciting and violent game of cat and mouse, each hoping to expose the other and save themselves.
• Starring: Leonardo DiCaprio, Matt Damon, Jack Nicholson
• Director: Martin Scorsese
• Year: 2001
• Runtime: 151 minutes
• Rating: R
• Rotten Tomatoes Score: 90%
Deliverance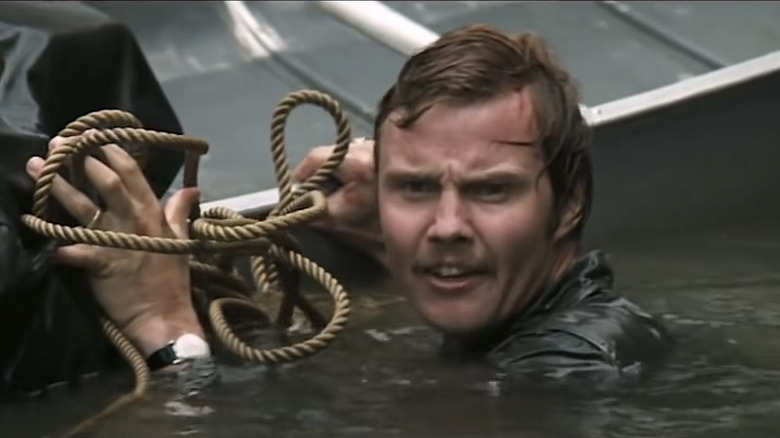 "Deliverance" follows four city slickers who set out for a long weekend of woodland bromance in the wilds of rural Georgia. Immediately, there's an eerie atmosphere as they meet an increasingly sinister cast of odd-looking locals. When the foursome is abruptly ambushed by a howling and relentless "redneck" and nearly killed, the casual canoeing trip turns into a frantic race for survival down the rocky rapids. 
Films of this era, like "Easy Rider" and "Deliverance," can be read as cruel caricatures of poor rural whites – here, they're literally inbred sadists. However, as a standalone film, "Deliverance" is also an expertly executed thriller and a survival movie classic.
• Starring: Jon Voight, Burt Reynolds, Ned Beatty
• Director: John Boorman
• Year: 1972
• Runtime: 109 minutes
• Rating: R
• Rotten Tomatoes Score: 89%
Donnie Darko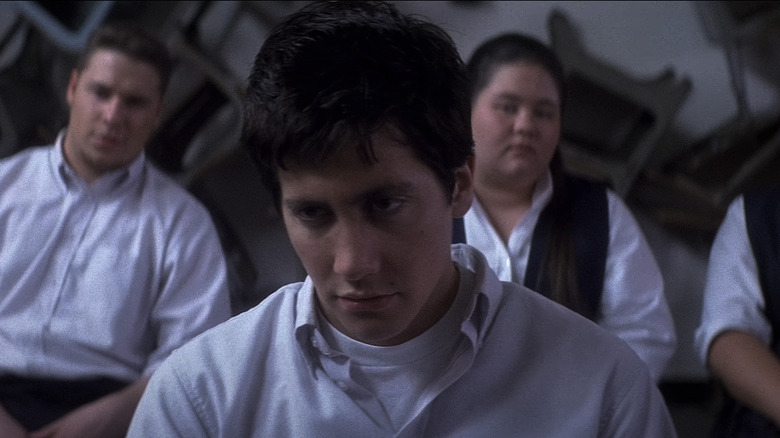 "Donnie Darko" is the visionary fever dream of writer-director Richard Kelly, who was only 25 when the film was produced. Its heady blend of sci-fi, philosophy, 1980s-era satire, and genuine character connectivity makes this easily the most precocious film ever made, aside from "Citizen Kane." 
Jake Gyllenhaal plays the titular troubled teen, Donnie, who begins having visions of the future. It's not clear if this gifted youth is schizophrenic (as his family believes) or has genuinely found a hole in space-time. Either way, what follows is a mediation on fate, family, and the stifling conservatism of late 20th century suburban Virginia, which Kelly knew well from growing up in Virginia himself. This is a moody, hypnotic, wholly original work of genuine genius.
• Starring: Jake Gyllenhaal, Jena Malone, Drew Barrymore
• Director: Richard Kelly
• Year: 2001
• Runtime: 113 minutes
• Rating: R
• Rotten Tomatoes Score: 86%
Les Diaboliques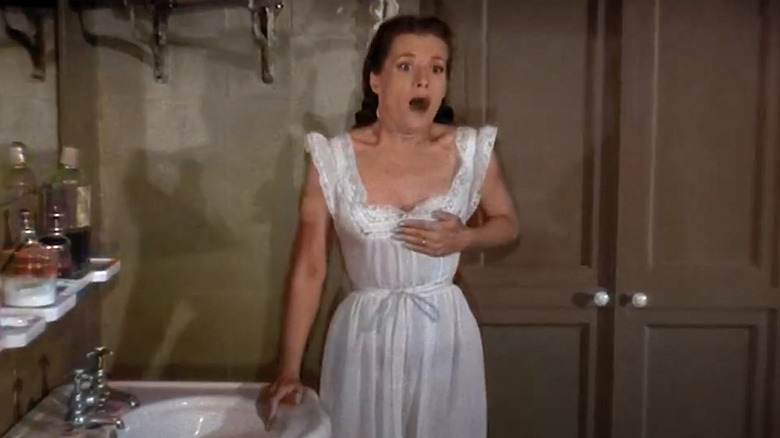 In "Les Diaboliques," cruel headmaster Michel Delassalle runs a boarding school with his wife, Christina, but he's also having an affair with a teacher, Nicole. However, both women hate him. So, Christina and Nicole lure Michel to a meeting, where they drug him, drown him in a bathtub, and then leave his body in a pool so it will appear the death was accidental. And yet, when the pool is drained, Michel is gone and the women are haunted by strange apparitions of this murdered man. This excellent French psychological thriller is anchored by a gripping central mystery: Is the ghost real? French films of this era are known for arty excess, but this taut plot will leave you spooked.
• Starring: Véra Clouzot, Simone Signoret, Paul Meurisse
• Director: Henri Georges Clouzot
• Year: 1955
• Runtime: 107 minutes
• Rating: NR
• Rotten Tomatoes Score: 96%
Double Indemnity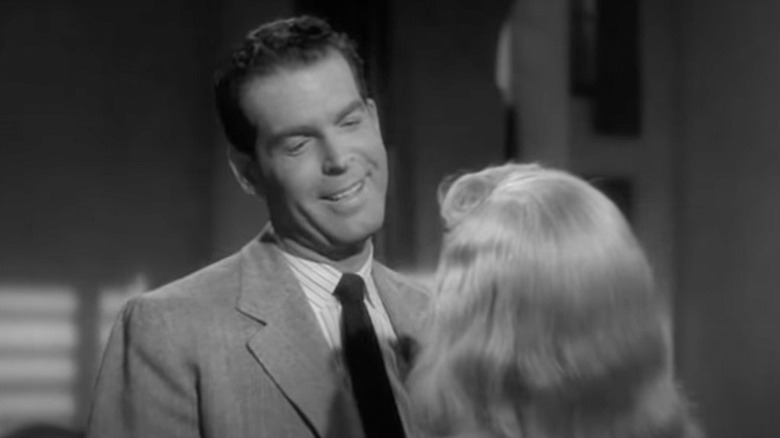 This Billy Wilder-directed noir thriller from 1944 is so good that it's still taught in film schools all these decades later. Fred MacMurray plays an insurance salesman infatuated with a femme fatale (Barbara Stanwyck) who wants to kill her husband to cash in on his death. MacMurray's character helps her out, and that's when an investigator (Edward G. Robinson) begins taking a closer look. 
The script for "Double Indemnity" was originally axed by Hayes code censors in the 1930s, but that might've been for the best. Famed noir novelist Raymond Chandler punched it up a decade later, and the final product was ahead of its time in its portrayal of a toxic romance in which each party enables the other. A double indemnity is a kind of insurance policy, yes, but it also means "it takes two."
• Starring: Fred MacMurray, Barbara Stanwyck, Edward G. Robinson
• Director: Billy Wilder
• Year: 1944
• Runtime: 107 minutes
• Rating: PG
• Rotten Tomatoes Score: 97%
Dressed To Kill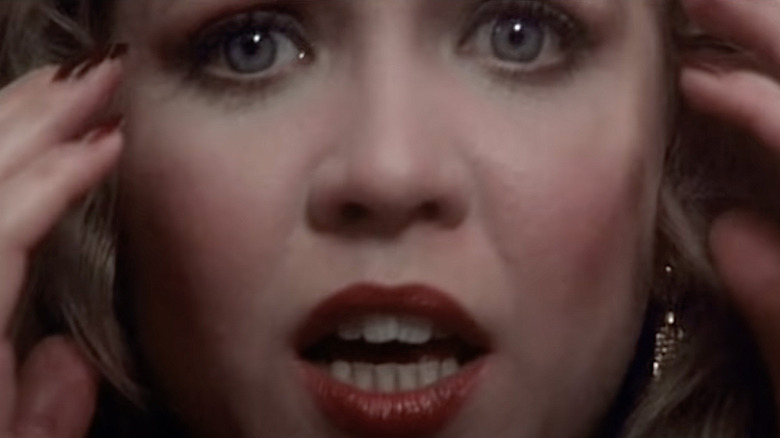 "Dressed to Kill" is outrageous and absurd. Director Brian De Palma has been dismissed as an Alfred Hitchcock imitator, but according to his biggest admirer, Quentin Tarantino, that's exactly what makes him so cool. 
Case in point: Before De Palma matured with his masterpiece "Carlito's Way," he made "Dressed to Kill," a campy mashup of "Psycho" and "Vertigo." Kate Miller is unhappily married. She steps out on her husband, and is brutally murdered. Liz Blake (Nancy Allen) witnesses the crime, becomes a suspect, and looks to Kate's creepy psychiatrist (Michael Kane) for answers. De Palma shoots all the sex and murder that wasn't allowed during Hitchcock's era, but for cinephiles the real turn-on is decoding this homage to the master of suspense. 
• Starring: Michael Caine, Angie Dickinson, Nancy Allen
• Director: Brian De Palma
• Year: 1980
• Runtime: 104 minutes
• Rating: R
• Rotten Tomatoes Score: 79%
Drive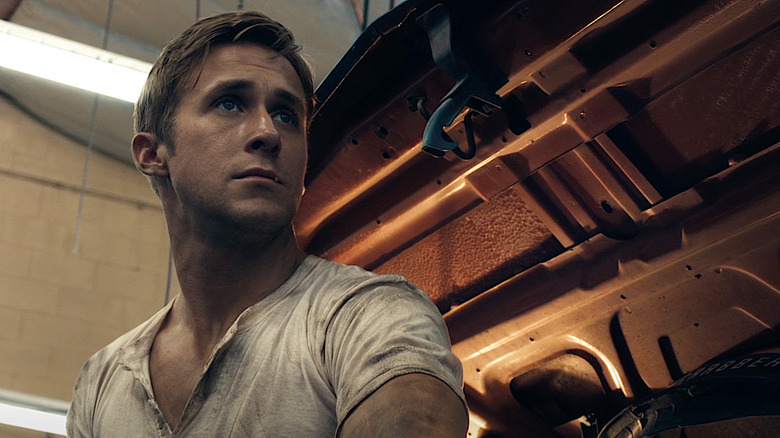 In this Nicolas Winding Refn film, Ryan Gosling plays "Driver," a laconic Hollywood stuntman by day and heist wheelman by night. When he falls for the single mom who lives next door (Carey Mulligan) in a romance made up entirely of moody encounters and stoic glances, he agrees to help her ex-con husband get out from under his mob debts, pulling him into the world of a vicious gangster (Albert Brooks). Our unnamed hero then proves truly selfless, embarking on a grizzly rampage to free the woman he loves from danger. 
This 2011 "neon" noir will enchant you with its glowing colors and a hypnotizing retro soundtrack that turns the bloody plot into a surreal fantasy. "Drive" is pure cinematic ecstasy, and easily the best crime film of the decade.
• Starring: Ryan Gosling, Carey Mulligan, Oscar Isaac
• Director: Nicolas Winding Refn
• Year: 2011
• Runtime: 100 minutes
• Rating: R
• Rotten Tomatoes Score: 93%
Ex Machina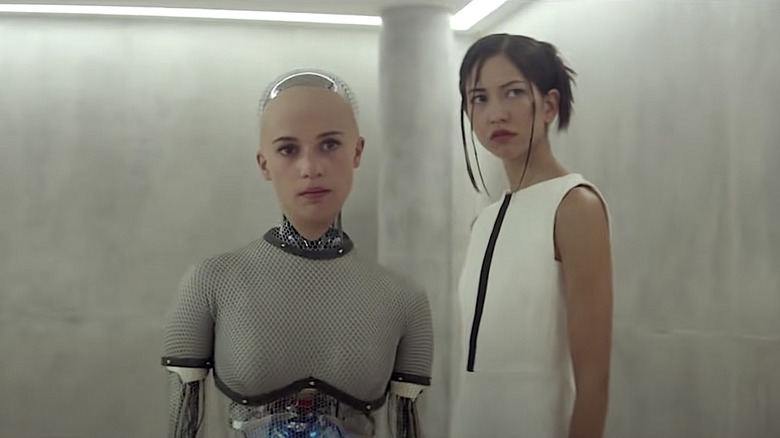 Many of the smartest people in the world are working on artificial intelligence. Half of them are trying to make it a reality, and the other half are sounding the alarm about its inherent dangers. "Ex Machina" is part of the latter movement. Caleb (Domhnall Gleeson) is a programmer who goes to stay with his company's visionary founder, Nathan (Oscar Issac), and discovers that he's living with a lifelike android. Caleb's job is to see if this beautiful machine, Ava (Alicia Vikander), can persuade him that she's sentient, but it soon becomes clear that both she and the hard-drinking Nathan are playing a darker game, too. 
• Starring: Oscar Isaac, Alicia Vikander, Domhnall Gleeson
• Director: Alex Garland
• Year: 2014
• Runtime: 108 minutes
• Rating: R
• Rotten Tomatoes Score: 92%
Eyes Wide Shut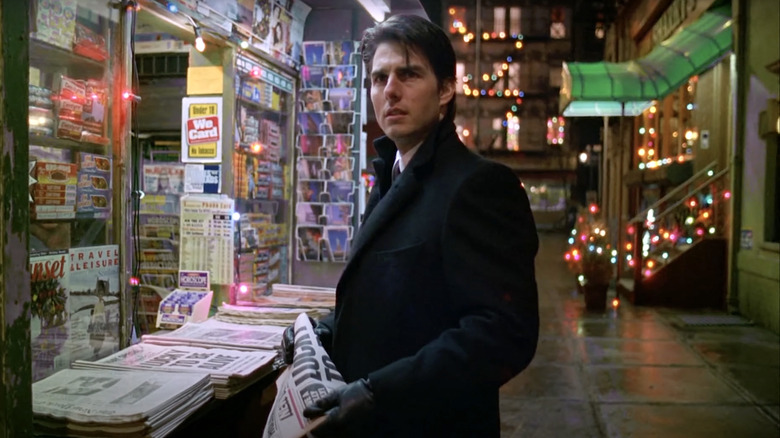 This Stanley Kubrick entry into the thriller genre also checks the mystery and drama boxes, but it might be a yawn if you want a more straightforward suspense procedural. Kubrick is more interested in being psychologically methodical than clear, and this strange odyssey into the elite echelon of New York City's orgy scene requires some patience. It's worth it. Tom Cruise plays William Harford, a physician who unravels after his wife (Nicole Kidman) gets stoned and confesses to fantasizing about another man. That's when he stumbles, uninvited, into a secret costume ball where well-heeled elites anonymously take advantage of sex workers — and sometimes kill them. As it turns out, infidelity is way darker than he had hoped. 
• Starring: Tom Cruise, Nicole Kidman, Sydney Pollack
• Director: Stanley Kubrick
• Year: 1999
• Runtime: 159 minutes
• Rating: R
• Rotten Tomatoes Score: 75%
Fatal Attraction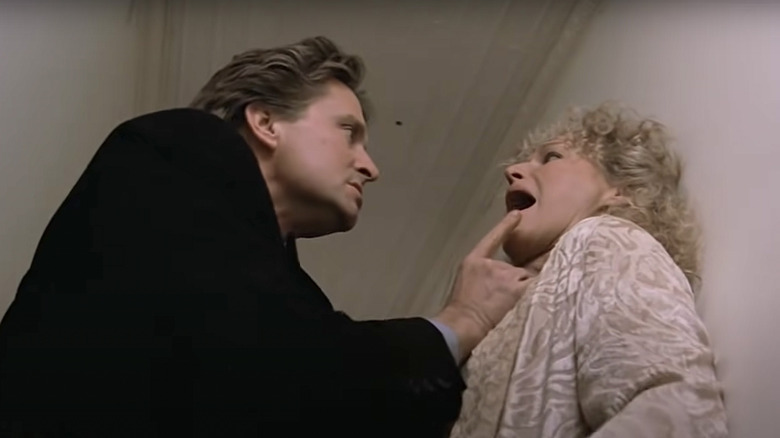 Yes, this is the movie where Glenn Close boils a pet rabbit. The king of late 20th-century thrillers, Michael Douglas, plays yet another shady fellow as Dan, a New York lawyer and burgeoning family man who strays. When his wife and young daughter go away for the weekend, Dan hooks up with his colleague, Alex (Close). It seems like a fling until Dan tries to go back to his normal life. Alex harms herself and starts calling Dan's office and his home, then claims she's pregnant and wants to have his child. As her mind games escalate, Dan must decide between confessing his dalliance to his loving wife (Anne Archer) and continuing to let this deranged stalker have power over him.
• Starring: Michael Douglas, Glenn Close, Anne Archer
• Director: Adrian Lyne
• Year: 1987
• Runtime: 119 minutes
• Rating: R
• Rotten Tomatoes Score: 76%
Fargo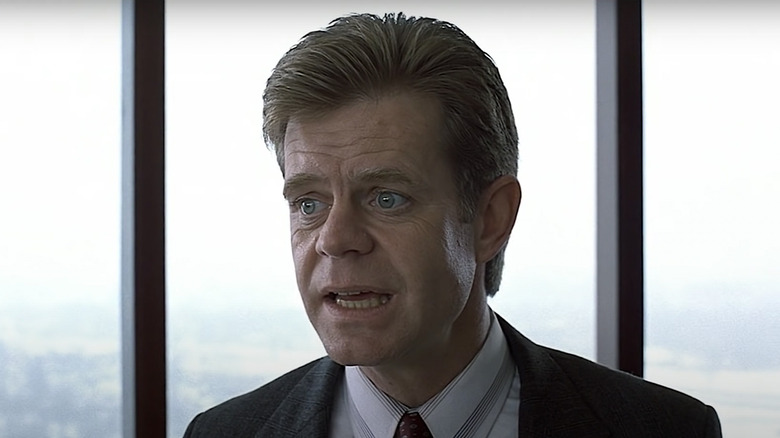 "Fargo" might be the first true masterpiece from the darkly farcical minds of Joel and Ethan Cohen, whose films pepper this list because they love the haplessness of ordinary people who thrust themselves into extraordinarily deviant criminal conspiracies. To wit: In "Fargo," William H. Macy plays indebted car salesman Jerry Lundegaard. On the surface, Jerry is folksy and polite with his Minnesota accent, but he's deeply sinister underneath —a good person wouldn't hire two men to abduct his wife so that he could extract a ransom from his wealthy father-in-law. When the plot goes inevitably wrong and the hired hands kill a cop, everyone involved still wants their money, and only a pregnant detective played by Coen brothers favorite Frances McDormand can calmly put it all together and stop the bleeding.
• Starring: Frances McDormand, Steve Buscemi, William H. Macy
• Director: Joel Coen
• Year: 1966
• Runtime: 98 minutes
• Rating: R
• Rotten Tomatoes Score: 94%
Fight Club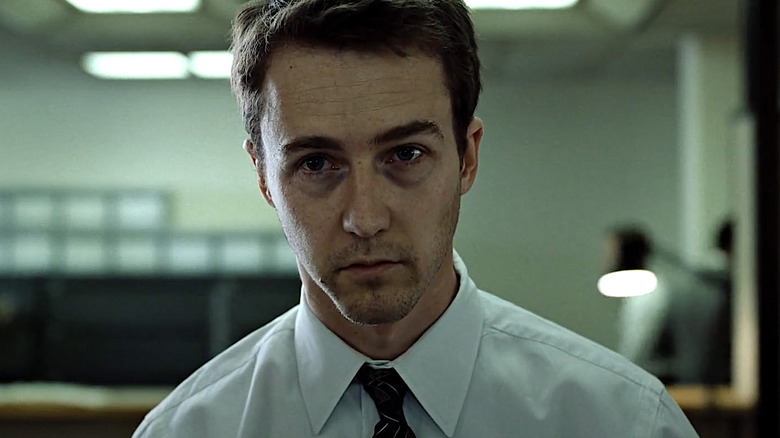 Some say "Fight Club" has aged poorly, and that, in retrospect, it looks like one big toxic masculinity sizzle reel. That's missing the point of this jaw-droppingly imaginative satire of late 20th-century bourgeois boredom and its effect on men coming of age in the shadow of greater generations. Edward Norton plays an appropriately nameless narrator who joins a support group for nihilists raging at both the machine and also their own uselessness in a society that worships only capitalist comforts. Multiple decades of upheaval later, "Fight Club" feels downright prophetic in its prediction that young men desperately need a larger sense of purpose, or else very bad things are going to go down.
• Starring: Brad Pitt, Edward Norton, Helena Bonham Carter
• Director: David Fincher
• Year: 1999
• Runtime: 139 minutes
• Rating: R
• Rotten Tomatoes Score: 79%
Frailty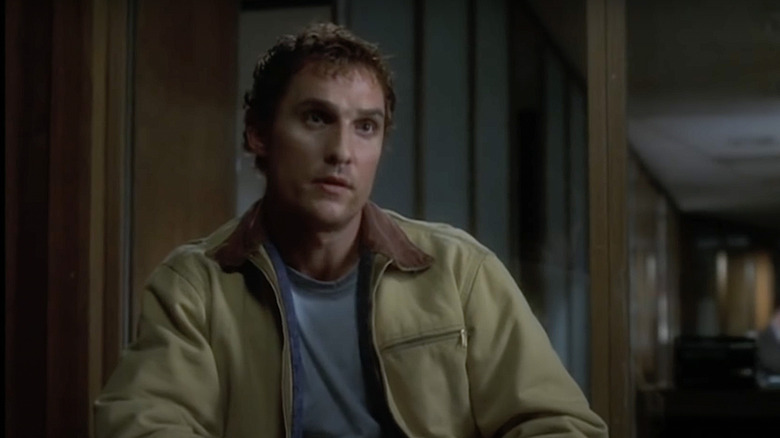 "Frailty" is a deeply unsettling psychological horror-thriller that begins when Matthew McConaughey's character Adam walks into an FBI field office to expose a serial killer. Cut to 20 years earlier. Adam's father (Bill Paxton) comes home and tells his two young boys that God had commanded the family to hunt down demons -- which look a lot like regular people -- and destroy them. The youngest son is a true believer. The eldest rebels, and is punished accordingly. "Frailty" is grimly suspenseful as both the murders and the family tensions escalate. It's also a powerful portrayal of a relationship between a father and his sons that blurs the line between supernatural terrors and ordinary, man-made evil.
• Starring: Bill Paxton, Matthew McConaughey, Powers Boothe
• Director: Bill Paxton
• Year: 2001
• Runtime: 99 minutes
• Rating: R
• Rotten Tomatoes Score: 75%
The Fugitive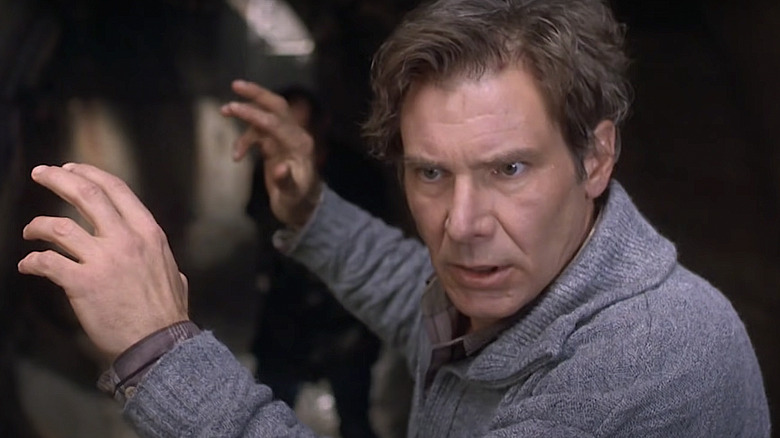 "The Fugitive" might be the best wrongly-accused-man movie ever made. Considering that Hollywood doesn't make many mid-budget mystery thrillers for adults anymore, this 1993 classic remains essential viewing. Harrison Ford plays renowned physician Dr. Richard Kimble, who comes home just as a one-armed man is brutally murdering his wife. Kimble is wrongly convicted of the crime, but escapes and sets out to clear his name. The citizen-detective procedural is great, but the real hook of "The Fugitive" is Kimble's cat and mouse game with a folksy but focused federal marshal played by Tommy Lee Jones at his energetic best.
• Starring: Harrison Ford, Tommy Lee Jones, Sela Ward
• Director: Andrew Davis
• Year: 1993
• Runtime: 130 minutes
• Rating: PG-13
• Rotten Tomatoes Score: 96%
The Game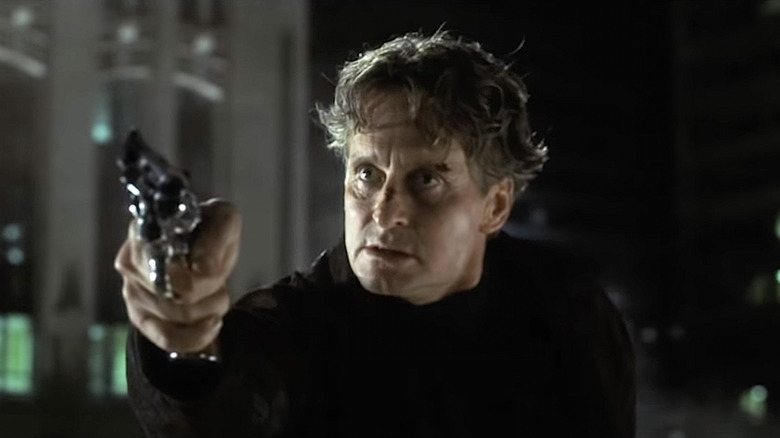 David Fincher's underrated 1997 meta-thriller "The Game" is possibly the most elaborately orchestrated gaslighting in cinema history. Michael Douglas plays Nicholas, a successful but solitary banker whose brother (Sean Penn) shows up with a strange birthday gift: a coupon for a real-life role-playing game. Nicholas is intrigued, but mostly bored with his life. So, he goes in for what he thinks is a consultation, but when his bank account is emptied and his life is turned violently upside down, his frantic search for the truth changes everything he thought he knew.
• Starring: Michael Douglas, Sean Penn, James Rebhorn
• Director: David Fincher
• Year: 1997
• Runtime: 128 minutes
• Rating: R
• Rotten Tomatoes Score: 77%
Gaslight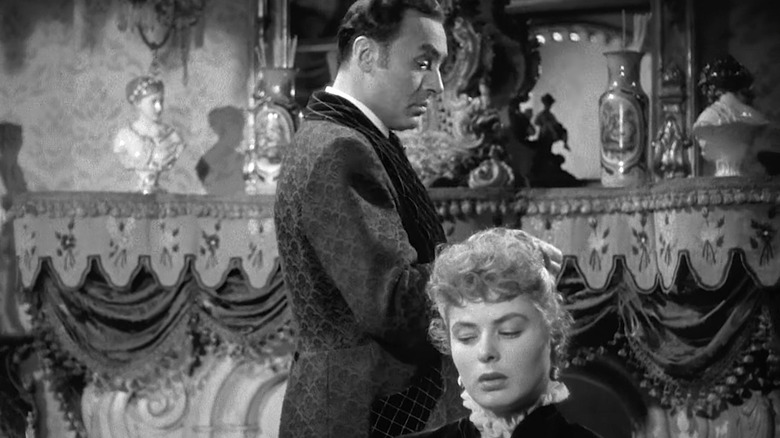 If we're all going to be using the term "gaslighting," it's worth investigating the word's dramatic origins. The 1938 play "Gas Light" by Patrick Hamilton was made into quite a good thriller in 1944 in which Ingrid Bergman plays Paula, an aspiring opera singer who falls for the dashing Gregory Anton (Charles Boyer). When the couple settles down in London, Paula begins noticing things going missing, strange sounds, and the titular gas lanterns dimming of their own accord. As she becomes more isolated and paranoid, she and a helpful cop, Brian Cameron (Joseph Cotten), must discover the truth behind her husband's sinister game.
• Starring: Charles Boyer, Ingrid Bergman, Joseph Cotten
• Director: George Cukor
• Year: 1944
• Runtime: 114 minutes
• Rating: NR
• Rotten Tomatoes Score: 88%
Gattaca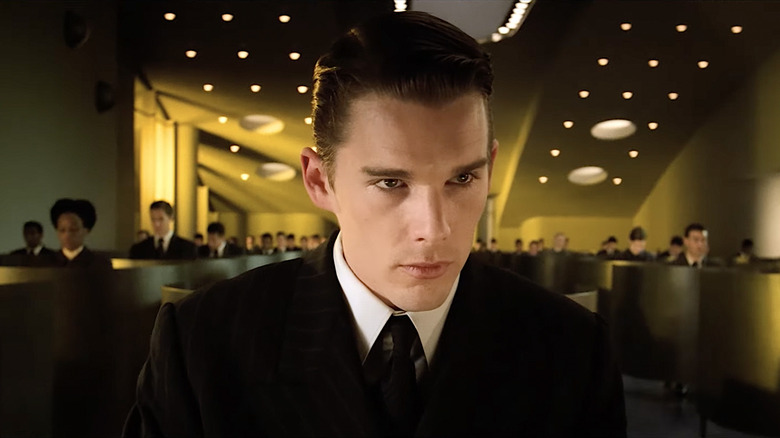 "Gattaca" is a sci-fi classic with an impeccable art-deco aesthetic and gripping thriller storyline. Set in a dystopian near-future where DNA is destiny, Vincent (Ethan Hawke) wants to be an astronaut. Unfortunately, the position is saved for the genetically elite. He cleverly infiltrates the Gattaca space program by borrowing the DNA identity of an accomplice (Jude Law), but when a murder threatens Vincent's chance to go to space, this supposedly inferior man must also chase down a mystery that leads to a clash with his own GMO brother. Since this 1997 film, CRISPR technology has made designer babies possible, so perhaps "Gattaca" will end up the most disturbingly prescient sci-fi thriller ever made.
• Starring: Ethan Hawke, Jude Law, Uma Thurman
• Director: Andrew Niccool
• Year: 1997
• Runtime: 112 minutes
• Rating: PG-13
• Rotten Tomatoes Score: 83%
Get Out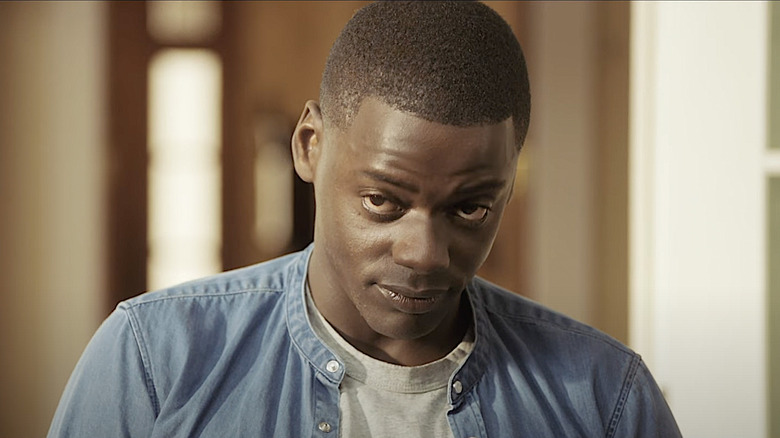 "Get Out" is a horror film with a thriller movie setup. Chris is Black and his girlfriend Rose is white, and so he's naturally apprehensive as they head to the countryside to meet her parents. Rose's family seems nice, but Chris soon realizes that they have a house staff with strangely vacant eyes who all seem to be hiding something. This film's racial critique cuttingly targets the white liberal "ally"; when Chris meets Rose's physician father, he goes on apropos of nothing about Jackie Owens, taking every opportunity to awkwardly prove his own enlightenment at Chris' expense. The terrible secret that Chris must uncover is an even deeper farce about fetishizing the Black form while discarding its soul.
• Starring: Daniel Kaluuya, Allison Williams, Catherine Keener
• Director: Jordan Peele
• Year: 2017
• Runtime: 104 minutes
• Rating: R
• Rotten Tomatoes Score: 98%
The Girl With The Dragon Tattoo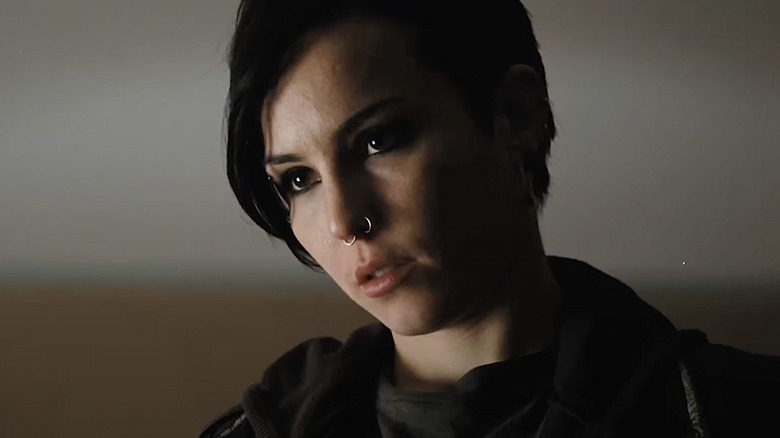 David Fincher's 2011 remake of "The Girl with the Dragon Tattoo" is excellent and definitely the version to watch if you require English audio. That said, Noomi Rapace's 2009 portrayal of the tortured cyberpunk hacker Lisbeth Salander is the franchise's definitive performance. Michael Nyqvist is also perfect as Mikael Blomkvist, an embattled journalist hired to dig into the murder of a wealthy young girl. The May-December romance between Salander and Blomkvist is less awkward in the remake, owing mostly to Daniel Craig's beefcake status, but that's really the weakest element of Stieg Larrson's story. Blomkvist is clearly a stand-in for Larsson, who was also a prominent anti-fascist journalist with a fascinating moonlight career, and he can be forgiven the indulgence.
• Starring: Michael Nyqvist, Noomi Rapace, Lena Endre
• Director: Niels Arden Oplev
• Year: 2009
• Runtime: 104 minutes
• Rating: R
• Rotten Tomatoes Score: 85%
Gone Girl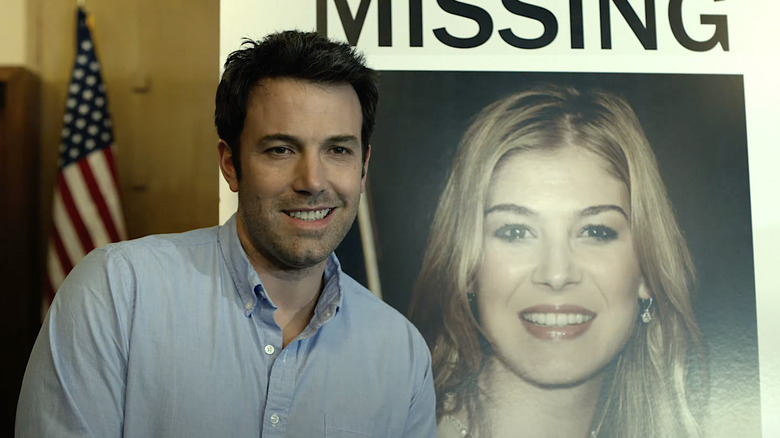 "Gone Girl" is the platonic ideal of a thriller, directed with flawless precision by the modern master of the genre, David Fincher. Nick (Ben Affleck) and his wife, Amy (Rosamund Pike), give up their New York City lifestyle and move to the suburbs, but discontent is brewing. Nick is complacent and having an affair, and Amy is, well, a Machiavellian psychopath. She vengefully stages her own violent abduction and frames her philandering spouse with elaborate ingenuity. Nick and all his flaws are thrust into the media spotlight as this missing person's case becomes salacious national news. "Gone Girl" is thrilling, but it also has something to say about modernity and the increasing distance between public images and reality.
• Starring: Ben Affleck, Rosamund Pike, Neil Patrick Harris
• Director: David Fincher
• Year: 2014
• Runtime: 149 minutes
• Rating: R
• Rotten Tomatoes Score: 87%
Good Time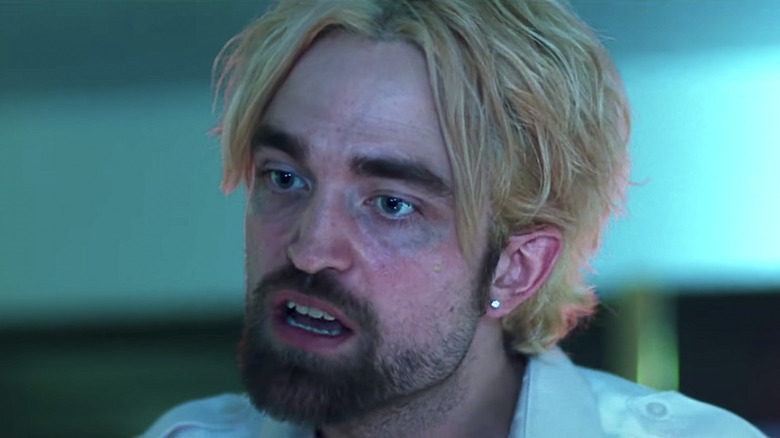 In "Good Time," Robert Pattinson plays a small-time New York City crook named Connie. Connie is protective of his intellectually handicapped brother Nick (Benny Safdie), but is a seriously bad seed, too. His sloppy bank job gets Nick locked up, and Connie pulls a frantic all-nighter trying to bail him out. 
"Good Time" was created by the Safdie brothers, the fraternal duo behind "Uncut Gems." Their minimalist approach utilizes mostly handheld close-ups, a gritty documentary-like format that captures the criminal underworld with immediacy and tension. Unfortunately, a terribly cropped 16x9 version is out there where all you can see is Pattinson's nostrils. The eventual Dark Knight completely commits to playing this relentless dirtbag, so make sure you see him do wrong in full widescreen.
• Starring: Robert Pattinson, Benny Safdie, Jennifer Jason Leigh
• Director: Josh Safdie, Benny Safdie
• Year: 2017
• Runtime: 101 minutes
• Rating: R
• Rotten Tomatoes Score: 92%
The Handmaiden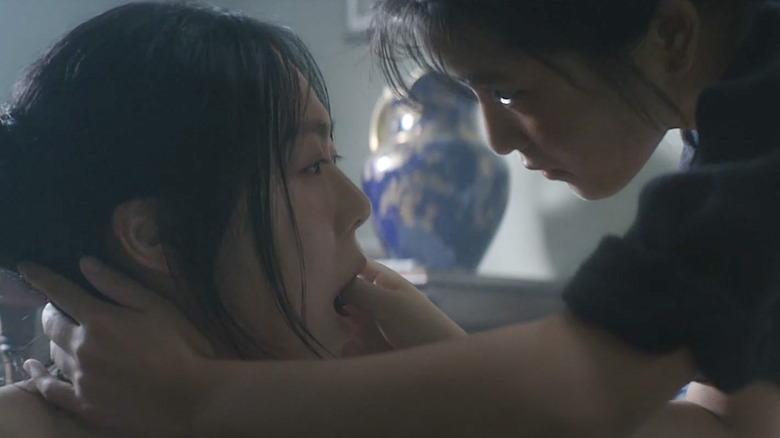 "The Handmaiden" is an astounding and perverse piece of work by "Oldboy" auteur Park Chan-wook. A Korean con artist posing as a Japanese count (Ha Jung-woo) plots to steal the fortune of a beautiful Japanese heiress who lives with her creepy, sinister, and elderly uncle, to whom she is engaged. And that's just the beginning of how weird things are at home. This faux count enlists the help of another young crook to pose as the lady's handmaiden, but soon these grifters are plotting against each other in a confusing ménage à trois of psychosexual deception. "The Handmaiden" is Victorian in its set design, but meticulously modern in its twisty thriller plot. 
• Starring: Kim Min-hee, Kim Tae-ri, Ha Jung-woo
• Director: Park Chan-wook
• Year: 2016
• Runtime: 144 minutes
• Rating: NR
• Rotten Tomatoes Score: 96%
High And Low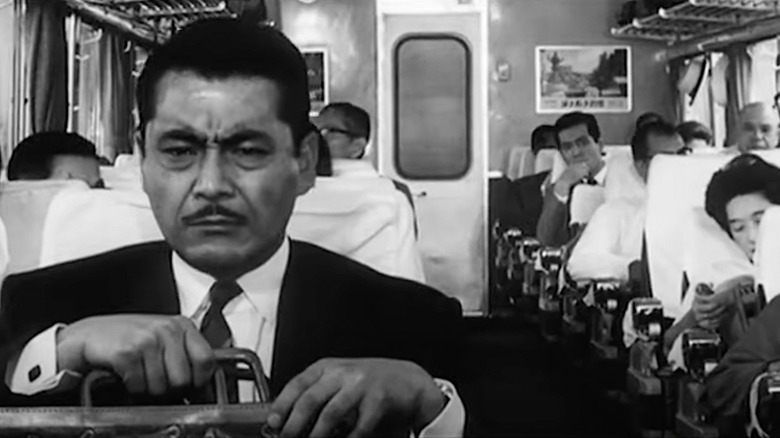 Kingo Gondo (Toshirô Mifune) is a corporate executive in Japan attempting an Elon Musk-style hostile takeover. He's just mortgaged everything to buy out his rivals when a ransomer calls, saying that he's kidnapped Kingo's son and is demanding millions. Kingo is initially eager to pay, but when it turns out the kidnapper accidentally grabbed the chauffeur's son, he refuses. 
The first half of this black-and-white classic from legendary Japanese director Akira Kurosawa is a morality play in which this wealthy man reckons with a very specific dilemma. The second half becomes a fantastic police procedural as a team of detectives chase down every clue in an ingenious hunt for the kidnapper.
• Starring: Toshirô Mifune, Yutaka Sada, Tatsuya Nakadai
• Director: Akira Kurosowa
• Year: 1963
• Runtime: 143 minutes
• Rating: R
• Rotten Tomatoes Score: 95%
A History Of Violence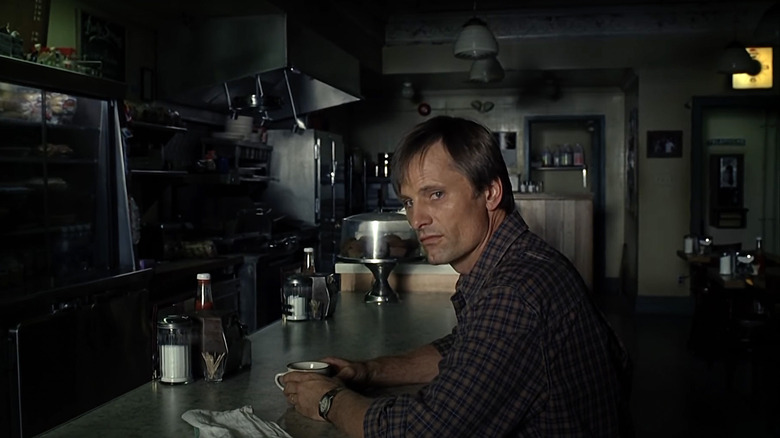 This underrated masterpiece asks if a violent person can truly change. Viggo Mortensen plays mild-mannered family man Tom Stall, who runs a local diner and loves his wife and kids. But when a man in black (Ed Harris) rolls into town, claiming that Tom is actually a vicious gangster on the lam, the ordinary hero must return to Philadelphia or pay the price. 
Director David Cronenberg plays a little with mistaken identity-driven suspense, but quickly gets to a revenge plot filled with his signature body-horror set pieces as Tom confronts his blood-soaked past. This film's gripping thesis is that violence is indeed a deep-seated trait. Tom may change on the outside, but his dark gifts will always remain.
• Starring: Viggo Mortensen, Maria Bello, William Hurt
• Director: David Cronenberg
• Year: 2005
• Runtime: 96 minutes
• Rating: R
• Rotten Tomatoes Score: 87%
In A Lonely Place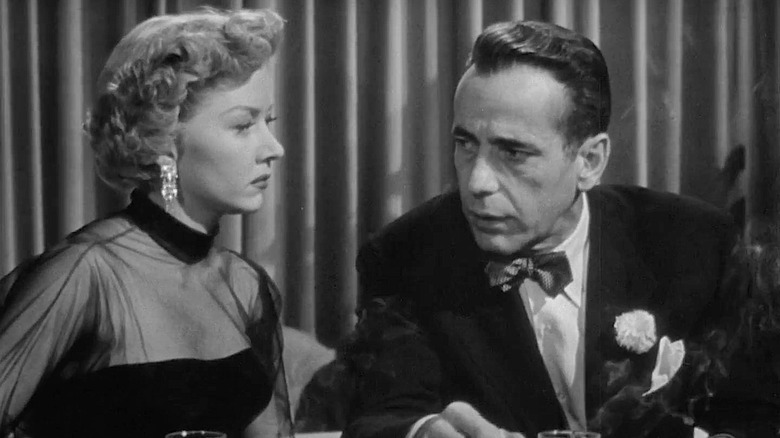 "In a Lonely Place" is the best Humphrey Bogart film that you haven't seen a hundred times, and contains maybe his best work overall. Bogey plays Dixon Steele, a talented but boozy screenwriter hired to adapt a silly novel. He takes home a young woman, ostensibly to tell him the story so that he doesn't have to read it. When she turns up dead, Dixon becomes the prime suspect, and suddenly Bogey's glib persona reads like the indifference of a killer. This excellent thriller leverages the power of the movie star's reputation to manipulate your expectations. To modern eyes, some of Bogey's film noir anti-heroes can come across as stylized to the point of silliness. This one still feels authentic.
• Starring: Humphrey Bogart, Gloria Grahame, Frank Lovejoy
• Director: Nicholas Ray
• Year: 1950
• Runtime: 94 minutes
• Rating: NR
• Rotten Tomatoes Score: 98%
The Innocents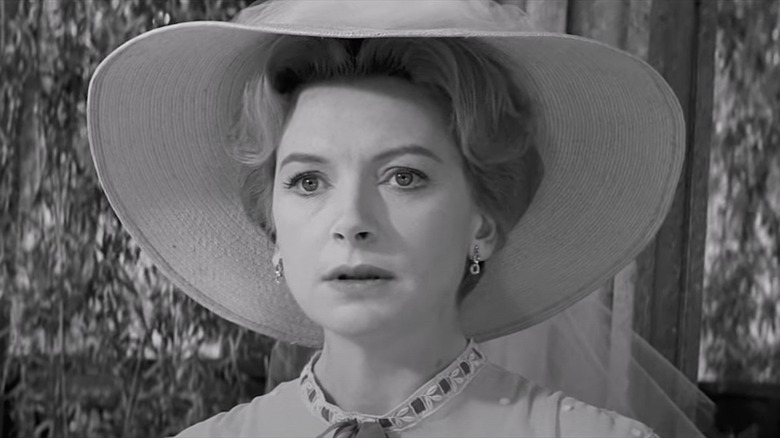 "The Innocents" is one of the best ghost thrillers ever made — if the ghost in this eerie 1940 classic is even real, that is. The dignified and dedicated Miss Giddens (Deborah Kerr) takes a job as a governess to two orphans in a massive and creepy Gothic mansion after her predecessor's death. Soon, strange things start happening. The children begin acting odd and seem to be keeping a secret. Miss Giddens wants answers, but the housekeeper, Mrs. Grose (Megs Jenkins), spends as much time gaslighting as cleaning. This is a classic of the am-I-seeing-ghosts-or-going-insane genre and influenced every movie you've ever seen with similar spectral sights.
• Starring: Deborah Kerr, Martin Stephens, Pamela Franklin
• Director: Jack Clayton
• Year: 1961
• Runtime: 99 minutes
• Rating: NR
• Rotten Tomatoes Score: 95%
The Insider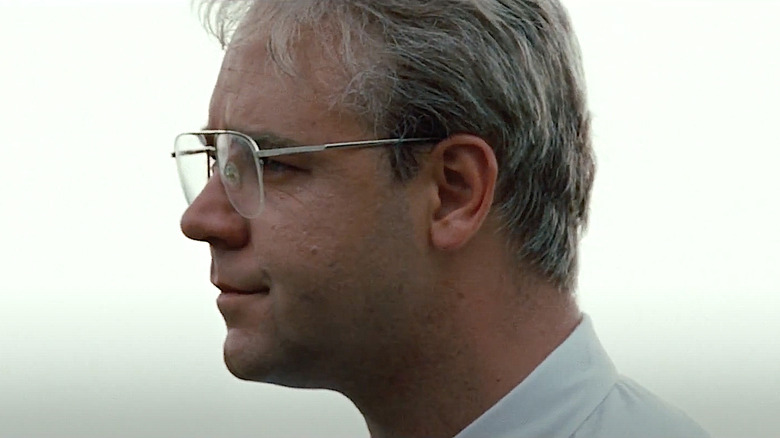 In "The Insider," director Michael Mann brings the same attention to the details of white-collar misdeeds that he did to the logistics of a heist in his masterpiece, "Heat." Russell Crowe plays tobacco scientist Jeffrey Wigand, who has just been forced out of his high-paying job engineering cigarettes to be more addictive. A "60 Minutes" producer played by Al Pacino wants the story, but big tobacco wants all the smoke. When they sue to stop Wigand and begin a terrifying intimidation campaign against this whistleblower's family, a free press could cost these men everything. Adapted from a 1996 Vanity Fair article, Mann turned this dramatic true tale into arguably the best high-brow boardroom thriller ever made.
• Starring: Al Pacino, Russell Crowe, Christopher Plummer
• Director: Michael Mann
• Year: 1999
• Runtime: 158 minutes
• Rating: PG
• Rotten Tomatoes Score: 96%
I Saw The Devil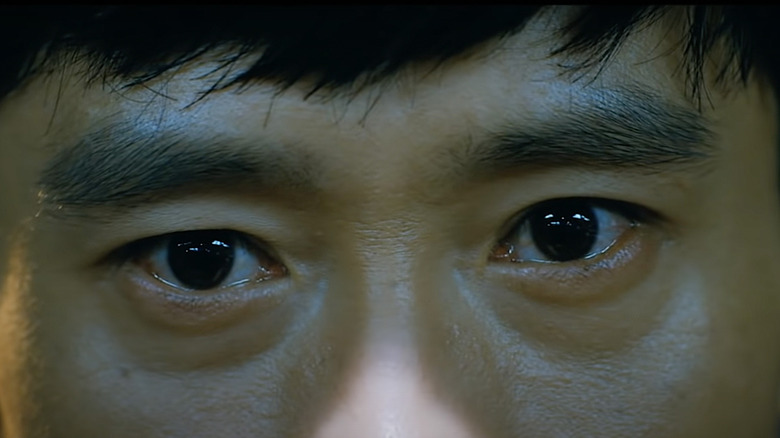 South Korean movies really do go places American films won't. "I Saw the Devil" might be the most unflinching thriller since "Old Boy" — it even stars that film's famous lead, Choi Min-sik. This time, he plays Jang Kyung-chul, a vicious serial killer who targets women. When Kyung-chul murders the wife of a resourceful secret agent, Kim Soo-hyeon (Lee Byung-hun), the grieving husband deploys his special set of skills to take methodical and torturous revenge. When the plan backfires, the collateral damage mounts, and the two men go to war. This gruesome action-oriented thriller is about the cost of sinking to the level of one's enemy. Watch out, though: if extreme violence is not your idea of Netflix and chill, beware of this devilish movie.
• Starring: Lee Byung-hun, Choi Min-sik, Jeon Gook-hwan
• Director: Jee-woon Kim
• Year: 2010
• Runtime: 141 minutes
• Rating: NR
• Rotten Tomatoes Score: 81%
Jaws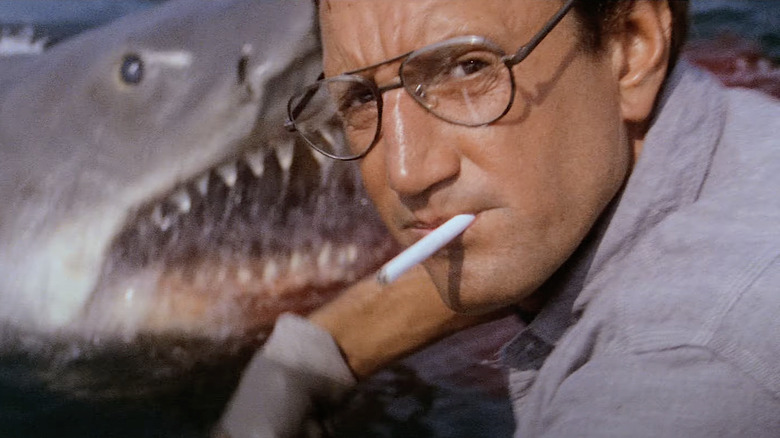 "Jaws" is often described as a horror movie, and sure, the shark is monstrous in both size and sentience as it terrorizes the citizens of the fictional Amity Island beach community. However, this thriller really gets going when the local chief of police teams up with an old salt fisherman and a marine biologist to hunt down the underwater menace. Four years prior to "Jaws," director Steven Spielberg's first real film was a 1971 TV movie called "Duel," which is about a man pursued by a malevolent tractor-trailer that seems to have a mind of its own. The iconic filmmaker applies that same energy to the dead eyes of Earth's most terrifying and ancient apex predator in this timeless suspense masterpiece.
• Starring: Roy Scheider, Robert Shaw, Richard Dreyfuss
• Director: Steven Spielberg
• Year: 1975
• Runtime: 124 minutes
• Rating: PG
• Rotten Tomatoes Score: 98%
The Killing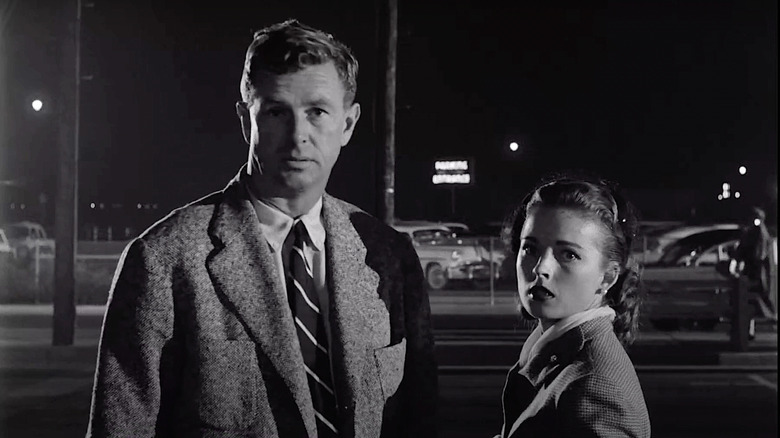 Before Stanley Kubrick was known as the visionary behind films like "The Shining" and "2001: A Space Odyssey," he made this sprawling yet taut black-and-white crime thriller that still holds up. Johnny Clay (Sterling Hayden) is a career criminal who succumbs to the allure of one last job. He assembles a motley crew of crooks to rob a race track, but when the weak link tells his wife (Coleen Gray) about their plan, she hatches her own scheme. Given that this is a Kubrick film, it's no surprise that, despite the short run time, there's more to chew on here than just a solid thriller plot.
• Starring: Sterling Hayden, Coleen Gray, Vince Edwards
• Director: Stanley Kubrick
• Year: 1956
• Runtime: 85 minutes
• Rating: NR
• Rotten Tomatoes Score: 96%
Knife In The Water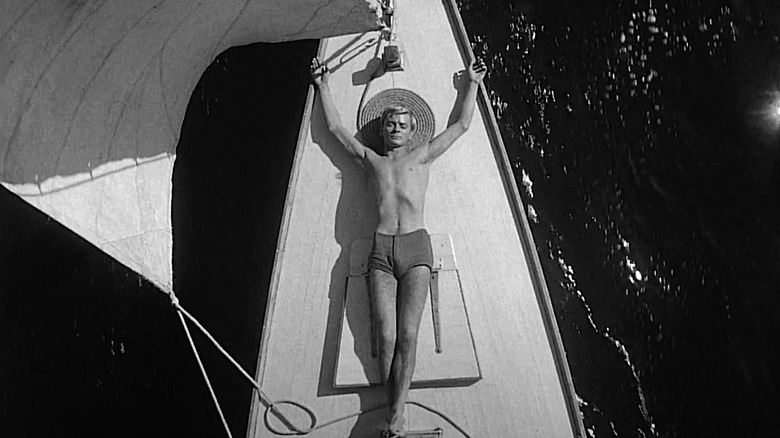 "Knife in the Water" was Roman Polanski's precocious debut, and follows a couple, Andrzej (Leon Niemczyk) and Krystyna (Jolanta Umecka), who are headed out for a day of sailing when they nearly run over a hitchhiker (Zygmunt Malanowicz). Andrzej invites the young man to join them, but soon both boys are competing for Krystyna's attention. When the man falls overboard, the couple thinks he's drowned, but the hitchhiker isn't done riding along just yet. 
"Knife in the Water" is of a piece with other mid-century efforts by international filmmakers that deconstruct Hollywood tropes, such as Jean-Luc Godard's New Wave classic "Breathless." But where Godard was committed to post-modern absurdity, Polanksi serves up some serious psychological tension along with his subversive story.
• Starring: Jolanta Umecka, Zygmunt Malanowicz, Leon Niemczyk
• Director: Roman Polanski
• Year: 1962
• Runtime: 94 minutes
• Rating: NR
• Rotten Tomatoes Score: 97%
Knives Out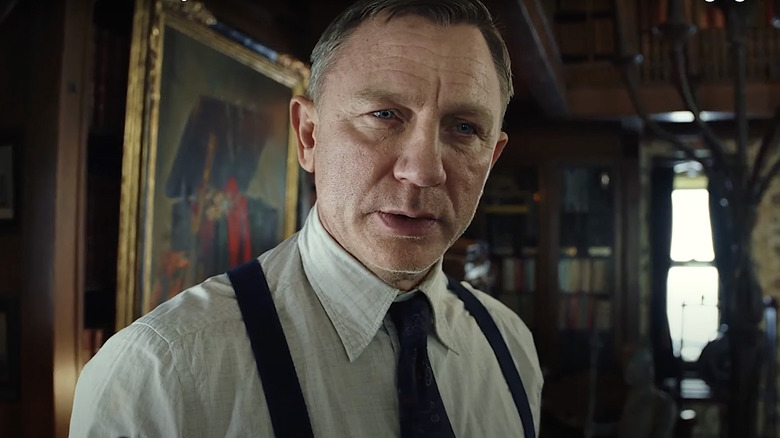 Whodunnits like "Clue" are a distinctive thriller sub-genre, and writer-director Rian Johnson absolutely perfected the form with "Knives Out" in 2019. This Agatha Christie-inspired tale contains both a cracking murder plot and a whip-smart satire of boomers and iPhone-addicted millennials who live fat off of a much greater generation's largesse. When the dysfunctional Thrombey family's aged patriarch, murder novelist Harlan (Christopher Plumner), dies mysteriously, renowned Detective Benoit Blanc (Daniel Craig) is hired by some unknown party to find out what really happened. In the process, both the killer and this greedy family of spoiled brats are exposed.
• Starring: Daniel Craig, Chris Evans, Ana de Armas
• Director: Rian Johnson
• Year: 2019
• Runtime: 130 minutes
• Rating: PG-13
• Rotten Tomatoes Score: 97%
The Lady Vanishes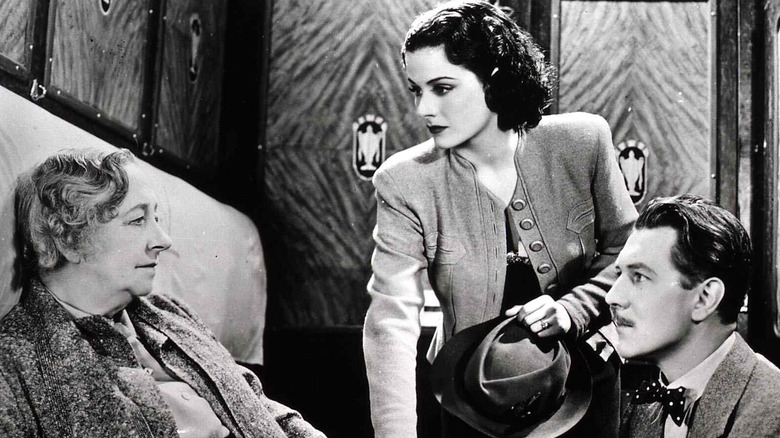 Alfred Hitchcock's early work might be in grainy black and white, but it's bursting with colorful characters. That's doubly important for "The Lady Vanishes," as this convoluted mystery exemplifies the director's theory that plot is just an excuse for stuff to happen. Don't demand a mind-blowing third-act reveal from this British classic. 
Young Iris is traveling by train to England, but wakes to find her companion, the elderly Miss Froy, is missing. Even weirder, everyone on board oddly pretends they never saw the old gal. Hitchcock then inserts a telling joke: As Iris investigates, she stumbles upon a magician's props. This film itself is like a stage illusion; the secret behind the vanishing lady impresses no one. Just enjoy the show. 
• Starring: Margaret Lockwood, Michael Redgrave, Dame May Whitty
• Director: Alfred Hitchcock
• Year: 1938
• Runtime: 97 minutes
• Rating: NR
• Rotten Tomatoes Score: 98%
The Lighthouse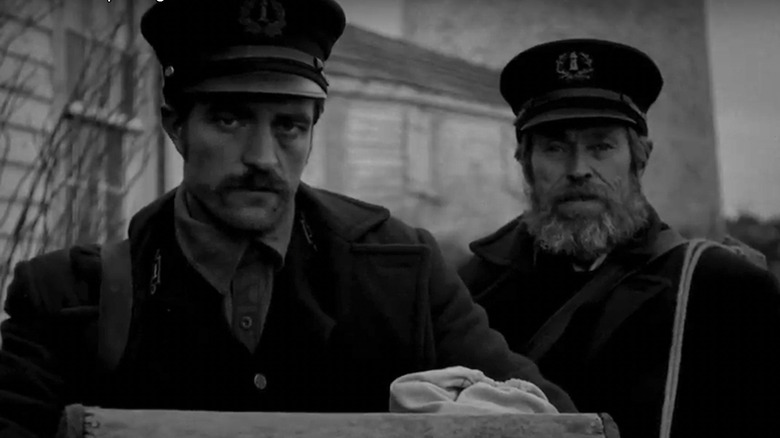 The surrealism of the horror-thriller genre has attracted another bold director, Robert Eggers of "The Witch" fame. Eggers' script for "The Lighthouse" began as an adaptation of an unfinished Edgar Allen Poe story, and has all the claustrophobic madness of that writer's oeuvre. 
In the 1980s, two sailors are stationed in a New England lighthouse, working as "wickies." Their job is simply to keep the Promethean fire alive. However, the elder sailor (Willem Dafoe) proves to be a tyrannical taskmaster, and the younger (Robert Pattinson) is a troubled loner with a dark secret. The two men fluctuate between hostility, drunken revelry, and homosexual tension as their isolation brings them into deadly conflict in this artful psychological thriller.
• Starring: Robert Pattinson, Willem Dafoe, Valeriia Karaman
• Director: Robert Eggers
• Year: 2019
• Runtime: 109 minutes
• Rating: R
• Rotten Tomatoes Score: 90%
M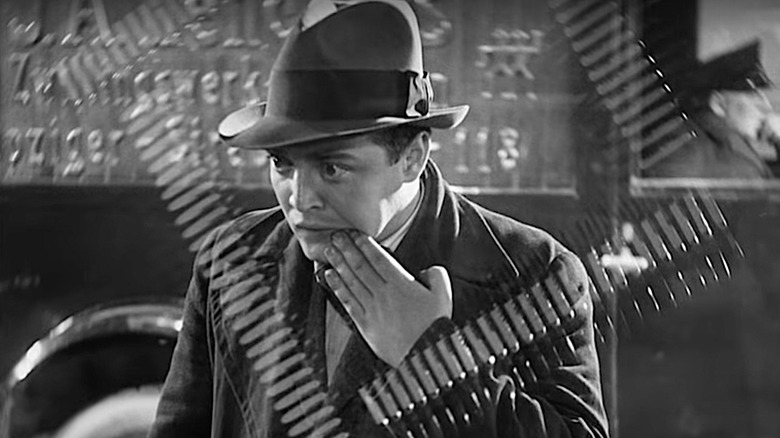 An unwatchable murder mystery called "The Wolf of Snow Hollow" debuted in 2020. It opens with a typically unimaginative drone-shot montage, and then almost every shot thereafter slowly tracks in, the camera gently pushing toward the characters. It's a supremely tired thriller cliche. 
By contrast, at this point, the largely static camera of the masterful "M" from 1931 has the static feel of visual mediation. Fritz Lang's classic about a serial killer who murders children lets the stark compositions speak for themselves. "M" is a seminal work of German expressionism that would inspire the similarly shadowy American film noir genre, and it clearly needs to be studied again by some modern filmmakers.
• Starring: Peter Lorre, Otto Wernicke, Gustaf Gründgens
• Director: Fritz Lang
• Year: 1931
• Runtime: 111 minutes
• Rating: NR
• Rotten Tomatoes Score: 100%
The Machinist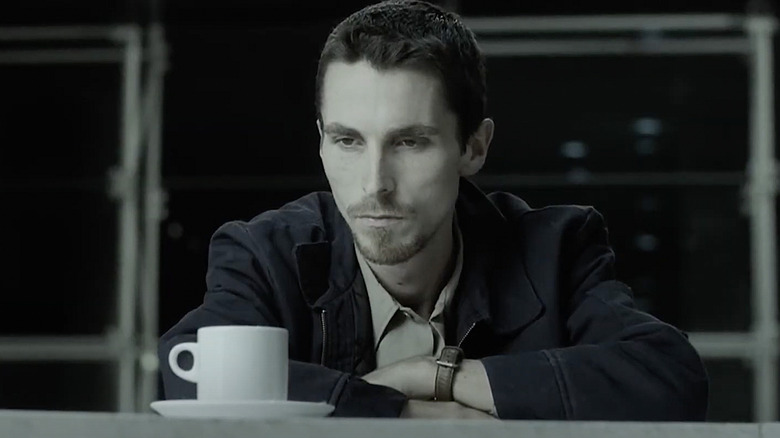 Christian Bale gets scary skinny in "The Machinist," for which he dropped 55 pounds in four months on a diet of apples, tuna, black coffee, and cigarettes. Bale plays a tortured factory worker with a mysterious secret, wasting away from an intractable case of insomnia. When an on-the-job accident terribly mangles one of his co-workers, even a budding relationship with a friendly sex worker (Jennifer Jason Leigh) can't stop his descent into paranoia and delusion. This is a somber psychological thriller, not an edge-of-your-seat suspense film. So, beware: "The Machinist" is methodically paced, but it has something powerful to say about the gruesome toll tragedy can take.
• Starring: Christian Bale, Jennifer Jason Leigh, Aitana Sánchez-Gijón
• Director: Brad Anderson
• Year: 2004
• Runtime: 102 minutes
• Rating: R
• Rotten Tomatoes Score: 77%
The Maltese Falcon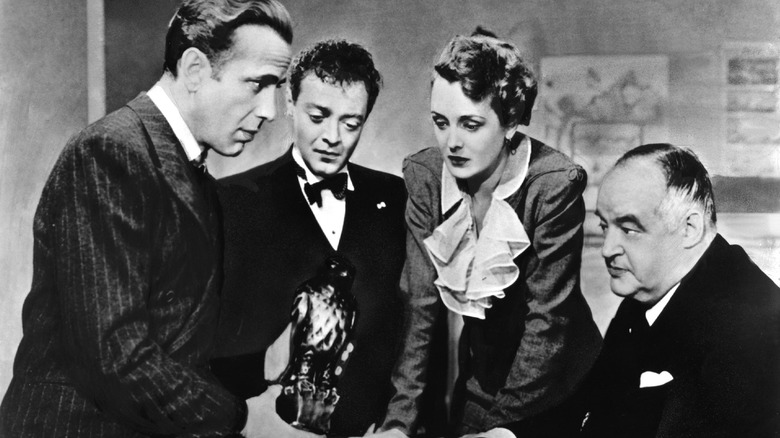 "The Maltese Falcon" is much deeper than just a chase for a MacGuffin. In it, Humphrey Bogart plays the hard-boiled film noir private eye Sam Spade. When his partner is killed, Spade is lured into a dizzying search for the titular falcon, but ultimately clashes with a European treasure hunter. Suddenly, the film becomes a standoff between the old world and the new. Europe's misty past stands in one corner, while Bogart, repping Hollywood's midcentury archetype of the streetwise, hardscrabble American, is in the other. This film debuted as Europe was being razed to the ground by WW2, and serves as a symbolic passing of the torch. Bogey's gritty screen persona and Sam's savvy — and his ultimate goodness — are the movie-morality embodiment of the burgeoning American century.
• Starring: Humphrey Bogart, Mary Astor, Peter Lorre
• Director: John Huston
• Year: 1941
• Runtime: 101 minutes
• Rating: NR
• Rotten Tomatoes Score: 100%
Martyrs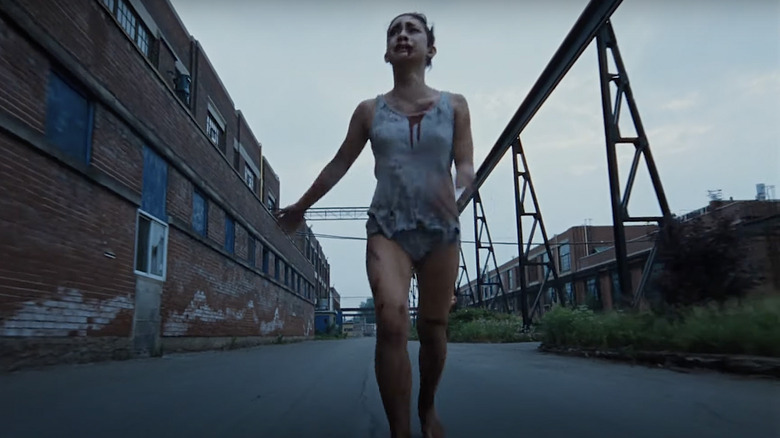 "Martyrs" is, arguably, the most disturbing film ever made. This exemplar of the New French Extremity movement is meant to be as transgressive as possible, and while the horror elements are effectively revolting, the psychological thriller embedded beside them is what will haunt your dreams at night. 
In the film, a young woman is being tormented by a demon linked to her twisted past of torturous captivity. When she seeks revenge, her quest goes horribly awry, and her best friend is taken captive by a cult with a profound and mind-boggling agenda. "Martyrs" is unflinching and polarizing torture porn, but it's all in service of a shocking reveal that may be a work of pure evil. Avoid this sinister but diabolically brilliant film if you like to sleep soundly.
• Starring: Morjana Alaoui, Mylène Jampanoï, Catherine Begin
• Director: Pascal Laugier
• Year: 2008
• Runtime: 99 minutes
• Rating: R
• Rotten Tomatoes Score: 64%
Memento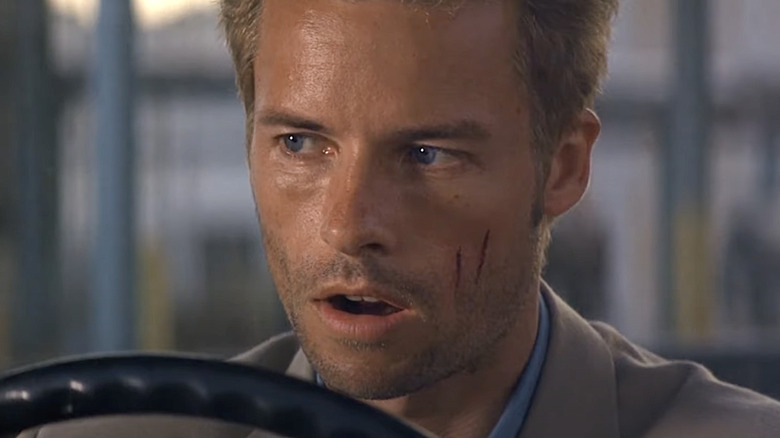 "The Dark Knight" director Christopher Nolan's breakout film, "Memento," was incredibly buzzy in 2000 for its inverted storytelling format. Here, Guy Pearce plays the "memory man" Leonard, a citizen-detective who can't make short-term memories after he was injured during a home invasion in which his wife was murdered. His disability means he must rediscover every clue ad infinitum in his quest for revenge. 
The editorial blueprint that "Memento" established has been endlessly copied, but the movie is still a thrilling detective tale with a seriously nihilistic punchline. Nolan's skill as a filmmaker led him to blockbuster budgets and films with much safer themes; he never again returned to a vision of human nature this bleak.
• Starring: Guy Pearce, Carrie-Anne Moss, Joe Pantoliano
• Director: Christopher Nolan
• Year: 2000
• Runtime: 113 minutes
• Rating: R
• Rotten Tomatoes Score: 93%
Memories Of Murder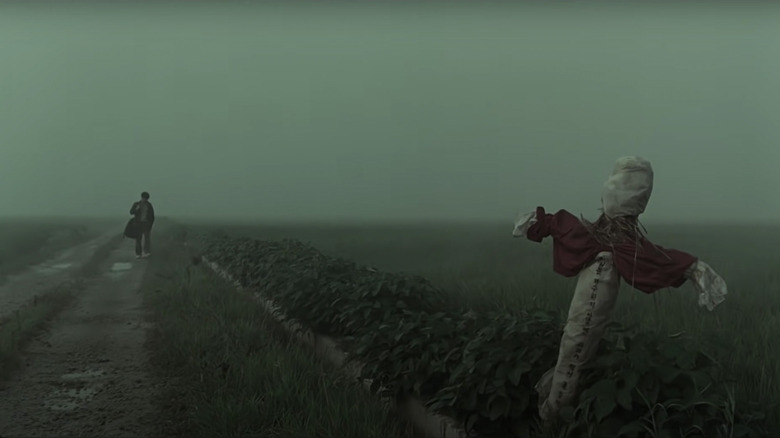 South Korean writer-director Bong Joon-ho ("Parasite") is the only director not named Coen who's making blackly comic dramatic thrillers full of slapstick gags. Bong loves stories about corrupt souls who bungle their way through violent plots. In "Memories of Murder," a string of dead women begin to appear, and an incompetent cop, detective Park (Song Kang-ho), gets the case. His team chases down lead after lead, but as they beat suspects bloody and smack each other around in frustration like the Three Stooges, they find nothing but more bodies. "Memories Of Murder" is based on a real case, but takes the tropes of serial killer movie classics like "Silence of the Lambs" and blows them up like a bad alibi.
• Starring: Song Kang-ho, Kim Sang-kyung, Kim Roi-ha
• Director: Bong Joon Ho
• Year: 2013
• Runtime: 131 minutes
• Rating: NR
• Rotten Tomatoes Score: 95%
Midsommar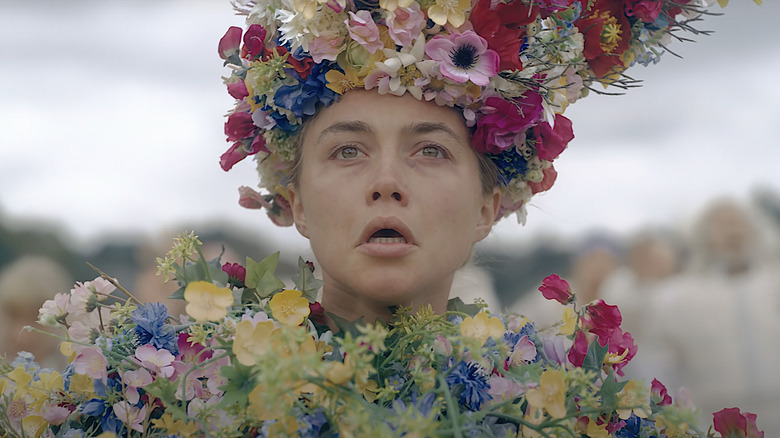 If you haven't seen "Midsommar," you are absolutely missing the buzziest word-of-mouth horror-thriller of the 2010s. This is writer-director Ari Aster's broad-daylight follow-up to his stunning feature debut, 2018's gruesome body-horror masterpiece "Hereditary." "Midsommar" follows a group of college-age friends who make a pilgrimage to a pagan community in remote Sweden in order to observe their summer solstice festivities. What begins as a quaint anthropological curiosity escalates as these Scandinavian cultists slowly unveil their twisted rituals in the midnight sun. Note that the director's cut of the film is 30 minutes longer, but makes more sense of the lead's unsettling dramatic progression, as the tortured protagonist Dani (Florence Pugh) detaches from her traumatic past and is pulled deeper into the cult's clutches.
• Starring: Florence Pugh, Jack Reynor, William Jackson Harper
• Director: Ari Aster
• Year: 2019
• Runtime: 148 minutes
• Rating: R
• Rotten Tomatoes Score: 83%
Misery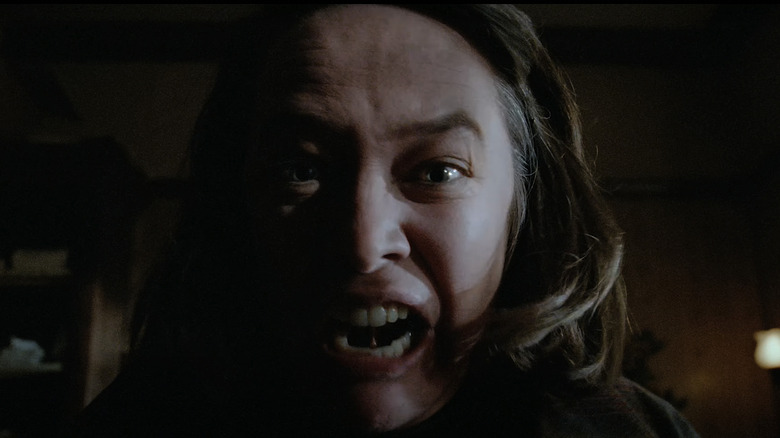 It's weird that, other than the "It" remake from 2017, the only good movies adapted from horror scribe Stephen King's novels are dramas like "The Shawshank Redemption" or thrillers like "Misery." One reason, perhaps, is that dramas have few deus ex machina surprises, which work better on the page than the screen. Regardless, writers love telling stories about writers, and that definitely works for "Misery." In it, James Caan plays novelist Paul Sheldon, who is rescued from a horrible car wreck by an obsessive fan named Annie Wilkes. As Annie nurses Paul back to health, it becomes clear that his convalescence in her remote cabin is actually captivity, and when she begins forcing the author to punch up her favorite character, Paul must devise a daring escape.
• Starring: James Caan, Kathy Bates, Frances Sternhagen
• Director: Rob Reiner
• Year: 1990
• Runtime: 107 minutes
• Rating: R
• Rotten Tomatoes Score: 90%
Mulholland Drive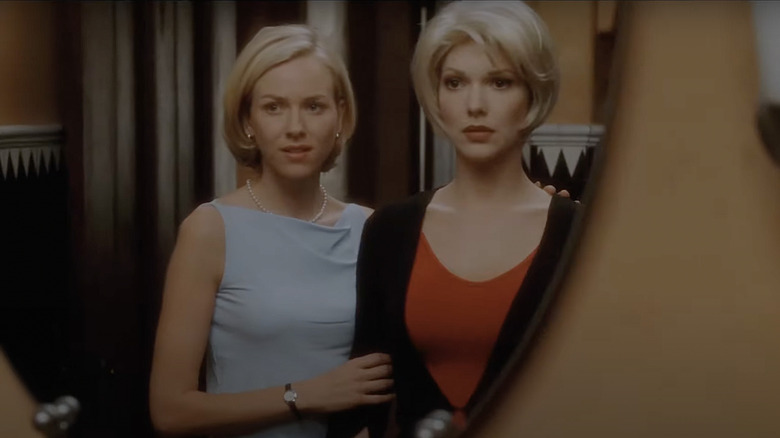 What is "Mulholland Drive" about? Look, it's a David Lynch film. Don't ask silly questions. The film does have the semblance of a mystery-thriller setup, though. When Rita (Laura Harring) gets into a car wreck, she wakes up with amnesia and wanders into the apartment of an aspiring Hollywood starlet, Betty (Naomi Watts). The women team up to uncover Rita's identity, but are soon lost in Lynch's surreal imagination. Your reaction to this neo-noir will depend entirely on your patience for the auteur's arty expressionism — and no, "Twin Peaks" does not prepare you for how weird Lynch gets on the big screen. "Mulholland Drive" got a 4k redux in 2021, which has greater visual clarity, but is no less confusing.
• Starring: Naomi Watts, Laura Harring, Justin Theroux
• Director: David Lynch
• Year: 2001
• Runtime: 146 minutes
• Rating: R
• Rotten Tomatoes Score: 84%
Mystic River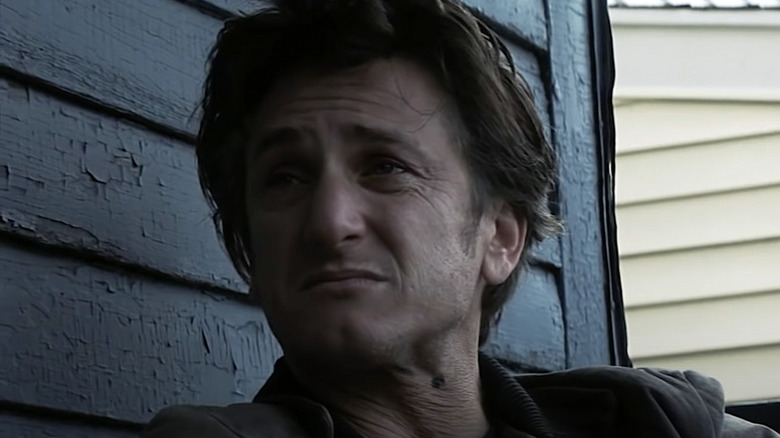 "Mystic River" is a drama and a murder mystery first, but director Clint Eastwood's most polished work wouldn't be so riveting without a twisty thriller plot that keeps you guessing. This 2005 neo-noir uses a collage of gritty genre conventions to deliver its rather weighty philosophical themes, and it's all rendered beautifully on Boston's actual Mystic River, which doubles as a metaphor for the inescapable flow of destiny. 
Sean Penn plays a semi-reformed small-time gangster whose daughter is brutally murdered. When his hapless childhood friend (Tim Robbins) becomes the prime suspect, his other long-time buddy (Kevin Bacon) is named lead detective on the case. These men share a deeply tragic past that now brings them inescapably full circle.
• Starring: Sean Penn, Tim Robbins, Kevin Bacon
• Director: Rob Reiner
• Year: 2003
• Runtime: 138 minutes
• Rating: R
• Rotten Tomatoes Score: 88%
Nightcrawler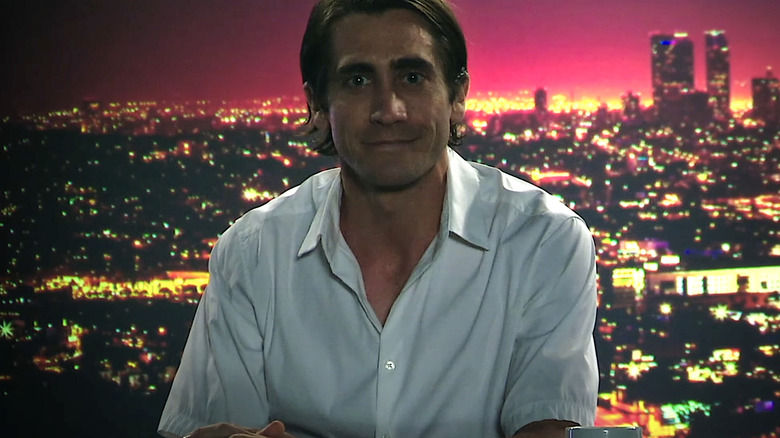 Hollywood needs more movie stars like Jake Gyllenhaal, who's willing to risk it all by playing depraved characters with no positive moral qualities whatsoever. The normally buff actor might have taken cues from Christian Bale for "Nightcrawler," as he dropped 30 pounds to embody the eerily gaunt look of an ambitious young stringer Louis, who prowls around Los Angeles, shooting footage of crimes and car wrecks to satisfy the "if it bleeds, it leads" TV news business model. When this psychopath with a knack for capturing carnage realizes that staging his scenes will yield even more lucrative results, this blackly comic thriller offers up its final devastating critique of modern mass media.
• Starring: Jake Gyllenhaal, Rene Russo, Bill Paxton
• Director: Dan Gilroy
• Year: 2014
• Runtime: 117 minutes
• Rating: R
• Rotten Tomatoes Score: 95%
The Night Of The Hunter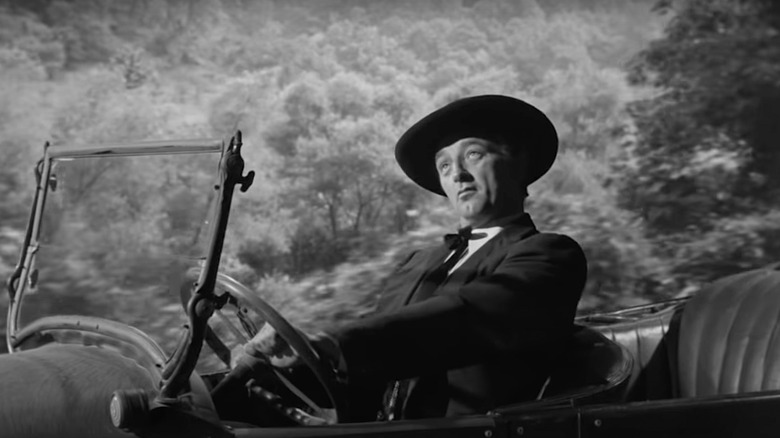 This is a deviously dark film for 1955. In "Night of the Hunter," Robert Mitchum plays a nomadic preacher, Harry Powell, who fronts as a fire and brimstone fanatic but is actually an asexual woman-hating serial killer. When Powell briefly goes to prison, his cellmate brags about $10,000 he has hidden back home. Powell gets out, tracks down the man's wife, marries her, and terrorizes her children in a maniacal hunt for the cash. Mitchum is devilishly charming in this stylish noir, which is filled with clever cinematic details like the preacher's preferred weapon: a switchblade. It's a deadly instrument that hides its cutting edge in plain sight, just like Powell.
• Starring: Robert Mitchum, Shelley Winters, Lillian Gish
• Director: Charles Laughton
• Year: 1955
• Runtime: 92 minutes
• Rating: NR
• Rotten Tomatoes Score: 95%
No Country For Old Men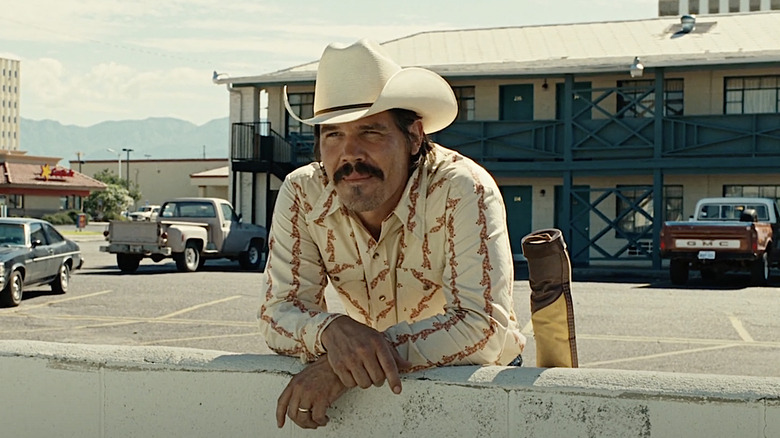 "No Country for Old Men" is the ultimate Coen brothers story, once again featuring an ordinary person sinking in the quicksand of a criminal conspiracy. Josh Brolin plays Llewelyn Moss, a hunter who comes across a bag of cash after witnessing a bloody cartel shootout. Suddenly, a dead-eyed hitman named Anton Chigurh (Javier Bardem) begins relentlessly pursuing him. The Cormac McCarthy source material uses the Wild West as an end-times metaphor, and Chigurh is more like a demon than a flesh and blood man. Notably, just as the cat-and-mouse game between Llewelyn and Chigurh gets good, this film shoots out the legs of its own premise. It's up to the audience to understand why.
• Starring: Tommy Lee Jones, Javier Bardem, Josh Brolin
• Director: Joel Coen, Ethan Coen
• Year: 2007
• Runtime: 122 minutes
• Rating: R
• Rotten Tomatoes Score: 93%
North By Northwest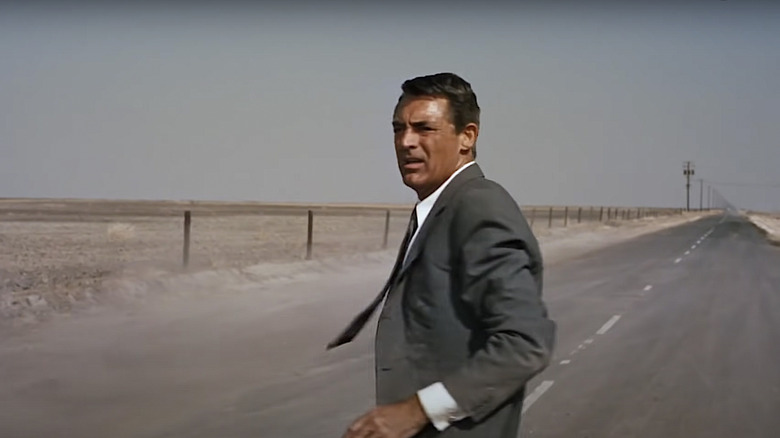 "North By Northwest" is the peak of Alfred Hitchcock's late career, in which he was an audience-friendly showman — you won't find any psychosexual themes in this mistaken-identity thriller, but there are plenty of memorable set pieces. Cary Grant plays a New York adman who is mistaken for a spy, and then framed for murder. So, he goes on an exciting cross-country trek to clear his name with the help of a gorgeous companion, played by Eva Marie Saint. 
Grant had that unique handsome everyman quality that was later channeled by Christopher Reeves (and every actor to take the part since) as Clark Kent. "North By Northwest" has been criticized for being lit like a TV show, but the film's vintage coloring is a beautiful nostalgia trip for viewers awash in digital movies.
• Starring: Cary Grant, Eva Marie Saint, James Mason
• Director: Alfred Hitchcock
• Year: 1959
• Runtime: 136 minutes
• Rating: NR
• Rotten Tomatoes Score: 97%
Notorious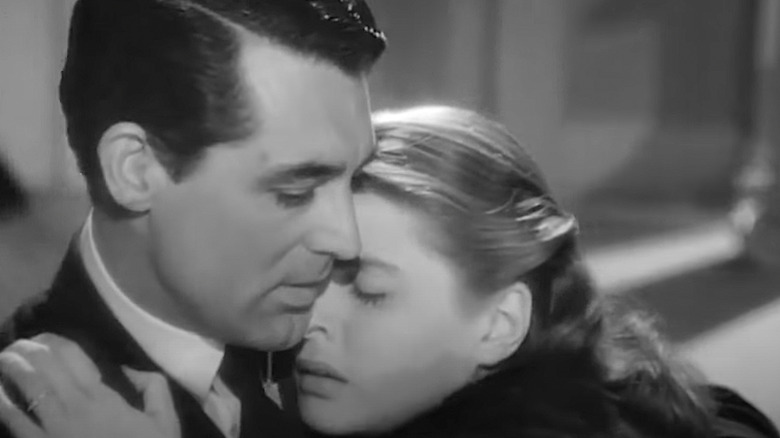 "Notorious" is a great way to be transported to a different time. Alfred Hitchcock's 1946 romantic thriller opens with Cary Grant and Ingrid Bergman getting absolutely hammered at a dinner party. When everyone else passes out, the two go for a high-speed thrill ride in a rickety convertible with no seat belts. They're pulled over, but let off when Grant's Devlin hands over his ID, revealing a mysterious governmental status. Ingrid's Alicia, meanwhile, is the distraught daughter of a recently convicted Nazi war criminal. Devlin recruits her to go undercover and bring down another Third Reich official in hiding. "Notorious" is arguably Hitchcock's most entertaining film, and Grant and Bergman's chemistry is electric as they wade through this exciting post-war thriller.
• Starring: Cary Grant, Ingrid Bergman, Claude Rains
• Director: Alfred Hitchcock
• Year: 1946
• Runtime: 101 minutes
• Rating: NR
• Rotten Tomatoes Score: 96%
Oldboy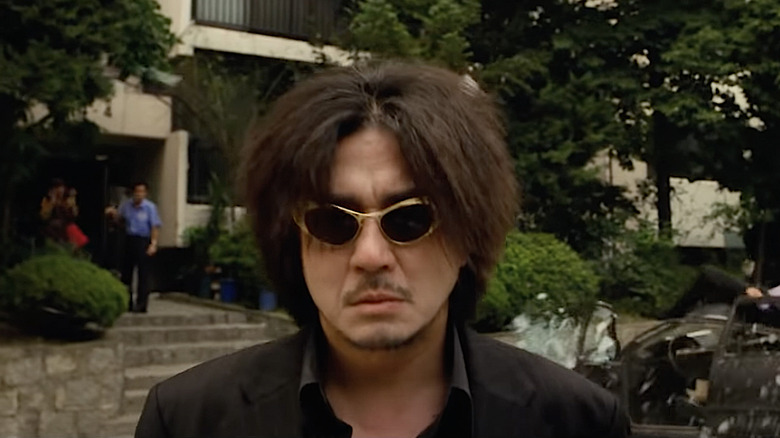 In 2003, "Oldboy" set a new standard for action scenes in gruesome revenge thrillers, but the twisty mystery at the story's center is its real hook. Dae-Su (Choi Min-sik) is a drunken lout who is inexplicably abducted and held captive for 15 years. At first, he despairs. Then, he trains, determined to escape and exact a bloody payback upon his captors. When he is suddenly released, however, even his quest for revenge feels oddly orchestrated. As it turns out, Dae-Su's tormentor is diabolically committed, and this film's devious finale will leave you with a pit in your stomach. The 2013 American remake by Spike Lee, which stars Josh Brolin, is also excellent if your Korean is a little rusty or if subtitles aren't your thing.
• Starring: Choi Min-sik, Yoo Ji-tae, Kang Hye-jung
• Director: Park Chan-wook
• Year: 2003
• Runtime: 120 minutes
• Rating: R
• Rotten Tomatoes Score: 81%
Parasite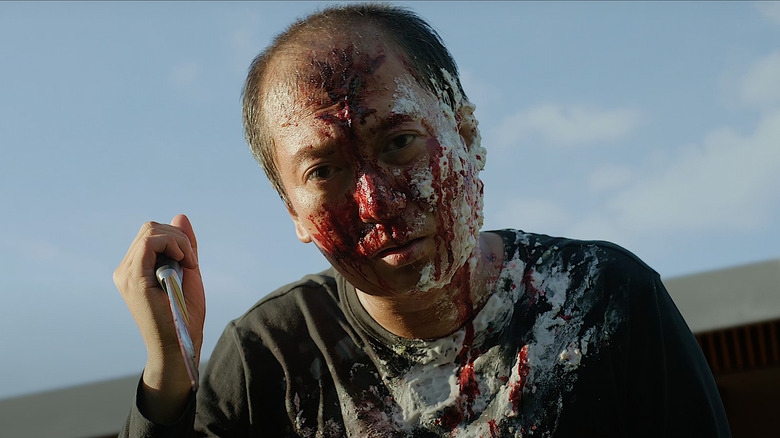 If "Parasite" was your first exposure to South Korean auteur Bong Joon-Ho, you're forgiven for being confused at the film's blend of slapstick comedy, social satire, and a violent thriller storyline. Bong makes beautifully shot class-conscious films, but refuses to turn his beleaguered protagonists into two-dimensional beacons of proletariat virtue. "Parasite" follows the Kims, a family of grifters, as they ingratiate themselves with the wealthy and oblivious Park family. As the Kim clan's con escalates, so does their uncouth behavior and greed. This satirical thriller scores laughs at the expense of one underclass family whose moral poverty ultimately causes their misfortune, but it also depicts South Korea as being literally drowned in ruinous inequality, and never forgets to remind us that everyone involved is a victim of inherently unbalanced social structures.
• Starring: Song Kang-ho, Jo Yeo-jeong, Park So-dam
• Director: Bong Joon-Ho
• Year: 2019
• Runtime: 132 minutes
• Rating: R
• Rotten Tomatoes Score: 98%
A Perfect Murder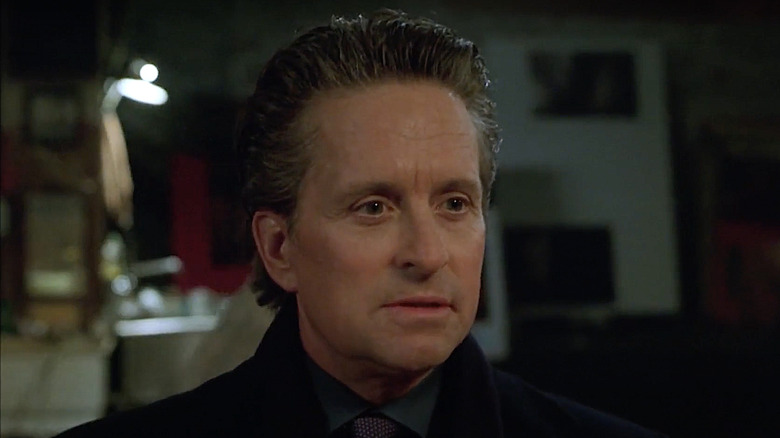 "A Perfect Murder" is a perfectly delicious thriller in the vein of an Alfred Hitchcock movie. It's also the most ridiculously underrated murder-for-hire flick ever made. Michael Douglas plays Steven, a wealthy Wall Street investor whose portfolio is seriously tanking. He discovers that his young wife, Emily (Gwyneth Paltrow), is having an affair with Dave (Viggo Mortensen), a conman posing as an artist. So, Steven makes David an offer: Kill my wife for cash. But when the hit goes awry, Steven must cover his tracks and overcome David's blackmail scheme. 
This thriller lacks a shadowy noir style, but it's an extremely polished mid-budget mystery for adults starring the slime-ball king of '90s thriller bad boys. What more could you want?
• Starring: Michael Douglas, Gwyneth Paltrow, Viggo Mortensen
• Director: Andrew Davis
• Year: 1998
• Runtime: 107 minutes
• Rating: R
• Rotten Tomatoes Score: 57%
The Prestige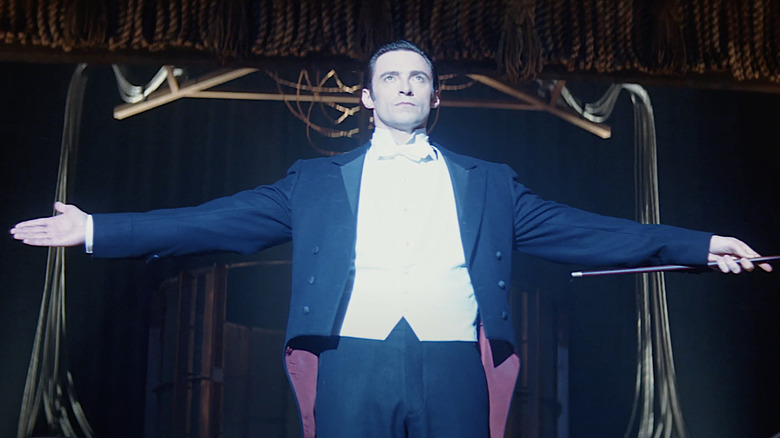 Despite its somewhat middling critical reception, "The Prestige" is Christopher Nolan's best and most beautifully shot film. Thankfully, audiences liked it much better than reviewers, so trust the wisdom of the crowds when evaluating this majestic and operatic thriller about dueling magicians. When Christian Bale's obsessive craftsman, Alfred Borden, accidentally kills the wife of his stage partner, Robert Angier (Hugh Jackman), the men go to war with the inventiveness of two master illusionists. 
"The Prestige" might be underrated among professional movie watchers because the story lacks social commentary and doesn't strive for any larger meaning. The characters have real depth, though, and so does the meta-cinematic parallel Nolan is drawing between stage magic and the trickery of a good thriller plot.
• Starring: Hugh Jackman, Christian Bale, Michael Caine
• Director: Christopher Nolan
• Year: 2006
• Runtime: 130 minutes
• Rating: PG-13
• Rotten Tomatoes Score: 76%
Prisoners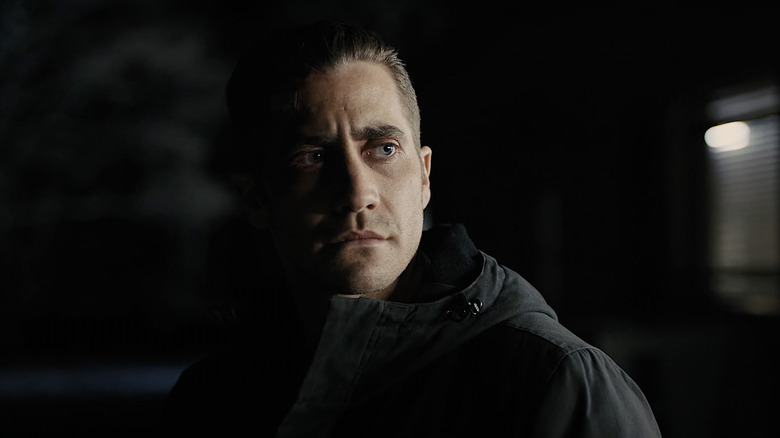 Denis Villeneuve's "Prisoners" has sort of been treated like Christopher Nolan's "The Prestige": It's an acclaimed director's most critically underrated film. In it, Hugh Jackman and Terrence Howard play parents whose children are mysteriously abducted. Jackman's Kelly Dover then captures and tortures an intellectually disabled young man who seems like the clear culprit. Jake Gyllenhaal appears as a twitchy detective caught between the enraged Dover and an investigation that's sprawling into a befuddling whodunnit. This is a tense and twisty thriller full of psychological realism as one father's frantic rage drags him into a hell of his own making. If you love gritty noir mysteries, this is one of the best ever made. 
• Starring: Hugh Jackman, Jake Gyllenhaal, Viola Davis
• Director: Denis Villeneuve
• Year: 2006
• Runtime: 130 minutes
• Rating: PG-13
• Rotten Tomatoes Score: 81%
Presumed Innocent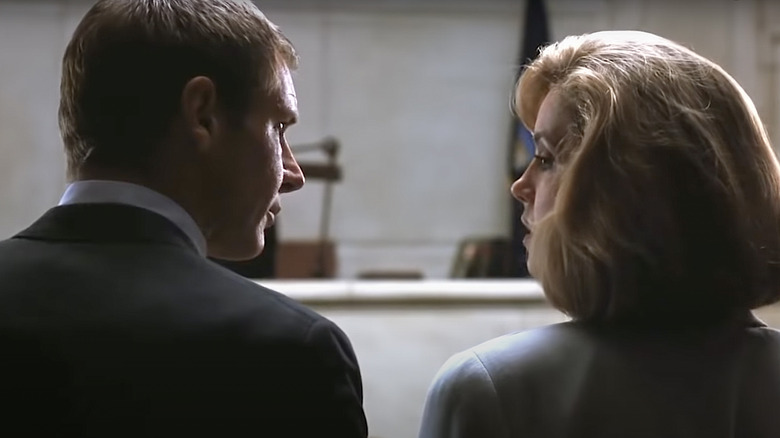 Harrison Ford, rocking his handsome "Blade Runner" crew cut, plays Rusty Sabich, a lawyer working in the district attorney's office. He's had an affair with another young lawyer and his wife knows, but when the woman is found brutally murdered, Sabich is first assigned to investigate, and then charged with the murder. 
"Presumed Innocent" is a classic early '90s thriller shot, like so many movies of the era, with zero stylistic frills: no shallow focus, no handheld movement, no Hitchcockian God shots. It's just a very competent and taut legal procedural in which the real mystery is whether Hollywood will let such a big movie star and his close-cropped hair commit such a heinous crime.
• Starring: Harrison Ford, Brian Dennehy, Raul Julia
• Director: Alan J. Paluka
• Year: 1990
• Runtime: 127 minutes
• Rating: R
• Rotten Tomatoes Score: 86%
Psycho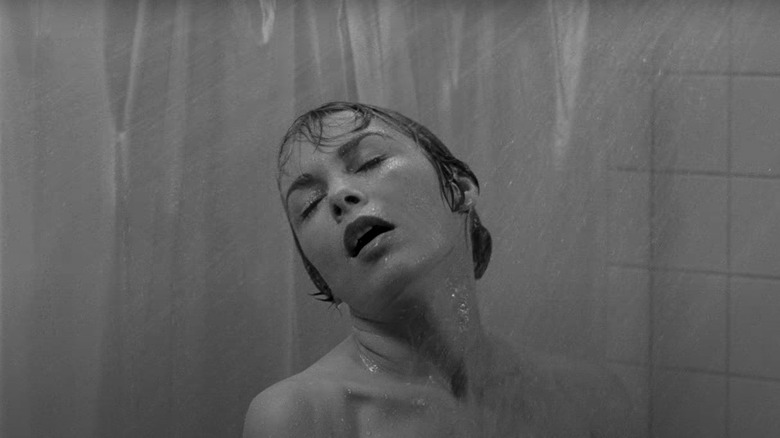 Like many serial killer thrillers, "Psycho" was inspired by the crimes of Ed Gein. Gein idolized his mother, built a shrine to her, and killed two women who reminded him of her. After he was caught, a horrifying menagerie of human body parts was discovered in his home.
This unnerving scene gave us Robert Bloch's novel "Psycho" and its central monster Norman Bates, who dispatches victims at the behest of his overbearing mother. Gein's crimes also matched the fashionable Freudian pseudoscience of the day, which postulated that children are born into a twisted psychosexual conflict with their own parents. These notions have been discredited — Freud himself was perhaps even a knowing fraud — but it makes sense that an ideology this eerie would be cribbed for a classic Hollywood thriller.
• Starring: Anthony Perkins, Janet Leigh, Vera Miles
• Director: Alfred Hitchcock
• Year: 1960
• Runtime: 109 minutes
• Rating: R
• Rotten Tomatoes Score: 96%
Rebecca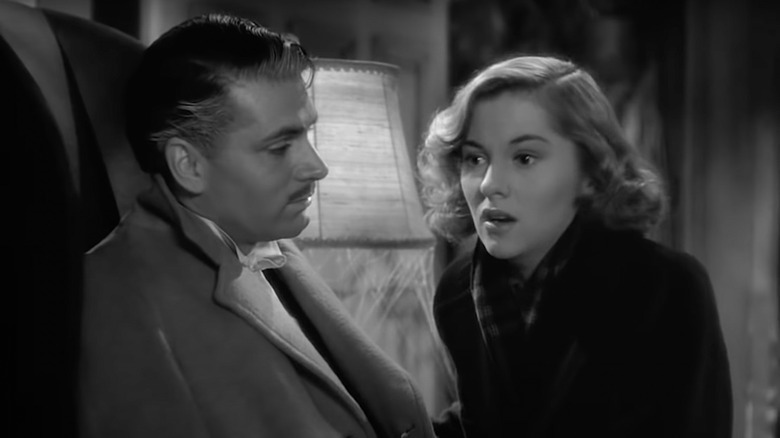 In "Rebecca," Laurence Olivier is Maxim De Winter, a brooding widower who meets a comely young woman in Monte Carlo, played by Joan Fontaine. After a whirlwind courtship, the two wed and return to De Winter's ancestral mansion. There, the moody Max turns cold and lets his housekeeper, Mrs. Danvers (Judith Anderson), make his new wife's life a living hell, all while the specter of De Winter's dead ex haunts the proceedings. 
"Rebecca" is not as dark as the Daphne du Maurier novel upon which this classic film noir is based. Production codes of the day made that impossible. However, it's still a devastating portrayal of a toxic romance with tremendous psychological realism, all captured in a simmering hothouse atmosphere.
• Starring: Laurence Olivier, Joan Fontaine, Judith Anderson
• Director: Alfred Hitchcock
• Year: 1940
• Runtime: 130 minutes
• Rating: NR
• Rotten Tomatoes Score: 99%
Rear Window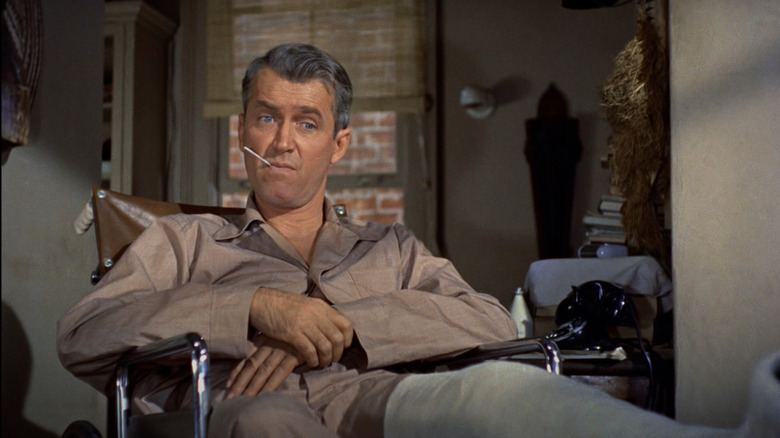 Alfred Hitchcock's most admired films can be seen as vehicles for the director's own fantasies. In "Rear Window," for example, Jimmy Stewart is the voyeuristic stand-in for the great director. He's a photographer, injured on the job and convalescing in his New York apartment. As the summer sun bakes the building's courtyard, this wheelchair-bound man has nothing to do but spy on his neighbors. When he thinks he has witnessed a murder, he tries to convince his fiancé (Grace Kelly) and a police officer before the supposed killer sets his sights on him. Hitchcock's alleged sexual hang-ups are fascinatingly captured by this anxious man who impotently watches the story's sex and violence from afar.
• Starring: James Stewart, Grace Kelly, Wendell Corey
• Director: Alfred Hitchcock
• Year: 1954
• Runtime: 112 minutes
• Rating: PG
• Rotten Tomatoes Score: 98%
Le Samourai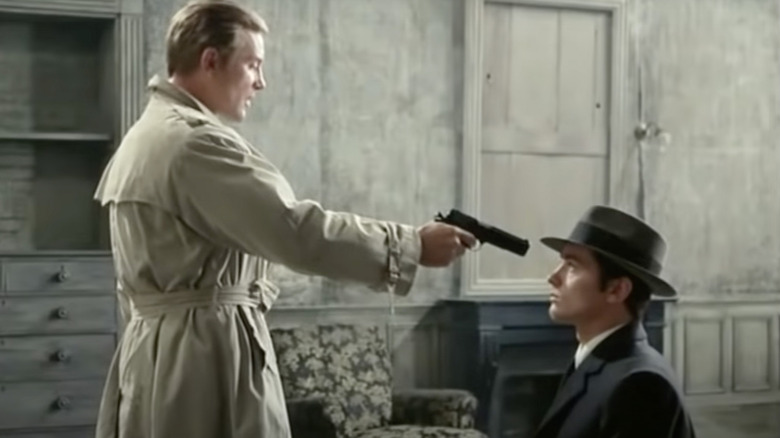 Hitman Jef Costello (Alain Delon) is usually meticulous when on the job, but when he takes out a nightclub owner, the piano player sees him do it. Soon, this hunter has both cops and crooks tracking him down. 
"Samourai" is French for what it sounds like; oddly, the American release is called "The Godson," a title with no meaning other than perhaps engendering confusion with the contemporaneous hit "The Godfather." The sparseness of Costello's life and his warrior code resembles those of a Japanese samurai, but that's a joke, too. This film is riffing on the laconic anti-hero morality of American crime-thrillers by trafficking in film noir cliches.
• Starring: Alain Delon, Nathalie Delon, François Périer
• Director: Jean-Pierre Melville
• Year: 1967
• Runtime: 103 minutes
• Rating: PG
• Rotten Tomatoes Score: 100%
Seven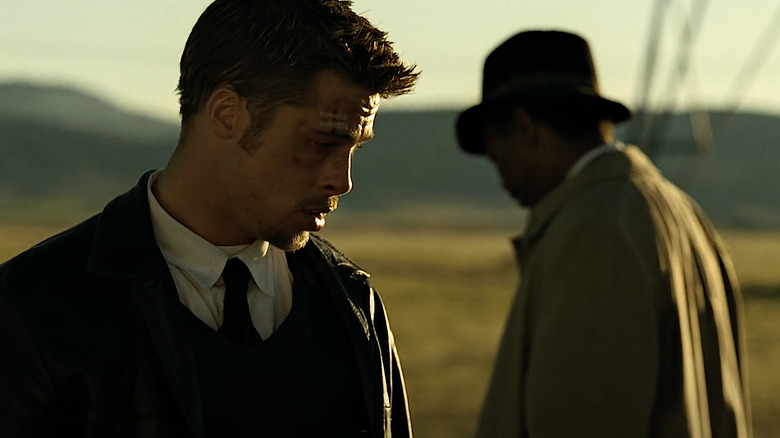 David Fincher's neo-noir masterpiece "Seven" has the ultimate twist ending. The fate of Brad Pitt's detective Mills is also a bit ambiguous and seems to lend itself to a superfluous sequel, but Fincher has definitively said, "I would have less interest in that than I would in having cigarettes put out in my eyes" (Hollywood tried to make one anyway). This bleak tale of a biblically-inspired killer who punishes sinners in an endlessly dreary urban landscape came from screenwriter Andrew Kevin Walker's experience living in New York City after college. If you also paid rent in Gotham's seedier environs in the '80s, you totally understand this film's utter absence of faith in humanity.
• Starring: Brad Pitt, Morgan Freeman, Gwyneth Paltrow
• Director: David Fincher
• Year: 1995
• Runtime: 127 minutes
• Rating: R
• Rotten Tomatoes Score: 82%
The Shining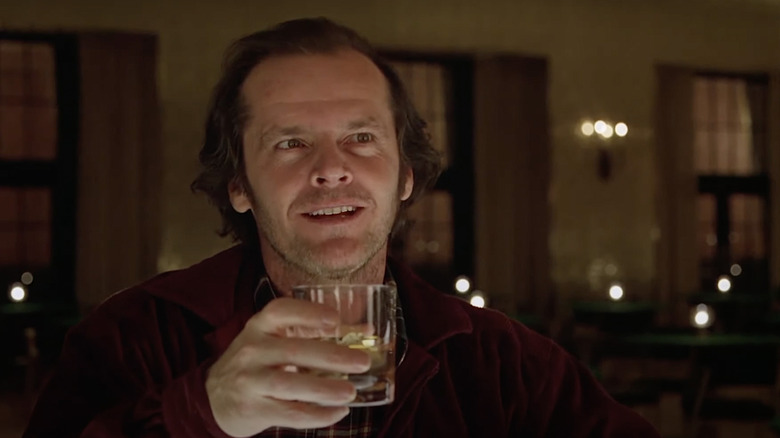 Regarded by many as the greatest horror movie ever made, Stanley Kubrick's "The Shining" built its towering reputation largely on the disorienting effectiveness of the psychological thriller format adapted from Steven King's book of the same name. Jack Torrance (Jack Nicholson) is a writer — of course — who agrees to serve as a winter watchman in the Overlook Hotel. Jack and his family are snowed in for many dark months as an evil force turns Jack's demons against him. Trauma, rage, alcoholism, and destiny are all explored through the supernatural, and only Jack's psychic son shines brightly enough to fight back. 
• Starring: Jack Nicholson, Shelley Duvall, Danny Lloyd
• Director: Stanley Kubrick
• Year: 1980
• Runtime: 127 minutes
• Rating: R
• Rotten Tomatoes Score: 85%
Shutter Island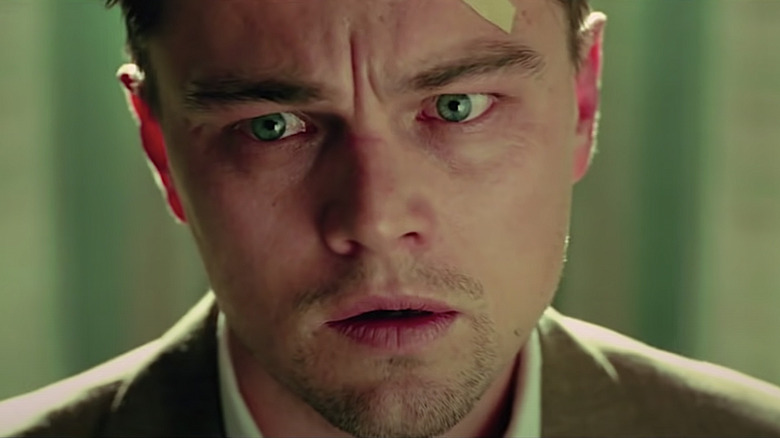 Every time that Martin Scorsese makes a straight-up thriller, critics voice their frustration with lukewarm reviews. Why is this genius being so fun!? "Shutter Island," though, has grown massively in the audience's estimation. Leonardo DiCaprio plays U.S. Marshal Teddy Daniels, who is investigating the disappearance of a patient from a remote Island asylum. The patients, staff, and head physician (Ben Kingsley) all seem to be hiding something. When a storm traps Teddy on the island, he becomes a captive — or maybe he has been all along? It's a familiar format for a thriller: Is the hero insane, or is he being elaborately gaslit? Scorsese does it all with visual panache, though, and the story ends in a moment of tragic beauty. This stylish thriller has earned fans' ever-growing affection.
• Starring: Leonardo DiCaprio, Mark Ruffalo, Ben Kingsley
• Director: Martin Scorsese
• Year: 2010
• Runtime: 139 minutes
• Rating: R
• Rotten Tomatoes Score: 68%
Sicario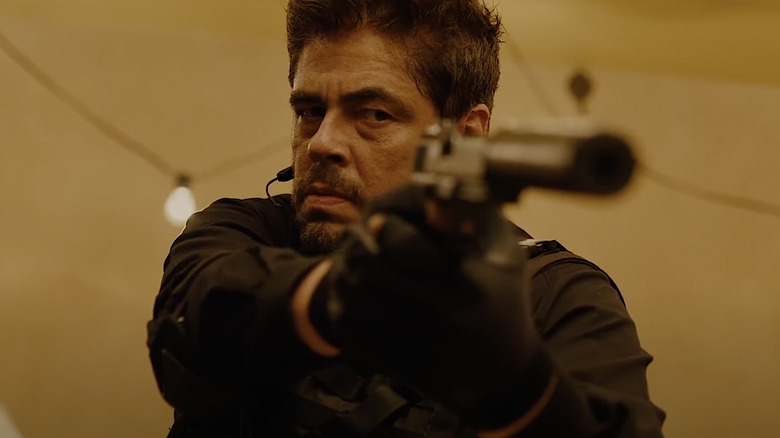 Visionary filmmaker Denis Villeneuve makes movies with such scope that it makes the opening of "Sicario" feel as if it's introducing a large-scale drug war procedural like Steven Soderbergh's "Traffic." However, there are really no drugs in this film, just piles of human carnage left behind by cartels that operate more like twisted terror groups. Emily Blunt stars as an FBI SWAT officer who is recruited by two mysterious spooks played by Josh Brolin and Benicio del Toro. They say their plan is to destabilize a Juarez cartel, but spies tend to lie, and what unfolds is a riveting revenge plot hidden in plain sight. While other drug war thrillers play checkers, "Sicario" is playing chess.
• Starring: Emily Blunt, Benicio Del Toro, Josh Brolin
• Director: Denis Villeneuve
• Year: 2015
• Runtime: 121 minutes
• Rating: R
• Rotten Tomatoes Score: 92%
Side Effects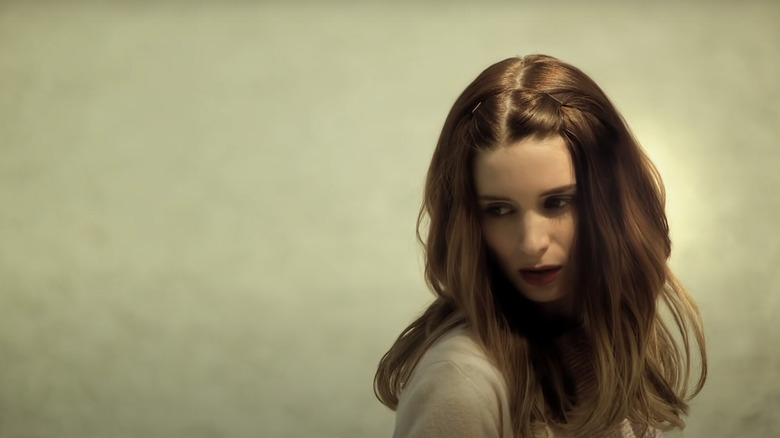 Steven Soderbergh's most underrated film begins like a boxer feinting the left jab. It begins as a critique of big pharma corruption and a disastrous outcome for one patient. Then, it hits you with an uppercut of a twisty thriller, and leaves the politics — and a key character — bleeding on the floor. Rooney Mara plays Emily, a depressed young woman who begins treatment with a dashing doctor (Jude Law). Her meds lead to extreme side effects, which may include murder. That's when the real plot begins to unfurl. Saying more would spoil things; this is a bitter pill you should swallow for yourself.
• Starring: Jude Law, Rooney Mara, Channing Tatum
• Director: Steven Soderbergh
• Year: 2013
• Runtime: 106 minutes
• Rating: R
• Rotten Tomatoes Score: 81%
The Silence Of The Lambs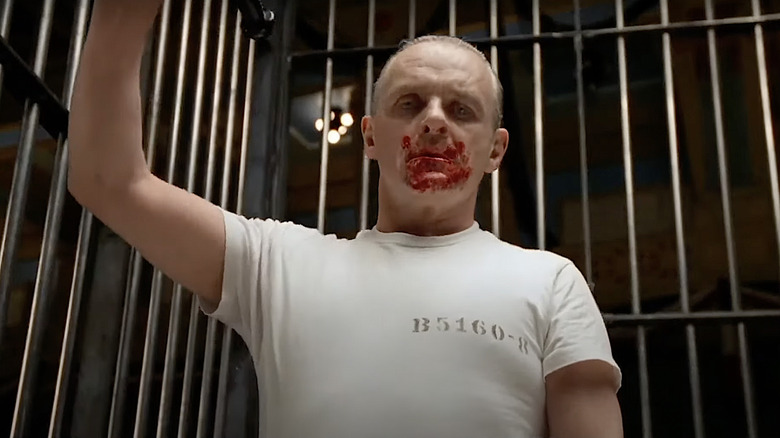 The pinnacle of serial killer thrillers contains an under-appreciated critique of psychiatry. Like "Psycho," the Thomas Harris-penned source material was inspired by the crimes of the woman-hating, human skin-suit-wearing Ed Gein. A psychologist at the end of "Psycho" gives a then-fashionable psycho-babble guide to what we've just seen: Norman Bates kills dressed as "Mother" because his mind is split between his own desires and a Freudian standoff with the deceased family matriarch. 
In "Silence of the Lambs," it's the psychiatrist himself, Hannibal Lecter, who is the ultimate villain. He's an utterly sophisticated figure of "pure evil," and credentialed scientific materialism has led him to a perverse conclusion: The body is just flesh, and therefore makes a delicious entree.
• Starring: Jodie Foster, Anthony Hopkins, Scott Glenn
• Director: Jonathan Demme
• Year: 1991
• Runtime: 118 minutes
• Rating: R
• Rotten Tomatoes Score: 95%
The Sixth Sense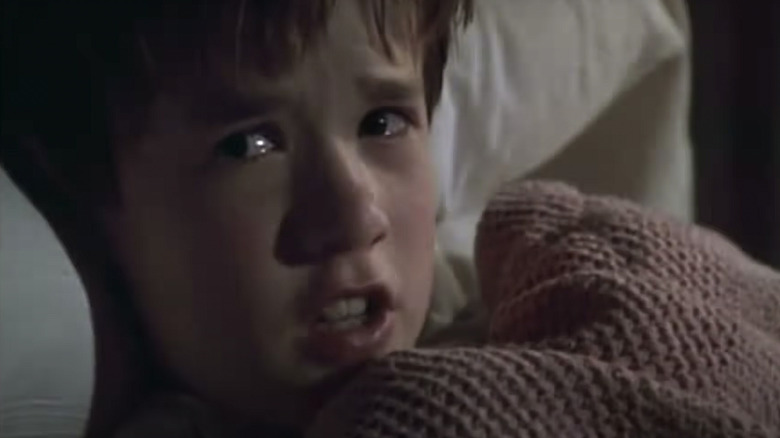 Suspense auteur M. Night Shyamalan did something even more daring than that incredible twist ending in this 1999 classic. He bucked a tragic phase of frenetic Hollywood filmmaking. An admirer of Hitchcock, Shyamalan used fewer cuts, slower camera movements, and often just pure silence in place of a constantly-mobile camera and an orchestral score full of screeching violins. Sometimes, nearly nothing is happening in his frames. 
The result is a hypnotic pace for this story about a young boy (Haley Joel Osment) who is seeing dead people and visits a child psychologist (Bruce Willis) to find out why. Osment is precocious and brilliant, but so was Shyamalan, who was only 29 upon the release of the best ghostly thriller ever made.
• Starring: Bruce Willis, Haley Joel Osment, Toni Collette
• Director: M Night Shyamalan
• Year: 1999
• Runtime: 107 minutes
• Rating: PG-13
• Rotten Tomatoes Score: 86%
Spellbound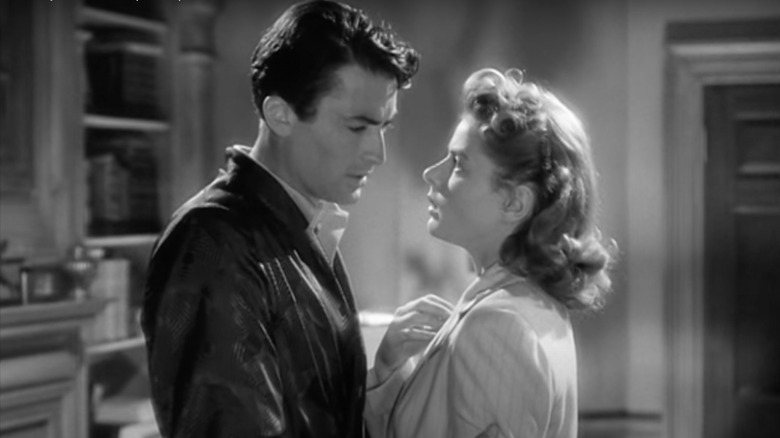 Alfred Hitchcock's interest in the then-burgeoning field of psychiatry was understandable. His personal views of the specialty's merits isn't clear, but he eagerly used Freudian formulations as a playground for his fetishistic imagination. "Spellbound" is an amnesia thriller that relies on a genuine belief in the power of unconscious thoughts. Dr. Constance Petersen (Ingrid Bergman) falls for a fellow practitioner, Dr. Anthony Edwardes (Gregory Peck), but soon finds he is an imposter and has (possibly) murdered his predecessor. Dr. Edwardes also claims to have no true memory of his identity or his crimes. The thrill of this thriller is watching these two try to distinguish love from deception.
• Starring: Ingrid Bergman, Gregory Peck, Michael Chekhov
• Director: Alfred Hitchcock
• Year: 1945
• Runtime: 111 minutes
• Rating: NR
• Rotten Tomatoes Score: 85%
The Spy Who Came In From The Cold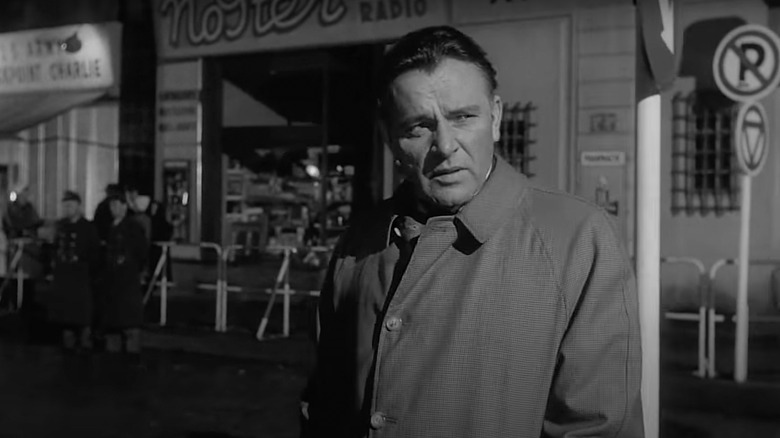 "The Spy Who Came in from the Cold" is a cracking Cold War movie with a puzzling romantic plot that makes it a riveting thriller, too. In this adaptation of the work of spy novelist John le Carré, Richard Burton plays Alec Leamas, a British spook in post-WW2 Berlin. The moral muck of the icy conflict's intrigue has Leamas losing heart, but he takes one last job as a double agent, feigning a betrayal of the West. When he's locked up and interrogated by the East Germans' Stasi state, his enemies use a woman he loves against him in a labyrinthine ploy that only a true master spy could navigate.
• Starring: Richard Burton, Claire Bloom, Oskar Werner
• Director: Martin Ritt
• Year: 1965
• Runtime: 112 minutes
• Rating: NR
• Rotten Tomatoes Score: 89%
Strangers On A Train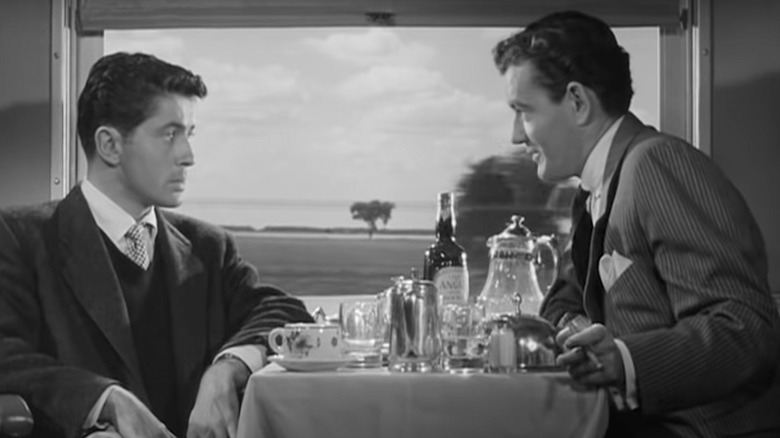 Tennis star Guy Haines (Farley Granger) is being made a cuckold by his cheating wife, who refuses to give him a divorce so he can remarry the daughter of a U.S. Senator. When he meets Bruno Anthony (Robert Walker) on a train, the psychopath proposes a twisted trade: Bruno will kill Haine's wife, and in exchange, Guy must kill Bruno's father. By swapping hits, both will commit the perfect, motiveless murder. Guy humors Bruno, but this deranged stranger isn't willing to let his murderous pitch pass. "Strangers on a Train" is one of Hitchcock's best thrillers, and a good reminder to keep to yourself on public transit.
• Starring: Robert Walker, Farley Granger, Ruth Roman
• Director: Alfred Hitchcock
• Year: 1951
• Runtime: 101 minutes
• Rating: NR
• Rotten Tomatoes Score: 98%
The Talented Mr. Ripley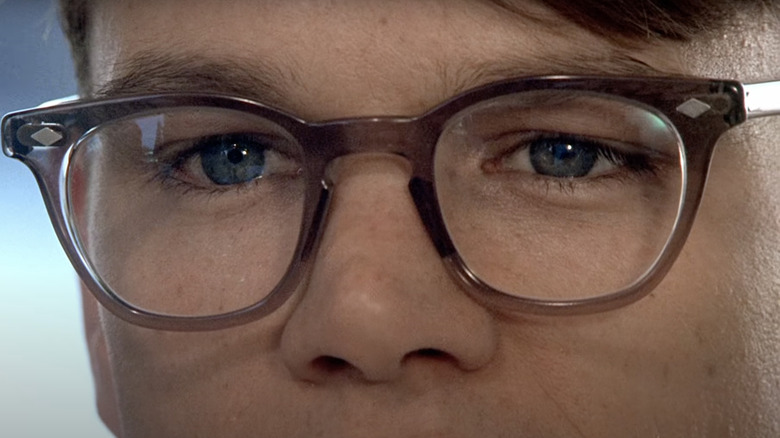 The fatal attraction is a classic thriller premise, and never better embodied than by Matt Damon as the eponymous Mr. Ripley. He's a low-born American social climber posing as a blue-blooded Princeton grad in order to infiltrate the sphere of an old-money young couple, Dickie (Jude Law) and Marge (Gwyneth Paltrow), who live high on the Mediterranean. As Ripley ingratiates himself with the duo, his infatuation with Dickie morphs into murderous frustration. This performance helped make Hollywood sit up and take Damon seriously as a dramatic performer, and he's never looked back. "The Talented Mr. Ripley" is an incredibly vivid portrayal of erotic obsession and the so-called "Machiavellian" personality type who can see other humans as nothing but vessels for their own painstakingly plotted schemes. 
• Starring: Matt Damon, Gwyneth Paltrow, Jude Law
• Director: Anthony Minghella
• Year: 1999
• Runtime: 139 minutes
• Rating: R
• Rotten Tomatoes Score: 84%
Taxi Driver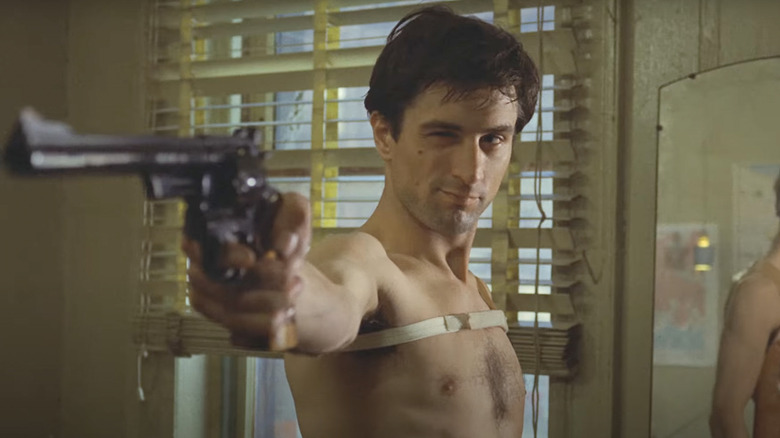 Martin Scorsese's iconic "Taxi Driver" was actually booed when it debuted at Cannes in 1976, yet it still won the Palme d'Or. In it, Robert De Niro plays the nihilistic and rudderless New York City cab driver Travis Bickle. He's a young man with a serious personality disorder, disgusted with the seedy Gotham of the 1970s. When he meets an underage sex worker (Jodie Foster), he's inspired to a bloody act of vigilantism. 
Decades later, the film's brutal climax feels uncannily prescient of the mass shooting epidemic. Unfortunately, like many other famous movie anti-heroes meant as warnings -- Gordon Gekko, Tony Montana, Patrick Bateman, and so on — Bickle's place in pop culture is arguably one of twisted reverence. 
• Starring: Robert De Niro, Jodie Foster, Cybill Shepherd
• Director: Martin Scorsese
• Year: 1976
• Runtime: 114 minutes
• Rating: R
• Rotten Tomatoes Score: 96%
The Third Man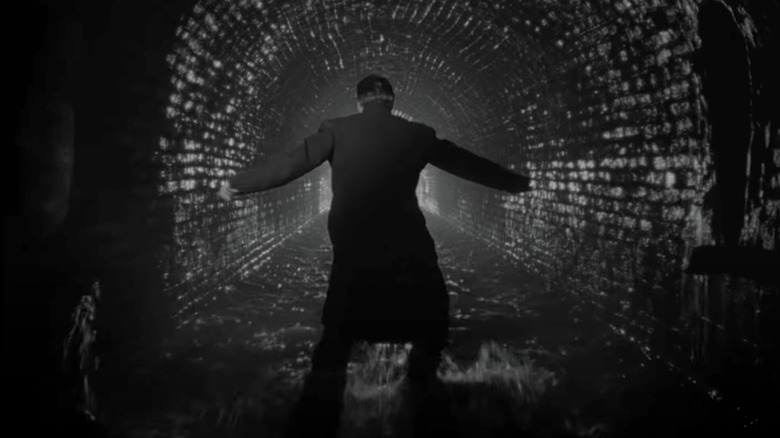 "The Third Man" is the greatest visual achievement of the film noir movement, and director Carol Reed suffered for his painstaking efforts, relying on amphetamines to keep up with the relentless shooting schedule. Holly Martins (Joseph Cotten) is a western-genre novelist who comes to Vienna, only to find that his friend Harry Lime (Orson Welles) has died mysteriously. What follows is a twisted tale of black-market corruption in the desiccated husk of post-war Europe as this citizen detective sticks his neck out to find the truth. This city might be the real star here, though, shot with great flourishes of light and shadow that make everyone's unwillingness to explain what exactly happened all the more suspicious. 
• Starring: Orson Welles, Joseph Cotten, Trevor Howard
• Director: Carol Reed
• Year: 1949
• Runtime: 108 minutes
• Rating: NR
• Rotten Tomatoes Score: 99%
The 39 Steps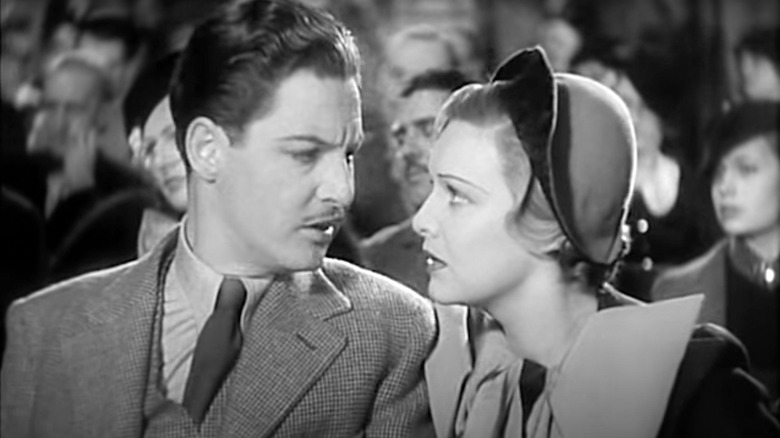 Richard Hannay (Robert Donat) just wanted a quiet evening at the theater. However, when a gun goes off, a frightened woman lands in his arms. Back at his flat, she reveals that she's a spy, and mentions the mysterious "39 steps." Before she can explain, she gets a knife in her back and dies. Now, Hannay is wanted for a murder and must go on the run to untangle this befuddling spy plot. Hitchcock loved wrong-man thrillers and citizen detectives, basically remaking this film with "North by Northwest." Still, "The 39 Steps" remains the foundation for every romantic spy movie you've ever seen.
• Starring: Robert Donat, Madeleine Carroll, Godfrey Tearle
• Director: Alfred Hitchcock
• Year: 1938
• Runtime: 86 minutes
• Rating: NR
• Rotten Tomatoes Score: 96%
Total Recall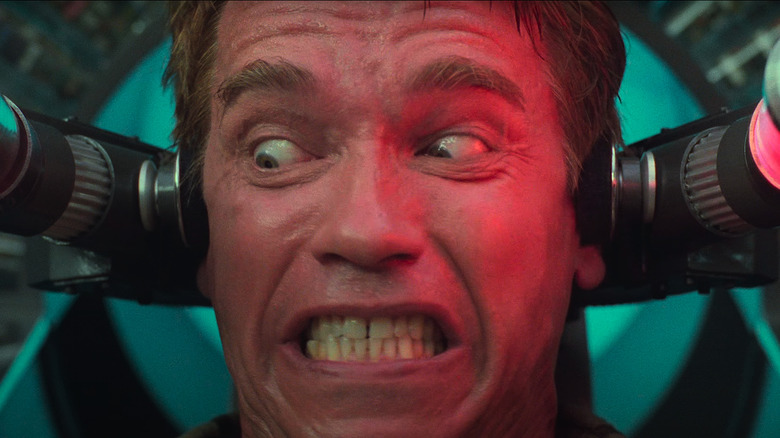 "Total Recall" has been wrongly pigeonholed as an action movie, probably because Arnold Schwarzenegger and his muscles are involved, but it's really a classic amnesia thriller helmed by madcap body-horror director Paul Verhoeven ("Robocop," "Starship Troopers"). Arnold is Quaid, an ordinary construction worker on Earth who visits a "recall" clinic for a memory-implant vacation to Mars. The procedure goes awry and seemingly unlocks his identity as an interplanetary super spy, and Quaid makes his way to a colony on Mars to find out how deep the rabbit hole goes. The most charismatic movie star of the '90s has never had so much surreal scenery to chew as does here, delivering one punny coup de grâce after another.
• Starring: Arnold Schwarzenegger, Rachel Ticotin, Sharon Stone
• Director: Andrew Davis
• Year: 1990
• Runtime: 107 minutes
• Rating: R
• Rotten Tomatoes Score: 82%
Touch Of Evil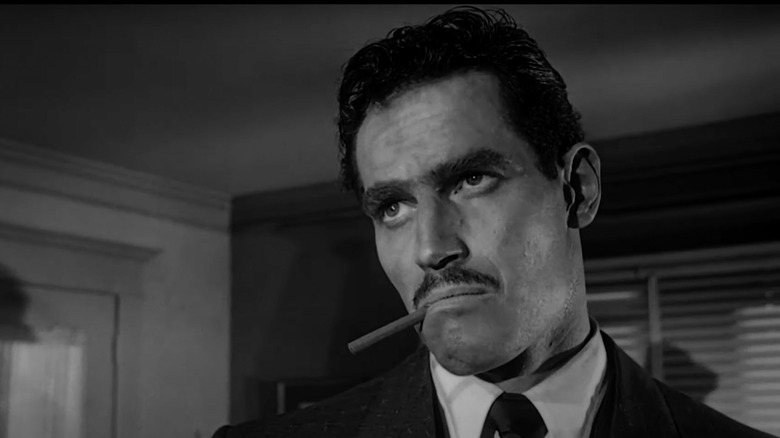 Orson Welles' masterful 1958 crime thriller wasn't seen as the auteur intended until editor Walter Murch recut the film in 1998 according to Welles' notes, removing title cards and non-diegetic music from the famous opening shot. The nearly-four-minute single take sets up a car bomb that goes off near the U.S. and Mexican border, rocking the life of a Mexican drug enforcement agent Miguel Vargas (Charlton Heston), who begins investigating a corrupt American police captain, Hank Quinlan (Welles). In a shocking near-first for a director's cut, the film is actually shorter in the '98 version. What remains, however, are the brilliant film noir visuals and a much more coherent storyline.
• Starring: Charlton Heston, Orson Welles, Janet Leigh
• Director: Orson Welles
• Year: 1958
• Runtime: 111 minutes
• Rating: NR
• Rotten Tomatoes Score: 95%
Uncut Gems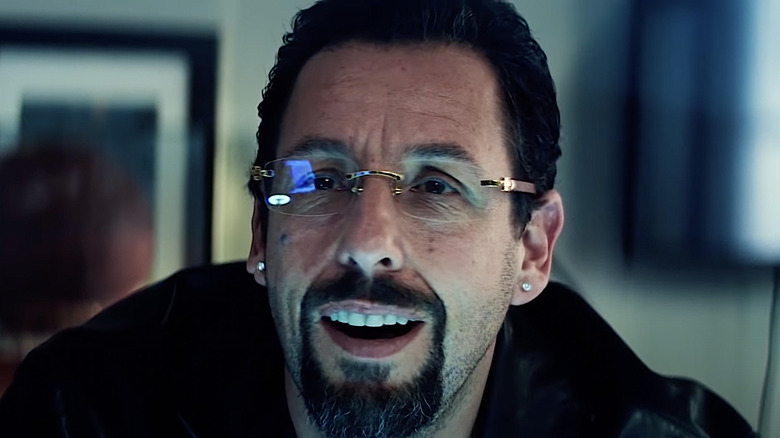 "Uncut Gems" is one of the most relentless, anxiety-inducing films ever made, and comes from the minds of the best team of crime-thriller directing siblings since the Coen brothers, Benny and Josh Safdie. Here, Adam Sandler plays Howard Ratner, a Jewish jewel merchant in New York City's famed diamond district. He's also a gambling junkie whose life is spiraling out of control. When Howard smuggles in a precious opal stone, it's a deal that could finally set him up, but his addiction makes him see any windfall as an opportunity for another long-shot parlay. Sandler's performance is his best since "Punch Drunk Love," and will have you gritting your teeth until the shocking finale.
• Starring: Adam Sandler, LaKeith Stanfield, Julia Fox
• Director: Benny Safdie, Josh Safdie
• Year: 2019
• Runtime: 134 minutes
• Rating: R
• Rotten Tomatoes Score: 92%
Vertigo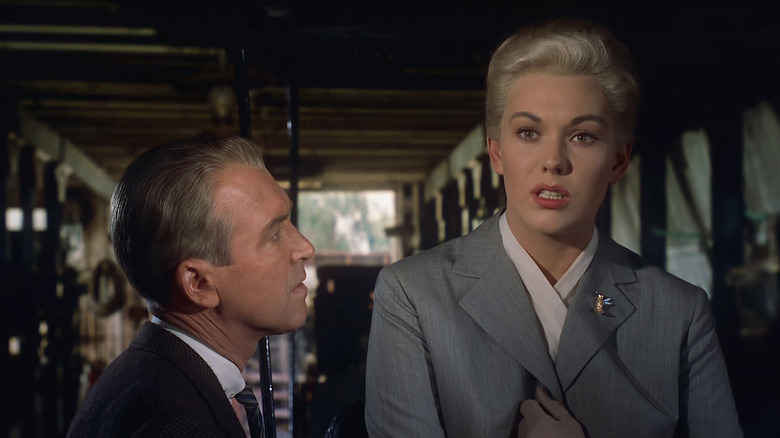 "Vertigo" is Alfred Hitchcock at his most metaphorical. In this artful exercise in motifs, we see images of a swirl appear over and over: in a woman's hair, as part of a bouquet, as a spiral staircase. Jimmy Stewart plays Scottie, a former cop traumatized by a near-death experience who suffers from a fear of heights. He's hired to watch over a friend's wife, but falls in love with her even as he discovers that she might be possessed. Eventually, Scottie is pulled into a vertiginous mystery and must face his greatest fear. 
So many decades later, "Vertigo" comes off campy, but it's a foundational psychological thriller and was massively influential on the next generation of great filmmakers, including the likes of Martin Scorsese.
• Starring: James Stewart, Kim Novak, Barbara Bel Geddes
• Director: Alfred Hitchcock
• Year: 1958
• Runtime: 128 minutes
• Rating: NR
• Rotten Tomatoes Score: 94%
The Witch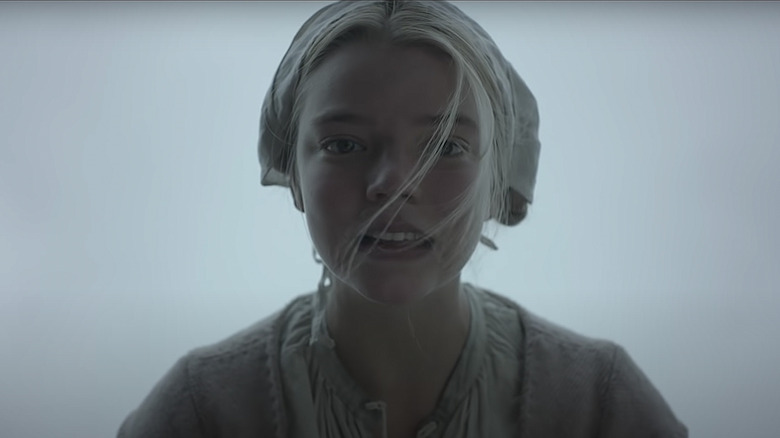 "The Witch" is the stunningly stark yet stylish feature debut of suspense savant Robert Eggers, who makes immaculately crafted horror-thrillers like a demonically possessed Wes Anderson. "The Witch" is a measured and period-accurate suspense masterpiece. Set in the 1630s, a religious fanatic (Ralph Ineson) proves too zealous even for his fellow 17th-century American Puritans and must live on a remote homestead with his family. When their new baby vanishes, his eldest daughter (Anya Taylor-Joy) is blamed. Accusations of witchcraft soon follow, and this isolated clan's devotion to one another becomes the true test of their faith.
• Starring: Anya Taylor-Joy, Ralph Ineson, Kate Dickie
• Director: Robert Eggers
• Year: 2015
• Runtime: 93 minutes
• Rating: R
• Rotten Tomatoes Score: 90%
Zodiac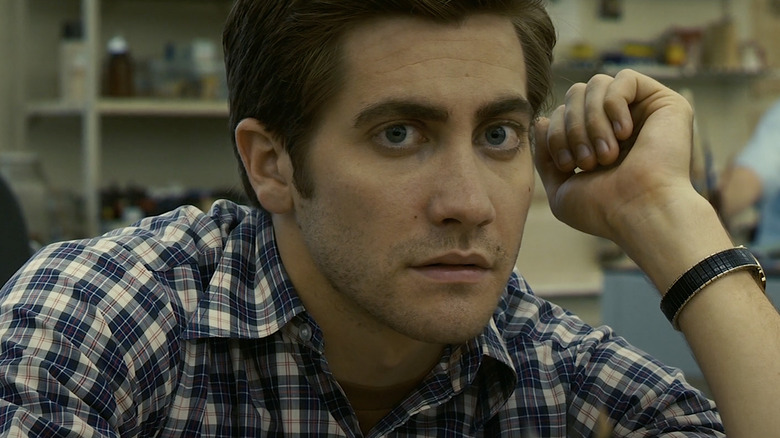 The amazing thing about "Zodiac" is how many people love a nearly three-hour procedural in which the serial killer is never actually caught. Jake Gyllenhaal plays the real-life newspaper cartoonist Robert Graysmith, who becomes fixated on the mysterious ciphers the Zodiac Killer sent to newspapers in the late '60s and early '70s. His investigation, though, is a series of suspenseful dead ends in a film that's much more about obsession than resolutions. "Zodiac" does identify a prime suspect, however, and he may be owed an apology — In 2021, a team that included military intelligence code breakers claimed that deceased man named Gary Francis Poste was Zodiac. Whether it accurately names the killer or not, however, David Fincher's "Zodiac" brilliantly captures America's never-ending obsession with the ultimate unsolved mystery.
• Starring: Jake Gyllenhaal, Mark Ruffalo, Robert Downey Jr.
• Director: David Fincher
• Year: 2008
• Runtime: 162 minutes
• Rating: R
• Rotten Tomatoes Score: 89%
Read this next: The Best Movies Of 2021
The post The 95 Best Thrillers Ever Made appeared first on /Film.