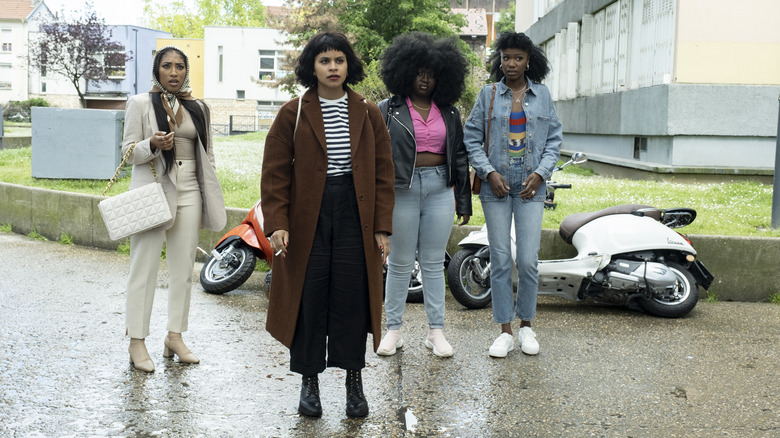 At long last, the season of "Atlanta" that was supposed to be "more about Van than Earn" ends with an episode that is all about Van, and we finally get an explanation for her strange behavior throughout the season. "Tarrare" sees our lone female lead on a chaotic adventure in Paris, working three distinct jobs: a femme domme for a certain member of the Skarsgard clan, an intimidating courier who is not above bread-based violence, and a sous-chef serving up cannibal cuisine.
It goes without saying that this episode was unfiltered insanity, and weirdos who get off on reading my reviews and sending hate mail over the less favorable ones will be disappointed to know that I did not dislike this one — although it still doesn't top "Cancer Attack" as my favorite of the season. That said, if you want to find out which of the Skarsgards Van spit on, and what exactly I mean by "bread-based violence," keep reading.
Taking The Piss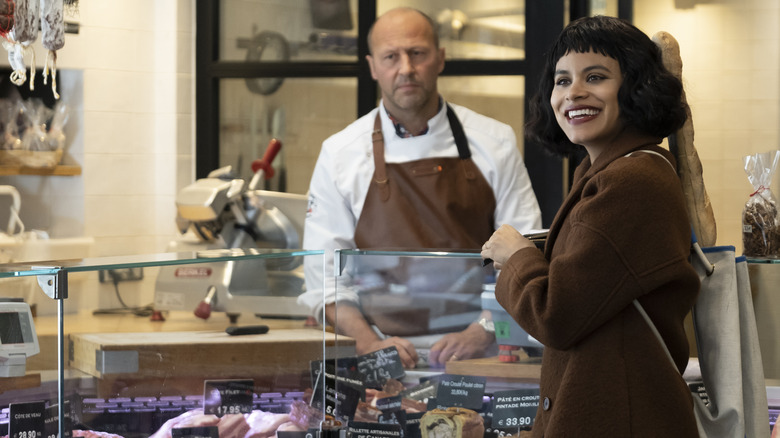 The episode begins with a fun girls trip in Paris, featuring the return of Van's friend Candice (Adriyan Rae), who was also in the "Champagne Papi" episode. Candice has invited two other ladies, Xosha (Xosha Roquemore) and Shanice (Shanice Castro), along for her urophilia-themed "business trip" — meaning she's there on the dime of a French guy who paid her $6000 USD to pee on him. As the trio discusses how to spend their time in France, Candice spots a familiar face: Van.
Van is sporting an unflattering wig as opposed to her lovely natural mane, and seems to be making an effort to avoid Candice initially. Unable to shake off her old friend, Van invites the girls to her apartment, and it's obvious that Candice is growing increasingly concerned with each new detail about Van's new life and persona. If the fake French accent wasn't enough of a red flag, Van also has numerous missed calls and messages from Earn and her mother — who has been taking care of Lottie in her absence — that have gone unanswered. Van ignores her estranged friend's attempts to speak to her privately and presumably address all the weirdness, and the women follow Van and her terrible-looking wig to Alexander Skarsgard's place.
There, Skarsgard entertains the ladies by dancing to Ashanti's 2003 bop, "Rock Wit U" and suggesting that they all get naked. The optics of this very white man playing dancing around in a speedo while attempting to pull a group of Black women into his racially charged fetishistic shenanigans are really something. While Skarsgard gyrates, Van is busy planting meth in the actor's bedroom. Candice attempts to finally confront Van, but she continues to deflect and avoids addressing the fake-accented elephant in the room, announcing that it's time to go and leading the girls back into the apartment lobby. There, she suddenly begins acting distraught and begs the front desk clerk to go save Skarsgard's life because he's on drugs again, and she leads the confused girls to their next stop on the increasingly bizarre adventure.
What's In A Name?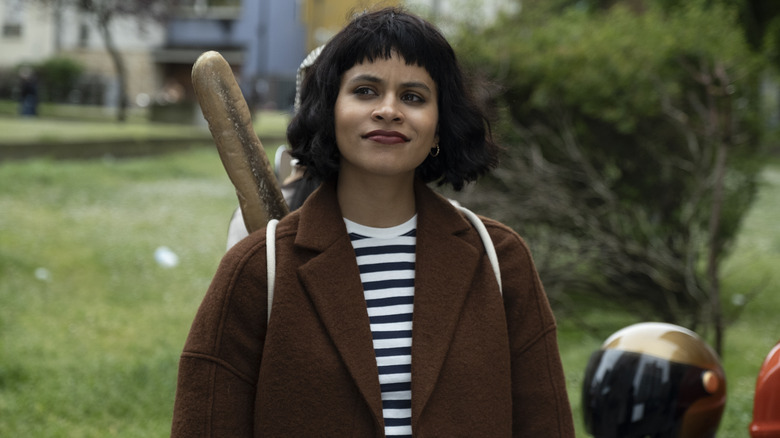 They arrive at some pretty sketchy-looking apartments, where a group of young men addresses Van as "Tarrare," who she explains is "the man who ate the baby." The real-life Tarrare was indeed a man who was suspected of eating a 14-month-old child as a result of his incurably insatiable appetite. Like Tarrare, the girls quickly learn that Van is also willing to go to unspeakable extremes in order to fill a void — including beating a man within an inch of his life with an extremely stale baguette. The man in question is the fiance of a fellow who Van appears to be good friends with, which makes her violence all the more shocking. Why does Van decide to go full Negan on her friend's future betrothed with french bread? Because he failed to deliver a very important package. After retrieving this package, Van once again whisks the gang of gals away. Candice mentions to her companions that Van isn't acting like herself, but Xosha and Shanice express that they don't care because Van's alarming behavior makes for an exciting time, and they're just trying to have fun and enjoy the show. Their voyeuristic attitudes (and justification thereof) frustrate Candice, who seems to be the only member of their party reacting realistically put-off by everything going on around them.
They arrive at some sort of gathering, where Van is greeted by an enraged Alexander Skarsgard, who says he lost out on the "Baby Shark" movie after the press caught wind of the drug scandal that she orchestrated earlier in the episode. He tells them never to pull some shit like that again, and she responds by spitting in his face. As Van suggested and I suspected, this is merely part of their kinky "devil dance," as evidenced by Skarsgard furiously jacking off in the bathroom, fueled by the latest development in their extensive BDSM tinged relationship. Meanwhile, Van delivers the package to her Parisian boyfriend, Marcel, who begins to prepare the meat inside. While Candice continues to try to get through to an undeniably unhinged Van, Xosha and Shanice accept an invite to the exclusive dinner that Van and her boyfriend are cooking up.
Worst Handjob Ever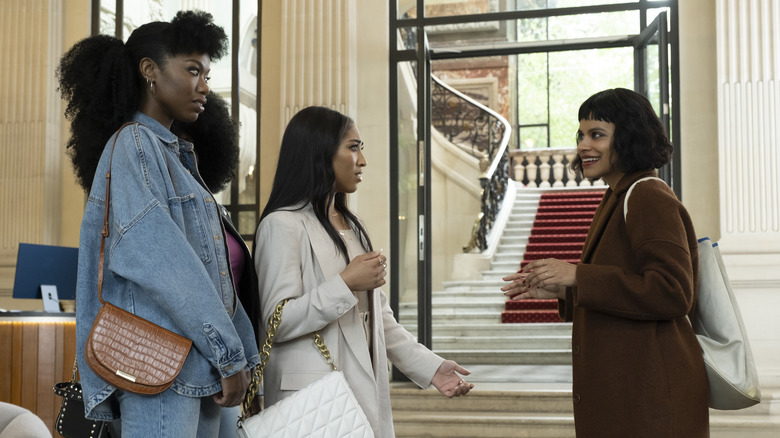 This exclusive meal turns out to be fried hands. Human hands. Van rocked some poor guy's shit for a package of human hand meat. To be fair, it looks like a lot of care went into the preparation of the hands, and everyone there – save for Shanice and Xosha, who excuse themselves once they realize what's on the menu – is seemingly aware of the fact that they're engaging in cannibalism, as evidenced by Alexander Skarsgard walking up and enthusiastically announcing that he's ready to eat some tasty li'l hands.
Back in the kitchen, Candice is making progress with Van, who dismisses her genuine concern as jealousy and lashing out because she isn't in control for once. This appears to sting, but Candice isn't deterred, and she keeps pressing until her mention of Lottie causes Van to lose grip of the delusion she's been clinging to. She begins to speak in her normal voice, hyperventilating and asking to see her daughter before she begins to cry. Candice embraces her, and the show cuts to a scene in which she and Van – no longer wearing that ugly wig – are sitting outside on a bench. Van tells Candice that before coming to Europe, she had been feeling "off" for a while. This feeling eventually led to her having a dissociative episode while driving, causing her to drive on the wrong side of the road. Feeling ashamed and like a failure of a mother, she picked up Lottie from school and dropped her off at her mother's house. Then, she flew to Amsterdam with no plan and has been trying to figure out who she is since then, unsuccessfully trying to live her own "Amélie"-inspired fantasy.
During this heart-to-heart about mental health, identity, and motherhood, Shanice has taken it upon herself to go relieve her bladder directly onto a willing participant. She does so while staring at the Eiffel Tower, which is all aglow against the dark night sky. The peeing sequence lasts for what I felt was an uncomfortably long period of time, but I don't really know what an appropriate length of time dedicated to showcasing interracial, urine-based watersport kinks would be, so maybe that's just my personal bias against body fluids coming out. Eventually, the credits roll, but that's not the end of the strange story.
Post-Credits Scene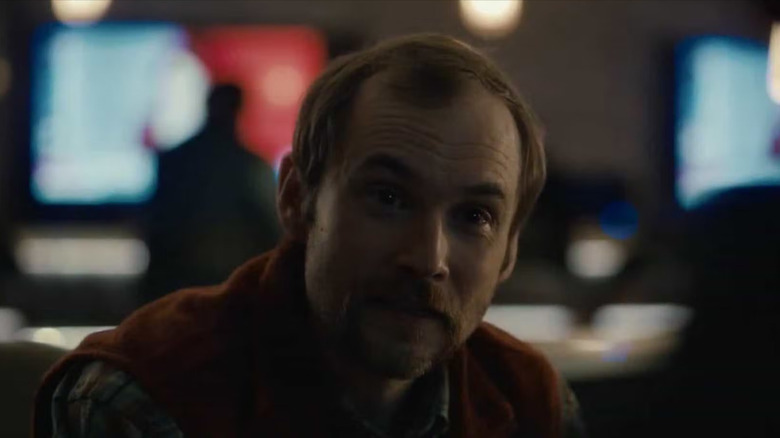 If you stick around for the duration of the credits, another scene plays. It appears as though Earn is back in Atlanta, and a delivery driver has a piece of luggage for him. The bag belongs to "Earnest Marks," which is his name, but Earn says that it can't be his bag because he already has all of them. The delivery driver doesn't care, has him sign for the bag, and drives off. Earn returns to his room and opens the mysterious satchel with his name on it. Inside, he finds some prescription medication, a Deftones t-shirt, and a family photo featuring "White Earn" (Tobias Segal) and his family. White Earn first made his appearance in the season premiere, "Three Slaps," delivering a monologue about the nature and concept of whiteness. He returns again in "The Big Payback" to drop an argument in defense of reparations for slavery on the episode's protagonist, and then proceeds to blow his brains out with a handgun.
Throughout the season, I and tons of other "Atlanta" viewers have theorized about White Earn and other characters being ghosts, physical manifestations of the main characters' subconscious fears, or alternate reality versions of the characters with whom they share similarities. The fact that White Earn and Earn share both a first and last name, and that Earn's receipt of his luggage, implies he actually existed in the same universe and wasn't merely a fever dream or apparition. This could potentially open up some interesting doors for season 4 of FX's hit afro-surrealist comedy series, or it could just be something we aren't meant to think too much about beyond being shocked and entertained. Whatever the intent and impact of this eerie reveal, it's sure to have fans and critics talking until season 4 premieres this fall.
So Did I Like This Episode?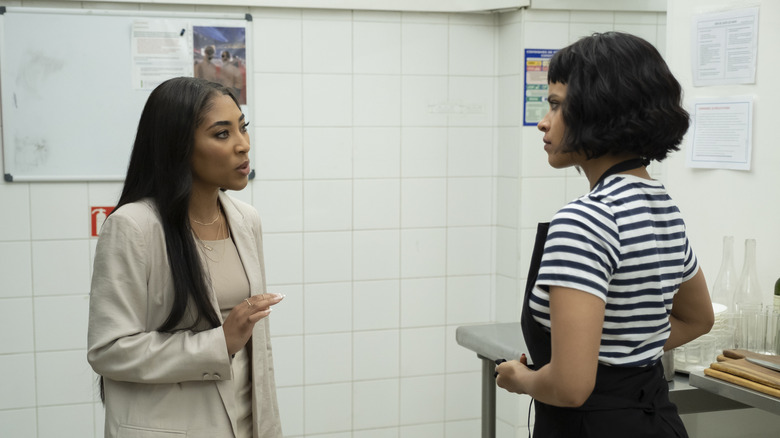 Overall? Yeah. I said back in another episode review that I wanted to see fellow Black girls doing wild shit, and I got my wish. Is it perfect? No. Is it fun and entertaining? Absolutely. For anyone who has been keeping up with these reviews and recaps, it's no secret that I haven't been the biggest fan of season 3 for a variety of reasons. While there were plenty of funny and well-executed moments, and I enjoyed multiple episodes despite what I felt were some questionable and disappointing elements and choices, I feel this finale was a fitting end to a season that was equal parts entertaining and uneven in terms of execution and intent. It's not that I didn't "get" it — I just didn't always like it, even as a huge fan of absurdist humor and addressing things that make people uncomfortable, both of which "Atlanta" does with varying degrees of success.
As far as this episode goes, I think it's somewhat of an improvement in terms of the show's track record with not allowing for depth or unique characterization when it comes to Black women and how they fit into the narrative. That said, my optimism is extremely cautious. I really don't know how I feel about the portrayal of Van's mental health struggles just yet, partially because I'm not sure I trust the show's writers to handle it in a way that isn't ultimately reductive and potentially harmful. You know, assuming the storyline is completely dropped next season. As a Black mom and a bit of a free spirit myself, I did find it somewhat relatable enough to warrant more processing and thought. It's not often that Black women and girls are portrayed as sympathetic, 3-dimensional characters with mental health struggles and vulnerability in a way that is realistic and humanizing, so I just hope "Atlanta" doesn't f*** it up.
Finally, I do think it's funny that Candice's reaction to Van's behavior and the absurdity of their adventure is that she's worried and trying to figure out what the f*** is going on, while Xosha and Shanice are unwilling to look into things and blatantly state that they're just here to be entertained. In a way, this echoes the sentiments of the "Atlanta" audience, where one side is a bit more analytical and not always willing to accept things at face value, while the other says "it's not that deep" and is willing to eat up whatever is served to them. Will I be tuning in for season four? Who knows. That's all, folks.
Read this next: 20 Underrated Rom Coms You Need To Watch
The post The Atlanta Season 3 Finale Serves up Kinky Chaos & Baguette Beatdowns appeared first on /Film.