The Ultimate List of Clutter-Free Gift Ideas for All Ages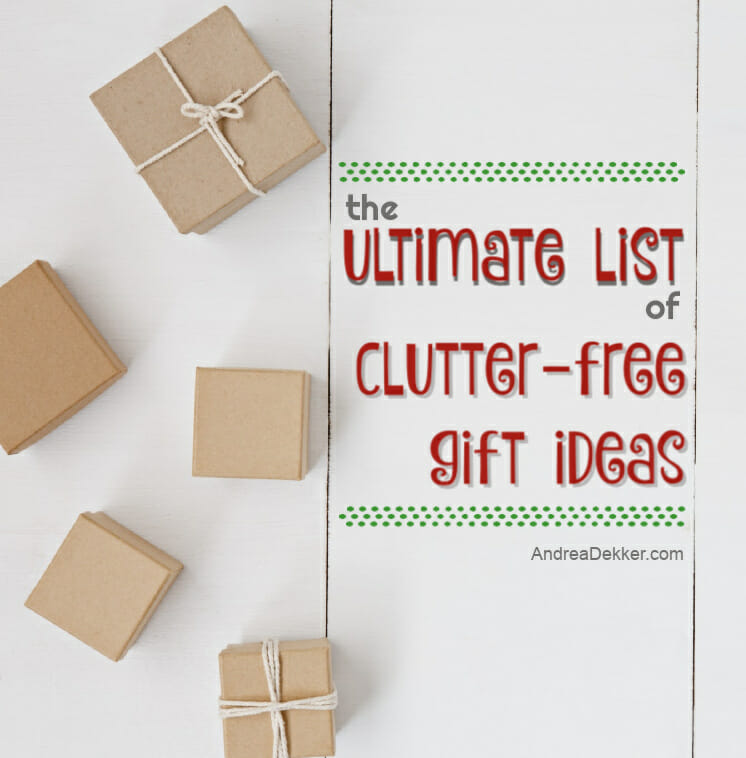 Hows your holiday shopping coming along? Are you looking for a few clutter-free gift ideas to add to your list?
If so, youre in luck because Im sharing a HUUUUGE list of clutter-free gift ideas for ALL ages and all budgets.
Food:
Dave and I are both big food gift lovers. Its not odd for us to ask for a freezer meal or baked goods for a birthday or Christmas gift and of course, we LOVE restaurant gift cards to our favorite places.
I realize that food gifts can get tricky when allergies and food sensitivities are involved, but if you enjoy baking and cooking, the gift of food might just be the perfect clutter-free gift for the people on your gift list!
Some examples of my favorite clutter-free food gifts:
Home-canned and preserved goodies.
Caramel corn (or other fancier flavored popped corn)
Jar mixes (like cookies or brownies in a jar)
DIY Goodie Bags (I can make 30 bags in under 30 minutes for under $30)
King-Size candy bar
Specialty beer, wine, soda, coffee, or tea
Lunches for the week (offer to pack or buy them lunch for a full week)
Bring a meal any time of the week (schedule it with them ahead of time)
A couple of freezer meals to reheat whenever.
Buy groceries for the week.
Costco muffins or pie
Favorite candy, mints, or gum.
Find more creative food gift ideas in this post.
Gift Cards:
Contrary to what many of you might think, a gift card doesnt mean that you waited until the last minute to buy something. I give gift-card gifts ALL the time and I always buy them in advance (usually when Meijer offers their $5 off gift card deals).
I know some are against gift card gifts because they feel less personal, but in my own opinion, I feel gift card gifts CAN be extremely personal and thoughtful!
Some examples of my favorite clutter-free ways to give gift cards:
Gas gift card + air freshener, car wash coupon, and other small car items
Movie theater or Netflix gift card + popcorn, candy, and other common movie snacks
Mall or Boutique gift card hidden inside a silly Christmas sweater or home decor gag-gift item.
Restaurant or coffee shop gift card inside a reusable mug or attached to a coupon for free babysitting
Spa or salon gift card with fuzzy socks, bath salts, wine, and chocolate
iTunes gift card with another Apple product (like air pods, apple watch, or even a new phone (pricey, but appreciated!)
Amazon gift card in a box or bag of their favorite treats
Any gift card for a place you know they go regularly wrapped somewhat creatively, or even hidden throughout the house in a scavenger hunt style.
Find more creative gift card ideas in this post.
The kids preschool teacher LOVES Pete The Cat so we found these silly earrings and paired them with a Panera gift card and some hot chocolate.
Cash:
I realize giving cash might seem somewhat impersonal but I promise it doesnt have to be. There are plenty of ways you can give super fun and creative cash gifts to people of all ages.
And if you dont feel comfortable giving an all-cash gift, think of a way you can pair it with a tangible gift like buying them the coffee maker they asked for and stuffing the coffee carafe with $1 bills; or buying the book they wanted and lining the inside cover with cash.
Some examples of my favorite clutter-free cash gifts:
Put money inside a balloon and then blowing it up.
Hide money inside a roll of trash bags (yes, you need to unroll them all first!)
Give rolled coins for a super heavy gift
Hide bills inside of books or magazines
Freeze money in a block of ice (cold hard cash)
Give a money tree (heres a tutorial on how to make one)
Hide bills inside a favorite snack or food item (wrap it in a plastic bag first to conceal germs)
Give a piggy bank already filled with money
Fold a dollar bill into an origami shape (here are a bunch of tutorials on how to do this)
Find more creative cash gift ideas in this post (be sure to read the comment section too!)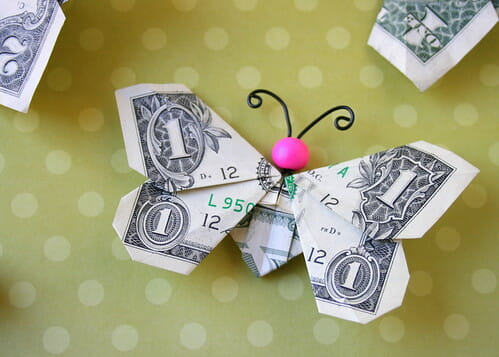 Experiences:
Whenever I mention clutter-free gifts people usually think of experience gifts first and thats probably because there are SOOOO many fabulous clutter-free experience gifts.
Some examples of my favorite clutter-free experience gifts:
Trip to the zoo, museum, aquarium, or another local attraction
Tickets to a concert or special event
Season tickets for a sports team
National Park Pass
Family pass or membership for local attractions
Plan a trip together
Help them complete something off their bucket list
Plan a date with mom, dad, grandparents, aunts, uncles, etc.
Head to the spa together
Organize a freezer-cooking day or craft day with various friends.
Find more creative experience gifts ideas in this post (see below for more ideas as well.)
Acts of Service:
This is always one of my favorite clutter-free gifts Dave is really good at giving acts of service gifts to me.
He realized very early in our marriage that Id MUCH rather have him wash the dishes, fold the laundry, take the kids outside to play all afternoon, or help me pull weeds than buy me a dozen roses or a new pair of earrings.
While acts of service gifts arent for everyone, I know lots of people love them!
Some examples of my favorite clutter-free acts of service gifts:
Free childcare for a few hours.
Bring a meal
Clean the house for them (or with them).
Do all their chores for the day (especially fun for siblings)
Run errands for them for the day.
Make a menu plan for them for the week or the month.
Wash their car (inside and out).
Give them a voucher to sleep in.
Find more creative acts of service gift ideas in this post.
Charitable Donation Gifts:
Ive found that charitable donations are often the best gift idea for the person on your list who has everything.
Whether its making a monetary donation in their name or volunteering together as a nice way to spend time together, there are lots of great organizations to choose from.
Some examples of my favorite charitable donation gifts:
Volunteer together (or as a family/group).
Make a donation in their name to a cause they feel passionate about.
Sponsor a Child through Compassion International.
Sponsor a local family this holiday season, and shop and wrap these gifts together.
Serve a meal at a soup kitchen.
Support a disaster relief fund in their name.
Buy and donate books to the local library in their name.
Find more creative charitable donation gift ideas in this post.
If you need more specific clutter-free gift ideas, Ive listed several below based on age.
I tried to come up with a variety of ideas, price points, interests, age levels, etc. but I know there are HUNDREDS more. Please feel free to leave your favorite ideas in the comments below!
Clutter-Free Gift Ideas for Kids:
Zoo or museum memberships
A date with a favorite person (mom, dad, grandparents, aunts, uncles)
A special outing with friends
Tickets to an age-appropriate concert, movie, or another event
Subscription for a kids magazine or book club
A special privilege (stay up late, extra dessert, a special snack, get out of doing chores for a day, etc.)
Ear piercing
Bedroom makeover
Craft supplies (that will eventually be used up)
A baking/cooking day with a favorite grownup
A night with the lights driving around looking at holiday lights and having special snacks in the car
Park pass for local water or amusement park
Paying for special classes or lessons (music, dance, sports, art, etc.)
Sponsor a child from another country and let your child write back and forth and send pictures
Clutter-Free Gift Ideas for Teens:
Concert or sporting event tickets
Movie tickets
Gift cards for gas, carwashes, or oil changes
Gift cards to the mall, a favorite store, or a favorite restaurant
iTunes (or other music) download credit
Cell phone, Tablet, smartwatch, etc.
Cell phone accessories or Apps that they might want
A weekend away (or a night away) with a parent and a couple of friends
Special jewelry
Netflix subscription
Volunteering for a needy organization together for a day (possibly with a group of friends)
Setting up a day to do as many Random Acts of Kindness as you can fit in (maybe with a special lunch or dinner out)
Toiletry items (perfume, cologne, makeup, or something else that will eventually be used up)
Bedroom makeover
Gym membership
Day at the spa (with friends)
Letting them get all dressed up and make a fancy dinner for their friends (I did this before Prom one year and it was so fun)
Cash
Clutter-Free Gift Ideas for Adults:
A season pass to kids or grandkids sporting events at school
Gift cards to a favorite restaurant or coffee shop
Movie or concert tickets
Theater or sporting event tickets
An educational class (dancing, cooking, drawing, painting, pottery, etc.)
A subscription to an online class
Donation to a special charity of their choice.
Picture calendar with pictures of children or grandchildren
Digital photo frame loaded with pictures
Baked goods or meals for a month (once a week or whatever you decide)
Freezer meals for a week
Wine, cheese, dessert, or fruit of the month club membership
Gift certificate for a family picture
Monthly maid service
Landscaping service for a season
Snowplow service
Gym membership
Day at the spa
Girls night or Guys night out
Netflix, Hulu, Sling TV or another TV subscription
Date night with free childcare (if applicable)
Special coupon book for household chores, back rubs, etc.
Weekend getaway
National Park Pass
Help them complete something off their bucket list
I hope this list of clutter-free gift ideas is a good starting point for you!
With a little thought (and potentially planning ahead) Im positive you can come up with a fantastic clutter-free gift idea for every person on your list this year.
What are YOUR favorite clutter-free gift ideas (to give and to receive)?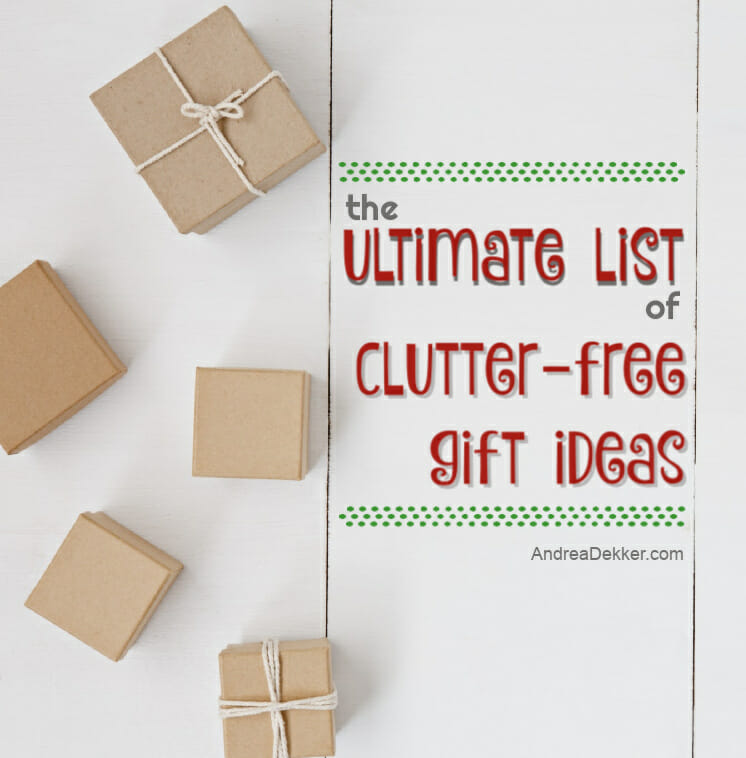 The post The Ultimate List of Clutter-Free Gift Ideas for All Ages appeared first on Andrea Dekker.