Going on a cruise this season? Lucky you! Many cruise ships are now sailing again after two years of disruption. Below, we will show you what to wear on a cruise and which cruise clothing essentials you will need, This will ensure that you have everything you need for shore excursions and fun aboard the ship.
Rooms on board ships tend to be small with limited space. Although, the big advantage is that, even though you are traveling to multiple destinations, you only need to unpack once! Your accommodation is also your mode of transportation.
But, you will still want to plan your outfits carefully and pack pieces that you can wear in multiple ways so you don't take up vital cabin space.
Here's our list of what to wear on cruise and what to pack to set sail for sunny destinations in style.
what to wear on a cruise – Your cruise packing list
Here's what we recommend taking along for a cruise trip.
Cruise dresses for day and night
Dresses don't take up much space in your luggage, and are vacation workhorses.
A dress can take you from brunches and lunches on board and can easily be dressed up or down with a change of shoes.
If the weather is warm or humid, a dress can be worn alone or paired with a jacket or lightweight sweater when it turns cooler at night.
Wear your dress with comfortable gladiator sandals or stylish slip on sneakers in a metallic hue.
Pack at least one stylish maxi dress and a sundress in a shorter length.
Cruise essential – the Maxi dress
A maxi dress can be perfectly laidback, or more formal, depending on the cruise you are going on.
Choose one which you can sling over your swimsuit after a day at the pool so that you can head to the bar for cocktails.
You can pop a cardigan over for evenings.
You may also wish to take a look at the best dresses with sleeves for women over 40 and how to wear a maxi dress.
what to wear on a cruise – a Versatile sundress
As well as a maxi dress, you will want an easy-breezy knee-length or midi style that you can wear for days on board as well as for sightseeing excursions.
Choose a dress that you can easily pop over your swimwear, but which will also take you from day to night.
A dress in a light fabric will be perfect. You can wear over your swimsuit, or for sightseeing with sandals. Or you can dress up with heels for evening. You can also wear over pants for a different look.
Evening dress for cruise formal night
If you're thinking about what to wear on cruise and packing consider that most cruise have formal nights. Depending on the cruise line, it can be anywhere from an elegant dressy affair to a more casual dinner and cocktails.
Pack two dinner outfits if your cruise is a week, so you'll be prepared. As well as a cocktail dress, I'd be tempted to pack a jumpsuit as these can easily be dressed up or down.
Ted Baker London Ivena Mixed Media One-Shoulder Dress
What to wear on a cruise – Tops
I'd keep the tops you choose, like the rest of your cruise outfits, very versatile.
Opt for tops you can either dress down for day, or dress up with jewelry and heels for evening. Also, choose tops which you can wear either with pants or shorts, or over your swimwear as cover-ups.
Catherine @notlamb above (read her style interview here) chooses a maxi skirt and pointed flats.
Get her look with this similar top, pleated skirt, flats and sunglasses.
t-shirt
A t-shirt (or more) is an essential no matter where you are going. Choosing a striped t-shirt gives a nod to sailing, which is perfect for a cruise. The v-neck on the COS top (below) will be flattering for your daytime outfits.
Tunic
A tunic top is the ideal choice as you can pop over your swimsuit for days onboard, but you can also wear over your shorts or pants for days spent ashore sightseeing.
STAUD Vincent Linen Long Sleeve Tunic
tank top
If you're cruising somewhere warm, you may want to opt for some sleeveless tops. Tank tops can be worn with your shorts, pants or skirts, or are useful for layering under your shirts, or you can always wear as pajama tops.
Amazon Essentials 2-Pack Slim-Fit Tank
shirt
When thinking about what to pack for a cruise, a shirt is so useful for your trip. You can wear over your shirts or pants, you can tuck into jeans or a skirt, or you can wear over your swimsuit as a cover-up. I like the high-low styling of the Donna Karan shirt (below).
Donna Karan New York High/Low Tunic
Day to night top
Choose a top which will go with your shorts during the day, but which you can elevate at night with a statement necklace. If you choose a top in a beautiful material, you can easily dress it up or down.
What to wear on a cruise – Shorts and pants
When considering what to wear on cruise, think about the weather. If you're going for sunny locations, it's highly recommended you bring shorts. On most cruises, you'll be going ashore to explore ports of call. Pack a pair of stylish crop pants or shorts to wear for sightseeing.
Choose pants or shorts you can move comfortably in. You probably want to avoid denim as this isn't the coolest fabric in hot weather.
What to pack for a cruise: Shorts
A pair of shorts are a must for casual days on the ship and for excursions. Choose a pair which are mid-length so you have enough coverage, but are also cool. See more of our tips in our article on how to wear shorts.
BB Dakota by Steve Madden Seaside Paperbag Shorts
cropped pants
A pair of pants will also be a hardworking staple of your cruise wardrobe. Choose a cropped pair to keep your ankles cool. You can wear with your t-shirt and sandals or sneakers for day, or you can dress up with a silky top for evening.
For more tips check our article on how to wear cropped pants.
AG Ex-Boyfriend Slouchy Slim Crop Jeans
palazzo pants
A pair of wide, palazzo pants can look effortlessly stylish on a cruise or vacation. Wear with your tank top and shirt and sandals during the day.
Arolina Wide Leg Palazzo Lounge
Packing for a cruise – Swimsuits & cover-ups
Pack at least two swimsuits for your trip, so you can rotate them in case the other is wet. There's nothing worse than having to put on a wet swimsuit.
Choose cover-ups which you can wear not just over your swimwear, but also as tops and dresses.
Suzie @suzie.richetti above opts for a stylish maxi dress and matches her necklace to her cover-up.
Recreate her outfit with this similar caftan, necklace, earrings and sunglasses.
Swimsuit
You will want more than one swimsuit as you will want to be in a position where you can rinse one out and leave it to dry, and wear the other one.
I'd make one of your swimsuits a classic black or monochrome style as you can wear under any cover-up you choose, or you can wear with shorts or pants instead of a top. Want more ideas for bathing suits, check our article on the best swimwear brands.
Miraclesuit Warp Speed Sanibel One-Piece Swimsuit
You could also opt for a tankini. That way you can wear the bikini bottoms with the rashvest below or the tankini top.
rashvest
If you might be spending some time swimming, snorkelling or paddle boarding, you'll want to make sure that you don't get sunburned. A rash vest can protect your chest and arms from UV rays.
Cover-ups
Choose a hardworking cover-up that you can pop on over your swimsuit, or wear with your pants as a top.
You might also wish to pack a longer cover-up. Depending on your ports of call, this could be useful if you are visiting any religious sites such as temples and you need to cover your knees and shoulders. You can change the look of your cover-up for evening by wearing with a belt.
Elan V-Back Cover-Up Maxi Dress
You can also wear over your swimwear, or as a duster jacket on cooler evenings.
Moss Rose Beach Cover up Kimono
What to take on a cruise – Wrap & cardigans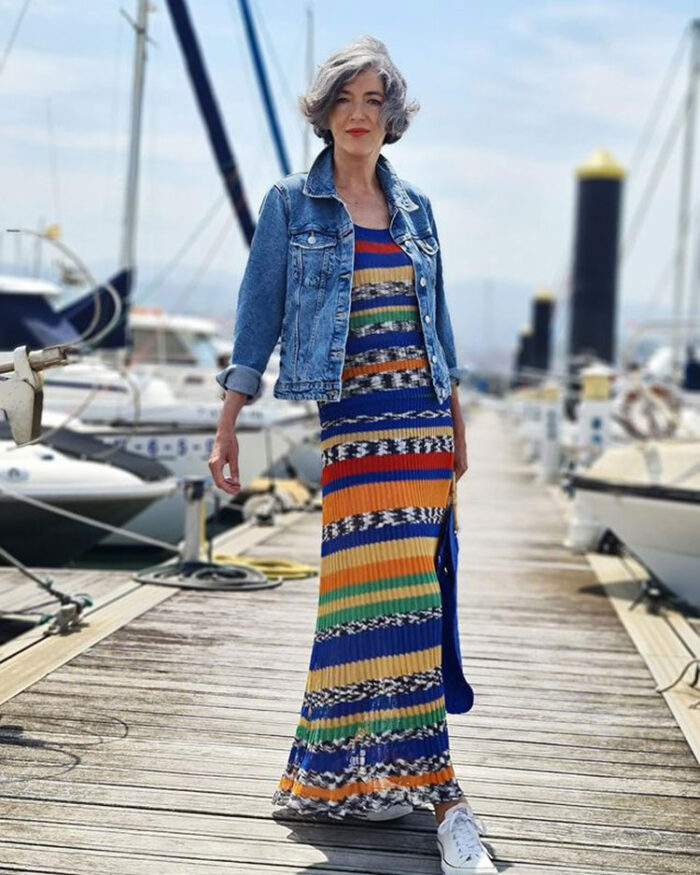 If you are heading to a tropical destination, you may think you don't need warm clothing. But, you are likely to want a wrap or cardigan (or both) for cooler evenings on deck, and because you will find that much of the ship is air-conditioned.
Carmen @carmen_gimeno above opts for a denim jacket with her maxi dress and chooses a pair of comfy sneakers that would be perfect for sightseeing.
Checkout these knitted dresses from Remelon, AYDOGEE and OLUOLIN that you can wear with this similar pair of sneakers and denim jacket.
wrap
I'd take both a wrap and a cardigan. You can wear your wrap over your shoulders with your evening dress, or slung over your daywear if it's chilly on deck.
MELIFLUOS DESIGNED IN SPAIN Wrap Cardigan
Cardigan
A cardigan is also a versatile option. You can wear over your dresses as well as if you have a plane journey to and from your first and final port.
Lock and Love Long Sleeve Draped Open Front Cardigan
short jacket
A short jacket can be an incredibly flattering choice to wear over your maxi dresses as it can make your legs look long in comparison to your torso.
4 pairs of cruise shoes to pack
It may seem like a lot, and I'd agree as I usually only pack 3 pairs of shoes for most vacations.
However, for a cruise, it's useful to have a pair of pool shoes you don't mind getting wet, some smarter flat sandals, a pair of comfy sneakers for walking on excursions, and a pair of low heels to go with your evening dress. And, your flat shoes won't take up much room.
Sandals
Choose a pair of stylish, yet comfy sandals which you can wear for walking around your ship and for days offshore which don't require too much strenuous walking.
Sandra @lapecosapreciosa above chooses a pair of wedge sandals that match her maxi dress.
Check out these striped dresses from XÍRENA, Florens, BFFBABY, sandals, handbag, necklace and sunglasses.
Flip flops
Flip flops are always handy to have, and they don't take up very much room in your luggage at all. Slip on after your swims on the ship.
Havaianas Luna Flip Flop Sandal
Excursion sneakers
You may find that some excursions require more walking than others. Perhaps you are hiking to a waterfall, or walking up steps to get to a fabulous view. I'd pack either some comfortable canvas slip-ons or walking shoes.
Lauren Ralph Lauren Jinny Slip-On Sneaker
Low heels for evening
Even if you don't tend to take heels on vacation with you, when you are cruising, you are likely to find that there is an eveningwear dress code. Your heels will go well with your formal evening dress.
Make sure to opt for block heels because these are much easier to walk in while you're at sea than thinner heels like stilettos or kitten heels and they won't damage the deck.
Opt for a lower or block heel. Really high heels on a swaying boat can be difficult to walk in or dance the night away in.
Naturalizer Vera Heeled Sandal
You may also want to look at the most comfortable heels that look hip and are comfortable to wear.
Cruise outfits – Accessories to pack on a cruise
Accessories can make or break an outfit anywhere, and the same applies to a cruise. But, they can be even more vital on vacation.
You will want a sun hat to protect your head and face from the sun, a pair of sunglasses to add style and protect your eyes, and a crossbody bag which you can keep your purse secure in when you leave the ship for excursions.
Sunhat
If you're heading to sunny climes, a hat is vital to protect your skin and your eyes. You can wear while reading your book by the pool, and for sightseeing. Choose a style with a wide brim to keep the sun off your face.
Tamera @tamerabeardsley above (read her style interview here) looks glamorous in her sunhat and statement necklace.
Check out this similar printed dress, cardigan, sun hat, necklace, sunglasses and purse.
C.C Embroidered Floppy Brim Sun Hat
Excursion bag
Take a small crossbody bag to hold your essentials.
Select a bag that works with your daytime casual outfits and is large enough to easily hold your cell phone, passport, money cards and sunscreen – keeping everything safe and secure if you are heading out on a shore excursion.
Your excursion bag will have to be hardworking. You want to make sure it is stylish, but that it will keep your belongings close to you.
The Travelon anti-theft messenger bag is a favorite among travelers.
Travelon Anti-Theft Classic Messenger Bag
Clutch bag
Slip a small evening clutch into your luggage. It won't take up much room but will make your outfit evening-ready. Make sure it's large enough to hold your cellphone and lipstick.
Jewelry
You probably don't want to take anything too valuable when considering what to pack for a cruise, but a few well-chosen pieces can make a big difference to your cruise outfits. Plus, they won't take up too much room in your luggage, or your cabin.
A statement necklace or earrings can dress up an outfit to get your ready for a drink at the bar.
Akola Kalila Beaded Necklace – Karine Sultan Sculptural Cuff – Akola Camila Drop Earrings
Sunglasses
Just as your sunhat is an important for both protection and style, your sunglasses will protect your eyes and add some pizzazz to all of your daytime outfits. Choose a color that will go with all your outfits.
Tory Burch 52mm Rectangular Sunglasses
cruise essentials
As well as your outfits, you'll want to pack some essentials into your suitcase.
sunscreen
No matter where you are travelling, sunscreen is a must to protect your skin from sun damage. Reviewers say the Neutrogena sunscreen (below) goes on sheer and can be worn under make-up.
Neutrogena Ultra Sheer Dry-Touch Water Resistant and Non-Greasy Sunscreen Lotion
Mosquito repellent
You probably won't need insect repellent while onboard your cruise as the ocean breeze will keep mosquitos away. But it's useful to have for any excursions.
Cutter Lemon Eucalyptus Insect Repellent
towel hooks
It can get breezy when you're cruising, so to make sure your towel stays on your sunlounger, a couple of beach towel clips can be handy.
Cruise attire – 9 cruise outfits to inspire you
If you're thinking about what to pack for a cruise this year, I hope these outfits inspire your cruise packing list and help you experience a wonderful ship bound vacation.
shop some of the items above here:
Want more of our tips on how to create capsule wardrobes? Read our article on how to create a capsule wardrobe for a complete guide.
Bon Voyage!
Do you know what to wear on a cruise? Don't forget to tell me about your own cruise clothing essentials in the comments below. What's on your cruise packing list?
Continue reading:
Did you like this article on what to wear on a cruise? Share it on Pinterest.
Feature image by Suzie @suzie.richetti
The post What to wear on a cruise – the cruise clothing essentials to pack appeared first on 40+ Style.