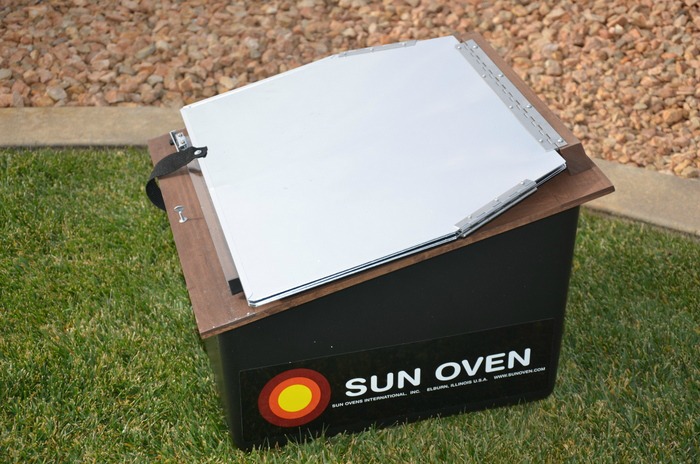 I have 101 reasons why I recommend a Sun Oven for you today! I wrote this post many years ago and I'm updating it today for those who have never heard about a Sun Oven.
I have heard people say, Sun Ovens are so expensive. Here's the deal, where can you purchase an oven that can cook 99.99% of the recipes you already have for less than $500.00?
Please note, if you don't have SUNSHINE where you live for at least 200 days of the year, I don't recommend investing in one of these. Since they rely on consistent sunshine during the cooking process, places without much sun during the day probably aren't the best locations to put one to use.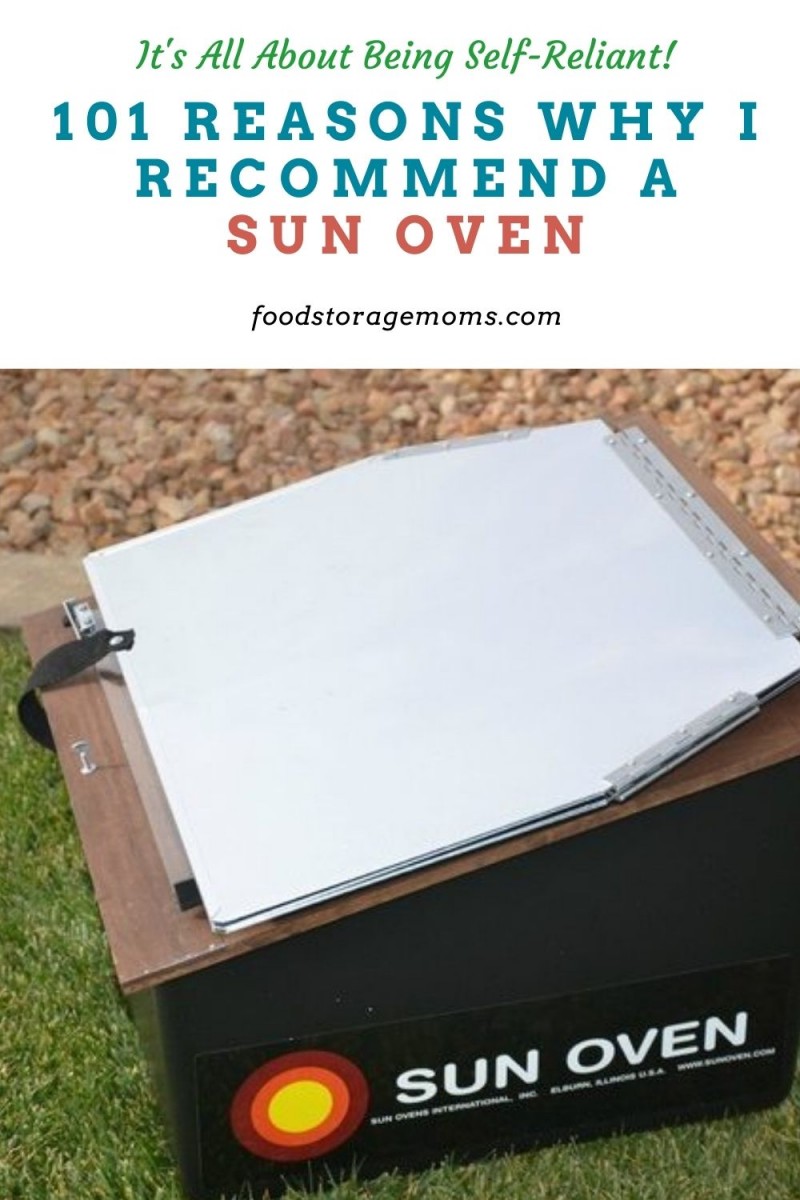 A Sun Oven Is Perfect For Camping
Keep in mind that the Sun Oven is perfect for camping because you have zero fire issues with no flame and no fuel required to bake your meals. Of course, you'd need to make sure the shade from trees in your camping area don't block the sun. If you're camping near a lake, set it out by the water and watch it do its thing.
I have written a post on how to open the box if you purchase a Sun Oven because people are sometimes afraid they won't know how to use it. Here are the tips I put together: These Are Easy To Use
I Was Asked To Review A Sun Oven
Paul Munsen designed this genius machine. He sent me my first Sun Oven about 10 years ago and asked me to write a review. All you have to do is open the box, remove the film on the shiny reflectors, and boil some vinegar water (in a pan) in the oven the first time to kind of clean and "season" the unit, and then wipe it out. The instructions are included in the box and are easy to follow.
I loved it so much I bought a second one. Plus, I have been writing posts about them for ten years now. All American Oven
It is not uncommon for me to have both of my ovens cooking outside in my backyard several days a week. Just think about this, once you purchase this baby you will never have to pay for fuel, charcoal, propane, or electricity again! The old style is black like mine and the new ones are blue.
Food Will Never Burn
Your meals will never burn, yes, you heard me right! One day I put my whole wheat bread in both ovens and ran down the street to visit a friend and totally forgot my bread for two hours. It was perfectly fine even though it baked an extra hour and a half.
Whatever you can bake in your conventional oven you can bake in your Sun Oven, if you have sunshine. You can start your meal before you go run errands and position the oven so it gets the best angle of sunshine while you are gone, and it will be cooked when you get home. Of course, you can't start the meal one hour before the sun goes down or the food won't be cooked since it needs a more direct flow of sunlight like you have mid-day.
Best Time To Cook In My Area
I typically start my bread, cookies, casseroles, corn, or whatever needs to be cooked, between 10:00 a.m. and 2:00 p.m. Mine is the older style Sun Oven, but it works great for me. It was easy to learn how to position it for the sun. The new ones have a built-in unit to help you turn it correctly to get the best angle of the sun.
Here is how I position my Sun Oven, check out the squares on the sides of the oven. Note, since the sun passes over the surface of the Earth during each day's sunlight hours, you need to periodically turn the Sun Oven so it faces the sun at the proper angle to maximize the sunlight's effect and the heat it generates.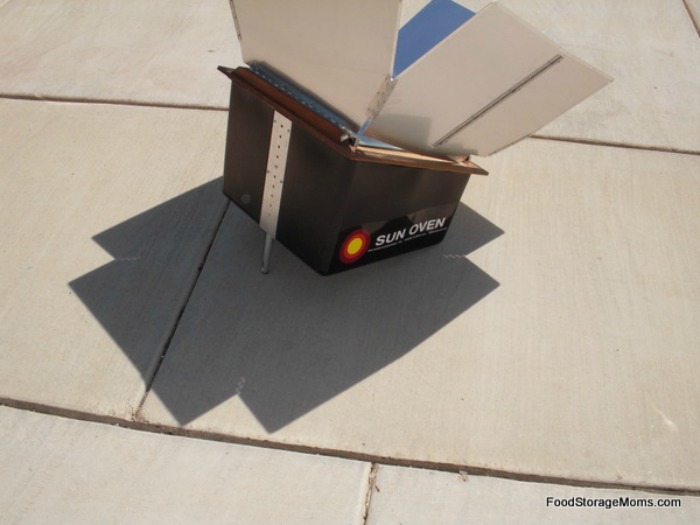 101 Reasons I Recommend A Sun Oven
These are all the things I have cooked or baked in my Sun Ovens. I want you to know how much I love these ovens because they save me money on utilities!! They are perfect for power outages, but also everyday use as well.
I have actually cooked more than 101 items, but this just shows you all the stuff you can bake in one of these great cooking sources. If the pan or pans fit and you have the sunshine to keep the temperature correct you can bake anything. Remember, you use the recipes you have right now, no special recipes are required. It's an awesome oven, I promise.
Bake bread
Brownies
Make hard-boiled eggs (I bake mine in a muffin tin)
Boil macaroni
Cook rice
Quinoa
Cakes stay so moist
Whole chicken
Cook corn on the cob in the husks
Baked potatoes
Yams or sweet potatoes
Funeral potatoes (we call them cheesy potatoes in Utah)
Boil water
Bake cupcakes
Cookies
Chicken casseroles
Macaroni and cheese
Green bean casserole
Ham
Bake barbecued chicken
Dehydrate fruits with the racks
Dehydrate vegetables with the racks
Dehydrate herbs with the racks
Bake a quiche
Pork chops
Chopped onions
Cauliflower
Zucchini
Yellow crookneck squash
Sliced carrots
Bake pumpkin bread
Soups
Make lasagna
Beans (if you soak them overnight)
Boil/simmer oatmeal
Muffins
Baked beans
Bake sliced beets
Scrambled eggs
Pulled pork
Pork shoulder roast
Carnitas
Shredded pork for burritos
Shredded beef for tacos
Sun roasted cooked chickpeas drained with olive oil and a little chili powder added
Salmon
Asparagus
Bake a turkey (up to 20 lbs.)
Make Spanish rice
Garlic cloves (peeled)
Peach cobbler
Apple pie
Flan cake
Cherry pie
Pumpkin pie
Pecan pie
Lamb chops
Meatballs
Shepherd's pie (cooked hamburger, tomato soup, and mashed potatoes)
Corn muffins
Bran muffins
Banana muffins
Pumpkin muffins
Apple crisp
Chicken noodle soup
Mini egg muffins
Chili with beans (I use precooked beans with my recipe)
White chicken chili (I use canned chicken and white navy beans from a can)
Shredded carrots, shredded zucchini, and shredded yellow straight neck squash
Chicken legs with the skin on with olive oil drizzled on them with salt and pepper
Chicken thighs with the skin on with olive oil drizzled on them with salt and pepper
Chicken breasts with the skin on with olive oil drizzled on them with salt and pepper
Turkey breasts with the skin on with olive oil drizzled on them with salt and pepper
Chicken tenderloins and then shred the baked chicken and use it in recipes during the week
Apples (remove the cores) with cinnamon and sugar
Peeled peaches with a little cinnamon and sugar
Mashed potatoes with or without the peelings (place the one-inch cubes covered in a pan of water)
Boil spaghetti without having to watch it boil (set and forget it covered in water)
Spaghetti sauce from scratch
Lime cilantro rice
Refried beans (I use canned pinto beans drained)
Boil Kamut (Trademarked)
Chicken and broccoli casserole
Chicken tetrazzini
Enchiladas
Vegetable or meat stuffed bell peppers
Quinoa stuffed bell peppers
Chicken and rice casserole
Scalloped potatoes
Bread pudding
Turkey dressing
Ham and bean soup
Taco soup
Cheesy cauliflower casserole
Rice pudding
Sweet and sour chicken
Baked short ribs
Spicy chicken wings
Poppy seed chicken
Chili macaroni
Hamburger layered dinner
Purify our water, thank you, Ray
Bonus, it doesn't heat up our home, thank you, Ray
Do I need to preheat the oven like I do my conventional oven?
No, you don't have to but it helps get the oven up to the temperature you need to cook the recipe. The oven in your kitchen uses a confined space that needs to be heated. The Sun Oven is using direct sunlight to heat the product with the design of the oven's reflectors which help magnify the heat. Picture your skin out in the sun while skiing or on the water fishing.
Do I need special cookware with the Sun Oven?
No special cookware is required, other than it needs to be dark in color and not the shiny pots and pans we often use. The challenge with the shiny cookware is that they reflect the sun away from the food rather than "absorbing" the sun.
Are there limitations to the size of the product I want to cook?
The Sun Oven has a fairly large cooking "cavity" to hold the item(s) to be cooked. You just need to try and maximize the space so the reflectors are directing the sun on as much of the food product as possible. If it's too big, the sun's reflected rays may not be as effective.
Final Word
Sometimes things just sound too good to be true. Well, what I've said about the Sun Oven is true because I've done it! Here's the deal, whatever you can bake in your conventional oven you can bake in a Sun Oven. Be creative and enjoy saving money at the same time.
If you have a LOT of sun in your area, one of these gems will serve you well. If you have very limited sunshine, I wouldn't purchase one. Thanks for being prepared for the unexpected. May God bless this world, Linda
The post 101 Reasons Why I Recommend A Sun Oven appeared first on Food Storage Moms.
My post often contains affiliate links. All products are ones I recommend. If you choose to buy one of these products through the link , I will get a small commission at no extra cost to you. All proceeds help support the blog.