If you're tired of the same breakfast day in and day out (don't get me wrong, nothing is better than a plate of the classic eggs with bacon dish!), check out these delicious breakfast recipes below for some inspiration and you'll never want to skip breakfast again!
Savory Oatmeal with Egg
A simple creamy savory steel-cut oatmeal recipe made with cheddar cheese, sweet caramelized onions, miso and topped with a soft-boiled egg. A delicious way to enjoy breakfast or lunch!
You can get the Savory Oatmeal recipe here.
Breakfast Sandwich
This hearty breakfast sandwich made with a runny egg, bacon/sausage/ham, melted cheese and crispy hash brown is definitely not limited to just breakfast time!
You can get the Breakfast Sandwich recipe here.
Chicken Congee
Congee is a rice porridge that is often served for breakfast in Asia. It's simple, creamy, warm, and comforting, like a bowl of oatmeal!
You can get the Chicken Congee recipe here.
Lemon Pancakes
Fluffy, lemon pancakes topped with candied maple bacon with a cinnamon condensed milk drizzle! Dessert or breakfast? You decide!
You can get the Lemon Pancakes recipe here.
Crispy Hash Browns
Pan-fried potatoes with onions, cooked until crispy and delicious! It's simple and very satisfying with a side of eggs.
Fluffy Ukrainian Pancakes
People can't get enough of fluffy interior and crispy edges of these "Oladi" pancakes. Cozy, sweet and so delicious, these homemade Ukrainian pancakes are a staple on a weekend breakfast menu. The recipe is so easy to make and it will sure become a family's favorite. Get the recipe.
Avocado Sandwich
Simple Vegan Avocado Sandwich that you can make on a whim for breakfast, lunch or snack. Easy, healthy and always delicious. Get the recipe.
Best Homemade Waffles
This is the best vegan waffles recipe made with simple pantry ingredients in the comfort of your kitchen. These easy waffles are a tasty way to start the day. Make them for Sunday breakfast or brunch. Get the recipe.
Easy Apple Hand Pies
These Apple Pie Egg Rolls are crispy outside with a tangy and moderately sweet green apple filling. They make a great choice for breakfast or brunch. Get the recipe.
Cottage Cheese Pancakes
Healthy Cottage Cheese Pancakes are fluffy on the inside and slightly crispy on the outside. These delicious Ukrainian fried Cottage Cheese Patties will soon become your new favorite breakfast or even dessert. Super easy to make (under 30 minutes) and so good! Get the recipe.
Vegan Baked Oatmeal with Fresh Berries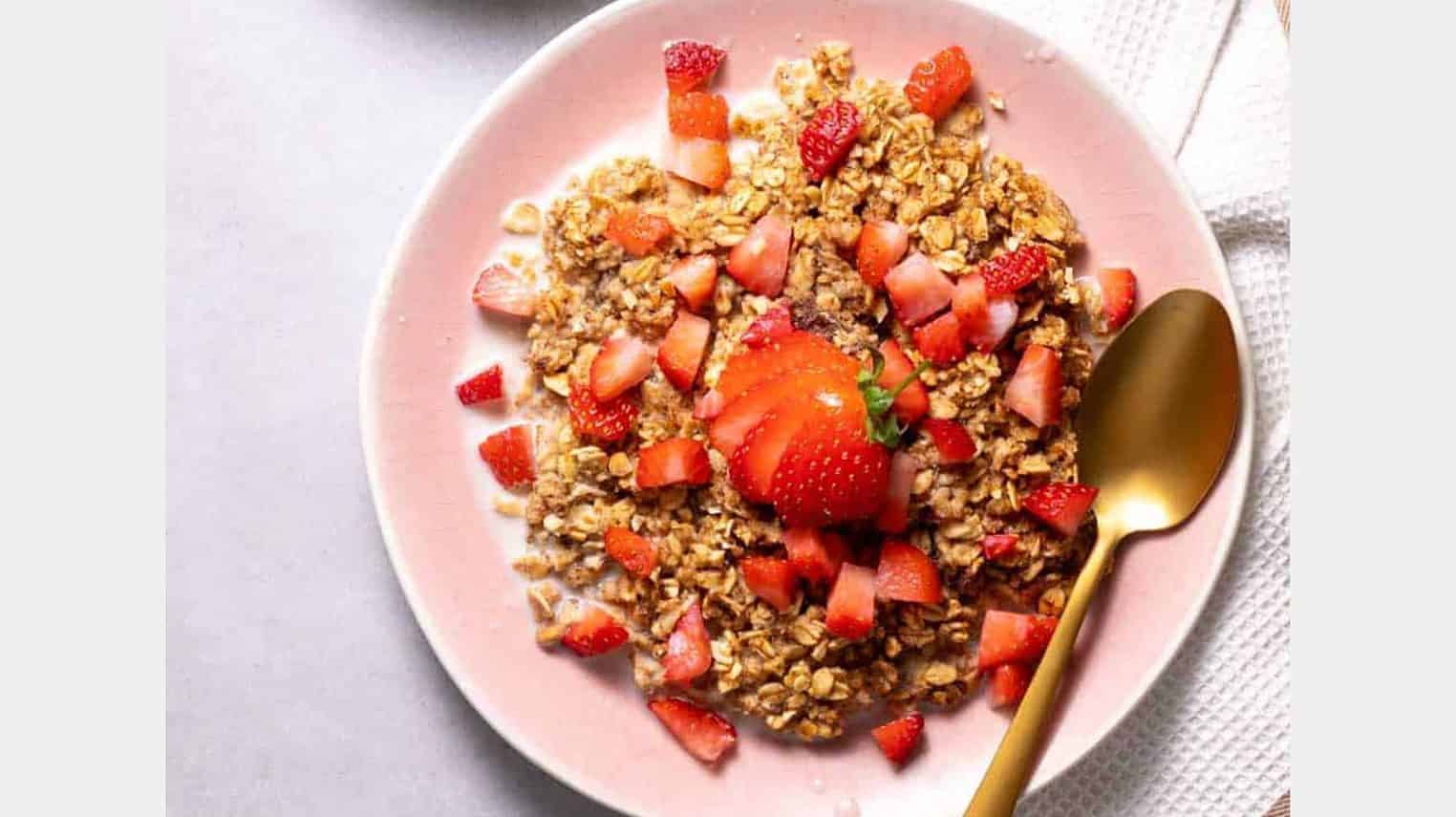 Even if you think you don't like oatmeal, you have to try this baked version. The oatmeal doesn't become goopy at all. Instead, it becomes soft and chewy.
I add in some healthy doses of sweetness and spice, topping it off with fresh berries and almond milk for serving. This baked oatmeal can be a hefty serving for one, so I recommend making it for a family breakfast or eating it throughout the week. It's also perfect for brunch or company! This one gets heavy rotation in my home during the holidays.
Make the recipe: Vegan Baked Oatmeal
Tofu Scramble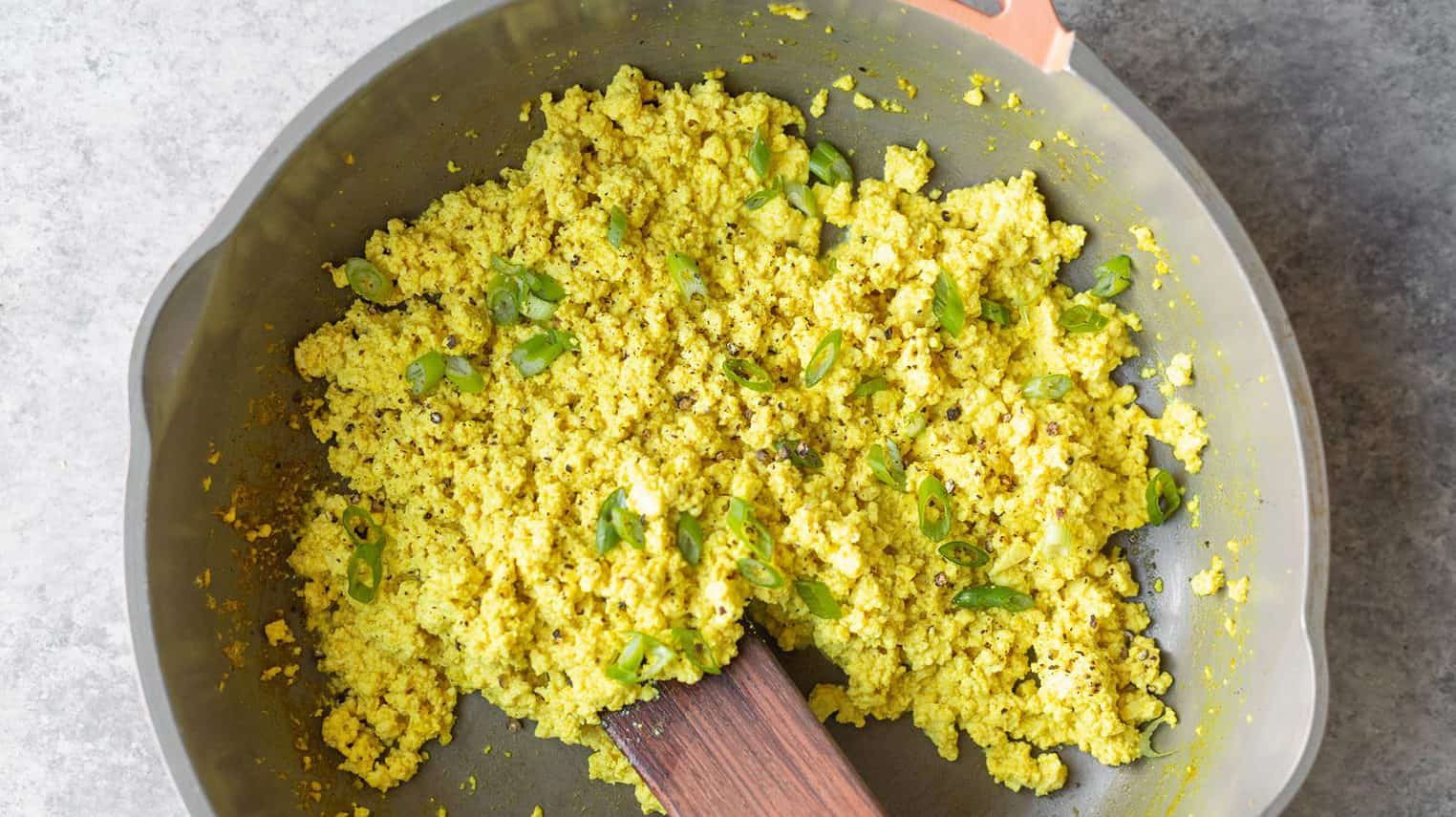 A high-protein vegan tofu scramble recipe, with 11 g of protein per serving. Made with just a handful of ingredients– delicious on its own or tucked into a breakfast burrito!
Especially with the price of eggs right now, if you are looking for a similar recipe then you've gotta try this tofu scramble.
Get the recipe: Vegan Tofu Scramble
Vegan Sourdough Waffles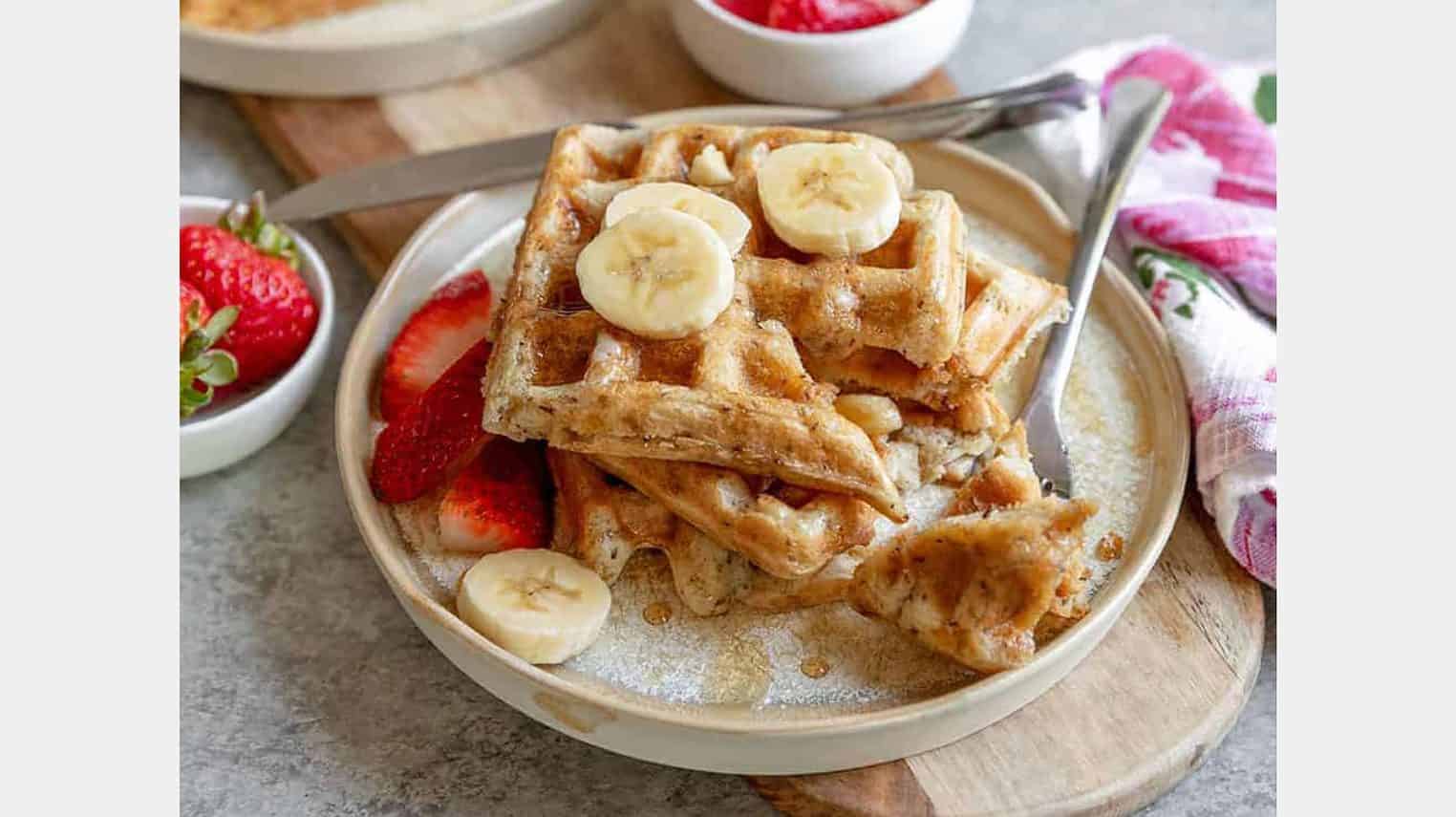 Did you become one of those people with a sourdough starter in 2020? I got heavily into making sourdough everything (you've gotta try my sourdough crackers-- they taste like cheeze-its!)
Don't discard that starter when making your sourdough bread. Waffles suit sourdough so well, even completely veganized. A flaxseed egg keeps things together and light and fluffy.
With this recipe, you need to plan the night ahead that you want waffles in the morning (much like making overnight oats). This allows you to overnight the sponge and rehydrate the starter in the morning. But, you can freeze the cooked waffles for simple breakfasts later in the week.
Make this recipe: Vegan Sourdough Waffles
Easy Overnight Muesli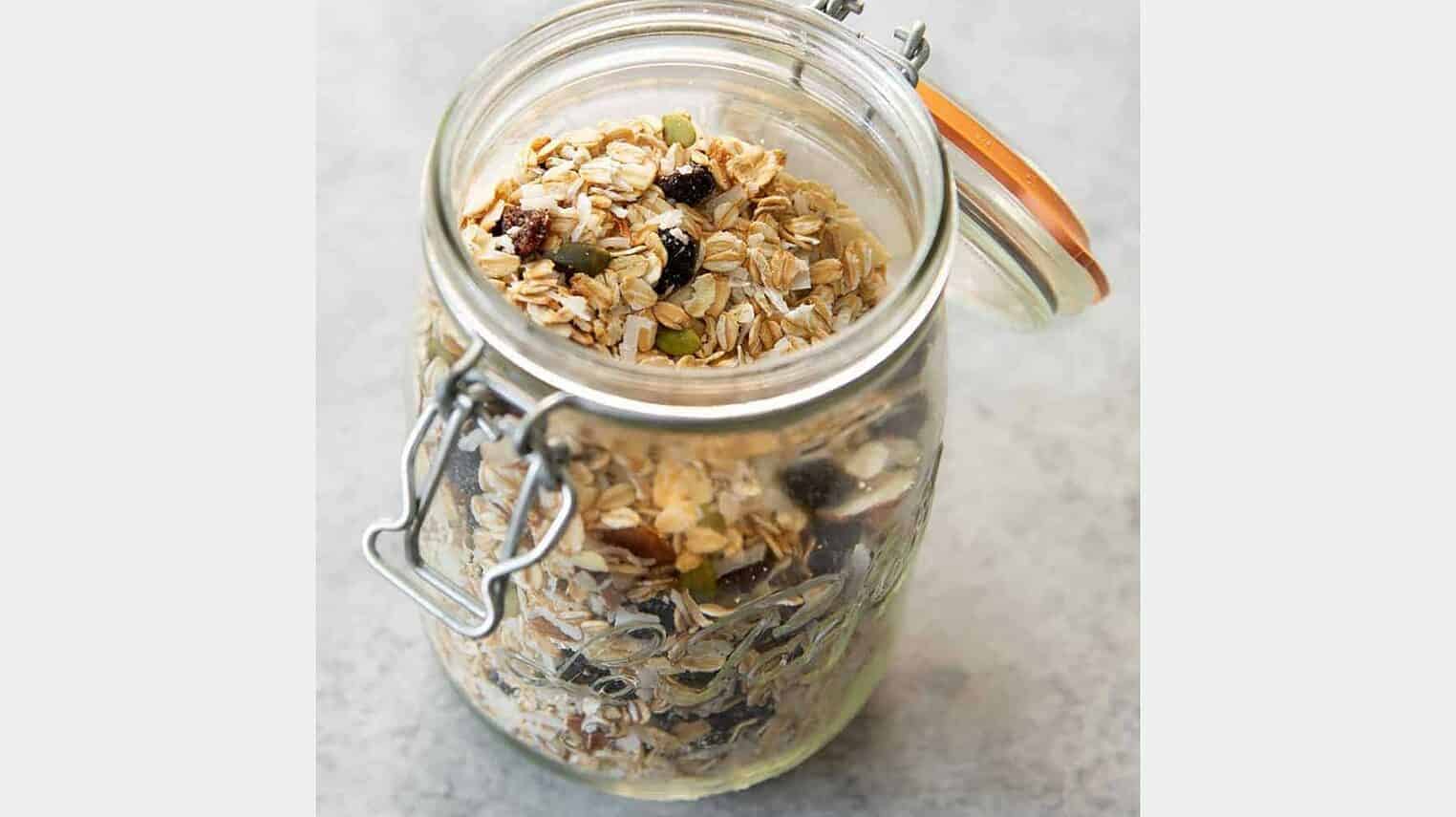 This is a slight variation of overnight oats for those who want to mix up their quick morning vegan breakfast. I love muesli so much more than regular oatmeal, and this is a slightly more elevated version of it. In it, I combine shredded coconut, nuts, seeds, and raisins.
I know that muesli doesn't take much work to make, but every minute counts in the morning!
Muesli just gives such a nice crunch and texture that I can always get behind. I prefer to top this one with extra fruit right before eating.
Get the recipe: Overnight Muesli
Glazed Vegan Breakfast Donuts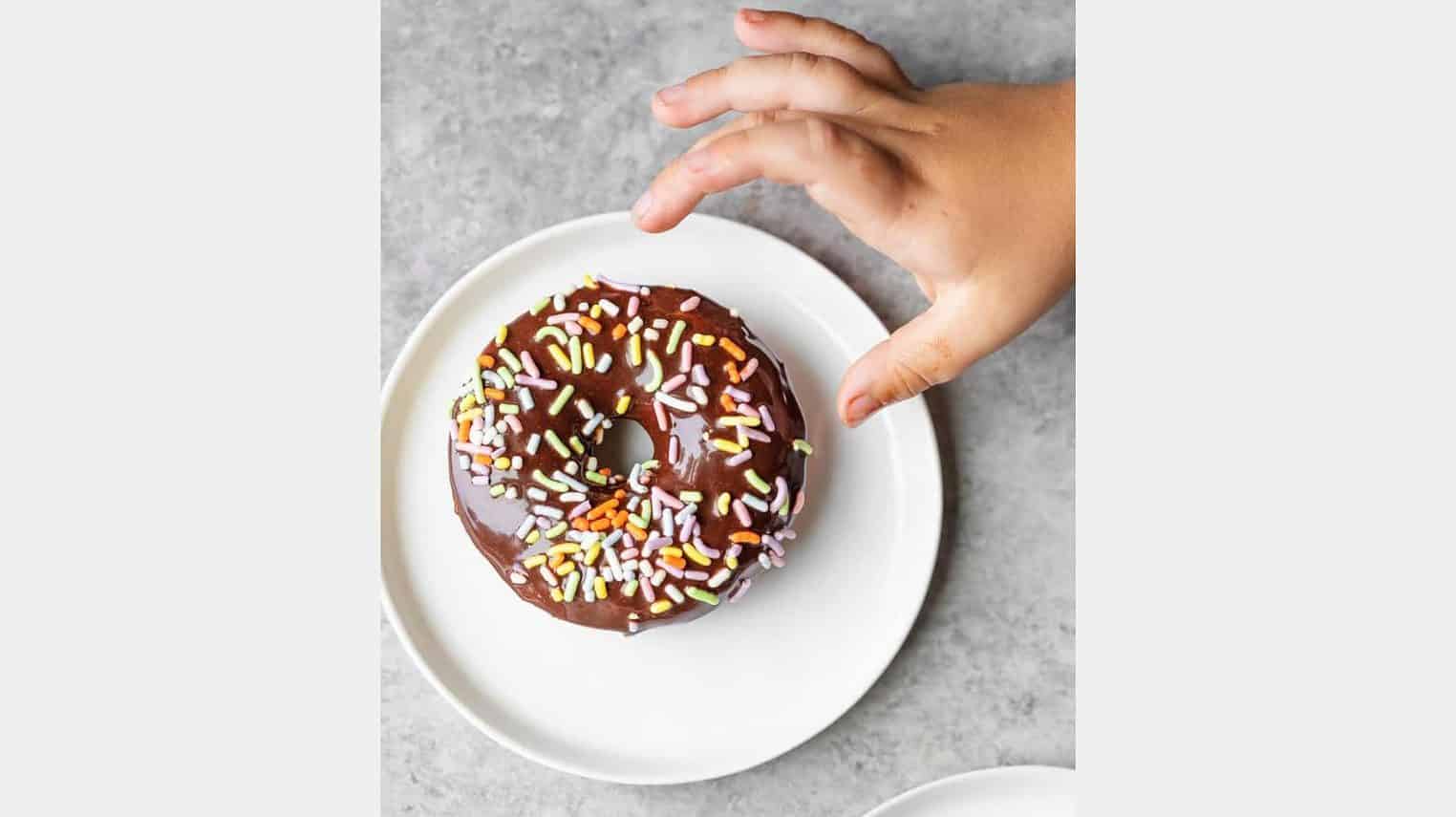 I don't know who decided that donuts are considered breakfast food, but I would like to thank them. A coffee and a donut are a pairing made in quick morning heaven. Making vegan donuts isn't as hard as you might think. My kids go nuts for these donuts and they have become a regular weekend breakfast for us.
These are baked and have a tender crumb like cake donuts. Once they are baked, top with chocolate or vanilla glaze of your choice. Or, a bit of both like we do! For this recipe, you will need a donut pan. And once you have one, you'll find yourself making donuts regularly!
Get the recipe: Glazed Vegan Donuts
Blackberry Chia Pudding with Peanut Butter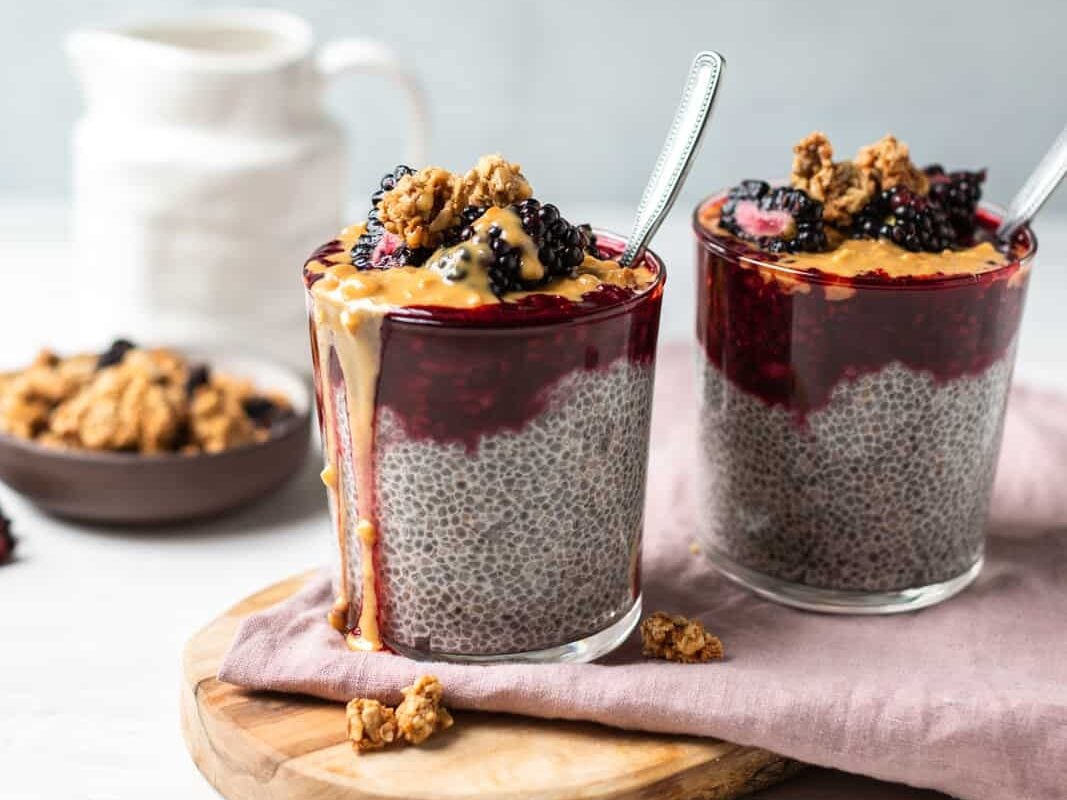 The best Blackberry Chia Pudding loaded up with peanut butter, blackberries and granola for some crunch.
Quinoa Breakfast Bowl with Egg, Tomatoes and Avocado
This Quinoa Breakfast Bowl with Egg, Tomatoes and Avocado will get your day started off right with tons of protein.  You will be full until lunch for sure.
Bacon and Egg Cups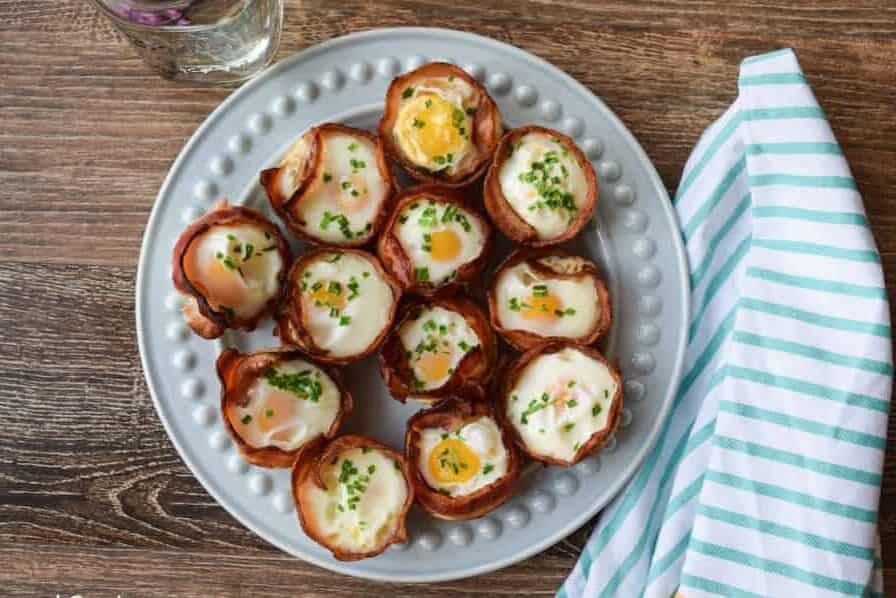 These Bacon and Egg Cups are a delicious and easy breakfast idea that the entire family will love. With only 2 main ingredients, feel free to customize it to suit your personal tastes.
Sweet Potato Toast with Egg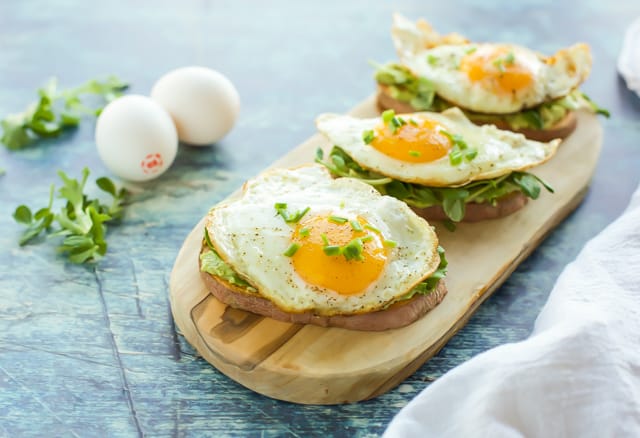 Sweet Potato Toast with Egg is a hearty, wholesome breakfast that will keep you fueled until lunch.  The sweet potato toast is topped with avocado, greens and sunny side up eggs.
Overnight Oats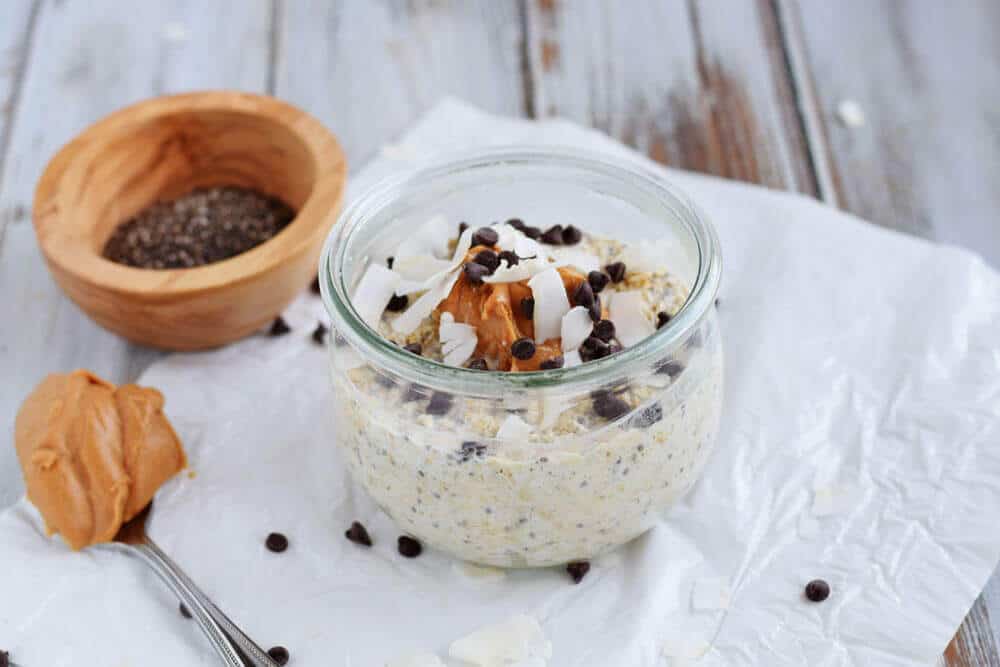 These creamy overnight oats are easy to make, creamy, and filled with delicious toppings like peanut butter, chocolate chips, and chia seeds to keep you feeling full and satisfied all morning. 
Overnight Breakfast Casserole
This recipe is perfect for a holiday breakfast or brunch. It can be prepared in advance or cooked overnight in a slow cooker, making it a convenient and delicious option for busy mornings.
Get the Recipe: Overnight Breakfast Casserole
Savoury Breakfast Muffins
Soft yolk savoury breakfast muffins with turkey sausage, cheese and flour batter is an easy and delicious recipe to start your busy mornings with. It's a healthy and filling alternative to cereal, perfect for those on-the-go mornings.
Get the Recipe: Savoury Breakfast Muffins
Starbucks Egg Bites
These homemade Starbucks egg bites make for a delicious and nutritious breakfast or snack, and are a perfect addition to your meal prep routine. Serve them with your favorite beverage and enjoy a tasty and budget-friendly alternative to the coffee shop version.
Get the Recipe: Starbucks Egg Bites
Twice Baked Breakfast Potatoes
hese breakfast stuffed potatoes are a delicious and hearty way to start your day. With various tasty ingredients, this easy air fryer breakfast recipe is sure to please.
Get the Recipe: Twice Baked Breakfast Potatoes
Loaded Bagel Breakfast Bake Casserole
Transform your breakfast routine with an air fryer loaded bagel breakfast bake casserole that is not only easy to make but also packed with flavor and texture. Whether it's a special occasion or just a lazy Sunday morning, this delicious breakfast strata will definitely be a hit with family and friends.
Get the Recipe: Loaded Bagel Breakfast Bake Casserole
Oatmeal Breakfast Bowl
An oatmeal breakfast bowl can be a delicious and versatile way to start your day, offering endless possibilities for creative and healthy toppings. Whether you prefer sweet or savory, there is a perfect oatmeal bowl recipe out there to suit your taste buds.
Get the Recipe: Oatmeal Breakfast Bowl
More From Pups with Chopsticks
20 Delicious Asian Noodle Recipes You Must Try Once
From quick-and-easy udon noodles stir-fry to authentic Vietnamese spicy beef noodle soup, if you're looking to try something different tonight, try one of these flavorful noodle recipes!
20 Delicious Asian Noodle Recipes You Must Try Once
11 Easy Asian Sauce That Will Transform Your Meals
If you're looking for sauces to drizzle over your rice or noodles, dip your snacks with, or serve on the side with your main here are some delicious Asian sauces you can try at home!
11 Easy Asian Sauce That Will Transform Your Meals
30 Comfort Food Recipes We Can't Get Enough Of
This is a list of comfort food from all parts of the world, so some of these recipes will be comforting from nostalgia, some will be warm and cozy, and some will just flat-out give you that comfort food kick like fried chicken!
30 Comfort Food Recipes We Can't Get Enough Of
23 Insanely Must-Try Delicious Snacks and Appetizers
Whether you are entertaining guests and looking for an appetizer to serve, or just craving a snacky type of meal, here are 23 delicious recipes to inspire you to try something new!
23 Insanely Must-Try Delicious Snacks and Appetizers
Say Goodbye to Tough Meat: The Ultimate Guide for Tenderizing Beef for Stir Fry
Learn how to easily get tender and juicy beef slices for all your stir-fries by slicing beef against the grain, marinating it, and the velveting process.
Ultimate Guide for Tenderizing Beef
This article originally appeared on Pups with Chopsticks.