Let's just face it: At some point, we all have reason to slink up to the cosmetics counter for a little anti-aging miracle. Ultra-luxury hotels are no different.
The Park Hyatt Chicago — which opened in 1980 and was the first property in this particular luxury brand — underwent its own transformation earlier this year, which brightened the place up and modernized the guest rooms. Think of it as a real estate version of a very expensive La Mer face mask.
Skin tonic jokes aside, the renovation of this particular property is an important signal of where the Park Hyatt brand in general could be headed.
Critics say that Park Hyatts can be all over the place, from uber-luxurious properties to those that seem to miss the mark of what a top-tier hotel should be. But the Park Hyatt Chicago's new look is an important step forward for a brand that increasingly faces competition in the ultra-luxury lane from entrants like the over-the-top Aman New York and trendier, members-only-style hotels like the Ned NoMad (though these two brands have yet to infiltrate Chicago).
Is the Park Hyatt in Chicago at the Aman level of opulence, or does it have the Ned's fashion-forward sensibilities? Almost certainly not. But that doesn't have to be a bad thing, especially when it means stays can be booked with points while still providing guests with an extra-elevated experience.
There are also ways the Park Hyatt Chicago could still improve to make this a close-to-perfect hotel in the middle of a popular city. Here are my takeaways from two nights at the Park Hyatt Chicago.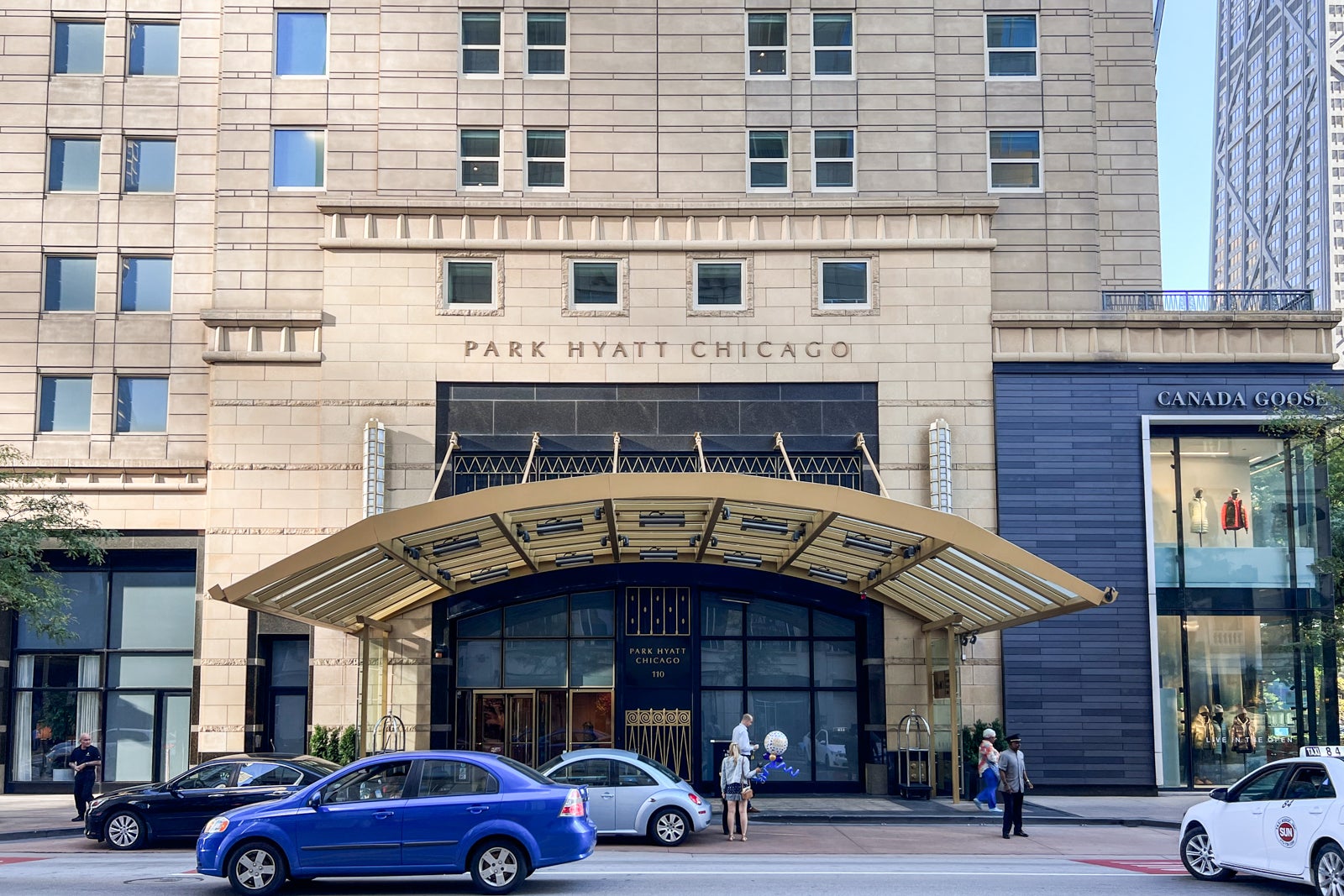 Booking
In no way is this a bargain hotel: Nightly cash rates hovered around the $625 mark for a standard, 450-square-foot guest room with a king-size bed when I looked to book a two-night stay last month. Rates quickly jumped (well) over the $1,000 mark for suites, and I'm seeing north of $3,000 for suites on certain nights this fall.
But the points redemption rate came to 25,000 points a night for the room (Hyatt waives taxes and fees on award bookings). The Park Hyatt Chicago is a Category 6 World of Hyatt Hotel, meaning off-peak room nights can go for as low as 21,000 points a night and soar as high as 29,000 points for redemption on peak nights. At the time of my booking, there was also a split cash-points rate offer of 12,500 points plus $275 per night.
I don't have Hyatt status, but I'm lucky TPG executive editor Scott Mayerowitz generously booked my stay with his Hyatt Globalist status with me as his Guest of Honor. That meant the reservation was in my name, but I got to enjoy his Diamond benefits while still earning the nights in my own quest for Hyatt elite status.
Not only did this make for a strong points redemption, but it also led to me getting an upgrade to a one-bedroom suite that was going for a little more than $1,200 a night upon my arrival (more on that below). This also meant I was able to enjoy Globalist amenities like free breakfast daily and a 4 p.m. checkout based on availability (though, when I requested this, the front desk told me they could only go as late as 2 p.m.).
Location
As previously mentioned, the Park Hyatt Chicago was the first for the Park Hyatt brand. The hotel is located by the historic Chicago Water Tower (one of the few structures in the area to survive the Great Chicago Fire of 1871) just off Chicago's Magnificent Mile, or Michigan Avenue.
Its Northern Michigan Avenue address plays an important (some might say repetitive) role in the naming of its amenities, as NoMI (get it?) is the name of the restaurant, terrace restaurant, spa and fitness facilities at the hotel.
The hotel is nestled among some of Chicago's toniest addresses: The Peninsula Chicago hotel is across the street while 875 North Michigan Avenue (formerly and better known as the John Hancock Center) is steps away. Glitzy shopping with brands like Louis Vuitton, Hermès, Bloomingdales and Neiman Marcus, to name a few, abound on nearby Michigan Avenue and Oak Street.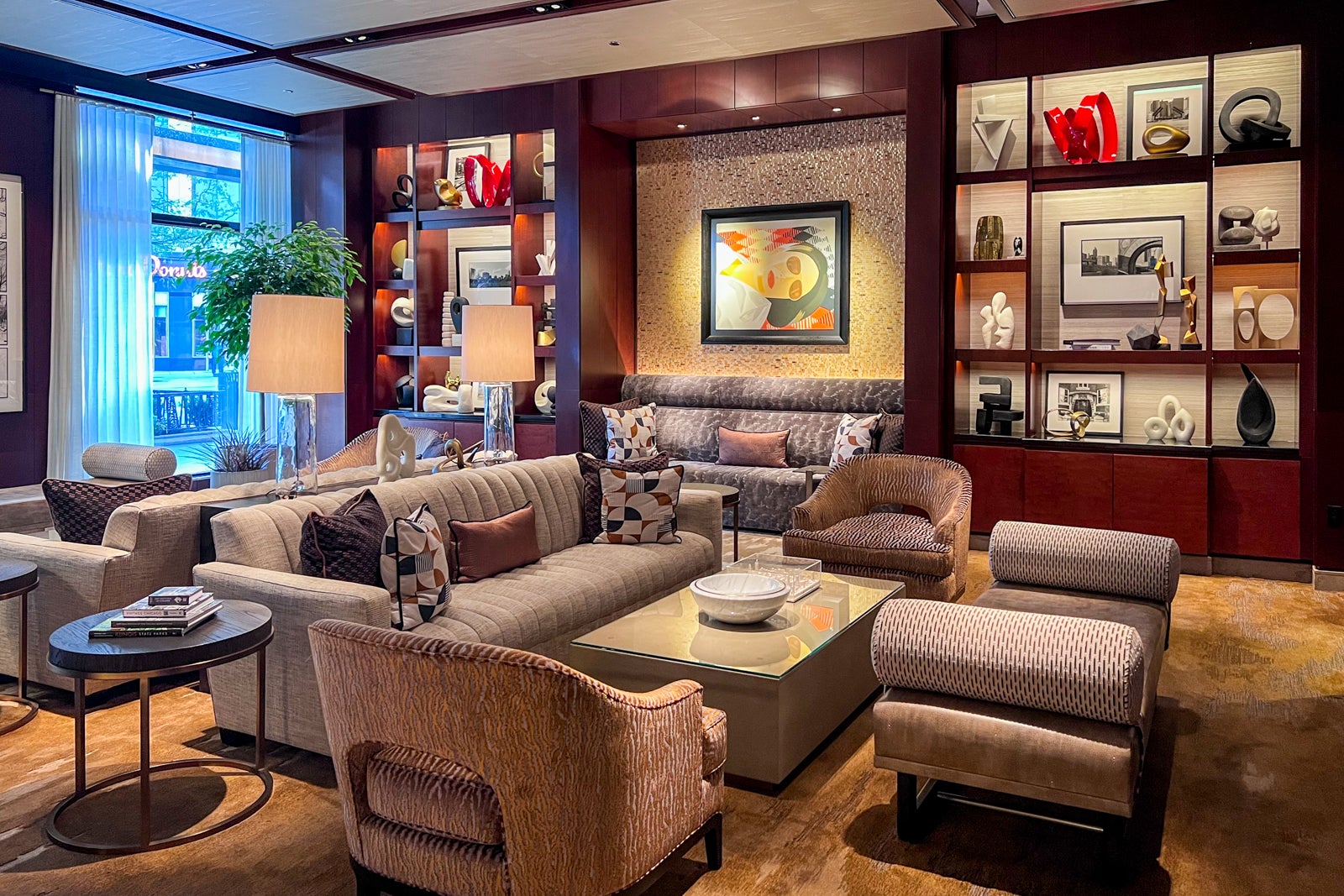 I took the metro from Chicago's O'Hare International Airport (ORD) to the Chicago CTA station two blocks from the hotel. It clocked in at just over an hour once you factored in the transfer from the Blue Line to the Red Line.
It's about a 35-minute drive with traffic from O'Hare, with Uber fare around $45 in the best of circumstances. I was getting surge pricing on top of seeing worse traffic conditions than usual, so the metro seemed like a no-brainer to me. It's about the same time frame for driving in from Midway.
For those driving to the Park Hyatt on non-award travel, the hotel offers overnight valet parking for $78 a night — a pretty hefty price for the convenience of on-site, overnight parking. Those traveling with Globalist status on an award booking do get free parking with their free night, which can be a major cost savings. Given the proximity of the metro stop a few blocks away, I'd rather save the money during non-award travel for a nice dinner out in the nearby River North neighborhood.
Check-in
I arrived at the hotel about an hour before check-in officially began at 3 p.m. (I was secretly hoping this wouldn't be an issue, as I was on deadline for other TPG assignments and wanted to sit down to work in my room as quickly as possible). As I walked up to the front door, porters opened it for me and offered to carry my bag to the front desk.
The lobby is a stunner and split into two distinct areas: a cozier, dimly lit section that feels more like a library, with cream-colored couches and built-in bookshelves; and a much more expansive, high-ceilinged area with lighter-tiled columns. Both of these spaces had the same layout prior to the renovation, but older photos of the lobby show the open-concept area was previously darker with black columns; the lighter touches today make it seem significantly larger than before.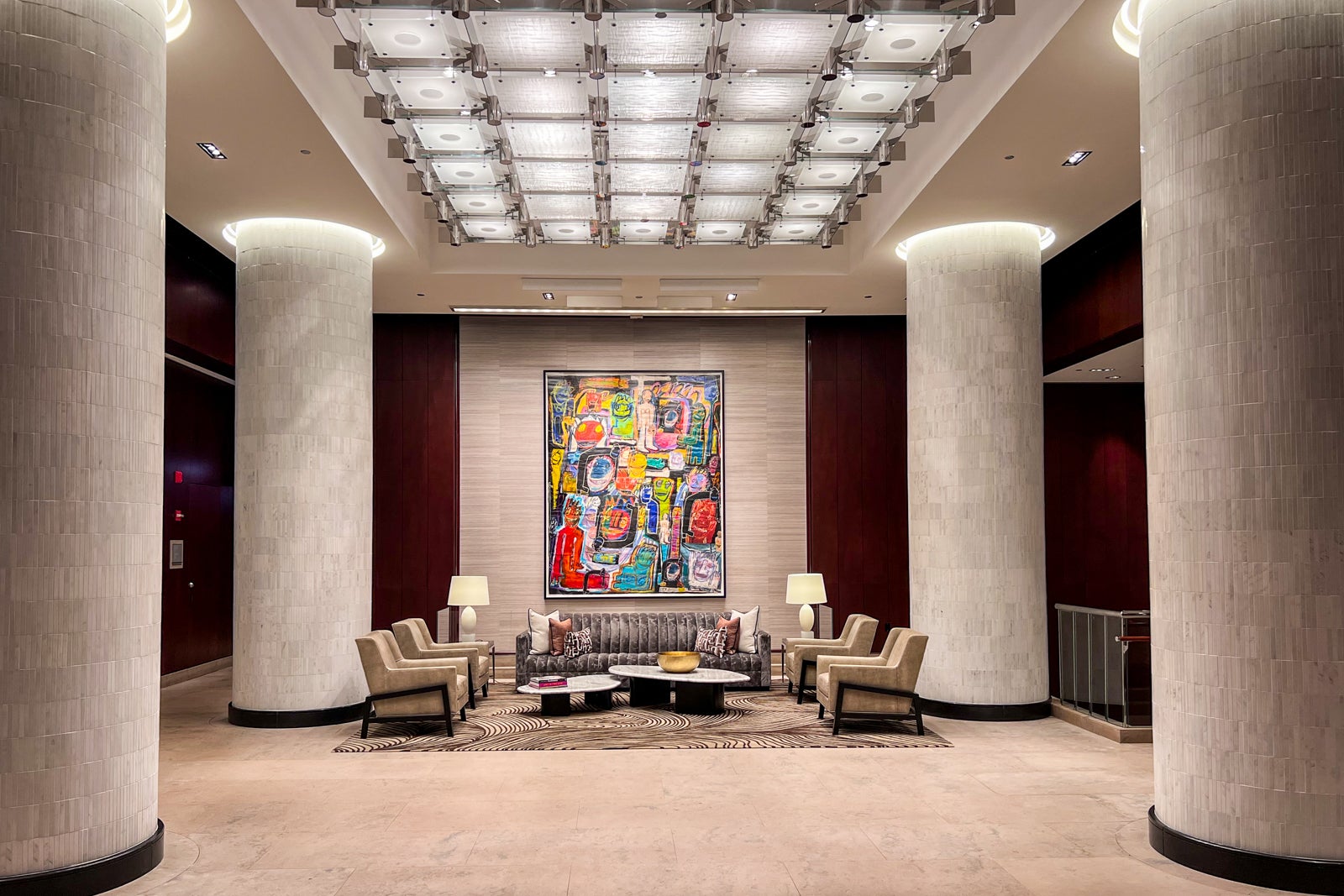 The front desk attendant as well as a nearby concierge both offered smiles and were quick to say there was no problem arriving a little early for my reservation. As soon as the check-in attendant noted I was traveling as a Guest of Honor on a Hyatt Globalist account, he said he was able to upgrade me to a one-bedroom suite
While he was taking time to see if the room had been serviced by housekeeping and was ready (it was), he made a point of noting the hotel's recent renovation and how the colors of the rooms were meant to reflect the various colors of Chicago.
Soon after, he passed two room keys my way and sent me on my way up to the 12th floor (the porter offered to bring my bags up, but this wasn't necessary).
The room
I hopped off the elevator and saw that my room was just around the corner. I was a little apprehensive, as I can be a light sleeper and elevator bells and whooshing all night can keep me up. But it appears the Park Hyatt team had soundproofing in mind when designing the rooms, as I couldn't hear a thing outside my room for the duration of my stay.
There was no need to fact-check how extensive this renovation went, as I could still smell the fresh paint and general "new-ness" (or… "renovated-ness"?) of it all, from the wood of the furniture and closets to the plushness still felt in the carpets and rugs throughout the suite and in the hallways.
Photos I found online of guest rooms pre-renovation show floors with dated tiling and worn-out carpets. It appeared as though the furniture and fixtures in many rooms heavily leaned on leather, chrome and darker upholstery. I'd say the new look is quite the upgrade.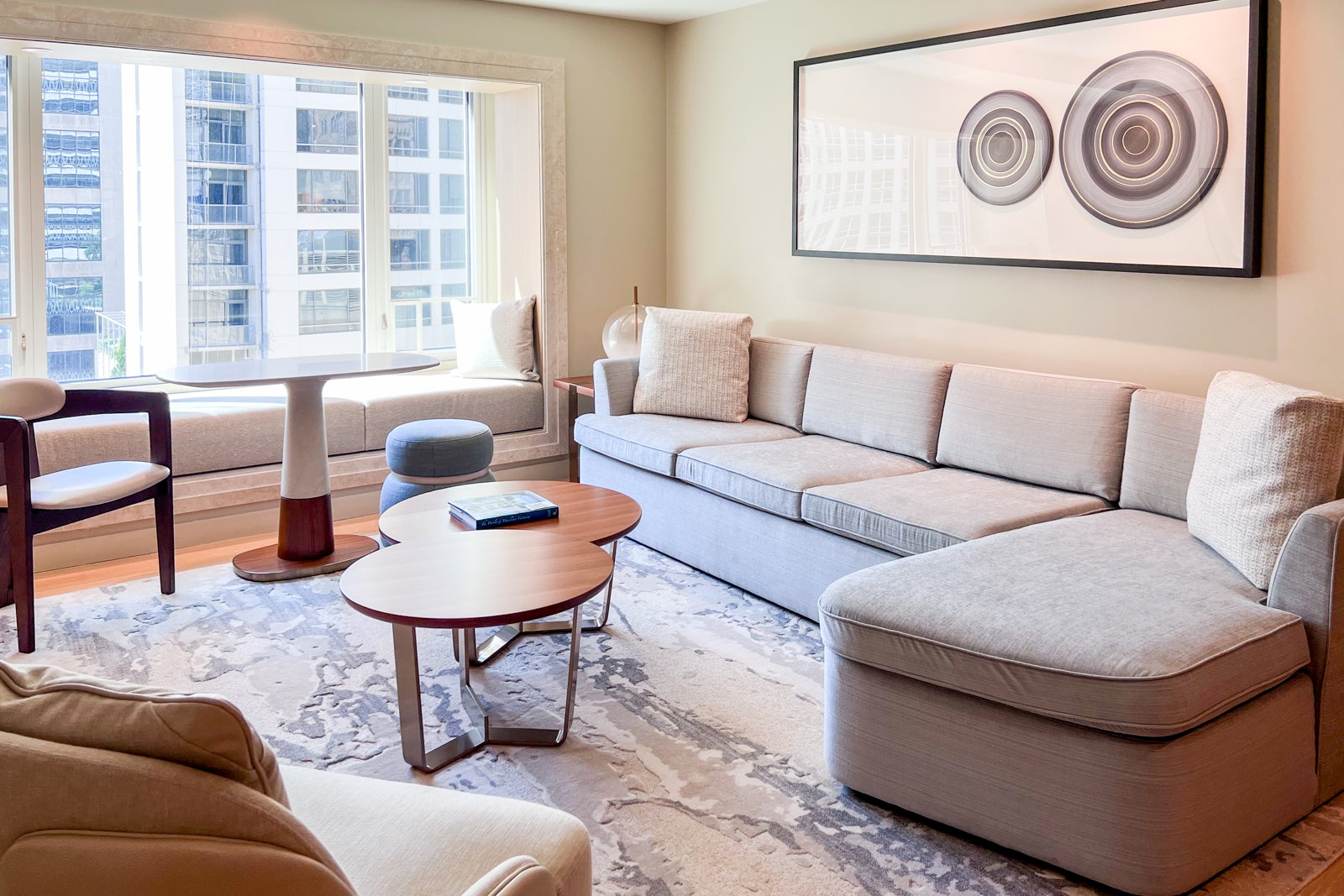 I was only supposed to have a regular guest room, and this was more like a glamorous one-bedroom apartment in the heart of downtown Chicago. There was a full bathroom with a walk-in shower off the foyer immediately as I walked in and a large living room. The separate bedroom along with a dressing area and en-suite bathroom were separated from the living room by a sliding wooden door. But the showstopper for me was the enormous soaking tub in the master bathroom.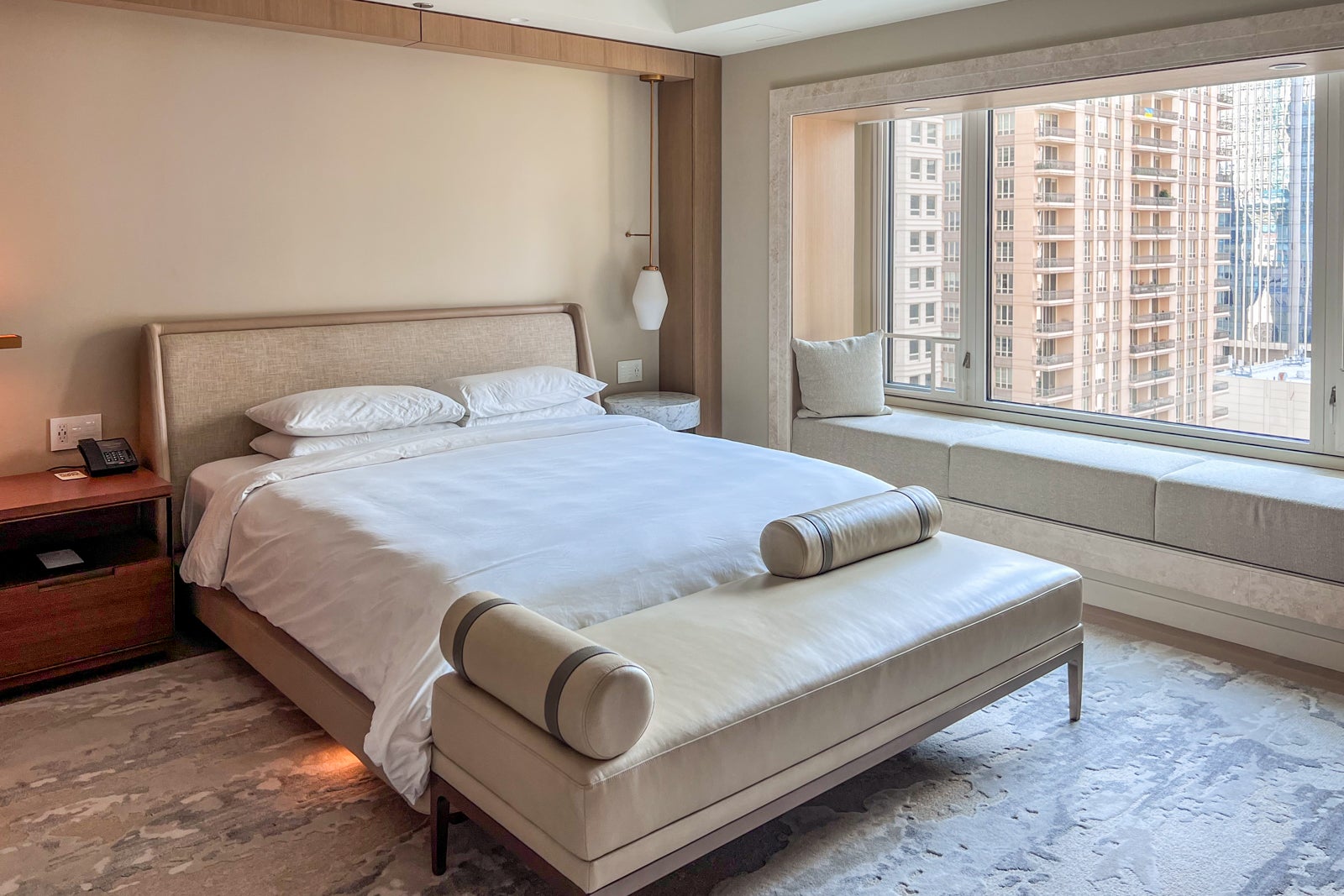 This bathroom could either be walled off from the bedroom or opened up thanks to a large sliding wooden door that delineated the two spaces. I'm normally averse to open-concept bathrooms, but the sliding door made it feel pretty luxurious to soak in the tub while music from the television in the bedroom played at night (Anyone remember how Oprah once said her biggest extravagance was having a tub carved in the form of her own body? I feel like this tub might be as close as I'll ever get to an extravagance like that of Mama O's).
For those wondering, even the guest room I originally booked came with a soaking tub along with a separate walk-in shower.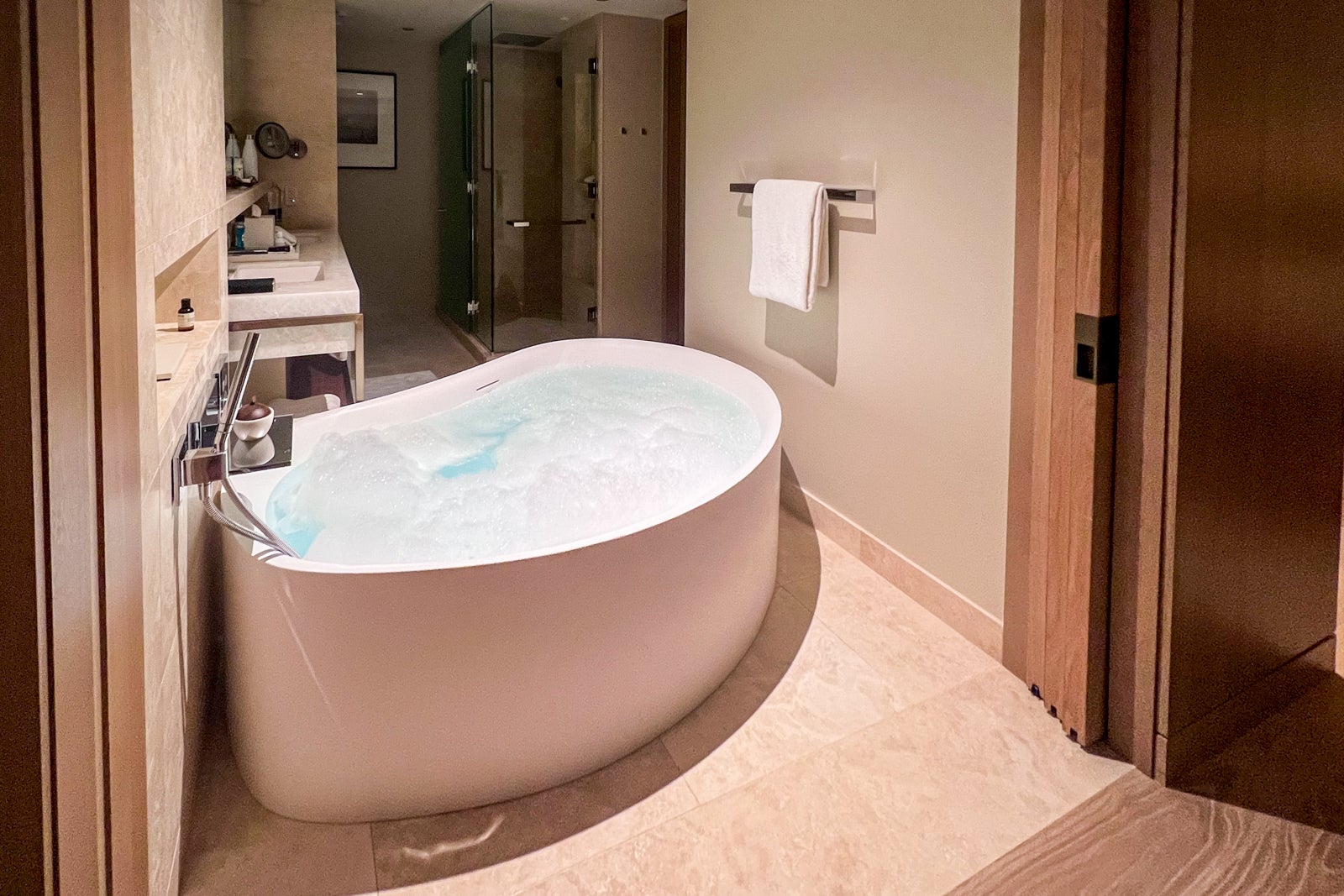 The suite certainly felt cozy but not over-decorated. There was a large, cream-colored sectional couch in the living area with two chairs surrounding a kind of nested coffee table. A gray, patterned rug tied all these pieces together.
Wood floors ran throughout the suite and there was some light wood paneling on certain sections of the walls. The living room and bedroom had cozy built-in window seats, which also had electrical outlets embedded in them (There were electrical outlets widely available throughout the entire suite — a plus for someone like me who is perpetually in need of a fresh charge for a phone, watch, iPad, etc.).
A large, wooden chest dominated one side of the living room in front of a patterned, mirrored wall. This piece of furniture housed everything from the minibar to the ice bucket, wine glasses, coffee cups and Nespresso machine without seeming too cluttered.
As for the "Chicago colors" I'd been told about, call me artistically dense, but it seemed like just a lot of grays, beiges and blond wood to me.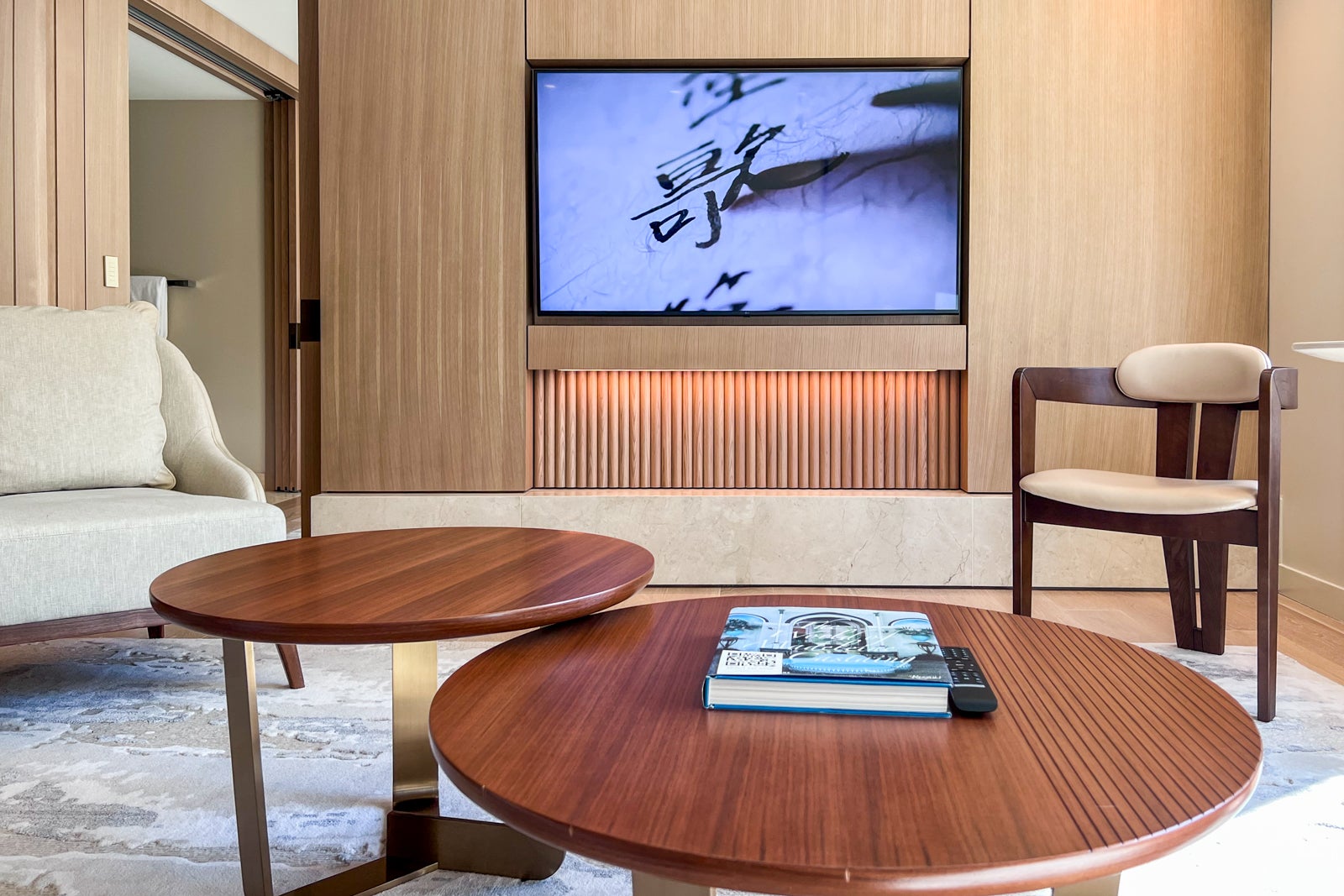 I later learned — and found after closer observation — the cream tones were inspired by sandstone buildings across the city like the Park Tower in which the hotel is located. The gray tones were meant as a nod to the steel of other skyscrapers, and the pale green hues paid homage to the city's many parks. Design firm Anderson/Miller oversaw the guest room renovations, which included new fixtures and furniture as well as wall decor and flooring.
The bathroom off the living room had a glassed-in shower (complete with Le Labo bath products) and toilet with a heated seat and bidet. The en-suite bathroom had a similar shower and toilet feature as well as the soaking tub (which also included bath salts).
As you may recall, my game of collecting nice hotel toiletries appears to have its days numbered, as hotel companies around the world move toward more sustainable practices, including doing away with mini bottles of soap and shampoo in favor of large wall-mounted dispensers that can be refilled. The Park Hyatt didn't have wall-mounted products, but each bathroom had large bottles of shampoo, conditioner and shower gel that clearly weren't meant to be taken home. There was also a mini bottle of shower gel by the tub that served as a makeshift bubble bath for my nightly ritual of a glass of red wine and a few chapters of reading while having a soak.
There were smaller bottles of lotion and bar soap that do happen to look lovely in my guest bathroom. Sorry, Hyatt. It's a bad habit that's hard to break.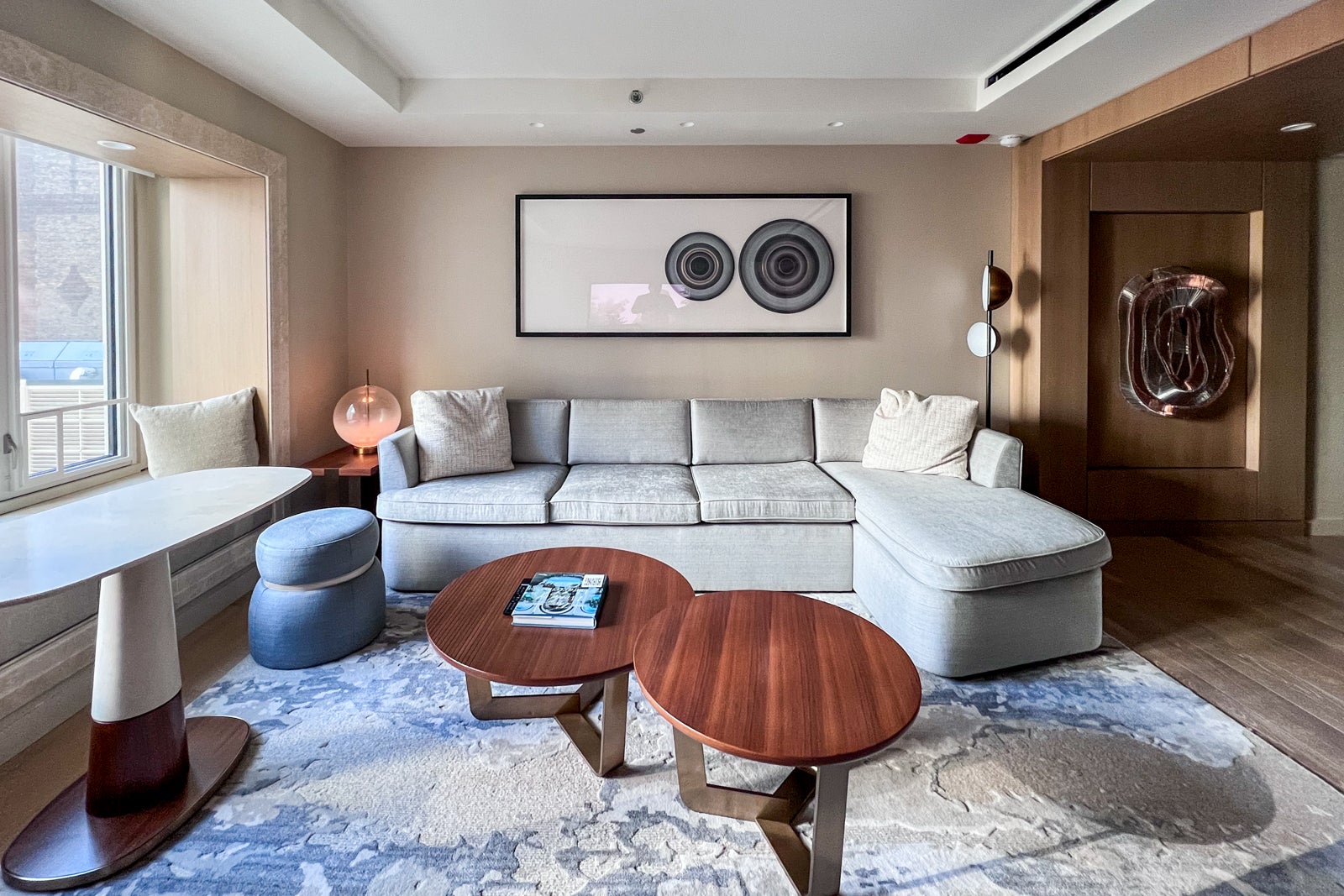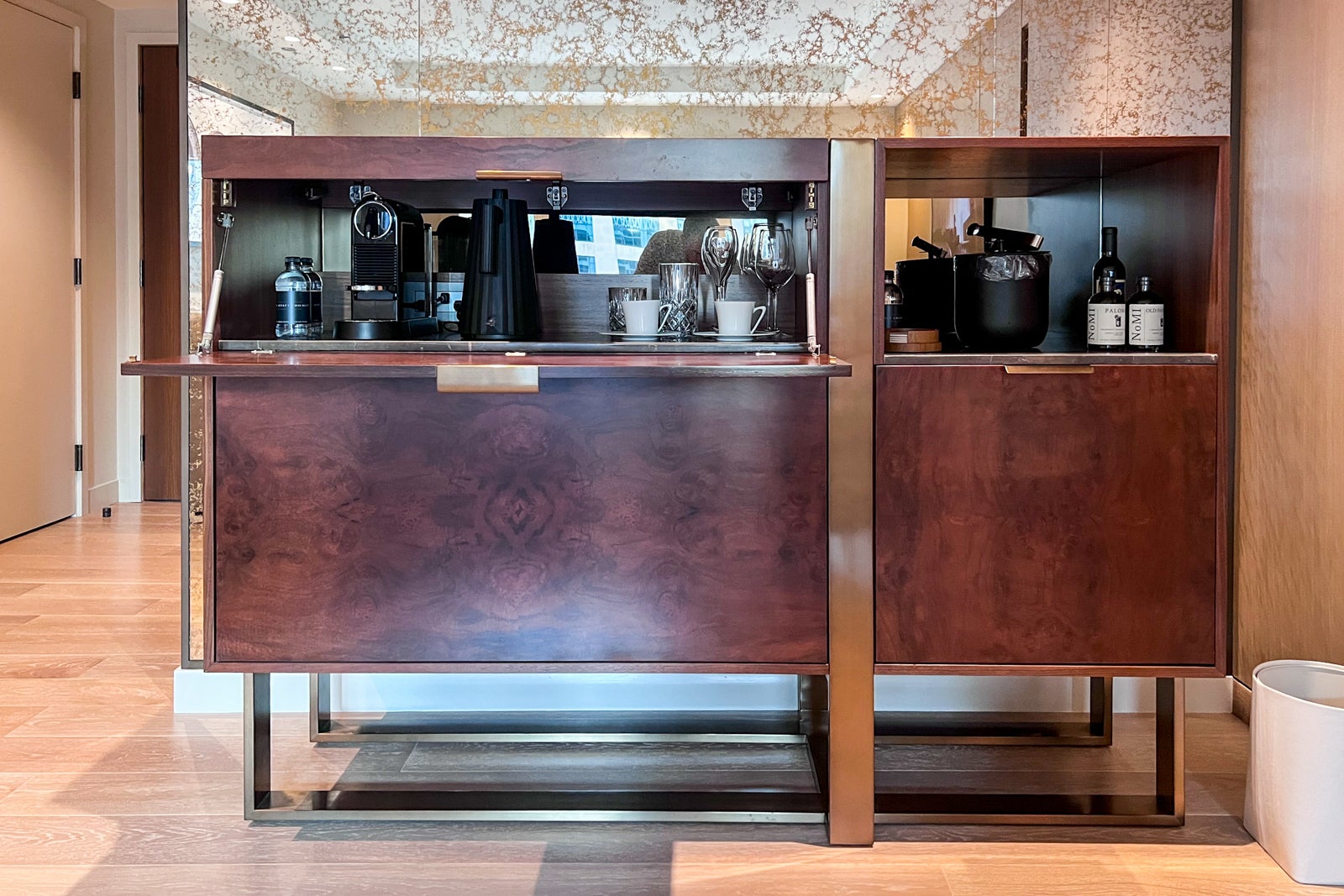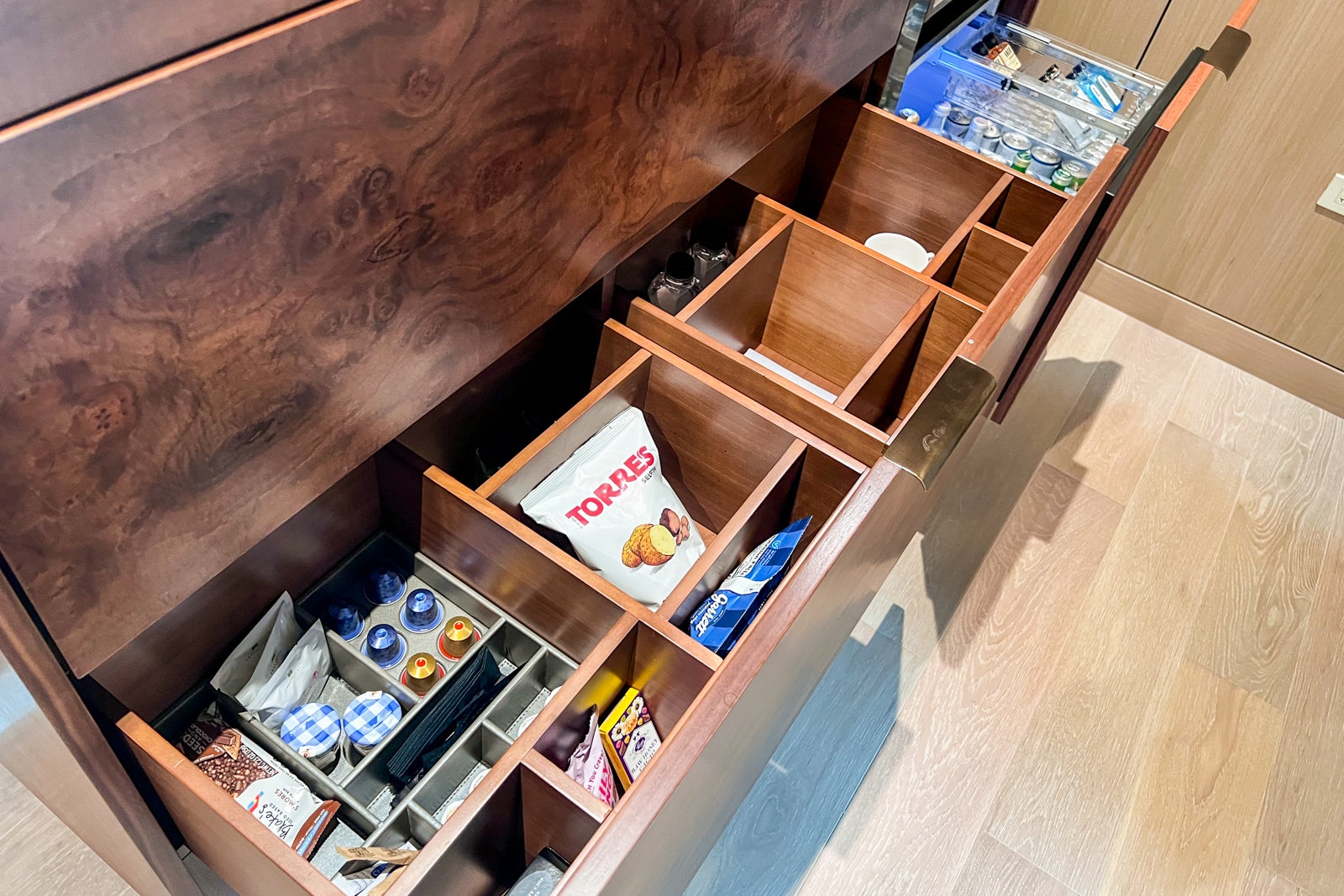 A dressing area off the bathroom included a backlit mirror, built-in shelves (which also included Park Hyatt-branded slippers) to stow luggage and a closet with robes as well as a bag for laundry services.
Fans of the movie "The Holiday" might recall how Kate Winslet's character slept like a baby at Cameron Diaz's Los Angeles mansion during their house swap thanks to the electrical blackout shades in the bedroom. I channeled my inner Kate at the Park Hyatt thanks to blackout shades conveniently activated by the touch of a button on either side of the bed. These also controlled the lights and could draw sheer shades in case I still wanted to let in some natural light.
The bed itself was extraordinarily comfortable and cozy without being overdone with pillows or any of the other decor items designers sometimes throw onto a bed to make it seem ultra-luxe. This relative minimalism of the suite made for a comfortable stay — and made it difficult to hop out of bed each morning.
My room wasn't an accessible room, but the doorways and entryways were very wide and there were buttons throughout the suite that controlled lights and blinds.
The hotel has a Gold Coast suite with two queen beds and an accessible rain shower as well as accessible guest rooms with a king-size beds and roll-in rain showers. The public areas are also accessible, including the loading zone and restaurants.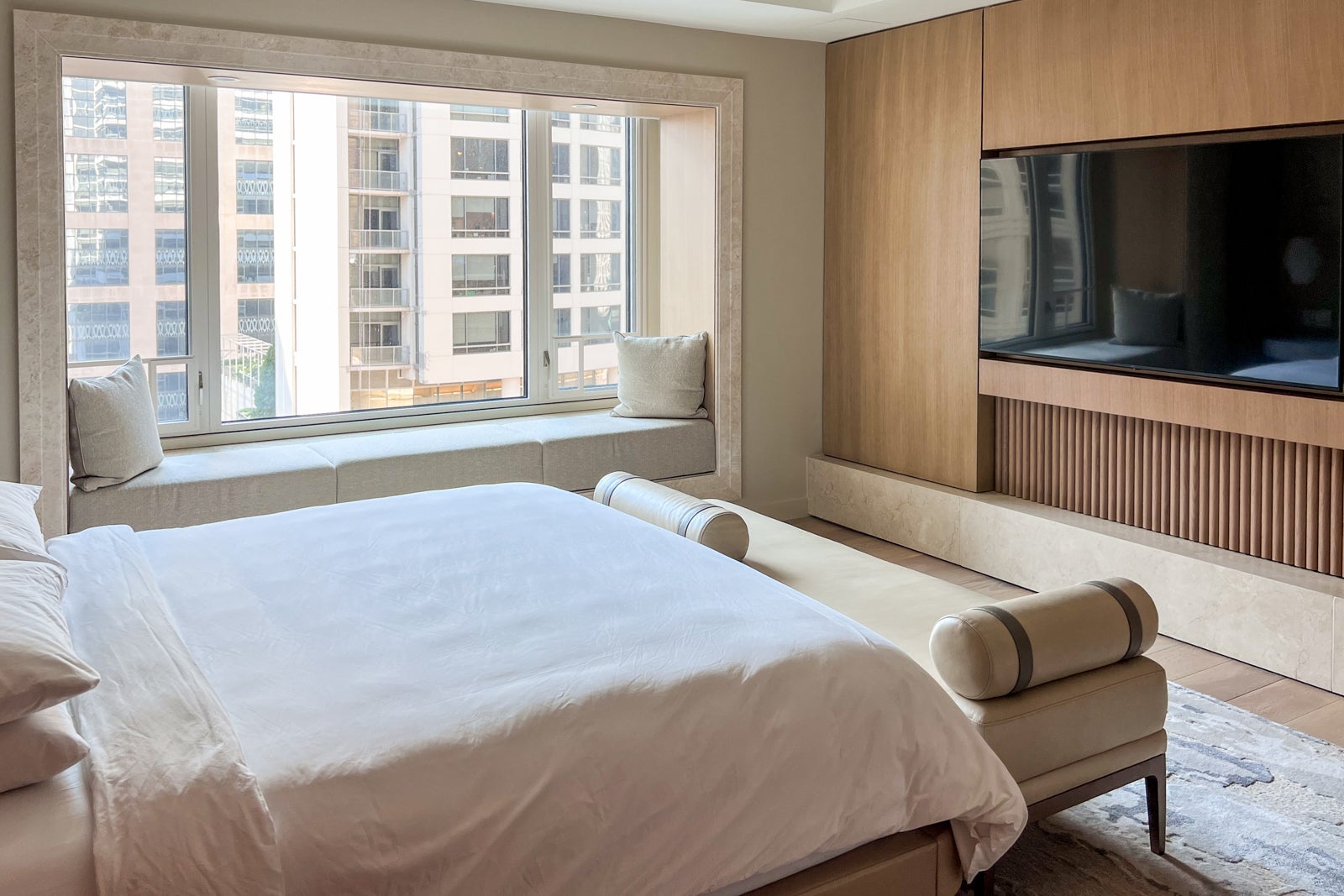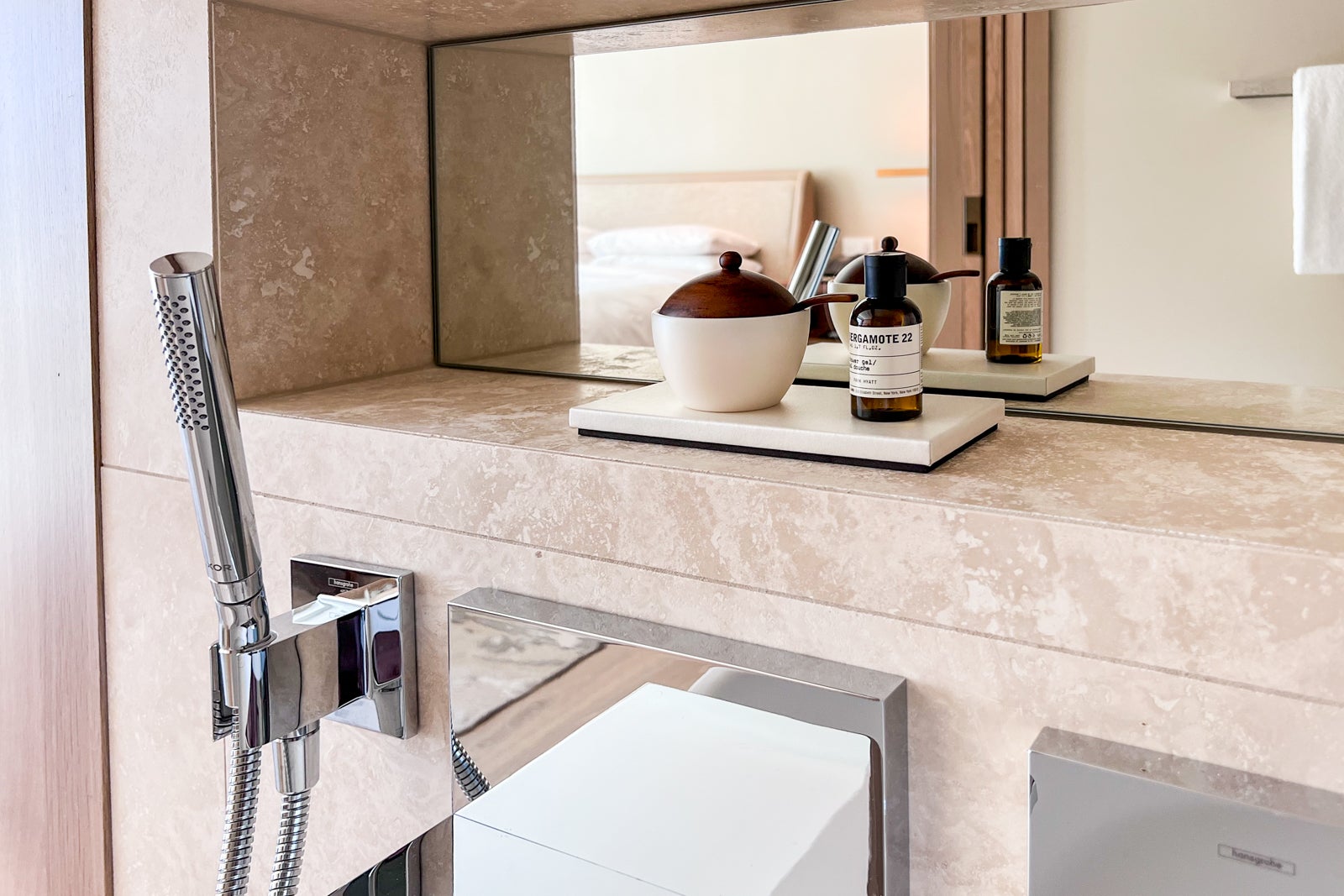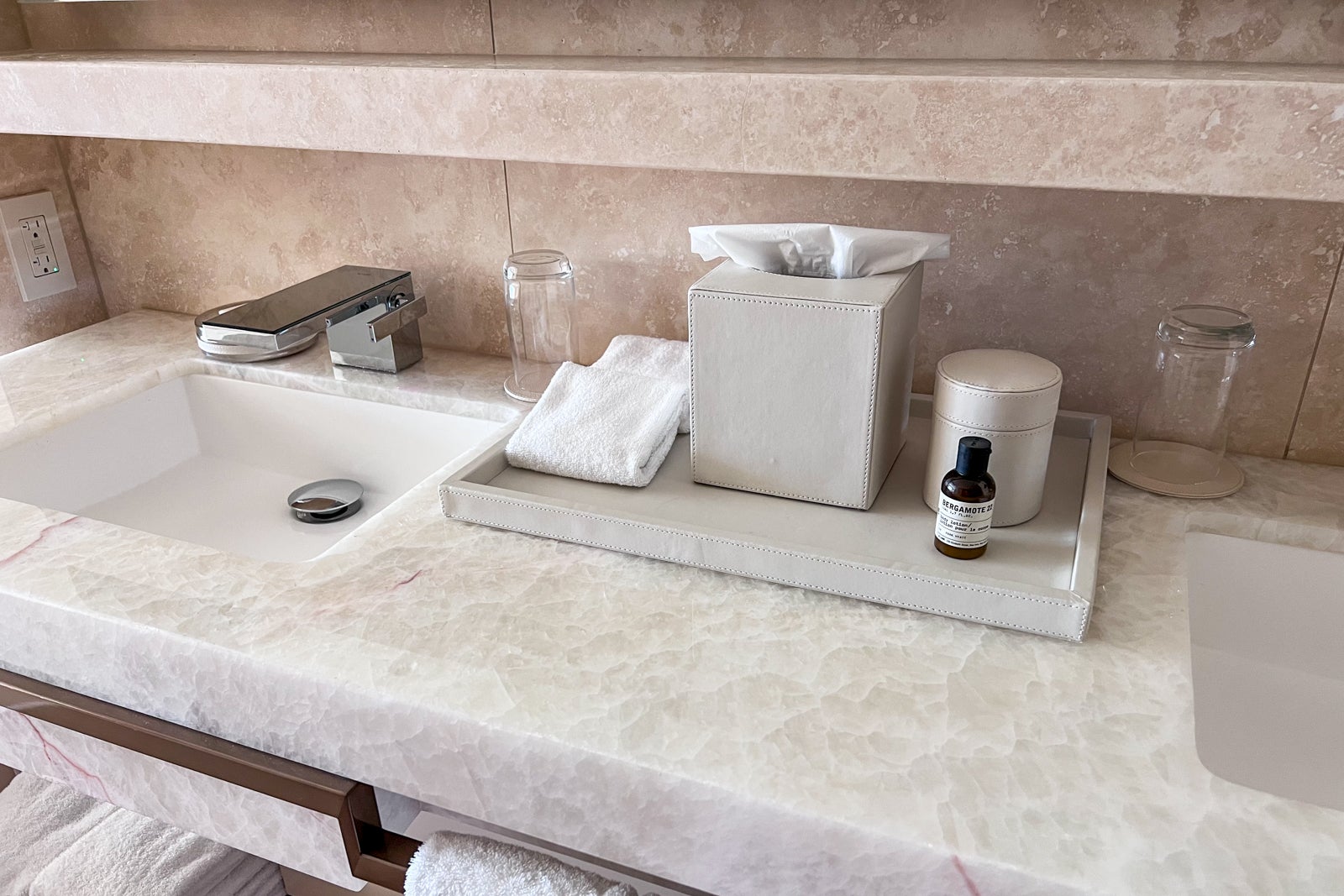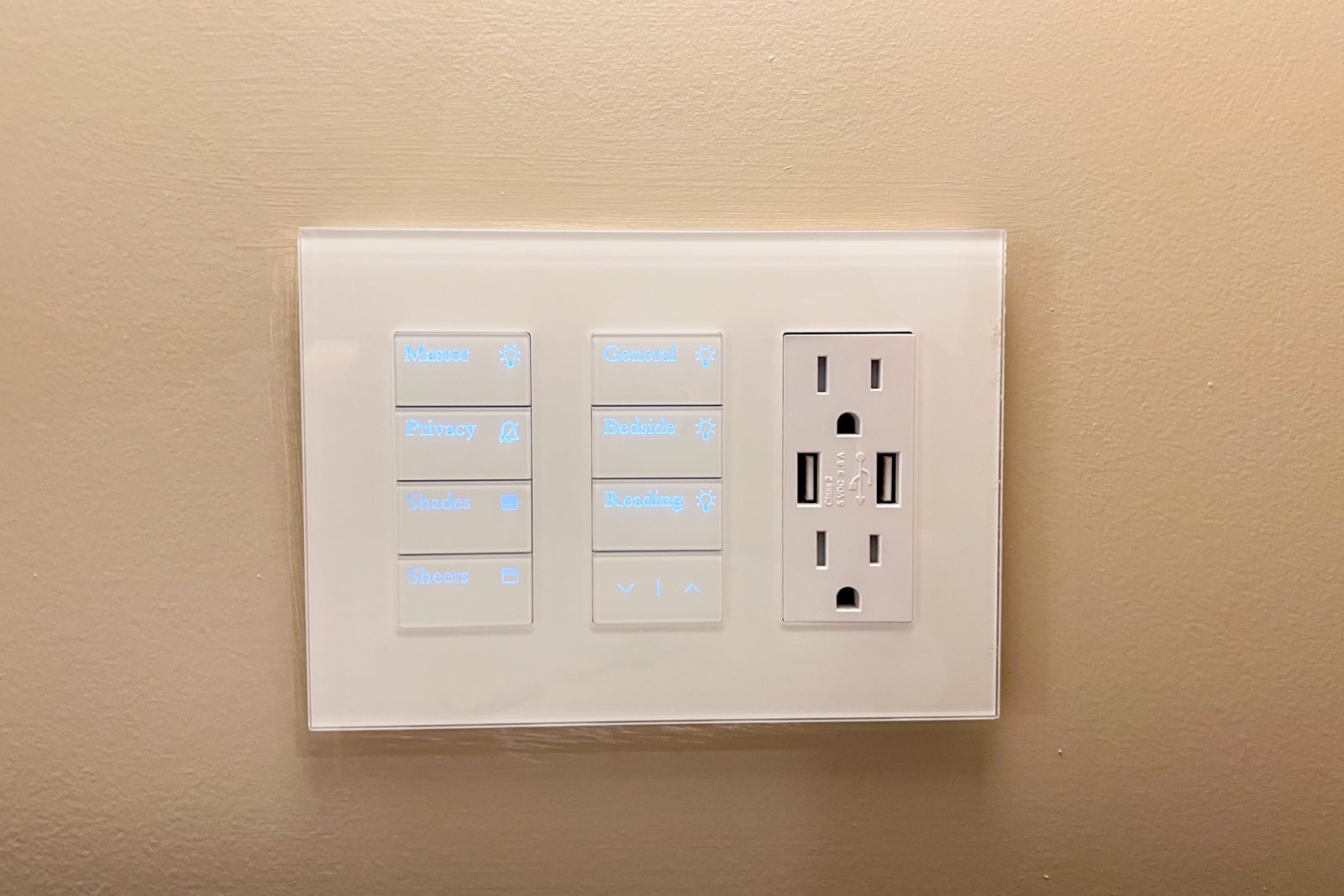 Food and beverage
Room service was up first almost immediately after check-in as I was on deadline and famished. I ordered a pesto chicken sandwich that came with a salad for $25 along with an iced tea and a Diet Pepsi.
I've waited upwards of an hour for room service at some hotels, so it was a nice surprise when my late lunch arrived in less than half an hour — and that someone came by to collect my dishes about an hour later without me even requesting it. Not that chicken pesto sandwiches are a massive test of one's culinary skills, but the chicken was juicy, and everything tasted fresh and hit the spot.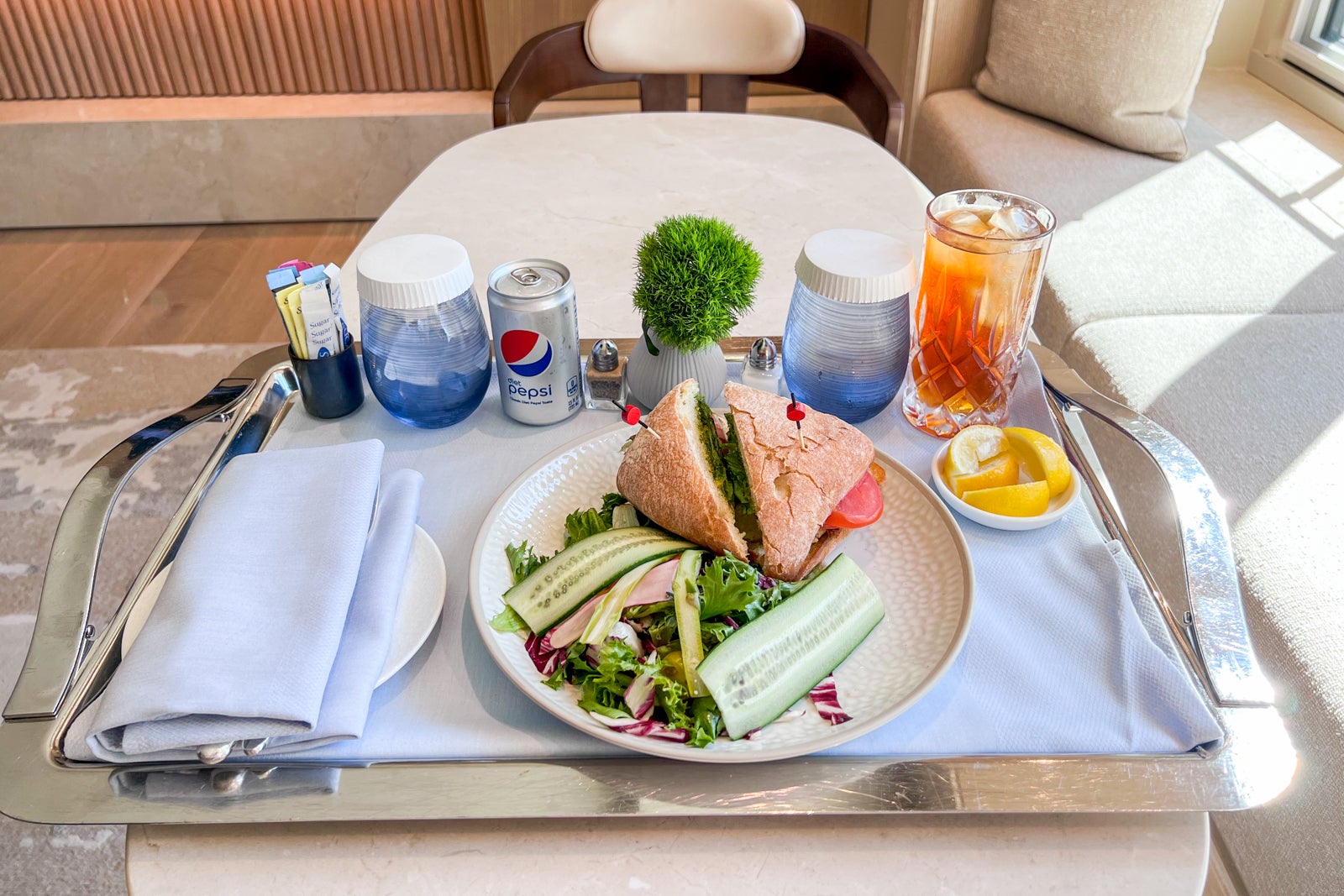 Later that night, TPG's other senior hotel reporter, Tanner Saunders, joined me for drinks at NoMI Garden and then dinner at NoMI Kitchen on the seventh floor. It was a great place during a summer evening to sit outside for a cocktail and catch up on hotel gossip. There was a bustling bar area where we were able to snag a table while plenty of well-dressed younger folks mingled in seating areas or at umbrella-shaded tables on the outdoor terrace overlooking Chicago skyscrapers.
Seeing that Tanner and I are both fans of spicy margaritas, we ordered a $22 Passion & Paradise — Maestro Dobel silver tequila, Chinola passionfruit liqueur, sriracha, lime and tograshi. It was certainly a pretty drink, but we were sold on the promise of heat that just never came in our respective glasses. If anything, it felt like drinking juice rather than a smoky margarita.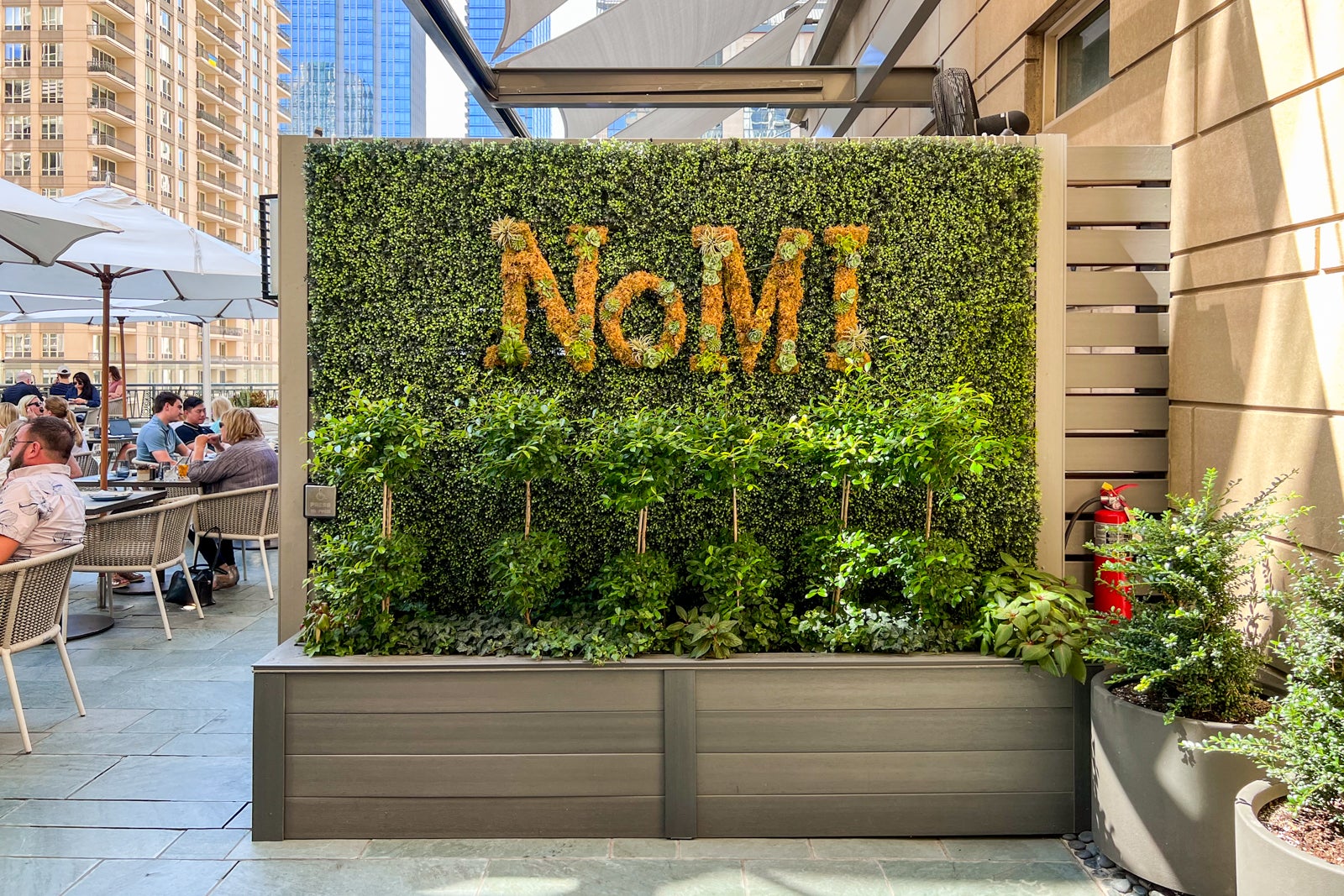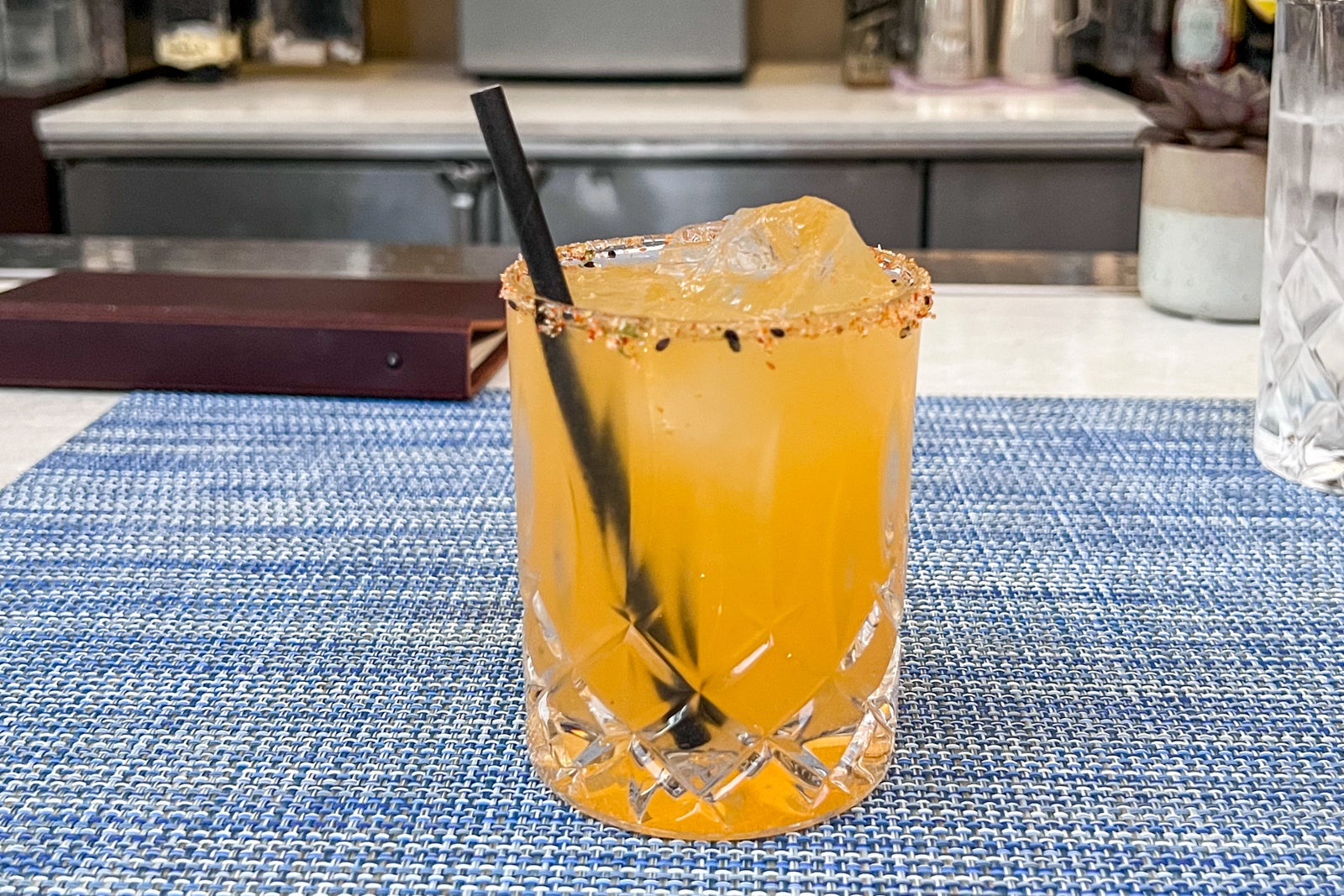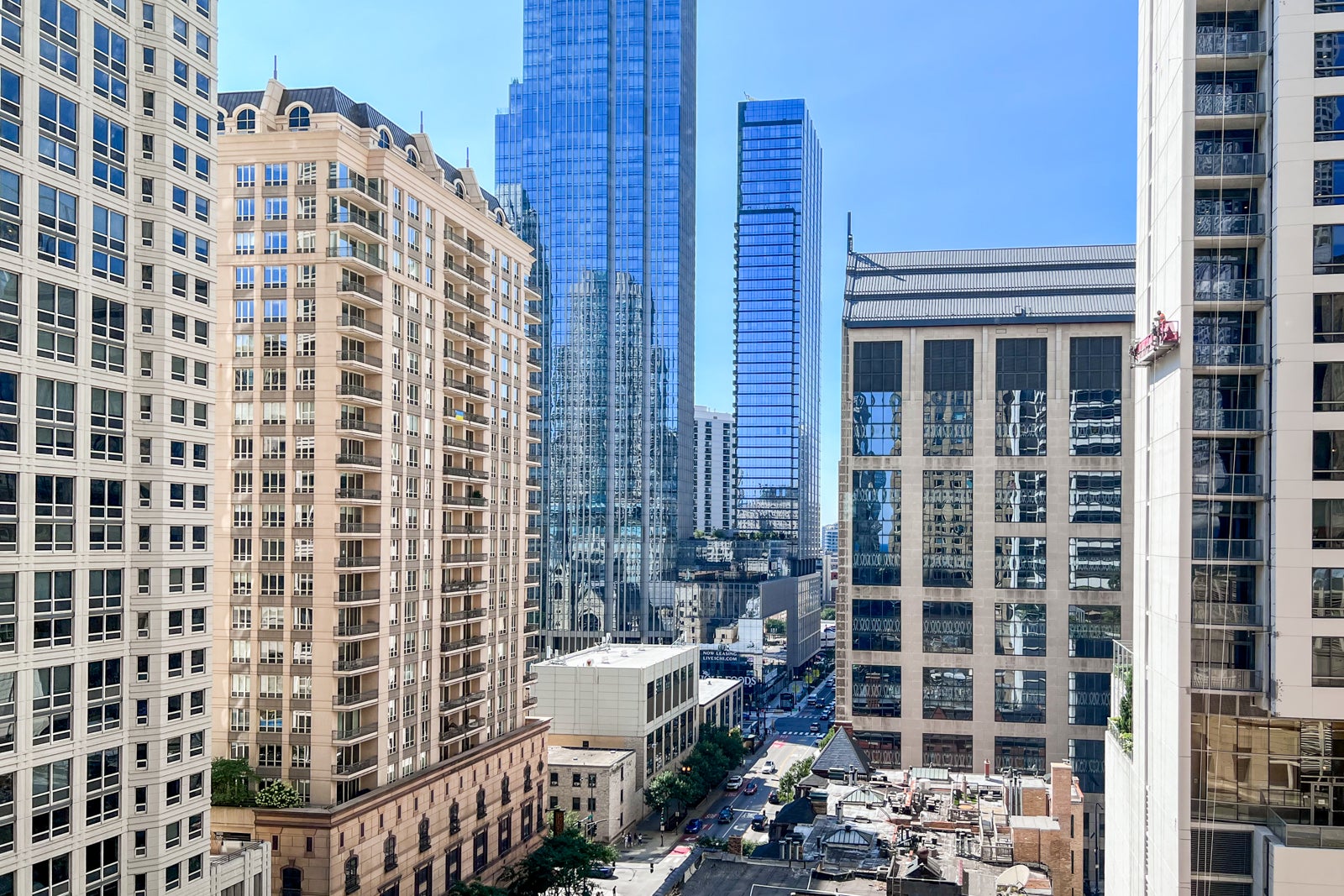 Once we headed inside for dinner at NoMI Kitchen, it was immediately clear which part of the NoMI complex is for power meals.
The expansive restaurant was decorated with dark wood panels and tables. There were sleek, black leather chairs (showing the Park Hyatt Chicago team isn't entirely over the leather and chrome look previously seen in guest rooms upstairs) and pops of lighter hues in the form of gray rugs and floor-to-ceiling windows overlooking the Chicago Water Tower and Lake Michigan, which was more easily viewed at breakfast than over dinner.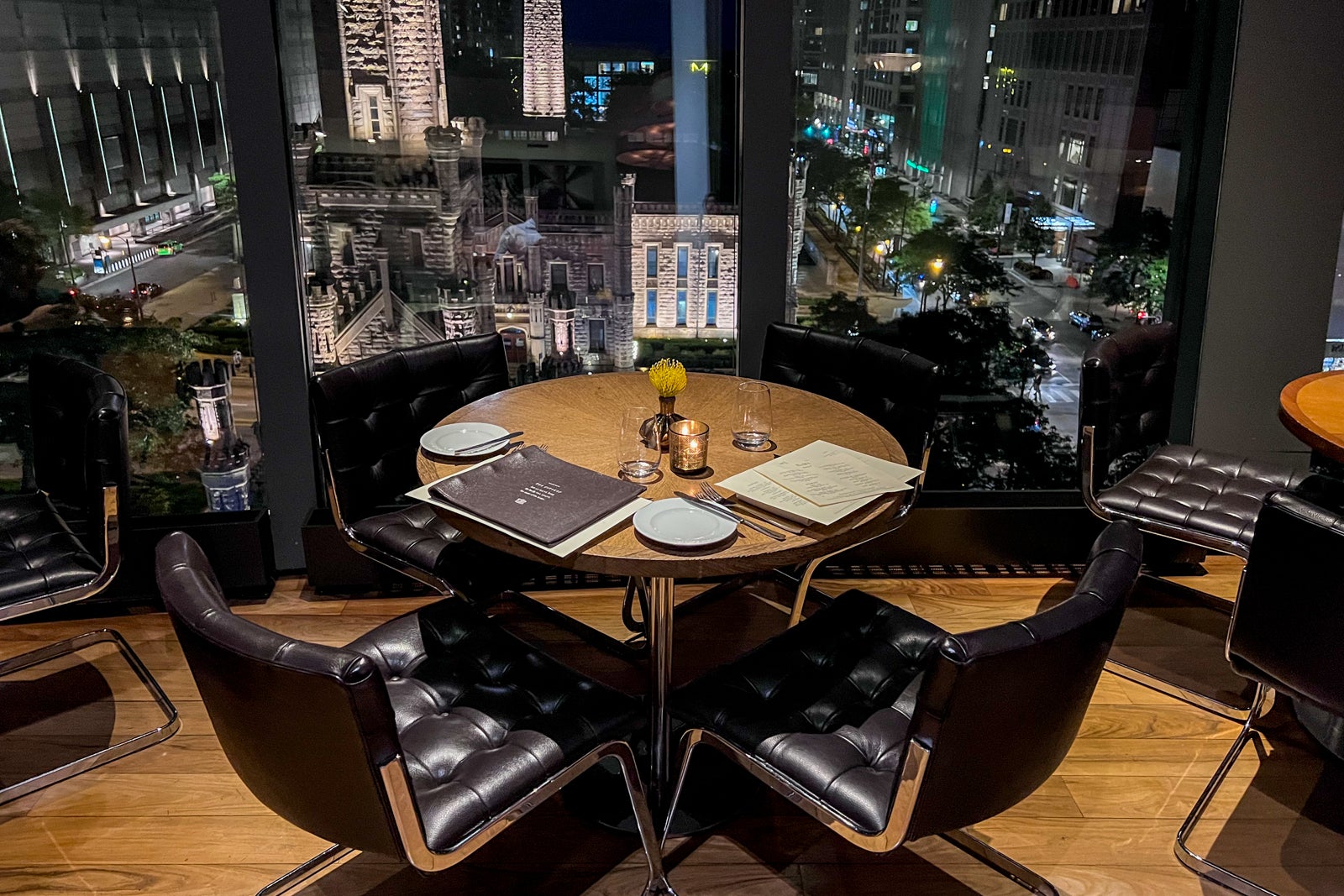 We started with a $30 octopus carpaccio and $28 rillettes comprised of duck confit and Duroc pork that were served with sourdough to spread the shredded meat over. The octopus was certainly the lighter, fresh option of the two and came adorned with mache greens and seasoned with pepper and a tart (but not overly so) sauce to finish things off. The rillette, however, was like high-end comfort food with each satisfying bite of meaty spread on the crusty, thick sourdough.
Moving on to our main courses, we certainly ate well but rang up quite a tab. The delicious scallops served over roasted corn, squash, tomato and pesto clocked in at $56 — pricey for four scallops (though still less than the Park Hyatt's overnight parking rate). I might be a little biased hailing from coastal Massachusetts, where scallops aren't so expensive at even very high-end restaurants. It was certainly a delicious, refined dish, but it was hard to get my head around the pricing.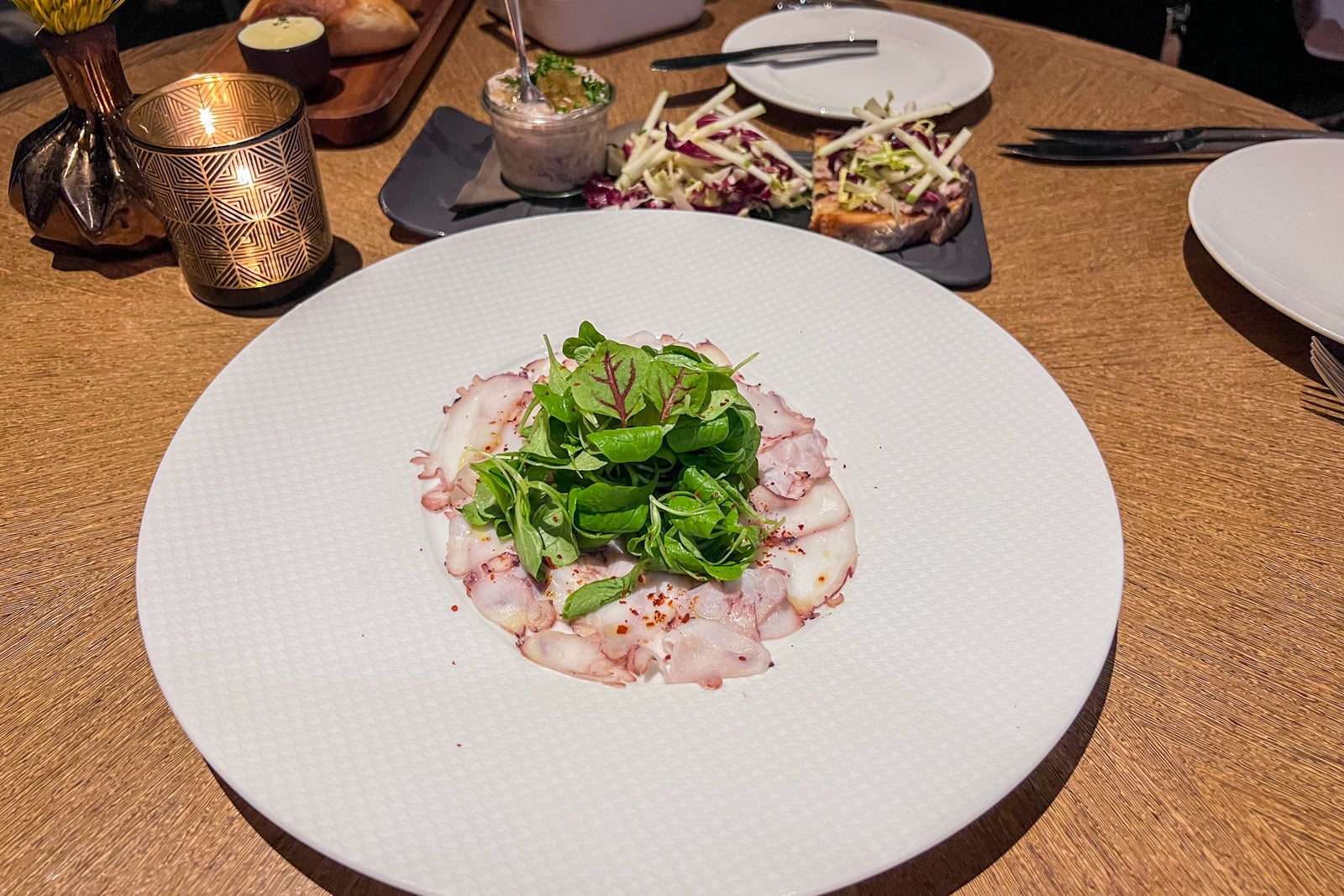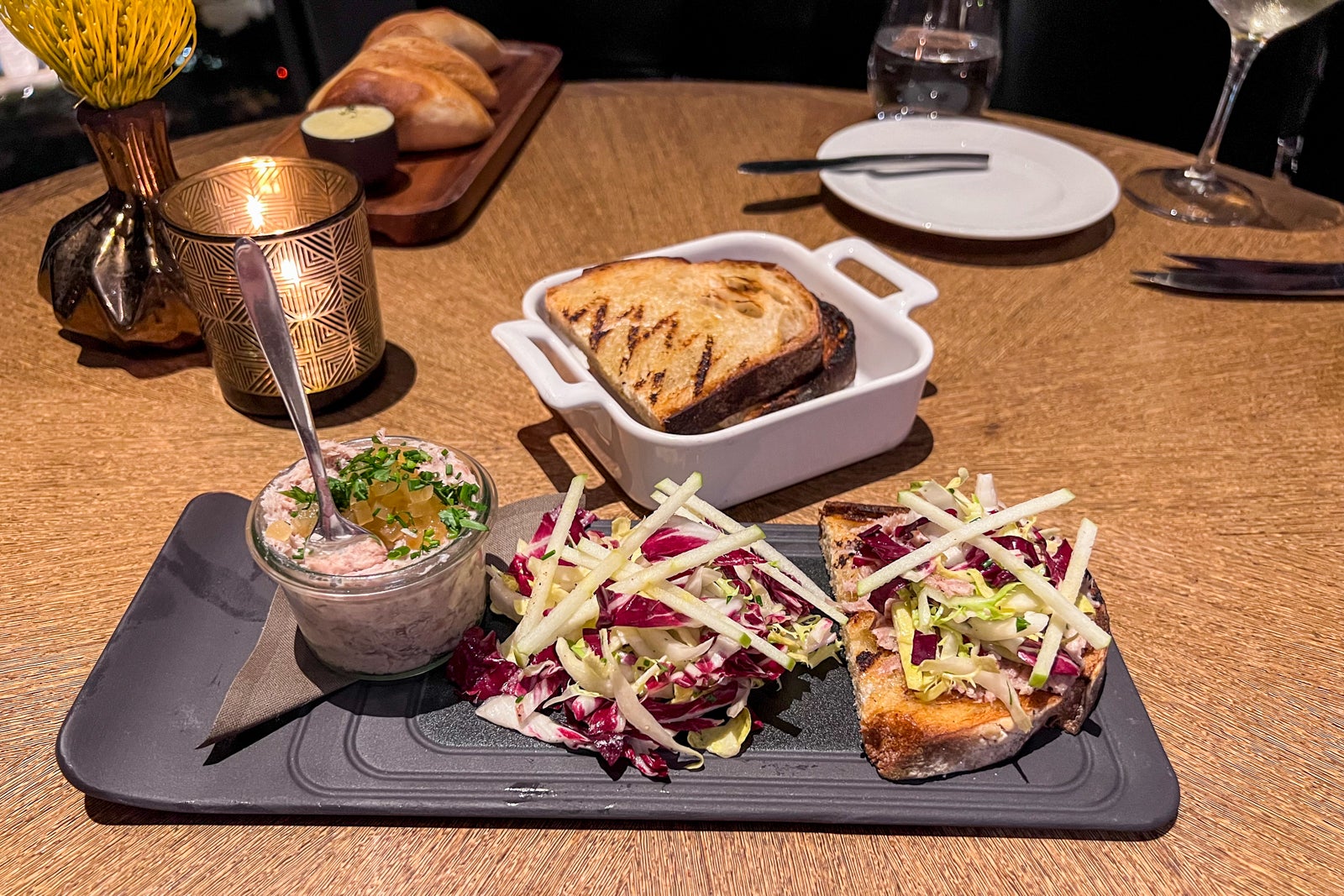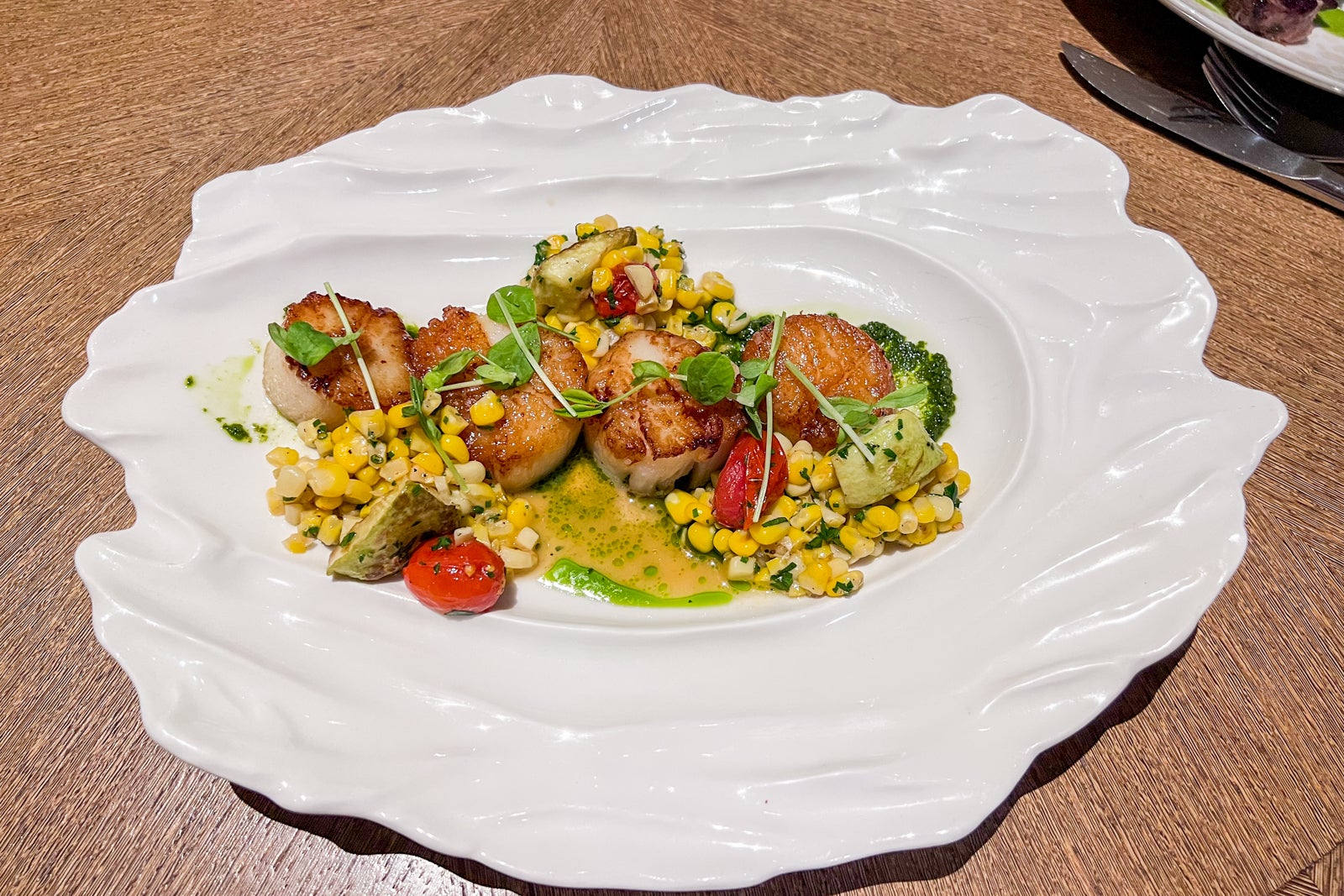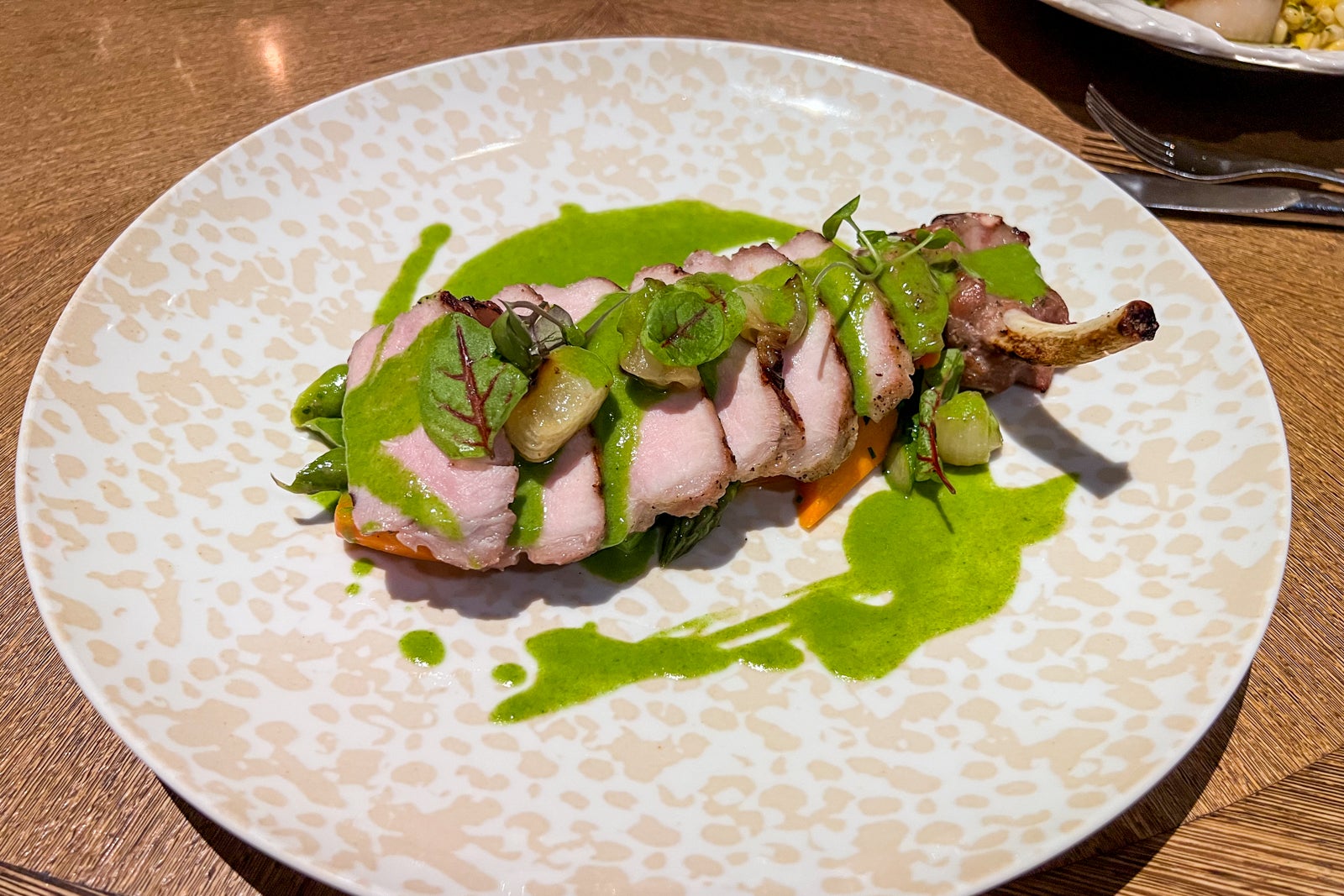 The pork chop was even costlier at $60. The presentation was more elegant than the scallops, with cipollini onions, asparagus and baby carrots, and drizzled with a green garlic beurre blanc. However, as someone who unwinds after work by testing out new recipes it was a little jaw-dropping to see a pork chop cost so much, even at a fancy restaurant like NoMI. Painful pricing aside, the pork chops were delicious, though I expected more pizazz on the side than carrots and asparagus.
Things weren't entirely absurd on the pricing front at NoMI, however. When we homed in on a James Bond vibe by ordering vesper martinis (gin, vodka and Lillet — shaken not stirred), I was surprised to see these were $19 — certainly not a cheap cocktail, but I've also seen these go for well over $25 at hotel bars nowhere near as fancy as NoMI.
Dinner service was perfectly fine — nobody was overly pushy as far as food or drinks go. The one thing that did seem almost like a culinary non sequitur is how NoMI — billed as "modern American cuisine rooted in French techniques" — also has a sushi offering.
While I later learned this is technically offered from a separate, similarly named entity called the NoMI Lounge, it was still included on the NoMI Kitchen menu (albeit on a separate page). When I dabbled in some nigiri ($8 for a piece of tuna and $6 for salmon) later in my stay while having an after-work drink at NoMI Garden, I wasn't blown away by it.
What I was blown away by was the compressed watermelon salad, which featured fresh, juicy cubes of watermelon drizzled in a cider Dijon vinaigrette with avocado mousse, frisee and feta. At $18, it isn't the cheapest salad in Chicago by any means, but it was a delightful treat on a warm summer day while dining al fresco.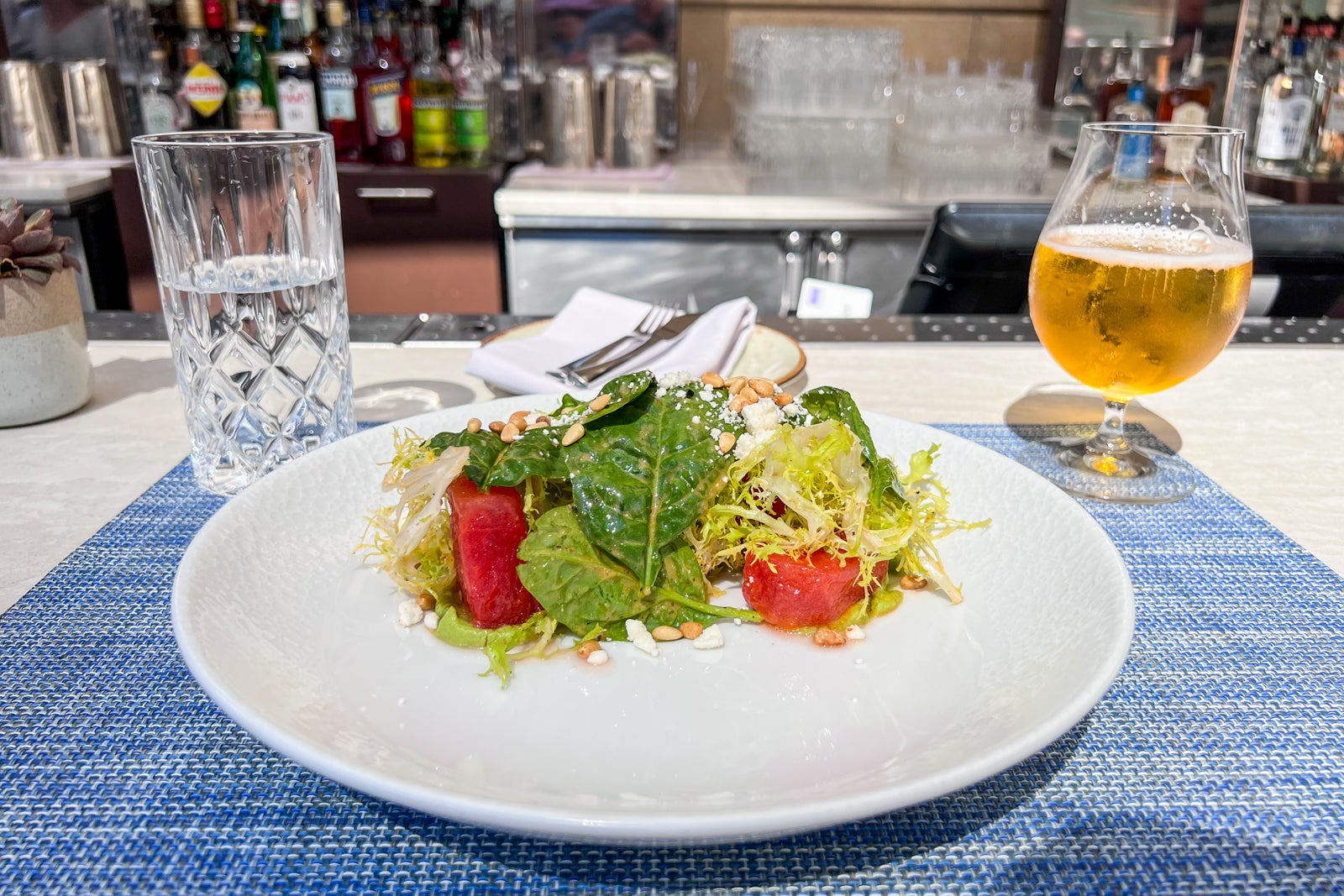 Thanks to being a Guest of Honor on a Hyatt Globalist account, I got free breakfast each morning in NoMI. This was a huge savings during my stay, as the eggs shakshuka I got on my first morning went for $26 while the avocado toast on the second morning of my stay was $19. Want bacon or sausage on the side? That'll be an extra $8. The same price goes for adding a poached egg to avocado toast. For reference, the average cost for a dozen eggs in the U.S. is $3.12, according to the Federal Reserve Bank of St. Louis.
To be fair, breakfast was probably my favorite meal during my stay. The morning crew at NoMI was incredibly friendly and attentive, from remembering on the second morning that I had juice and coffee the day before to never letting my coffee cup go empty. (Let's just say I was extra perky during a conference I was attending while in town.) The tomato sauce in the shakshuka had a perfect level of spice while the avocado toast was a fresh start to the day thanks to the capers, seasonal greens, cucumber and lemon also added atop a thick slice of multigrain bread.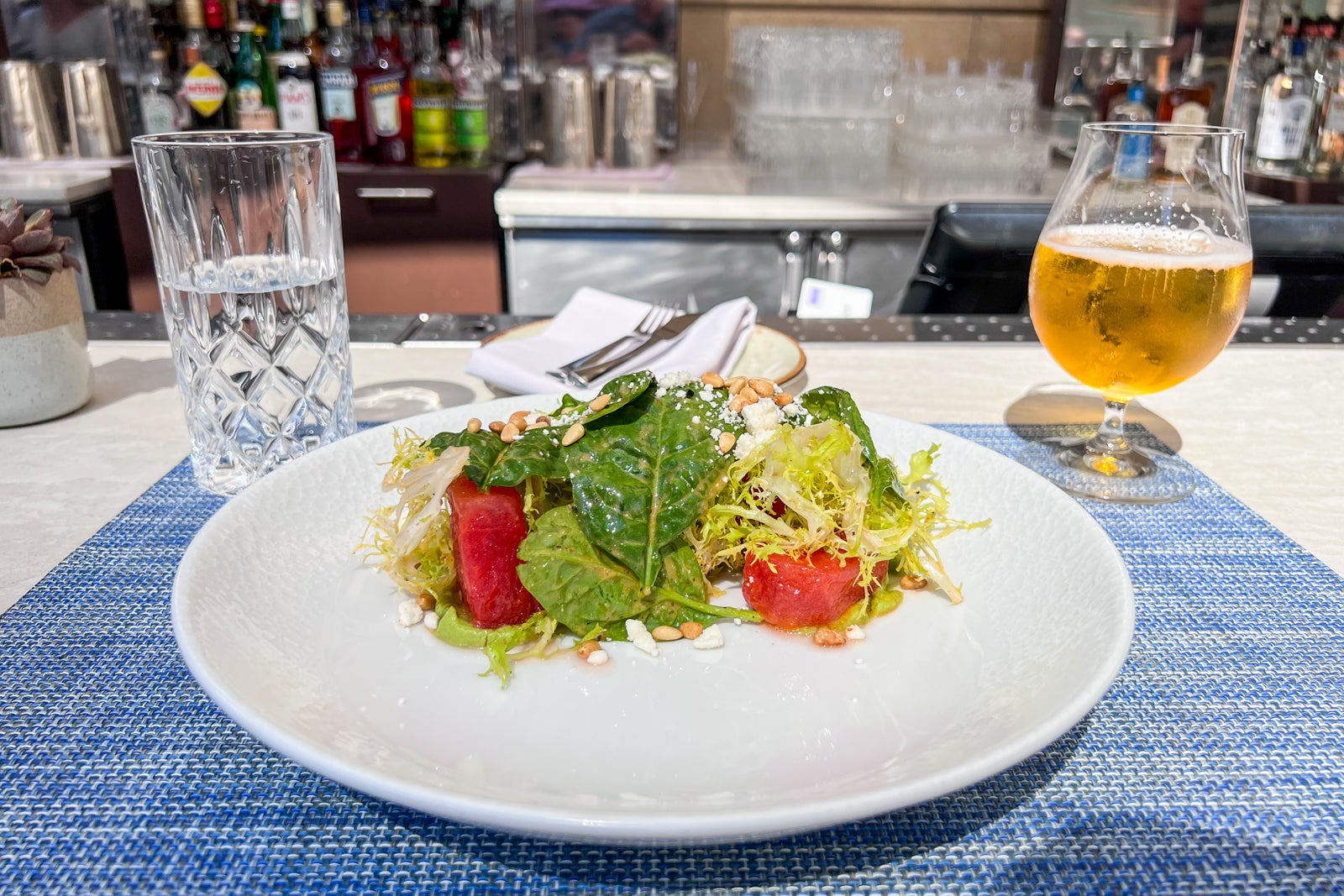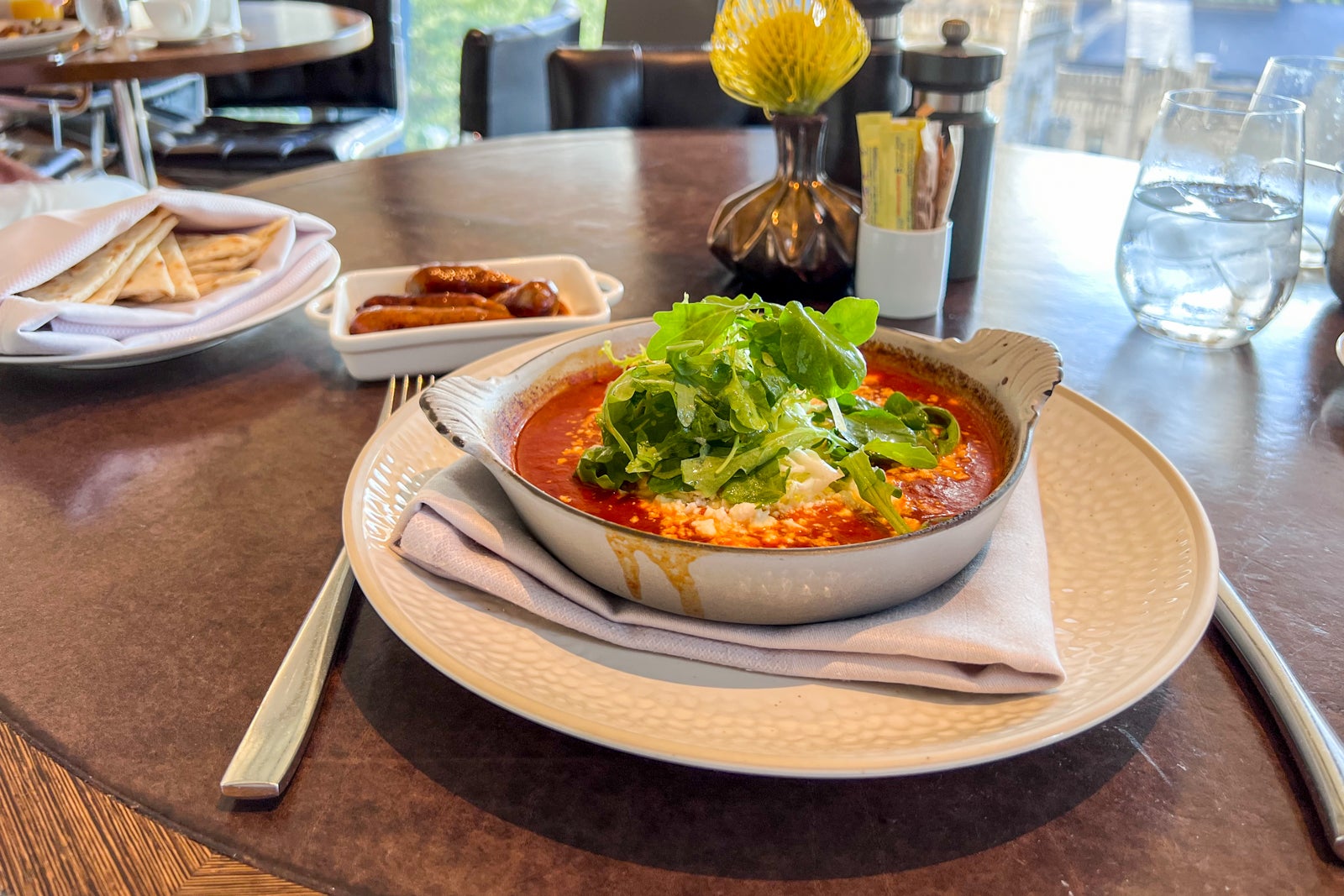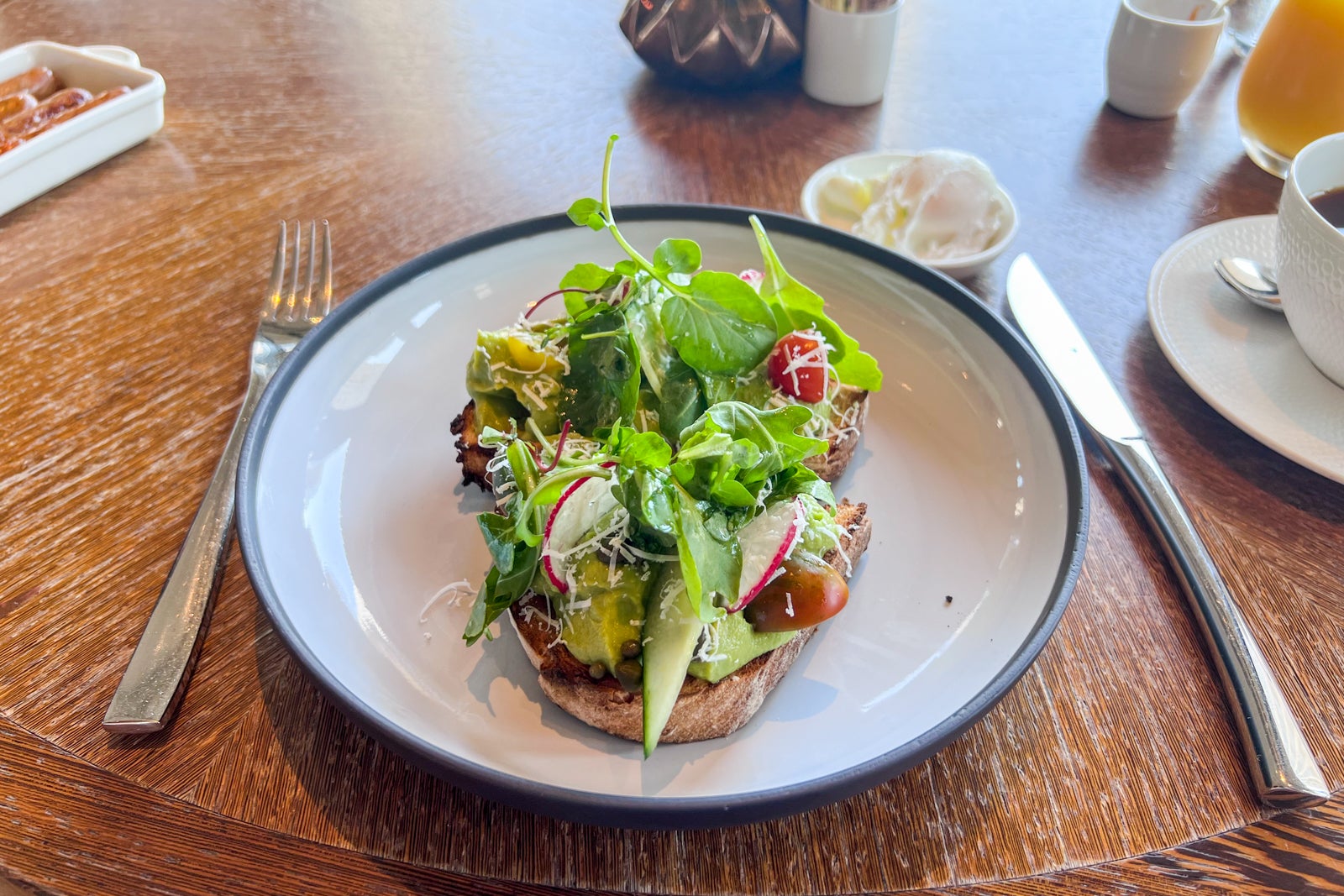 A friend who was passing through Chicago a week later and looking for a place to do brunch knew I had eaten at NoMI a few times and asked if she should make a reservation since it kept popping up in her search. While I loved each breakfast, I offered this caveat: It's a delicious way to start the day — but also expensive considering what you can get at perfectly nice restaurants nearby.
Judging by the looks of the fabulously dressed folks around me each morning, I think I'm in the minority of those who shared that concern.
Amenities
Along with the variety of NoMI-branded food and bar options, a spa and fitness facility also fall under the NoMI moniker. This is where I think the Park Hyatt team should look to differentiate the products a bit if and when they tackle a more extensive renovation of the seventh floor — what I call NoMI-palooza — of the Park Hyatt Chicago
Step off the elevator, and you'll find NoMI Kitchen, Lounge and Garden all within eyesight and tended to by very friendly team members at the host stand. But where it gets a little confusing is this is also where you go to access the NoMI Spa, which includes the fitness center and a three-lane indoor lap pool.
It was a little awkward going down at 5:30 p.m. one day in my gym clothes to work out and try to find the gym amid a throng of glitzily dressed folks en route to happy hour at NoMI Garden (apologies to the happy hour crowd for my intrusion). The signage wasn't the best, but luckily one of the hostesses pointed me in the right direction.
The fitness center was very nice by hotel gym standards: A Peloton, free weights, various strength training machines, ellipticals, treadmills, a rowing machine and a slew of other fitness equipment were available for use. The gym also included headphones for anyone who forgot theirs and dry hand towels as well as cool, damp towels for a refresh after a grueling cardio session. My only gripe was that the gym was so well-stocked it almost felt a little congested with so much equipment in not enough space.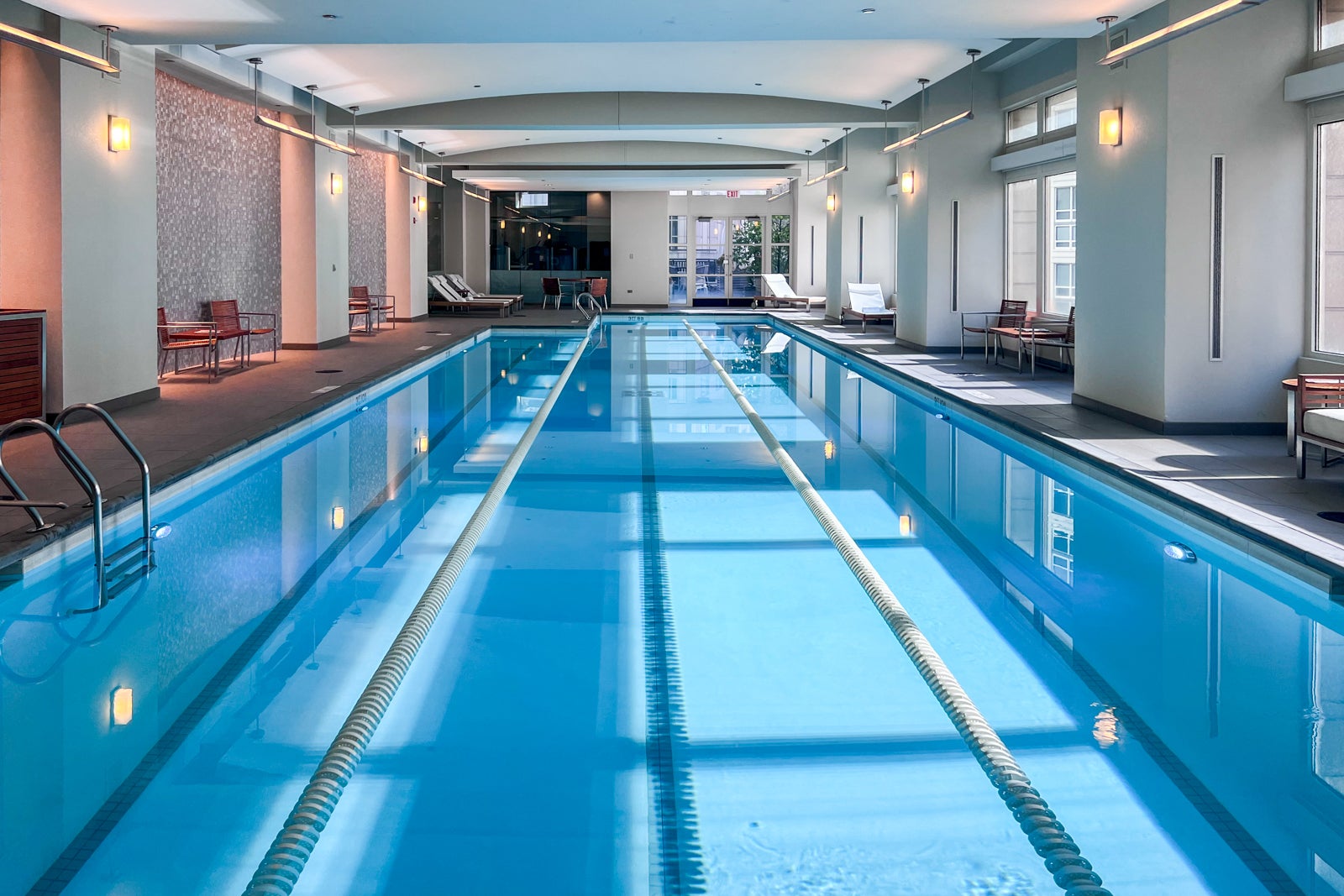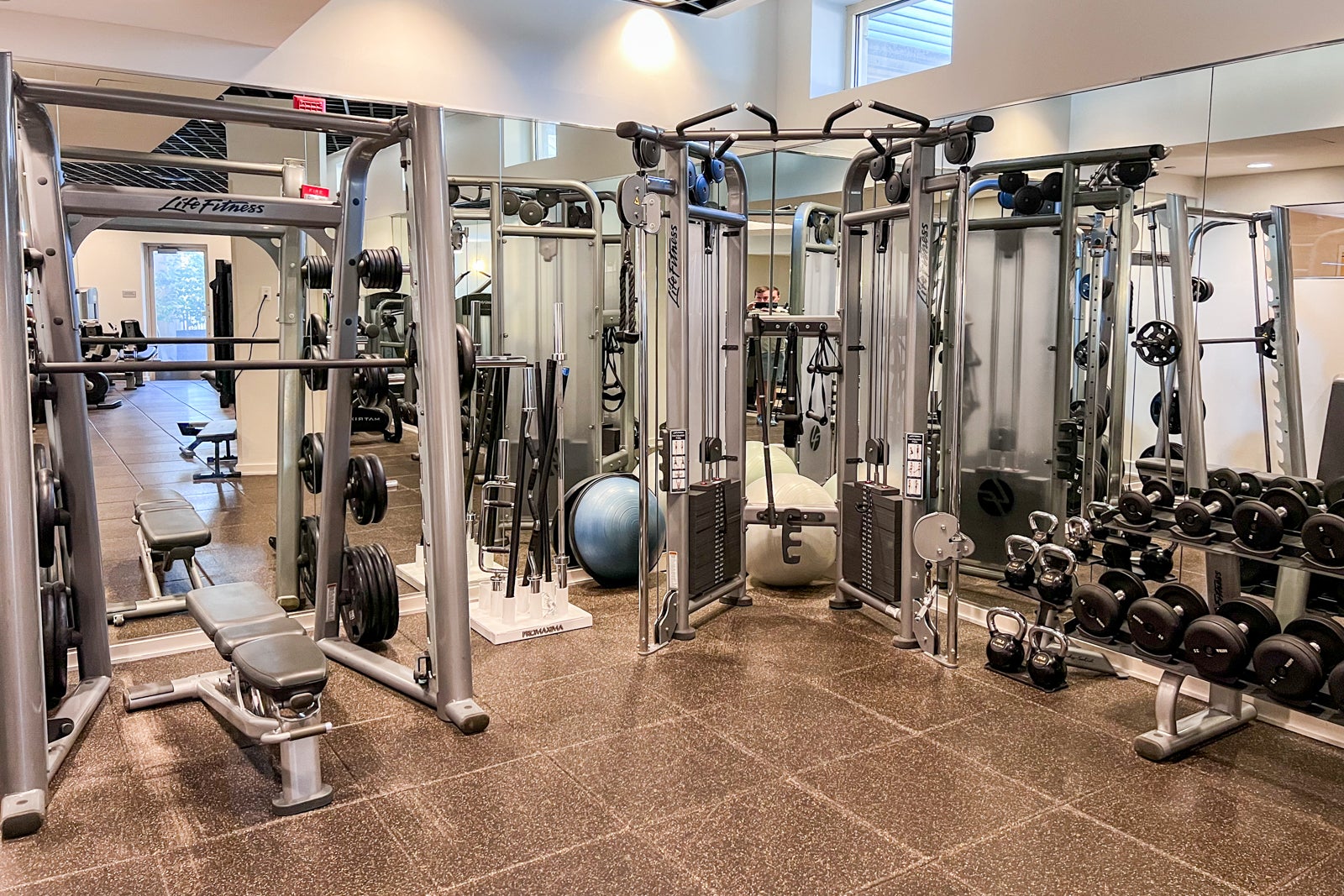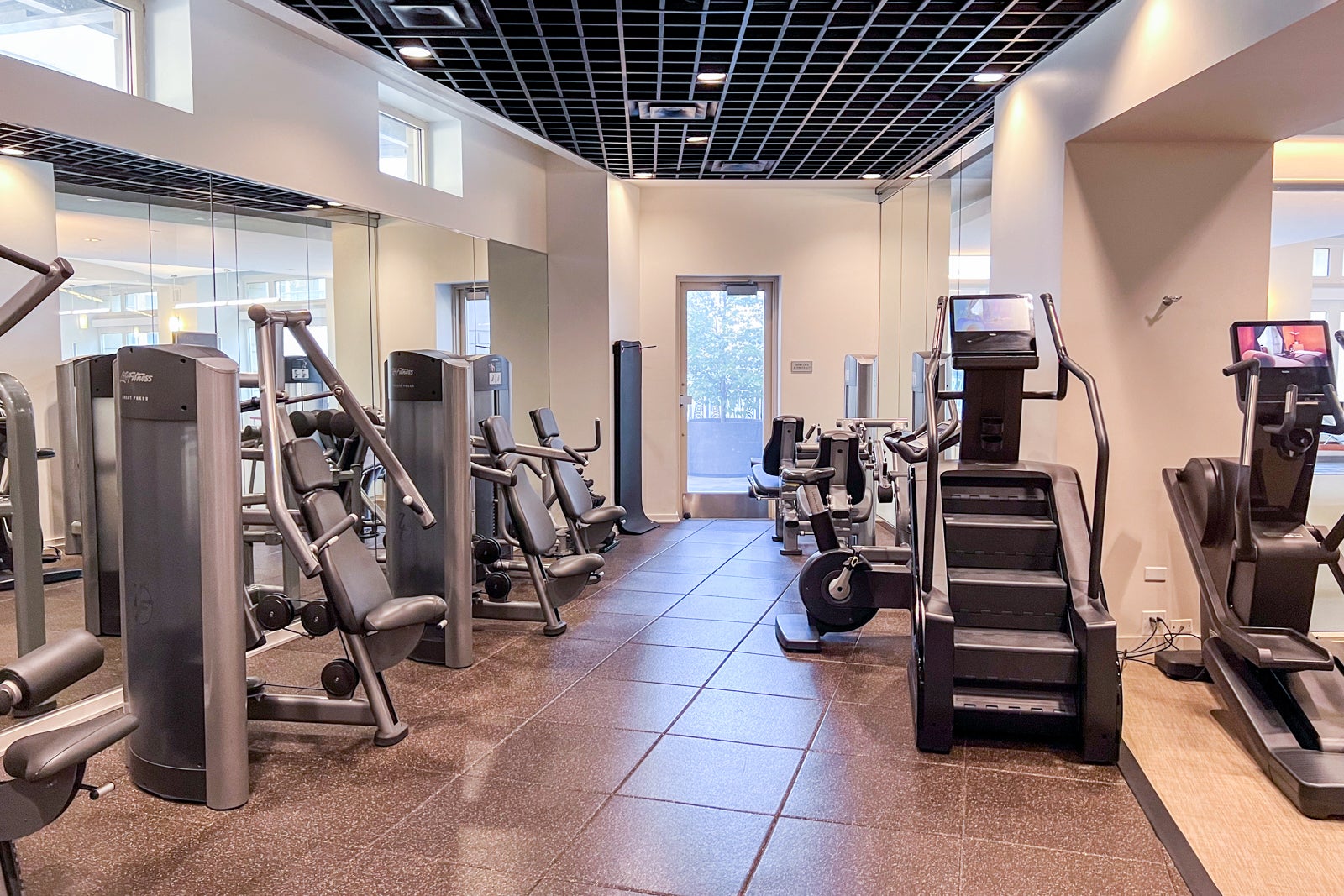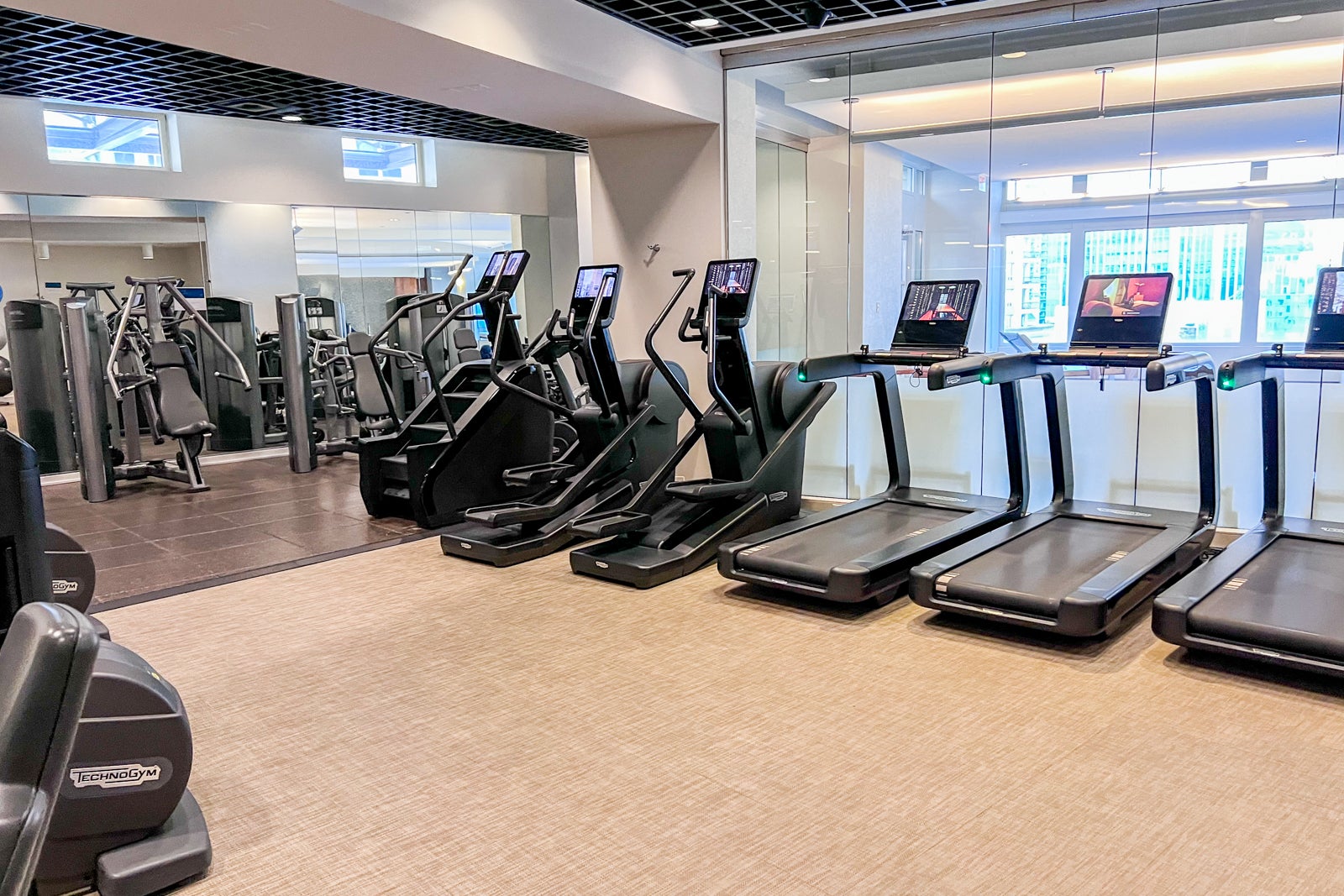 While I didn't get any spa treatments, the wellness facility was quiet despite being so close to NoMI's restaurant and bar mix. The indoor pool was also very relaxing and featured multiple sitting areas around the water for those who just wanted to unwind and read.
My favorite amenity at the Park Hyatt Chicago, however, had nothing to do with a massage or great meal.
I had noticed a few dog beds in various parts of the lobby but never saw whom they belonged to until my second night at the hotel.
Parker, a one-eyed pug the Park Hyatt team adopted back in 2016, is the VIP resident of the hotel. Think of him like a four-legged Eloise at the Plaza, er, Park Hyatt.
Parker is one friendly little guy and gets five-star treatment by the Park Hyatt staff, from walks and treats to a whopping five dog beds, all for him. Consider him a paws-itive addition to the luxurious guest experience — I was obviously sold after he kept coming back for pats on the head.
My husband, also named Parker, may have been a little jealous that I found such a delightful, same-named friend during my travels. He'll get over it.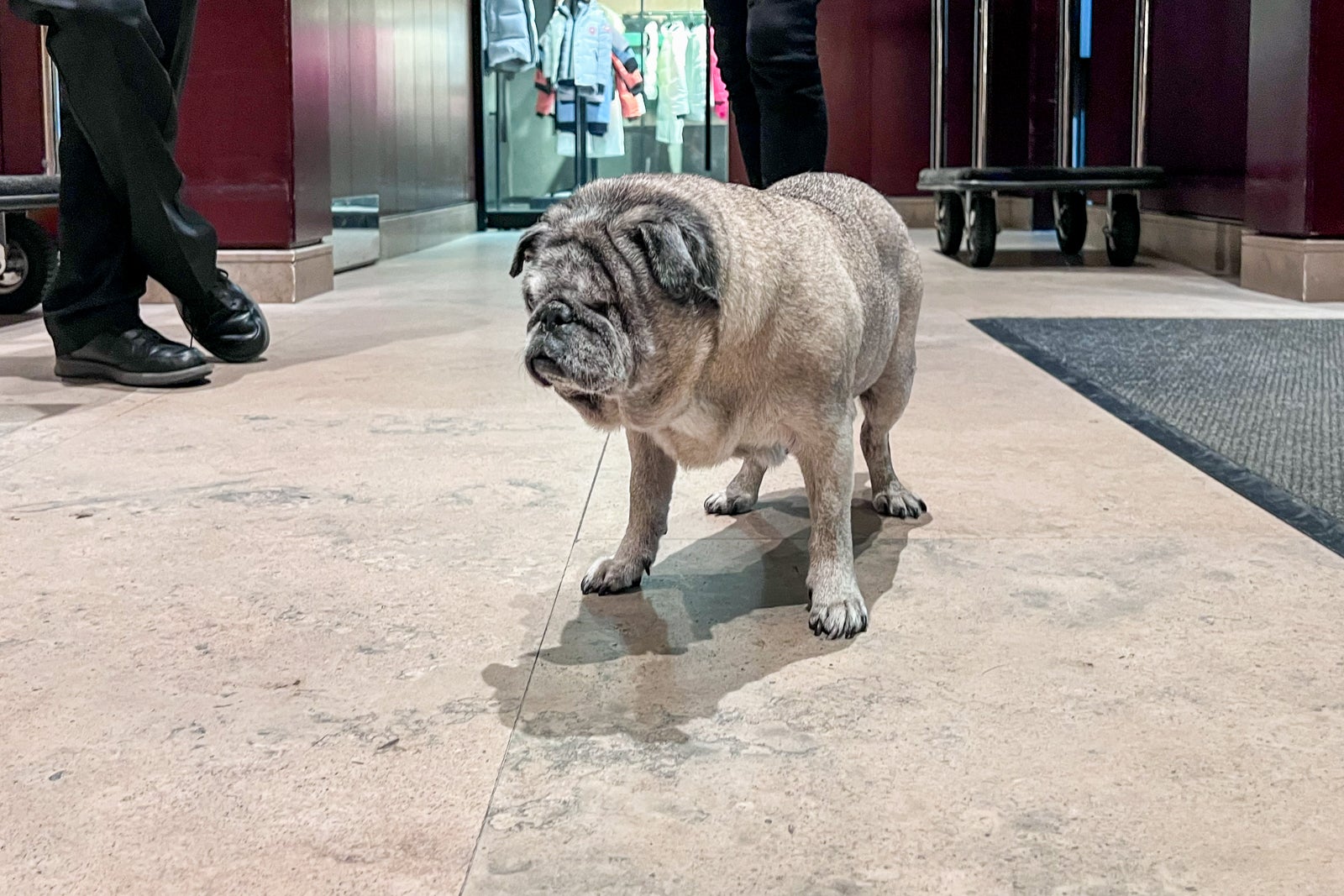 Service
Given all the pullbacks in hotel service and employee counts during the pandemic, some might say the mark of a true luxury hotel stay is simply having impeccable service. The Park Hyatt Chicago excels here.
Everyone was very friendly without being overbearing. Bellmen outside as well as front desk attendants always offered up a sincere "Welcome back!" when I went through the front door and back up to my room.
Nightly turndown service was a treat (and also finally taught me how to use all the light and curtain buttons in my room) while daily housekeeping was very attentive. I used one Nespresso pod and an espresso cup from the bureau and noticed both were replenished after the room was serviced — so were the tiny bars of Le Labo that I was quick to stash in my carry-on.
Room service, as mentioned, arrived quickly. Service at NoMI even managed to play to each venue, with service in the Garden being more relaxed (though no less attentive) than inside at the more formal Kitchen. Those working the host stand were a particular delight, as the conversation was practically familial by the time I finally checked out — after four trips to NoMI in the name of research, you might say they were my new Chicago-based best friends by the time of my departure.
Overall impression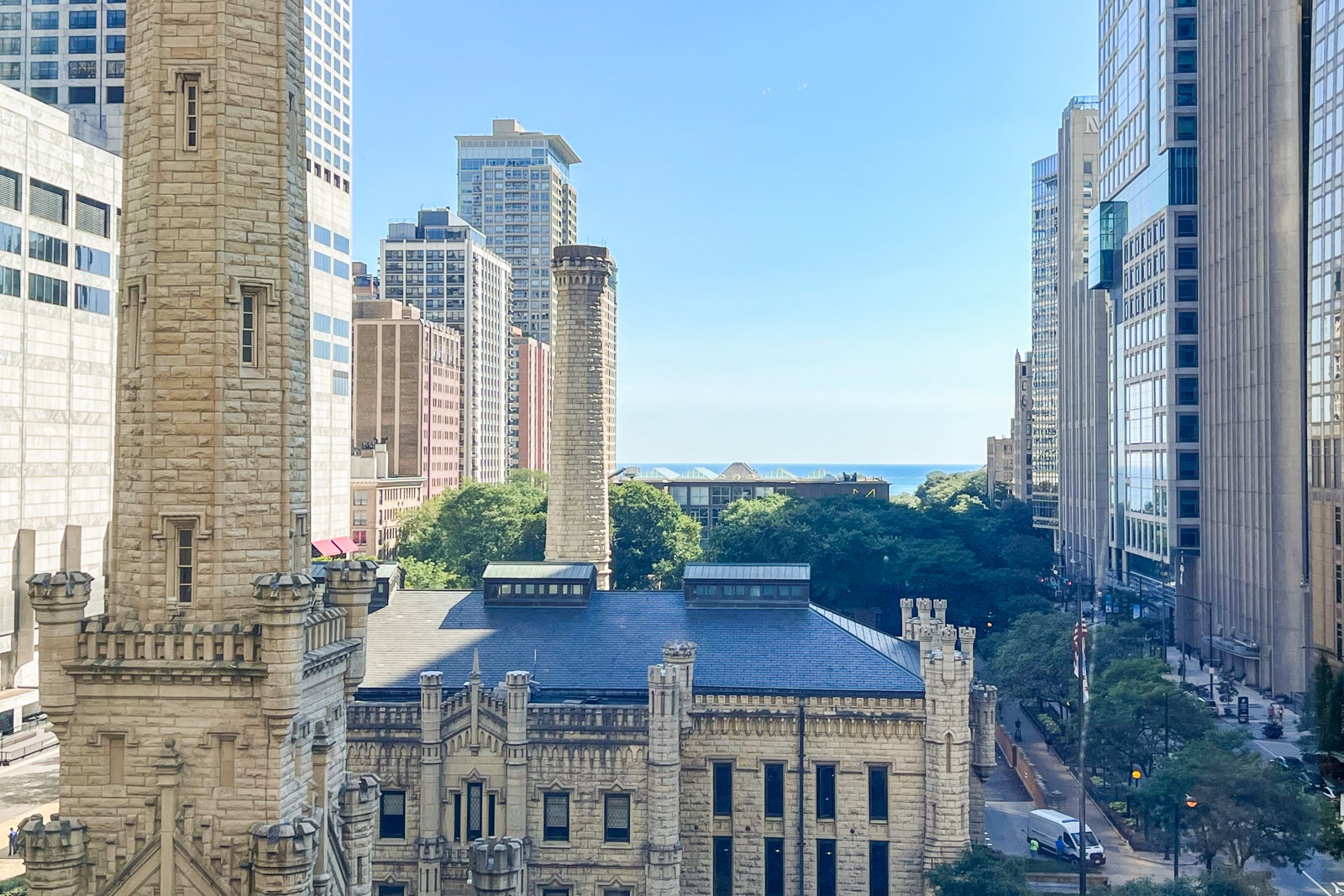 The Park Hyatt Chicago isn't likely to be on anyone's dream vacation list compared to other properties in the brand's network like the Park Hyatt Maldives Hadahaa, but this is one luxury city hotel that should be on your radar if you're considering a trip to the Windy City.
The staff is one of the hotel's best assets, and the recent renovation delivered freshened-up suites and guest rooms with a tasteful design that all made the high price tag feel worth it.
Maybe it's because I'm still just so happy to once again be out on the open road and friendly skies after being locked down for so long during the pandemic — or maybe it's because I was able to unwind in a bubble bath with a glass of red wine in the middle of a sprawling suite — but either way, the Park Hyatt Chicago still has me smiling several weeks after checkout.
This post contains affiliate links. All products are ones I have. If you choose to purchase one of these items through the link , I will receive a small commission at no extra cost to you. All proceeds help support the blog.