The sun had just gone down in the Negev Desert as I began to write this story about a stunning couple of days at Six Senses Shaharut in southern Israel. A strong breeze on my room's terrace cut through the heat of the day, providing a relaxing backdrop to my second and final evening at the hotel. I was already getting nostalgic about the stay.
My day had started with a huge breakfast spread at the hotel's Midian restaurant, followed by a sustainability tour of the property, then a few hours of sunbathing and swimming at the pool before a relaxing hammam session and even a pre-dinner workout. A day at a luxury resort like this doesn't get much better for me.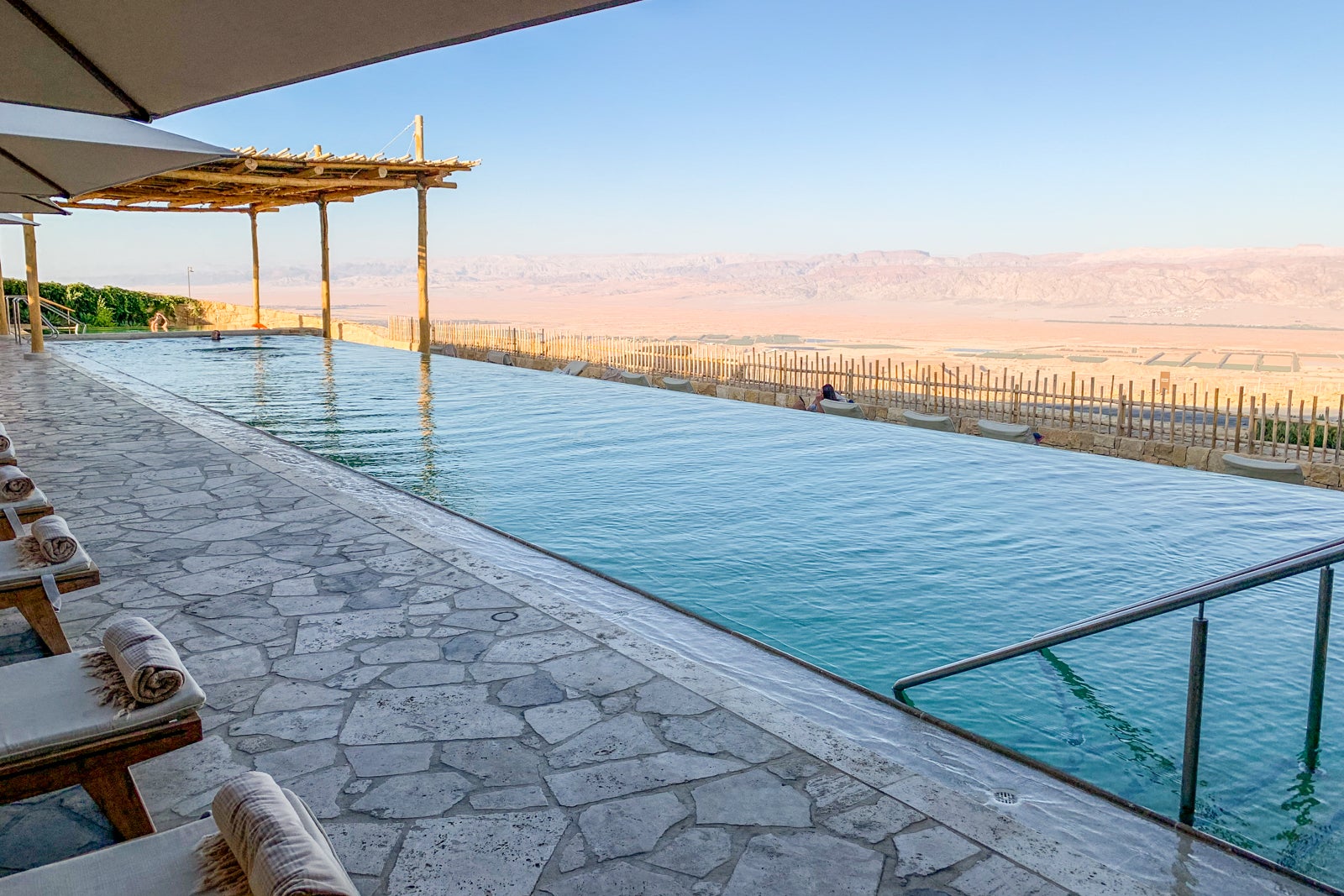 This 60-room property opened in August of 2021 when it was still tough for foreigners to visit Israel. The staff told me it was mostly fellow Israelis when the resort first opened, but as COVID-19 restrictions have relaxed, more and more foreigners have found their way to the stunning property. It's a discovery I'm happy to share since I highly recommend it (for those with the cash or points to spare). In fact, I'm already thinking about a return visit.
For more TPG news delivered each morning to your inbox, sign up for our daily newsletter.
Booking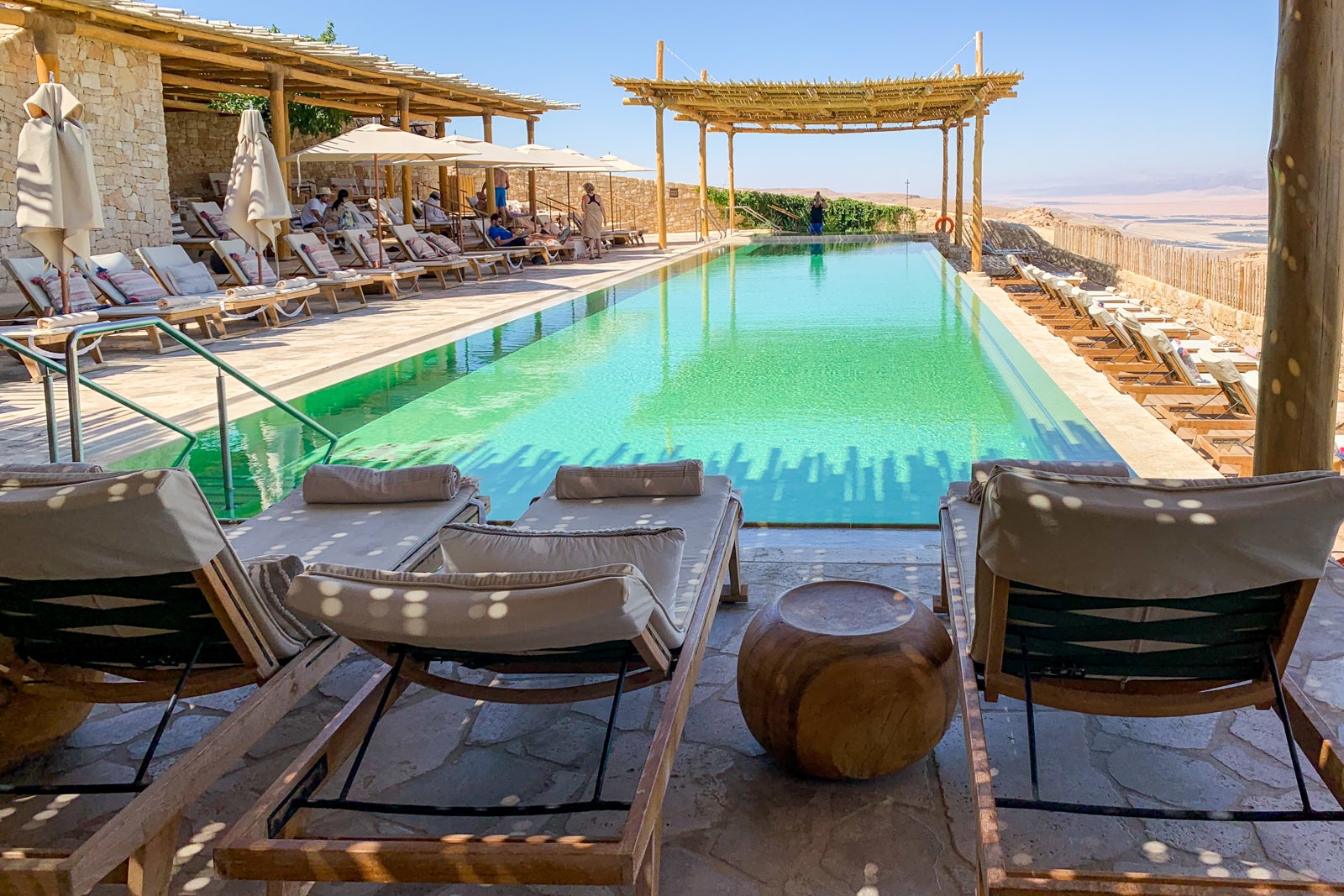 For the dates of my stay in July (and over the next few months, it seems), room rates were hovering around $1,000 per night, prepaid and refundable up to two weeks before travel. The hotel wasn't bookable with points when I went, but it appears you can now reserve rooms with at least 182,000 IHG One Rewards points per night. That would yield a value of just under 0.6 cents per point, which is above TPG's valuation of 0.5 cents apiece.
Since I didn't have the option to use points when I booked this spring, I contacted Brett Snyder, who runs the booking service Cranky Concierge. Brett can often get better deals (and upgrades at times) for travelers who reserve hotel stays via his service. It's sort of like booking through American Express Fine Hotels + Resorts or another chain-specific luxury affiliate such as Hyatt Prive or Marriott Stars.
With Brett's help, I paid the same rate of $1,000 per night for my stay, but it included a welcome amenity and a $100 spa credit, as well as early check-in and late checkout (if needed). Perhaps it was due to the exchange rate, but the total billed to my card came in at $1,859.46 for two nights.
Because I was trying to meet the spending requirement for a status waiver on my Delta SkyMiles® Reserve American Express Card, I used that card to pay for my stay. Otherwise, I would have used my IHG Rewards Premier Credit Card, which earns 10 IHG One Rewards points per dollar spent at IHG hotels (plus 10 points per dollar for being an IHG One Rewards member and 6 additional points per dollar thanks to the automatic Platinum Elite status it confers). I did end up putting my other room charges on the card, though, so I earned an additional 5,408 points.
Related: Automatic Platinum Elite status with the IHG Premier card
Unfortunately, IHG claimed the stay itself was "non-qualifying spend" when I contacted the company's customer service to see why I hadn't been credited with nights toward elite status or points based on my spending a few weeks after I checked out.
I had Brett follow up with them to see if he could get it straightened out, but we didn't hear back from the resort by press time. Brett mentioned he'd had communication issues with the property, so that's something to note if you are planning a trip and it's part of your overall IHG strategy. You should also double-check your points-earning ability with the hotel, either directly or through another channel, before booking to decrease your odds of facing a similar situation.
Another thing to note: I got slammed with a "currency conversion fee" of about $12 on the room booking charge since I didn't have the option to pay in Israeli shekels and therefore had to use dollars instead, which was irritating. The on-property charges, however, were in shekels, so I wasn't hit with a conversion fee when making other resort-related purchases.
Location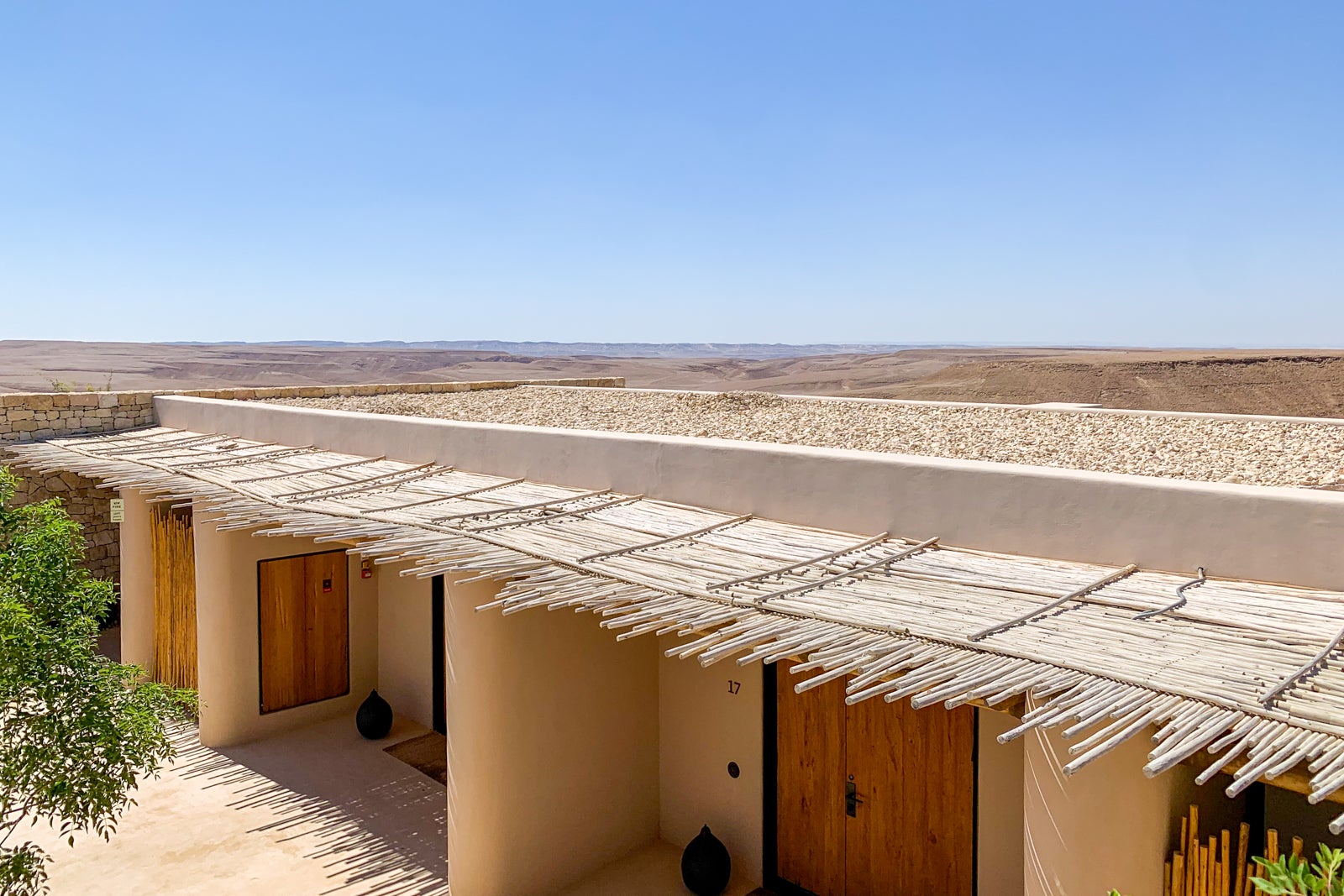 Several Israelis I spoke with before my visit told me the resort was in the middle of nowhere. Boy, did that turn out to be true. That said, if you want to escape crowds and really get away from it all, this is the ideal location for you.
Related: Your points and miles guide to Tel Aviv, Israel
The hotel is in southern Israel, about a four-hour drive from Tel Aviv and a roughly 3 1/2-hour drive from Jerusalem. Additionally, the Red Sea resort town of Eilat is about an hour's drive south.
Most of the drive to the property is through the desert, including stretches through Israeli army training grounds. There's not much else around the resort at all. It's a good thing the food is wonderful and there is plenty to do at the resort itself because you are pretty isolated.
I rented a car to get to the property, which was the only viable option I knew about ahead of time since Brett Snyder's questions to the resort about alternatives went unanswered. The new Ilan and Asaf Ramon International Airport (ETM) is near Eilat, but it's still a 45-minute drive to the resort.
I later learned that you can also book a helicopter from Tel Aviv to Shaharut, but you need to negotiate and arrange it in advance. The cheapest option is a Bell helicopter, which would cost about $4,790 each way.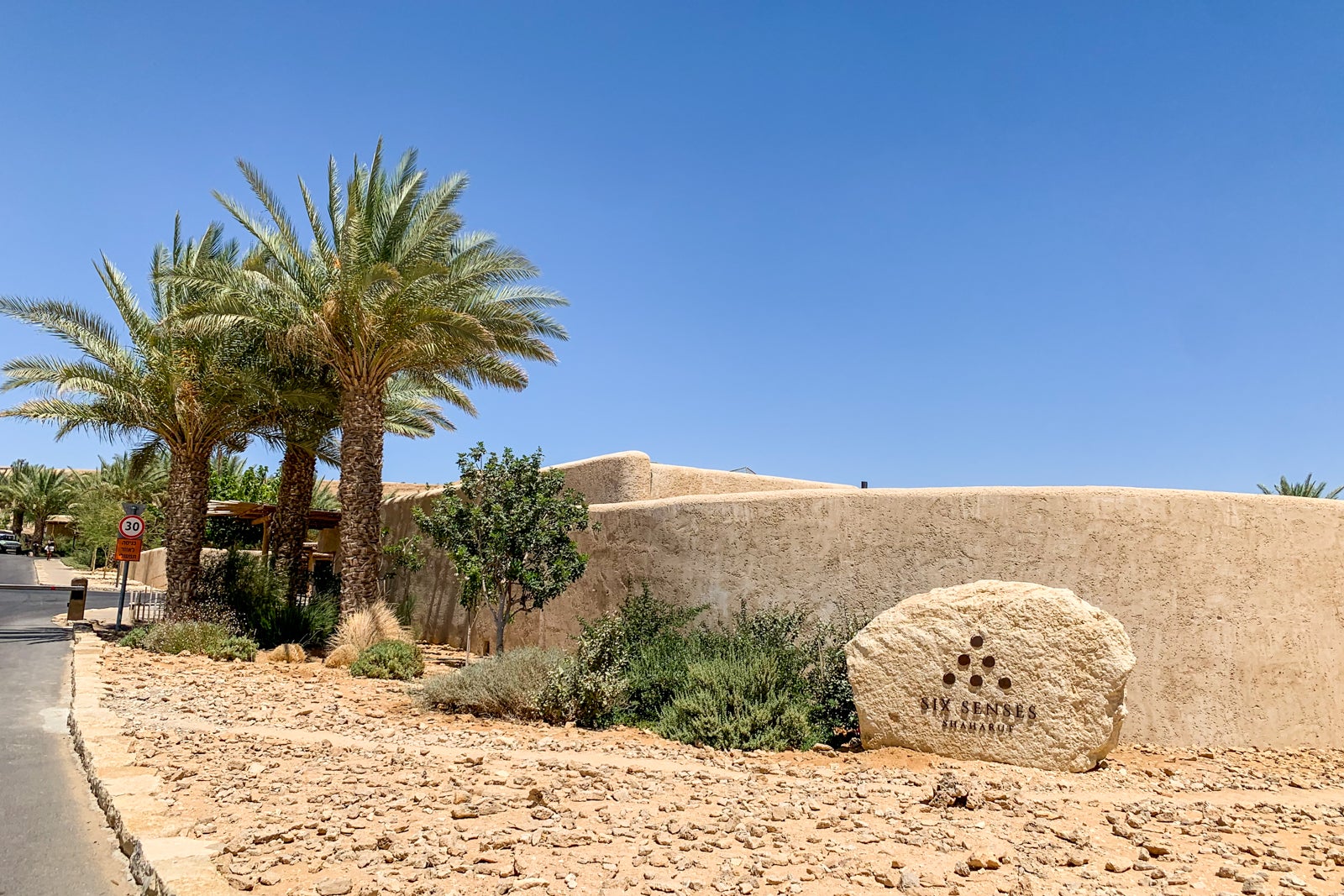 During my drive from Tel Aviv to the property, I ran into a small hiccup. After driving for nearly four hours, my Apple Maps GPS brought me up a one-lane road to the tiny village of Shaharut instead of the resort. Fortunately, it wasn't far to backtrack, only taking about 10 minutes to get to the front gates of the Six Senses.   
Check-in
When I got back to the main entrance to the property, there was a security gate where I gave my name and was told to drive up the hill to the check-in area. I was greeted warmly by name at a small driveway, and then a friendly man took my bags and the rental car. A hospitable young woman brought me to the welcome center, where I was offered a beverage and an assortment of nuts and dates while being checked in. She took my passport and then checked me in, all within five minutes of my arrival.
There was no mention of amenities I was entitled to because I booked through Cranky Concierge, but the front desk agent did tell me I'd been upgraded to a larger room as a courtesy of my IHG One Rewards Platinum Elite status.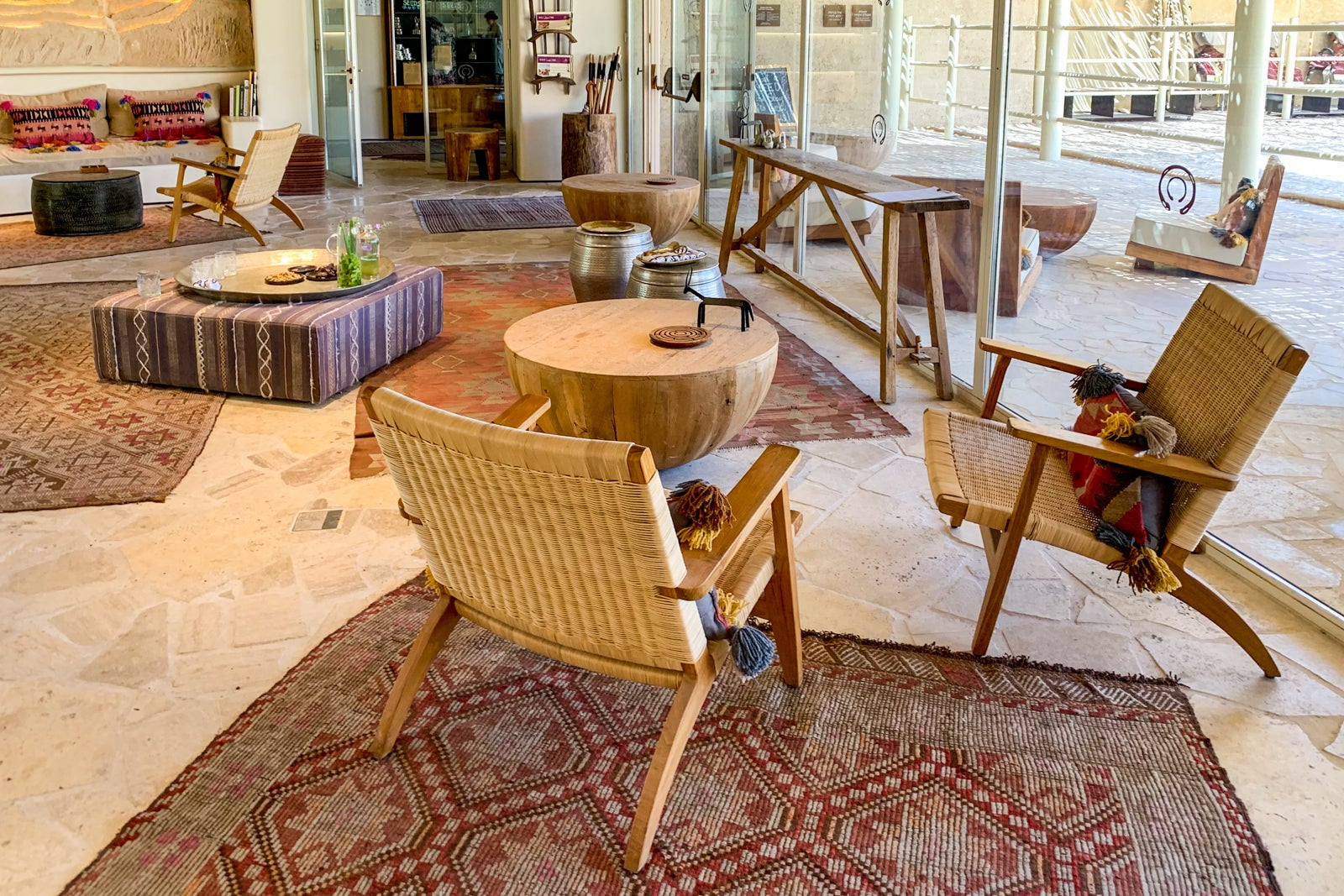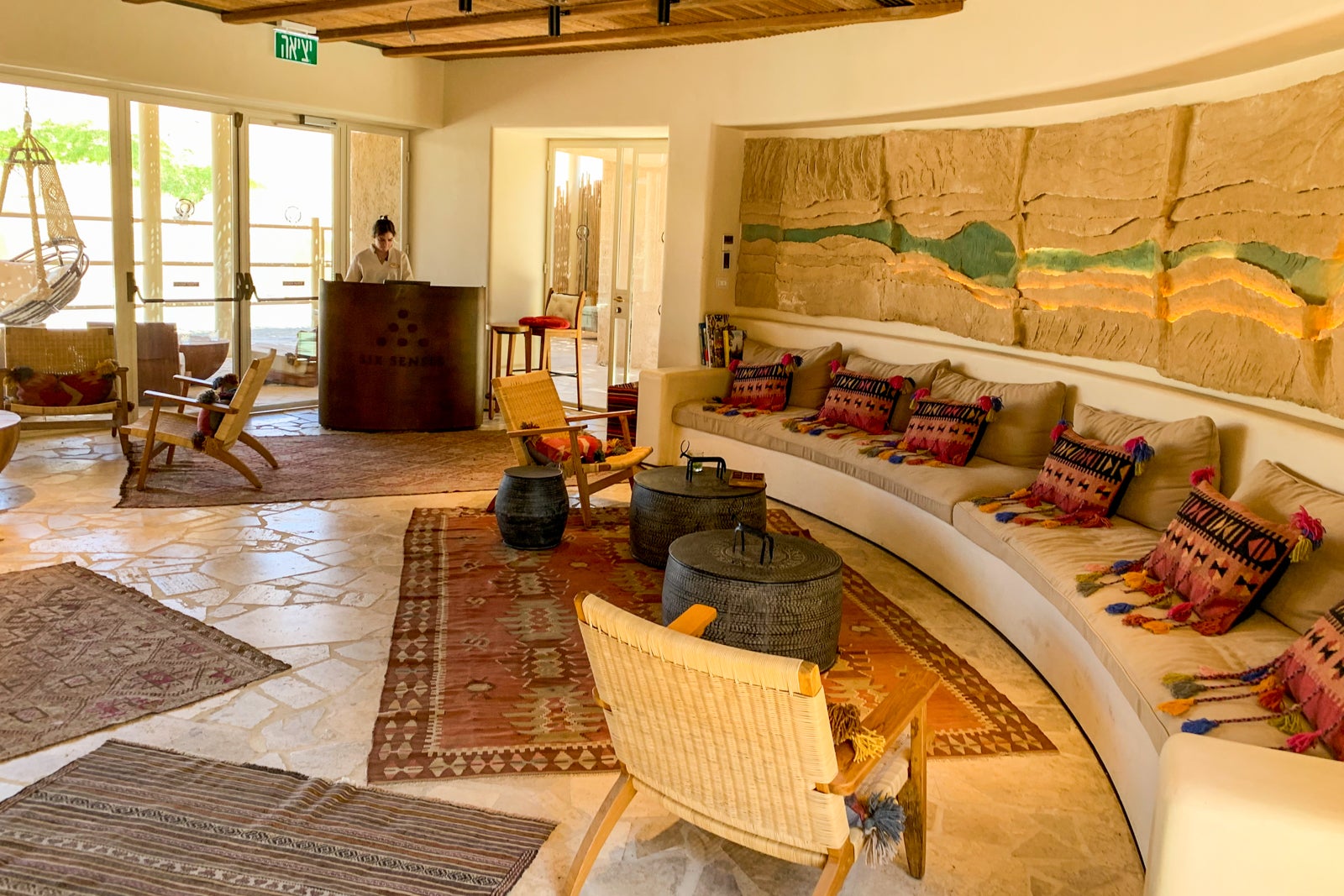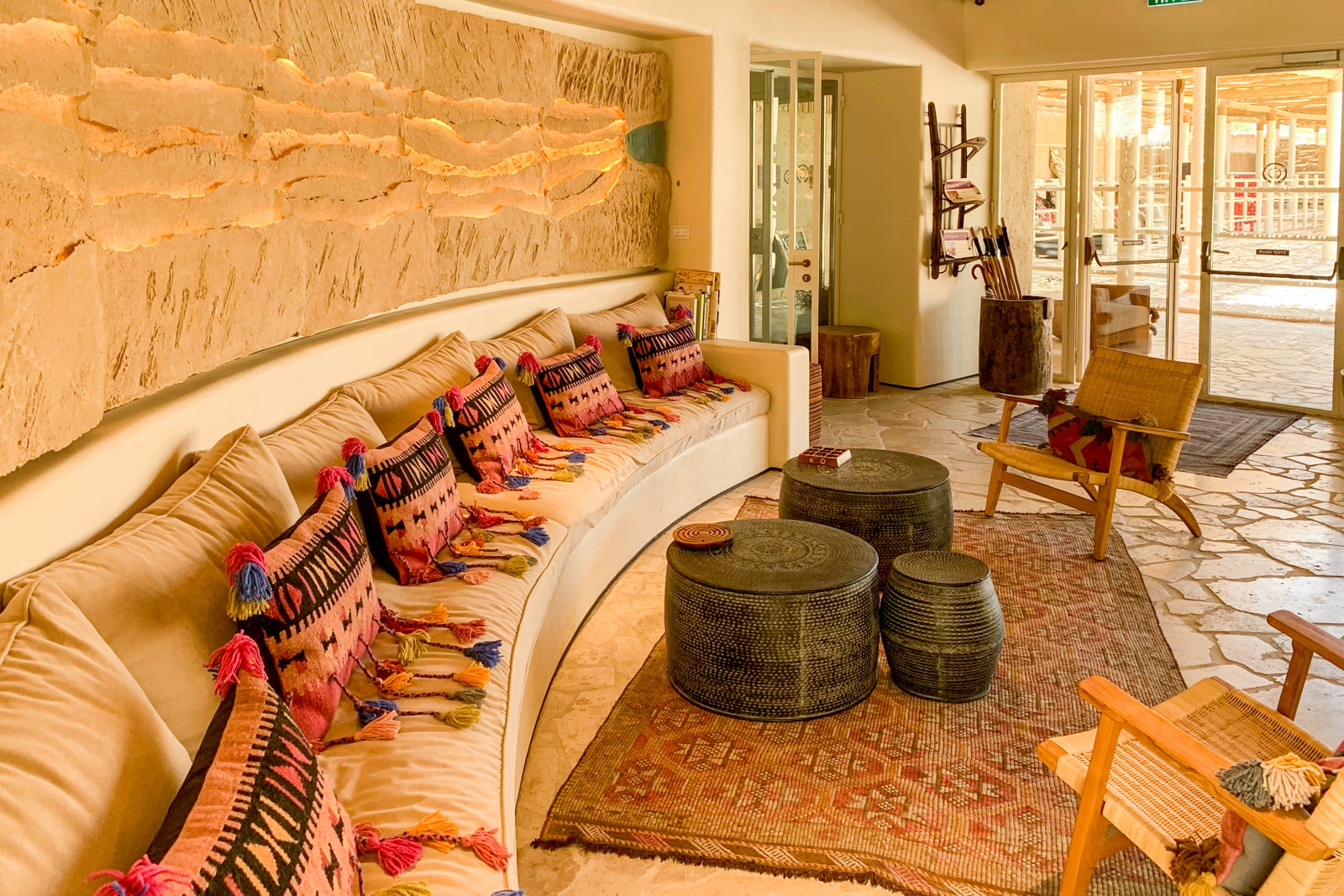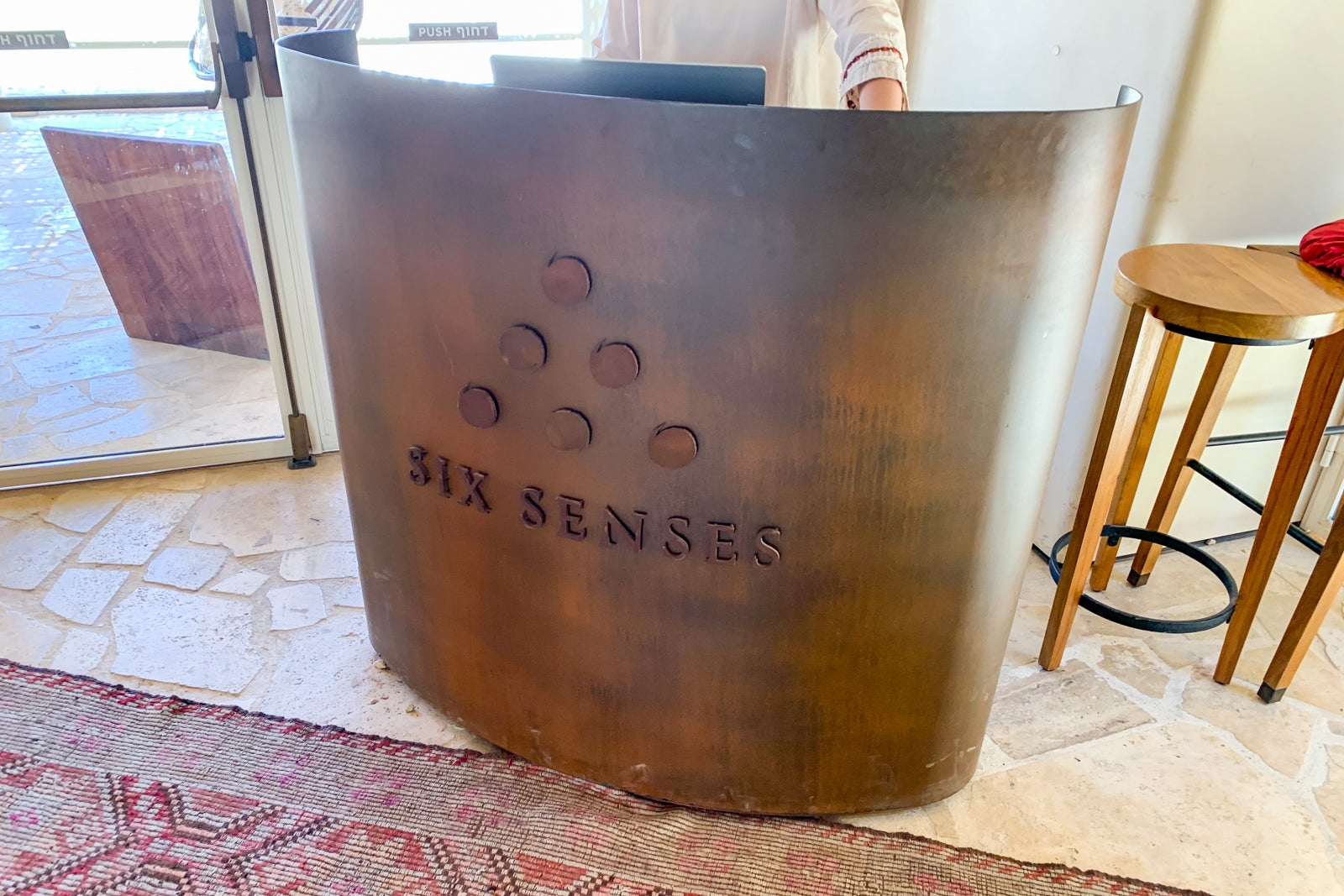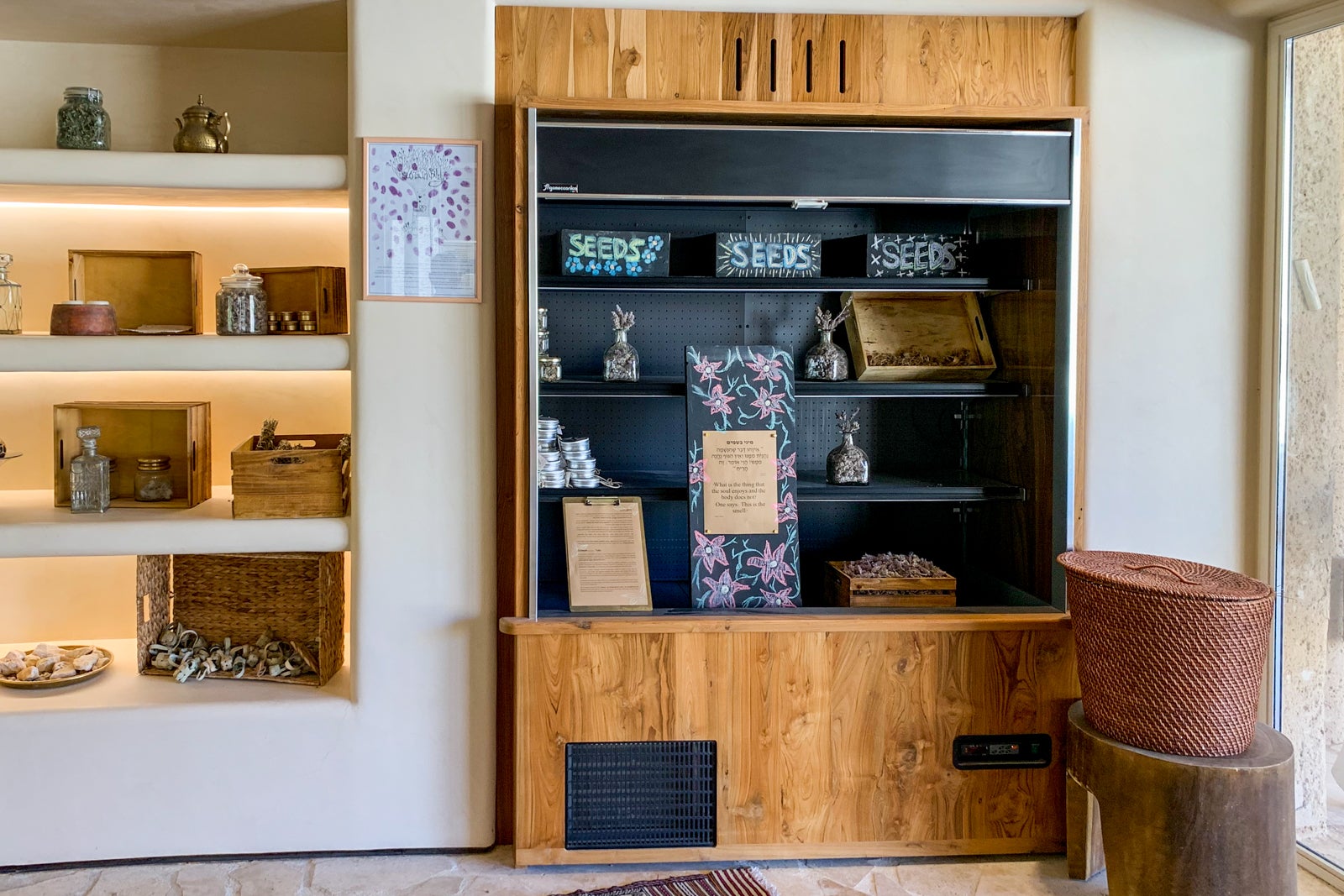 The young woman then took me on a brief tour of the property in one of the resort's Hummer electric dune buggies. It was one of several types of Hummer electrics I saw during my time at the resort. Some were more traditional golf cart-style vehicles, while others looked like a cross between a golf cart and an off-road vehicle. A variety of other electric vehicles were available around the resort, too.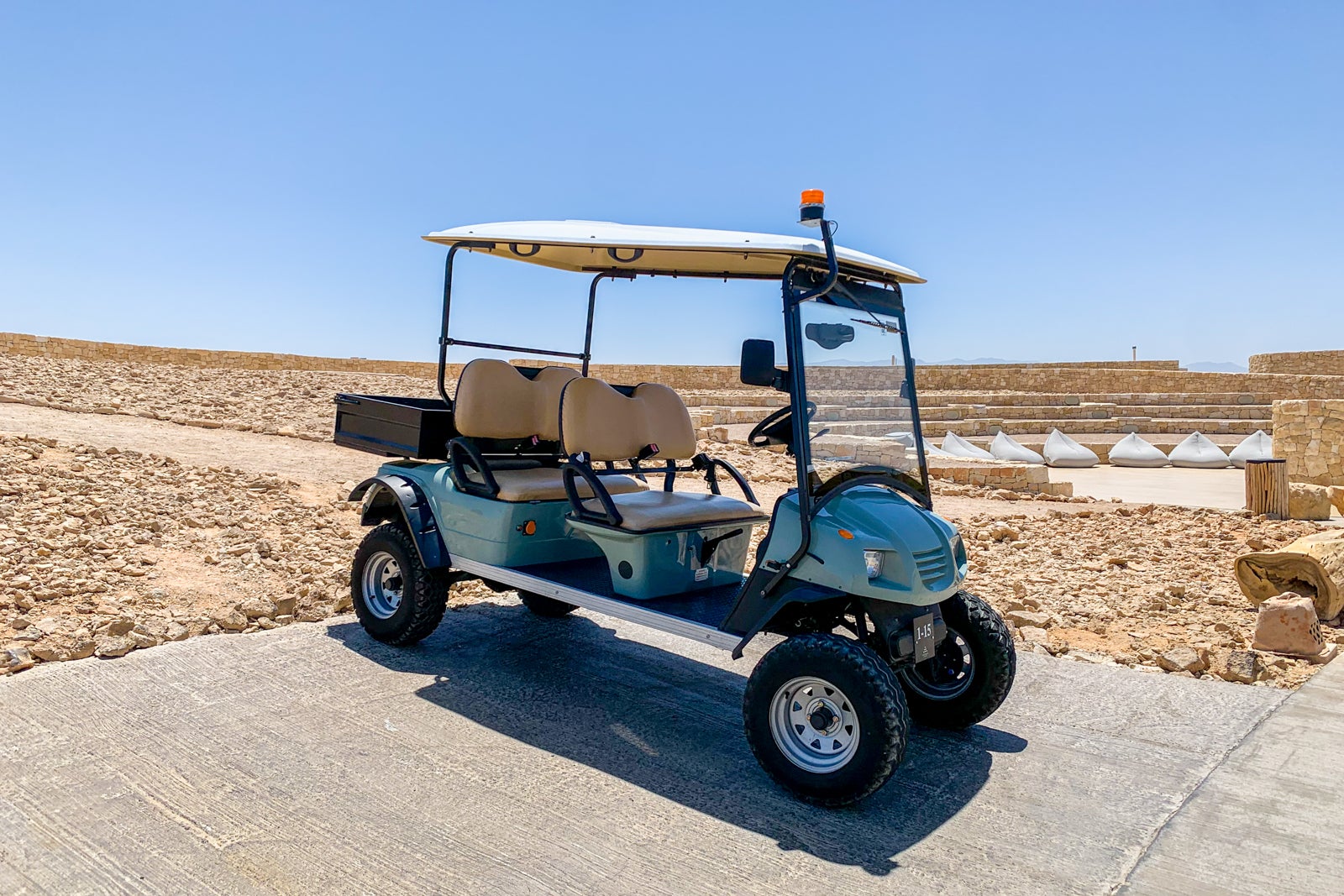 Once we arrived at my room, the hotel employee gave me a tour of the space. She also strongly encouraged me to keep my shoes on while outside since it's common to cross paths with scorpions in the desert environment.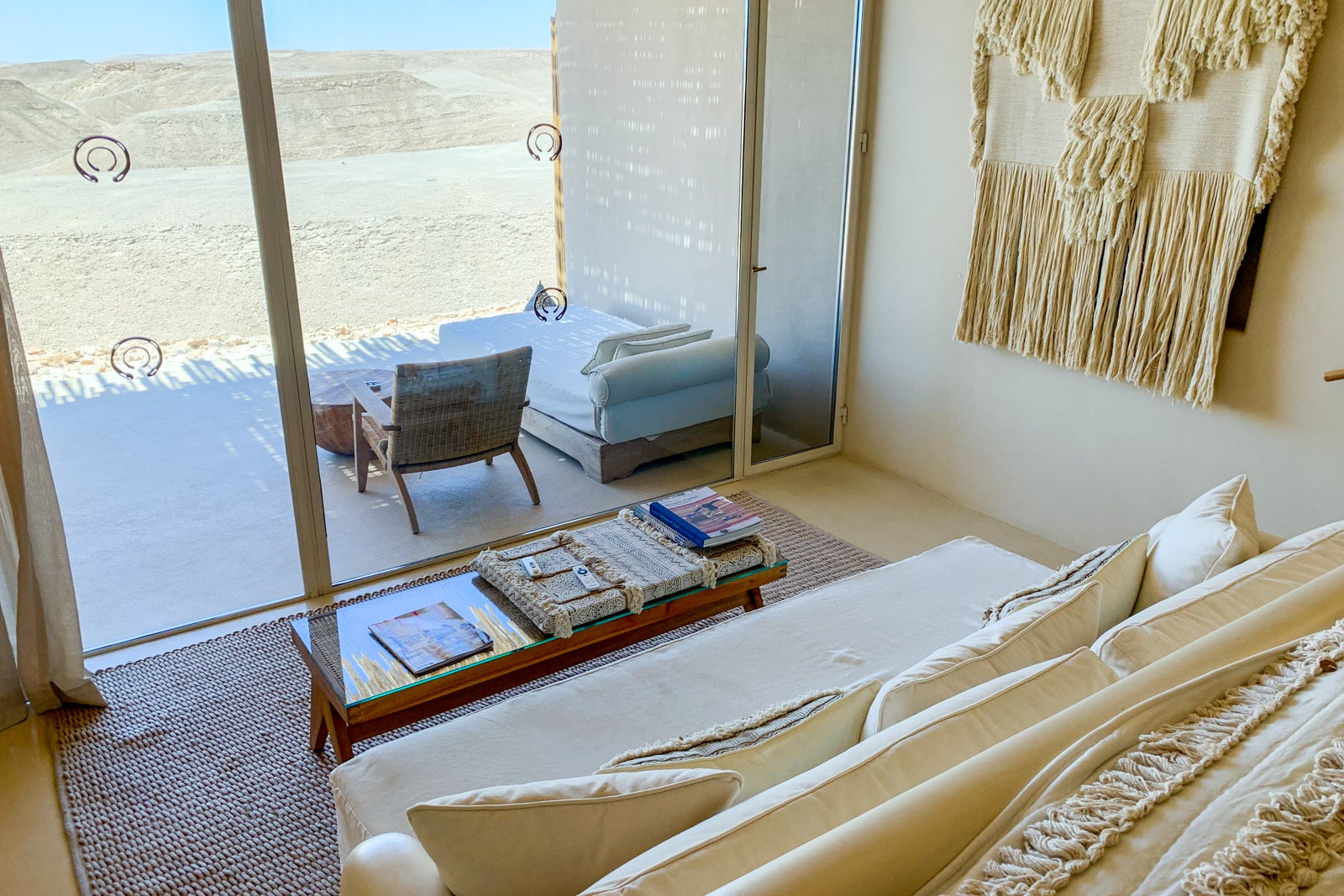 Within a few minutes of my arrival in the room, I was brought a plate of fresh fruit, including kiwi, watermelon, cantaloupe, grapes and blueberries. There was also a small box of chocolates and figs.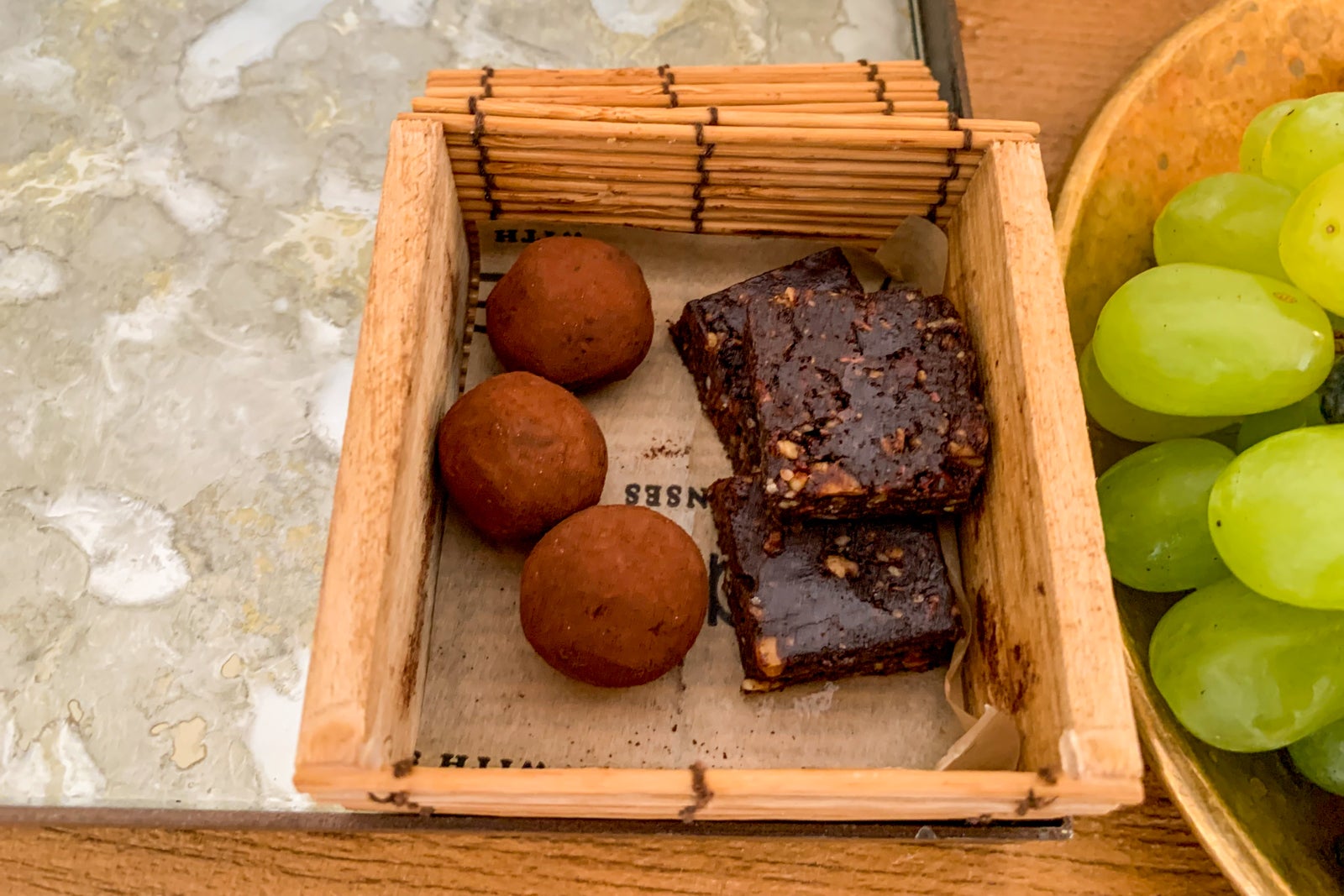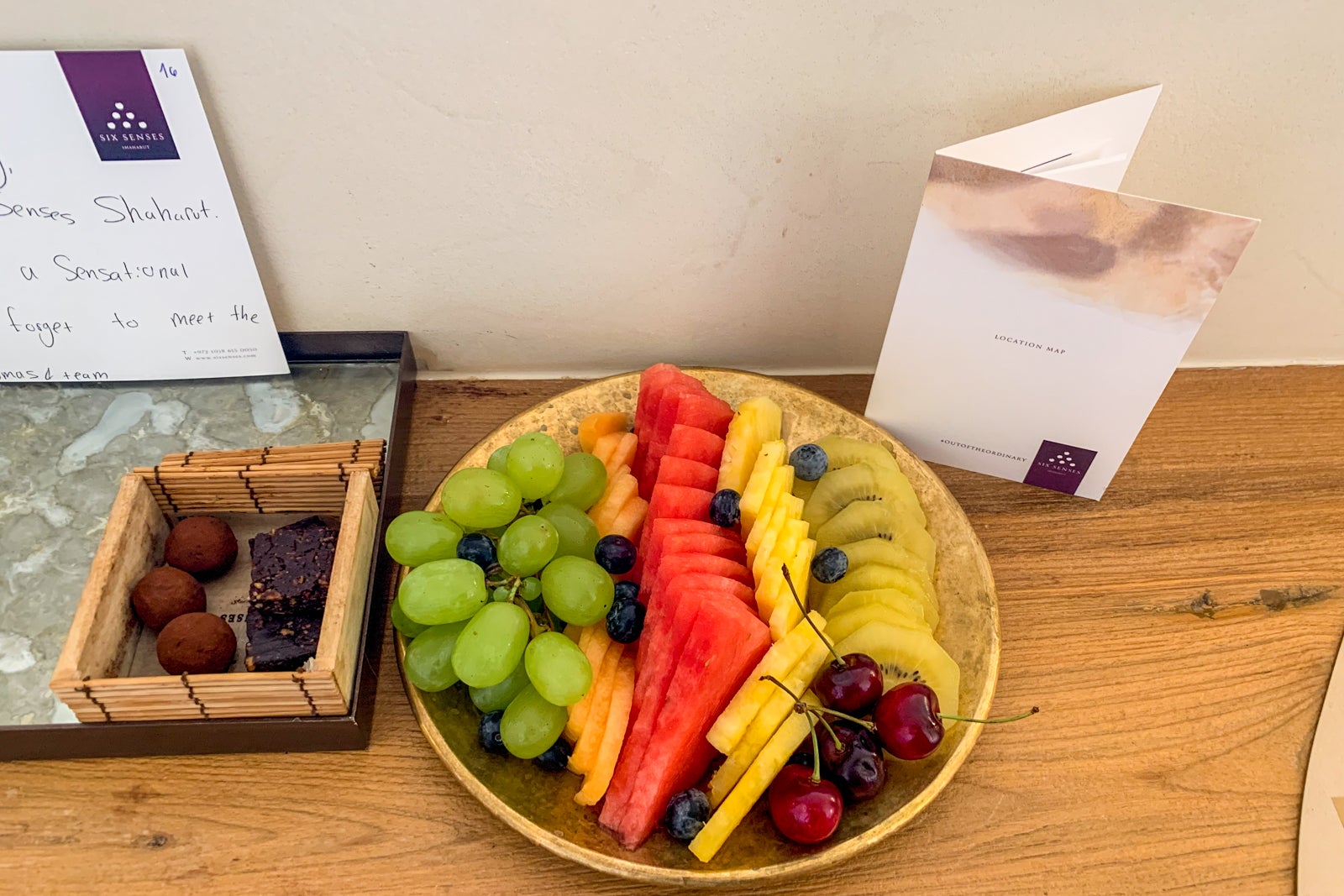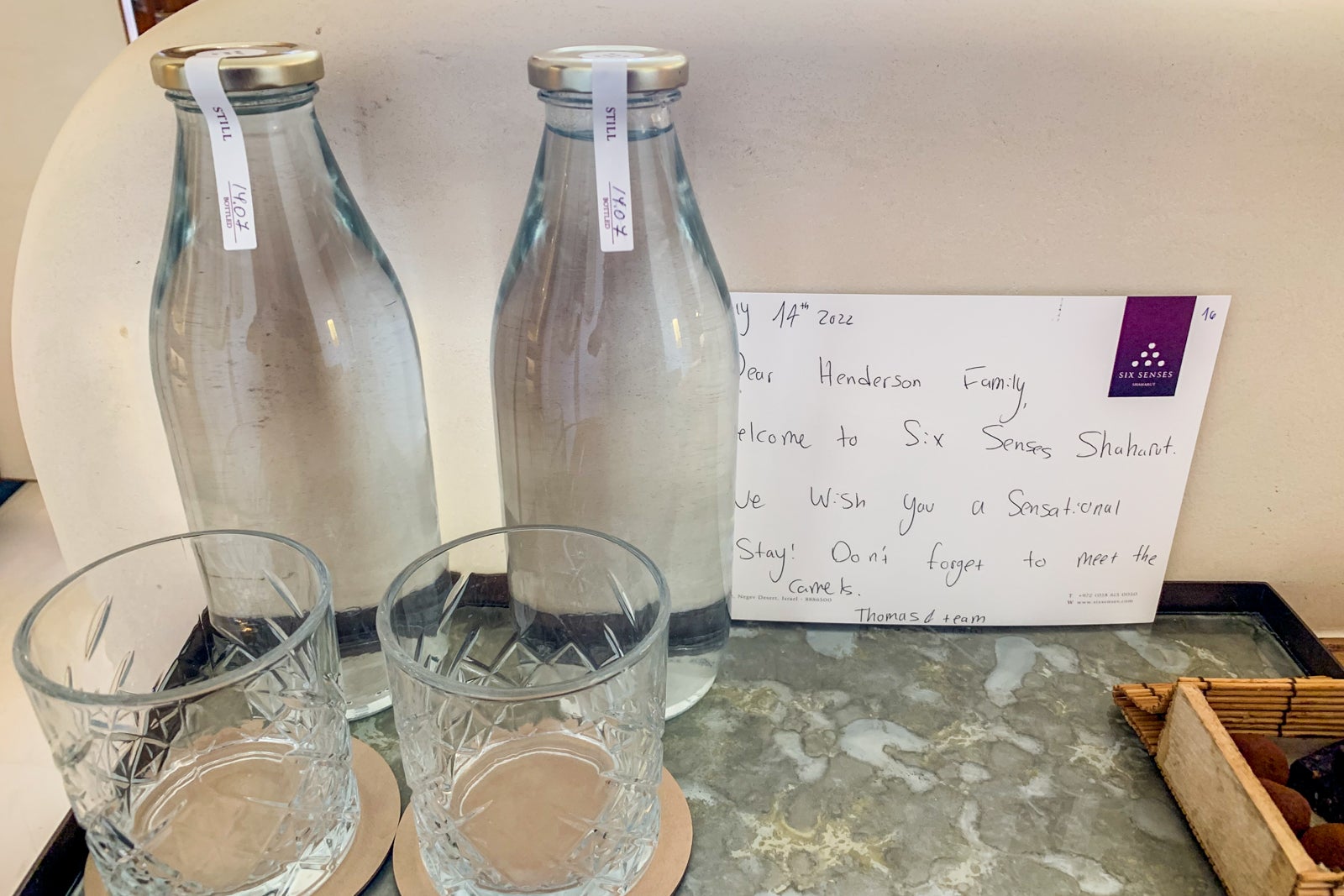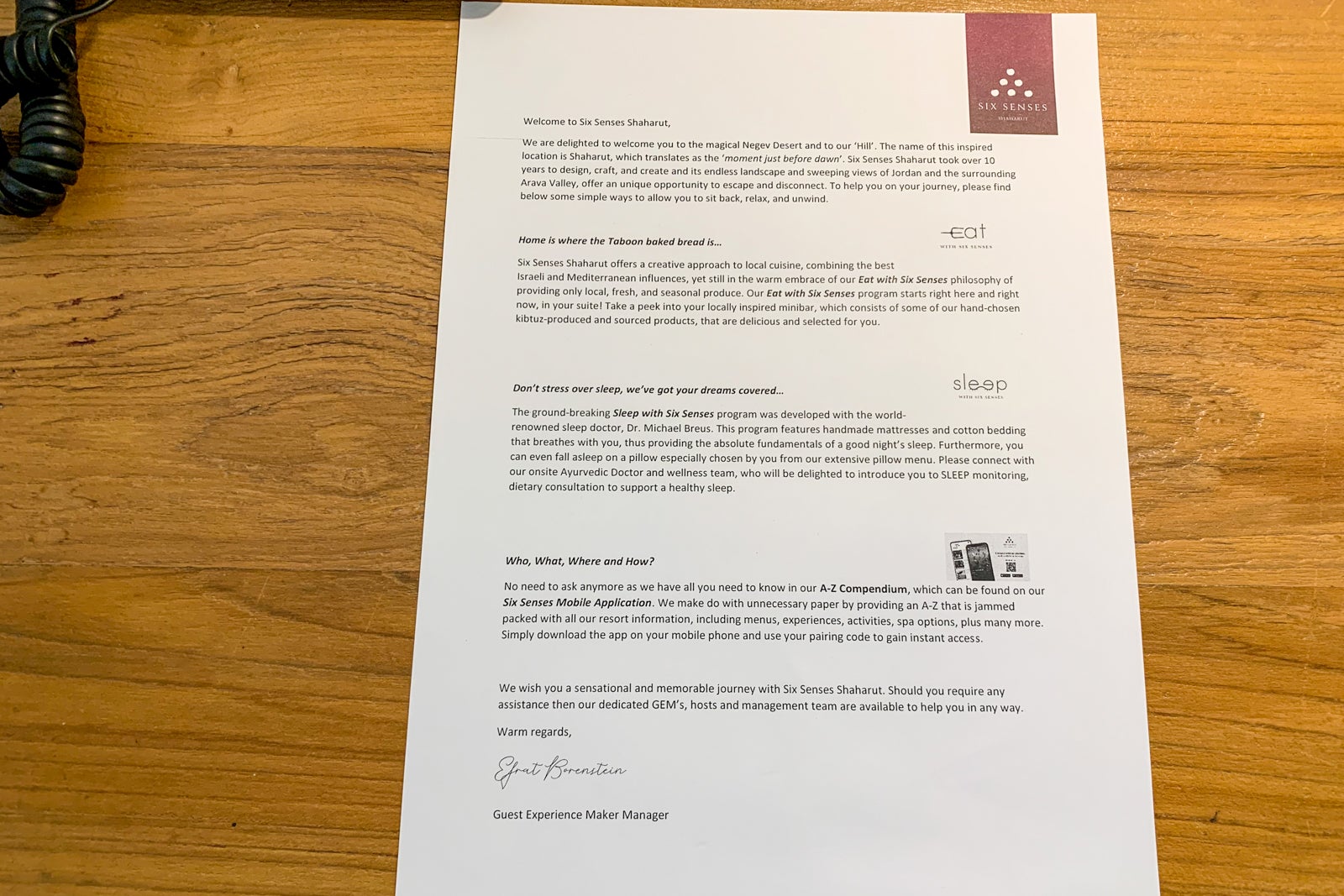 Room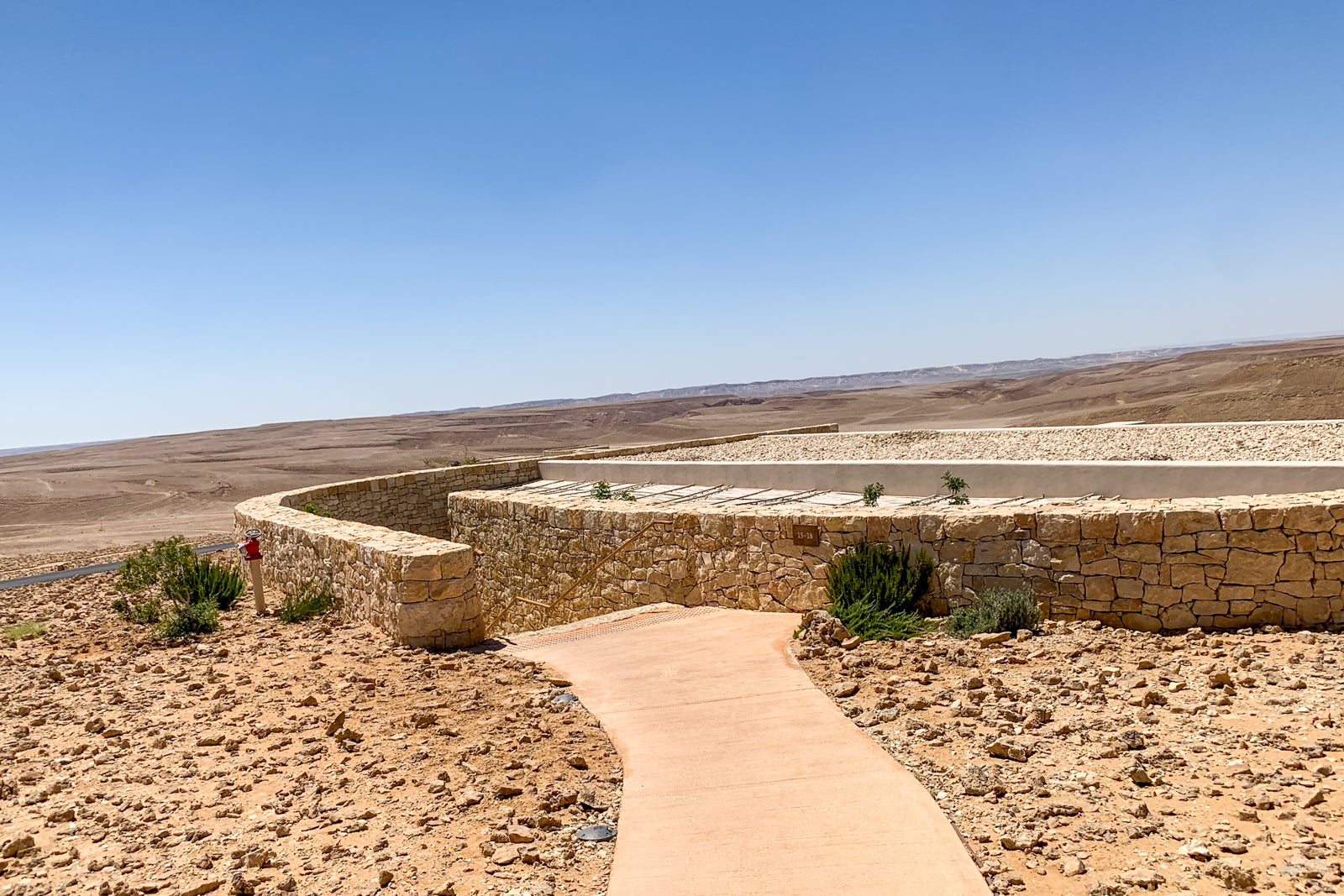 When the electric cart pulled up at the building where I'd be staying, I was unsure exactly what it would look like inside. It looked a bit like the rooms were buried.
The structure was built into a hillside, so it felt like it was part of the landscape. The hotel's architects were inspired by the Nabataeans, an ancient Arab nomadic Bedouin community that once traveled a nearby spice route. You can really see how the developers tried to keep the sense of the surrounding desert in all the buildings and rooms.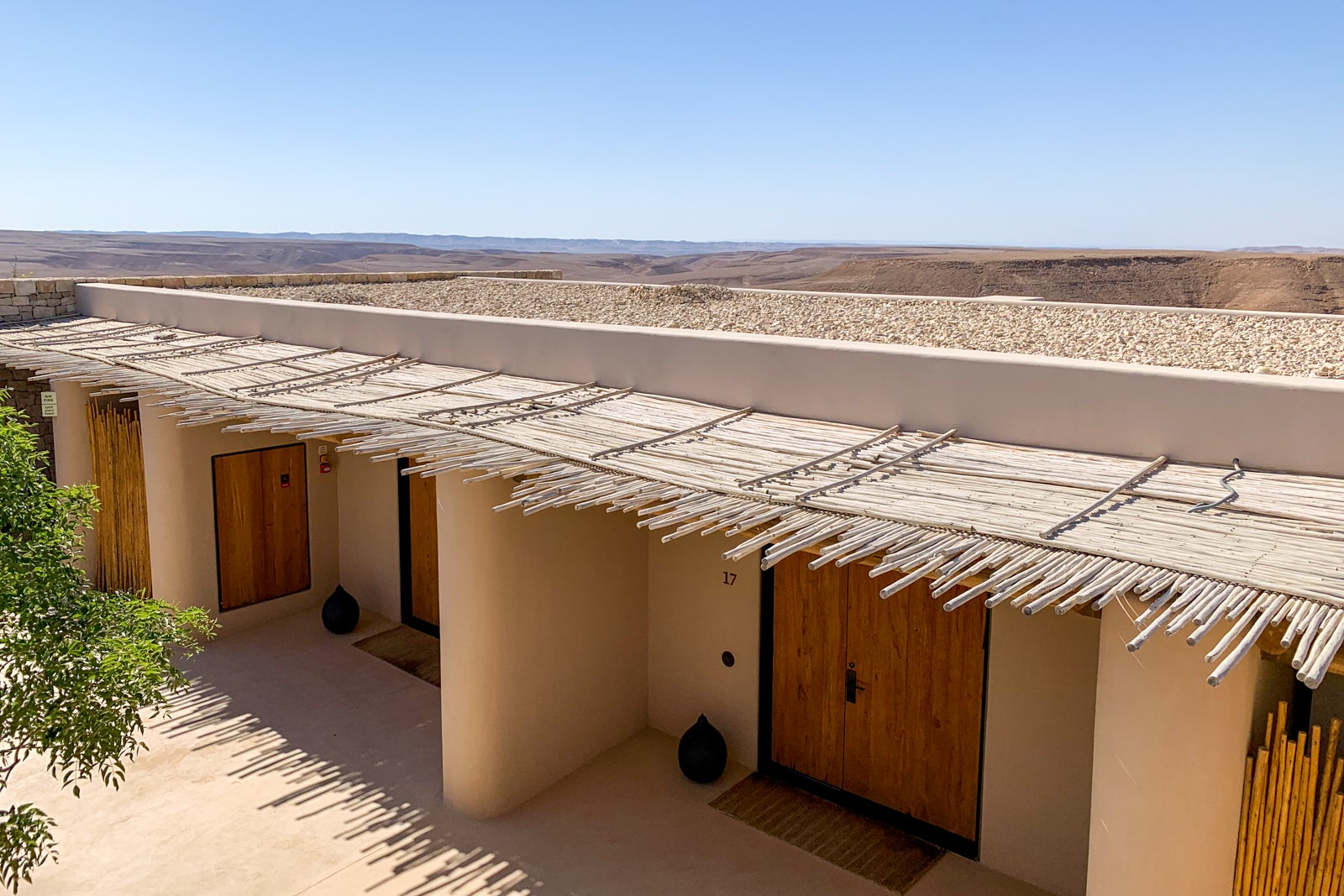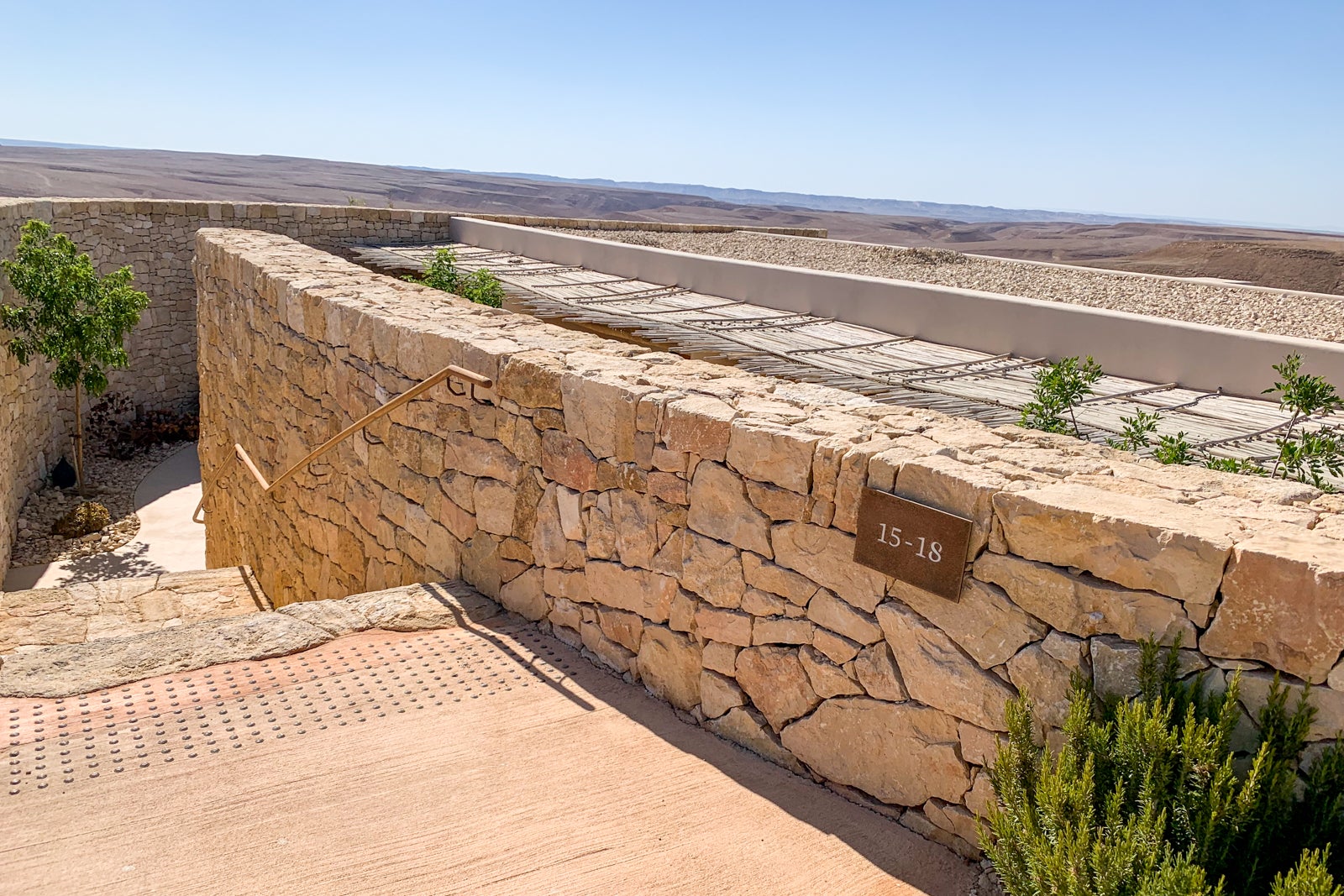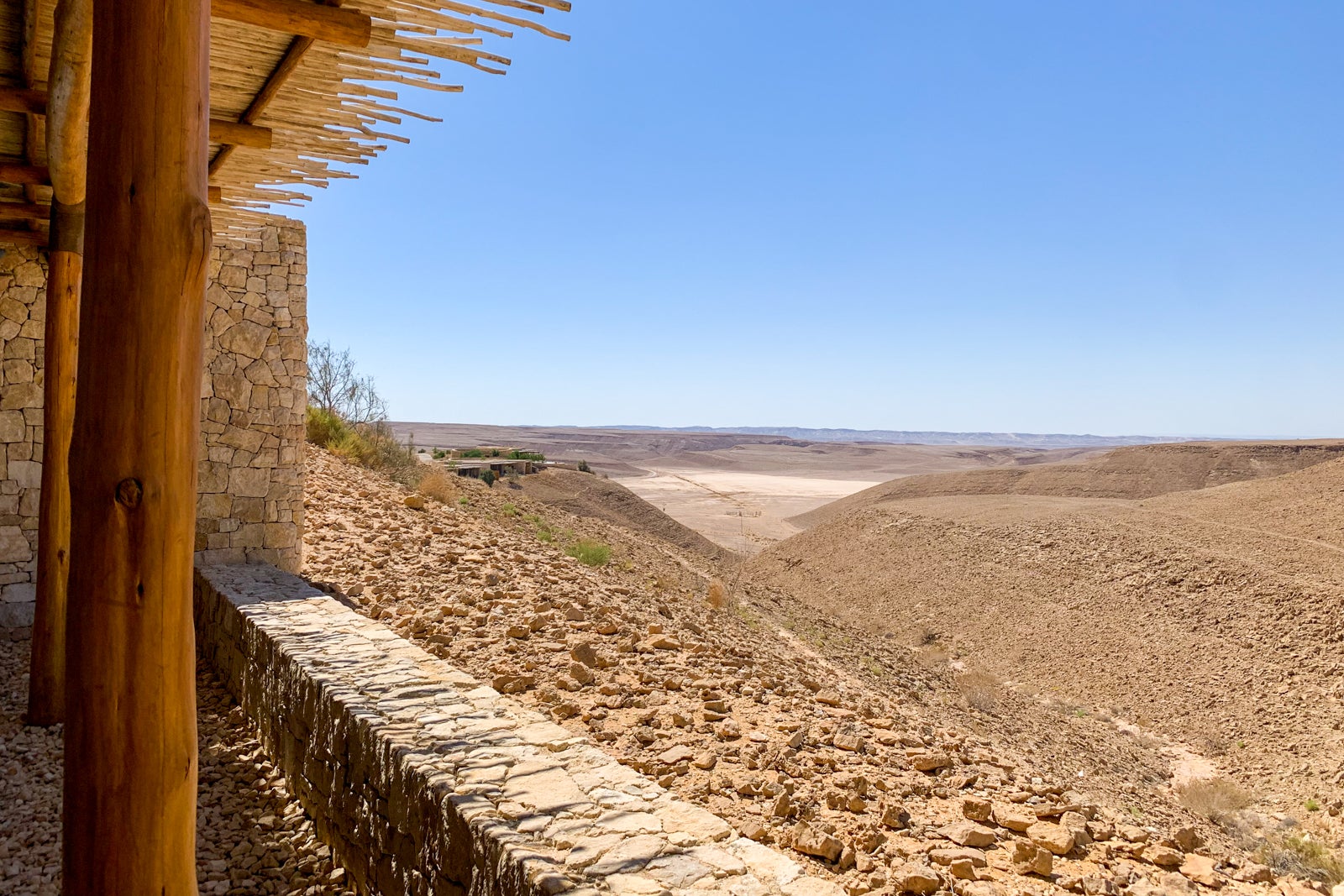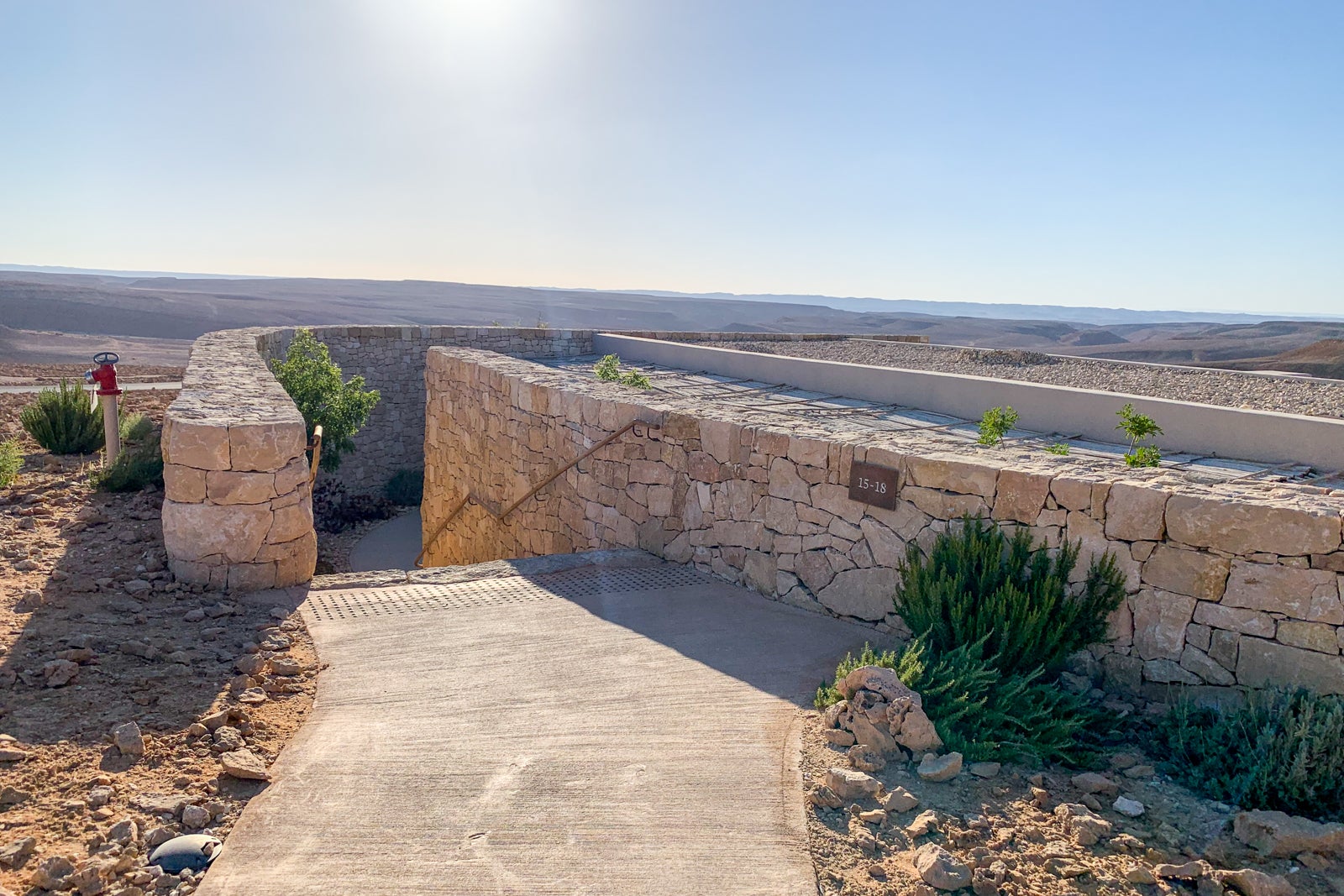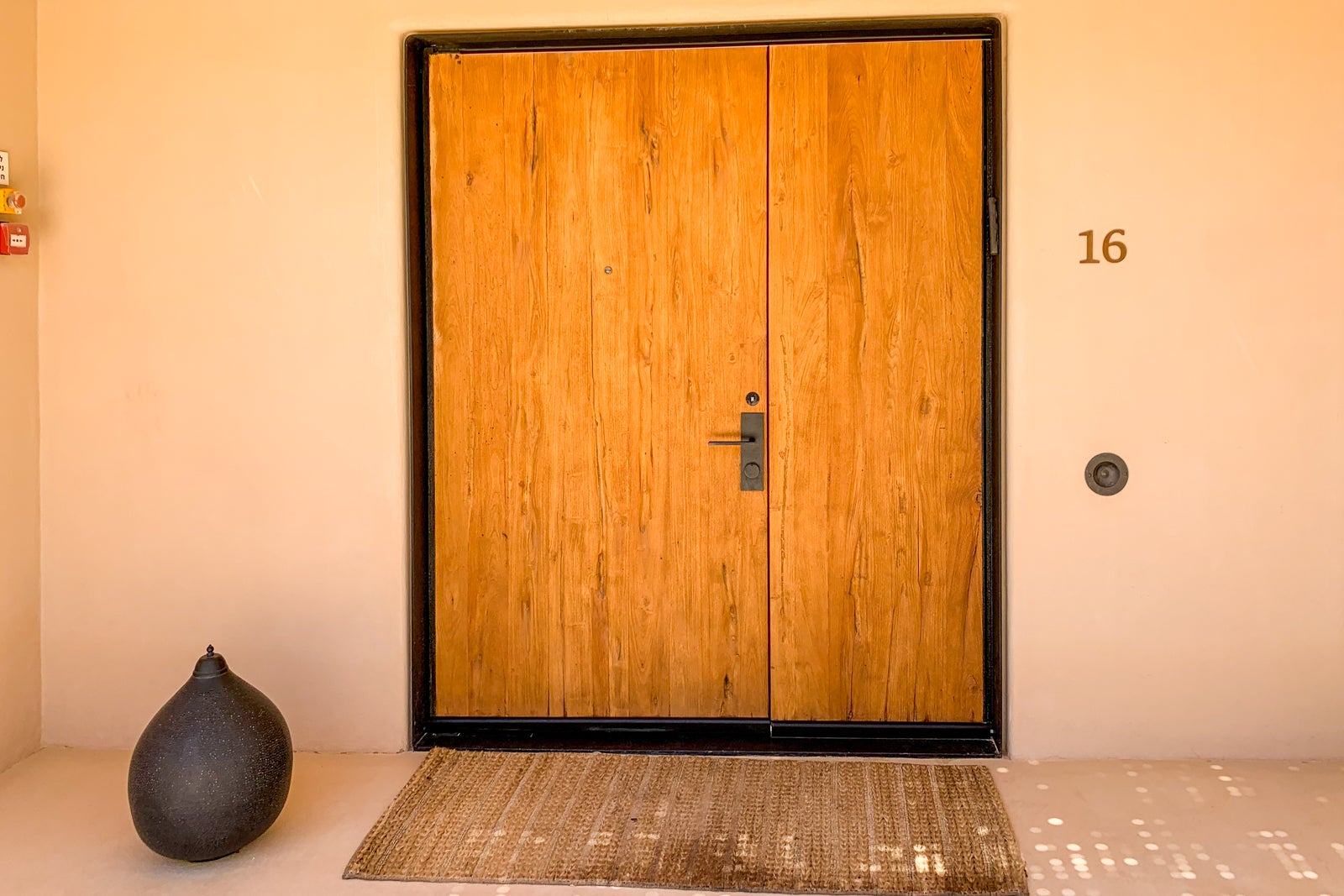 My assigned accommodation was what the property calls a Panorama Suite, which would have cost $350 more per night than the standard Six Senses Suite I'd originally booked. It was just one large room with a bedroom and a separate working and living area.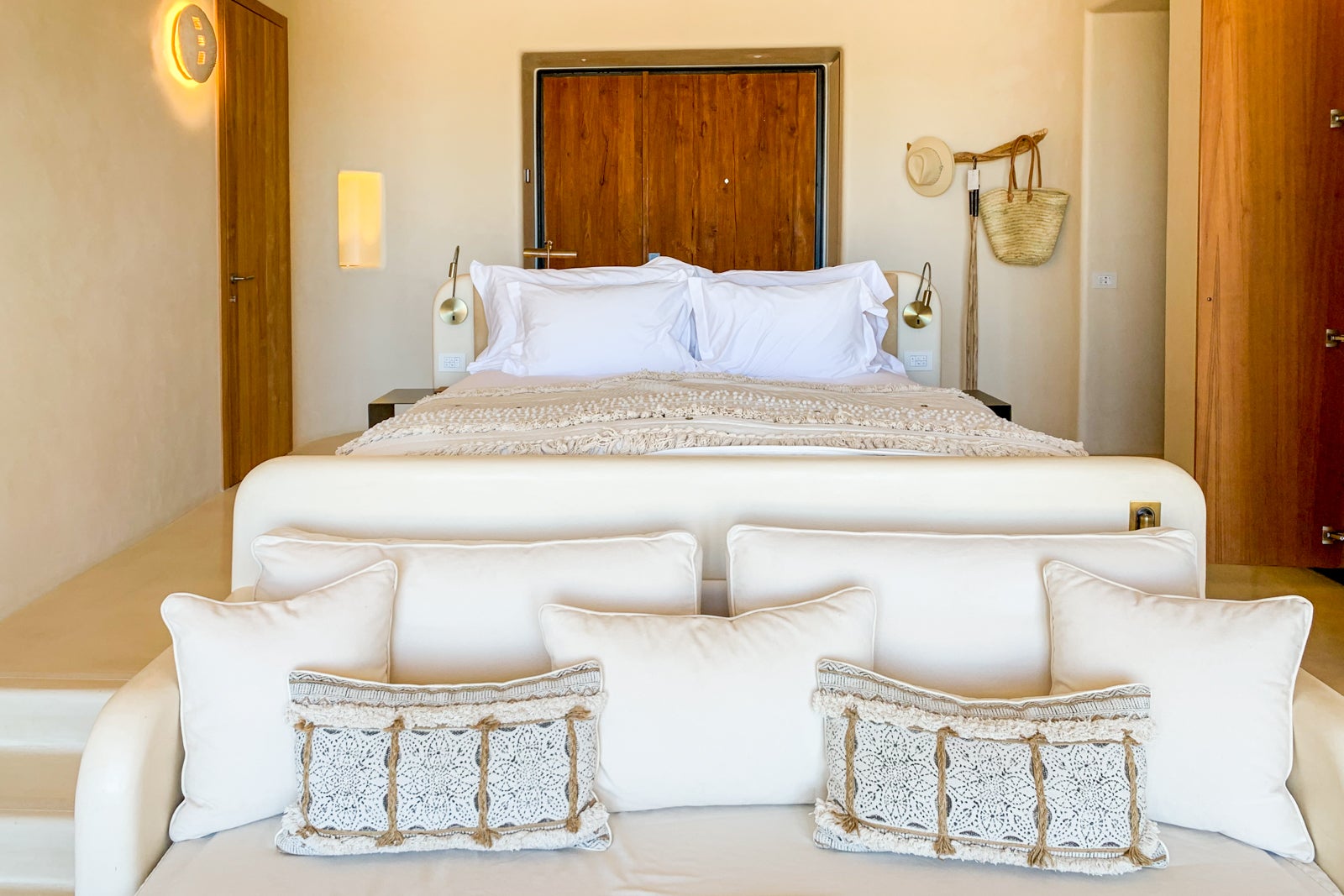 The real selling point was the outdoor terrace with views of the Negev Desert landscape and a napping couch.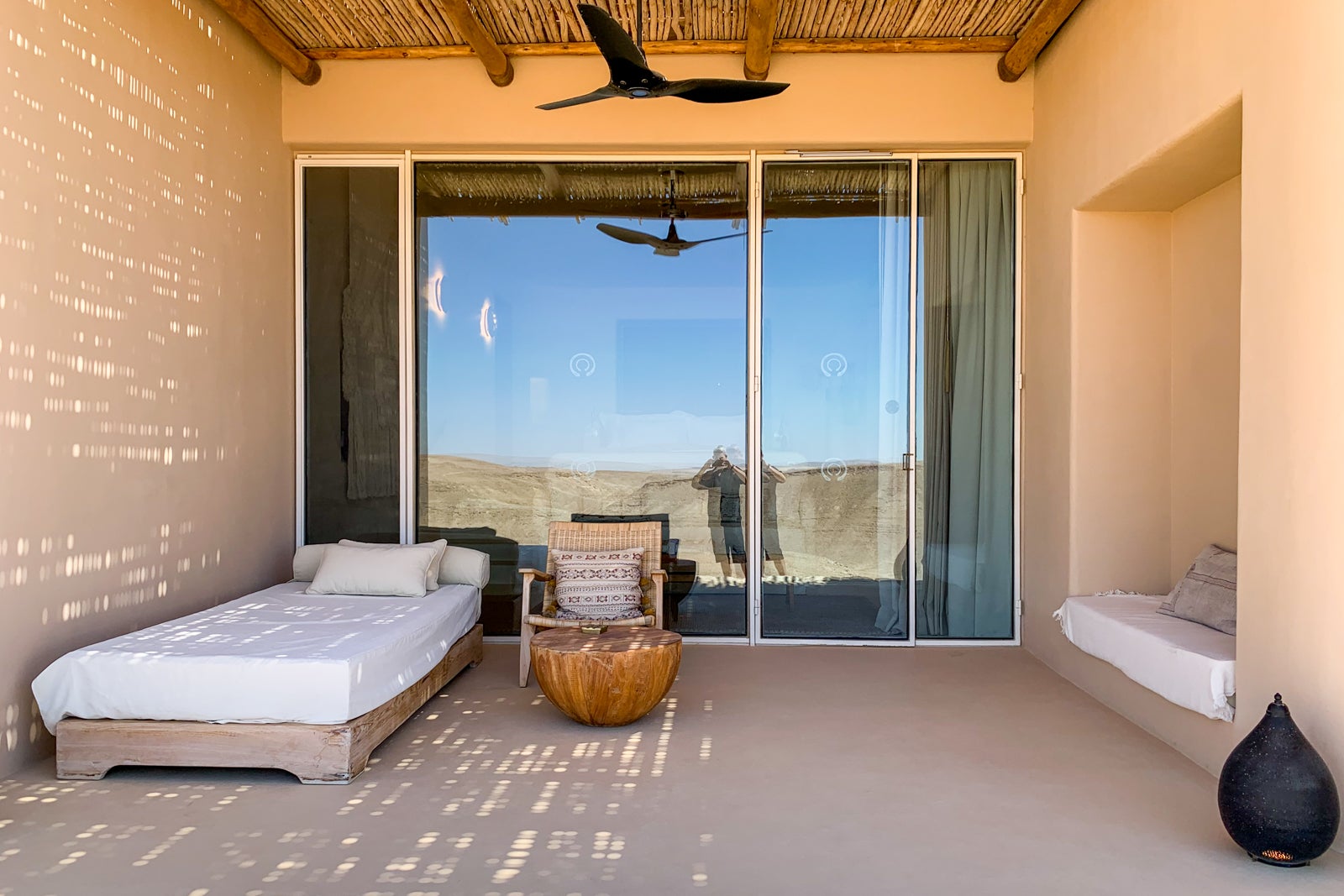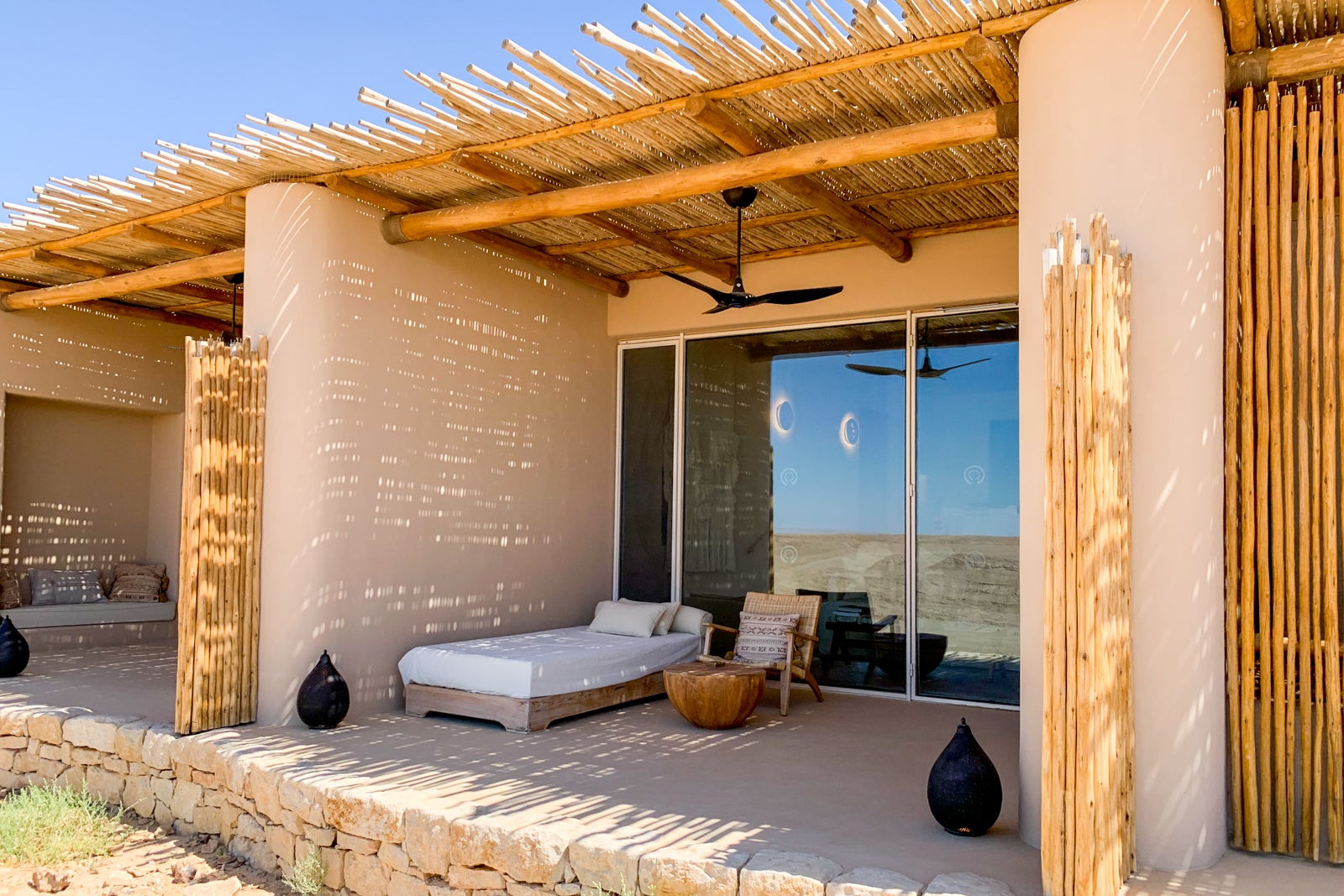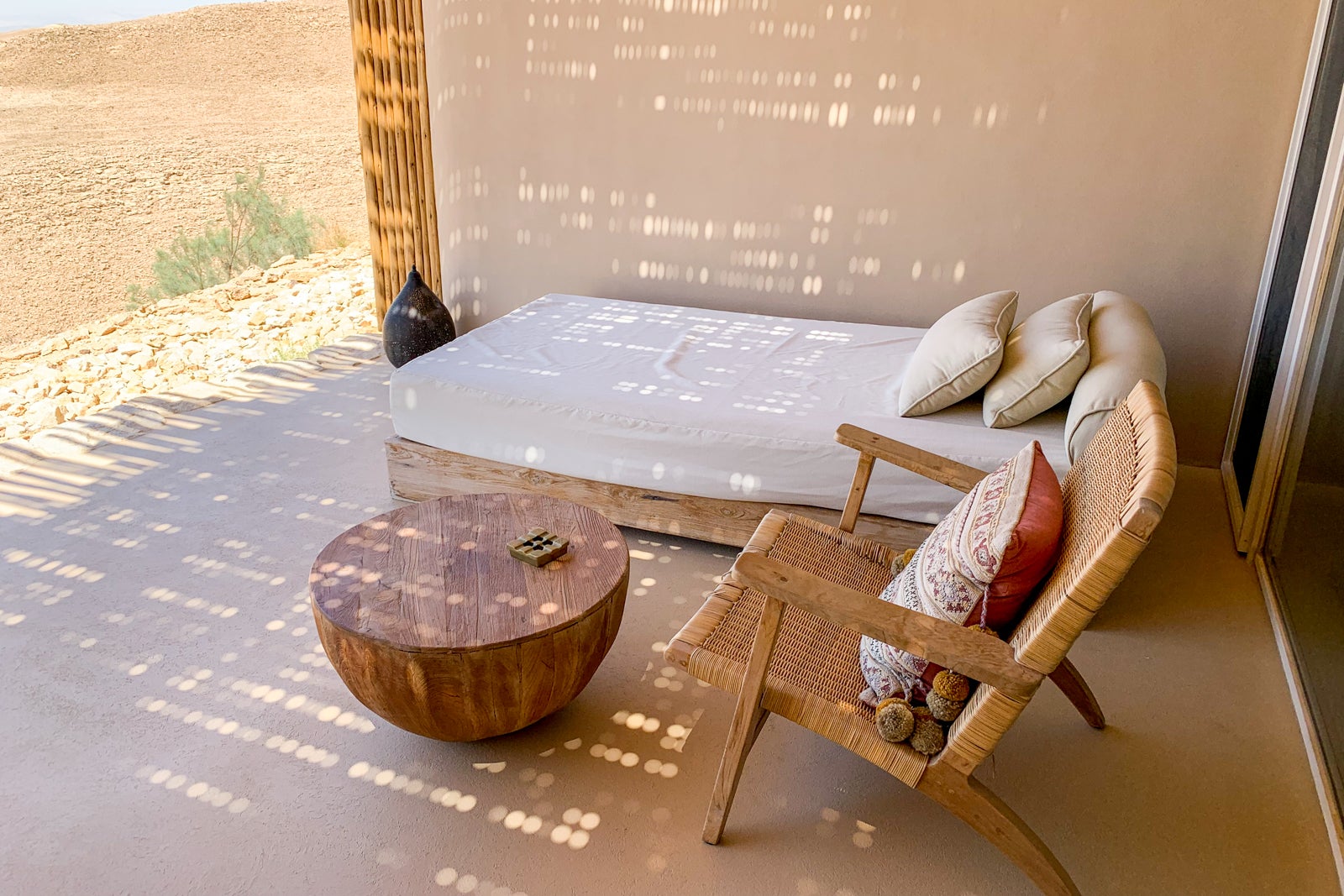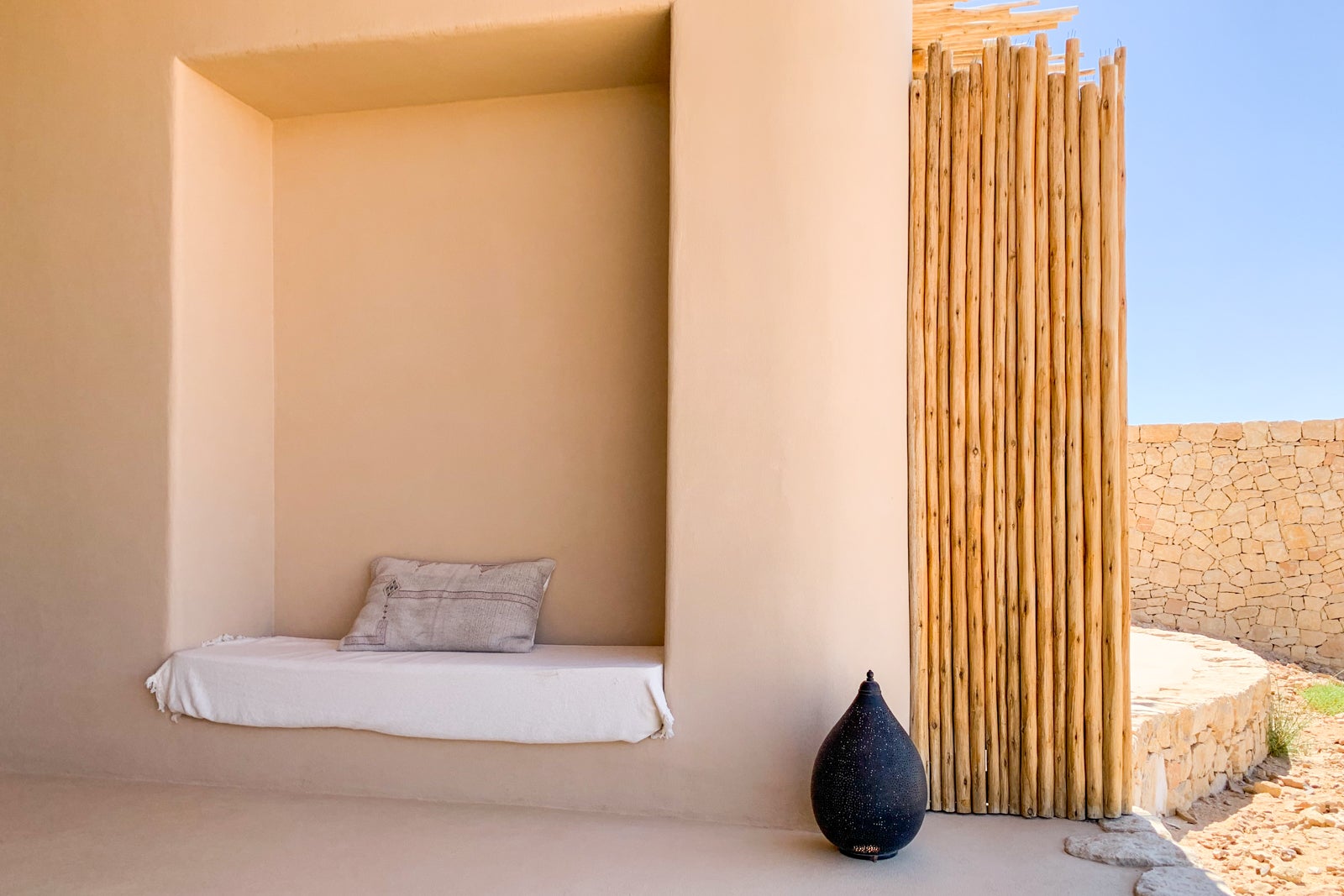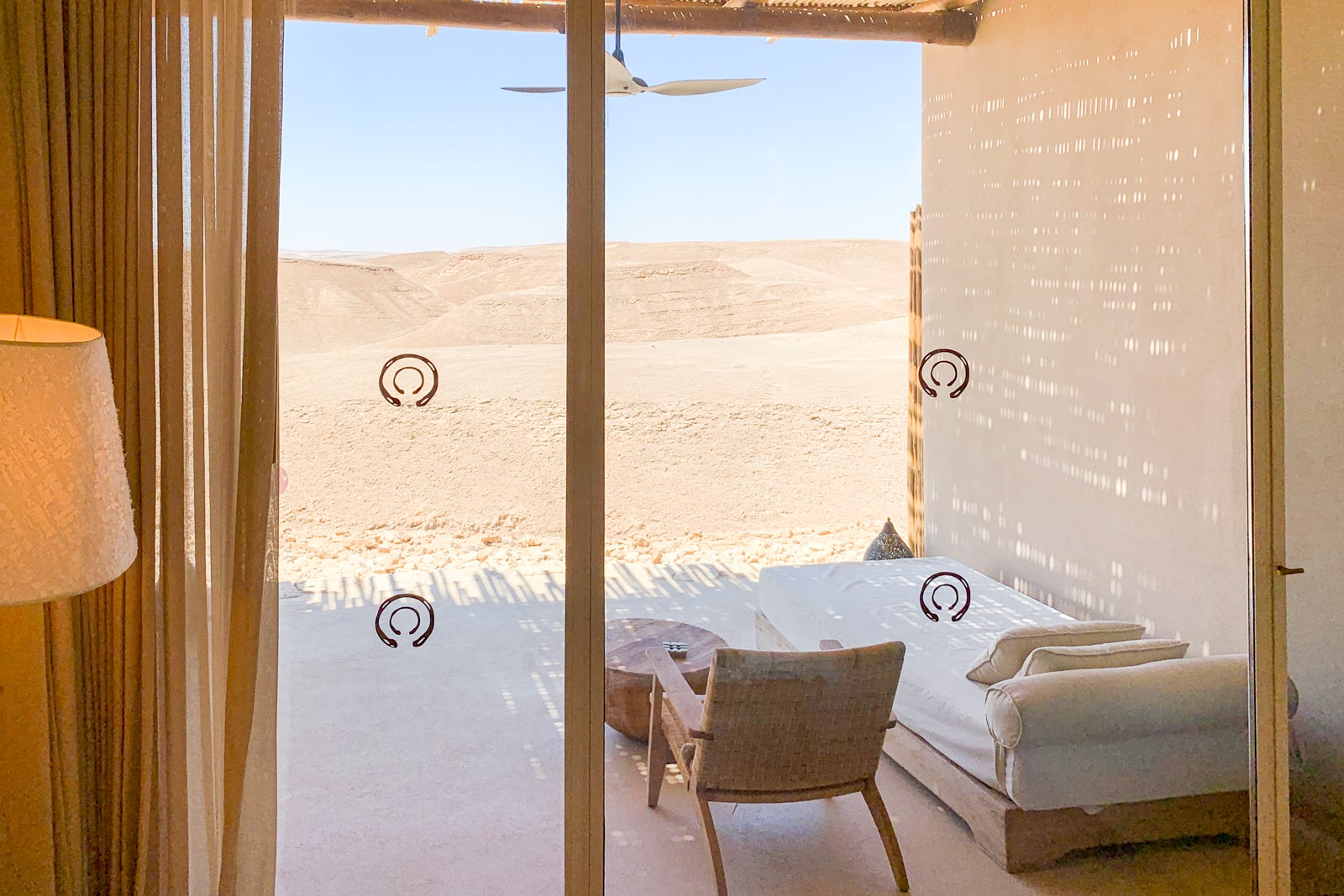 The 645-square-foot room featured decor in dozens of sand-inspired hues, creating a vibe very fitting of a resort in the desert. The walls were painted a creamy taupe, and the bedding and wall hangings were in various shades of white. Most of the furnishings had notes of white or taupe with wood accents and brass fittings.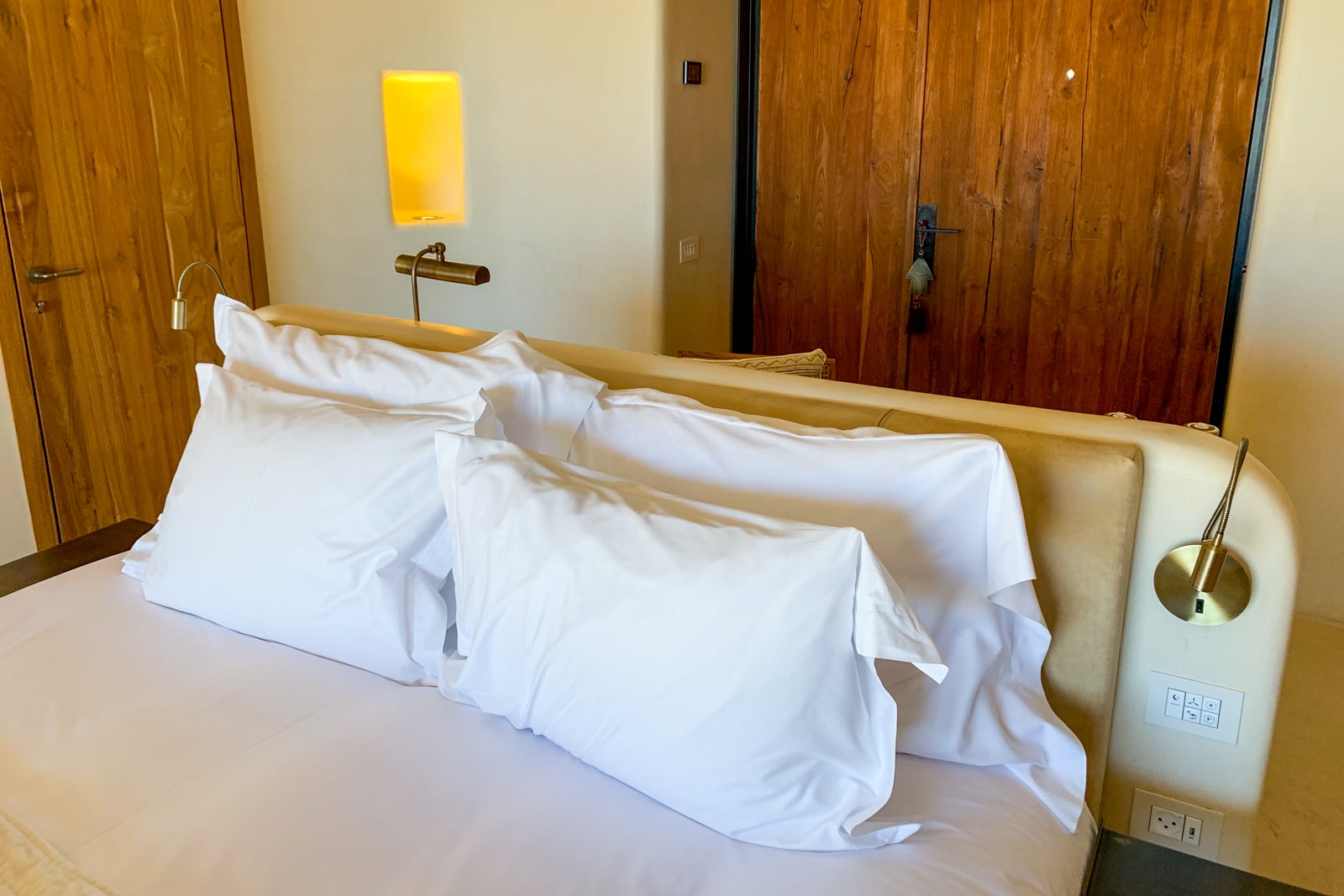 The large bathroom had a view of the entry courtyard and a shade you could raise or lower with the push of a button. There was also a large tub with plush robes hanging between a shower and a water closet.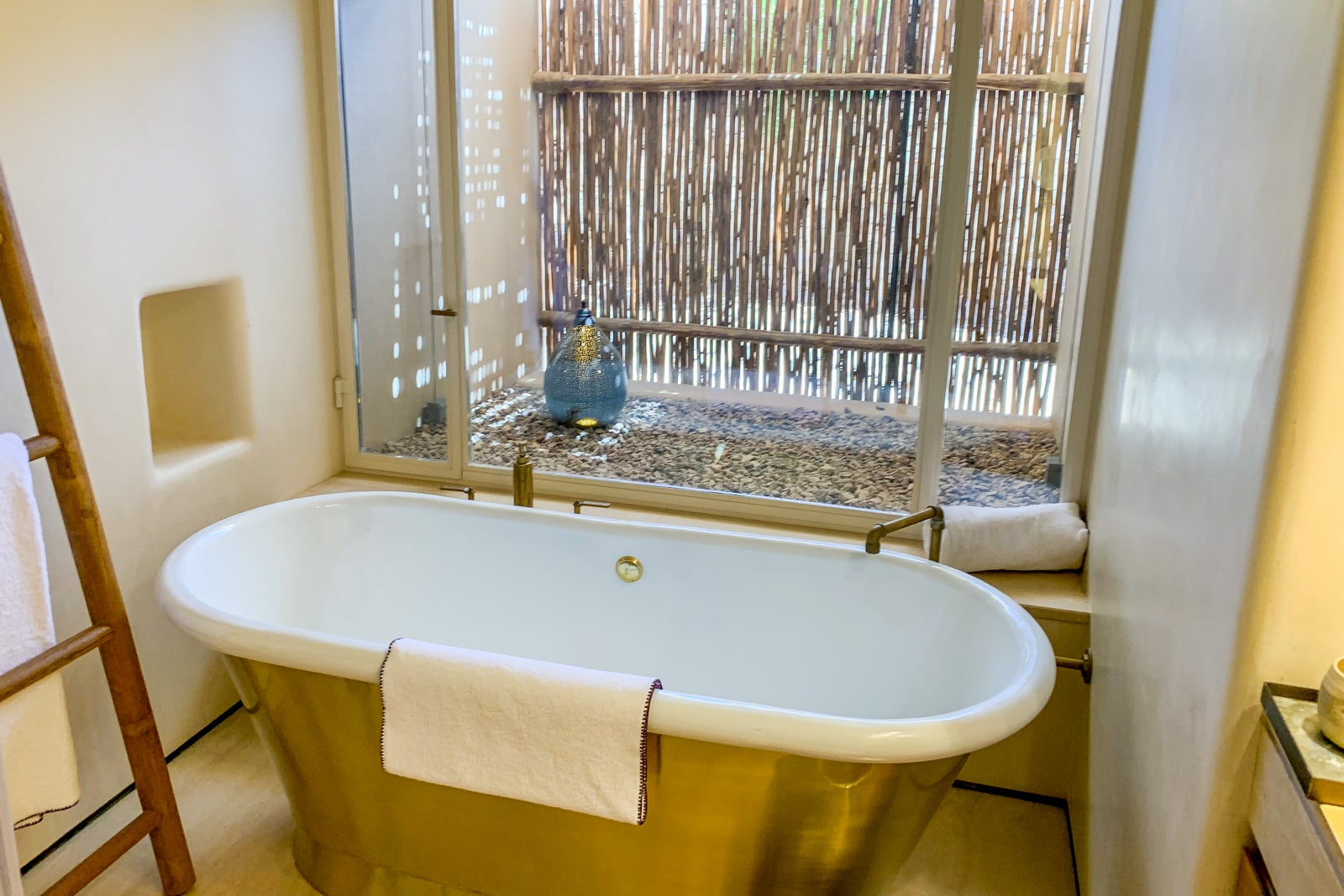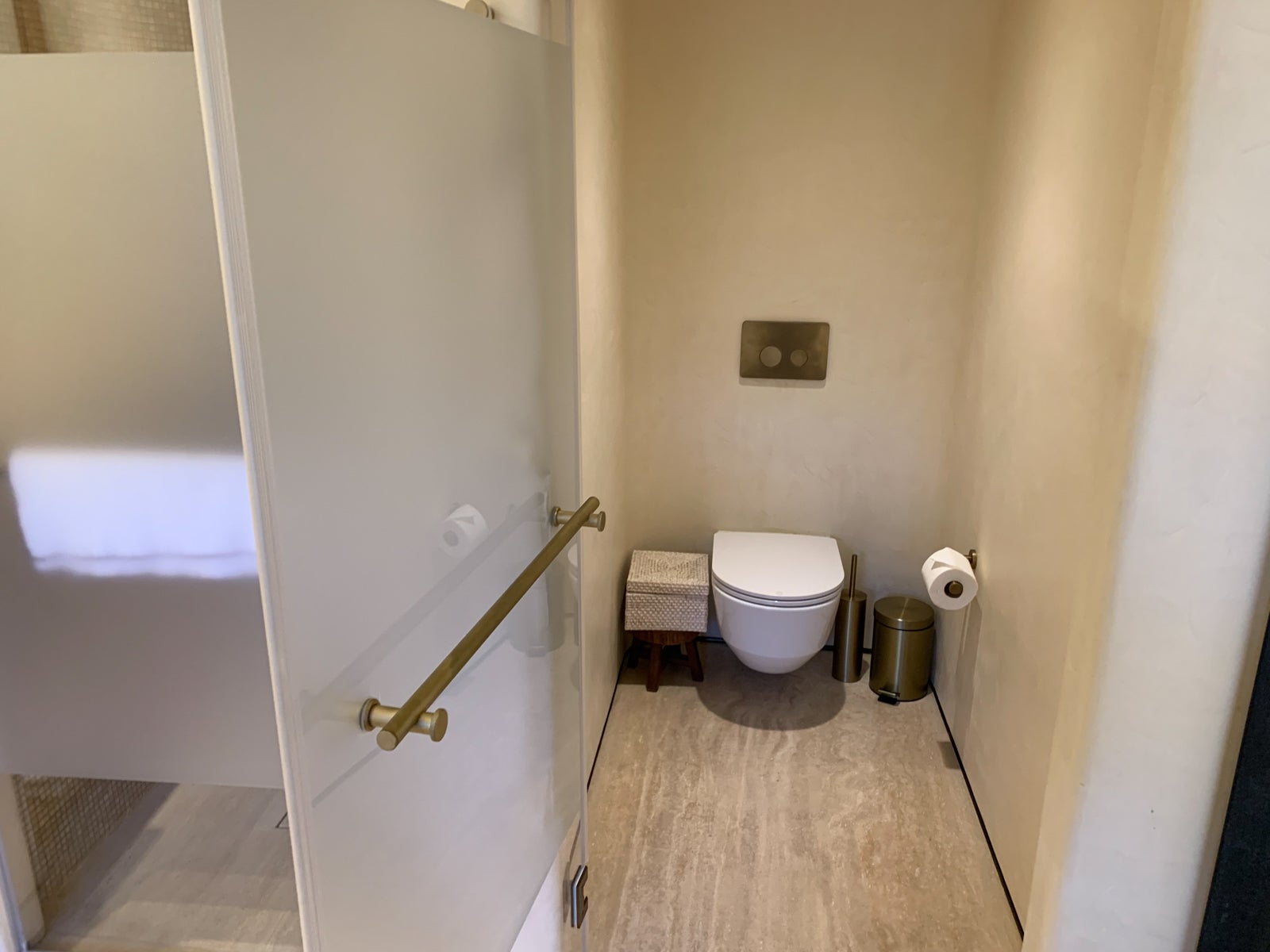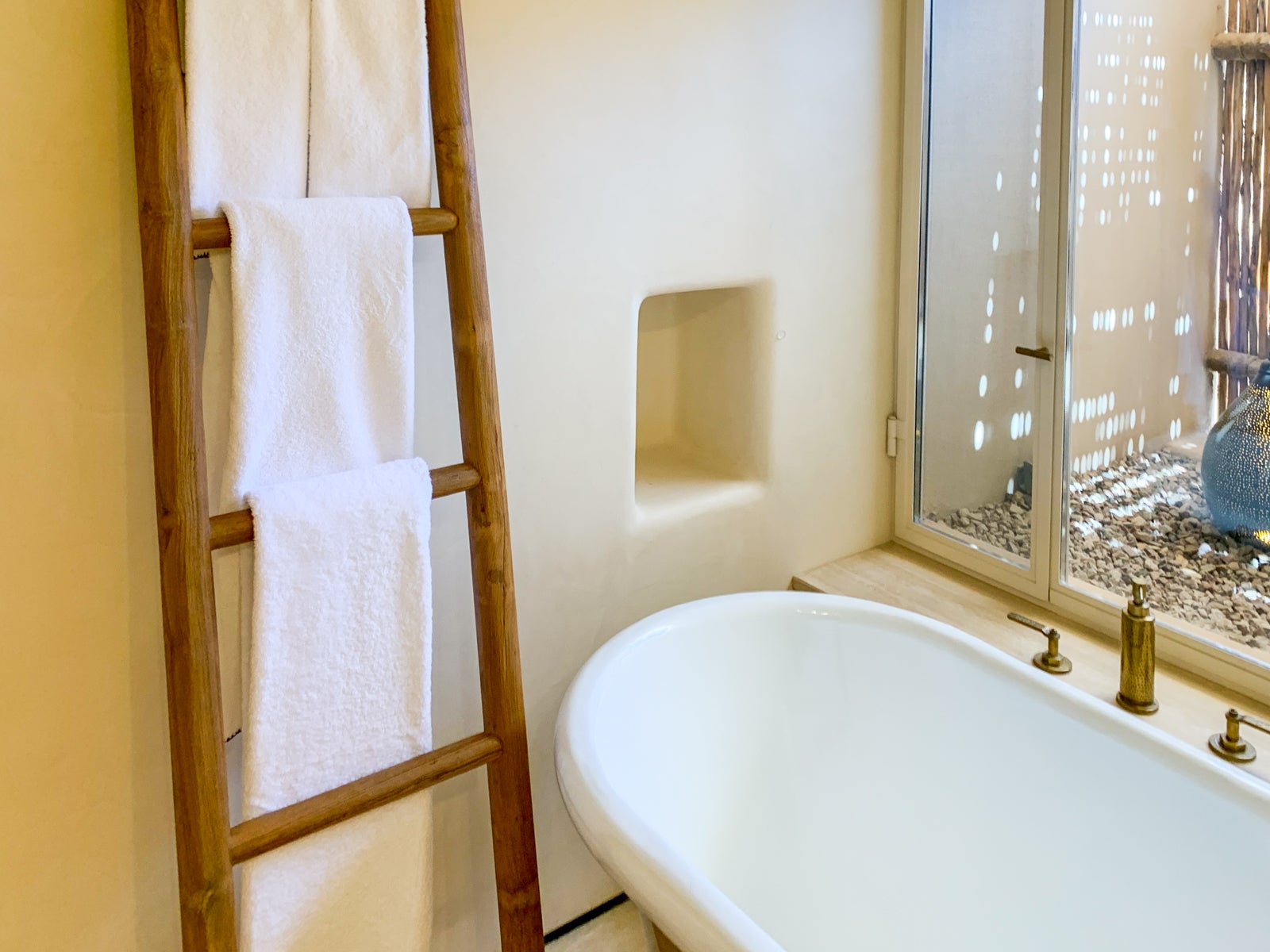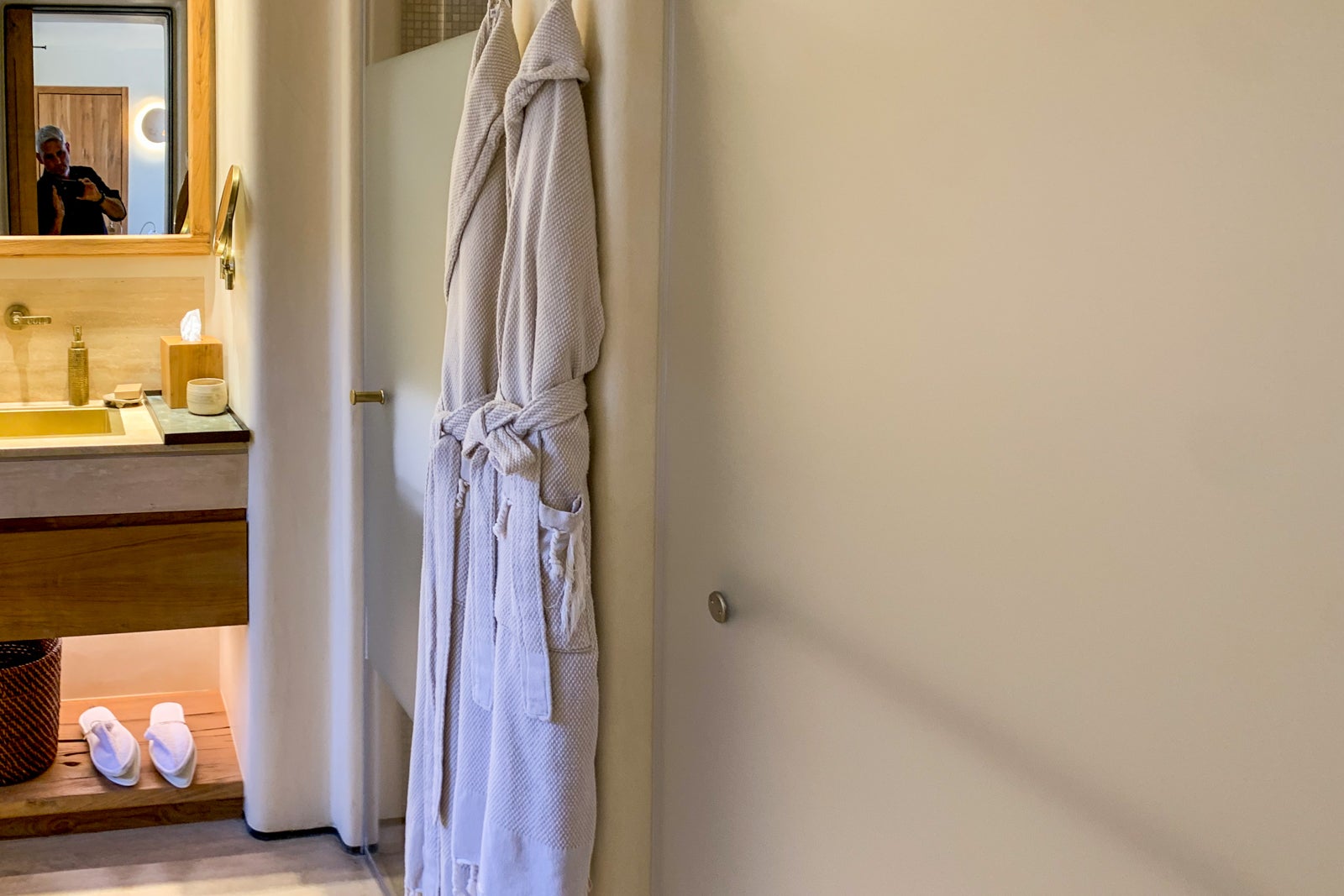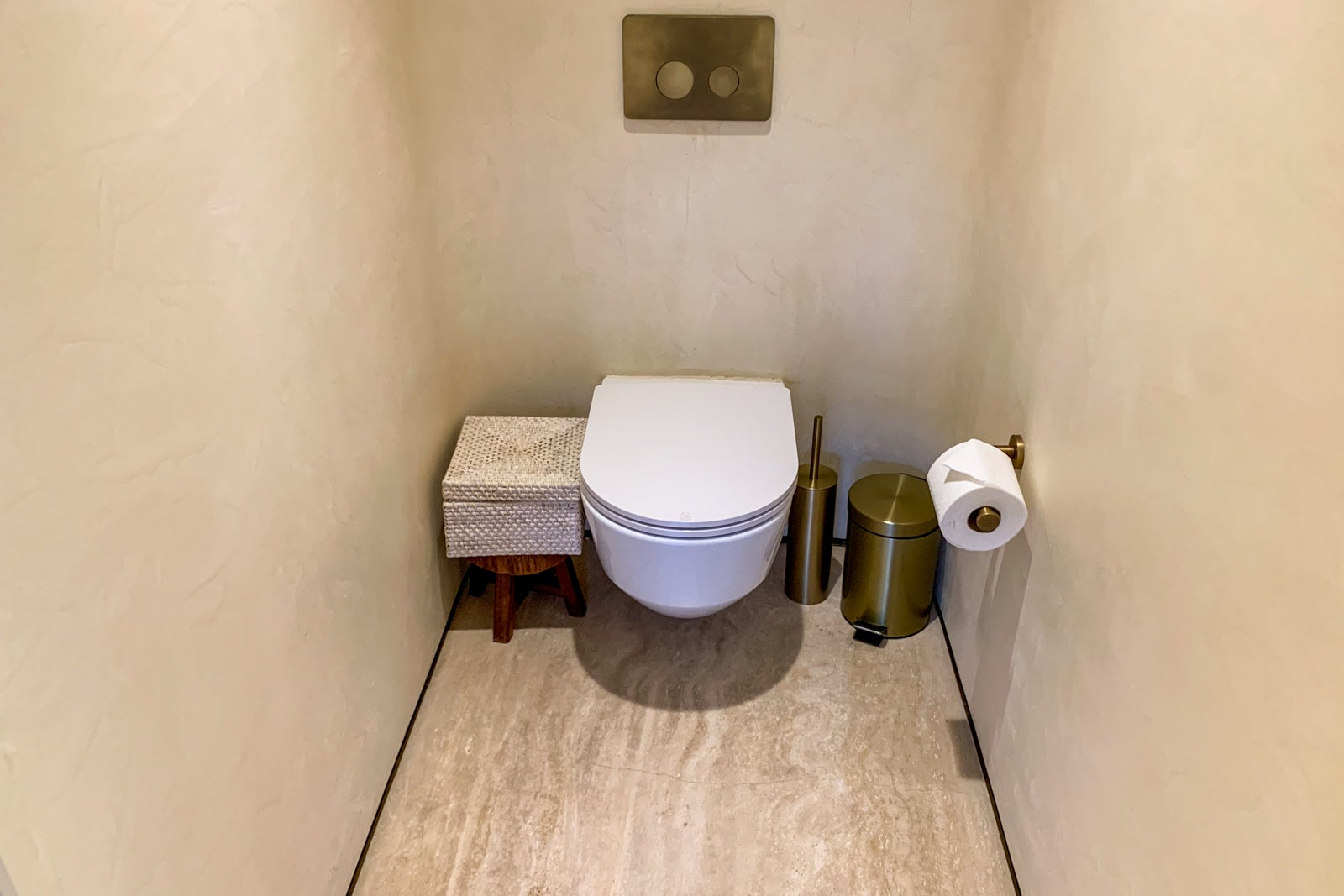 The brass-like bathroom fixtures had a steampunk style that was an unexpected but cool touch. They helped break up all the desert colors in the space and were in line with the resort's efforts to draw inspiration from the area, as they were made by a local artisan who lives about a mile away from the hotel in Shaharut, according to the property manager who I ran into and chatted with one night before dinner.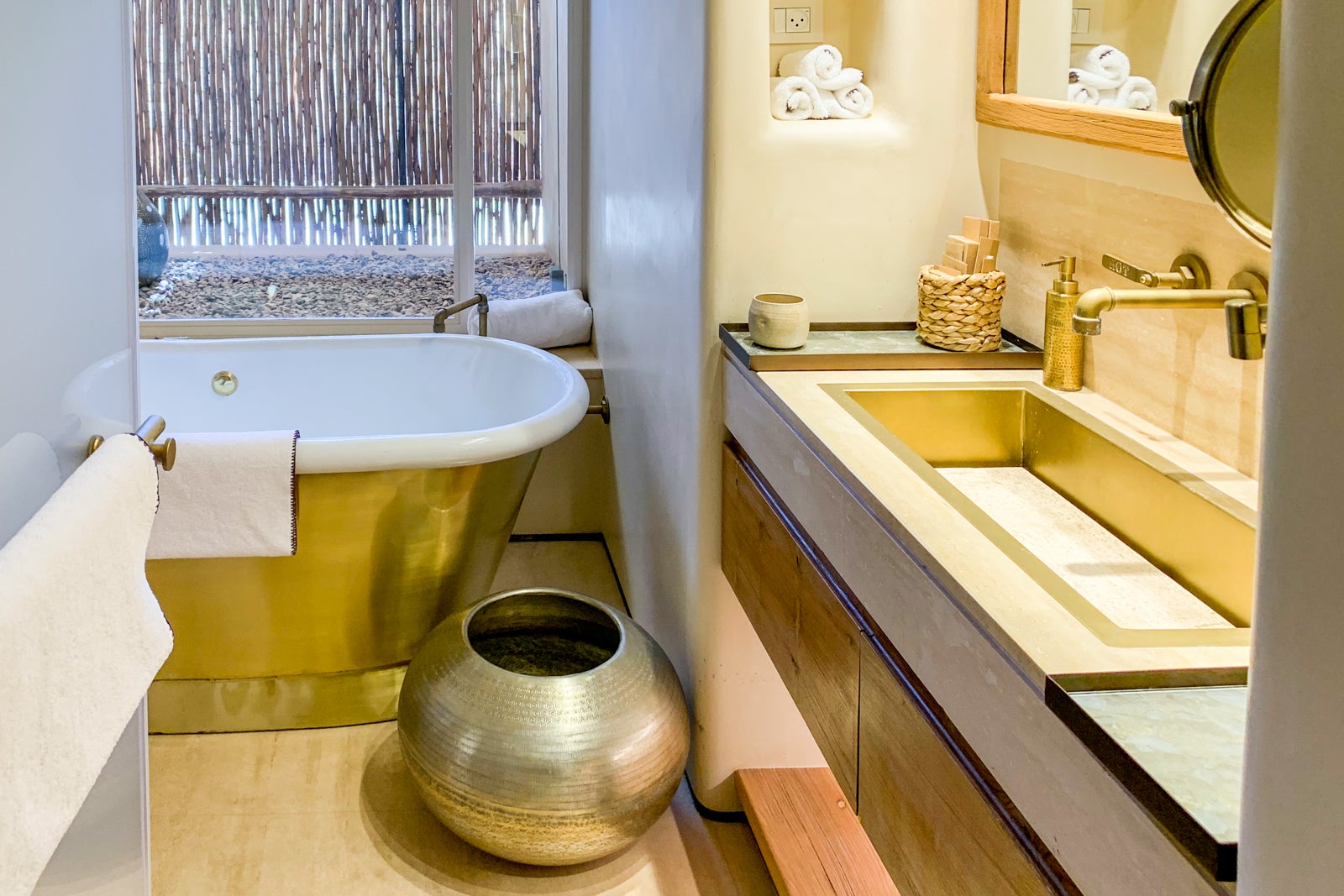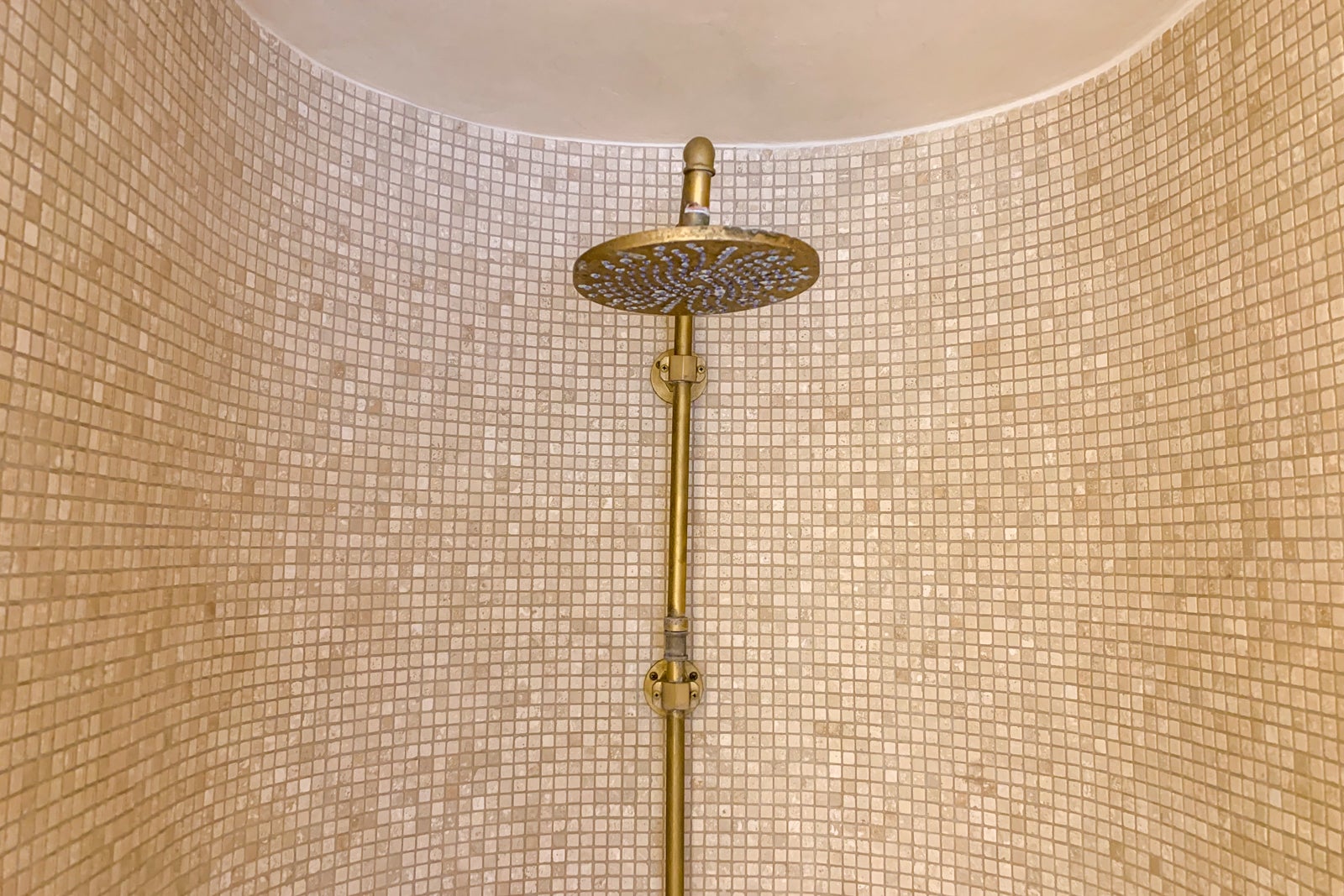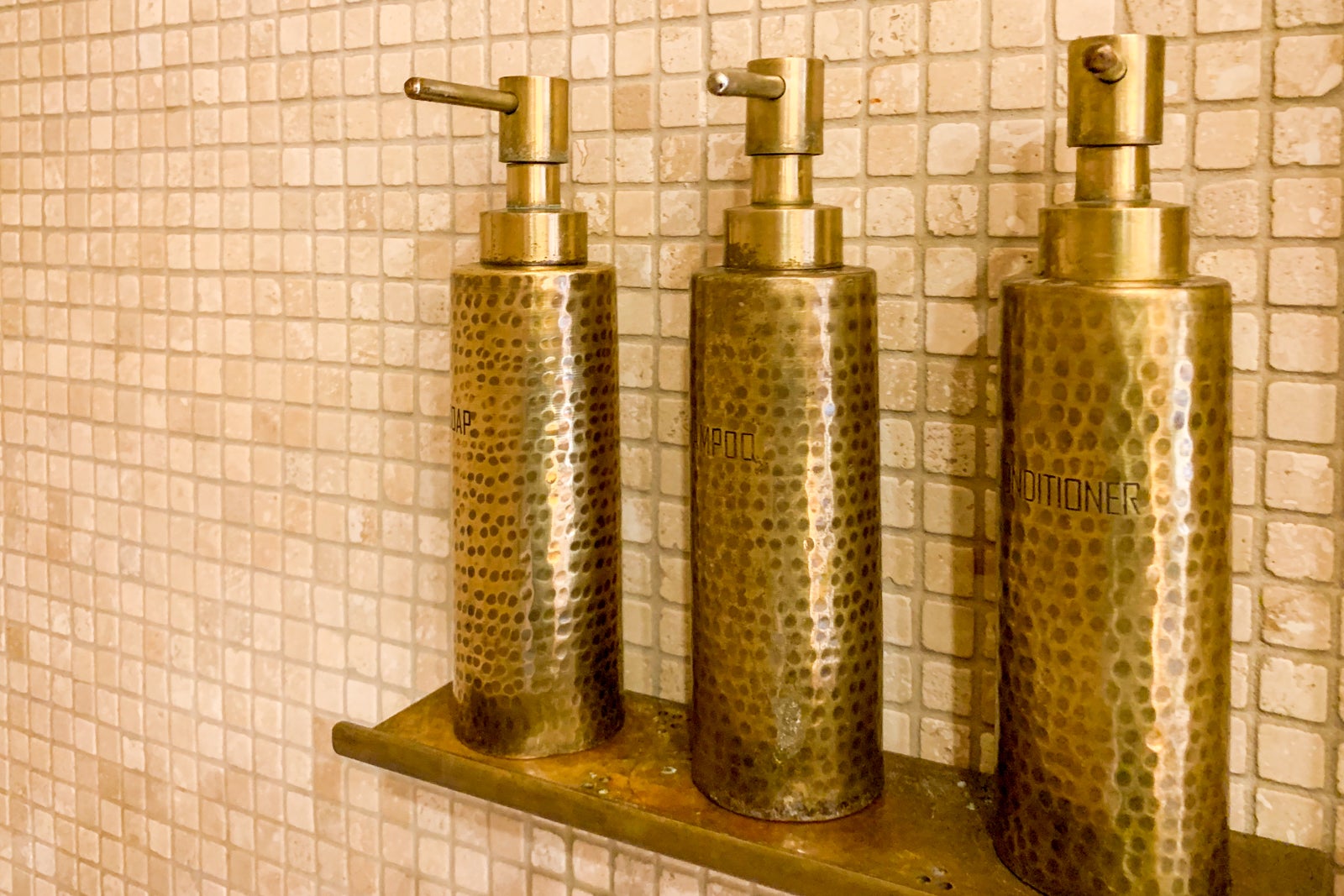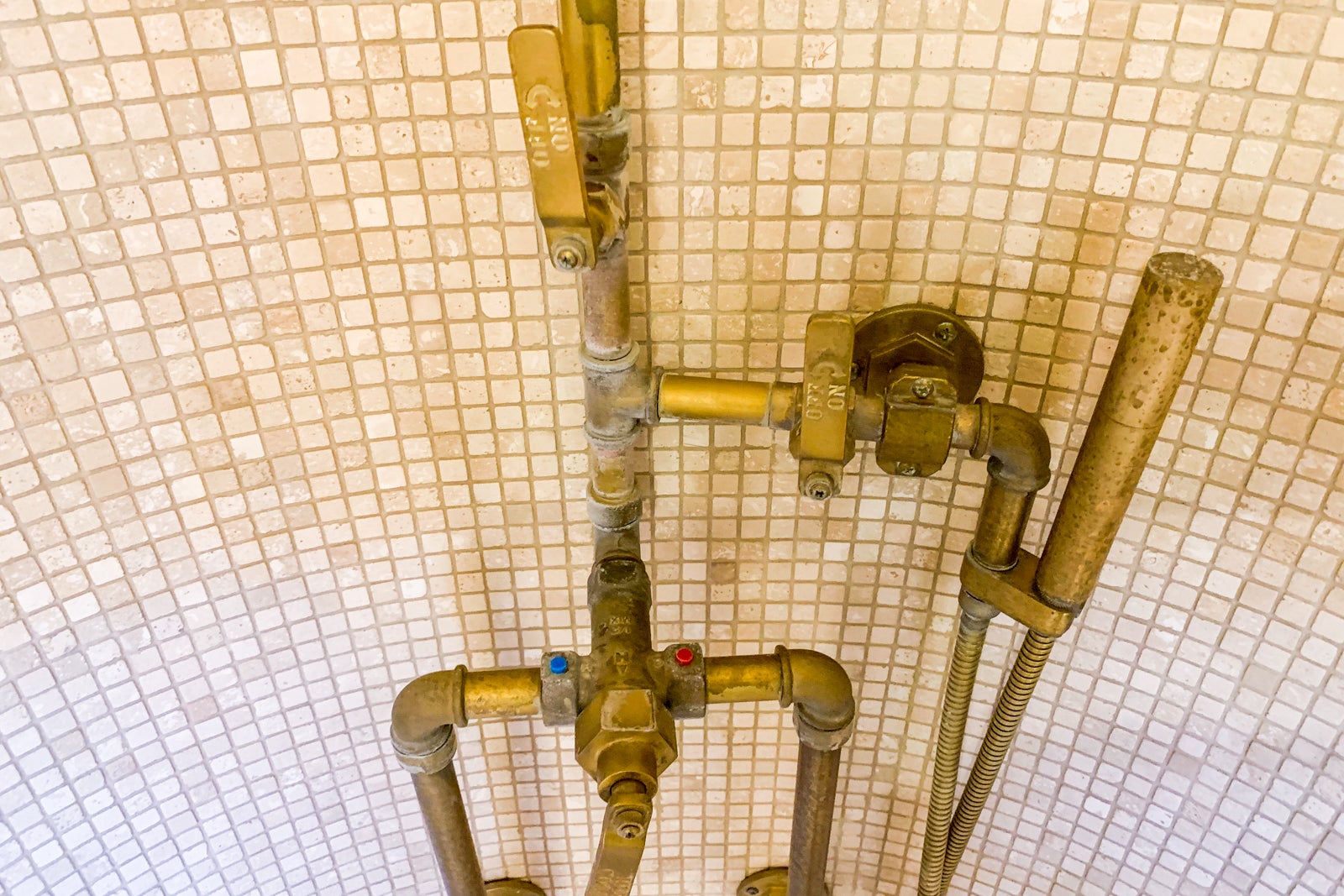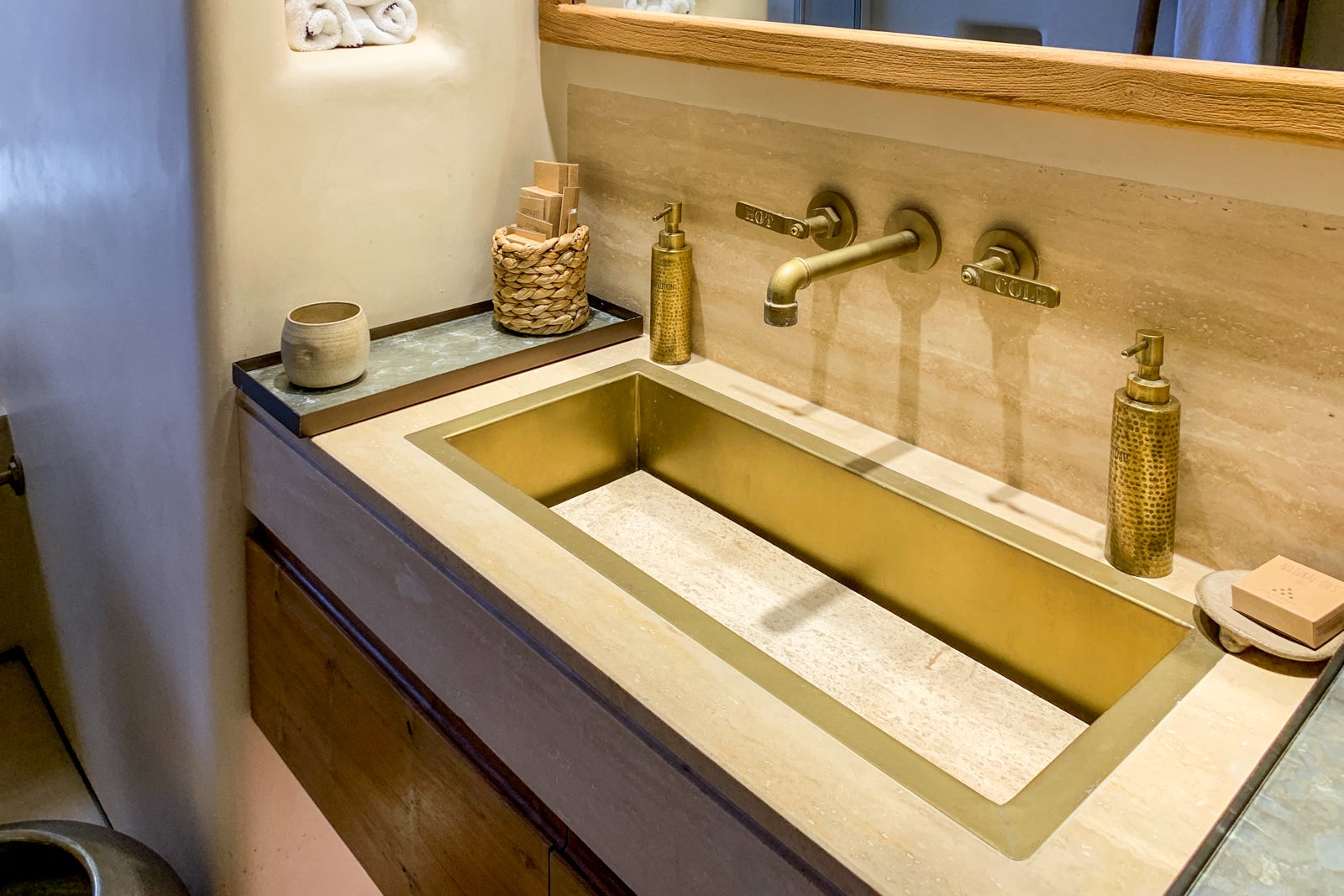 Among the other features in the bathroom were all the amenities you'd expect to find, including lots of plush towels and plenty of toiletries. The shampoo, conditioner and lotion came in large, stylish refillable bottles and were made by a company called Corporell, which creates bath amenities for several luxury properties in Israel, including the King David Hotel in Jerusalem and the Dan Hotel in Tel Aviv. Cotton swabs (the resort called them buds), stitching kits, cotton pads, a nail file, a comb and a shaving kit were also in the bathroom next to the basin-style sink.
In the living area, there was a desk at the entryway that doubled as a wall for the headboard for the bed on a lower level. There was also a minibar under the desk stocked with nonalcoholic beverages (think: Neot organic apple and pear juice, Coke Zeros and Tempo soda water), but they were pricey at around $5 per item.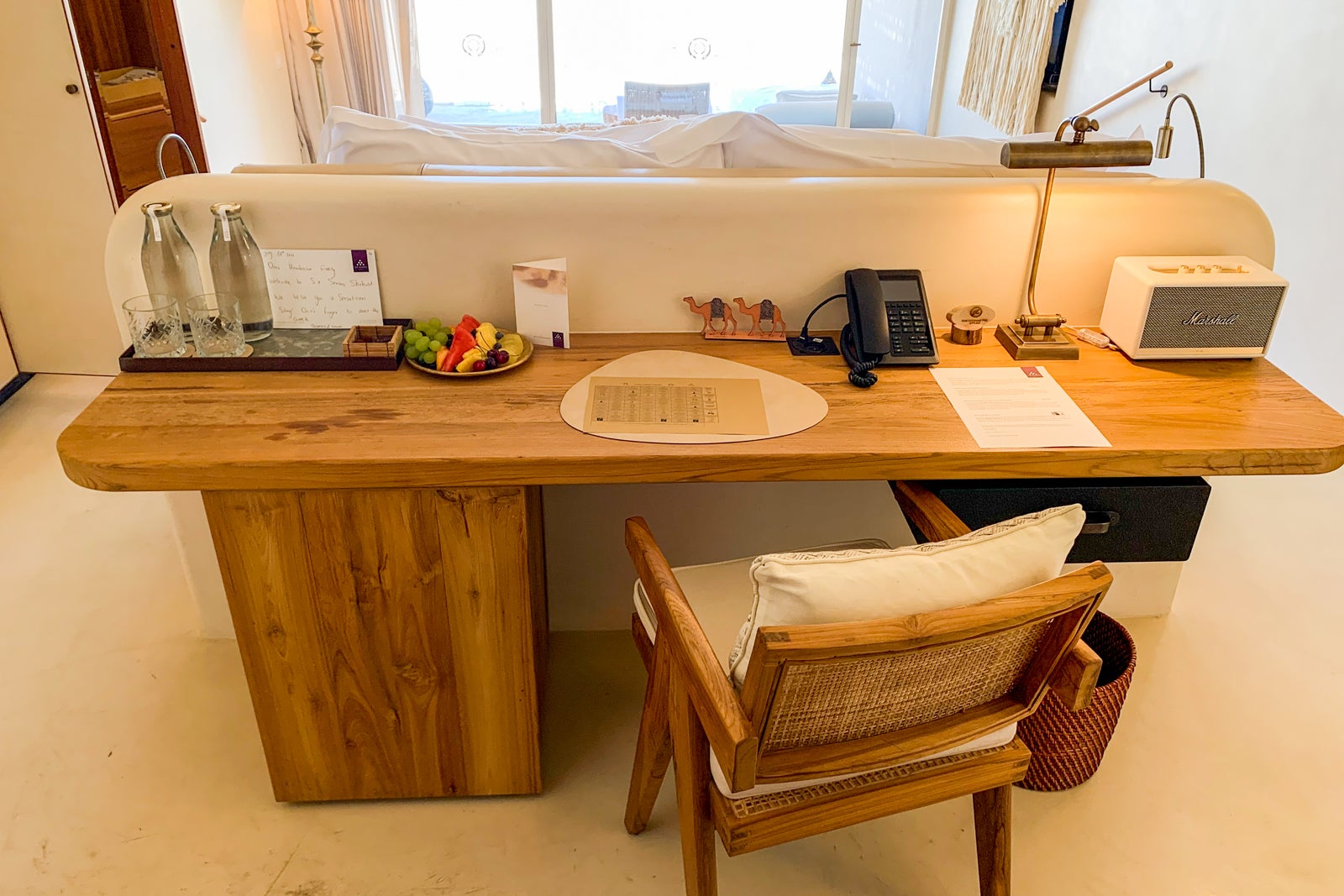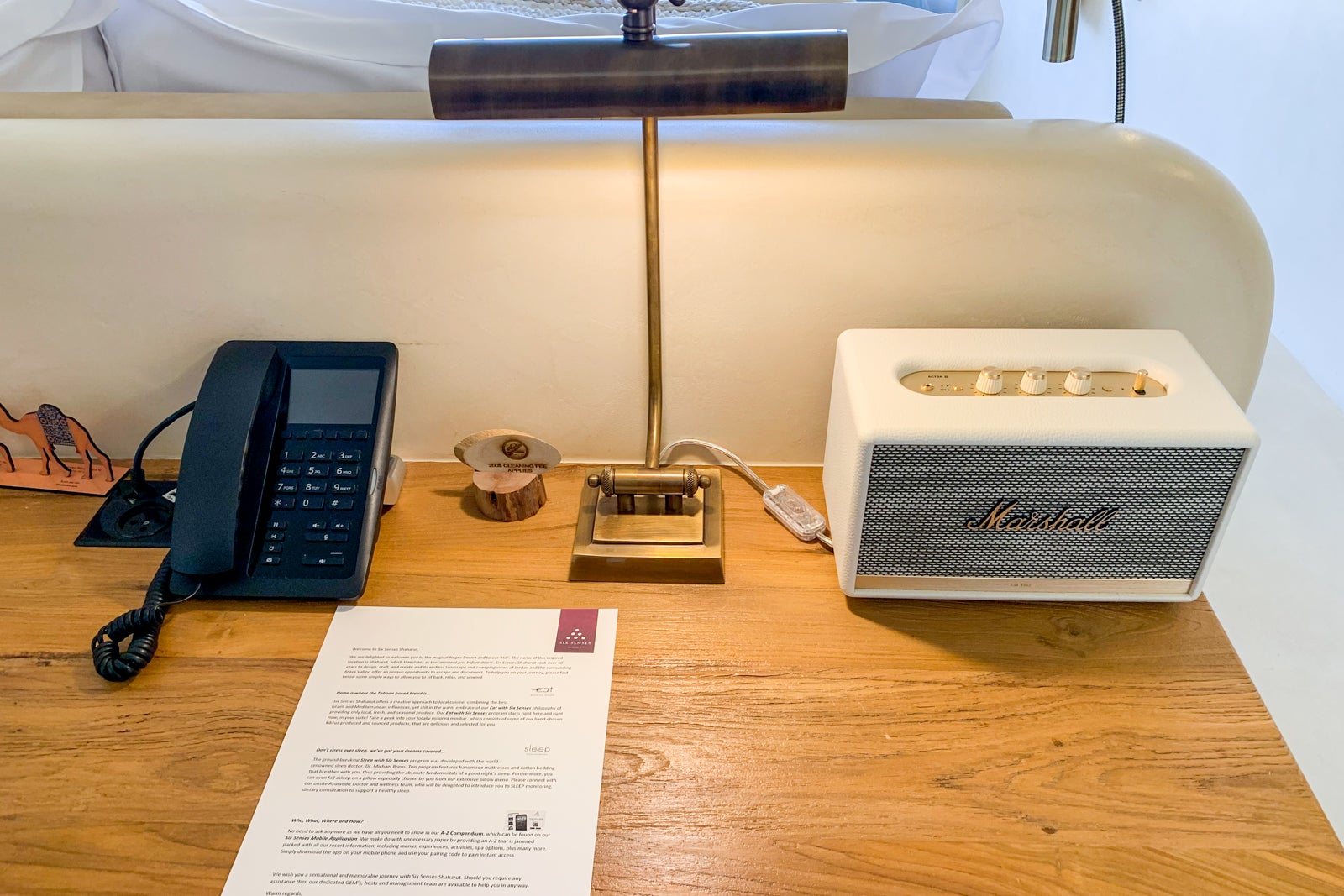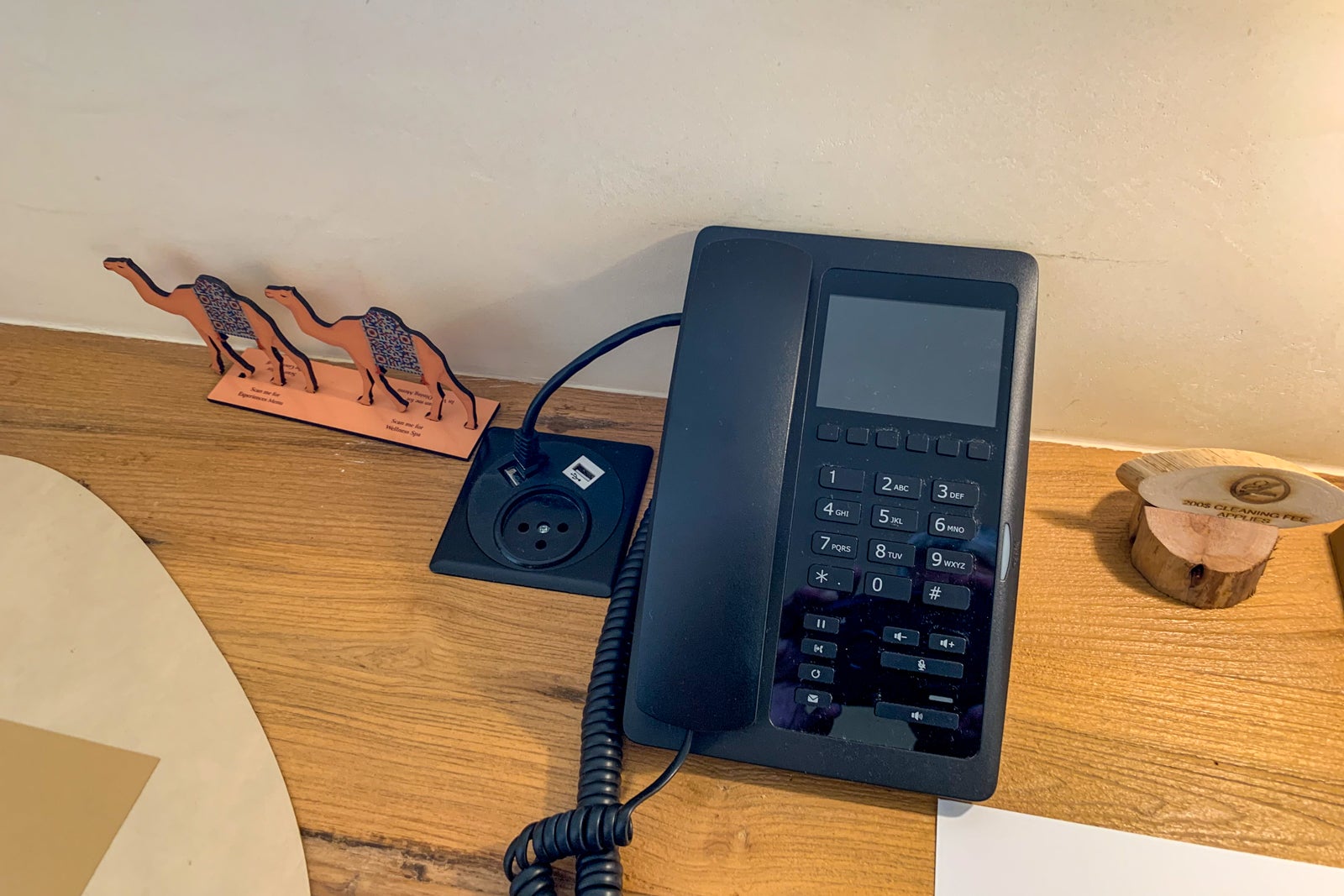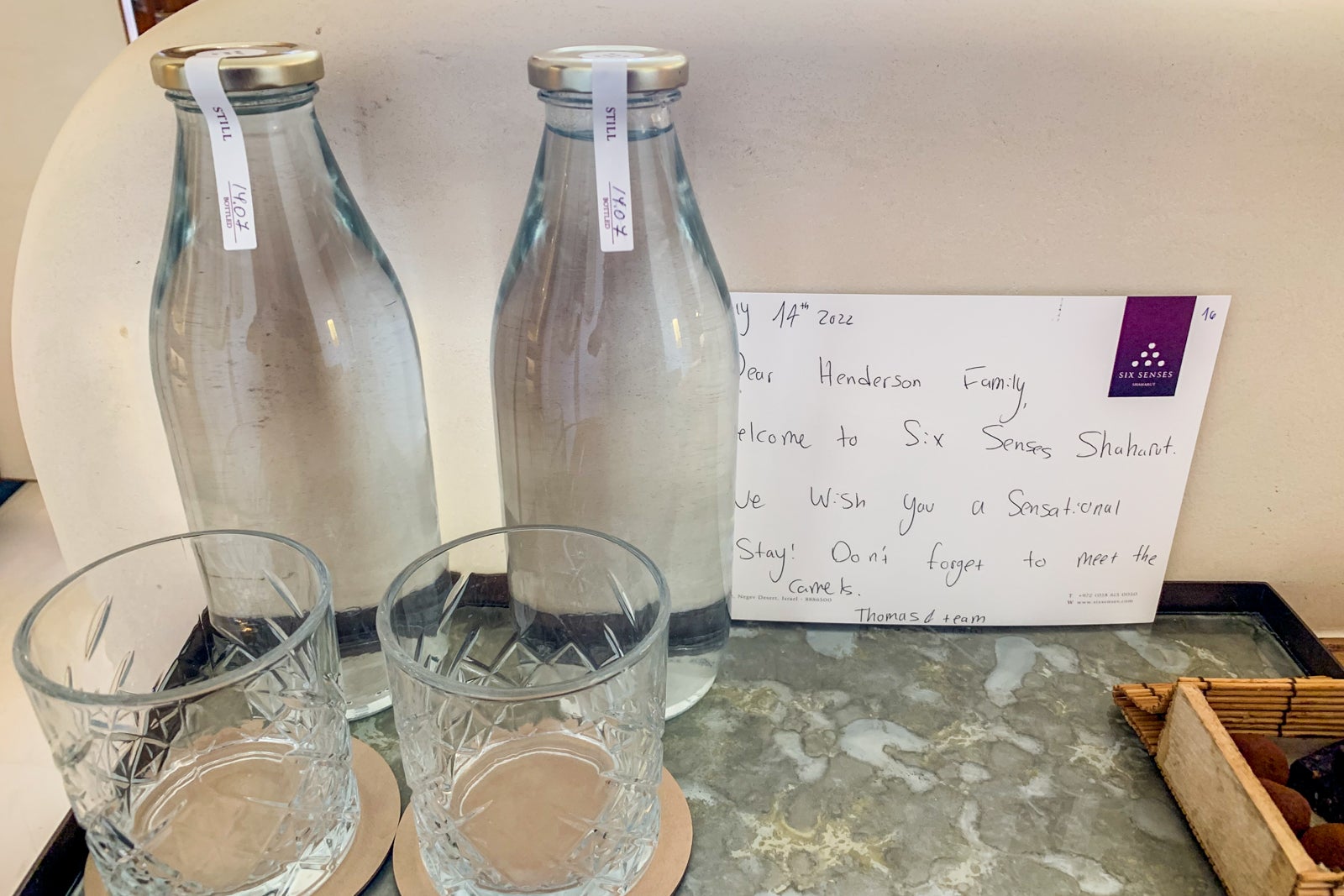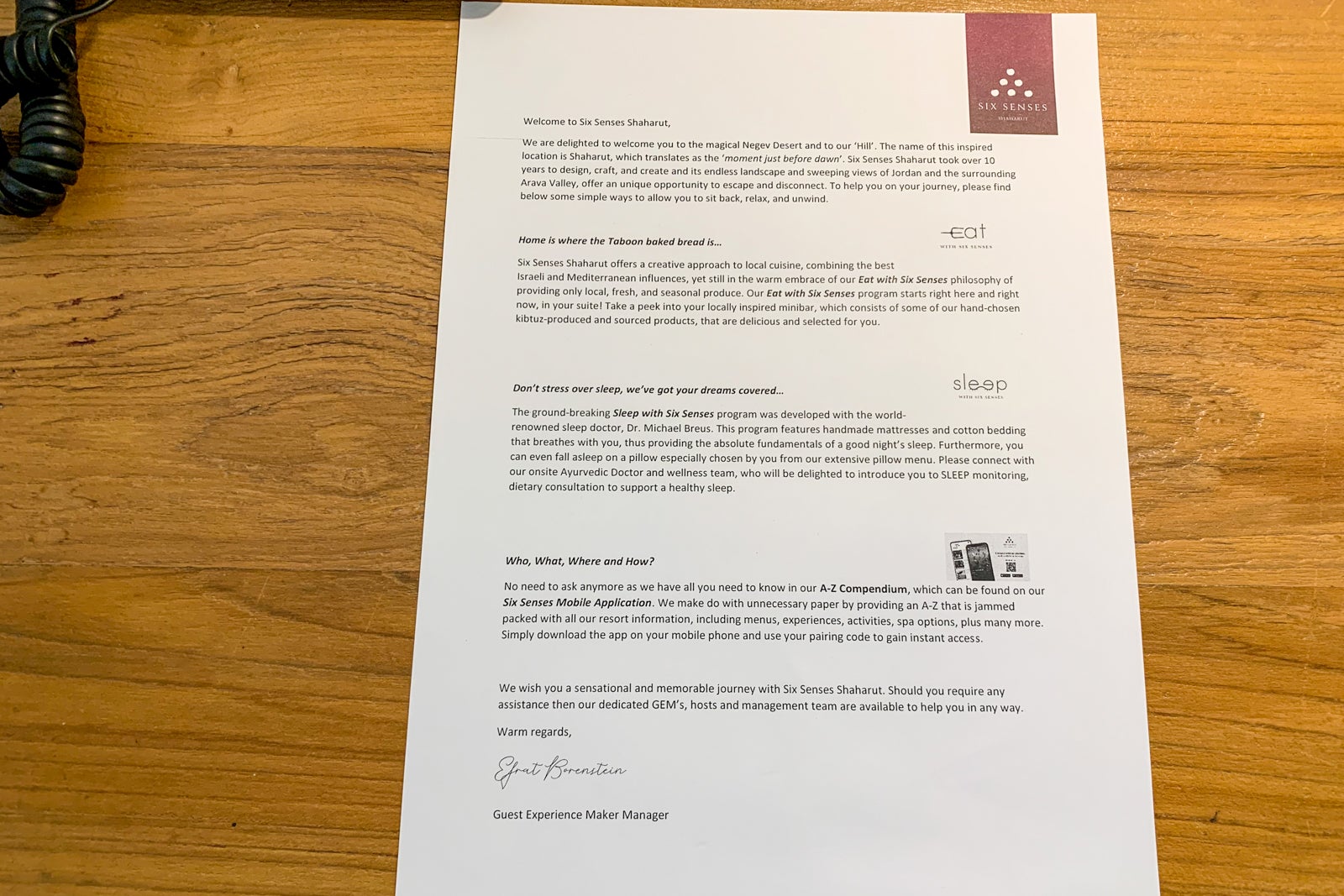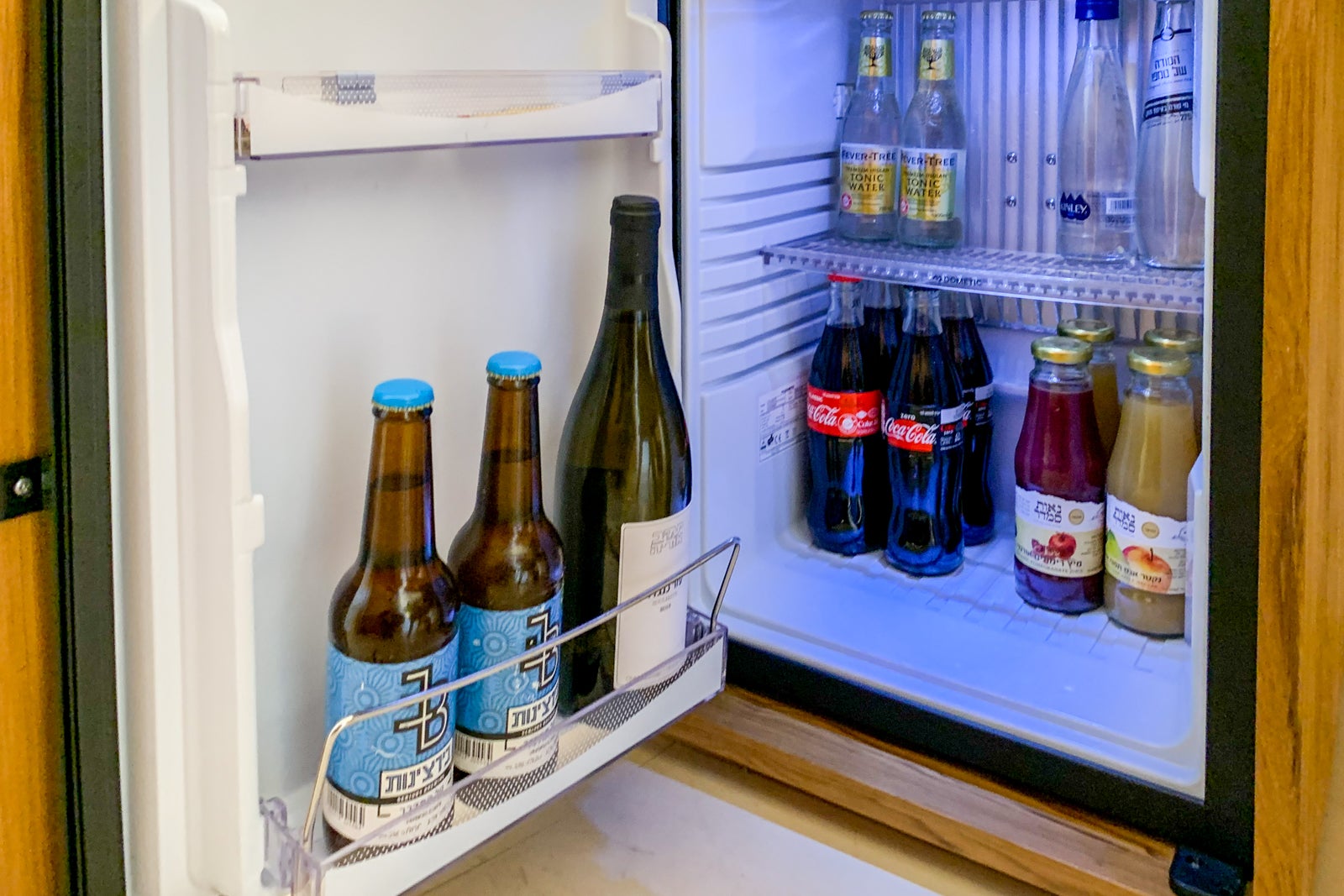 After a quick walk around the property, I swiped my wooden keycard to get back into my room and checked out the additional amenities, like a yoga mat and bag, walking sticks and hats, that were available in the entryway.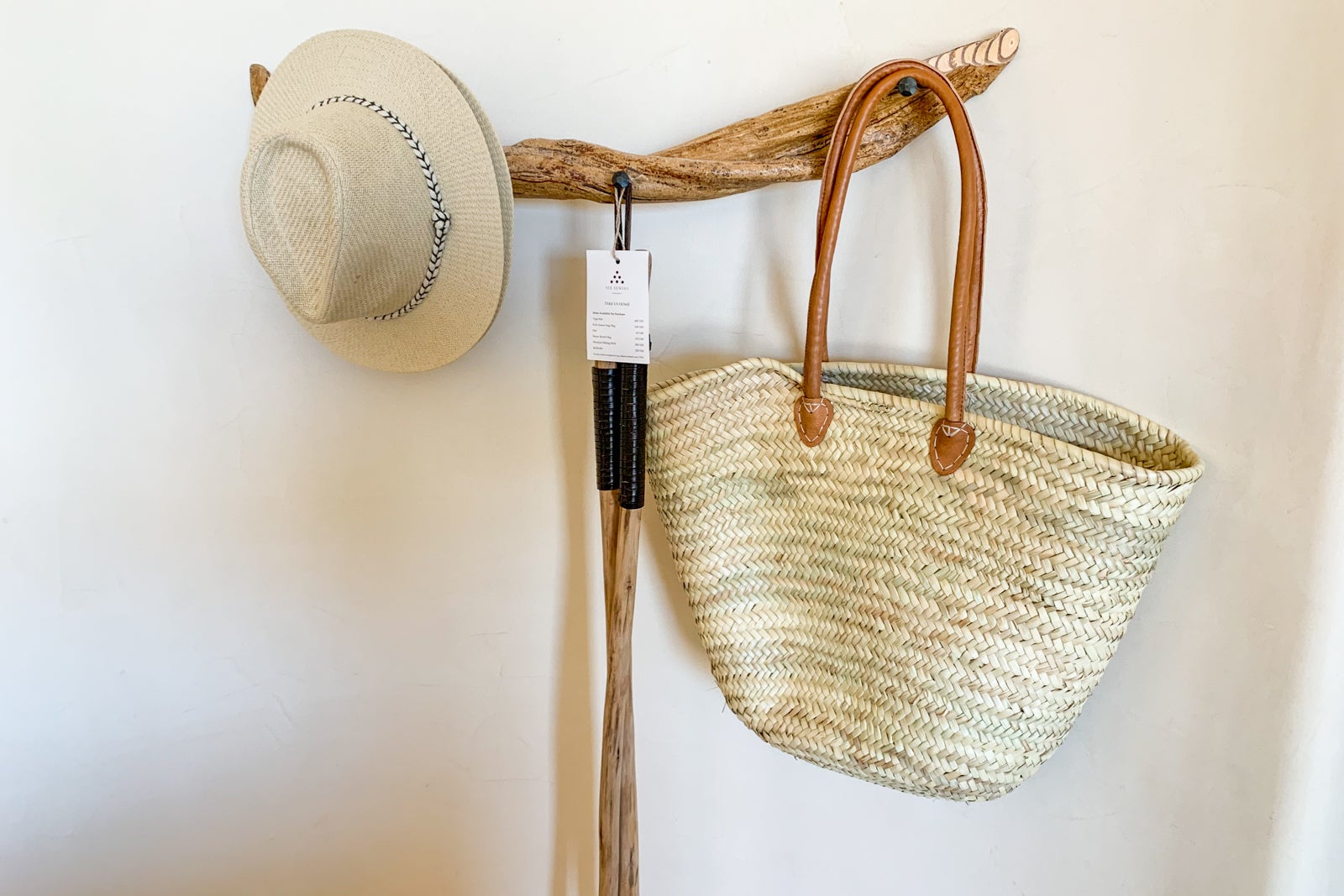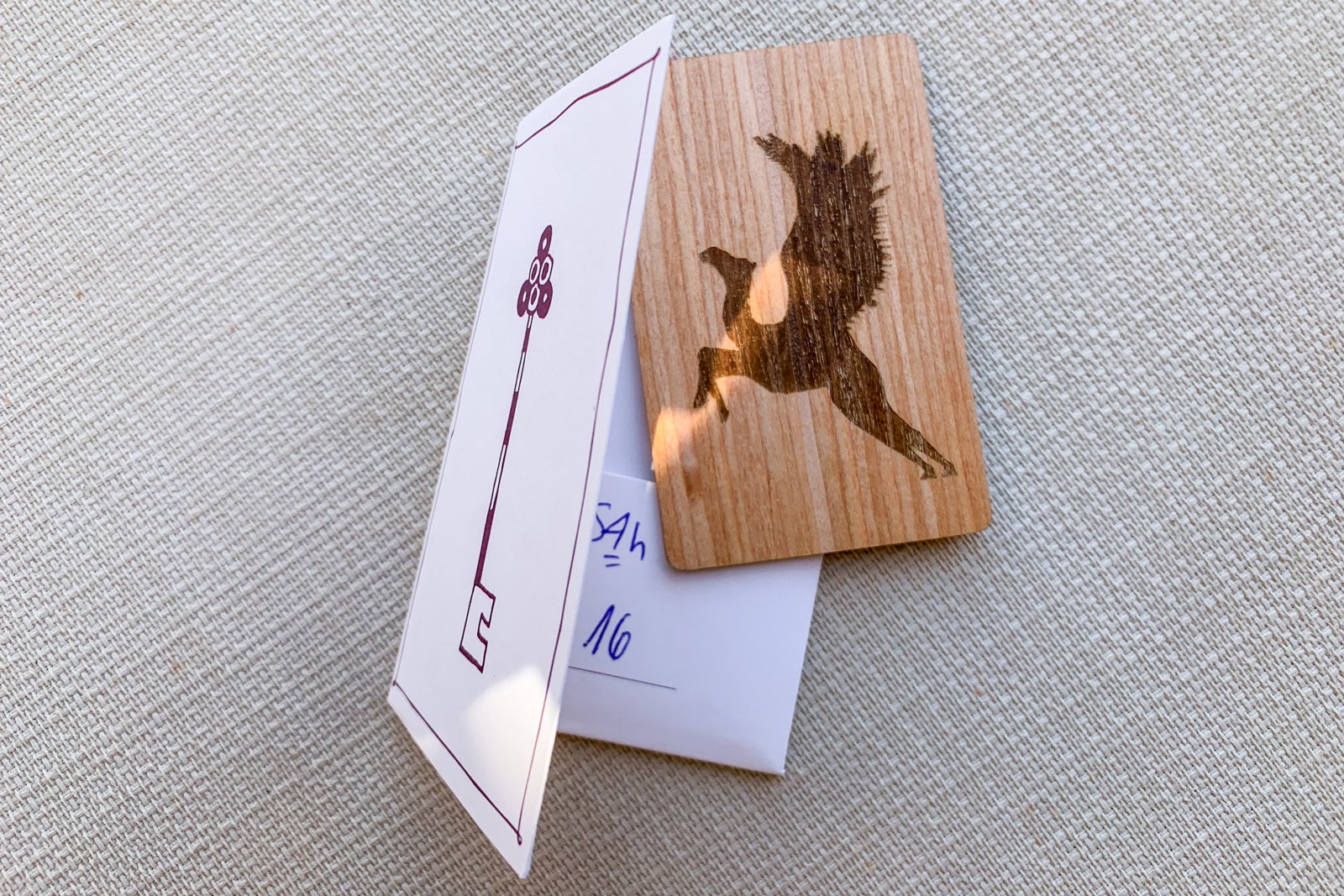 To the left of the entrance was a closet with several wooden hangers and a safe. Next to it on the wall was a bar with assorted liquors, plus coffee, tea and other treats. While the coffee and tea were free, the top-shelf liquors — including Belvedere Vodka ($28) and Milk & Honey Levantine Gin ($32) — were expensive. There was no charge, however for the orange, lemon and bottle opener set next to the booze just calling guests to make a drink.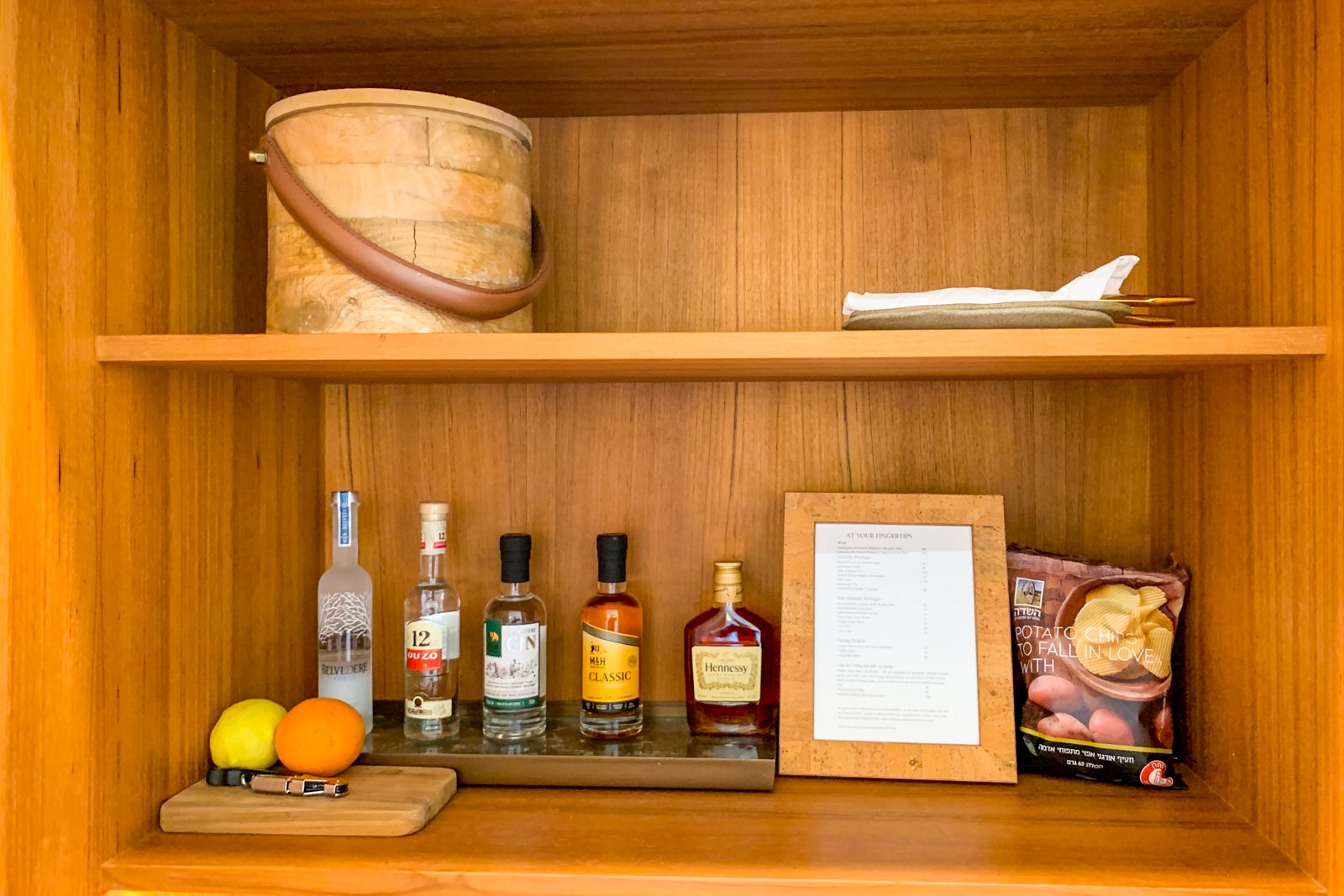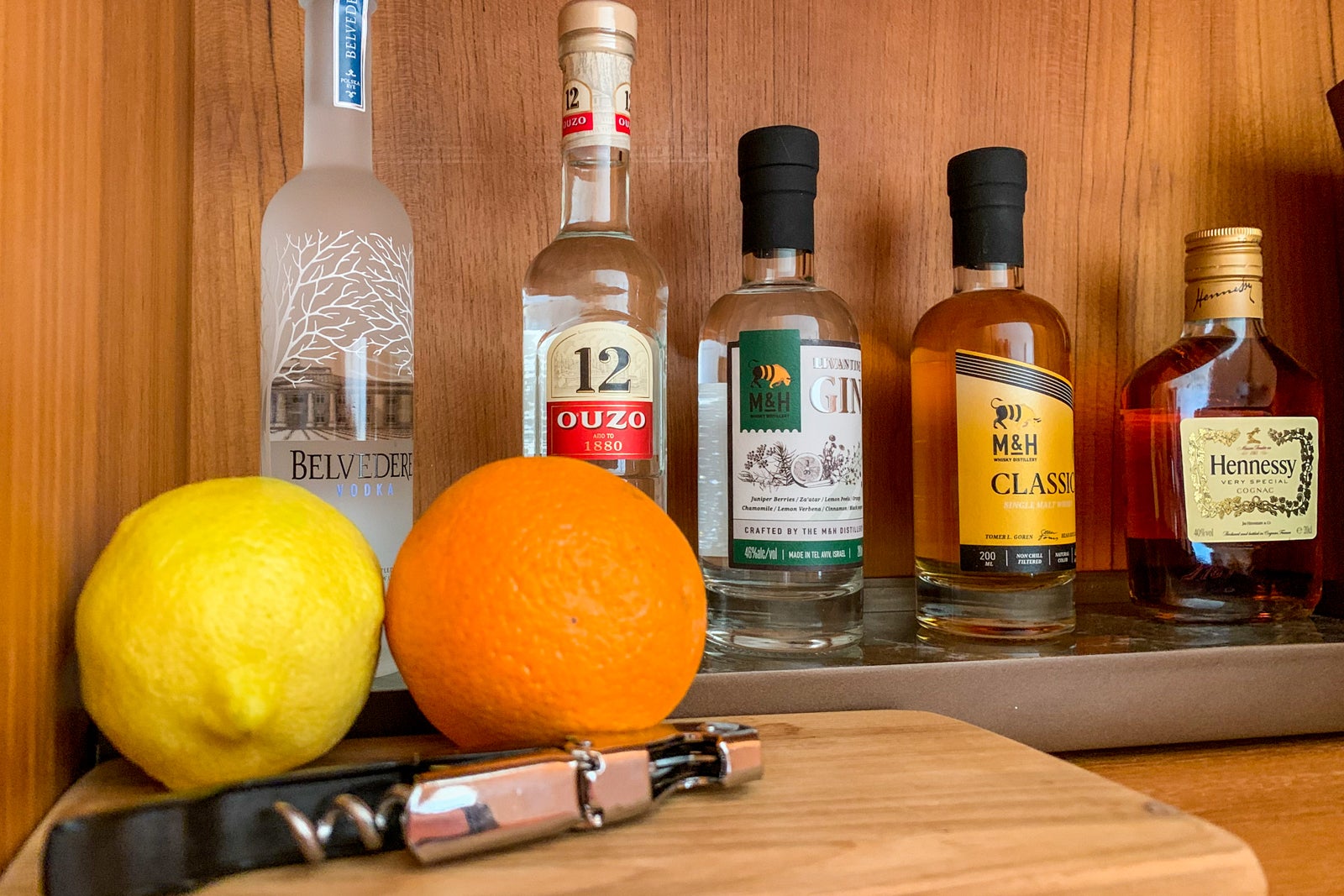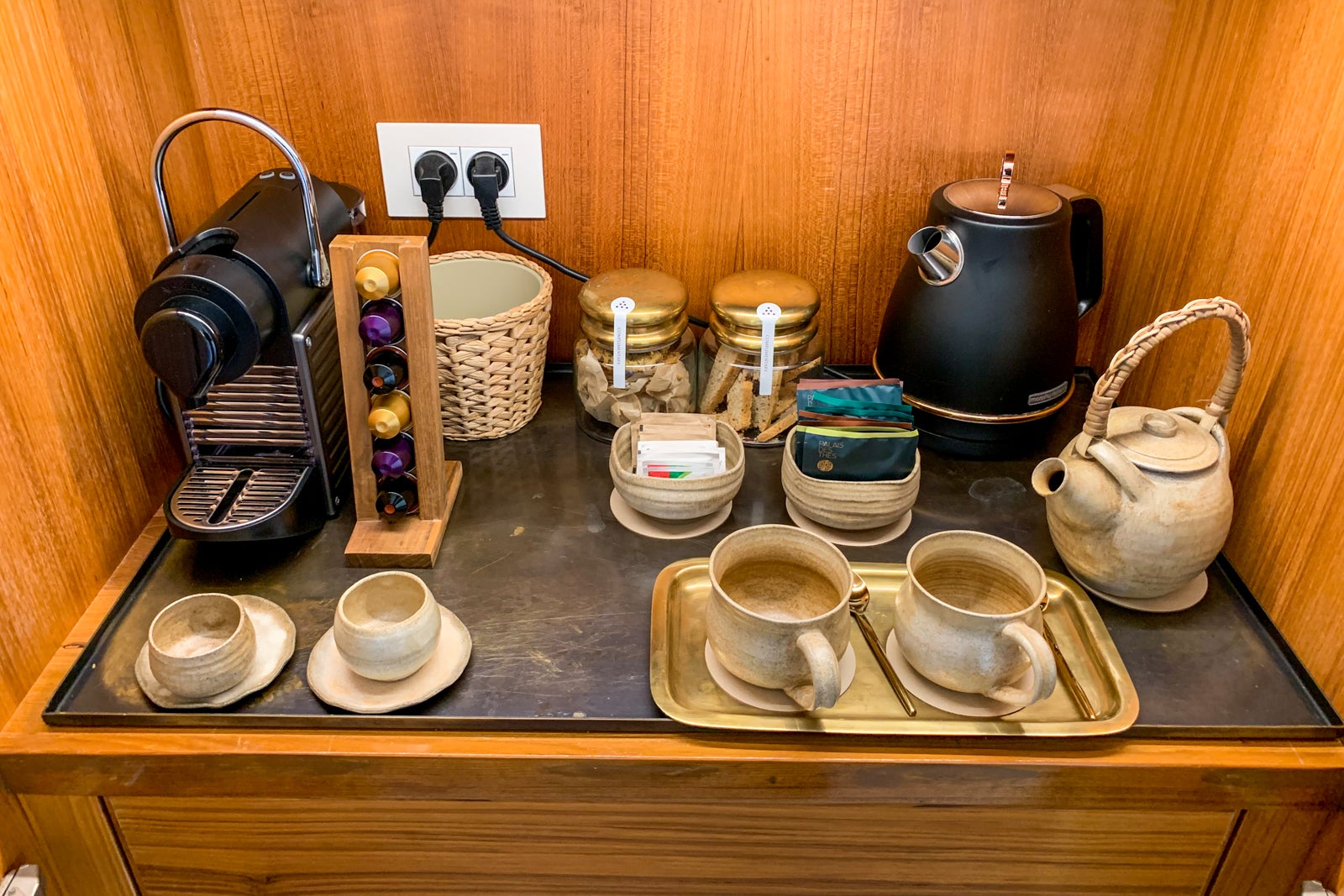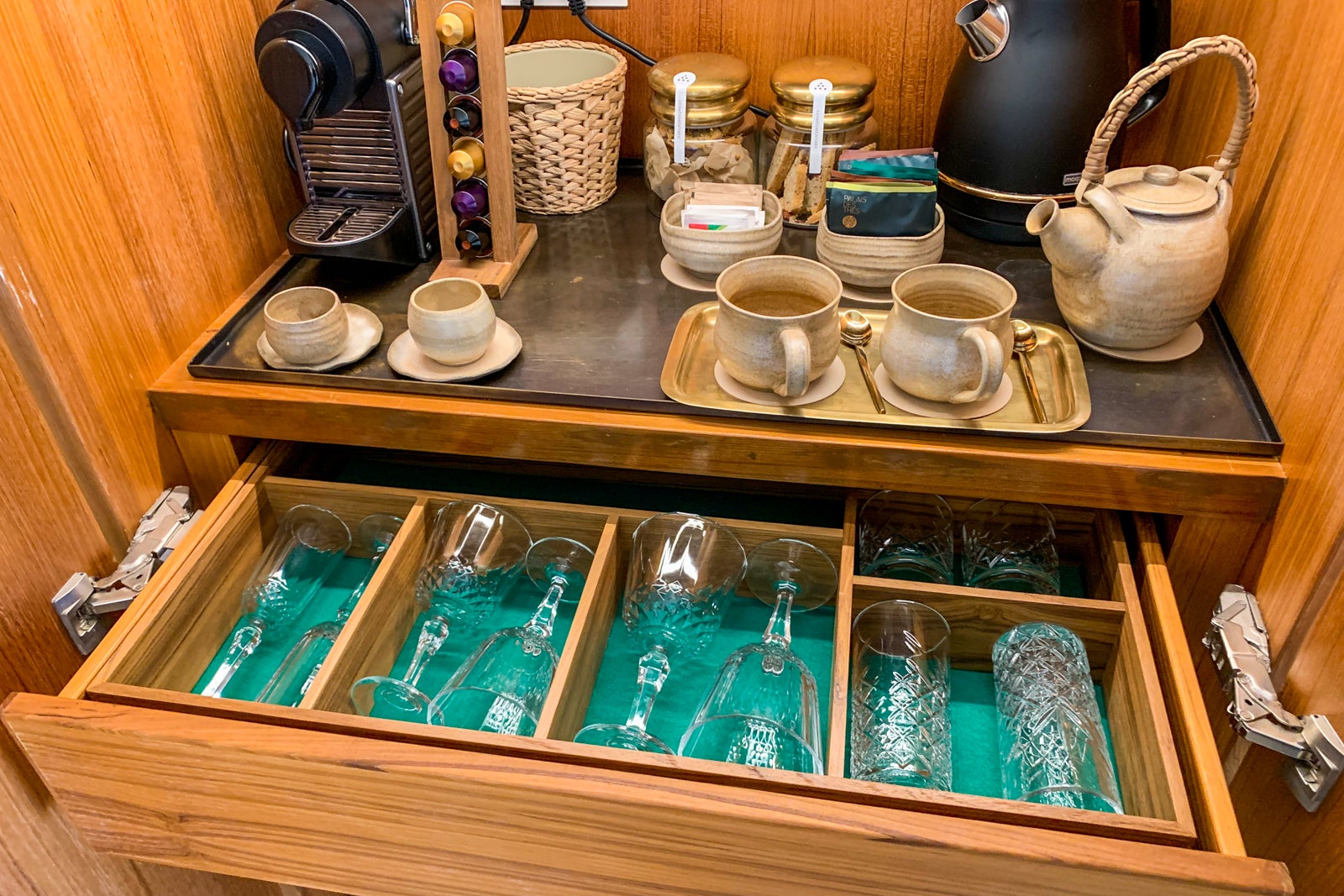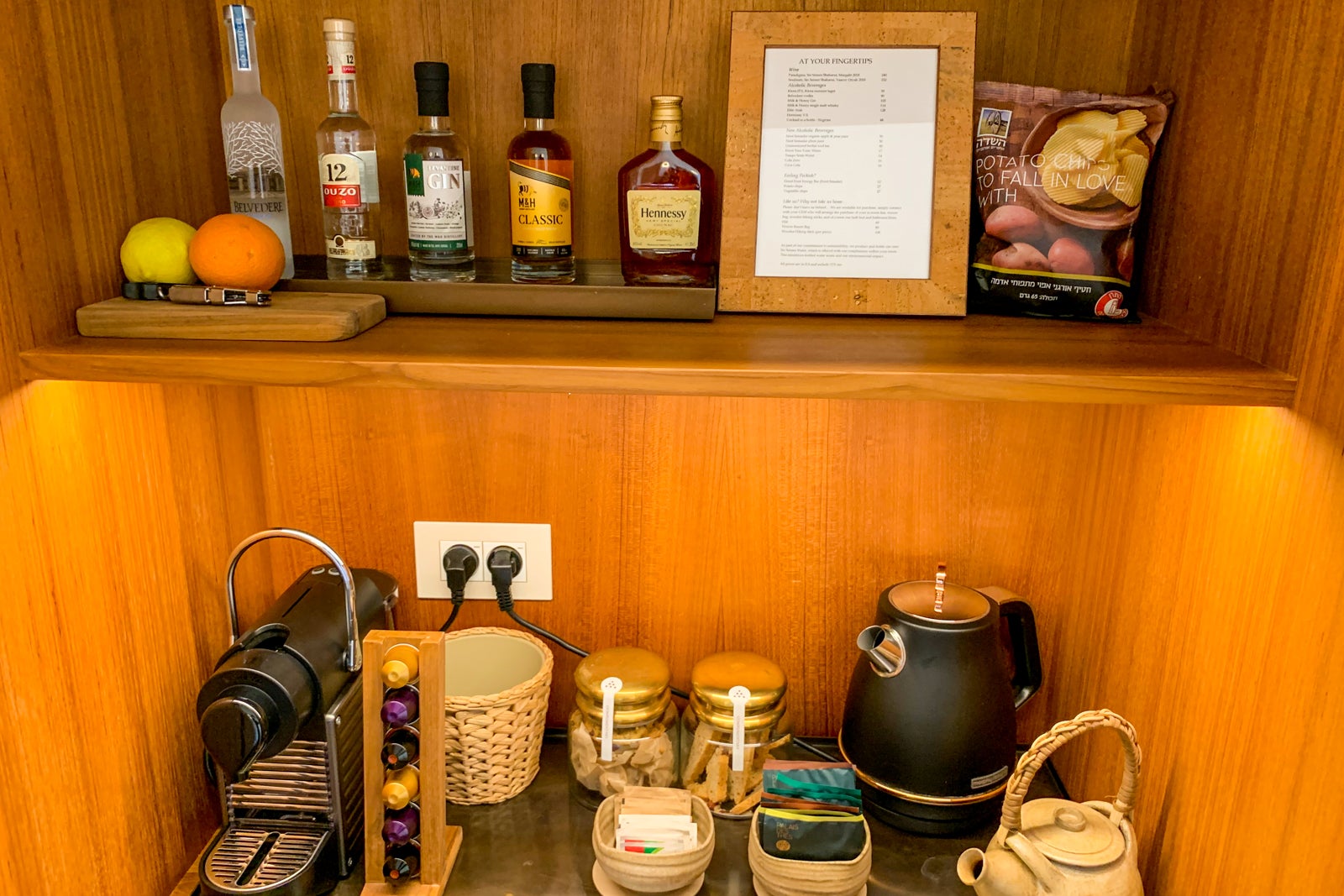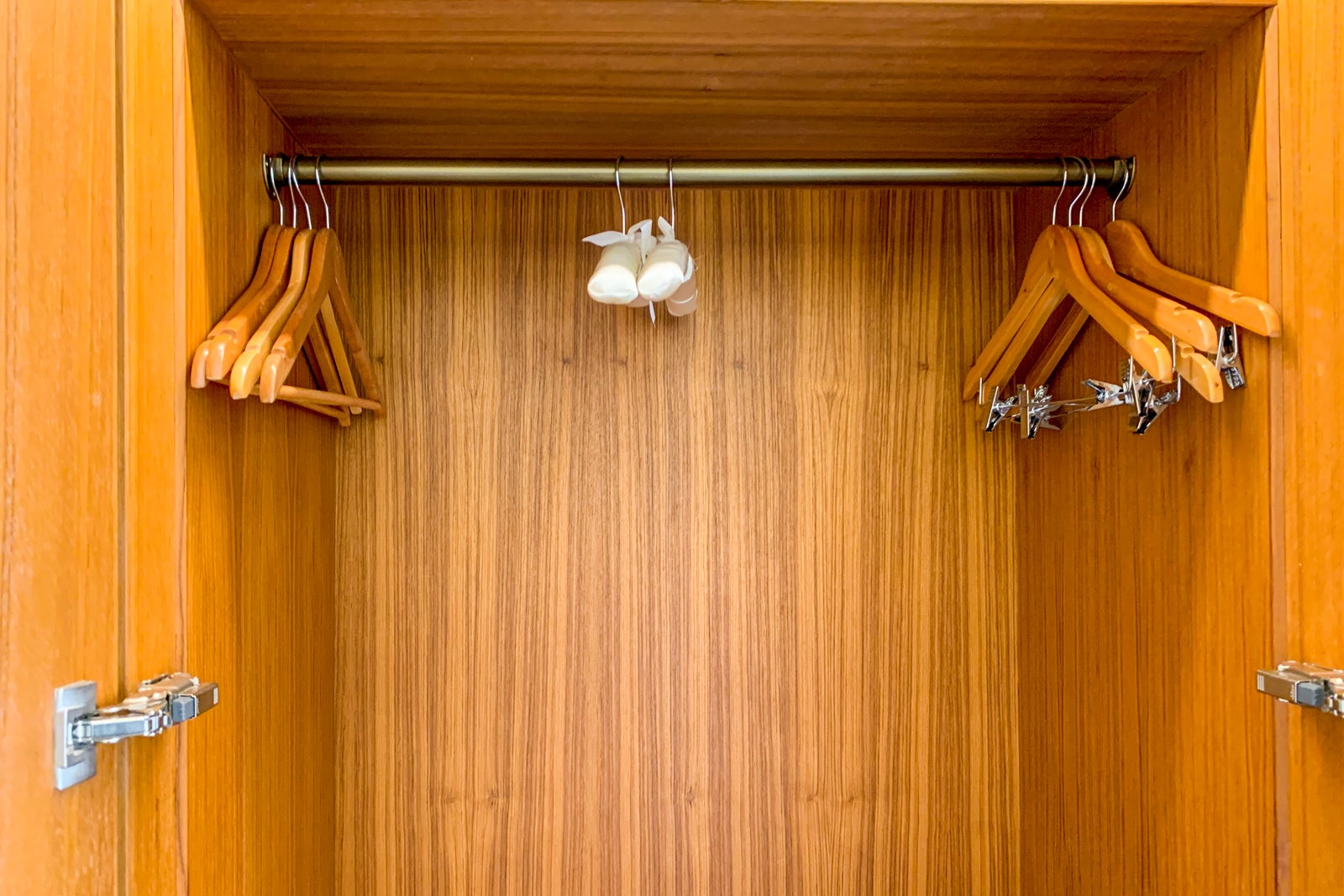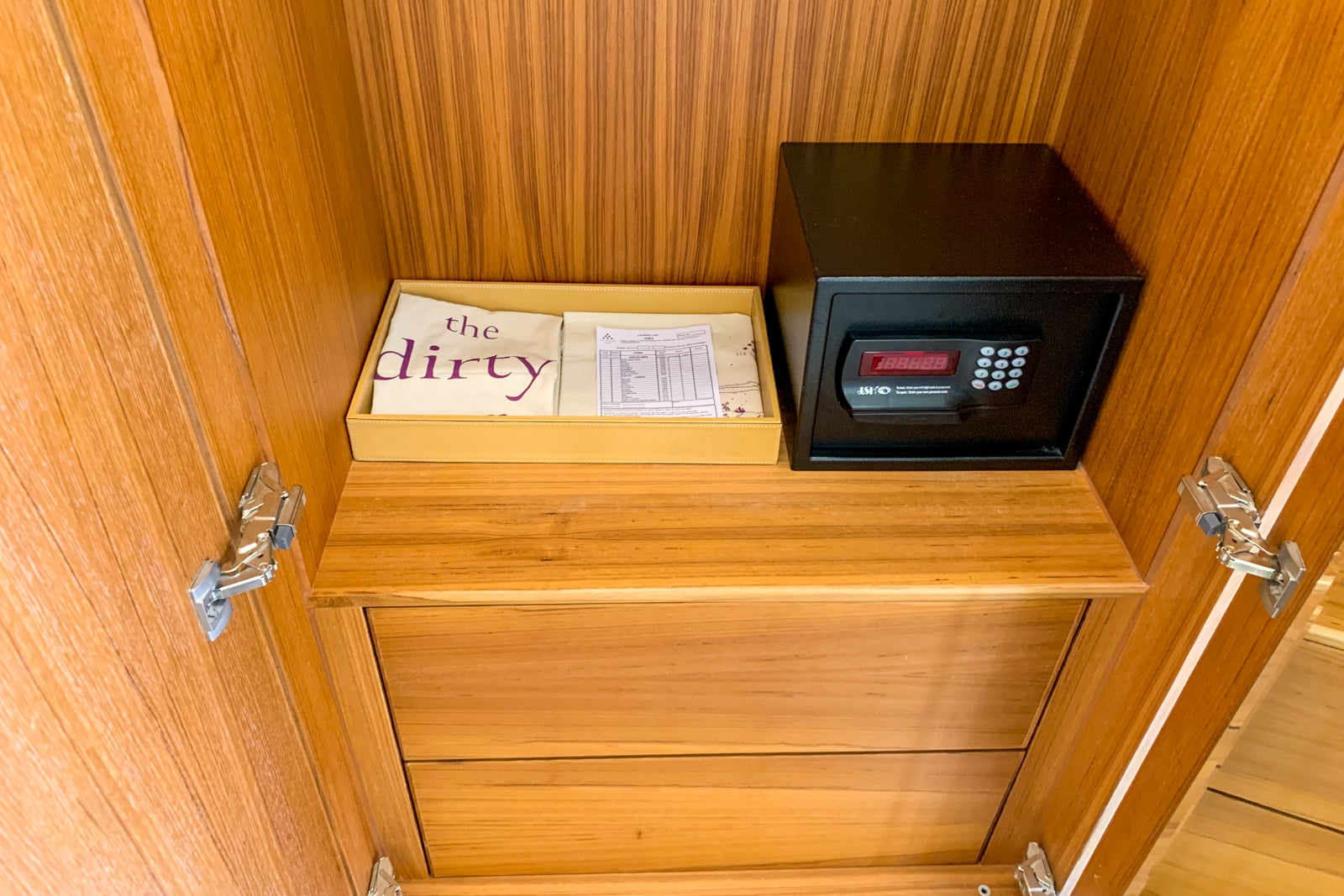 Additionally, there were complimentary chocolate chip cookies and free biscotti in jars at the bar. The cookies were good but more like something you'd get at a DoubleTree hotel, except that they came with a sprinkling of pistachio crumbs on top. Still, I ate them all by the end of my stay.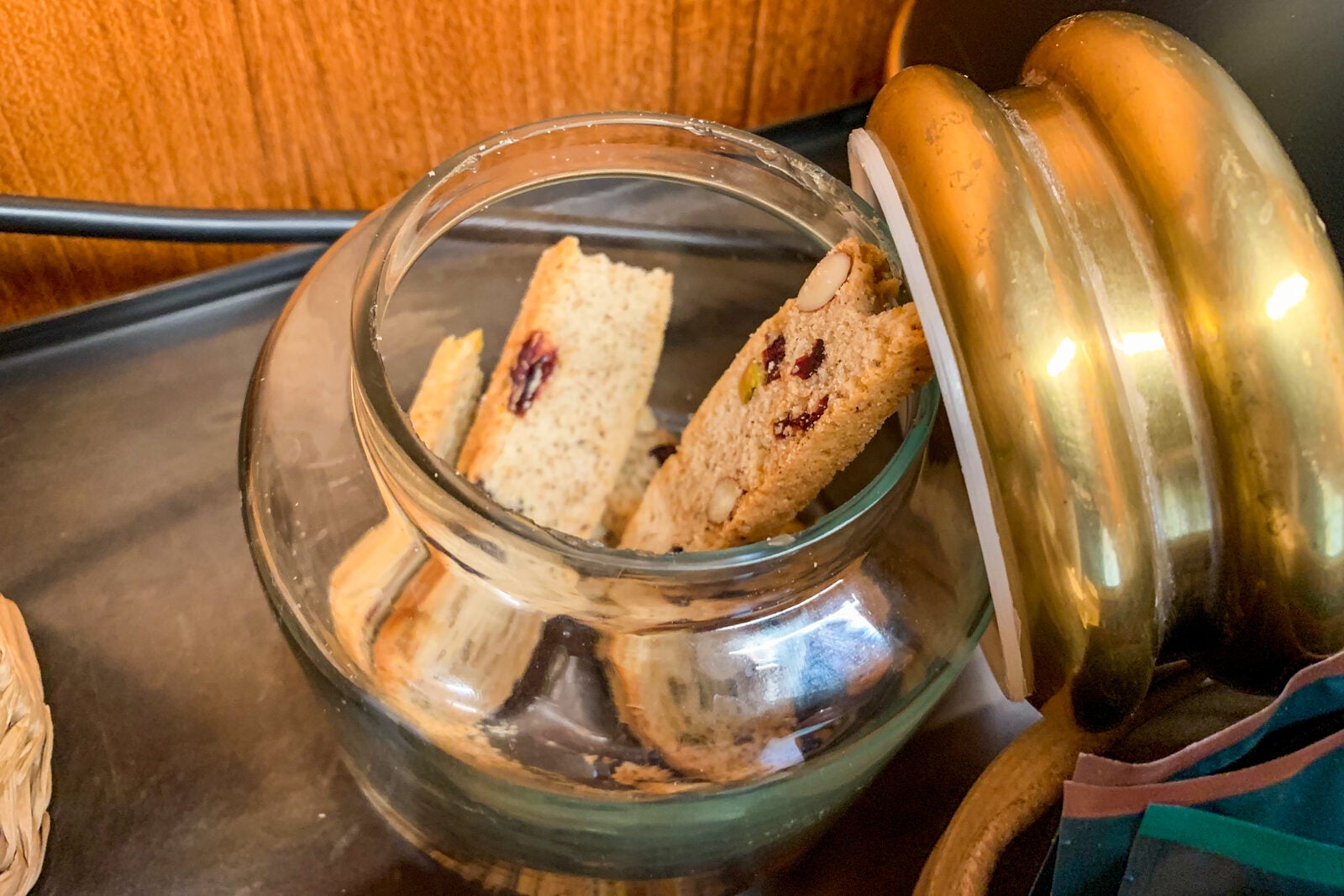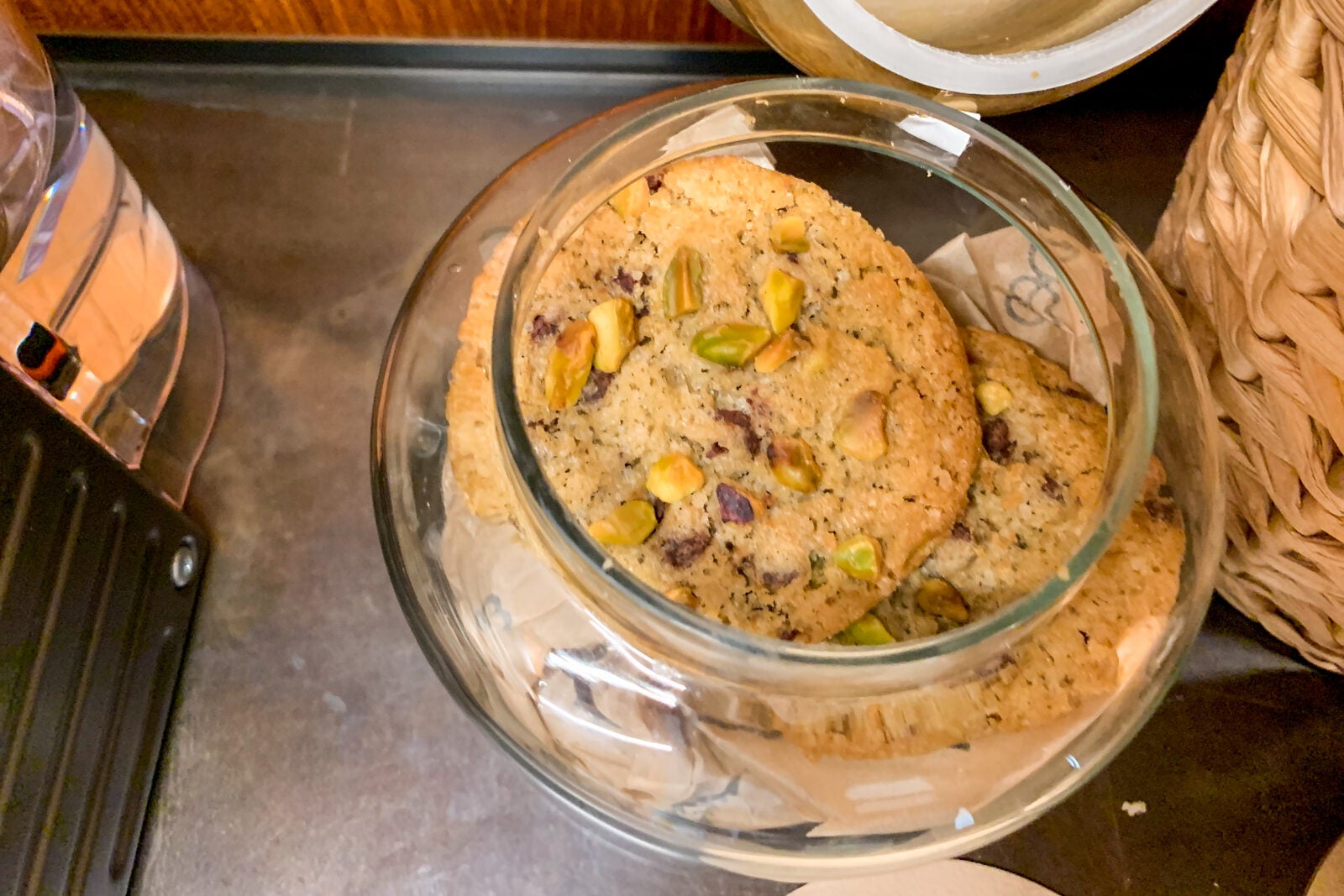 As for the bed, it was richly appointed with pure-white Hanse sheets and a duvet. Made in Germany, Six Senses said it chose the brand after extensive research. The mattress by Naturalmat was specially sourced, too, and made by hand in the English town of Devon, according to Six Senses. The pillows and duvet cover had a 233 thread count, and I found the bed to be very comfortable.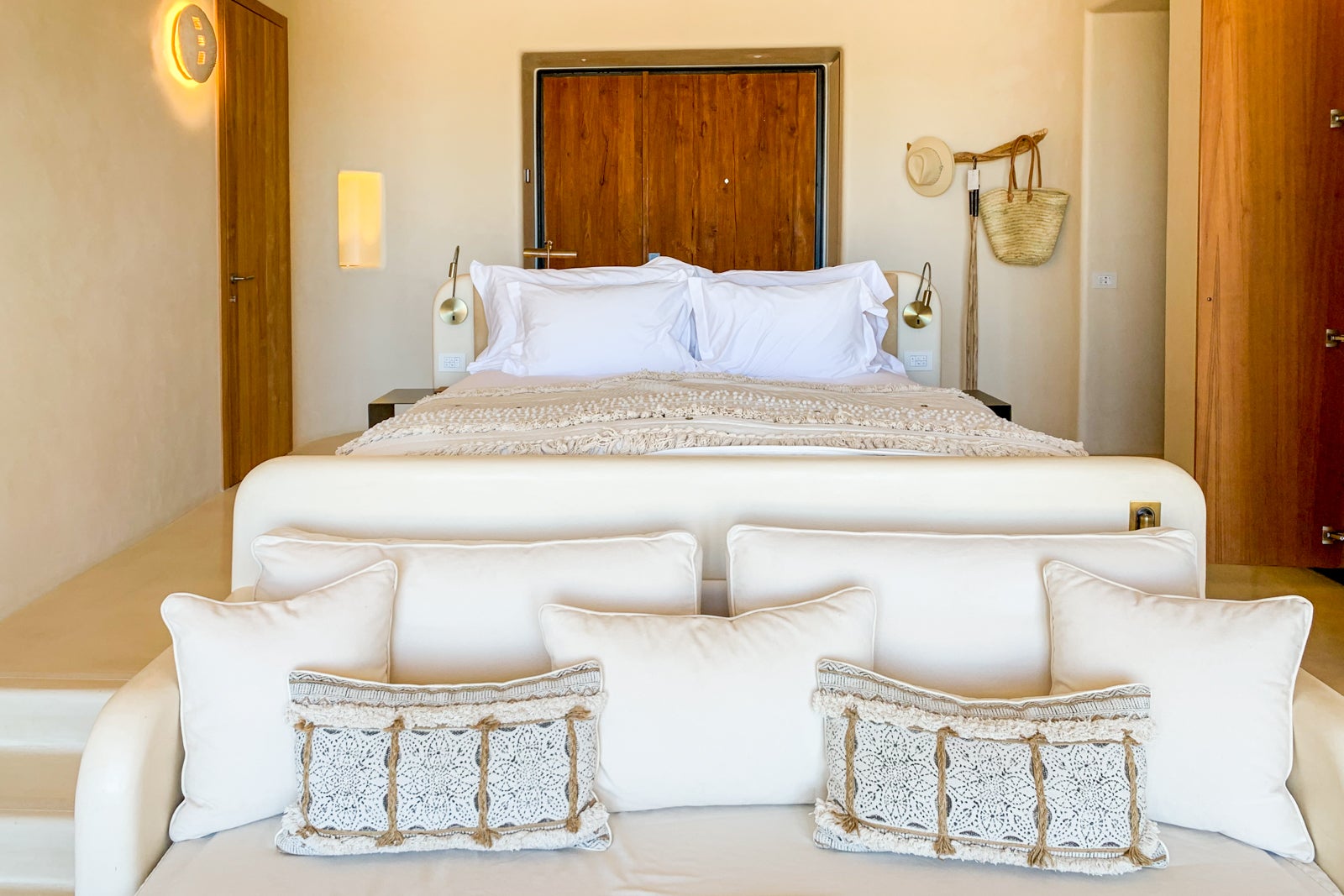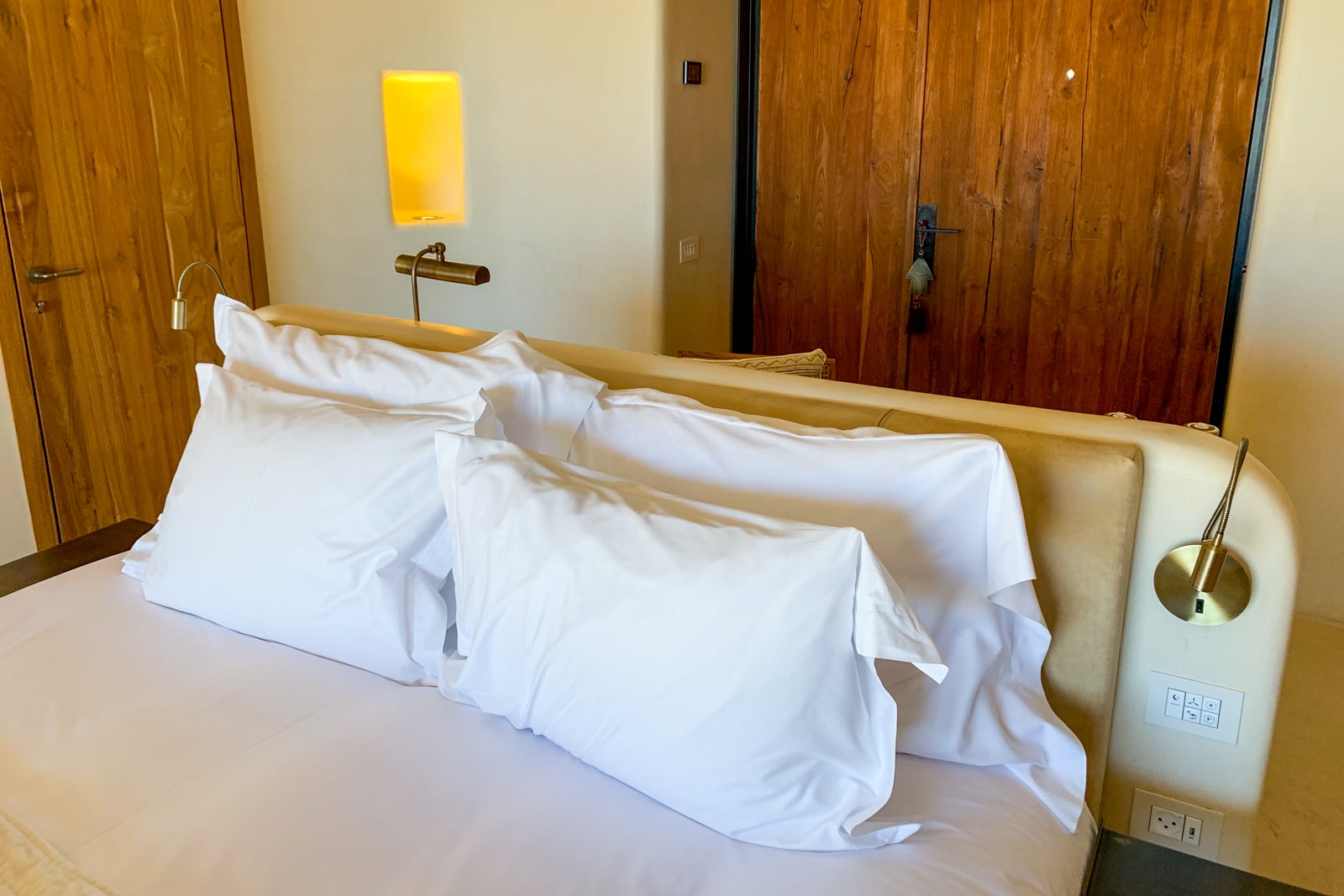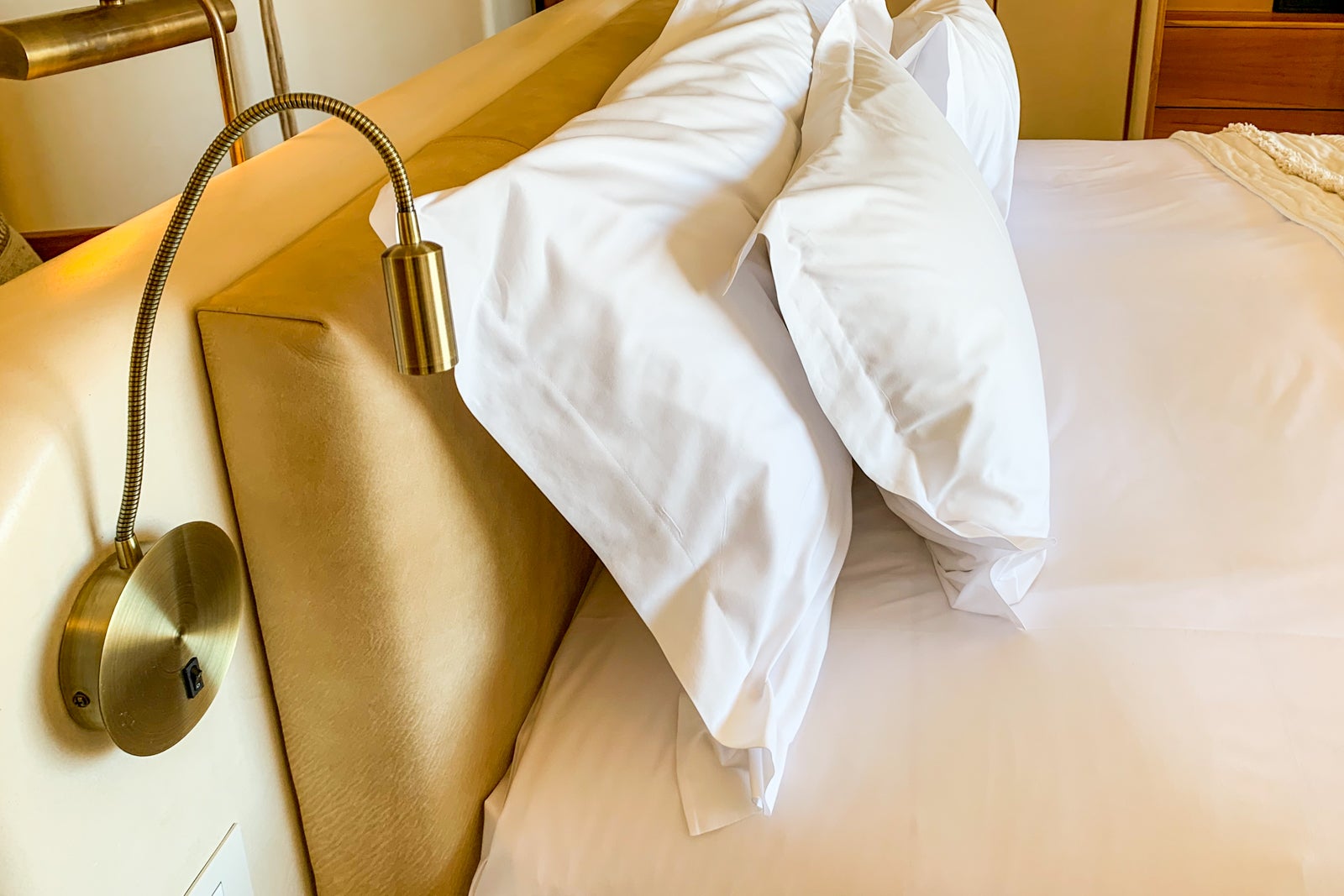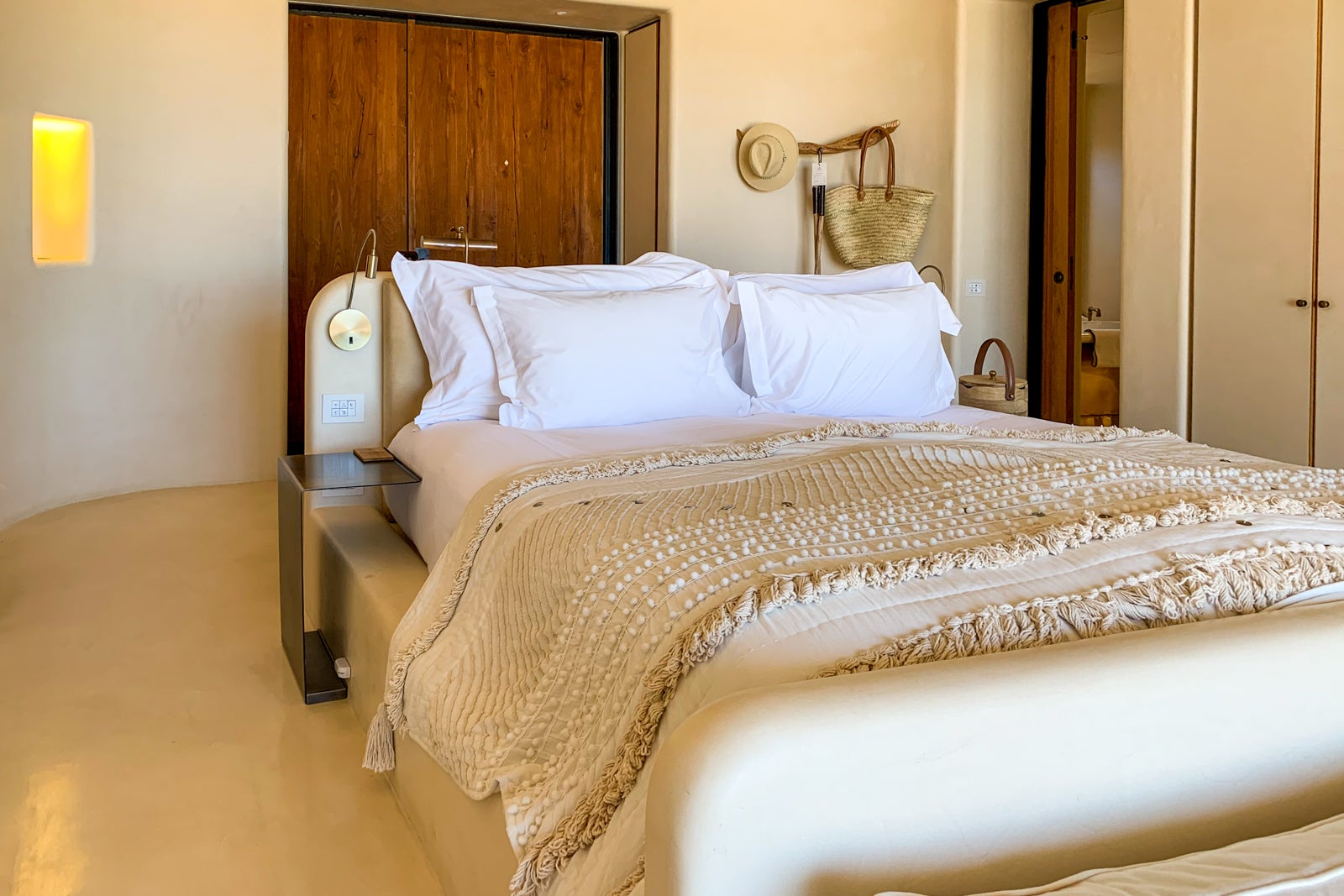 There were USB outlets on both sides of the bed. Only Israeli-shaped outlets were available beyond this area, though, so be sure to bring an adapter if you want to use the many other outlets in the room.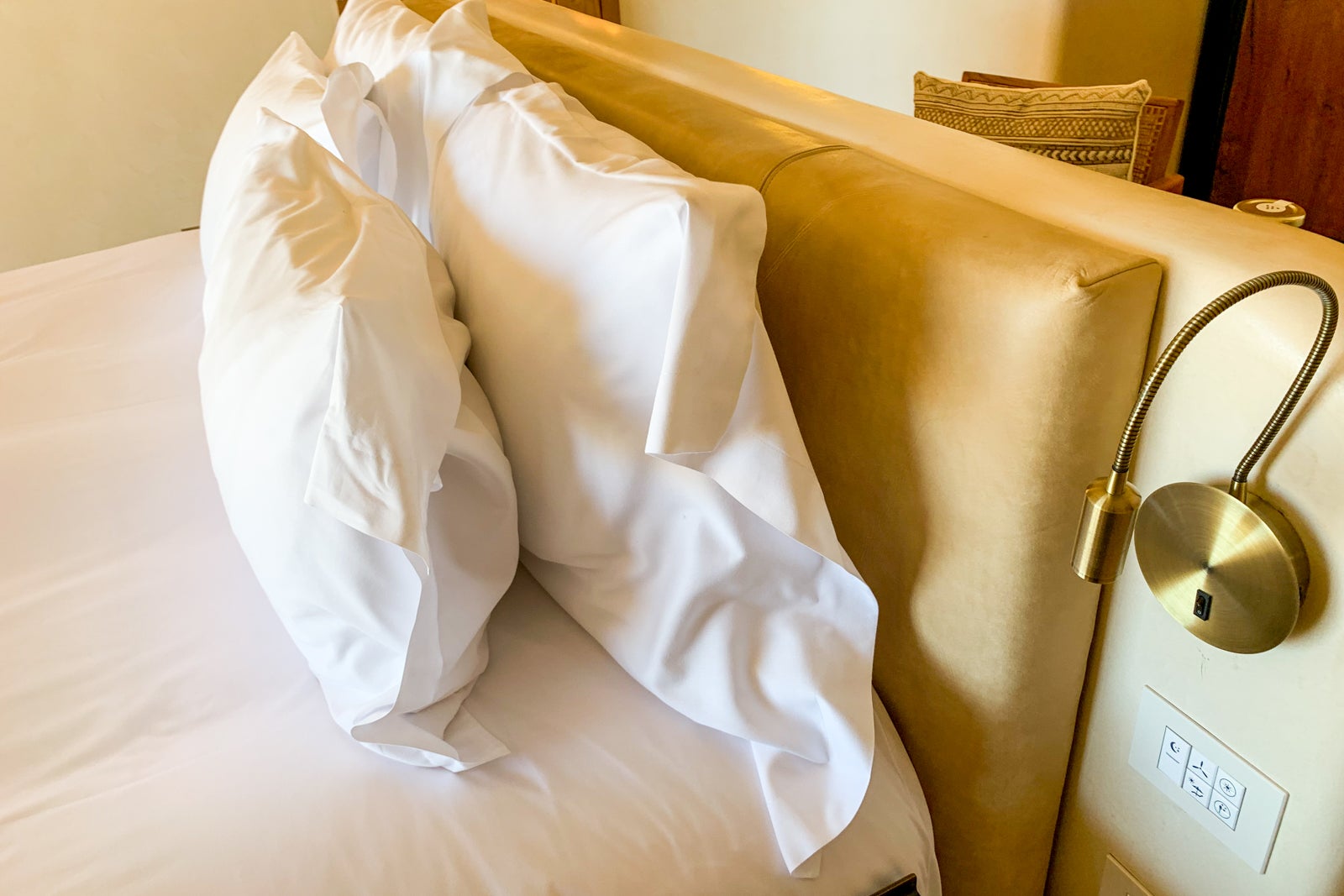 Just past the bed on a third, lower level was a seating area. It comprised a comfortable sofa and a coffee table with a few magazines and a tray. There was also a flat-panel smart TV that you could hide with an automated curtain.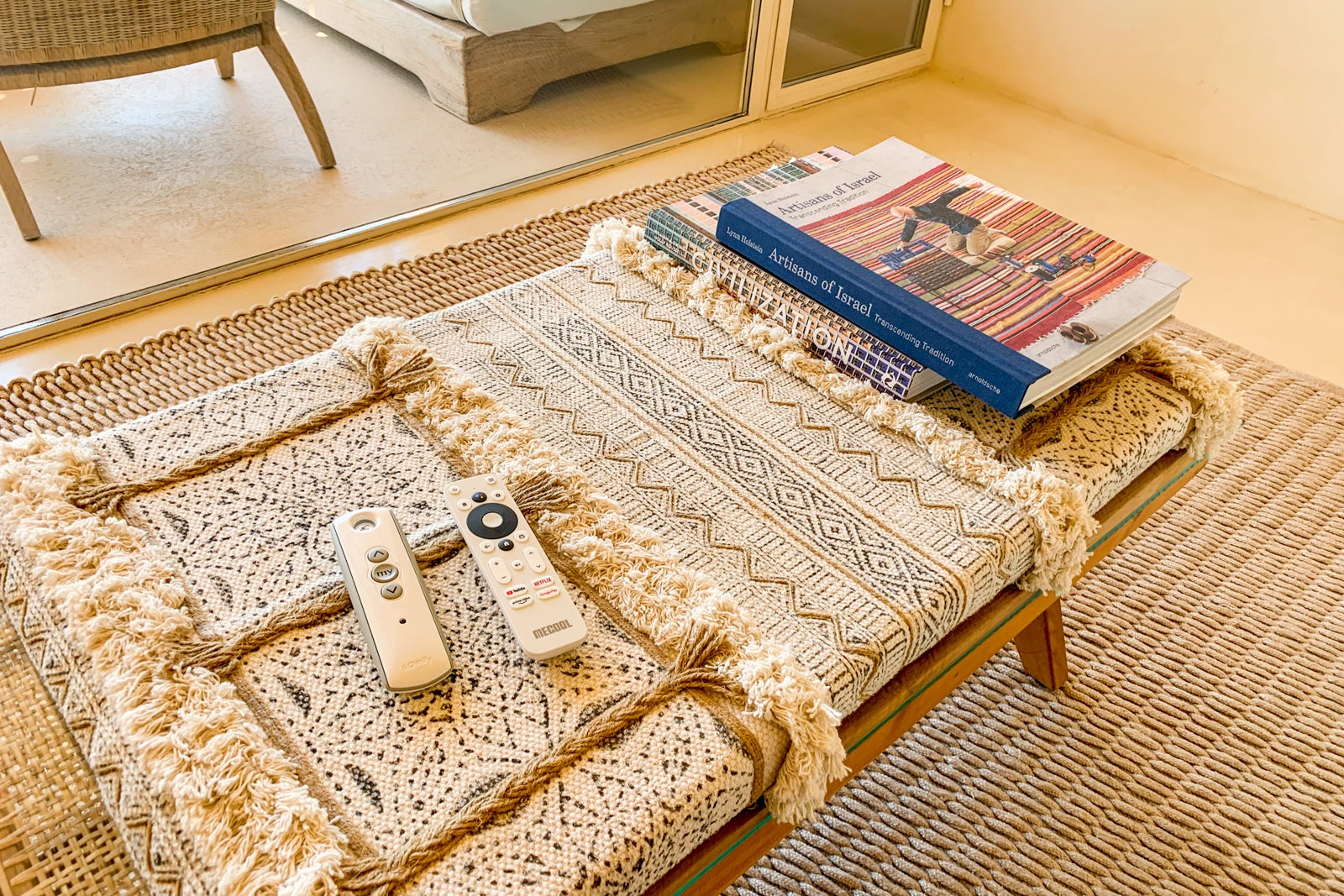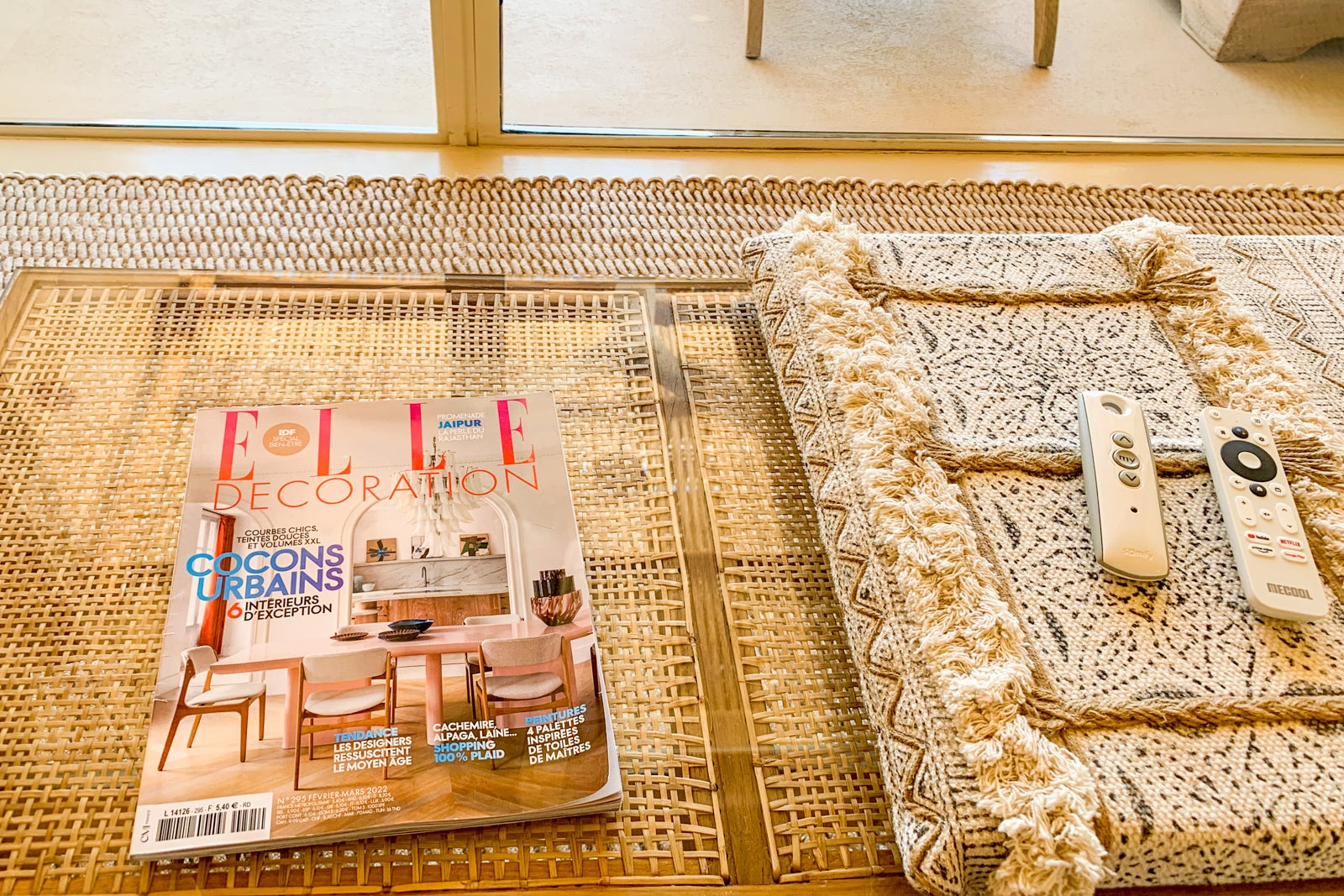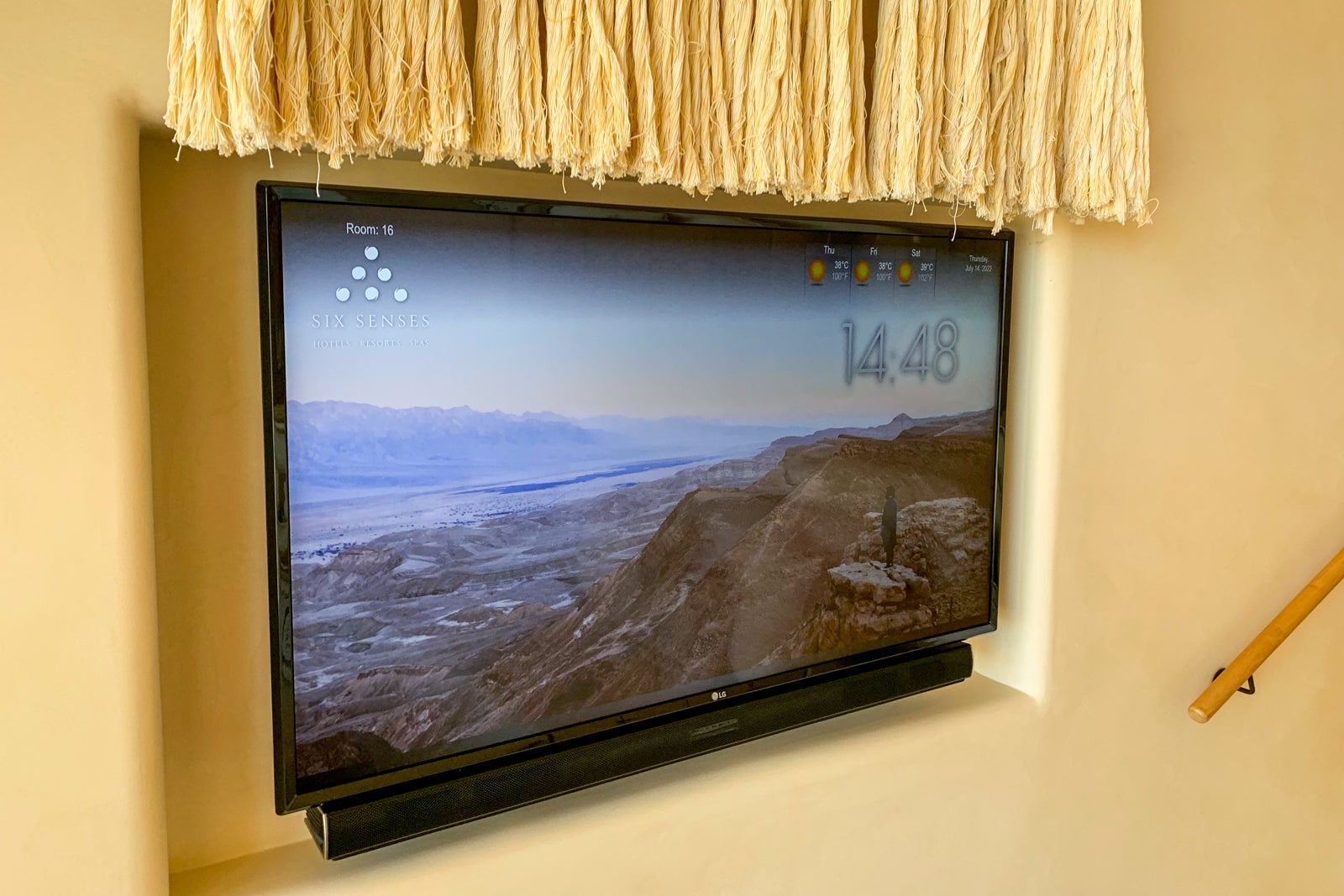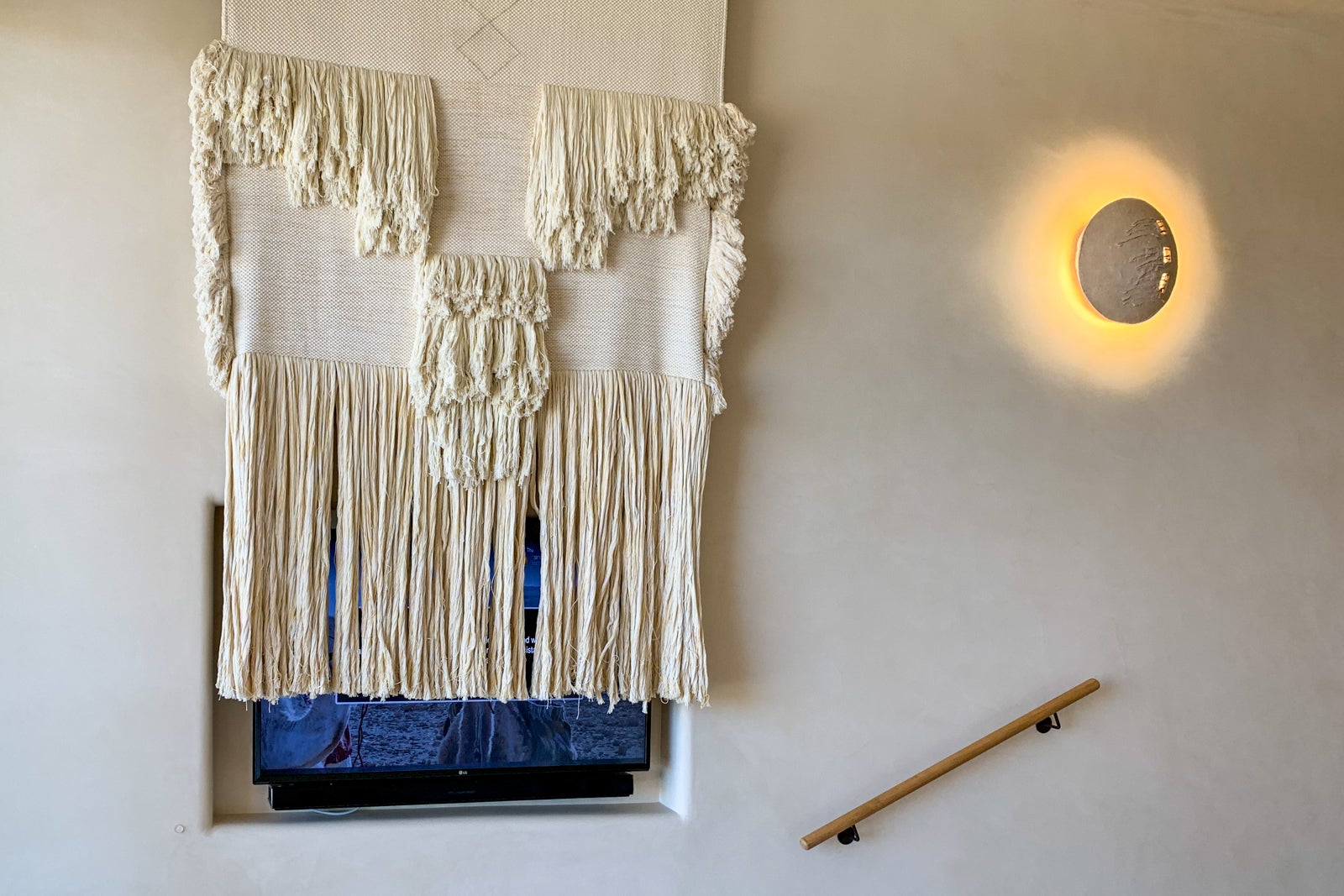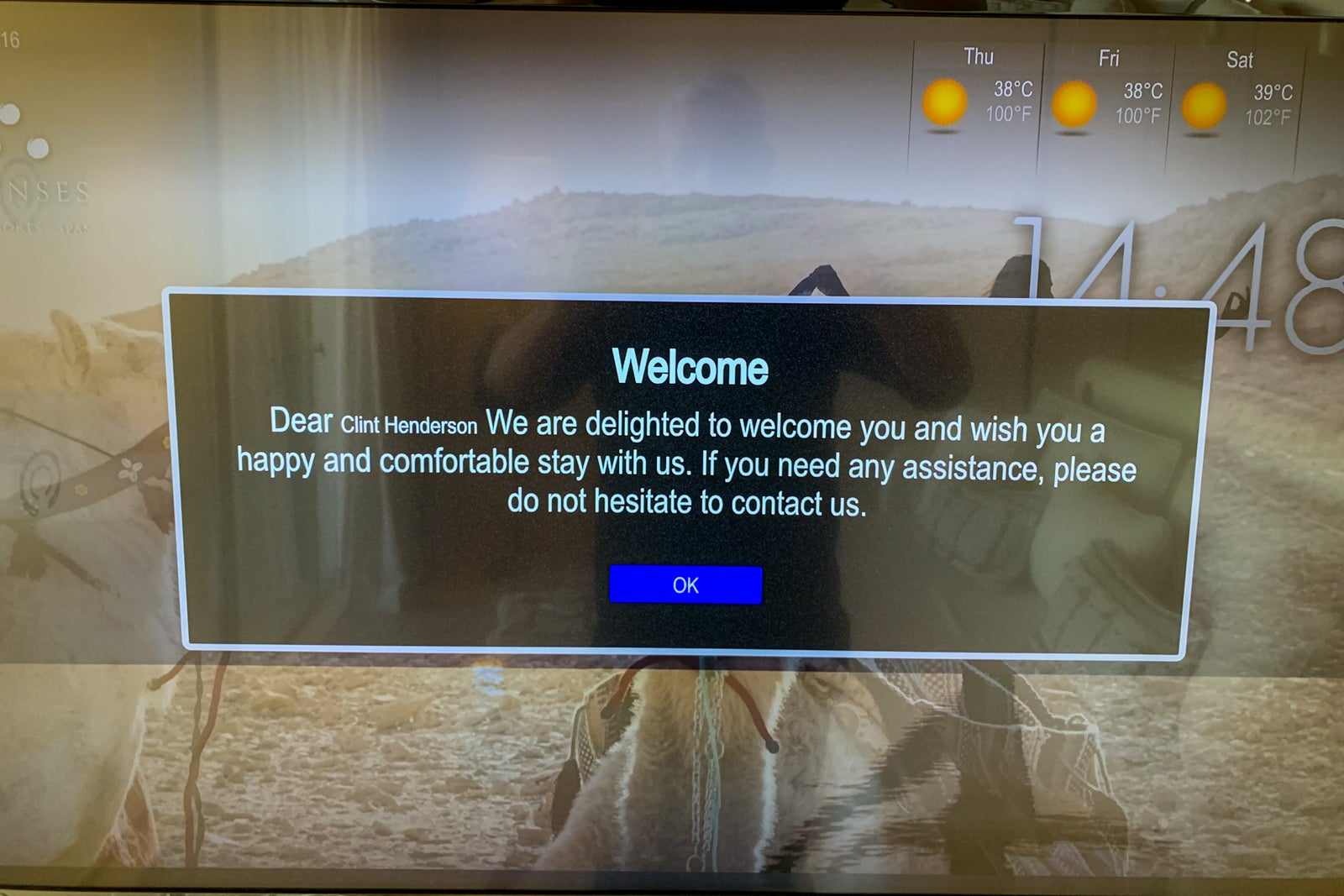 Had I been traveling with others, I could've requested the sofa be made into a bed. Know, though, that there are guest age restrictions, so you won't be able to use the sofa for little ones. Only children 12 and older are welcome to stay at the resort.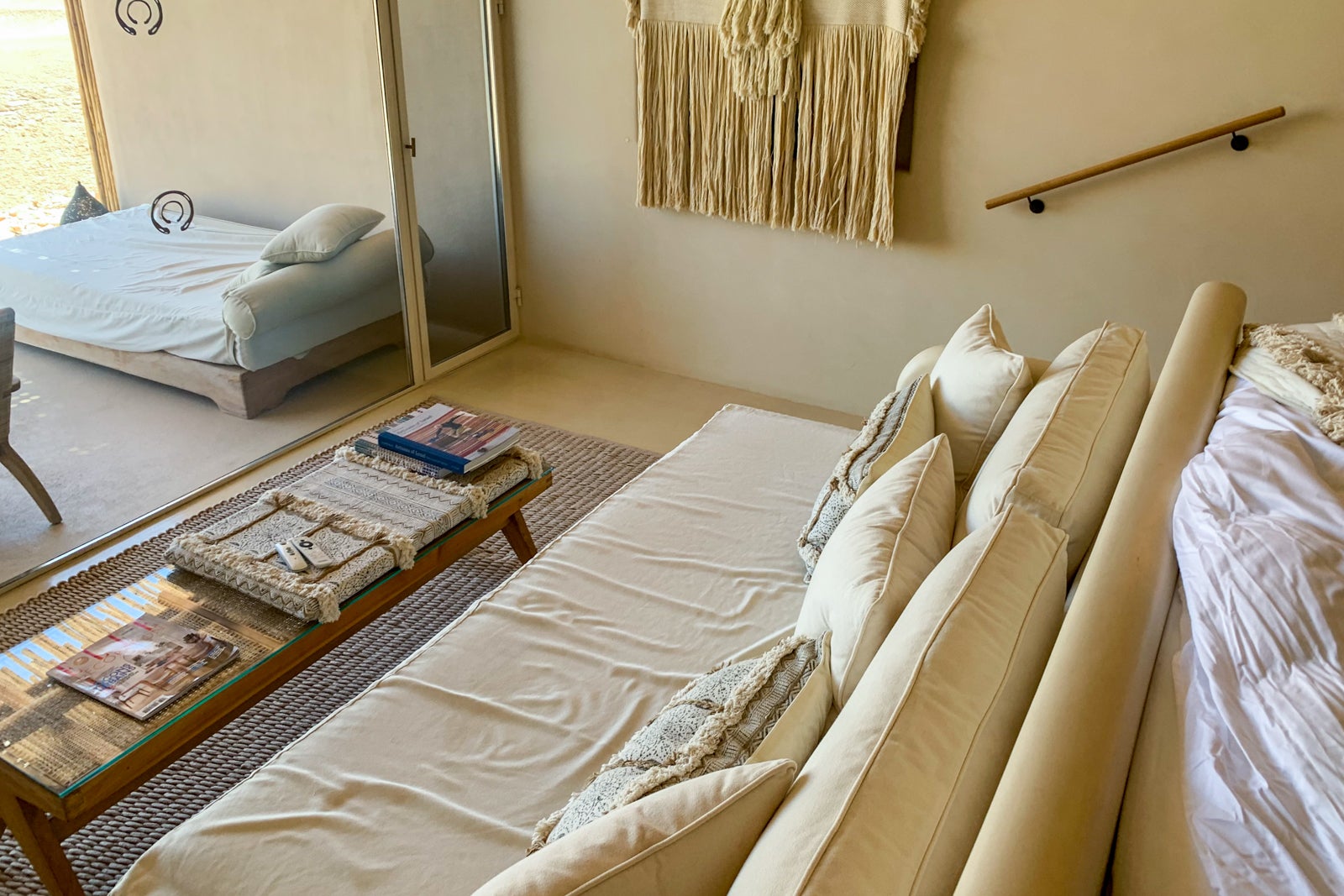 Although my room wasn't enormous, I loved it, especially the terrace. Its sweeping Negev Desert views were truly a highlight of my visit, and its covered design helped keep the room cool despite the property's location. I also appreciated that even with the air conditioning running, it was pin-drop quiet in the room.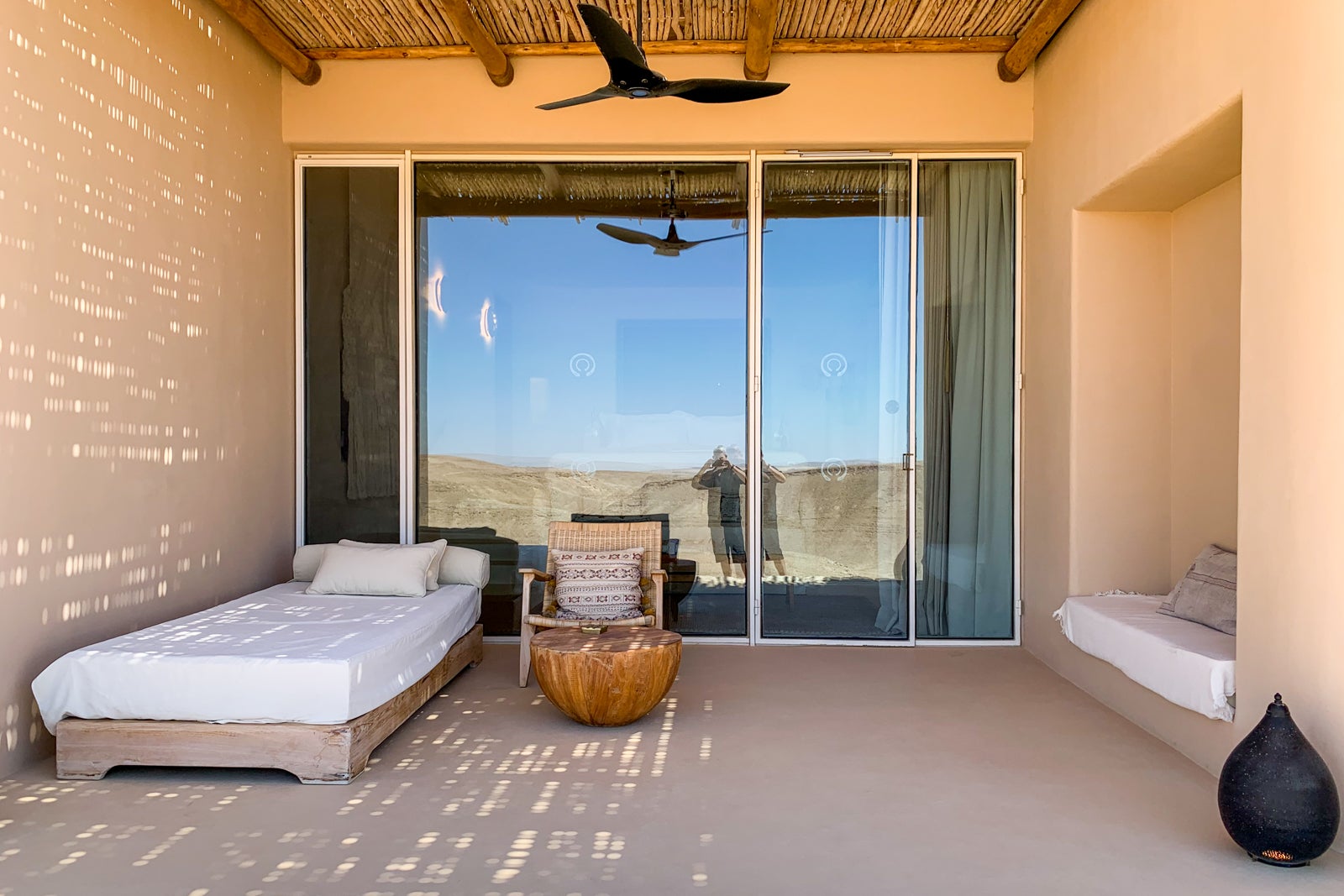 The internet was also great, so you could easily take a Zoom call or stream TV shows or movies. I had no problem connecting to fast Wi-Fi no matter where I was on the sprawling property.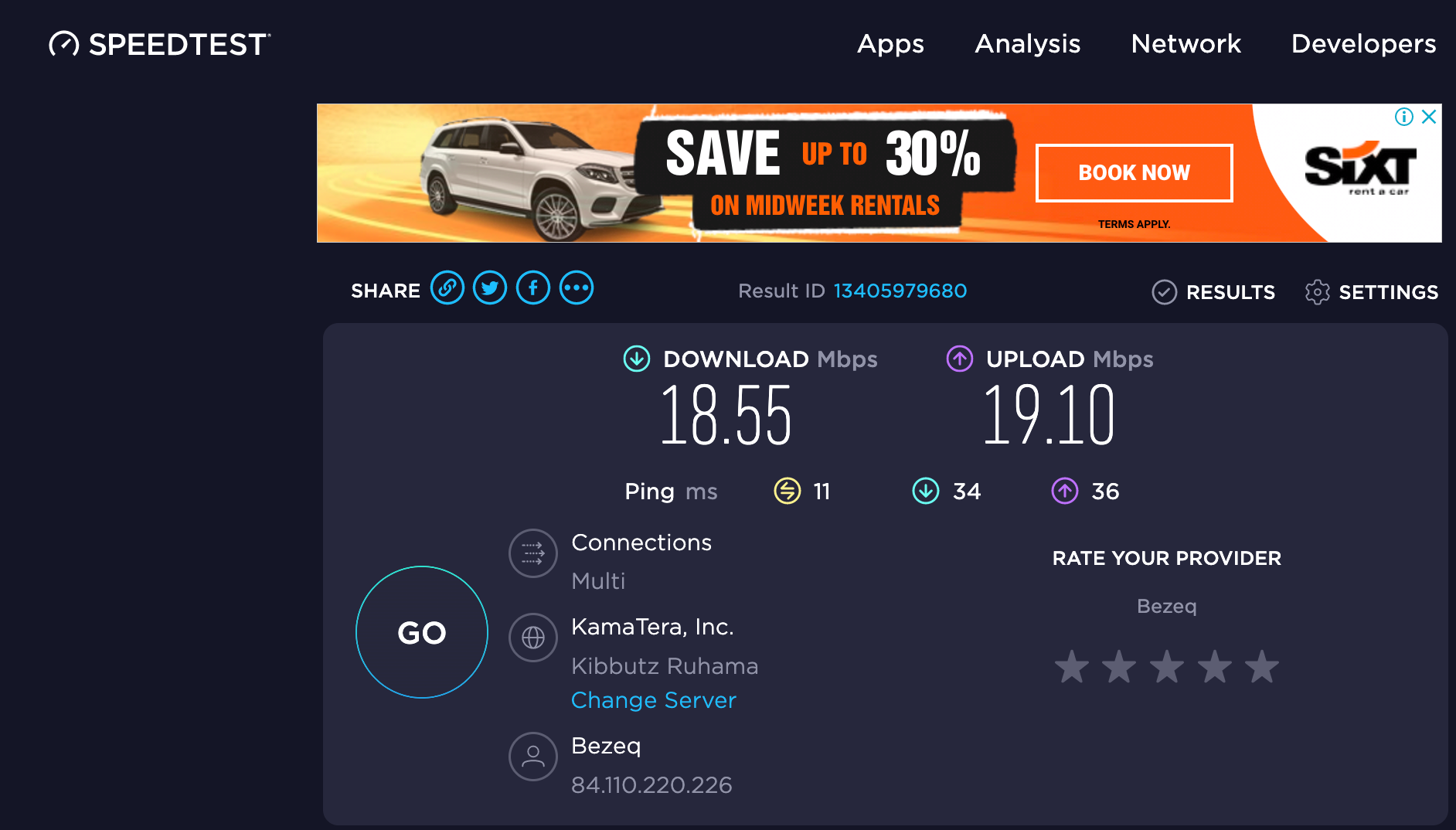 Food and beverage
During my first night, I ate dinner at the resort's casual restaurant and bar, Jamillah, just as the sun went down.
I loved the decorations inside the restaurant, particularly by the bar, which sat next to a DJ stand with traditional vinyl records on display.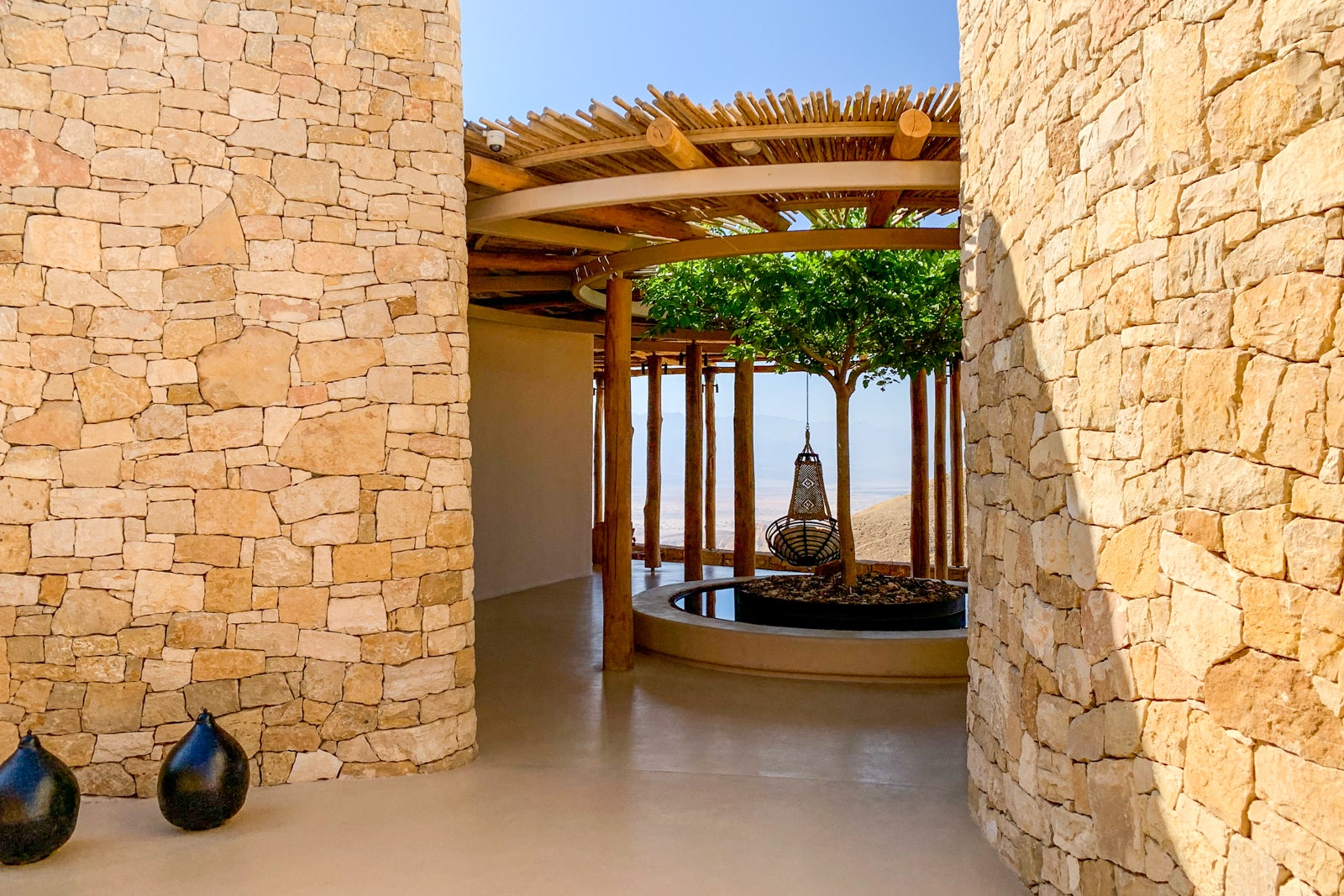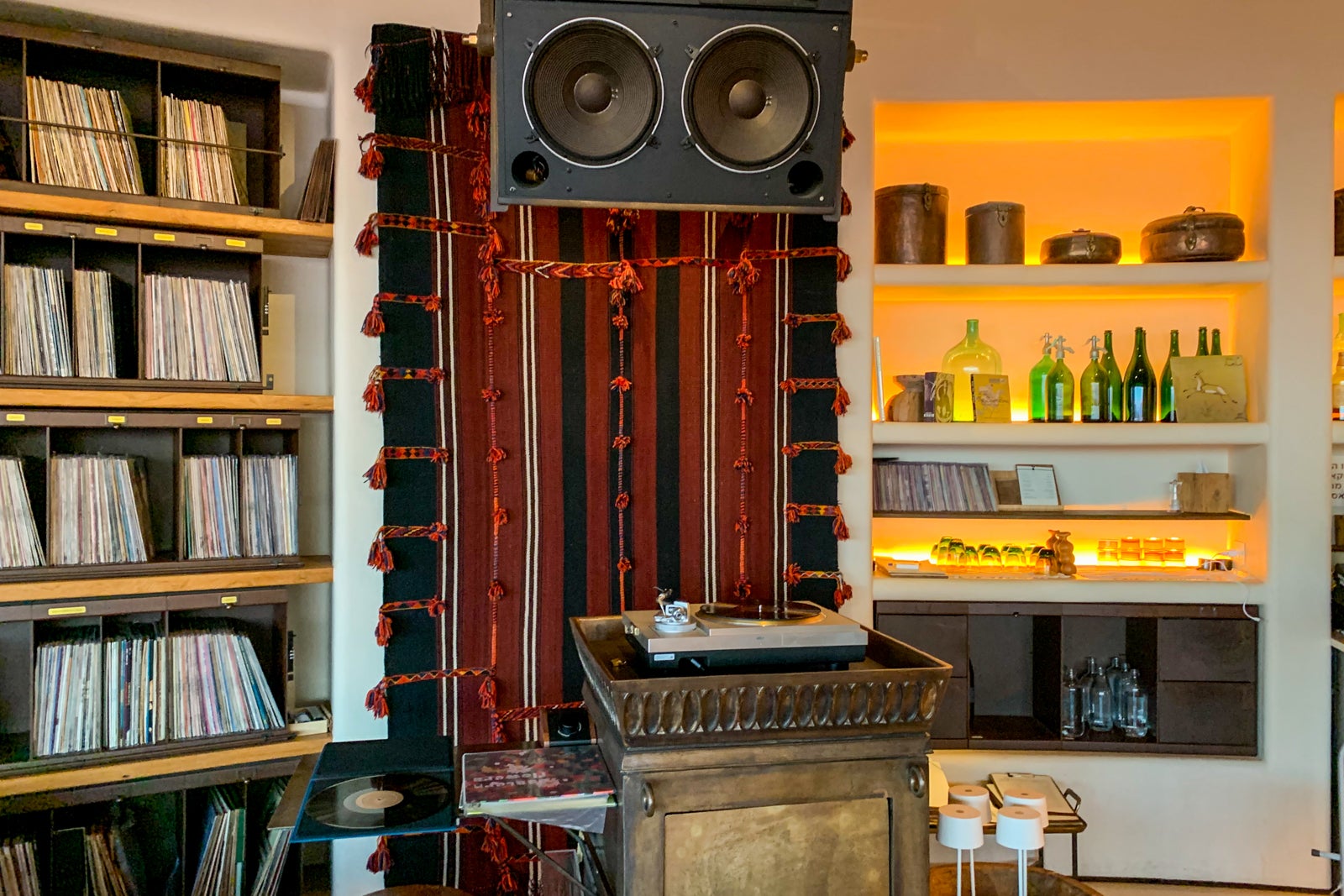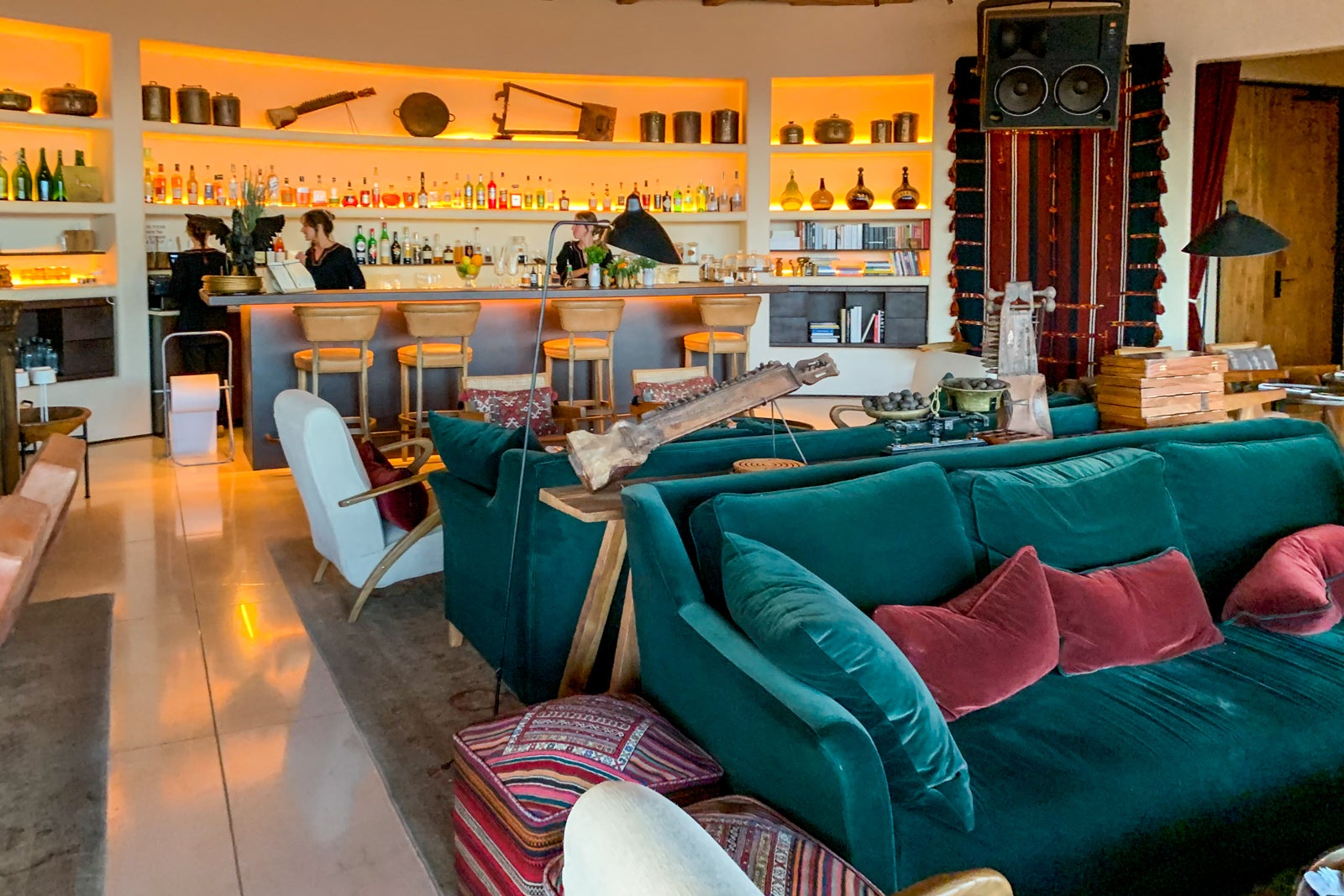 To start my meal, I ordered a traditional tomato gazpacho ($13), which I enjoyed alongside some of the most delicious seeded bread I've had in a long while. I then tried a burger made with locally reared beef ($42). It had a full, lean texture and was cooked perfectly. I skipped the horseradish aioli that came with it and asked for a green salad instead of the fries typically served with the burger, in part because the Six Senses brand prides itself on "providing only local, fresh and seasonal produce." The large mix of greens (which had a light, tangy dressing) did not disappoint.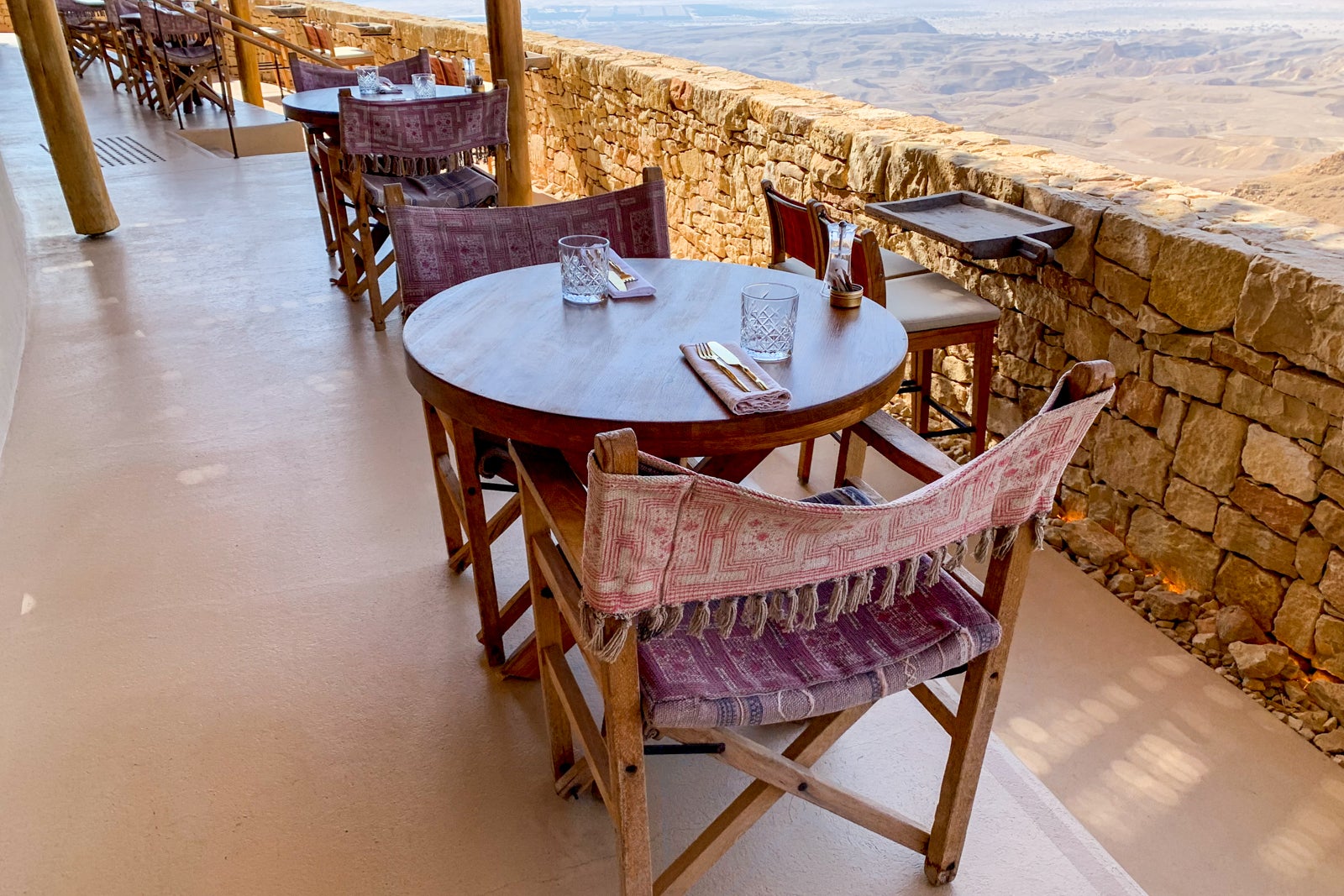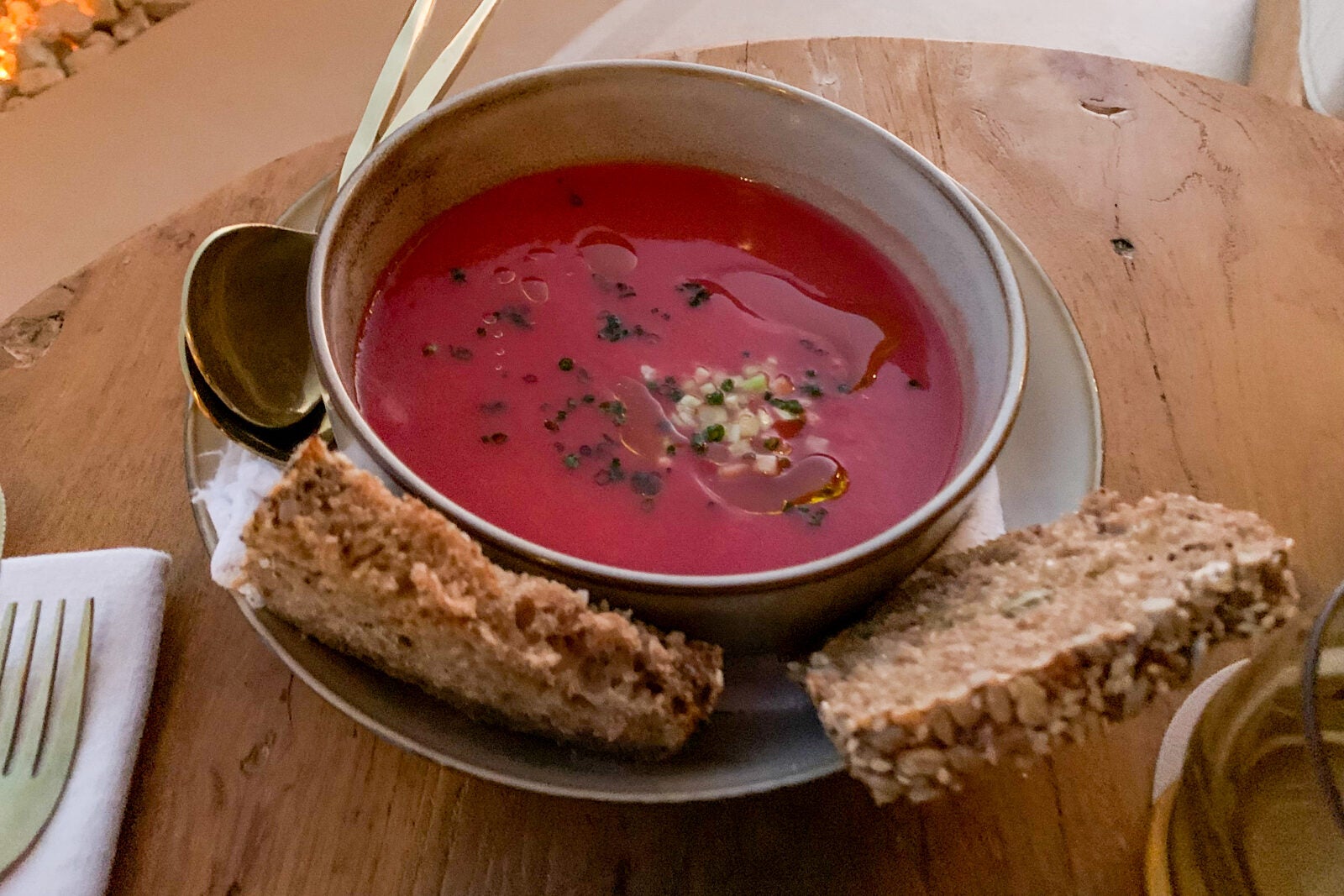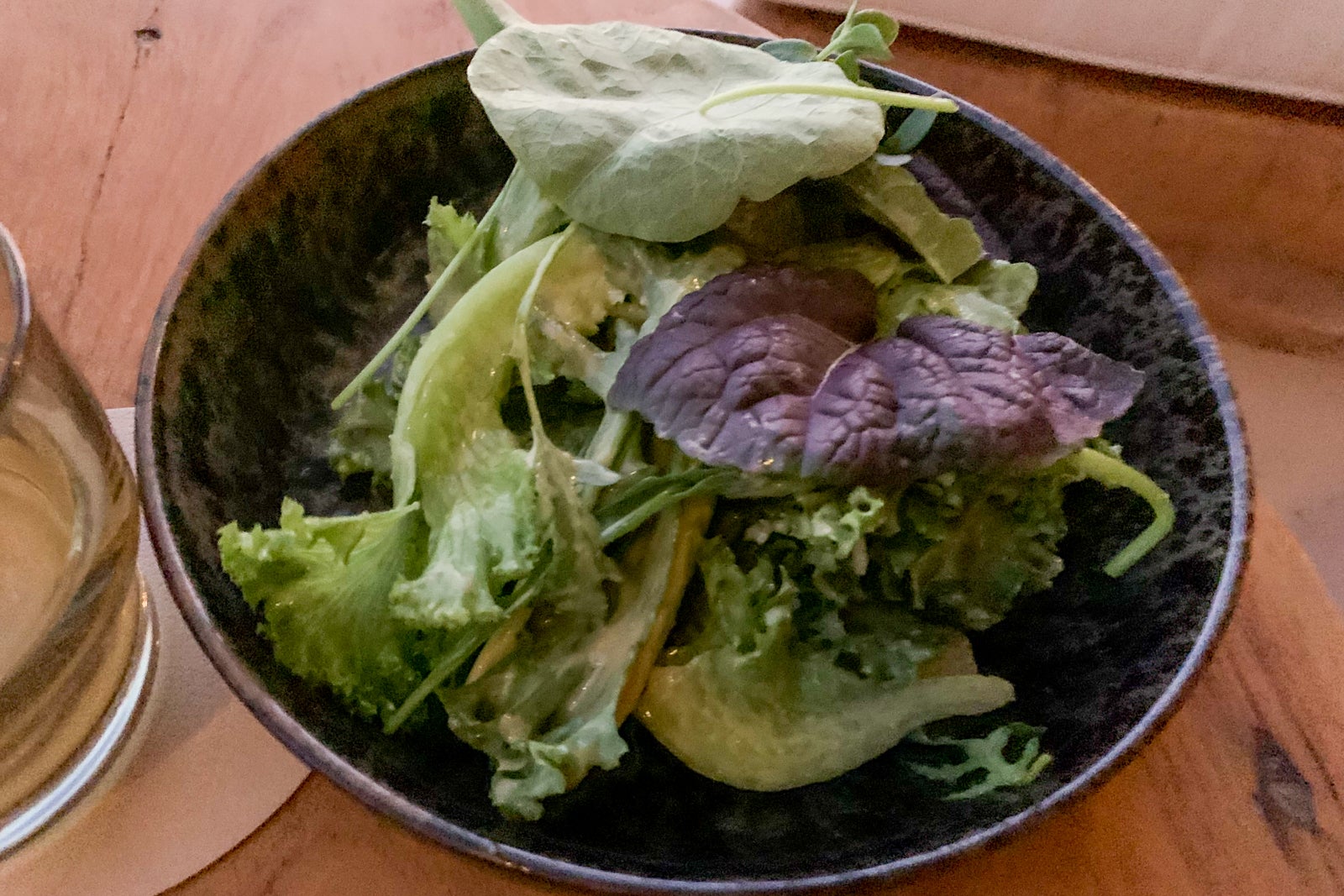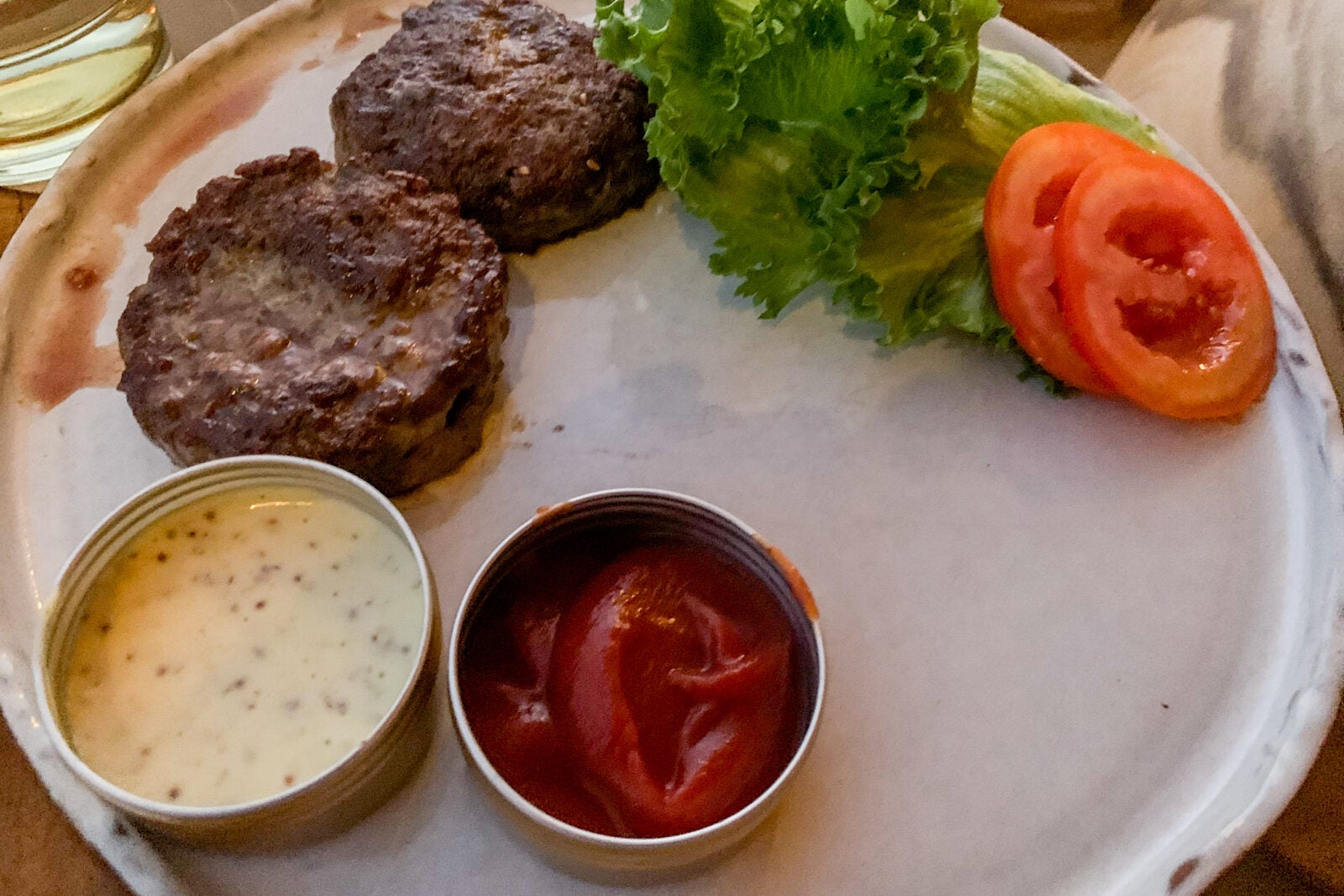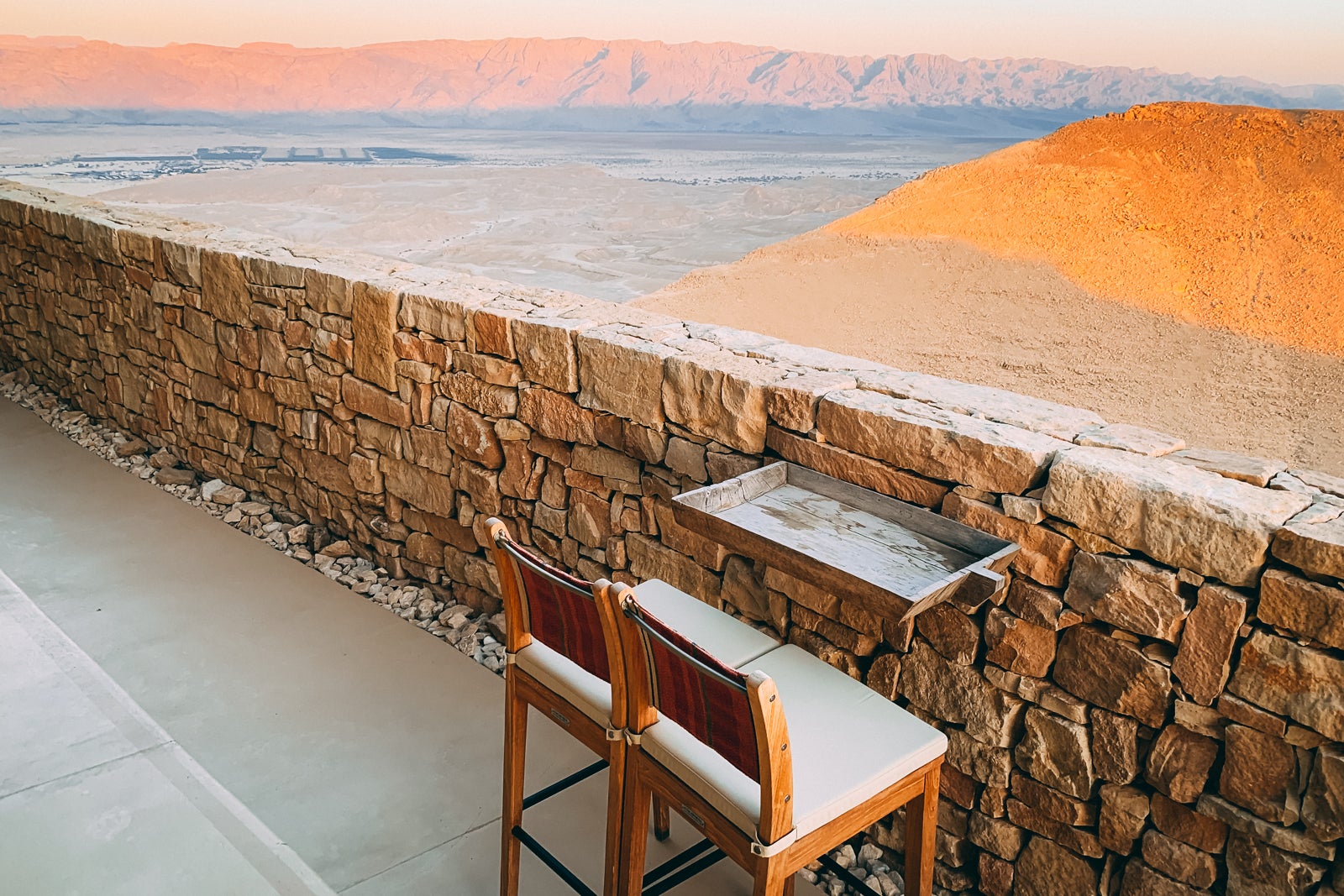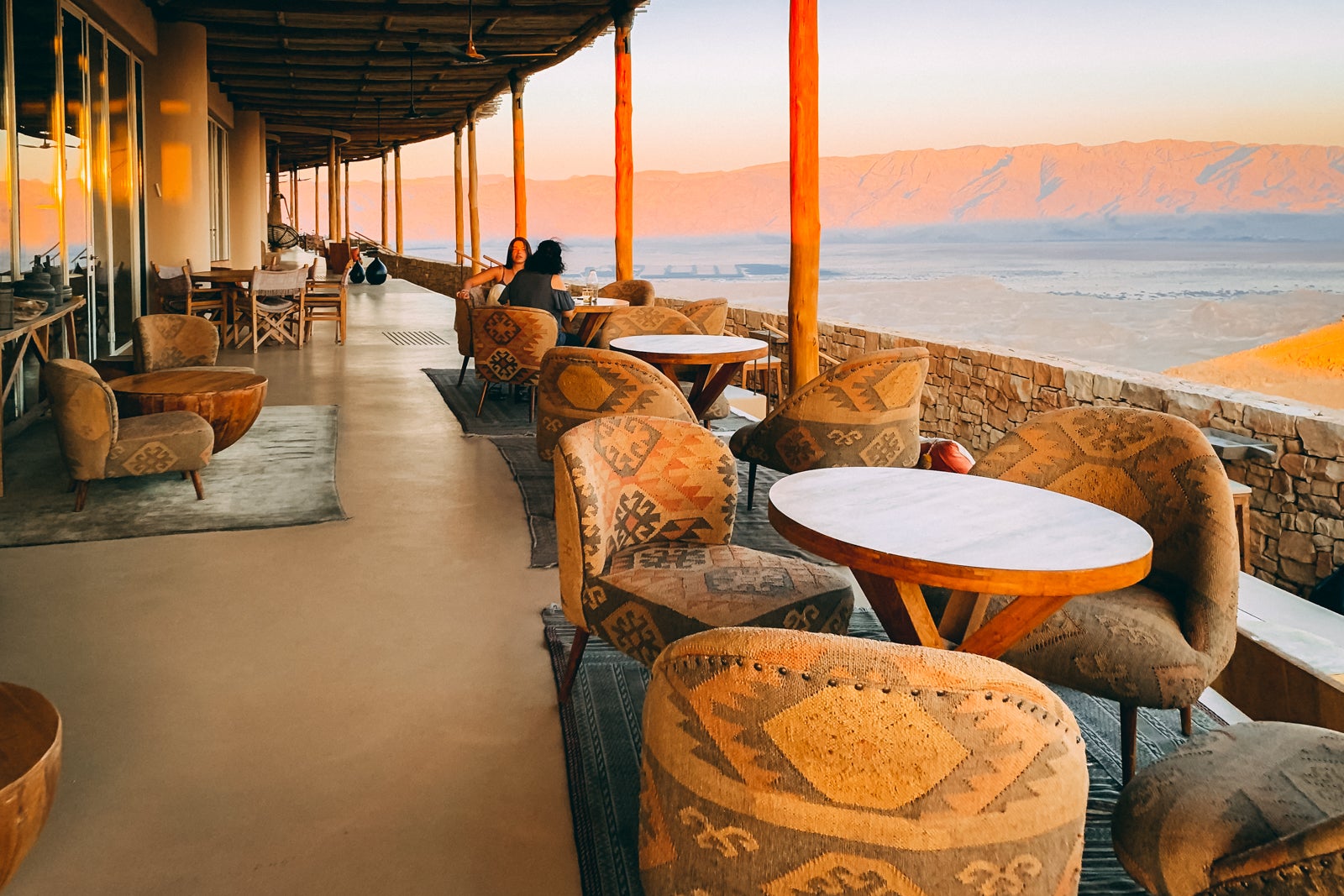 For breakfast, which nightly room rates cover, I visited the stunning Midian restaurant next door to Jamillah. I overheard one of the employees saying it was considered one of the best breakfast spreads in all of southern Israel and Jordan, so I immediately found myself with high expectations for the meal. Luckily, it was indeed as impressive as I had heard.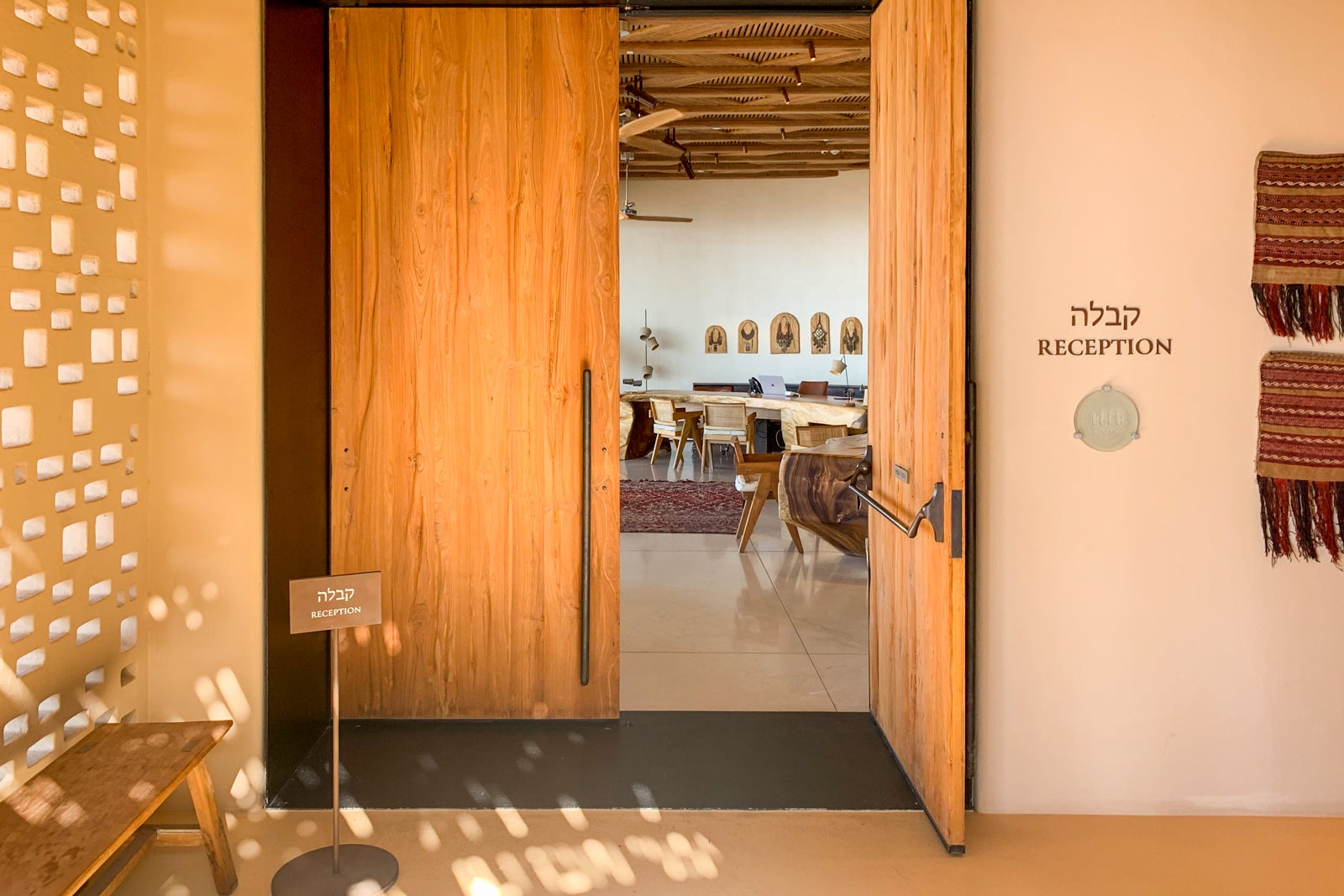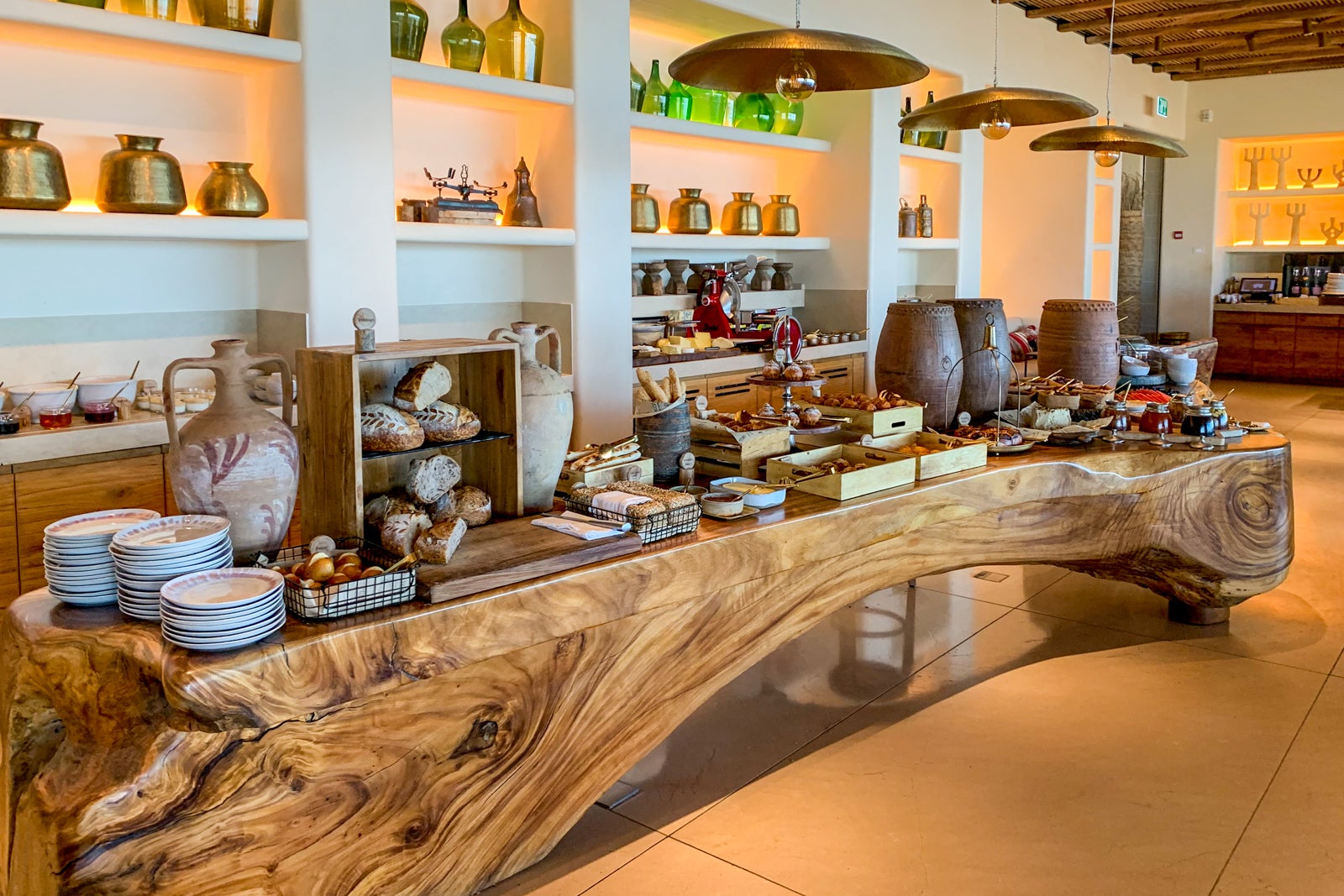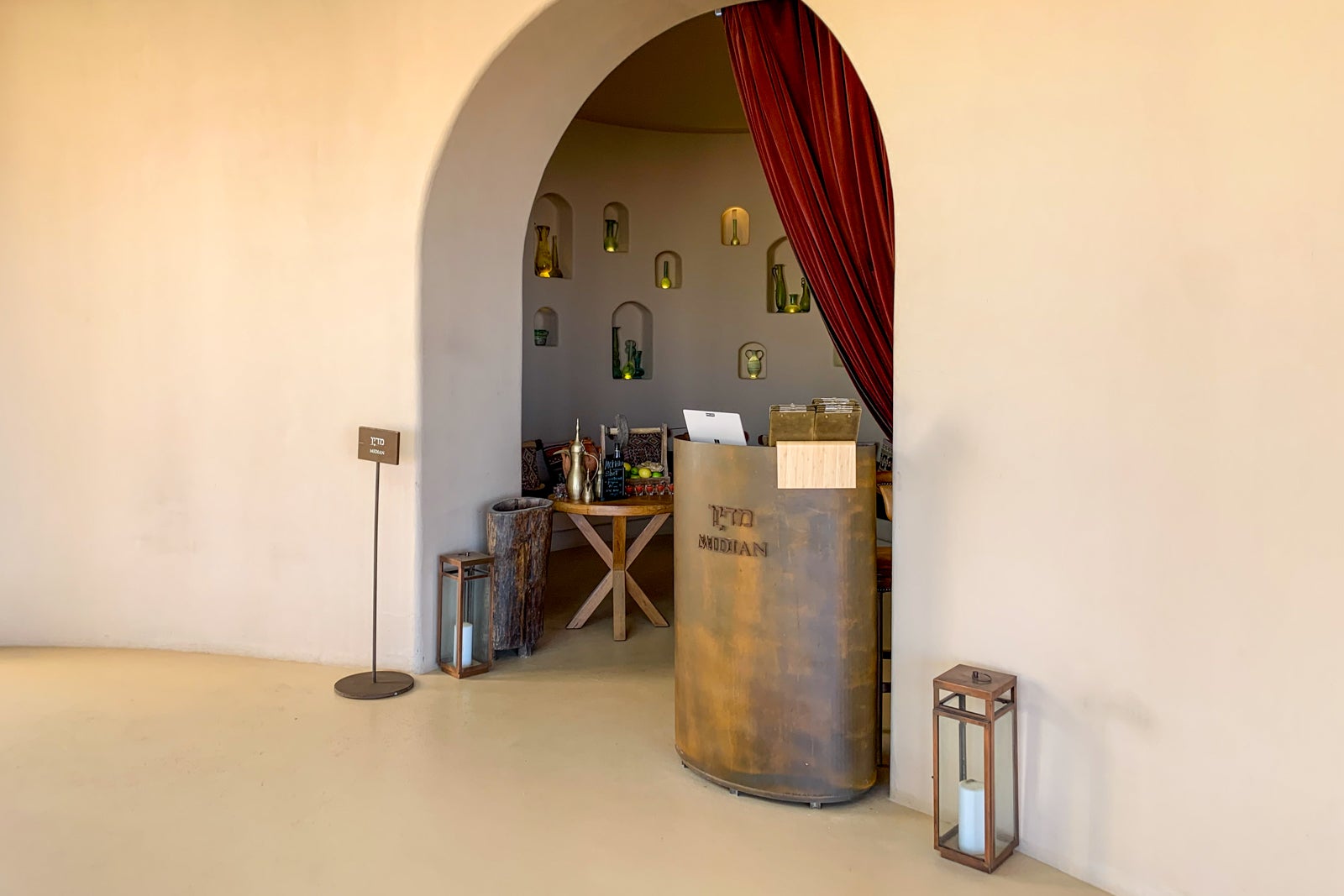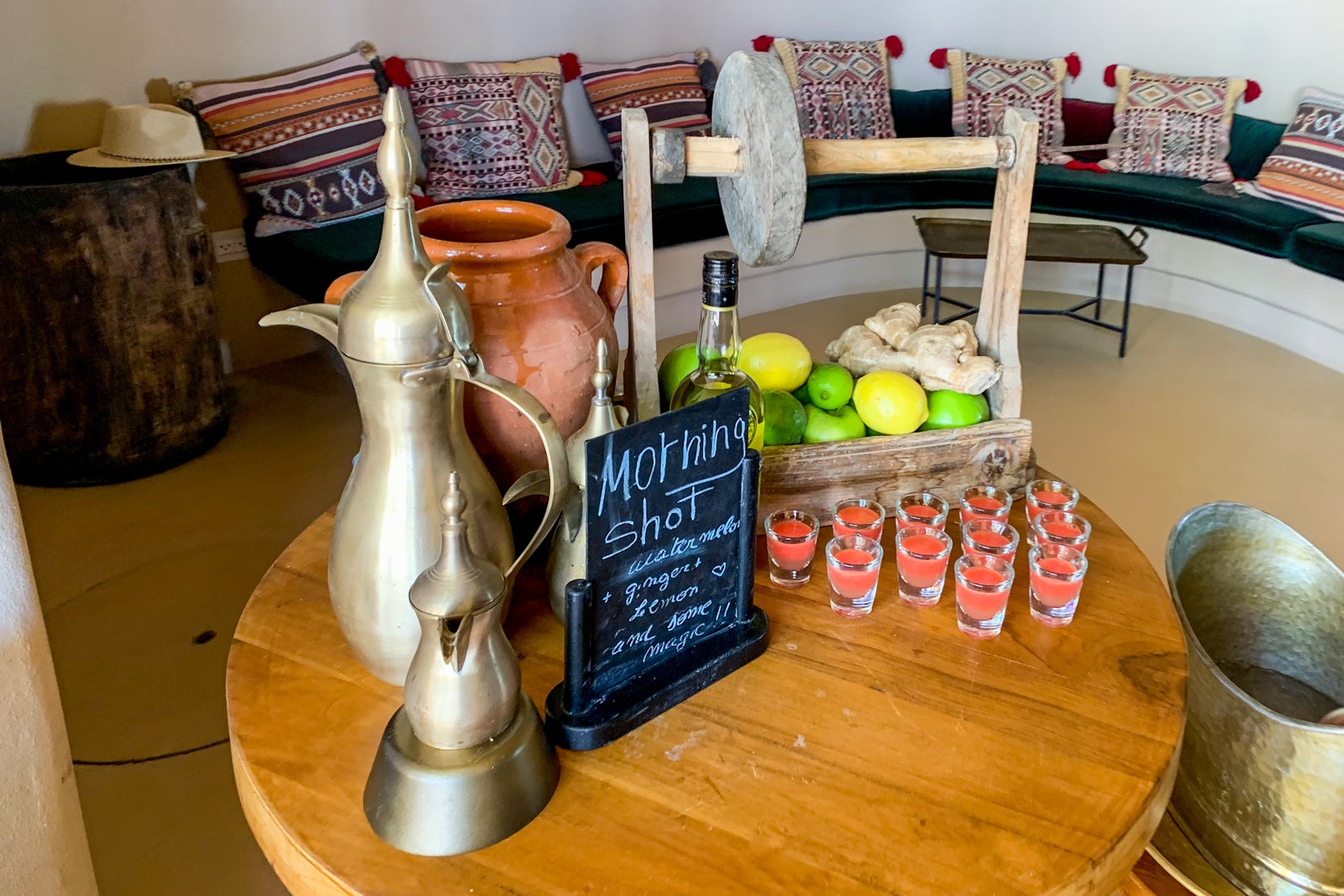 I took some photos of the mouth-watering spread  … and they hardly do it justice. It was easily one of the best breakfast offerings I've ever seen at a hotel. The colors alone were a feast for the eyes.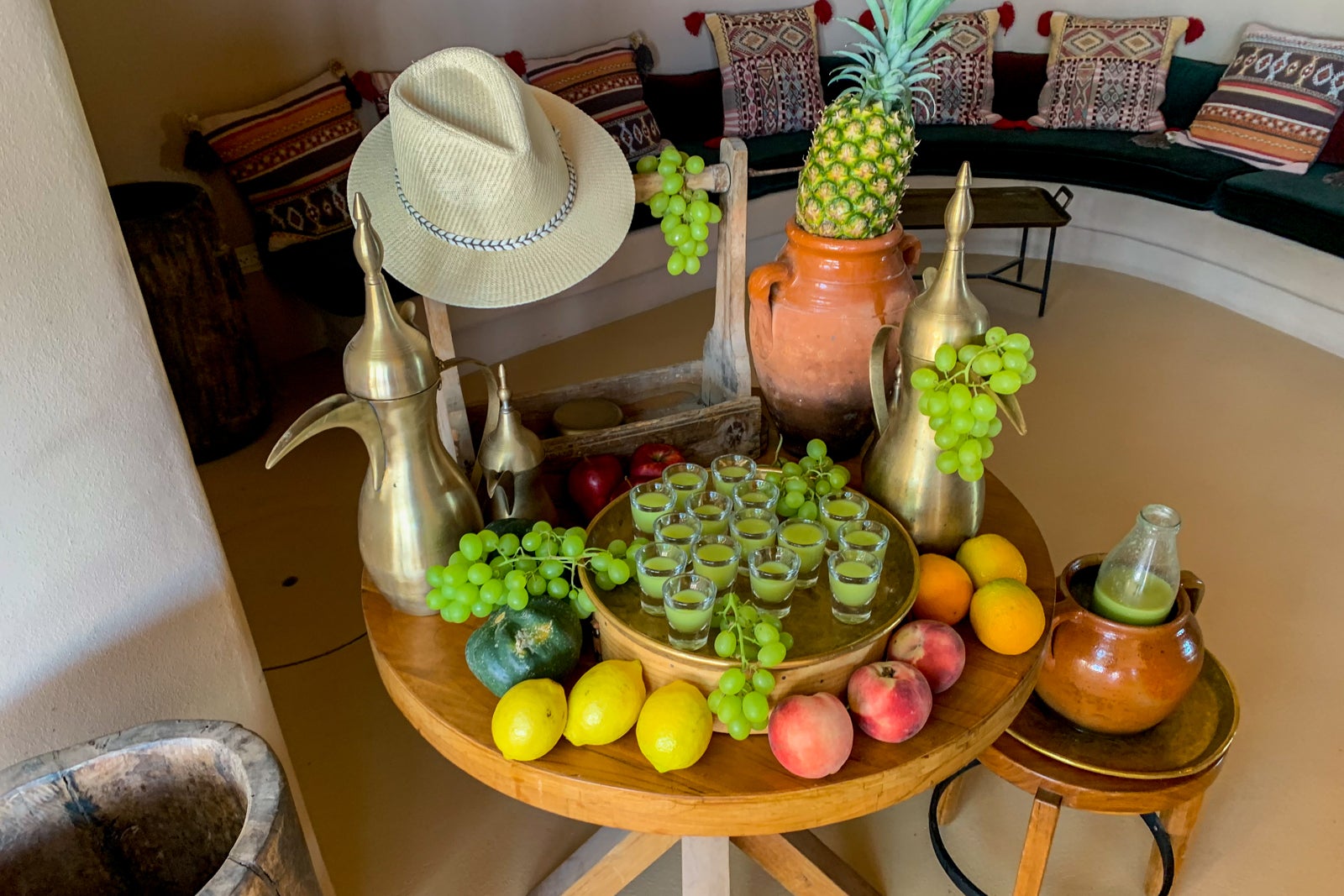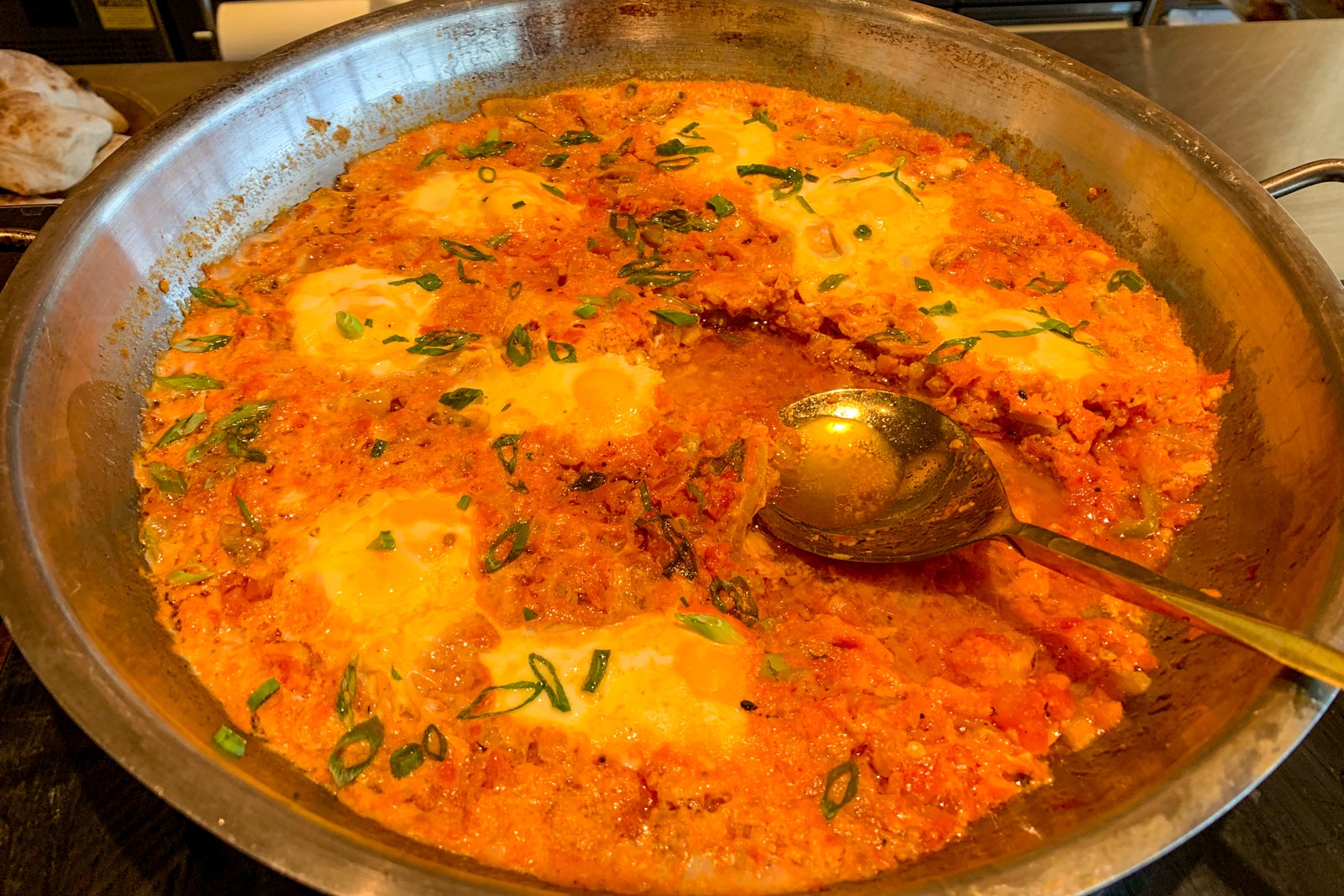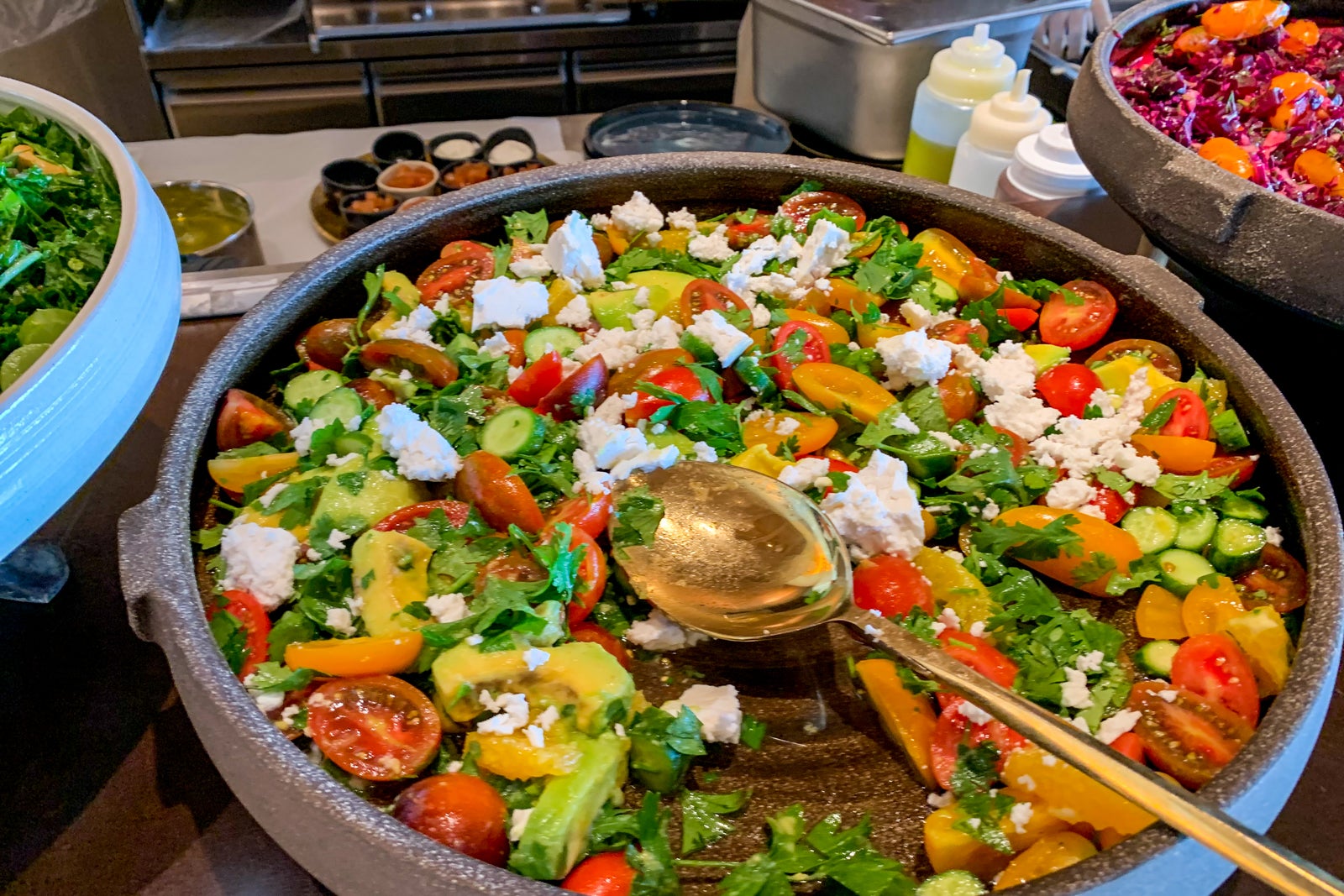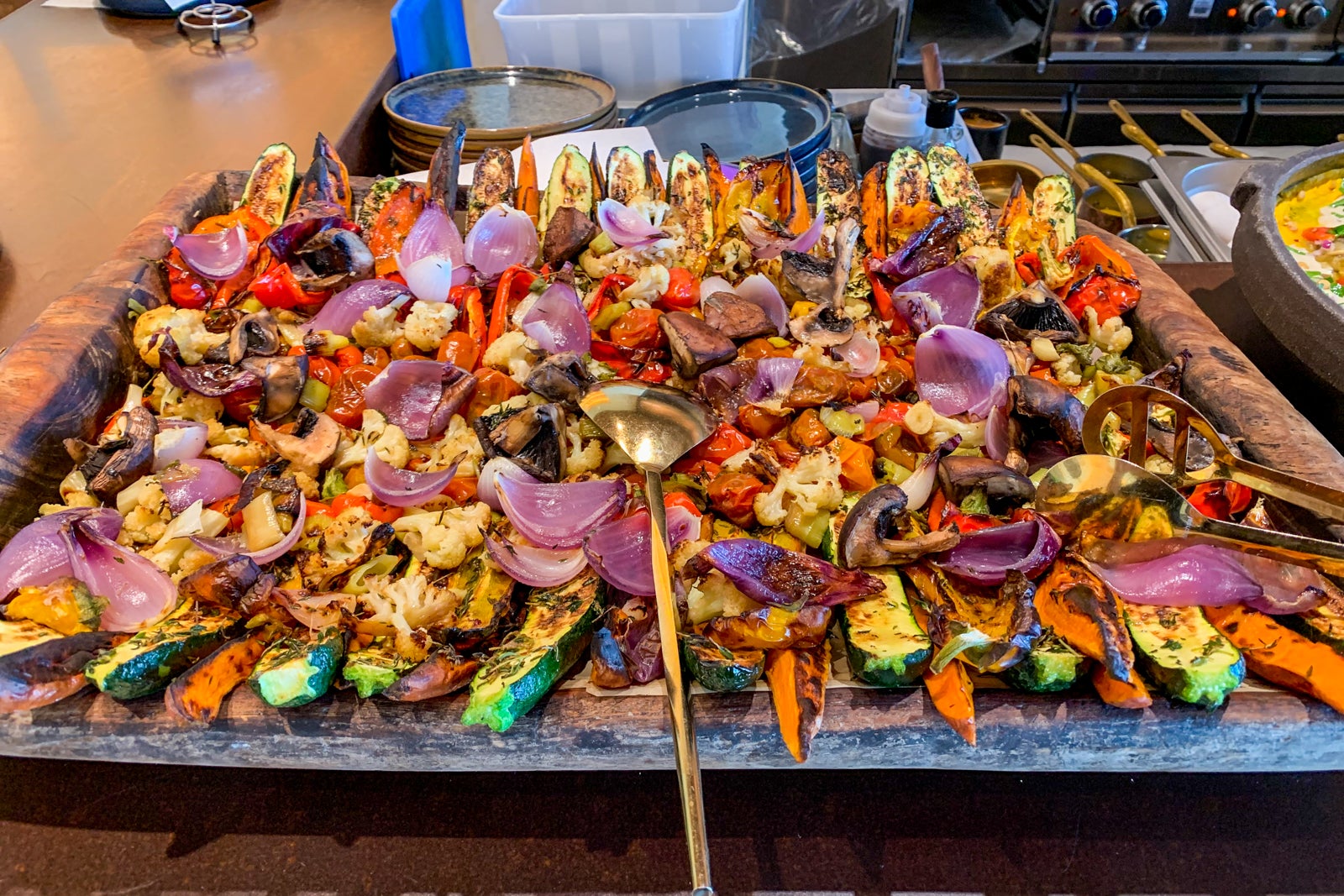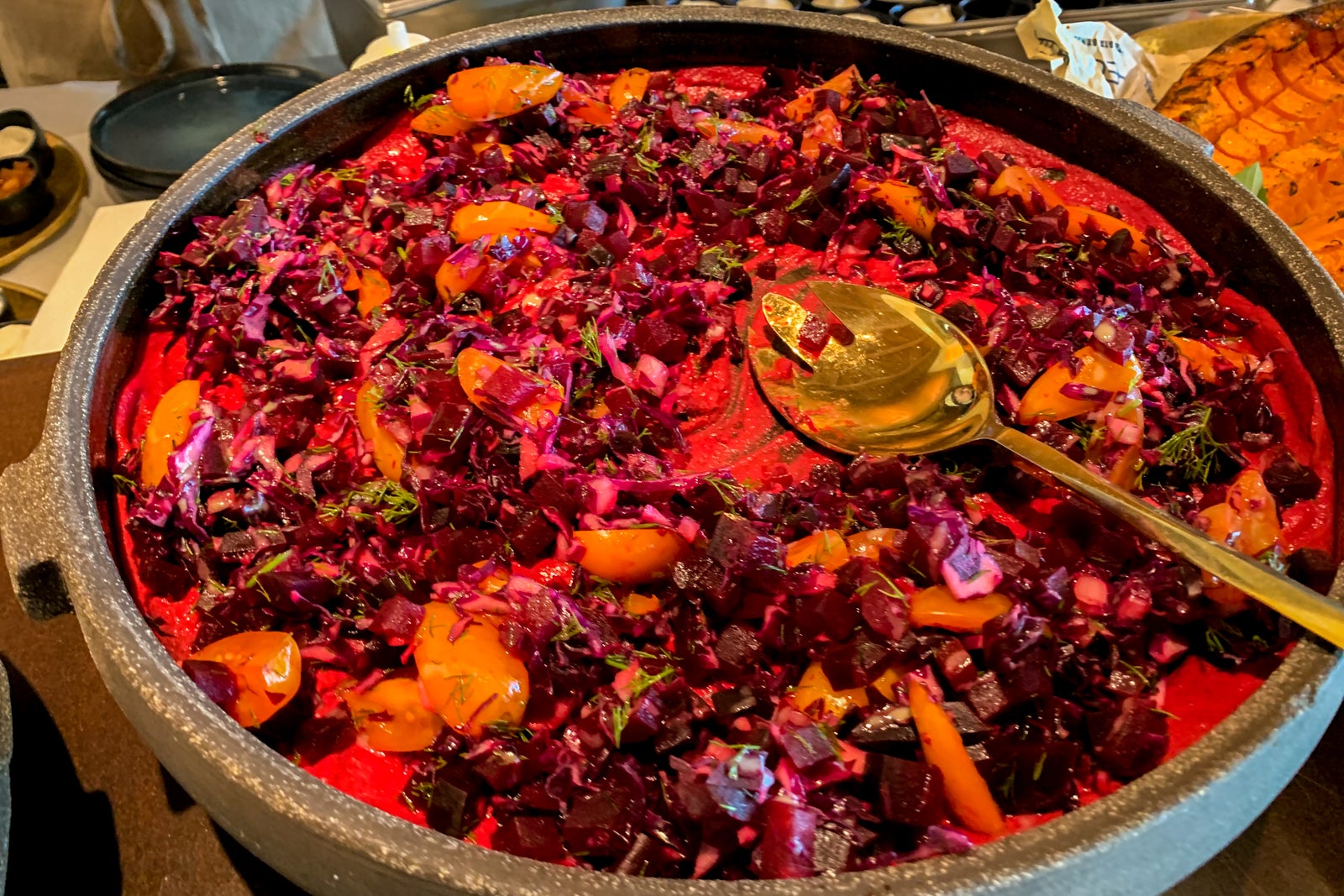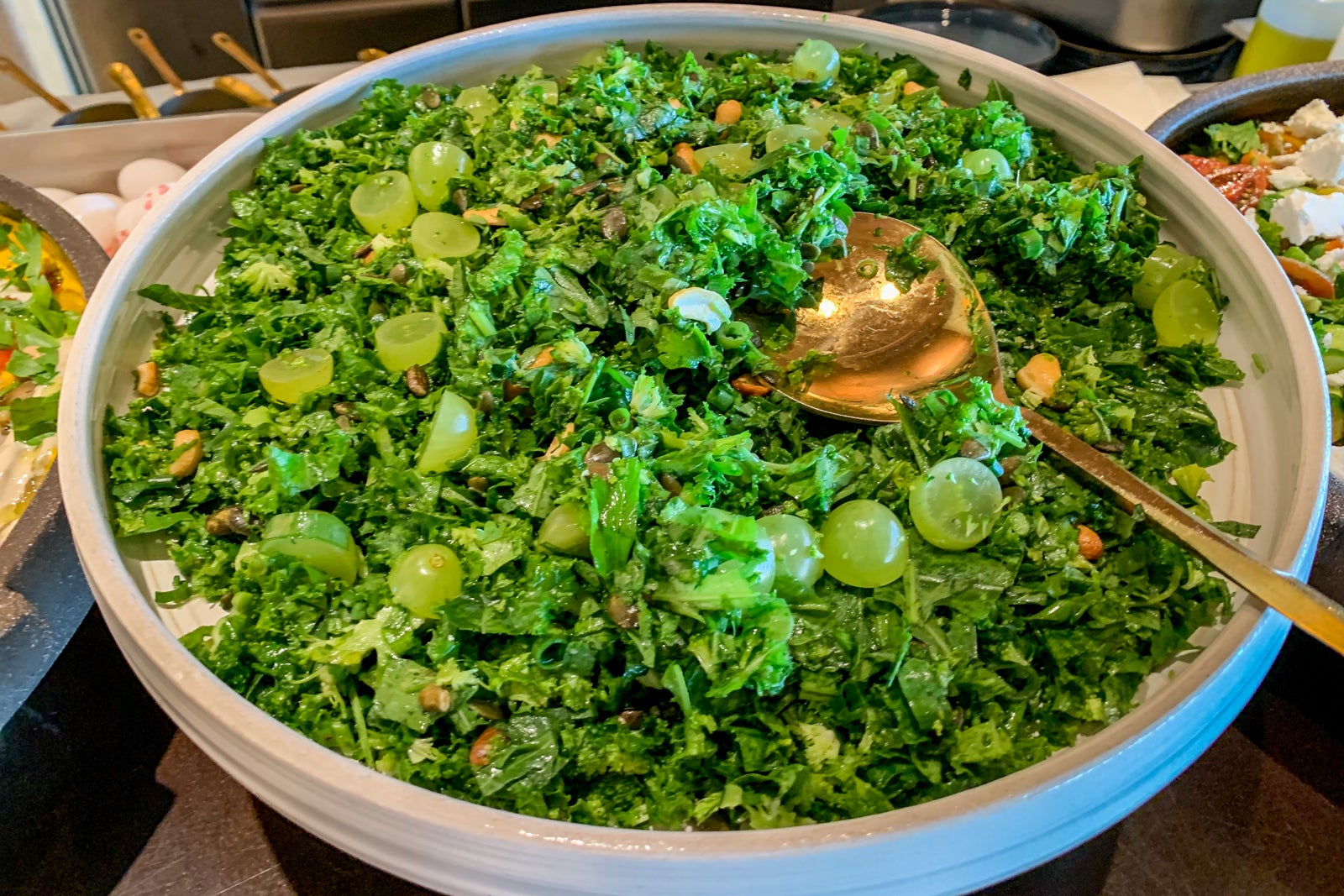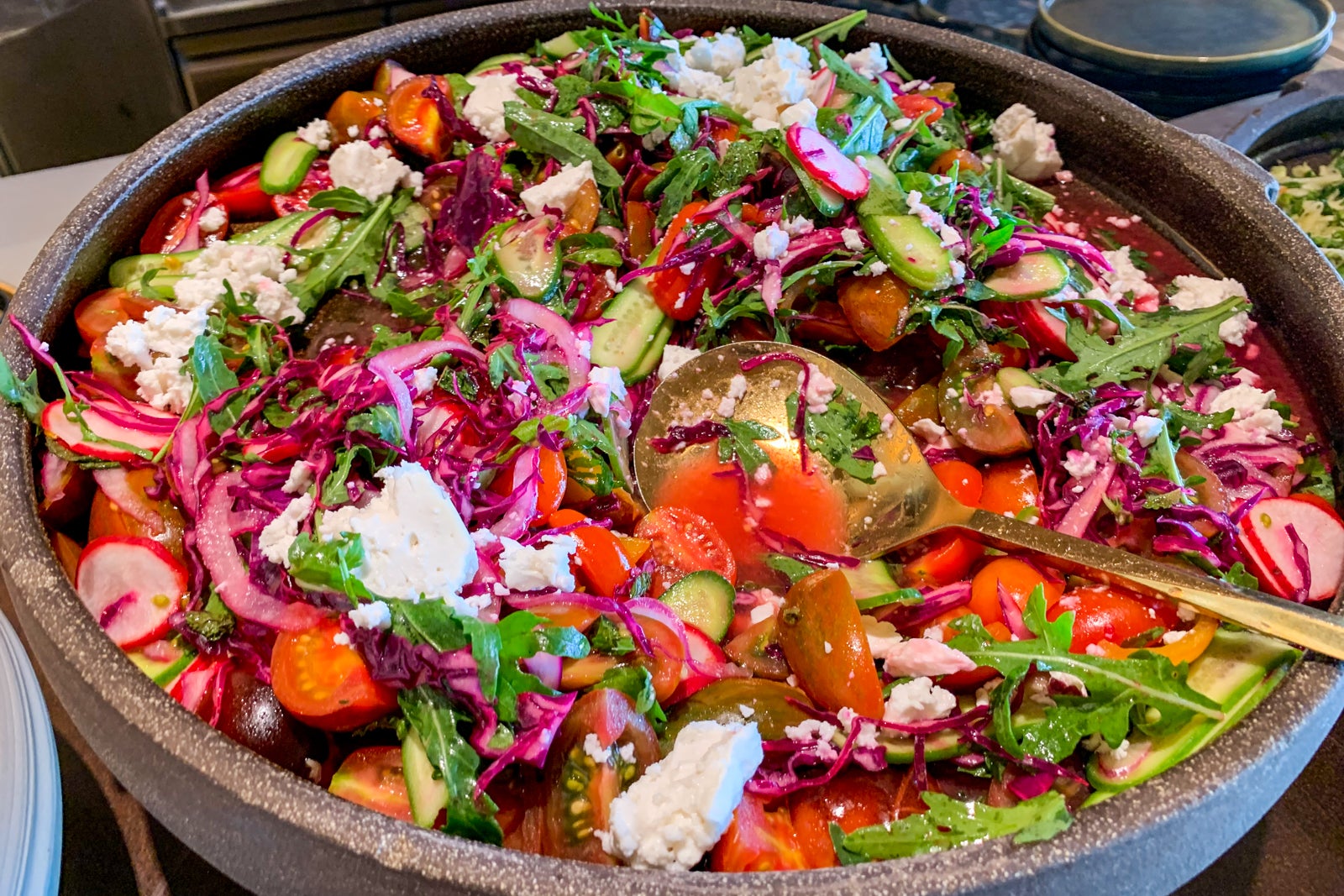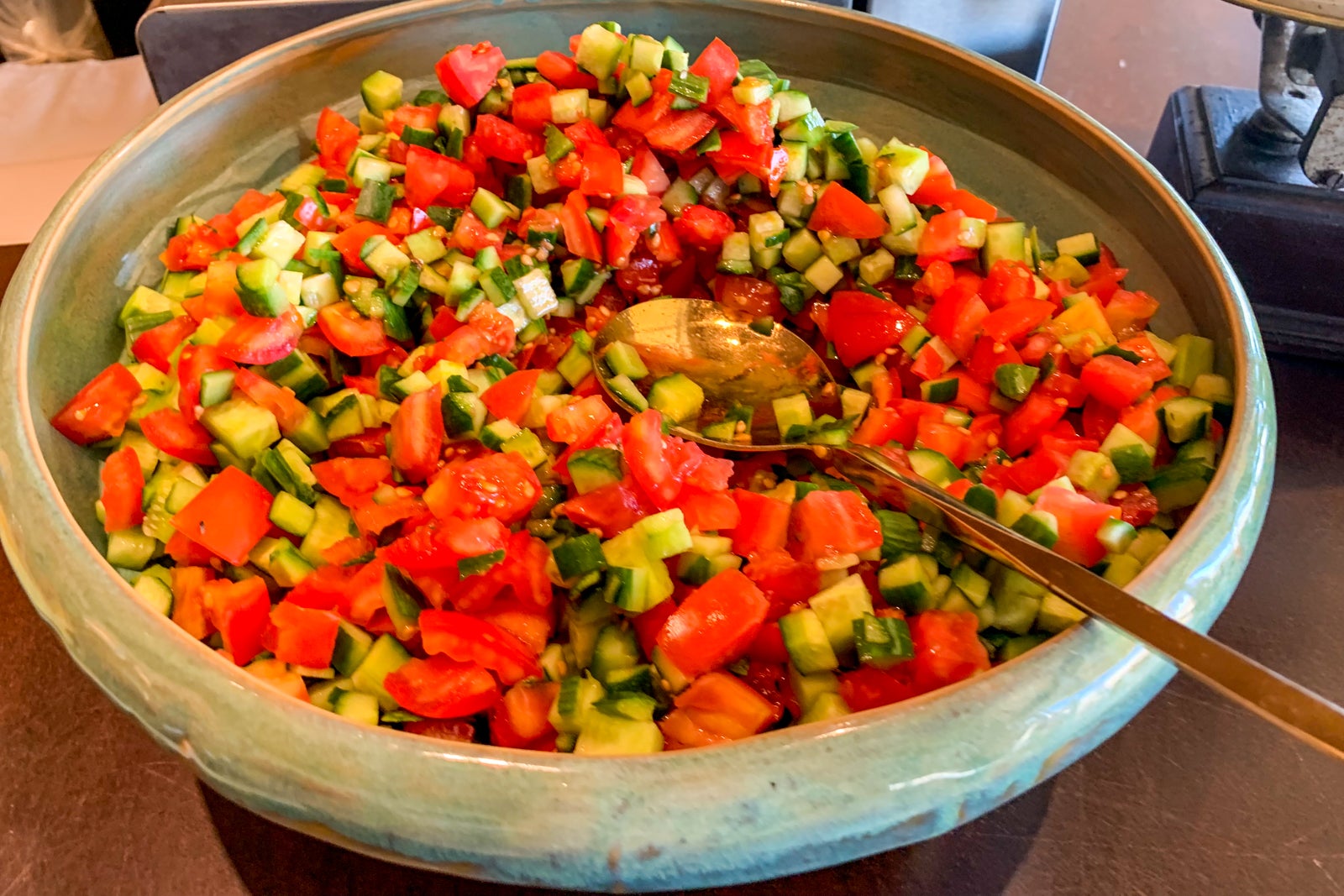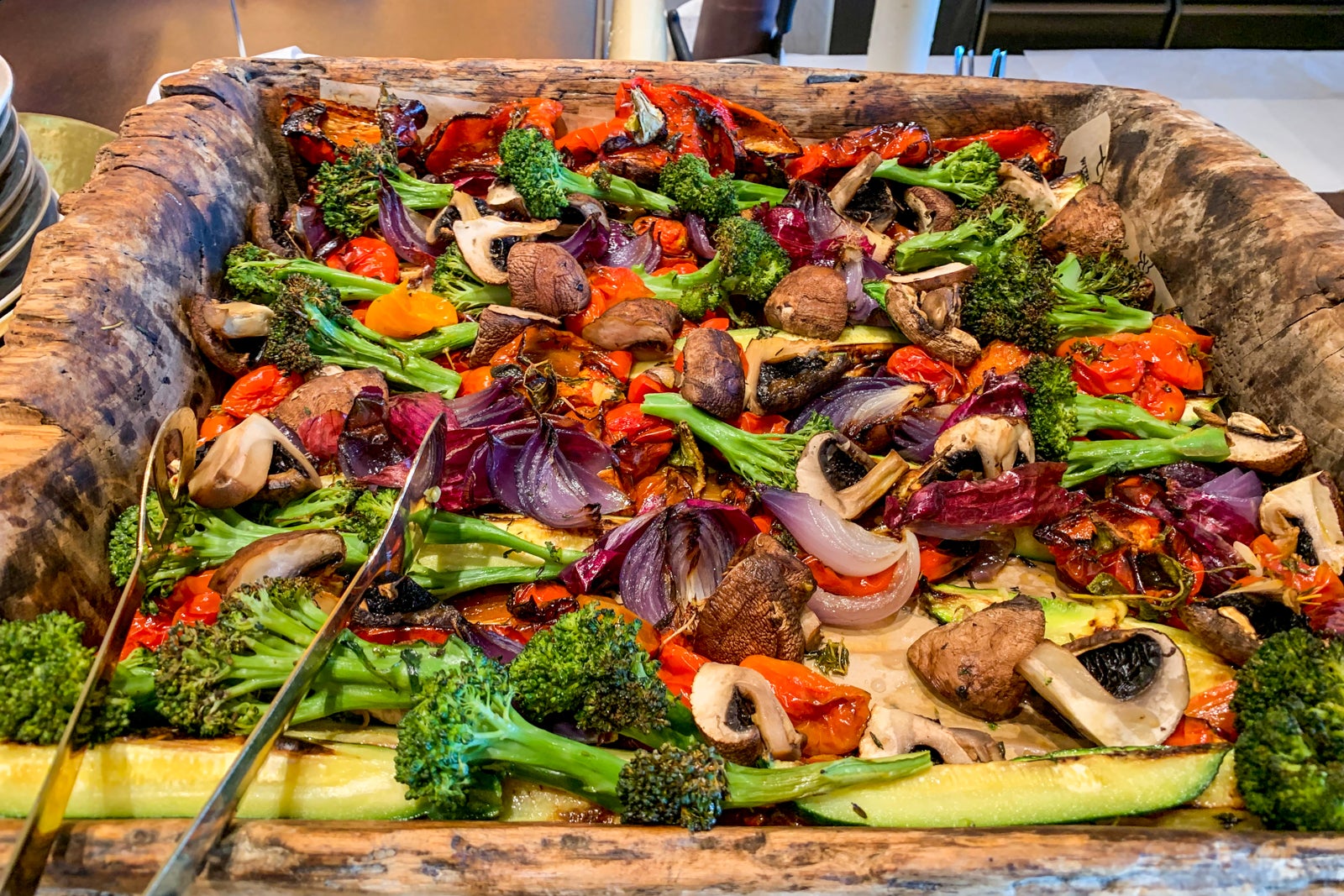 The bread and desserts alone were almost too pretty to eat.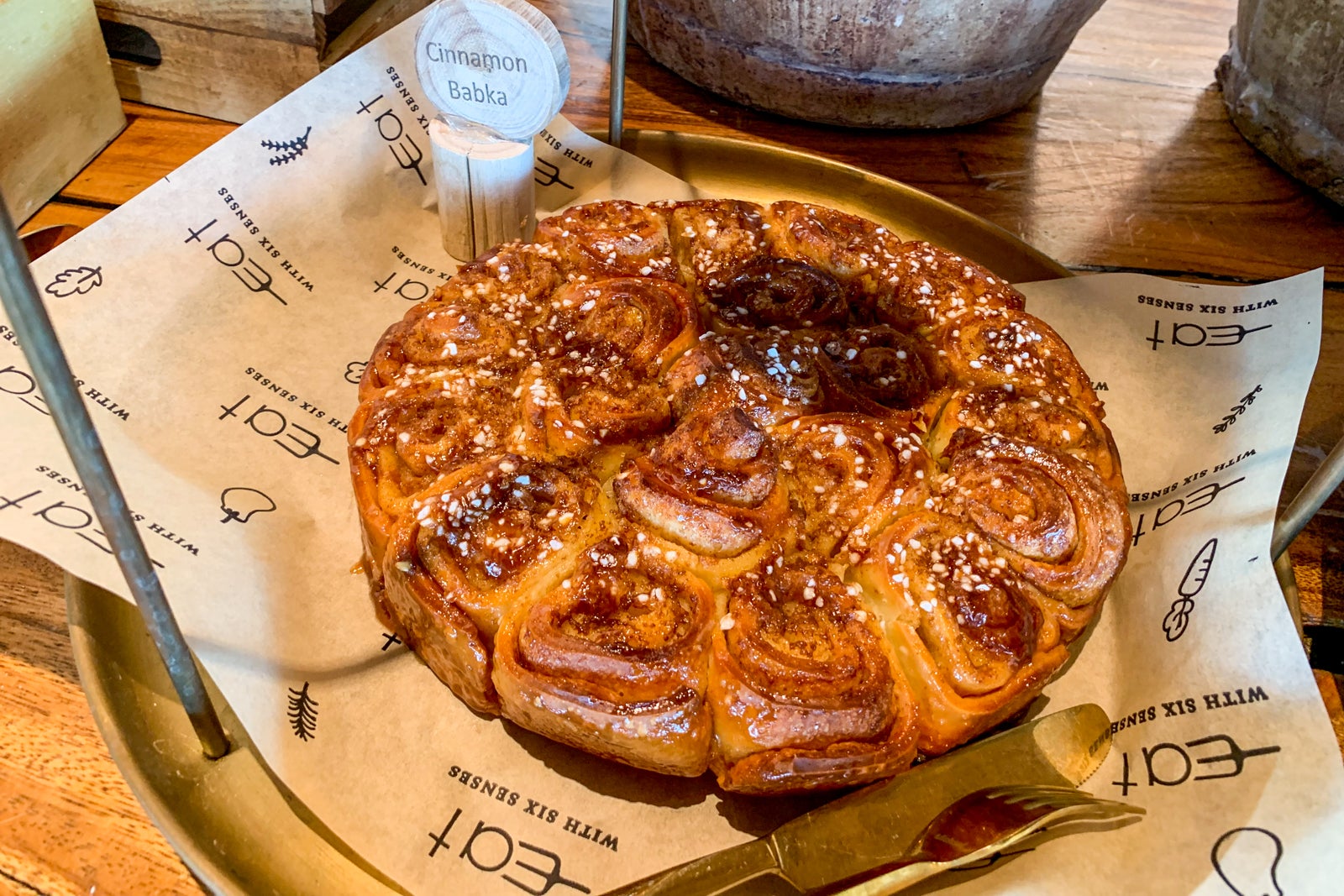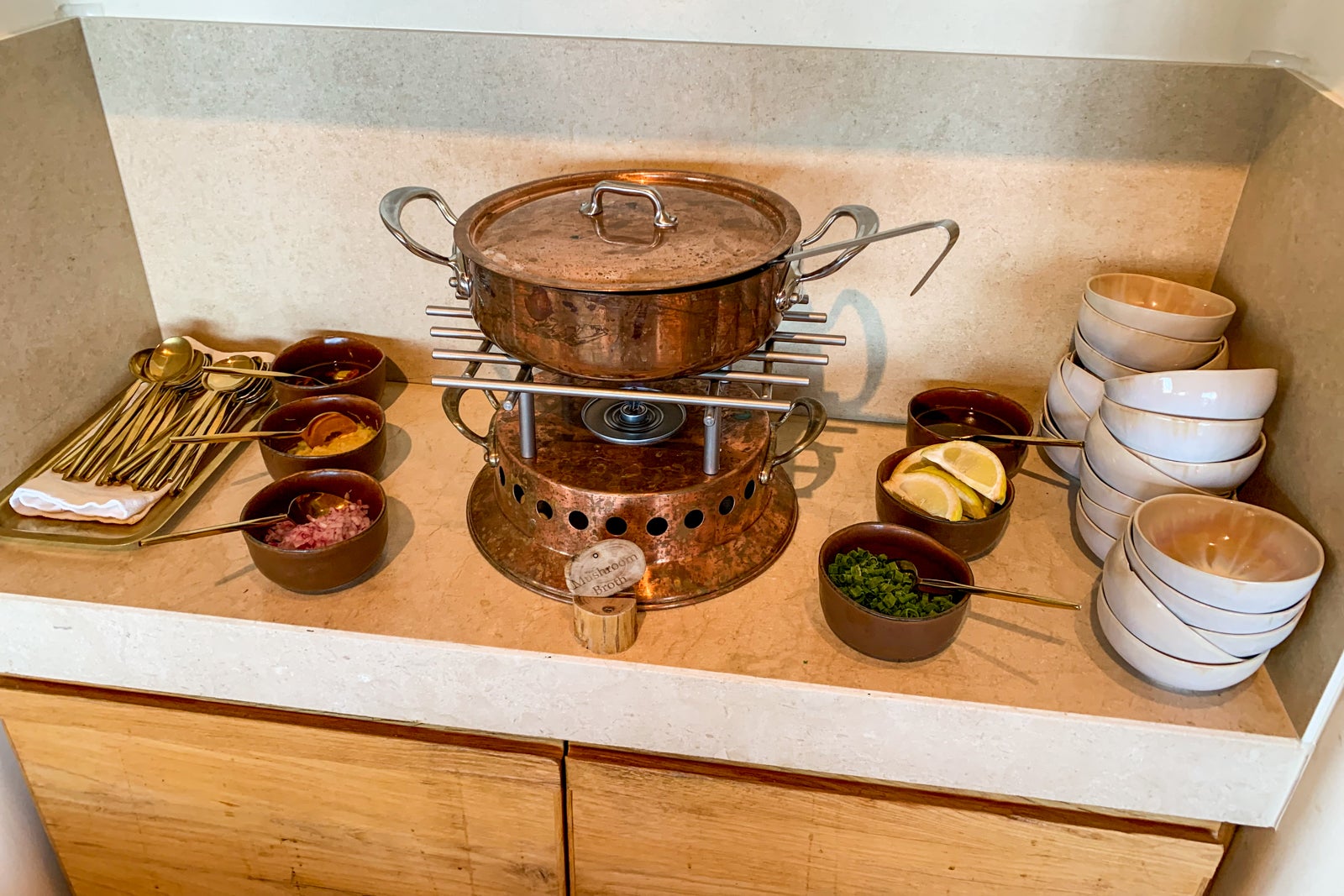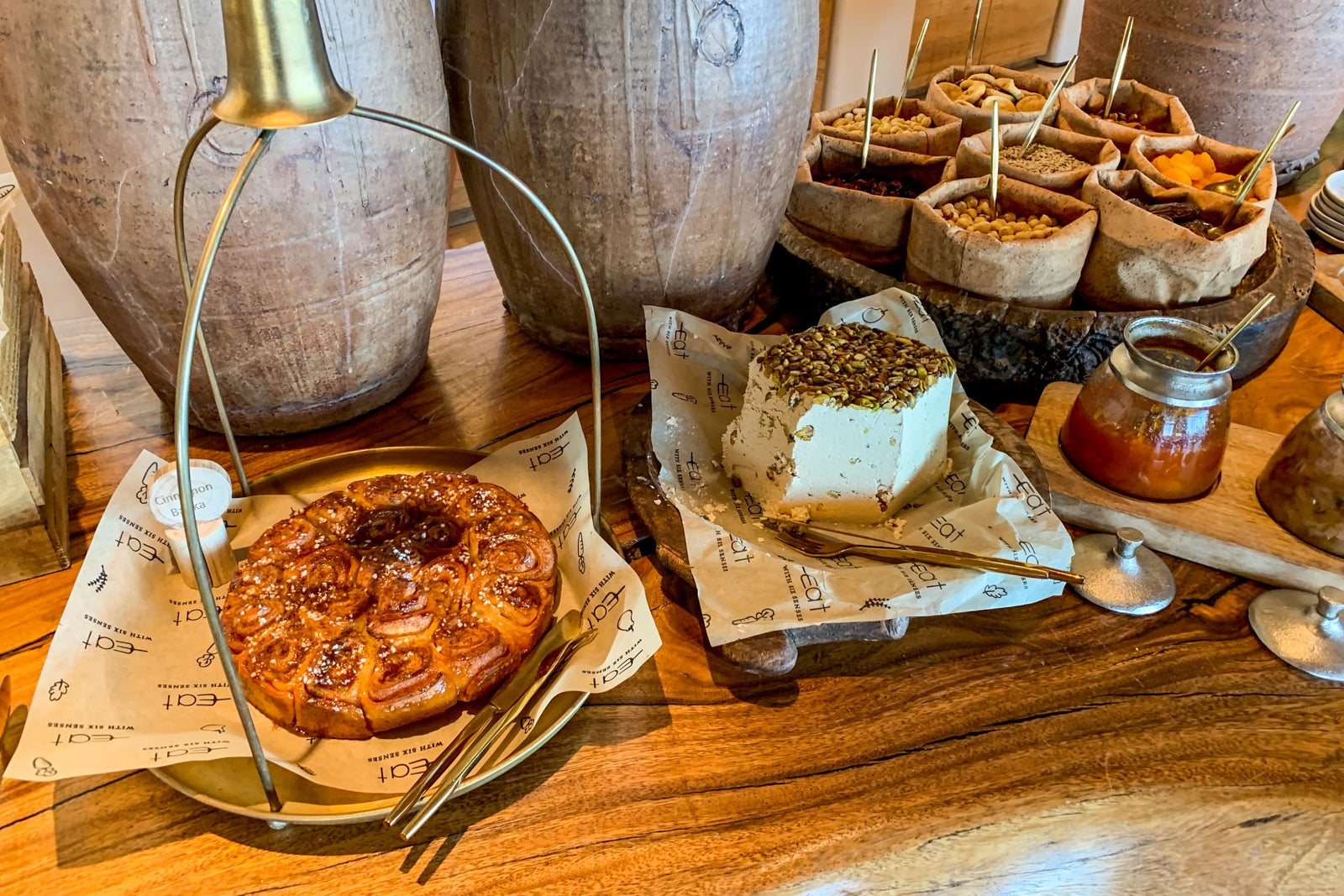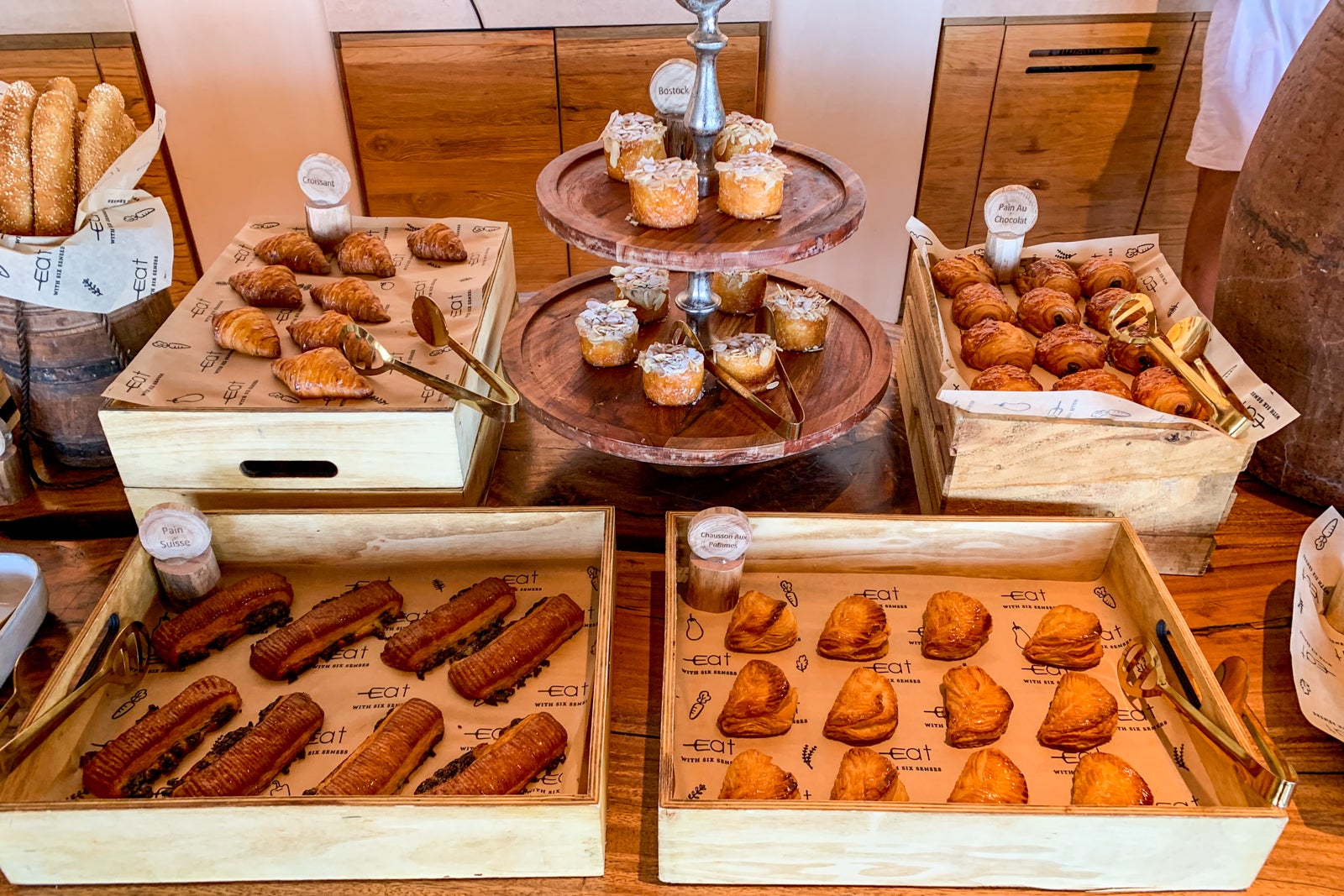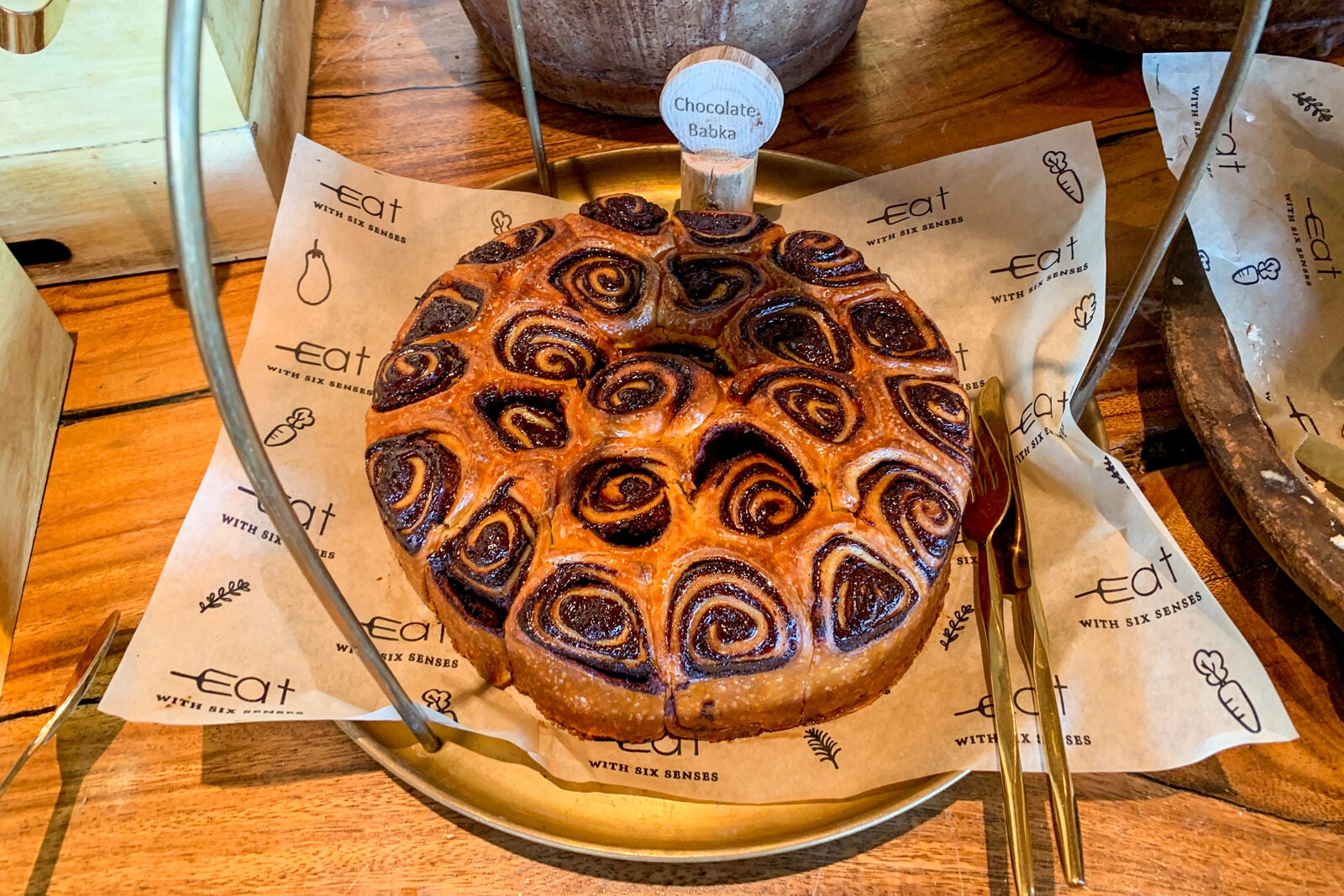 Of everything I tried, my favorite dish was the shakshuka of poached eggs in a tomato sauce with olive oil, peppers, onion and garlic. I had the classic Israeli version and also the green shakshuka — both were delicious. The restaurant also served a tasty selection of local fruits and vegetables, and I loved that I was also able to get eggs made to order. The fried eggs I requested were the perfect accompaniment to my delicious cappuccino.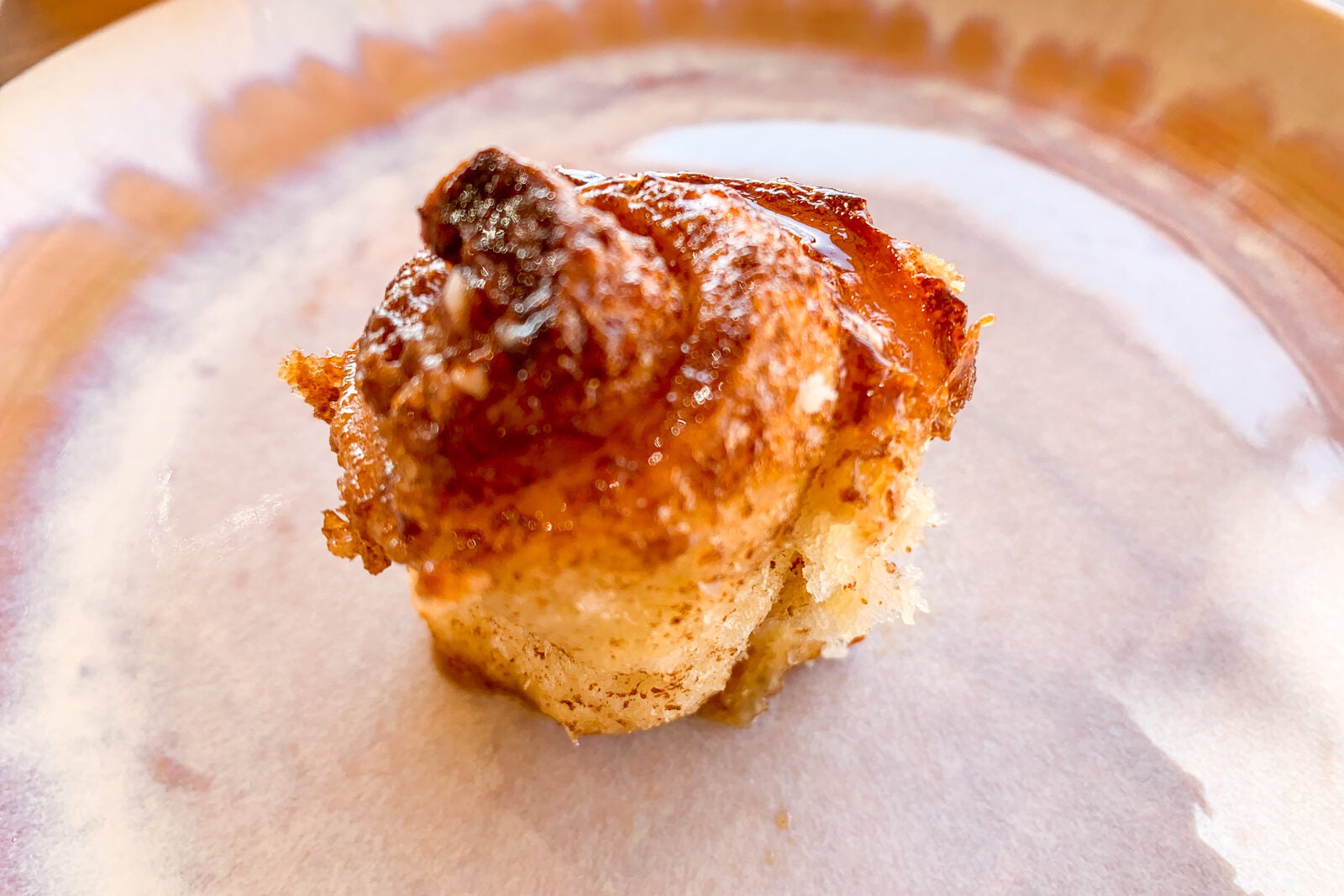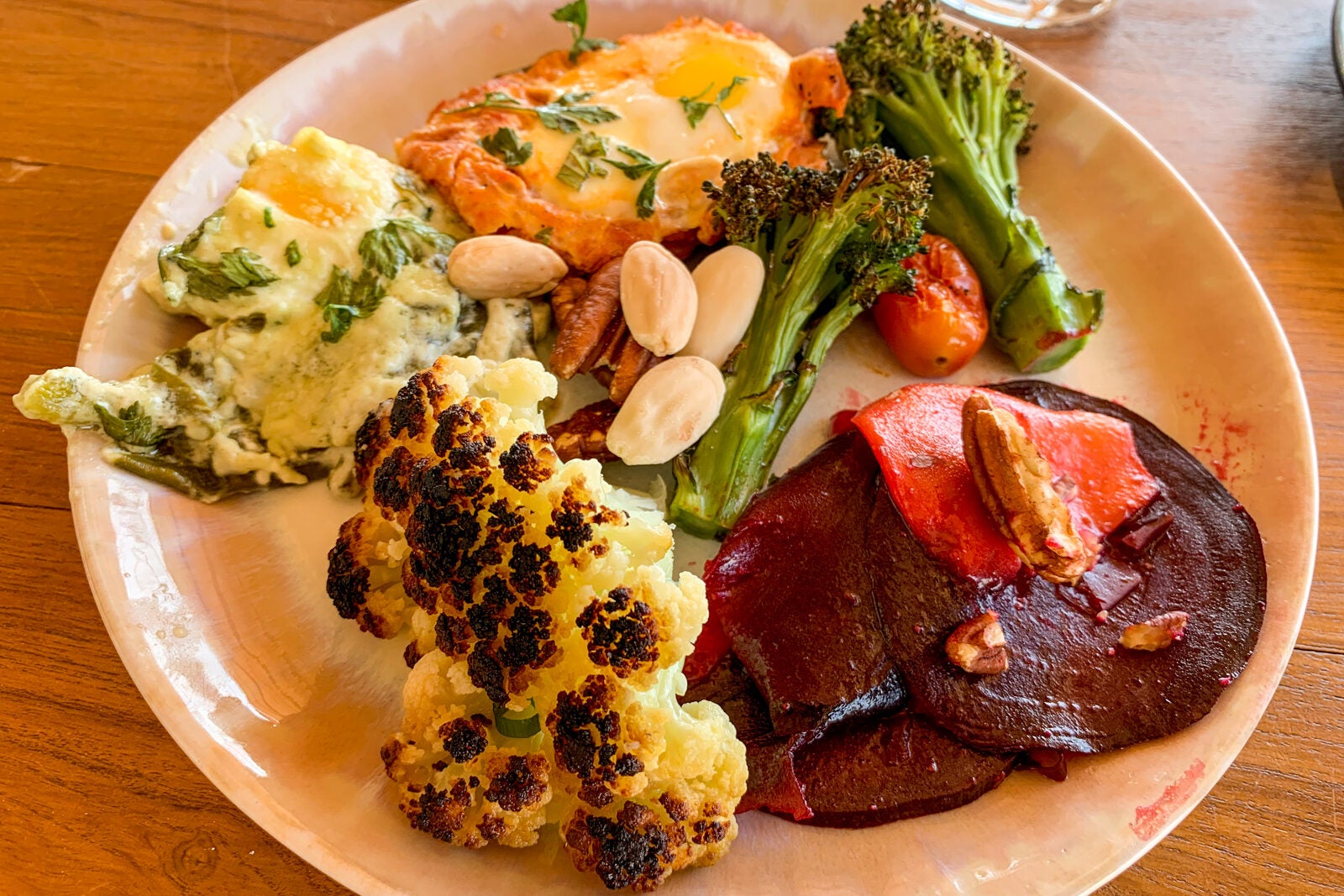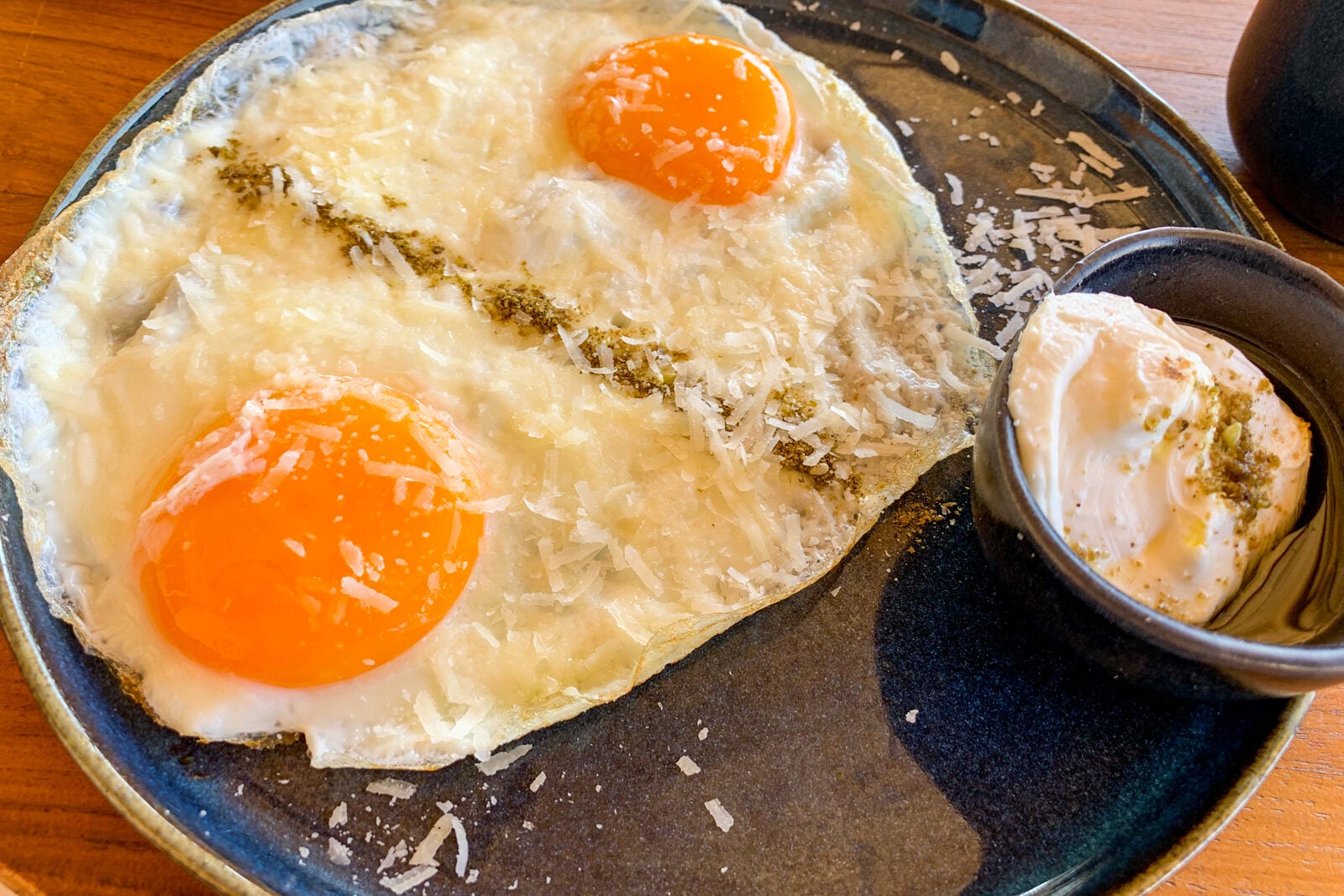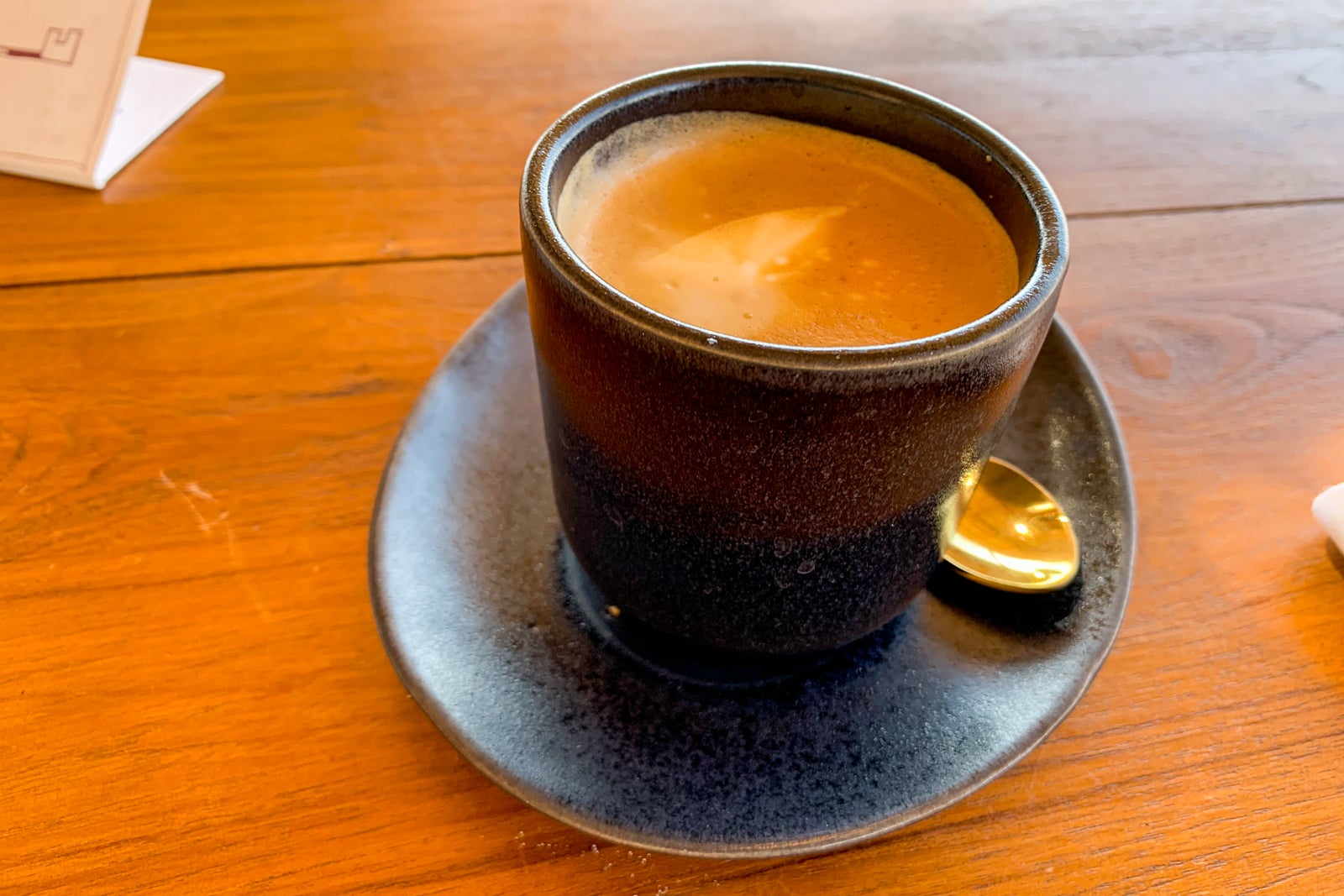 Breakfast at Midian on the second day did not disappoint, either. I tried scrambled eggs on a bed of seeded black bread, a staple at the hotel that's made fresh locally. It was absolutely delicious — especially for someone who's been on a ketogenic diet for the past eight months.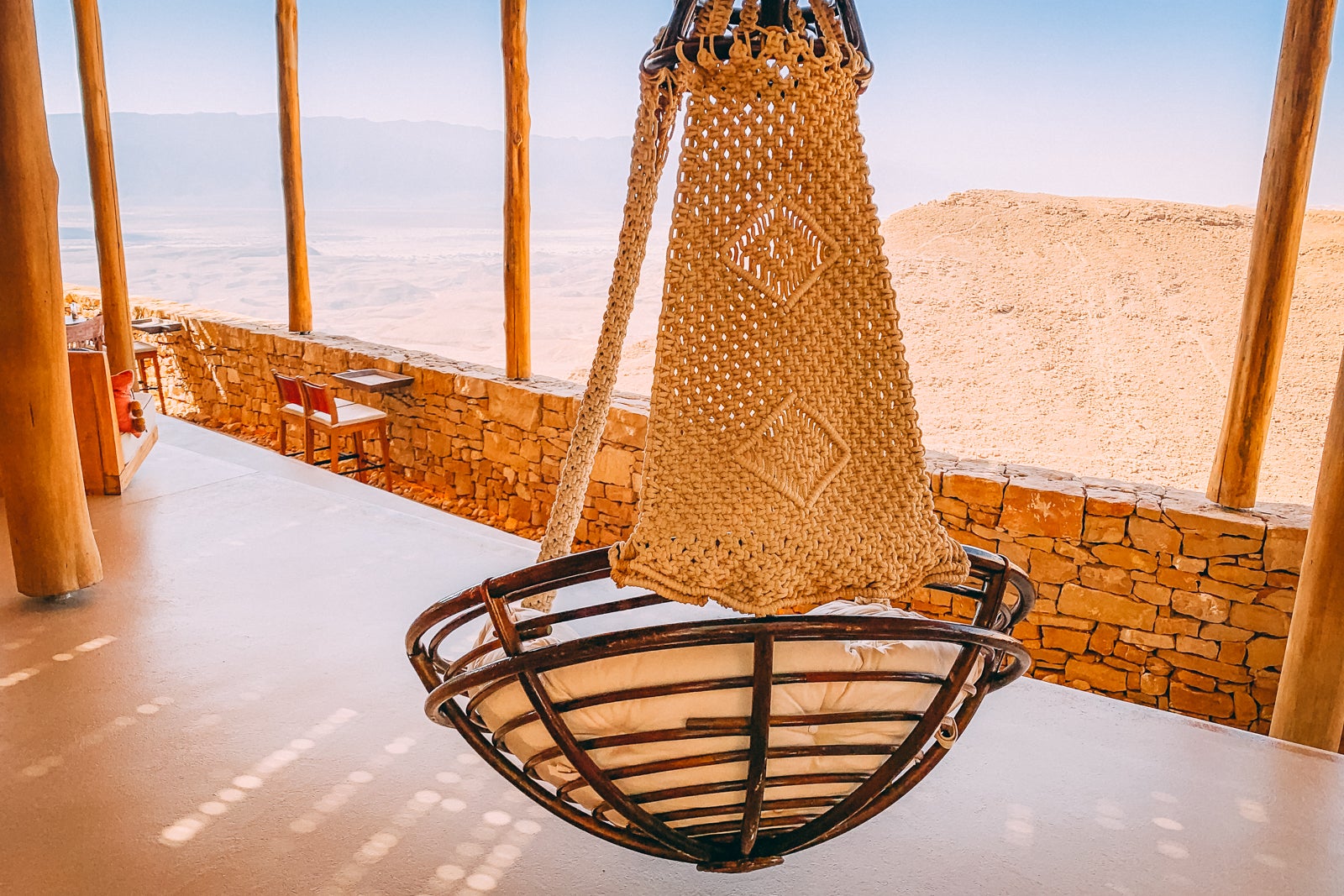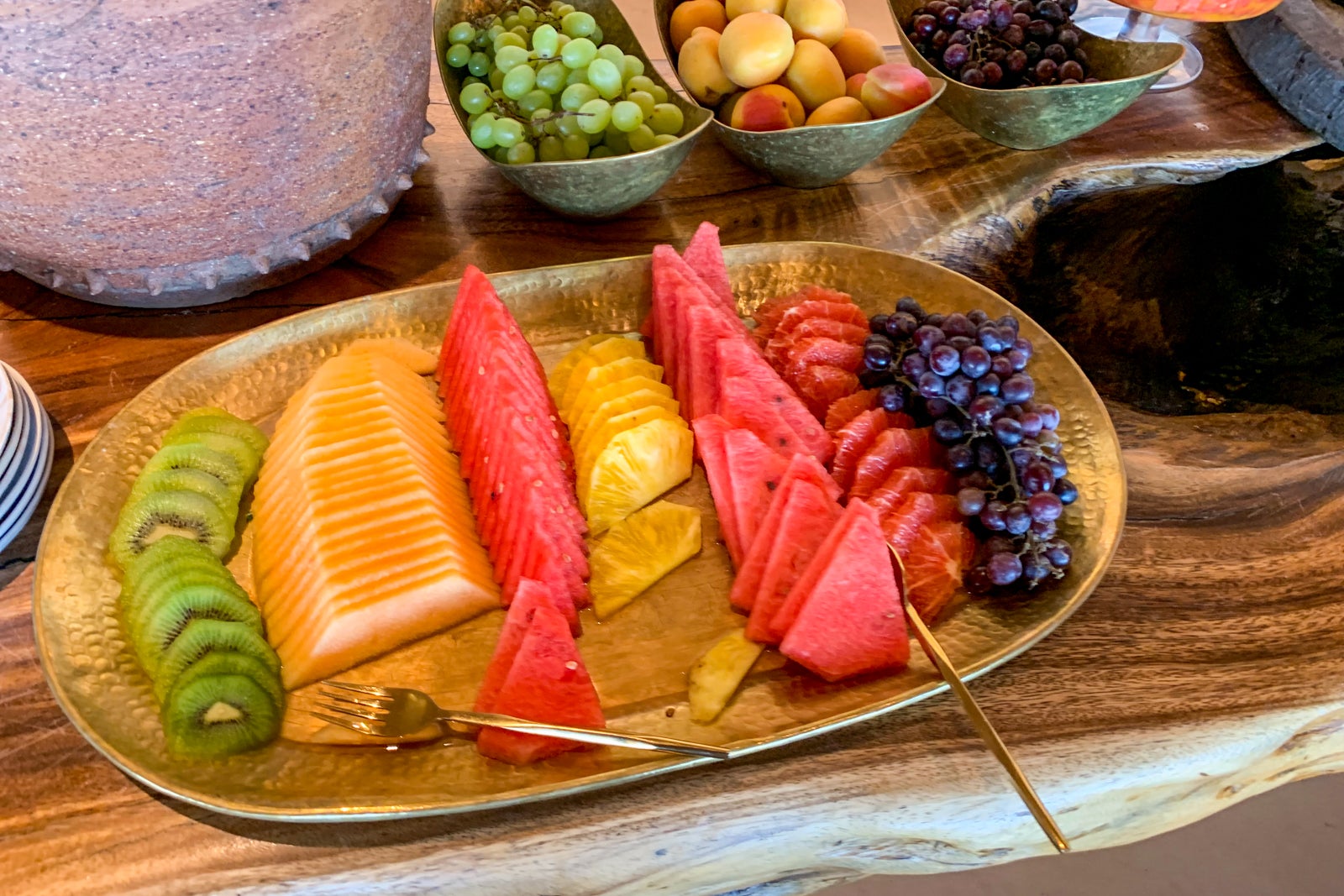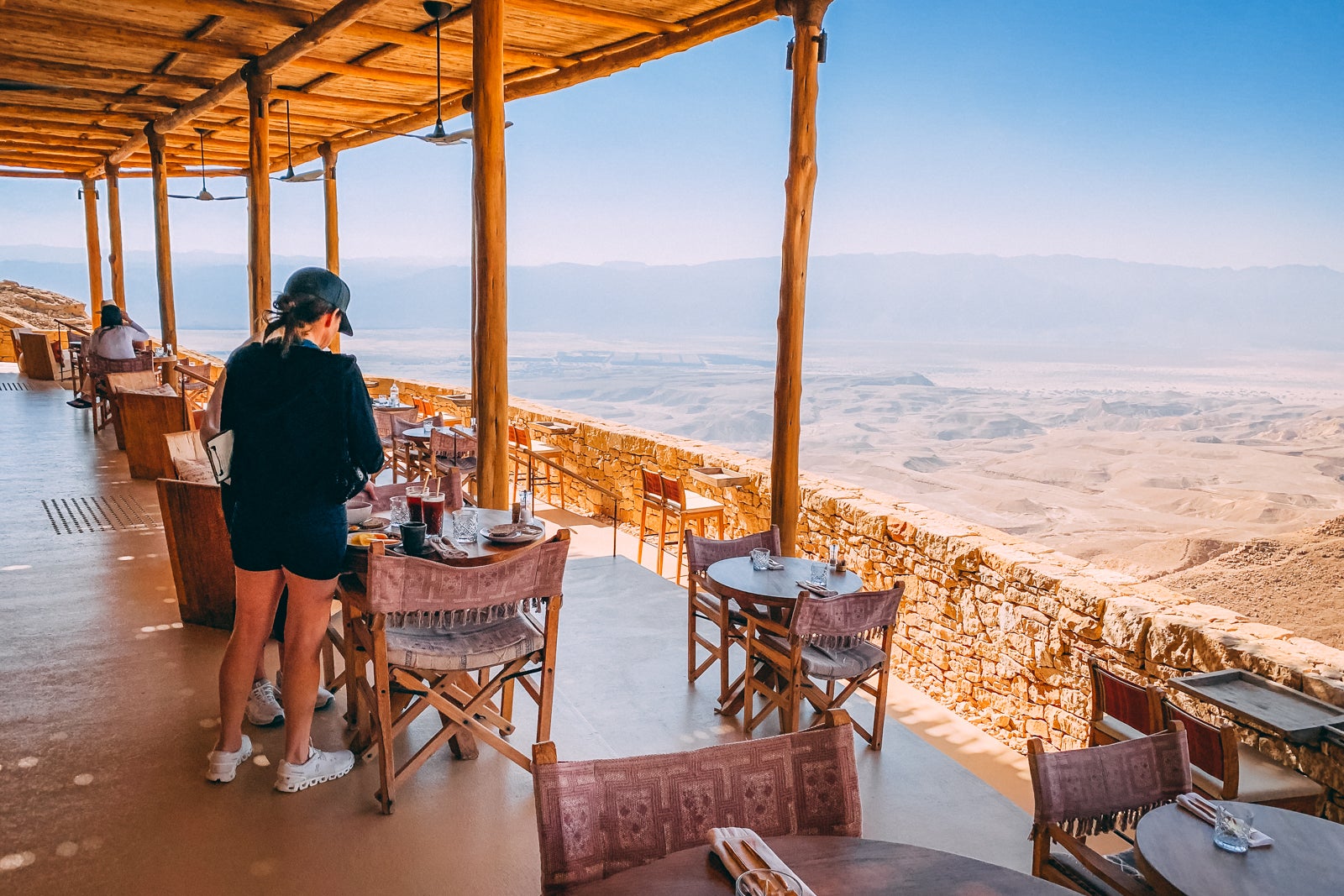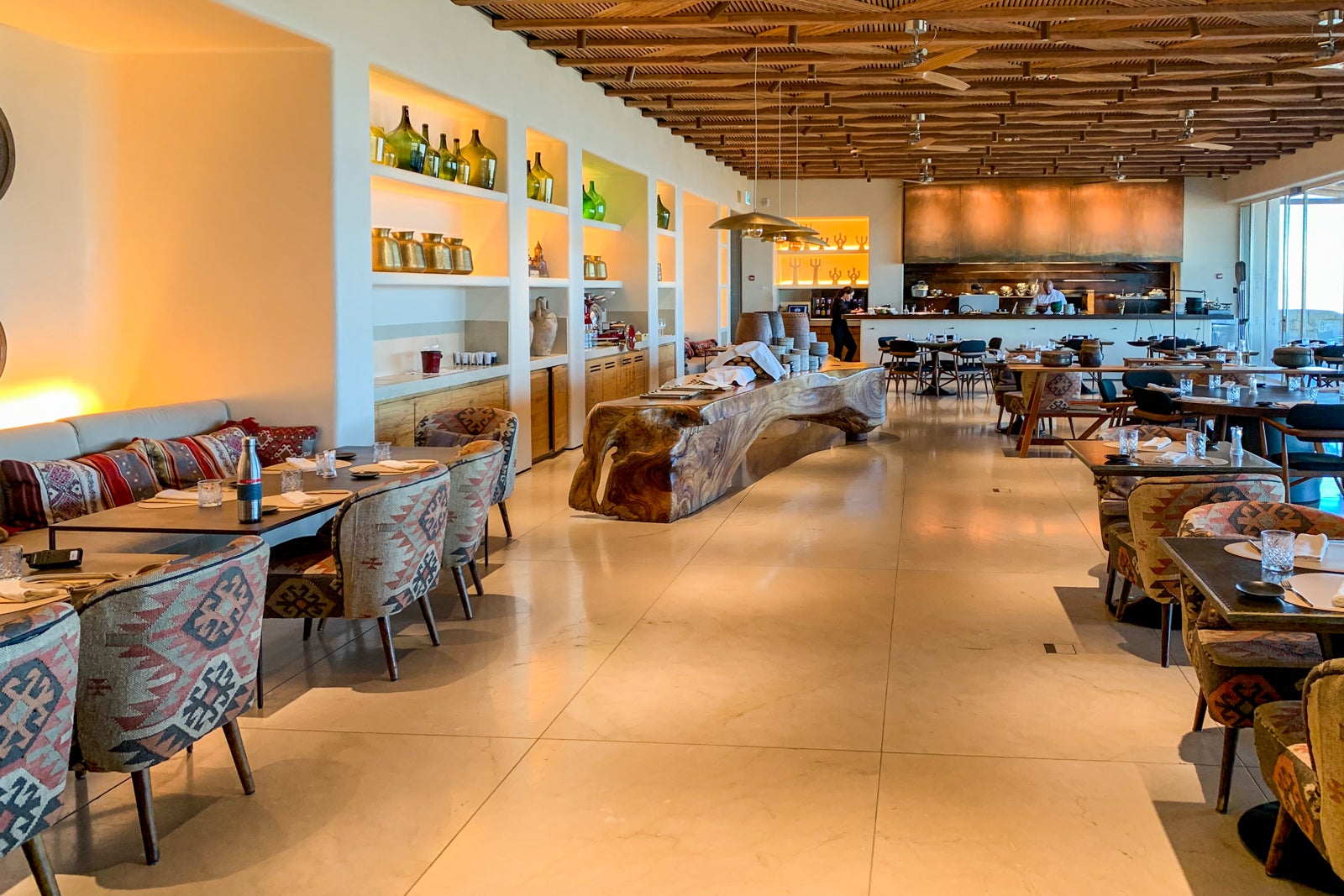 For dessert, I opted for the creamy panna cotta and the fluffy Israeli cheesecake, both of which were just as tasty as they looked.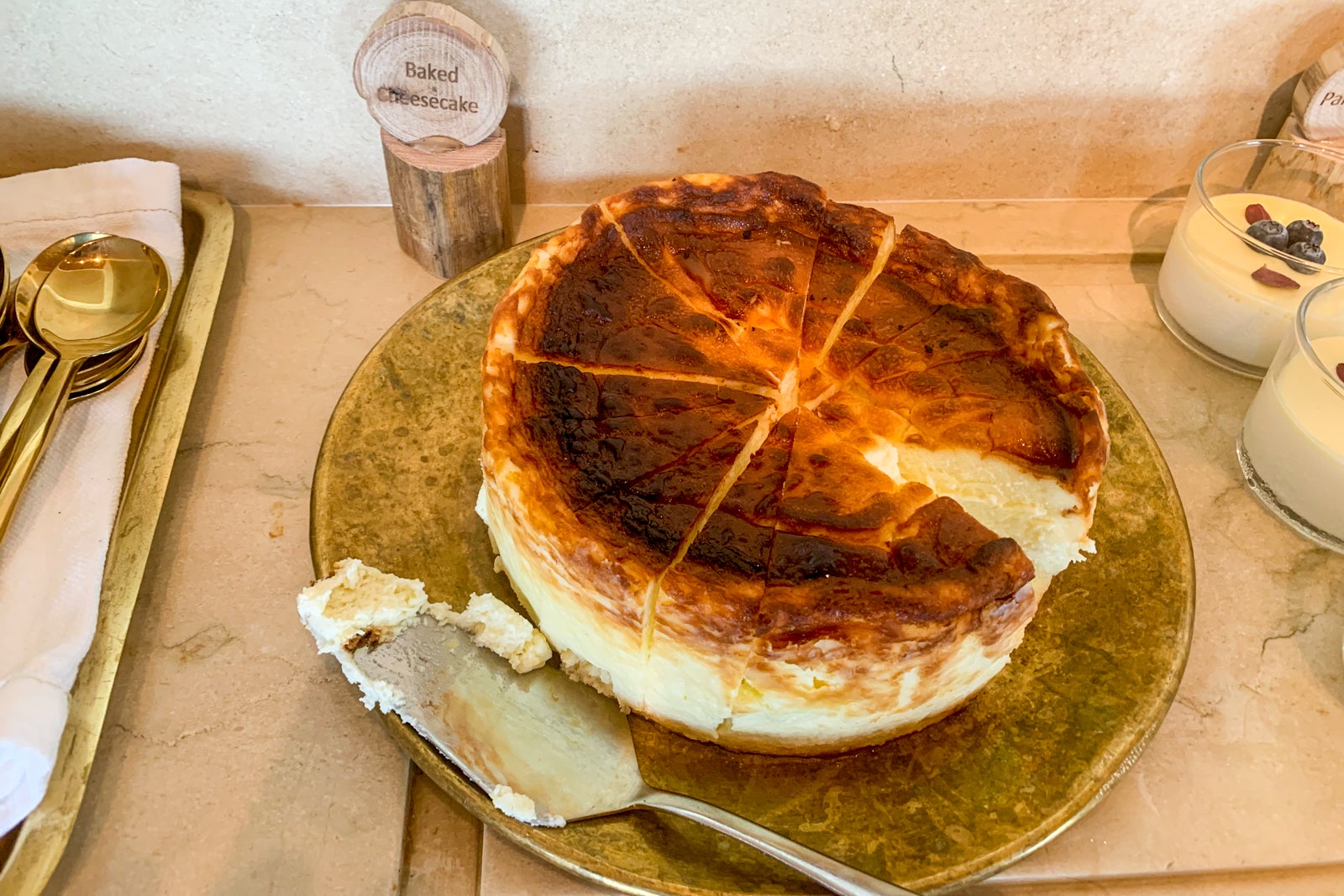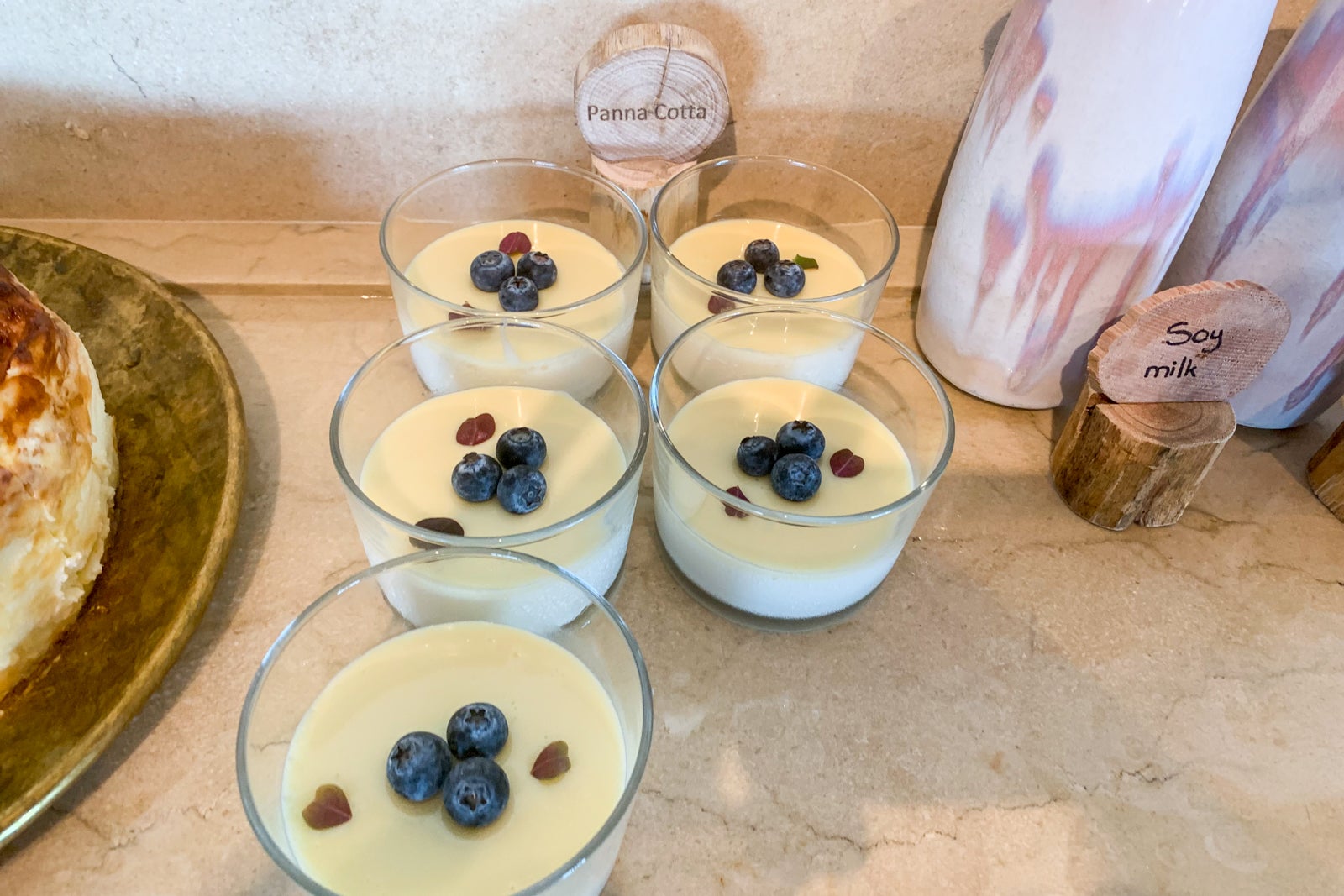 On my second and final night at the resort, I decided to return to Midian to test out its dinner service. Given the delectable breakfast spread I'd previously sampled and executive chef David Biton's commitment to using kosher-certified meat and local vegetables from the property's organic garden, I (rightly) assumed I'd enjoy the evening menu.
Everything about the experience was fantastic, from the service to the amuse-bouche to the dessert. I started with the ultra-fresh garden salad ($20) and had chargrilled beef entrecote with green asparagus and mashed potatoes ($56) as the main course.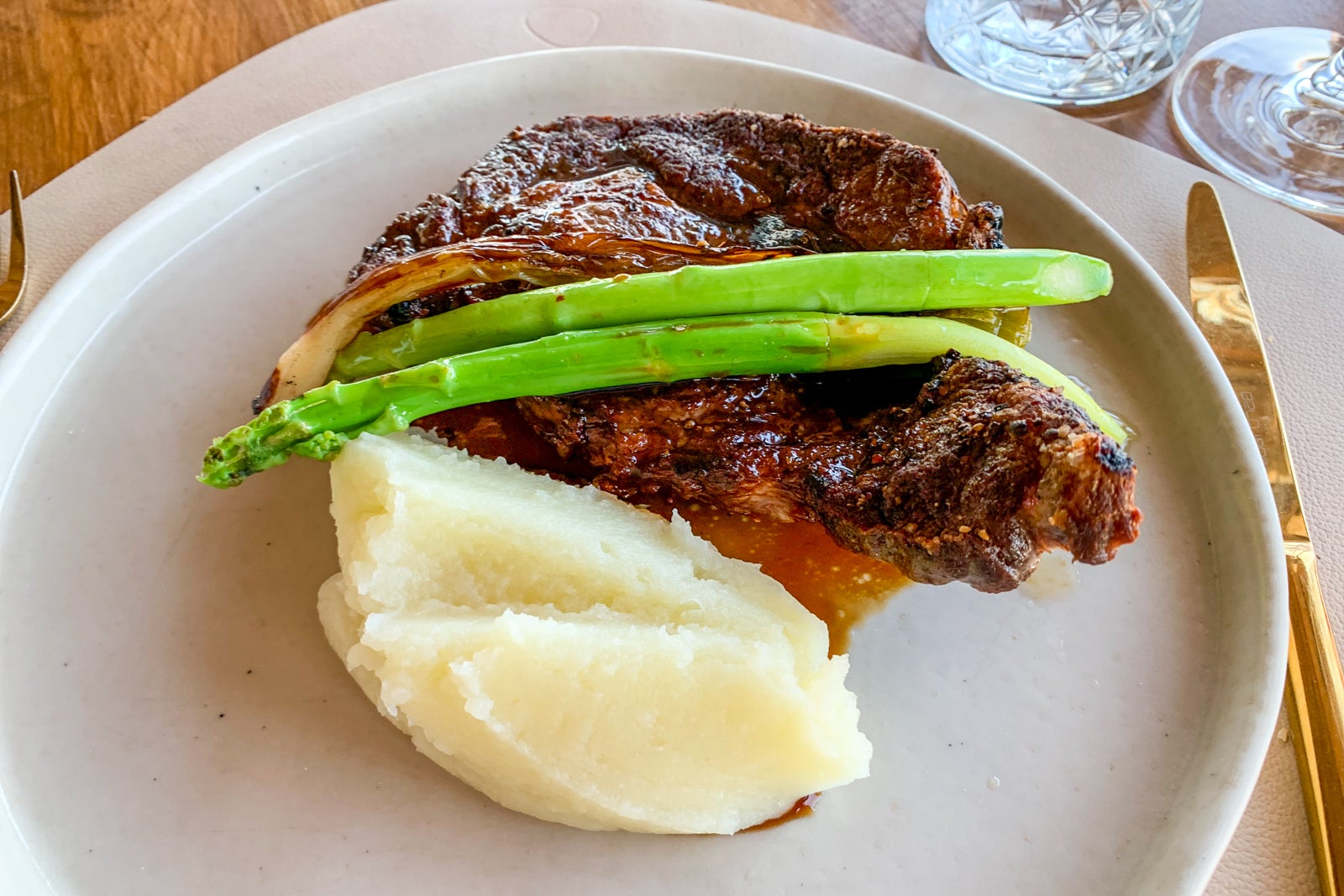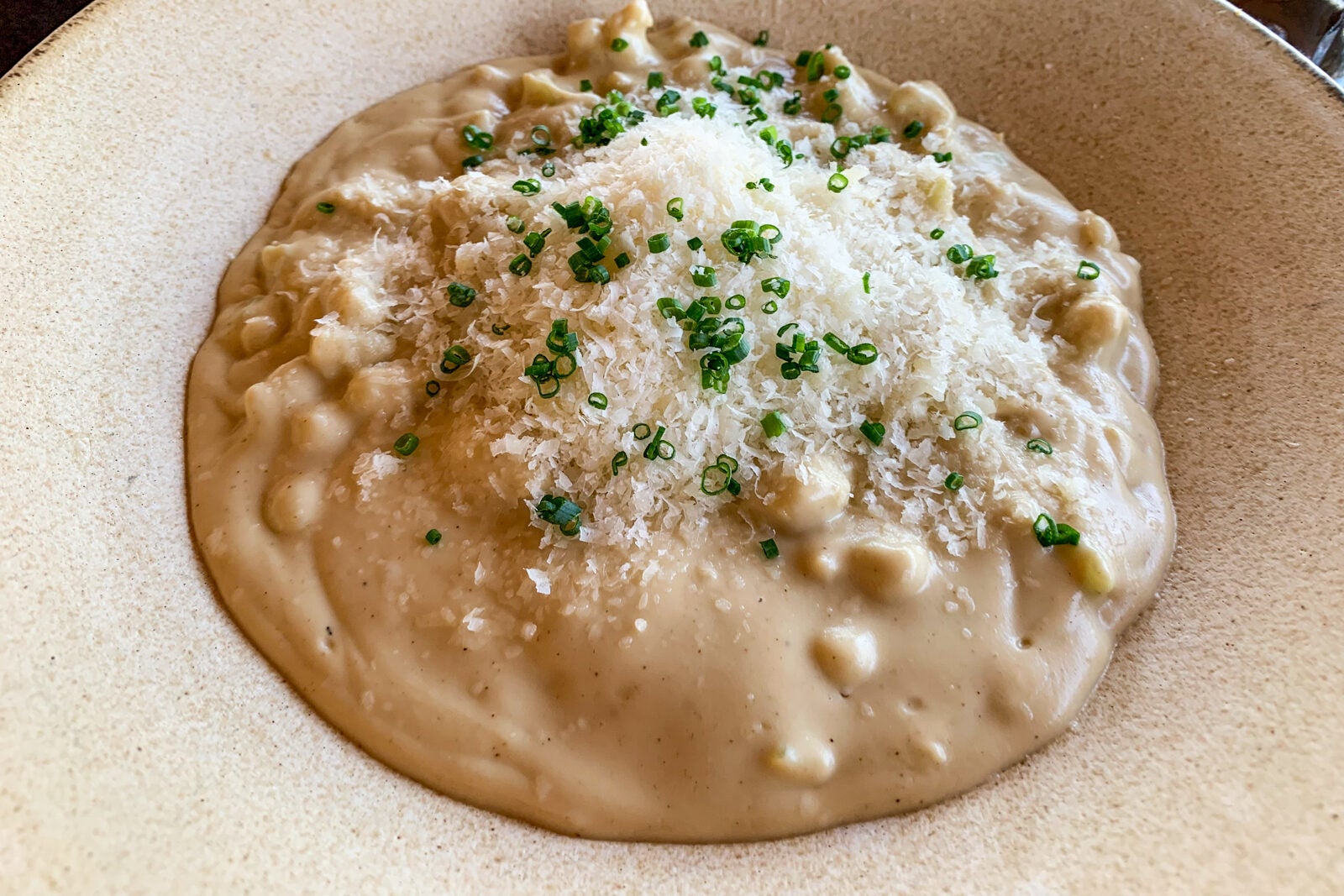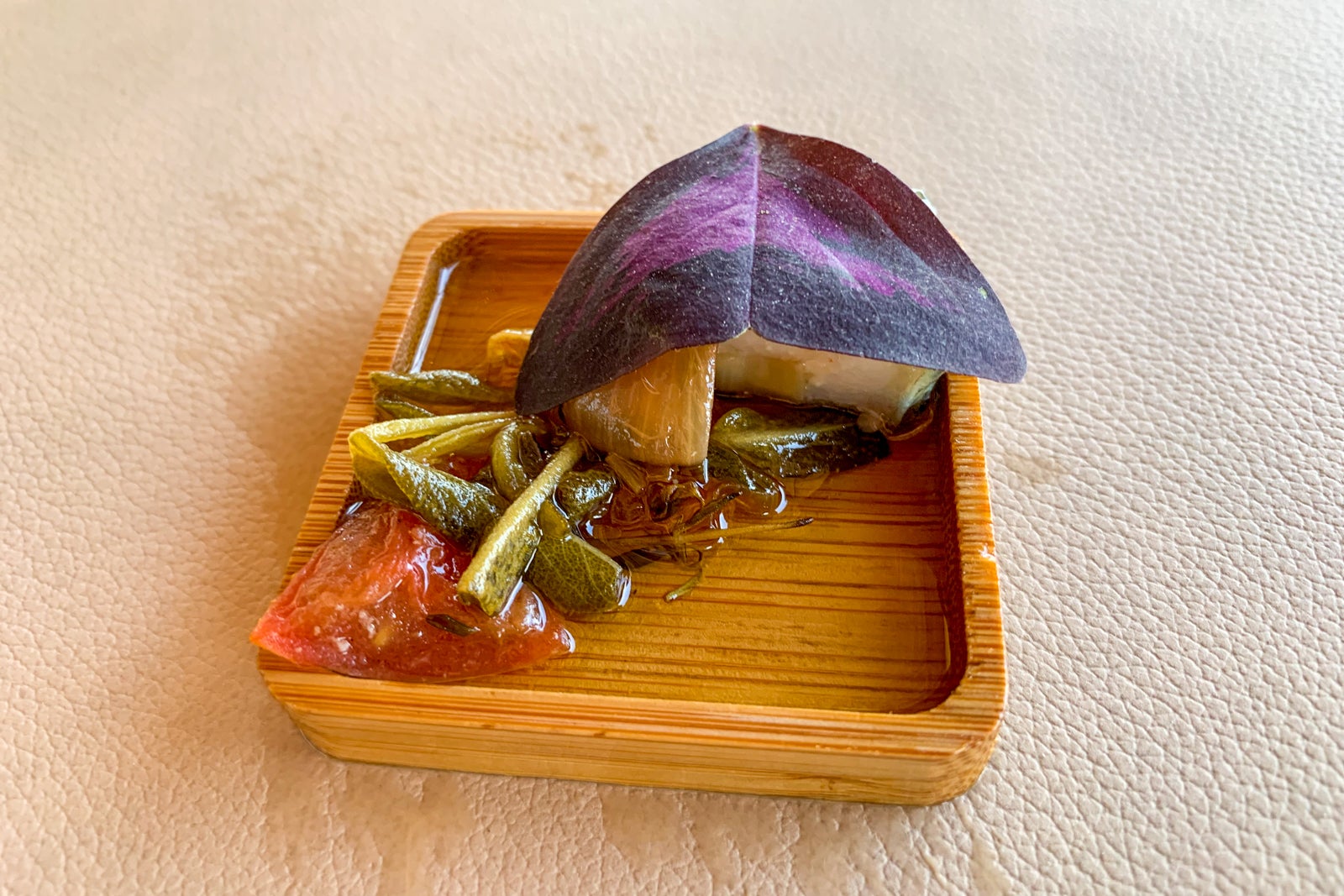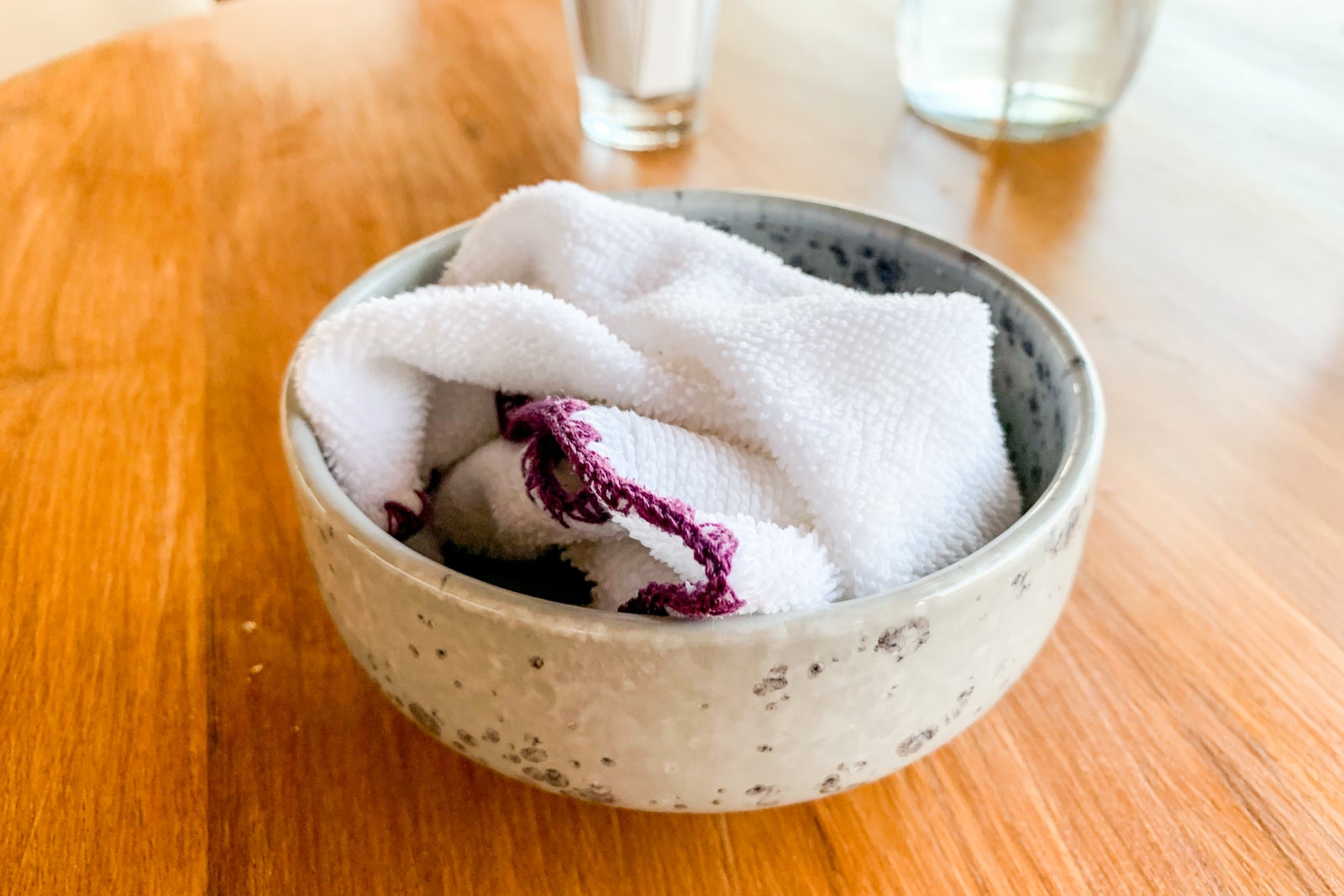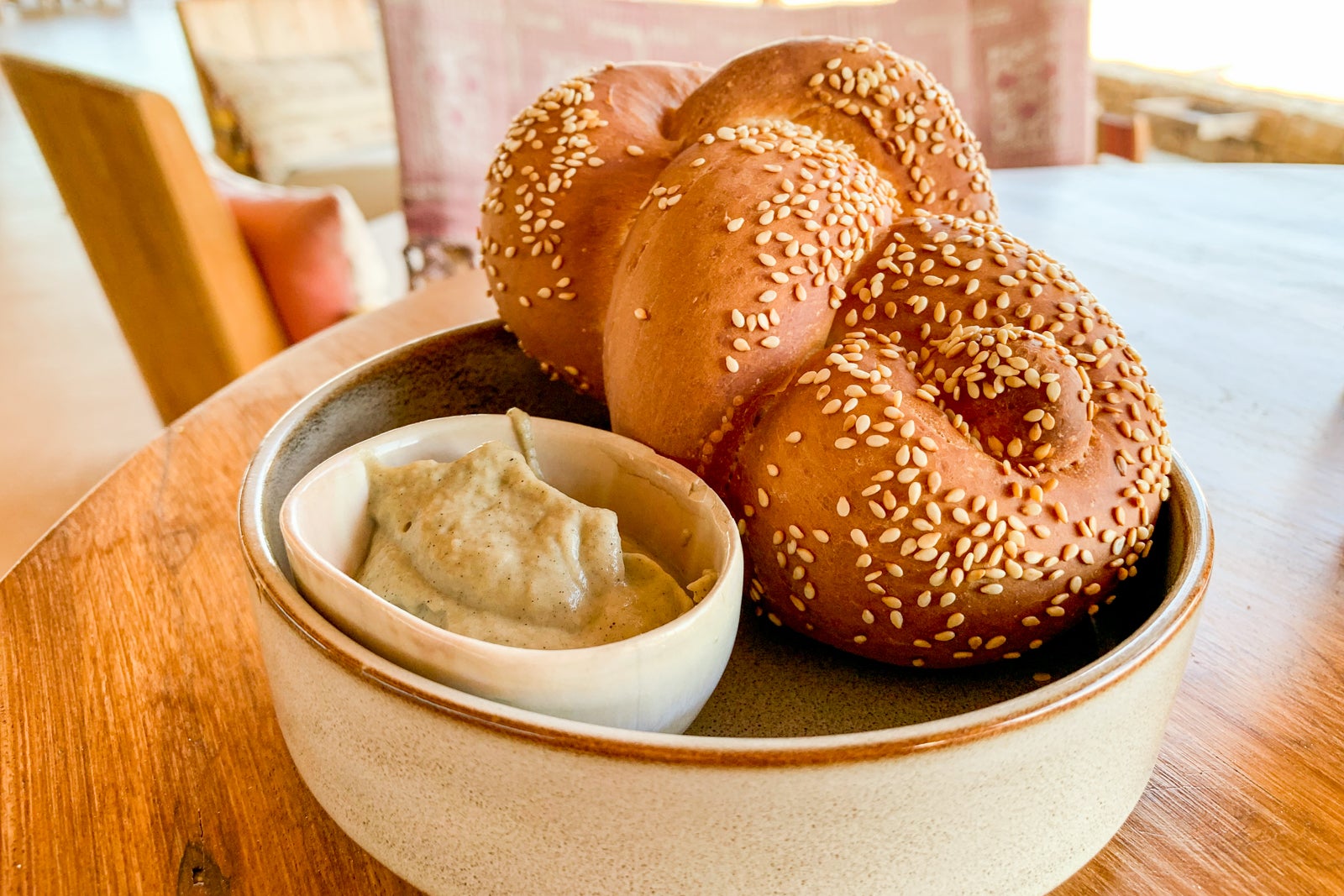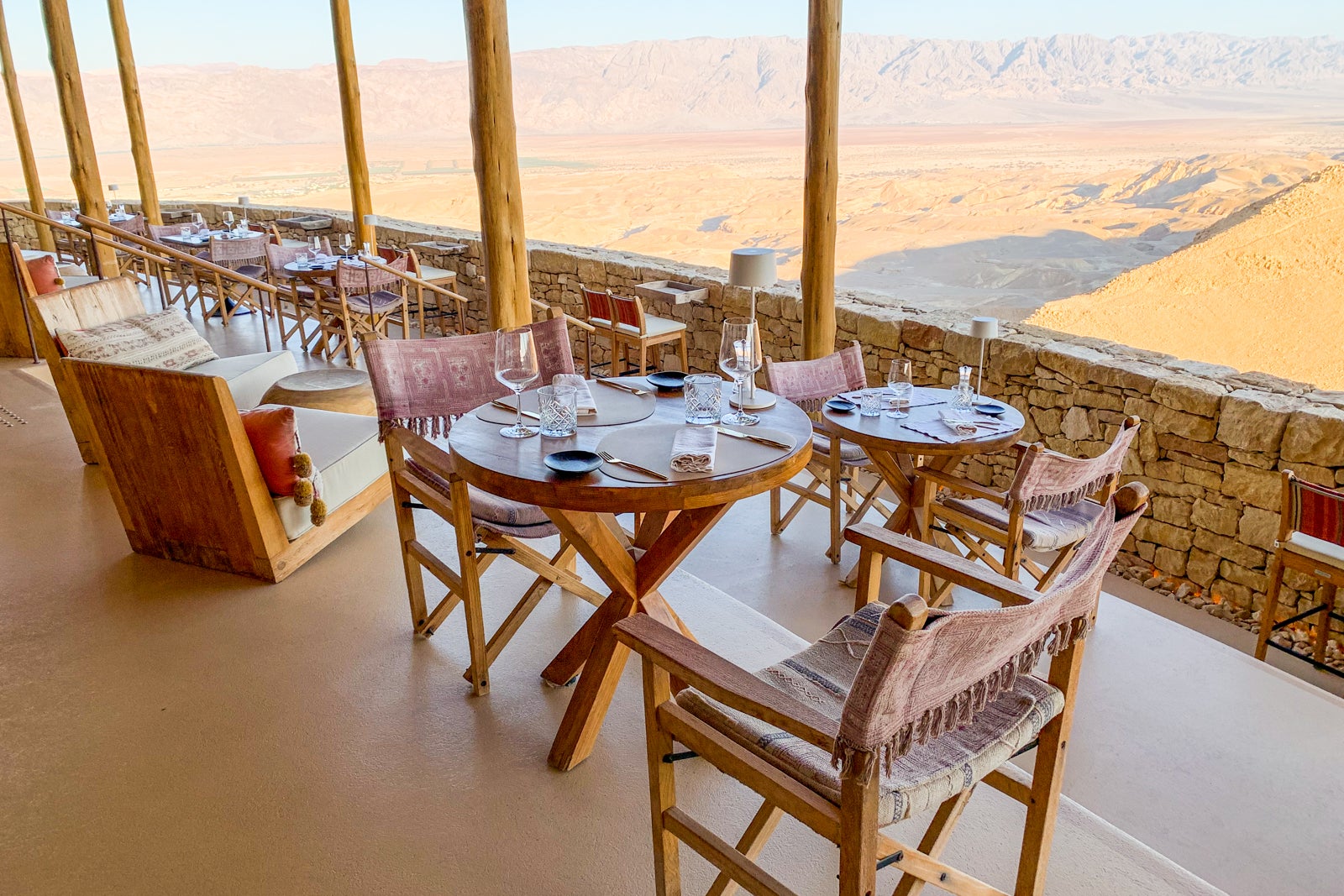 To finish, I ordered the Nights of Shaharut dessert ($18). Described as a semolina pudding with shanty labane in a tuile made of kadaif (crispy phyllo dough) and yogurt ice cream, it was like an explosion of flavors and textures with hints of flower petals, goat cheese, ice cream, wafers and cream.
A simple way to describe it is a tart ice cream on a bed of sweet dough (with a Cream of Wheat texture) and pistachio nuts topped with a frosted ring of shredded wheat.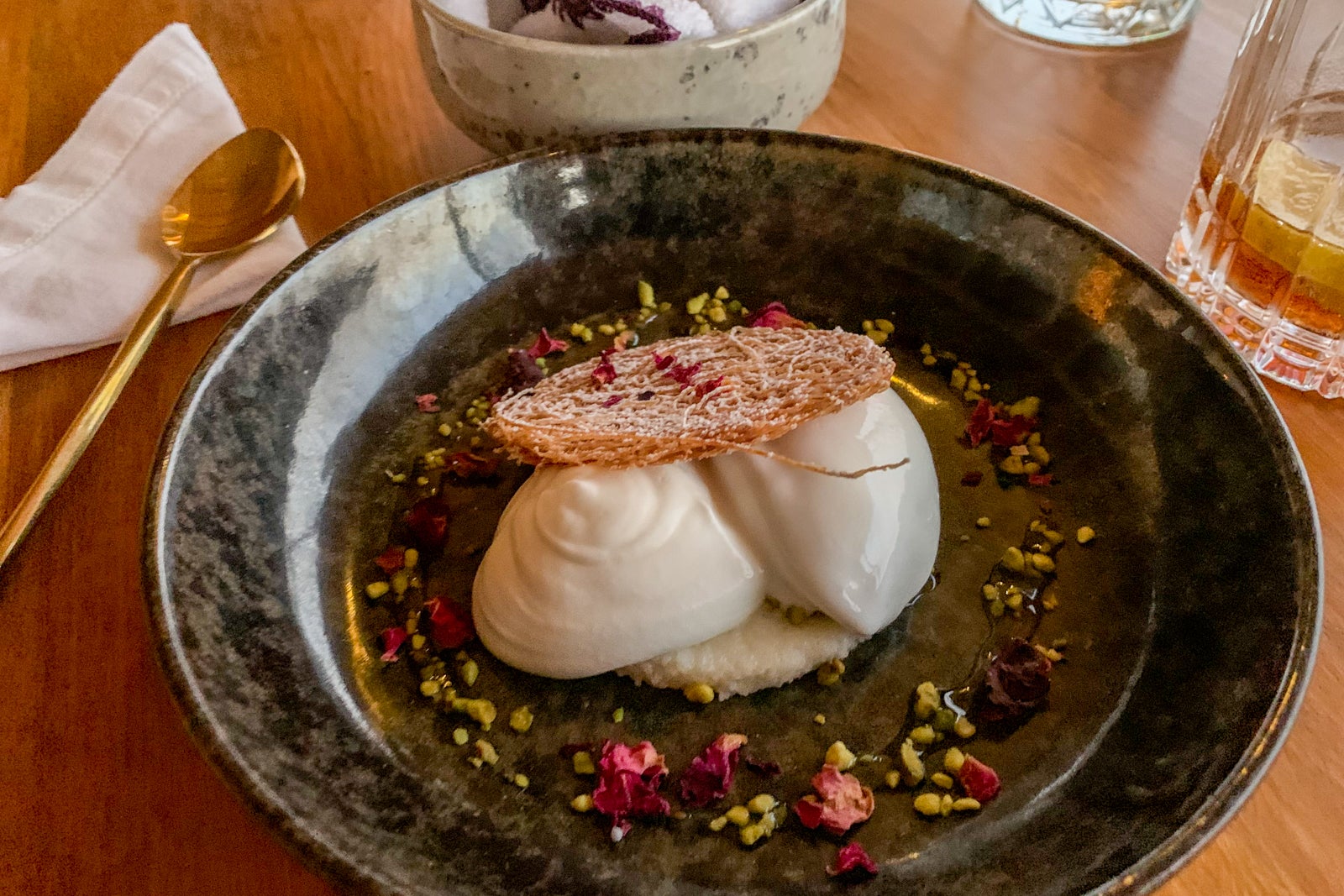 The food at the resort was amazing all around. There was a surprising variety of menu items even with a limited number of restaurants on-site, making it impossible to try everything during my stay. All of the dishes I sampled were so filling and plentiful in portions that I didn't end up having lunch.
However, if I'm able to return in the future, I'd love to try the outdoor restaurant called Edom View, which offers sweeping desert vistas. It has limited hours of operation (from 1 to 5 p.m.), so I wasn't able to fit it in, but it looked like a great spot to hang out when it's not too hot.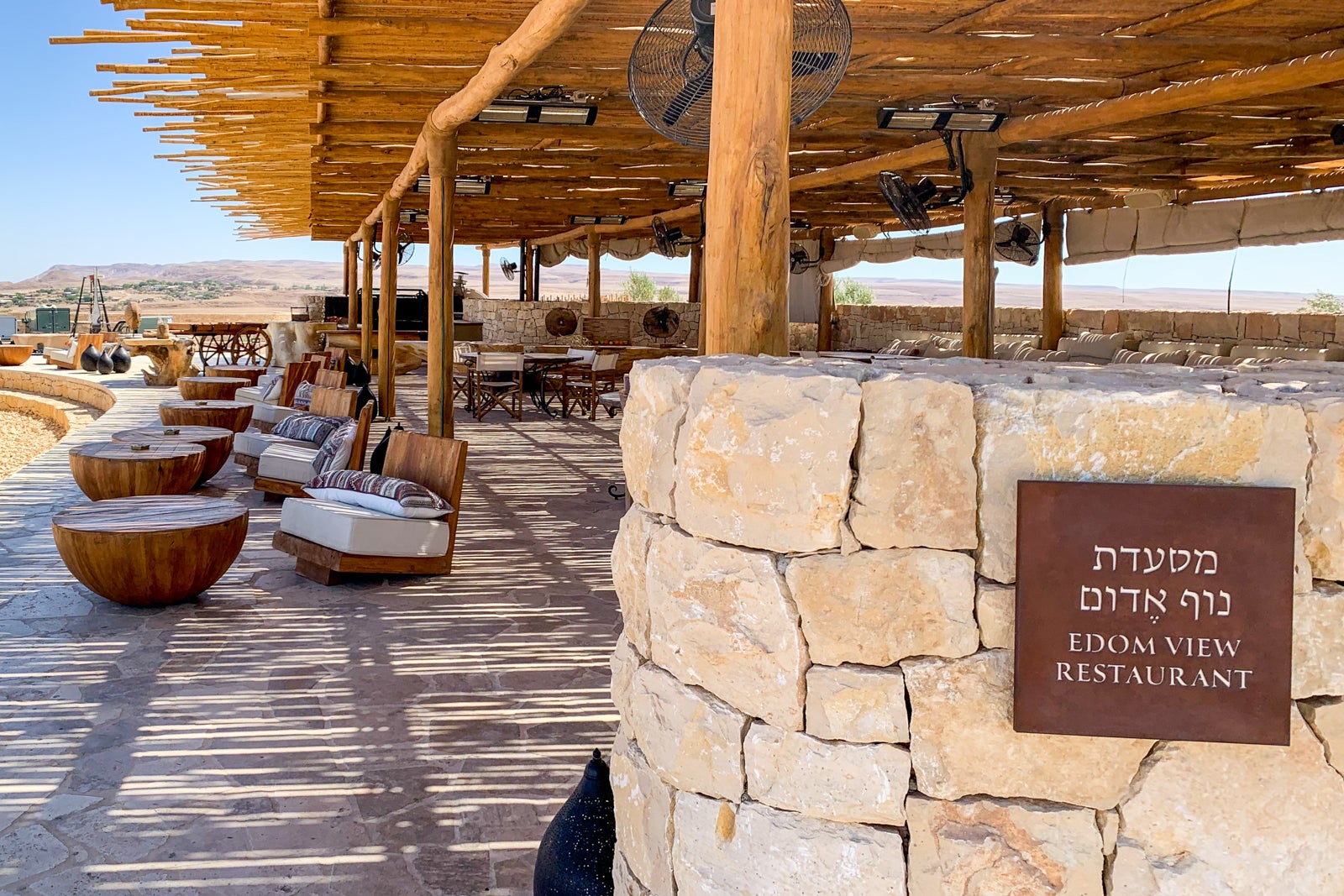 Amenities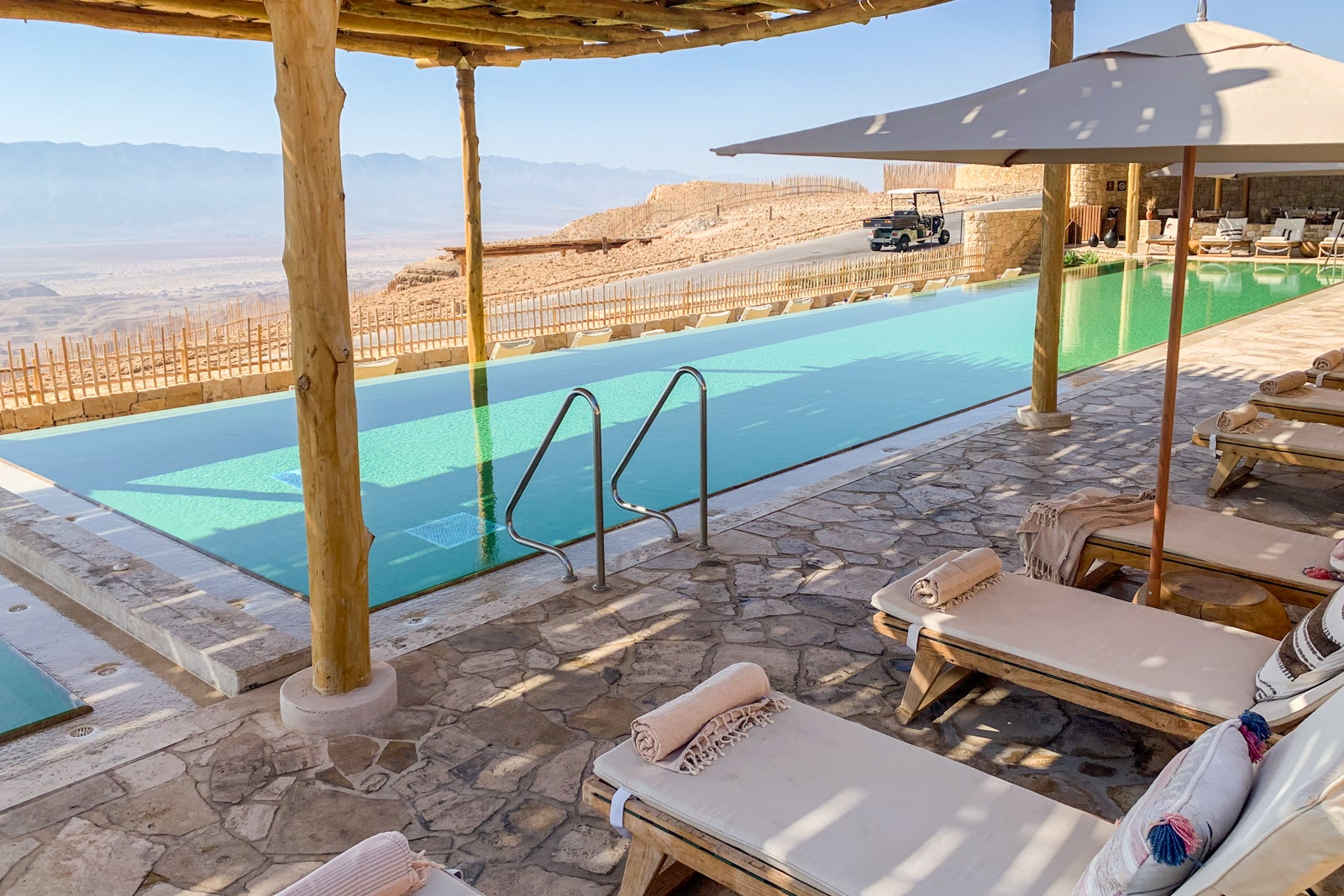 One of the greatest amenities at Six Senses Shaharut is the outdoor pool. Built into a hill on the resort grounds, it has incredible views of the mountains of Jordan across the valley. It's large and heated, resulting in it being more of a giant hot tub than a traditional pool, though it wasn't too hot to enjoy during my stay.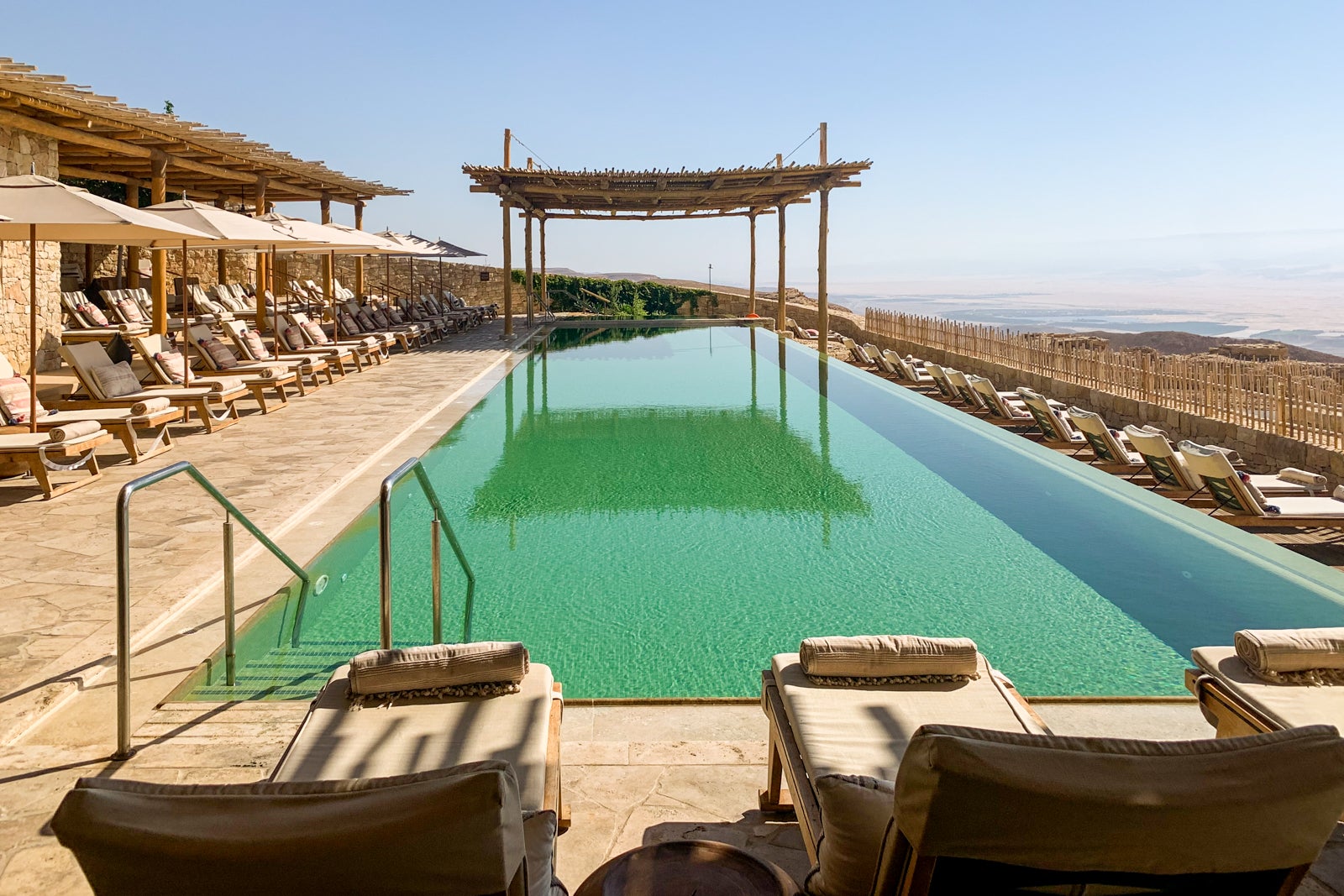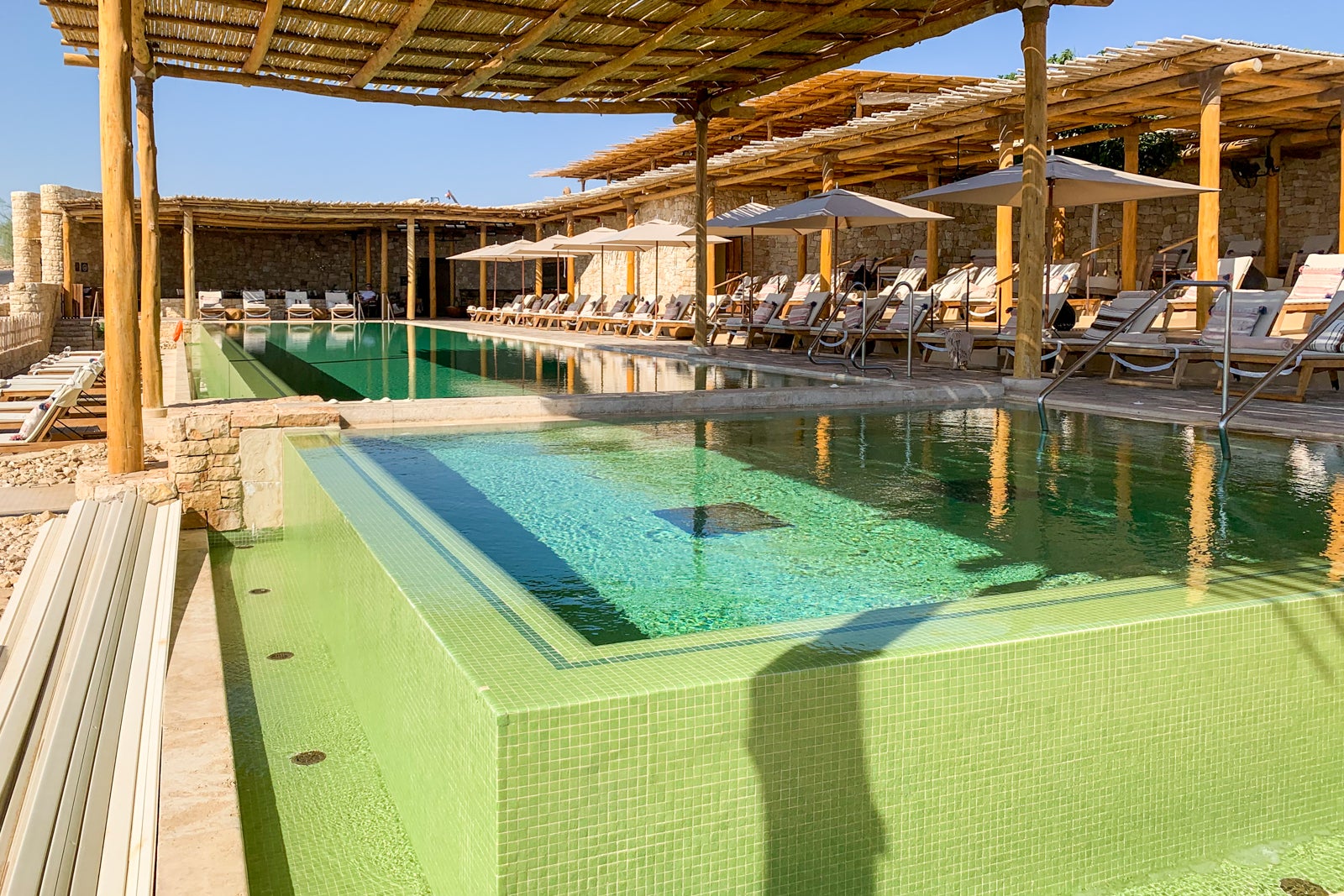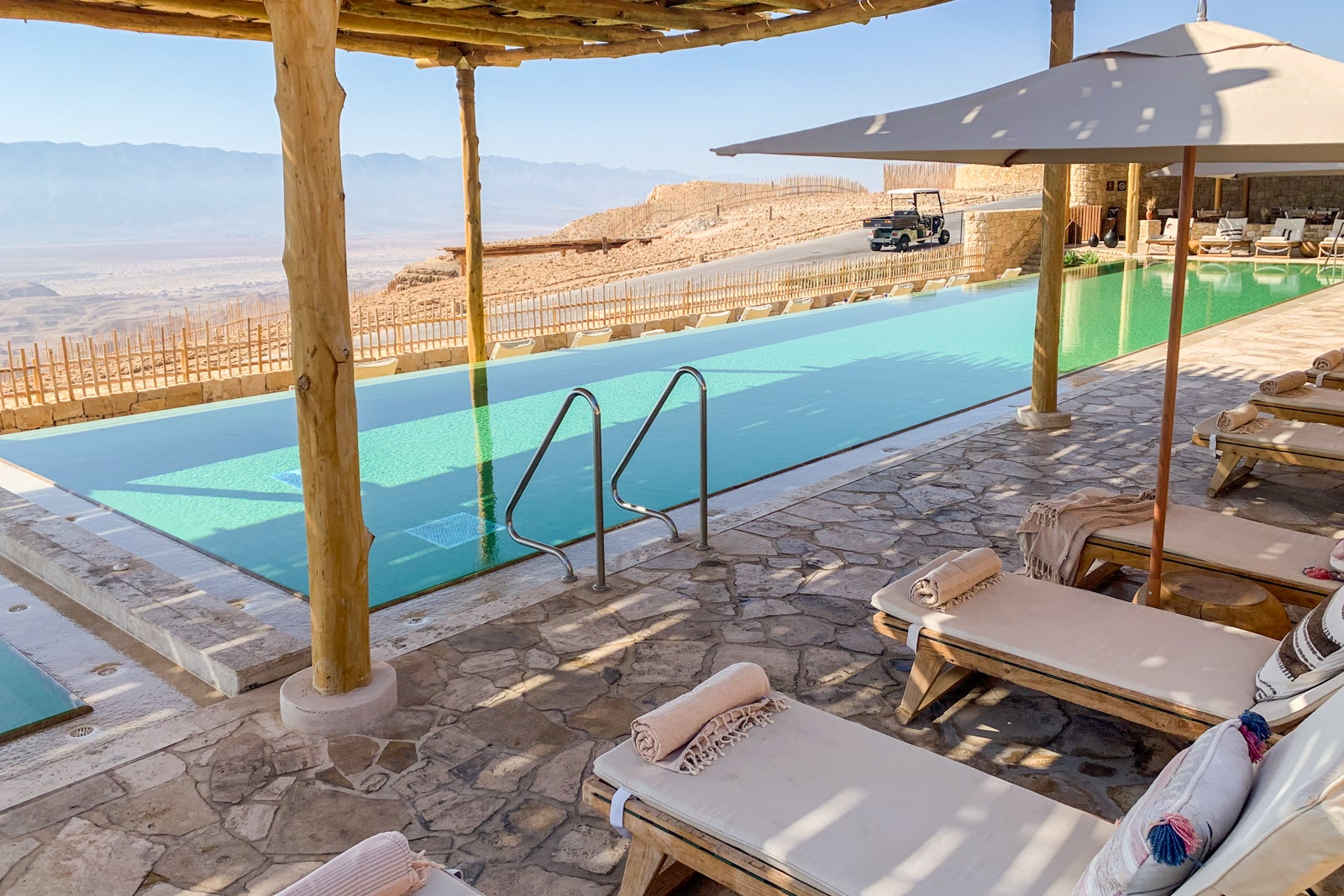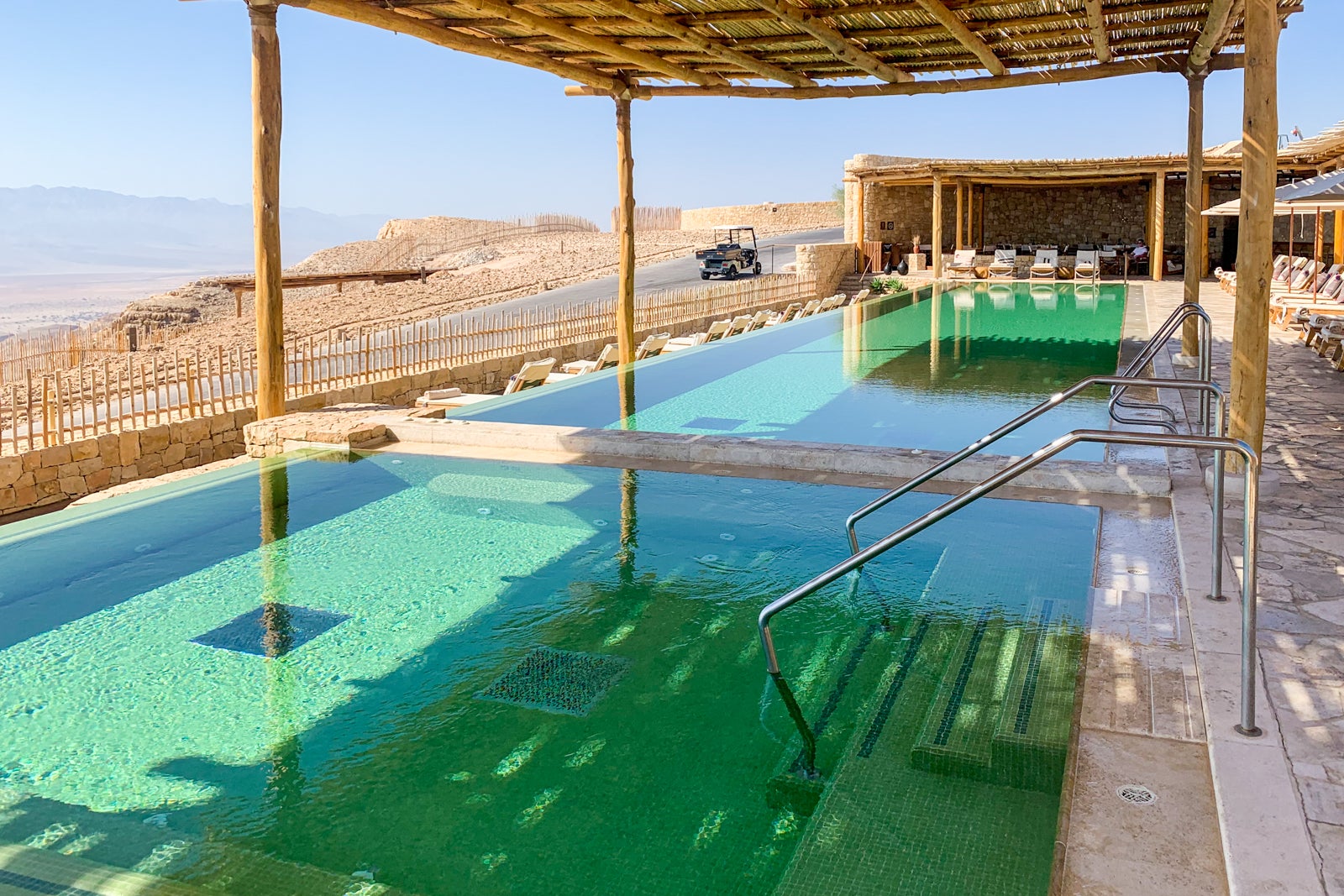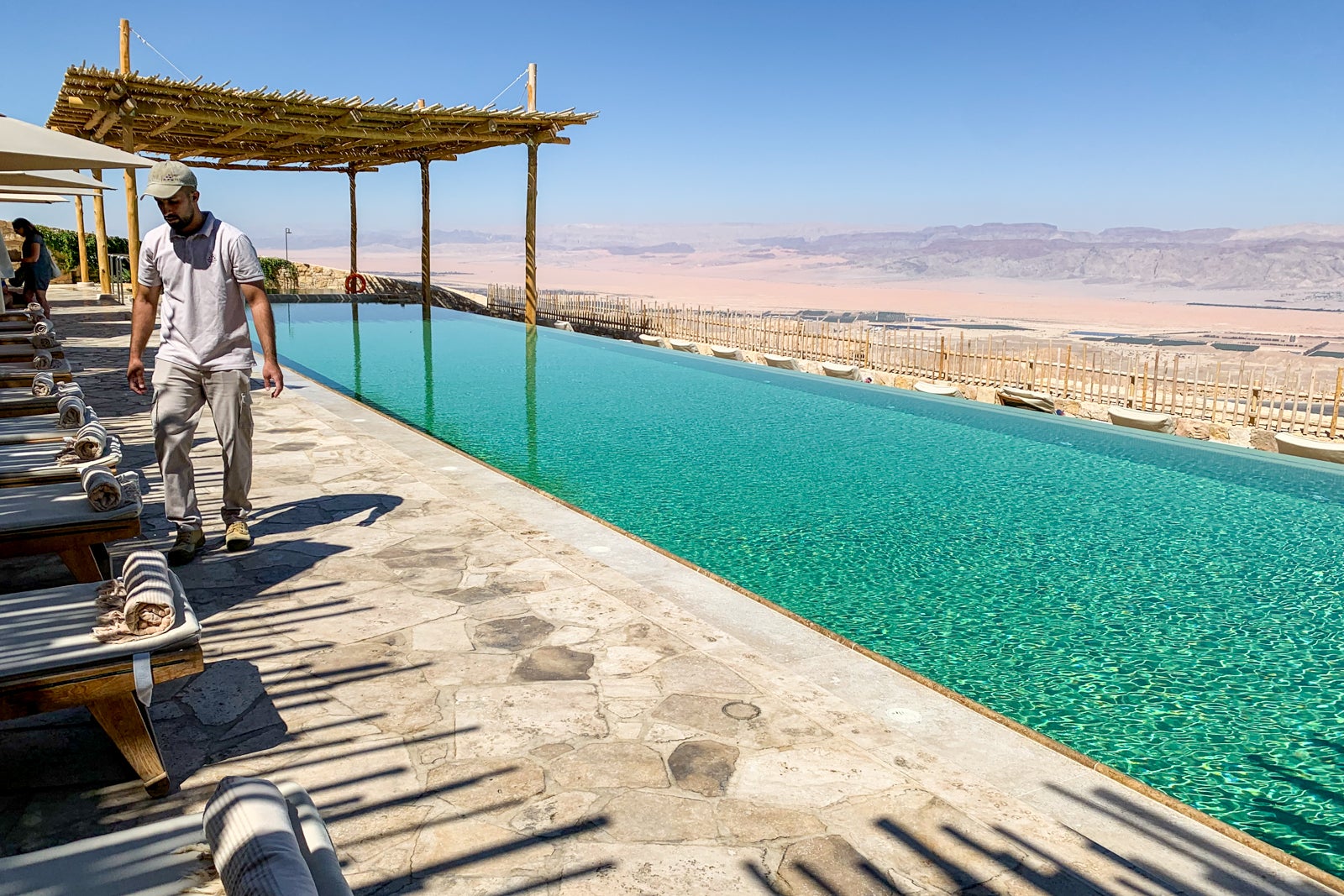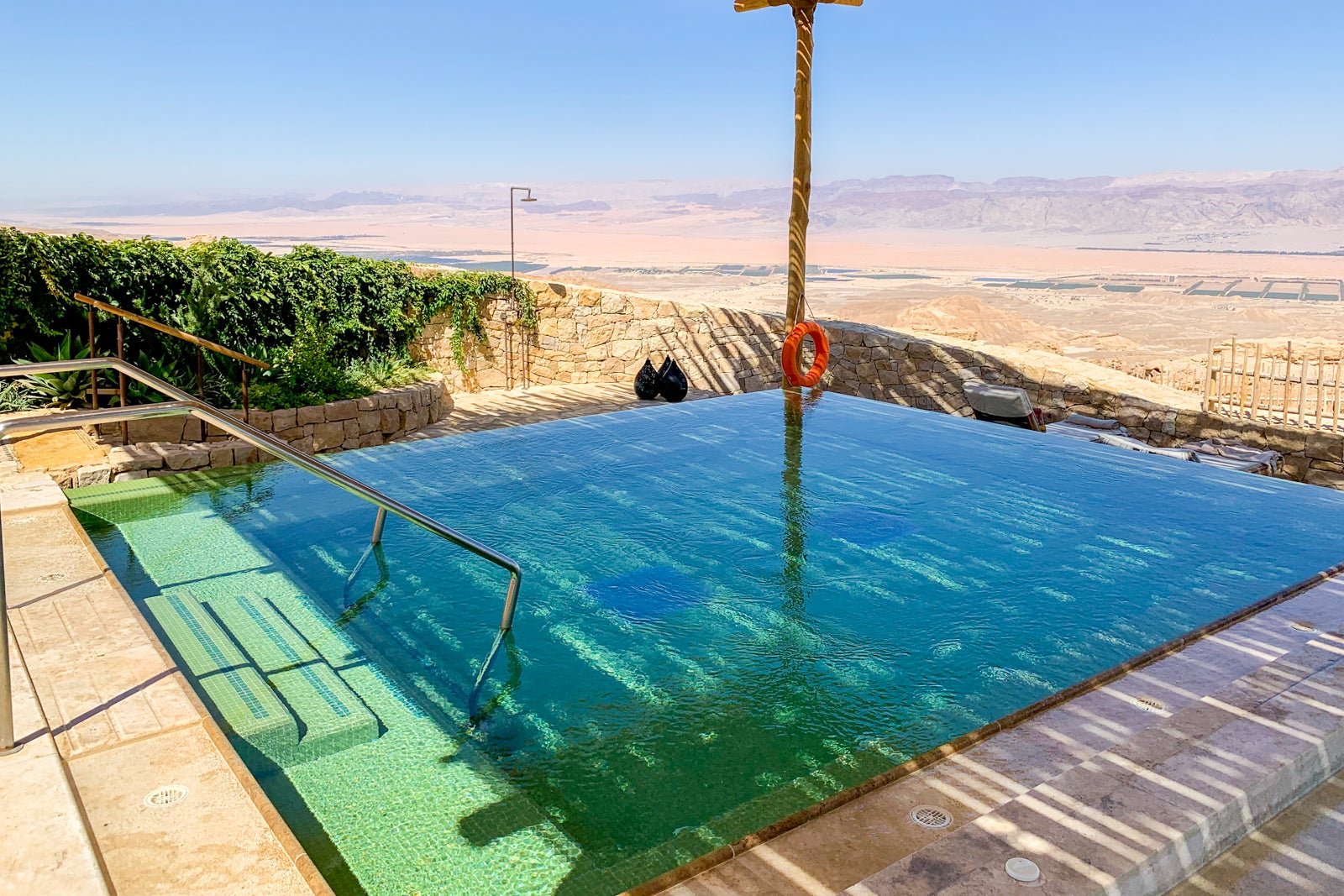 By the pool is a bar serving cocktails and other refreshments. There are also dozens of lounge chairs with richly decorated towels with terry cloth centers and cotton ends. During my time at the pool, there was never a shortage of lounge chairs.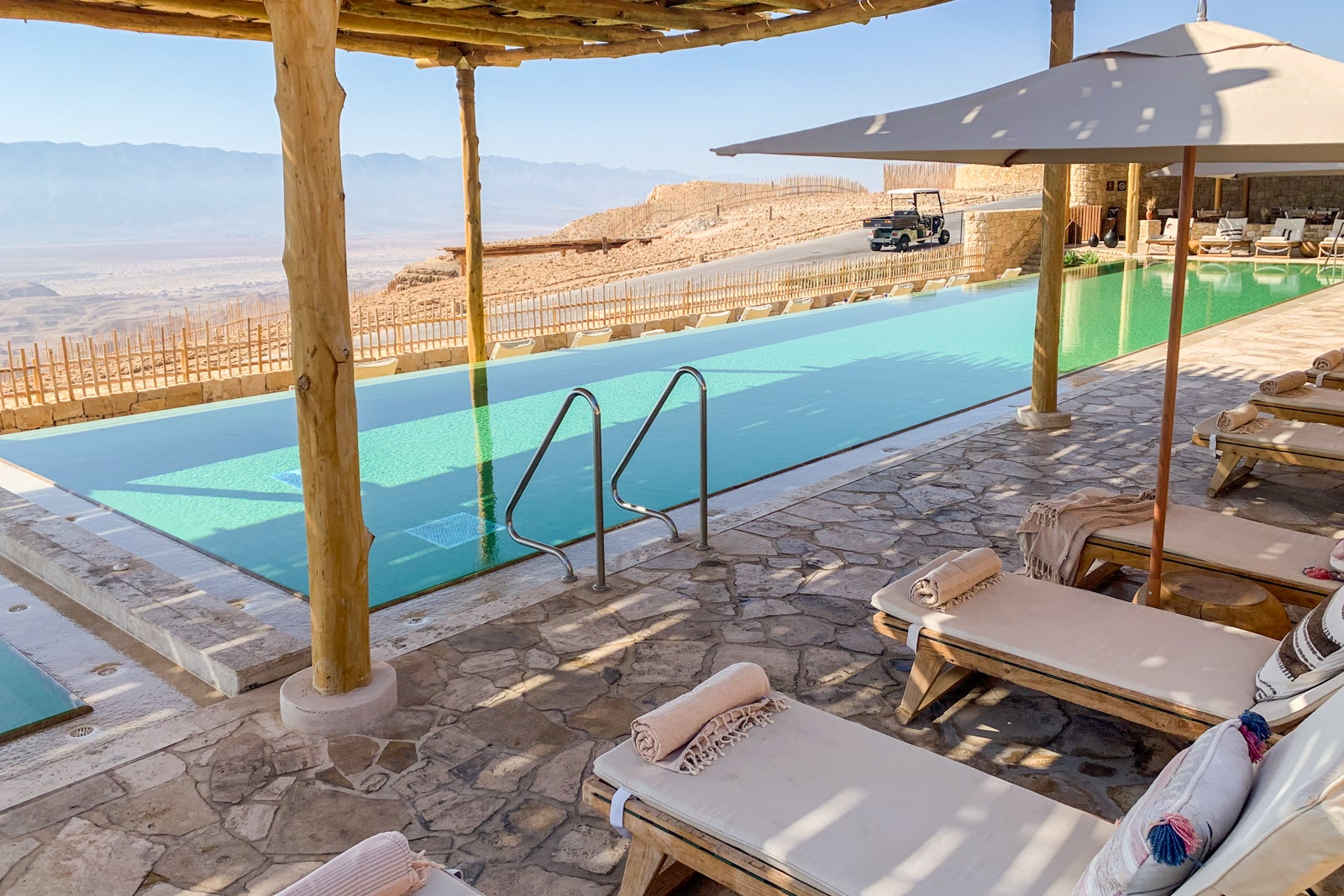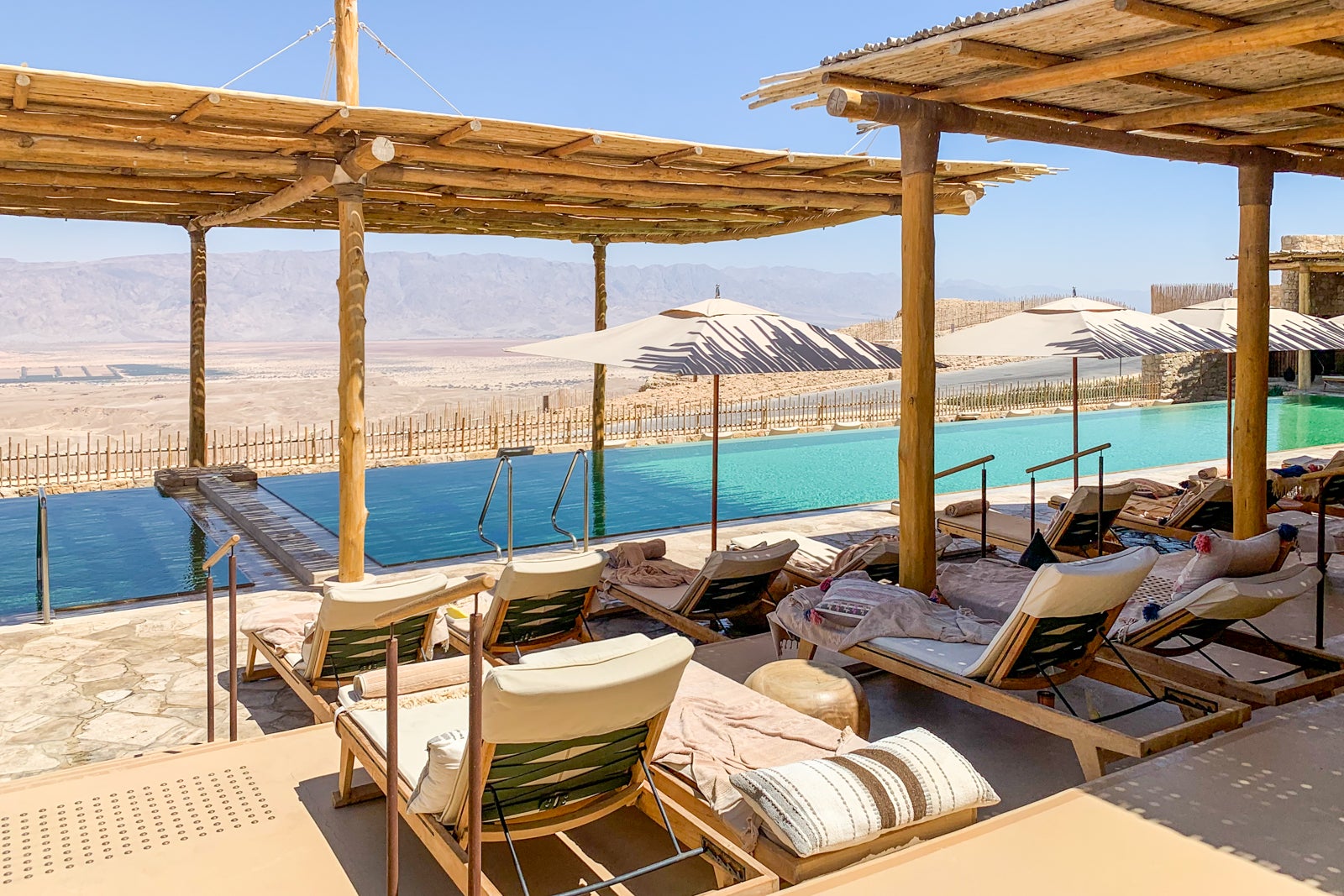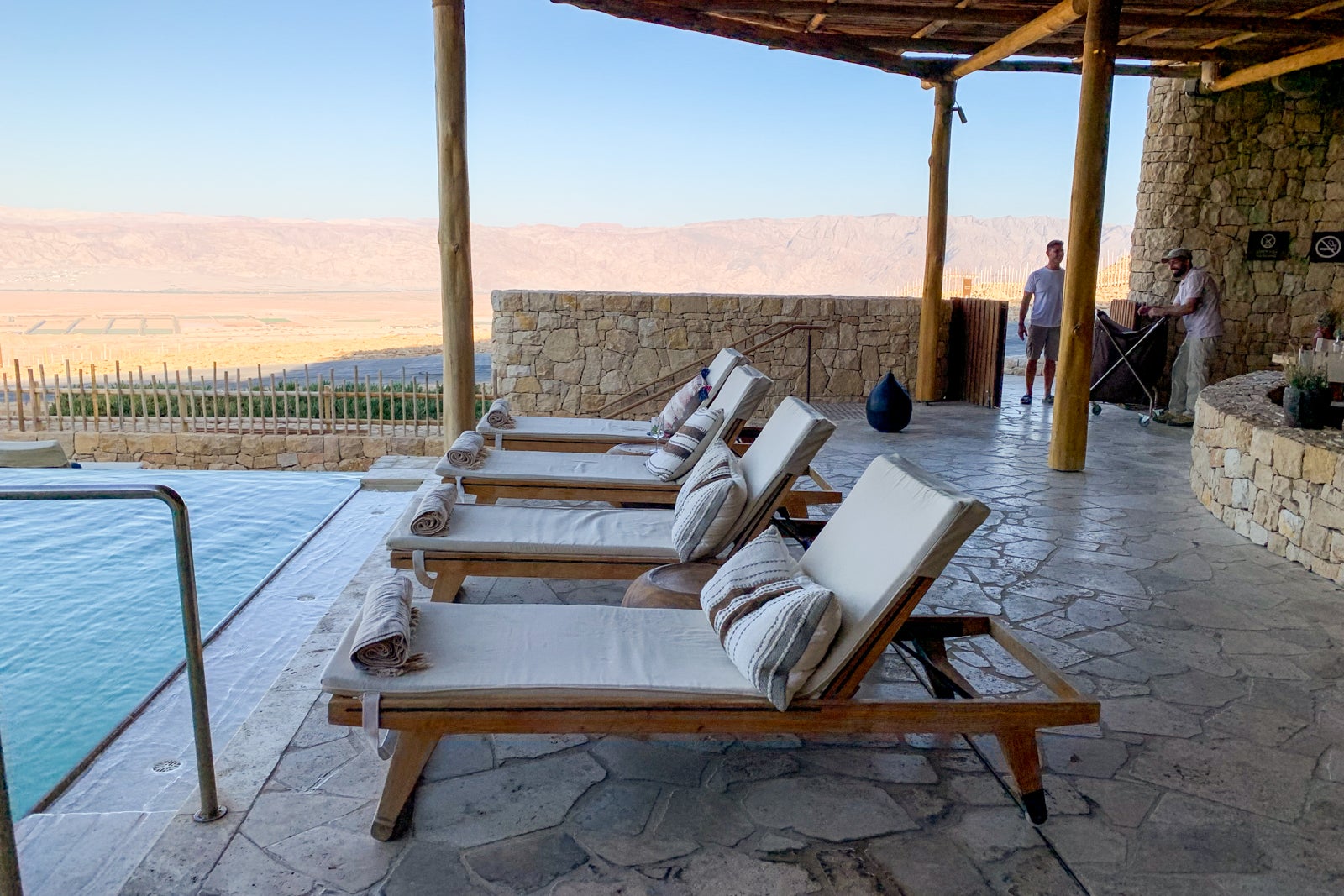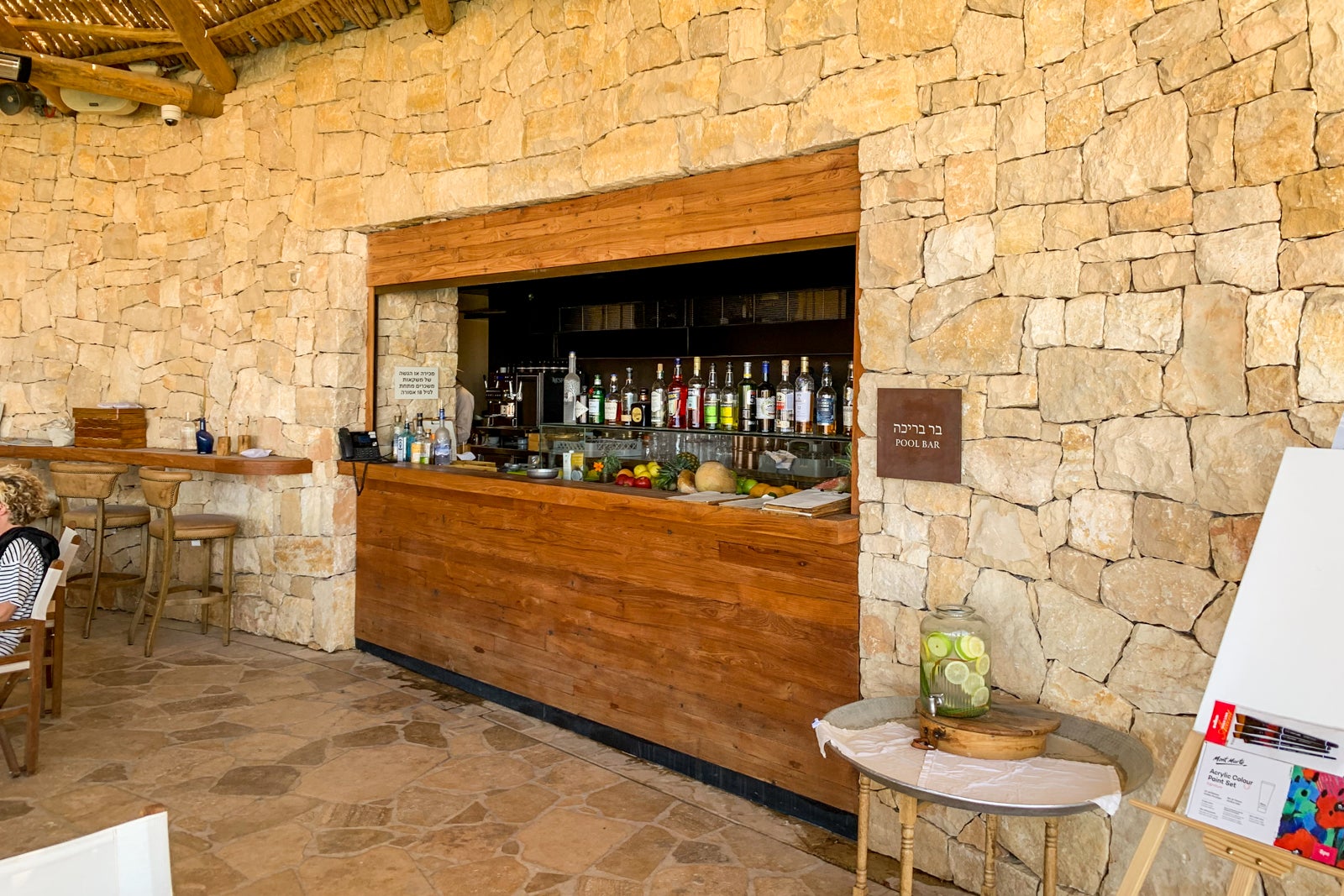 An additional pool is available indoors on the lowest level of the wellness and fitness center, too, but I didn't see anyone else using it while I was there.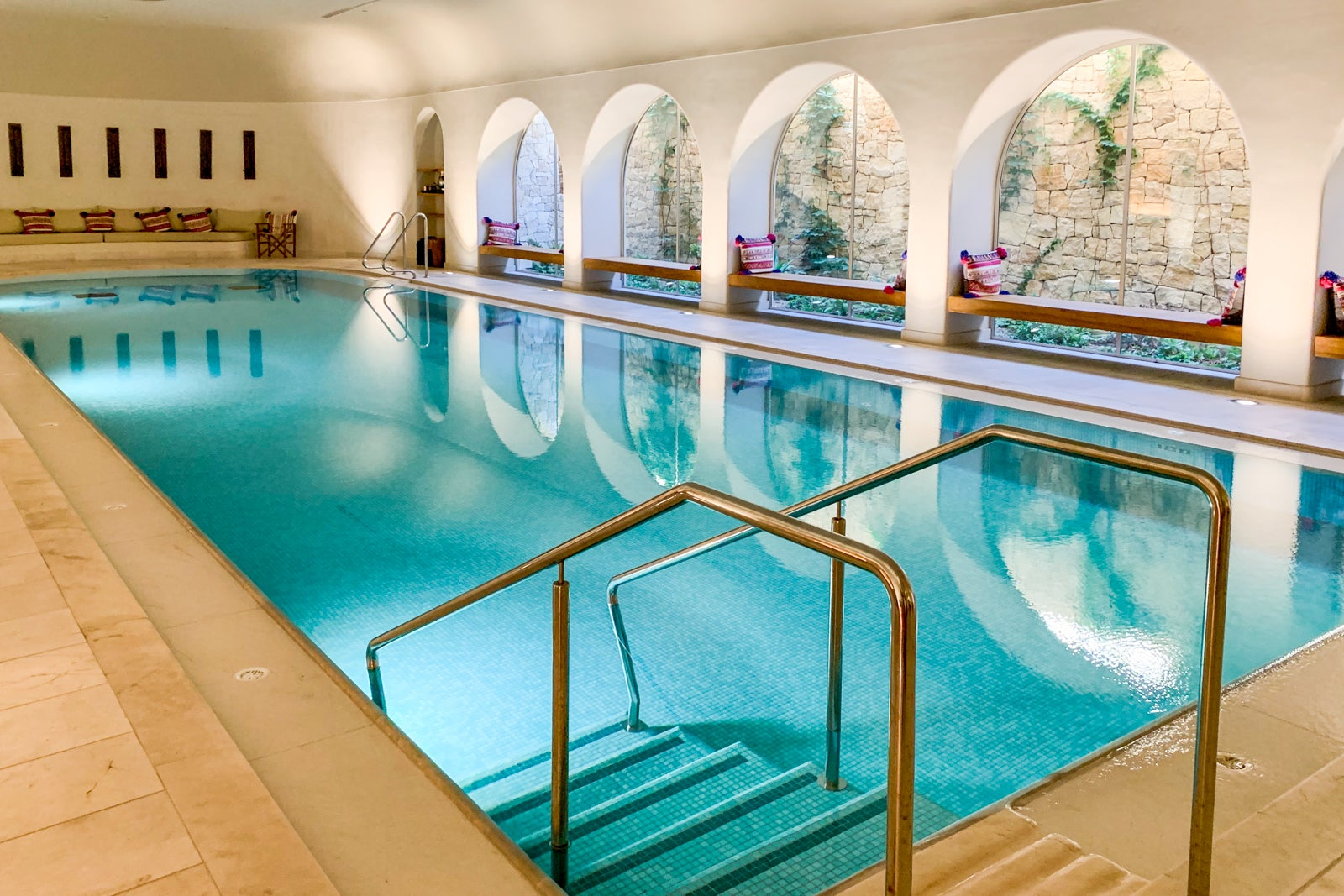 It was bright and pleasant, despite its semisubterranean design, and surrounded by wooden benches on one side and large bed-style loungers on the other, providing plenty of relaxing spots to enjoy between swimming laps.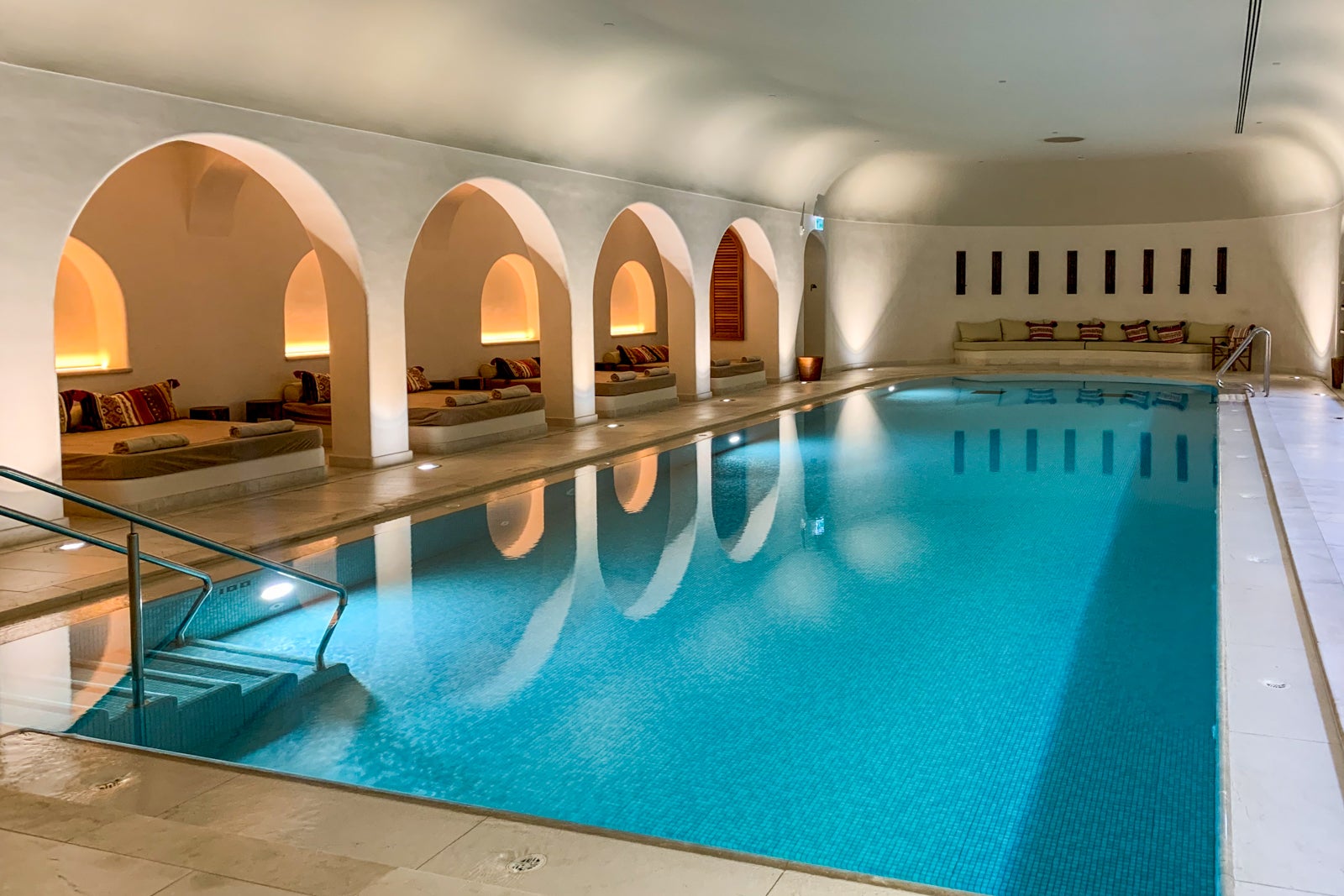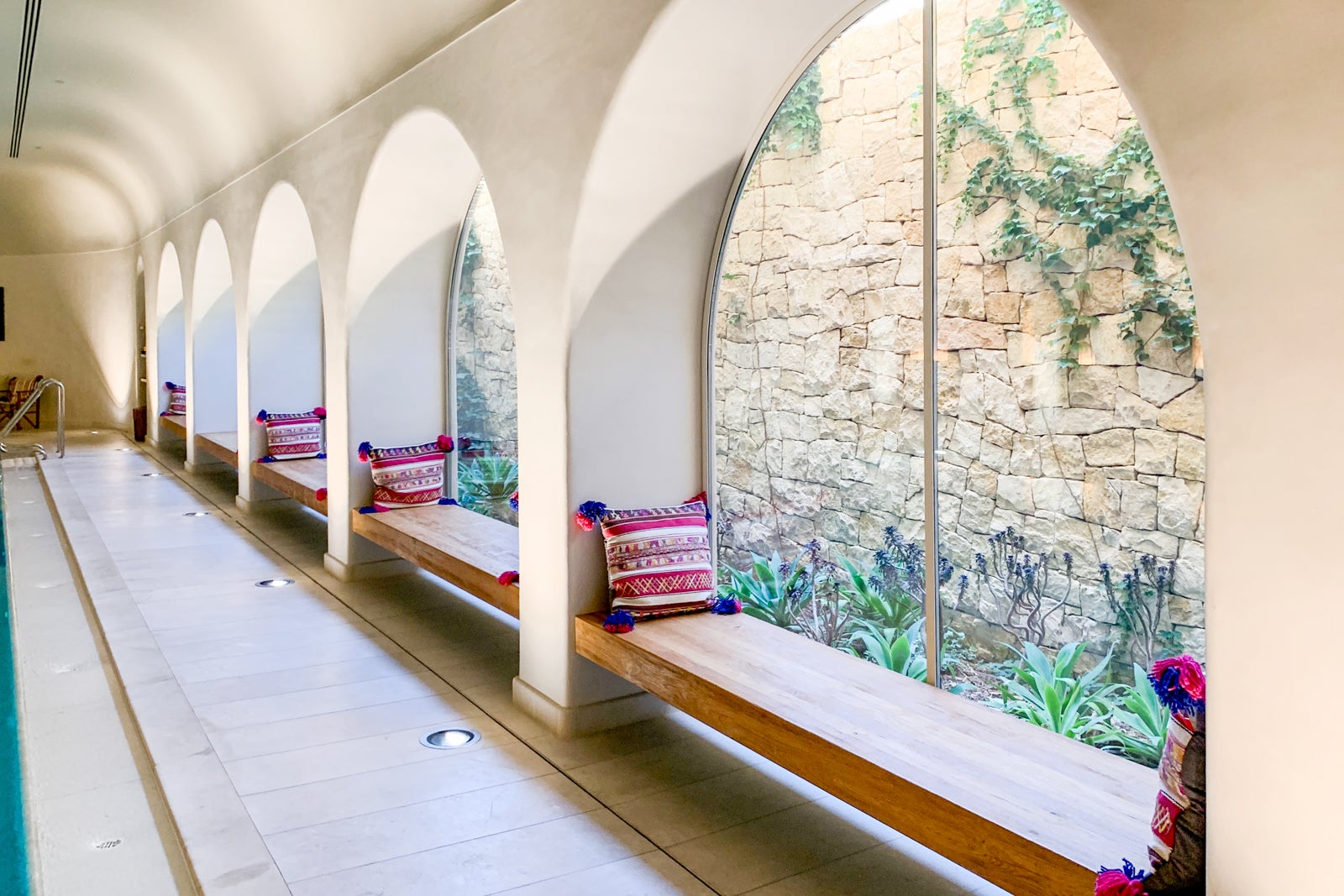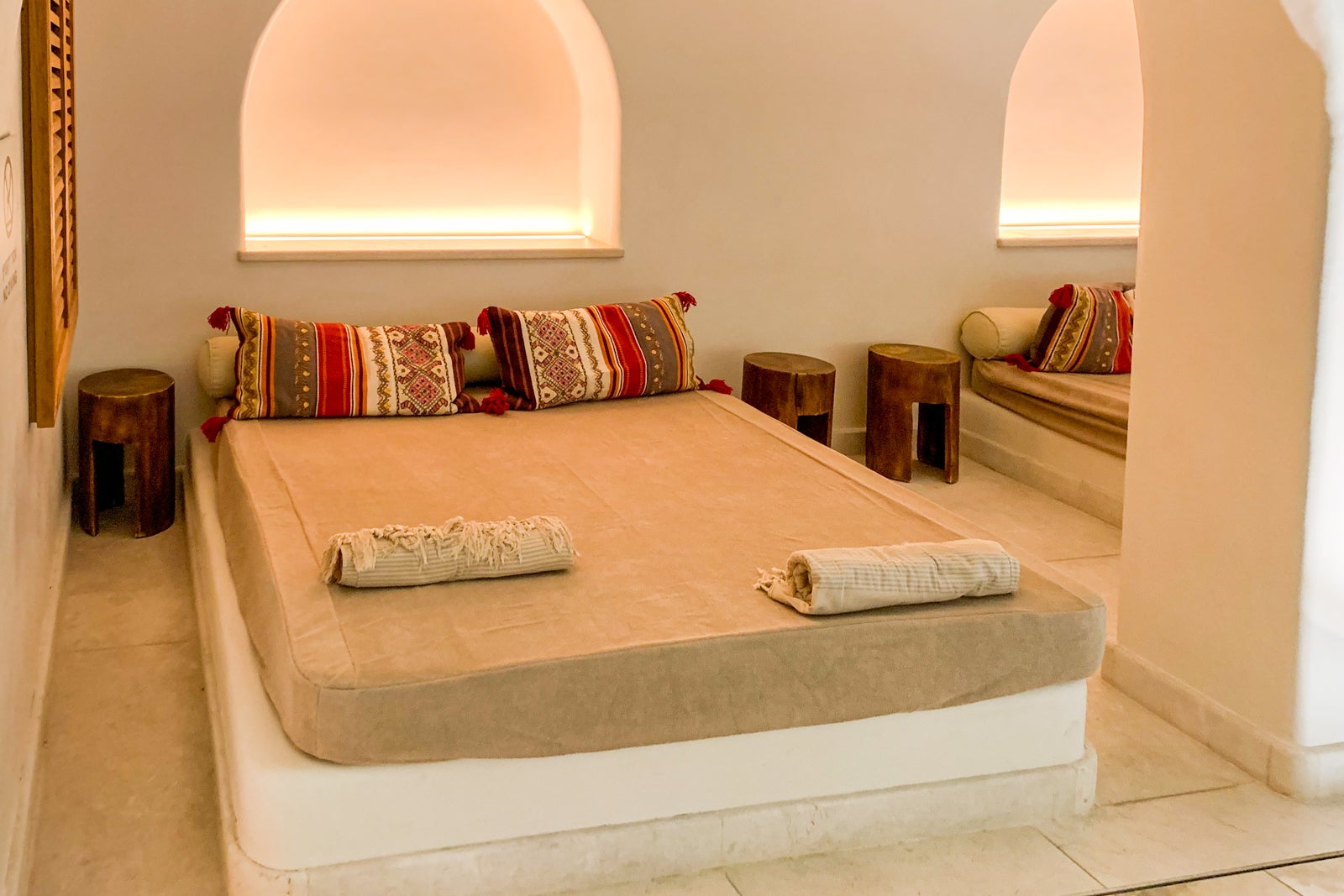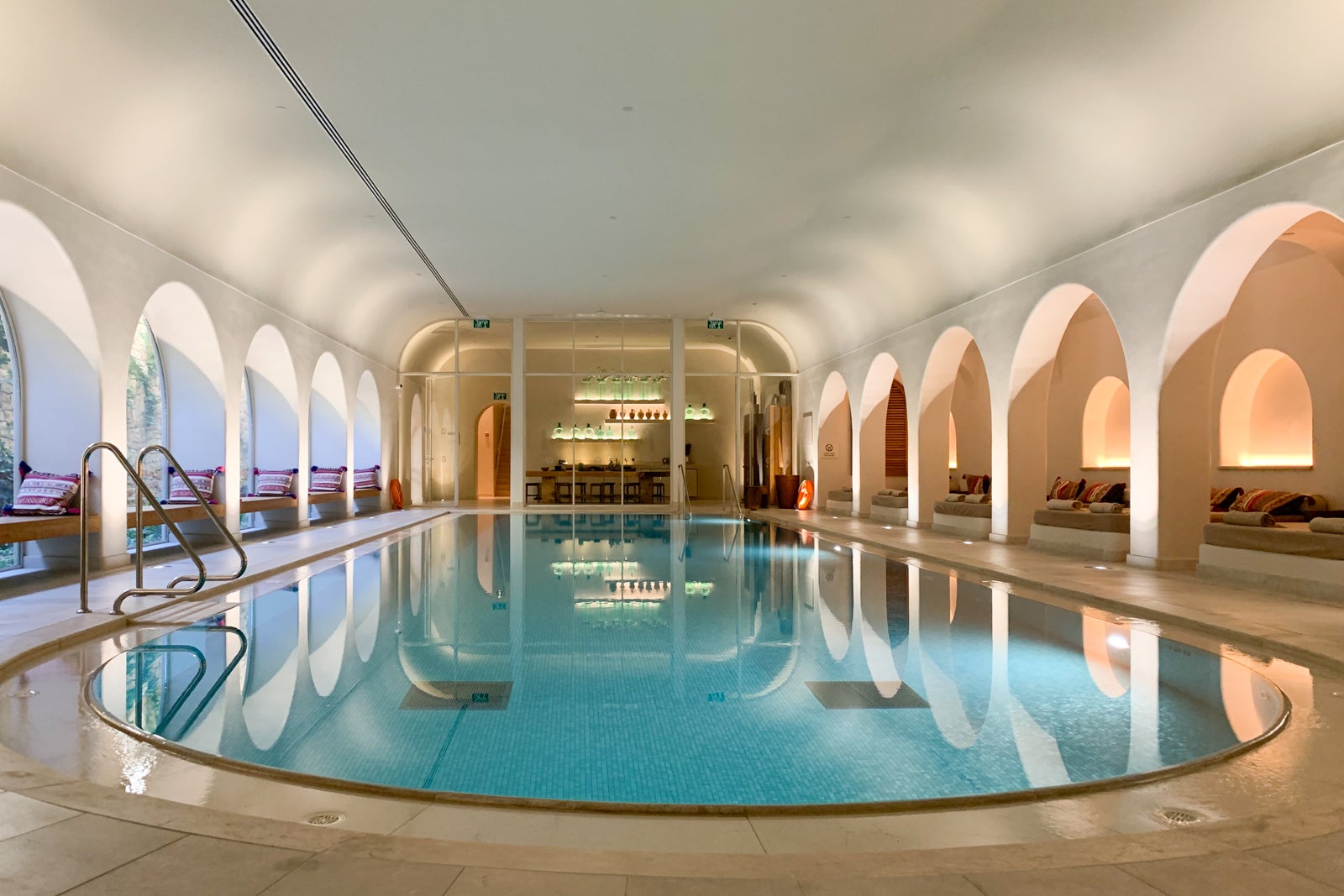 Near the indoor pool is the Alchemy Bar, where you can make your own concoctions for spa treatments using herbs like lavender and sage, salts and fruits. Olive and avocado oils are also available for things like mud masks.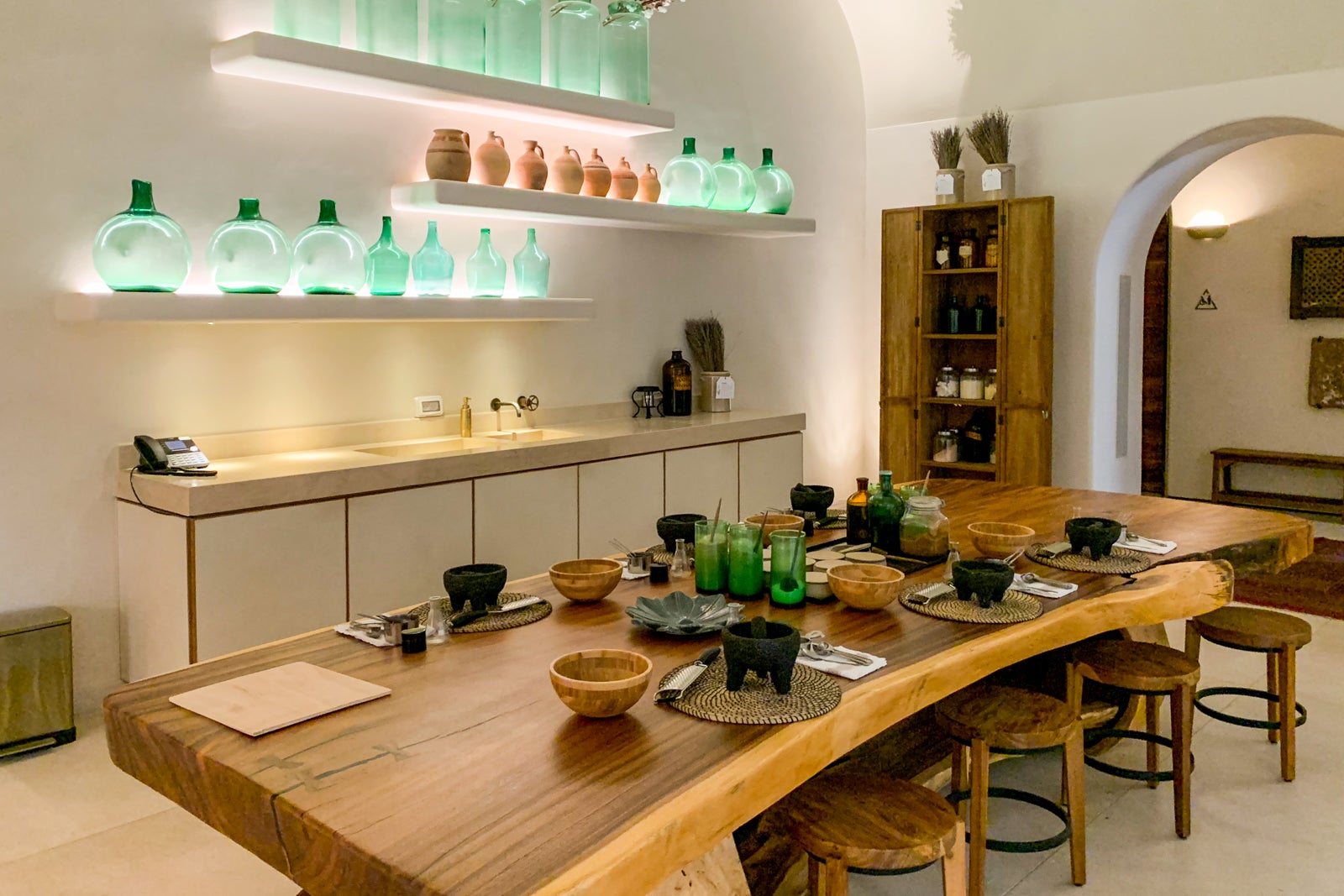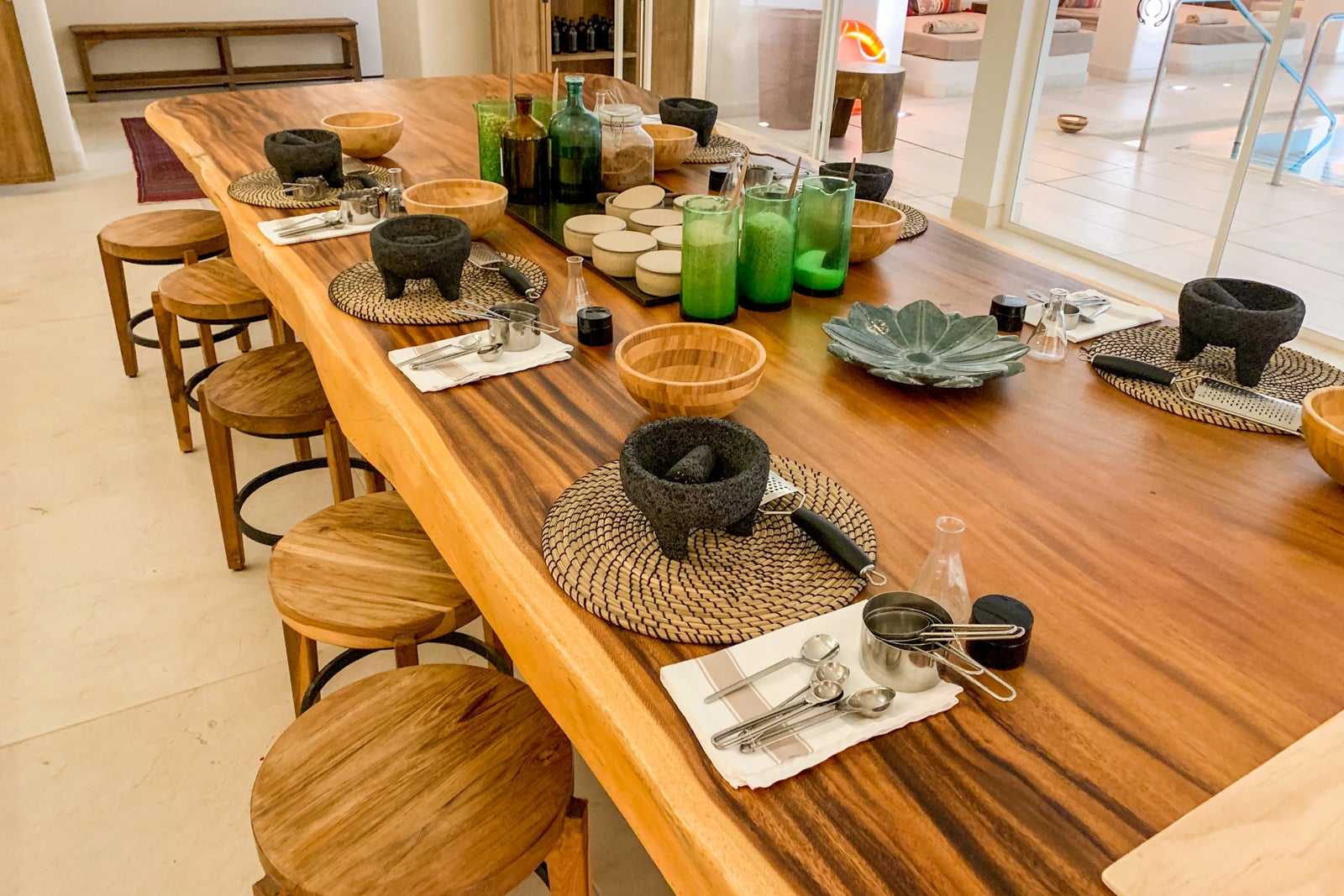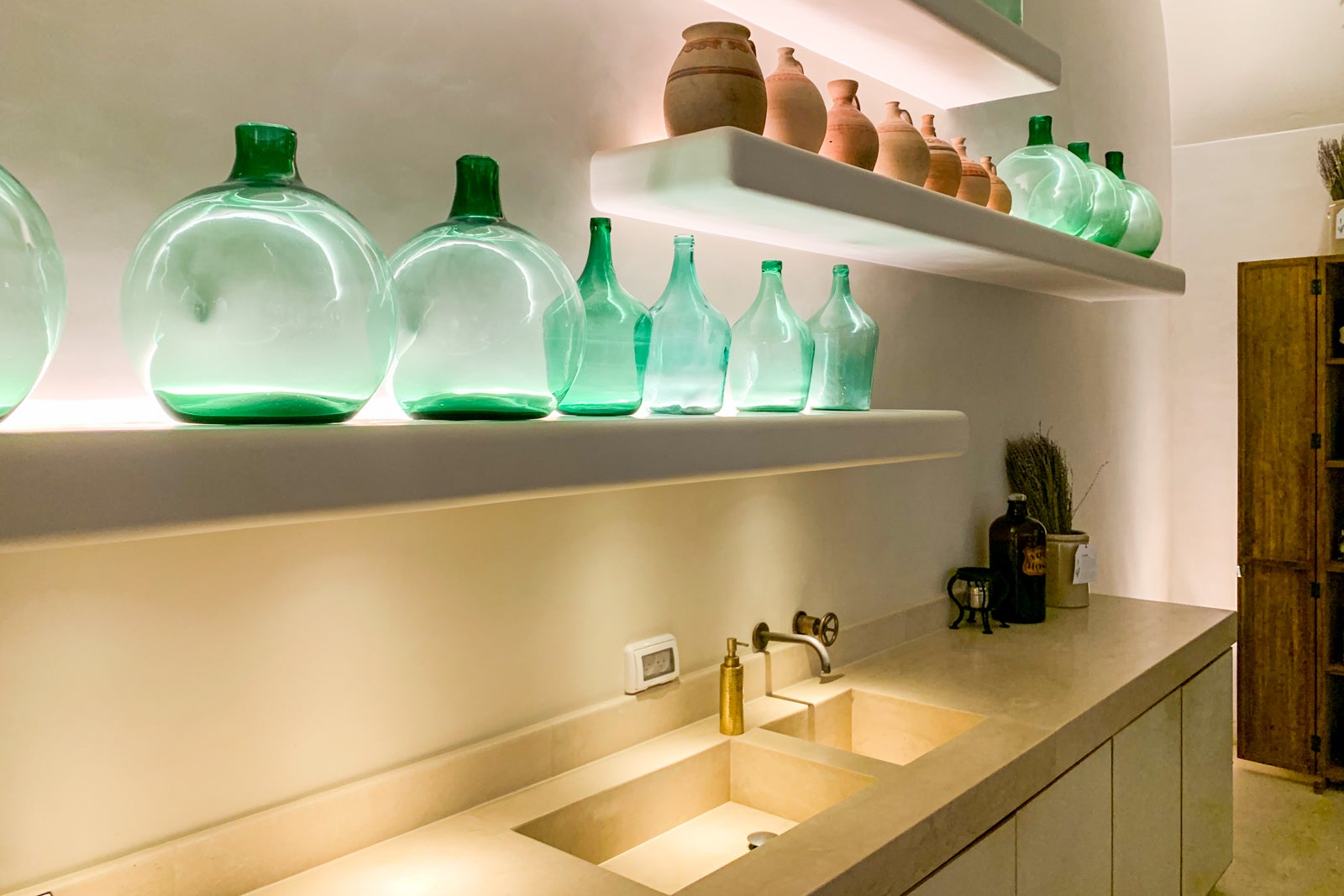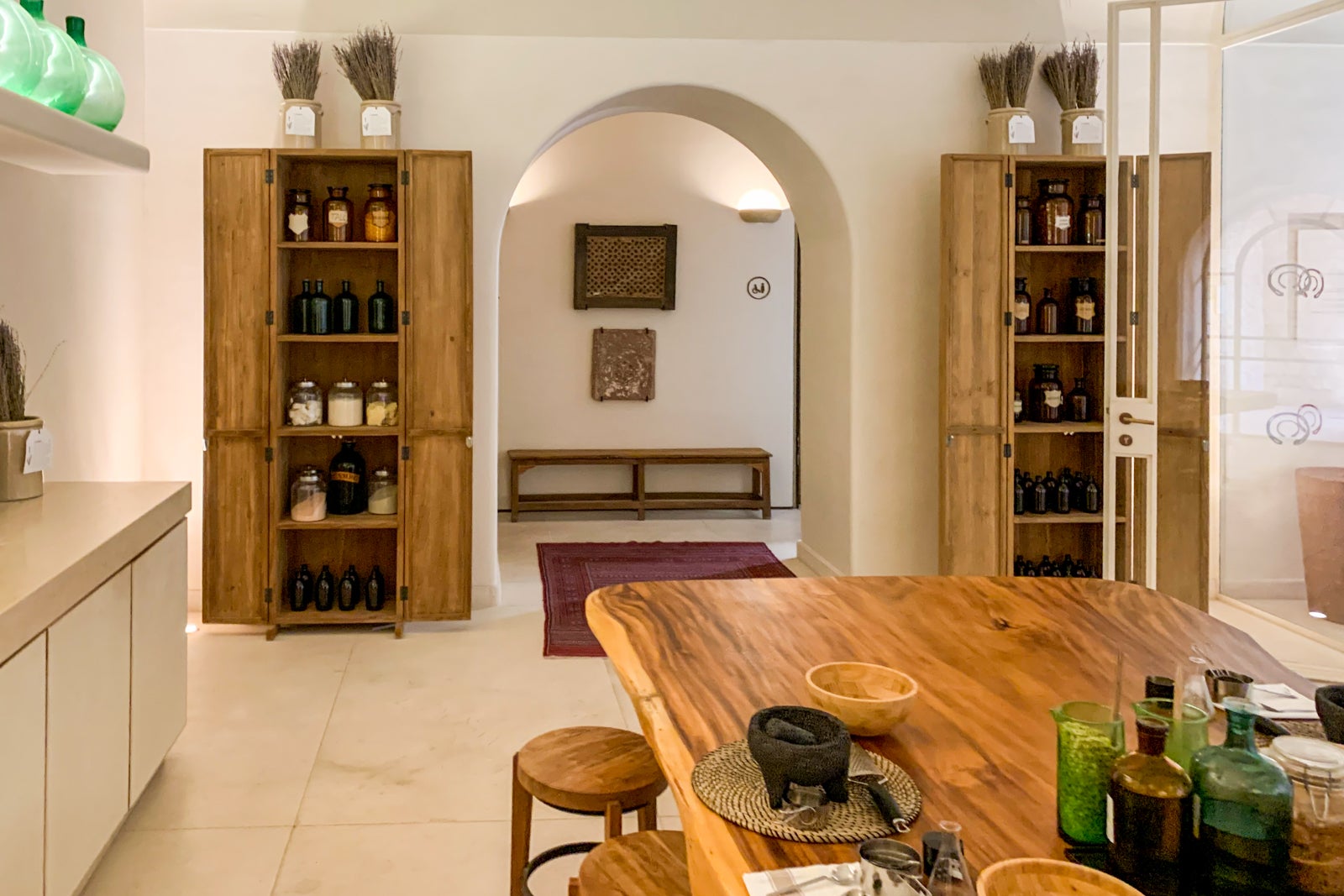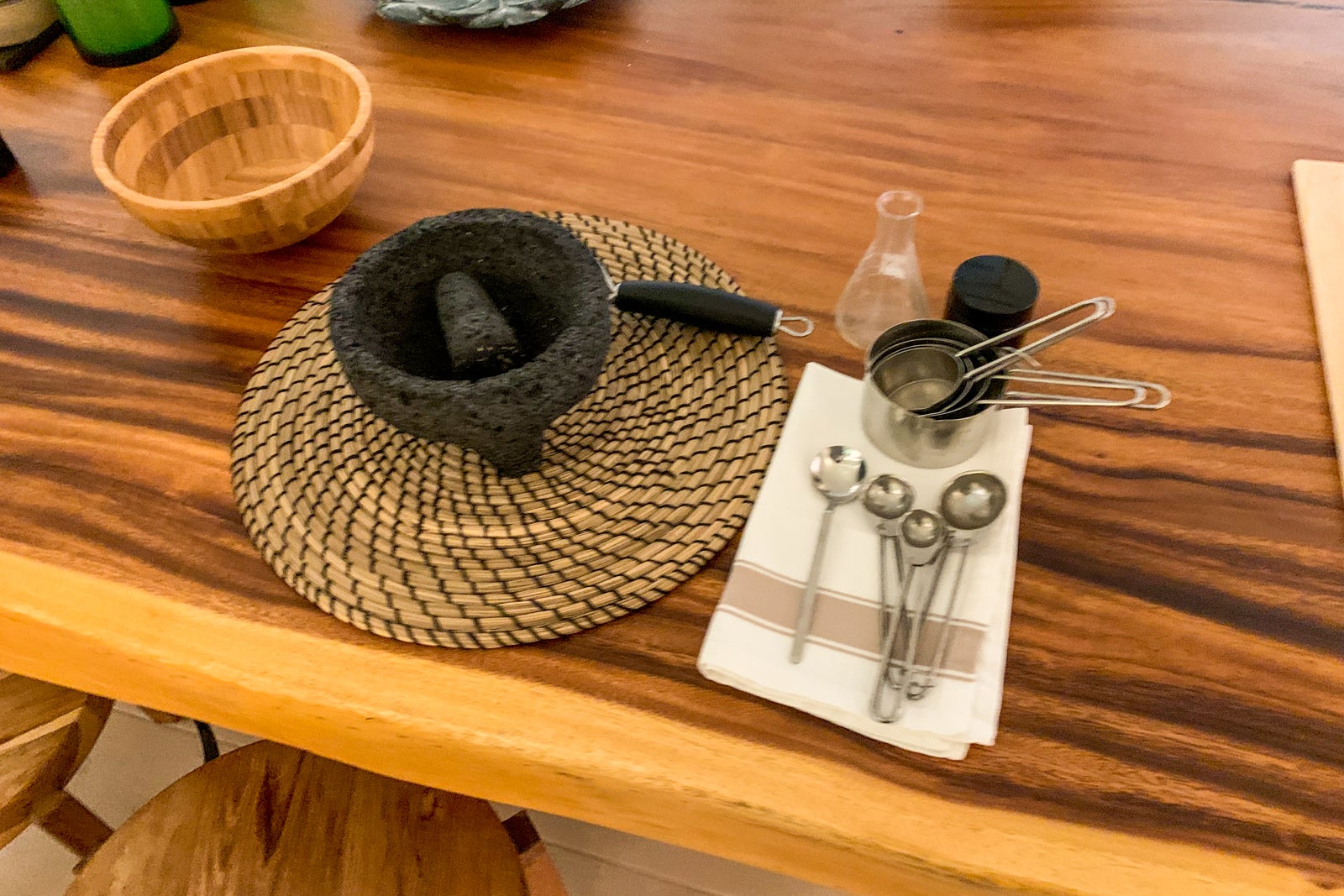 Upstairs in the spa complex, I found an excellent gym with all the equipment I needed for a good workout while taking in incredible views of the desert. The facility held a number of cardio machines, including treadmills and stationary bikes, plus free weights and weight-training machines.
I ran into Rotem, a trainer who was working at the gym when I stopped in. He offered to give me a free one-on-one workout (which would normally cost about $108), and I gladly accepted. Rotem really put me through my paces in a rigorous 40-minute chest workout. At the resort, he's involved with both personal training sessions and various fitness classes, including martial arts training. Group fitness classes are free aside from special programs.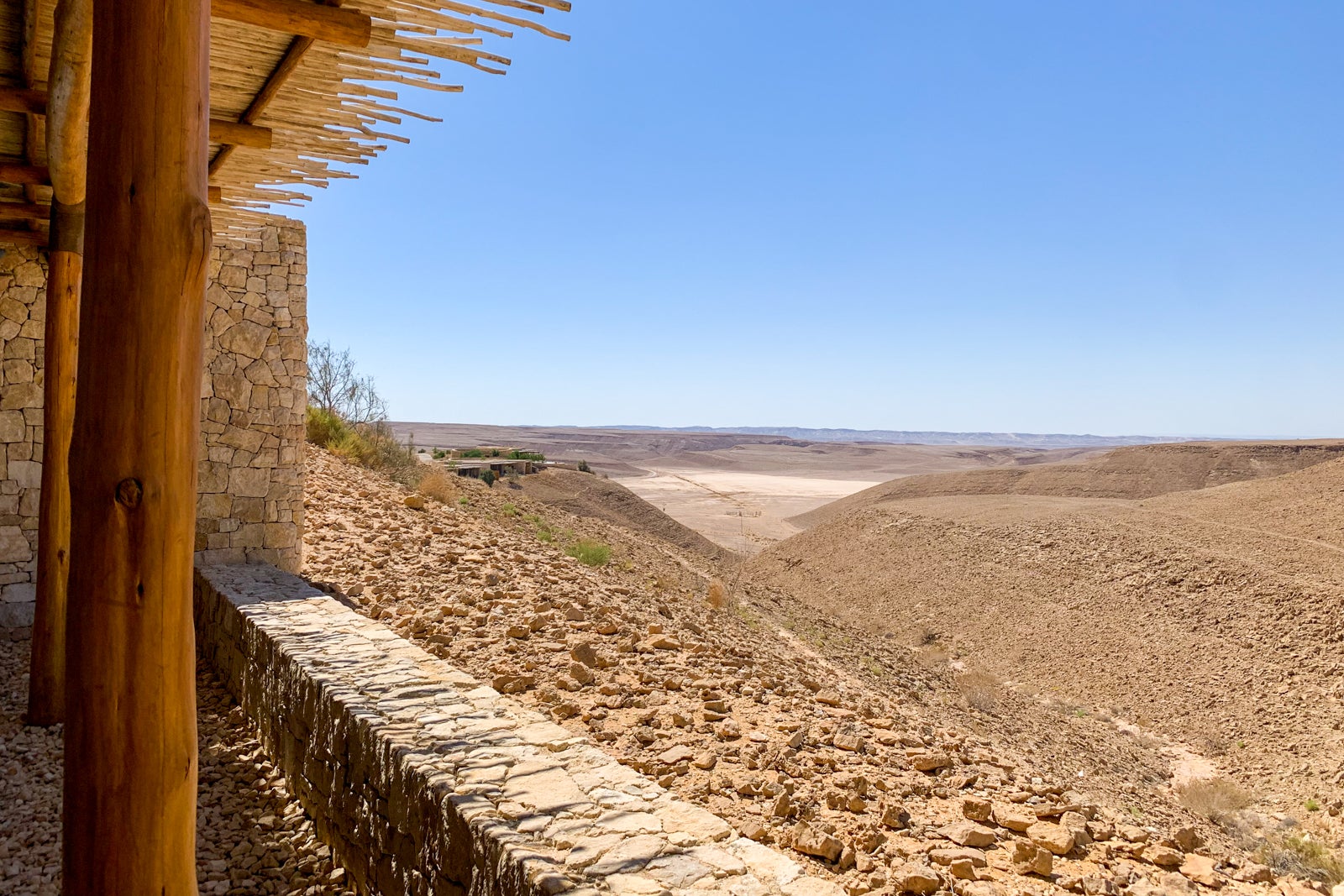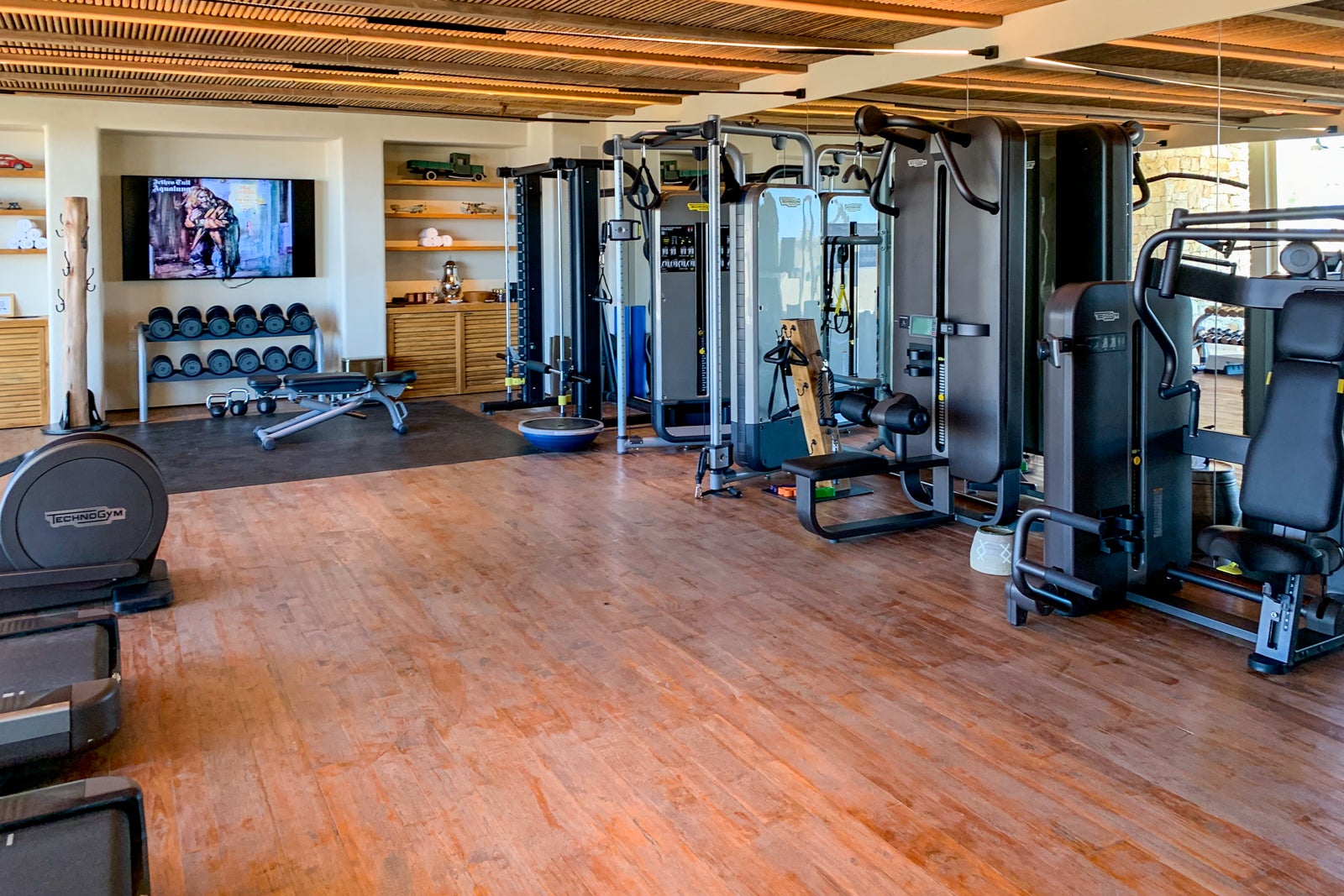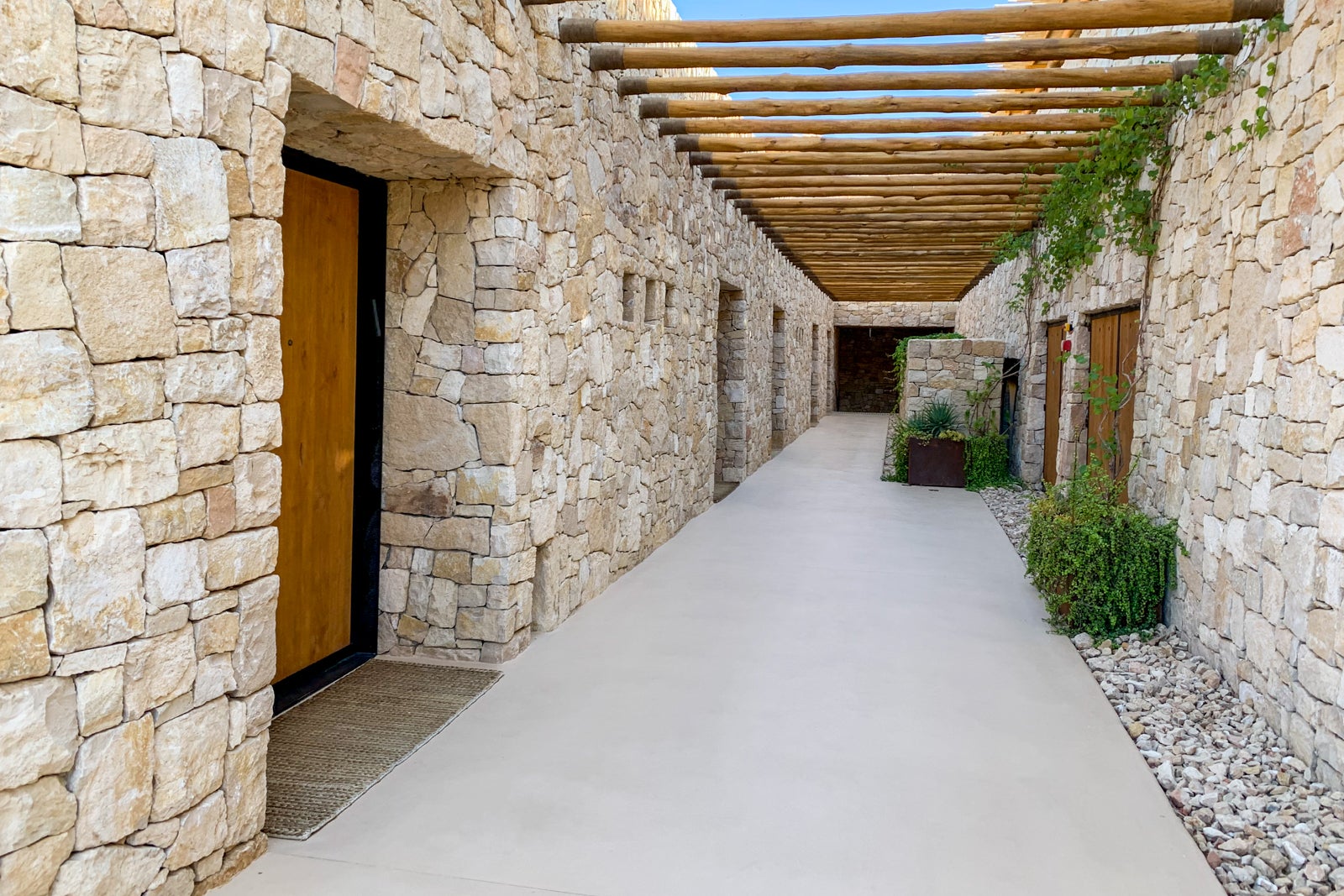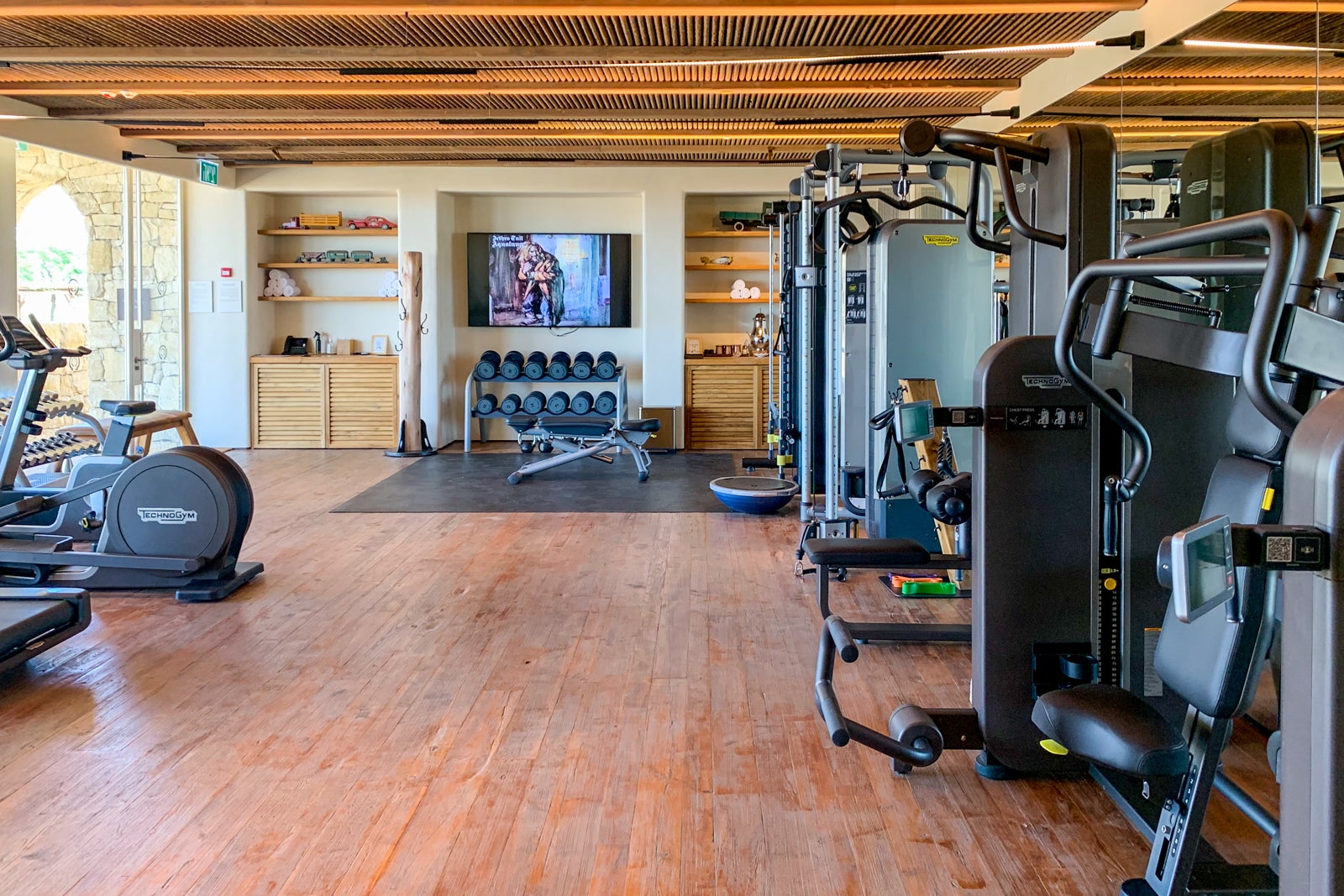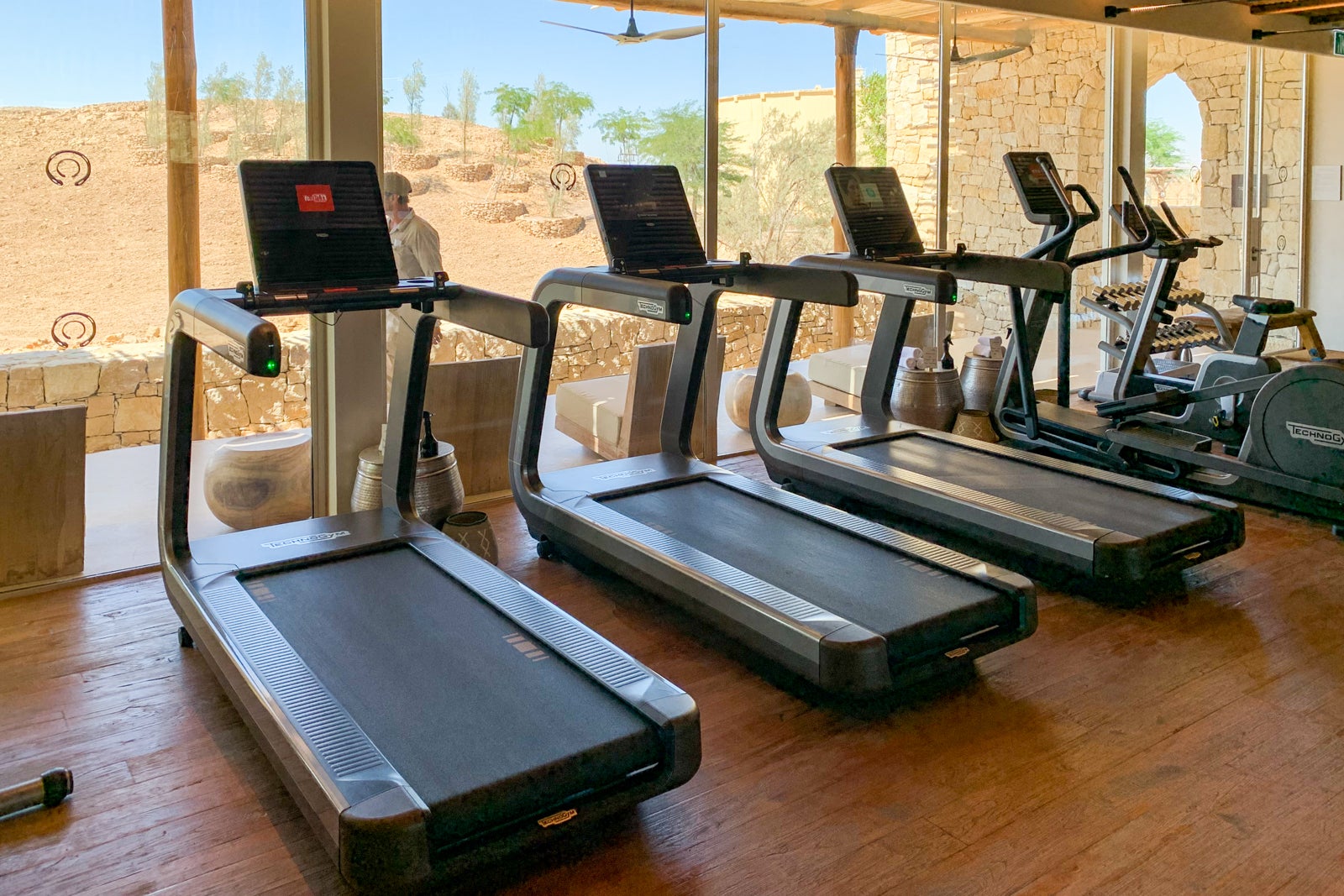 Unsurprisingly, the spa was a real standout as well. The tagline for the wellness-focused property is: "Where history is ancient, and comforts are modern," and that ethos is front and center in the sauna, where traditional Arab bath culture incorporates all the luxuries of a modern resort.
I found the main entrance to the spa to be about a five-minute walk from the gym, which is in the same building complex. The check-in area led to a series of courtyards that eventually took me by the private massage rooms (six treatment rooms, plus one presidential spa suite.).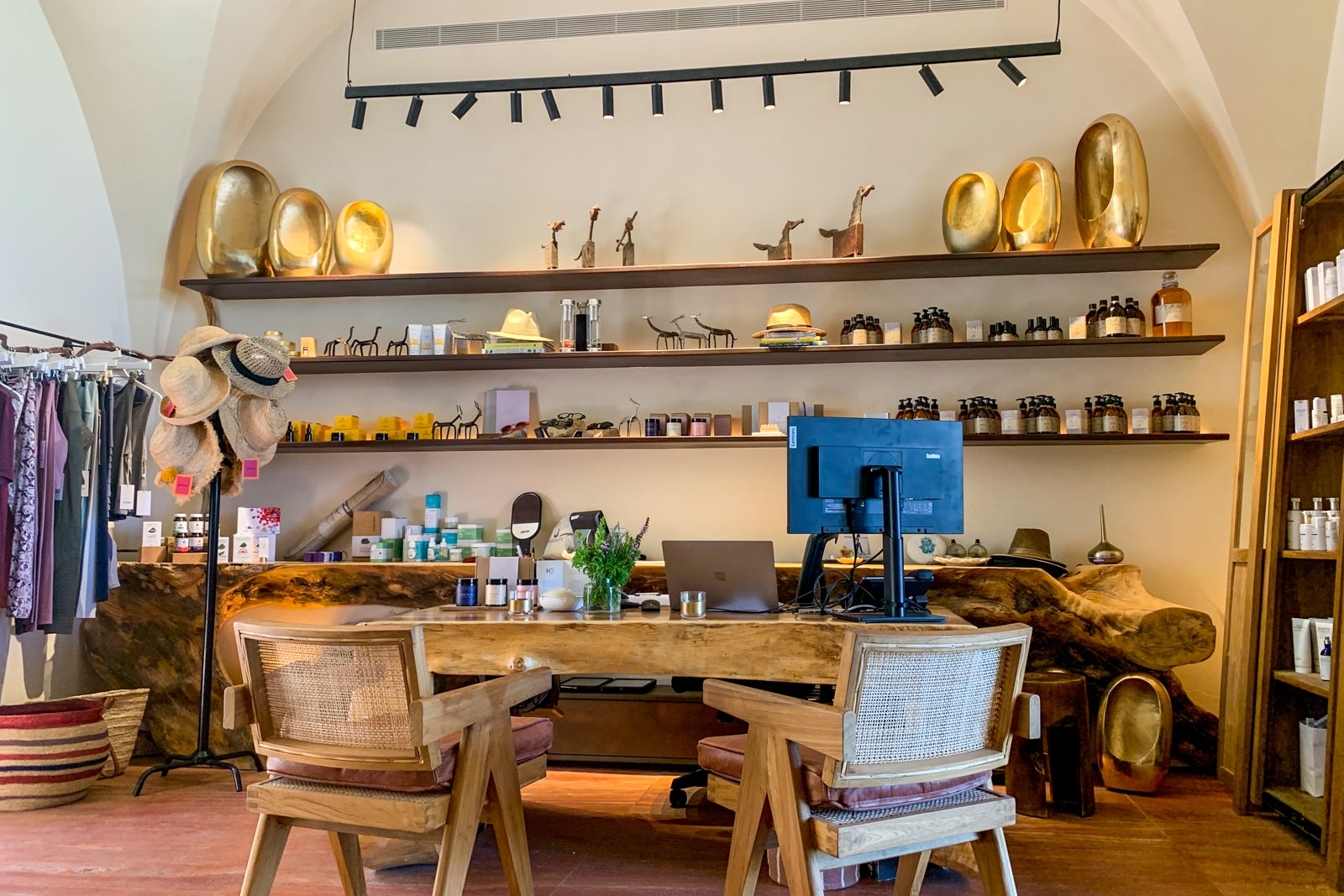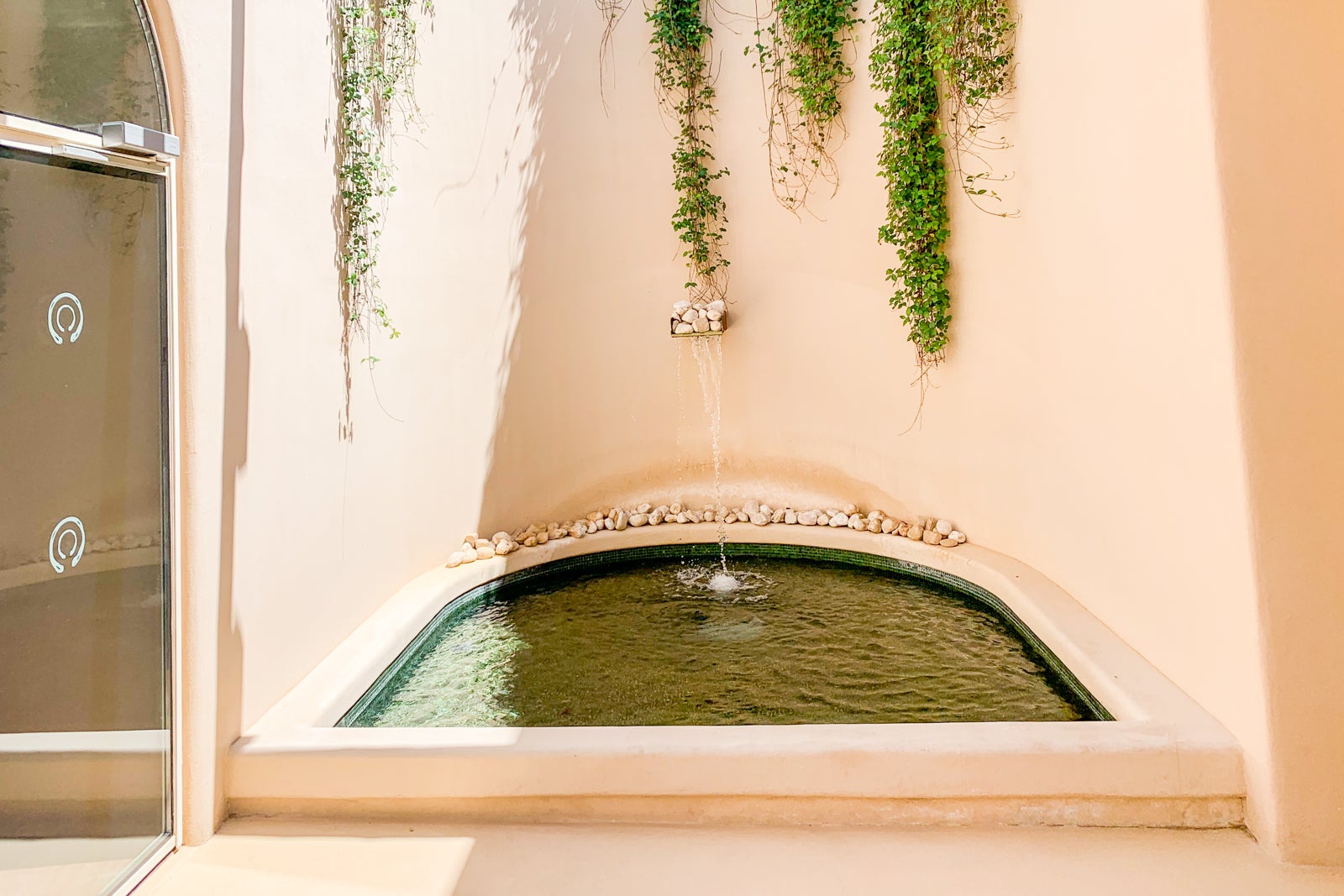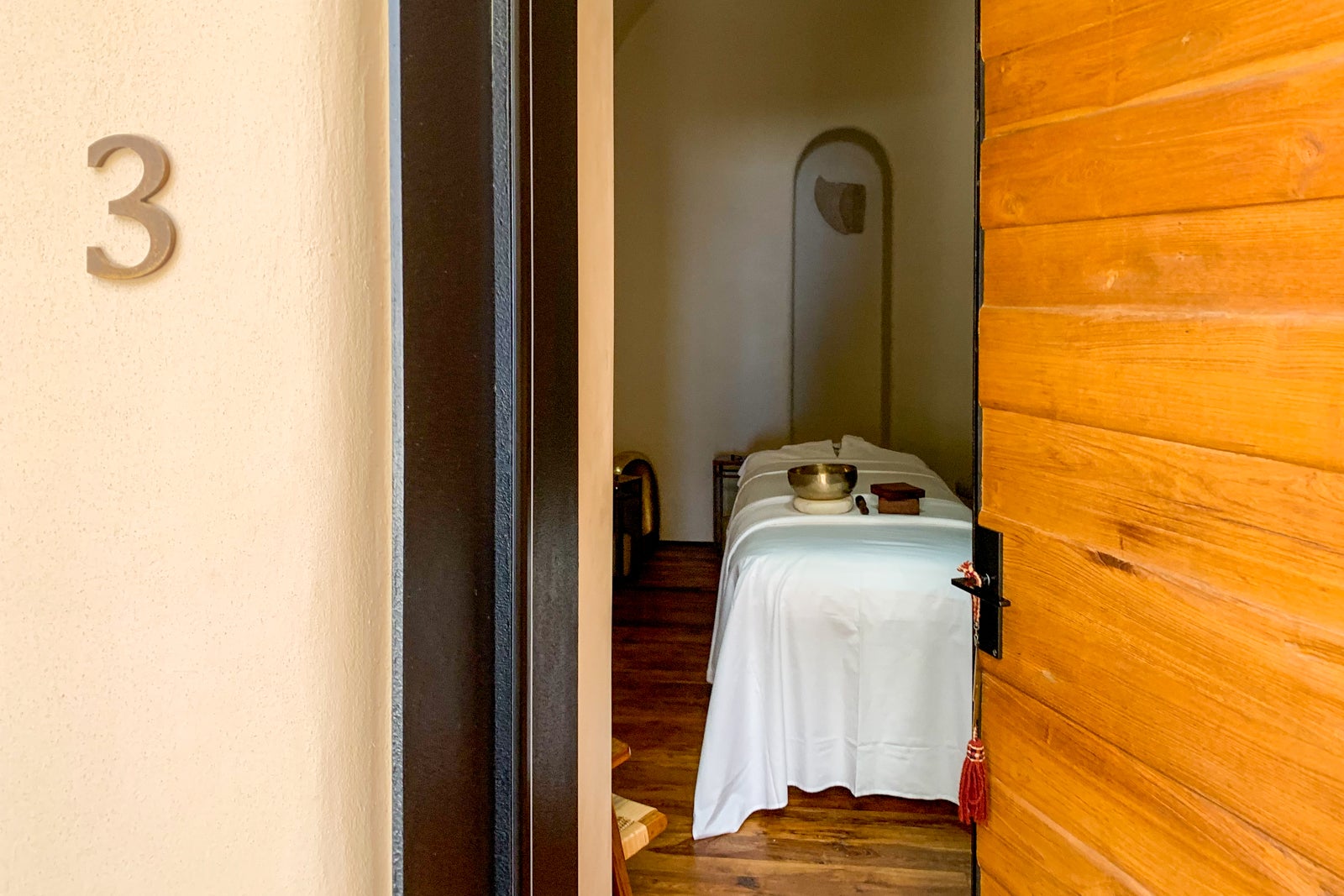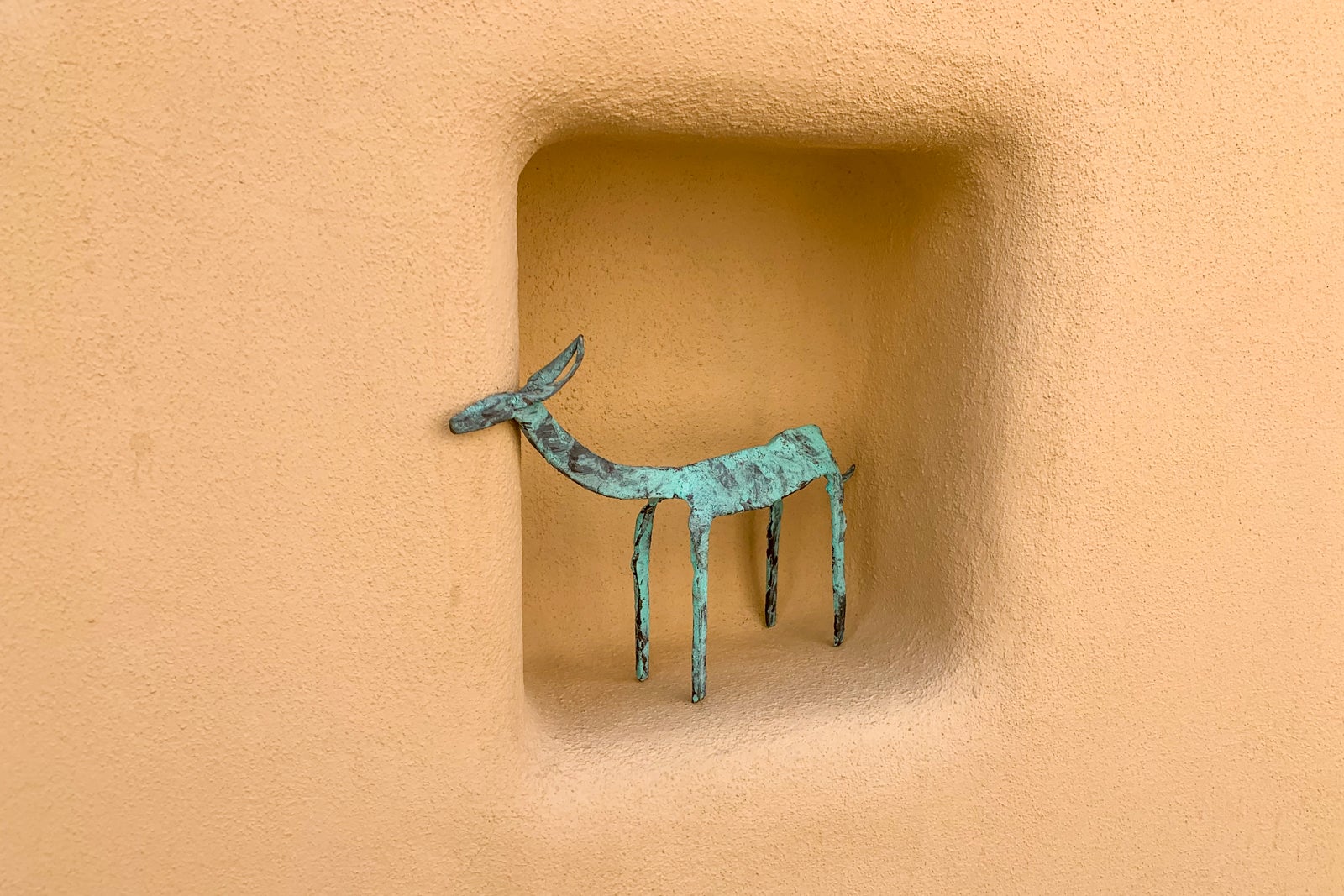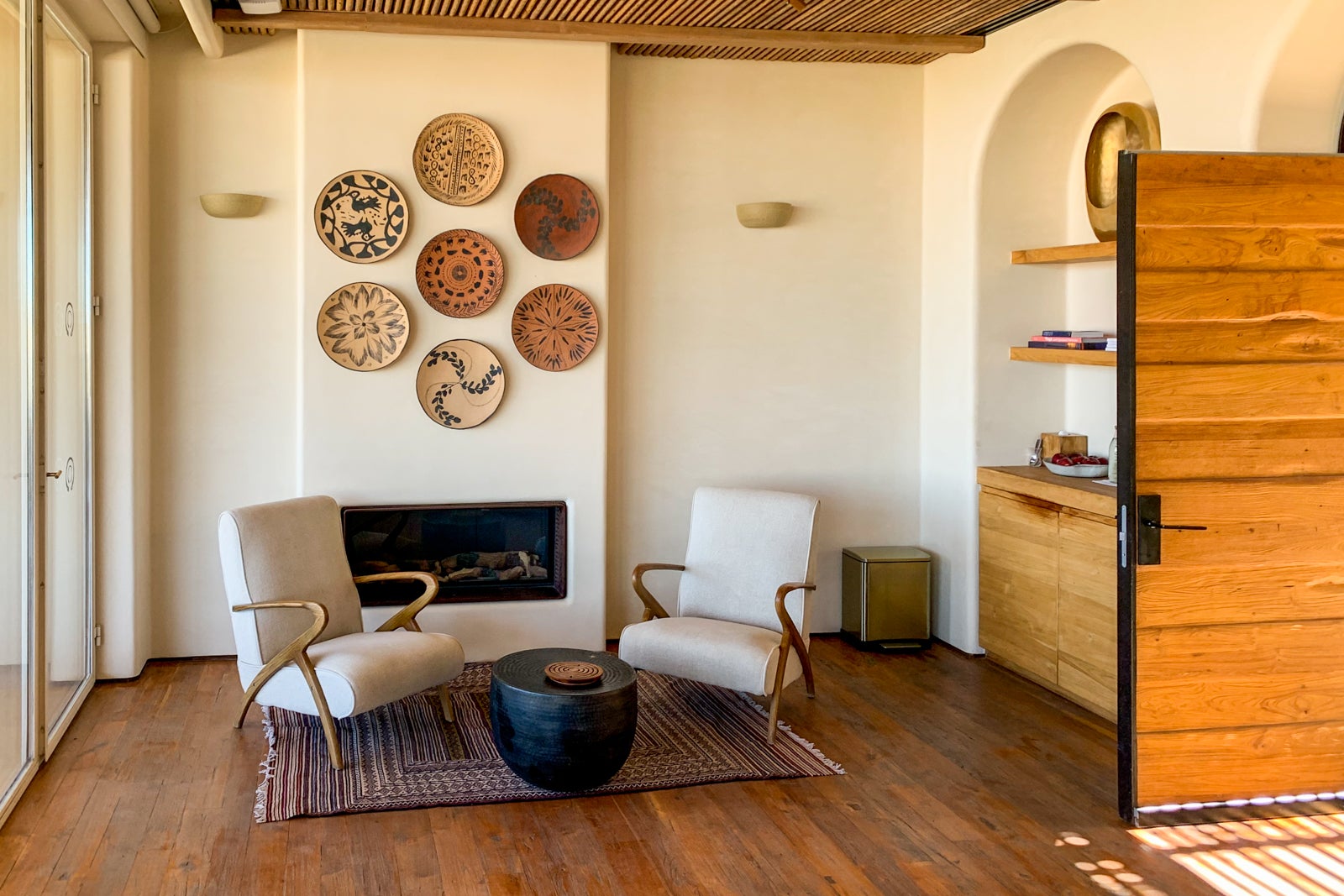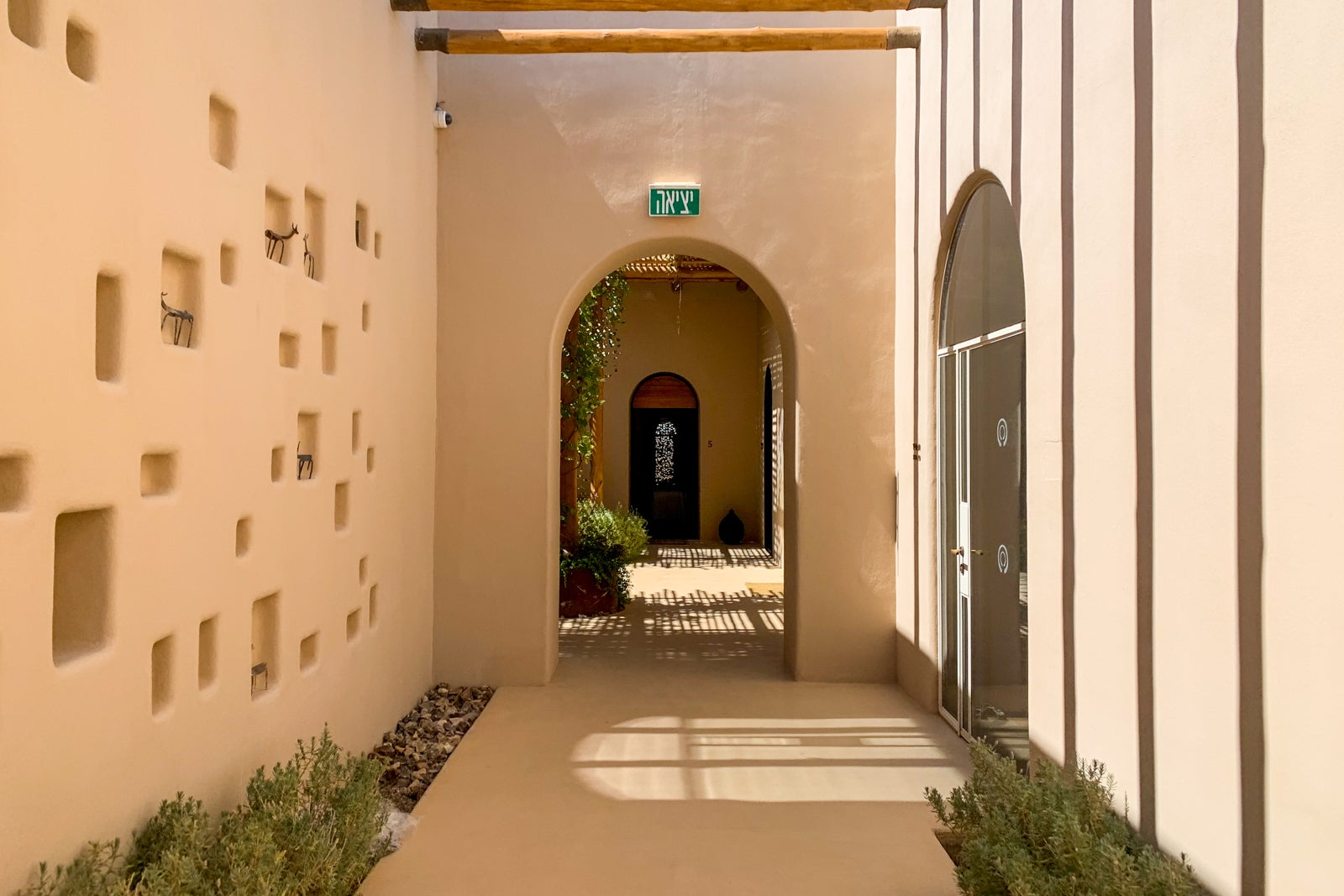 There are separate areas for men and women, both of which include a hammam steam bath and a separate sauna. I enjoyed the complimentary sauna activities twice during my stay.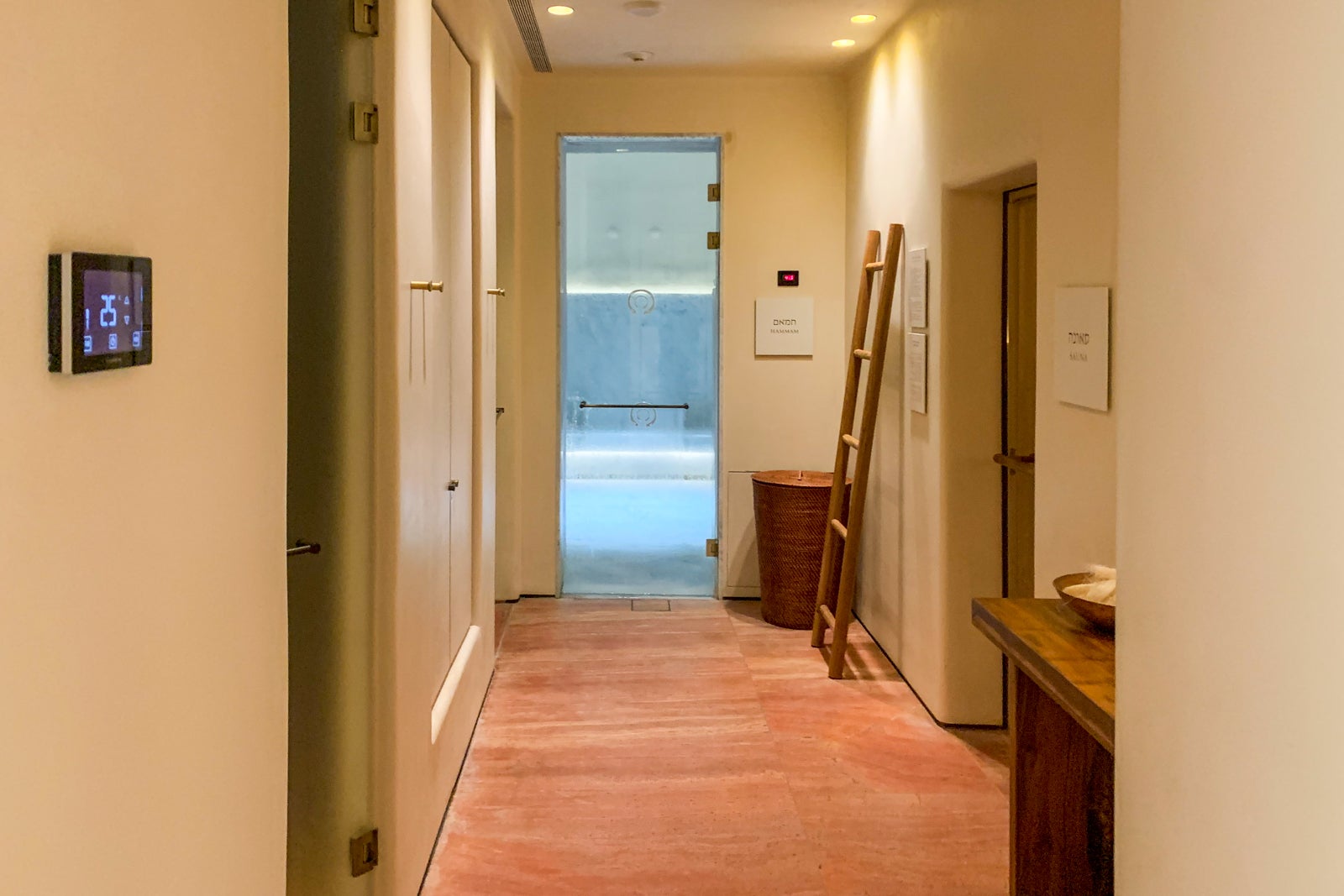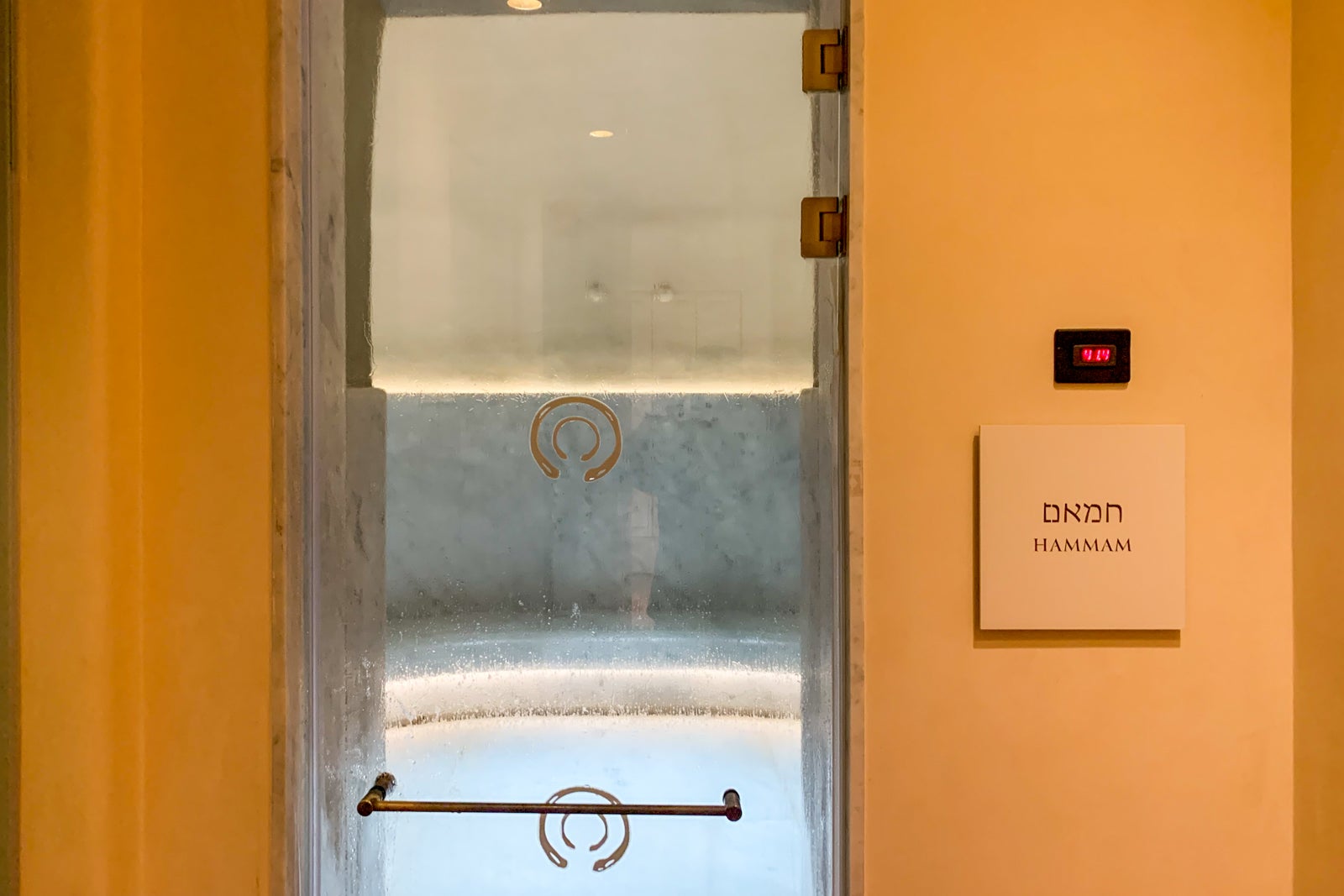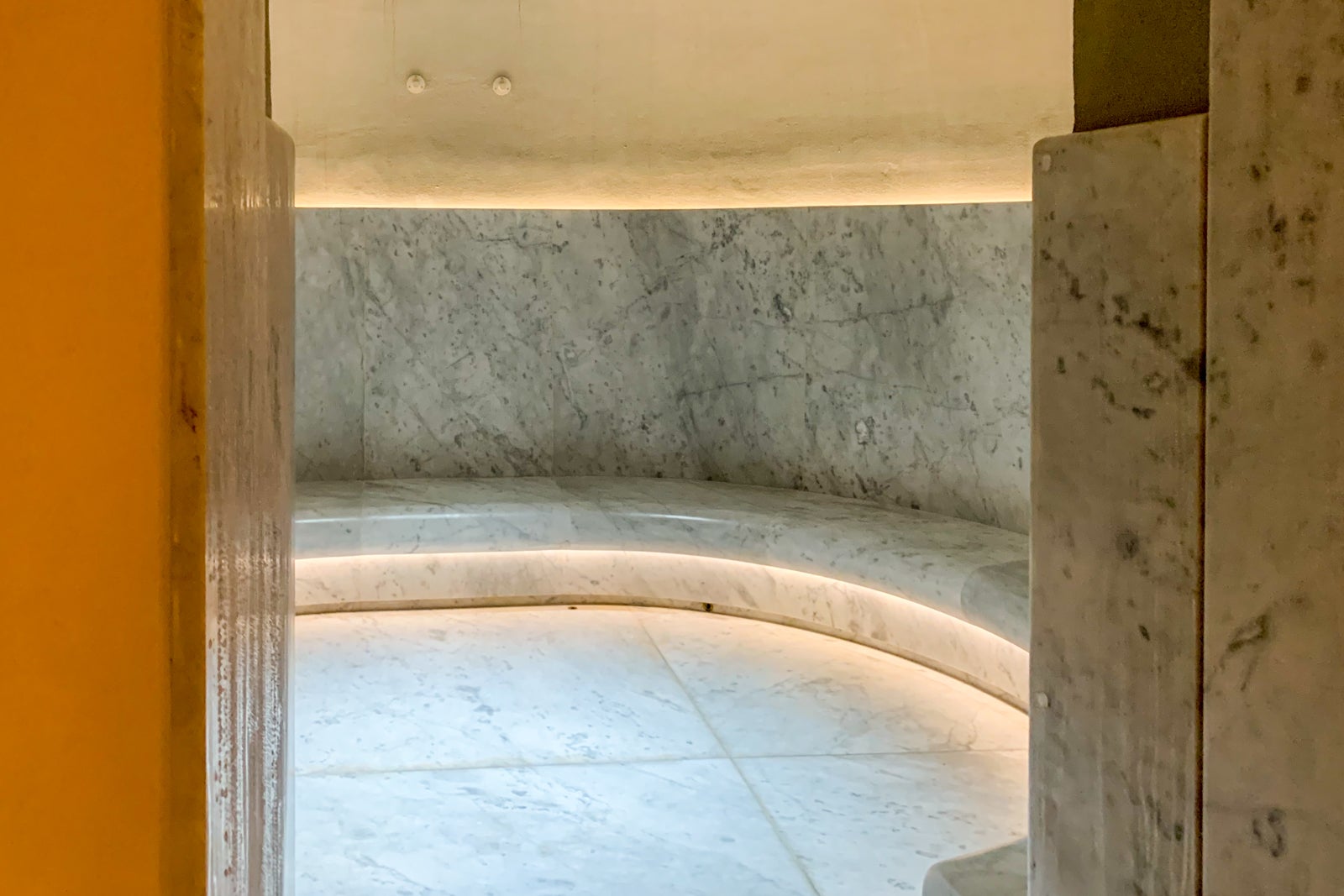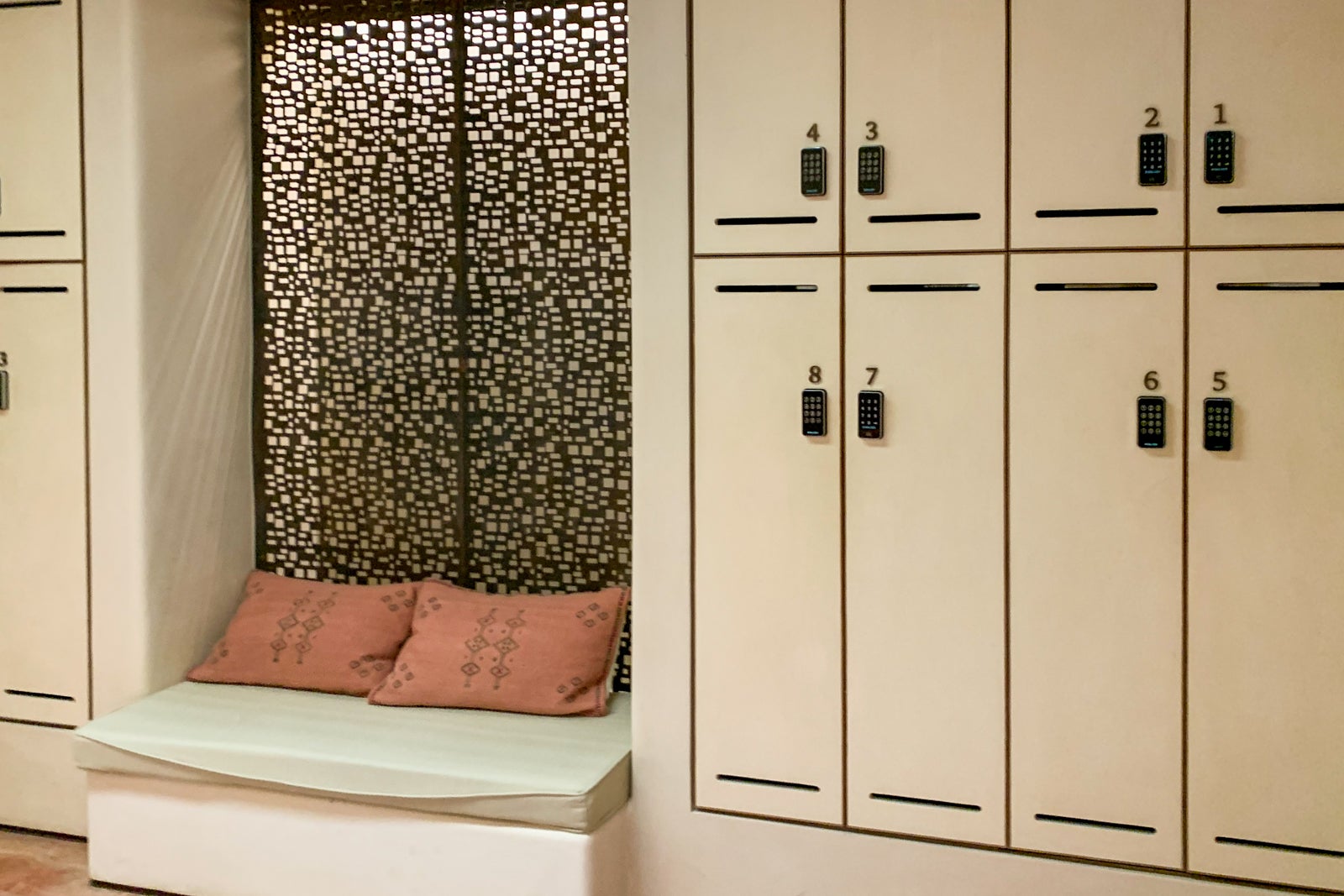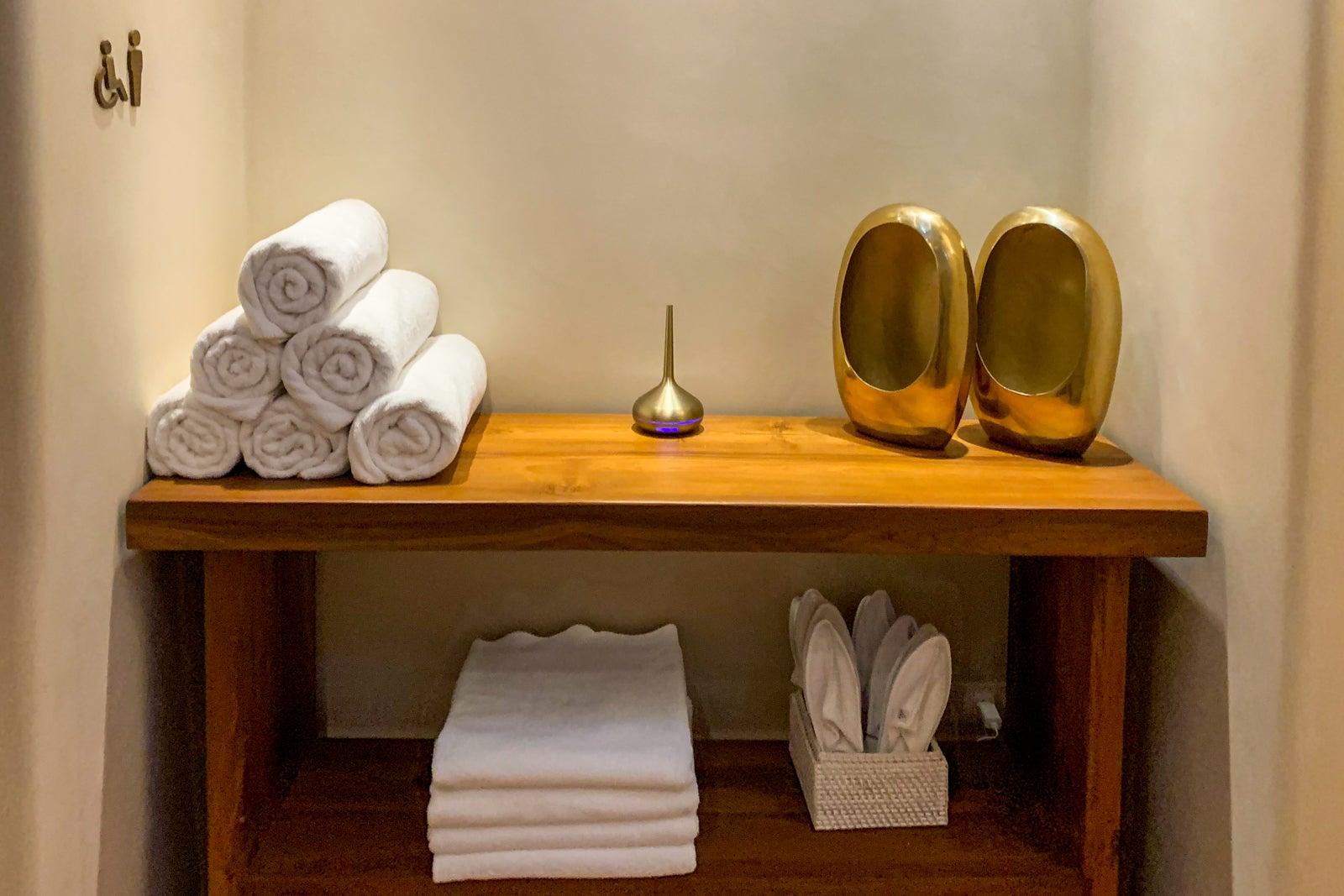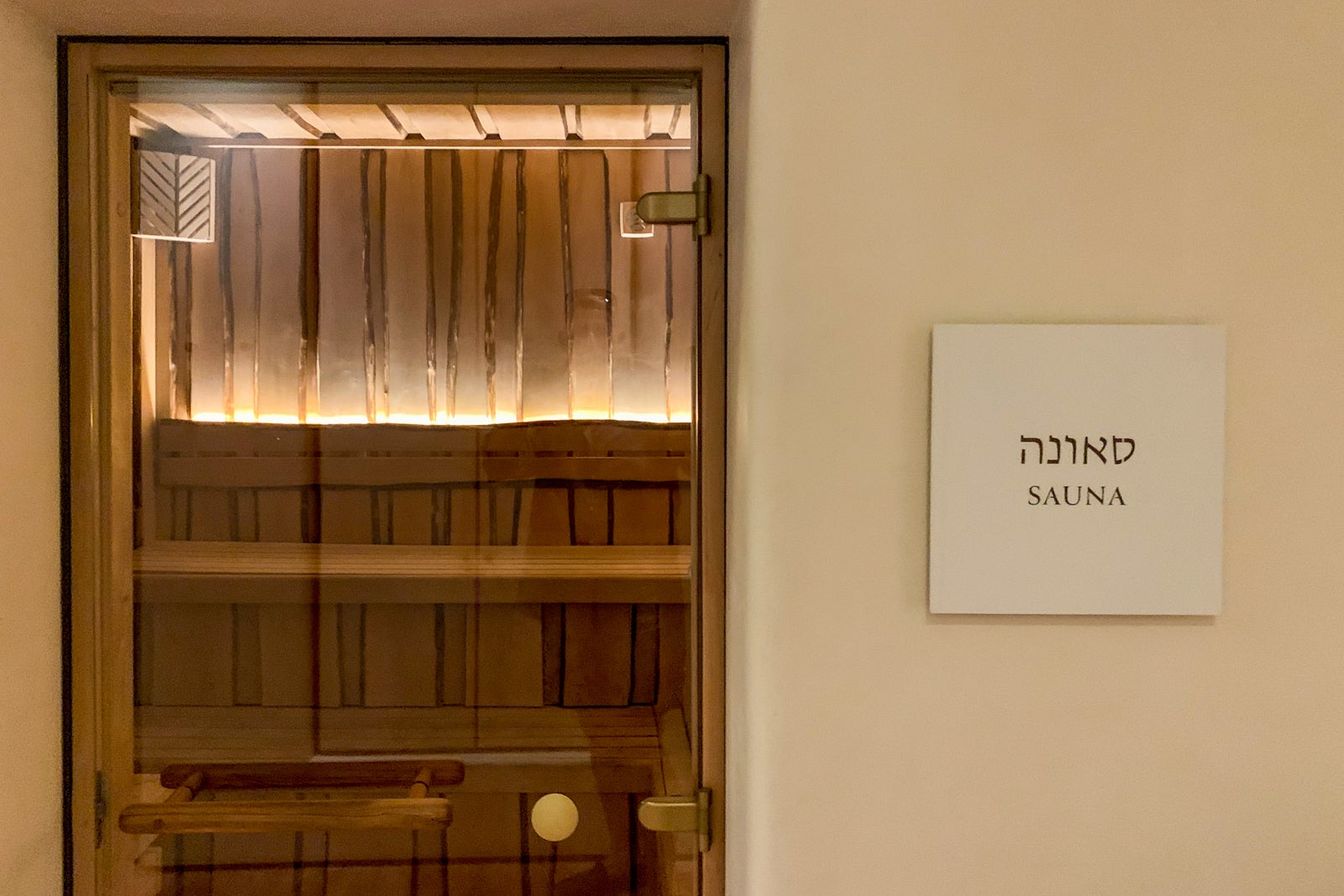 I purchased a 60-minute deep tissue massage (for about $158, not including the tip) while at the resort. It was excellent, offering a good amount of pressure but never causing pain. The resort has a very extensive list of treatments, so you can also try a variety of other services, including an hourlong "detox" massage for $147, an hourlong "jet lag soother" treatment for $193, an hour-and-a-half movement restoration massage for $193, a 30-minute head massage for $108 and a 75-minute facial for about $235.
If too much rest and relaxation bores you, there are all kinds of other activities you can try during your visit. Resort offerings include everything from camel rides and sustainability tours to gardening, palm leaf weaving and stargazing.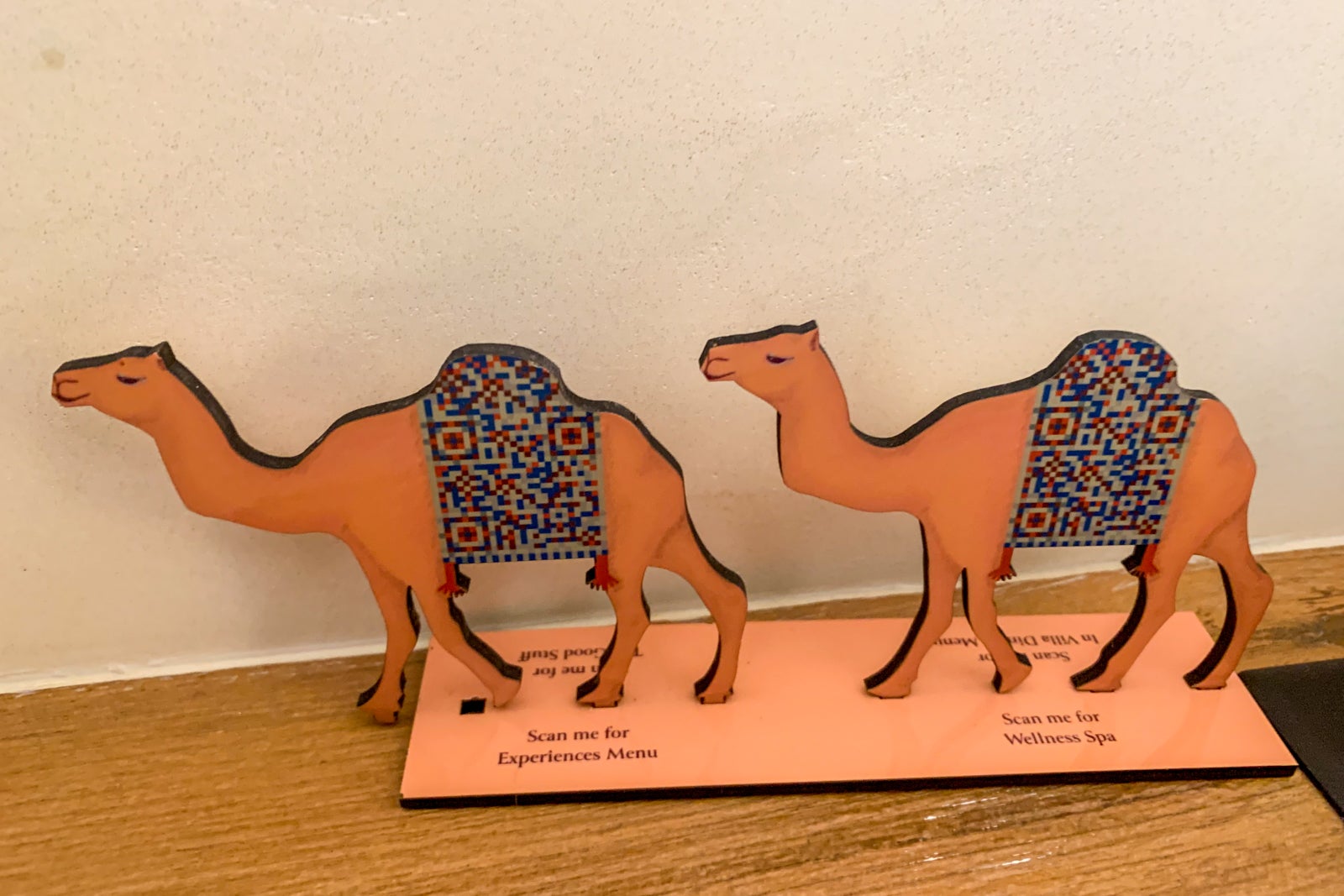 I took the complimentary sustainability tour, which included a visit to the camels (no rides for me this time) and an overview of the ways the property is trying to be as green as possible. The hotel is LEED-certified and reuses all its wastewater. In fact, there is a wastewater treatment plant on the grounds.
The resort composts all food waste, too, using it to nurture the organic garden (which was lovely to see), and the kitchen's leftover cooking oil is repurposed as fuel for the property. Water is bottled on-site as well so no plastic bottles are used. I appreciated getting to keep a small selection of dried herbs from the garden after the tour.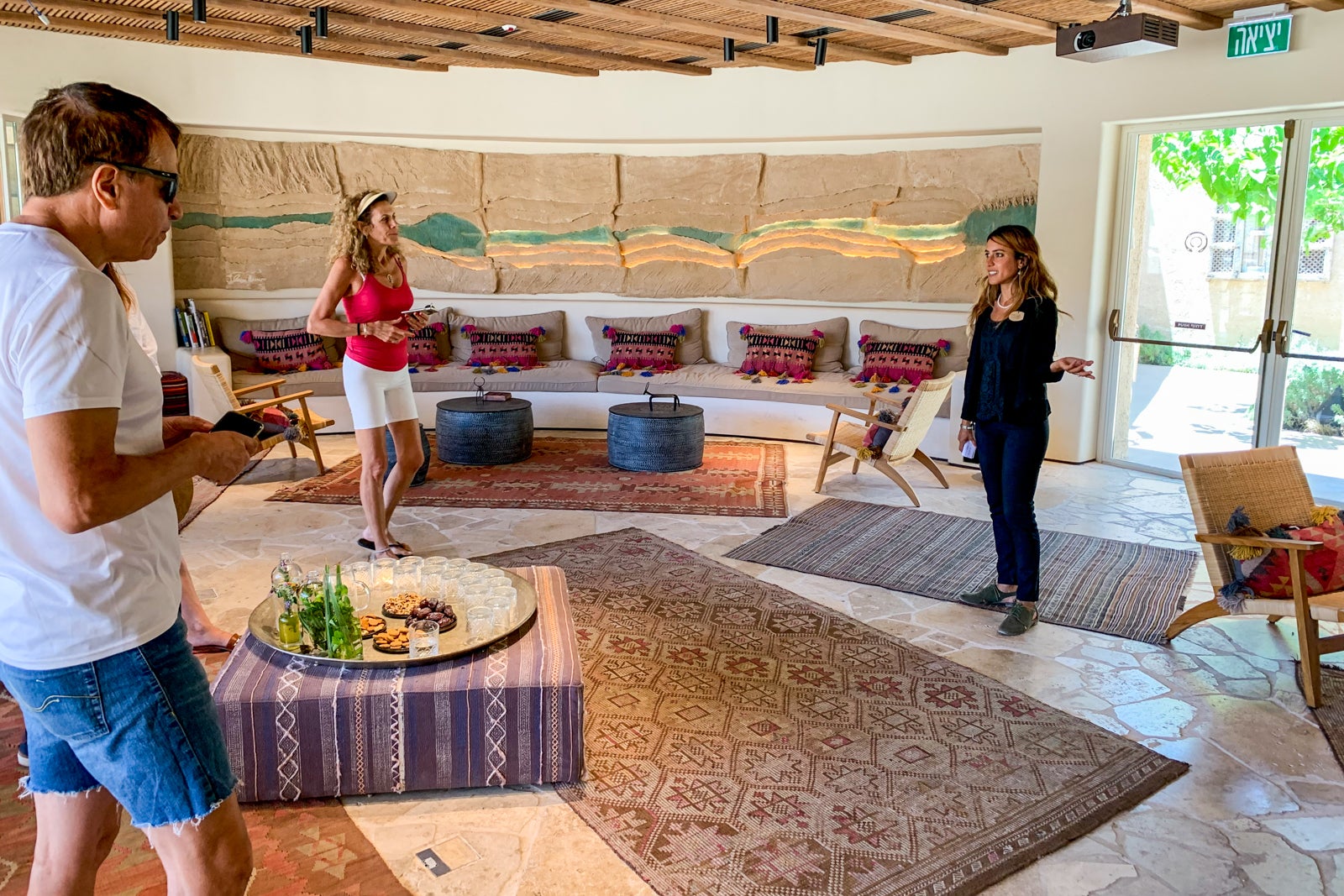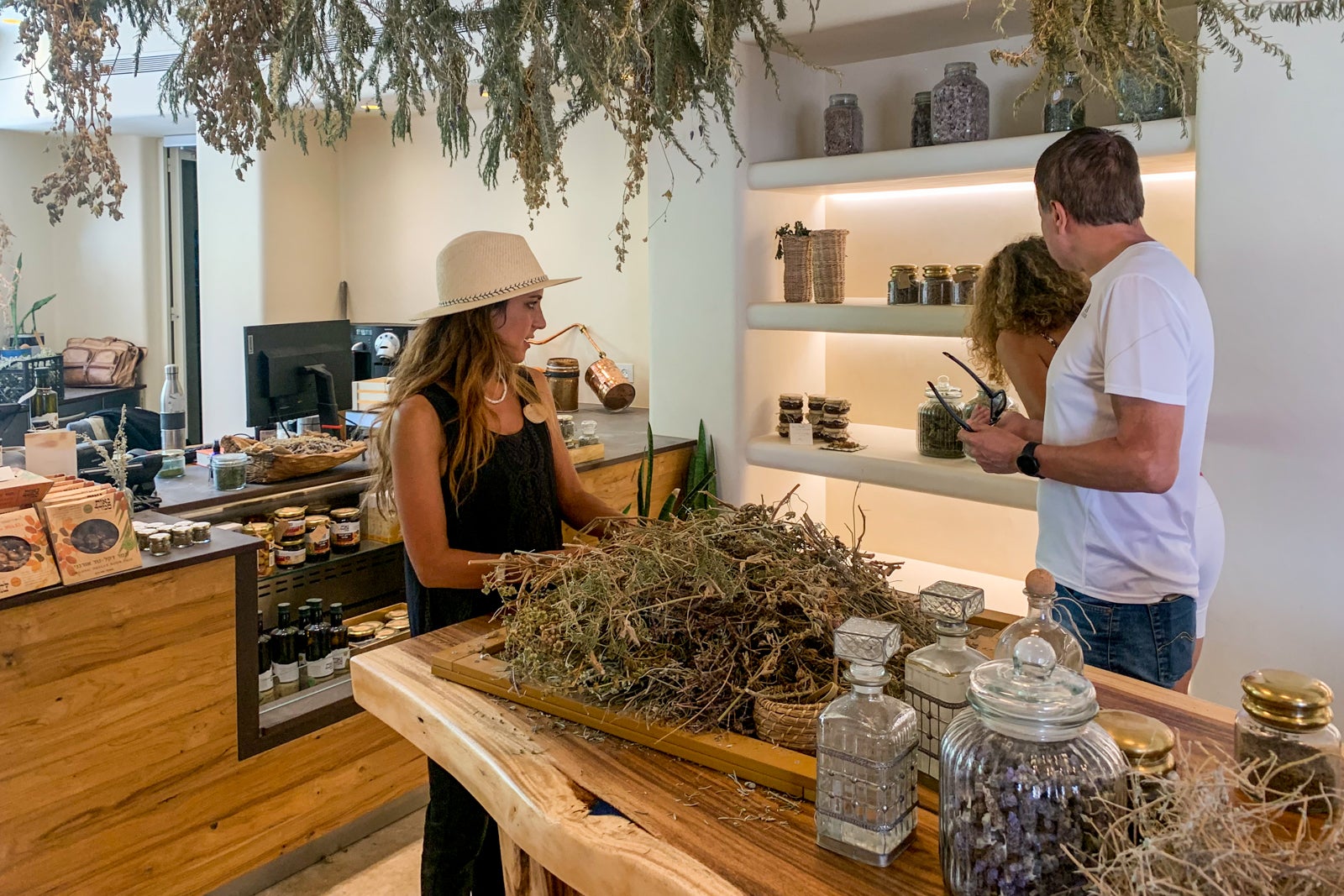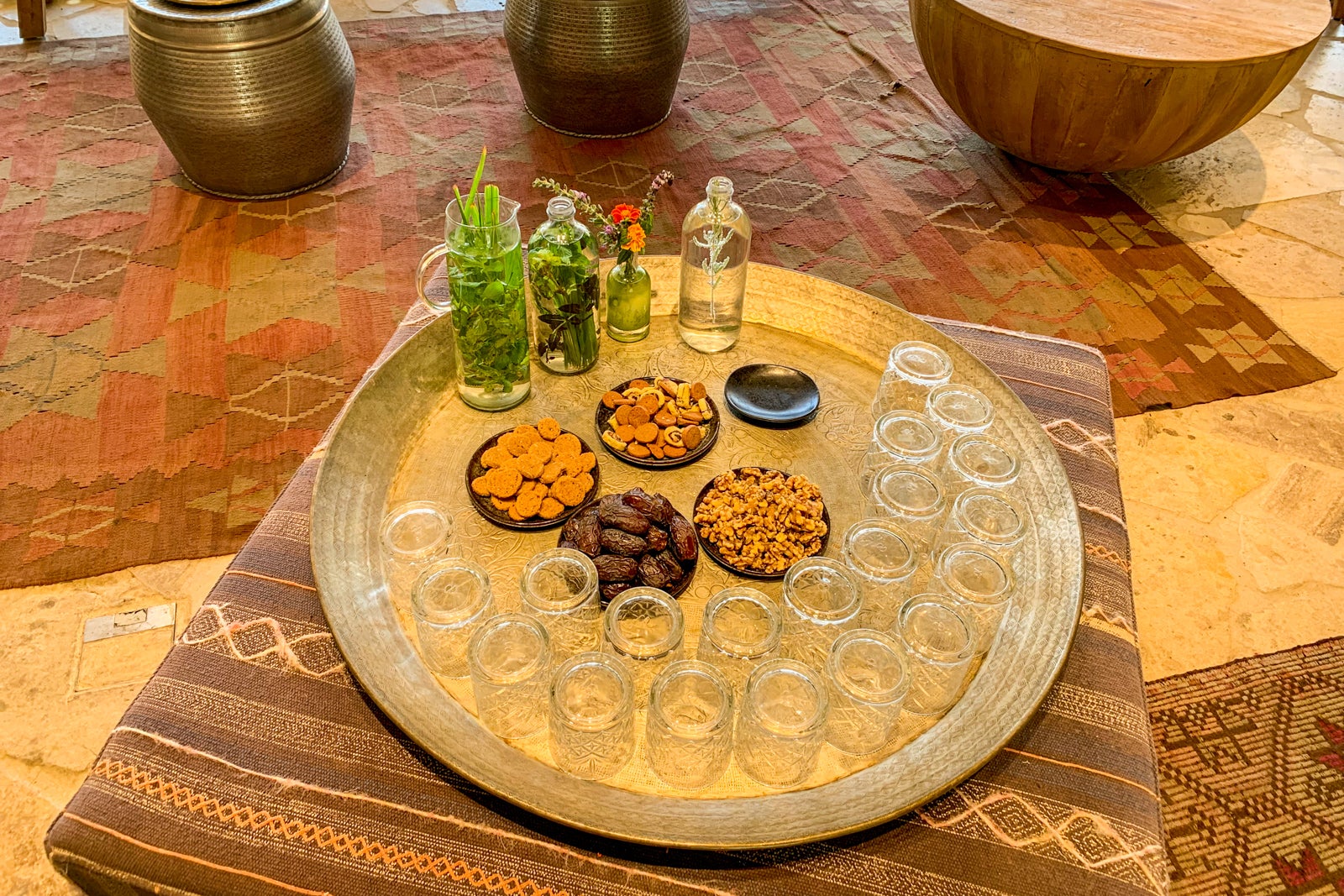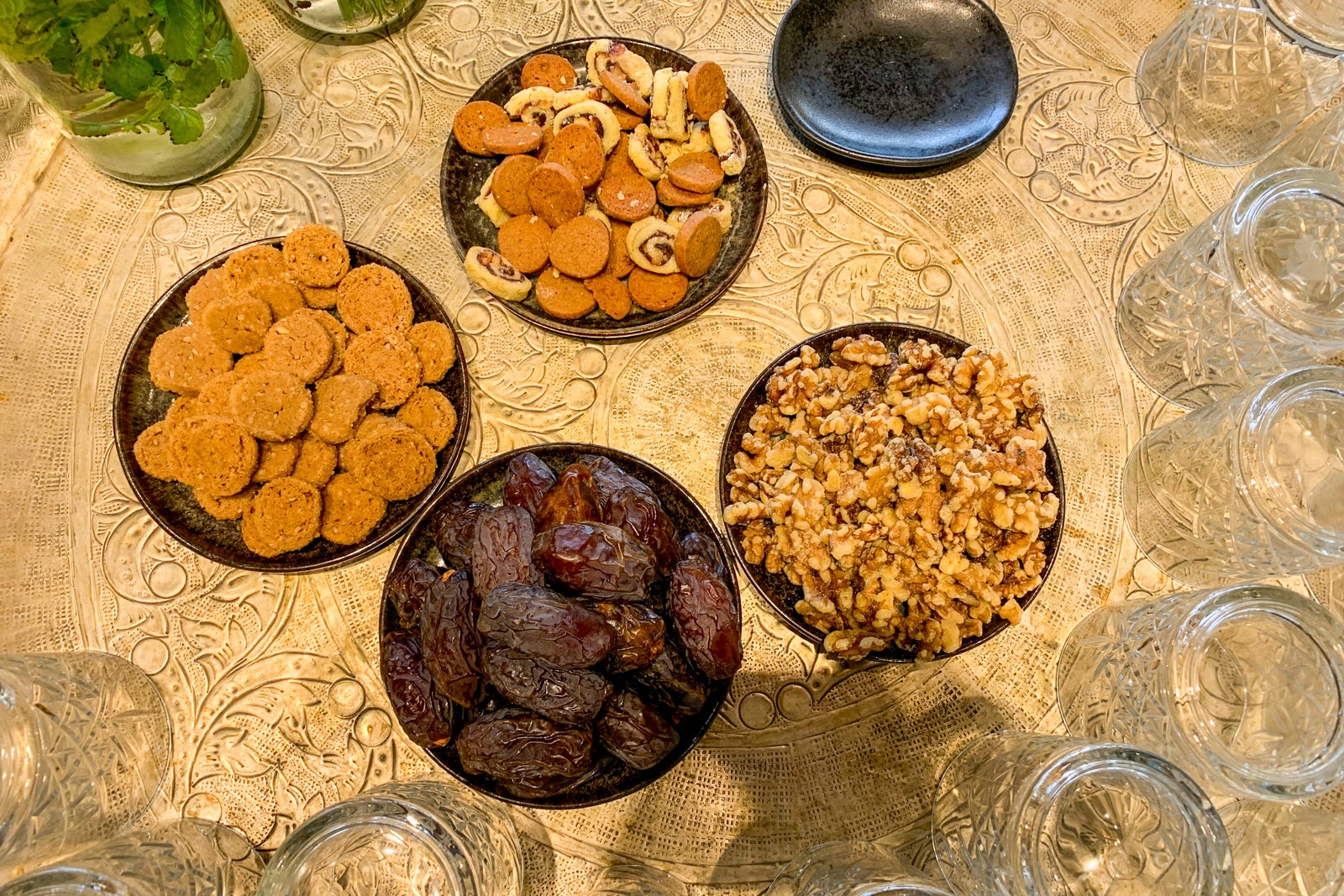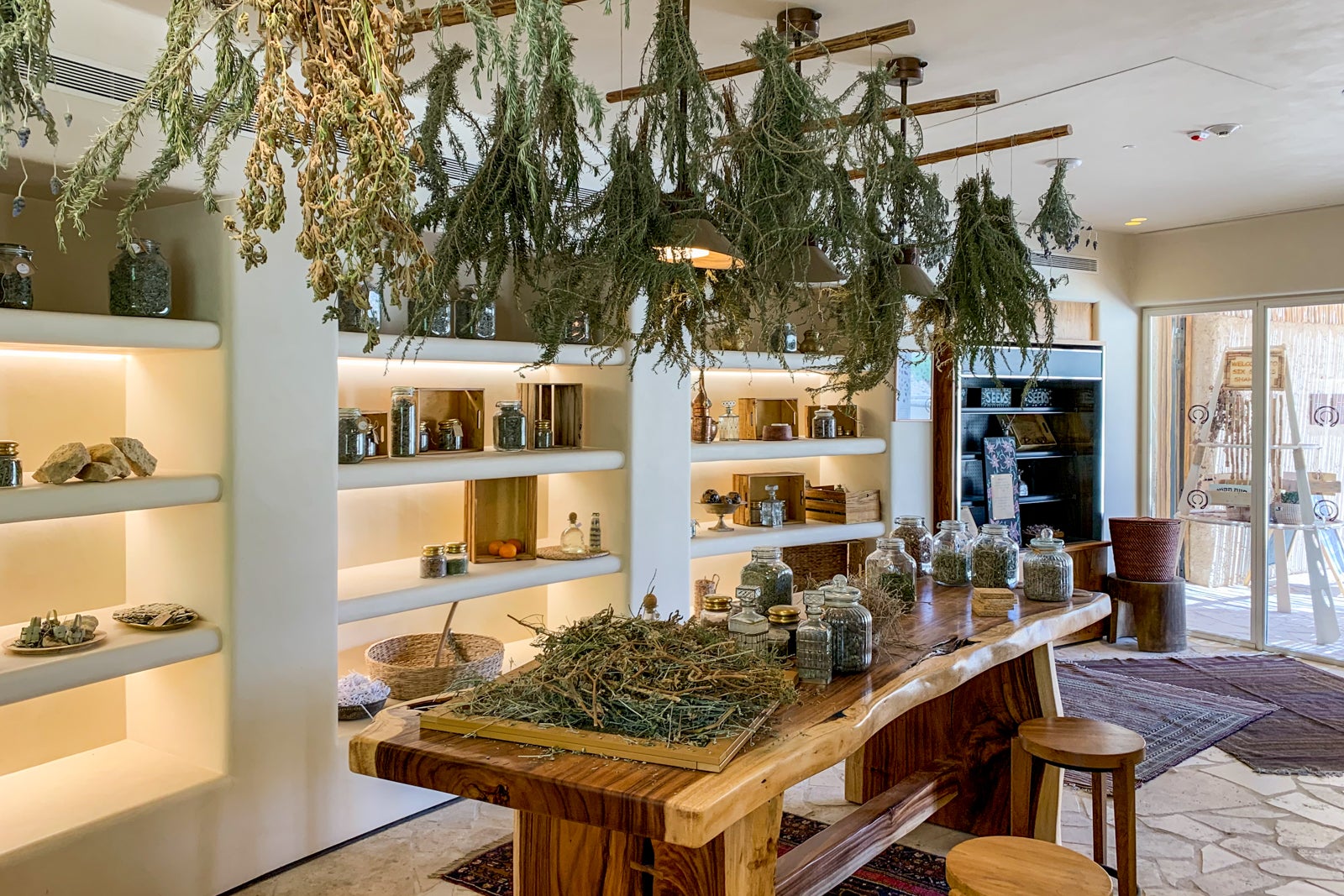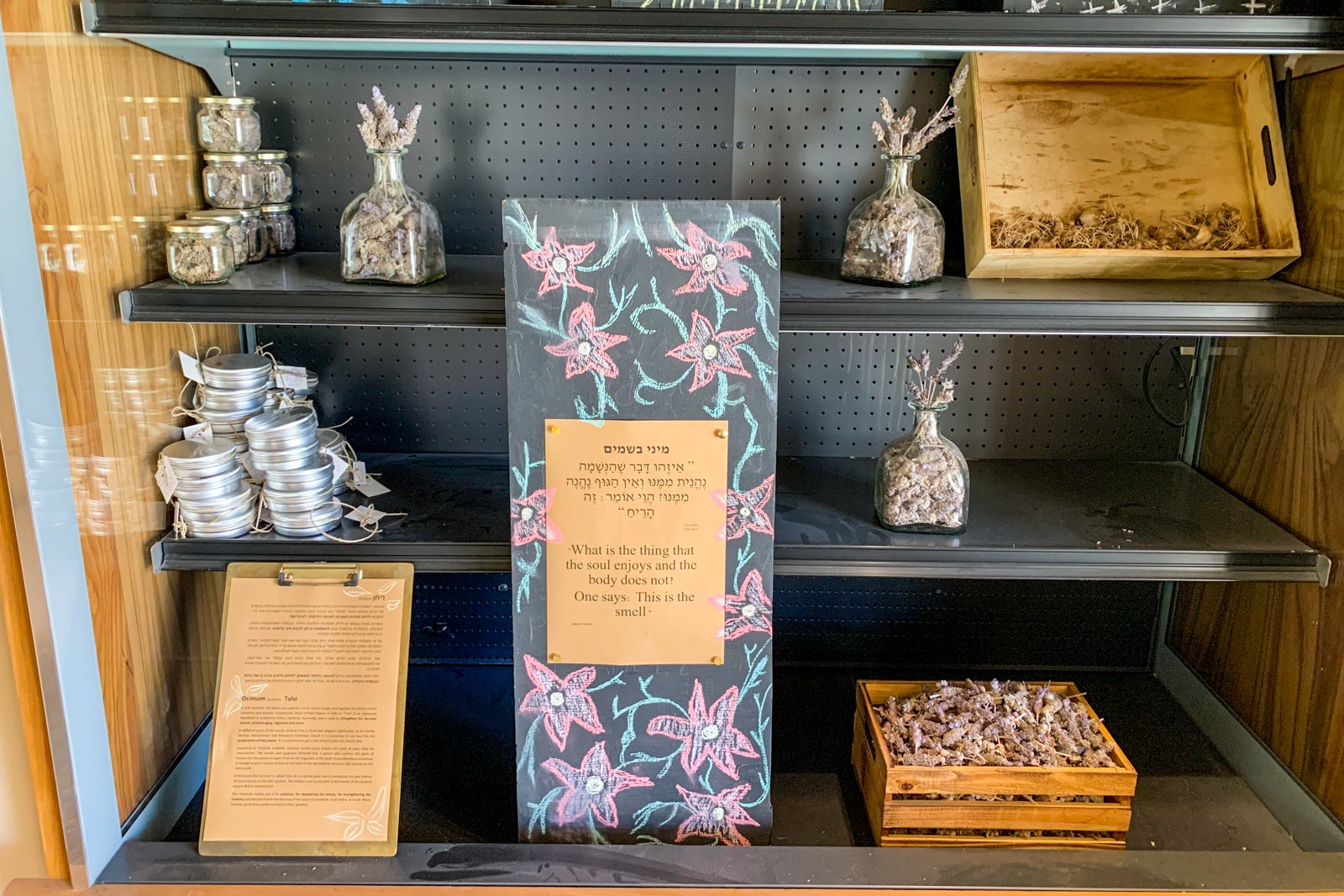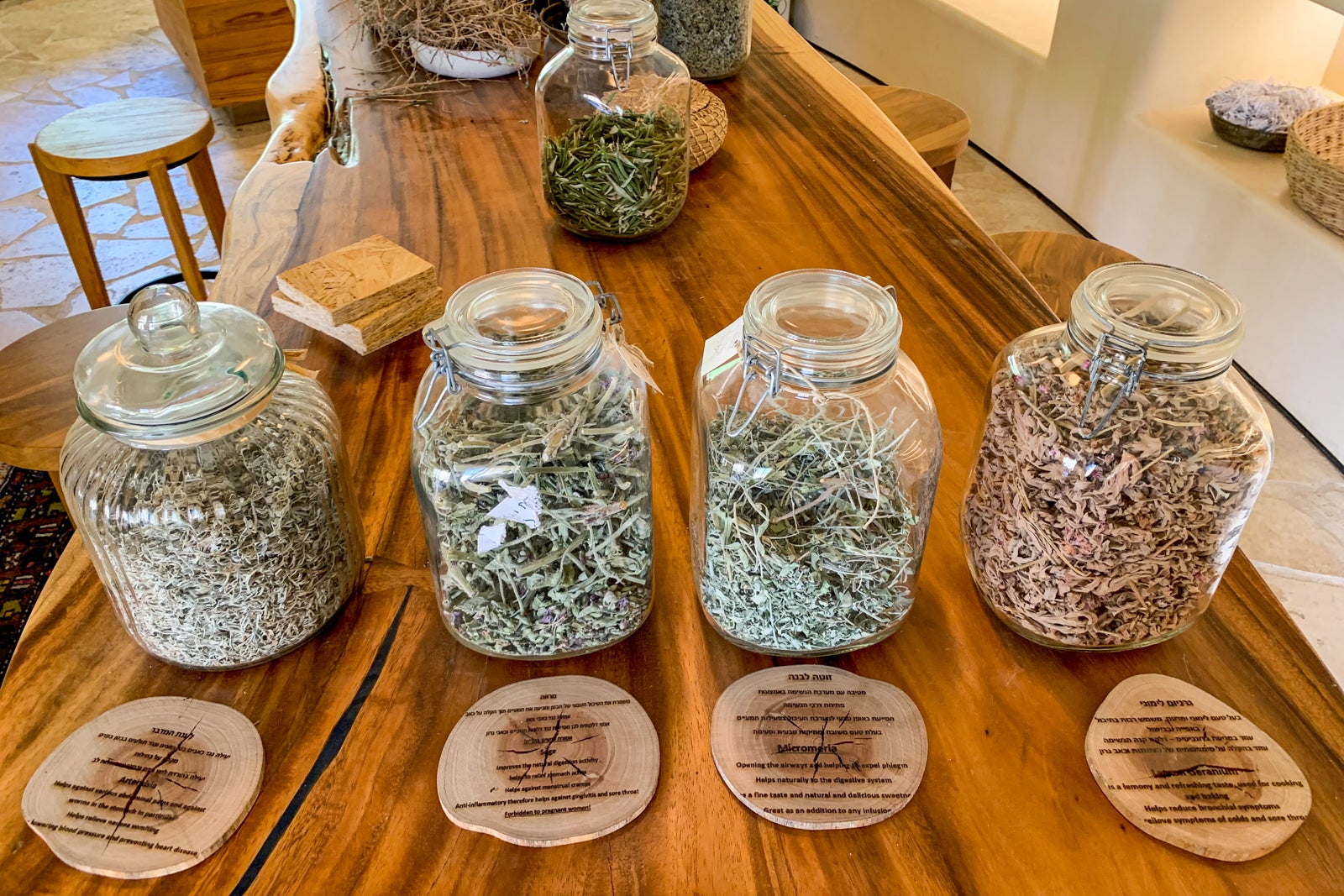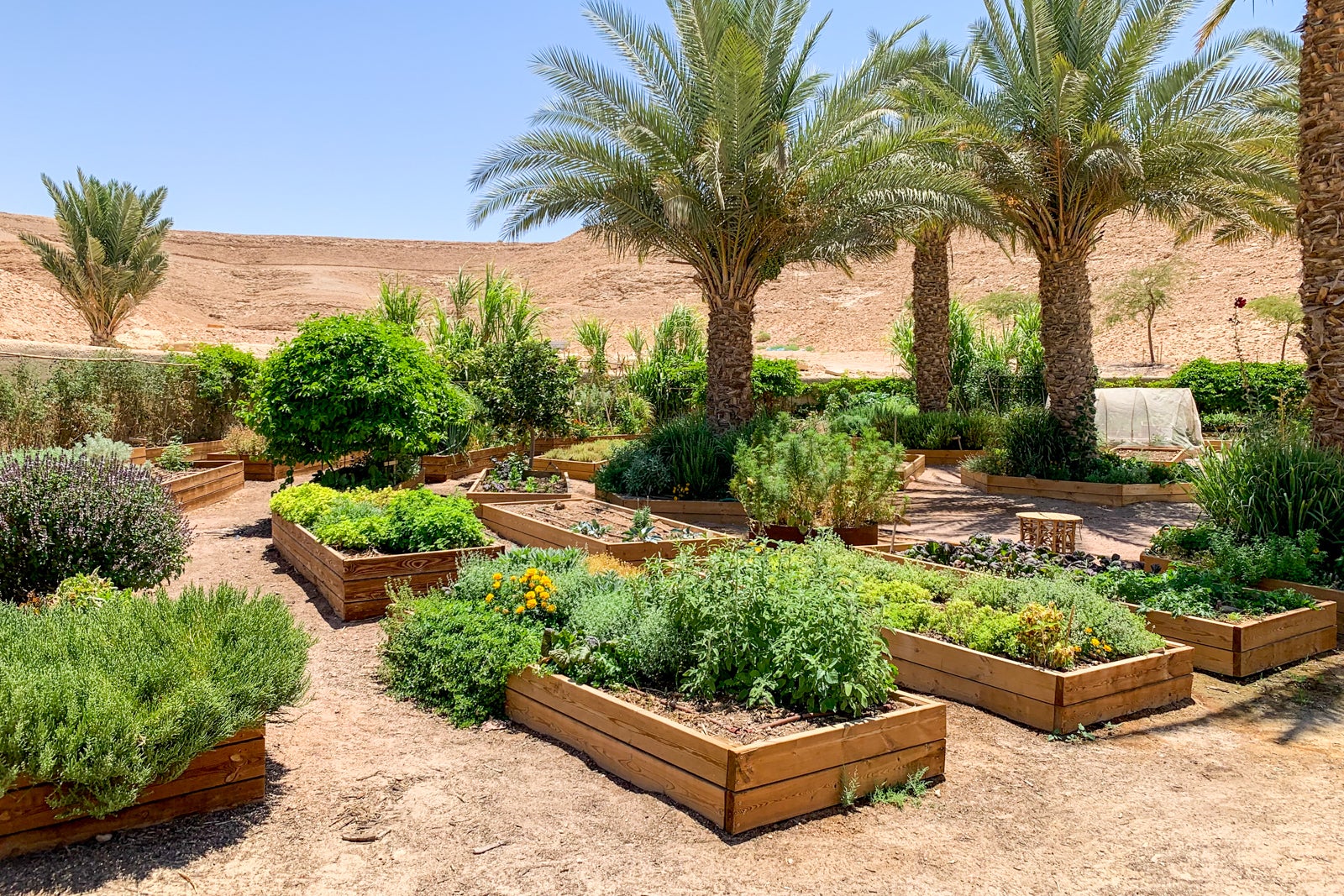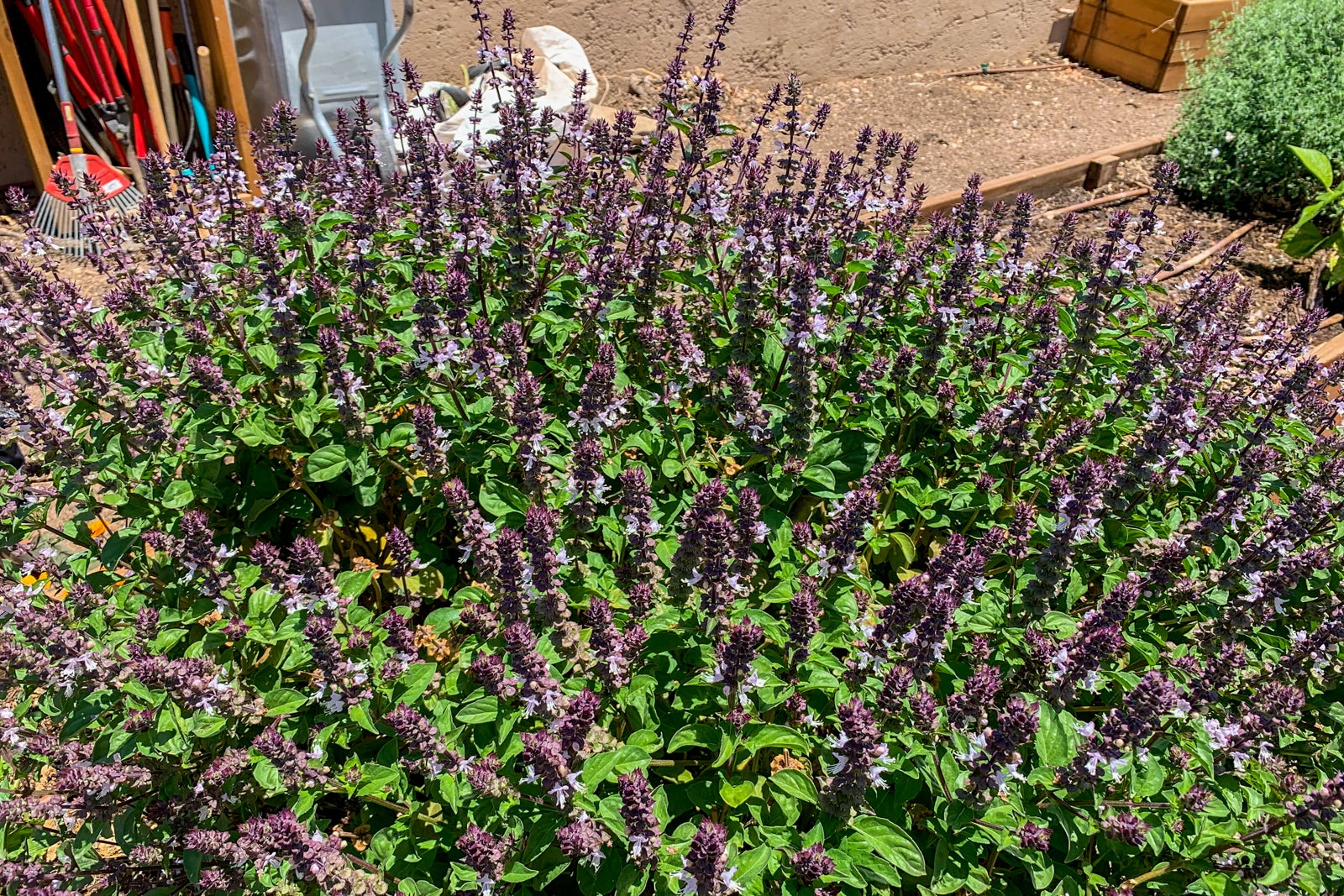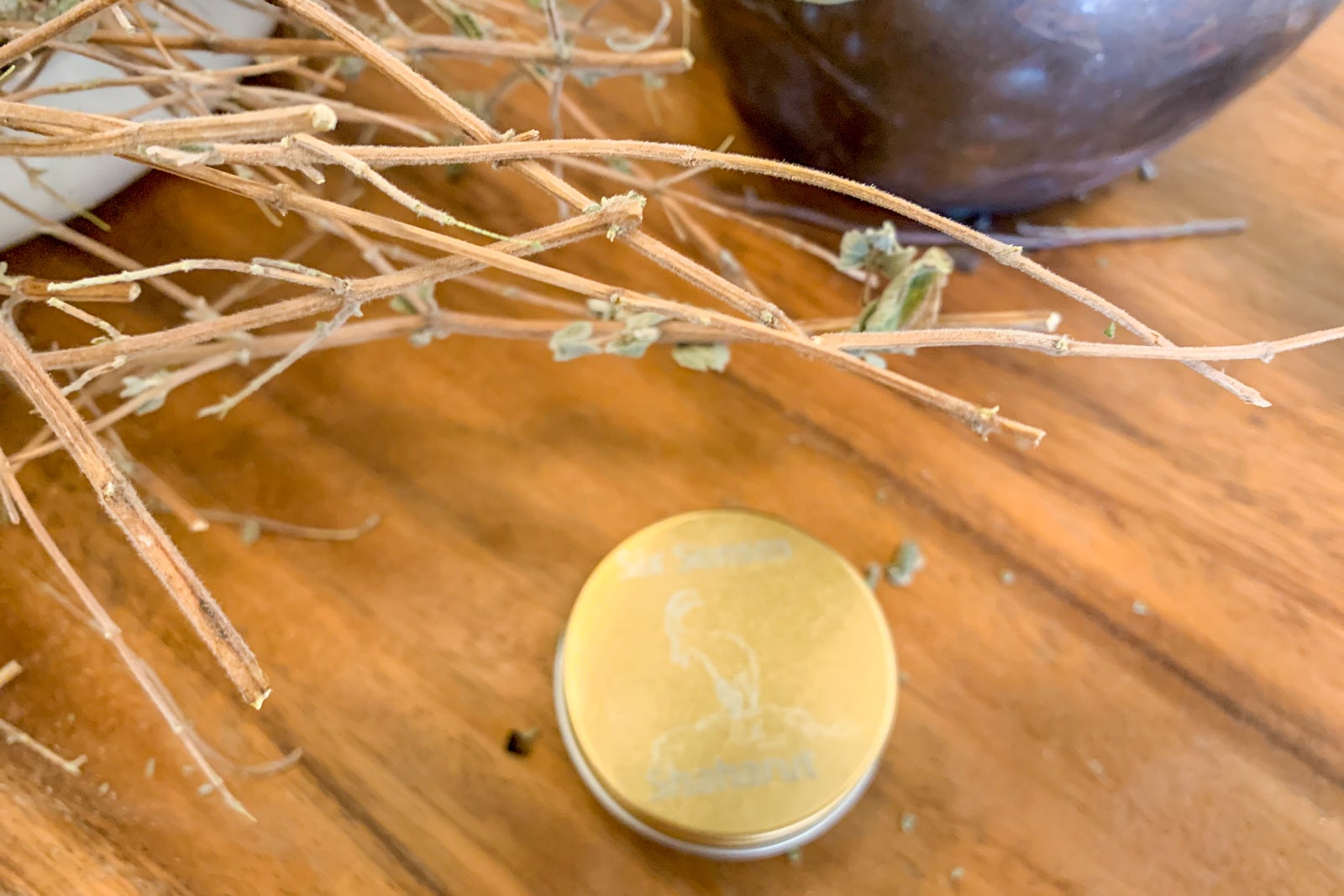 While I was able to visit and photograph the property's camels, if you want to ride them, you'll need to sign up separately for that activity. You can do an early morning or dusk camel ride that lasts an hour and a half and costs $37 per person. You can also ask to join a complimentary "camel caring" session where you learn about grooming and taking care of these massive creatures.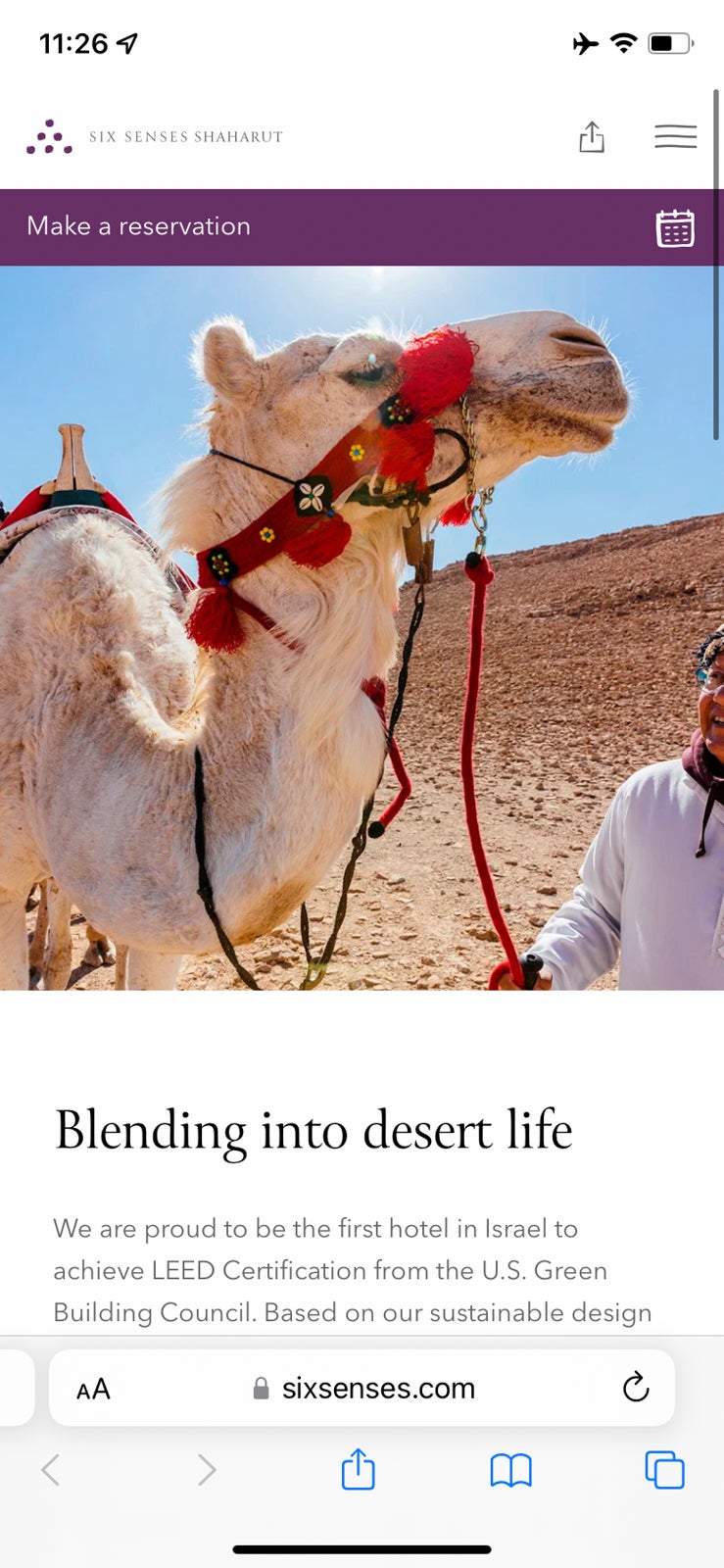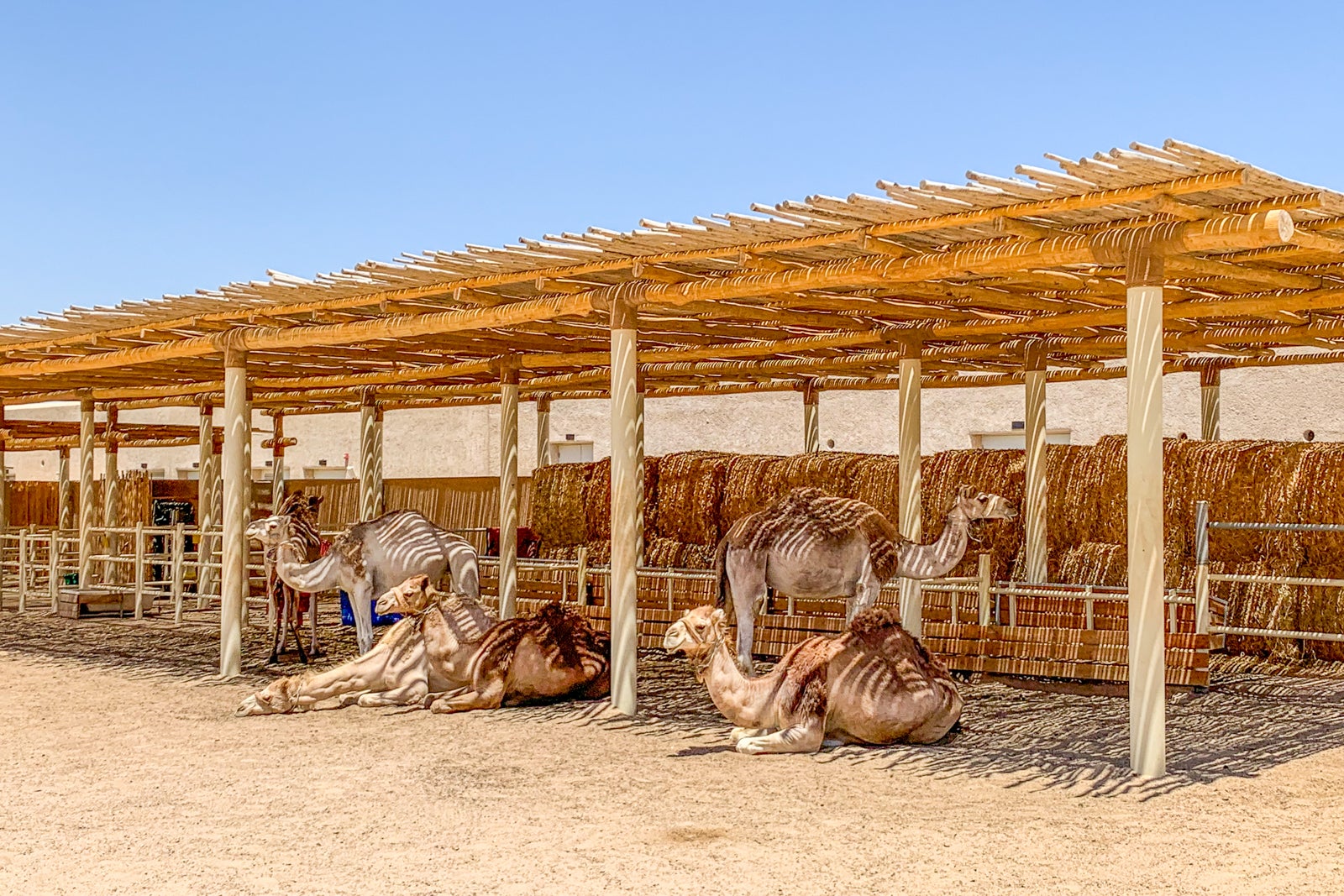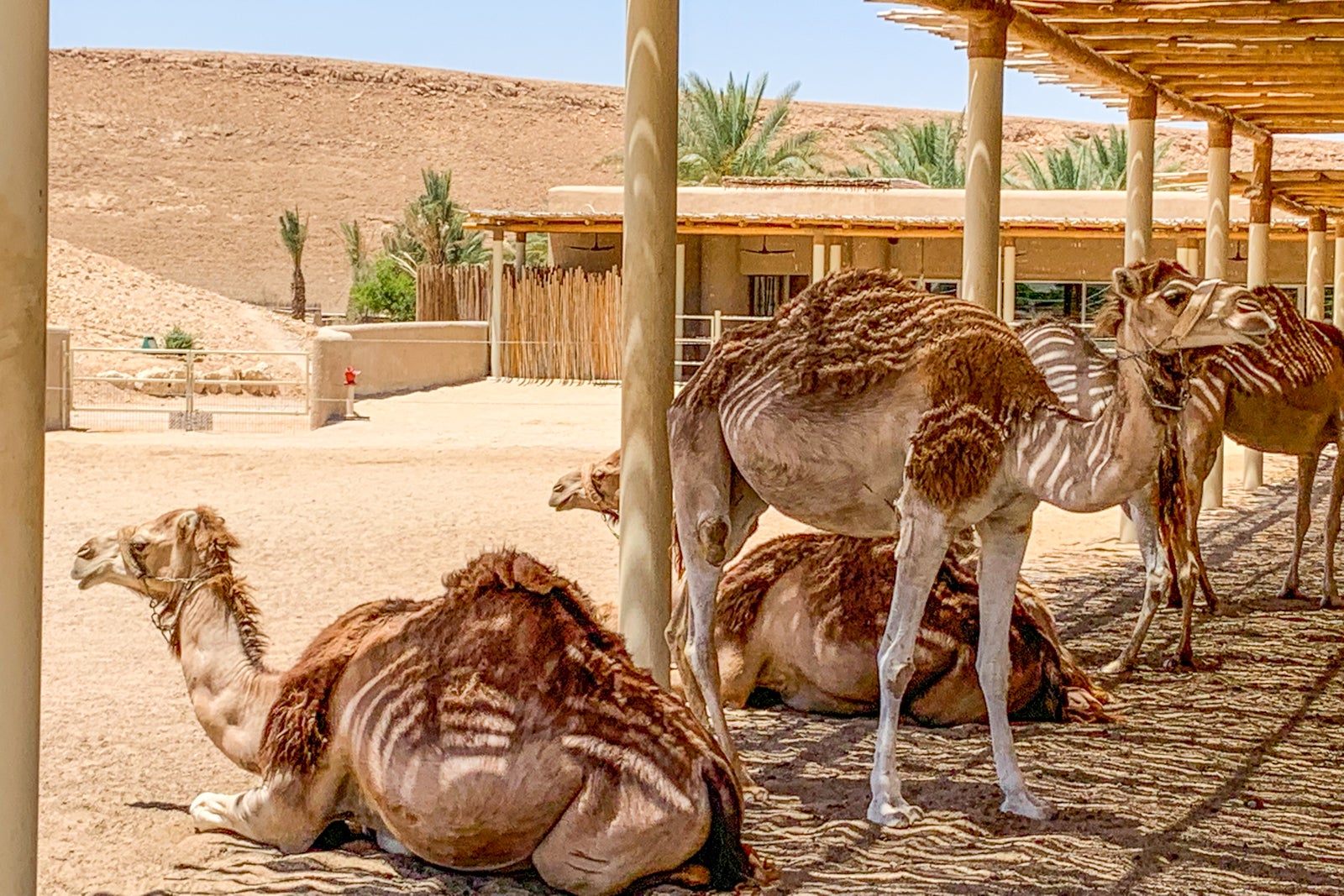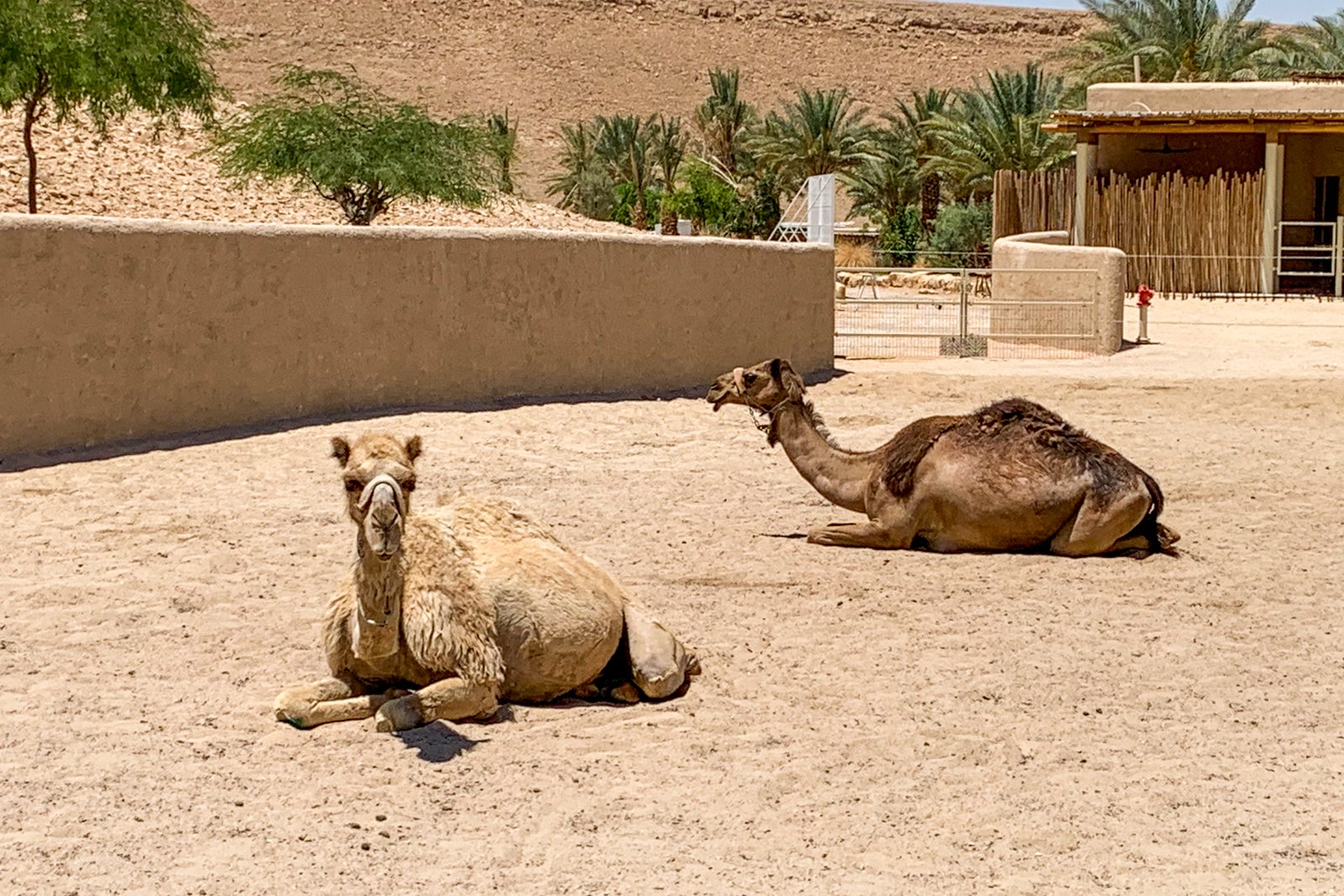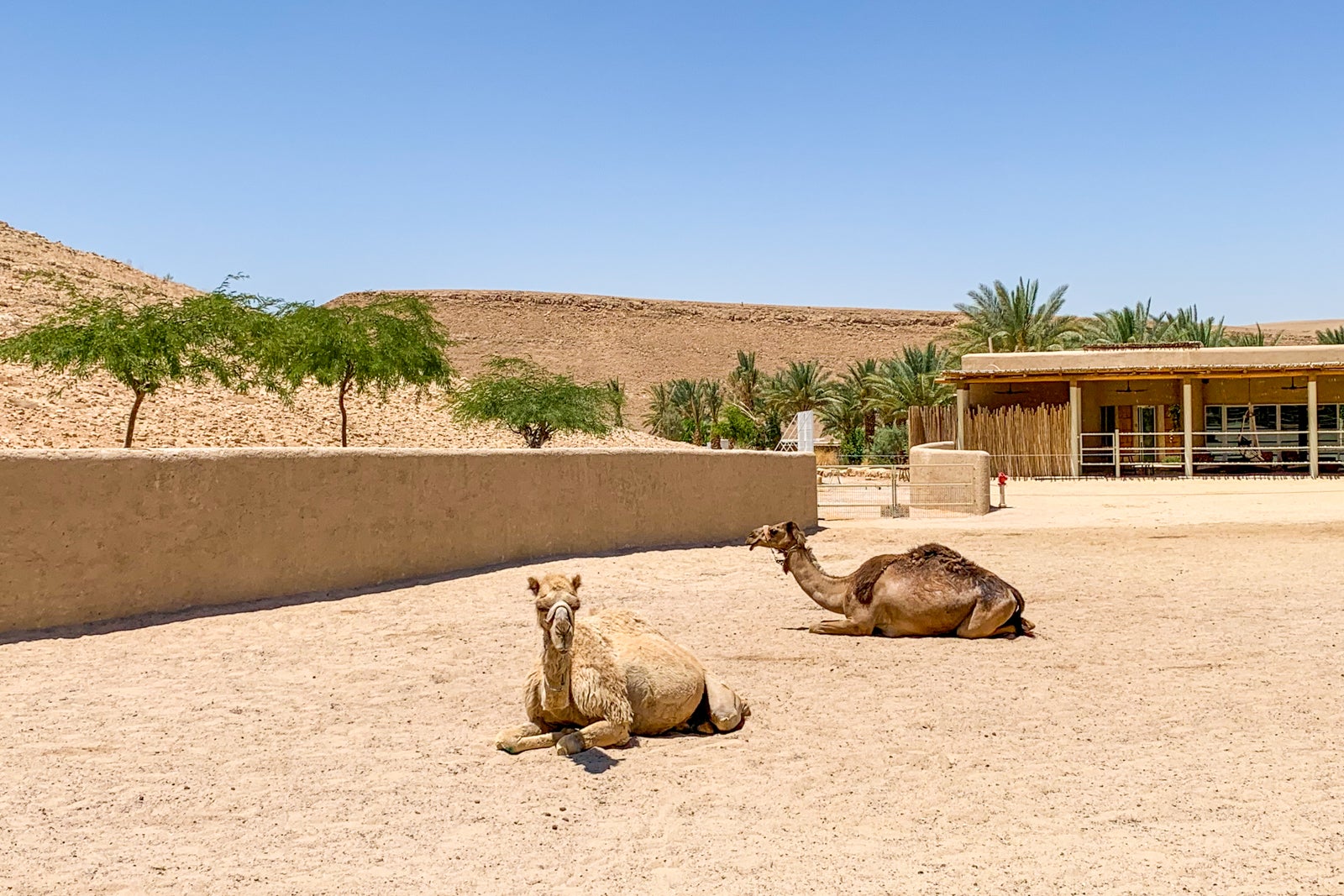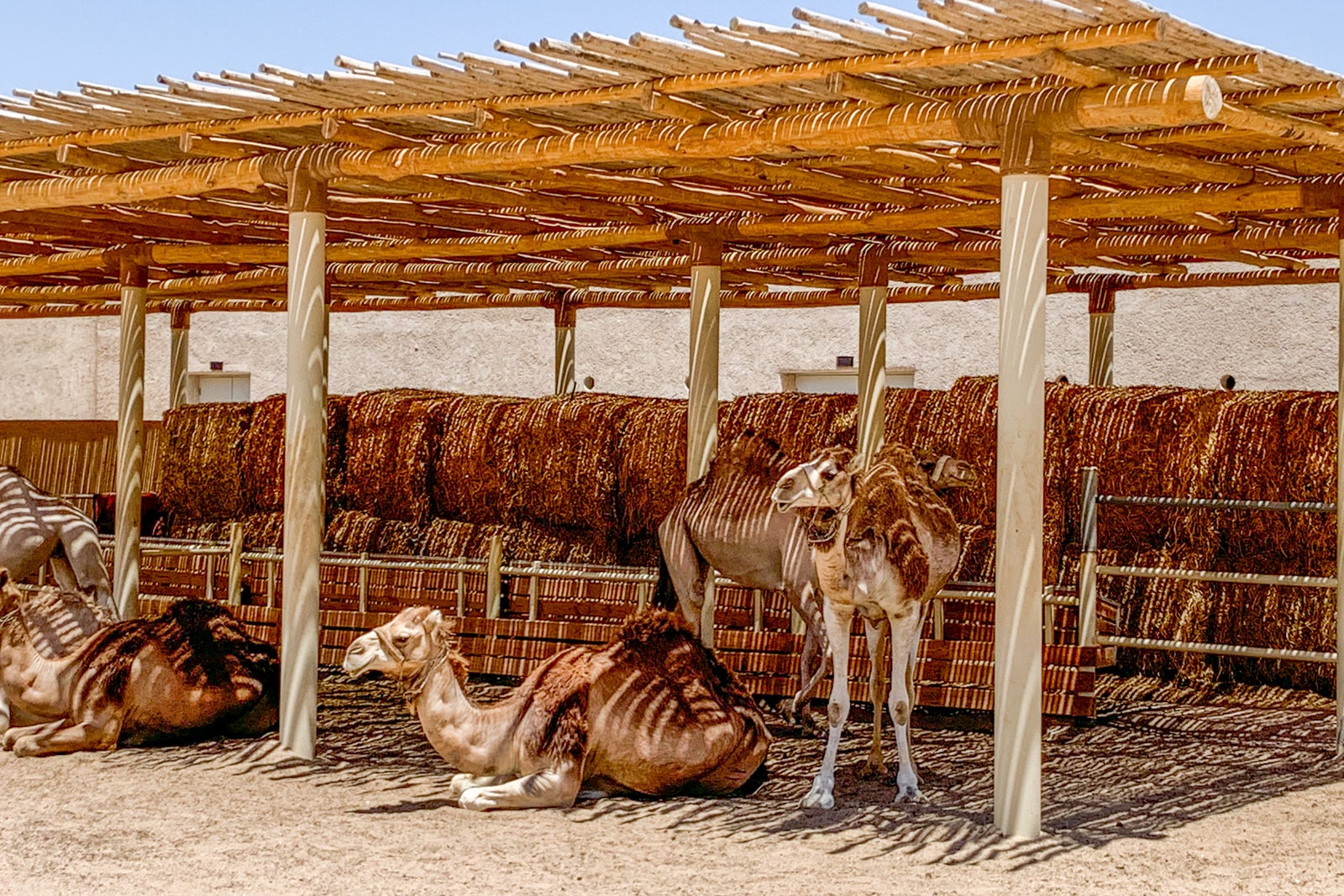 While I didn't have time to interact much with the camels, I did set aside an hour for a 2-mile hiking tour with Hen Yannay, who ended up being the experience manager of the resort. The $35 hike through the Negev Desert took us around the property along the Israel National Bike Trail to the Shayarot Cliffs before sundown. It included great views of the resort and the mountains of Jordan across a valley separating the two countries. Plus, Hen provided a terrific overview of the area, the history of the Bedouins who live in the region and the nearby Jewish kibbutzim villages.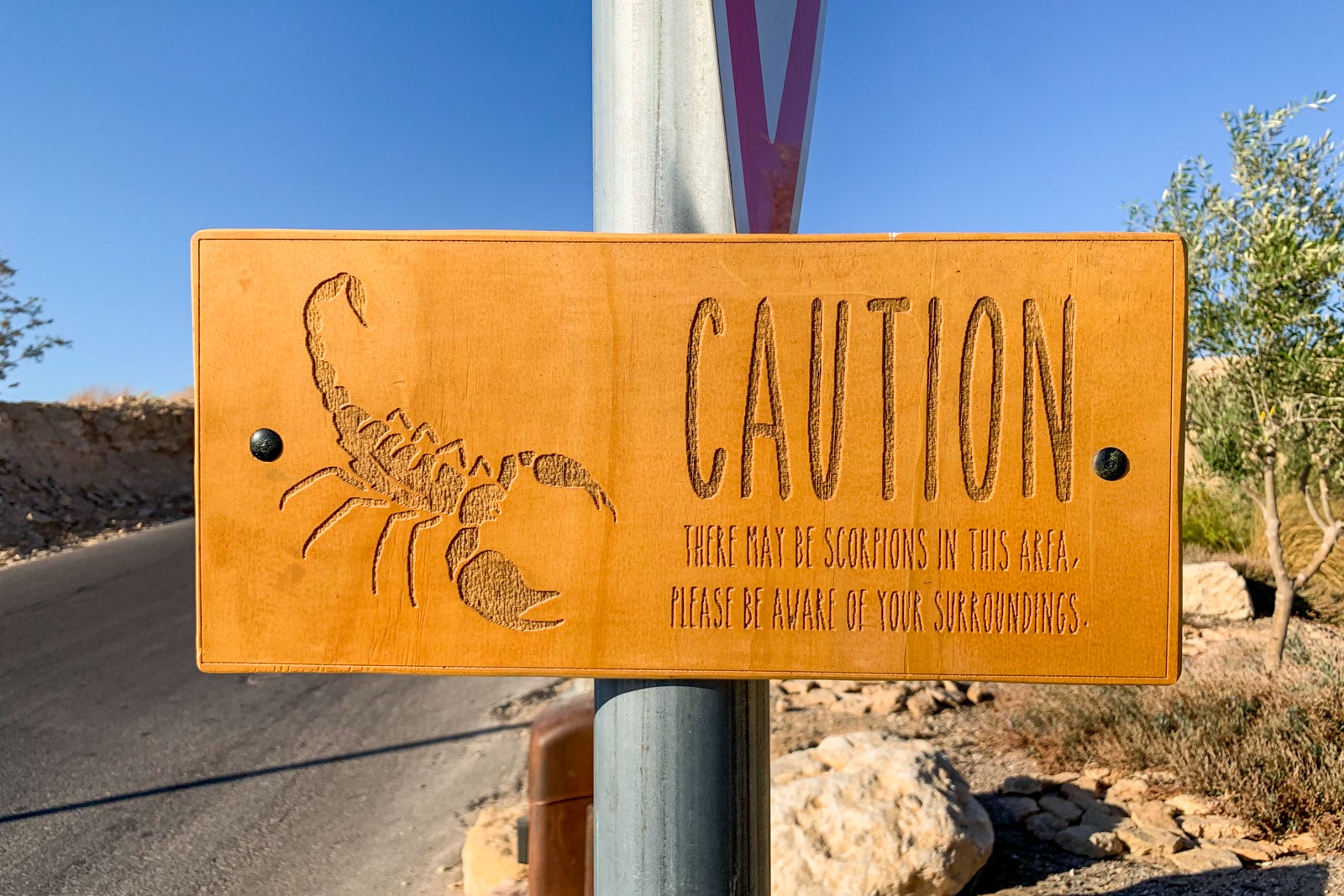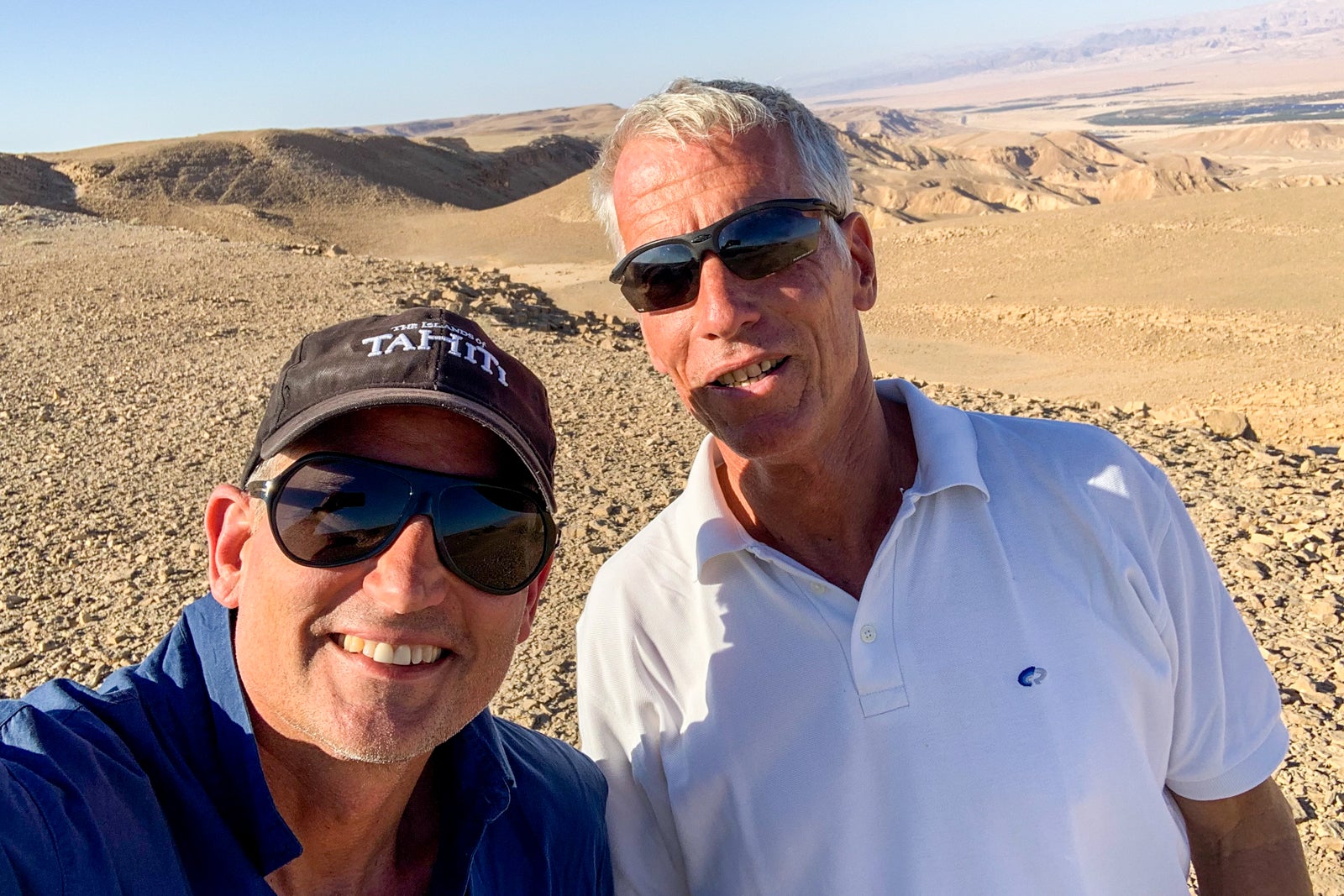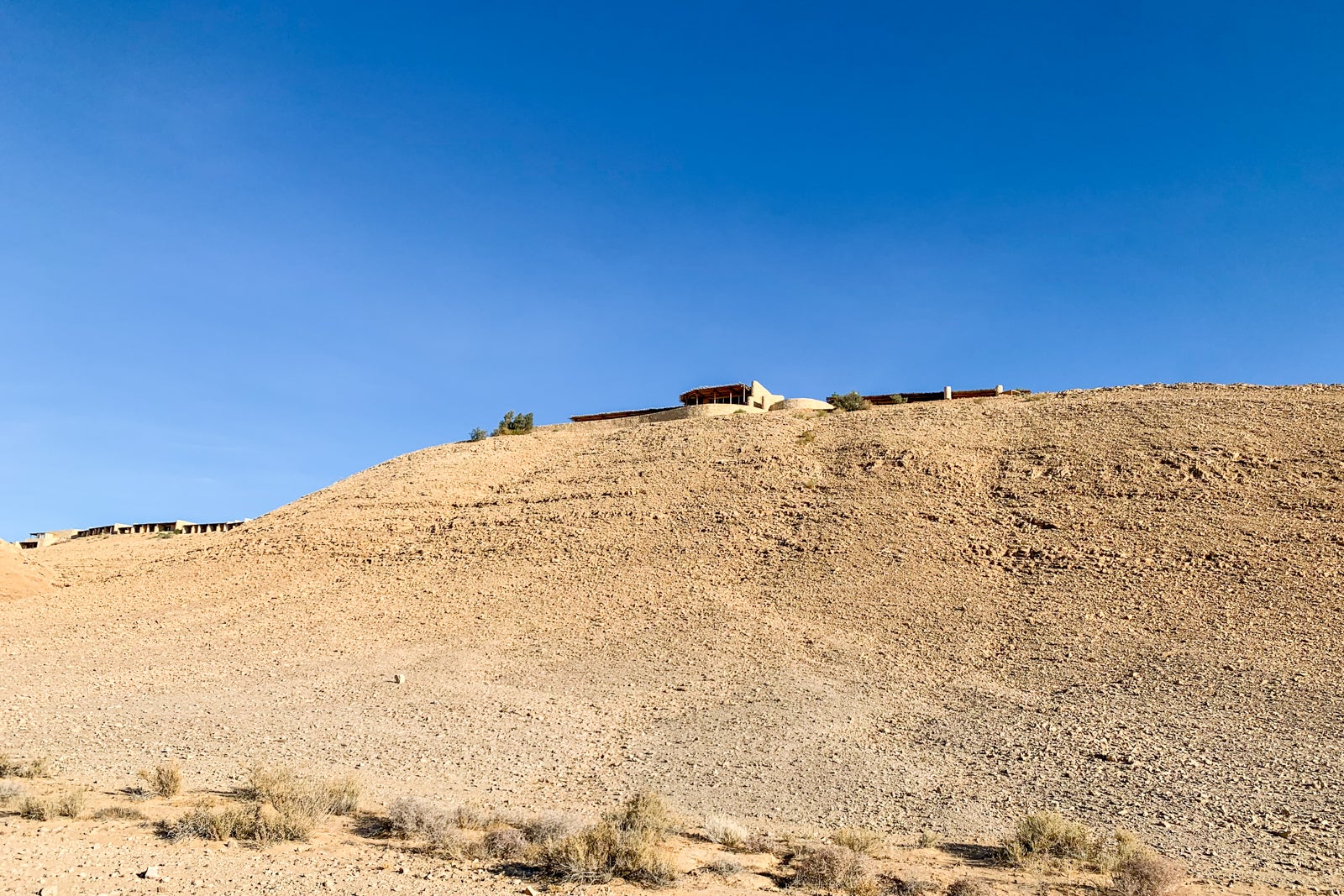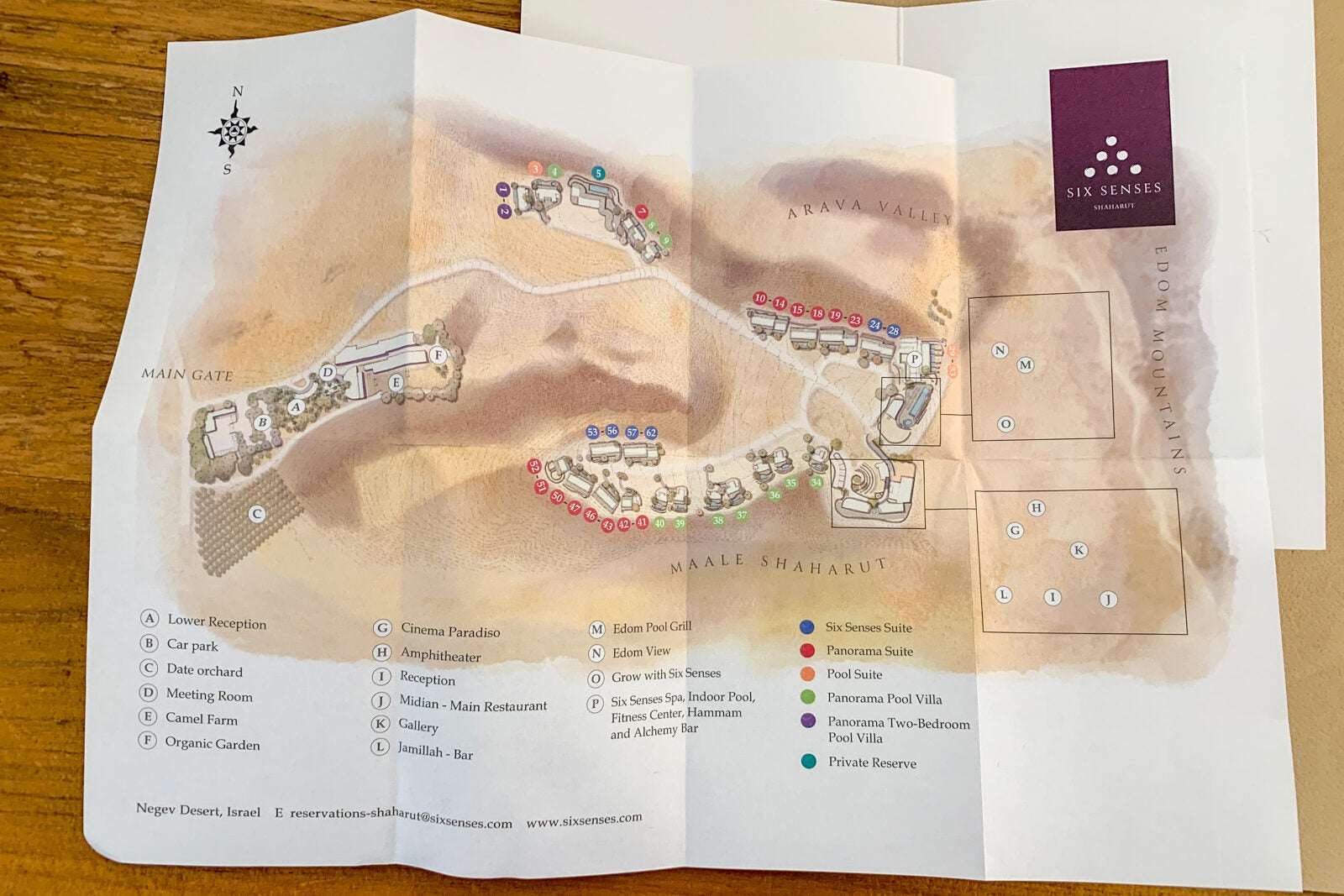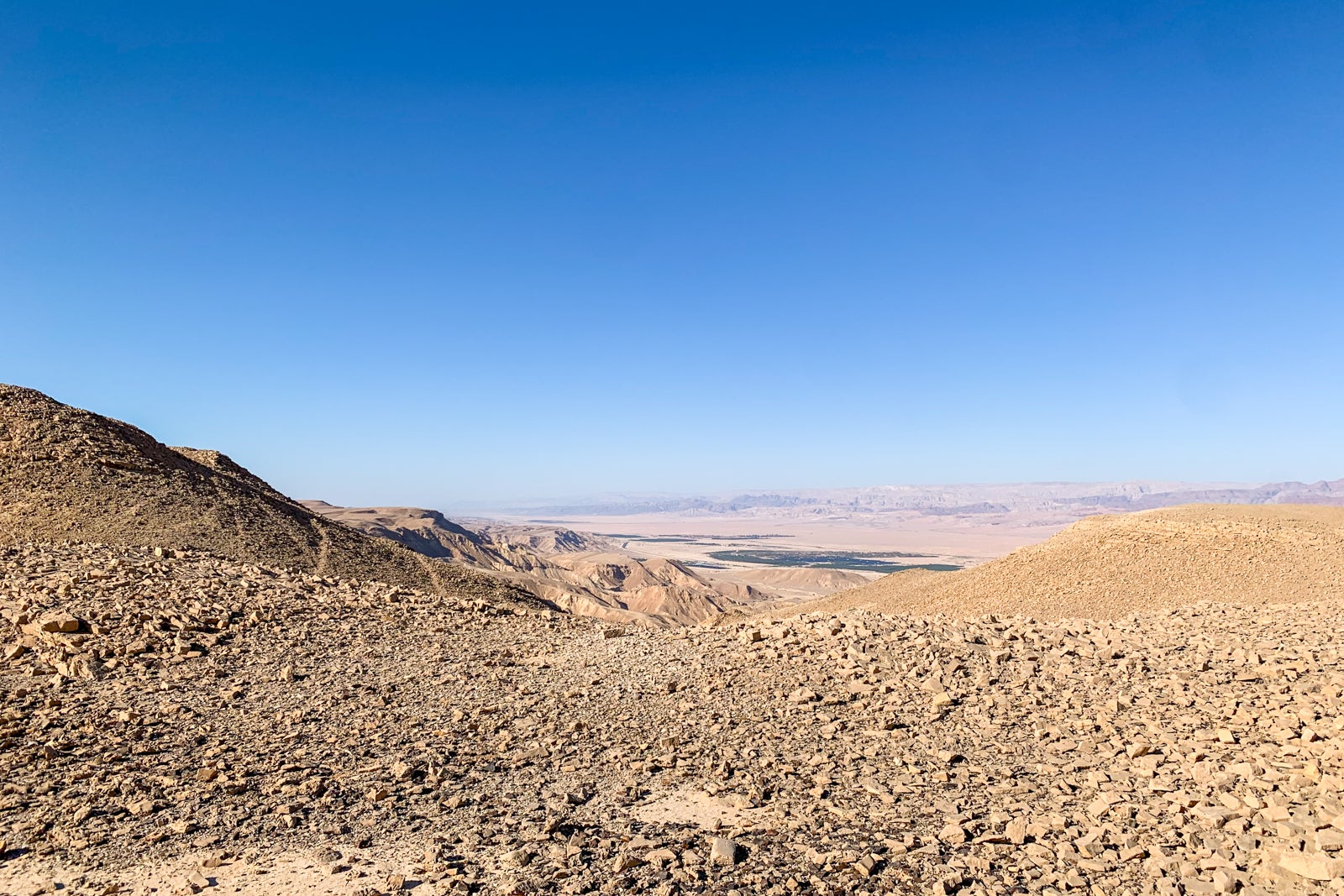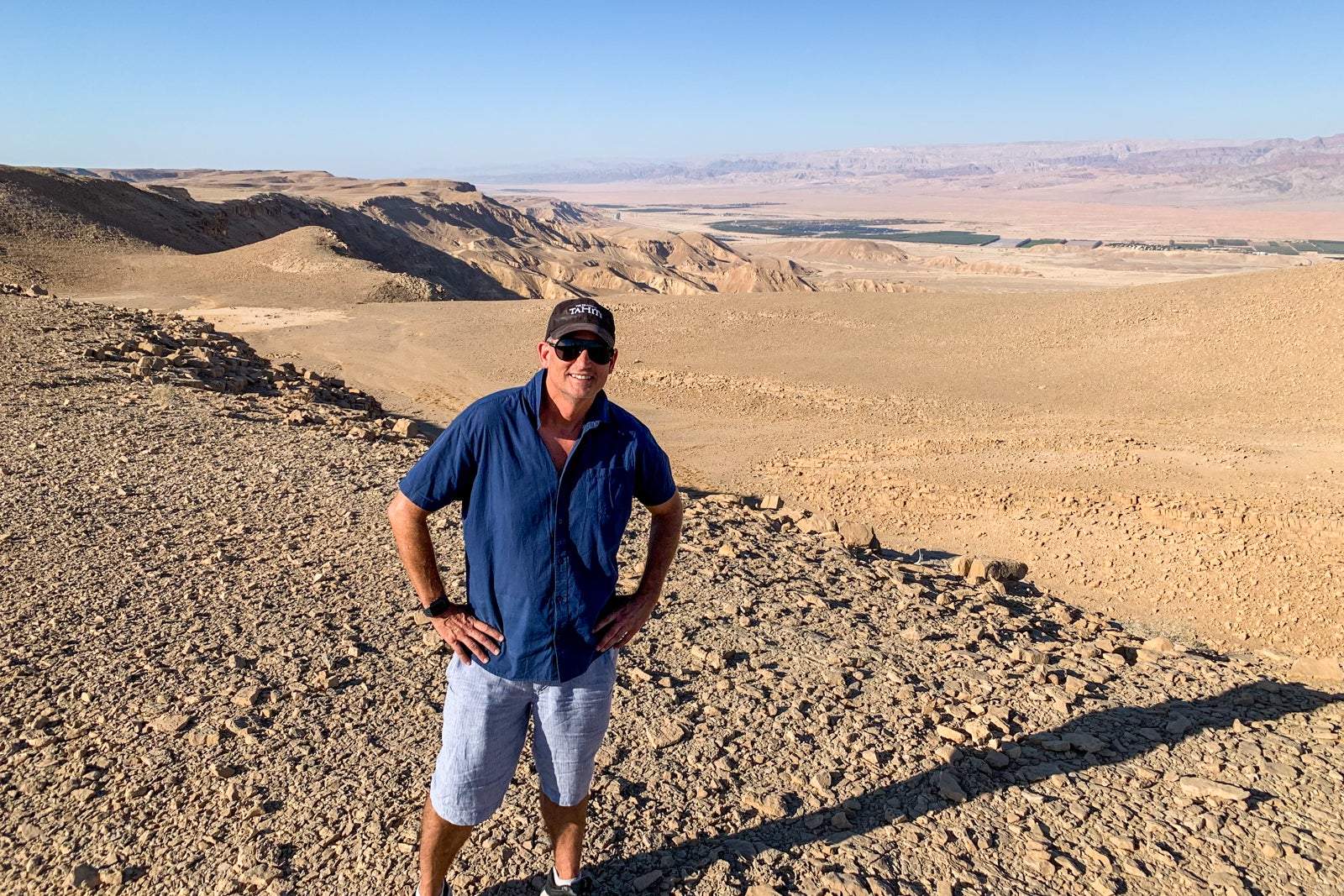 Activity fees vary depending on what you choose to do, but expect to pay anywhere from $35 for a one-hour hiking excursion to $1,143 for an all-wheel-drive adventure in the desert lasting 3 1/2 hours. To avoid overheating, schedule your activities for early in the morning or late in the day.
Don't forget to also take advantage of the resort's free live entertainment. Available at the amphitheater, which is tucked between the outdoor pool and the restaurants on top of the property's hill, the tunes played by a local musician strumming a traditional lute-style instrument were the perfect sound to take in while watching the sun set. It was a bit hot, but refreshments like wine, Champagne and water were on offer to help keep cool.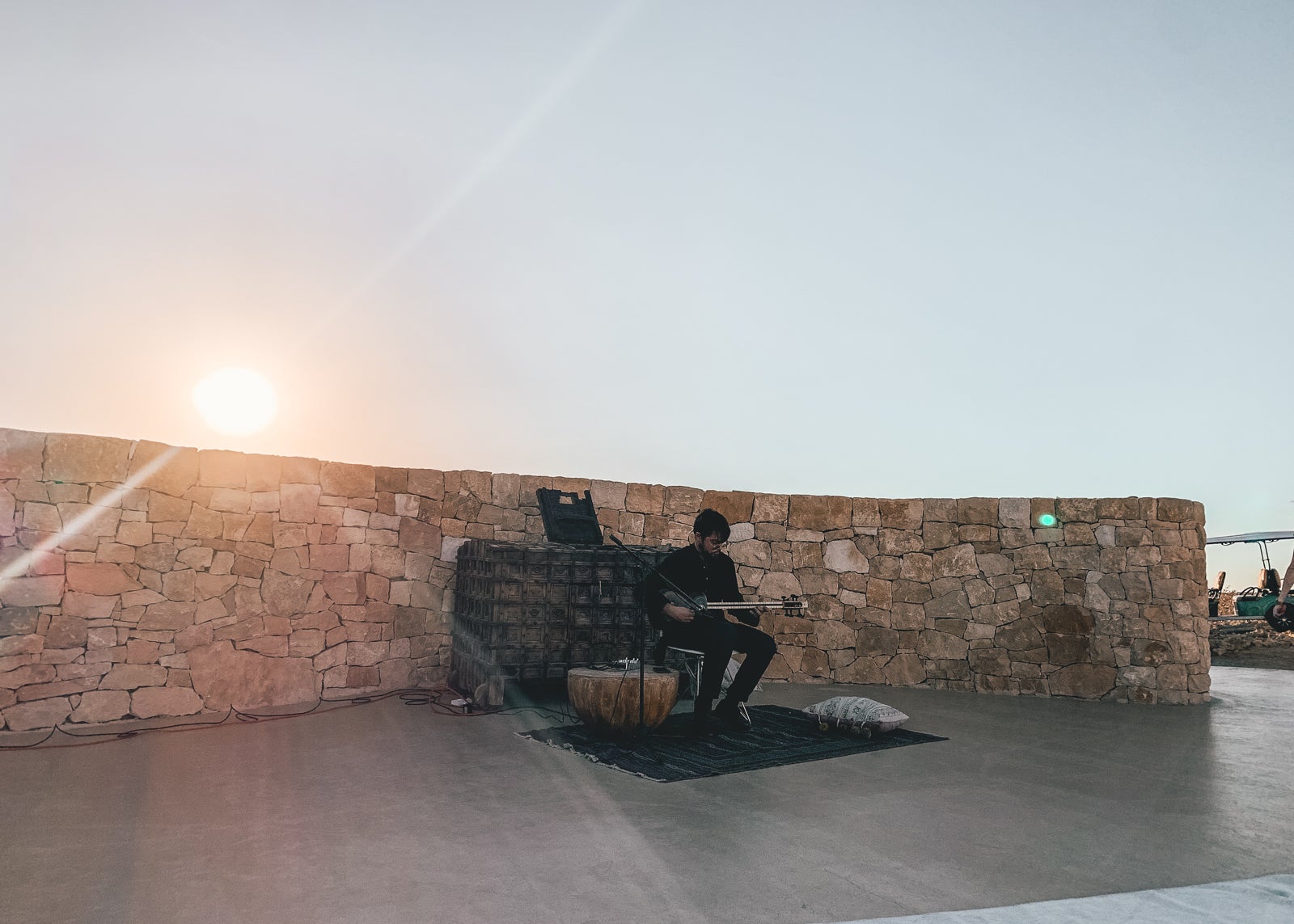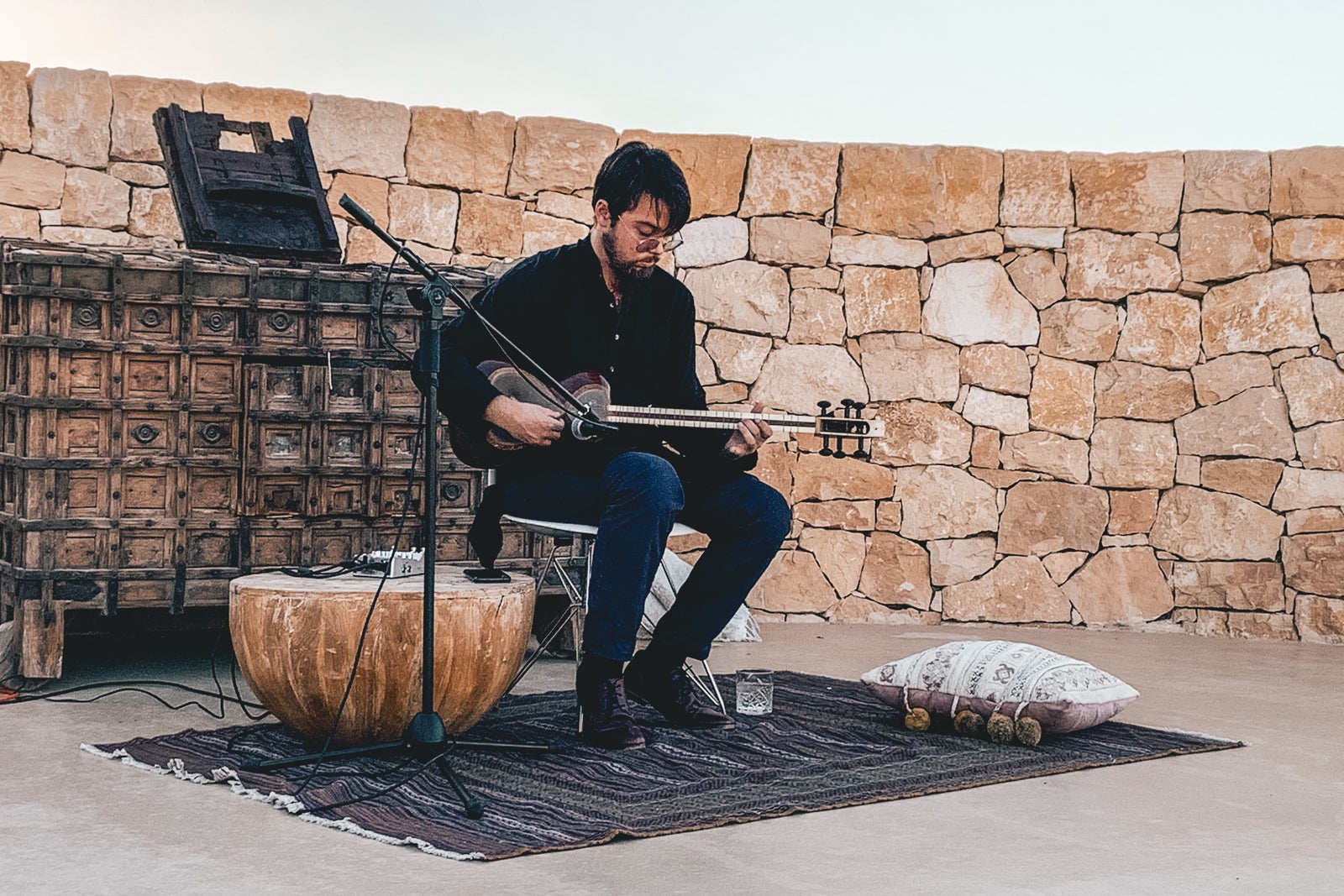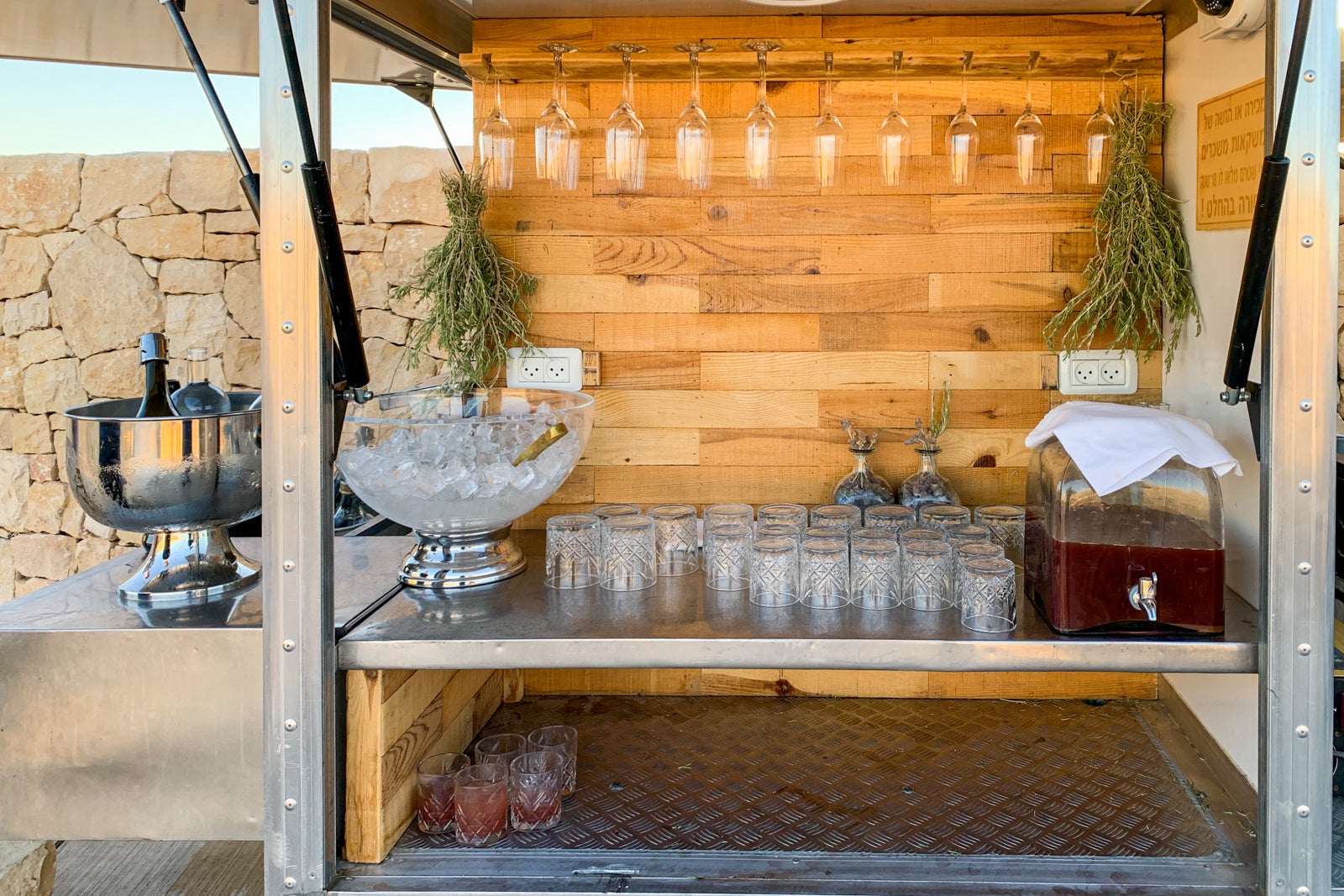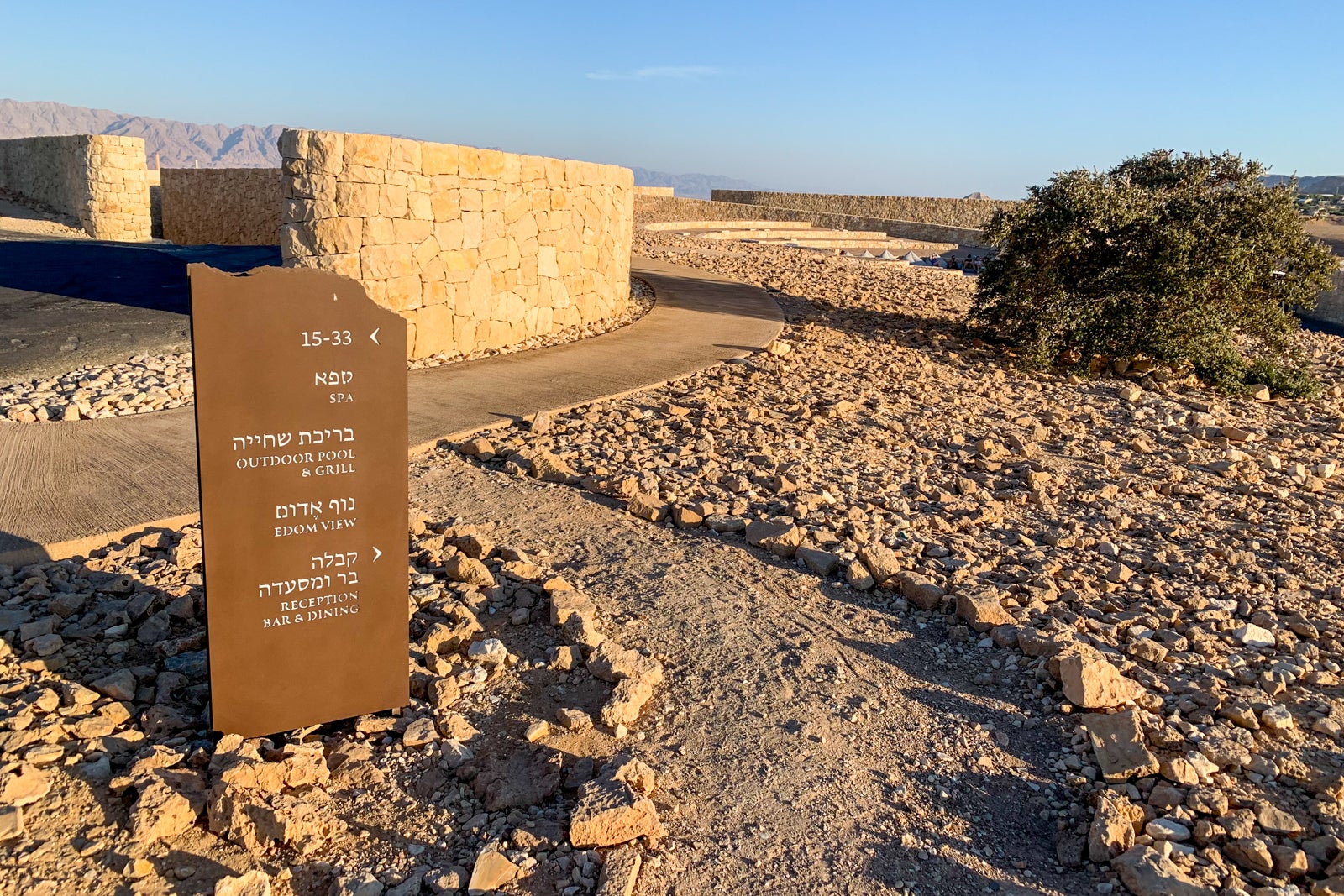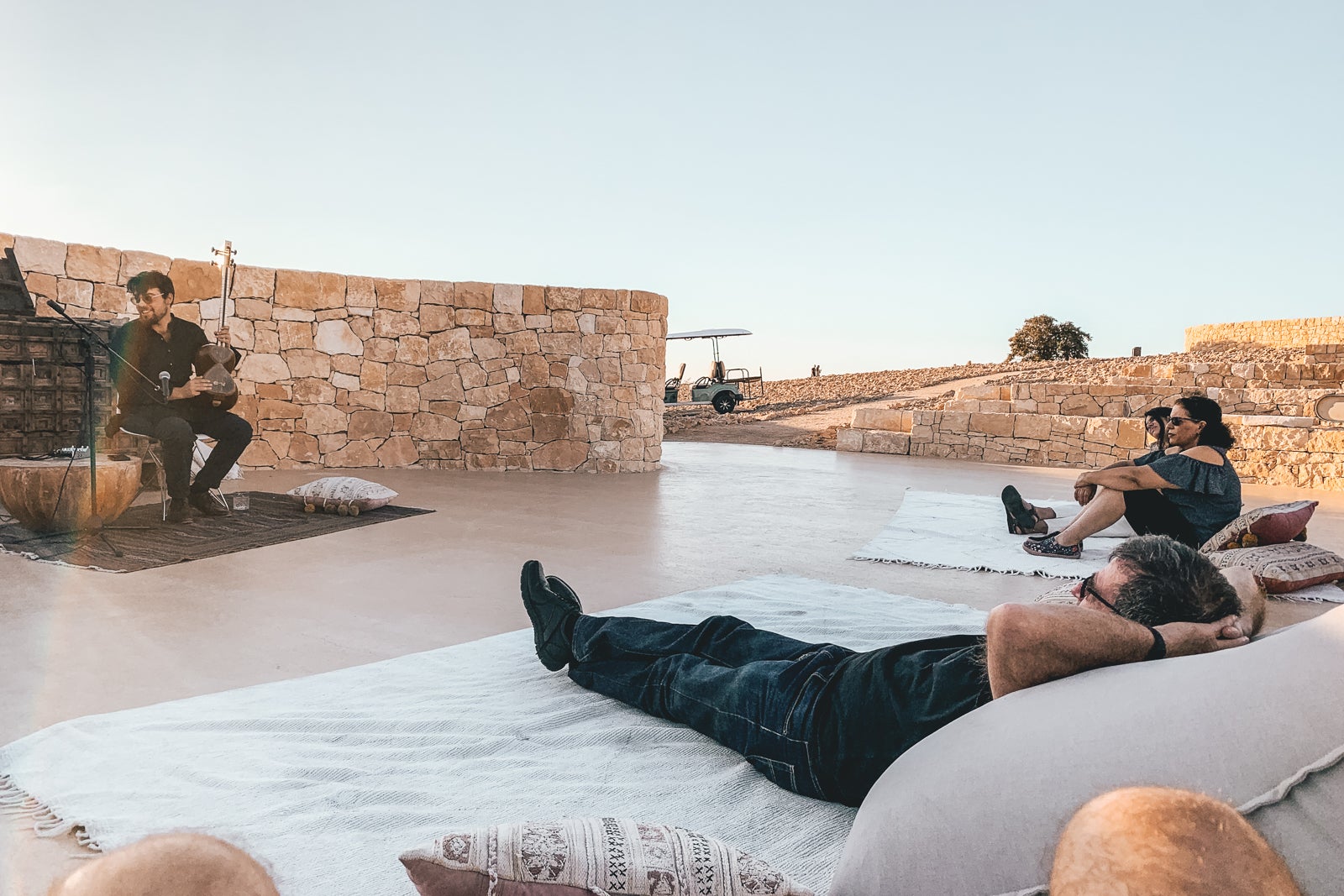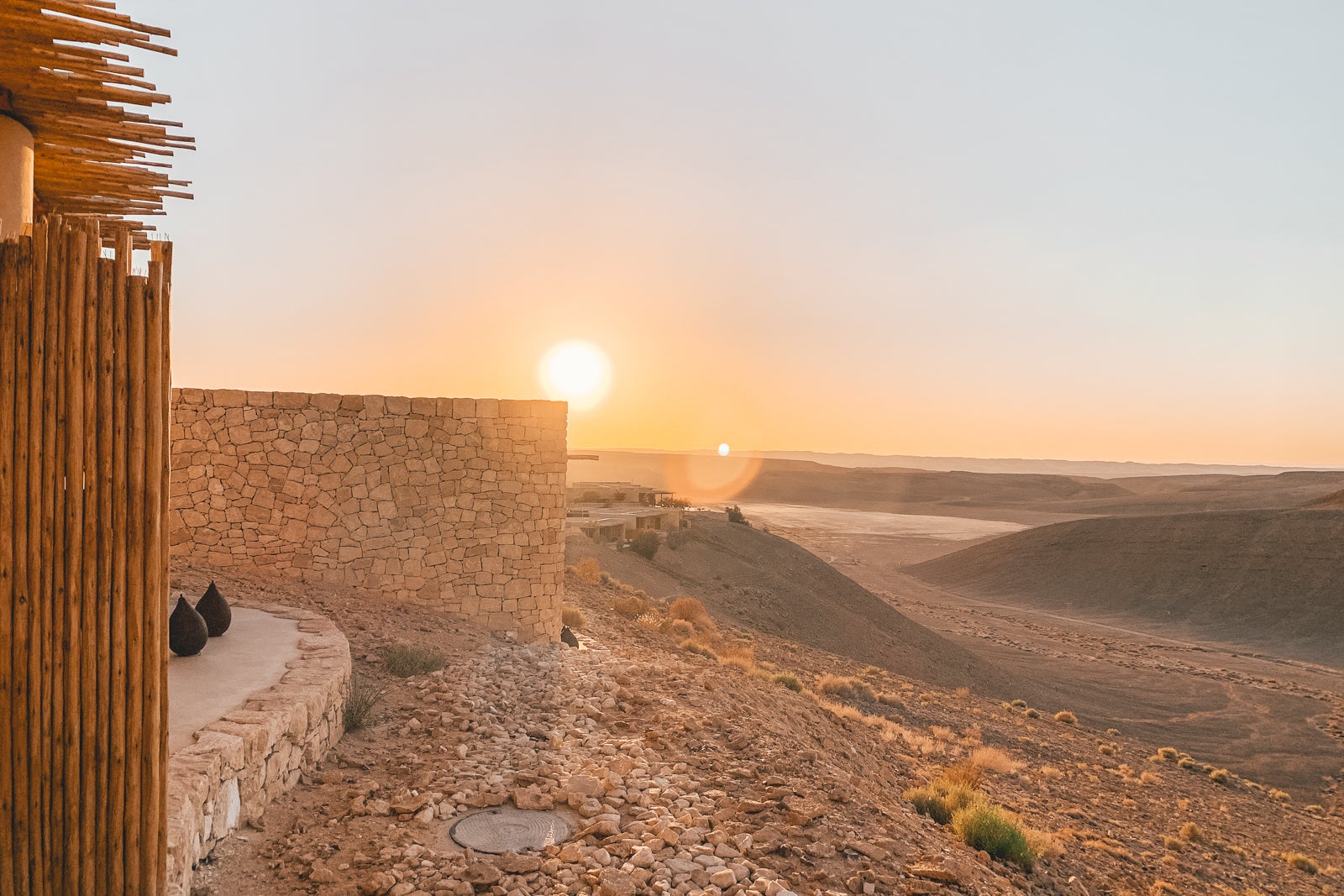 Service
The service at Six Senses Shaharut was excellent across the board. Requests were handled quickly and efficiently, and the staff was extremely friendly. For example, whenever I walked on the property, workers in their carts would ask me if I needed a ride or would at least wave.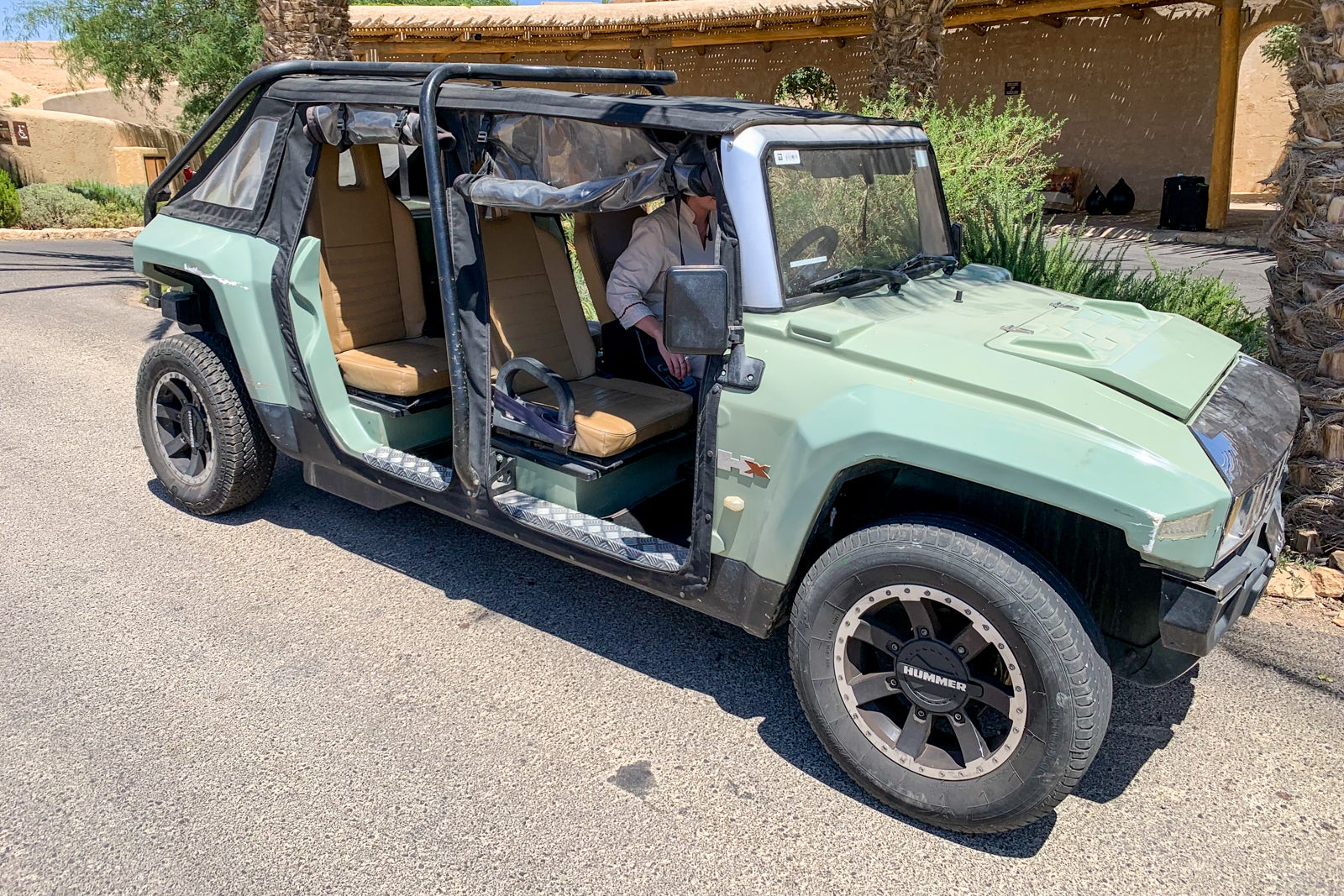 I made numerous requests during my stay, both out of necessity and to test the service. Calls were answered promptly, and service items were brought quickly.
While there were several USB ports in my room, items like my MacBook Pro required a regular wall outlet, so I asked for adapters, which were delivered quickly. I also requested additional Nespresso coffee pods, and 10 of them arrived within minutes.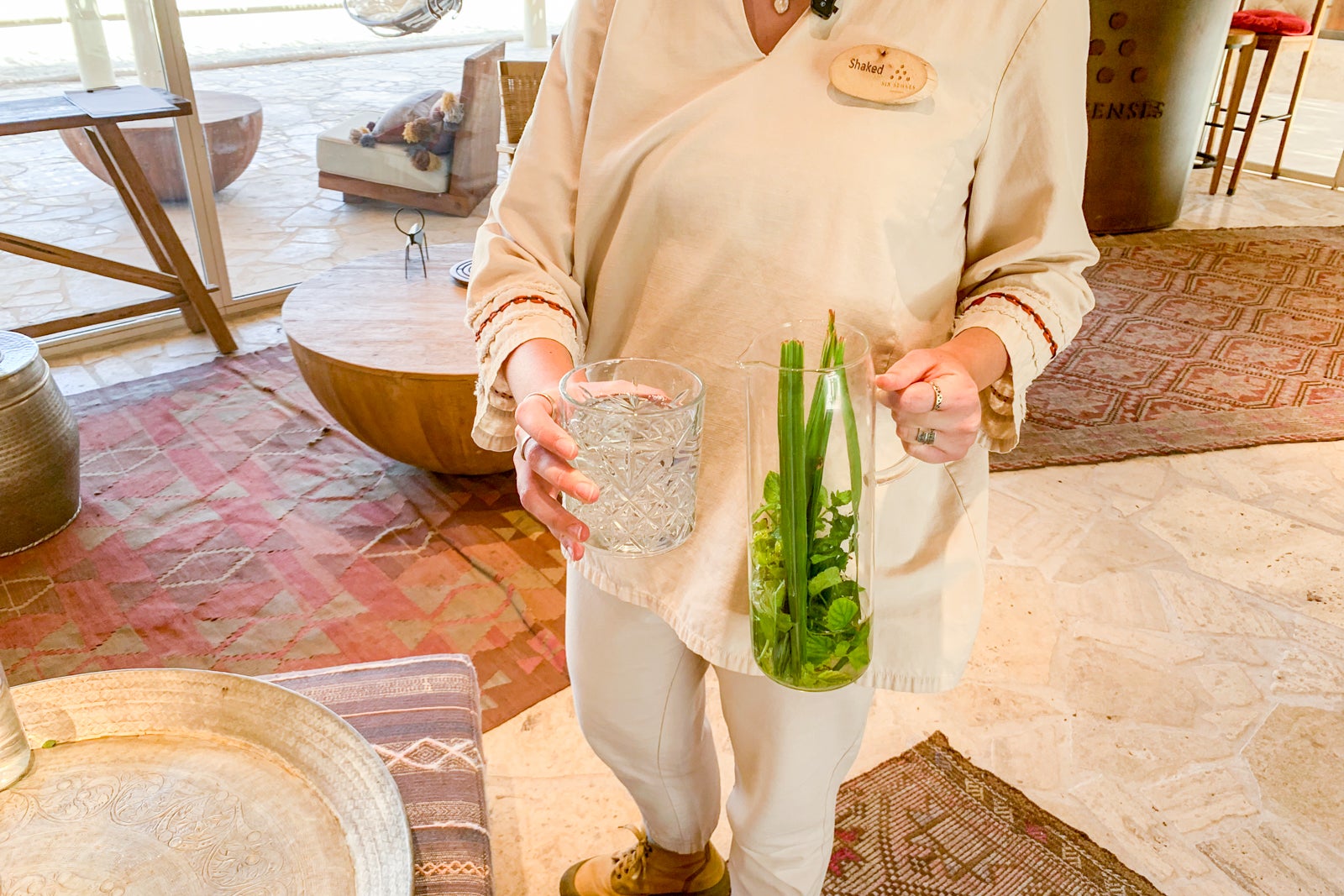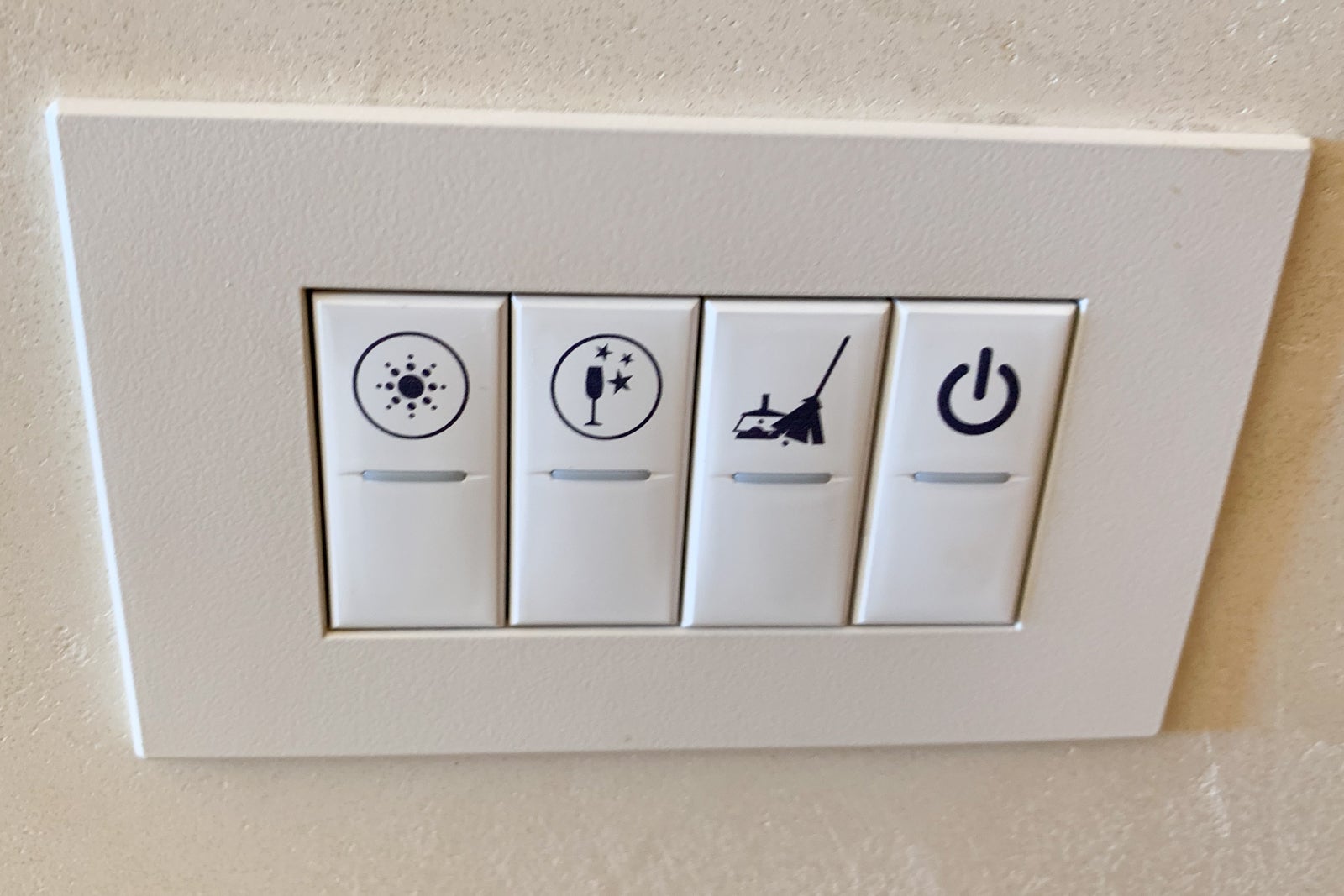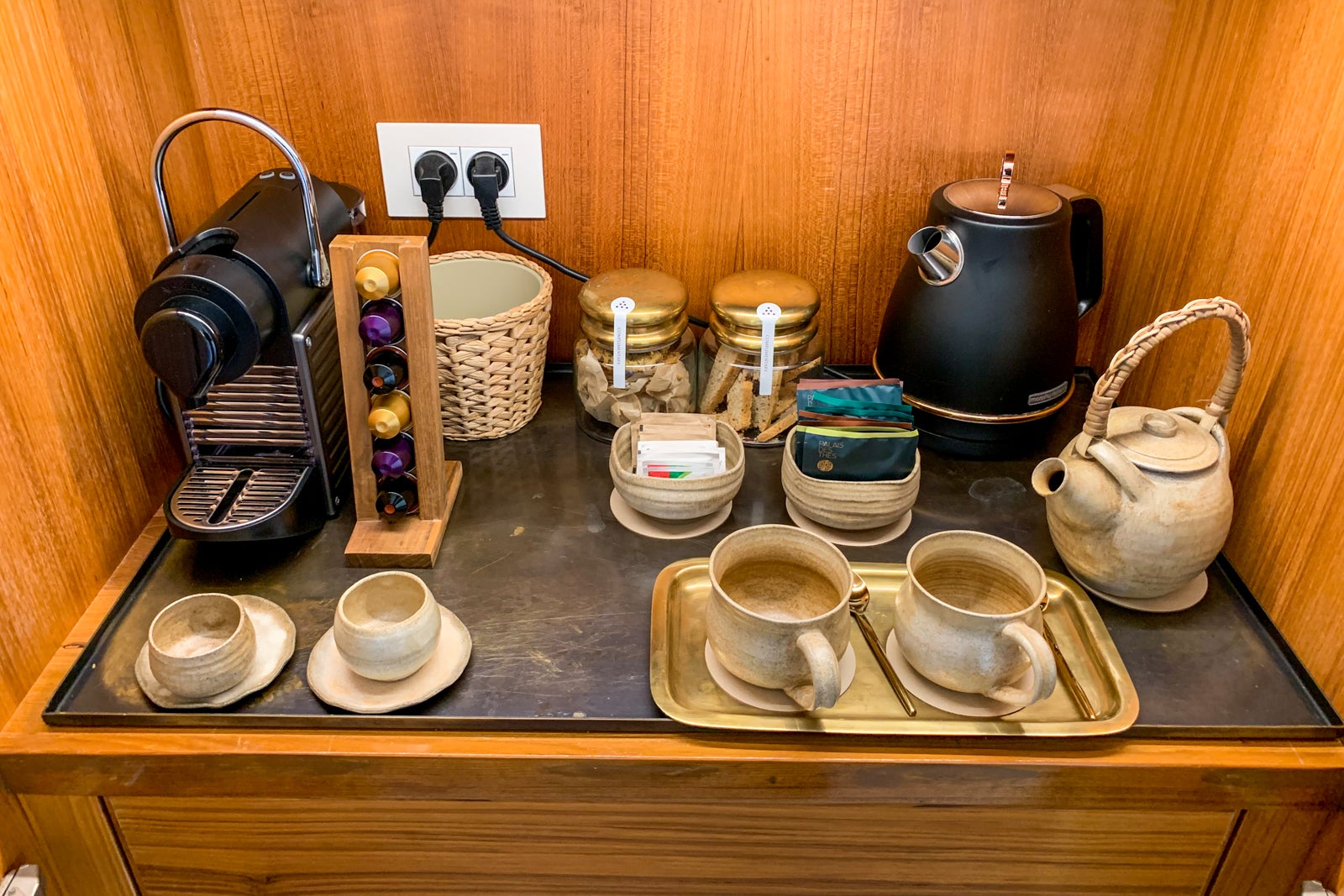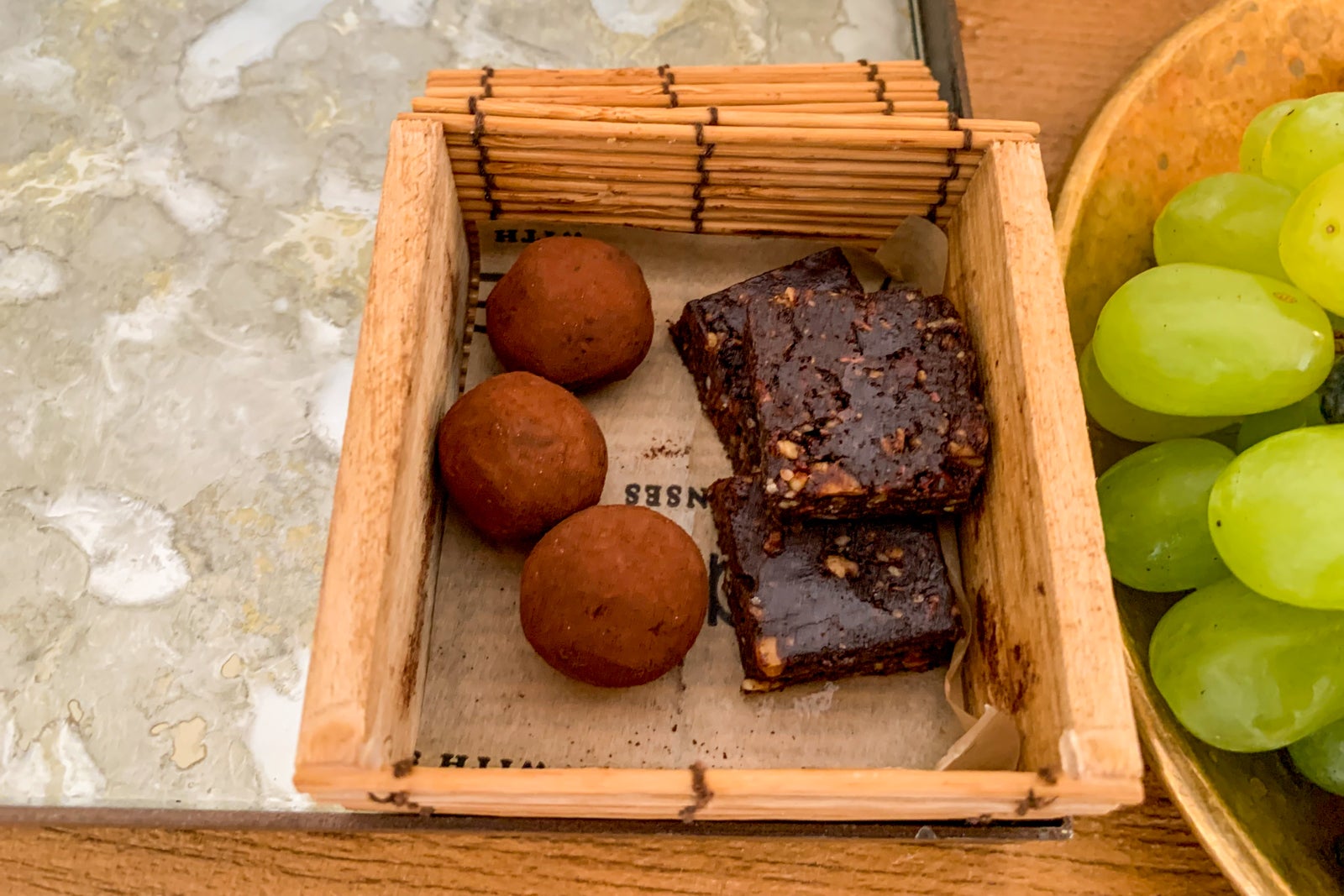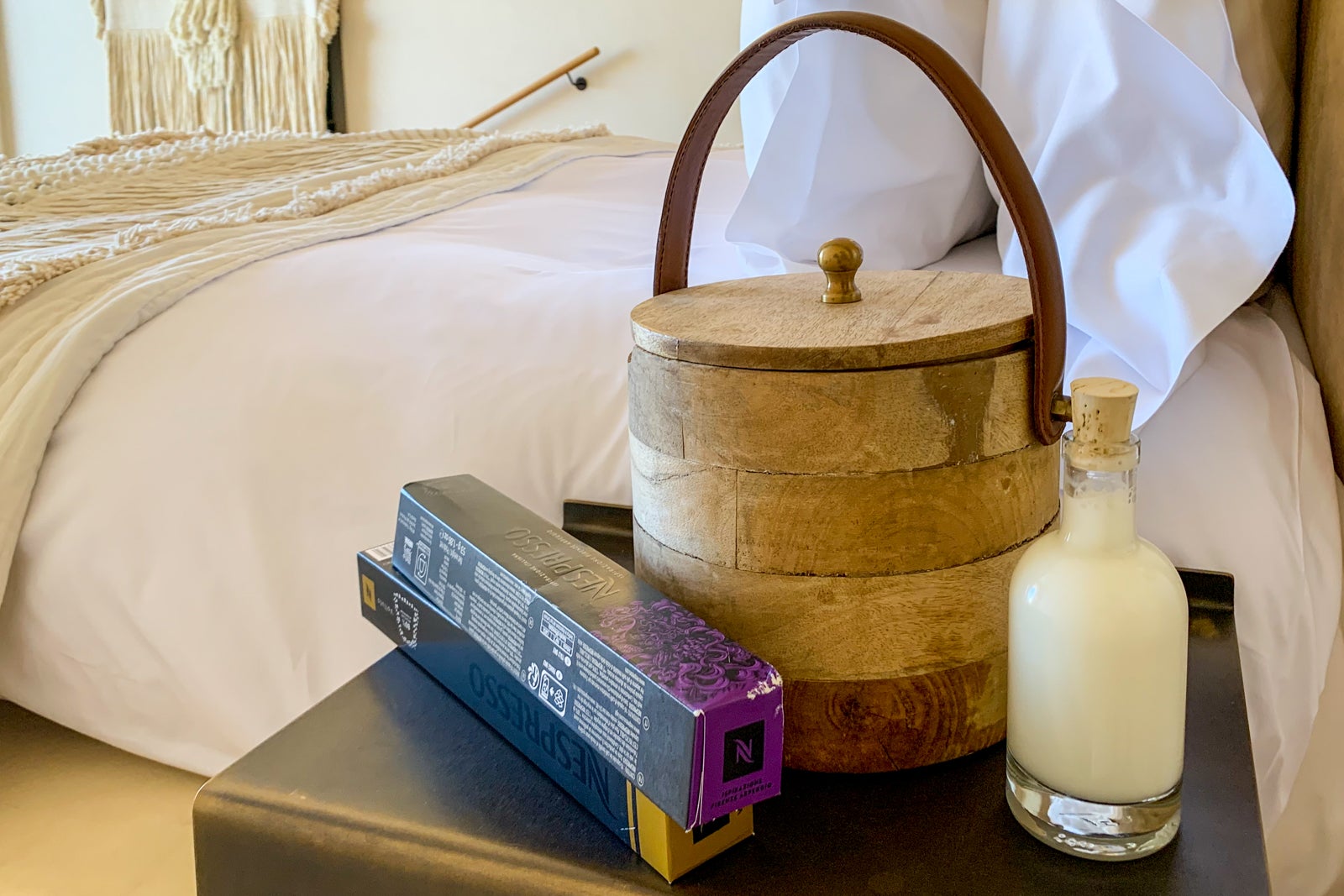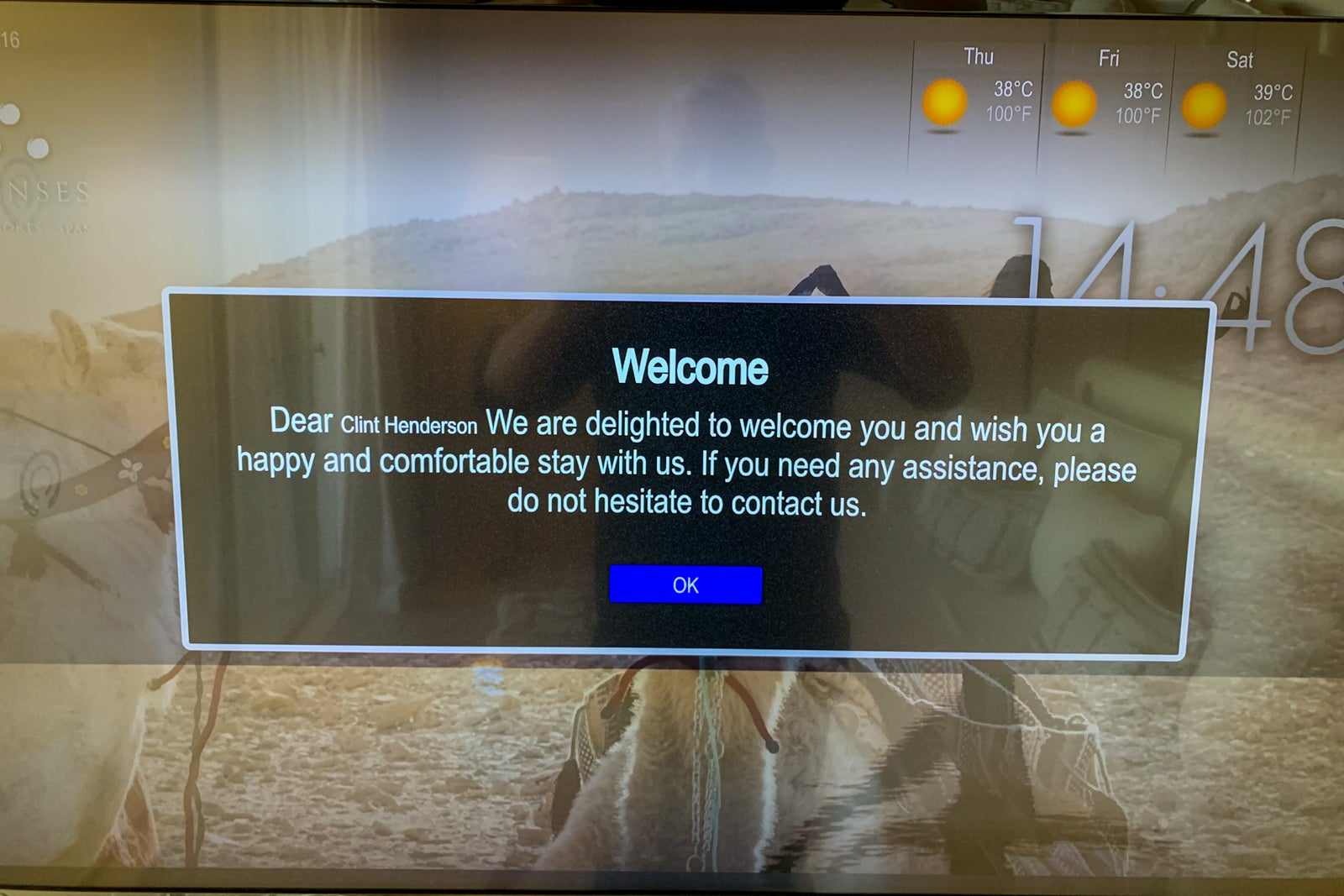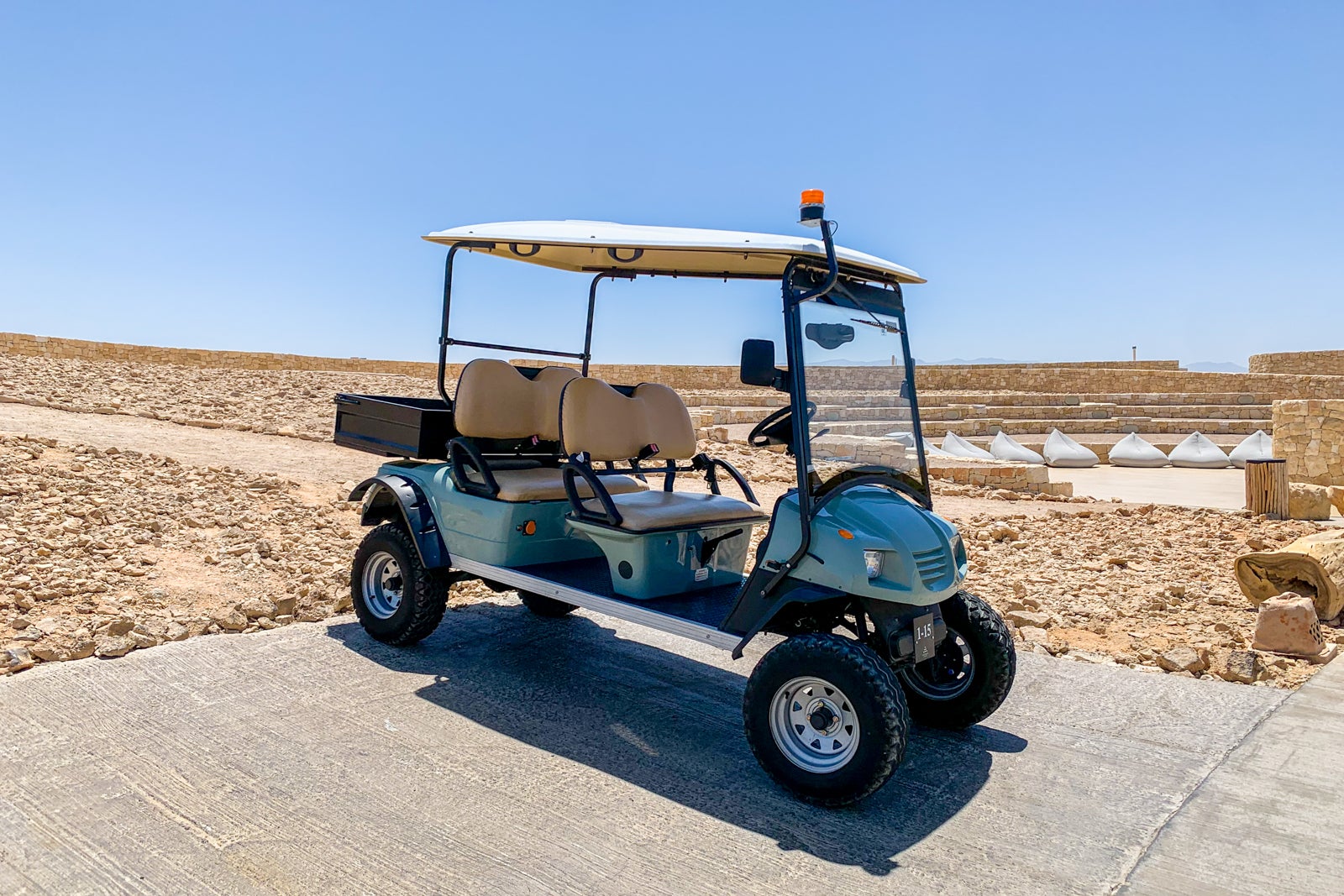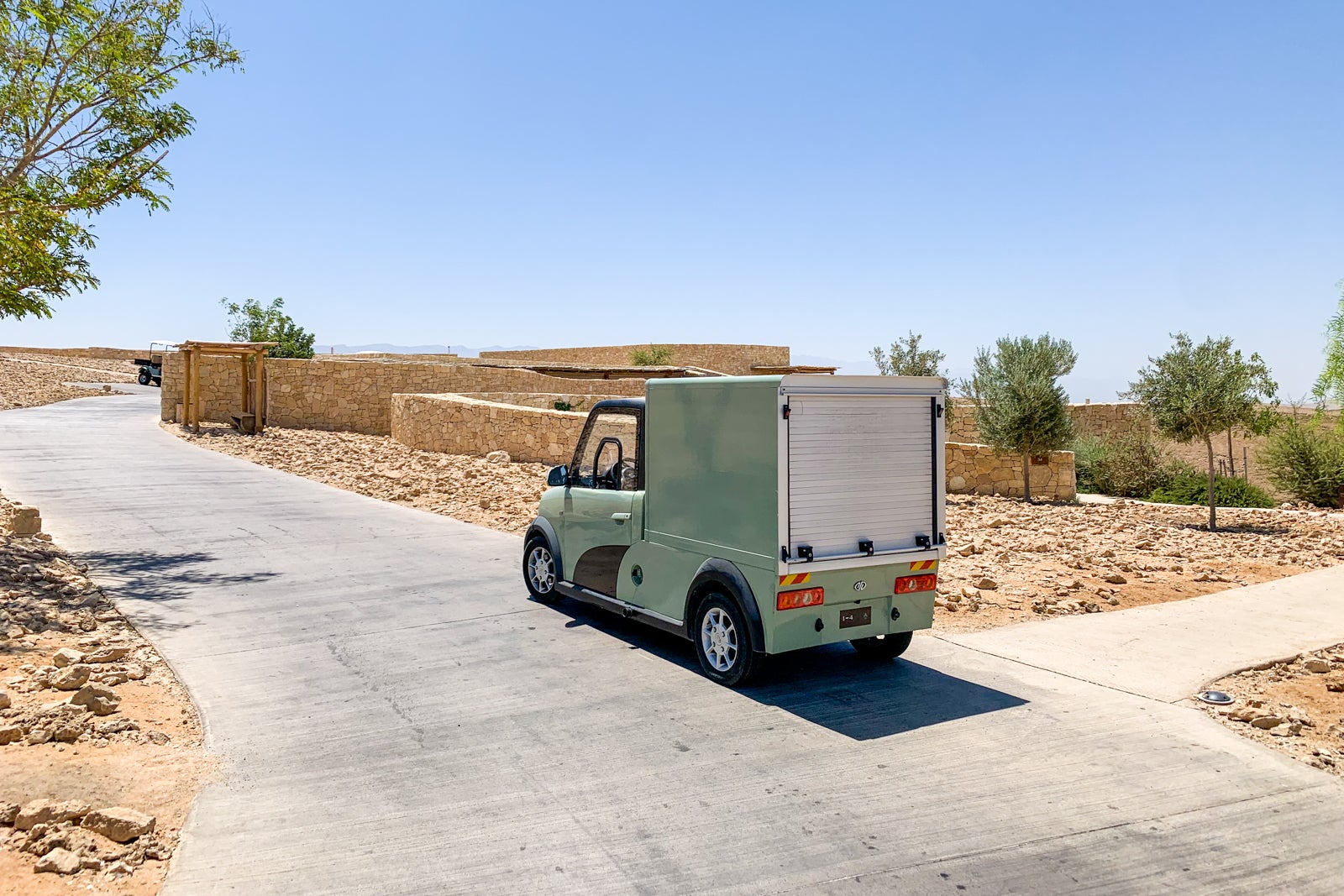 The phenomenal service continued for things outside my room. A man named Dor gave me an exceptional massage at the spa, and Lila at the front desk was super helpful when I asked for help arranging a dinner one night in Tel Aviv.
While service was occasionally too relaxed at the restaurants, the friendliness of the staff made up for any delays in taking orders. Each sit-down meal I ate took about an hour and a half in all.
The only major service hiccup I encountered was the delayed response from the resort when both myself and Brett Snyder tried emailing requests for information and for stay credits and points. Hopefully, the property will get those issues resolved, as anyone paying $1,000 a night to stay at a resort shouldn't have trouble making requests.
Accessibility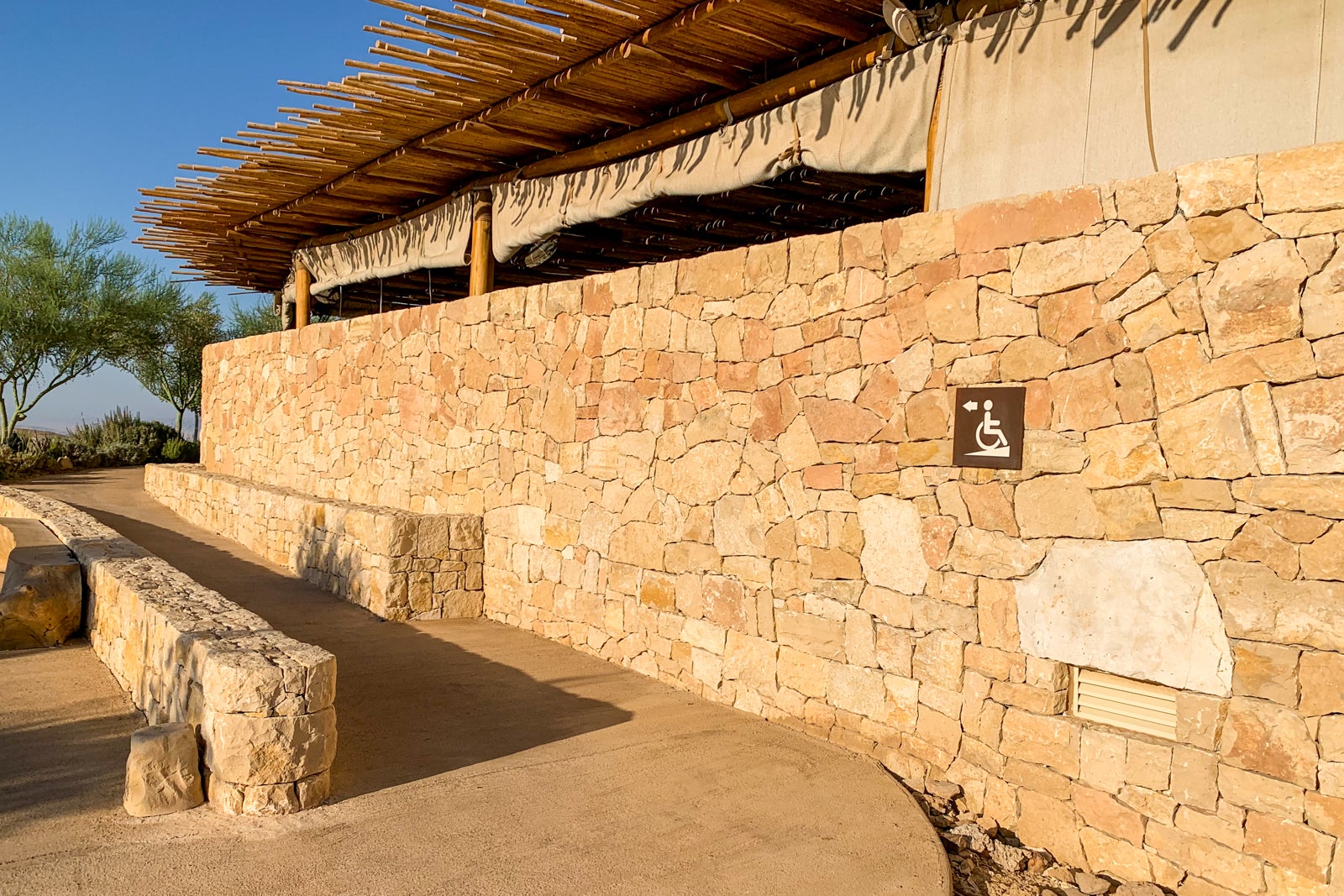 While it's not the perfect location for people with mobility issues, those in wheelchairs will still be able to enjoy Six Senses Shaharut. The front desk told me there was just one accessible room, but I see online that there are actually two available on-site.
In any case, most of the facilities were designed to be wheelchair accessible, including all public spaces. It's not perfect, as the buildings are carved into the sides of the hills, but the resort has made an effort to accommodate all guests. There are ramps and elevators in some locations, and the doorways are wide in most areas.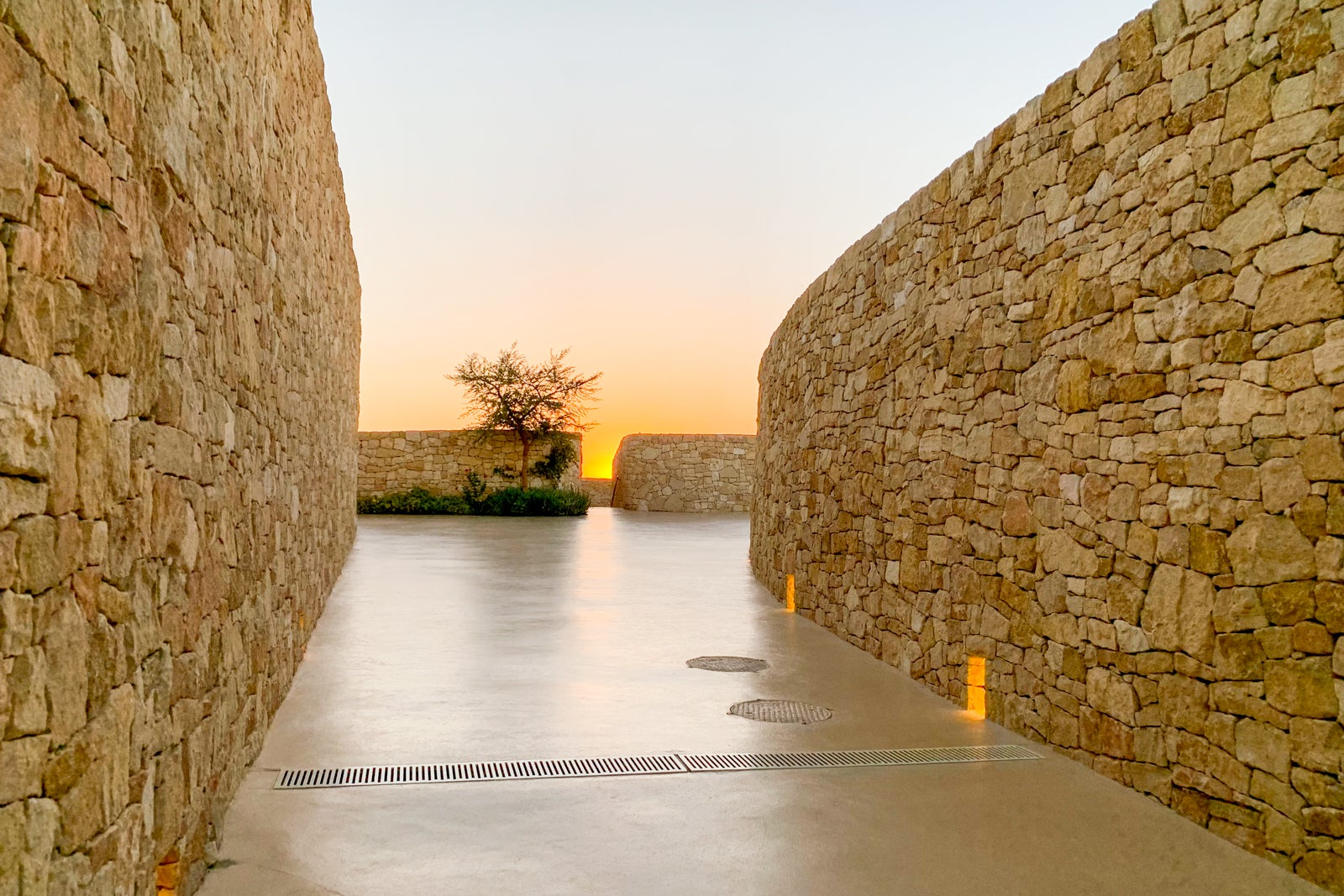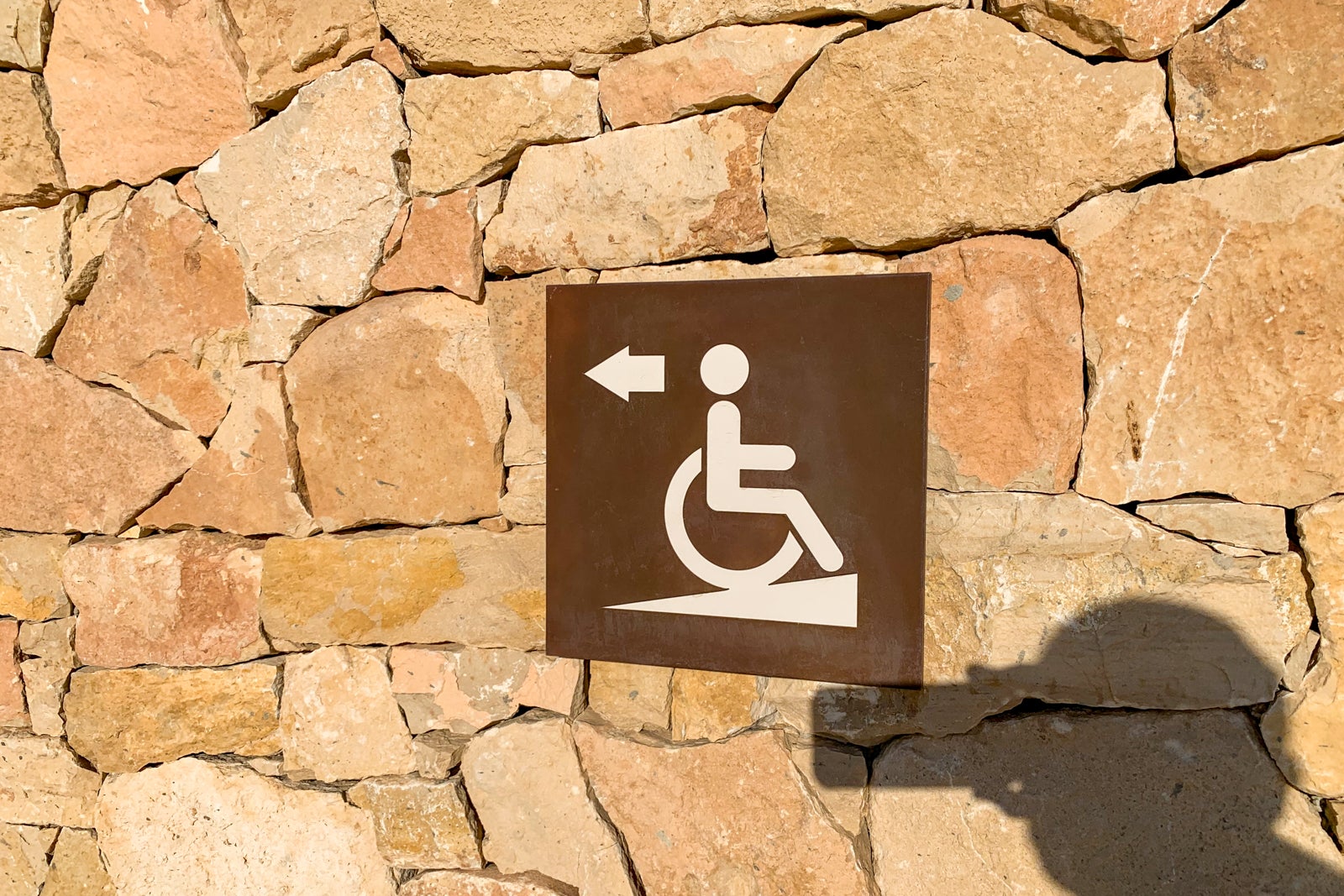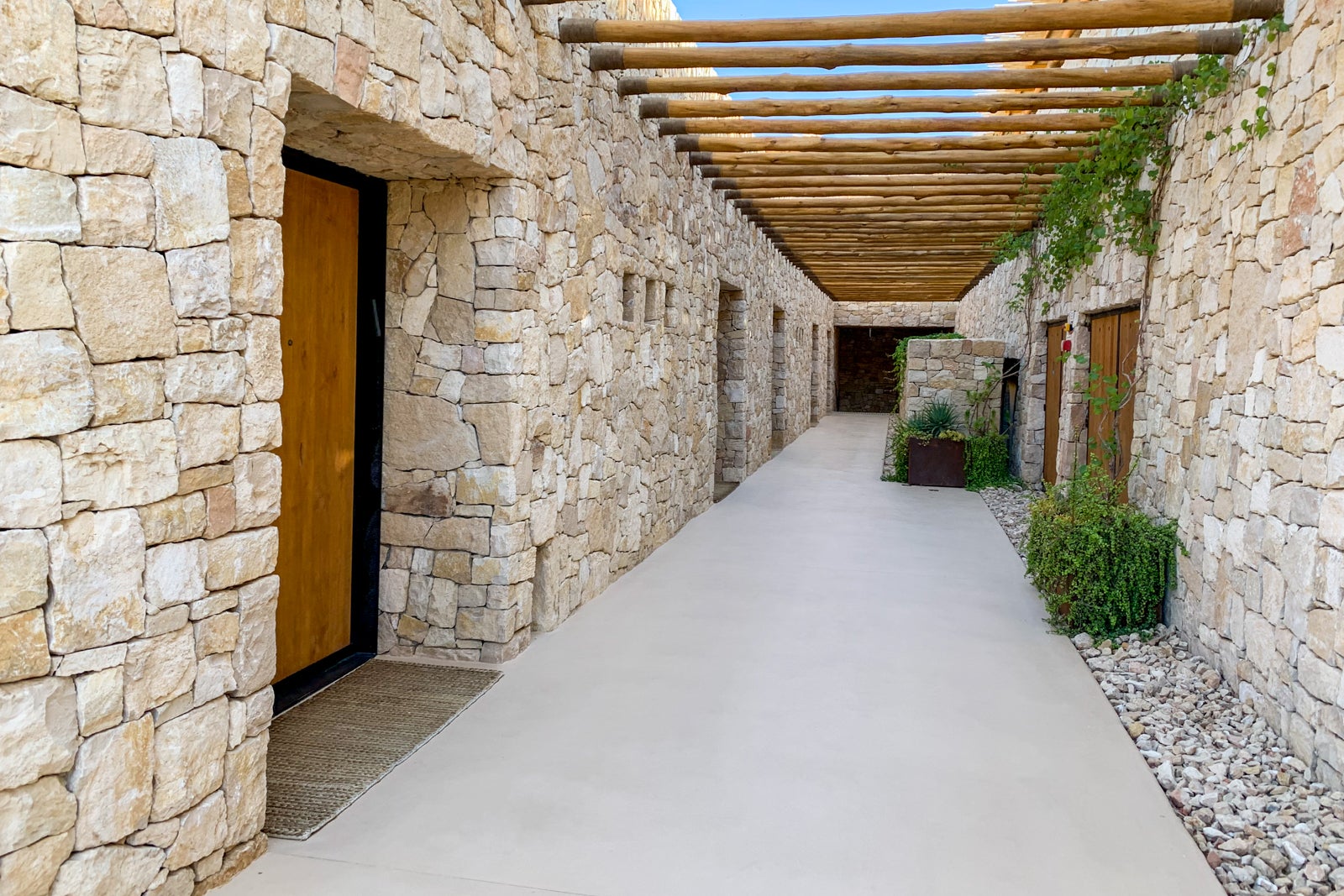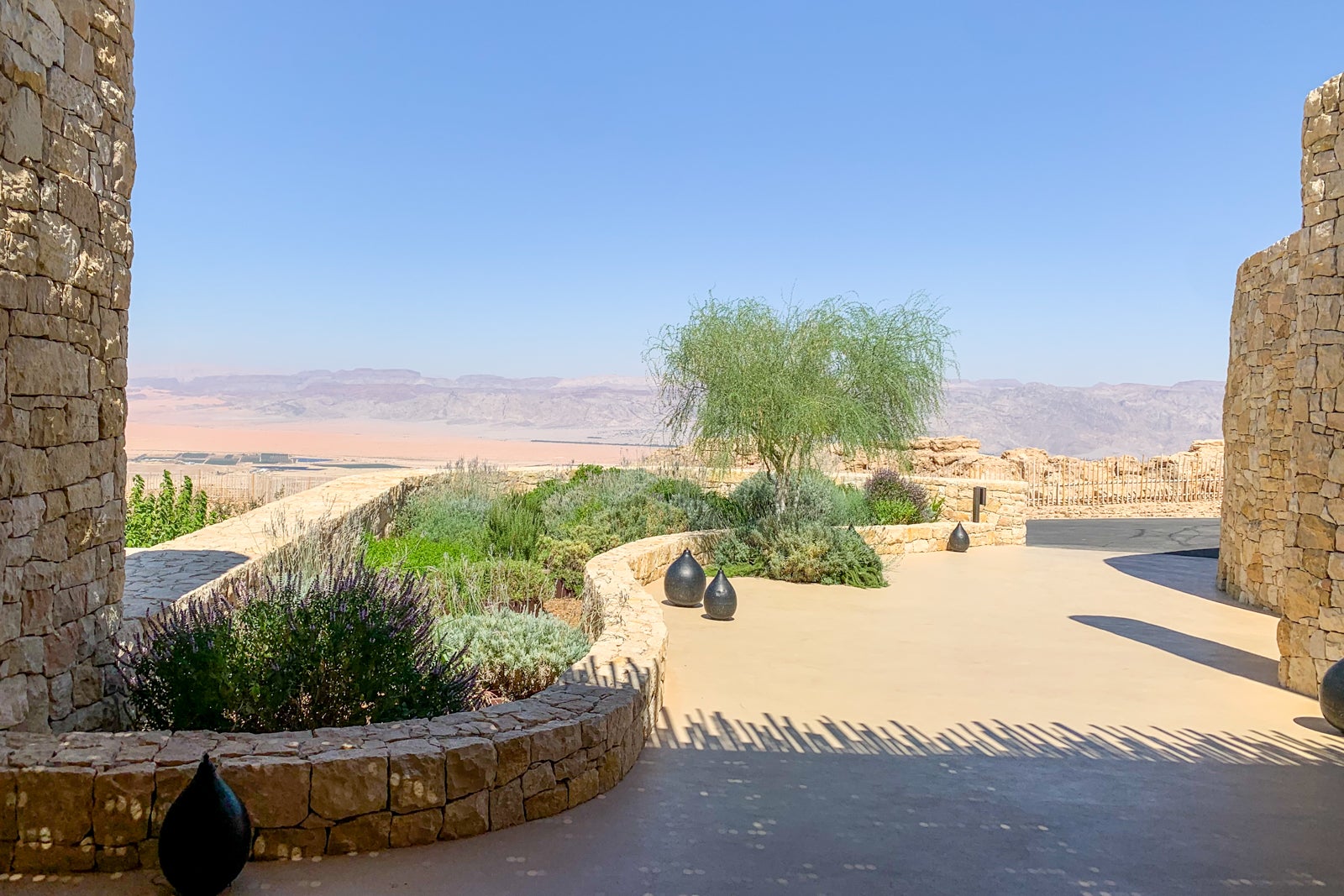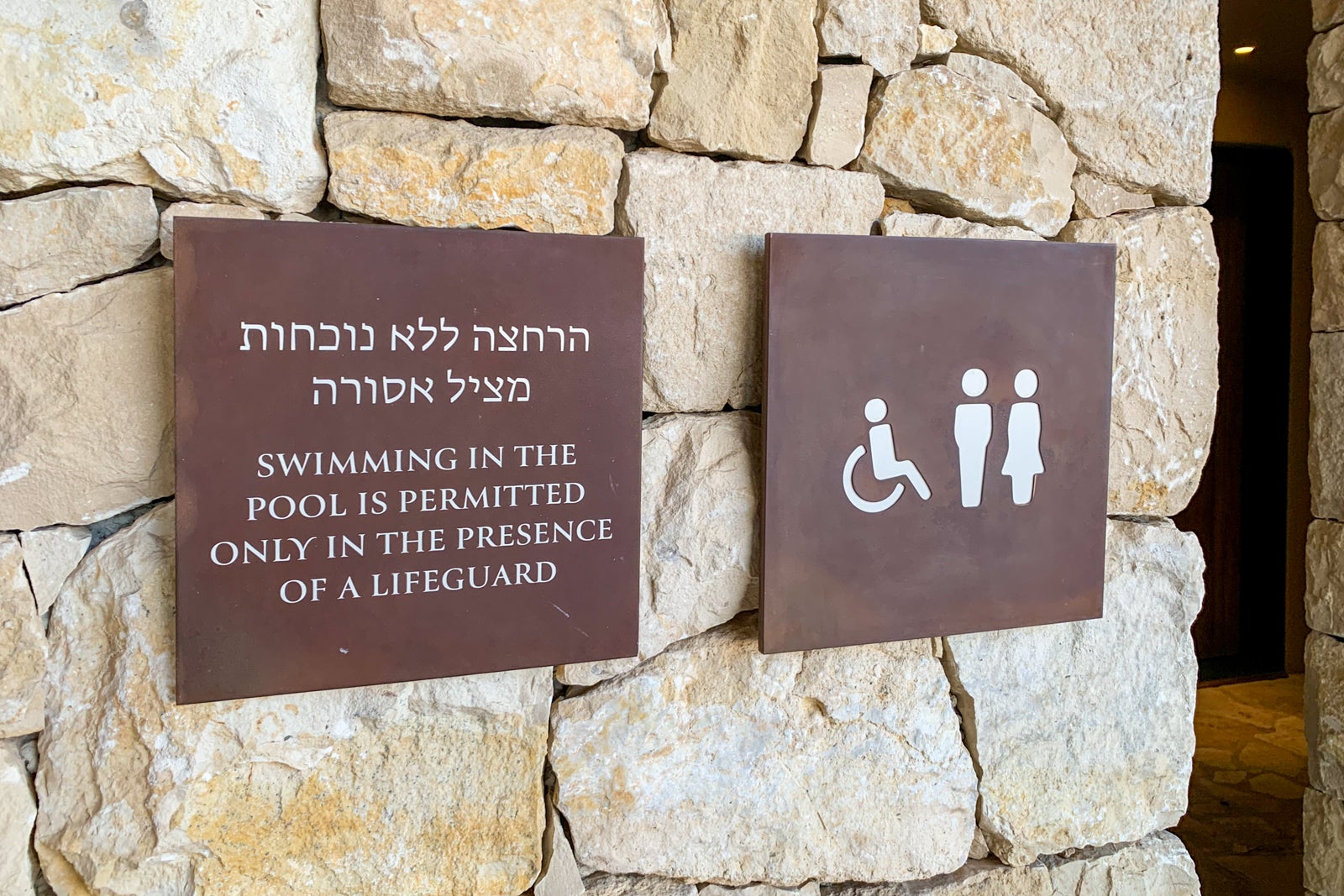 Overall impression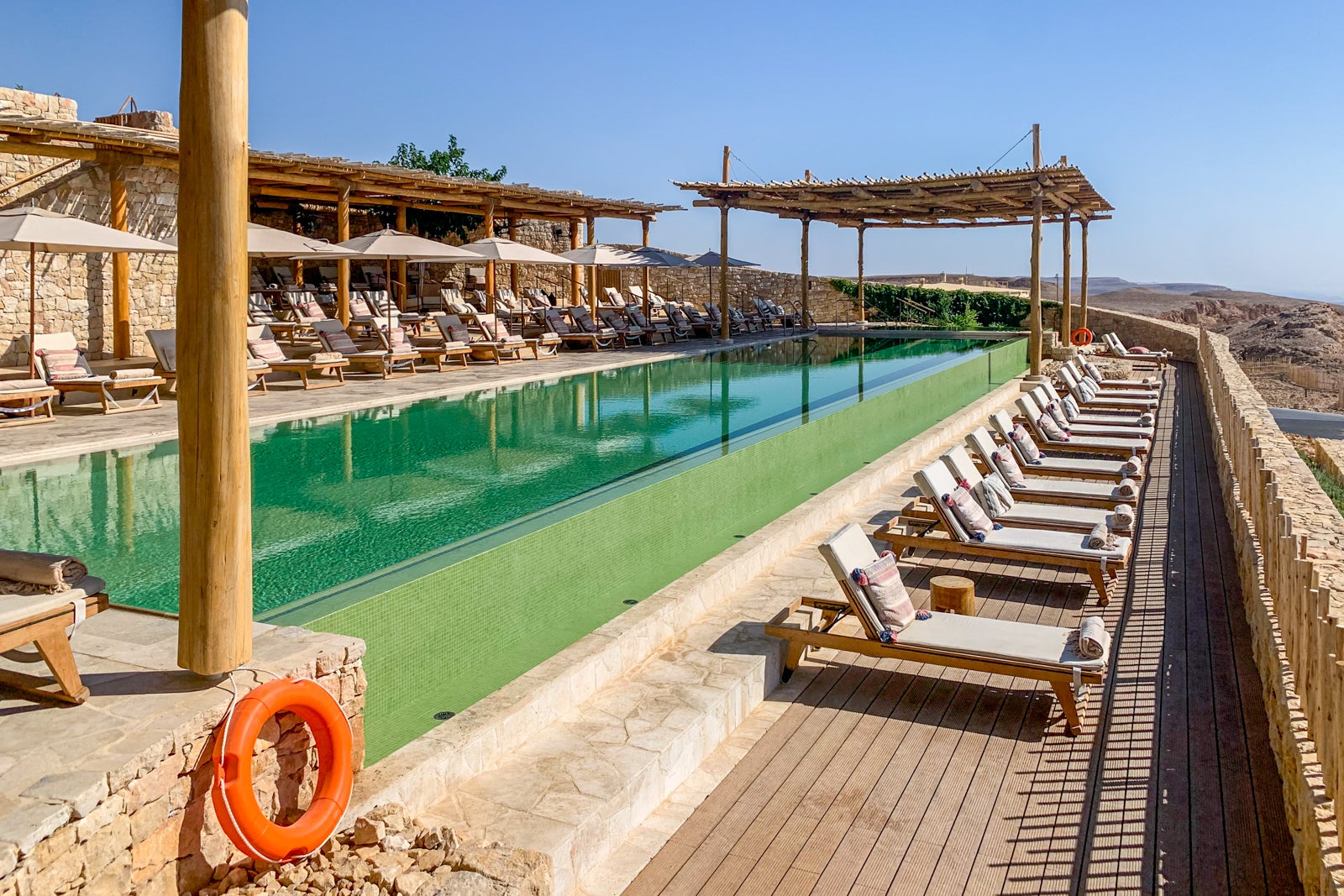 Aside from a few bumps in getting my stay properly credited and receiving my IHG One Rewards points, I spent an incredible couple of days at Six Senses Shaharut. The only thing I would do differently is to make my visit longer next time.
The delicious food, the lovely room and terrace, the impeccable service and those two incredible swimming pools will remain in my mind for the rest of my life. The dramatic desert and beautiful, stark scenery are worth the long trek from Tel Aviv and Jerusalem.
Israelis I talked to said the new Six Senses was the nicest property in Israel — and after my two-night stay, I believe it. I hope to one day get to go back.
Featured photo by Clint Henderson/The Points Guy.
My article often contains affiliate links. All products are ones I recommend. If you choose to buy one of these items through the link , I will get a small commission at no extra cost to you.