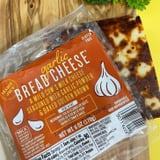 If you're a true cheese fan, then you know that Trader Joe's selection of cheeses is vast. The chain's shelves are positively bursting with the best of blue cheese, burrata, brie, ricotta, cheddar, vegan cheese, and more. From slices and spreads to samplers and out-of-this-world pairing ideas, Trader Joe's cheese selection is filled with delectable, rich, addicting options and creative flavors that will provide you with all the tools you need to make the tastiest charcuterie board of them all or add a delicious twist to any of your favorite recipes that need a cheesy upgrade.
If your idea of a good time involves cheesy bites and a glass of wine or if you're just cheese obsessed, you've probably spent time mentally debating which of the many TJ's cheeses deserves a spot in your shopping cart. We've been there, too, so we've rounded up the best cheeses from Trader Joe's so you know what you absolutely have to pick up the next time you're in the market for a new cheese. (And yes, it was just as hard for us to narrow it down.) Keep scrolling to see which Trader Joe's cheeses you've already tried and discover potential new favorites ahead.
Prices and products may vary by Trader Joe's location.
- Additional reporting by Haley Lyndes, Lauren Harano, Theresa Massony, and Naomi Parris