Stir-fried chicken with
k
ale
and mushrooms! Its a quick healthy one-pot meal thats perfect on a weeknight. It takes less than 30 minutes!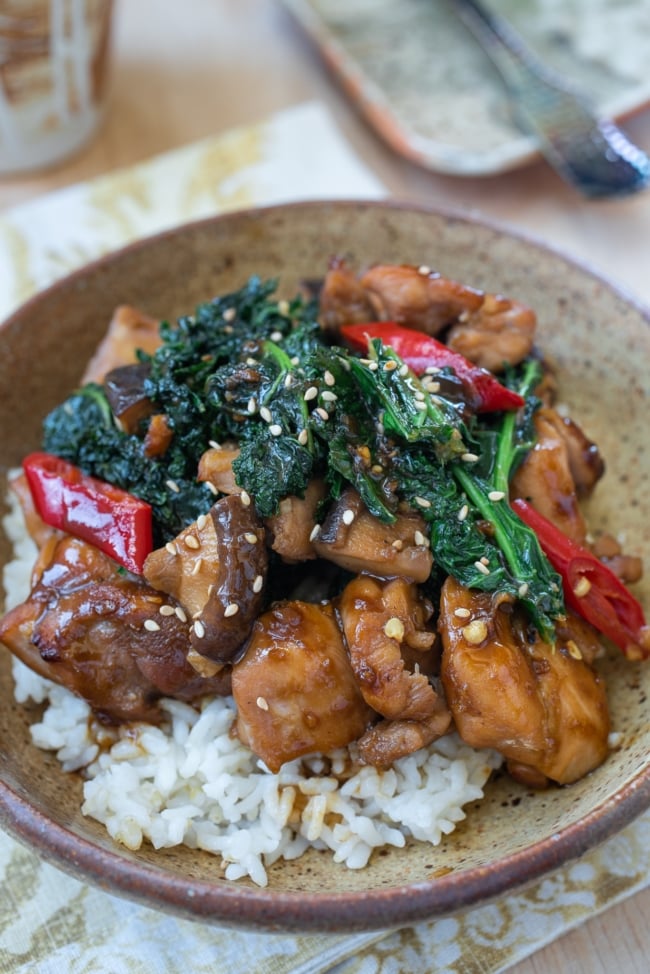 This chicken stir fry recipe is a variation of dak yachae bokkeum (). Dak () is chicken, yachae is vegetable, and bokkeum () refers to dishes that are stir-fried or sauteed in a sauce. In this recipe, I stir-fried chicken with some kale and mushrooms. Its a quick healthy one-pot meal thats perfect for a weeknight meal! It literally takes less than 30 minutes!
The actual stir-frying process goes very quickly, so prepare all of the ingredients and sauce before you begin cooking.
Vegetable options
I like to use lots of kale and mushrooms to make it a healthy one-dish meal. Some people dont like kale because of its bitter taste. The slightly sweet and savory sauce in this recipe nicely balances out the bitterness of the kale. Remember to look for fresh deep colored kale with small to medium leaves and thinner stalks. Smaller kale is tenderer and sweeter.
You can add some strips of carrot, red chili or bell pepper for a pop of color.
For other options, try other green leafy vegetables such as spinach, Swiss chard and bok choy. Broccoli, green beans, asparagus, or zucchinis are all great as well. Vegetable options are indeed endless! If youre using hard vegetables like broccoli, blanch or steam them before stir-frying with the chicken.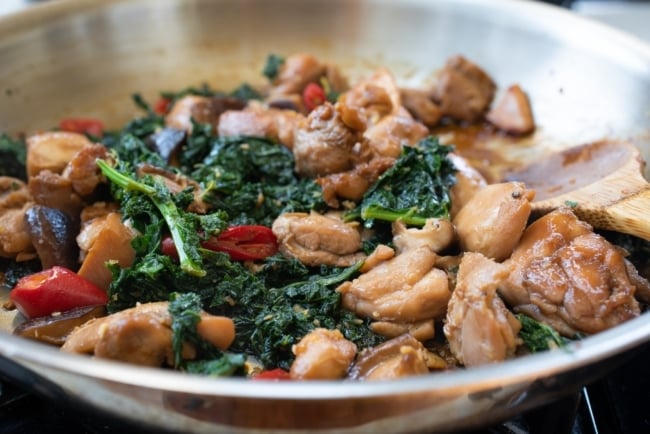 Stir fry sauce
This chicken stir-fry sauce is made with a few basic ingredients such as soy sauce, rice wine, sesame oil, sugar and garlic and ginger. You can also add a little bit of fresh lemon juice to brighten up the flavor.
This recipe doesnt yield a lot of sauce, but you can add a little bit of water when stir-frying if you like the dish a bit saucier. Also, Korean stir fry sauces dont typically calls for a starch to thicken the sauce, but feel free to add it if preferred. Regardless, the sauce is so versatile! You can use it in any stir fry dish.
More chicken stir fry recipes
Stir-fried chicken and baby bok choy
Stir-fried chicken and summer vegetables
Have you tried this stir fry recipe? Please rate the recipe below and leave a comment! Stay in touch by following me on YouTube,Pinterest,Twitter,Facebook, andInstagram.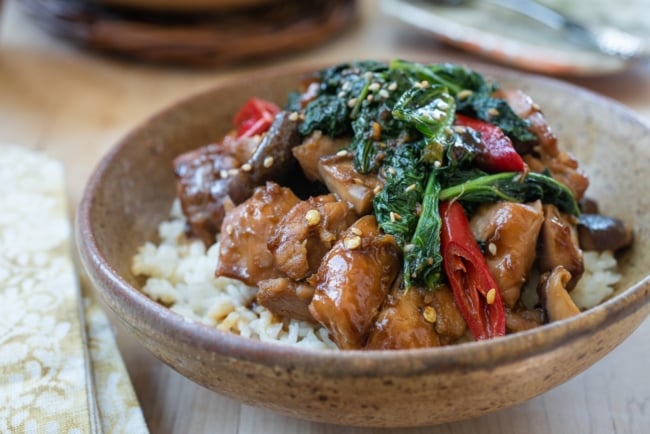 Chicken Stir Fry with Kale and Mushrooms
Stir-fried chicken with kale and mushrooms! Its a quick healthy one-pot meal thats perfect on a weeknight. It takes less than 30 minutes!
1 pound skinless (boneless chicken thighs (or breast))
8 ounces kale
6 ounces fresh mushrooms (white, crimini, or shiitaki)
1 red chili pepper or 1/4 red bell pepper optional
1/4 teaspoon crushed red pepper optional
1 tablespoon canola or vegetable oil for stir-frying
Stir Fry Sauce
3 tablespoons soy sauce
1 tablespoon rice wine (mirin)
1-1/2 tablespoons sugar (or brown sugar)
1 tablespoon minced garlic
1 teaspoon grated ginger
1 tablespoon sesame oil
pinch black pepper
1 teaspoon sesame seeds
Combine the sauce ingredients.

Cut the chicken into bite size pieces.

Season with 3 tablespoons of the sauce. Marinate while preparing the vegetables.

Tear the kale off the stems into small pieces. Discard thick stems. Rinse thoroughly and drain well.

Give the mushrooms a quick rinse and cut into quarters (or halves if small).

Heat a large nonstick skillet over high heat with a tablespoon of cooking oil until very hot. Add the chicken pieces to the pan in one layer. Do not touch for a minute or two until the chicken is nicely caramelized. Flip them over and cook for 2 3 minutes. The chicken does not need to be cooked through at this point.

Add the kale, mushrooms and the remaining sauce, and sprinkle with crushed red pepper if using. Continue to stir-fry until the kale and mushrooms are softened, 4 5 minutes. Serve hot on top of rice or with a separate bowl of rice.

Add 2 to 3 tablespoons of water if you like a bit more sauce.
Use a cornstarch slurry for a thicker sauce.
This recipe was originally posted in December 2012. Ive updated it here with new photos, more information and minor changes to the recipe.
The post Chicken Stir Fry with Kale and Mushrooms appeared first on Korean Bapsang.