This dolce latte is a Starbucks copycat that's sweetened with brown sugar, and it has a hint of cinnamon – perfect for a cozy winter coffee. With paleo and vegan options.
This warm and spicy latte is what waking up is all about. A shot of robust espresso coupled with foamy milk combined with cinnamon and a hint of vanilla – yum! And when paired with these Cinnamon Overnight Oats – double yum!
I've been posting a lot of drinks lately. I can't get enough of trying new lattes. Like this Chai Matcha Latte; it's a perfectly warm and healthy winter drink.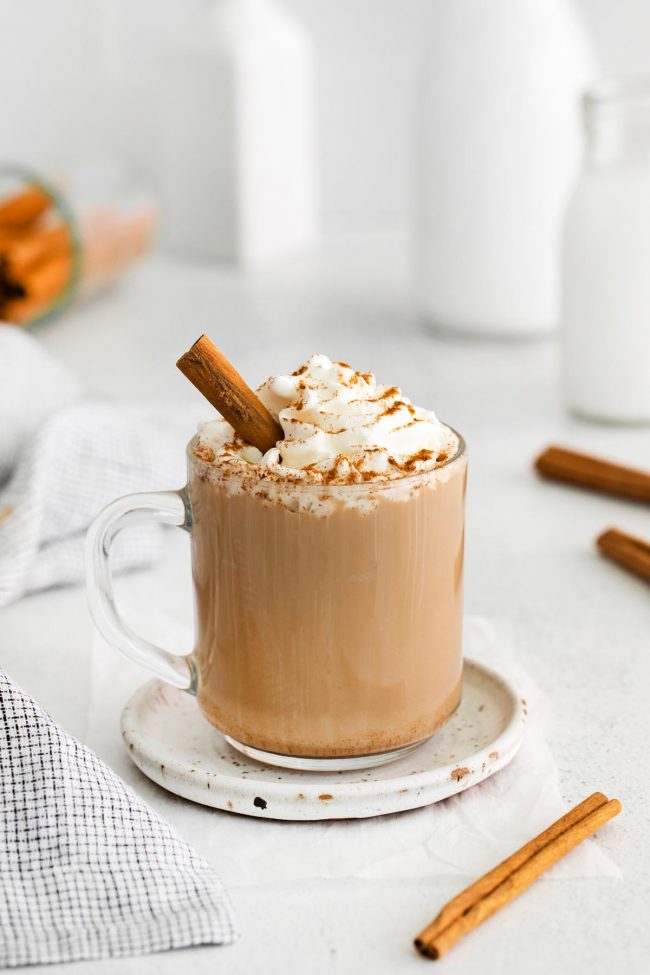 Ingredient Notes
Espresso – feel free to use your favorite espresso (blonde, decaf, etc.).


Light brown sugar or maple syrup – sweetens the latte and adds depth of flavor. Feel free to add as much or as little as you like.


Cinnamon – is what makes this a "cinnamon" latte! Try swapping it for pumpkin or chai spice for a fun twist.


Vanilla – enhances the sweetness and flavor of the cinnamon and brown sugar.


Milk – adds creaminess and the classic froth to our latte. I used whole milk, but you could use any milk on hand – almond, soy, oat, etc.

But if you use plant-based milk, read my post on frothing almond milk because vegan milk doesn't froth in the same way as regular milk.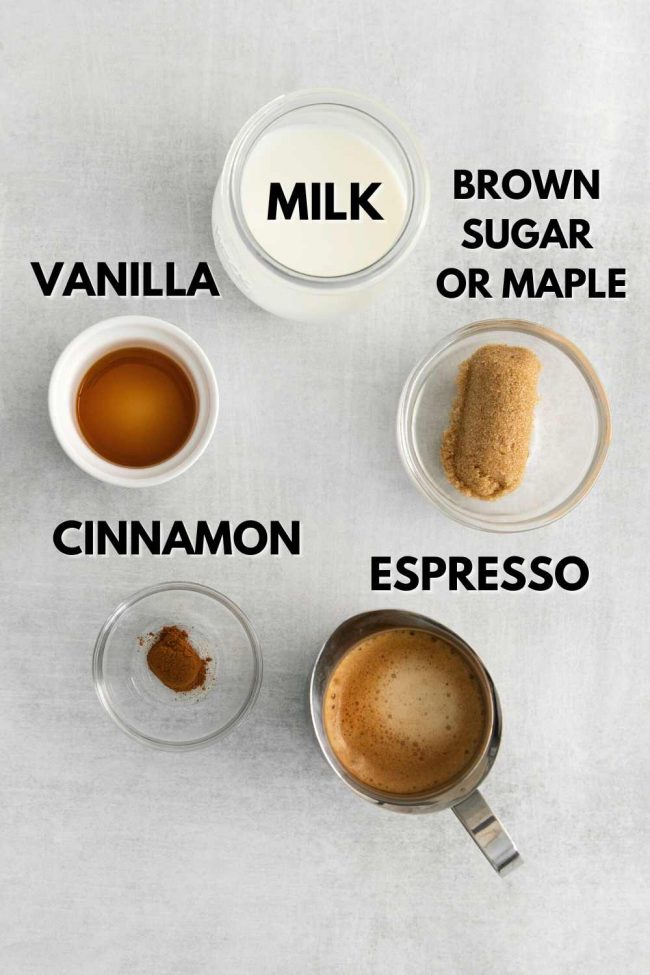 What are cinnamon dolce sprinkles?
Cinnamon dolce sprinkles are a topping that gives an extra boost of sweet cinnamony flavor to recipes like Christmas Hot Chocolate, Iced Chai Latte and Cold Brew Espresso.
Other than in drinks, they're perfect on Bananas Foster French Toast and warm Maple Ice Cream or milkshakes, which adds an extra sparkle of goodness.
Unfortunately, you can't buy the original Starbucks cinnamon dolce sprinkles, but it's easy to make at home to have them handy when you want a dash of cinnamony sweetness.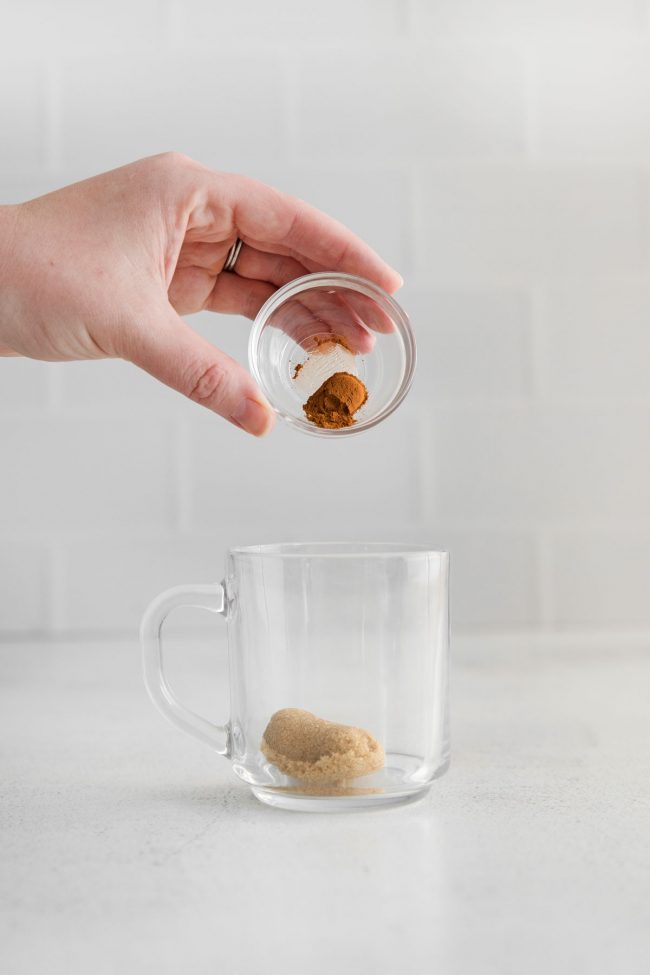 How to make cinnamon dolce sprinkles
Dolce sprinkles commonly contain butter extract or milk powder, which won't work for vegans, but you can make homemade cinnamon sugar sprinkles instead. It's what I do when I'm making a latte for myself.
For the vegan cinnamon dolce sprinkles, combine 1 teaspoon of coarse sugar (like turbinado or sugar-in-the-raw) with a pinch of cinnamon (about 1/16 teaspoon) and sprinkle it over the latte. This is what's listed in the recipe.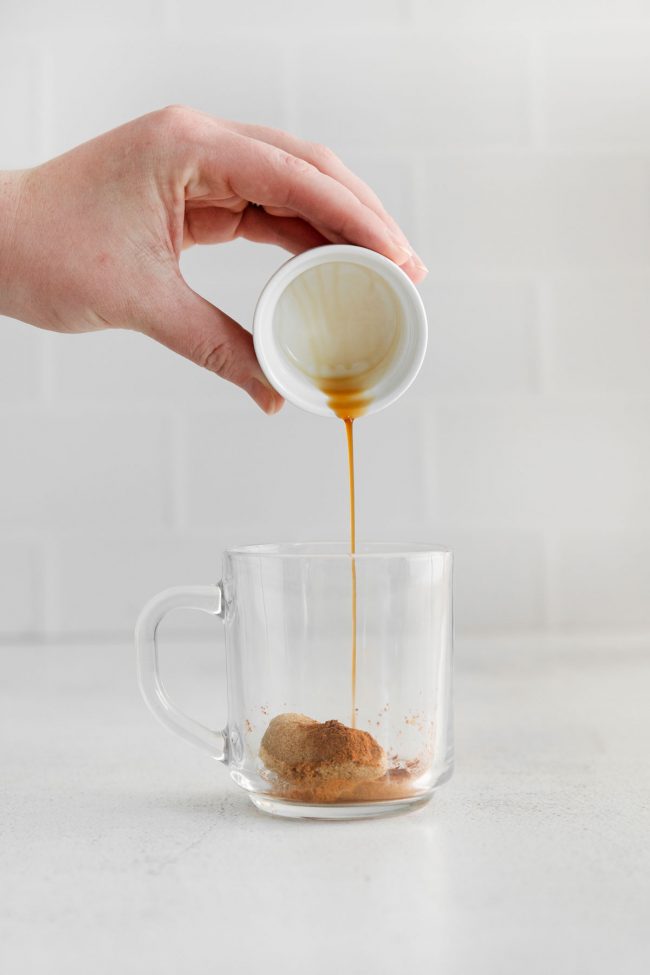 For those that aren't vegan and want to premake a batch of dolce sprinkles that are more like the Starbucks sprinkles, you'll need just a few simple ingredients.
1 cup granulated sugar
1/4 cup ground cinnamon
1/4 cup powdered milk
1/4 teaspoon salt (or to taste)
First, you'll need to find a suitable dry container to store the dolce sprinkles. A small spice jar or mason jar will work well.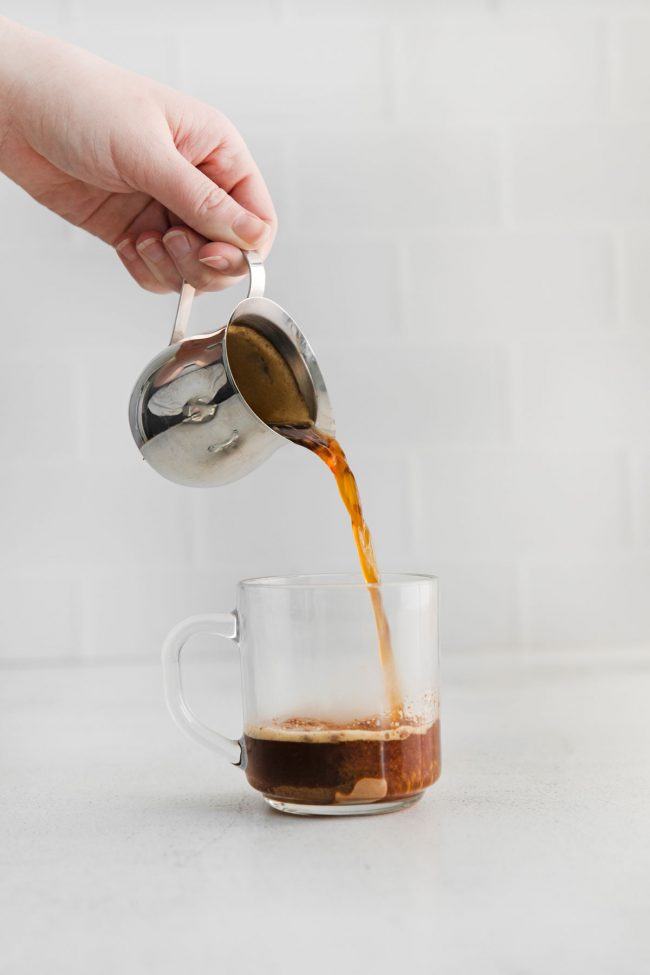 Mix the first 3 ingredients in a bowl and stir to combine. Add half the amount of salt and taste.
If it suits you, it's ready to go into the container. If it doesn't, gradually add more salt until it's to your liking.
Place the sprinkles in the container and use them as you like. It's crucial to ensure that the jar seals tightly so the sprinkles don't clump together due to moisture. Before using, just shake the jar a bit to break apart any clumps and sprinkle on!
They'd be great not only on this dolce latte, but also on this Starbucks Chocolate Cream Cold Brew and Pumpkin Cold Brew with Sweet Cream.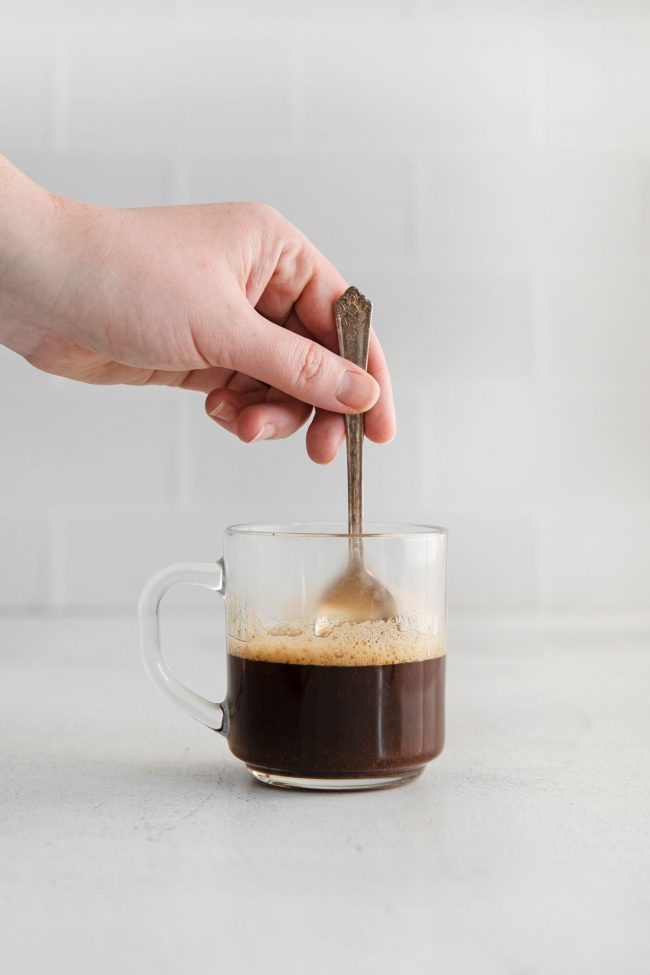 How to make espresso without a machine
If you don't have an espresso machine at home, it's easy to make French Press Espresso. The French press method can give you more espresso than a machine if you're serving guests.
This Cold Brew Espresso is also easy, and all you really need is a jar!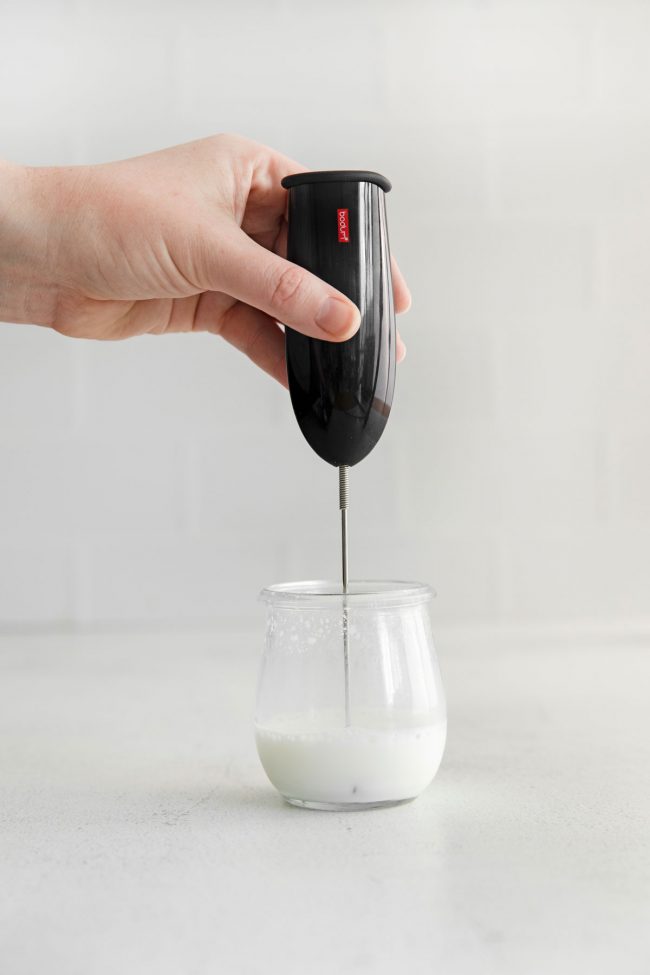 What kind of coffee to use
You can use whatever you like – decaf, espresso, dark roast or blonde.
If you want to know more about the type of coffee and grind you'll need for the French press, check out this Espresso Beans vs. Coffee Beans post.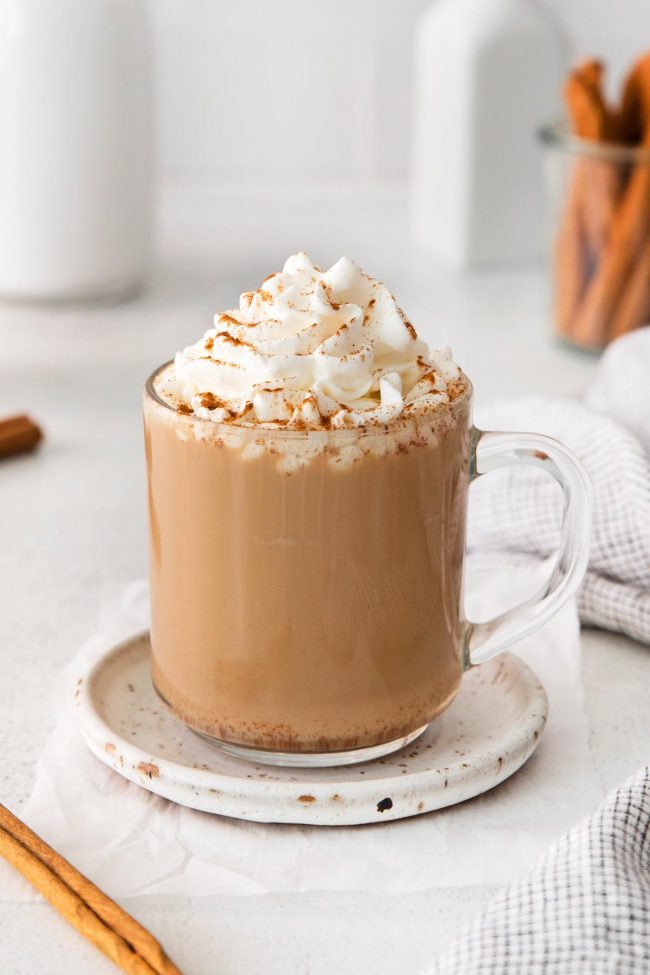 Paleo and vegan options
The adjustments needed for the paleo and vegan options are the type of milk and sweetener you use. You also need to omit the optional whipped cream topping.
You can use almond, cashew, hazelnut or any plant-based milk you prefer. And you can use maple syrup instead of sugar.
As for the dolce sprinkles, if you're paleo, you can add more cinnamon to garnish the latte or use coconut sugar instead of coarse sugar in the vegan "sprinkles" recipe up above.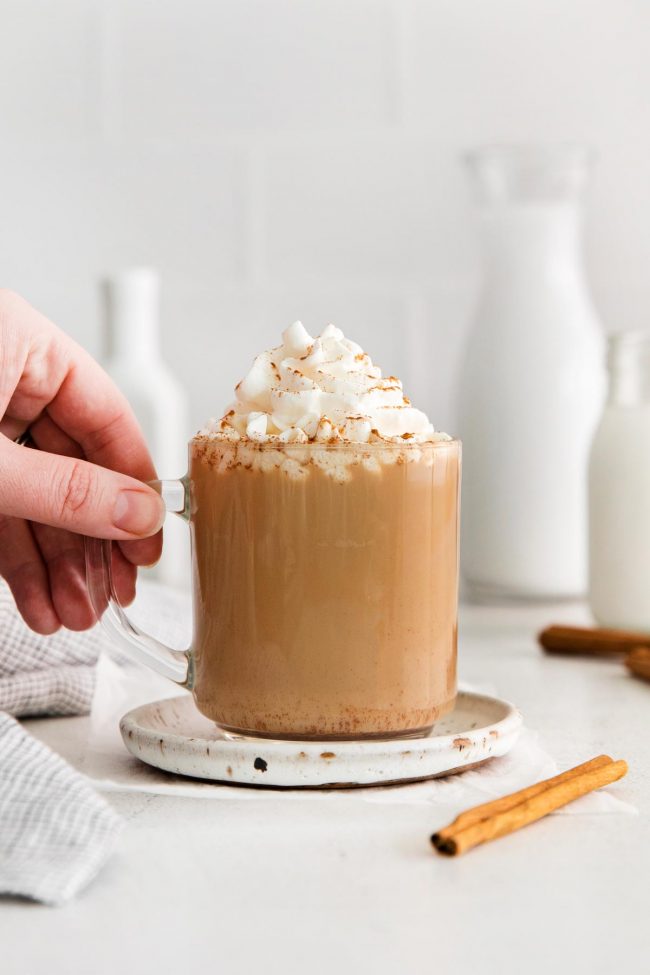 More winter drinks
I hope you enjoy this dolce latte! If you make it, please share your experience with us by commenting below or tagging #texanerin on social media. Thanks for following, and enjoy!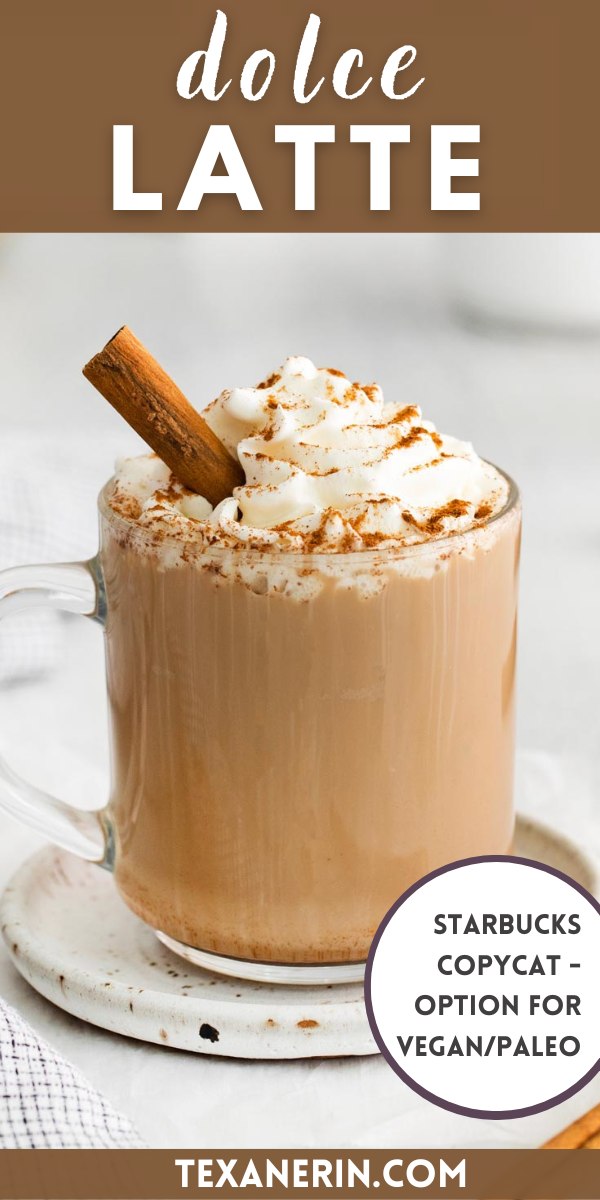 ❀
Dolce Latte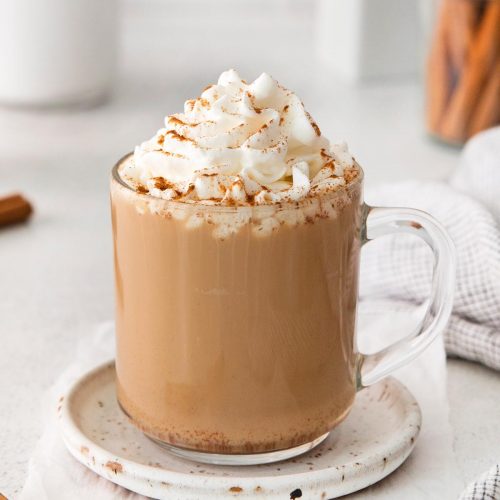 Prep Time:
Cook Time:
Ready in:
Yield:

1
Ingredients
Optional cinnamon dolce "sprinkles":

1 teaspoon coarse sugar or coconut sugar
1/16 teaspoon ground cinnamon

Dolce latte:

2 ounces (1/4 cup) freshly brewed espresso
1 tablespoon light brown sugar or maple syrup
1/4 teaspoon ground cinnamon
1/4 teaspoon pure vanilla extract
1/3 cup (80 ml) milk

Optional:

whipped cream for the topping
Directions
Optional sprinkles:

If making the sprinkles, just combine the sugar and cinnamon.

To make the latte:

Add the espresso, brown sugar, cinnamon, and vanilla to your mug and stir until the brown sugar is fully dissolved.
If not using dairy milk, look up how to froth whatever specific type of milk you're using (see Can You Froth Almond Milk?).
If using dairy milk, warm the milk (either in the microwave or on the stovetop) until it steams and barely bubbles.
For either type of milk, gently froth the milk, so there is a thin layer of foam. I used a wand frother, but an eclectic frother or French press would work too.
Pour the milk and foam over the espresso. Top with whipped cream, if desired and/or the cinnamon dolce sprinkles. Or just a bit of cinnamon. Enjoy immediately.
Notes
For paleo, use maple syrup and unsweetened plant-based milk with no additives. Use coconut sugar in the optional "sprinkles." Omit the whipped cream.
For vegan, use plant-based milk. Omit the whipped cream.
Recipe by Texanerin Baking | www.texanerin.com