This week, I'm sailing on Princess Cruises' newest vessel, Discovery Princess, the sixth and final ship in the line's Royal Class. To be frank, there isn't much that sets it apart from the first five, but that isn't necessarily a flaw.
Here, I'll talk about the minor details that differentiate it, why it's not a bad thing that Discovery Princess is familiar, what the ship does (and doesn't) do well, and what the heck is up with Ocean Medallion.
For more cruise news, reviews and tips, sign up for TPG's cruise newsletter.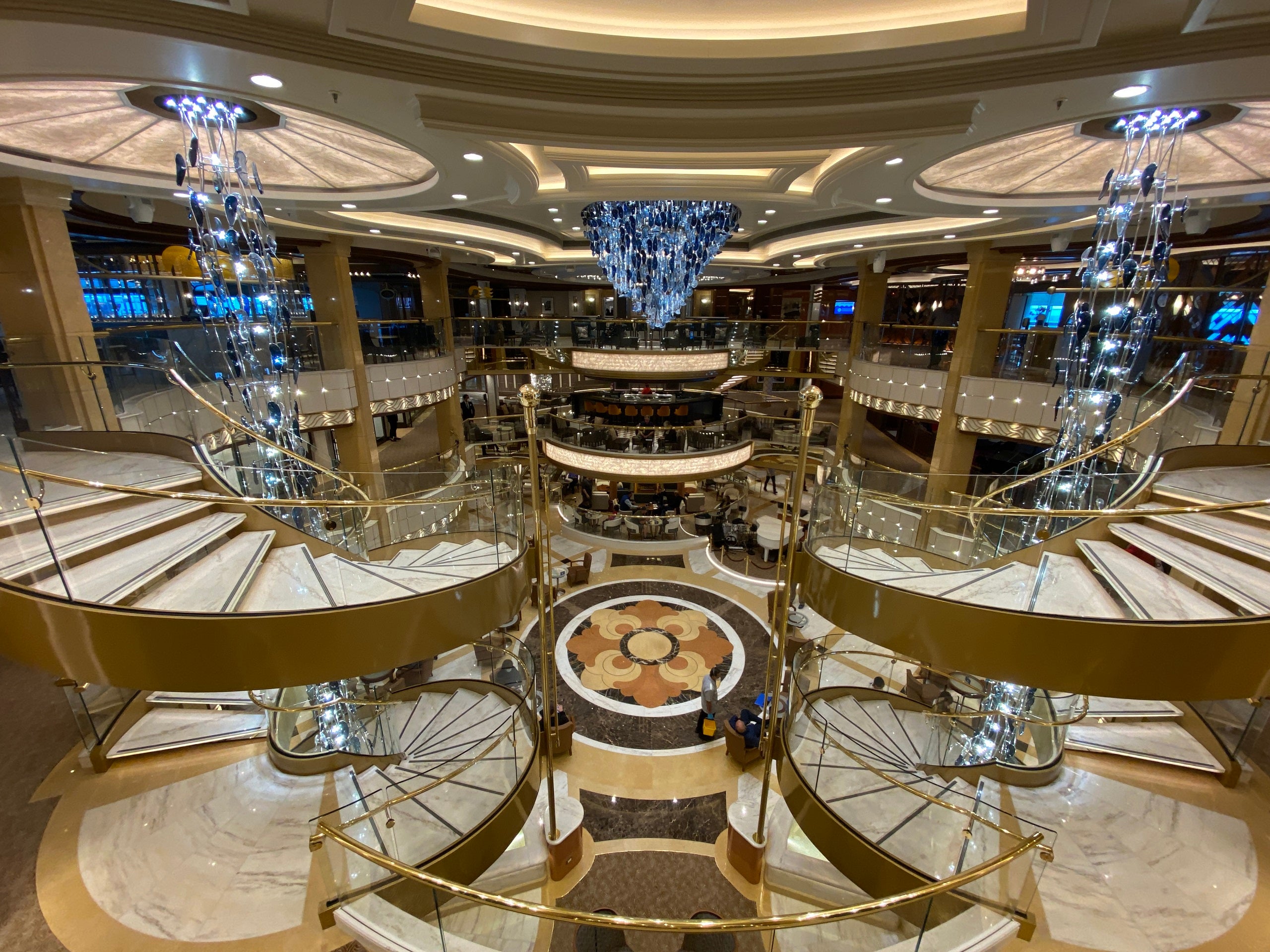 First impressions
From what I've been told by the line, Princess passengers prefer predictability. They sail with the brand because they want an affordable larger-ship experience without flashy amenities like roller coasters and surf simulators. With that in mind, the line's new vessels don't strive to set themselves apart. Rather, they aim to provide a reliable sense of familiarity.
Discovery Princess is largely identical to Sky Princess and Enchanted Princess. The only differences you're likely to spot are slight variations in decor and color scheme throughout, but especially in the cabins, where lighter carpeting makes the rooms feel larger. The Crown Grill Bar has also been slightly redesigned. (I adore the brass compass motif on the bar itself.)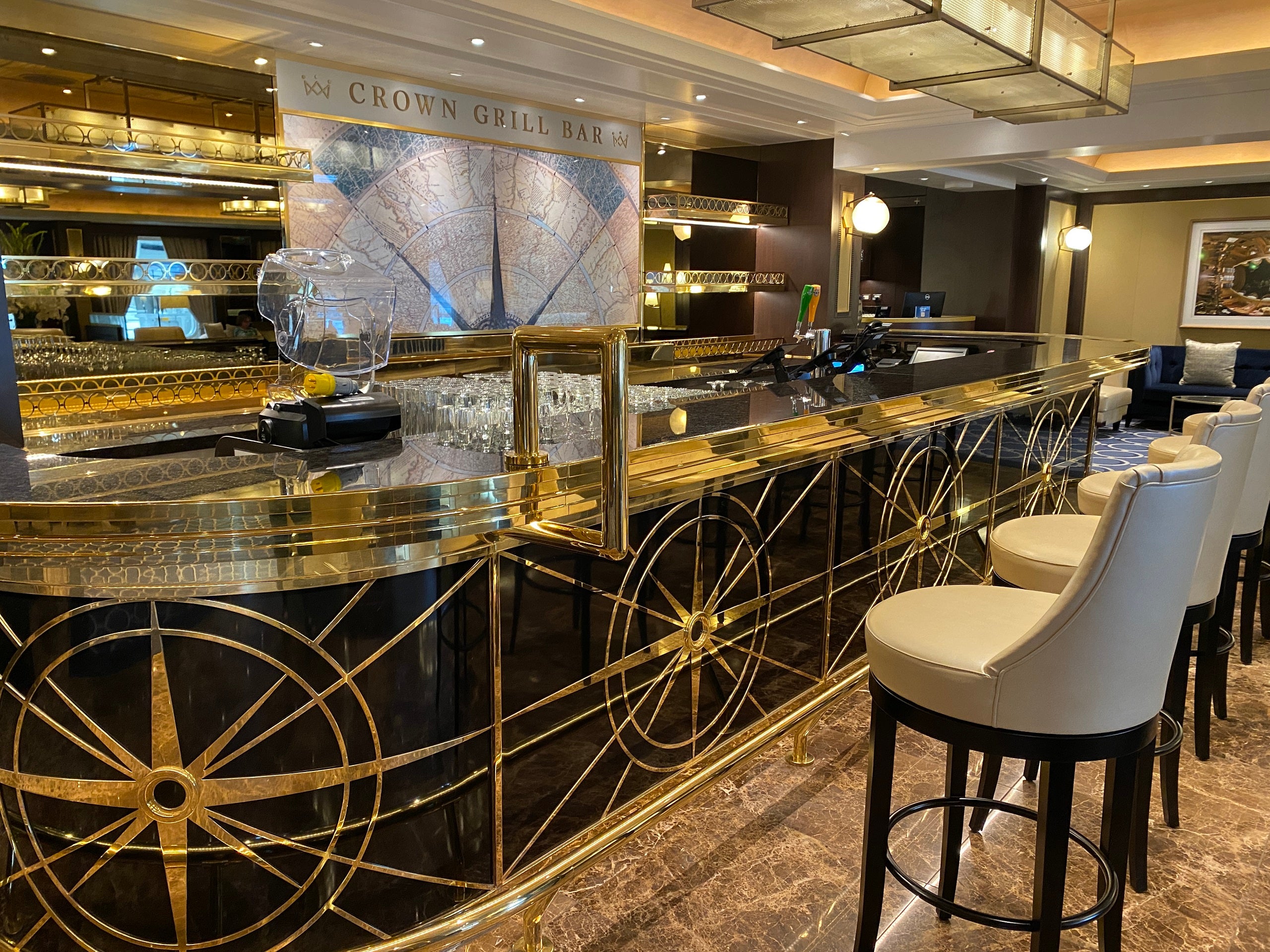 It's also the second ship in its class to have the fashion-meets-rock "Rock Opera" production show and a dedicated Salty Dog Gastropub, which serves out-of-this-world small plates.
Additionally, the ship has a new production show, "Spotlight Bar." It takes place in a bar setting with "locals" singing songs about their lives. The list of song titles includes works from well-known artists like Stevie Wonder, Justin Timberlake and George Michael, among others.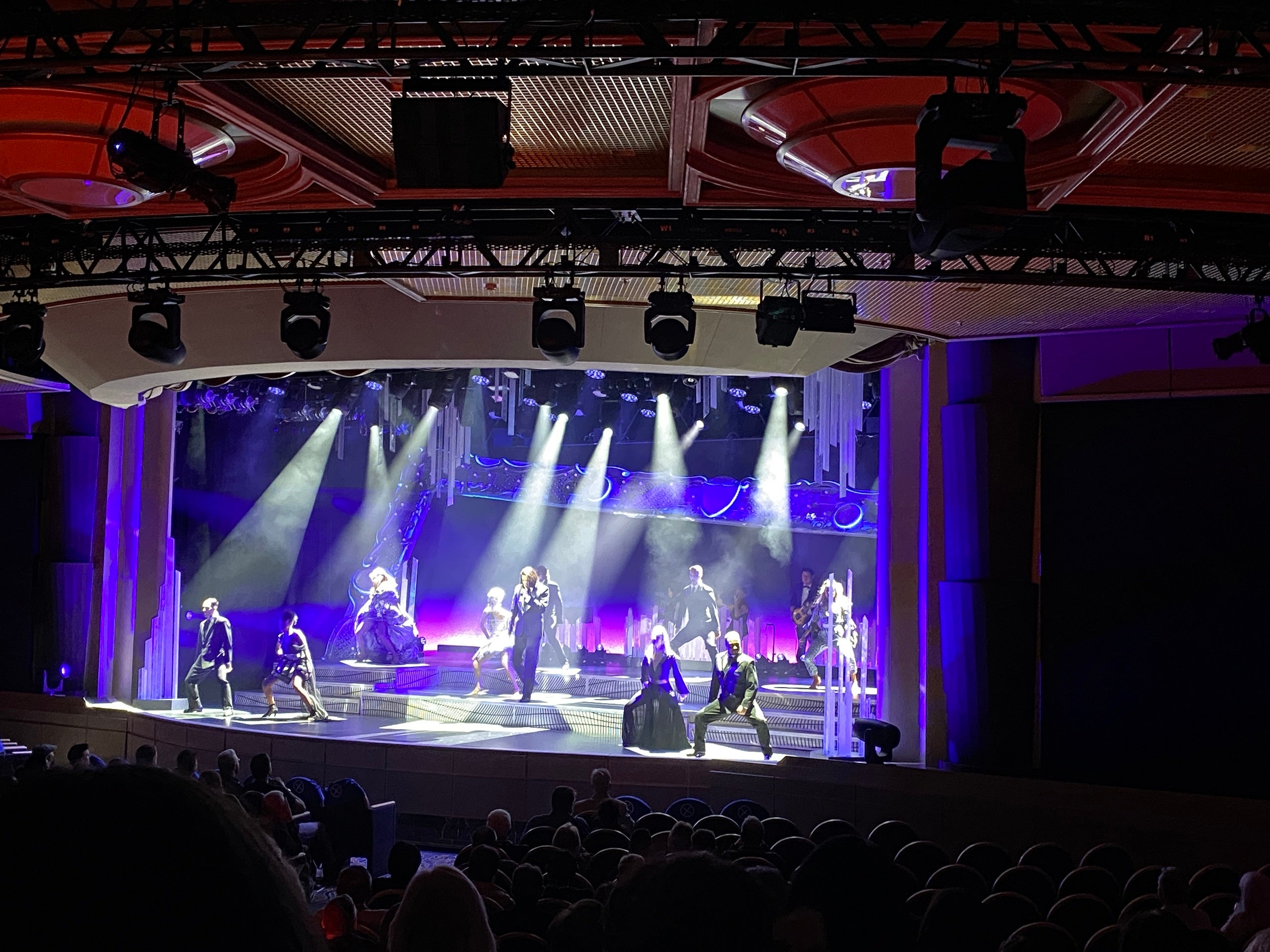 Discovery Princess is big but manageable. On my voyage, we're sailing with 2,247 passengers, just 61% of capacity. Even so, the main areas — especially the theater, Piazza and buffet — feel crowded more often than they don't, particularly at peak times.
The vessel is elegantly appointed, but it's oddly loud. (For example, I had trouble finding a quiet place to write this, so I just stayed in my cabin.)
Additionally, it feels difficult to navigate at times, with some of the lower decks featuring dead ends that force passengers to go up a deck or two, over and back down to reach their destination. And, despite having sailed on Majestic Princess just a few months ago, I still found myself lost on the way to the spa. (On these ships, the spa is on Deck 5, while the fitness center, which is often coupled with the spa on other cruise ships, is on Deck 17.) Signage on certain decks lacks some venues, which is confusing.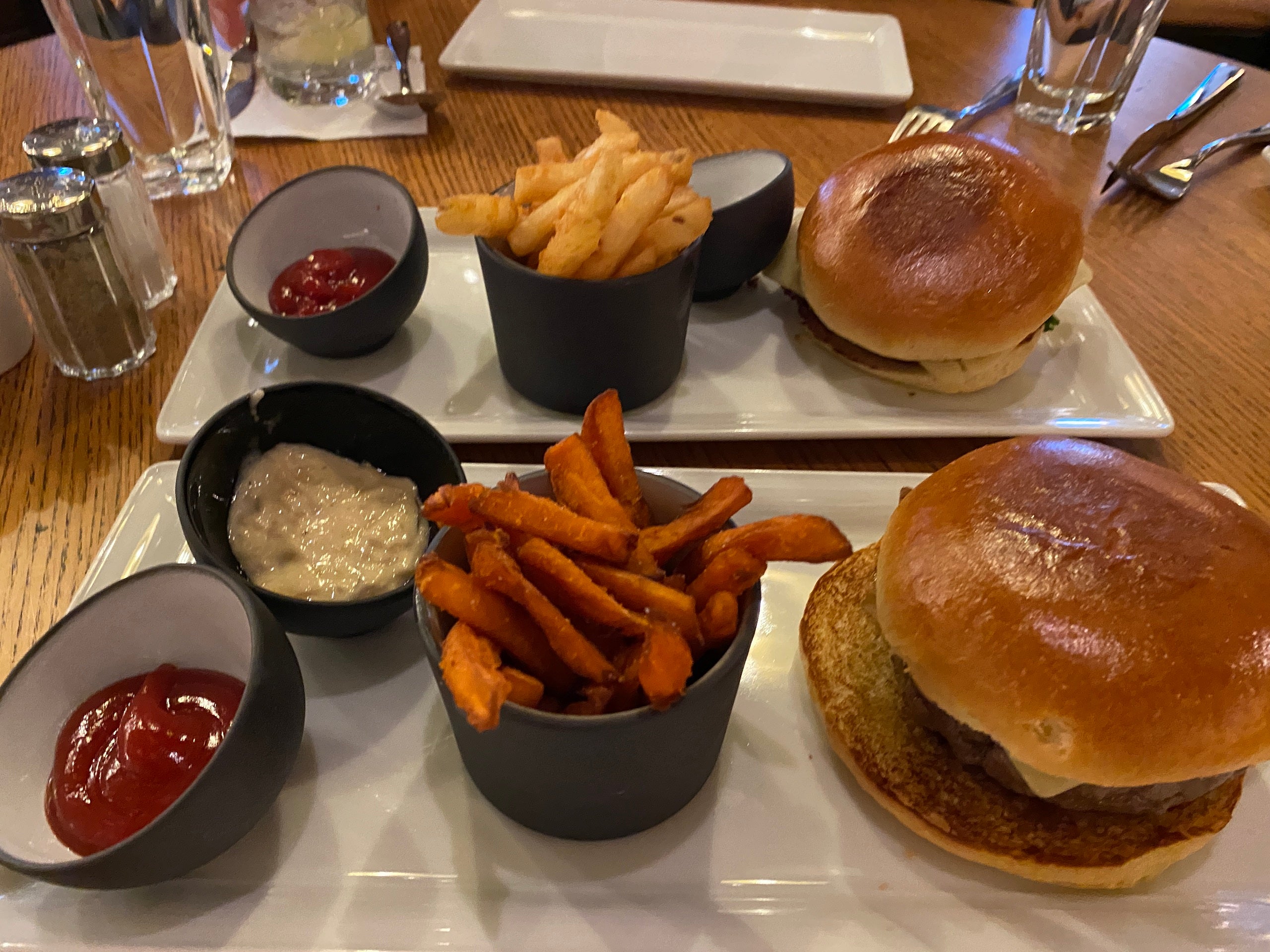 The food has been iffy. Everything I ate at the extra-fee Crown Grill steakhouse and Salty Dog was fantastic. However, while the buffet situation has largely improved since I sailed on Majestic Princess, some fare just looks and tastes like it's been sitting under a heat lamp all day.
The main dining room was also hit-or-miss. On one night, the pea soup looked like it didn't contain a single pea (it was red in color), and the "Mexican salad" was nothing more than flavorless iceberg lettuce with some corn and strips of tortilla. During another visit, however, the tamarind-glazed mahi-mahi stood out — in a good way.
Service has been generally great throughout, with excellent waitstaff in the restaurants, main dining room and buffet; fabulous attention to detail among the housekeeping crew; and brilliant service in the spa. Although guest services staff were wonderful on the first day of the sailing when I had issues checking in, yesterday a travel companion was initially ignored and then told to go to the end of the line (despite having just waited in it) when he went there with a question.
Hits and misses
Hits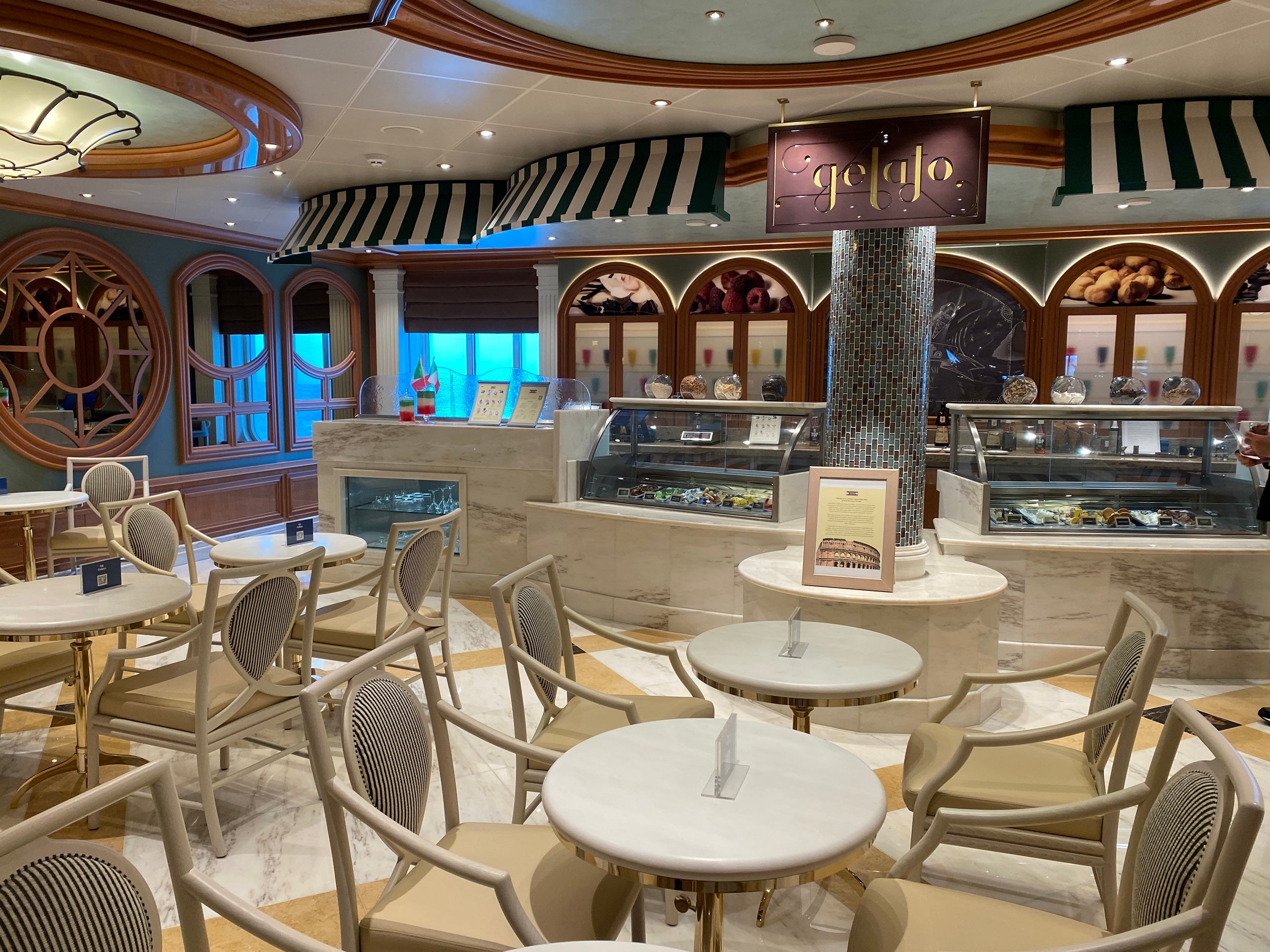 For-fee food: The ship's complimentary dining — main dining room and buffet — has been squarely mediocre (with the exception of the free pizza I snagged from both Slice and Gi-Gi's, which was some of the best I've tasted at sea). On the other hand, all of the meals that levy an extra charge have been superb.
The filet mignon I ordered at the Crown Grill steakhouse was cooked to perfection. Salty Dog's SDG burger and halloumi with asparagus are two of my new favorite dishes, and the gelateria next door to Salty Dog had some of the best pistachio scoops I've ever tasted.
Wi-Fi: Compared to other cruise ships, the Wi-Fi connection on Discovery Princess is stellar. Yesterday, while at sea, I was able to do a video call on my laptop with someone back home, and it was nearly flawless. It's also fairly affordable, with one device costing $9.99 per day for unlimited access. (On my voyage, I was able to upgrade to a four-device package for an extra $50 for the entire sailing.)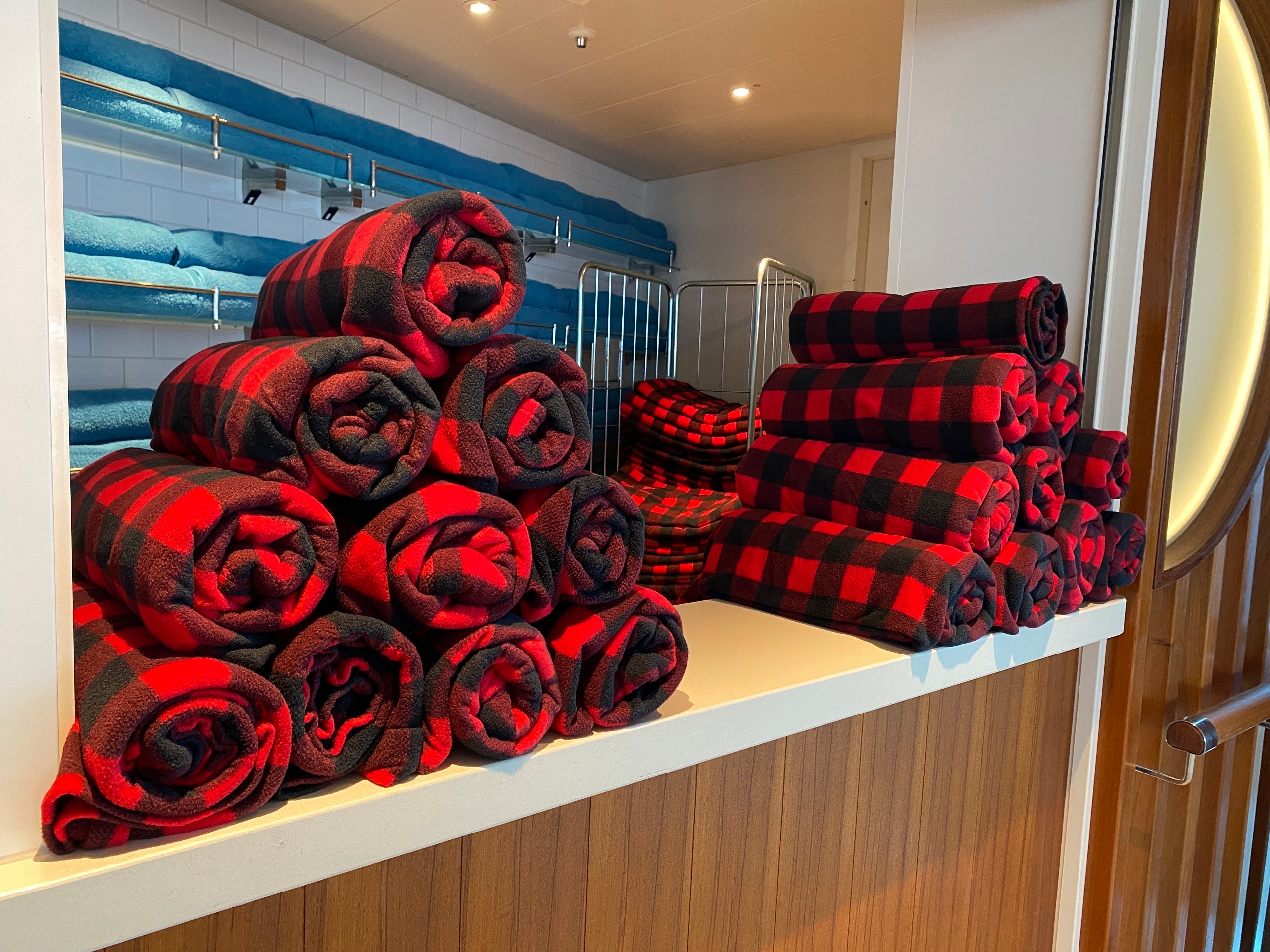 Blankets: Discovery Princess is currently sailing from Los Angeles to Vancouver, and the weather has been chilly, cloudy and windy with rough seas, which has made it difficult to enjoy many of the outer decks. Fortunately, the ship has a huge supply of buffalo check fleece blankets for passengers to borrow for use outdoors. It's one small touch that has meant a lot, and it will serve the vessel well when it begins its Alaska season from Seattle at the end of this voyage.
Ocean Medallion: The major offering that sets Princess Cruises apart from other cruise lines is its Ocean Medallion technology. In some ways, it's great and makes my life easier. It's convenient for opening my cabin door when my hands are full, and although I haven't yet been able to try its shoreside shopping capabilities, the onboard ones are genius.
On the first night of our sailing, a travel companion saw a jacket he wanted in one of the ship's stores, but they didn't have his size. The Medallion allowed the shop's sales team to call him when a new shipment was received. Then, when he went to the shop to pick it up, he was told he could save $10 by ordering via the Medallion App, which he did.
The functionality also allows cruisers to order from the onboard shops and have items delivered to wherever they are on board. If you're cold on deck and don't want a blanket, you can purchase a sweatshirt or jacket, which will be delivered to you and charged to your onboard account.
Misses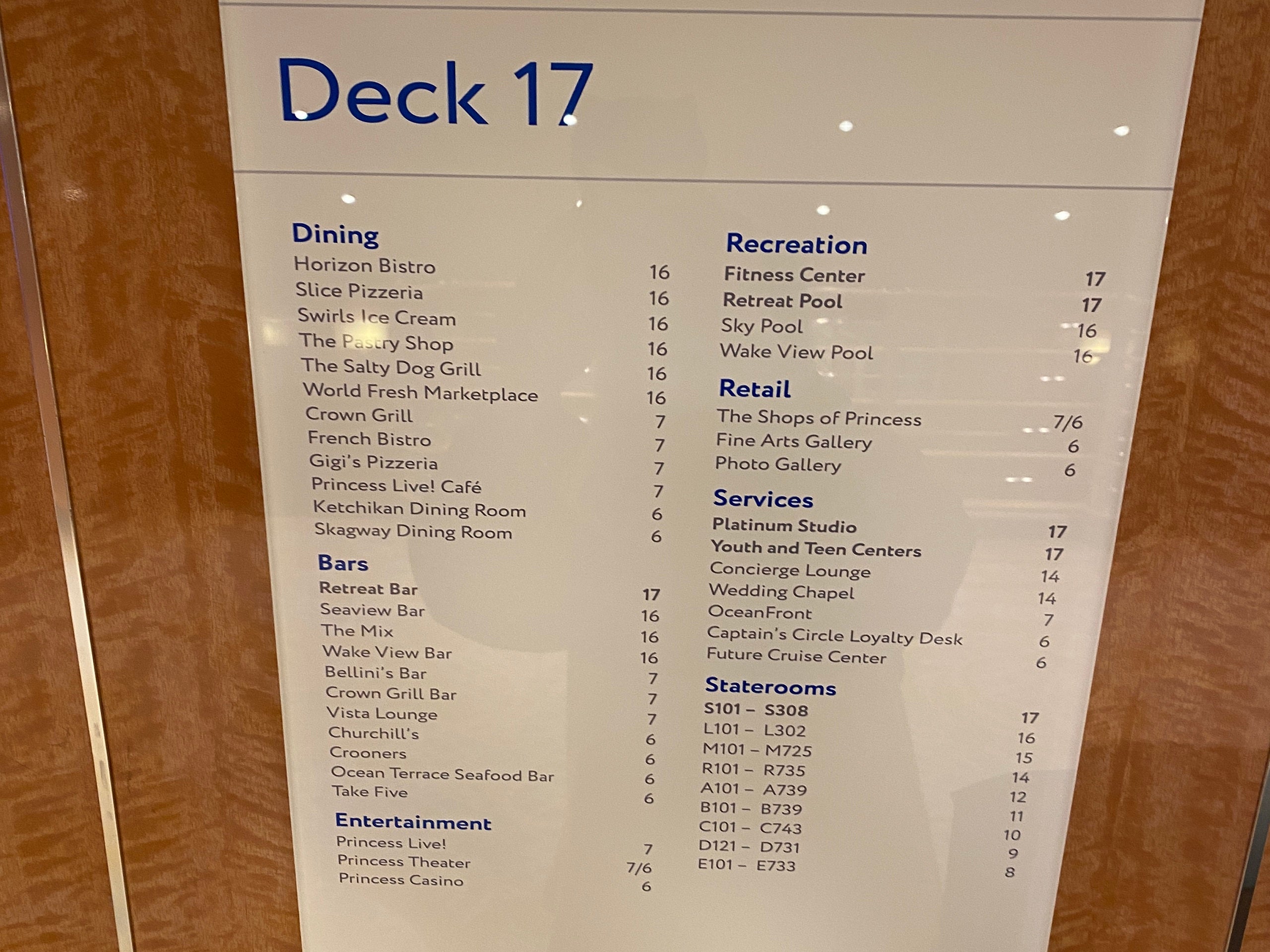 Traffic flow: Even at 61% percent capacity, the ship still feels crowded, especially on sea days when everyone is looking for things to do. Yesterday I spent nearly 10 minutes wandering around the buffet at lunchtime trying to find a seat, and the day before I snagged the very last table at Princess Live for afternoon trivia.
Creating further frustration are the dead ends and erroneous signage in some areas. The location of the Skagway dining room, which is on Deck 6, midship, is a bit of an annoyance. Passengers trying to walk directly from the front to the back of the ship — or vice-versa — on Deck 6 will find it impossible, as Skagway blocks the path. They'll have to go up one deck, walk across and head back down.
As mentioned, I also lost my way when trying to find the Lotus Spa because some signage omits key venues. (Note that Deck 5 venues, including the Ketchikan dining room and spa, are completely missing from the photo above.)
Ocean Medallion: You might be wondering why I'm listing Ocean Medallion as both a hit and a miss. While the functionality is marvelous in some ways, it's cumbersome in others.
I was able to check in via the app pre-cruise, but after I boarded, I was unable to access my cabin. When I went to guest services to have it fixed, much of the information I had entered prior to boarding was lost in the app. Then, after watching the required muster drill video in my cabin three times, it still didn't register that I had seen it. I had to call the front desk to report it.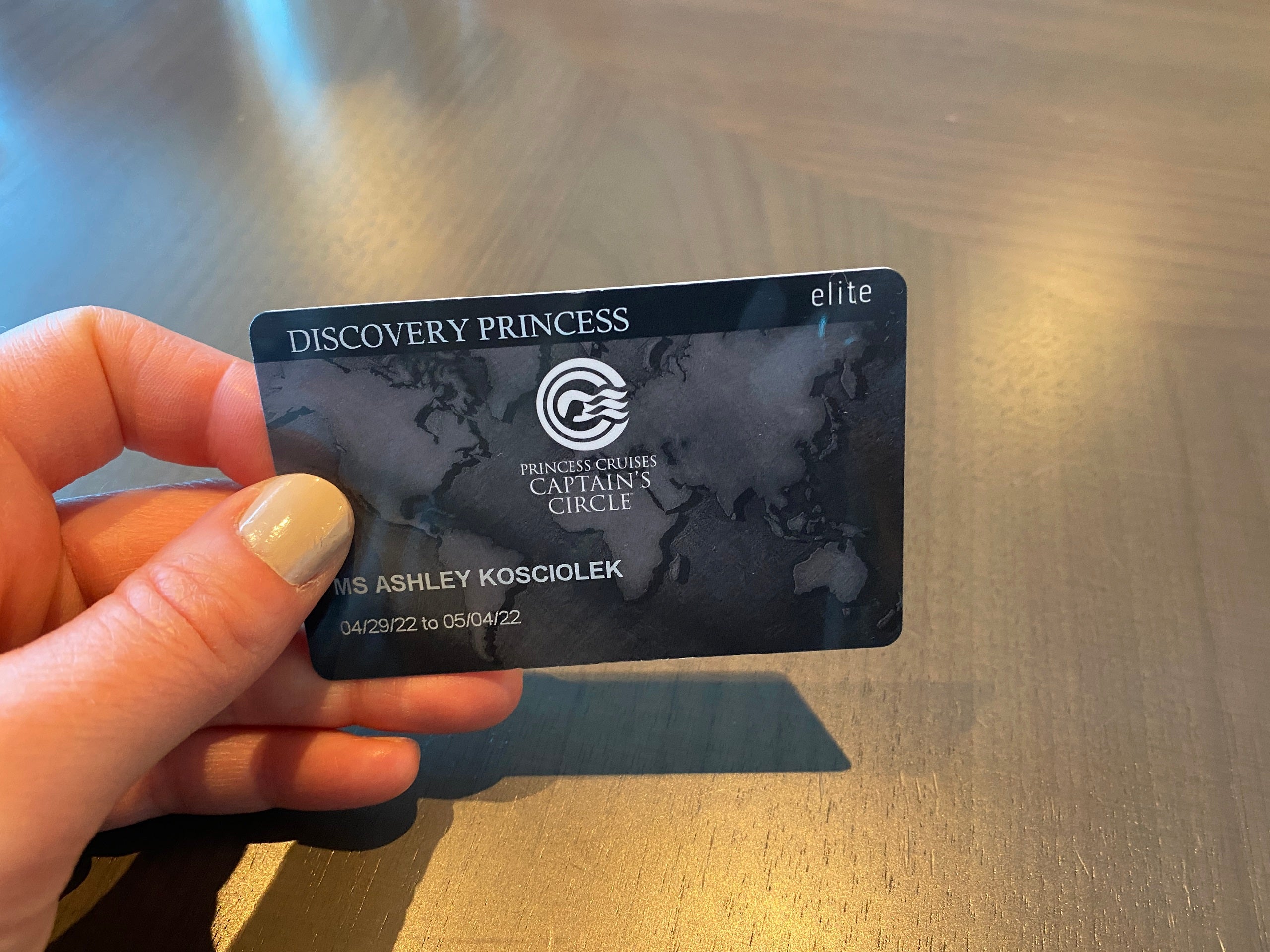 Crew members have been pushing the Ocean Medallion hard, whether it's the Medallions themselves or the app on which many of the Medallion's services operate. When I was at the desk to remedy the check-in situation, I asked for a cruise card instead of a Medallion and was told "We'd prefer if you try the Medallion." After explaining that I had tried it on a previous cruise, the response was "But have you tried it on Discovery Princess?"
I was asked for a reason why I didn't like it, which seemed a bit intrusive, but the fact is that it's glitchy, and I don't want to have to spend unnecessary time trying to make it work when a keycard — which I also like to keep as a souvenir from each of my sailings — works just fine for me.
Eventually, I was given the card I asked for, but here's what I've found with regard to the app: it works for me to check my onboard bill but not to view the daily schedule, restaurant menus or any of my reservations for the spa or specialty dining. I was also unable to access the "Dine My Way" part of the app, which allows passengers to choose their dining time and whether or not they want the same time each night.
My travel companions — who, when trying to use the app, kept receiving messages that their reservation didn't exist — were finally able to get the app to function on day four after visiting the help desk. But the fact is that it's not a seamless experience if passengers have to frequently visit a help desk or guest services to make it work for them.
Bottom line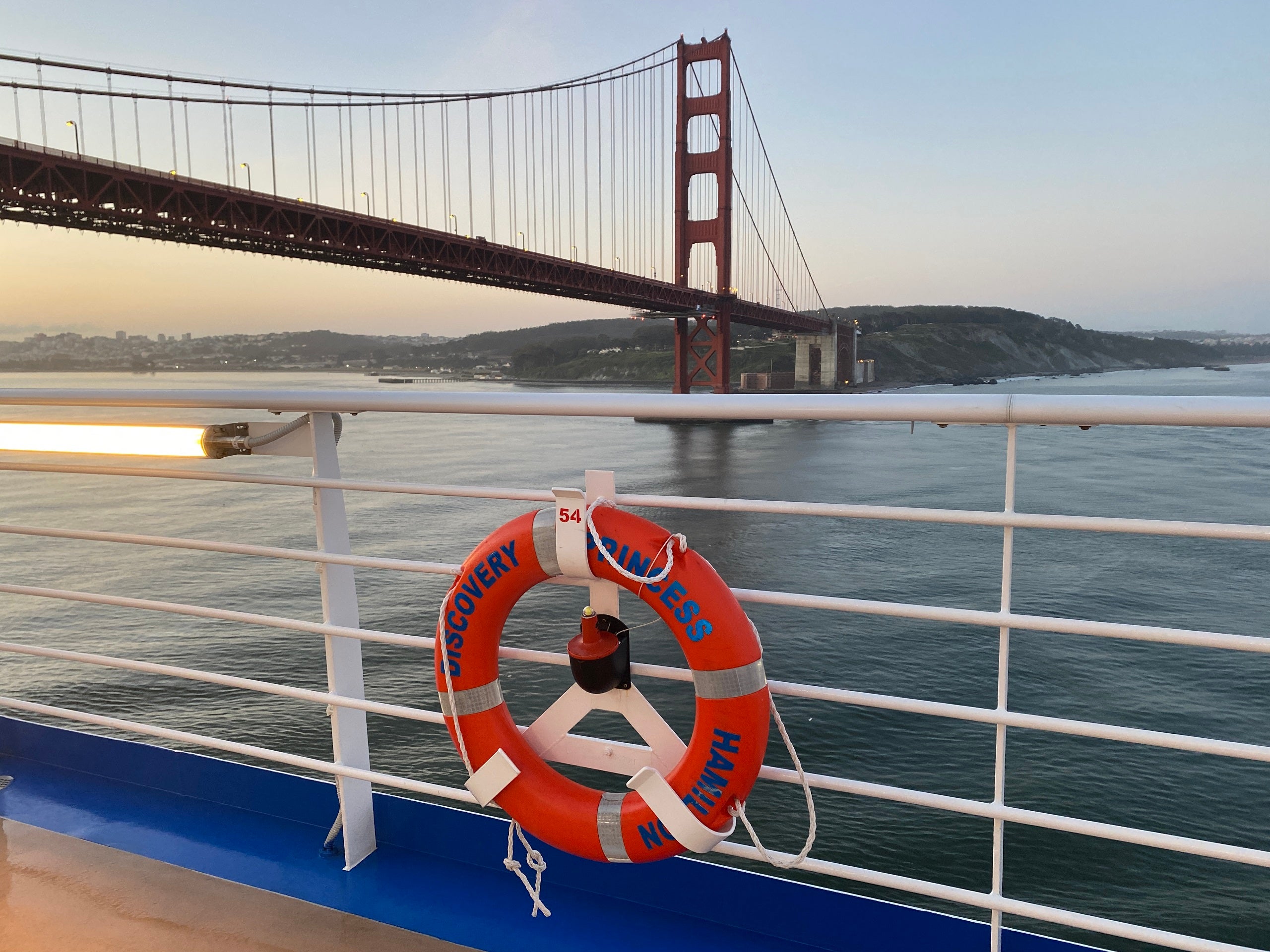 Discovery Princess is elegant and modern, and it's great for cruisers who prefer to fill their days with trivia, live music, arts and crafts, and movies instead of active pursuits. It's also perfect for passengers who have already been acquainted with other vessels in Princess' Royal Class but who perhaps want a different itinerary or a slightly newer experience.
Entertainment is good but not great, service varies from venue to venue, and it's rare that free food outshines the cuisine for which passengers must pay extra.
The line hangs its hat heavily on the Ocean Medallion. While its tech is impressive and its functions are helpful in some ways, there's still a lot of work to be done before it's truly seamless — especially for people who don't have the latest devices or software.
Overall, it has been an enjoyable experience, but it's not one that markedly stands out.
Featured photo by Ashley Kosciolek/The Points Guy.
**Disclaimer – This post often contains affiliate links. All products are ones I have. If you choose to purchase one of these products through the URL provided, I will get a small commission at no extra cost to you. All proceeds help support the blog.