These multitasking mini appliances earn their spot on the kitchen counter By Kimberly Janeway
A toaster oven, as its name implies, does a lot more than simply make toast. It can roast a chicken, cook garlic shrimp in under 5 minutes, reheat last night's dinner, bake a sheet of cookies or a tray of muffins, turn out asparagus that's nicely blistered—and a whole lot more.
The best toaster ovens excel at making large batches of toast at once, for when you're cooking breakfast for the whole family, as well as warming up leftovers and making baked goods—plus they should be easy to use and easy to clean. Use this countertop mainstay to cook side dishes when your regular oven is maxed out, like when you're preparing a meal for a crowd or cooking a holiday feast. Come summer, put your toaster oven to work so that you're not roasting away in your kitchen.
"And keep in mind that this small oven heats up faster than a regular oven," says Cindy Fisher, who oversees CR's tests of toaster ovens. "That makes it ideal when you're cooking small portions, toasting nuts for a recipe, or hungry for just a few chocolate chip cookies hot out of the oven."
Other reasons to consider adding one to your kitchen? A toaster oven browns food nicely and gives pizza a crispy crust, something you can't expect a microwave to do. Some newer toaster ovens are true multitaskers, with convection, air-frying, dehydrating, and even slow-cooking features.
For all a toaster oven has to offer, very few we've tested brown bread as evenly on both sides as a toaster. (But a toaster does one thing and one thing only.)
Tips for Getting the Best Results
1. Allow sufficient space between racks. That enables the heat to circulate evenly, turning out more evenly cooked food.
2. Use a light-colored pan. It helps prevent the bottom of cookies and bread from overbrowning and the natural sugars in roasted vegetables from burning. (A dark pan accelerates the transfer of heat and can brown food too fast.)
3. Pick a pan with low sides. Do this when using the convection feature to give the hot air ample room to circulate.
4. Move pans to a different rack. When using multiple racks, swap the position of pans, and rotate each pan halfway through cooking so that everything cooks uniformly.
5. Aim for the middle. Place pans near the center of a rack, when possible, to produce the best results.
6. Keep it clean. Crumbs and grease can build up inside and cause smoke—or even a fire. It's best to wipe down the exterior and interior after every use.
Toaster Ovens That Impress
There are more than 60 models in our toaster oven ratings, including those from Breville, Cuisinart, Hamilton Beach, KitchenAid, and 21 other brands. Here's a look at four high-scoring models. They appear in alphabetical order, not rank order.
Black+Decker 8-Slice Digital Extra WideTO3290XSD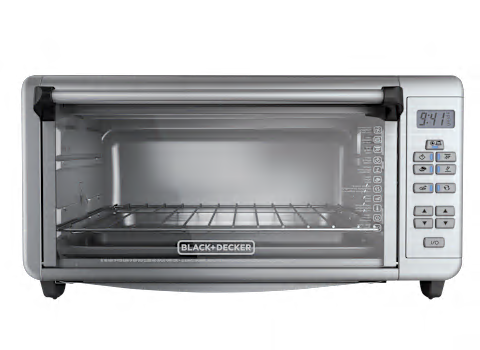 CR's take: The Black+Decker 8-Slice I Digital Extra Wide TO3290XSD snags a Very Good rating in our reheating test, evenly reheating a single serving of lasagna in 15 minutes. It also earns top scores in our toast tests—full batch, one slice, and color range—but it takes its time, so be patient. This 1,500-watt model has a temperature range of 150° F to 450° F, and there are three rack positions. The additional functions are what you'd expect—reheat, bake, and broil—and there are settings for bagels and pizza. In our latest surveys, CR's members give Black+Decker toaster ovens only a middling rating for predicted reliability and an even lower score for owner satisfaction.
Breville Smart Oven BOV800XL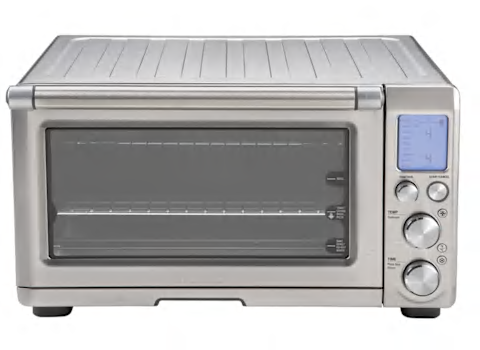 CR's take: The Breville Smart Oven BOV800XL toaster oven is an across-the-board strong performer, scoring Very Good in almost everything we test, including baking, reheating, and ease of cleaning. It's also extremely easy to use and does an admirable job on a batch of toast (six slices, in this case), though it's only so-so on a single piece of bread. There are three rack positions and a temperature range of 120° F to 450° F. Models in our ratings range from 1,100 to 1,875 watts, so this 1,800-watt unit is near the top in terms of power. Breville toaster ovens get top marks for predicted reliability and owner satisfaction in CR's latest member surveys.
Breville Smart Oven Air Convection BOV900BSSUSC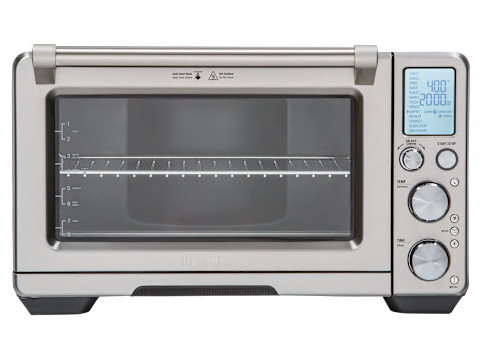 CR's take: The 1,800-watt Breville Smart Oven Air Convection BOV900BSSUSC garners a Very Good rating in our baking and reheating tests, and has eight rack positions, plus a wide temperature range (80° F to 480° F). This model outdoes the Breville above at toasting, turning out perfectly browned slices, whether in a batch of nine or singly, though it does it more slowly. It's loaded with features—convection, dehydration, and air-frying, which uses high heat and the convection fan to circulate hot air to "fry" foods with little or no oil. We tried it, cooking fresh chicken wings, frozen curly fries, and a variety of other foods, and found that they were crispy outside and moist inside. Take note: Breville recommends operating this toaster oven on its own electrical circuit.
Cuisinart Deluxe Convection TOB-135N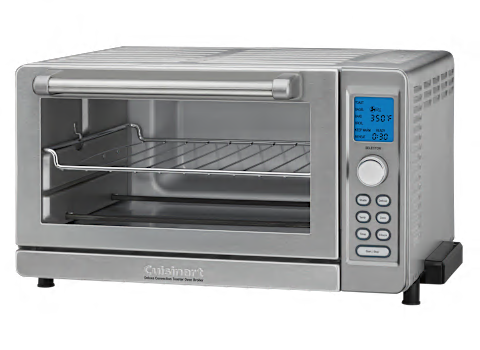 CR's take: If you have less countertop space, the Cuisinart Deluxe Convection TOB-135N Toaster Oven is a worthy contender, given its smaller size. Although it's large enough to hold only four slices of bread at a time, it aces our full-batch toasting test. It also rates Very Good in our toasting time and baking tests. Plus, it's easy to clean and a breeze to use. This 1,800-watt oven has a temperature range of 150° F to 500° F, as well as convection oven functionality, and dedicated defrost and bagel settings. CR's members find Cuisinart toaster ovens to be very reliable, but owner satisfaction is a notch lower, according to data from our latest surveys.
Cooking With Countertop Appliances
Countertop appliances have come a long way over the years. On the "Consumer 101" TV show, Consumer Reports expert Sara Morrow shows host Jack Rico how it's possible to cook an entire meal without using your oven or range.
Consumer Reports is an independent, nonprofit organization that works side by side with consumers to create a fairer, safer, and healthier world. CR does not endorse products or services, and does not accept advertising. Copyright © 2022, Consumer Reports, Inc.
**Disclaimer – This article often contains affiliate links. All products are ones I love. If you choose to buy one of these items through the URL provided, I will get a small commission at no extra cost to you. All proceeds help support the blog.