Pin this recipe or leave a comment: Instant Pot Vegetable Soup on Green Healthy Cooking
Quick, easy, nourishing and delicious Instant Pot Vegetable Soup is perfect year round. Cauliflower, asparagus, bell pepper, zucchini, carrot, celery, kale, and chickpeas make for a flavor explosion!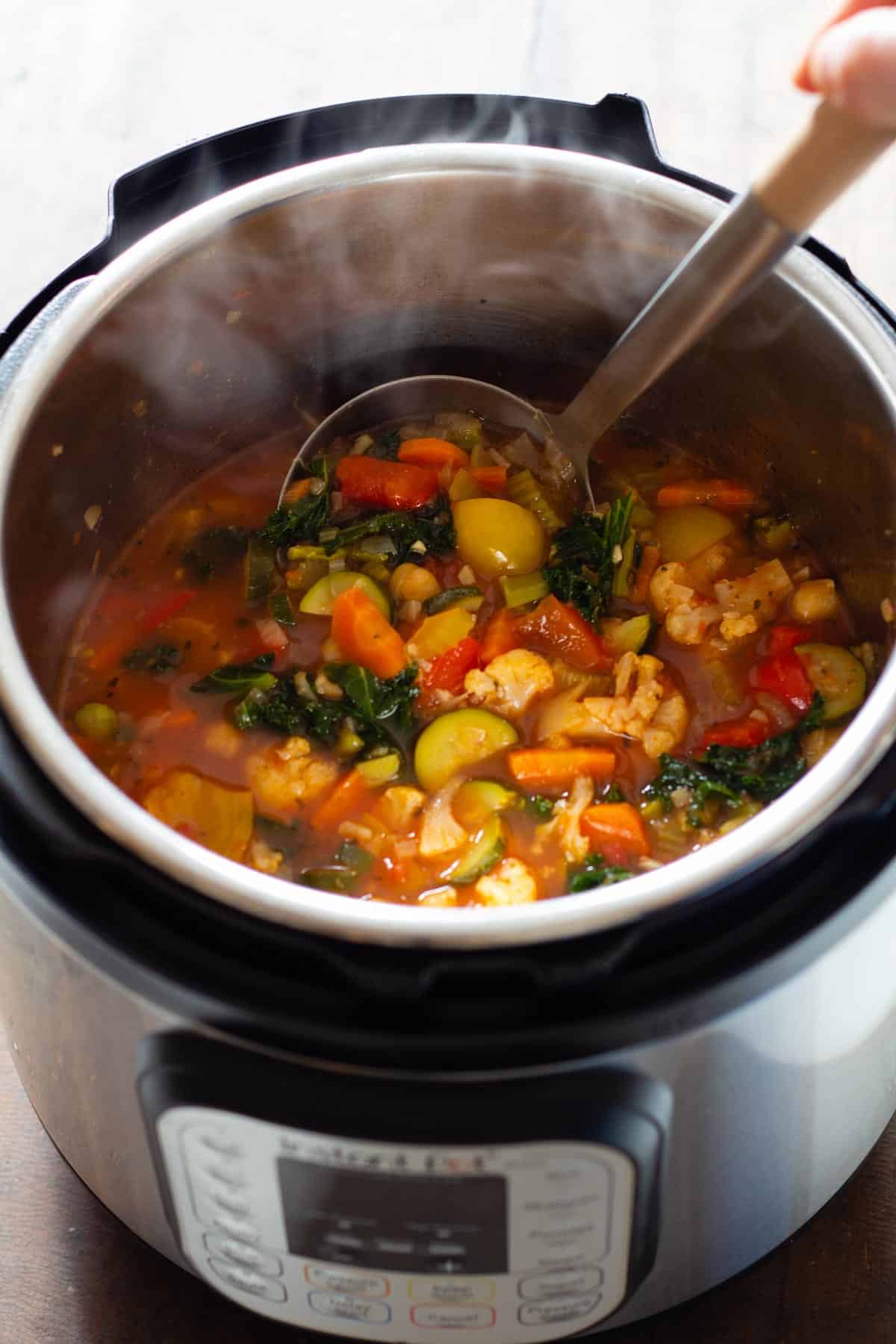 My favorite part about this soup is that it is so versatile. You can even add chicken, or certain beans to it without a problem. It all depends on which veggies you add and how long you will end up pressure cooking your soup.
What are the best vegetables to use?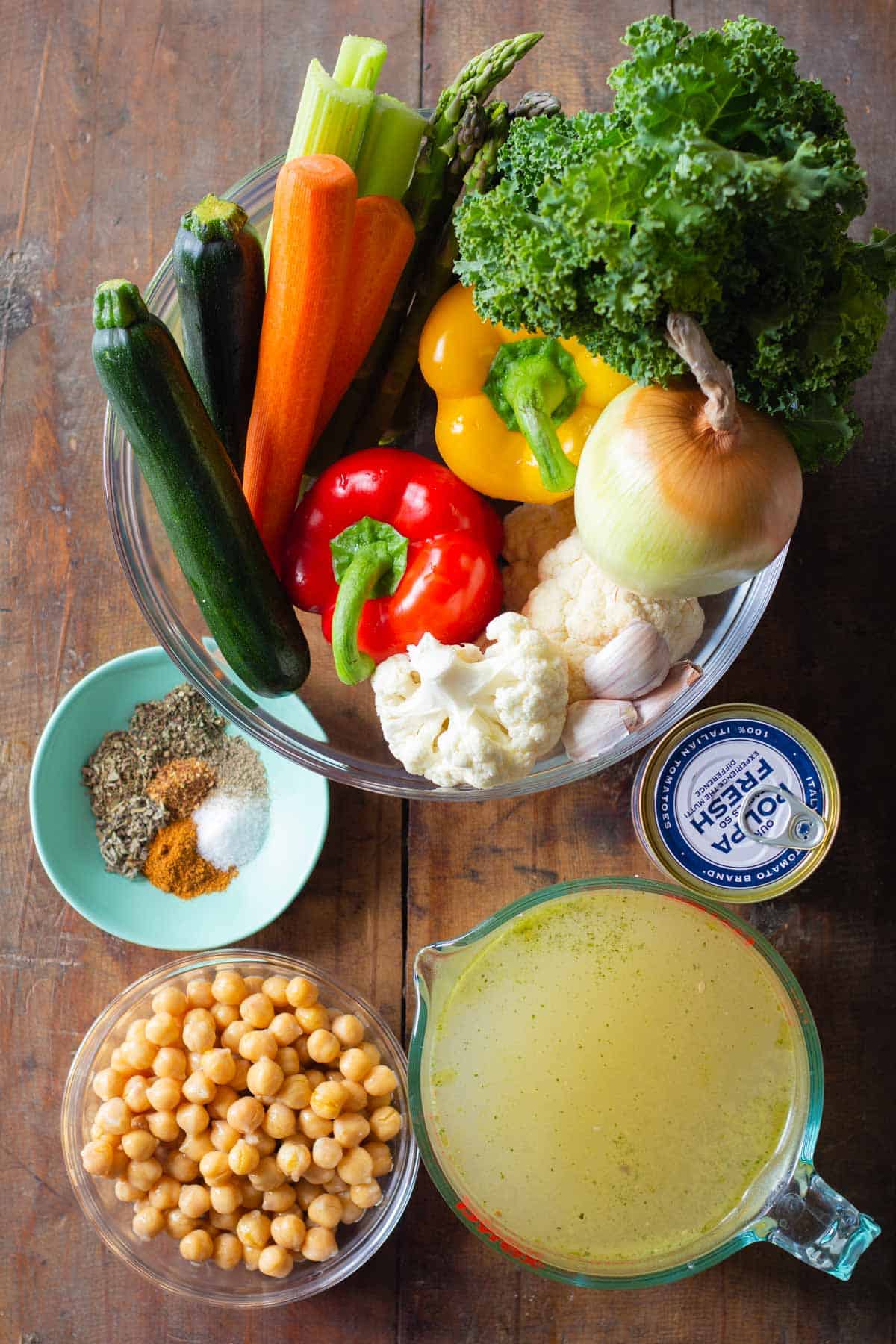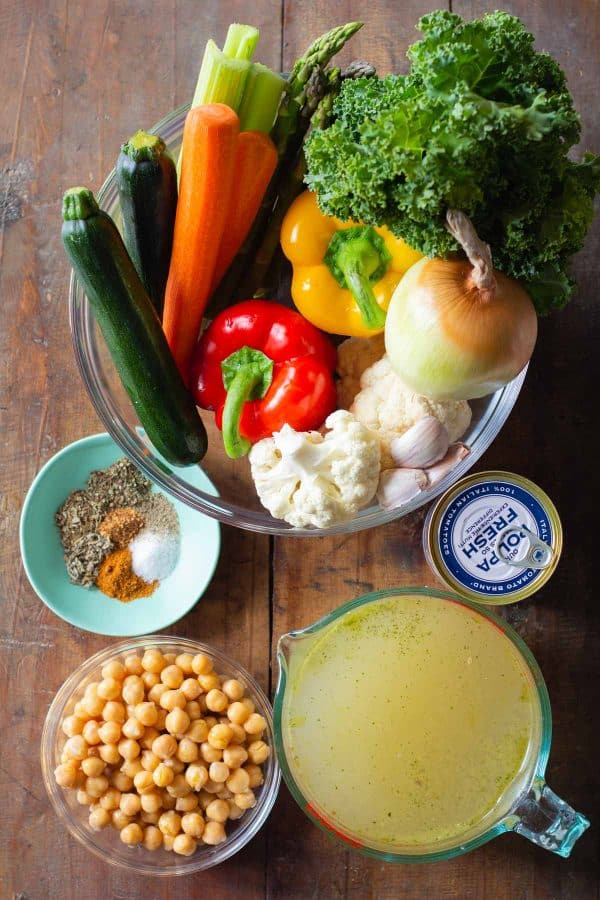 The possibilities are endless, however, try and use vegetables that require similar pressure cooking times. Root vegetables tend to take a lot longer to cook than cruciferous, marrows, or edible plant stems.
You can make exceptions with root vegetables that can be eaten raw and taste great raw, such as carrots. They tend to take longer than zucchinis or asparagus to cook, but taste great with a bit of crunch.
All "medium veggies" fit in well with either soft OR hard veggies.
Great combinations are
Soft veggies (5 mins): zucchini, asparagus, cauliflower, broccoli, sugar snap peas, green beans, etc.
Medium veggies (either): bell pepper, cabbage, celery, carrots, etc.
Hard veggies (10 mins): sweet potato, potato, celery root, yam, beets, etc.
Dark leafy greens (0 mins): add dark leafy greens like spinach, kale, or chard into the hot soup without pressure cooking.
My favorite are the soft spring vegetables mixed with one crunchy one (carrot). At the end I love adding a dark leafy green to the vegetable soup without pressure cooking it in the Instant Pot but rather steamed in the remaining heat. (see video)
How to make this soup a main dish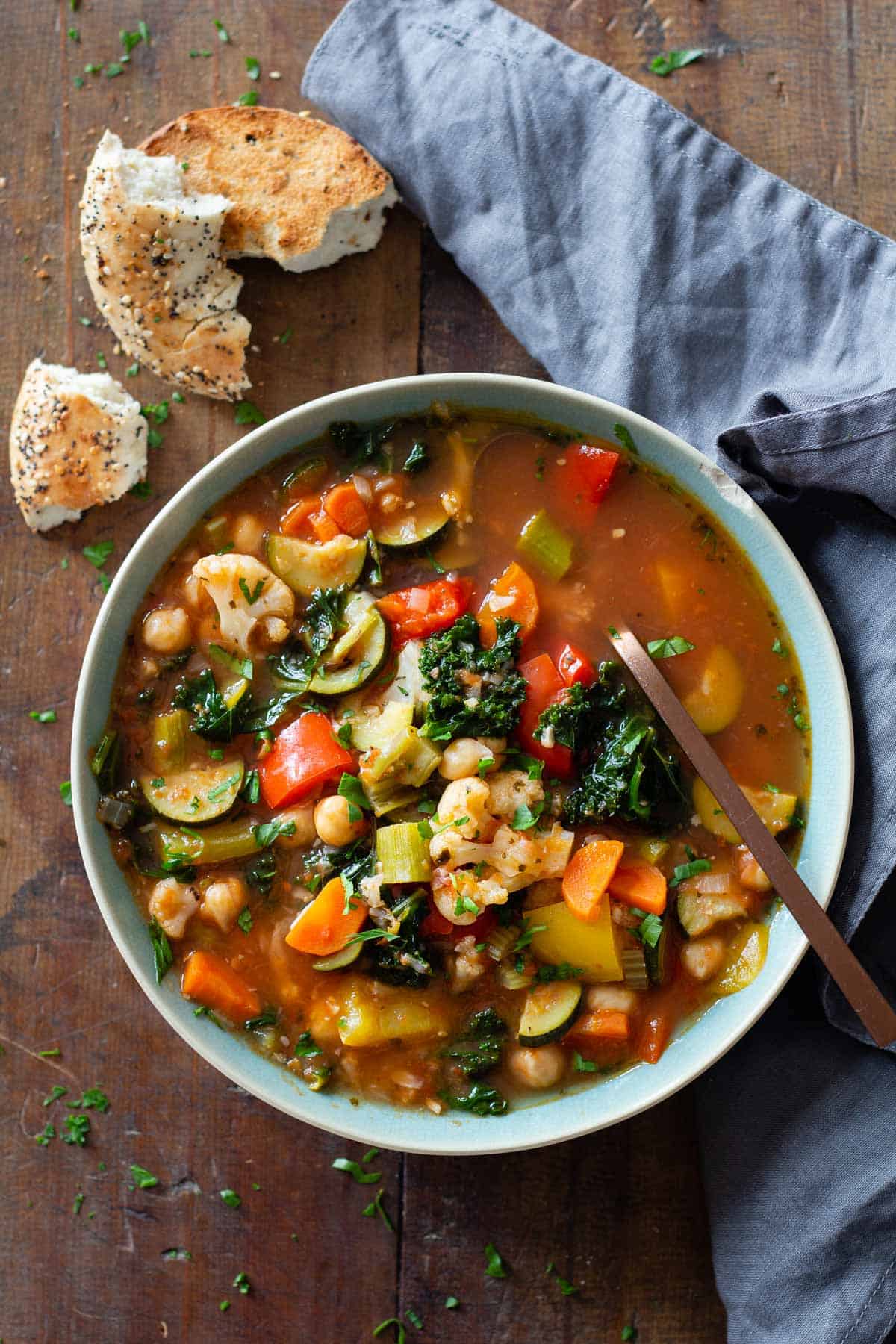 By adding some protein your soup can be the perfect lunch or dinner recipe. No need to make another main dish.
To keep it vegetarian add cooked chickpeas or soaked mung beans or soaked lentils. In this case you don't really have to add extra carbs because the legumes have plenty of carbohydrates.
If you want to make it low-carb but with protein, add some cubed chicken breast if using soft veggies or cubed chicken thighs if using hard veggies. Chicken breast will overcook if pressure cooked longer than 5 minutes.
If you want to add animal protein AND carbs I suggest cooking brown rice, or quinoa, or farro separately first and add a couple Tablespoons of it to the bowl you'll be serving the vegetable soup in. Cooking whole grains in the Instant Pot takes longer than 5 minutes and when left in the vegetable soup for too long soak up all broth and become soggy.
Alternatively, serve with toasted bagel or any other homemade artisan bread :)
Important note to avoid the burn warning
Tomato sauce is notorious for setting off the "burn" warning on the Instant Pot.
The best way to avoid this is to add tomato sauce at the very end on TOP of all other ingredients and to NOT stir it into the broth but let it sit on top.
The sauce will seep into the broth little by little and you can finish mixing it in after the pressure cooking time.
Print
Instant Pot Vegetable Soup
Quick, easy, nourishing and delicious Instant Pot Vegetable Soup is perfect year round. Cauliflower, asparagus, bell pepper, zucchini, carrot, celery, kale, and chickpeas make for a flavor explosion!
Course
Soup, vegan, vegetarian
Cuisine
International, Mediterranean
Keyword
instant pot vegetable soup, vegetable soup
come to pressure
15
minutes
Ingredients
1/2

Tbsp

avocado oil

1

onion

3

cloves garlic

2

zucchinis

2

bell peppers

any color works

2

cups

cauliflower florets

6

asparagus

3

leaves curly kale

4

cups

vegetable stock

2

cups

cooked chickpeas

canned or homecooked

1

tsp

paprika

1

tsp

dried sage

1

tsp

dried basil

1

tsp

dried oregano

1/2

tsp

black pepper

1

tsp

sea salt

omit or reduce if your vegetable stock is super salty

1/2

tsp

chili powder

optional

1

can

finely chopped tomatoes (a.k.a. polpa)

14oz / 400g

1/4

cup

chopped parsley

optional
Instructions
Peel and finely chop onion and garlic and set aside in a bowl.

Wash and cut all vegetables into bite-size pieces and set aside in a bowl. Destalk the kale and coarsely chop and leave on the chopping board, the kale will not be pressure cooked.

Press the sauté button on the Instant Pot and wait until the display says "hot". Then add avocado oil and chopped onion and garlic and stir-fry until lightly brown.

Once the onion is browned add a splash of vegetable broth and turn the instant pot off. Use a spatula or a wooden spoon to deglaze the bottom of the pot. Remove every little bit of onion stuck to the bottom to avoid the burn warning later.

Add all chopped vegetables (except kale), the vegetable broth, cooked chickpeas, and all seasoning to the Instant Pot and stir well together. Then add the can of tomatoes without stirring in! (see video).

Put on the lid, set the valve to the sealing position and set the pot to 5 minutes on high pressure.

Once the Instant Pot beeps, turn the valve to the venting position and manually release all pressure. When the safety pin drops it's safe to open the pot.

Add the chopped kale and give it a quick stir. Let sit for a minute or two for the kale to wilt a little and serve with freshly chopped parsley on top.
Nutrition
Calories:
197
kcal
|
Carbohydrates:
34
g
|
Protein:
10
g
|
Fat:
5
g
|
Saturated Fat:
1
g
|
Sodium:
1960
mg
|
Potassium:
1065
mg
|
Fiber:
10
g
|
Sugar:
13
g
|
Vitamin A:
4941
IU
|
Vitamin C:
154
mg
|
Calcium:
149
mg
|
Iron:
5
mg
My post contains affiliate links. All products are ones I like. If you choose to purchase one of these products through the link , I will receive a small commission at no extra cost to you.