Disclaimer: This post is sponsored by the National Pork Board. Although the thoughts and ideas contained in this post are my own, I was compensated by the sponsor for this post.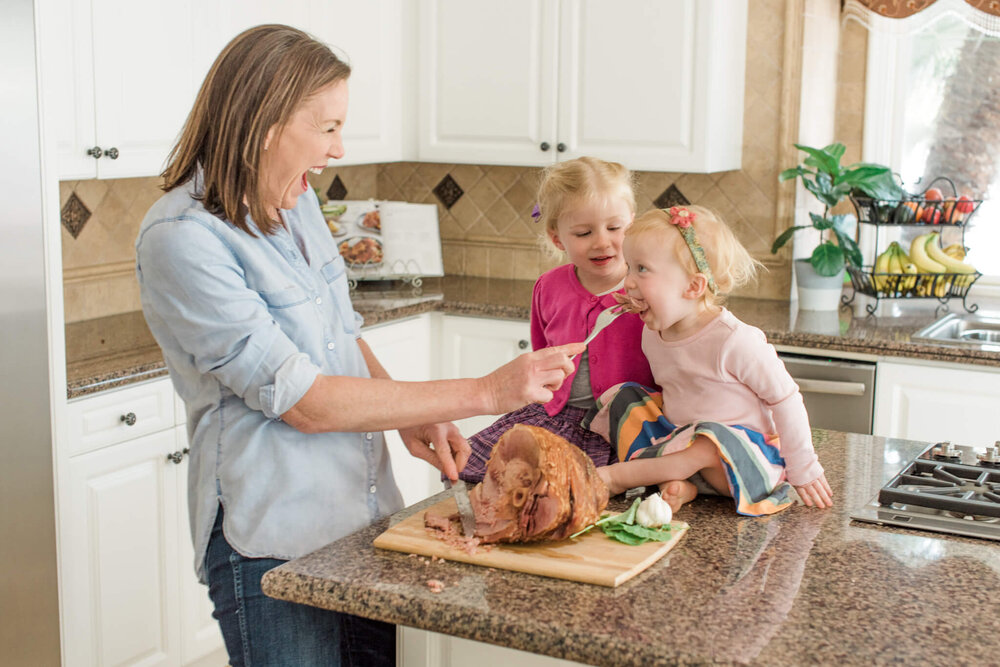 Easter is looking a little different for us this year, like I know it is for you too.
With the coronavirus quarantine firmly in place & kids out of school indefinitely...everyone's life is upended.
But we are trying to keep things calm over here, sticking to a schedule, cooking more at home, and planning for a different kind of Easter dinner this year.
Trying Out New Traditions
At our house, we have 7 kids age 5 and under, and holidays are SUPER important to our little people. 
They're used to big, raucous weekly family dinners, and holidays are over the top too!
We live near 4 of my 5 siblings...plus my parents, who - with their 19 grandkids all nearby - are always getting together for meals. And let's just say, our group makes for loud fun, family dinners.
My parents usually host Easter dinner, so I was a little nervous having to do it by myself this year with the quarantine in place and required social distancing for safety.
But, as with much of the chaos surrounding COVID-19, I'm trying to find the silver lining and am looking for the positive things: like an opportunity to try out new holiday traditions with my husband and our kids.
Hamming it Up at Home
My husband and his family are from Texas, and they love meat.
As a dietitian, I try to balance the plant and animal foods we eat at home, but I'm usually down to try new recipes that push me beyond my usual comfort zone with meat.
This Easter, I want to make something delicious, but preferably on the simple side for our celebration at home!
...and that is how we decided to do a spiral cut ham for Easter dinner.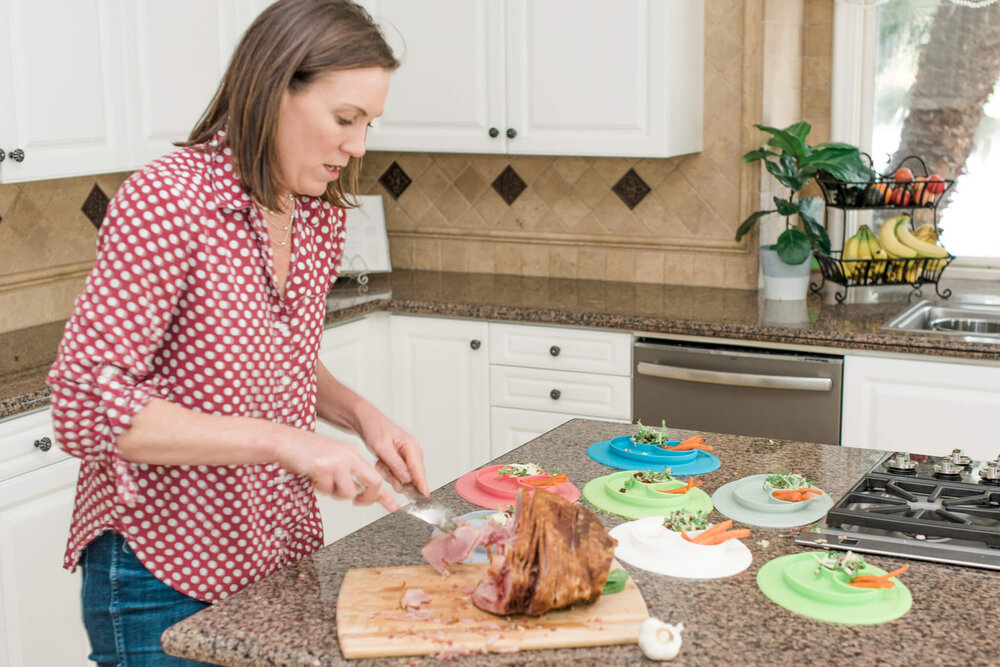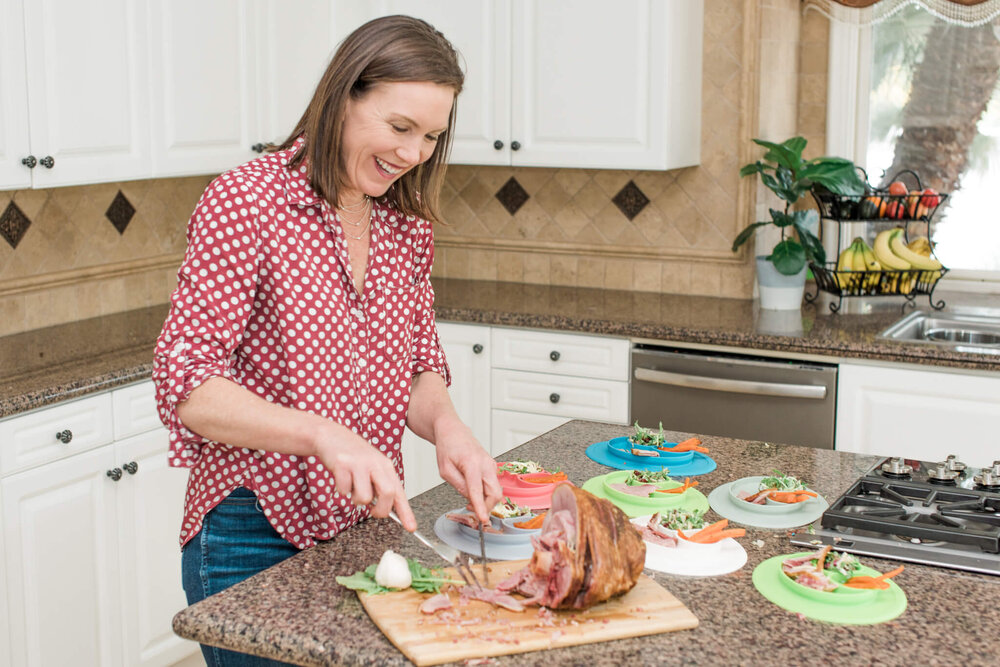 In researching ham, I was surprised to learn that there are 5 different types of ham readily available at most grocery stores.
And, I'm hoping your store has a spiral cut ham you can get your hands on, because my test run turned out amazing!
Now of course, groceries are hard to come by right now, but I was lucky to grab 2 beautiful no added sugar, lower sodium spiral cut hams at my meat counter just in time for Easter.
If you can't find ham at your local grocer this year, there are lots of other cuts of pork that are easy to prepare but will still give you that fancy, celebratory flair!
The National Pork Board has tons of great pork cooking tips and recipes available on their site here.
CLICK HERE FOR PORK NUTRITION & COOKING TIPS + RECIPES
Sweet Southern Slow Cooker Ham Recipe
Hams are fully cooked; but I love how versatile they are if you want to add your own unique flavor profile.
One of my favorite ham recipes is for Sweet Southern Slow Cooker Ham. With a spiral cut ham, it ends up looking SO fancy, but is really so simple to prepare.
This slow cooker ham recipe is from Yummly, and it calls for a 5 ½ pound ham. My spiral ham was 7 pounds (...to feed 9 people for Easter dinner with enough extra to make some great ham leftover meals!) but it worked great with the same ingredient amounts posted below.
The Yummly slow cooker ham recipe I am sharing calls for honey. While I don't normally feed ham to babies because of the sodium content; if you are making this recipe and babies will be eating, either omit the honey or substitute the same amount of agave syrup as babies under age 1 should not have honey because of the risk for botulism.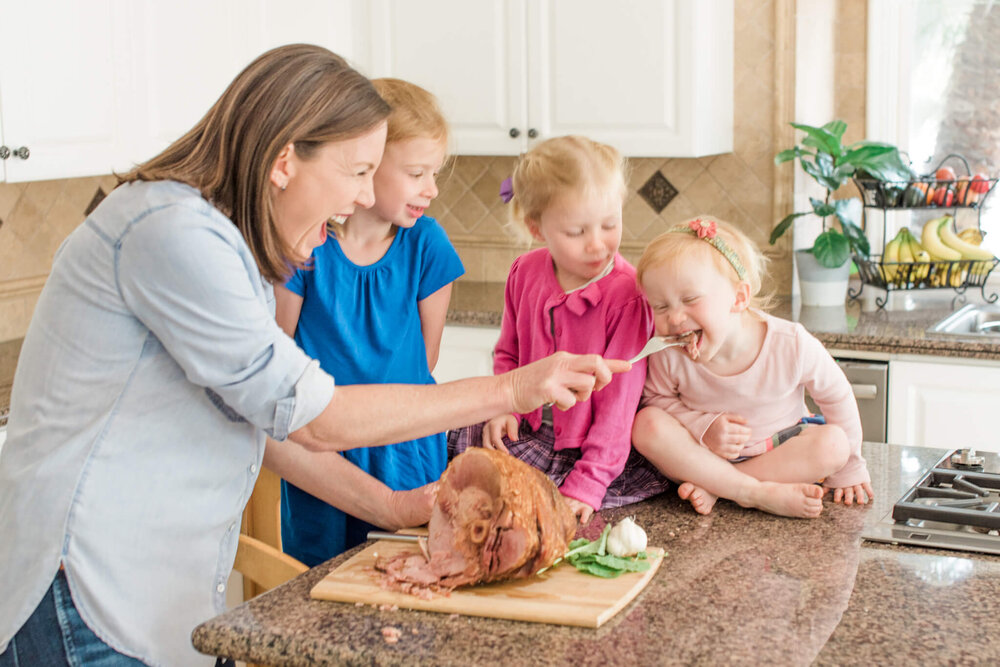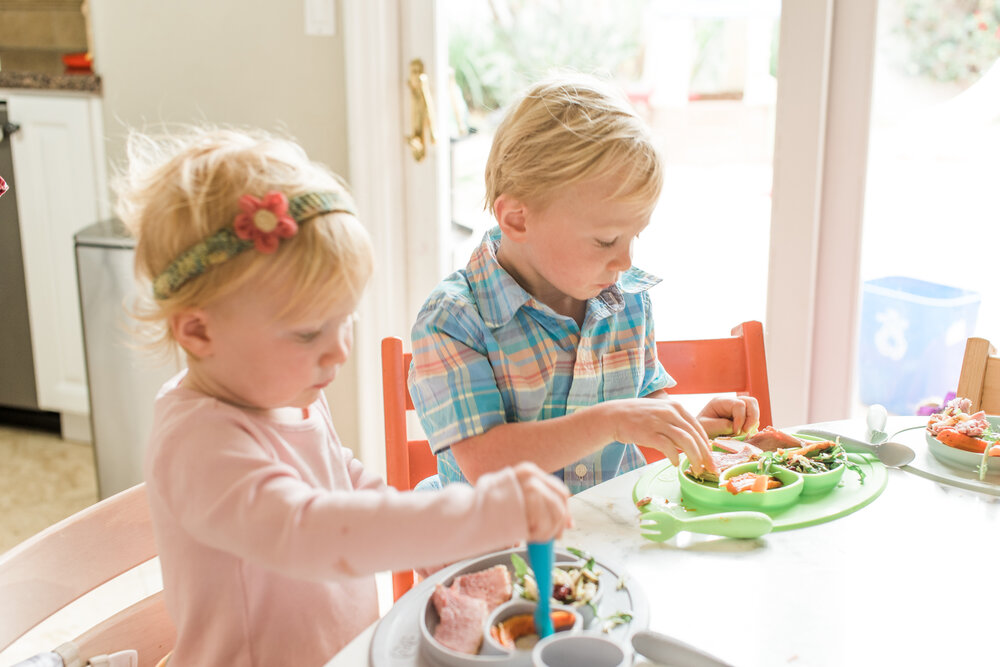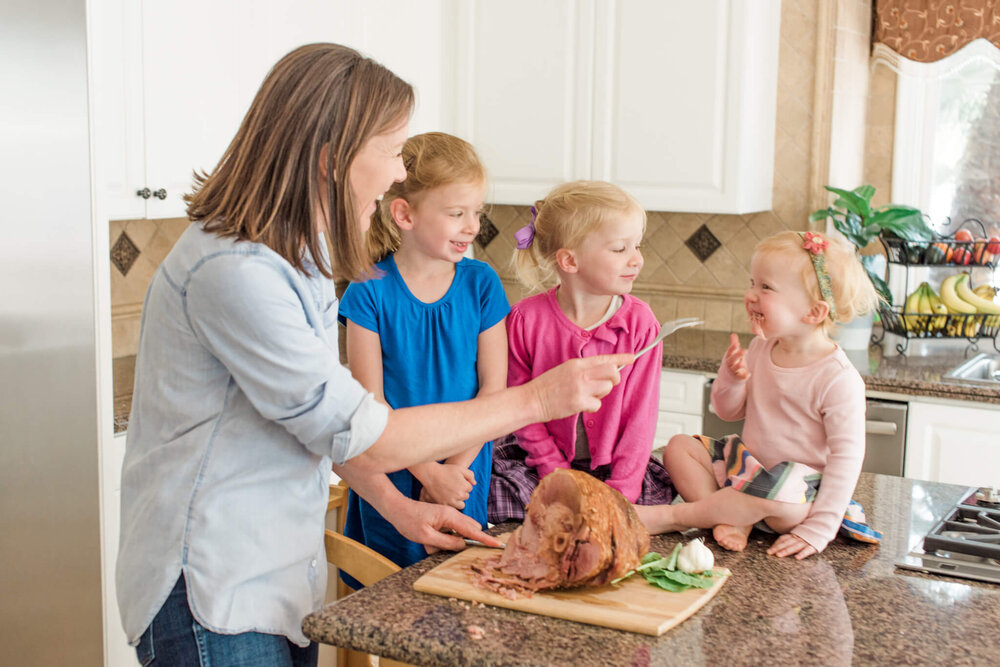 Sweet Southern Slow-Cooker Ham Recipe
Ingredients
1 bone-in fully cooked ham (about 5 ½ pounds)

1 cup apple cider

½ cup dark brown sugar

⅓ cup bourbon (Kentucky)

¼ cup honey

¼ cup dijon (style mustard)

4 sprigs fresh thyme
Directions
Place the ham in a large slow cooker. Whisk the cider with the brown sugar, bourbon, honey and mustard. Slowly pour over the ham. Scatter the thyme sprigs into the slow cooker.

Cook, on HIGH for 4 hours or on LOW for 8 hours, or until very tender. Remove ham to rest on a cutting board. Pass the remaining cooking liquid through a fine mesh sieve into a saucepan. Simmer for 10 minutes or until slightly reduced. Cut the ham into chunks or slices. Brush the cut pieces with the cooking liquid before arranging on a platter. Serve warm or room temperature.
If You're a Leftover Lover…
I love cooking with ham because even with a big family, there is usually some extra I can use for leftovers.
Ham is so easy to incorporate into a ton of different type of leftover meals.
I'll link to some of my favorites here, but you can bet after Easter we're trying ALL of these:


From our family to yours: sending you and your home-based crew lots of love this Easter season!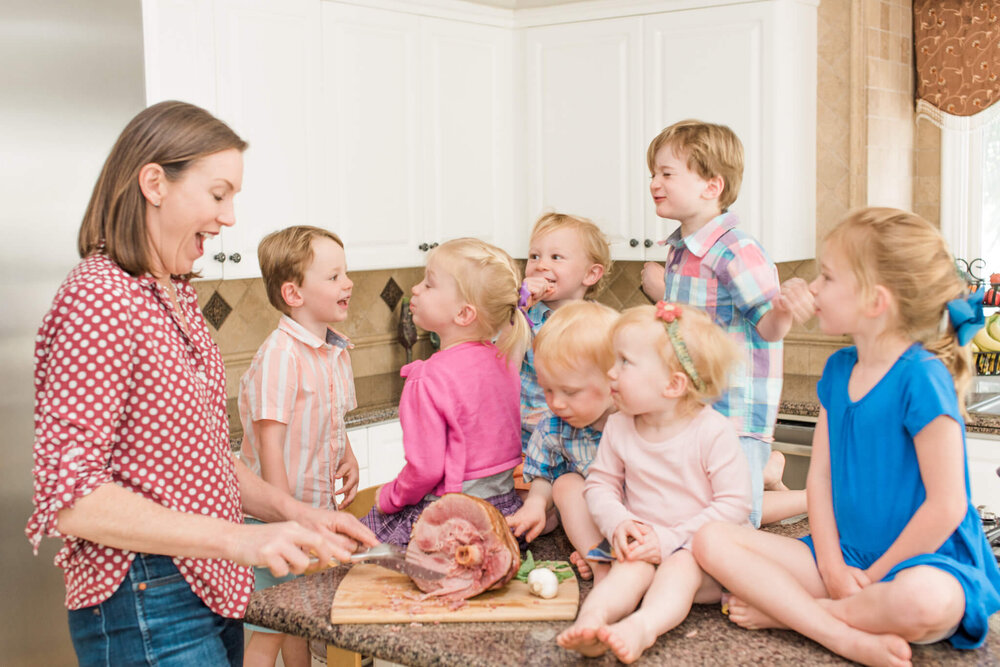 Thank you to The National Pork Board for sponsoring this post. For more information about pork nutrition, cooking tips and recipes, visit www.pork.org.
**Disclaimer – My post often contains affiliate links. All products are ones I recommend. If you choose to buy one of these items through the URL , I will get a small commission at no extra cost to you.