Japanese Chicken Cream Stew has a touch of Japanese flavour, which makes it different from the recipe White Stew (Cream Stew) that I posted 2 years ago. Todays Cream Stew tastes like the stew made from the store-bought House Cream Stew roux.
White Stew (Cream Stew) was based on the recipe in my very old cookbook. The creamy sauce was made from bchamel sauce.
The method of making a white creamy sauce for Japanese Chicken Cream Stew is different, but I also tried to make it taste like the stew made from a block of cream stew roux by House Foods (photo below).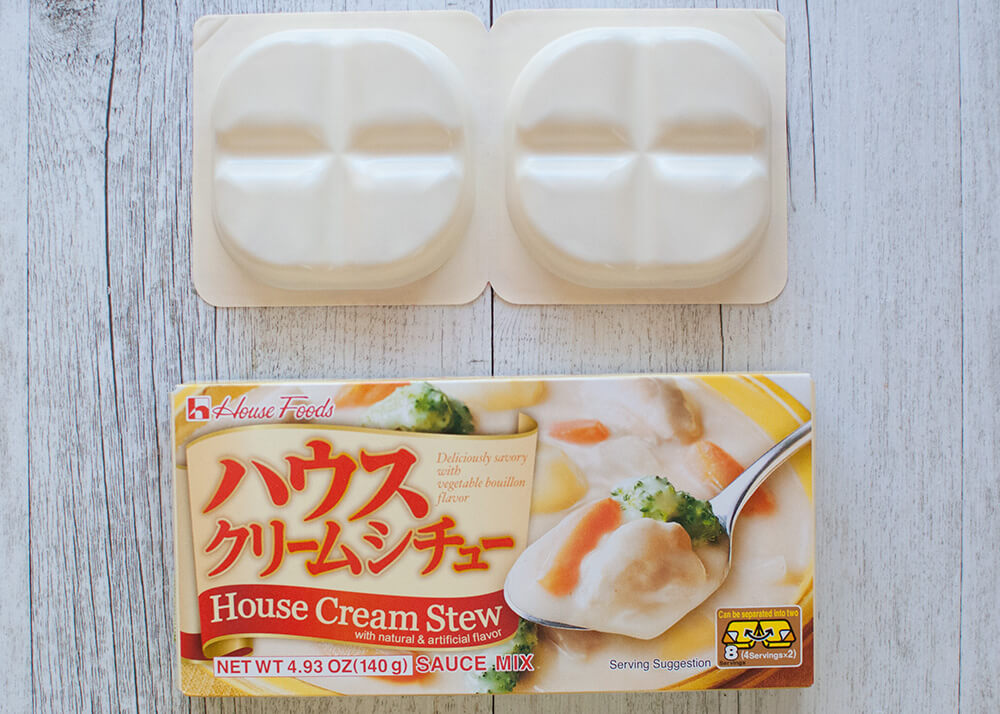 Easier and Faster Way of making white sauce
Instead of making bchamel sauce in the traditional way as per the recipeWhite Stew (Cream Stew), I sauted meat and vegetables in butter, then sprinkled flour to mix and cook. This is equivalent to cooking flour in melted butter to make bchamel sauce.
Add stock, cooked meat and vegetables into it and then add milk to make it white creamy stew.
The challenge of making bchamel sauce in the traditional way is that the sauce becomes lumpy when you add the milk to the flour youve cooked in the butter. You often need to use a whisk to mix the lumpy sauce to make it smooth.
But the method I used in todays recipe does not create lumpy sauce and it is much quicker to make a thick white sauce.
Copycat of House Cream Stew
I really wanted to mimic the cream stew made with House Foods roux because it had a flavour that is somewhat familiar to the Japanese palate.
In addition to the basic flavour of white stew made from bchamel sauce and chicken stock, it certainly has a lot of umami, which is what makes the stew made with House Cream Stew roux so yummy.I could also taste a hint of sweetness. It has a strong flavour of onion too.
The ingredients list on the package of House Cream Stew is not clear but it implies that a lot of umami was added to the roux from soy- based ingredients.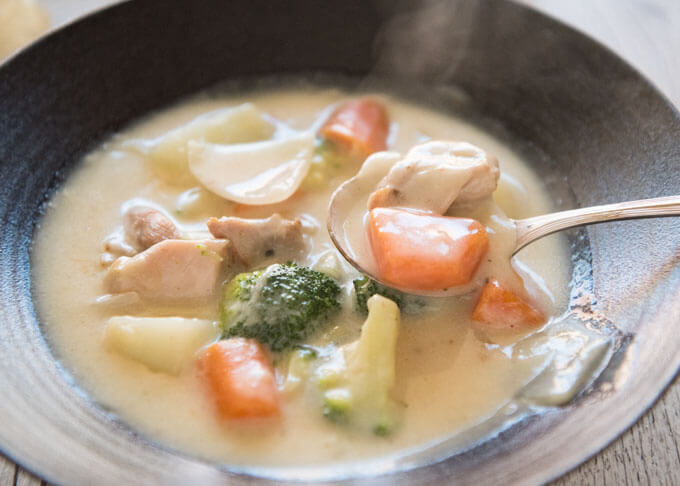 Whats in my Japanese Chicken Cream Stew?
The meat and vegetable ingredients are almost identical to those of White Stew (Cream Stew). The diced chicken, diced potatoes, chopped carrots and onions are the same as White Stew. Instead of peas, I added broccoli florets to give a bright green colour to the stew.
The major difference is the white sauce. See the comparison of stewing ingredients between my White Stew and Japanese Chicken Cream Stew.
White Stew (Cream Stew)
Japanese Chicken Cream Stew
chicken stock
chicken stock powder + water
butter
butter
flour
flour
milk
milk
salt
salt
bay leaves
dashi stock
nutmeg
shiro miso
onion powder
To maintain Japanese flavour with umami, I did not add bay leaves/nutmeg to the stew this time.
By adding dashi stock, the sauce becomes a bit Japanesey with a hint of umami. Shiro miso boosts umami to the sauce and also adds a touch of sweetness to it.
Tips to make a Great Chicken Cream Stew
There are a few tips that I can give you to make the stew look great:
Cut your potatoes and carrots into different sizes. Since the potatoes and carrots are sauted and cooked together, the potato pieces should be a bit larger than the carrots as potatoes cook faster.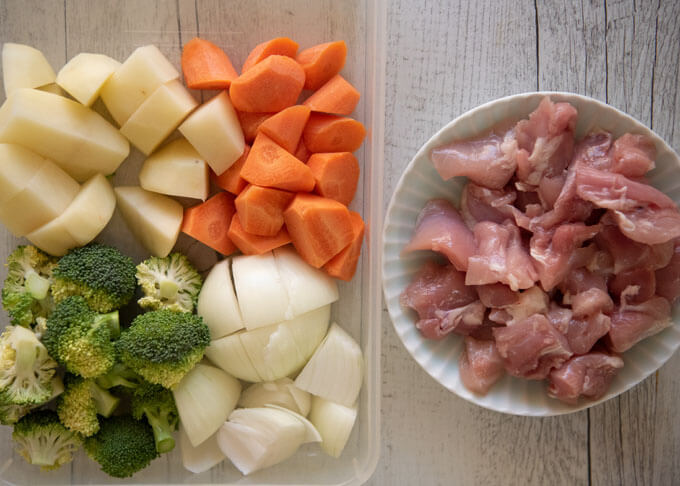 Ensure the flour is well mixed in butter with the chicken & vegetables. There should be no white powder left.
Add broccoli florets later, halfway into the cooking chicken and other vegetables. This will leave crunchiness in the broccoli and maintain its bright green colour. Alternatively, you can blanch broccoli florets separately and add them to the stew towards the end.
Add milk at the very end after the vegetables are cooked. When the milk gets simmered too much, it starts bubbling and the white sauce becomes grainy.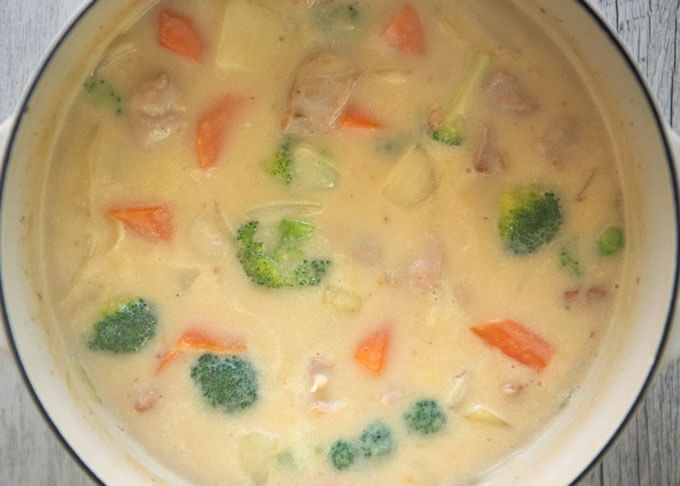 Japanese Chicken Cream Stew takes about the same time to cook as White Stew (Cream Stew) with bchamel. Its very similar but I just wanted to introduce to you the copycat of House cream stew.
The stew can be kept in the fridge for few days.
Which cream stew is your favourite?
Yumiko

Japanese Chicken Cream Stew
Japanese Chicken Cream Stew has a touch of Japanese flavour which makes it different from the recipe White Stew (Cream Stew) that I posted 2 years ago. It tastes like the stew made from the House Cream Stew roux.
Don't forget to see thesection 'MEAL IDEAS' below the recipe card! It gives you a list of dishes that I have already posted and this recipe that canmake up a complete meal. I hope it is of help to you.
300g/0.7lb chicken thigh (cut into large bite size pieces (note 1))
1 onion ((about 160g/5.6oz, note 2), cut into large pieces (note 3))
1 carrot ((about 120g/4.2oz, note 2), roll cut into small bite size pieces (note 3))
1 potato ((about 170g/6oz, note 2), cut into large bite size pieces)
100g/3.5oz broccoli florets ((note 4))
2 tbsp butter
2 tbsp flour
Pepper
200ml/0.4pt water ((note 5))
1 tsp chicken stock powder ((note 5))
200ml/0.4pt dashi stock ((note 6))
1 tsp shiro miso ((note 7))
tsp onion powder
300ml/0.6pt milk ((low fat or full cream))
tsp salt ((note 6))
Add butter to a heavy bottomed pot and heat over high heat. As soon as the butter melts, add chicken and a pinch of pepper.
Saut until the surface of the chicken pieces starts browning (few minutes).
Add onion, carrot and potato pieces to the pot. Mix well ensuring that all vegetables are coated in oil.
Add flour and mix well until flour is well mixed in butter with other ingredients and you dont see white powder any more.
Add the water, stock powder, dashi stock, miso and onion powder to the pot, mix and place a lid on.

When it starts boiling, reduce the heat to medium low and cook with a lid on for 5 minutes or so until the carrots and potatoes are half cooked through. Mix occasionally ensuring that the vegetables and sauce are not stuck on the bottom (because the sauce thickens).

Add broccoli to the pot and cook further few minutes without a lid (note 8).

When the vegetables are almost cooked through, add milk and salt, mix and bring it to a boil. As soon as it starts boiling, reduce the heat to low and cook for 30 seconds or so, mixing to ensure that the thick sauce does not stick to the bottom.

Turn the heat off and serve while hot.
1. Can be chicken breast.
2. Total weight of these three vegetables was 450g.
3. Onion: I halve the whole onion vertically first. Place the half onion on the cutting board, flat side down. Cut it horizontally in the middle, then cut vertically into 4, making 8 cuts in total.
Carrot: Roll cut is called rangiri () in Japanese. Please see my recipe,Sweet and Sour Pork Meatballsregarding how to cut rangiri.
4. If florets are large, cut them into bite size pieces.
5. Substitute with 200ml low-sodium chicken stock.
6. You can use dashi powder/bag to make dashi stock. But if your dashi stock contains salt (dashi powder/bags often do), reduce the amount of salt you use. You may not hardly need any. Taste first and adjust the quantity of salt.
7. Shiro miso gives umami and a touch of sweetness without darkening the colour of the stew. If you only have dark miso, you can omit it.
8. Instead of cooking broccoli florets with other ingredients, you can blanch them and add them at the very end after adding milk.
9. Nutrition per serving assuming low-fat milk is used (as I did use low-fat).
serving: 408g calories: 345kcal fat: 20g (31%) saturated fat: 802g (41%) trans fat: 0.3g polyunsaturated fat: 2.9g monounsaturated fat: 6.9g cholesterol: 95mg (32%) sodium: 517mg (22%) potassium: 767mg (22%) carbohydrates: 24g (8%) dietary fibre: 3.5g (14%) sugar: 8.1g protein: 19g vitamin a: 112% vitamin c: 59% calcium: 11% iron: 8.3%
Meal Ideas
A typical Japanese meal consists of a main dish, a couple of side dishes,a soup and rice. I try to come up with a combination of dishes with a variety of flavours, colours, textures andmake-ahead dishes.
Because todays Main isyshoku (Western-style dish), I picked side dishes that go well with yshoku. The choice of side dishes becomes more relevant if you are serving with bread. Surprisingly though, Japanese do eat white stew with rice.
To supplement a bit more protein, I picked Asparagus Rolls with Pork. The soy flavour complements the white stew. The number of rolls can be adjusted to your appetite.
To match with rich creamy stew, I think that adding a simple vegetable dish is a must.There is no soup today because the stew is a kind of soup, too.
The post Japanese Chicken Cream Stew appeared first on RecipeTin Japan.