We're celebrating the season of summer salads in our June 2021 Indy Style appearance!
Summer is a great time for these fresh, veggie-filled salads. With the heat and the gatherings we love to host during this season, we find that summer salads make a refreshing dish that guests love to dish onto their plates.
We've brought along Monterey Mushrooms and NatureSweet Tomatoes, two of our partners growing some of our favorite ingredients for fresh, delicious summer salads. No matter what flavors you're craving, we'll make a recipe you'll love in our June 2021 Indy Style segment!
Portabella Steak
Mushrooms are the most amazing substitute for meat. More and more people are embracing meatless foods and cutting meat out of their diets. And when they find flavorful mushroom recipes like this Portabella Steak, they won't look back!
To easily grill these large mushroom caps, first remove the stem. This should let the cap sit evenly on the grill so it cooks thoroughly.
Some chefs remove the gills before grilling, but you don't have to! In fact, we prefer to leave them in. They help the mushroom absorb more marinade and help you cook a more flavorful fungi. You can use any marinade you want, just like you would with a typical steak. For this recipe, we used a simple combination of soy sauce, Worcestershire sauce, and italian seasoning.
Grilling these Portabella Steaks only takes about 10 minutes, making them a great last-minute side or entree. You'll know they're done when you see black, crispy edges. The middle should still be soft and tender.
There are all kinds of great ways to serve these Portabella Steaks, no matter the occasion. Serve them along with some other fresh produce sides and eat them with a fork and knife just like you would a steak. For a more hands-on approach, replace your hamburger patties with these savory shrooms! Serve them in hamburger buns with all the fixings for a meat-free take on a classic grill recipe.
Portabella Steak
Ingredients
4 Monterey® Grill-A-Bella® Caps, whole or 1" slices
2 tablespoons extra virgin olive oil
2 tablespoons balsamic vinegar
2 tablespoons soy sauce
1 tablespoon Worcestershire sauce
1 tablespoon Italian seasoning
Directions
Preheat grill (or oven) to 375º F.
Mix together all ingredients and marinate for 20 minutes.
Grill (or bake) for 15 minutes or until cap is tender.
Old World Pasta Salad
This Old World Pasta Salad is one of the biggest summer salads we know of! This incredibly aromatic salad makes the perfect side for our Portabella Steaks. We used Orzo pasta in this salad because it mixes well with other ingredients and catches lots of tasty juices.
But the pasta isn't really the star of this show, is it? Radicchio is front and center in this salad with an invigorating crunch, flavorful spice, and fun purple hue. This chicory vegetable comes in leafy heads like a cabbage, making it easy to chop and mix into the salad. Radicchio pairs nicely with arugula, another leafy ingredient in this Old World Pasta Salad. It also makes a great topping for burgers!
Another ingredient that works in both burgers and pasta salad is the cucumber. But the juices of cucumbers can soak a salad like this. Here's our solution: slice the cucumber in half lengthwise, then use a spoon to remove the seeds. When you chop up the cucumbers and add them to the salad, you'll get all the fresh, crunchy flavor without making your salad soggy.
Oven-roasted asparagus, juicy green olives, red onion, sundried tomatoes, and NatureSweet Cherubs® add even more flavor and texture variety to this Italian salad. To top off this Old World Pasta Salad, we used pine nuts, basil, and parmesan – because would it really be an Italian pasta without them?
Mushrooms add the finishing touch to this salad in a unique way: we baked sliced white mushrooms from Monterey Mushrooms to a crispy texture that resembles a bacon bit. They make a savory topping your friends and family will love!
Old World Pasta Salad
Ingredients
3 packages (8 oz each) sliced mushrooms
10 oz Cherubs, halved
4 cloves garlic – sliced
1 head radicchio, shredded
6 oz arugula
Oven-roasted asparagus
1 cup green olives
2 teaspoons dried oregano
1 pound orzo pasta
1 cup pine nuts
½ cup fresh basil – roughly chopped
3 oz Parmesan cheese, shaved
½  cup olive oil + 2 tsp for roasting veggies
¼ cup balsamic wine vinegar
1 teaspoon salt
½ teaspoon pepper
Sliced white mushrooms, baked
Directions
Begin by preheating an oven to 450 degrees.  Line a baking sheet with foil.
Place the mushrooms, tomatoes, garlic and oregano on the prepared pan.  Drizzle with olive oil and mix to coat. Roast for 25-30 min.  Allow to cool.
Meanwhile, cook the pasta according to the package directions; drain and cool.
Add the pasta and roasted items to a large bowl.  Top with other ingredients.
In a small bowl, whisk together olive oil, vinegar, salt and pepper.  Add the dressing to the pasta and toss to combine.
Mushroom Caprese Kebabs
Our uses for tender white mushrooms in our June 2021 Indy Style appearance don't stop there! We used fresh white mushrooms in our own take on caprese. These Mushroom Caprese Kebabs are fun to eat and packed with nutrition! White mushrooms are an excellent source of Vitamin D, which helps boost your immune system.
These kebabs can be eaten plain to get the full flavor of fresh produce. But you can also add them to the grill alongside your Portabella Steaks. Simply place the kebabs on the grill for a few minutes each to give them that savory grilled taste and texture.
Mushroom Caprese Kebabs are the perfect entertaining food! With more parties and get-togethers on the horizon, finger foods like these convenient kebabs will be a guest favorite. White mushrooms keep well at room temperature, so these kebabs can sit out on a party tray for a while while your guests graze.
Mushroom Caprese Kebabs
Ingredients
Sliced White mushrooms
Cherry tomato
Basil leaf
Mozz ball
Olive Oil
Balsamic Glaze
Directions
Show building the kebab: Slice white, cherry tomato, basil leaf, mozz ball, sliced white, cherry tomato, basil leaf, mozz ball, sliced white
Spray with olive oil. Grill.
Drizzle balsamic glaze.
Steak Salad on a Stick
We brought our favorite NatureSweet tomatoes on our June 2021 Indy Style segment for two unique recipes. The first is our Steak and Salad on a Stick, an easy-to-make dish that's ideal for parties and gatherings. Just like our Mushroom Caprese Kebabs, this salad kebab is simple to eat: just grab a stick and slide the bite-sized ingredients off.
Steak and Salad on a Stick is made with a juicy New York Strip chopped into cubes. It also features NatureSweet Glorys®, some of the best tiny tomatoes around. We're fans of the juicy addition of these bite-size tomatoes, but we also love how easy they are to prepare. NatureSweet Glorys are packaged in a unique carton that doubles as a colander. To wash them, just remove the sticker and rinse them in the carton in your sink.
We also skewered chunks of iceberg lettuce, chopped red onion, and of course, cubes of grilled steak onto each of our kabobs. Serve these salad kebabs with an Avocado Ranch dip rather than a dressing for a one-of-a-kind salad experience! You can drizzle it over the kebabs, too, and add some Gorgonzola to finish off this fresh and savory flavor.
Cherubs® & Charred Corn Spinach Salad
To end our June 2021 Indy Style segment, we have one more salad for you: the Midwest Cherubs® & Charred Corn Spinach Salad! With tender spinach as a base, the flavors of watermelon, charred corn, and juicy Cherubs® salad tomatoes come together for a salad that will be the star of any get-together.
This isn't your run-of-the-mill Caesar salad! To make this Charred Corn Spinach Salad, you'll need to prep some charred corn. It's easy enough to make: we simply sautéd frozen corn in a skillet. It only needs to cook for three to five minutes before it begins to brow. When it does, remove it from the skillet. You can optionally add sea salt and black pepper for a bit of extra flavor.
Making summer salads for a large group? We have a few tips! To make a large salad, start with the dressing on the bottom of the bowl and then add your greens on top. Then mix the greens to coat them evenly with dressing. Add your other ingredients next – because they have their own standalone flavor, they don't need to be coated as heavily with dressing.
And if you're making summer salads using bagged spinach or other greens, don't wash it! If they're in a bag, they've already been washed. This takes some of the hassle out of your salad so you can focus on enjoying it!
Cherubs® & Charred Corn Spinach Salad
Ingredients
Baby Spinach, 6oz
Corn, charred – 1.5 cups of corn kernels (we use frozen & then char but only need to show the charred corn, not the prep)
Watermelon, cubed – 1 cup
Cherubs/Glorys (whatever one u don't use in the kabob video is what we want you to use on this salad)
Avocado, 2 small or medium sized avocados diced into cubes
Sunflower seeds, roasted or raw is fine (kernals only NOT in the shell), ½ cup
Balsamic Vinaigrette, 6 oz
Directions
In a large salad bowl, put Balsamic Vinaigrette on bottom
Toss in ingredients:

Baby Spinach
Charred corn
Small watermelon cubes (½" size)
Avocado cubes
Cherubs (or Glorys – see note above)

Sprinkle with Sunflower Seeds
How will you celebrate summer salads this year? What are your favorites ways to use mushrooms and tomatoes in your meals, salads or otherwise? Let us know in the comments!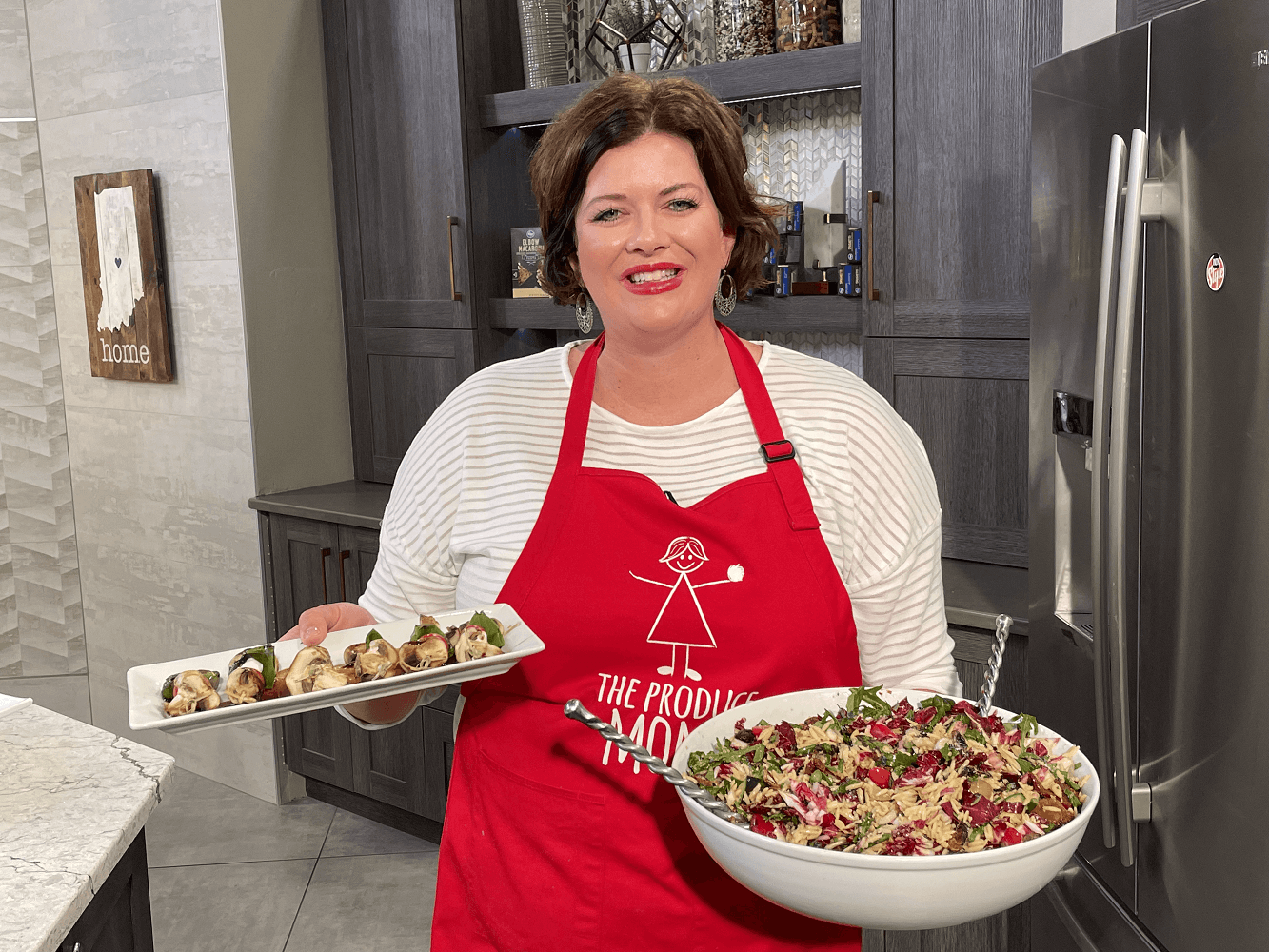 The post June 2021 Indy Style: Celebrating Summer Salads appeared first on The Produce Moms.
This post often contains affiliate links. All products are ones I use. If you choose to buy one of these products through the link provided, I will get a small commission at no extra cost to you. All proceeds help support the blog.