A spicy Bloody Mary is the queen of all brunch cocktails and this loaded bloody mary recipe is garnished in true southern style with a sweet bbq rib on top!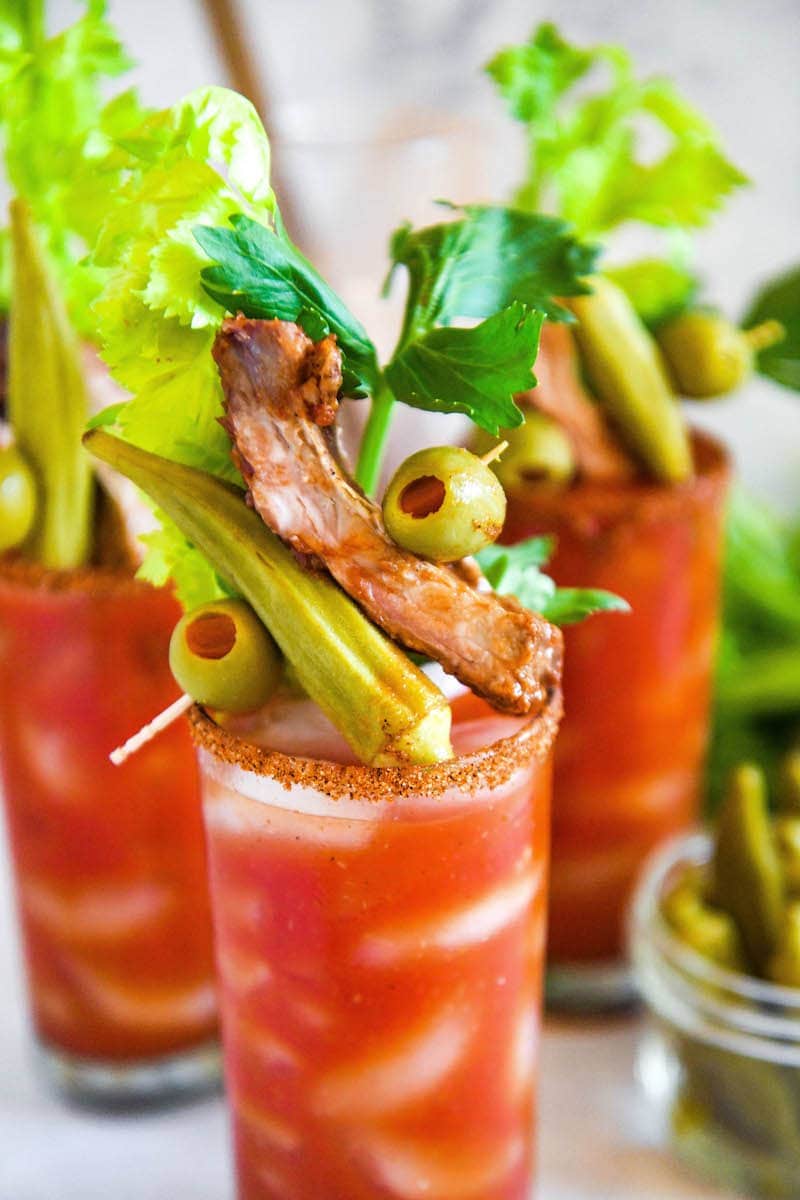 The classic Bloody Mary is a vodka-soaked breakfast or brunch cocktail and hangover cure all in one glass!
A Bloody Mary recipe always starts with a combination of tomato juice and vodka, but from there the options are endless.
I love this homemade version with a good hint of heat from hot sauce, horseradish and cajun seasoning and a sweet bbq rib on top to finish it off!
Get ready to dive in to a pitcher of these epic Bloody Marys, I promise you wont be able to just have one!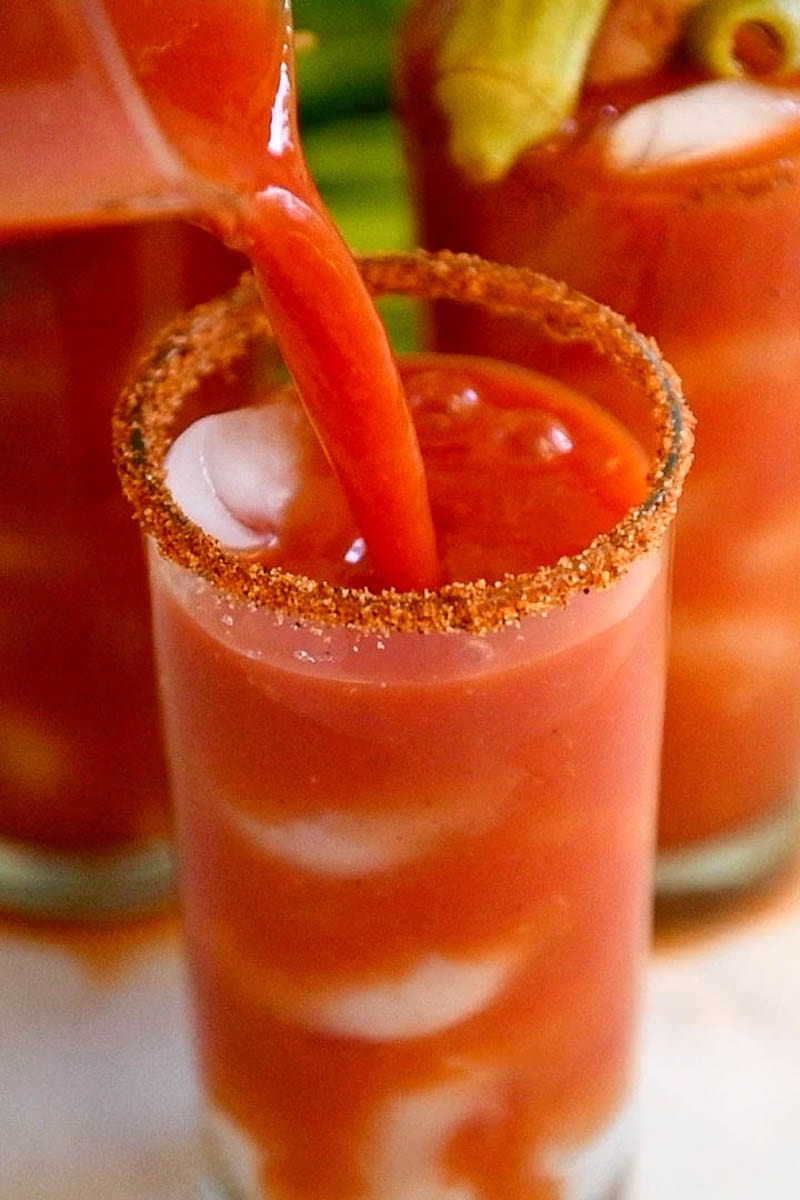 Loaded Bloody Mary Recipe
This Bloody Mary Recipe is loaded in more ways than one!
First, its loaded with vodka. Secondly, its loaded with flavor and spice. And finally, its fully loaded with a delicious garnish of celery, olives, pickled okra and Curlys Pork Ribs!
If you are having a party and serving a lot of people, you can even set up a Bloody Mary Bar.
With a Bloody Mary Bar, everyone can make their own epic garnish to create their personal ultimate Bloody Mary.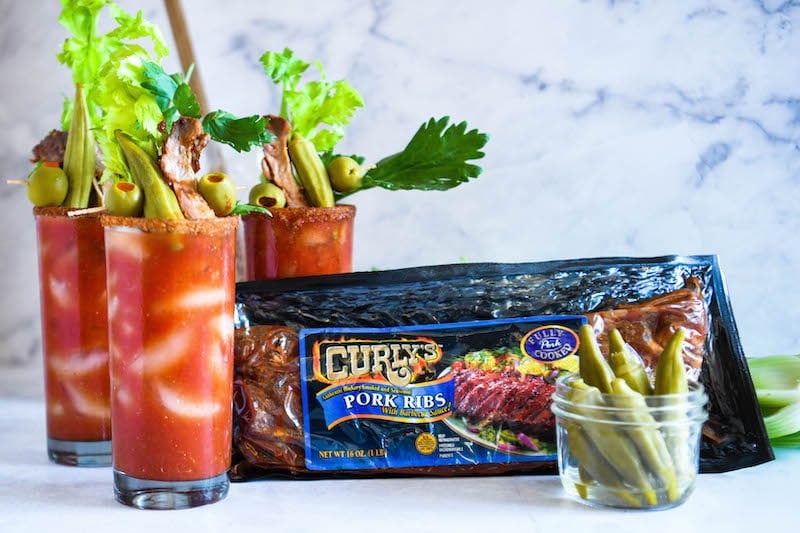 Bloody Mary Bar
To set up a Bloody Mary Bar, prepare the homemade Bloody Mary mix ahead and refrigerate until needed.
Set out glasses, ice, vodka and the Bloody Mary mix for people to be able to serve themselves.
Then have an arrangement of Bloody Mary toppings. Below are some of my personal favorites:
Celery
Olives
Pickles
Pickled Okra
Pickled Asparagus
Cocktail Onions
Lemon
Pickled carrots/cauliflower
Pickled Jalapeos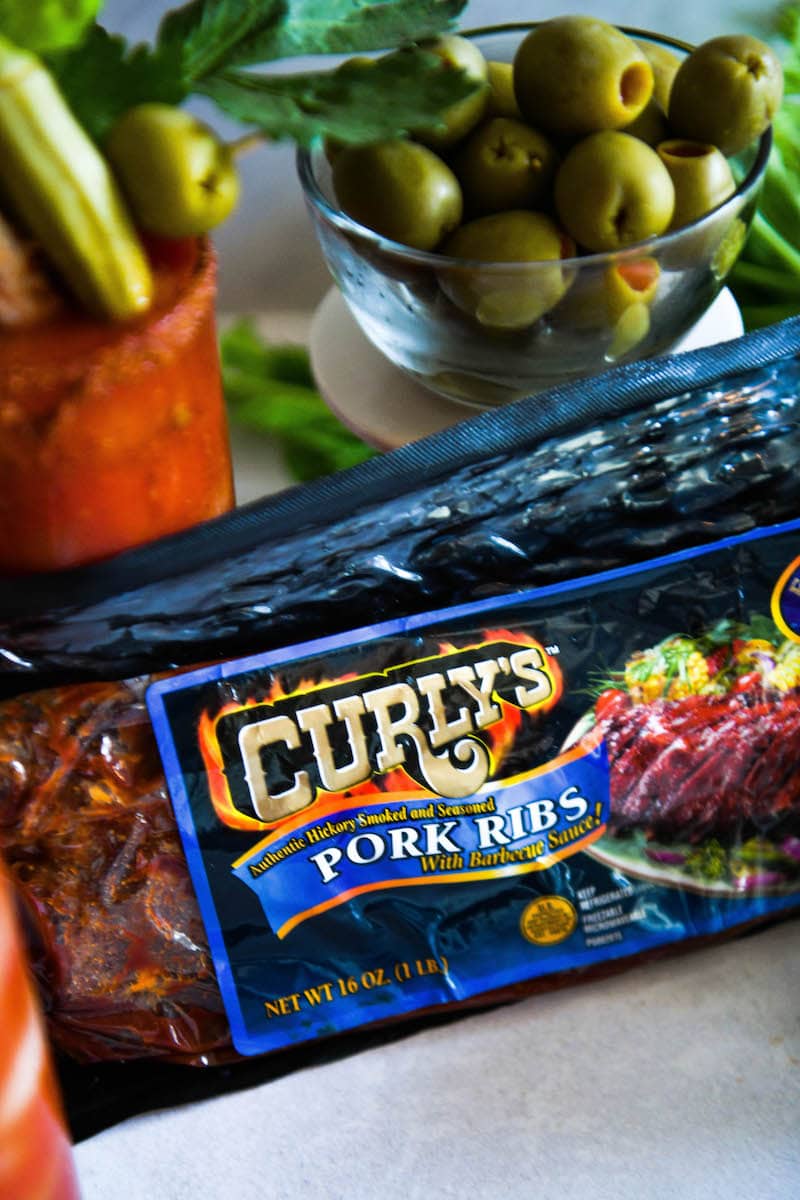 Bloody Mary Ingredients
I recommend starting with a plain tomato juice and seasoning it yourself to your personal tastes. Spicy or not, its up to you!
I season my homemade Bloody Mary mix with a combination of lemon juice, worcestershire sauce, horseradish, hot sauce, garlic, cajun seasoning, black pepper and salt.
Then to compliment my spicy Bloody Mary recipe, I like to garnish it with something pickled (olives, pickled okra, etc.), a celery stalk and a sweet Curlys Pork Rib.
Curlys Pork Ribs are beyond perfect for a recipe like this because they are expertly smoked for hours and ready to go in the refrigerated prepared meat section of the grocery store!
You just have to heat them up in the microwave, grill or oven and they are ready to go to serve on top of your cocktail.
No one wants to have to smoke ribs all day just to use as a garnish for a Bloody Mary who has the the patience for that?!
Just grab a package of delicious Curlys Pork Ribs and you are good to go for this epic Loaded Bloody Mary!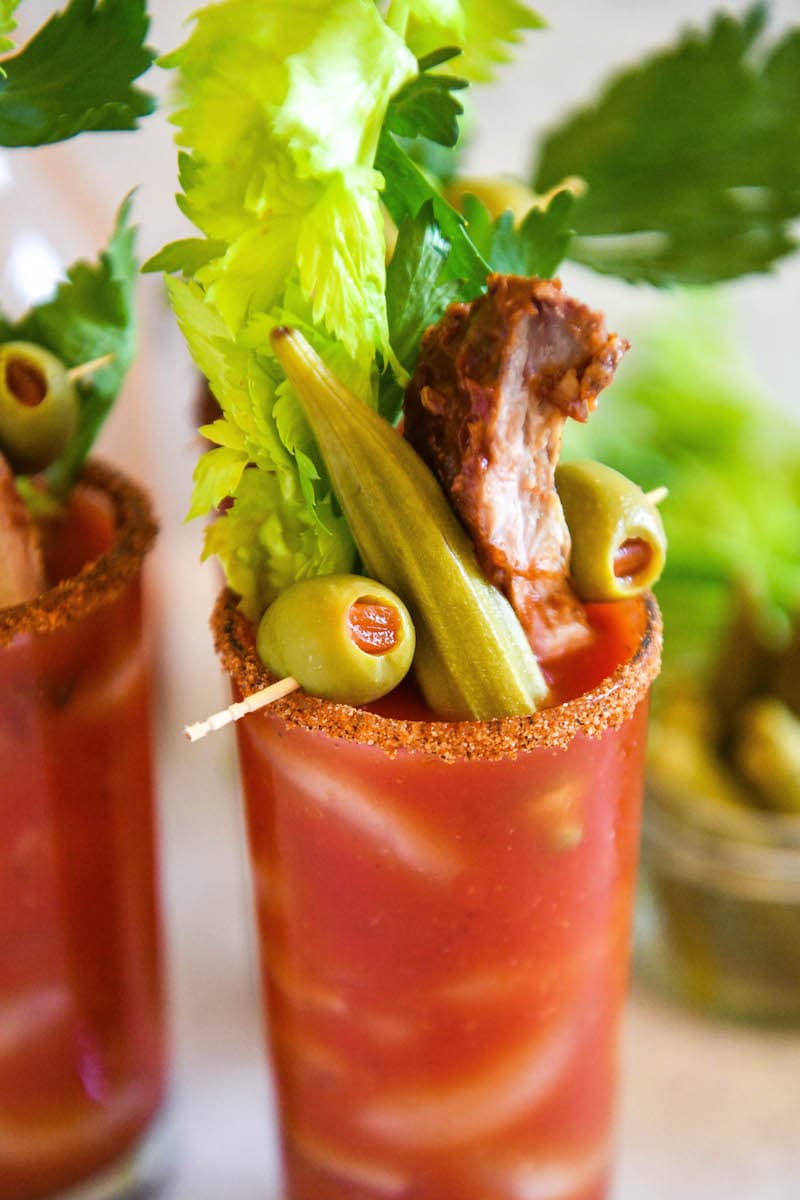 How To Make A Bloody Mary
You may worry that you don have time to make a homemade Bloody Mary, but if you plan ahead, this recipe is EASY to make!
All you need is a whisk and a large pitcher to quickly whip up this homemade Bloody Mary mix.
Then you can store the Bloody Mary mix in the refrigerator in an airtight container for a few days or even freeze it for a few months!
Then whenever you are ready, combine the homemade Bloody Mary mix with some ice and vodka and add a few garnishes and thats it for this easy Bloody Mary recipe!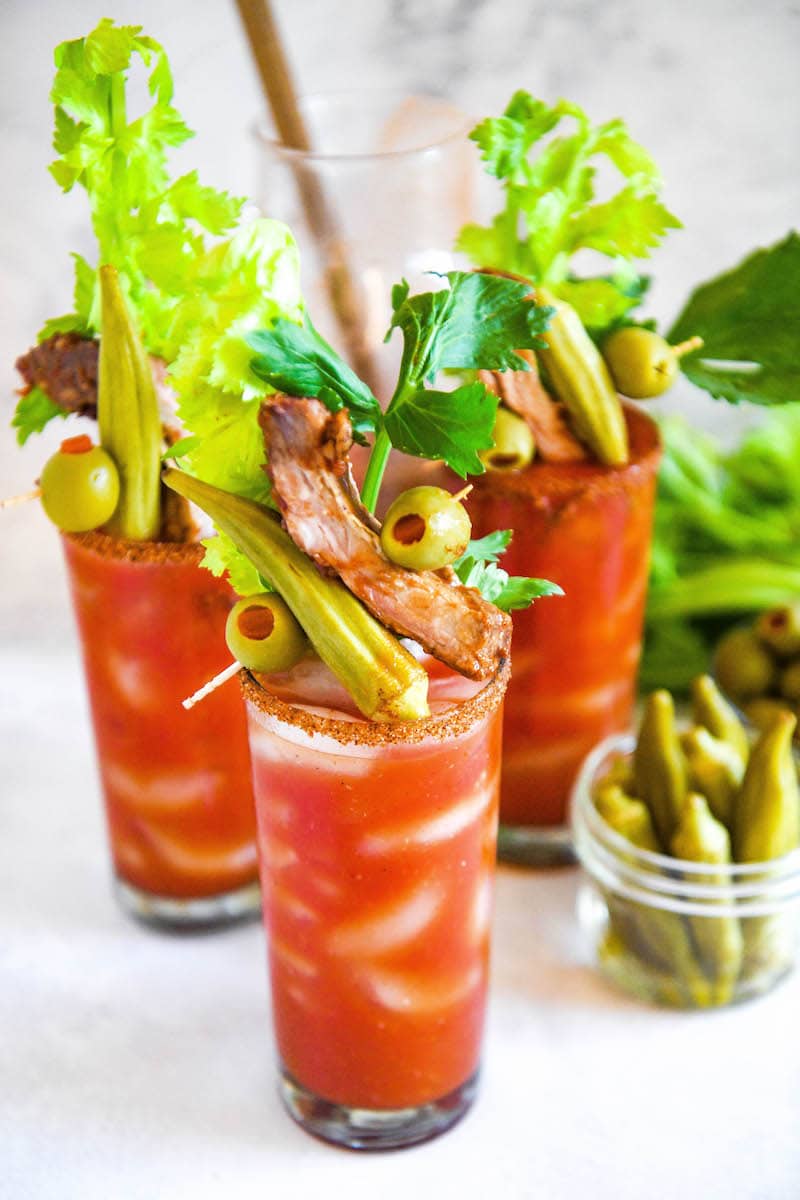 You are going to love how easy this homemade Bloody Mary recipe is to make and no one will be able to resist one with this epic garnish featuring a Curlys BBQ Rib served right on top.
Its your cocktail and a snack served all together in one glass what more could you ask for??
Please leave a comment/review below letting me know how much you enjoy this recipe and check out my other famous brunch cocktail the Peach Bellini!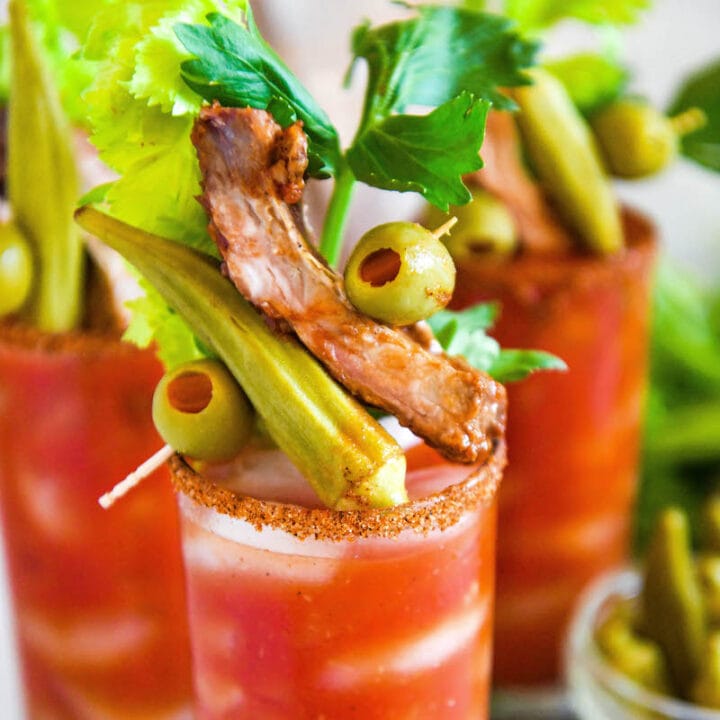 Bloody Mary Recipe
A spicy Bloody Mary is the queen of all brunch cocktails and this loaded bloody mary recipe is garnished in true southern style with a sweet bbq rib on top!
Ingredients
6 cups tomato juice
2 tablespoons creamy horseradish
2 tablespoons fresh lemon juice
1 tablespoon Worcestershire sauce
1 tablespoon hot sauce
1 garlic clove, minced extra fine (optional)
1 teaspoon cajun seasoning
1/2 teaspoon black pepper
1/4 teaspoon salt
12 oz vodka
Garnish:
Curlys Pork Ribs
Olives
Pickled Okra
Celery
Cajun Seasoning, for rim of glass
Instructions
In a large pitcher, whisk together tomato juice, horseradish, lemon juice, worcestershire sauce, hot sauce, garlic, cajun seasoning, salt and pepper.
Refrigerate until chilled, about 1 hour. (Store for up to 5 days in an airtight container in the refrigerator.)
To serve: Place cajun seasoning on a small plate. Dip the rim of glass in a shallow amount of water (or run a lemon slice around the rim) and then quickly dip into the seasoning.
Fill glass with ice and add 2 oz of vodka and then fill with the Bloody Mary mix. Garnish with a Curly's Pork Rib, olives, pickled okra and celery!
Nutrition Information:
Yield:

6 servings
Serving Size:

1
Amount Per Serving:
Calories:

214
Total Fat:

3g
Saturated Fat:

1g
Trans Fat:

0g
Unsaturated Fat:

1g
Cholesterol:

6mg
Sodium:

579mg
Carbohydrates:

18g
Net Carbohydrates:

0g
Fiber:

4g
Sugar:

8g
Sugar Alcohols:

0g
Protein:

5g
This post is sponsored by Curlys. All opinions are, as always, 100% my own. Thank you for supporting the brands that I love!
The post Loaded Bloody Mary appeared first on The Novice Chef.
**Disclaimer My post contains affiliate links. All products are ones I recommend. If you choose to purchase one of these items through the link , I will get a small commission at no extra cost to you. All proceeds help support the blog.