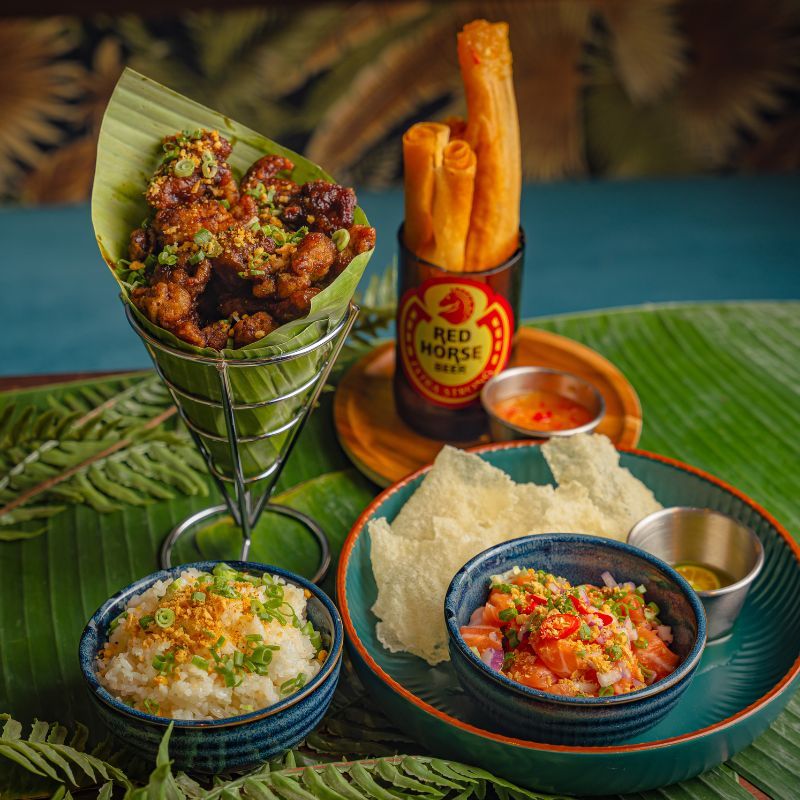 Filipino cuisine is slowly making a name for itself in Hong Kong with a slew of new restaurant openings over the past few years. Barkada is the newest kid on the block: its name means "close group of friends" in Tagalog and is helmed by Instagram foodie influencer and author, Jen Balisi of Indulgent Eats with backing by Singular Concepts. Serving up modern Filipino food, Barkada looks to introduce Hongkongers to the bold flavours of the cuisine while providing a place to gather and bond with your barkada.
A Review of Barkada
There have always been Filipino restaurants in the city. Simply make a trip to World Wide House if you want to get a taste of Filipino cuisine, or head over to the long-standing Foodtrip Bedanas in Jordan. But compared to the cuisine of its Southeast Asian neighbours, Filipino food never quite got the reputation and love it deserves. It's always been seen as home-cooked food and marred by images of street-side eateries. 
It's surprising that, given the large population of Filipinos in the city, Hongkongers may not even know they've already tried Filipino food at some point. But over the years, there have been many restaurants popping up, especially during the pandemic, when numerous small businesses opened up.
In a slight departure from their predecessors in the city, Barkada offers up modern iterations of Filipino food. Some may raise eyebrows about these reinterpretations but for those new to Filipino food, the dishes serve as a gateway to the cuisine. It's interesting, it's fun, and it's innovative. It highlights what Filipino food can be, without losing the flavours and ingredients that make it great in the first place.
Barkada's menu looks both familiar and foreign with names like Adobo Popcorn Chicken ringing a bell but also leaves you wondering what it is. Thankfully, there's a Pagtikim Package (pagtikim means to taste) that solves it. With that, you get a taste of the signature dishes for just HKD 298 for meat and seafood or HKD 278 for vegetarian and vegan options. You also get smaller portions instead of the regular-sized ones when you order a la carte.
It's interesting to start the meal with snacks because I've never really eaten Filipino food with an appetiser. It's always been a main dish (or dishes) with rice while snacks itself is a different meal. We started off with Adobo Popcorn Chicken ($108), a crispy and bite-sized chicken with soy and vinegar, glazed with garlicky adobo. The melt-in-your-mouth chicken is best eaten hot. The taste of adobo is mild, and those not familiar with it may not notice its presence at first, but it's a nice addition. The acidity of the vinegar and the saltiness of the soy sauce gives a salty-and-sour introduction to the beloved Filipino dish.
Next up is the Lumpiang Shanghai ($68), which is spring rolls with ground chicken, carrot, onion, and Jen's own pineapple chilli sauce. This snack is a staple at Filipino parties; I love how crunchy and chunky the chicken feels in your mouth, instead of the usual minced pork. I'm not a fan of raw food and while Filipino cuisine doesn't have much of it, kinilaw (raw seafood) is an exception. This time, the Salmon Kinilaw ($128) is served using salmon with calamansi (Philippine lime), cane vinegar, coconut milk, onion, chillis, and fried garlic complete with crispy rice crackers. I must admit, I've never eaten kinilaw like this before. Now, I've found a new way to enjoy it.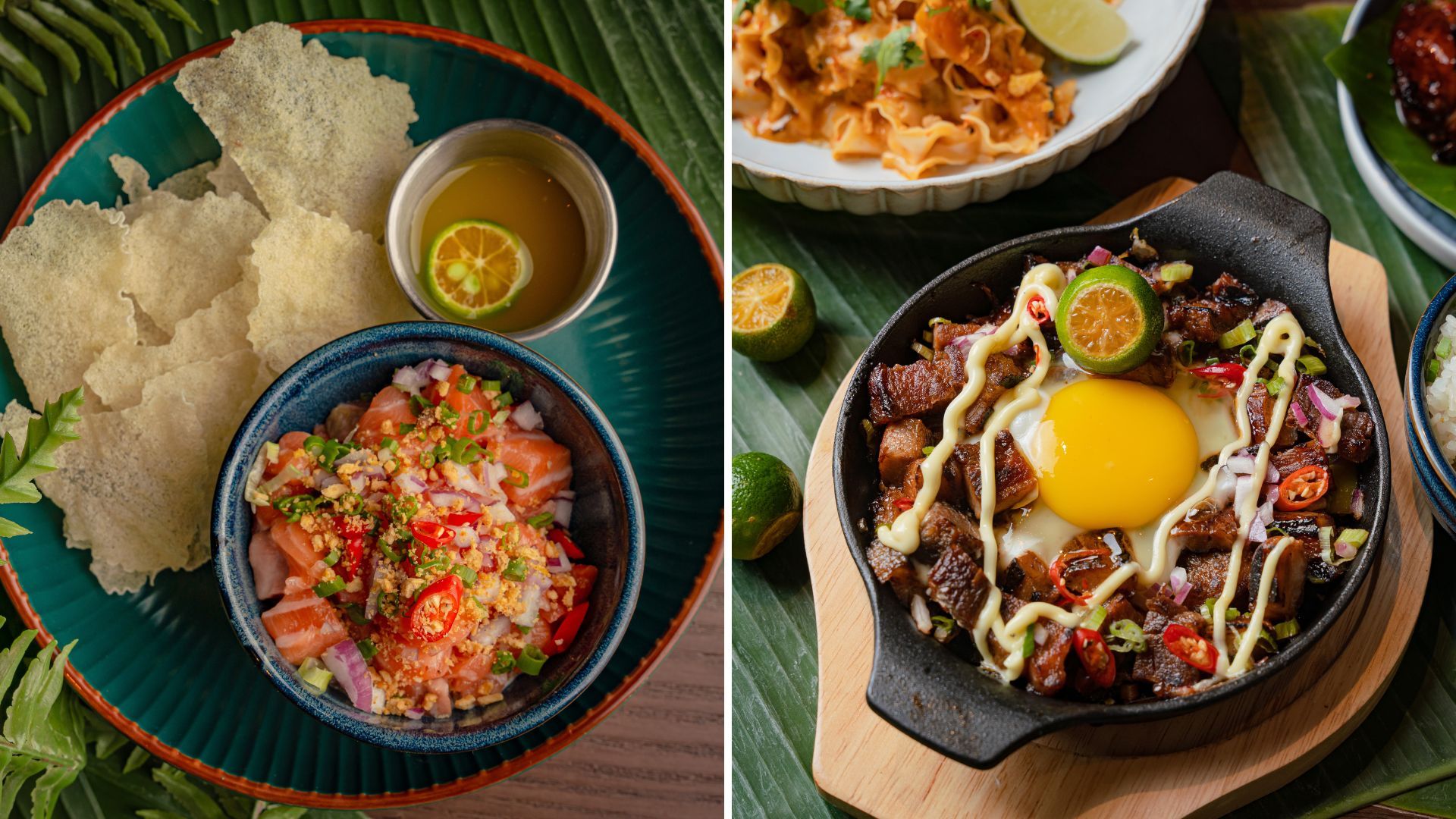 Over at the mains, we had Sizzling Sisig ($138) which is one of my favourite Filipino dishes. This time, it's pork belly instead of chopped pork jowl and ears, giving it a less crunchy texture. Still, the added vinegar and soy sauce makes it taste richer and less dry. Sisig normally isn't spicy, but the added kick doesn't taste so bad.
Then, we had the Spicy Funky Coconut Noodles ($158) which is probably my favourite among all the dishes. Using squiggly wheat noodles is a great choice because it's chewier than the regular pancit (noodles) commonly found in Filipino dishes. The dish itself is a combination of bagoong shrimp (shrimp paste) and ginataan (dishes cooked with coconut milk) so you can expect an explosion of spicy flavours. I have a low spice tolerance but I found myself savouring this until the last bite.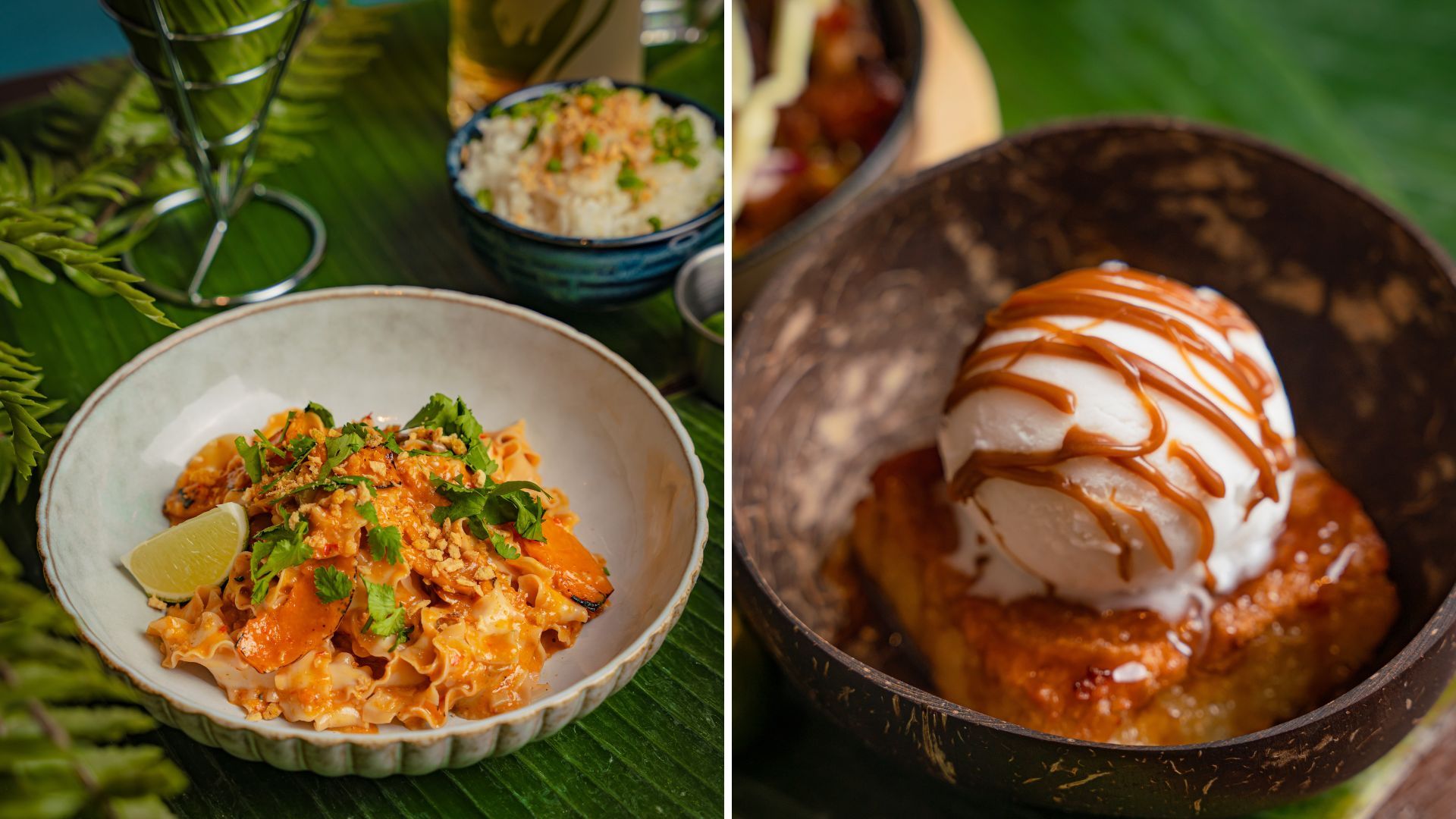 The dessert is My Mom's Cassava Cake ($108), a mochi-like cake with grated cassava and caramelised coconut syrup, complete with coconut ice cream. Cassace cake is something my family and I would always bring back from the Philippines so having this in Hong Kong is a treat in itself. Barakada's cassava cake is a lot less sweet but also very fluffy and soft. The vegan ice cream is an added plus given my lactose intolerance. In fact, if you have dietary restrictions, Barkada offers vegan and vegetarian alternatives.
Cuisine
Filipino (modern/fusion)
We Recommend
Appetiser
Lumpiang Shanghai ($68)
Adobo Popcorn Chicken ($108)
Main Course
Sizzling Sisig ($138)
Spicy Funky Coconut Noodles ($158)
Dessert
My Mom's Cassava Cake ($108)
Drinks
Tito Mojito ($110)
The Vibe
Barkada is just below Hollywood Road and has a mix of indoor and semi-outdoor sitting. Compared to most Filipino restaurants in Hong Kong, Barakda is spacious and seating isn't too cramped. If you sit closer to the huge window in the front, you get a better view of the outside, though there's not much to see. It does make the space feel larger. Over at the inner side of the restaurant is a sign that says, "Kain na!" which means to eat and essentially, where your dishes are coming from. There's also a high table seating there so you can watch dishes as they're being prepared. On the other side of the room is the bar area and the restaurant itself has a pretty expansive drinks menu, also Filipino-inspired. It's perfect for a casual night out with friends—just as the restaurant name suggests. But I think it's also quite family-friendly, especially if they start serving during lunch. Across the restaurant, you'll also find artworks donning Filipino pride.
Quick Notes
Price for two:
$400-500 before drinks
Address:
UG/F, 46-48 Cochrane Street, Central, Hong Kong
Reservations: https://book.bistrochat.com/barkada
Opening Hours:
Monday to Sunday, 5:00 pm to 12:00 am
The post LSA Reviews: Barkada offers a modern take on Filipino cuisine appeared first on Lifestyle Asia Hong Kong.