Those places in the world where spring arrives early (and stays) should be on your travel "bucket list." When the mimosa begins blooming in late January, winter is almost over on the Côte d'Azur. However, like a cat playing with a ball of wool, spring takes patience in the rest of Provence.
On the other side of the globe, residents of Vancouver, British Columbia, are blessed with an early spring. Often they are cutting their lawns many months before other Canadians finish shovelling snow. So, we were thrilled to have Cassandra Anderton (her bio is below), a Vancouver-based media personality and food lover, select our 2022 Spring Dinner Menu. Hints of warmer weather and flavours inspired her choices for this 3-course menu to suit the climate with shrimp, lamb and lemon. We hope you will enjoy this meal with friends and celebrate the season of renewal.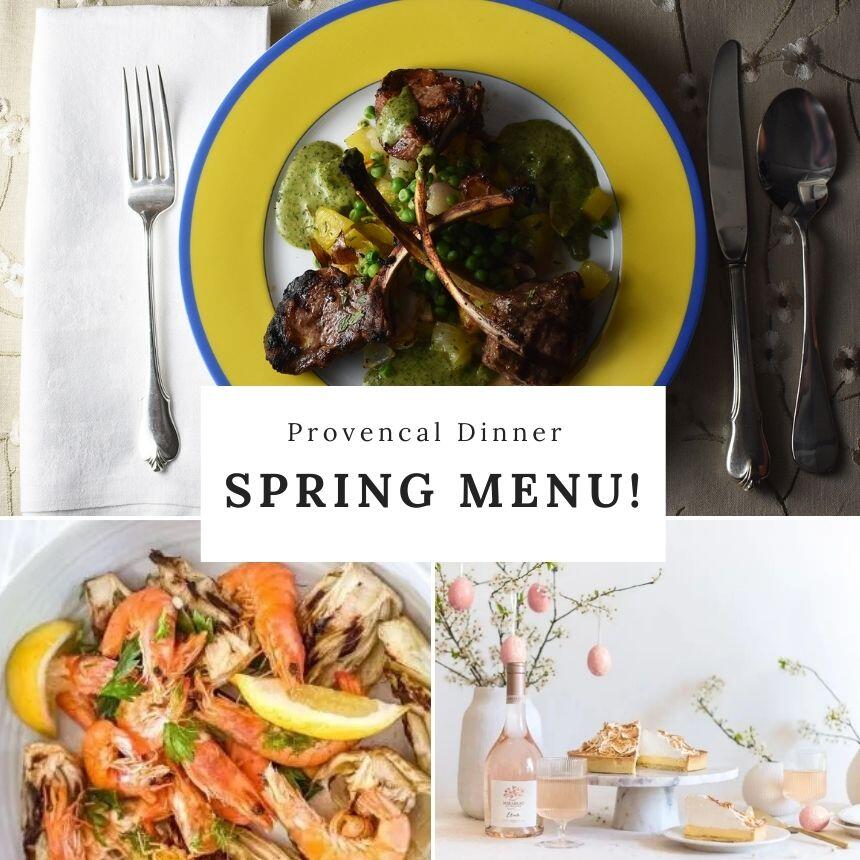 Bon Appétit!
First Course: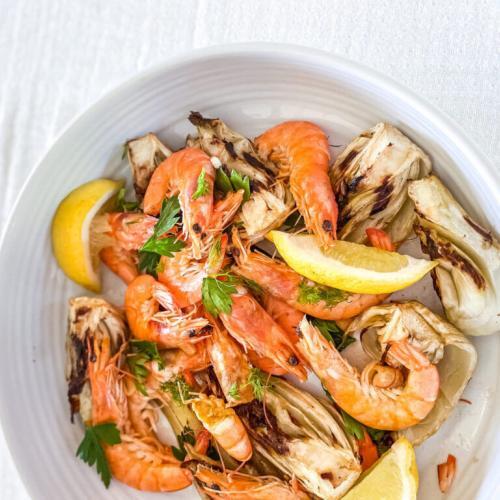 Print
Provencal Grilled Prawns with Garlic, Parsley and Roasted Fennel
Quick to prepare, this dish makes a great appetizer or serve as part of a tapas-style meal.
Cuisine
French, Provencal
Keyword
Fennel, Garlic, Lemon, Shrimp
Ingredients
1.1

lbs

Raw Prawns

1 1/3

tbsp

Extra Virgin Olive Oil

2

Garlic Cloves

crushed

1

small handful

Flatleaf Parsley

leaves picked off stems and roughly torn

½

Lemon

for juice only

1

Fennel Bulb

outside layer removed, sliced into quarters keeping the core intact
Instructions
Season the fennel quarters with salt and olive oil. If you have access to a BBQ, char the fennel on the BBQ for a few minutes on each side. Or you can use a frying pan instead.

Roast the fennel in the oven with olive oil for 20 minutes or until al dente. Set aside.

Warm a frying pan over medium to high heat. Once the pan is warm, add 20ml olive oil, then add the prawns.

Cook evenly on each side, turning halfway through. The cooking should take around 3-5 minutes in total, depending on the size of the prawns.

Once the prawns have turned pink almost all over, add the garlic and toss continuously until the prawn are fully cooked, and the garlic is lightly golden.

Add a nice pinch of salt, lemon juice and parsley.

Remove from heat and serve immediately on a platter with the roasted fennel quarters.
Main Course: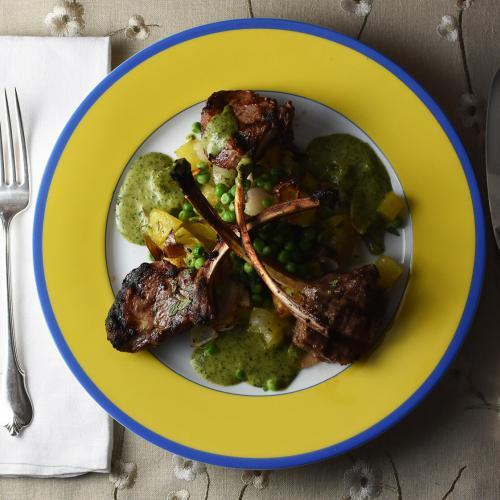 Print
Grilled Lamb Chops with Parsley and Mint Vinaigrette
This dish is a crowd-pleaser. Start the potatoes in advance and prepare your mise-en-place (chopped herbs), the rest can be done when your guests arrive.
Keyword
Lamb, Mint, Parsley, Potatoes
Ingredients
2

lbs

Yukon Gold or other waxy Potatoes

3

large Red Onions

Extra Virgin Olive Oil

for potatoes, vinaigrette, and ribs

Salt and Freshly Ground Black Pepper

1

cup

Peas

1/3

cup

Malt or Red Wine Vinegar

1

tbsp

Dijon Mustard

1

tbsp

Minced Shallot

1

tsp

Honey

1/2

tsp

Salt

plus extra

1/2

tsp

Freshly Ground Black Pepper

plus extra

1/4

cup

Canola or vegetable oil

1/4

cup

Chopped Fresh Parsley

1/4

cup

Chopped Fresh Mint

18

Lamb Rib Chops

trimmed
Instructions
Preheat oven to 400°F (200°C).

Peel and cut potatoes into 3/4-inch cubes; place in a large roasting pan. Peel the red onions, trim the tops and bottoms, cut in half lengthwise, them into wedges, and again into 3/4 inch cubes. Add them to the potatoes. Drizzle liberally with olive oil and season with salt and pepper. Toss well. Roast for 20-25 minutes, tossing occasionally to keep them from sticking.

Cook peas separately.

While the potatoes are cooking, preheat gas grill to high. If using charcoal, light fire to one side.

Place vinegar, mustard, shallot, honey, salt, pepper, 1/4 cup olive oil and canola oil in a bowl, and emulsify using an immersion blender. Add the parsley and mint, and blend again to make it as smooth as possible.

Brush the chops with olive oil and season well with salt and pepper. Place chops on grill; reduce heat to low and cover if using gas. If using charcoal, place chops on the cool side of the grill and cover. Cook lamb ribs for two (2) minutes per side.

Divide potatoes and onions among 6 dinner plates and spoon some peas over the top. Arrange three chops on each plate and drizzle with the vinaigrette.
Sweet Finish: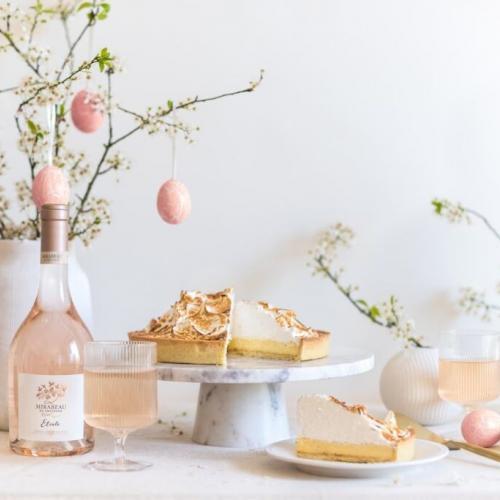 Print
Lemon Meringue Tart
There's nothing better than a classic lemon meringue tart. With tart citrus and sugary, creamy meringue, these small bites of heaven are sure to impress (if you don't eat them all yourself!).
Keyword
Citrus, French Desserts, Lemon, Meringue, Tarts
Prep Time
1
hour
30
minutes
Equipment
Large mixing bowl

Spatula

Rolling Pin

Saucepan

Whisk

Probe thermometer

Stand Mixer

Blow torch or grill
Ingredients
For the Pastry:
250

g

Flour

plus extra for dusting

a pinch of

Salt

125

g

Butter

in cubes

20

g

Caster Sugar

2

Free-range Egg Yolks

3

tbsp

Cold Water
For the Filling:
65

g

Cornflour

325

g

Caster Sugar

150

ml

Lemon Juice

300

ml

Water

1

Lemon, Zest Only

unwaxed, ideally

80

g

Cold Butter

in cubes

4

Free-range Egg Yolks
For the Meringue:
Meringue

200

g

Caster Sugar

50

ml

Water

3

Egg Whites
Instructions
For the Pastry
Sift the flour and salt into a bowl and mix before adding butter. Using your fingertips, rub the flour with the butter until you get fine breadcrumbs, then mix in the sugar.

Add the egg yolks and water and use a spatula to incorporate.

Once the mixture starts to come together turn it out onto a clean surface and knead for 30 seconds max. You should have a nice smooth ball. Flatten it slightly, wrap it in cling film, and chill for 30 minutes.

Lightly flour a clean surface and roll the dough to the thickness of a pound coin. Using your rolling pin to pick the dough up, unroll the dough over the tart case and lift it into position, pushing the edges in as you go.

Use your rolling pin to cut the edges and return to the fridge for at least 30 minutes. This will help to prevent shrinkage in the oven.

Preheat your oven to 160°C, remove from the fridge and spike the base with a fork, line the case with baking paper and weigh it down with baking beans or similar. Bake for 10 minutes, and then remove the baking beans. Return to the oven for a further 10 minutes or until the base is golden brown. Remove and cool the tart base.
For the Filling:
Mix the cornflour, sugar, lemon juice and water in a pan and cook on medium heat stirring occasionally until thickened. It will look like a thick, dull-white paste.

Remove from the heat and whisk in the eggs. Once combined and a lovely deep yellow colour, add the butter and lemon zest and stir until incorporated.

By now, your tart case should have chilled sufficiently. Pour the filling in and set it aside to cool completely. Once cool, you can refrigerate until required for up to 2 days.
For the Meringue:
Mix the sugar and water in a pan over high heat with a probe thermometer so you can see when to take it out. It needs to be 121°C (250°F).

Once it reaches about 110°C (230°F), start whisking the meringue in the mixer and once it reaches stiff peaks you can add the sugar mixture to it. Be careful not to pour the hot sugar straight only the whisk as it will fly out and burn you!

Once you've added all the sugar mix, leave it to run until it's cool.

Now you are ready to finish your tart. Lump on the meringue and make some pretty patterns, then brown with a blowtorch. If you don't have one, you can use a preheated grill, but watch it closely!
For Pinterest Fans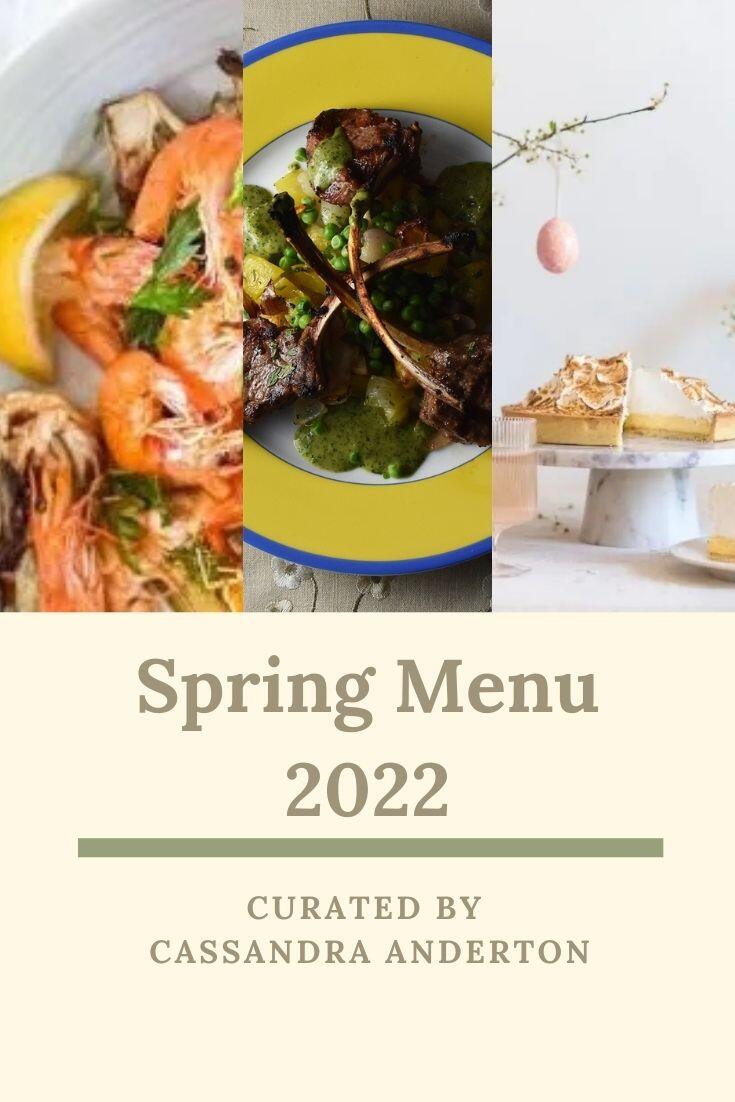 ---
Cassandra Anderton Bio
Cassandra Anderton is a freelance travel, food, wine, and lifestyle writer, blogger and broadcaster, and is the publisher and editor of Goodlifevancouver.com, a website devoted to what's good in and around Vancouver, and sometimes far beyond. In addition, she's the President of the British Columbia Chapter of Les Dames d'Escoffier, an organization of women leaders in food, beverage and hospitality whose mission is education, provision of scholarships and philanthropy.
Anderton has appeared on Global Television and CityTV and has been published in BC Living, The Vancouver Courier, BC Wine Trails Magazine, The Yellow Pages Style Guides, Darpan Magazine, and EatNorth.  Anderton consults on Social, Public, Media and Digital marketing, curates content and produces social media and digital marketing for brands in the food, drink, health and travel industries. She's been an ambassador for Wines from Vinho Verde, BC Blueberries, BC and Alberta Pork, Avocados from Mexico, and I-REMOVE Weight Loss supplements and works with several other brands to promote their unique stories.
Cassandra was born in New Zealand, grew up in the Okanagan and has made Vancouver her home for the past 30 years. She is passionate about local food and wine and loves to travel and report what others are doing to promote their local culture.
Cassandra can be reached at cassandra@goodlifevancouver.com.
And follow her food journey on INSTAGRAM, PERSONAL FACEBOOK, GLV FACEBOOK, TWITTER.
---
More Spring Recipes from France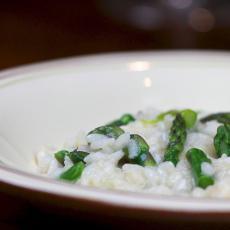 White Asparagus Gratin
Depending on availability and preference, you can use green or white asparagus. This dish is a terrific, tasty way to celebrate spring. It serves 2 as a main course or 4 as a side dish.
Check out this recipe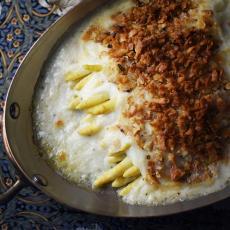 Green Asparagus Salad - Salade d' Asperges Vertes
This simple salad highlights the flavours of the fresh green asparagus with a tangy bite of citrus and hint of parmesan.
Check out this recipe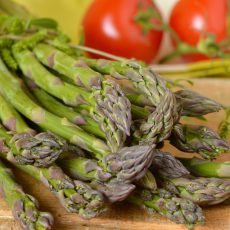 Provençal Asparagus Tart (Tarte aux Asperges)
Light and crisp puff pastry covered in creamy goat's cheese, salty ham and topped with the season's best asparagus gently roasted to perfection.
Check out this recipe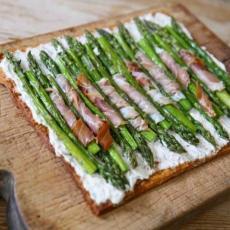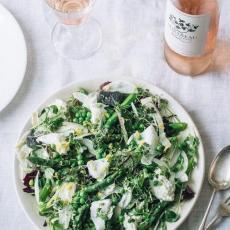 Herbes de Provence Crusted Lamb Lollipop and Spring Vegetables
I call this garrigue-crusted lamb as the topping is made with fresh herbs that you typically find in the hills of Provence. Start the preparation with the oven-roasted tomatoes as that takes a while. During that time prepare the lamb and fresh spring vegetables of your choice.
Check out this recipe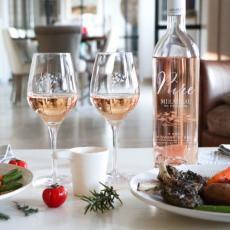 Lamb with Fresh peas
Allow enough time for the lamb to cook slowly until it starts to fall apart.
Check out this recipe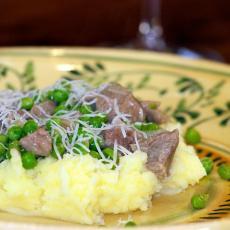 Mom's Dijon Chicken
This poultry dish is a no-fail, quick dinner that your guests will love every time.
Check out this recipe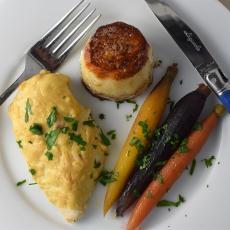 The post Make this Spring Dinner Menu Inspired by Provence appeared first on Perfectly Provence.
My article contains affiliate links. All products are ones I like. If you choose to buy one of these products through the URL provided, I will receive a small commission at no extra cost to you. All proceeds help support the blog.