Most of the mushroom ragù I've cooked in my life featured sliced mushrooms. I'd brown them and work from there. Eventually, this style of sauce fell out of rotation and I didn't give it much thought. Other sauces took its place and I never looked back. It wasn't until I saw an early copy of Andrea Gentl's Cooking With Mushrooms that mushroom ragù became a regular feature again in our house. Andrea's ragù features a mixture of very finely chopped fresh mushrooms. It is slow cooked in a low oven for hours, and has all sorts of wonderful wildcard ingredients in it adding layers of depth and flavor – nutritional yeast, fish sauce, mushroom powder, chiles and herbs. You should buy her book, and you should absolutely make her version (vegan fish sauce works great in it if you're veg). It's one of my favorite ways to spend a lazy Sunday.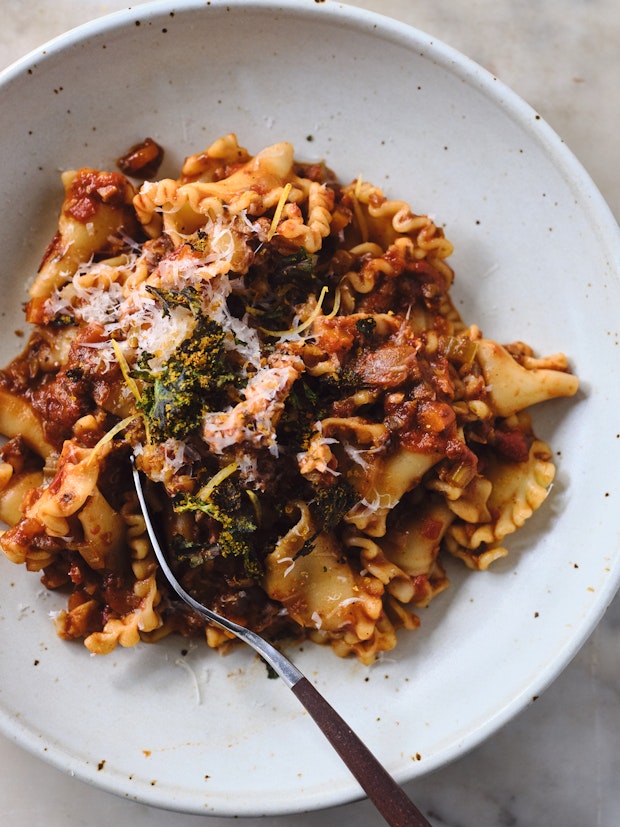 When a lazy Sunday isn't quite in the cards, I regularly find myself making what I've come to think of as my "cheater version" of the ragù. It happens when I know I'm a bit short on time, or out of certain ingredients — that's the recipe you see here. It's thick, hearty and the perfect paring for a range of pastas, polenta and the like. I love it enough to always have in my freezer these days.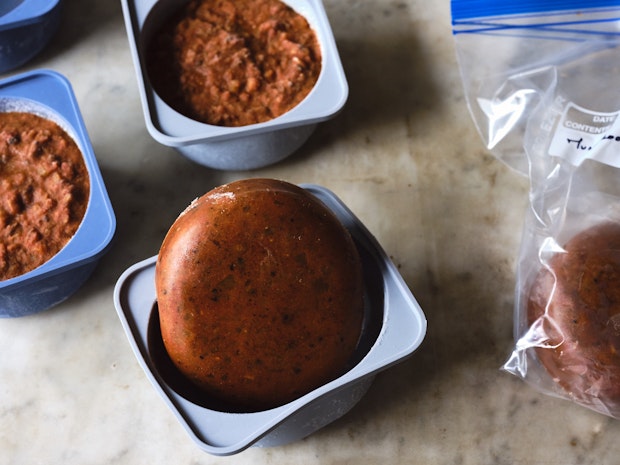 Secrets to Making a Great R

agù
Generally speaking, I feel like there are two primary secrets to making a great mushroom ragù — quality ingredients and patience. On the ingredient front, choose mushrooms that are firm and dry. Avoid mushrooms that are discolored, mushy, or wrinkled. It likely goes without saying, but mushrooms that have an off-smell or have any sort of sliminess should also get a pass. Gross, I know. Patience kicks in on the cooking front. This ragù starts off quick saute on the stovetops and then moves into a low-and-slow couple of hours in the oven.
Cooking Method
By sautéing ragù ingredients on a stovetop and following up with a couple hours in an oven you achieve a thick, wonderful concentrated hearty sauce. I love the combination.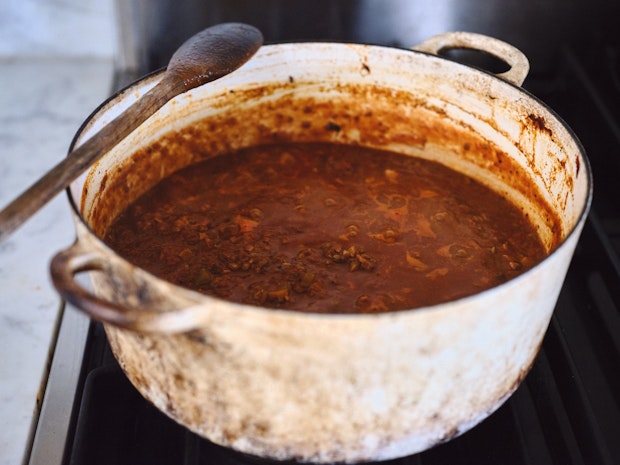 Mushroom Ragù:
Core Ingredients
There's quite a lot of flexibility here. Give the recipe a try as written, and then wing it a bit moving forward based on what you have in your kitchen. For example, I've used scallions (with the green parts) when I was out of onions, and I really loved that version as well.
Tomatoes

: I tend to keep crushed tomatoes on hand, so that's what I use more here often than not. Fire-roasted canned tomatoes are my first choice, but standard crushed tomatoes are a-ok if that is what is available. In Andrea's version she has you blitz whole canned tomatoes into a puree. Each choice brings something slightly different to the r

agù

, so feel free to experiment!

Mushrooms

: I talked about the importance of mushroom quality in the previous section a bit. Here I'll talk about types of mushrooms that work well.

I love to use a mix of flavorful mushrooms in a

r

agù like this.

You can mix up the types of mushrooms depending on what is available in your area. I rarely use them same combination twice. Oyster mushrooms are meaty and firm and hold their texture in the sauce. Because of the sheer amount of mushrooms needed for a r

agù

, supplementing common (and less expensive varietals) with something more special and unusual is a good approach. Generally speaking, cremini, oyster, Portobello, maitake and button mushrooms are a great place to start.

Mushroom Powder

:

Porcini powder is a powerhouse ingredient and adds

depth and an added layer of flavor beyond the fresh mushrooms.

You're doubling down on flavor. I know it can be tricky to track down, but it's an ingredient I wouldn't skip here. You can blitz your own dried porcini into a powder with a high-speed blender. Because this has become such a go-to sauce for me,

 

I tend to stock up on porcini mushroom powder, either homemade, or from a trusted source like Far West Fungi.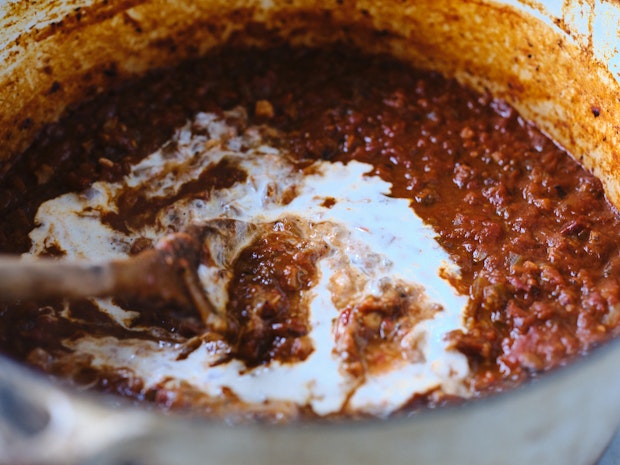 How to Clean Mushrooms
It's important to clean mushrooms that you will be using to cook. Nobody loves a gritty sauce. Use a damp rag or paper towel to gently clean any dirt or foreign material from mushrooms. Trim the stems as bit as well, they often tend to look a bit rough.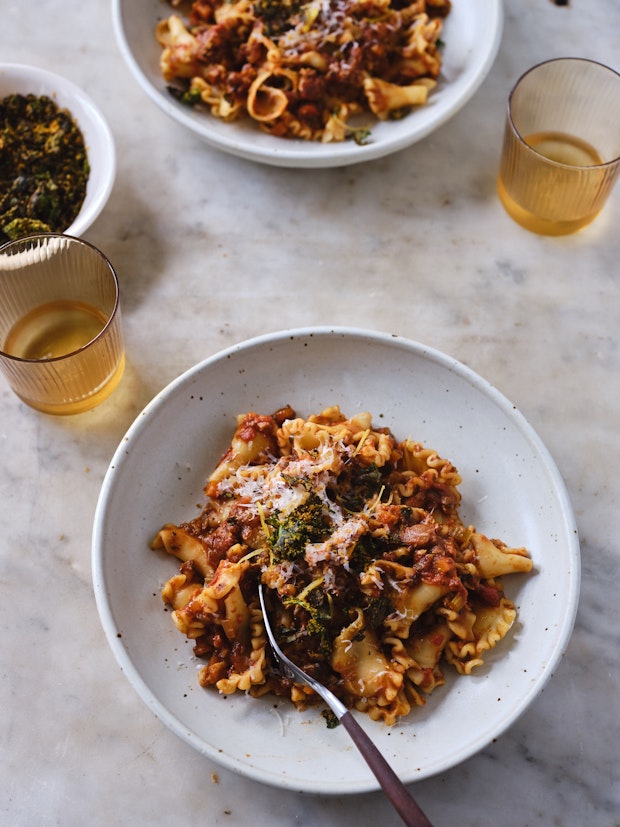 Mushroom
Ragù:
 Make it Creamy!
You can make this ragù creamy or not creamy – both versions are incredibly good. In the creamy version stir in one cup of heavy cream (or cashew cream) to the ragù before it goes into the oven. Whether or not to add it depends on how I imagine using the sauce. Keep in mind the cream component cuts into the acidity of the tomatoes in the sauce beautifully. I always use it if I'm going to use the ragù in a lasagna, over polenta, and in most baked pastas. Skip it, or scale back, if you're going to use the ragù alongside a cheese ravioli or something already creamy. You can also decide just how creamy you like it – using less or more cream to your liking. I actually prefer to use cashew cream in this ragù, in part because I don't often keep heavy cream on hand. But also because the cashew cream is so luxe and rich, subtly nutty and so good. Also, I alway have cashews on hand, so there's never a need to make a special trip to the store. You can use either!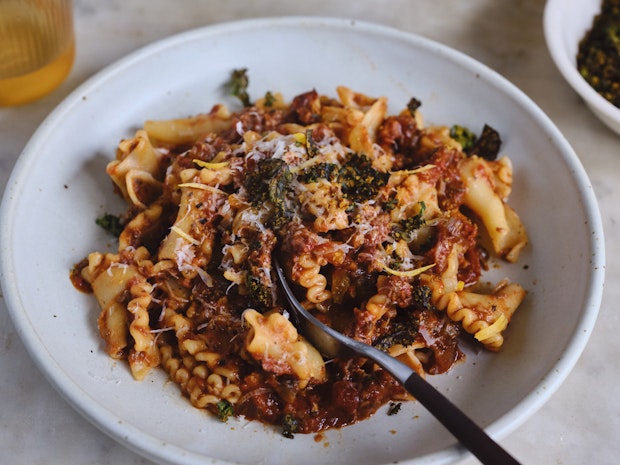 Serving Suggestions!
There are countless ways to enjoy a good mushroom ragù. This list includes some of my favorites.

Lasagna

:

Use this mushroom

r

agù in your next lasagna. I love it between sheets of homemade pasta alternating with dollops of ricotta, baked until bubbling. A few simple components coming together into baked pasta perfection. Something like this lasagna, substitute the mushroom r

agù

for the other tomato sauce, and use ricotta in place of most of the mozzarella. We freeze slices of this to reheat on stormy nights in the Airstream. It reheats brilliantly.

 

Polenta

: This mushroom ragù served over a creamy, hot bowl of polenta is a match made in heaven. In Andrea's Cooking With Mushrooms book she showcases her

r

agù in a beautiful photo of it served over polenta.

Stuffed Shells

: Swap out the tomato sauce called for in this stuffed shells recipe, replace with mushroom

r

agù.

Pappardelle

: This sauce is wonderful with pappardelle. You can make both components a head of time and freeze. Thaw and heat the mushroom r

agù

to serve and boil the pappardelle straight from the freezer.

Pizza

: Use this favorite pizza dough recipe to make a few rounds of dough and use this r

agù as your sauce

– go for it from there with toppings.

Homemade Pasta

: I call out pappardelle up above, but this sauce is wonderful with a range of pasta shapes. More than anything, I just want to encourage you to try making your own homemade pasta. It's completely doable, and you might even have the short list of ingredients in your kitchen right now!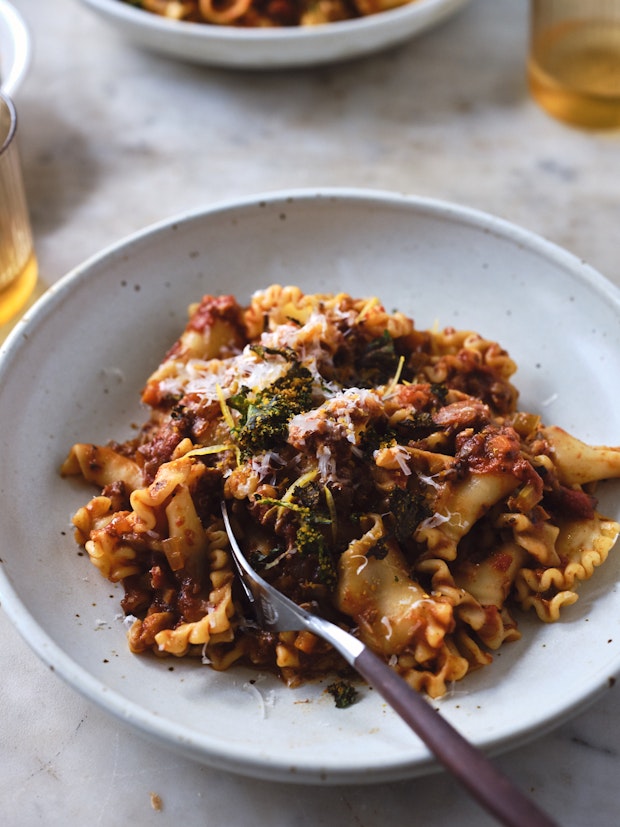 Variations
These are two variations I've enjoyed recently.
Vegan Mushroom R

agù

:

 Use cashew cream not heavy cream. To make cashew cream blend 1 cup raw cashews with 1 cup water in a high-speed blender until silky smooth.

Mushroom R

agù

with Curry Leaves and Lemon

: I make an India-inspired version of this r

agù

using fresh green chiles, lots of fried curry leaves, mustard seeds and lemon zest. It probably warrants a separate dedicated recipe post, but if you're a confident cook the jist is the following. Heat 1/3 cup extra-virgin olive oil in a small saucepan, you're going to make a tadka of sorts. Add two chopped serrano chiles to the oil and fry for a couple minutes. Add 40-50 fresh curry leaves, stir well and cook until they begin to crisp – a couple minutes. Toward the end, stir in 1 tablespoon black mustard seeds. Cook until they start to pop a bit. Strain the curry leaves and solids on a few paper towels and mix with the zest of one lemon. Use the curry-infused olive oil as a replacement for the olive oil called for in the mushroom

ragù

recipe below. Stir the curry leaves in at the end, or reserve to top whatever you are serving with the r

agù

.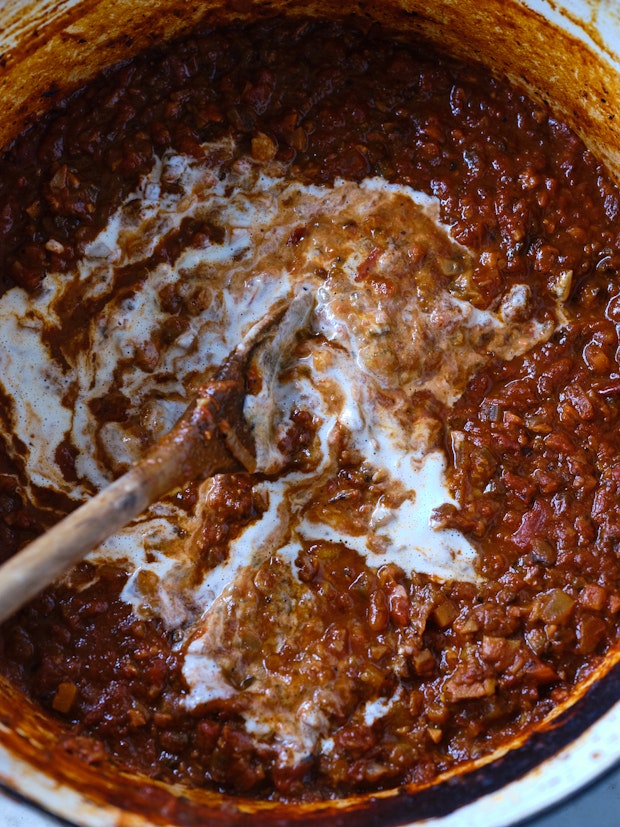 Mushroom
Ragù: Storage
I always have a few "bricks" of ragù at the ready in my freezer. They also work great as substitute ice blocks to keep our cooler cold when we're out on a road trip and should be added to my list of favorite camping recipes. Freeze into your preferred shape and quantity and then store for up to a few months frozen. Thaw, reheat and use.
Related Recipes
If you're looking for something much quicker, try this five-minute tomato sauce. Other related recipes include: homemade pasta, pappardelle, gnocchi, pesto, and the pizza dough recipe I've been fine-tuning forever. Here's where you can find more pasta recipes, as well as more mushroom recipes. Enjoy!
Continue reading Mushroom Ragù on 101 Cookbooks