It was an amazing stay.
Still, my wife and I couldn't stop making fun of all the wildlife woodcarvings scattered throughout the resort. We had come to be pampered at one of the region's newest luxury lodges only to find a wooden bear with binoculars staring at our bed.
So much for a romantic weekend away.
For more TPG news delivered each morning to your inbox, sign up for our daily newsletter.
We had ventured two hours northwest of New York City to check out The Chatwal Lodge — a rustic getaway from Sant Singh Chatwal, founder of the Dream Hotel Group and the man behind The Chatwal, a Luxury Collection hotel near Times Square.
What we found was an amazing hotel with a few growing pains. And way, way too many wooden bears and carved raccoons.
Everywhere we turned, we hunted for these creatures and many, it appeared, were watching us too.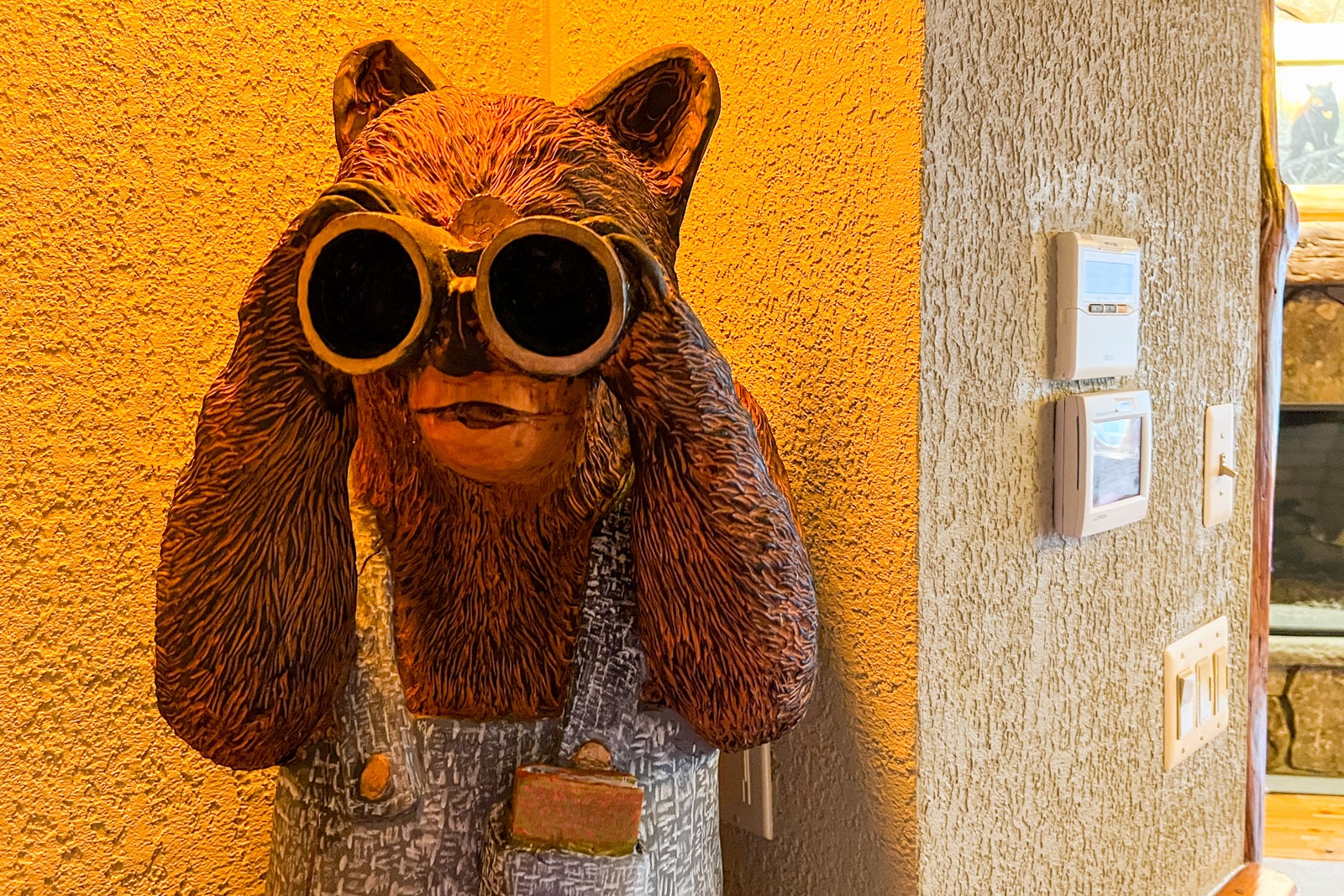 The first room we were assigned had a giant bear with binoculars aimed at the bed. The second room (I'll explain in a moment) had raccoons emerging from poles — again, looking straight at the bed. There were even two raccoon statues standing on a branch outside the bedroom window waving and looking in.
I'm all for a sylvan adventure, but it seemed as though the hotel designers spent a little too much time at Disney's Country Bear Jamboree or just liked to shop from a man with a chainsaw at the local flea market.
If you can get past the anthropomorphic wildlife, however, The Chatwal Lodge is a fantastic escape: a place to unwind and enjoy getting back to nature, along with gourmet meals, fine wine and top-notch service. Here's how our stay went.
Location
The Chatwal Lodge sits on 100 acres adjacent to a mountain lake (actually a reservoir) in the woods that are part of a private, gated 2,500-acre development called the Chapin Estate. The estate dates back to a much larger game and wildlife reserve established in 1891, much of which is now protected by the state of New York.
The surrounding area in the southern Catskill Mountains was once known as the Borscht Belt because of the Jewish families which, during the 20th century, would vacation in bungalow colonies, summer camps and resorts such as the Concord, Lesser Lodge and the Nevele. (Fans of the movie "Dirty Dancing" know it was set in the 1960s at a fictional resort in the region.)
My parents actually met in 1973 at one of the resorts, Grossinger's, and I remember a childhood vacation to another one, Kutsher's, before its eventual demise.
The region languished for decades until new cultural attractions began cropping up, such as the Bethel Woods Center for the Arts, a modern-day concert venue adjacent to the site of the 1969 Woodstock Music and Art Fair, which opened in 2006. A spate of new inns and boutique hotels has also helped make this area popular with New Yorkers once again.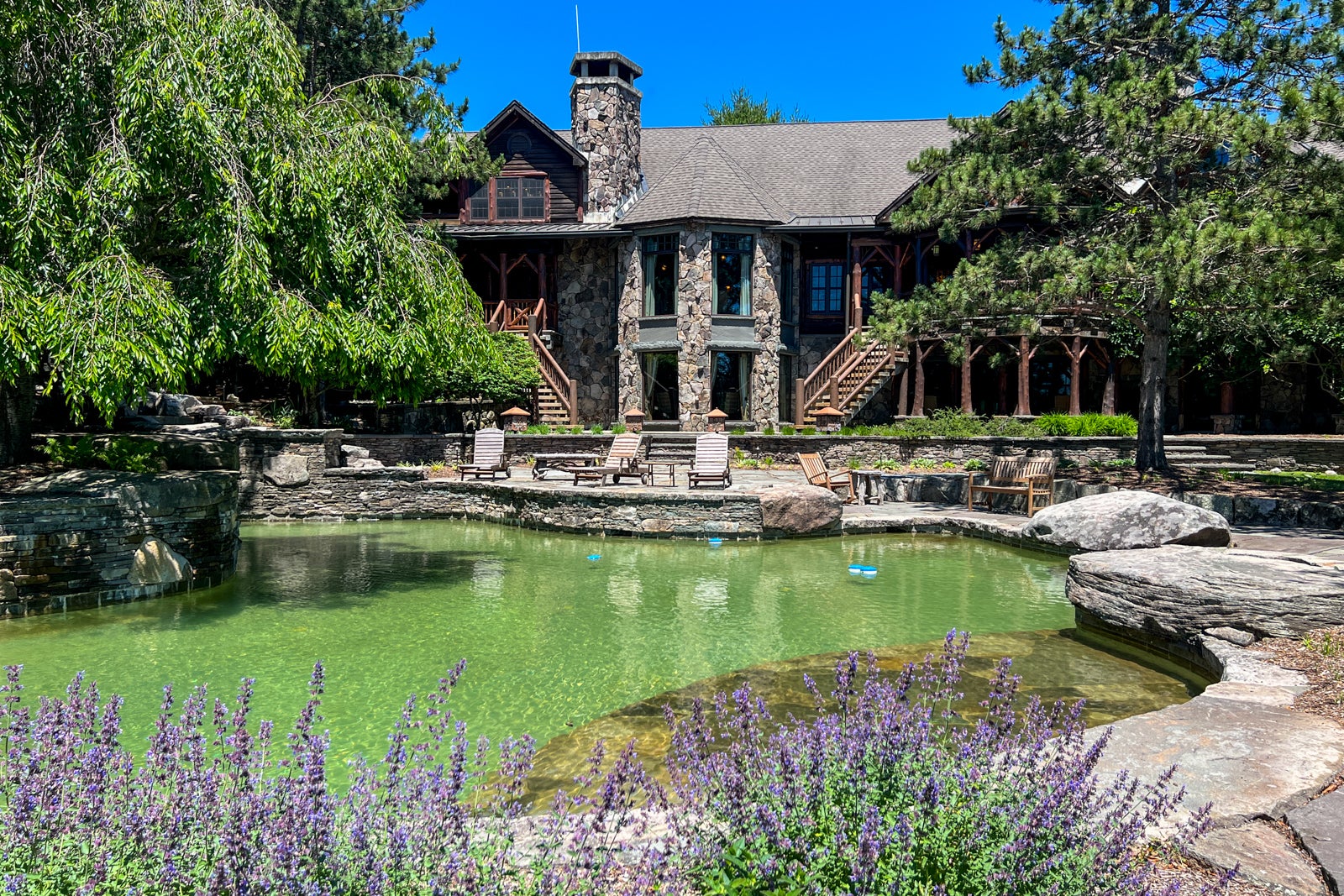 And The Chatwal Lodge is the latest entry to the exclusive but growing list of luxury resorts within an easy drive of the city. Others to recently open in upstate New York include Troutbeck, Hutton Brickyards and nearby Kenoza Hall.
For us, The Chatwal Lodge was the perfect spot to unplug and feel like we were guests at one of the historic Adirondack "great camps"— really mansions — even if those are a few hours north. The property has just 11 rooms, although the staff told us one is currently being renovated. A large home is also being built on site for groups that want to rent it out for the ultimate getaway space.
Related: Why the Catskills continues to be one of the hottest destinations for travelers
Booking
We booked the most affordable room (if that's a thing here): a junior suite in the main lodge. The total for two nights, with tax, was $3,322.20, and the price included all our meals, snacks, alcohol and most activities.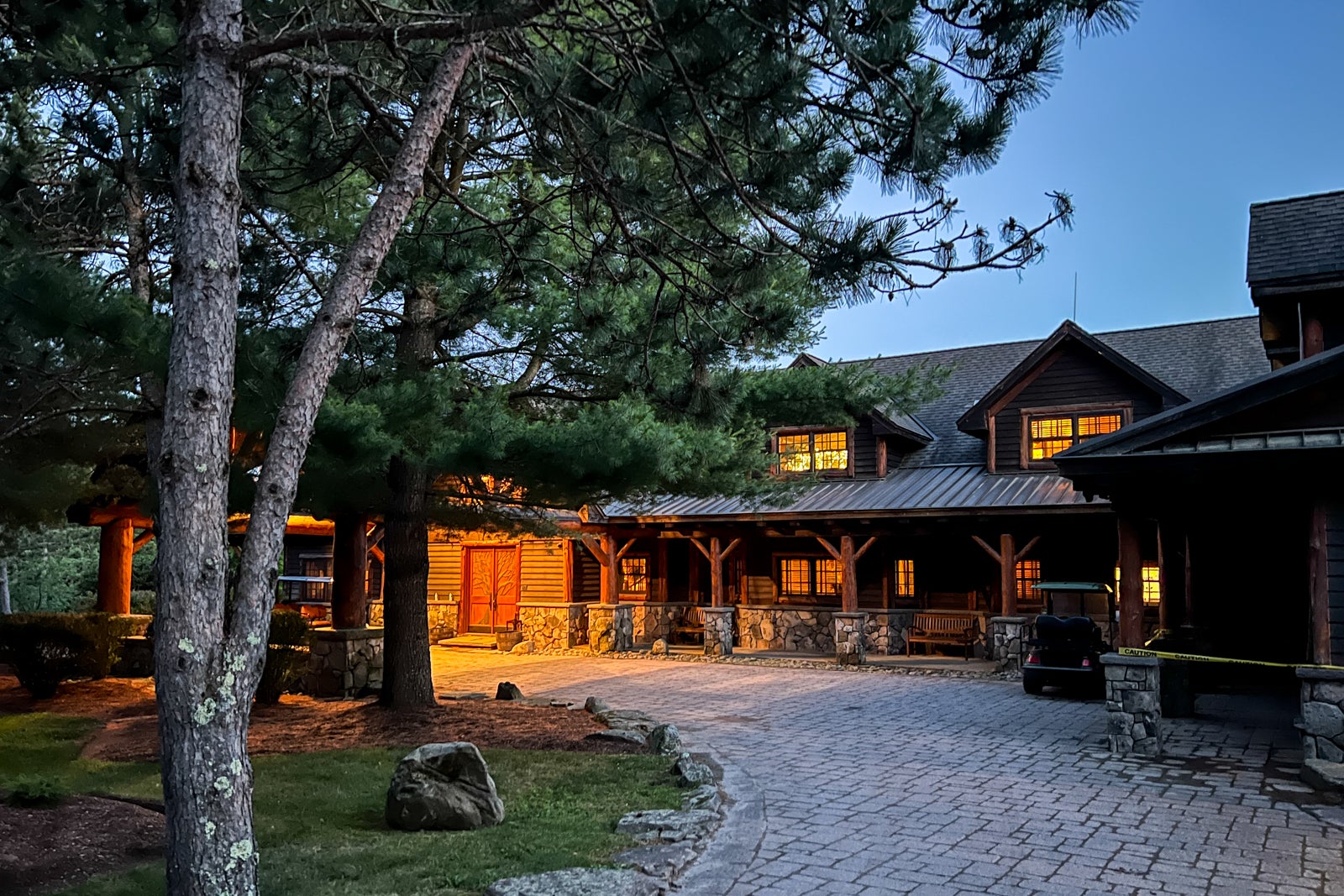 The hotel says on its website that the "team strives to craft a special experience … and there is no expectation of tipping," but those staff members we did tip upon departure were very thankful.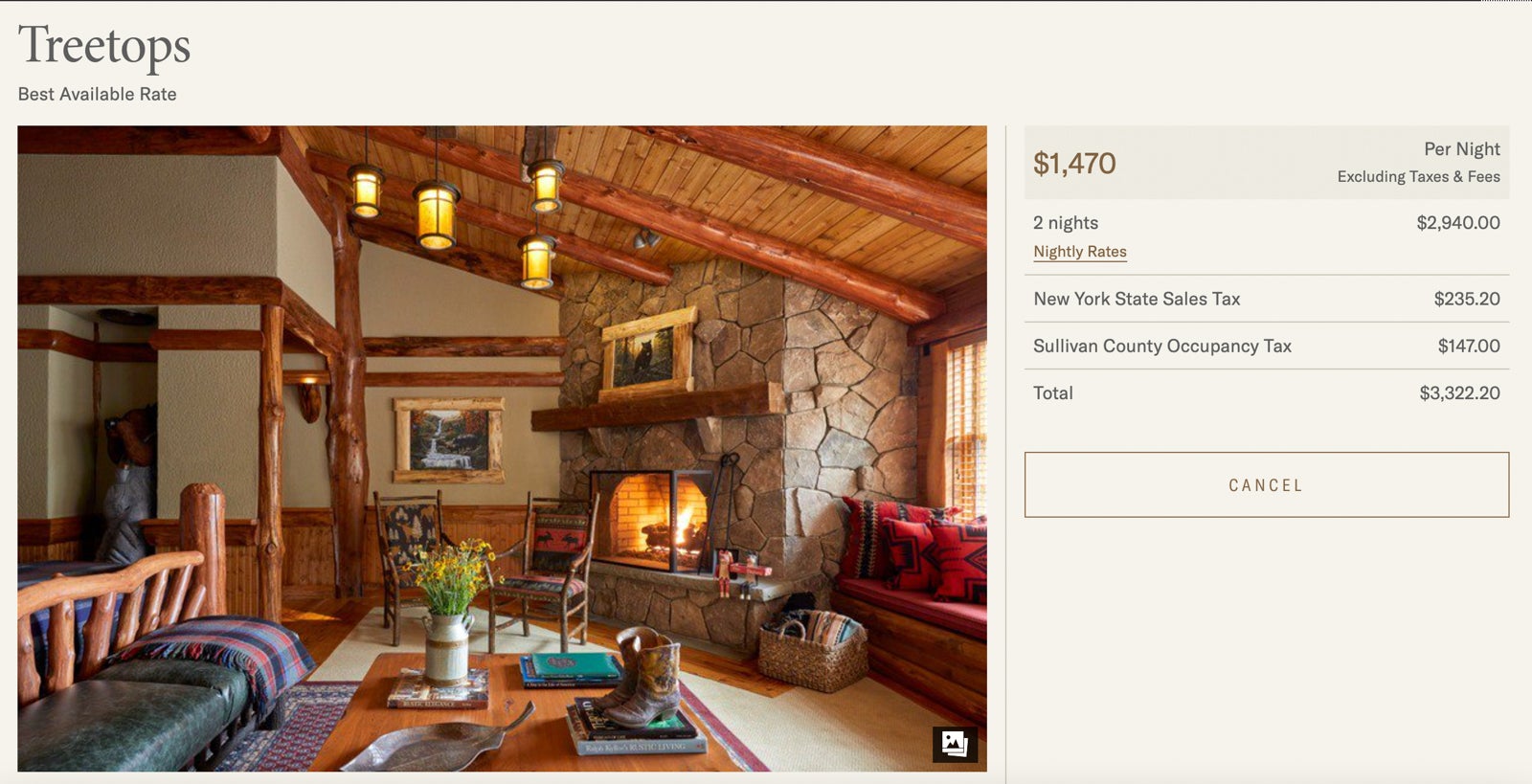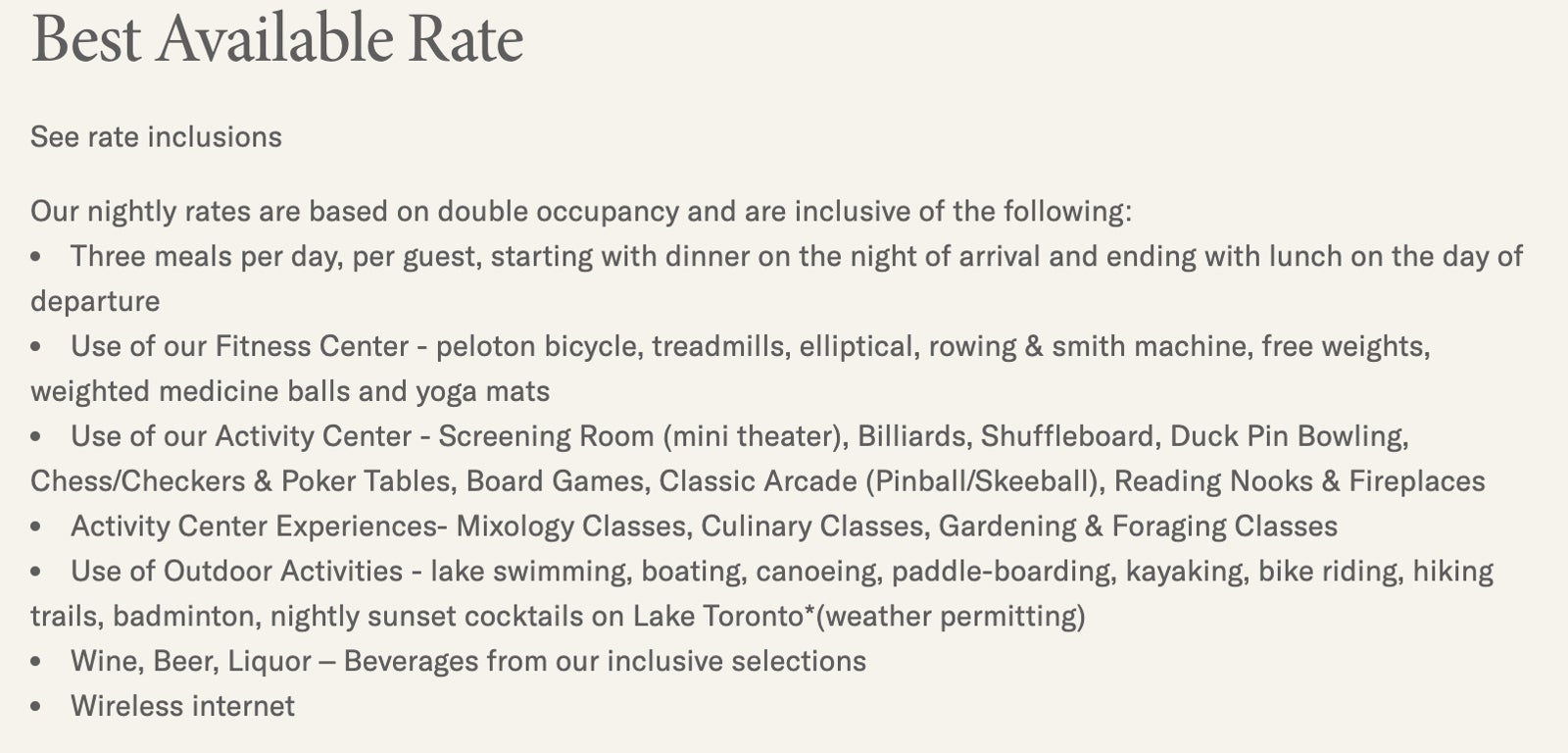 The hotel isn't yet on any luxury booking platform such as American Express Fine Hotels and Resorts, and since food and most activities are included, there wouldn't really be any benefit to booking through such a channel. I used my Chase Sapphire Reserve and the room coded as travel, earning me 3 points for every dollar spent.
The lodge sits in the forest and is spread out across key buildings: the main lodge, which has three rooms plus the restaurant; three waterfront rooms in a building called Longview at Toronto Reservoir; and four hillside rooms in a building called Lookout at Running Water.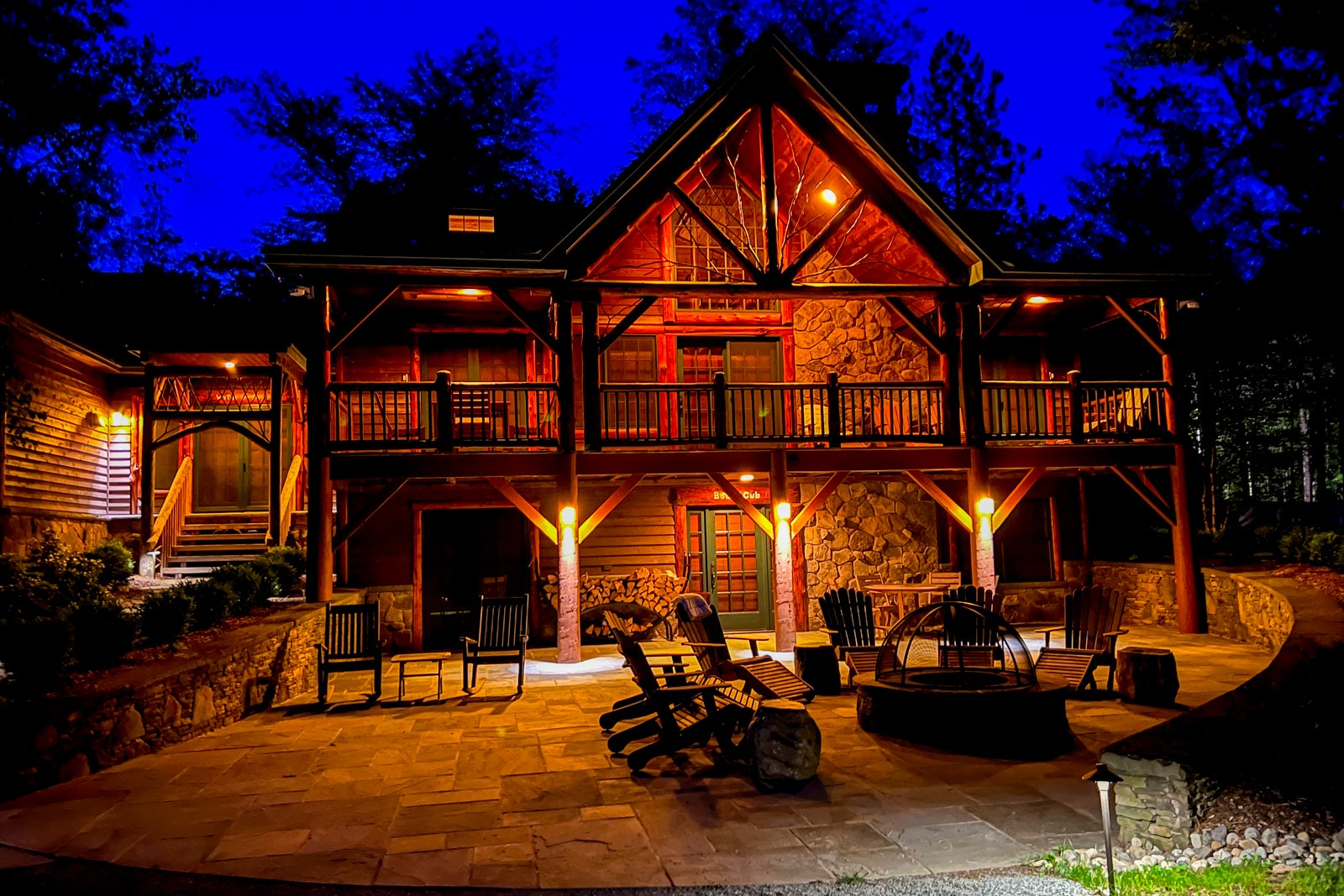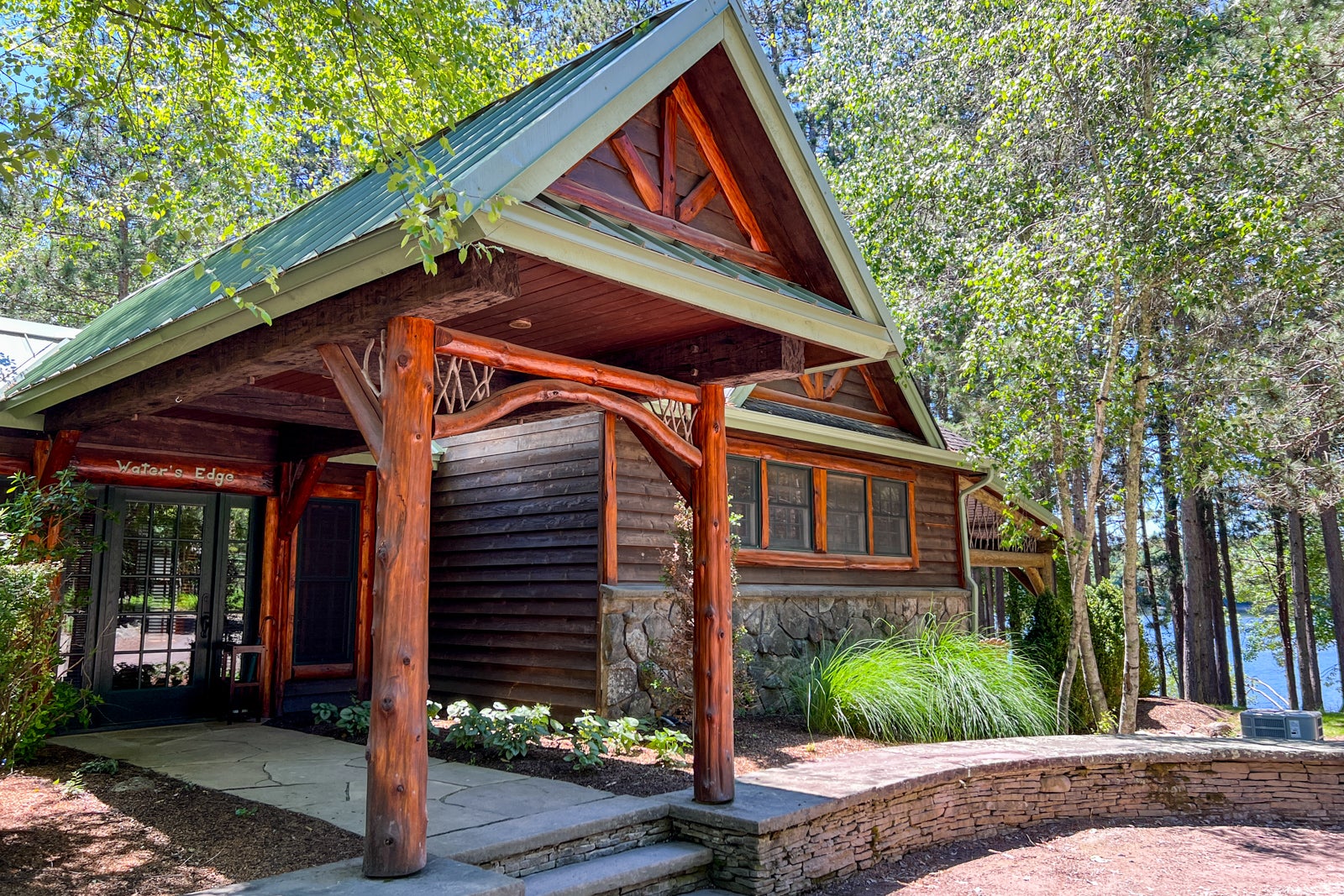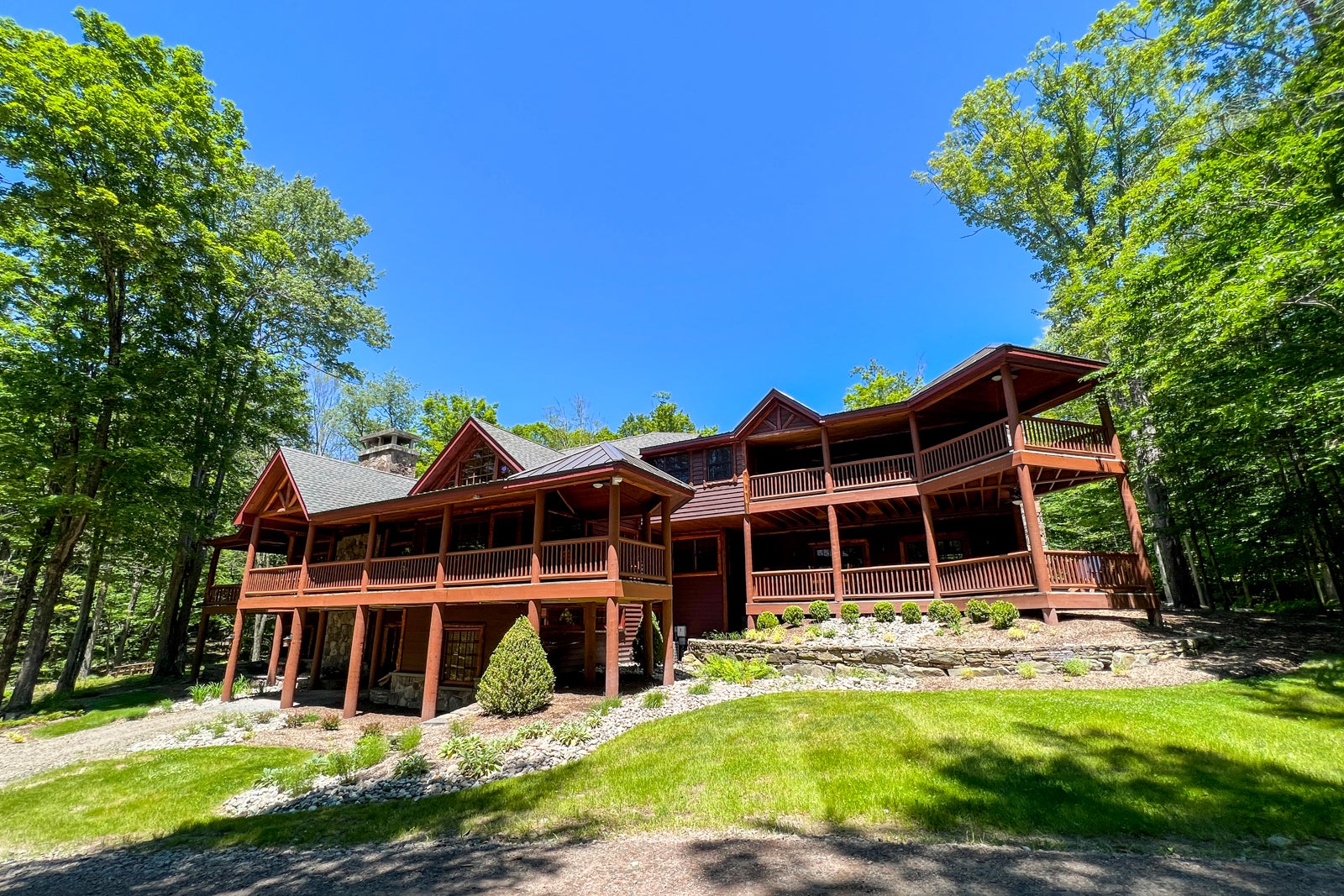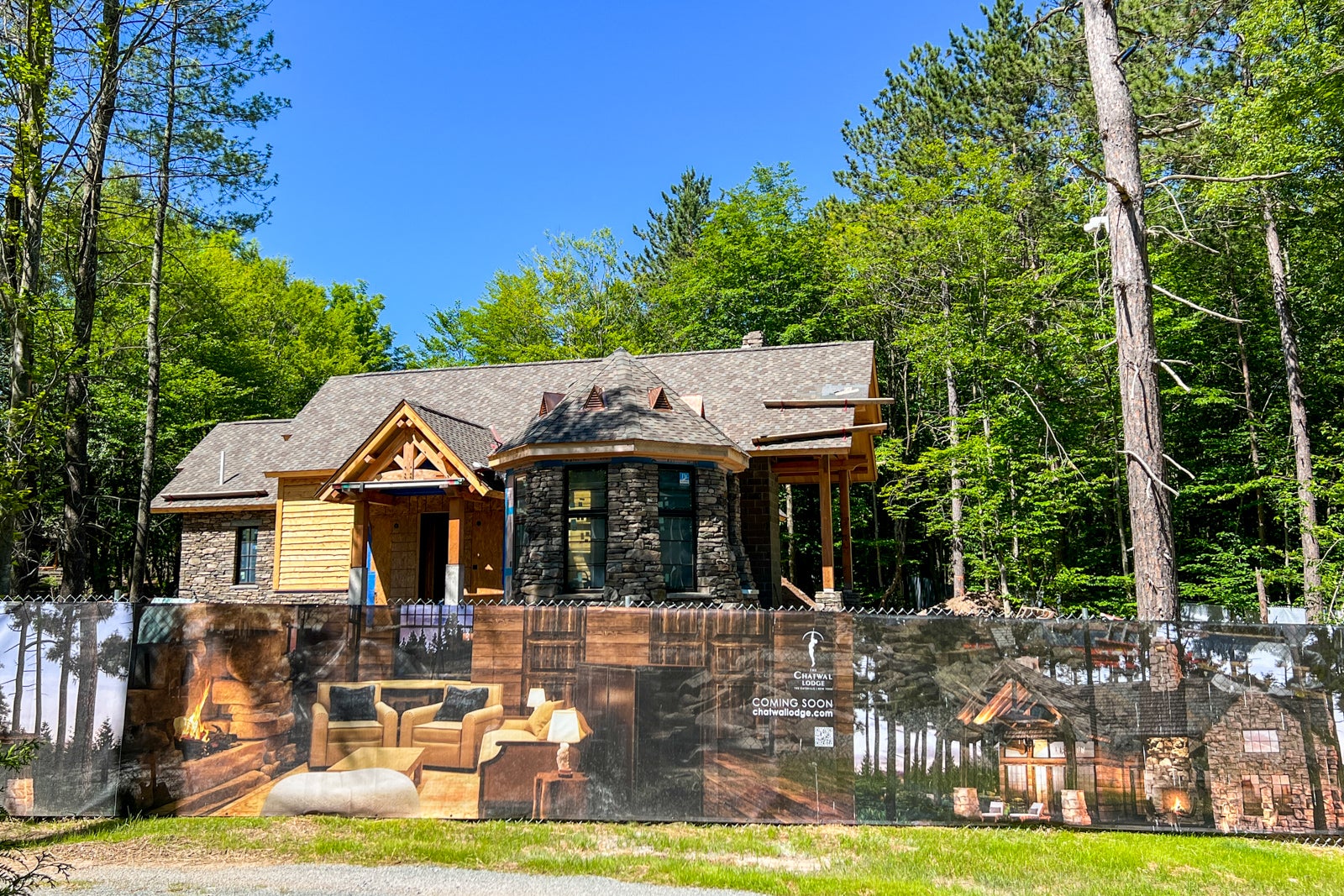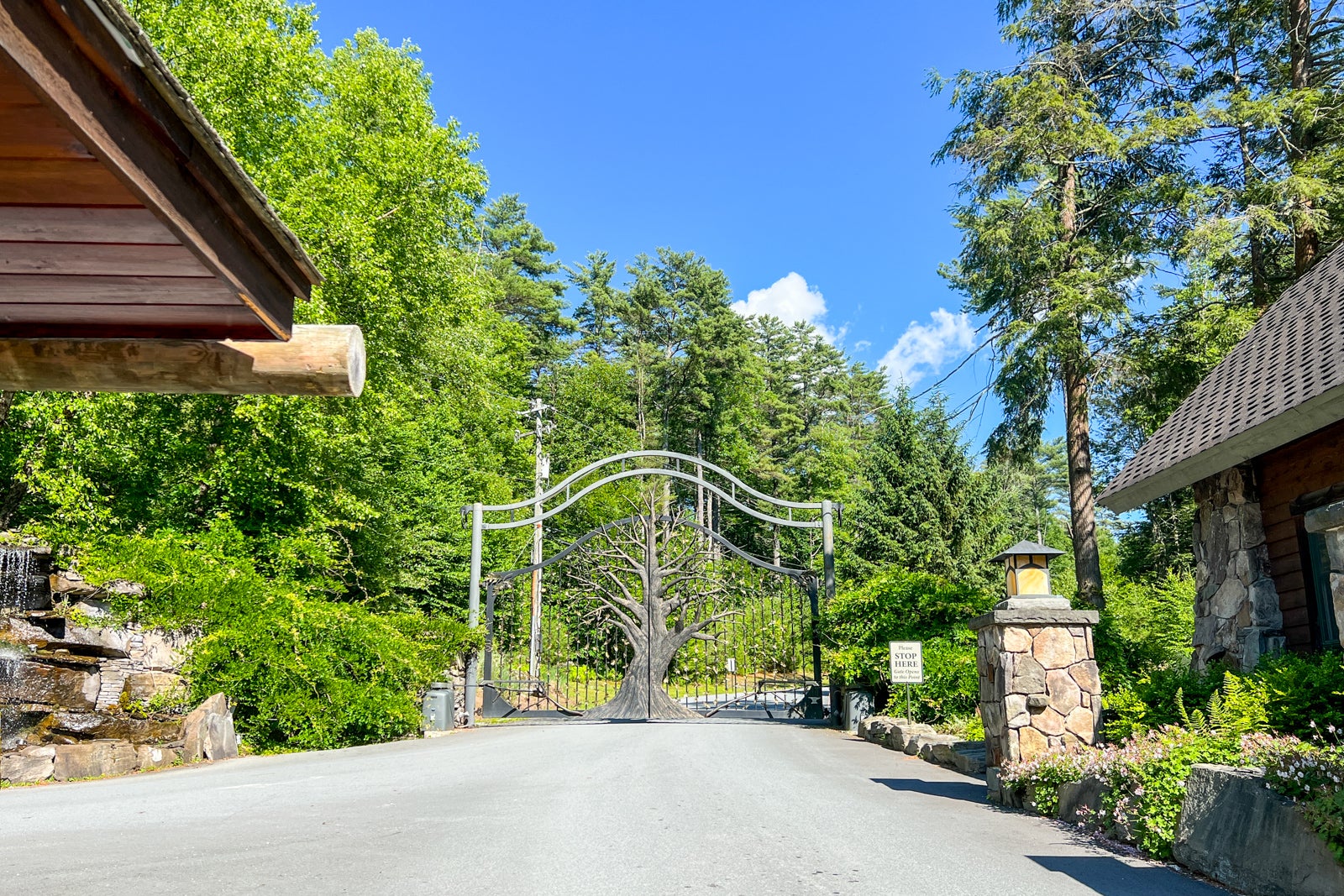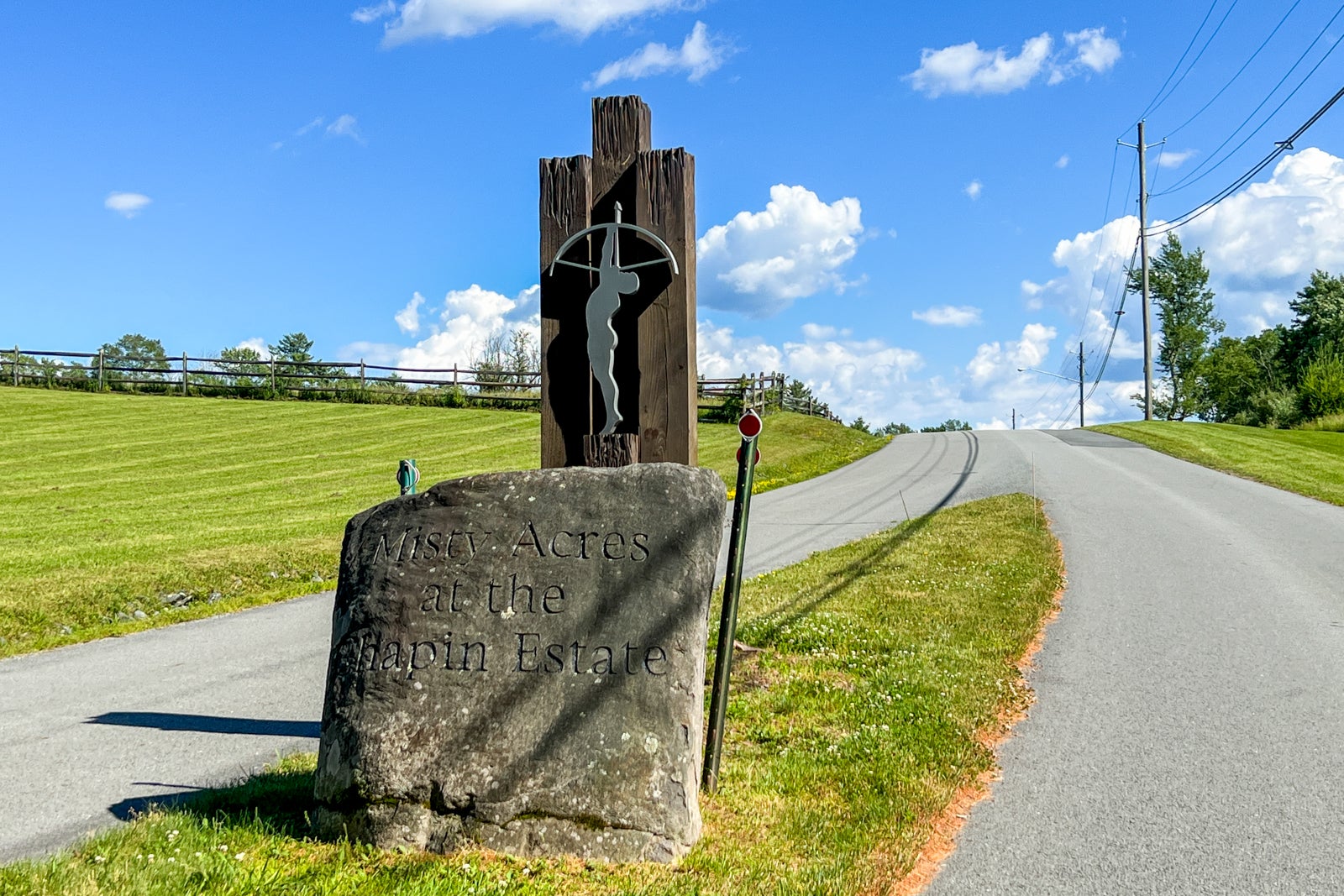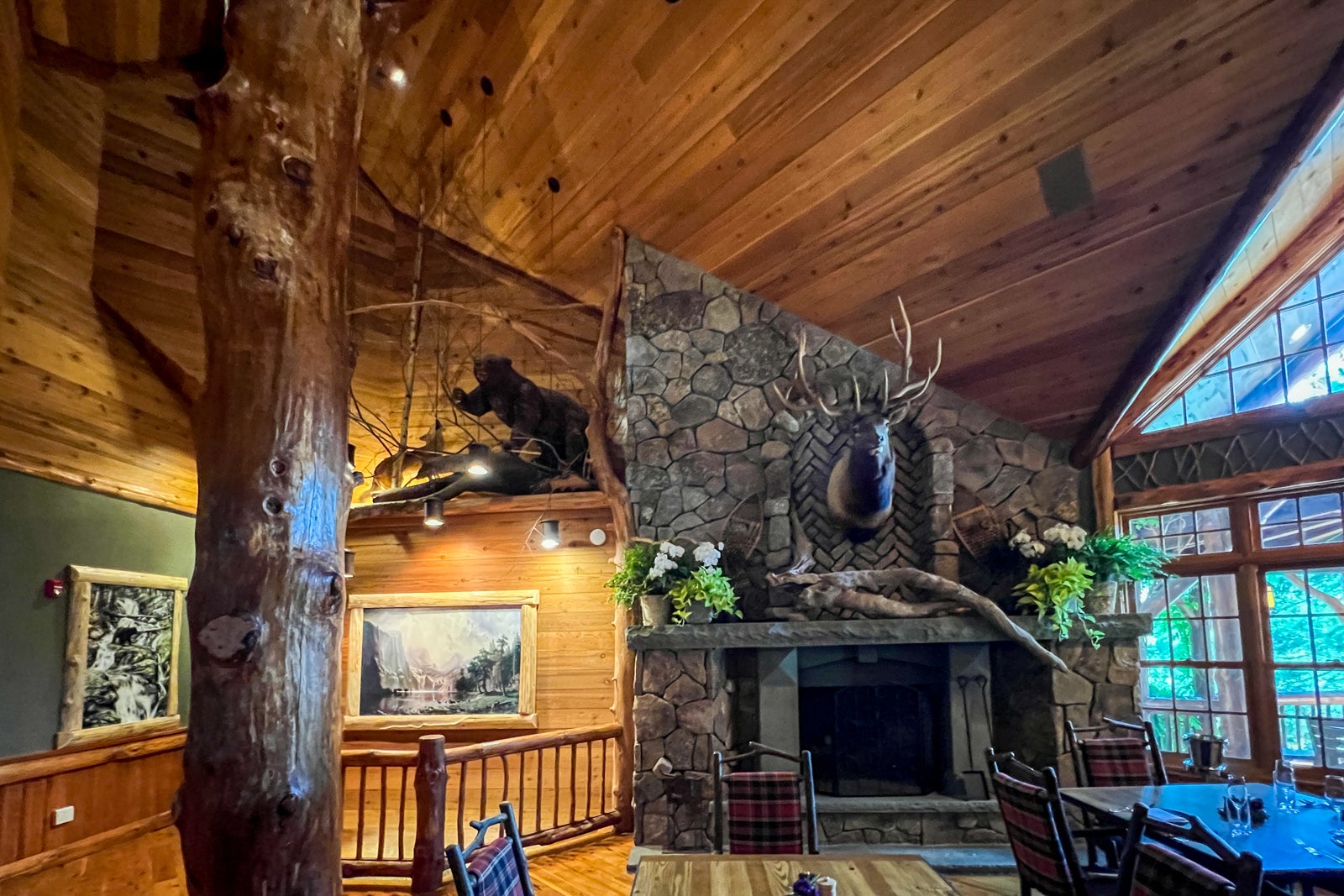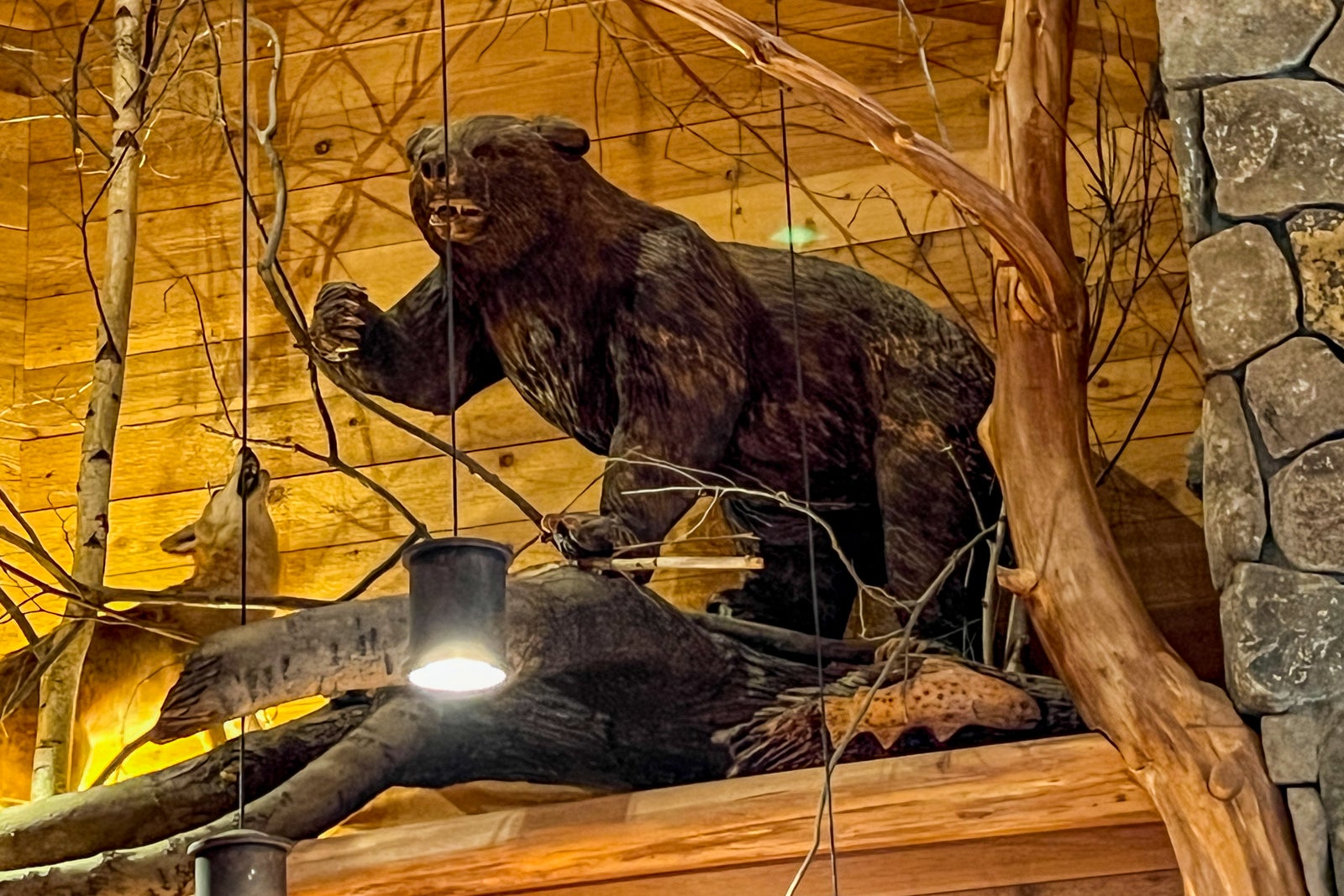 Another building houses two duckpin bowling lanes, a tiny gym, card tables and a movie theater. Nothing was more than a 10-minute walk away and the staff was happy to shuttle guests around on electric golf carts.
During our weekend there, we only saw 13 other guests, typically around dinner time in the main lodge. (Guests need to be at least 21 years old.)
In fact, there were probably more deer sightings on the grounds.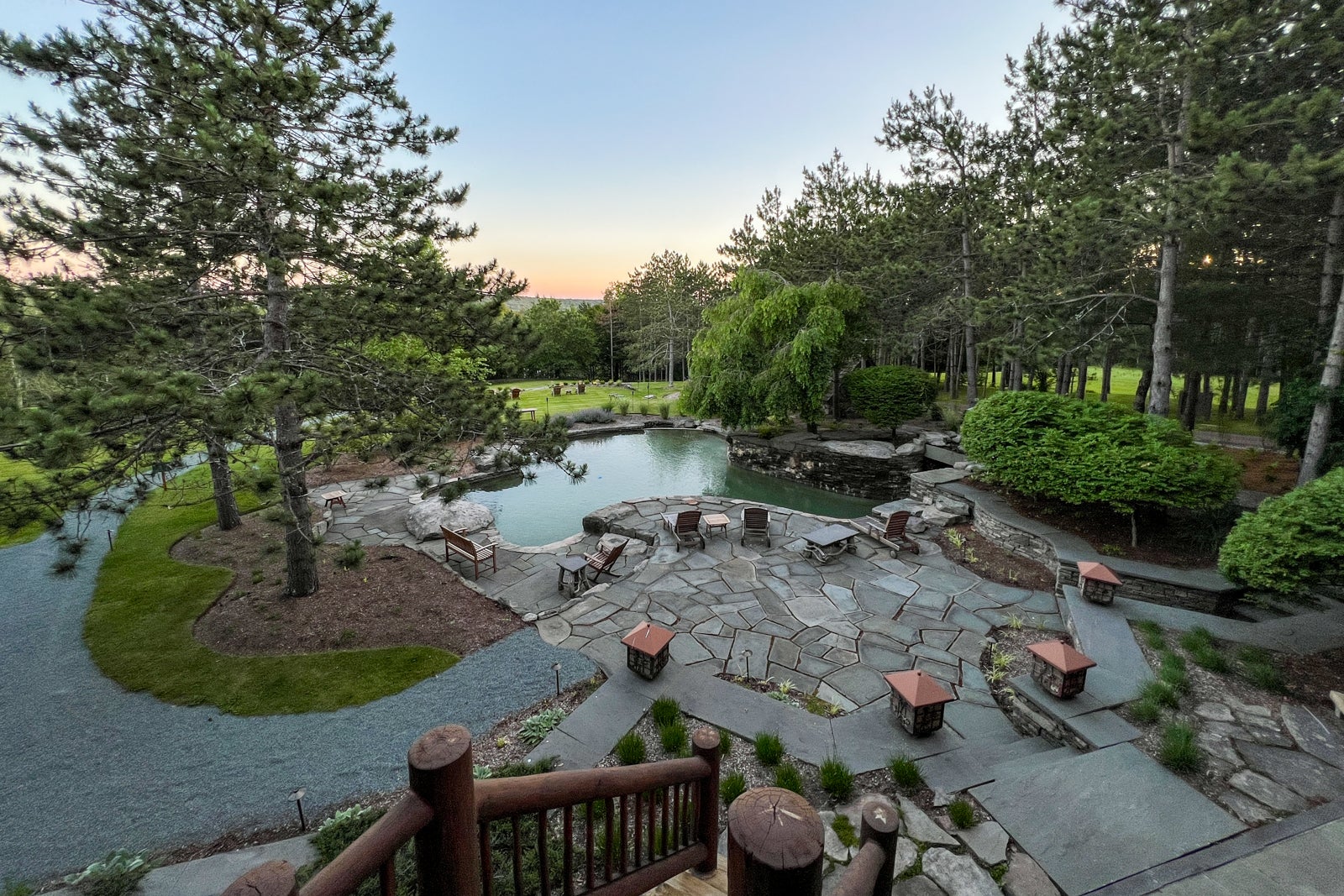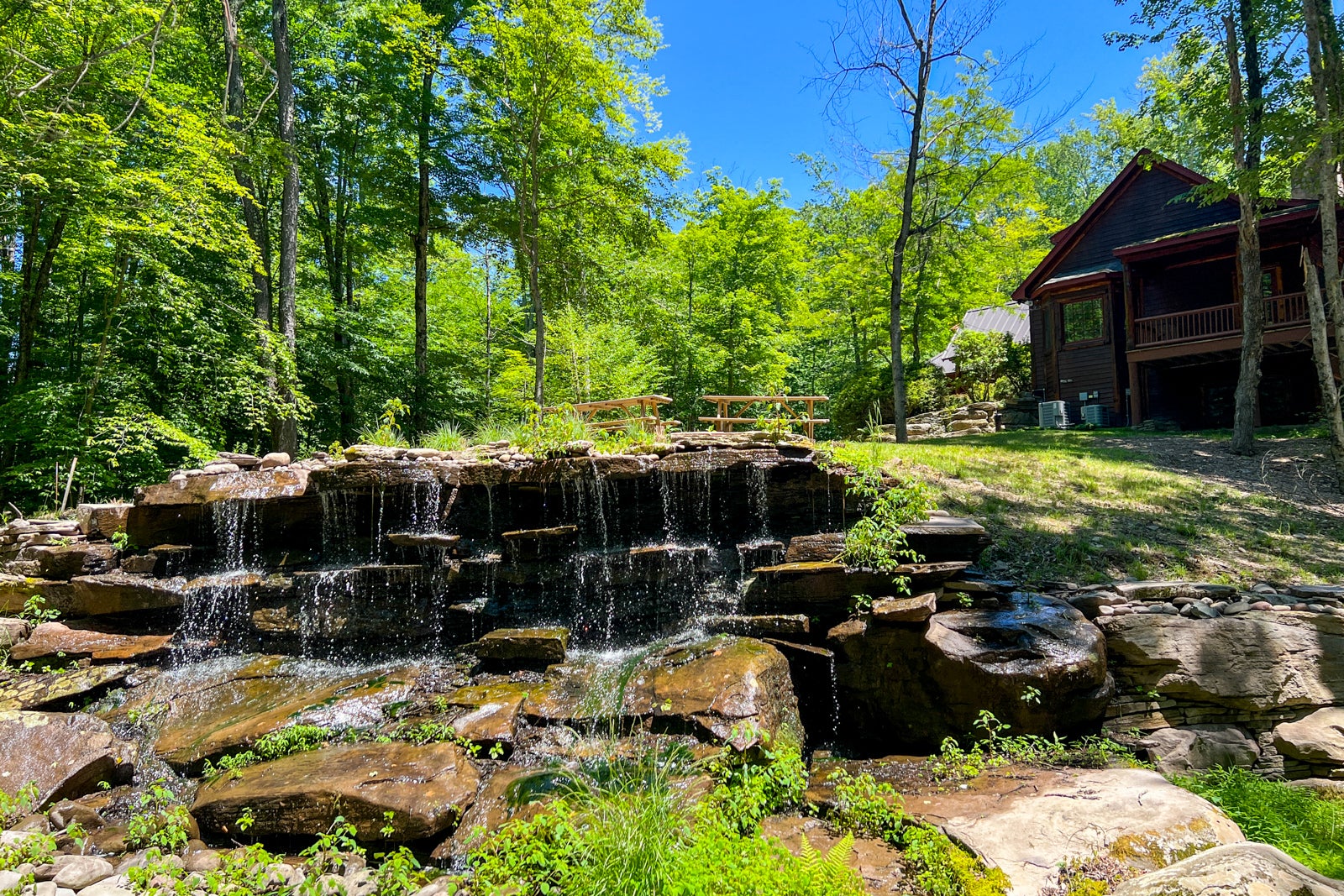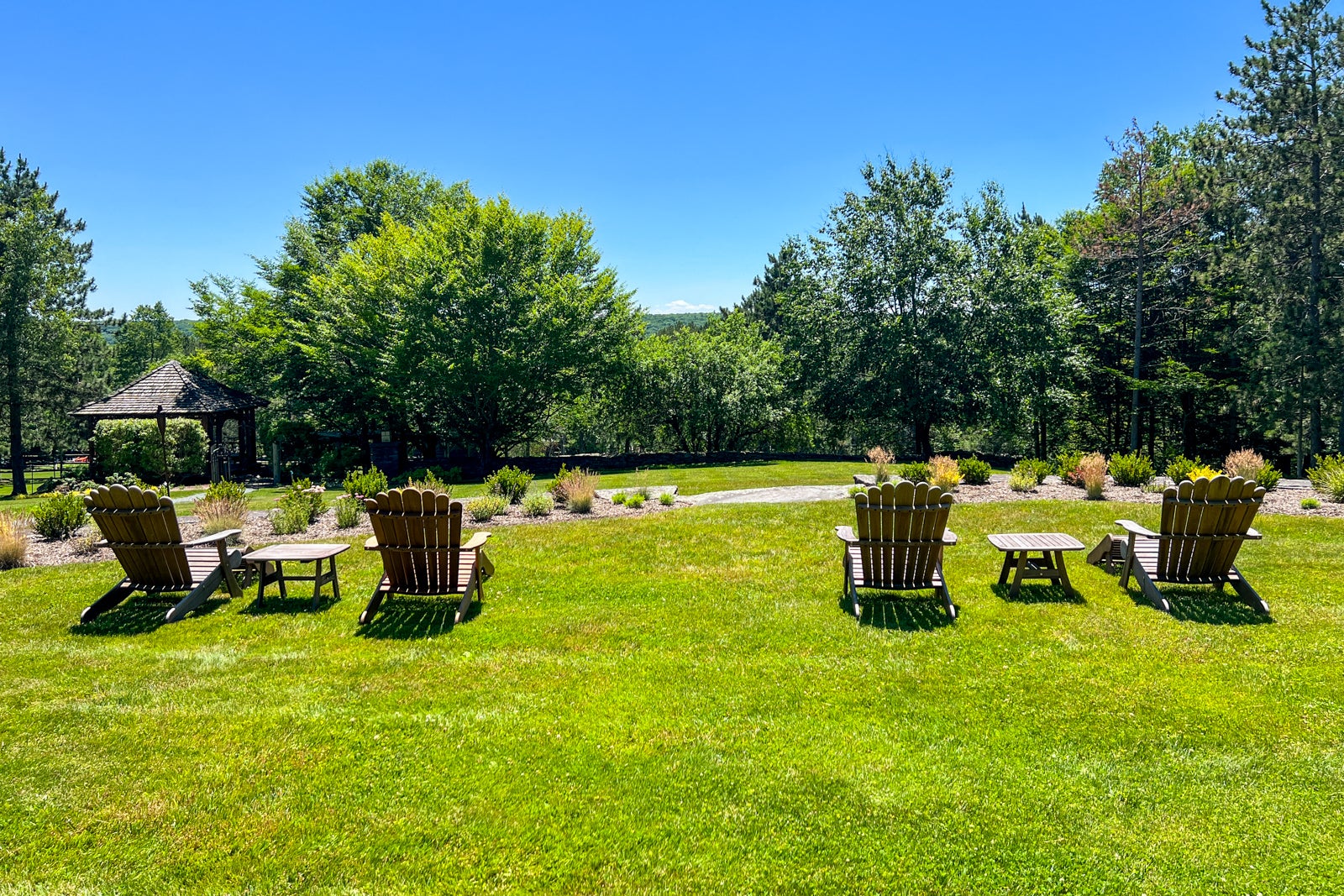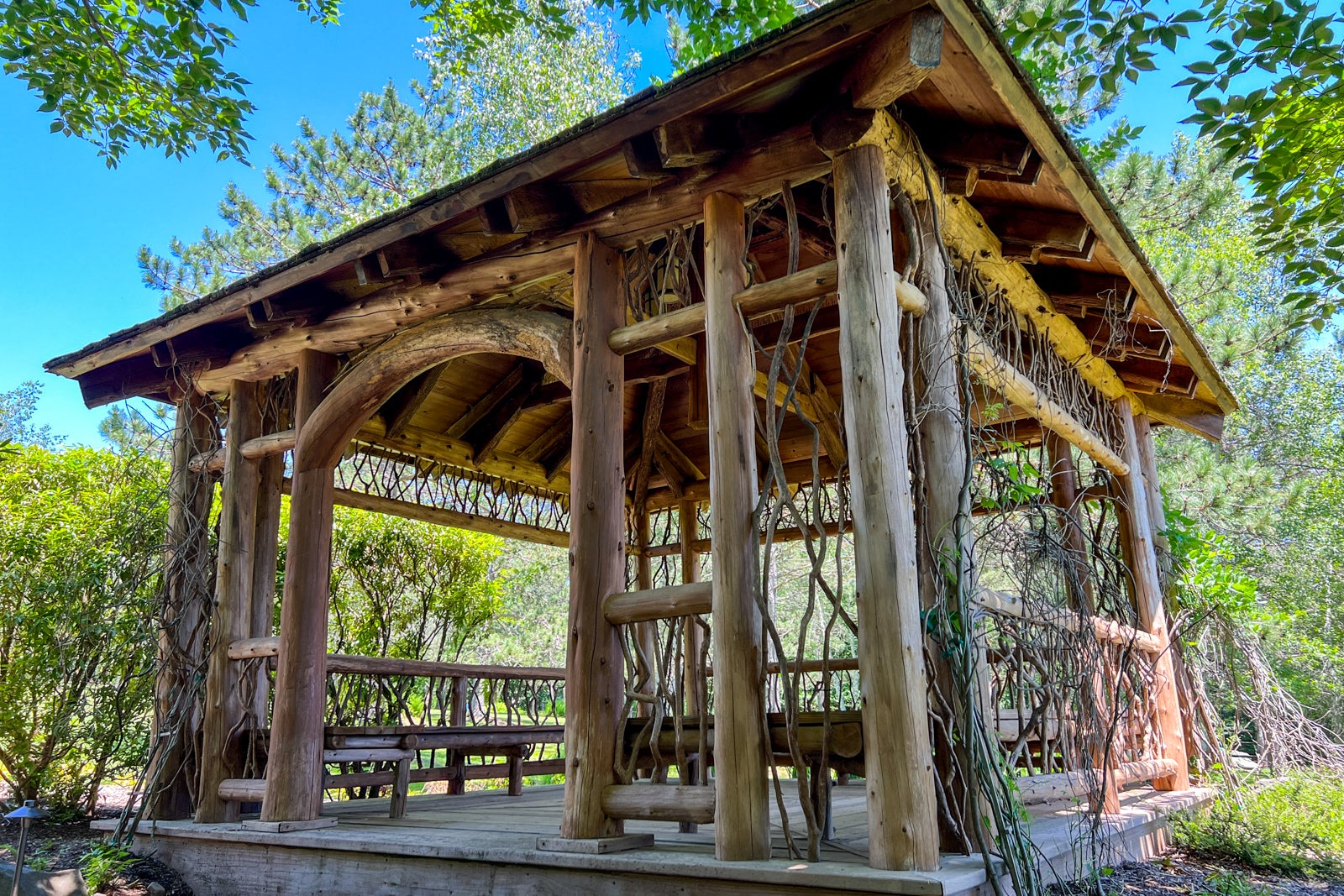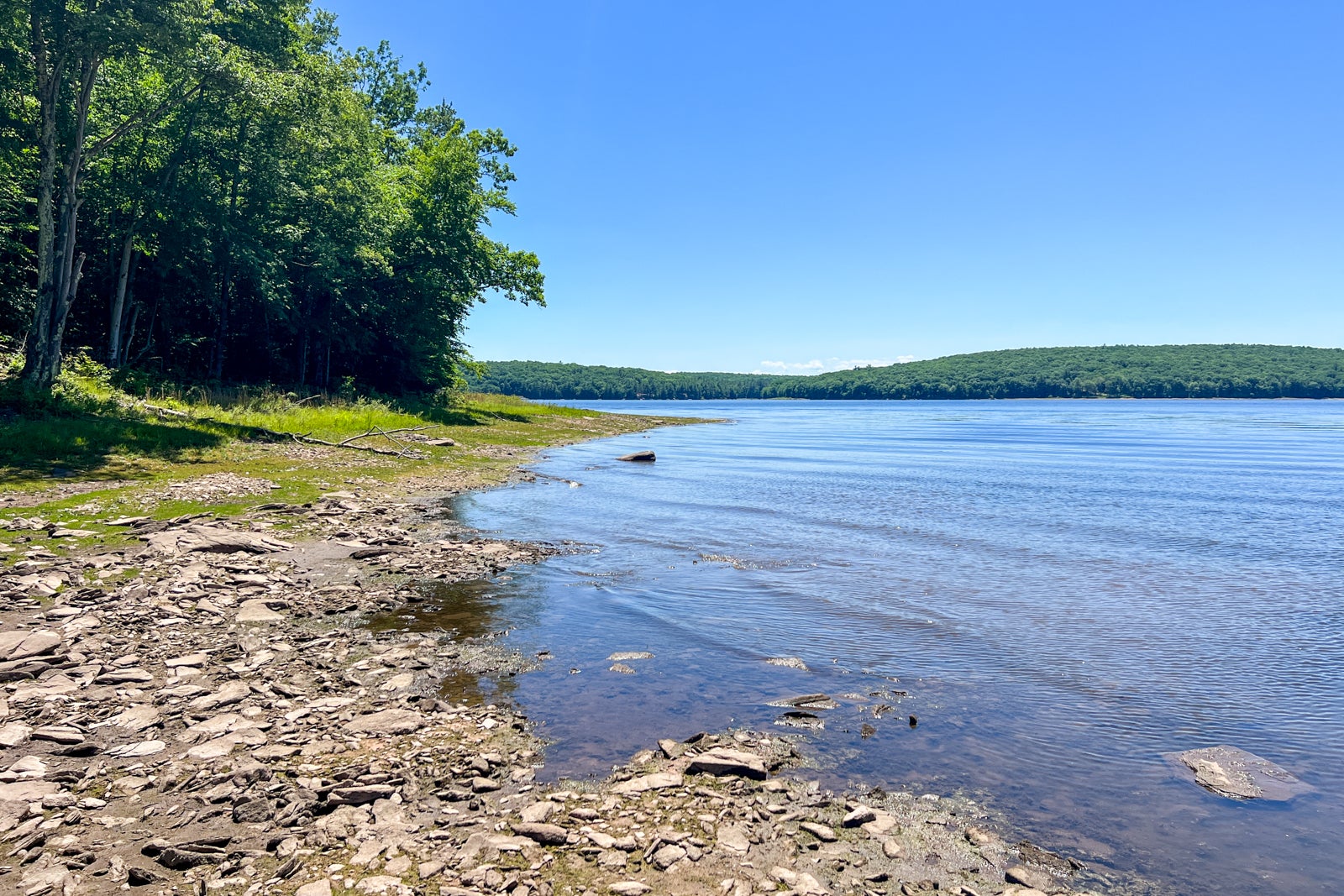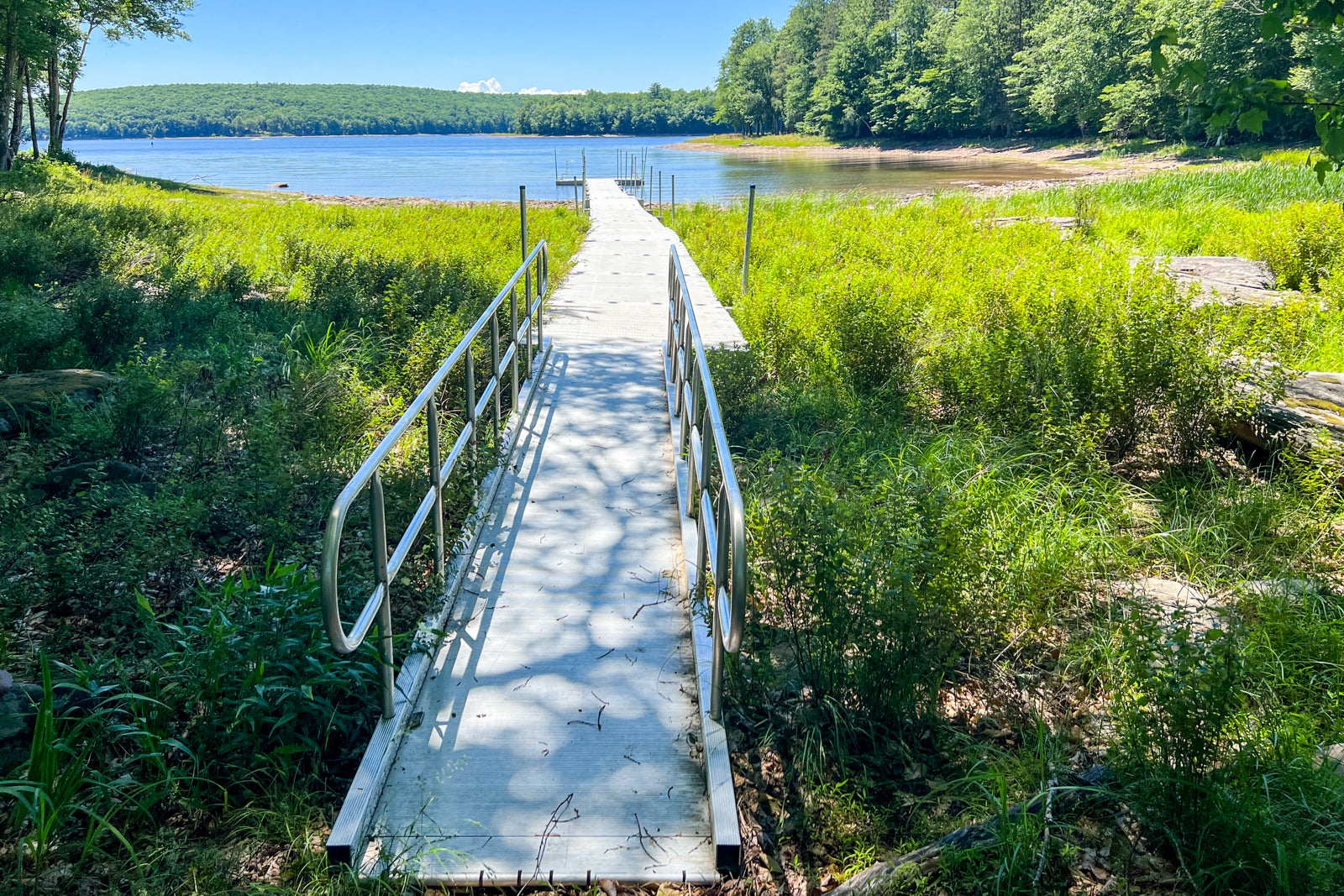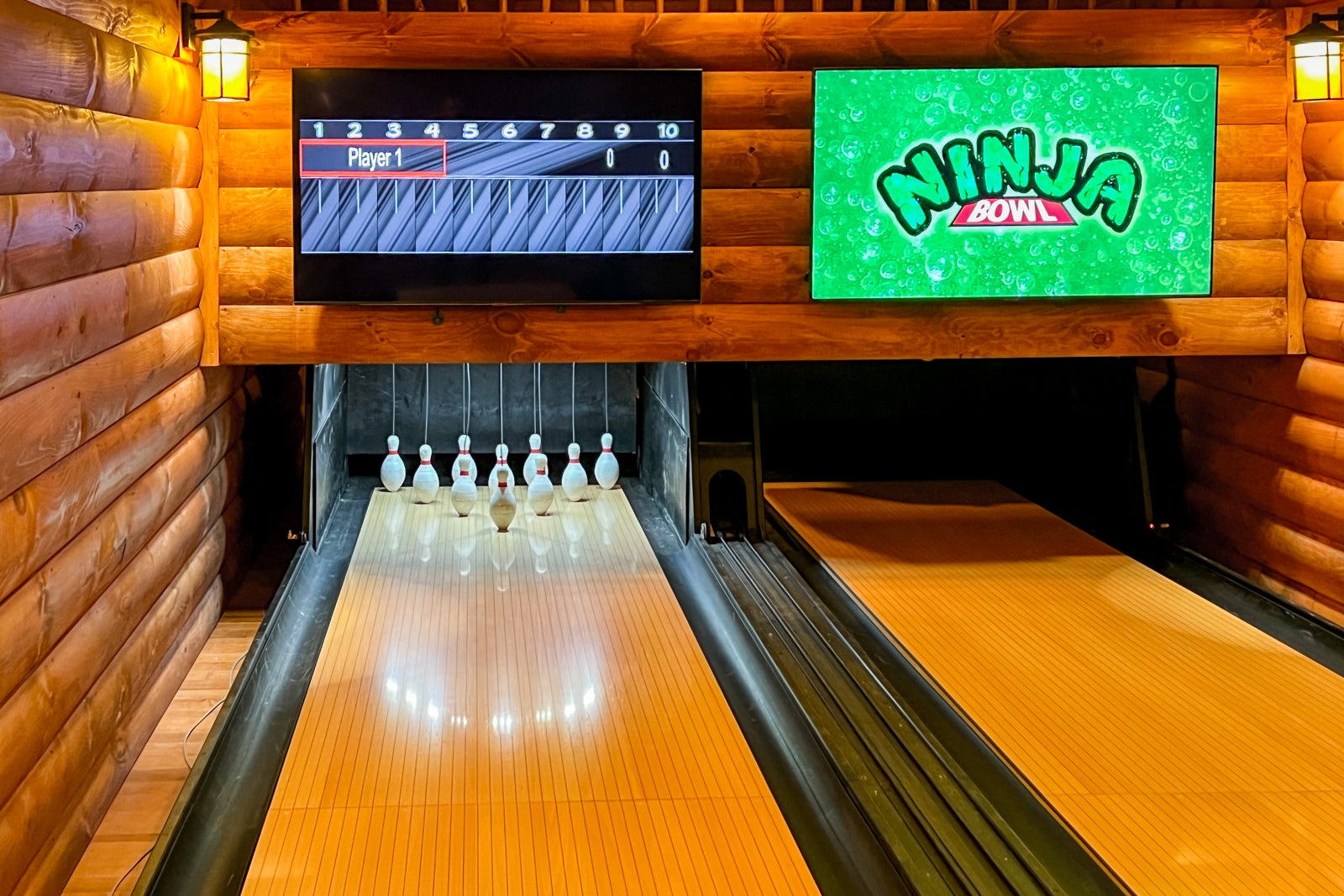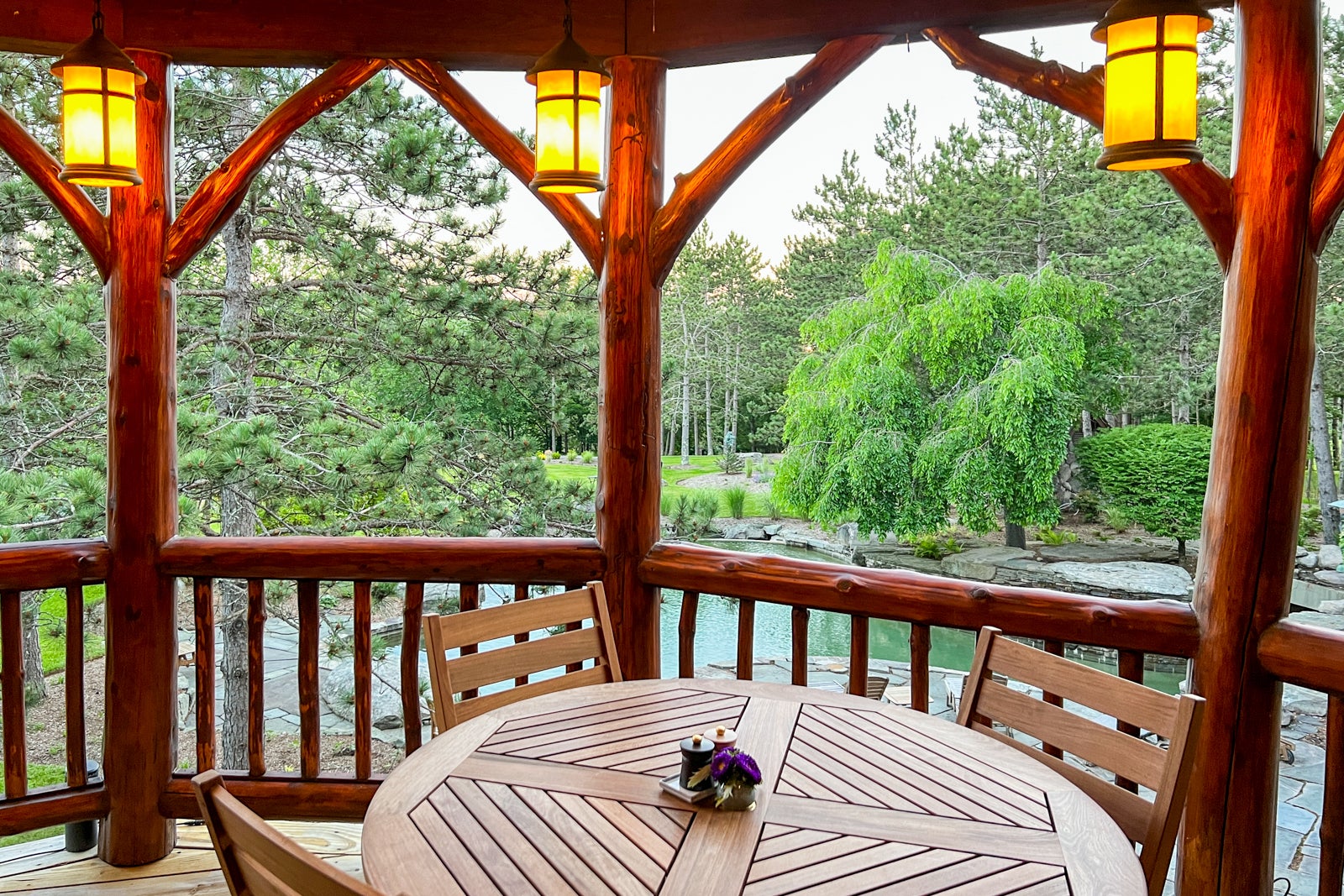 Service
Our stay was just a month after the resort's opening. At TPG, we usually wait longer to review hotels, but given the buzz around The Chatwal Lodge, we wanted to visit ahead of the peak summer season.
There were a few minor growing pains (which I'll detail in a moment) but overall the staff members went out of their way to ensure that guests were having a great time. Every time we encountered somebody, they asked if we needed a drink (alcoholic or not) or if there was anything they could do to make the stay better. They were attentive without being overbearing, and professional without being stuffy. By the end of the weekend, we were on a first-name basis with all of them, having relaxed conversations.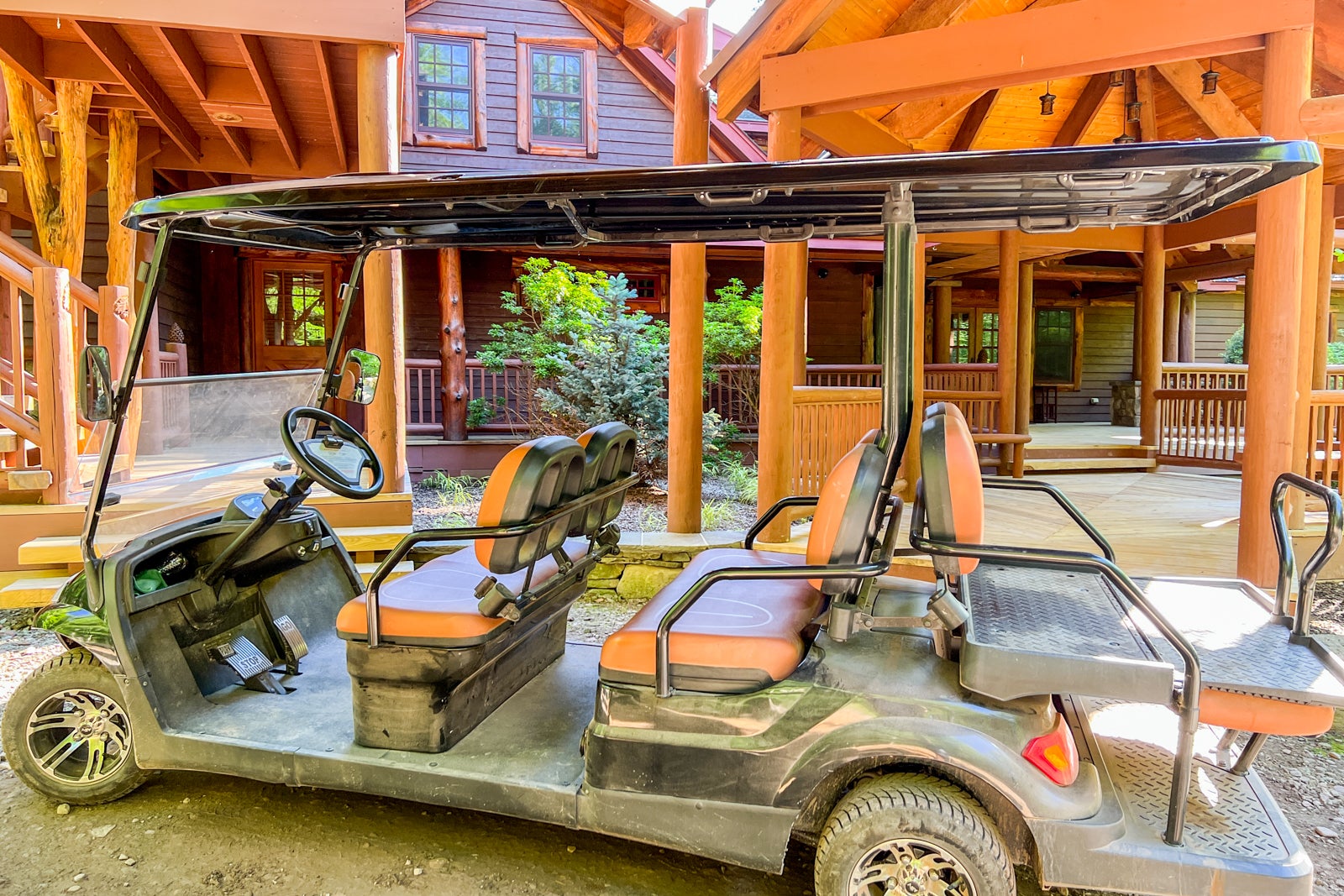 It's a small team: The head of food and beverage doubled as the resort's sommelier — but also delivered breakfast to our room both mornings. On our second afternoon, she arranged to have a cheese and charcuterie platter sent to our balcony, along with a chilled bottle of wine.
The bellhop, who doubled as the parking valet, washed and detailed our car ahead of our departure.
When we sat outside after dinner, a waitress, unprompted, brought out and lit a citronella candle. She was also the resort's bartender. The next day when we skipped lunch but wanted a light snack, she packed up some leftover malbec sorbet, at our request, from the prior night's dinner menu for a little picnic.
Each night, during turndown service, the staff lit our fireplace and left out chocolates and two glasses of port.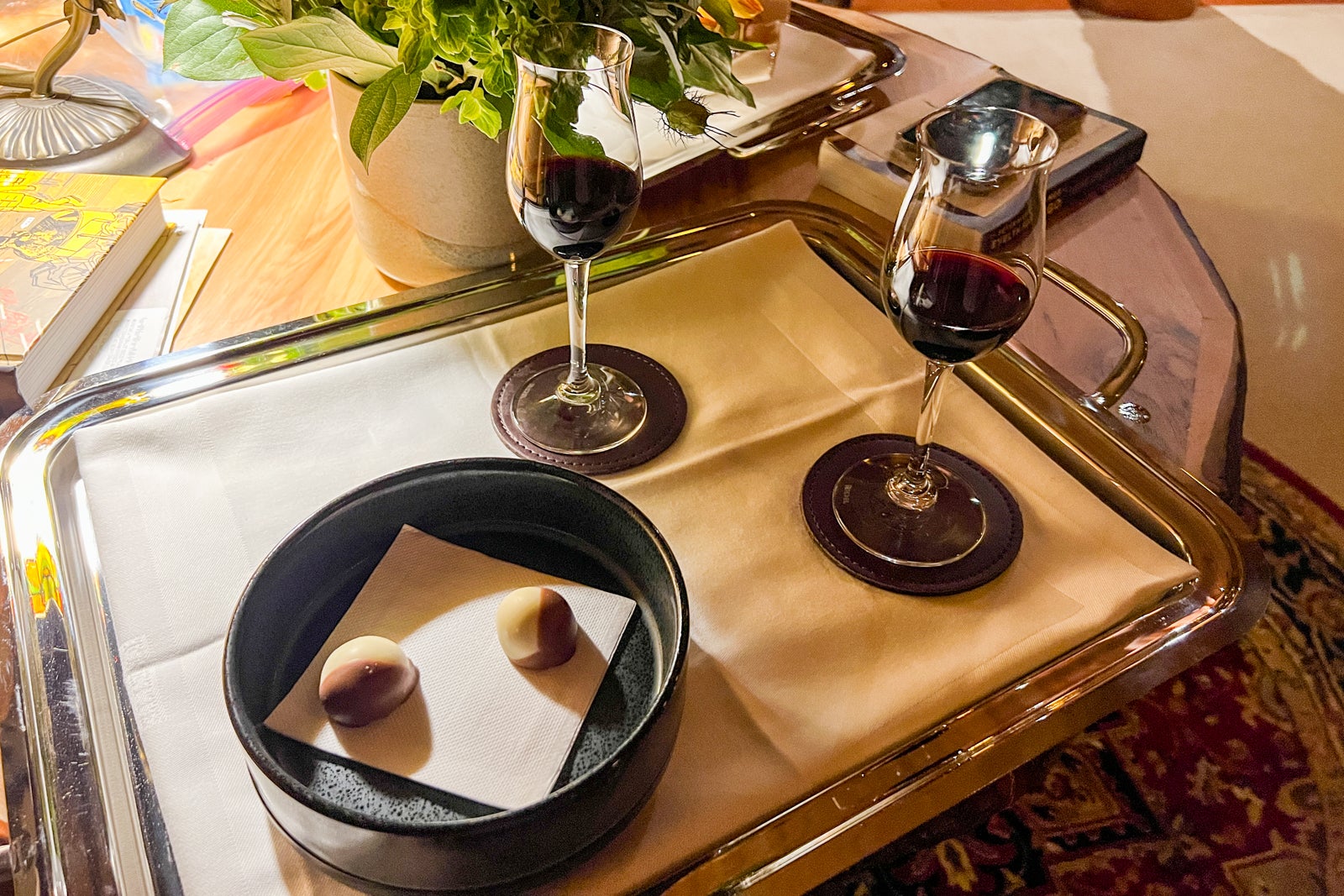 Food and drinks
As mentioned, meals are included in the nightly rate and, though the menus were small, they packed a mighty punch.
Each night, there was a new menu with three starters and three or four entrees to choose from. The kitchen delivered singular meals featuring whatever was fresh that day; at lunchtime, the staff still didn't know what ingredients the chef would be sourcing for dinner that evening.
Every meal started with shareable snacks for the table, such as a radish crostini, mushroom arancini, homemade potato chips, shishito peppers, and — my personal favorite – shrimp and asparagus wrapped in prosciutto.
Starters included a beet salad, a mushroom salad and, another favorite, English peas with prosciutto and poached egg yolk. The mains included striped bass, steak, roasted chicken, wild cod and risotto.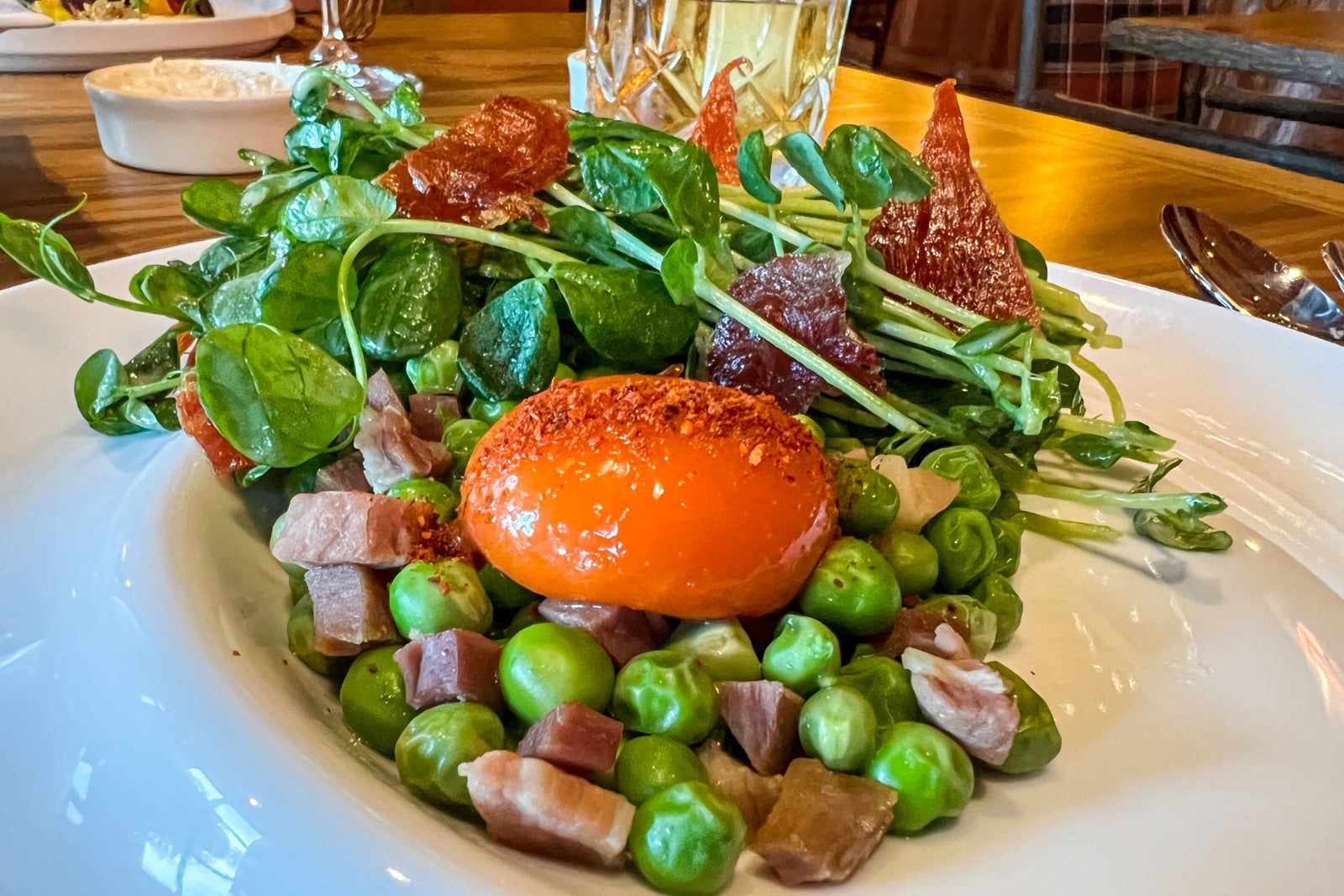 For dessert there was a flourless chocolate cake and the aforementioned malbec sorbet.
The meals were well crafted, and yet very comforting. It wasn't like a family member adding "love" as the secret ingredient, but it was pretty darn close.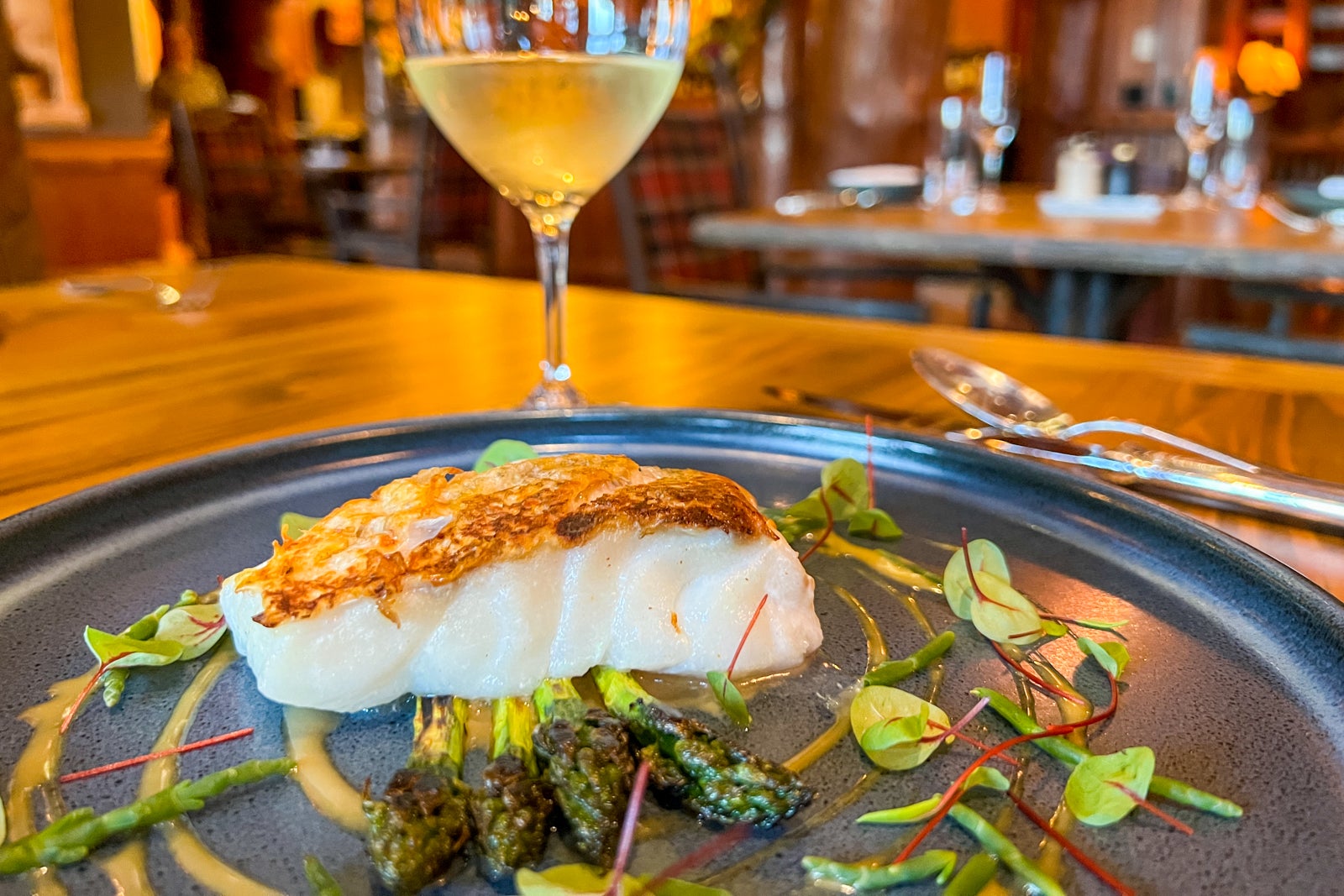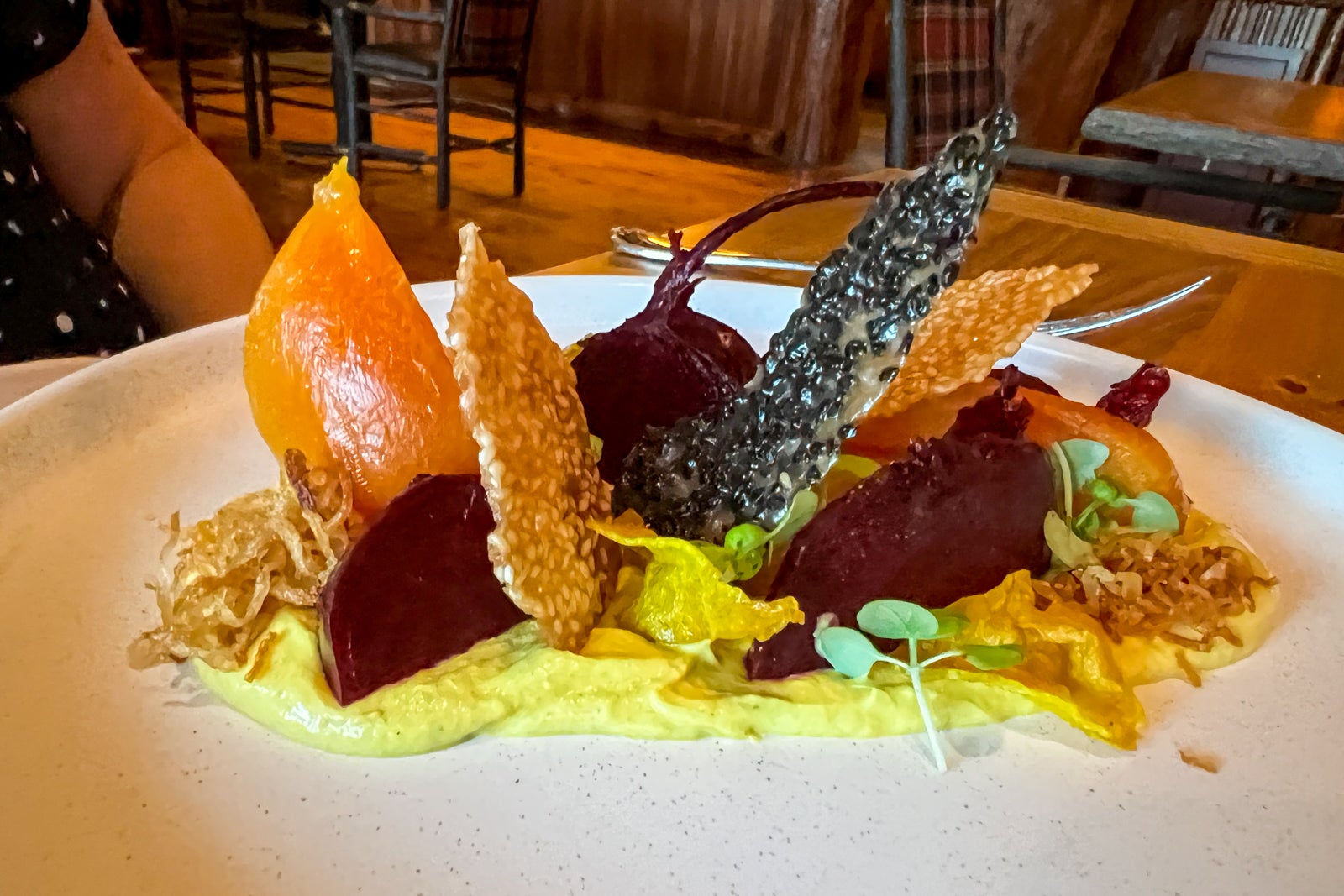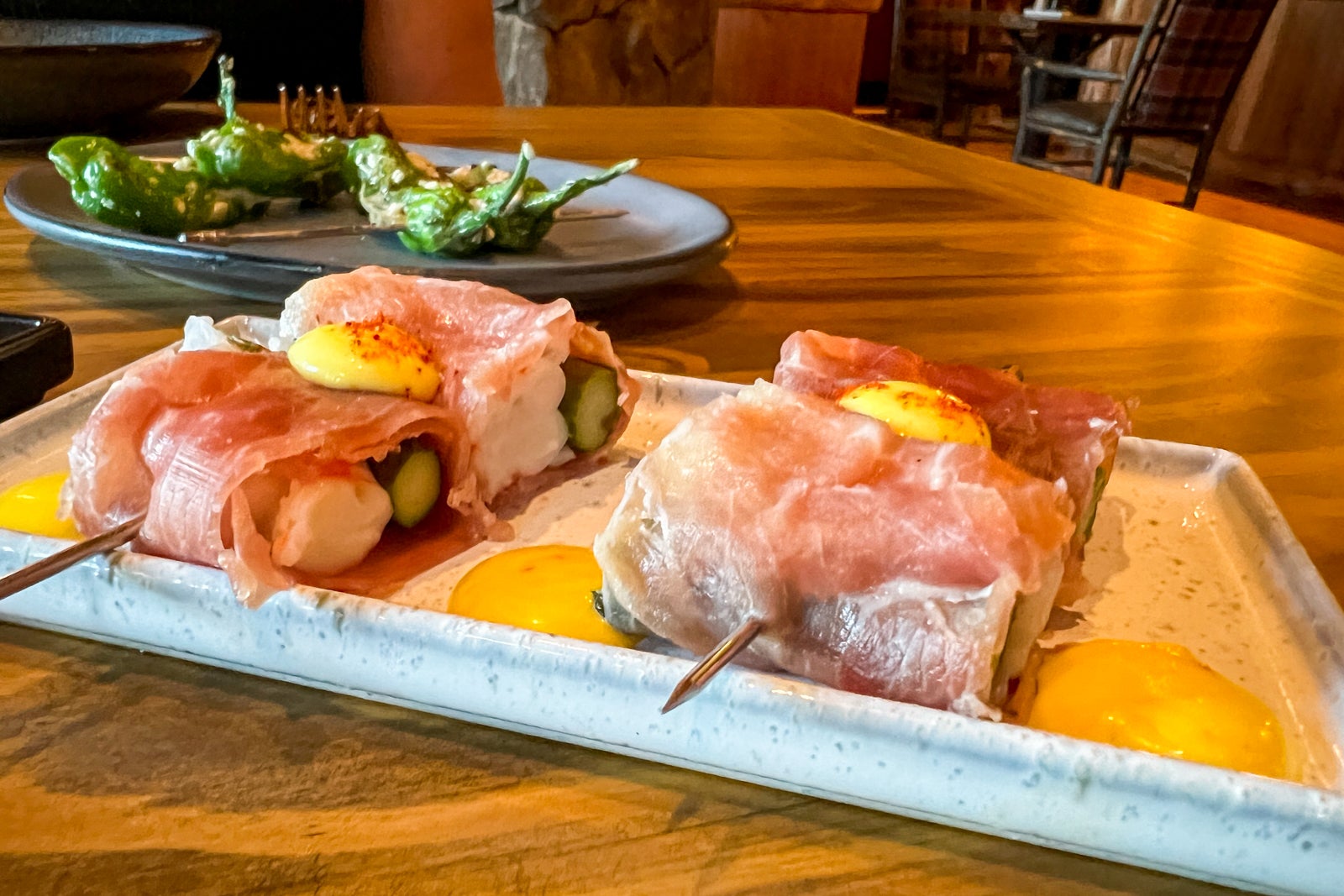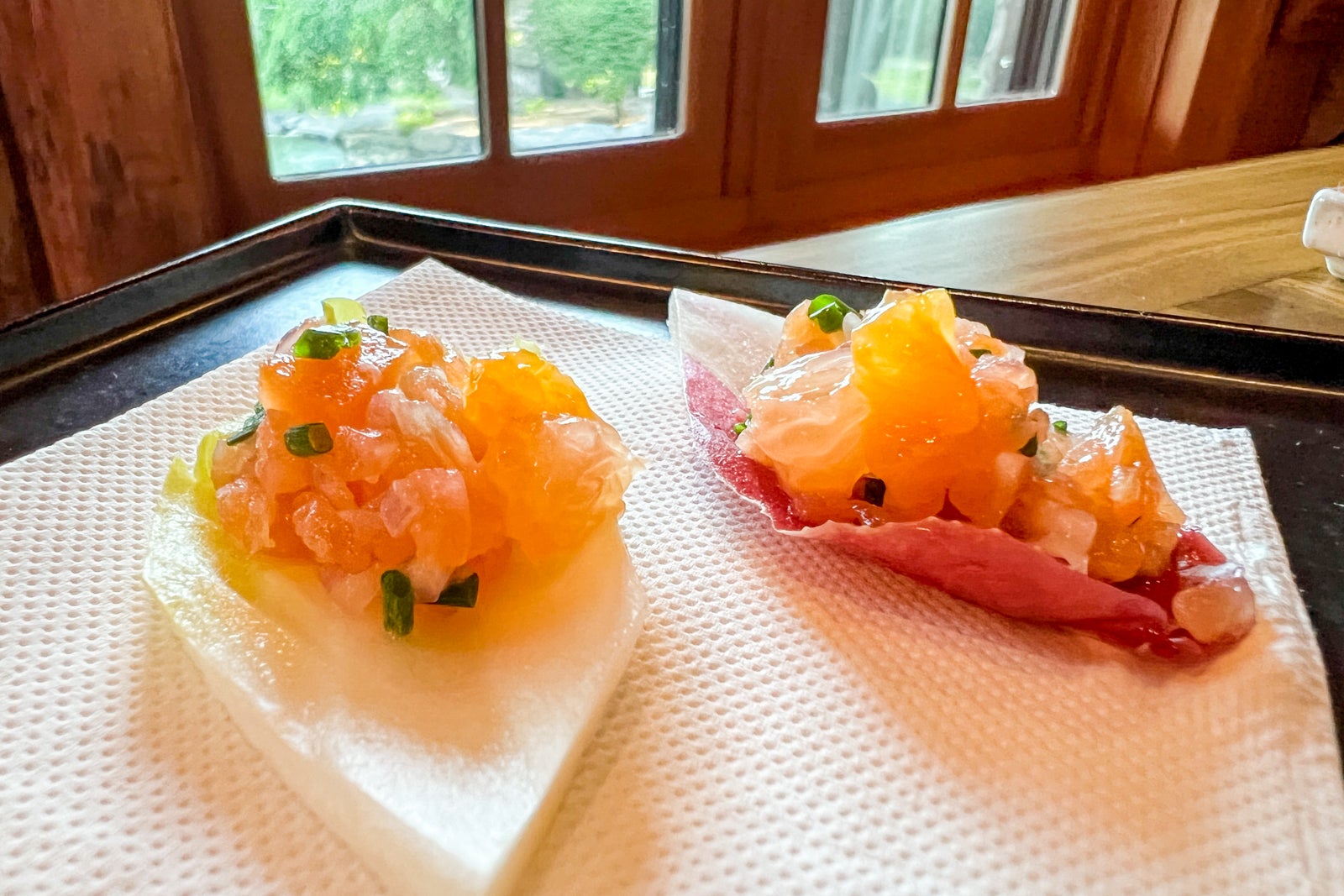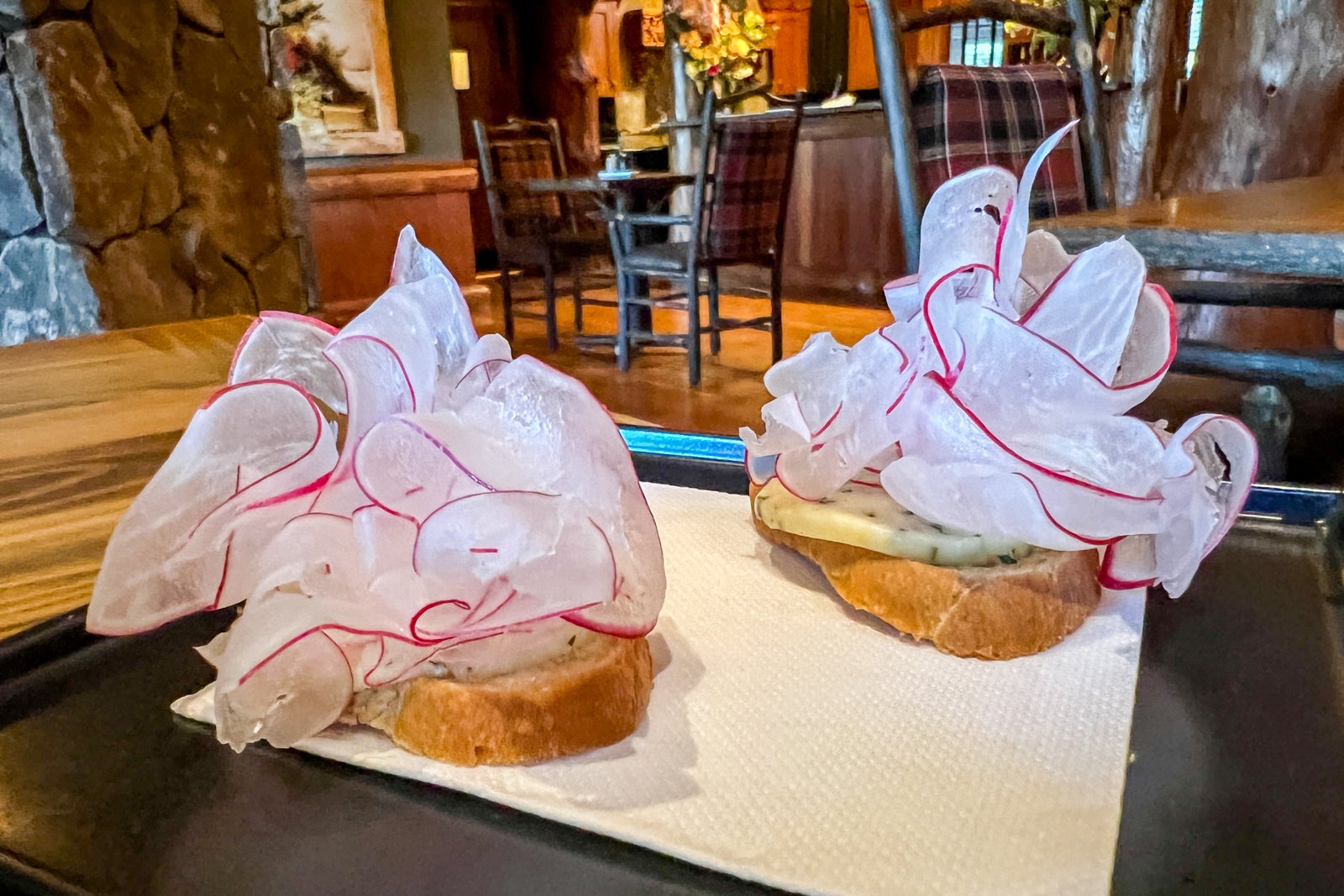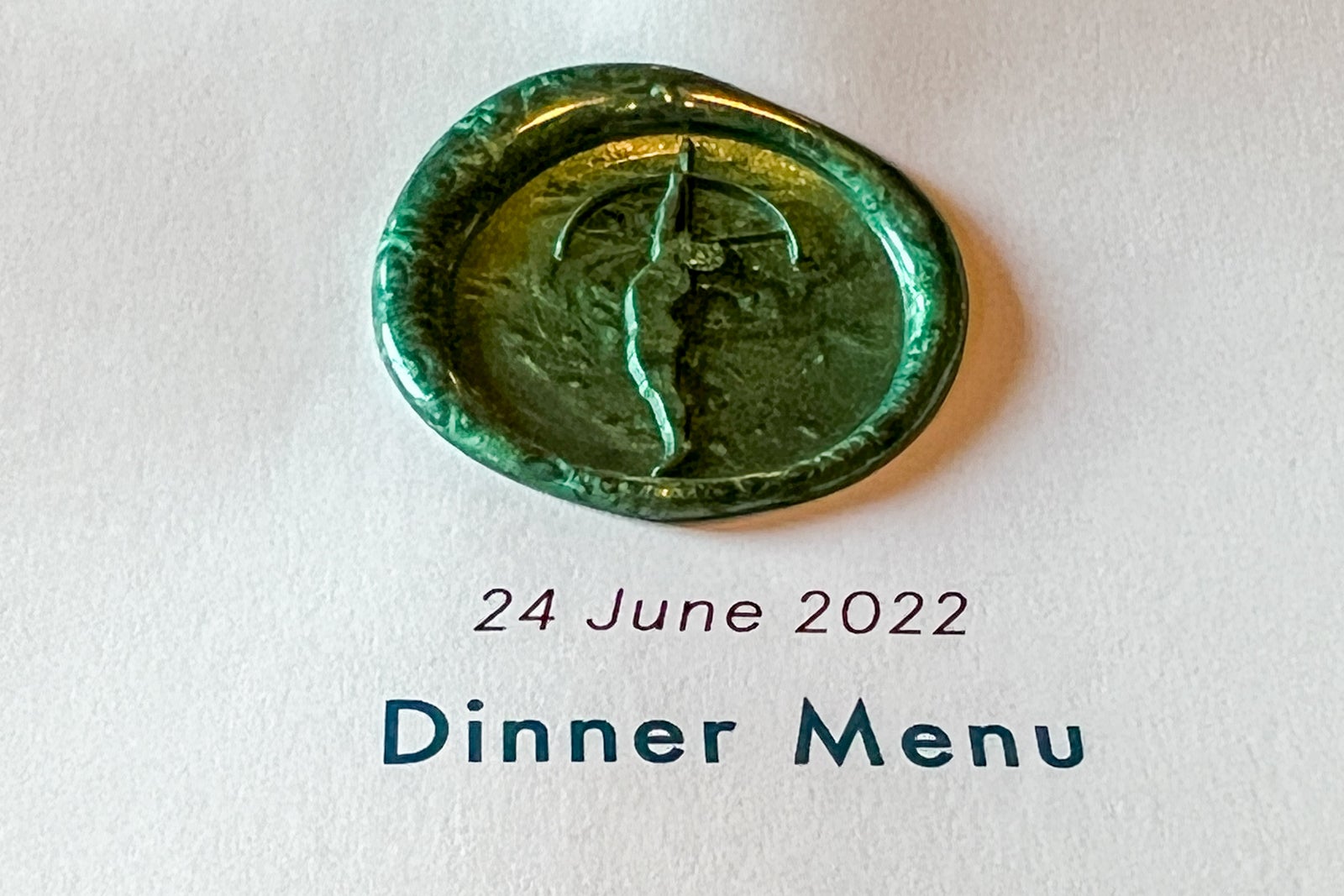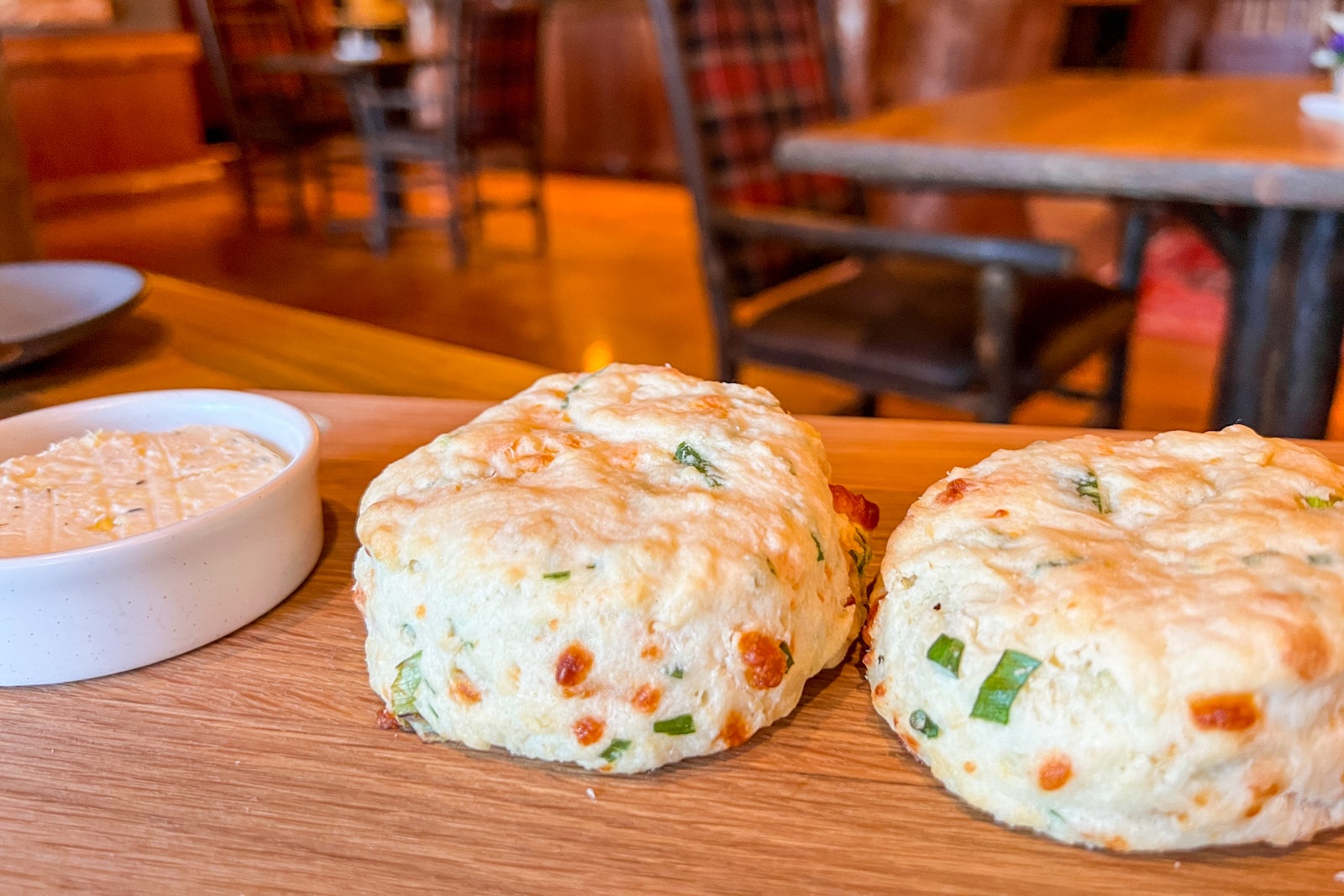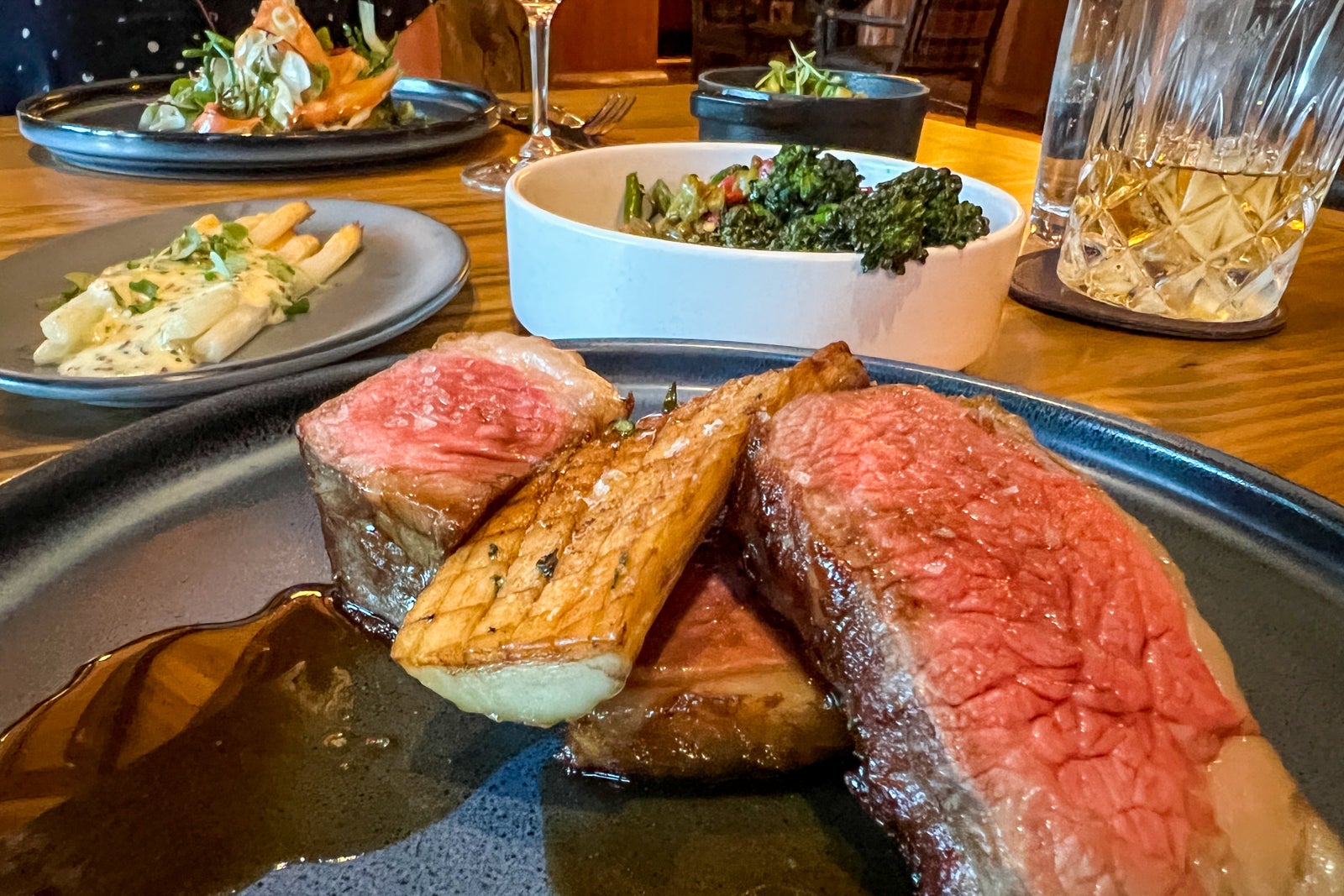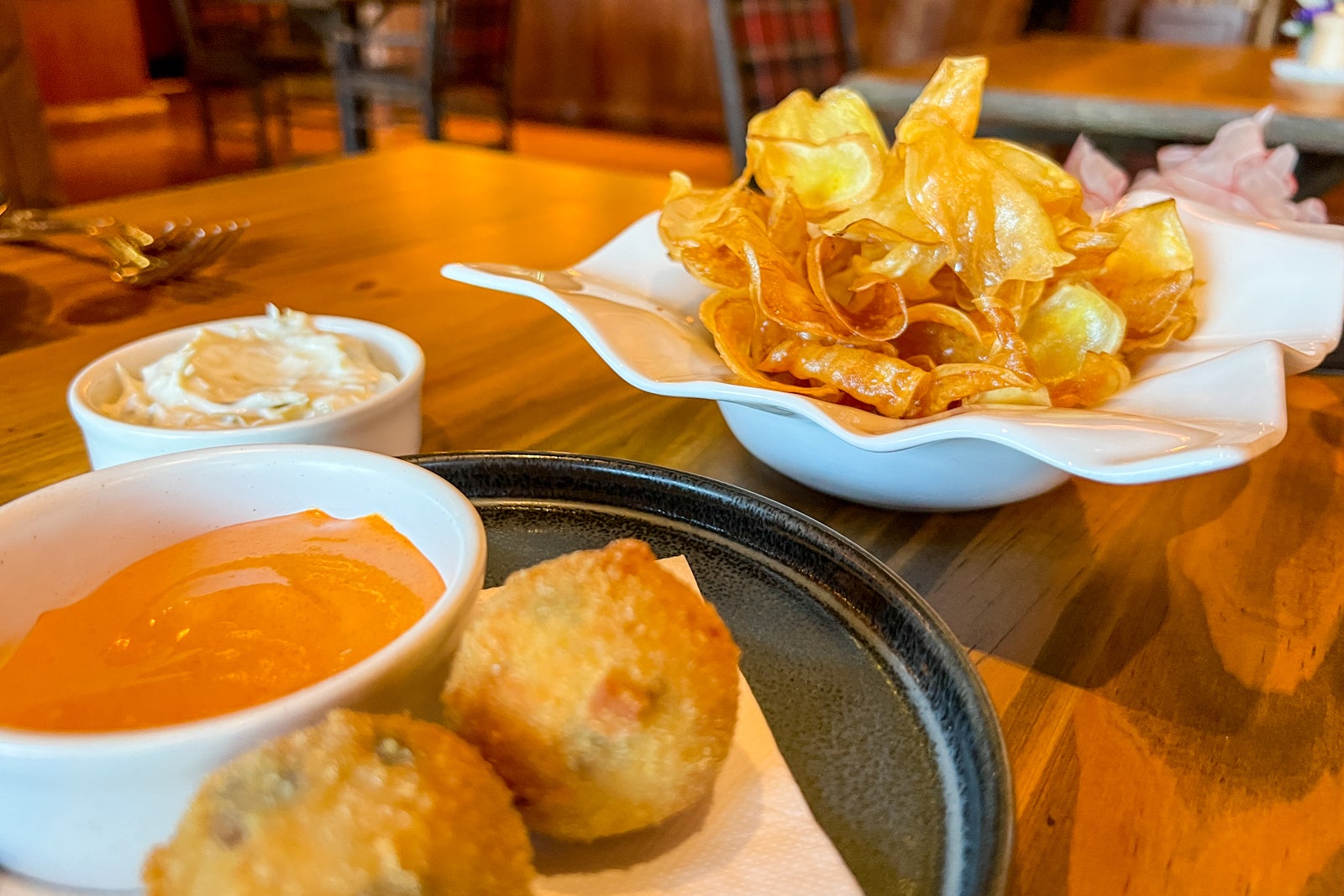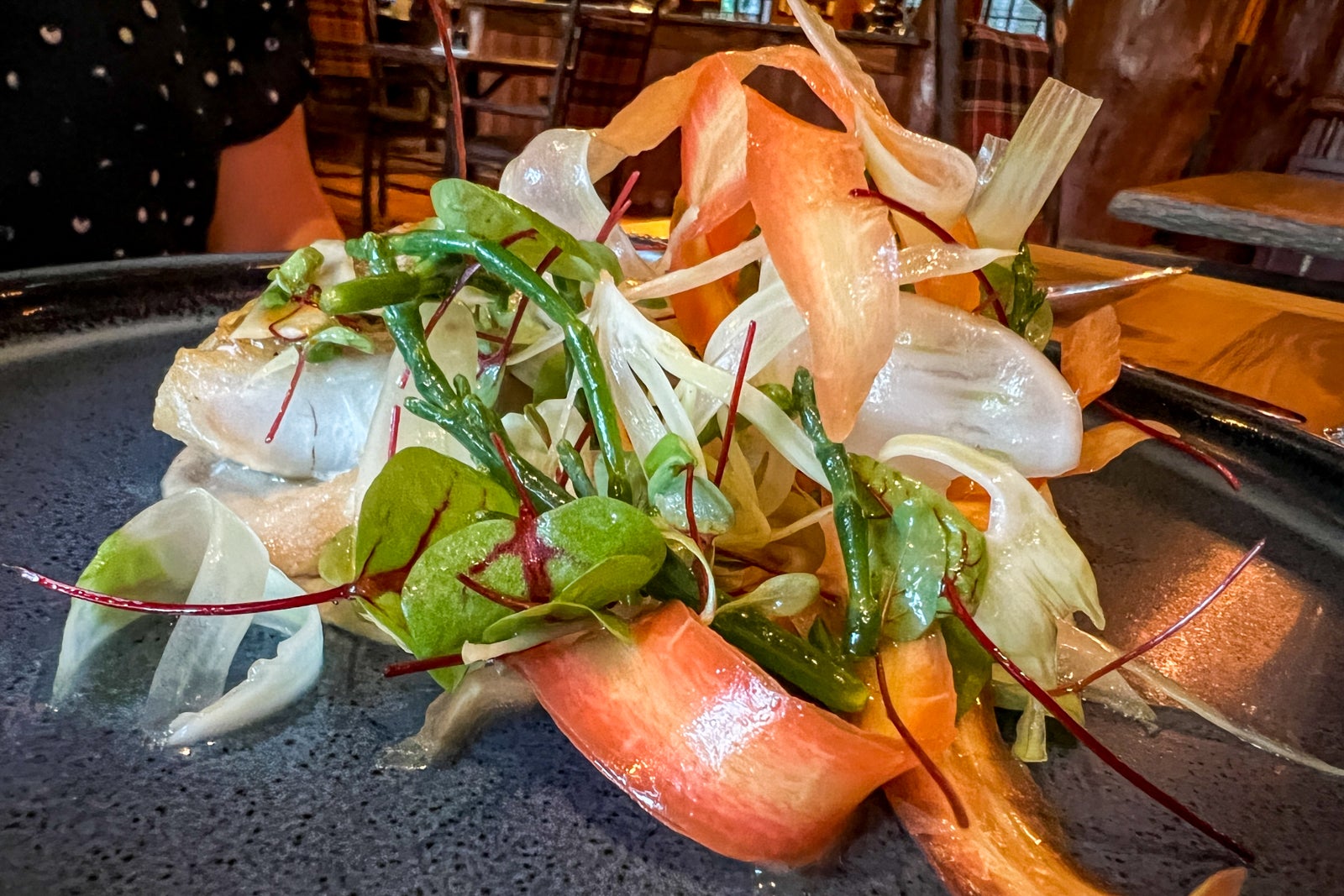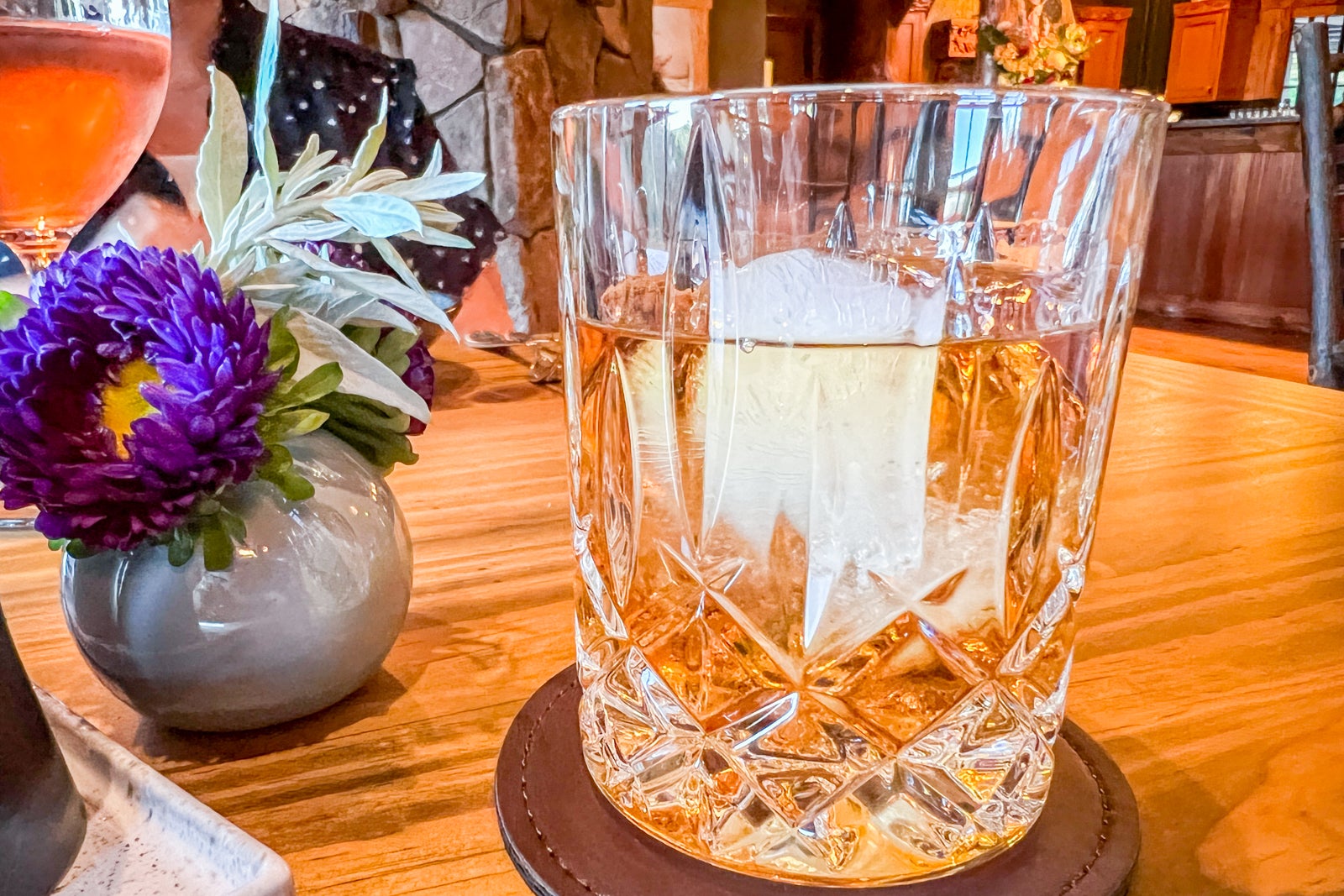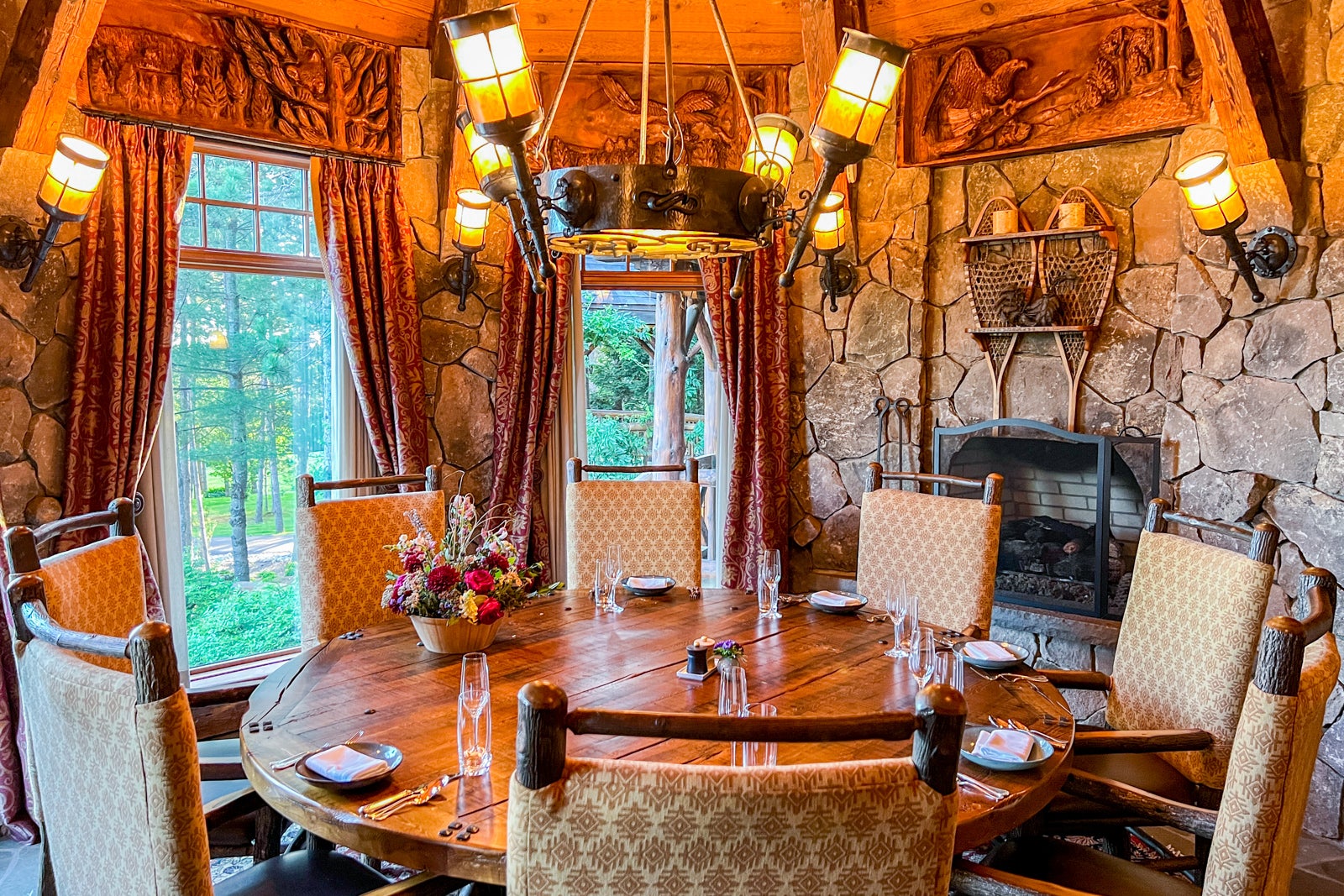 Diners can choose to have the staff pair wines with the meal or order their own glass or bottle. The Champagne selections included Laurent-Perrier; for wine, there was a DuMOL 2019 Charles Heintz Vineyard Isobel chardonnay and a 2018 Camille Giroud Les Lurets Volnay Burgundy among many other choices.
If you don't know those labels, don't worry. Just trust us, they're great bottles, especially at a place where it's all included. I was very pleased by the whiskey selection (think: Glenlivet 18, WhistlePig 10-year rye, Oban 14 and Mars Shinshu Iwai Tradition).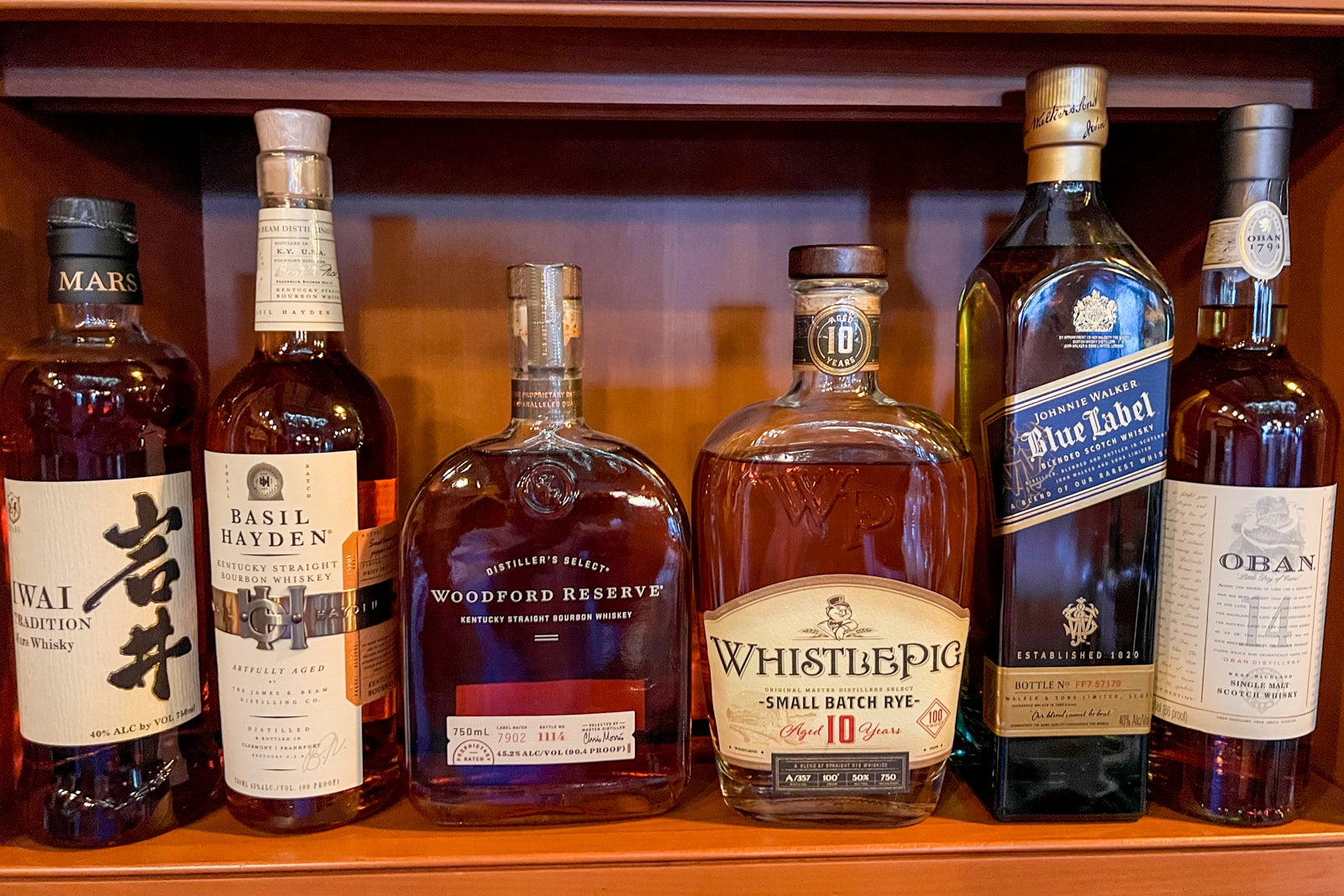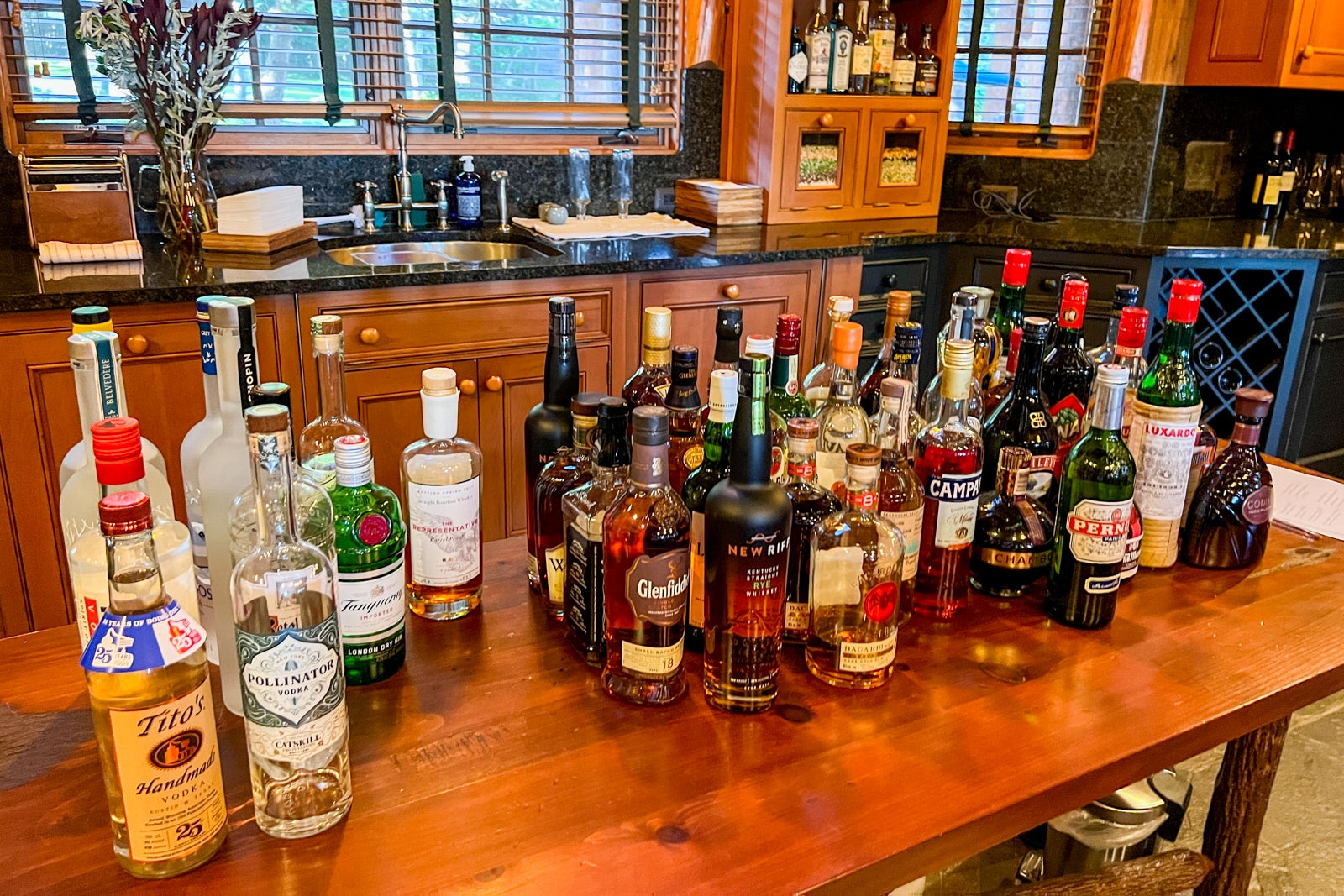 We chose to have breakfast delivered to our room each morning and ate on the balcony. The staff drove the meal to our room in a golf cart, keeping it warm in an insulated container, and then took the time to plate everything before carrying it up to us.
The eggs had a beautiful farm-fresh hue, the pastries were great and the extremely fresh orange juice was served in a cute, reusable bottle. I was a huge fan of the yogurt parfait, filled with almonds and fresh berries.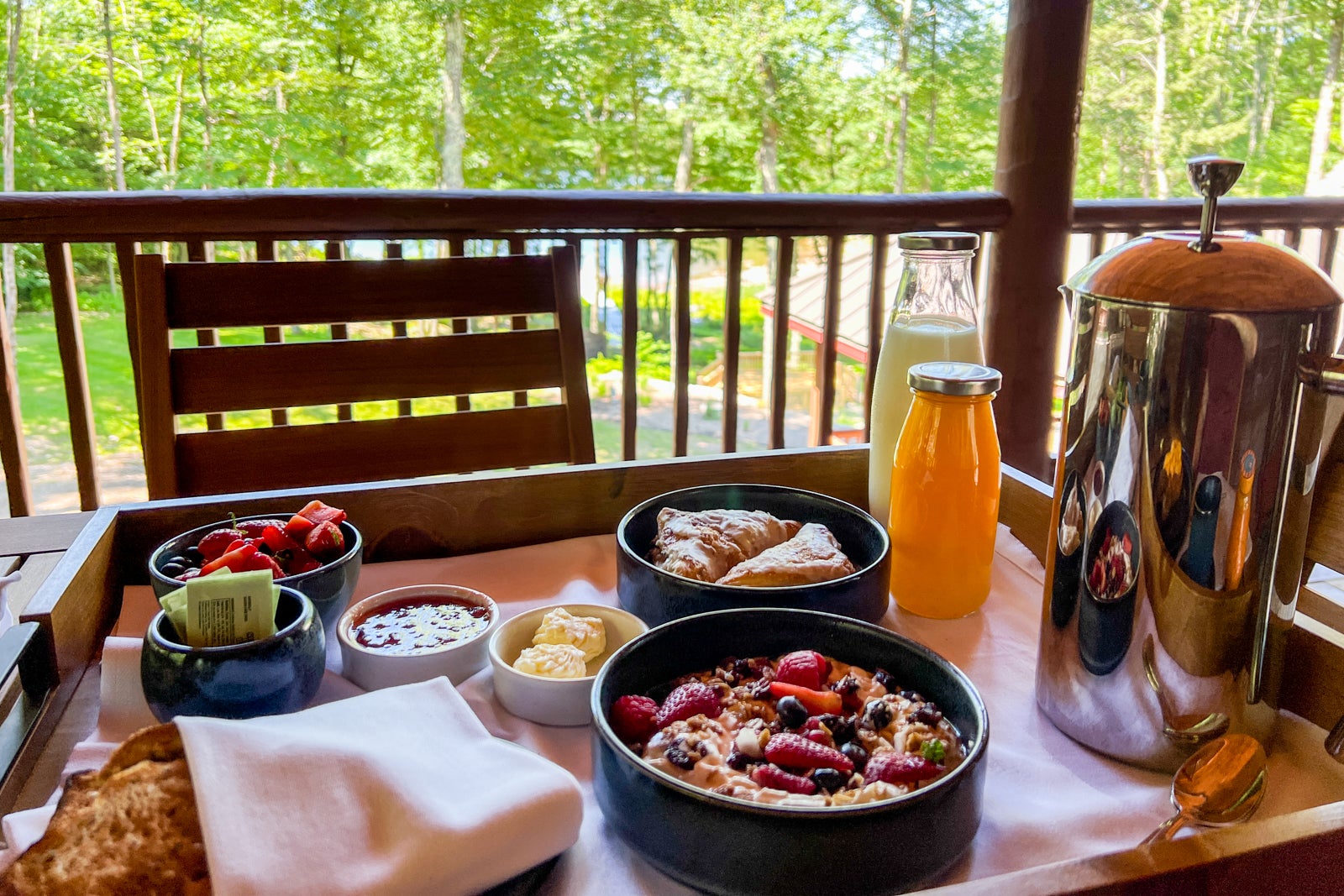 Rooms
We had initially booked an entry-level, 808-square-foot junior suite called Tree Tops. The room is up a flight of stairs from the main lodge's entrance and sits above the kitchen.
There were Frette robes and slippers, Malin + Goetz bath products and a minifridge stocked with water, soda, snacks and a few premixed cocktails.
The bathroom had a tub with a bold leaf pattern that was echoed on the shower tile. I guess we were meant to be in the forest canopy, after all.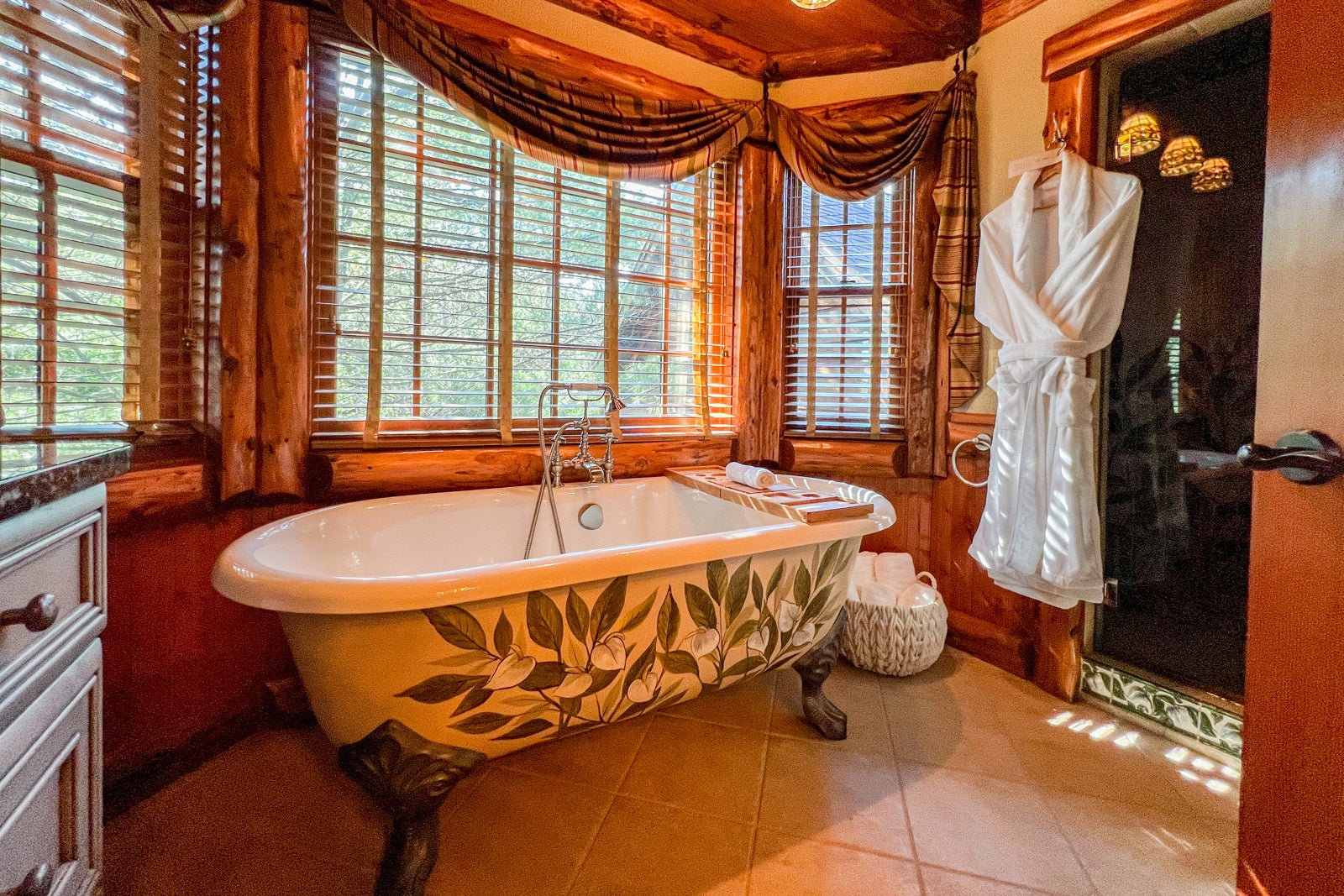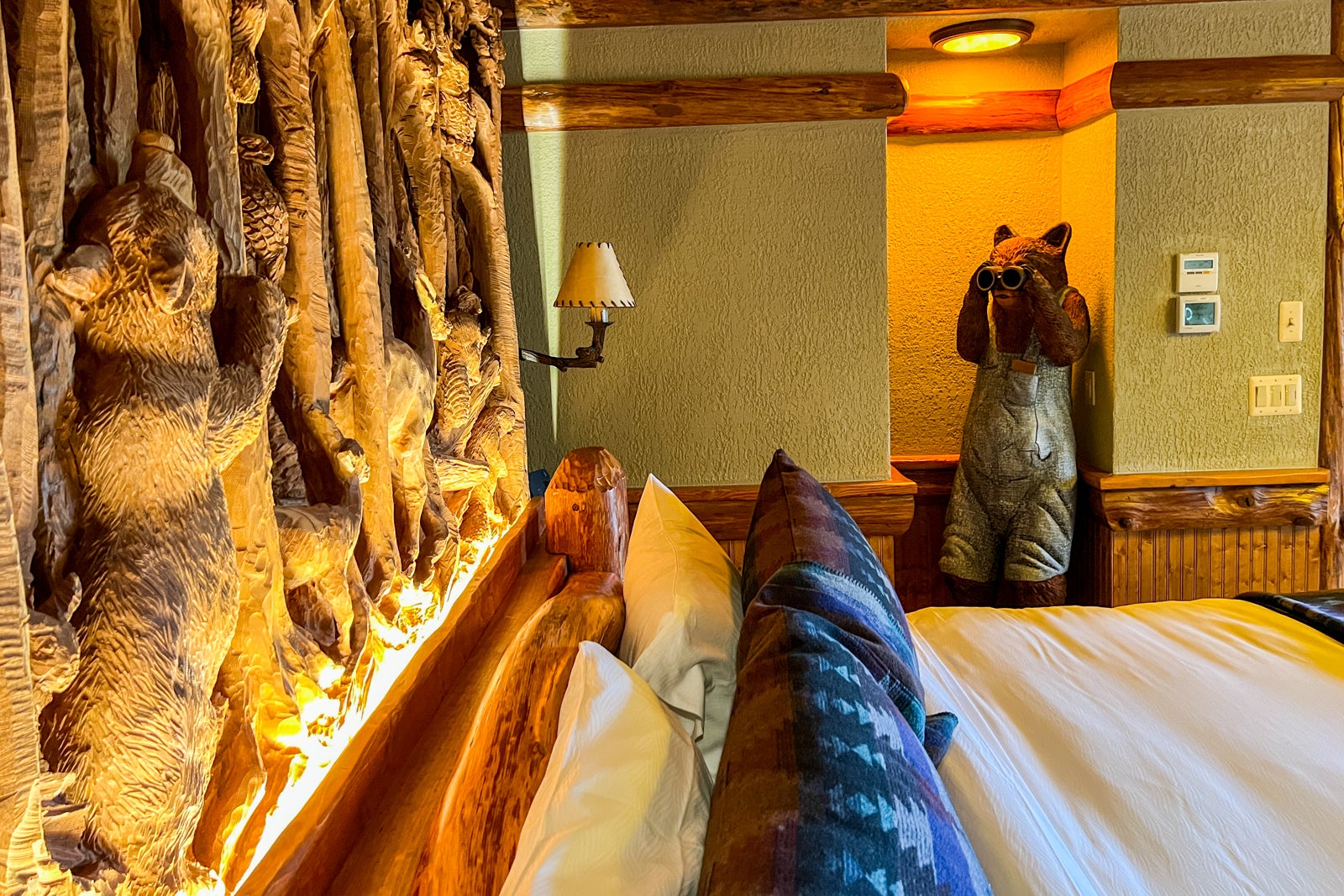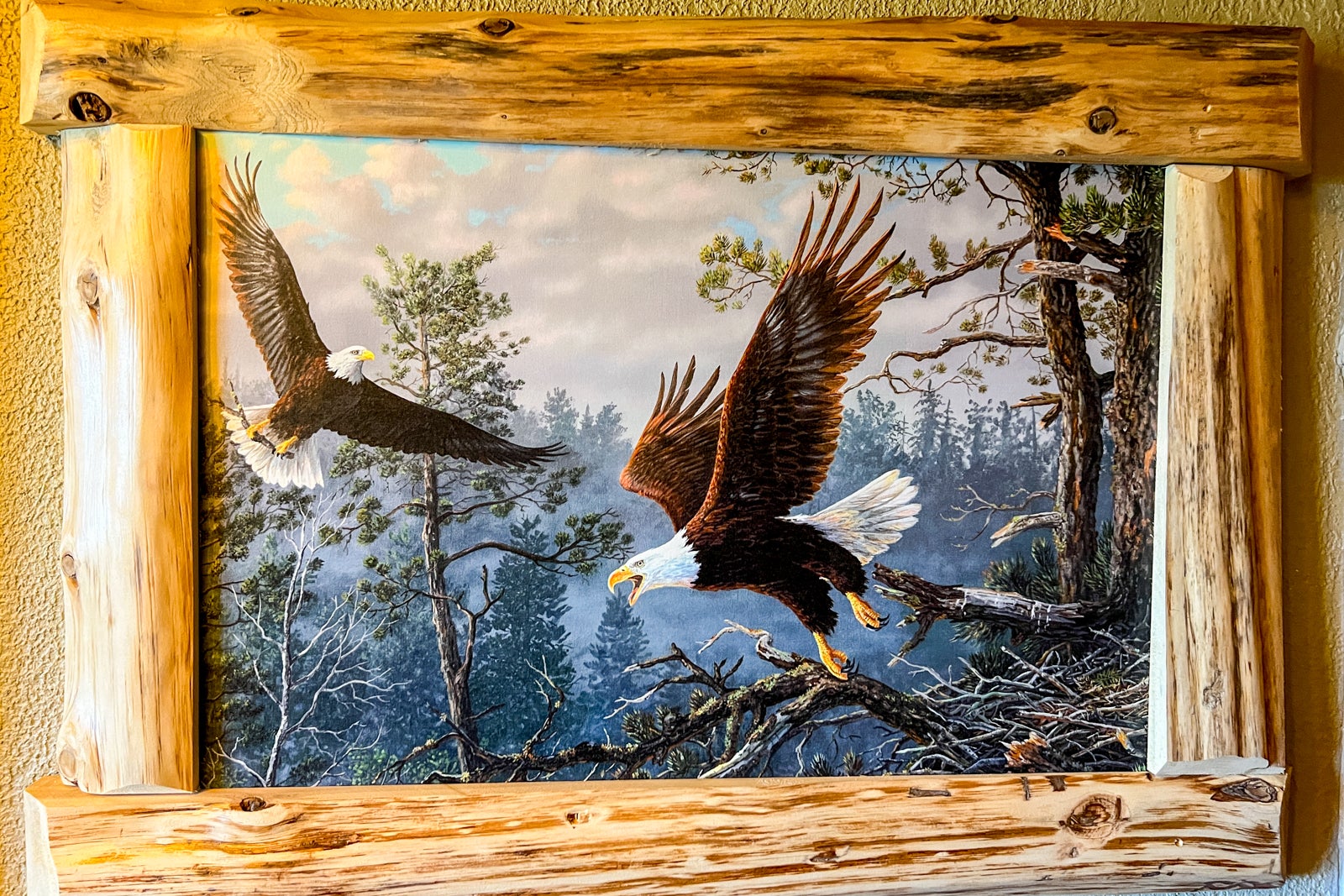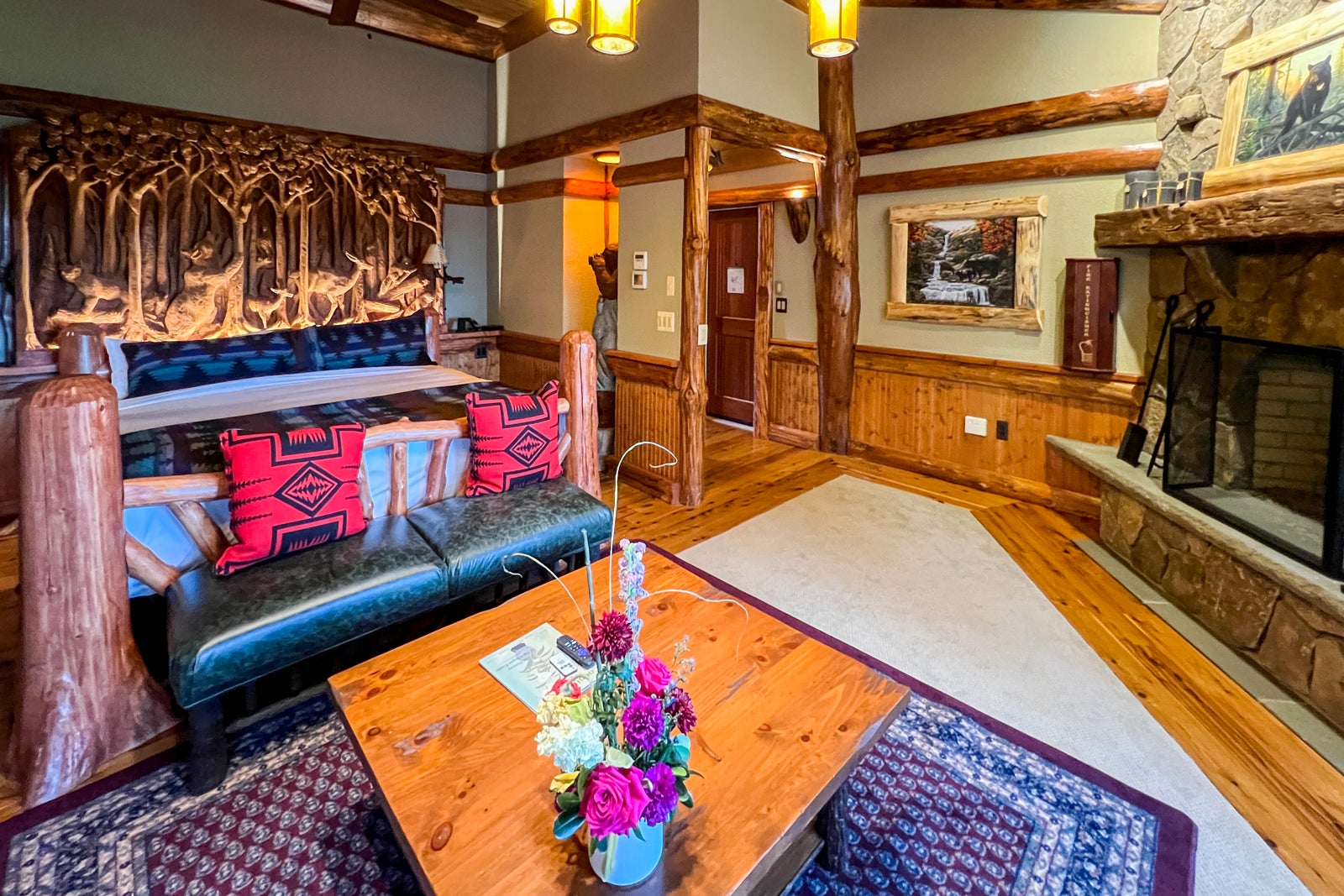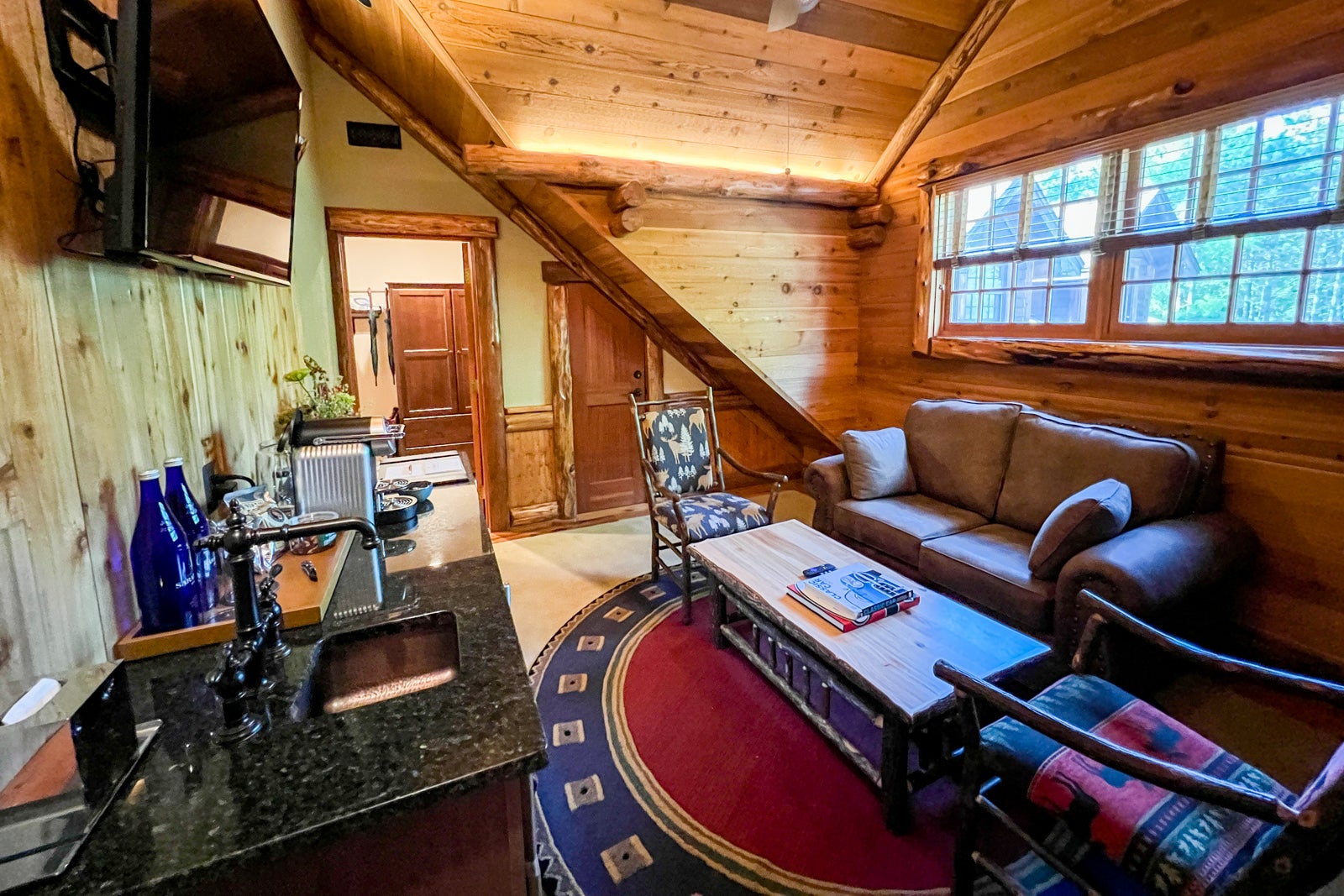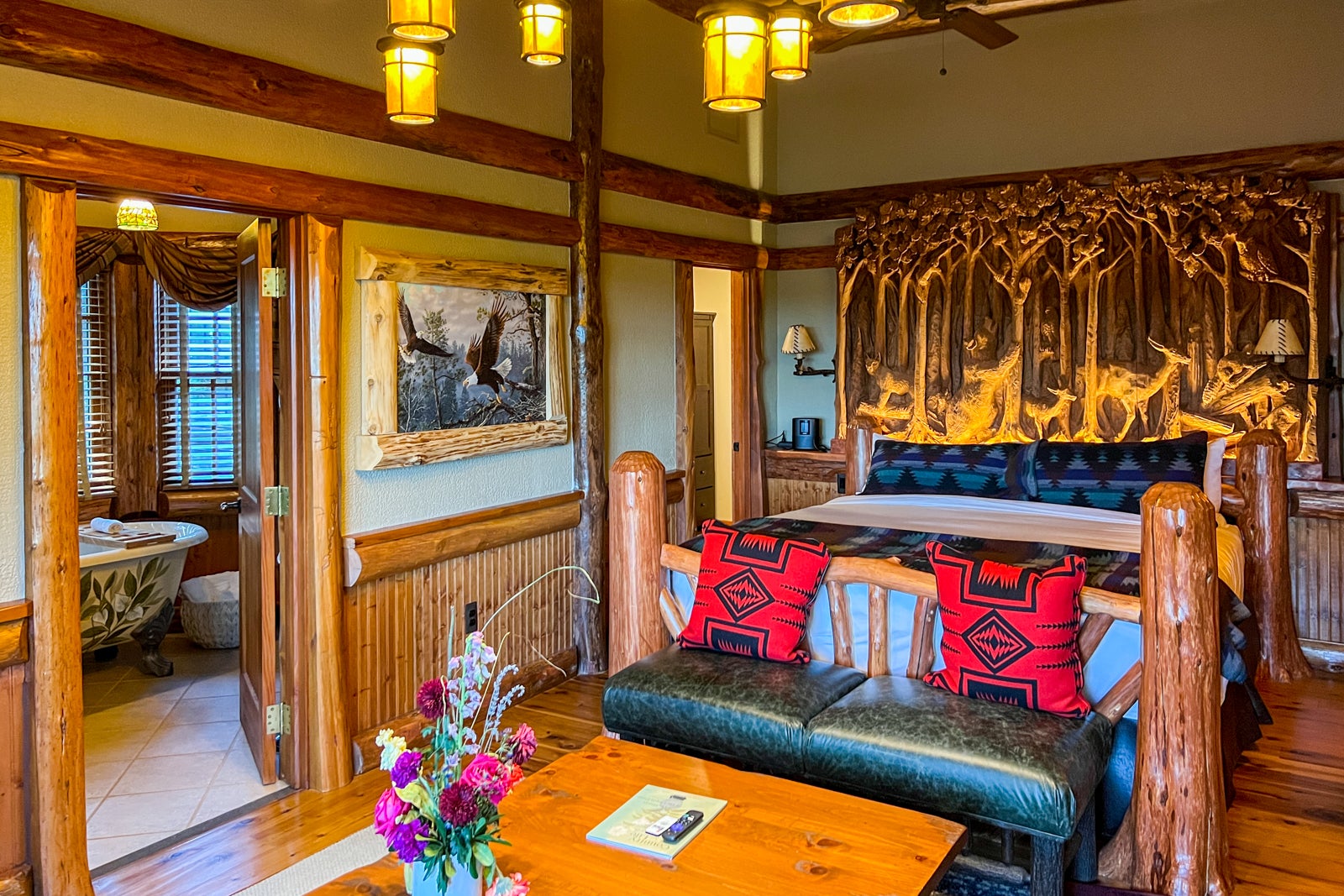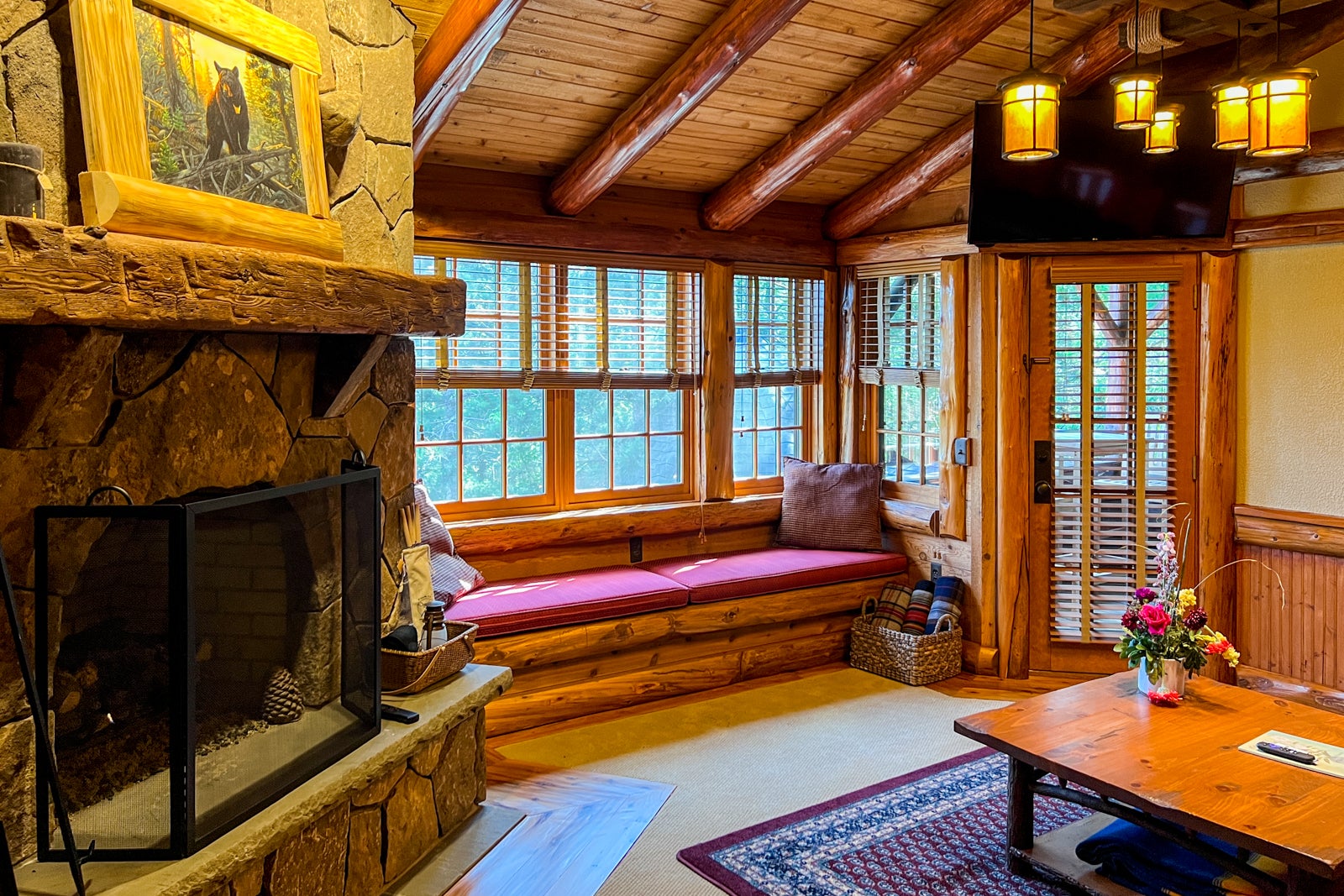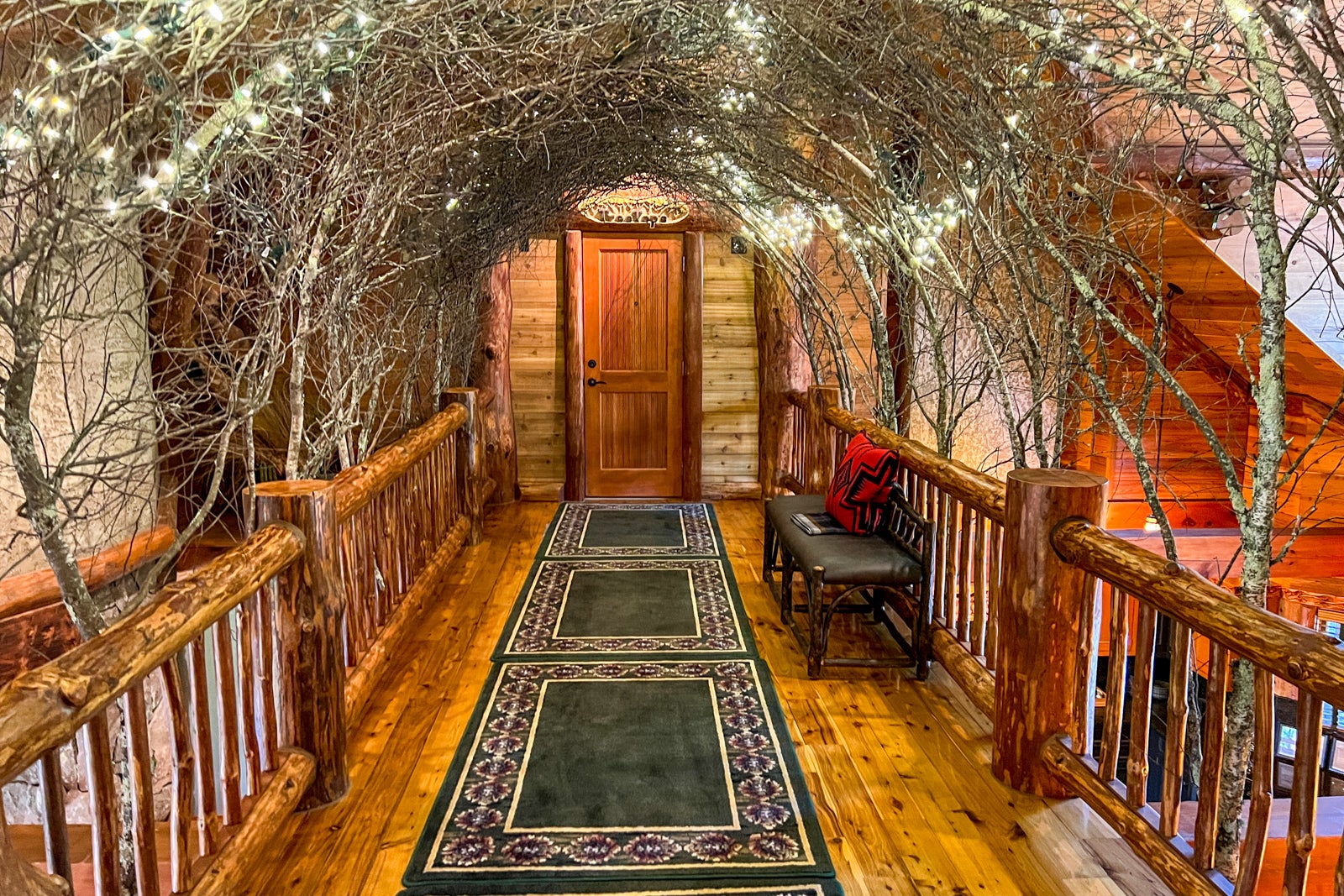 Over the bed, the headboard woodcarving depicted life within the forest with all sorts of animals climbing the trees or moving through the foliage. It was very much like a child's storybook gone wrong. Instead of being a calming scene, it felt like it might conjure nightmares.
That's when my wife noticed the giant carved bear with binoculars looking at the bed. It was, frankly, not the sort of thing I was going to be happy to see looking at me in the middle of the night.
Later, I learned from the public relations team about a booklet (not one that I found on the property) that details the story behind many of the carvings. For instance, the bear with binoculars also had a trail map in his pocket and is said to be searching for his forest friends.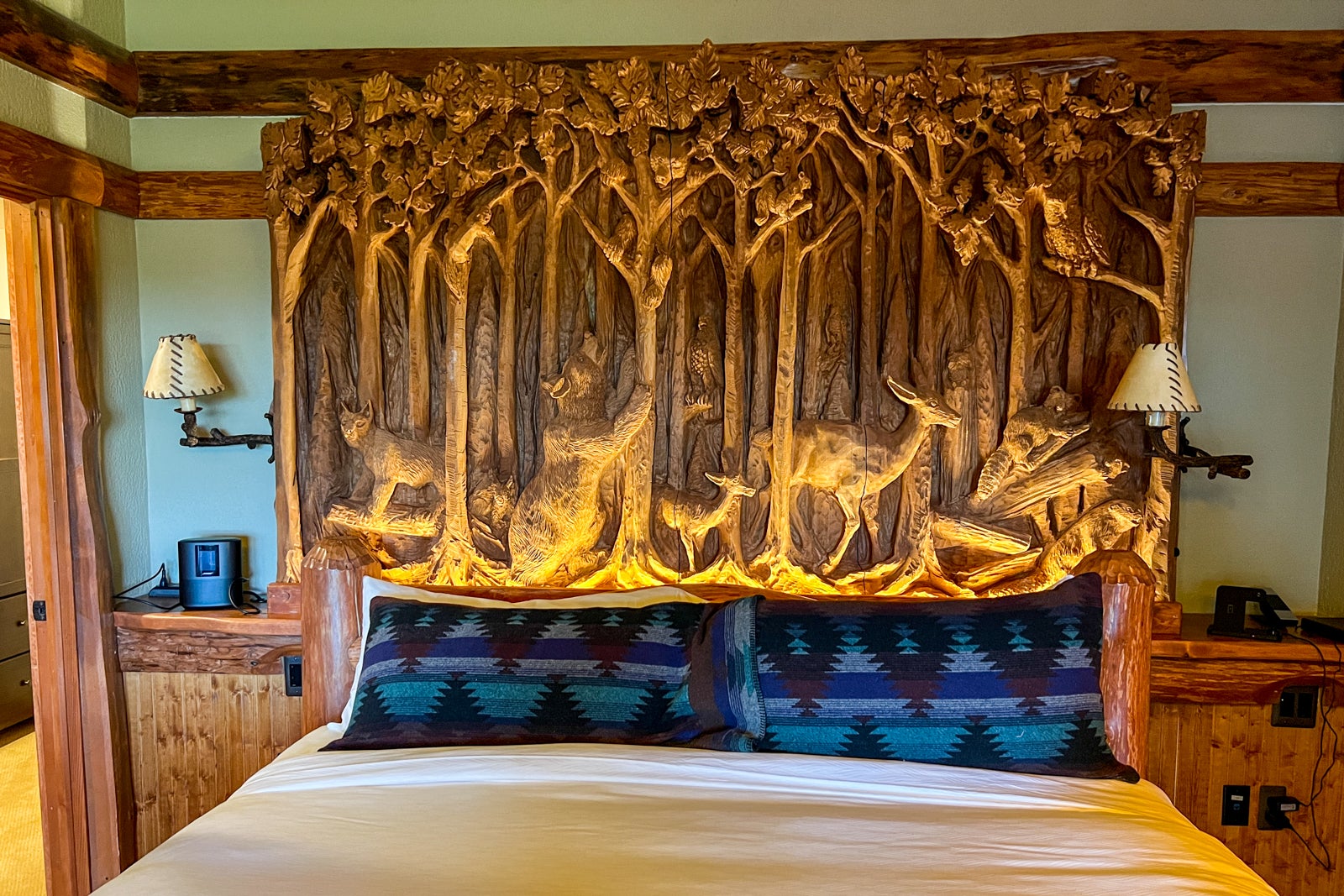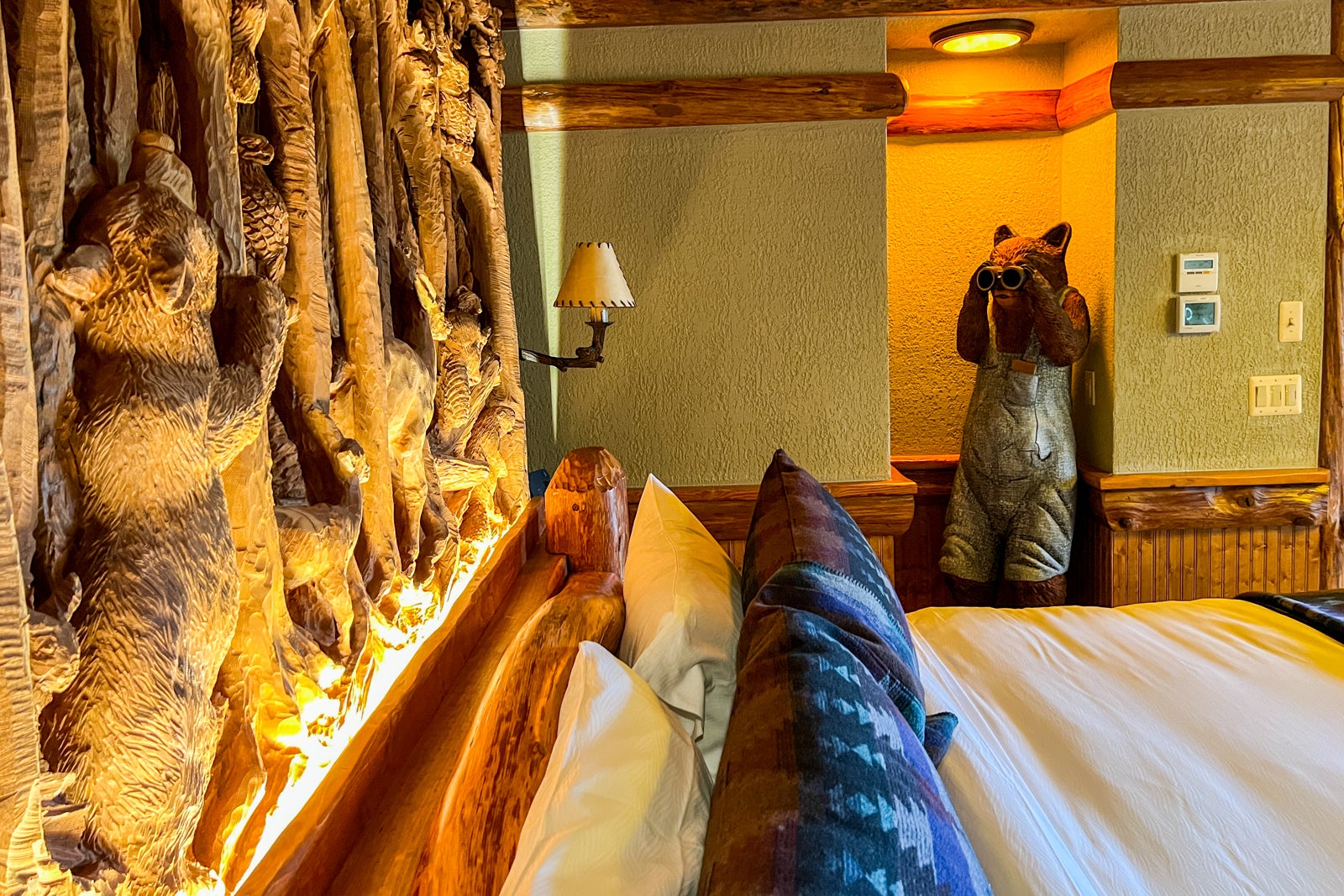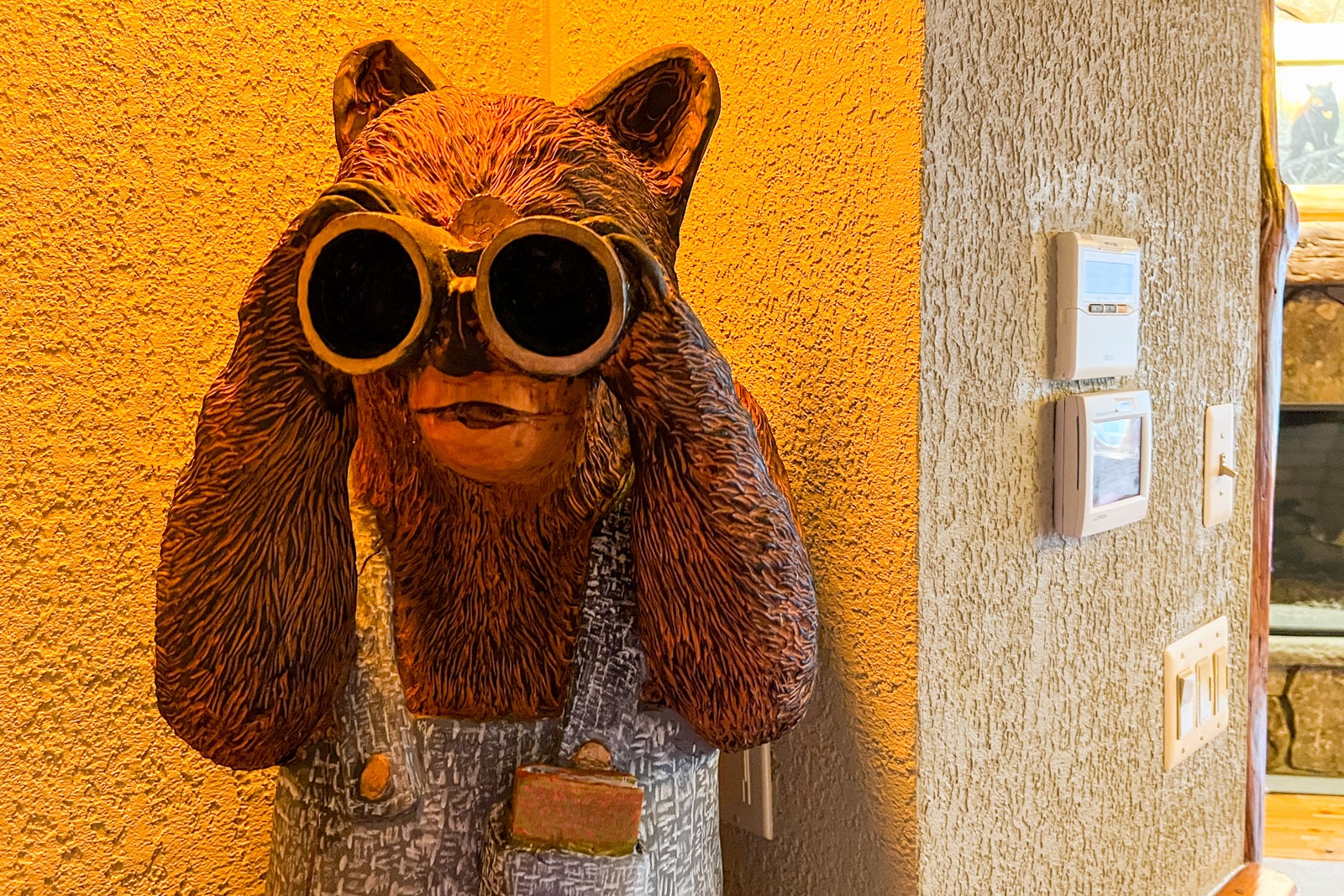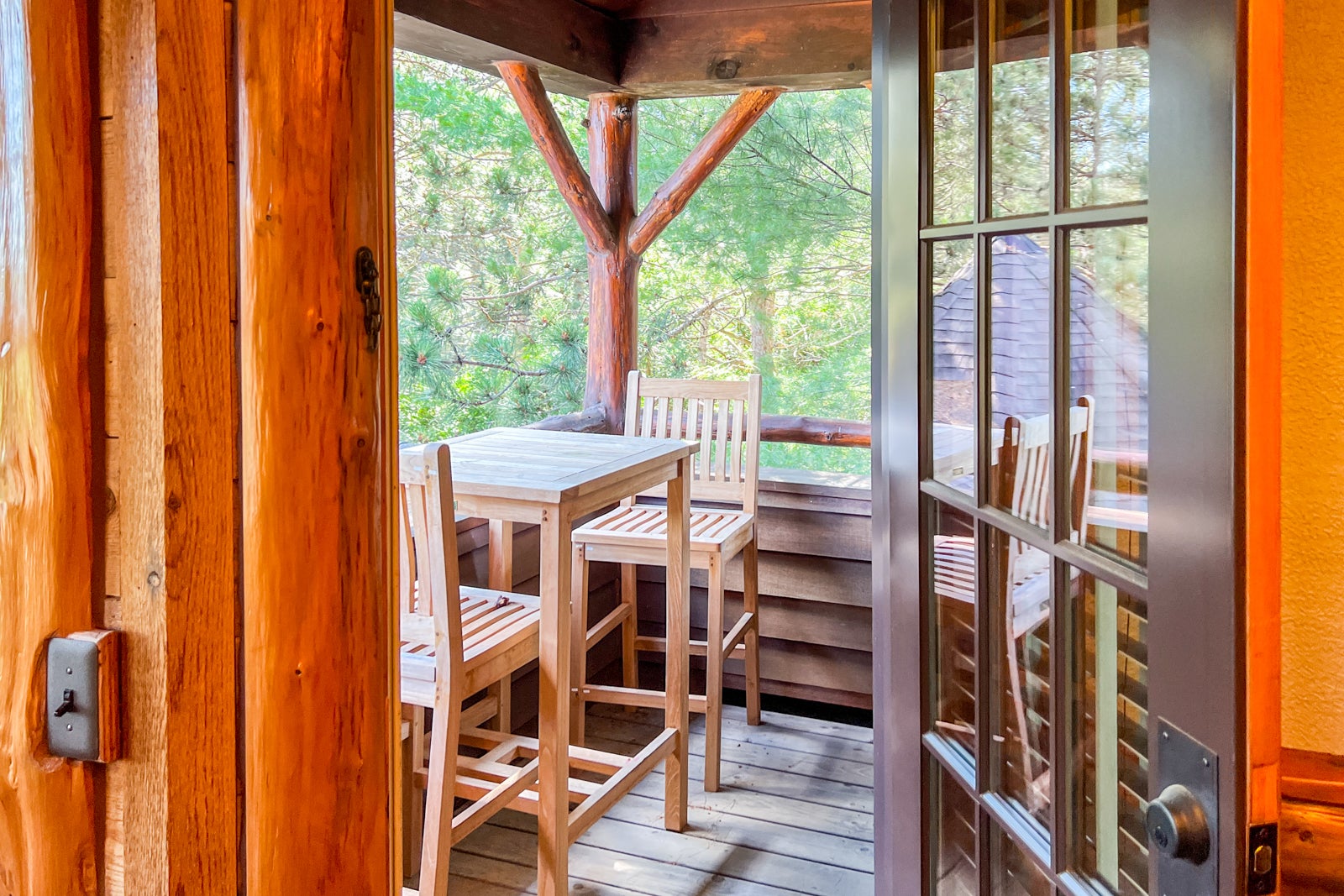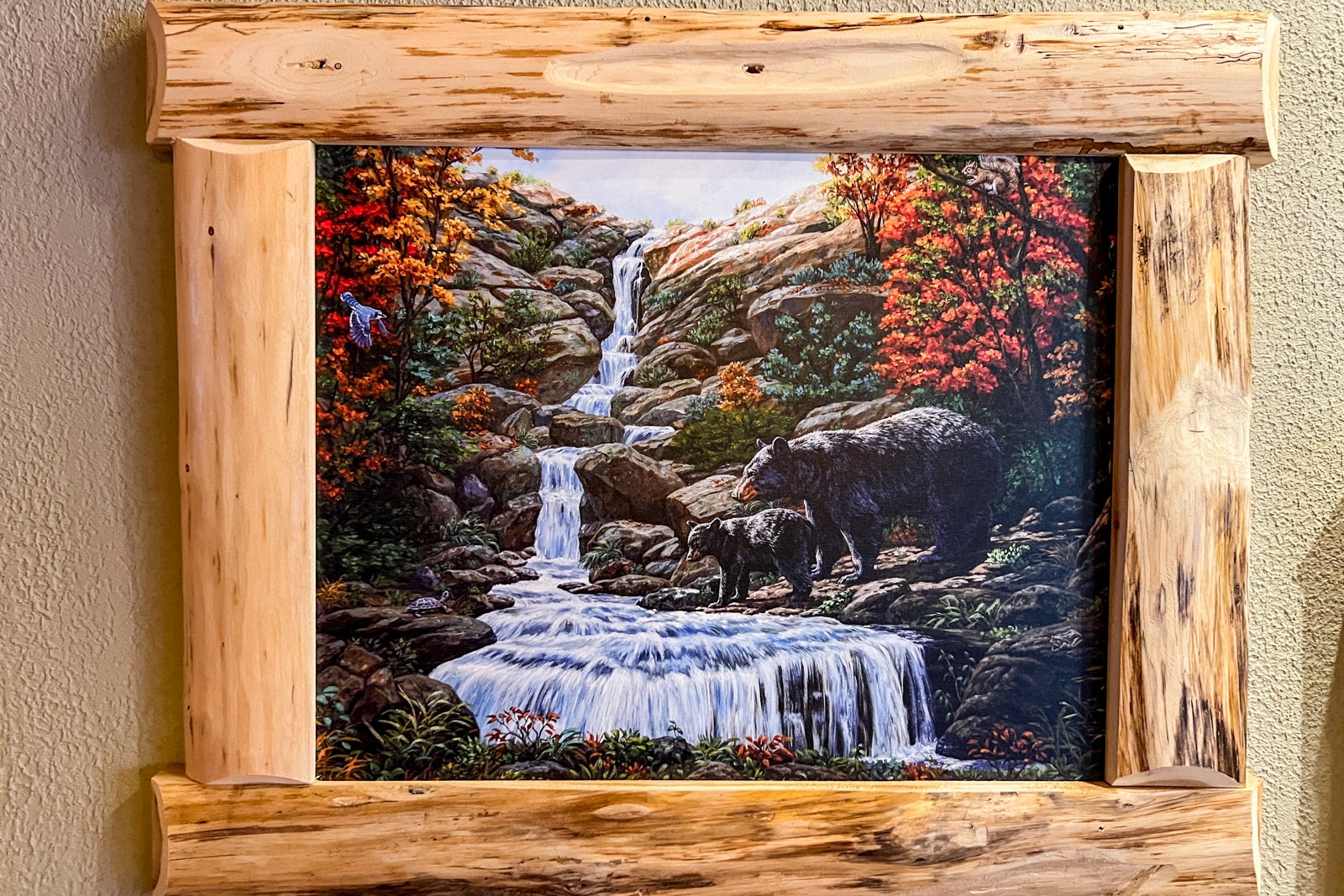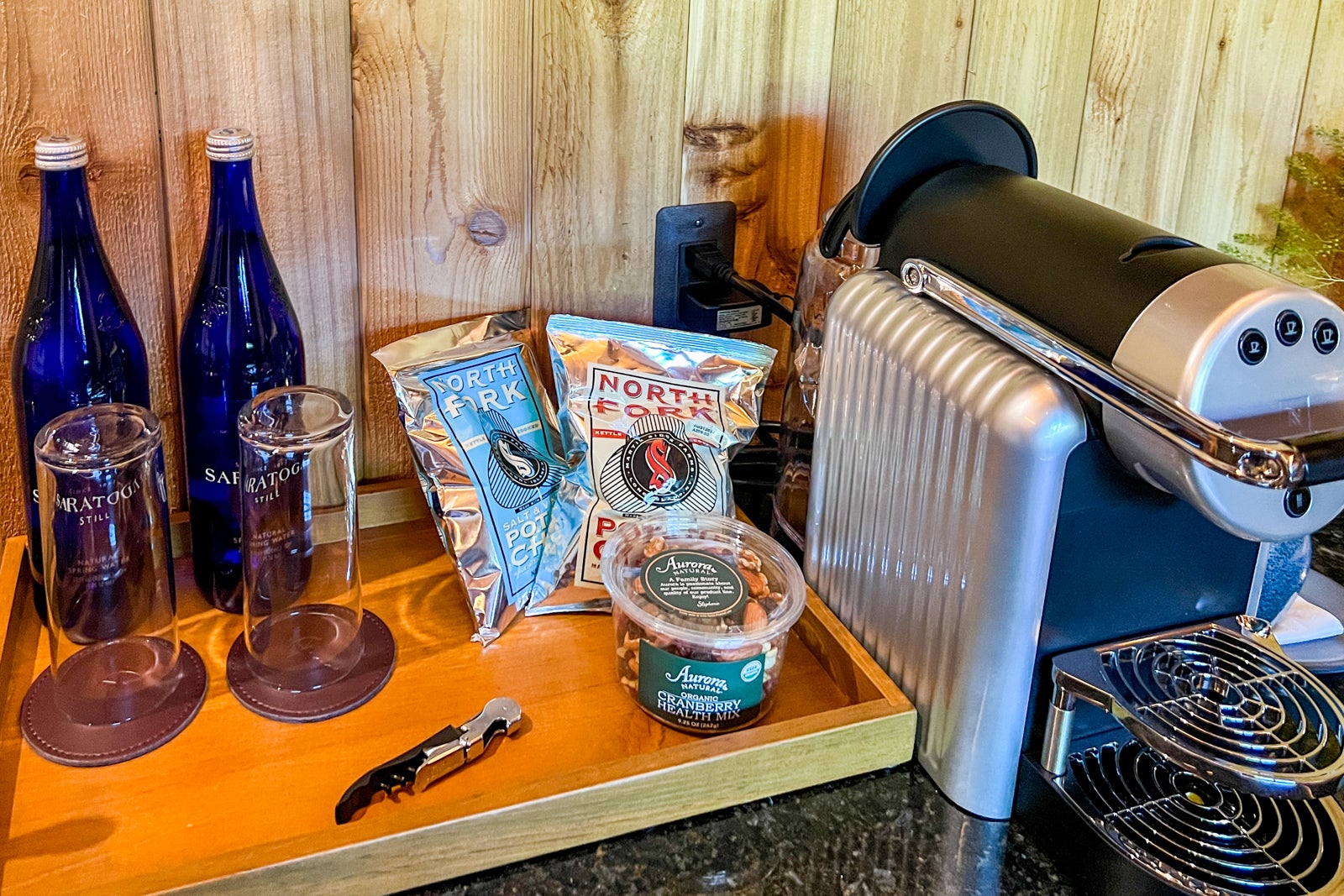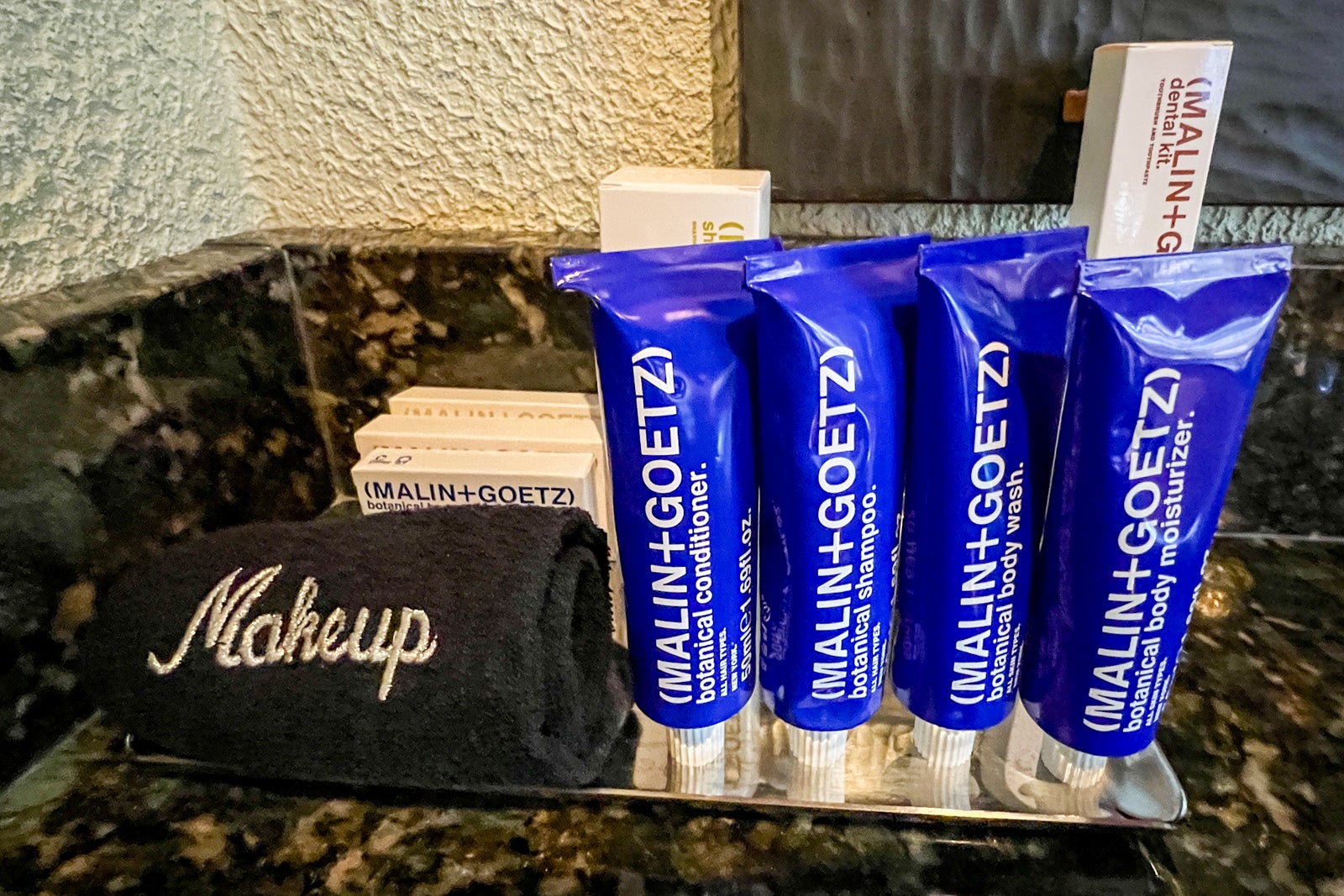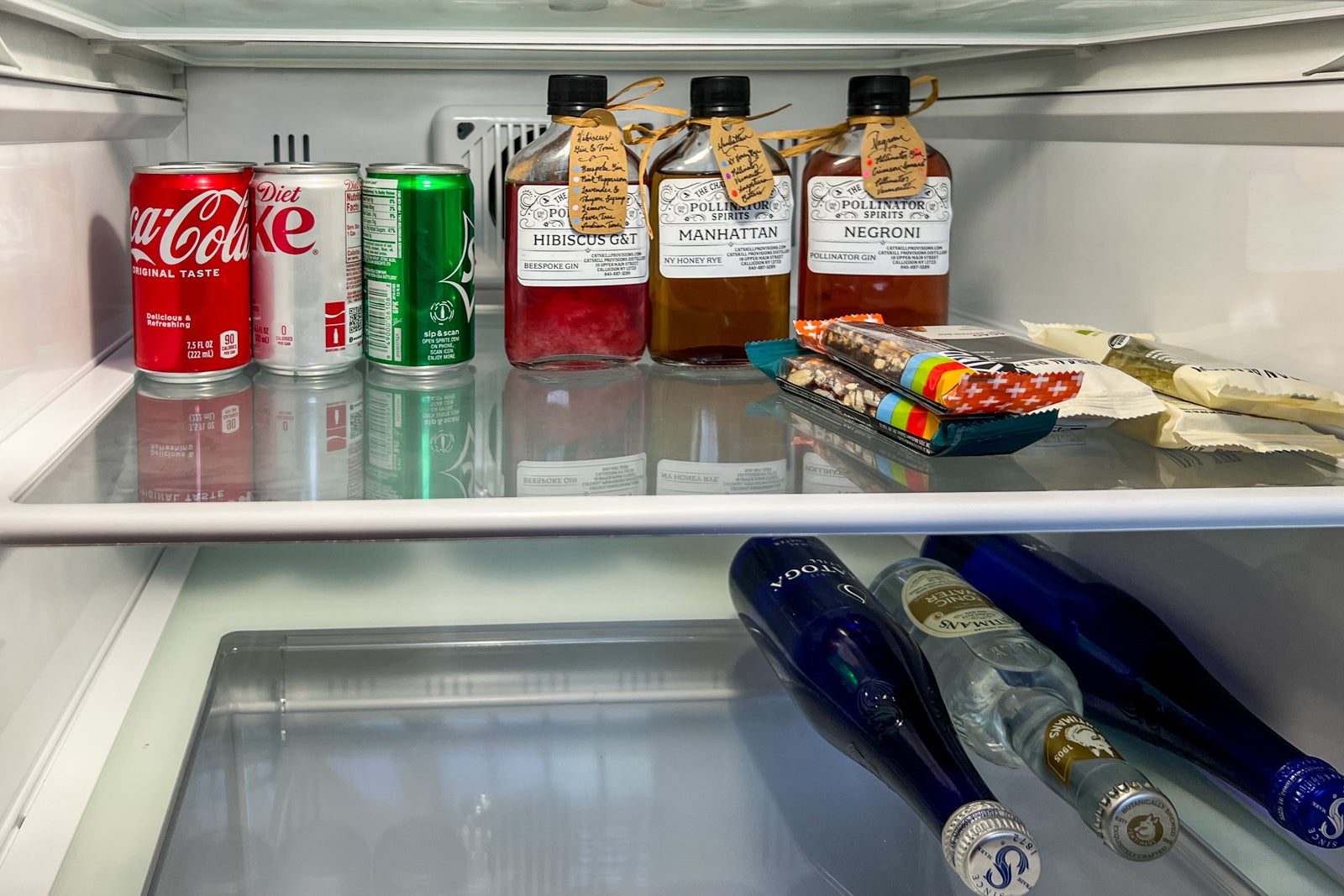 A small terrace had a high-top table and two stools, offering a nice spot to have a drink or read a book.
On the other side of the room was a separate sitting area with a loveseat, two chairs and a television.
We probably would have been happy in the room, but a few minutes later, as we were walking through the lobby, the woman who checked us in informed us we'd been upgraded to a larger room.
It was odd, and a good thing we hadn't unpacked. (My first thought was: Did they know I'm a travel writer? But none of the telltale signs of being "discovered" were there. And if the staff had done a little Googling, wouldn't they have upgraded us 15 minutes earlier, before we saw the smaller room?)
So, we hopped onto a golf cart and were off to a larger "deluxe" room called Chapin Hill.
At 1,614 square feet, this room took my breath away. (It costs about $300 more a night.) The bathroom was larger, there was a wall of books surrounding the fireplace and much more natural light flowed in.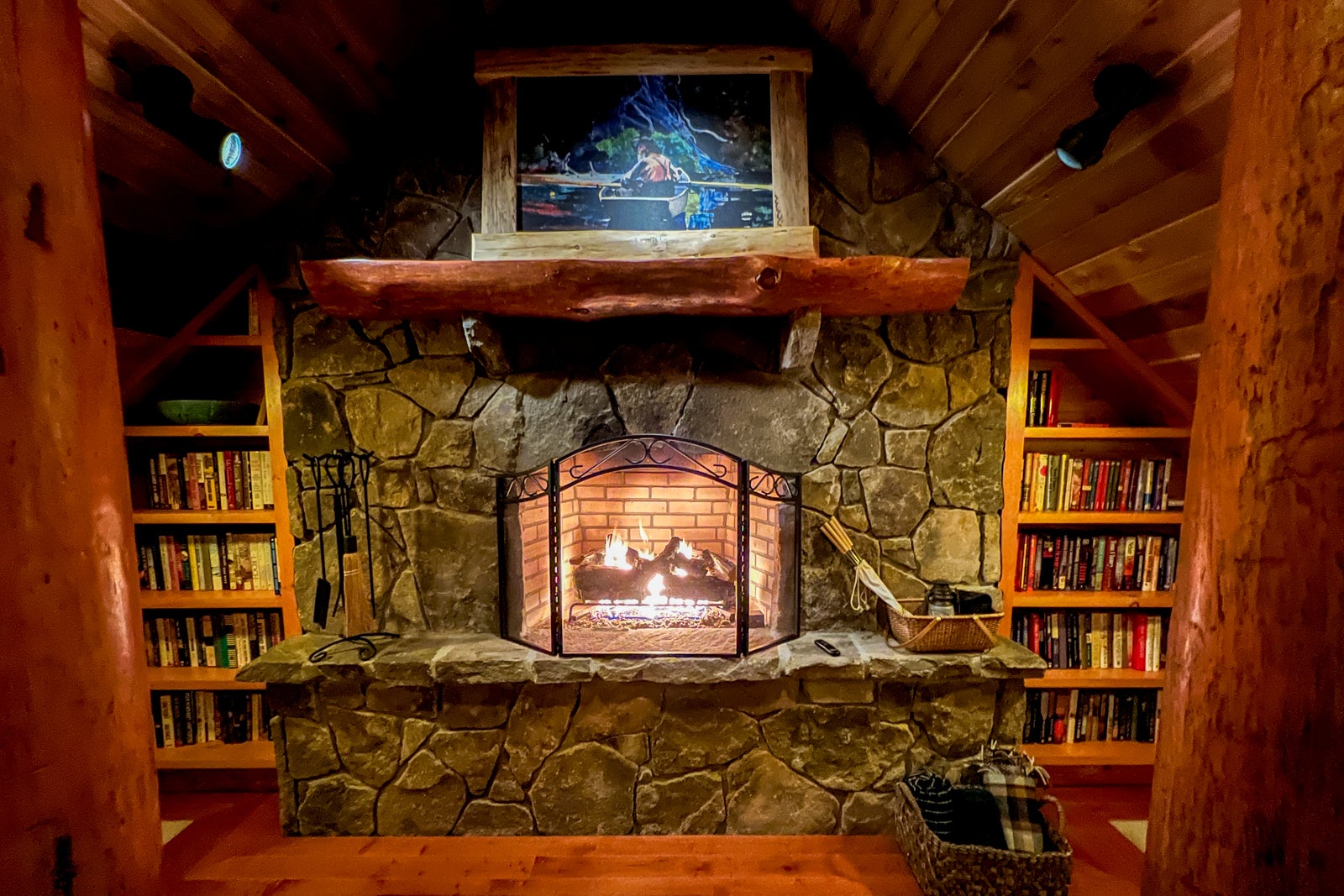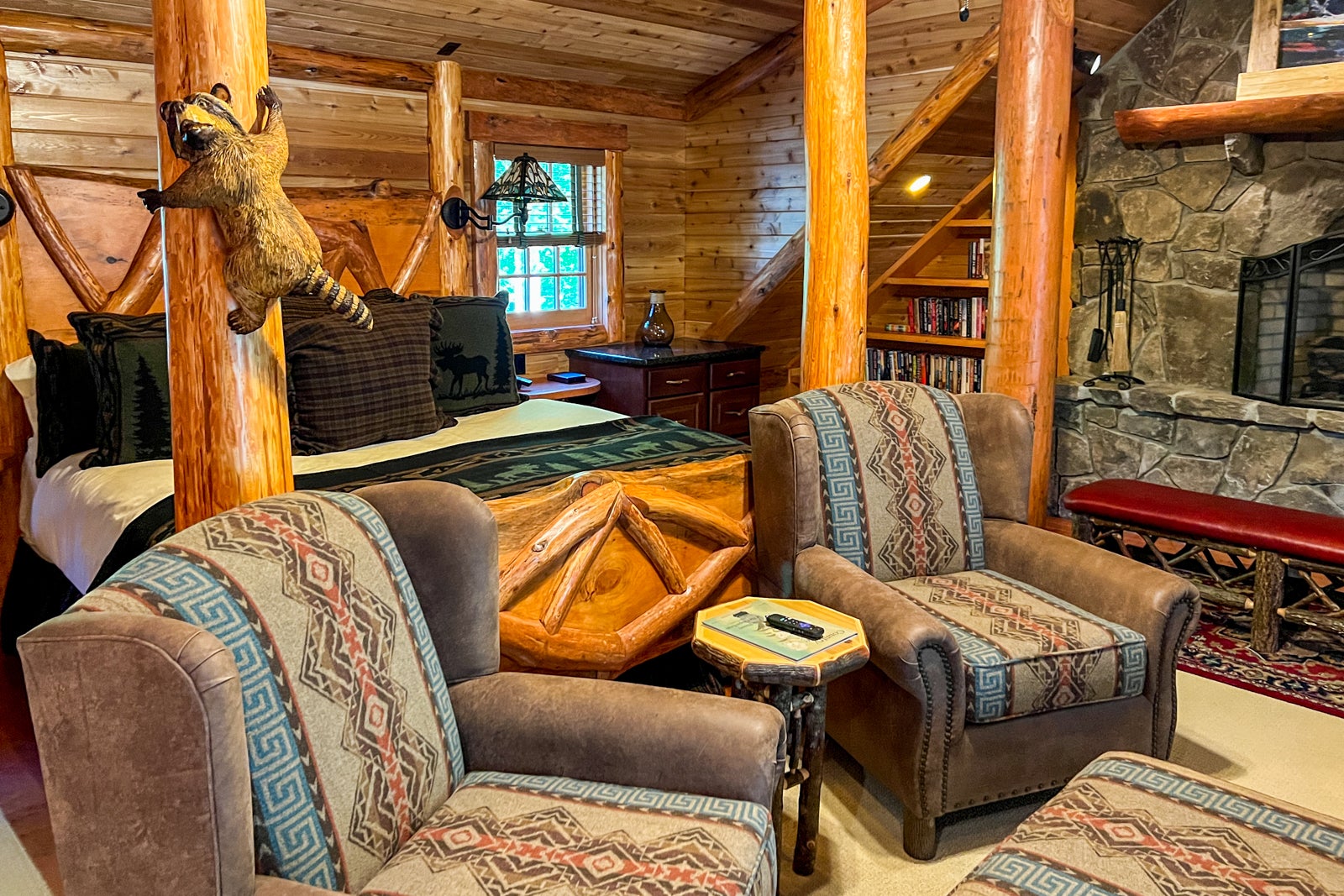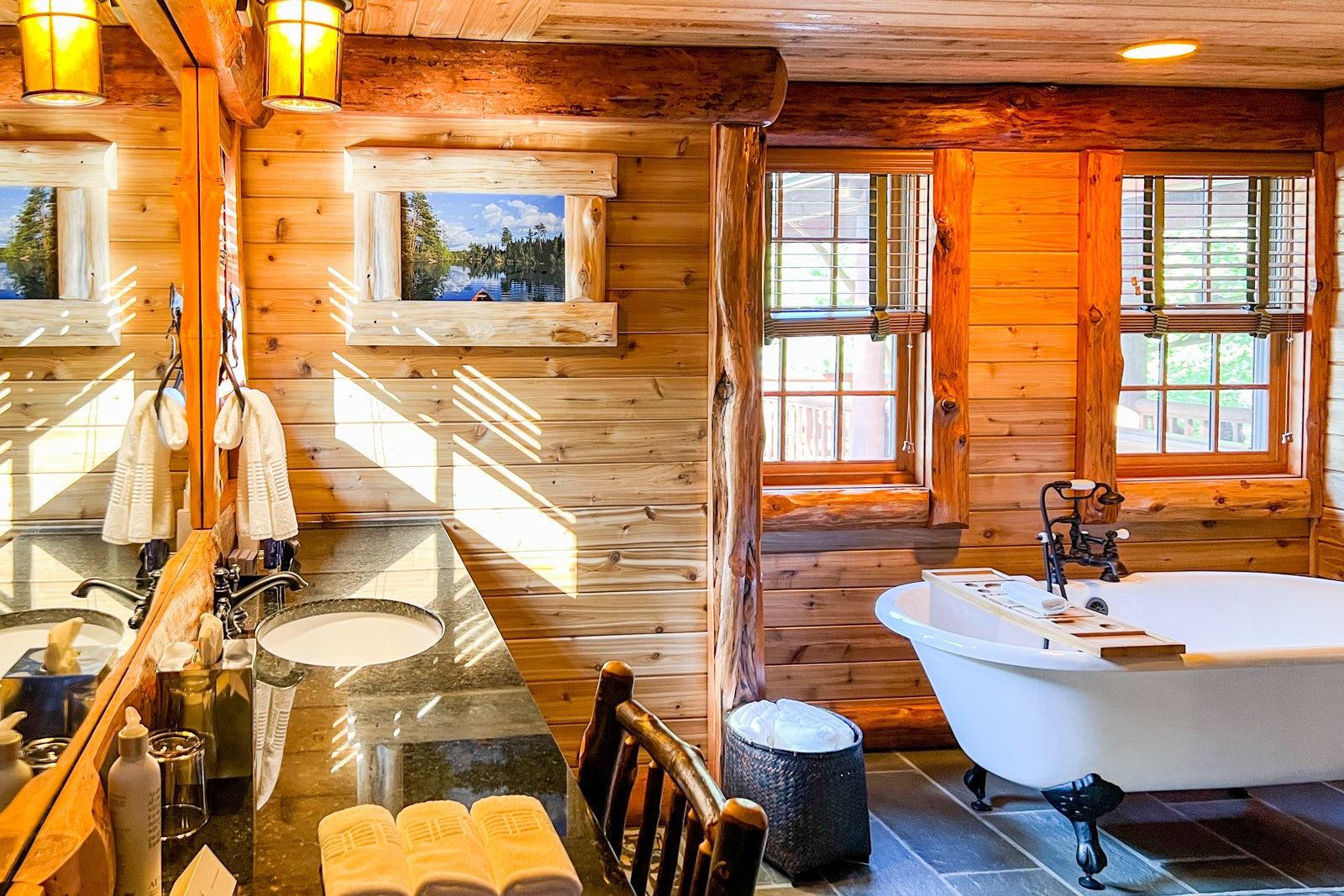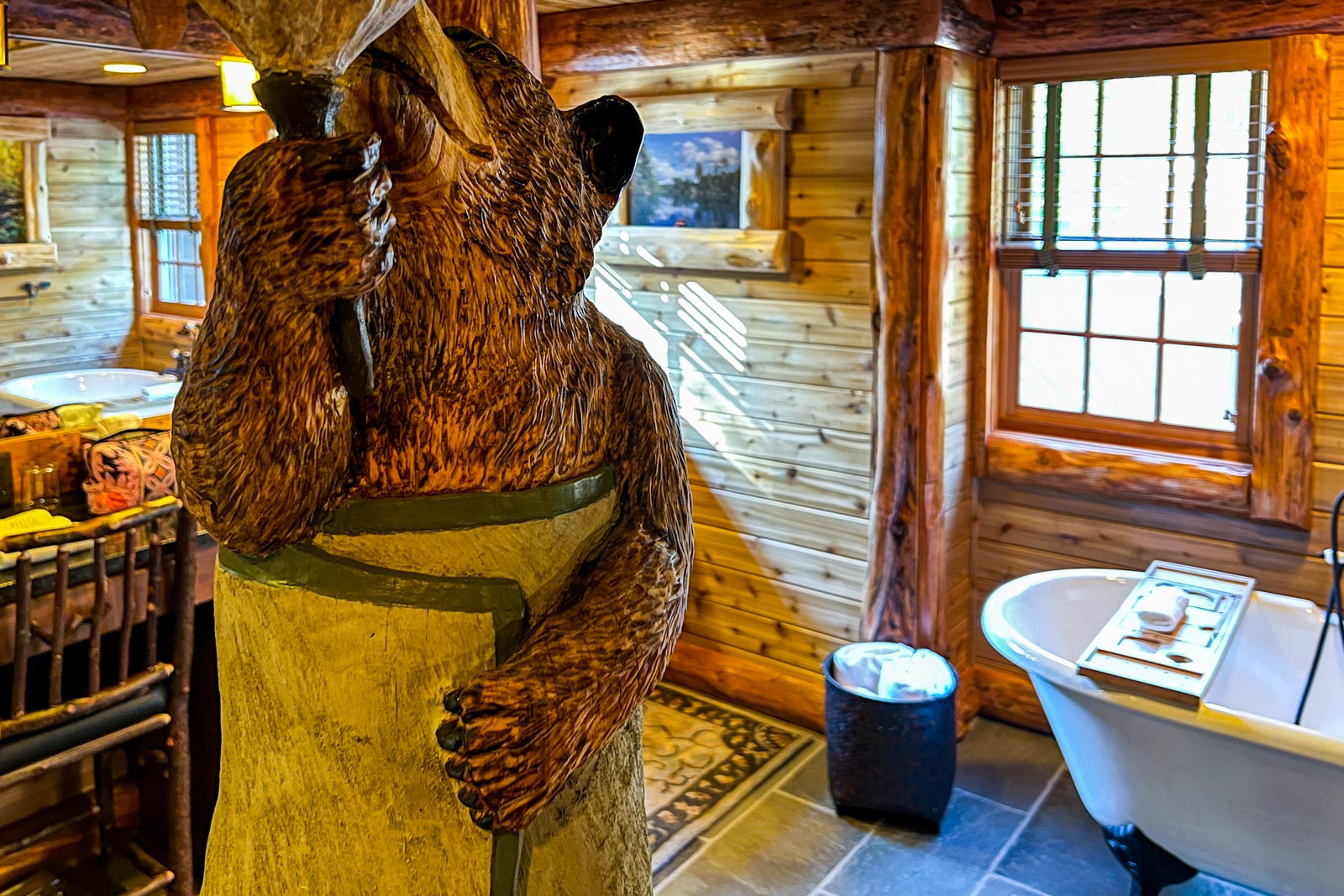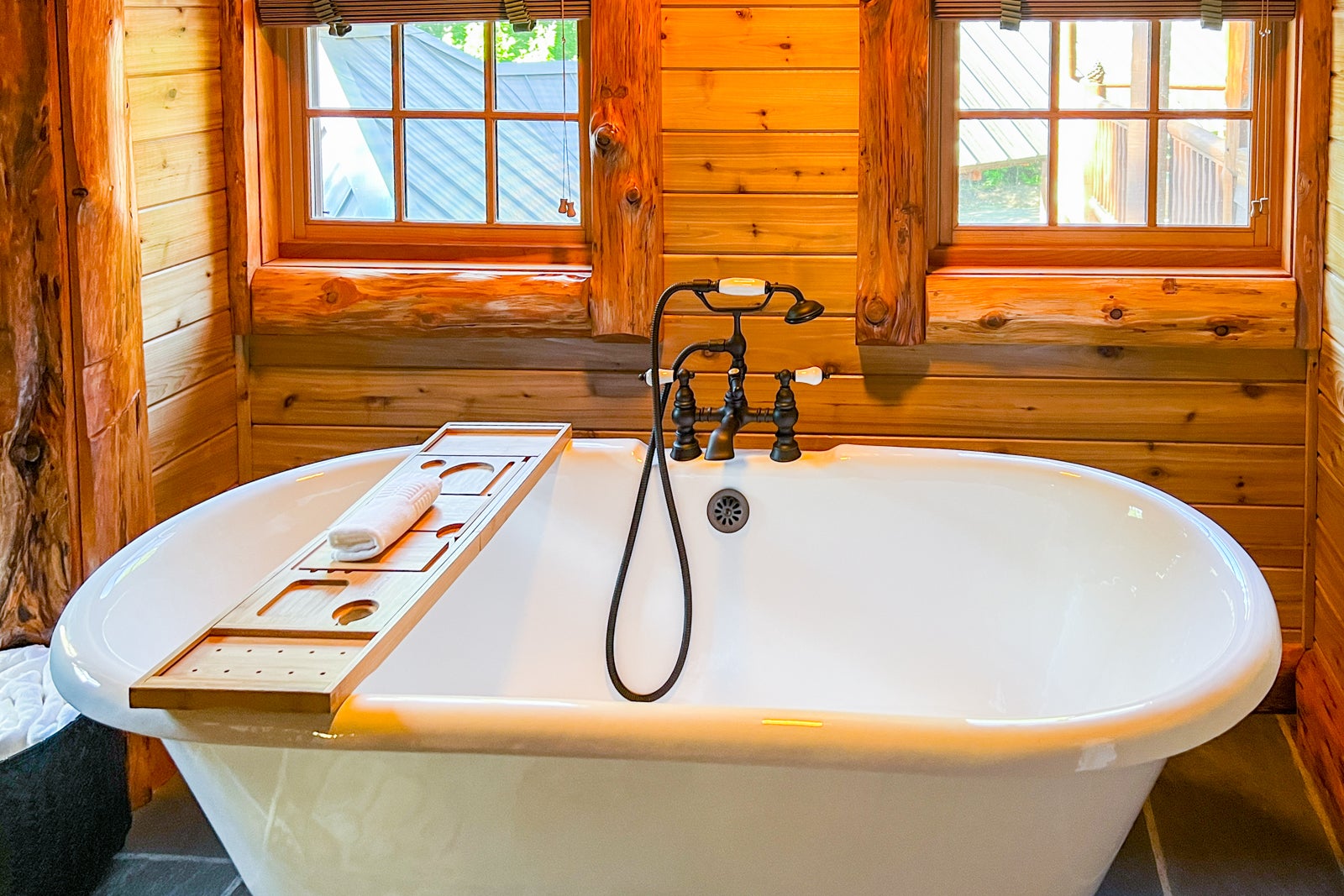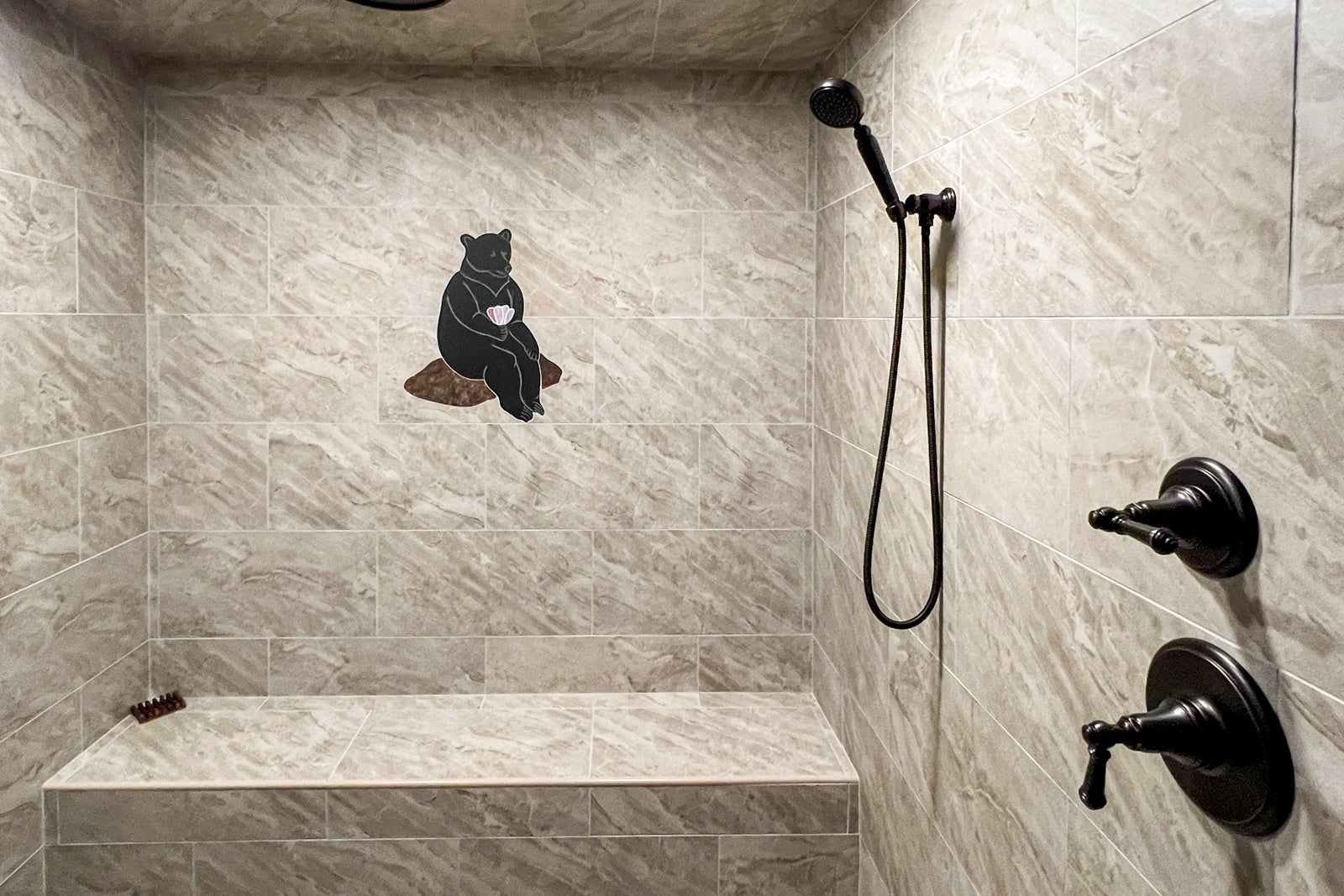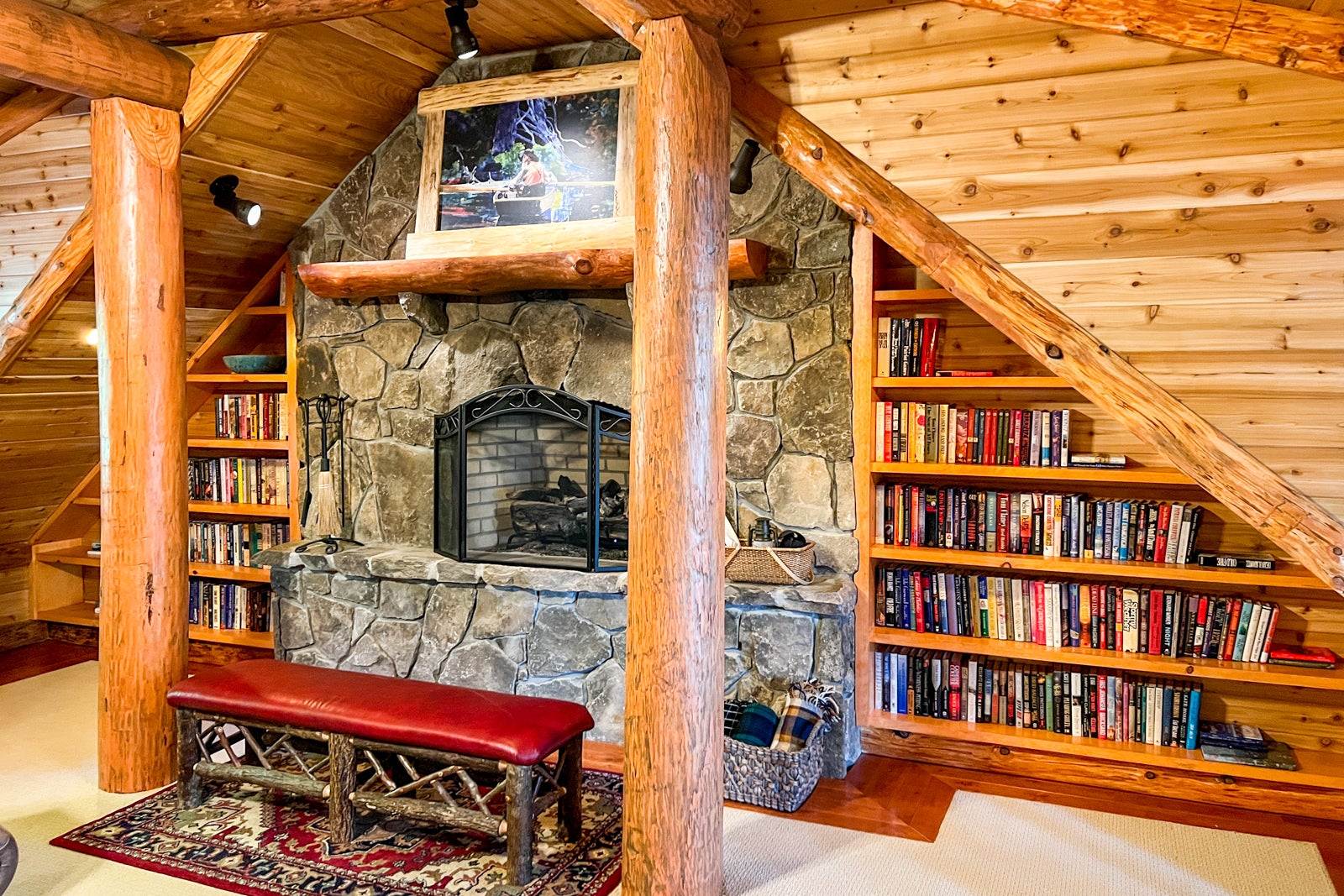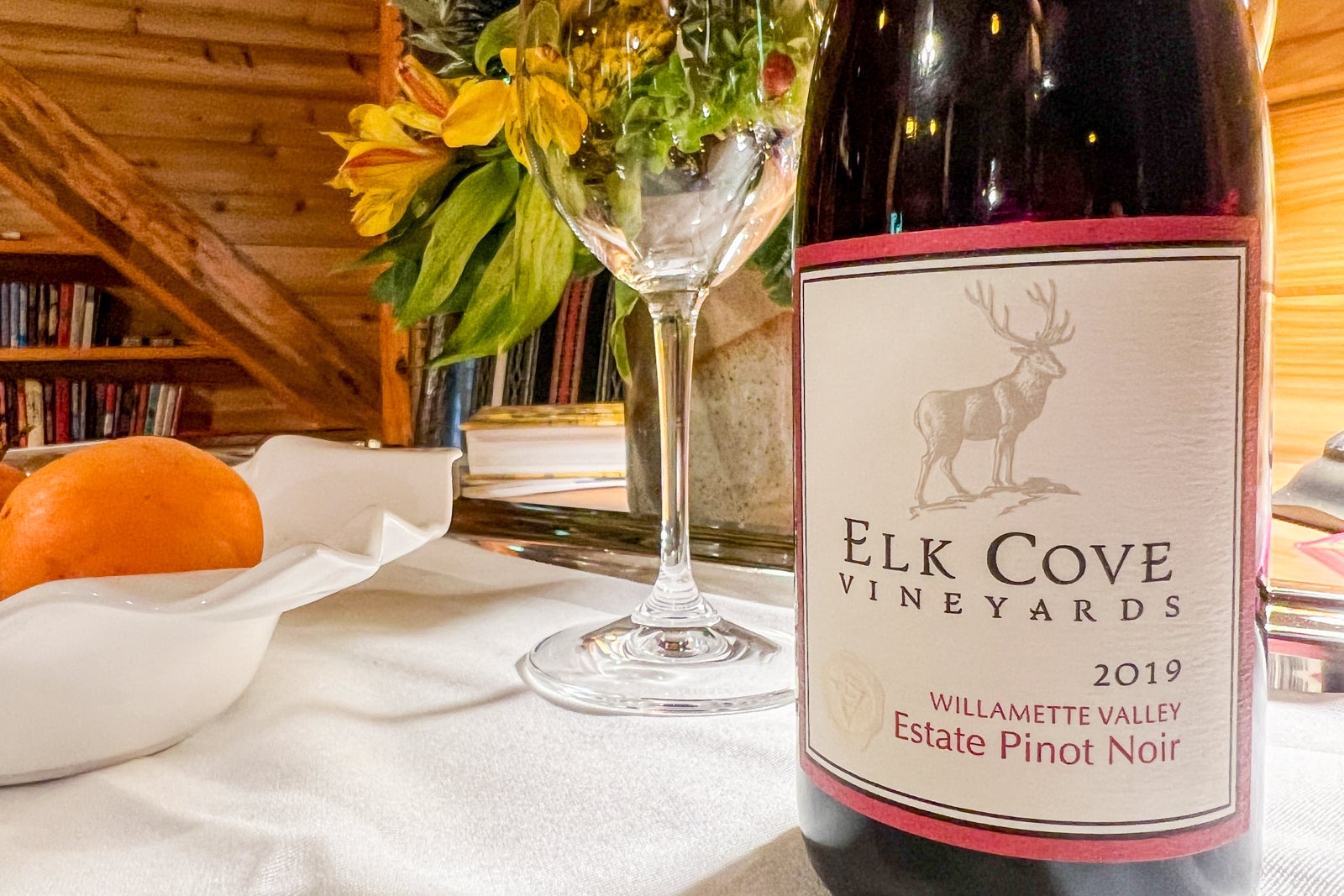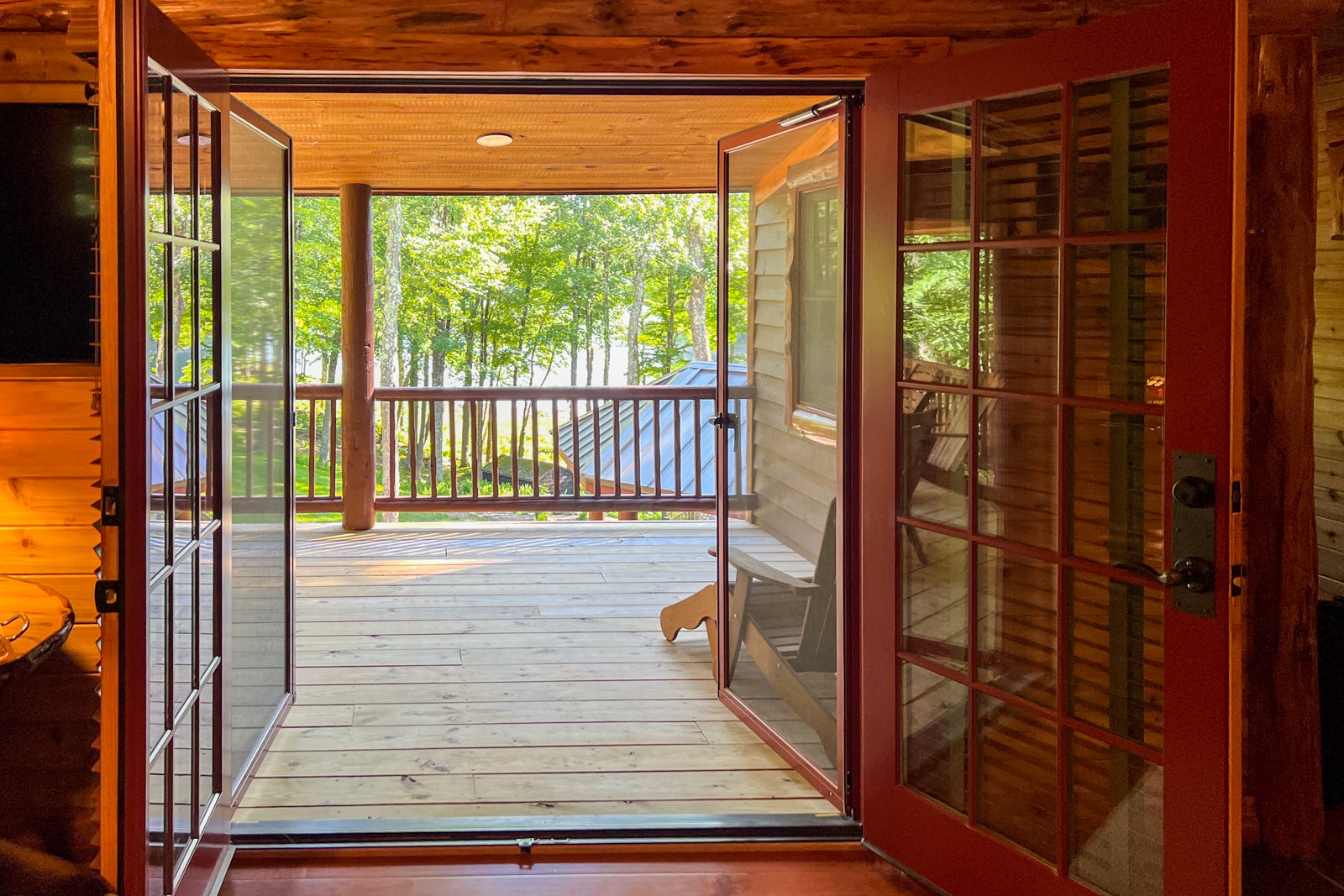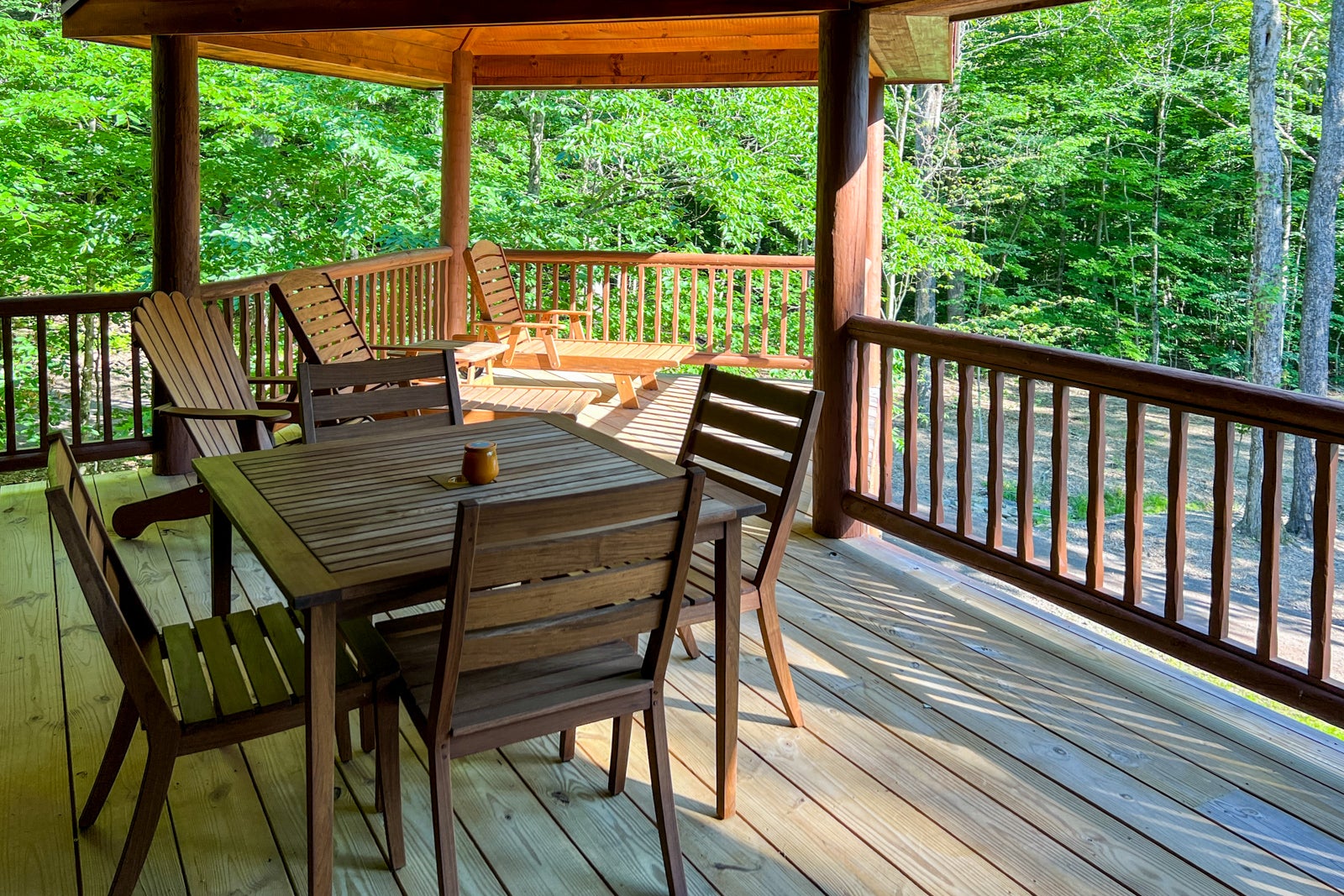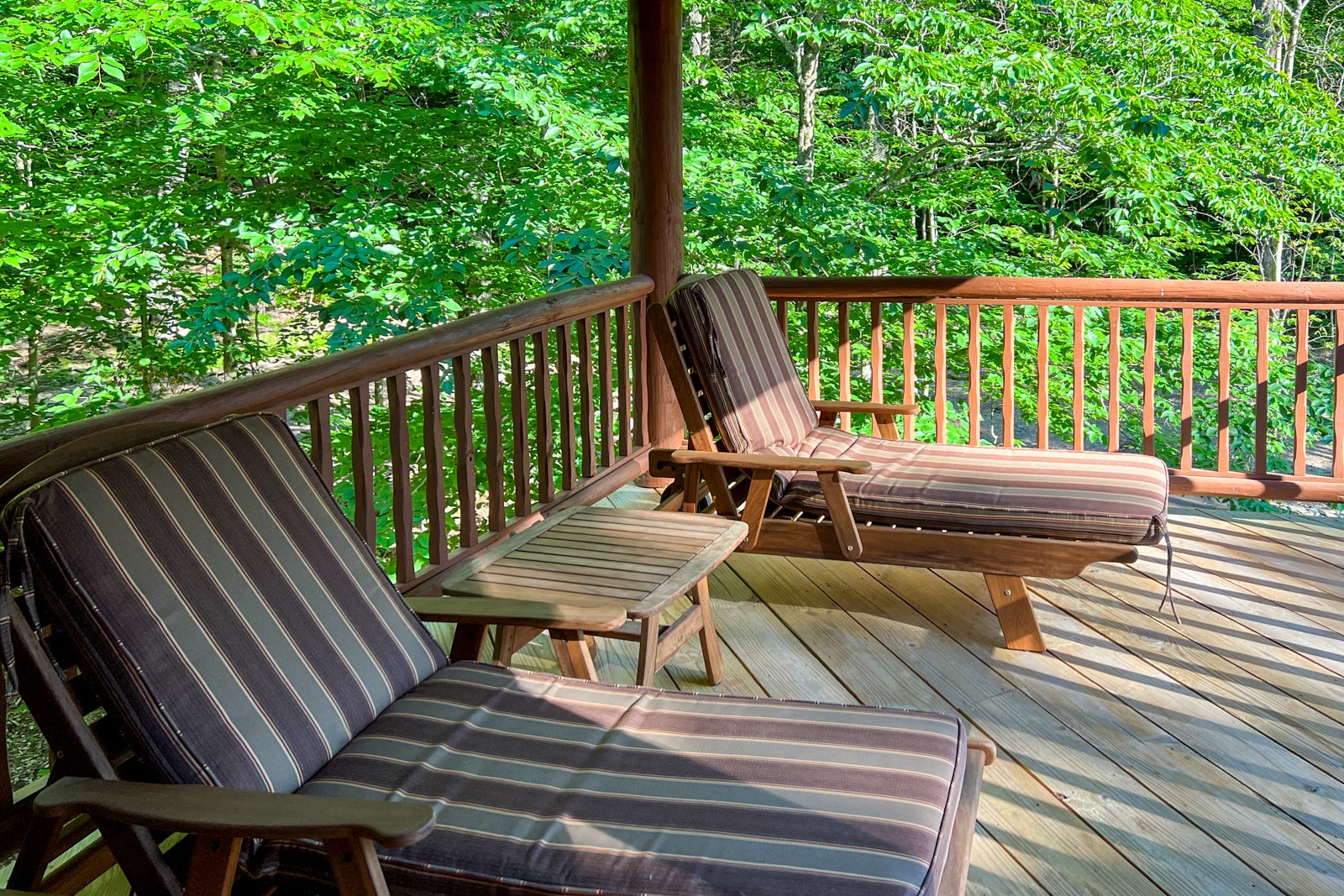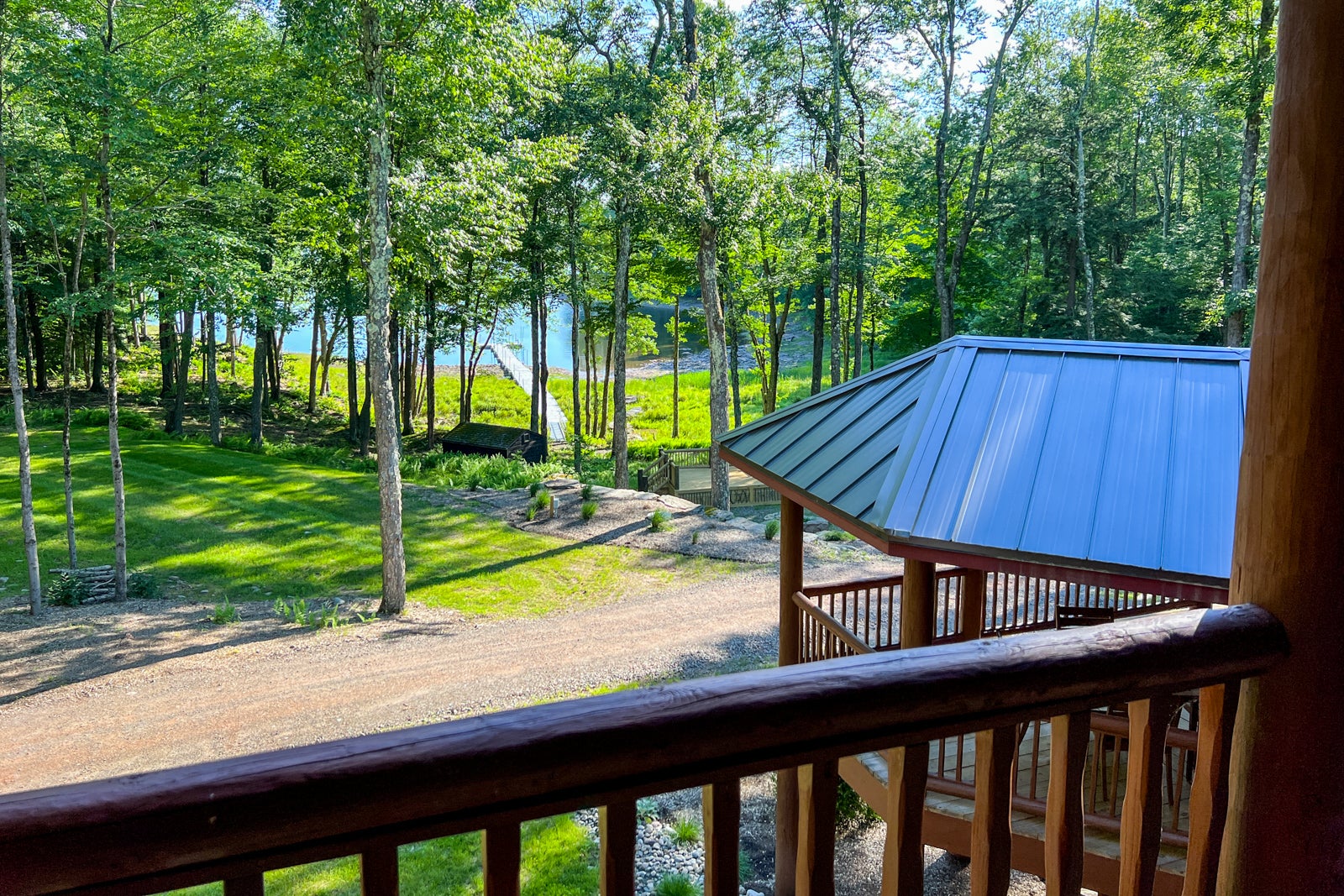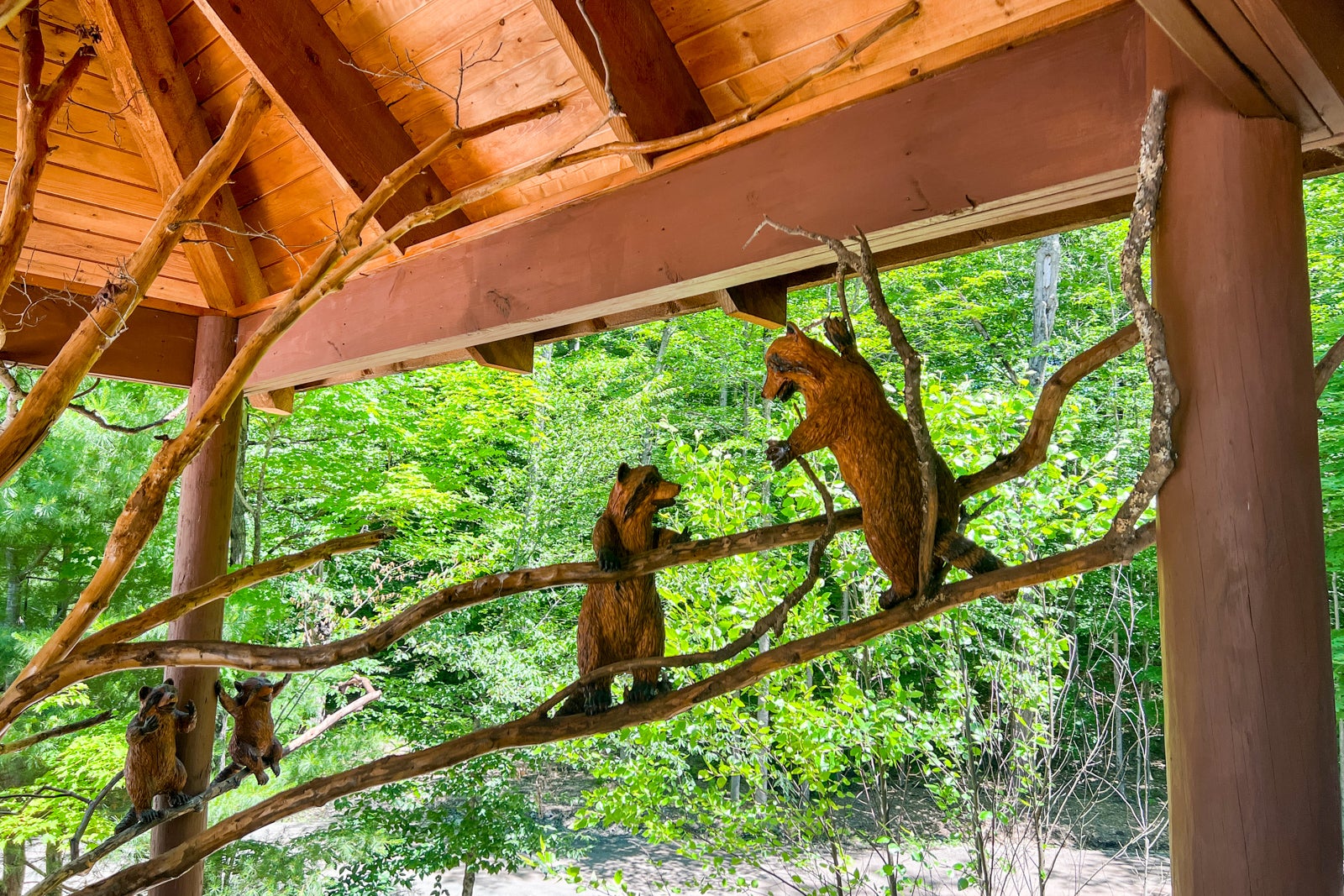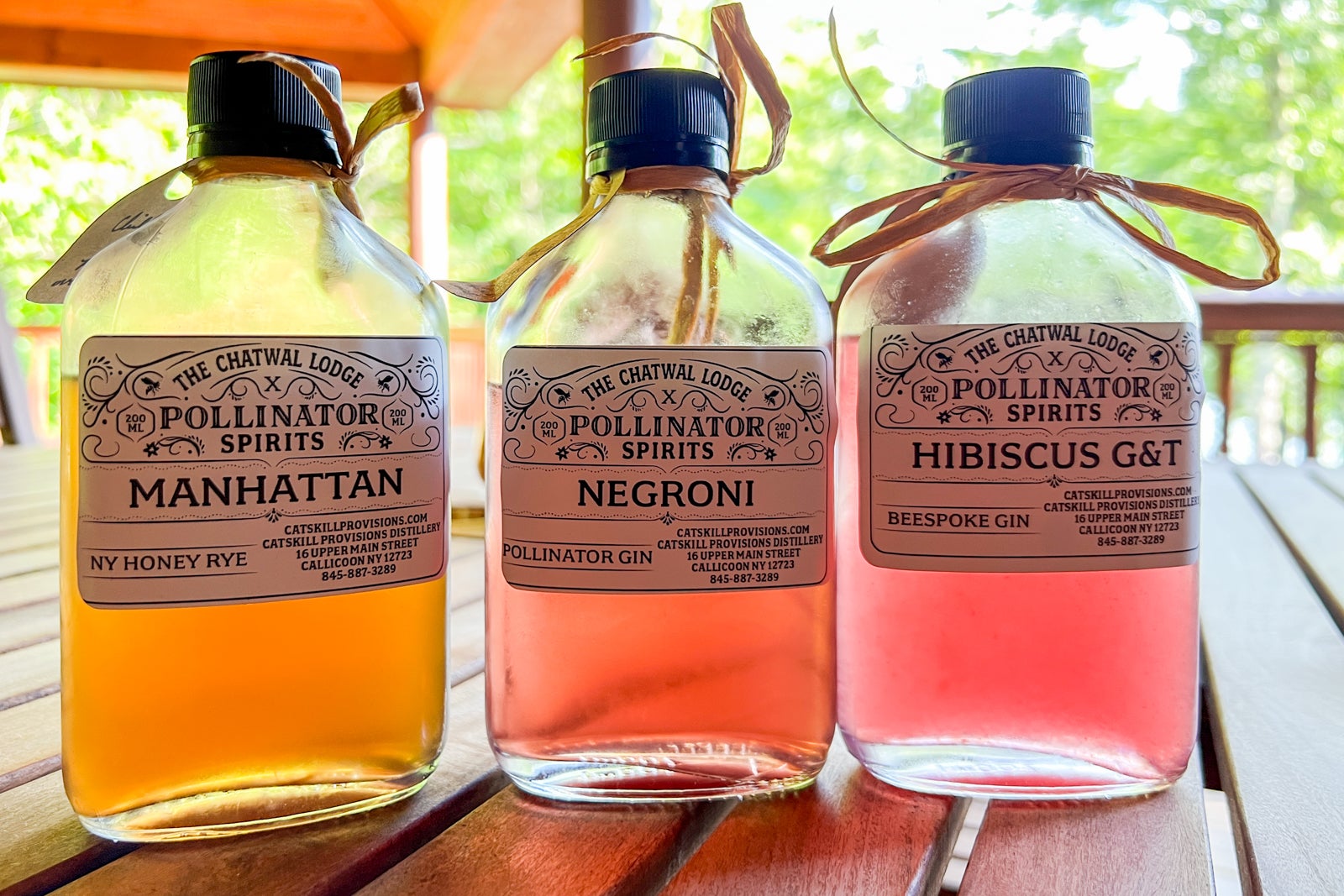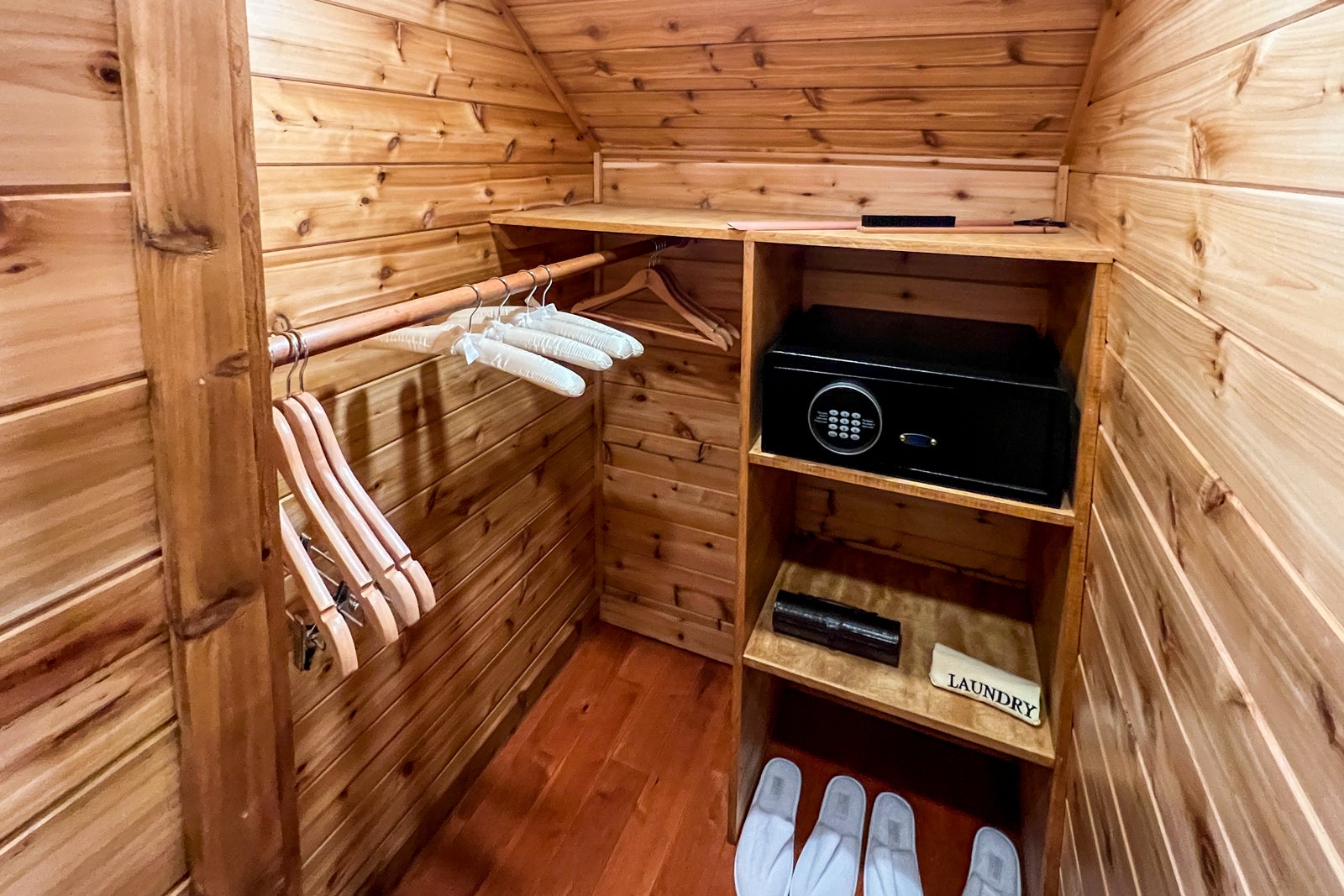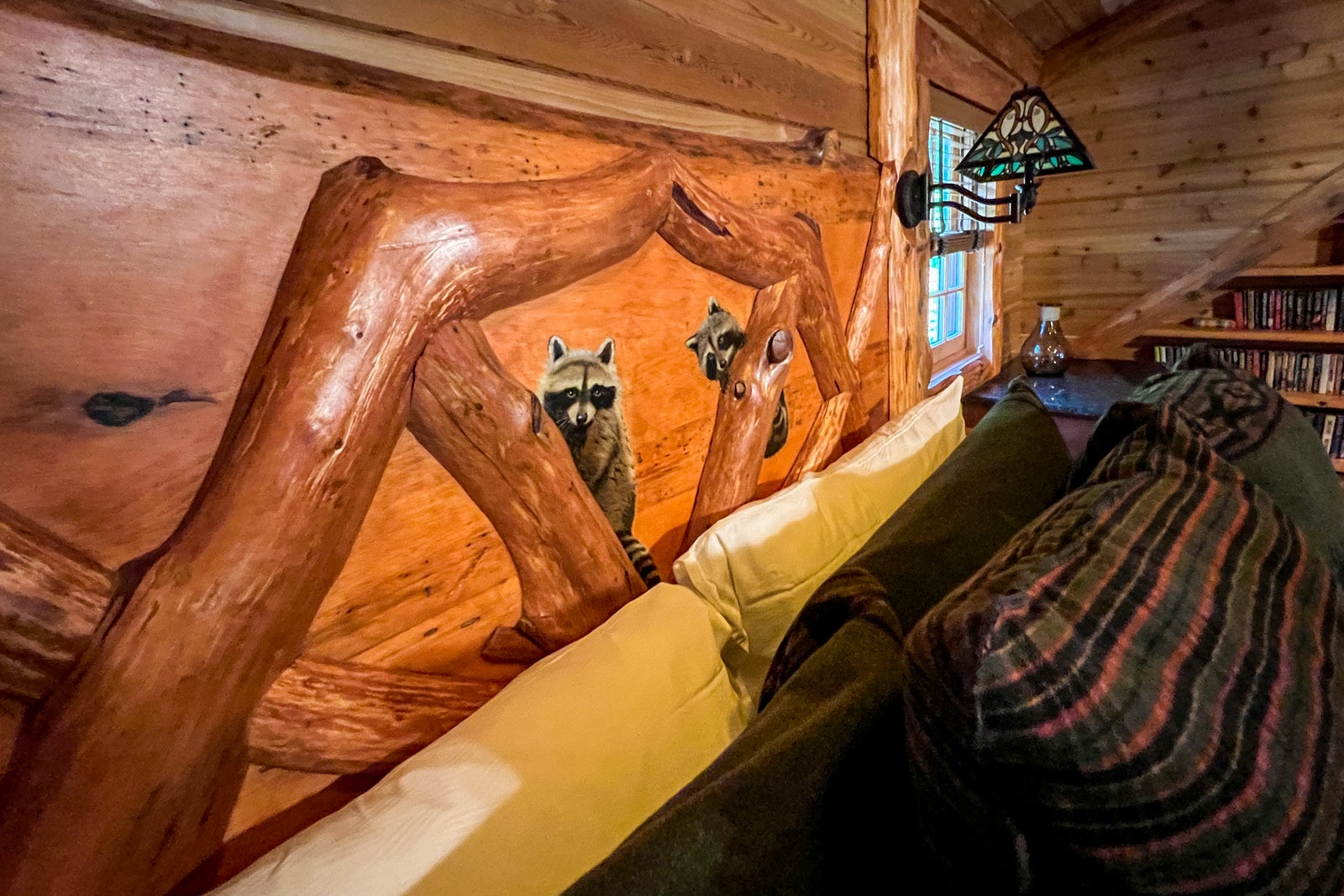 The real highlight was the large, covered, deck-like balcony with two lounge chairs, two Adirondack chairs and a table with four other seats. We spent many hours out there reading, relaxing and watching the water of the nearby lake.
While there was a large wooden bear wearing a towel as the centerpiece of the bathroom, this room was all about the raccoons. The wooden rascals were climbing one pole, poking their heads out of another and looking in the window from outside. Two were painted on the headboard.
What would have otherwise been an amazing room left us with this odd sense of being watched.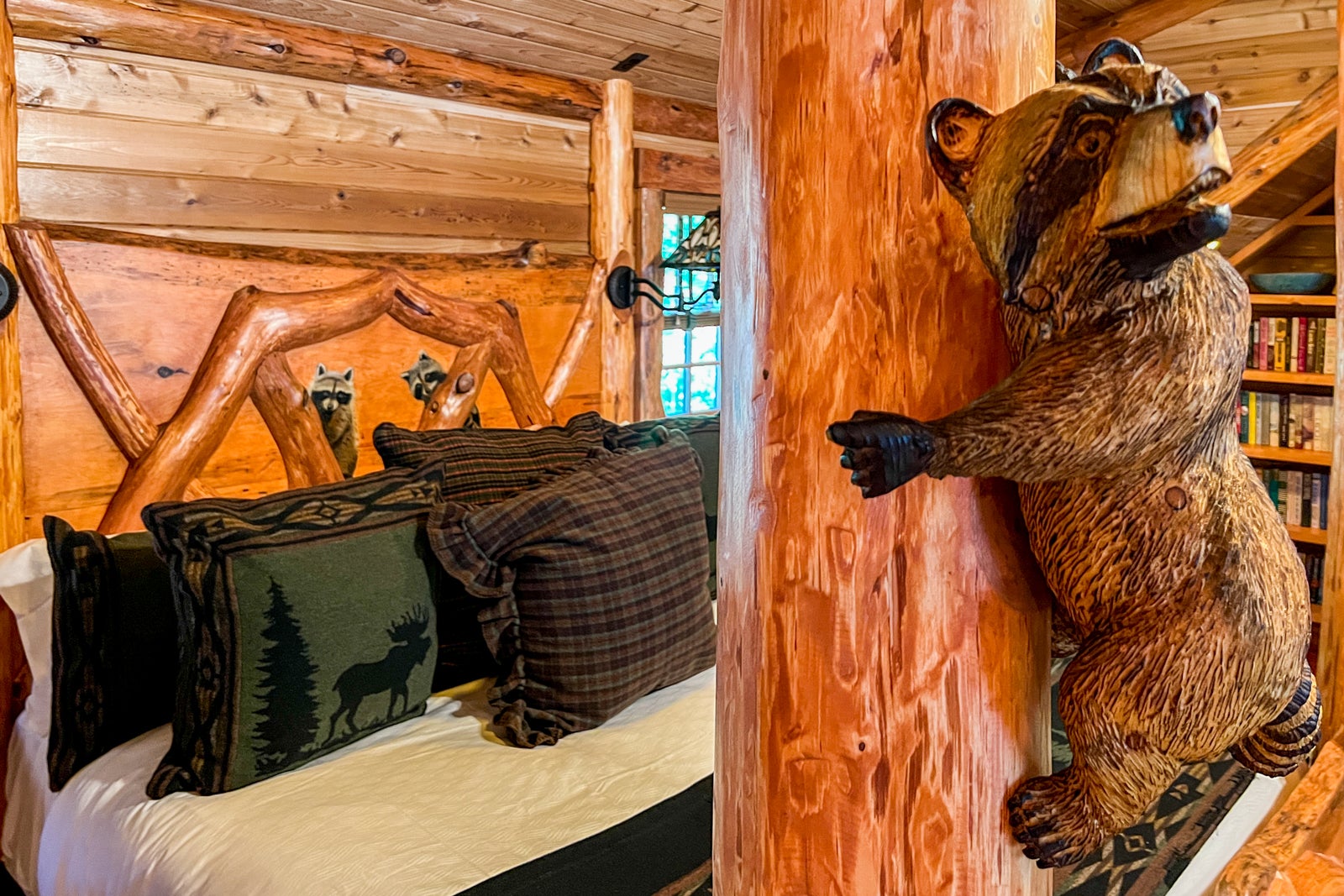 Activities
The resort offers guests a chance to unwind or to be active.
Included in the price is the use of bicycles, paddleboards, kayaks, canoes and a rowboat. There's also a power pontoon boat used for tours around the lake (and, according to the staff, possibly future picnics on a remote beach). Another boat is used for waterskiing.
We went for a sunset boat ride around the lake, during which our captain had drinks ready plus a pair of binoculars to spot the deer along the shoreline.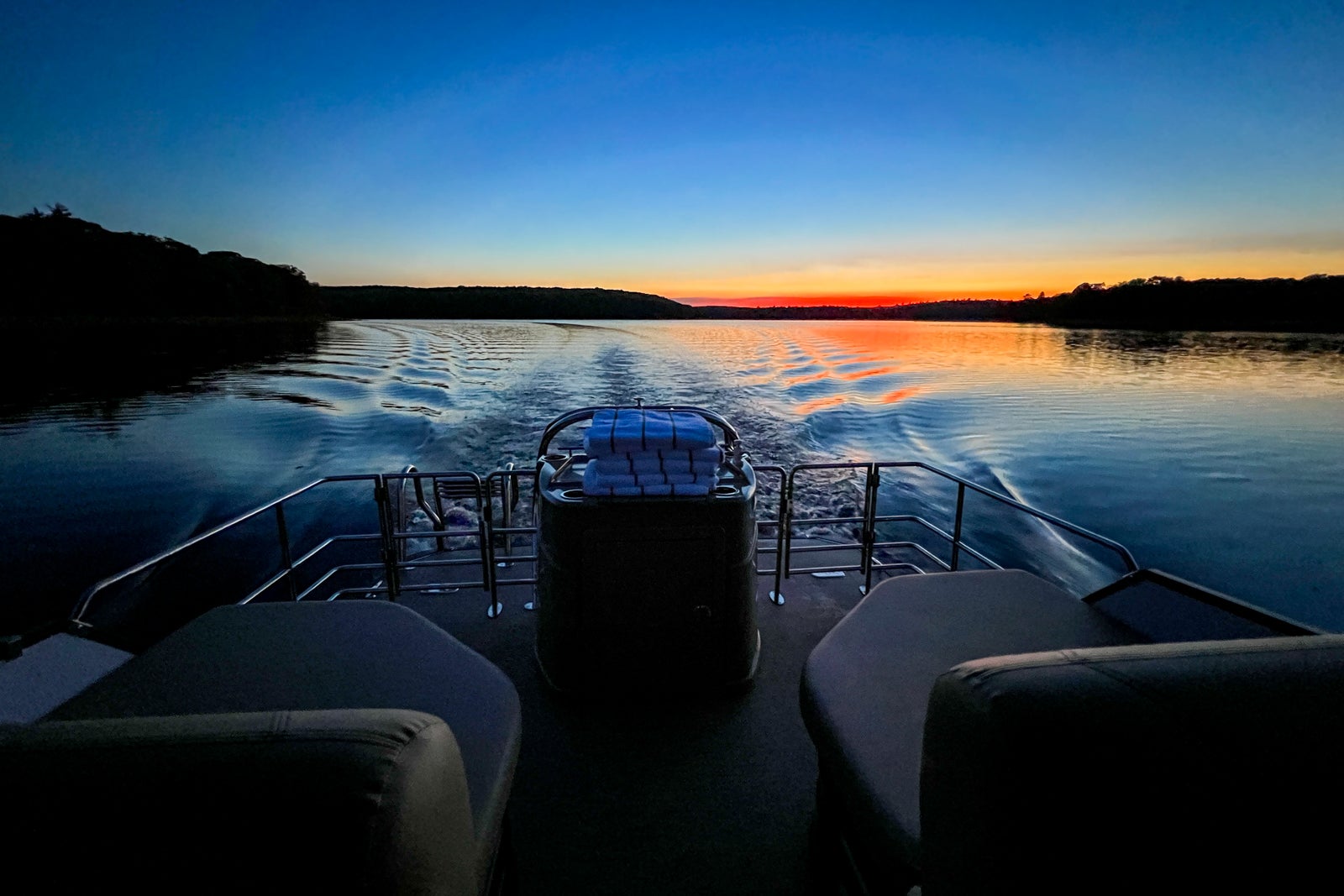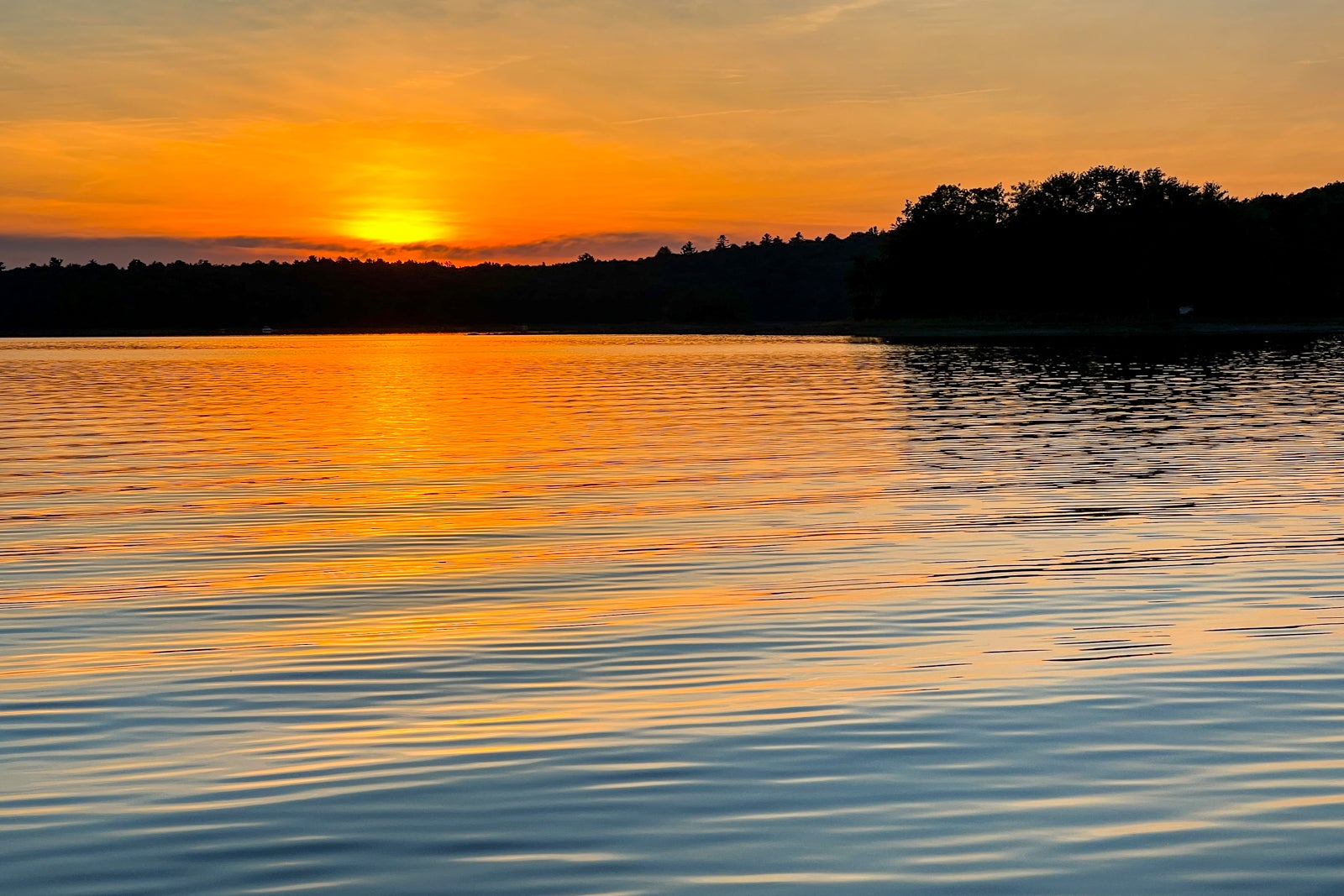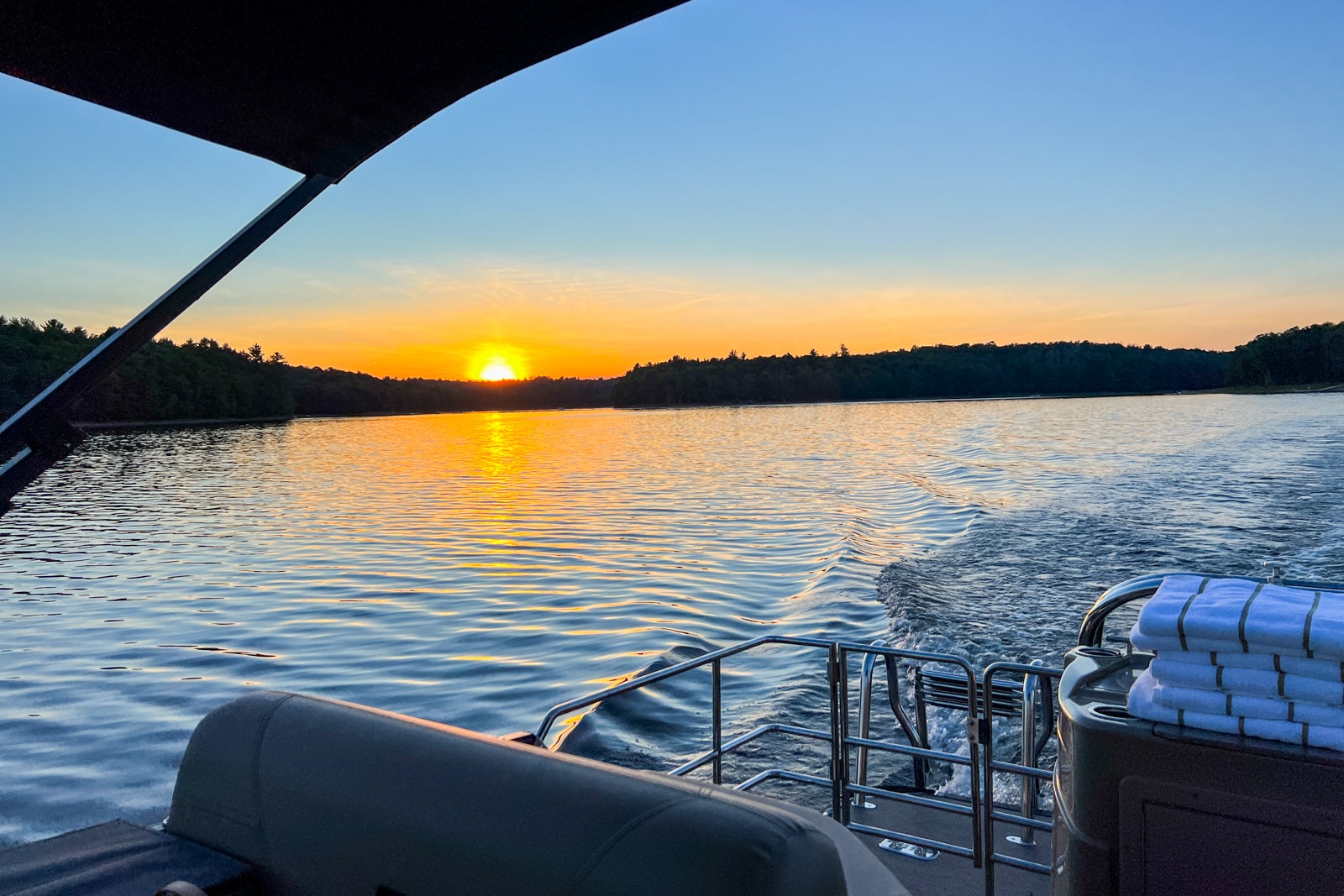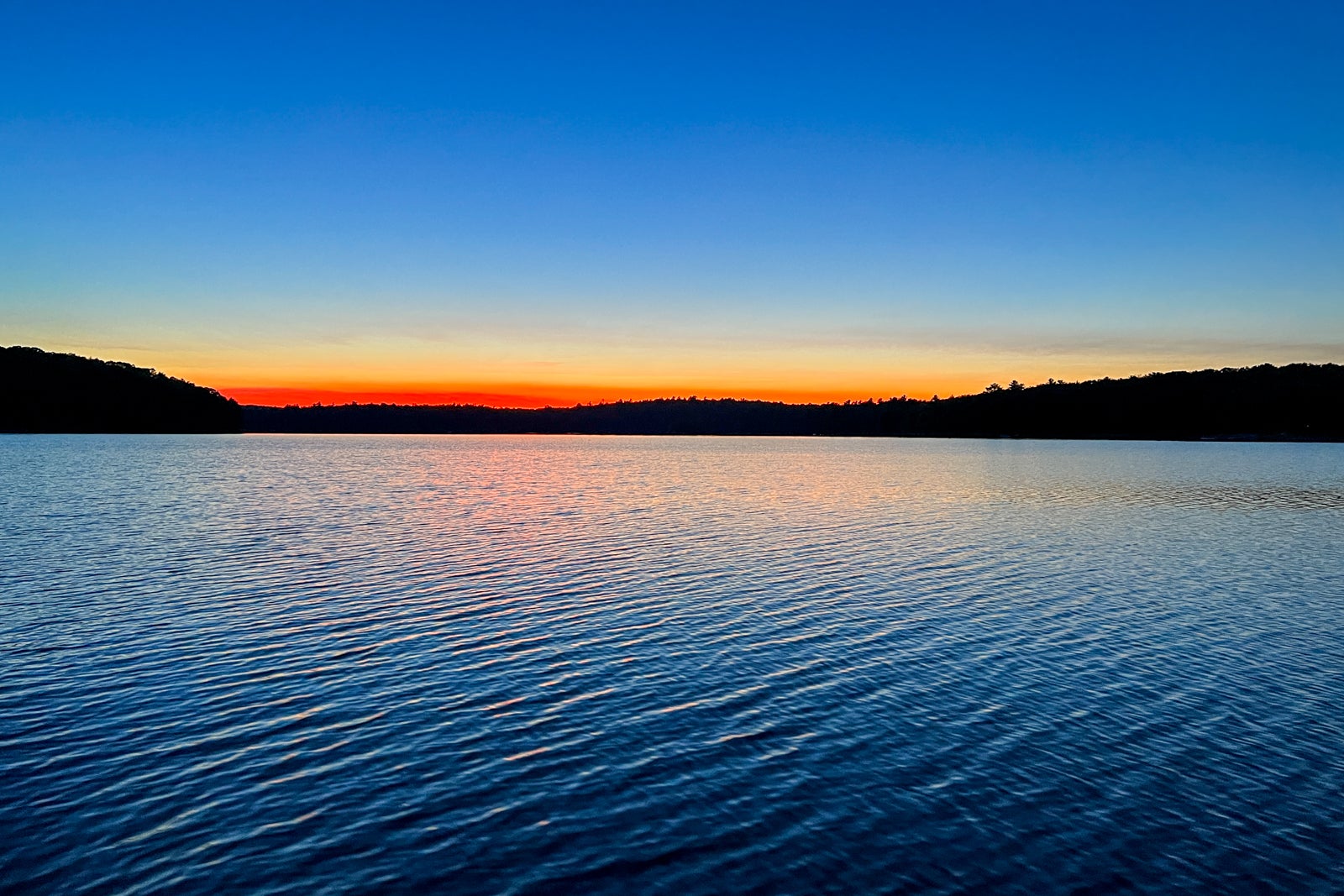 The waterfront area, which lacked shade, had a few chairs plus a cooler stocked with cold beverages. Nearby was sunscreen and bug spray.
A few steps away, a pavilion housed pingpong and oversized Jenga blocks.
On rainy days, the recreation center offered duckpin bowling, a pool table and a poker table. The gym, while having the latest equipment, including a Peloton bike, was extremely cramped and unappealing. I couldn't understand why a new resort such as this would skimp on the fitness center.
For an extra fee, the resort would arrange horseback riding, guided hikes, fly fishing, in-room massages and other activities.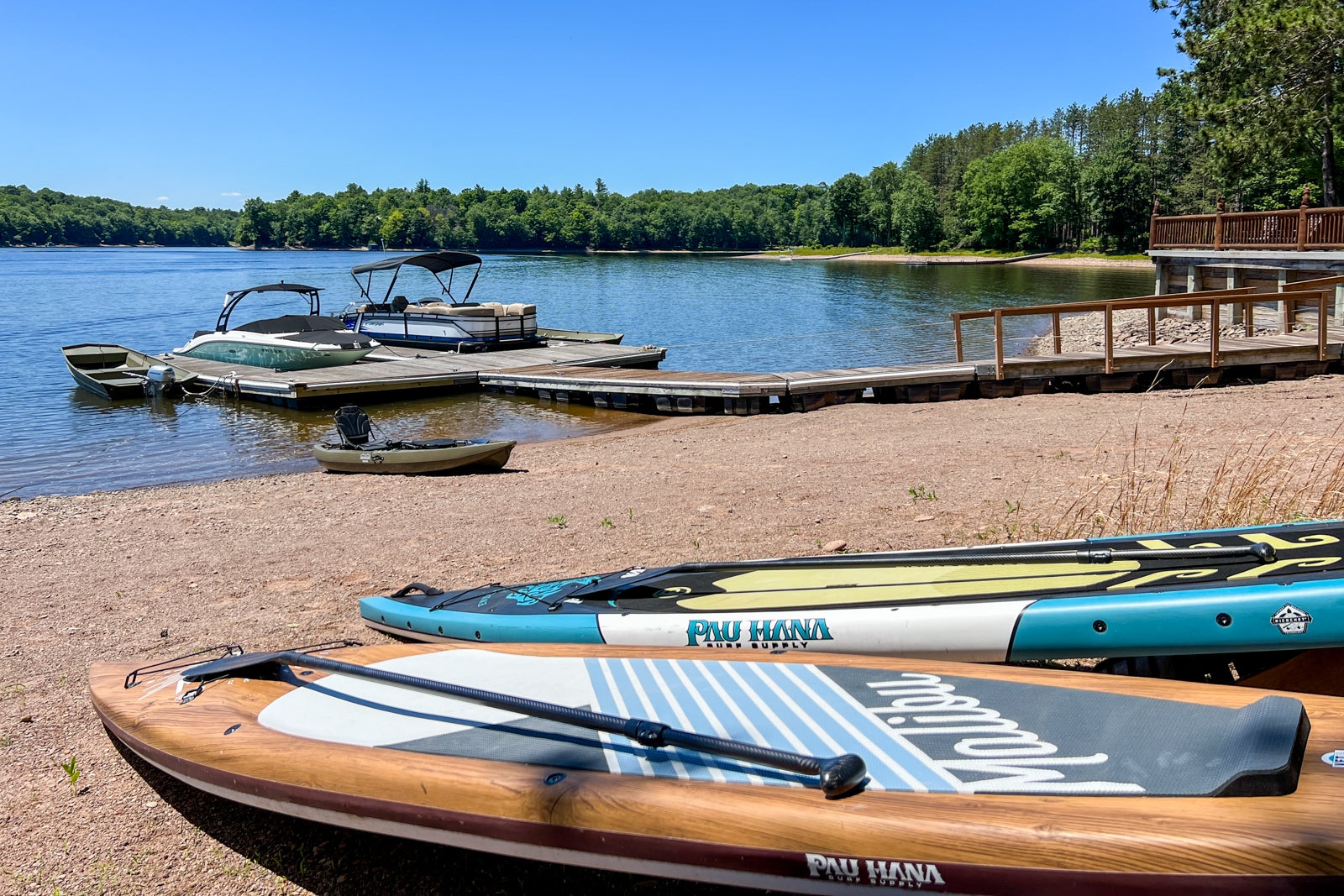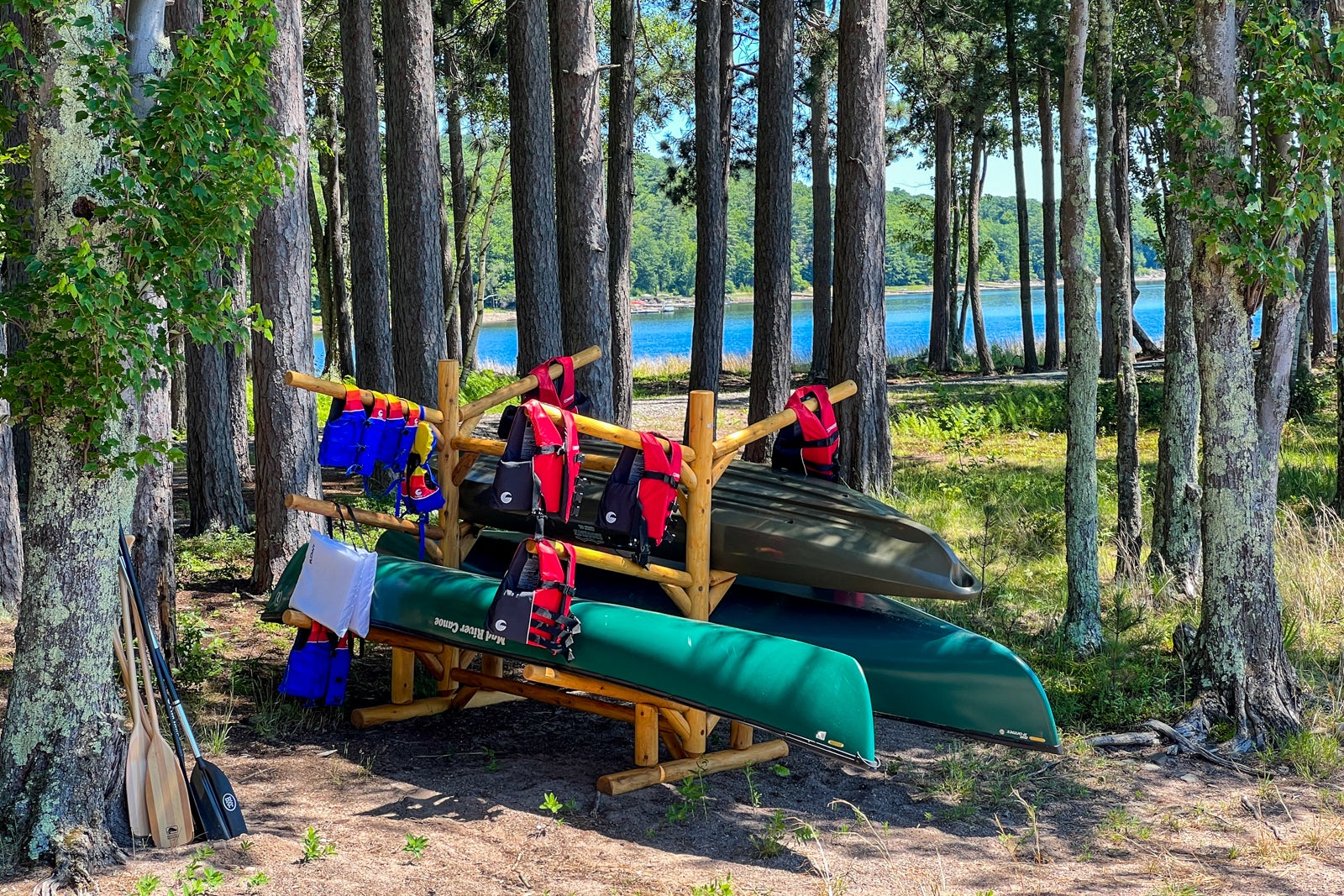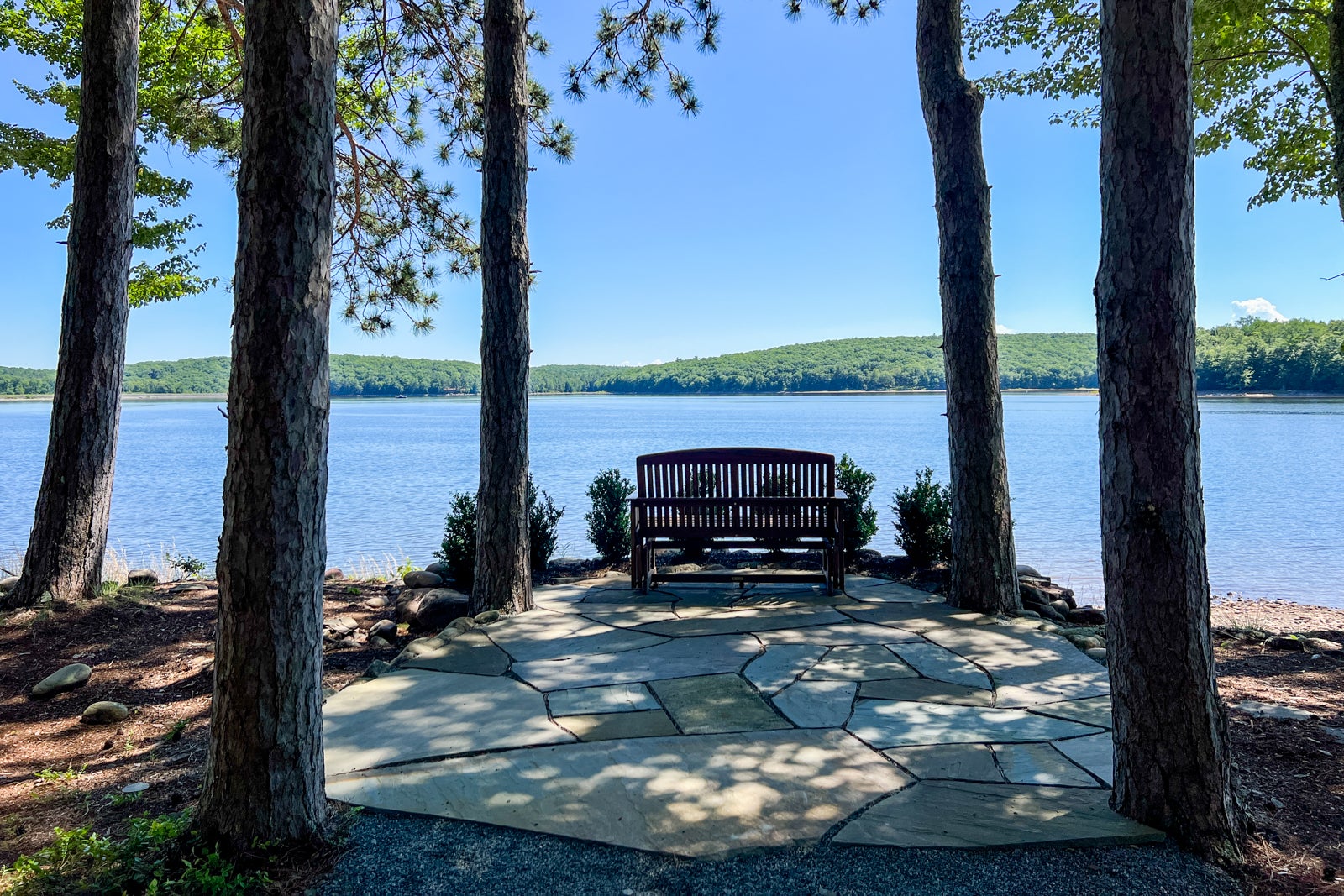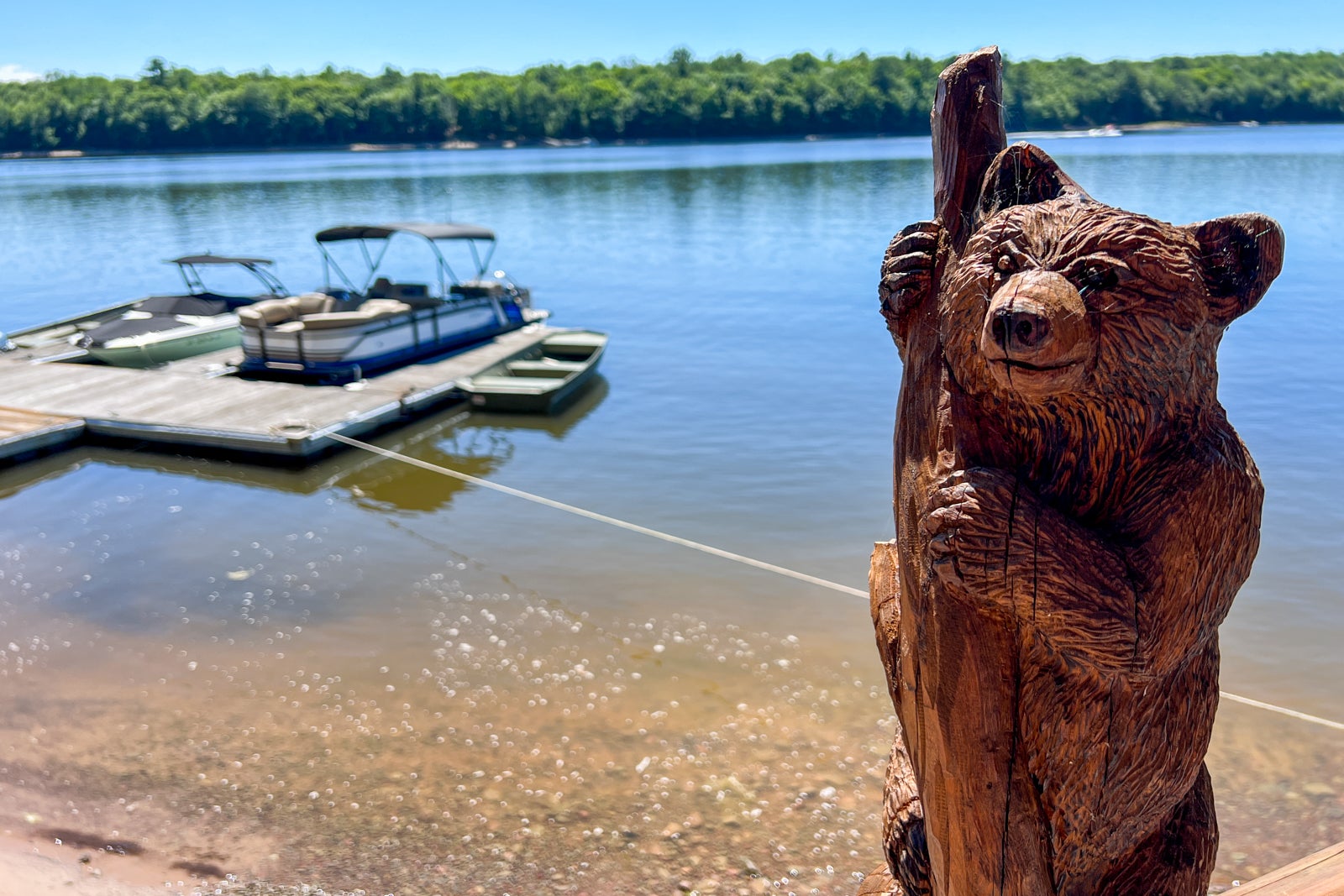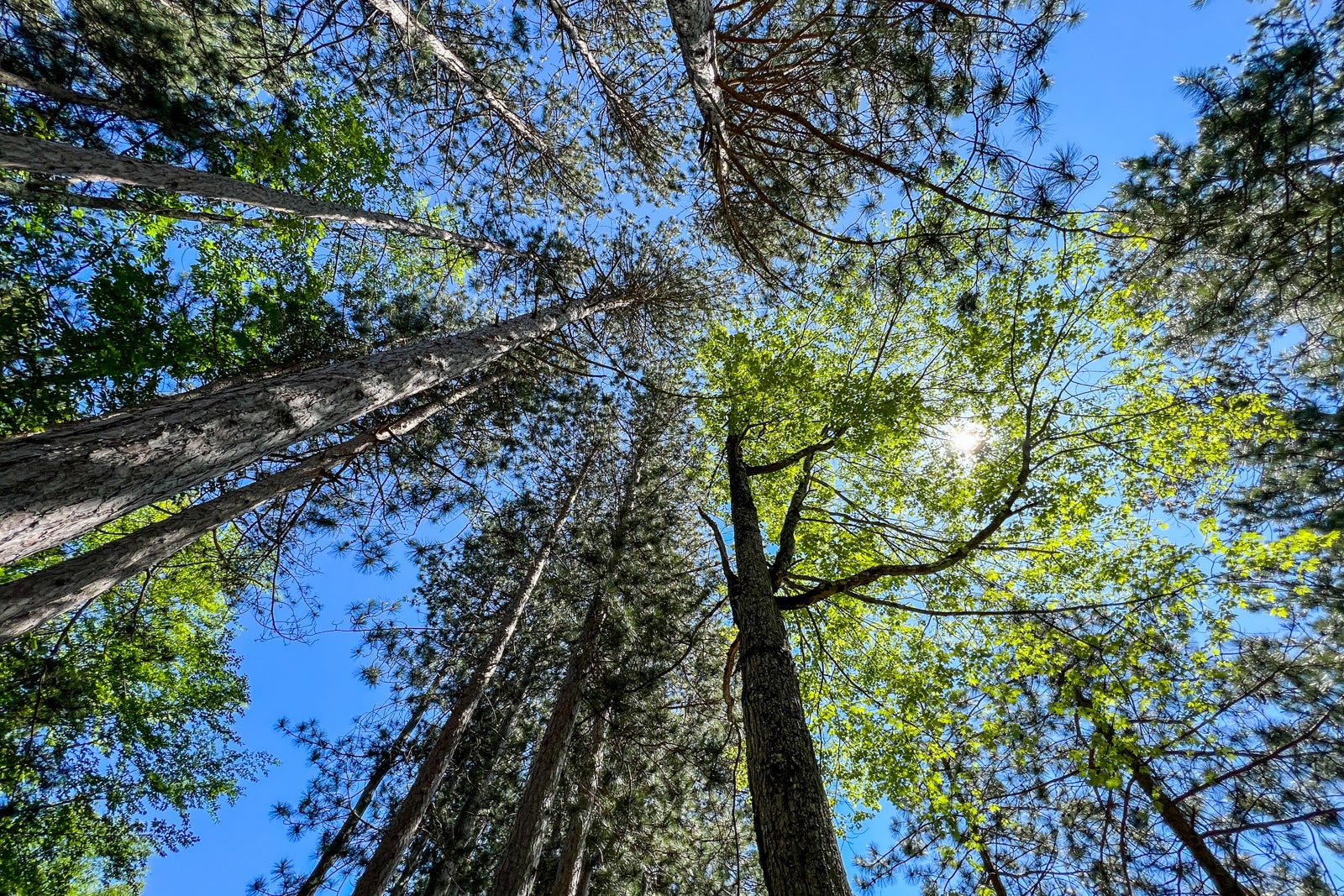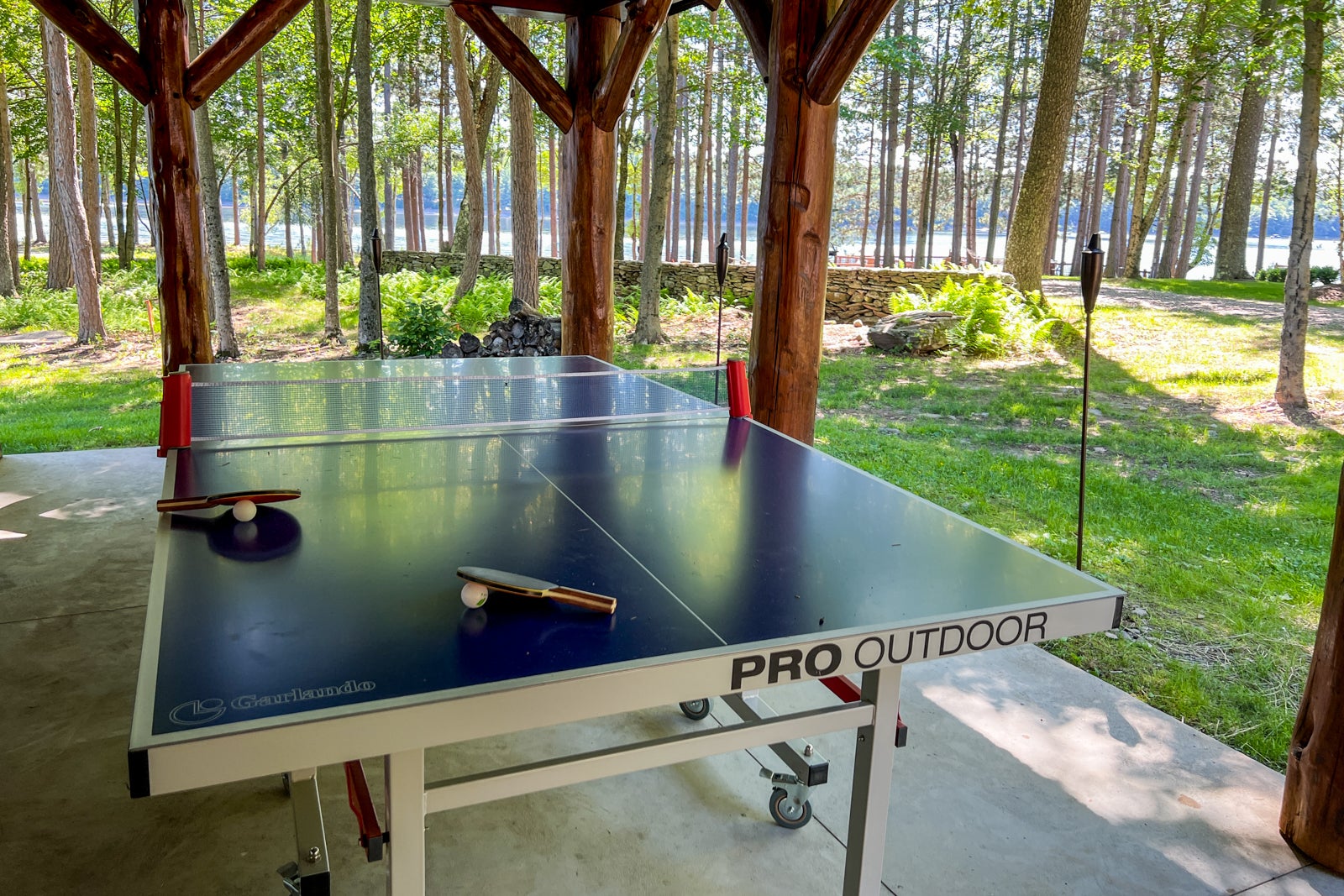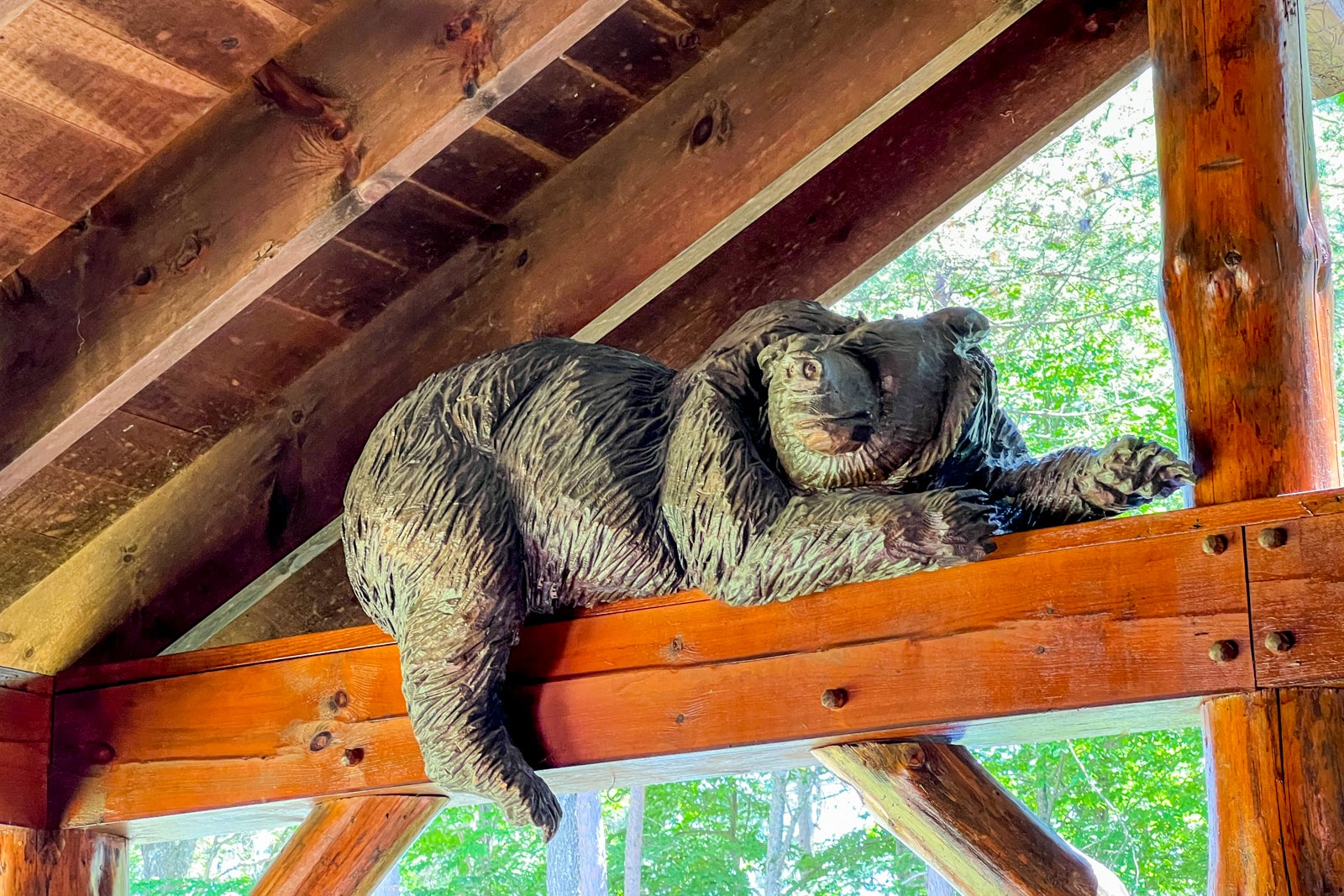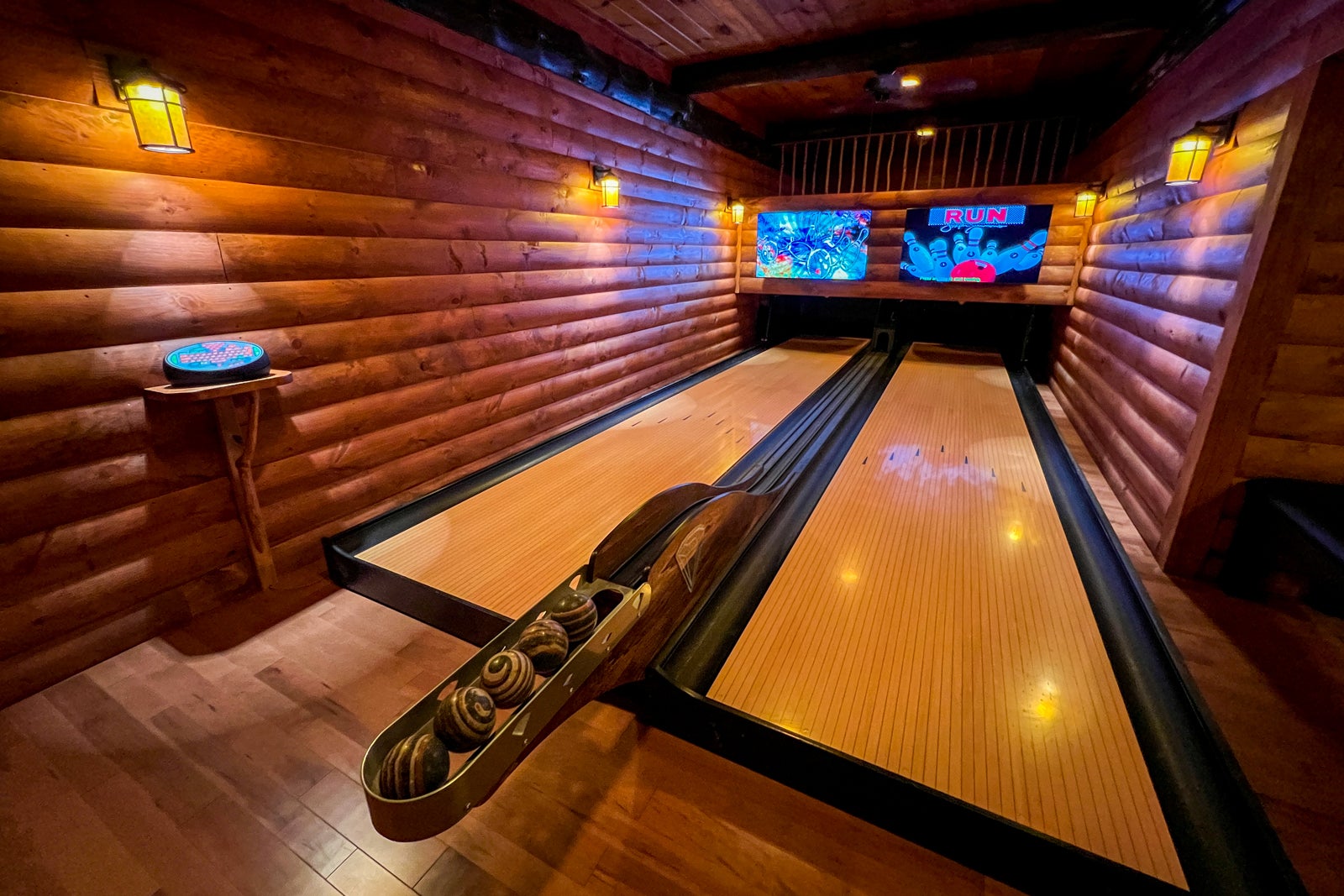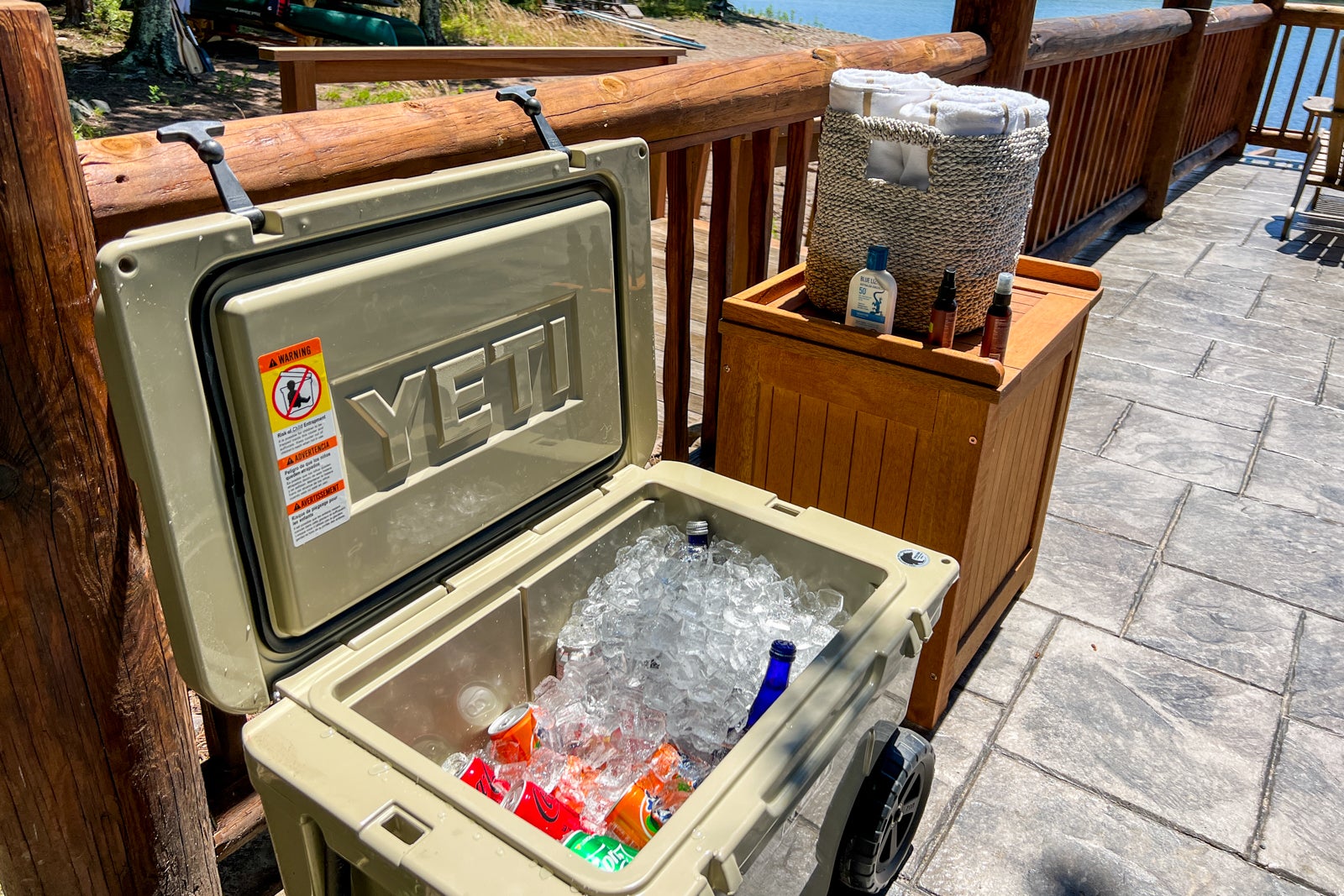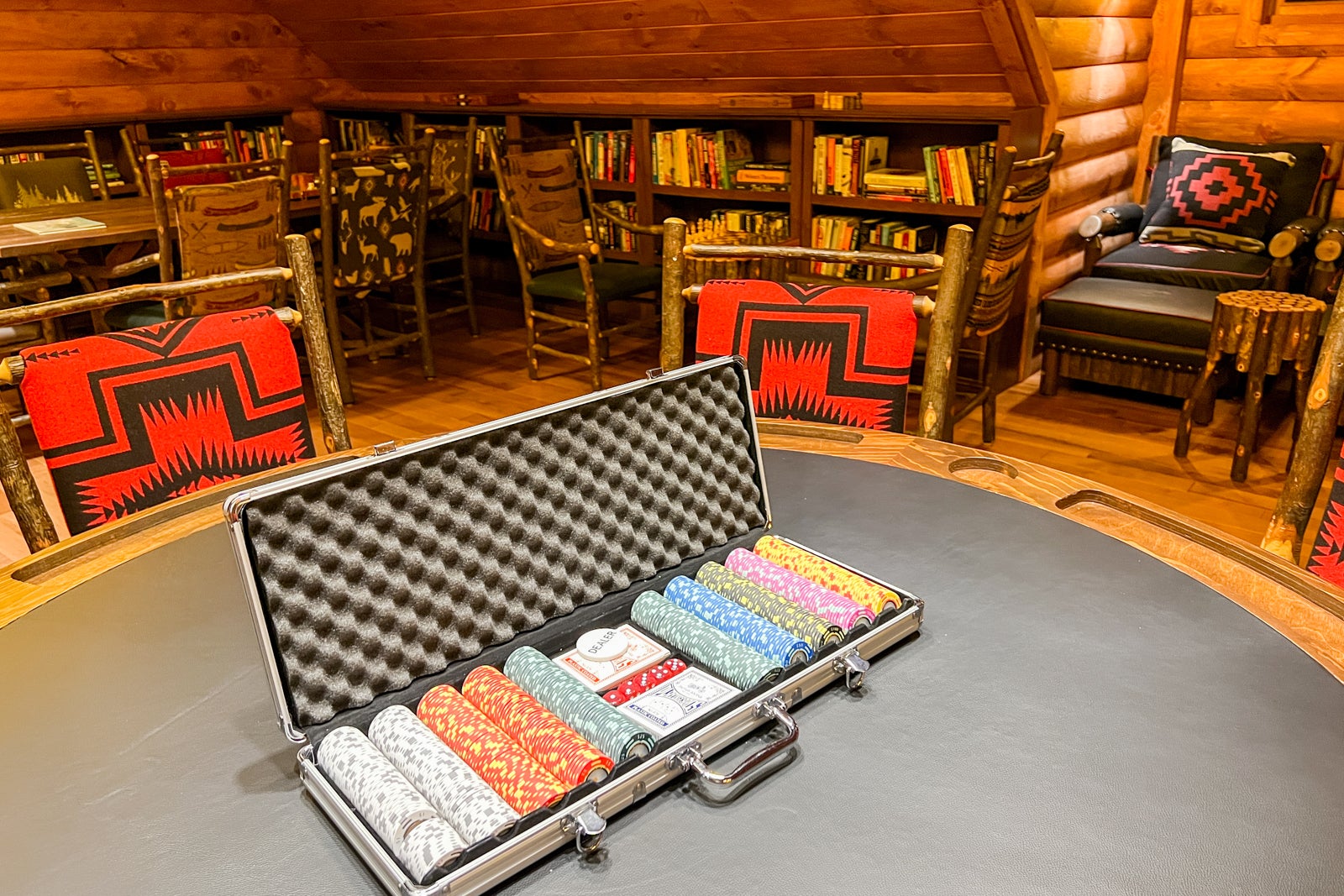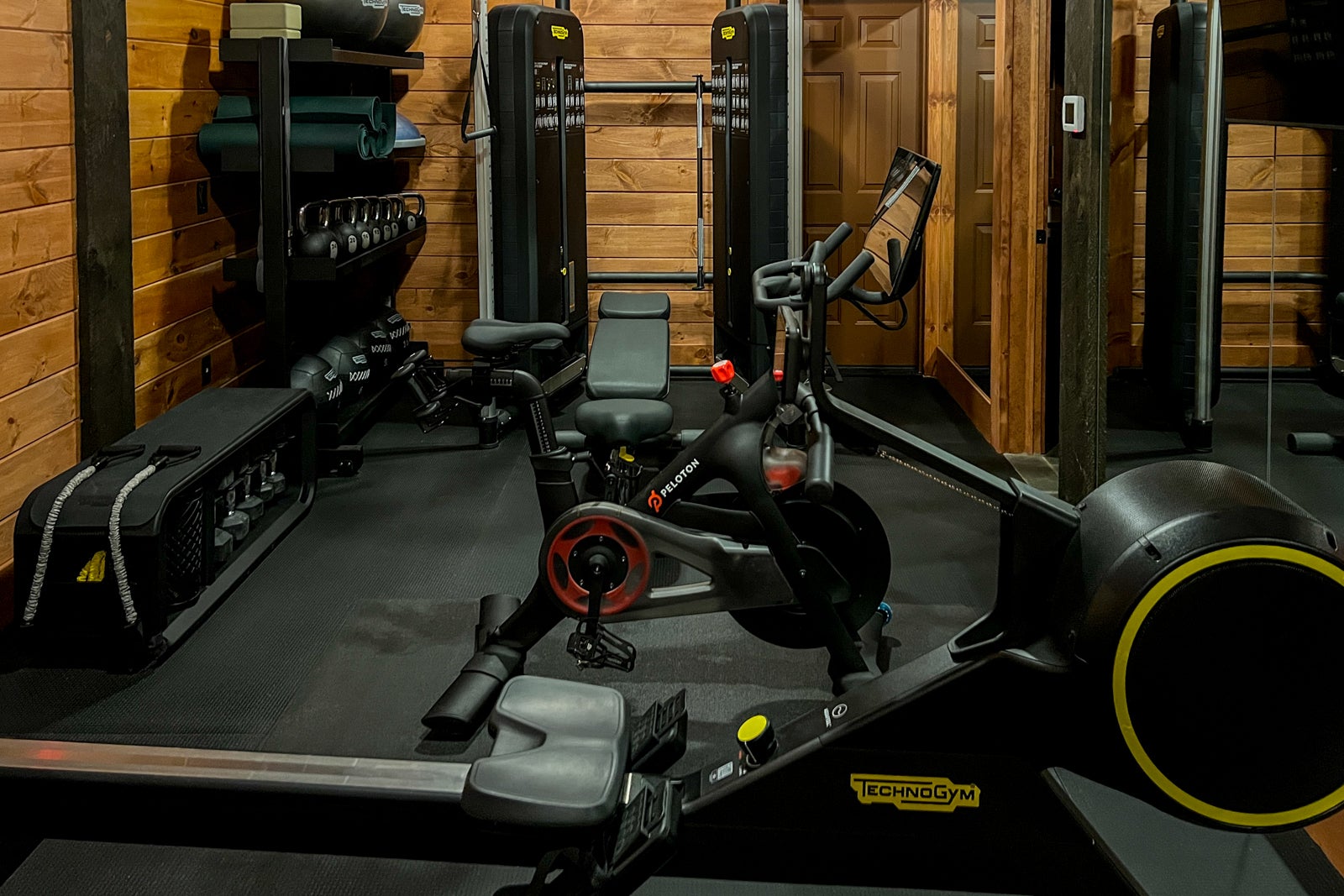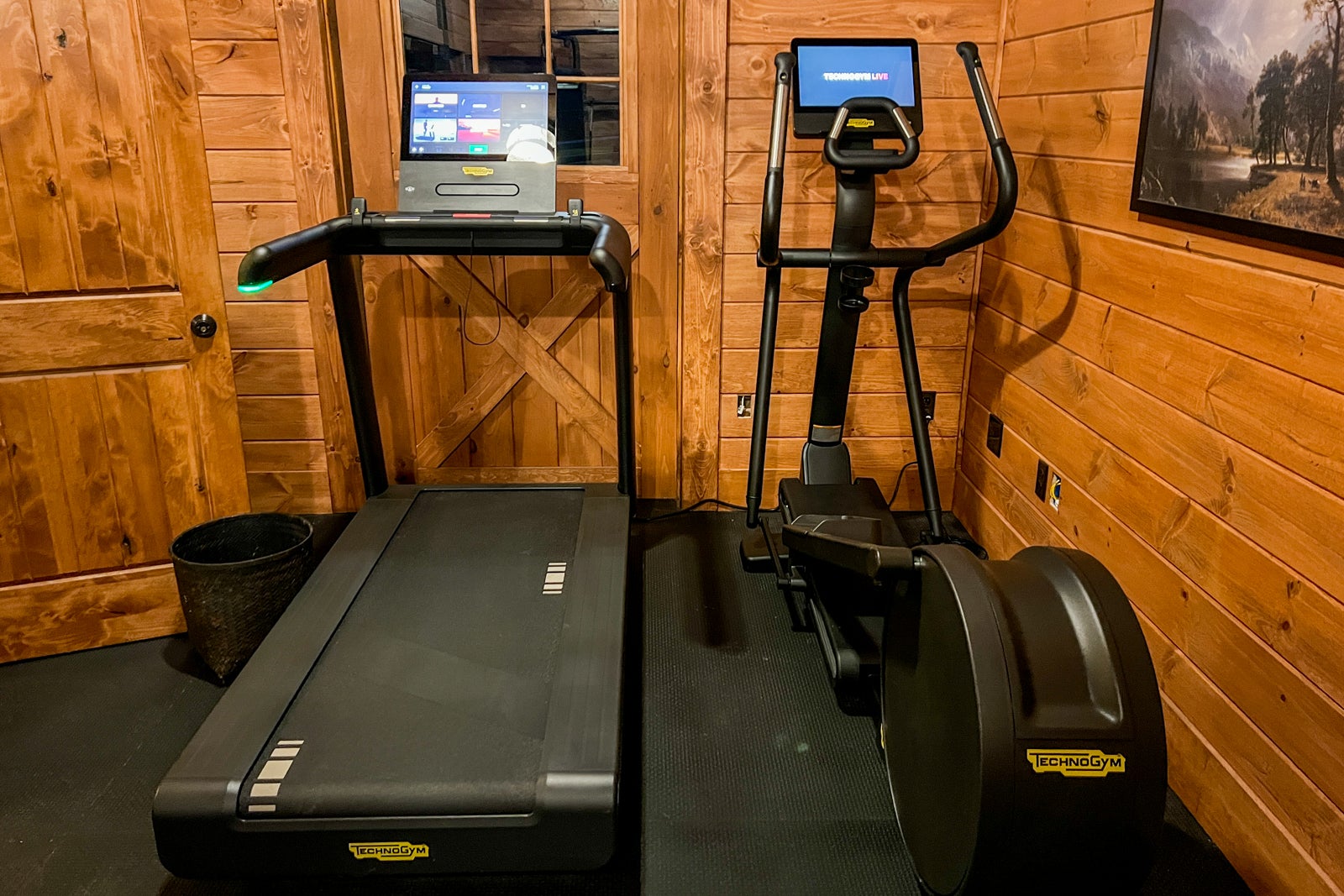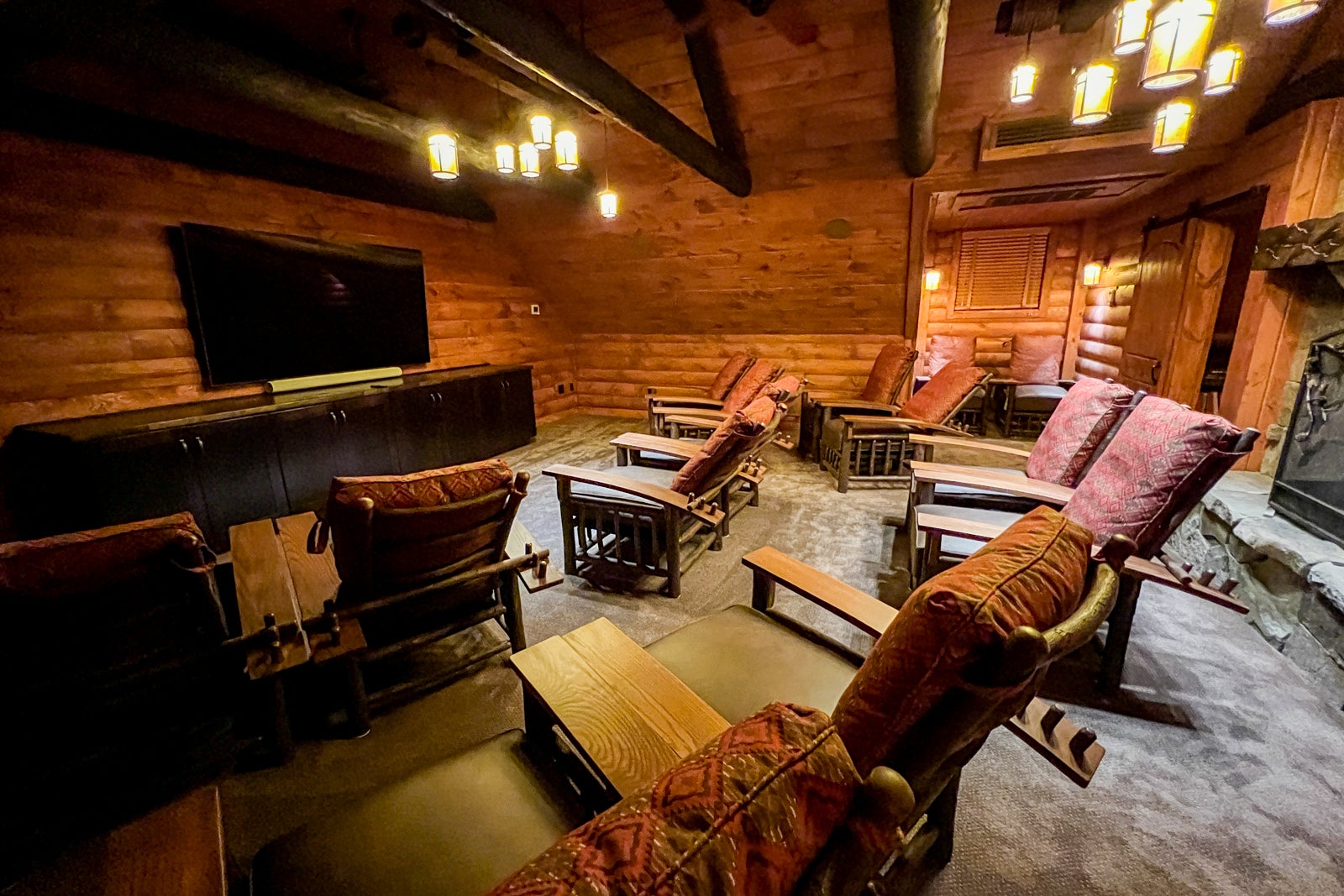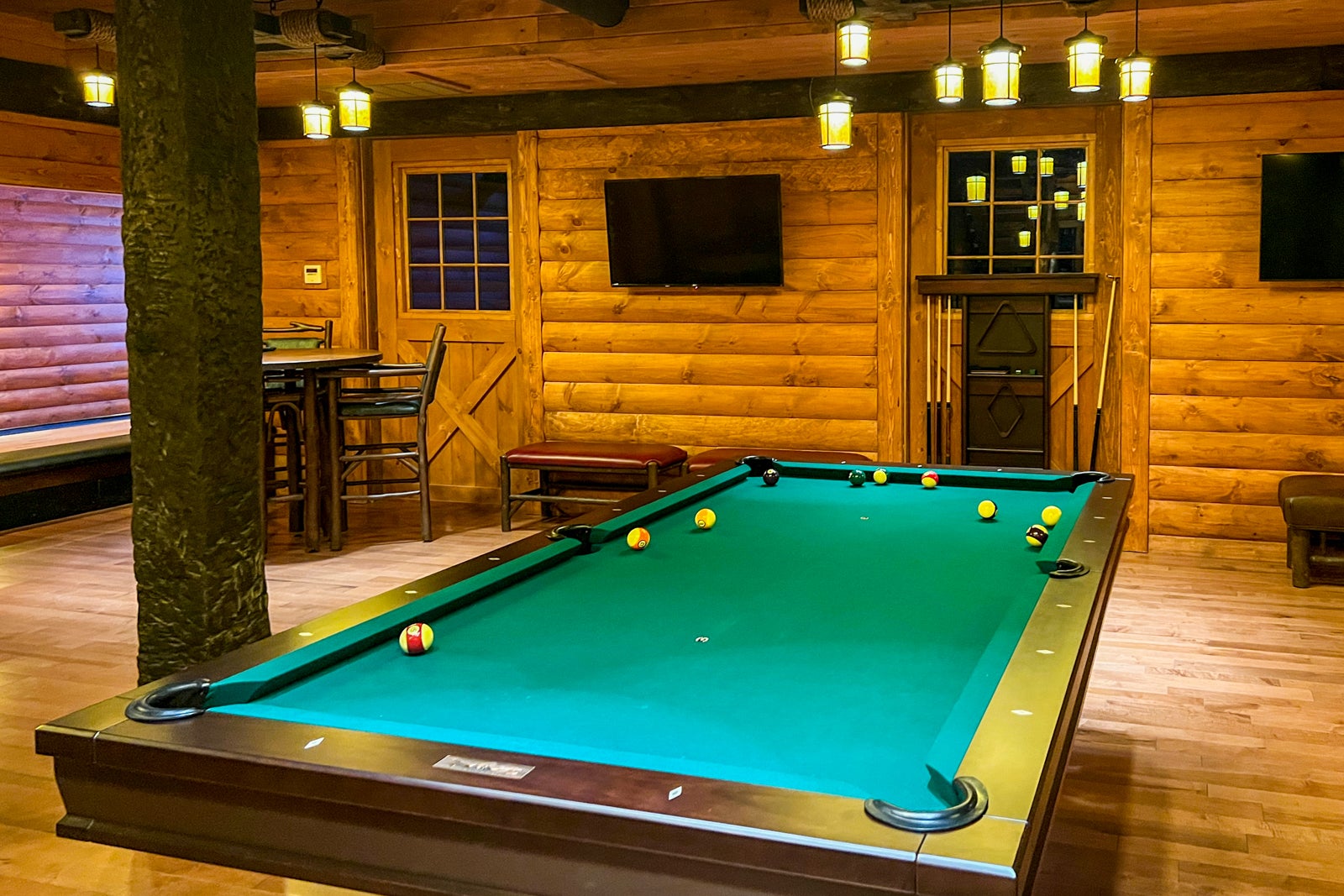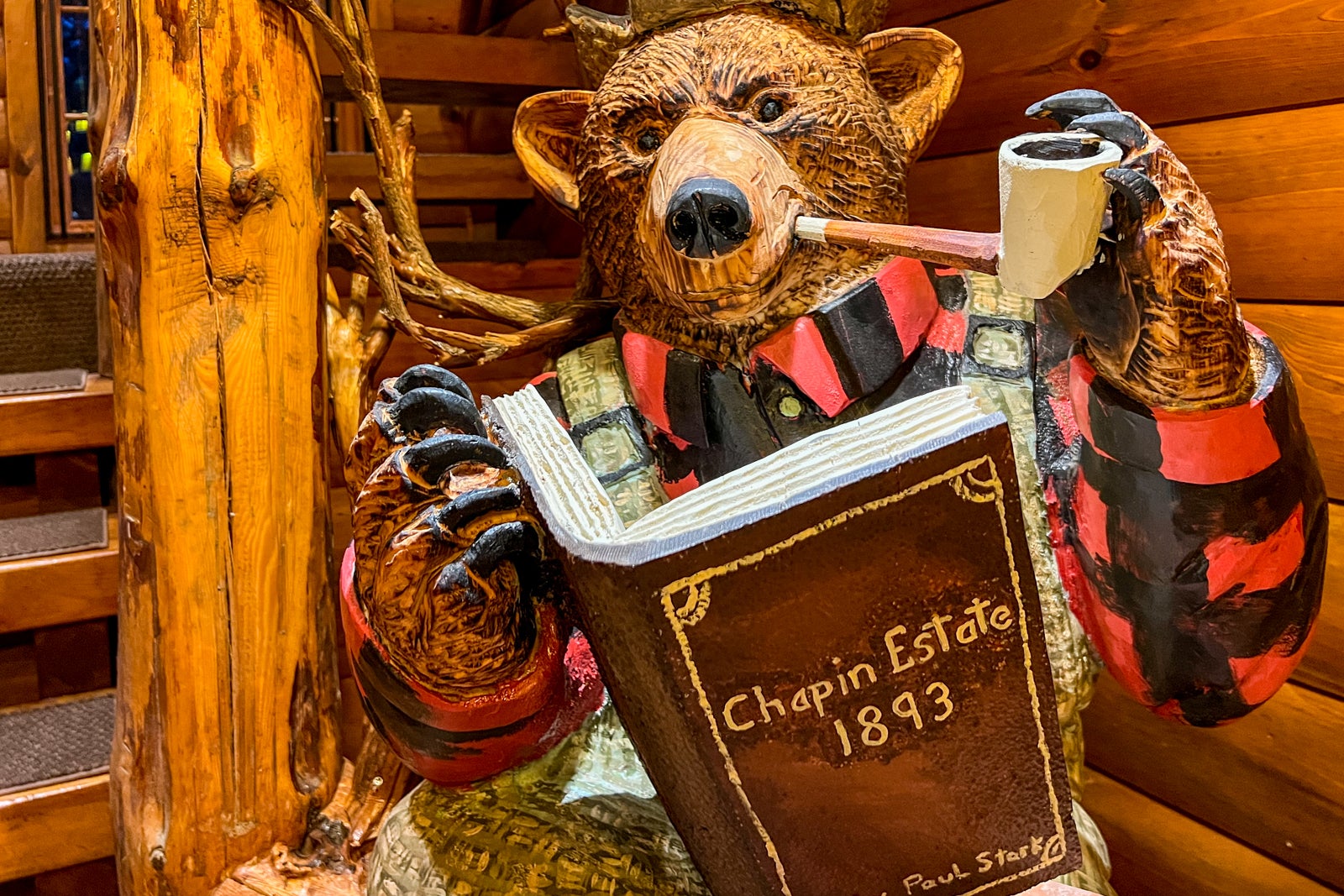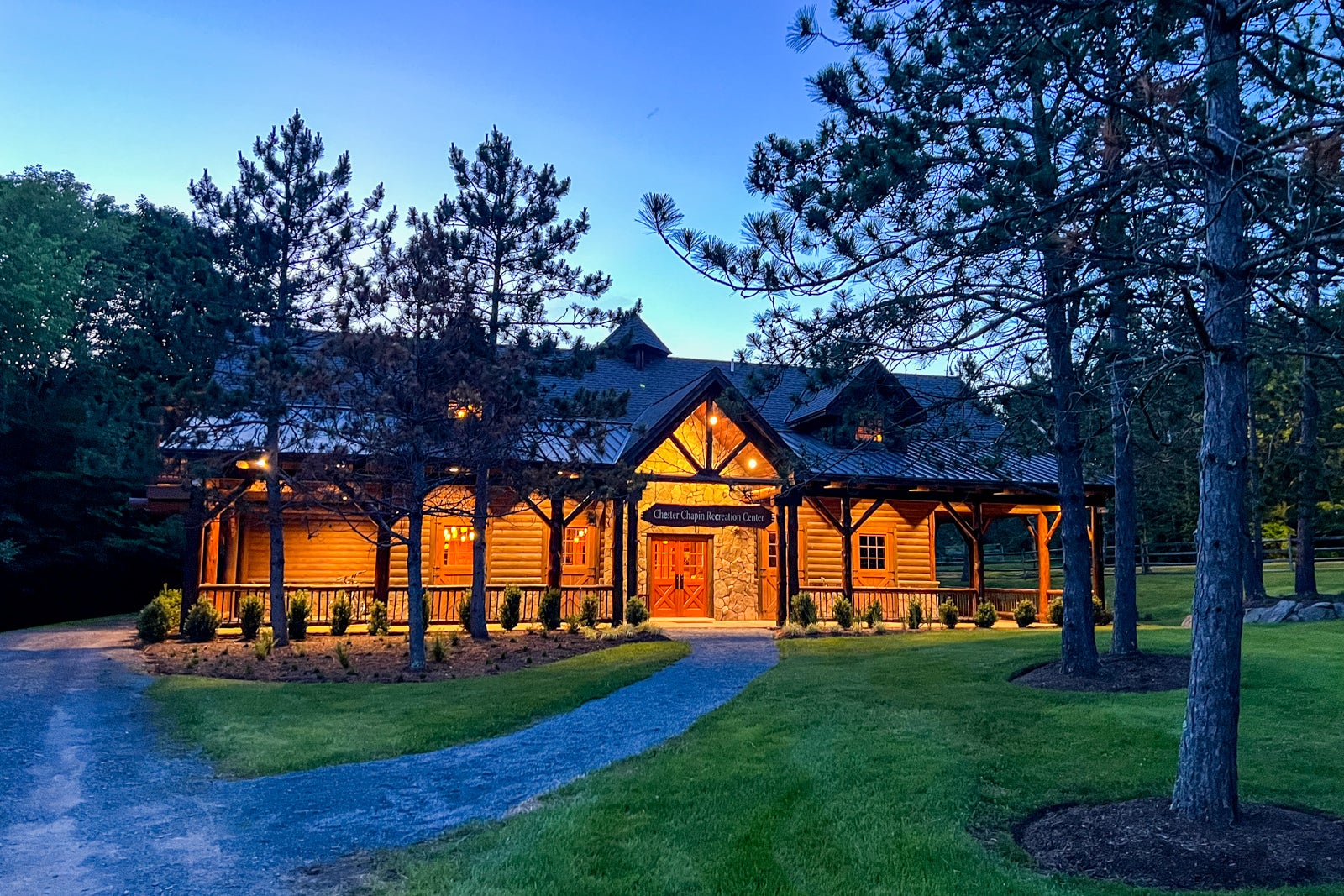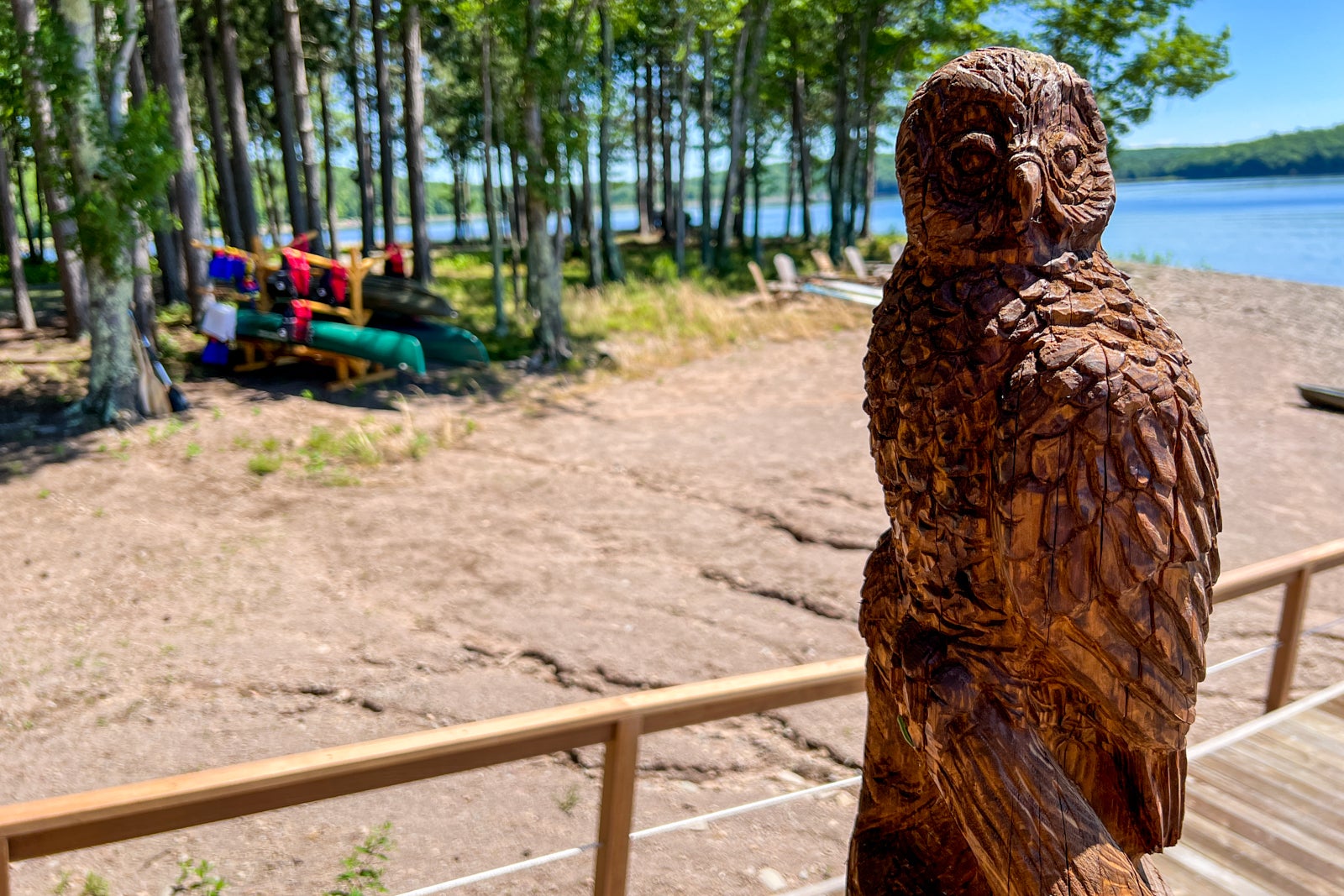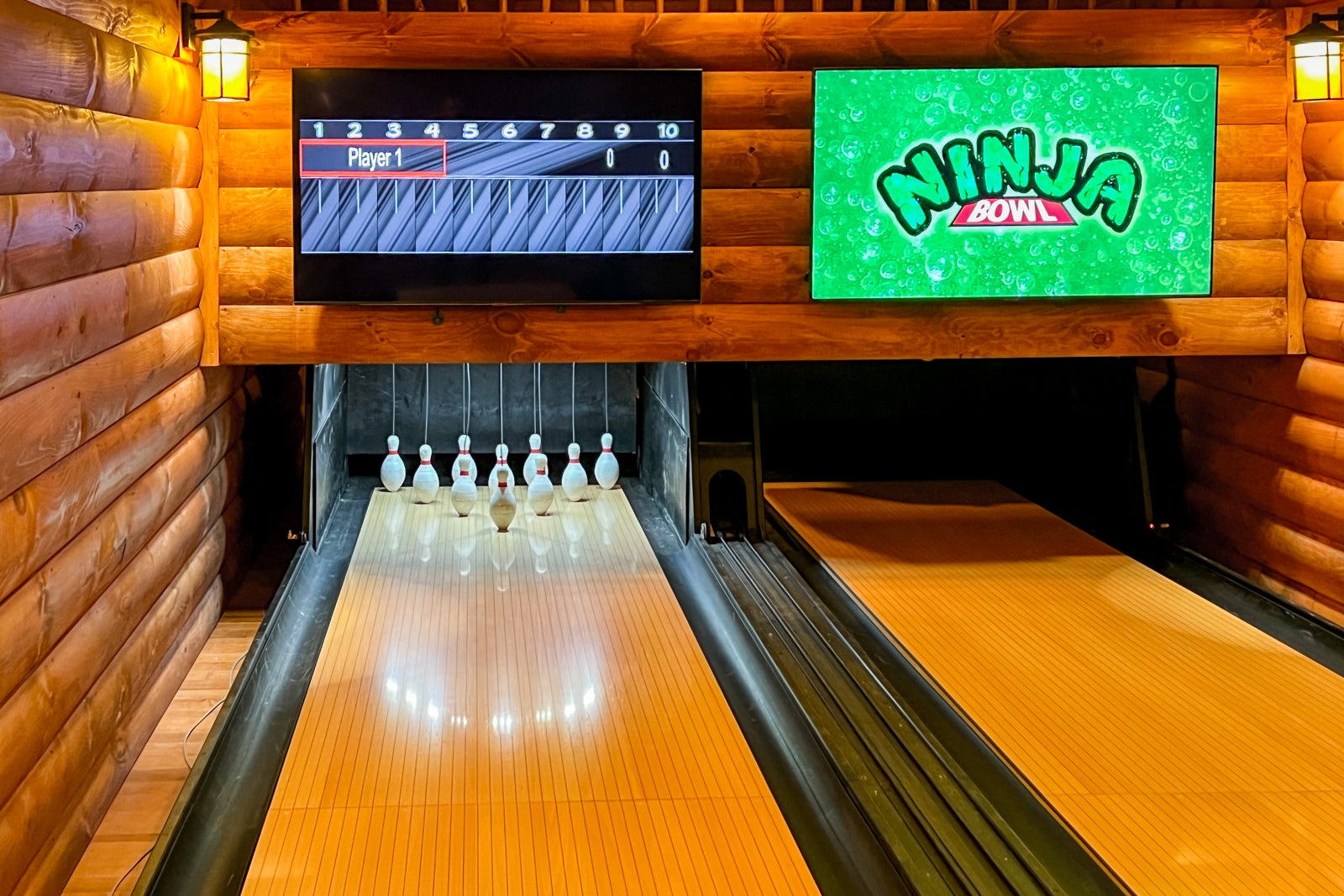 Growing pains
As I mentioned, the resort has been open for just over a month. It takes time for any new property to work out the kinks; The Chatwal Lodge is no exception.
None of the shortcomings spoiled our trip, but the team does have some work to do.
The tiny pool at the main lodge is not yet open and the resort doesn't yet have the insurance to allow waterskiing. I reached out to the public relations team after checking out and they said the resort is working on both and there are plans for additional water and land experiences.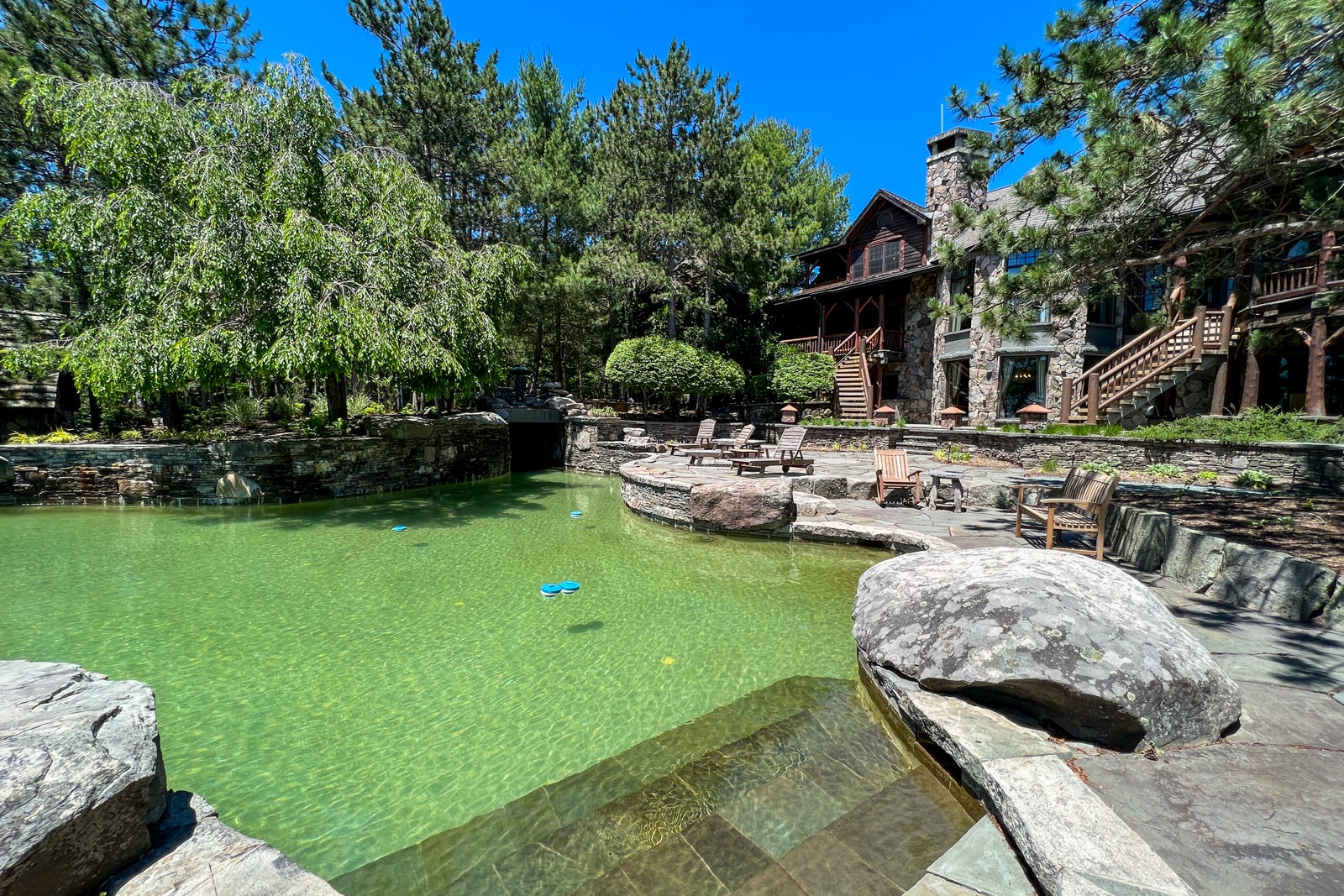 Property maps still haven't been printed and the bellhop lacked a master key, so he couldn't bring our bags into our room.
There were no cushions for the beautiful (but very hard) teak lounge chairs scattered across the property; however, the staff did find two random cushions for our balcony chairs after we requested them.
Next to our room's fireplace were s'mores sticks, binoculars and a lantern. While the room was stocked with plenty of snacks, none were marshmallows, chocolates or graham crackers. The sticks also seemed odd since we weren't going to roast marshmallows in our gas fireplace. The staff explained that there were future plans to add communal fire pits around the grounds. (Two of the waterfront rooms have their own private outdoor pits.)
There was a citronella candle on our deck but no matches anywhere in our room.
Our cheese and charcuterie plate was fantastic, but lacked crackers or bread, despite having a spreadable brie.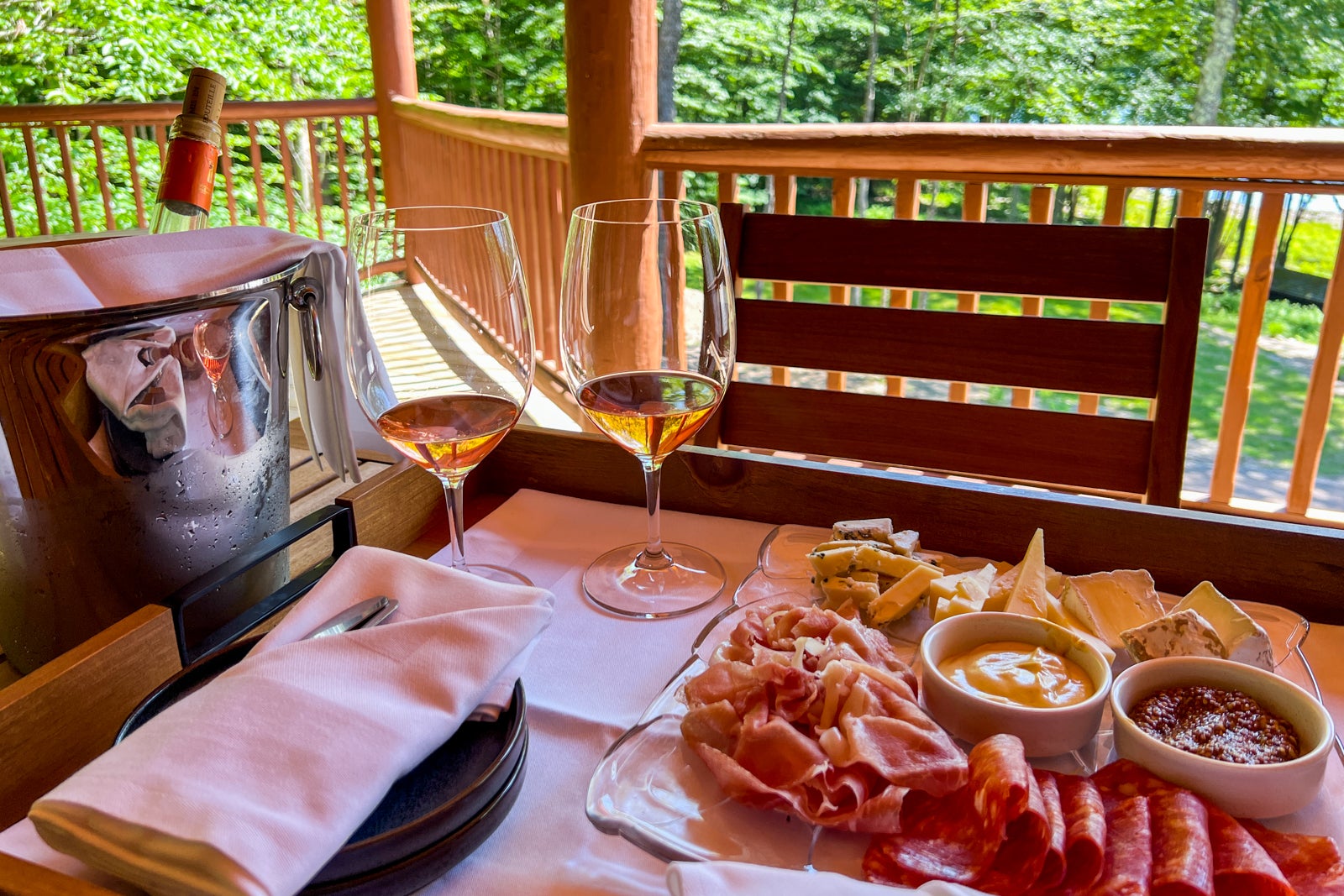 And our first day, the room didn't have any bath mats — something added, without our prompting, the second night.
We only had two minor service hiccups. We arrived at the same time as two other parties and the staff members were overwhelmed. We were welcomed, given some bubbly and a Gruyere pastry puff and left lingering, awkwardly.
Nobody walked us through the amenities or talked about scheduling activities. Other guests had that same confused look on their faces as we all stood in the lobby. (We did get a pre-arrival email but that wasn't too helpful. It asked about dietary restrictions but was a lot less instructive about the activities offered and the prices.)
When we later switched rooms, we were finally given a golf cart tour of the grounds.
The other issue we faced was trying to reach the front desk. We couldn't connect from the front security gate, our room's phone or even my cellphone.
Each time, we got the message, "I'm sorry, but the person you have called does not have a voice mailbox that has been set up yet."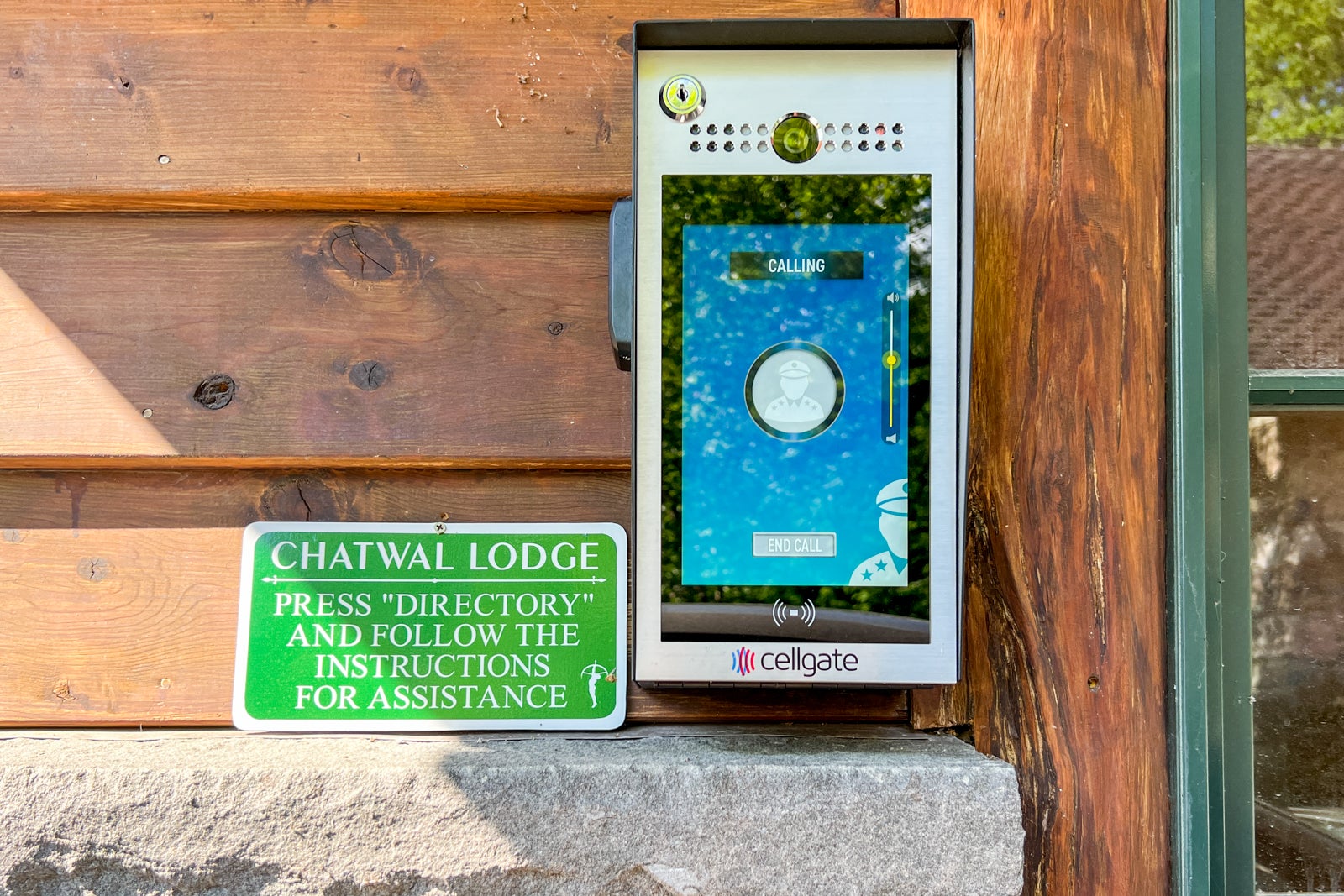 Nearby attractions
While the resort is idyllic, the surrounding towns can be hit or miss. Nearby, we passed an abandoned building with a sign advertising "Sports TV and Topless."
But that isn't to say there aren't attractions worth visiting.
We spent our final afternoon exploring the Bethel Center for the Arts, its museum cataloging the history around Woodstock and the site of the concert and festival. The museum just started a behind-the-scenes golf cart tour of its concert facilities and then the farm that hosted Woodstock. We could have spent less time in the modern-day venue and more time seeing the historic sites, including the woods dubbed "Bindy Bazaar" where concertgoers were supposed to have entered the grounds and done a little shopping.
If peace and music aren't your thing, there are also nearby wineries, breweries and a distillery. The hotel staff had recommended nearby Bashakill Vineyards & Winery to another couple. There's also the Resorts World Catskills casino, but as much as I love a good hand of blackjack, it was just too nice to be inside.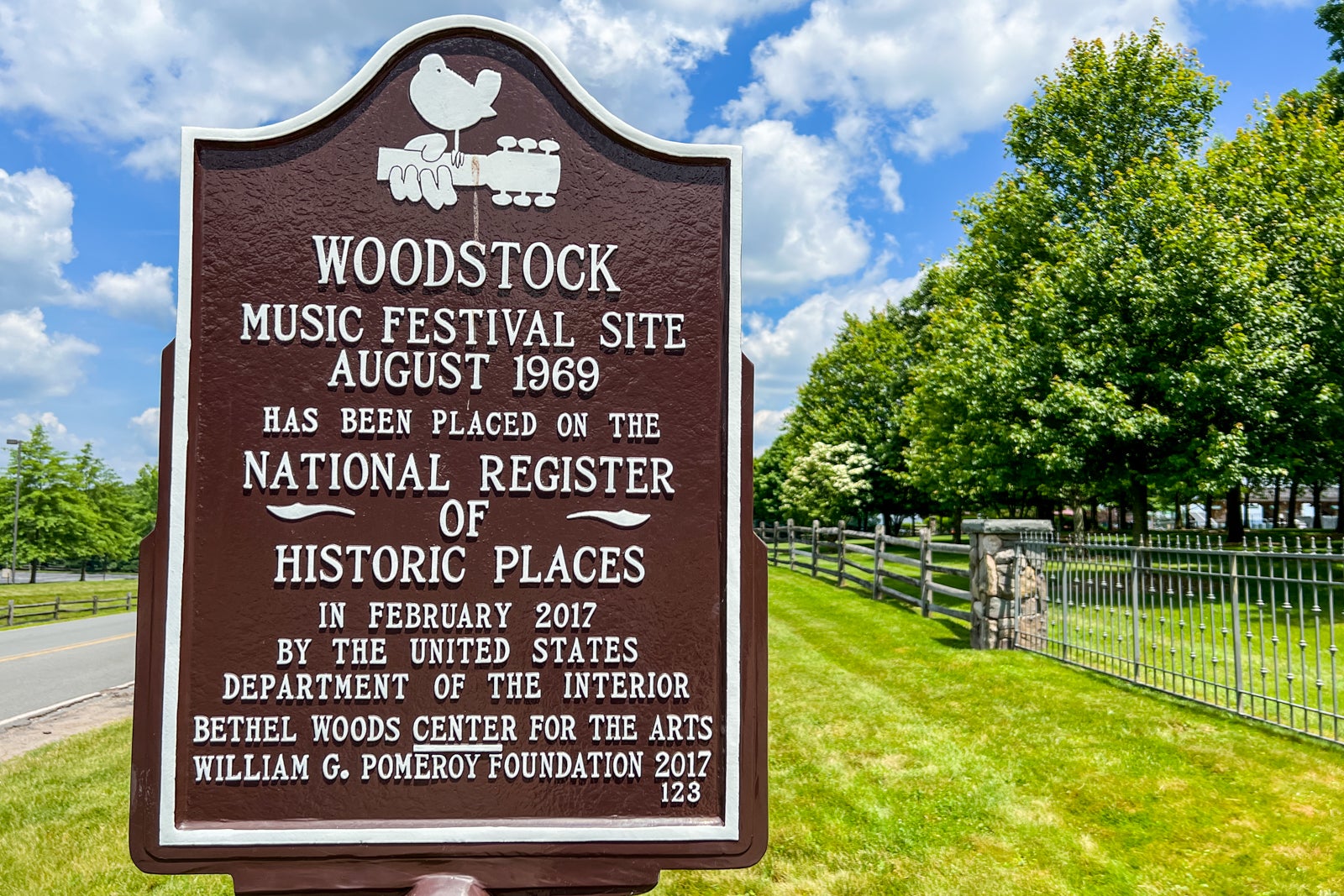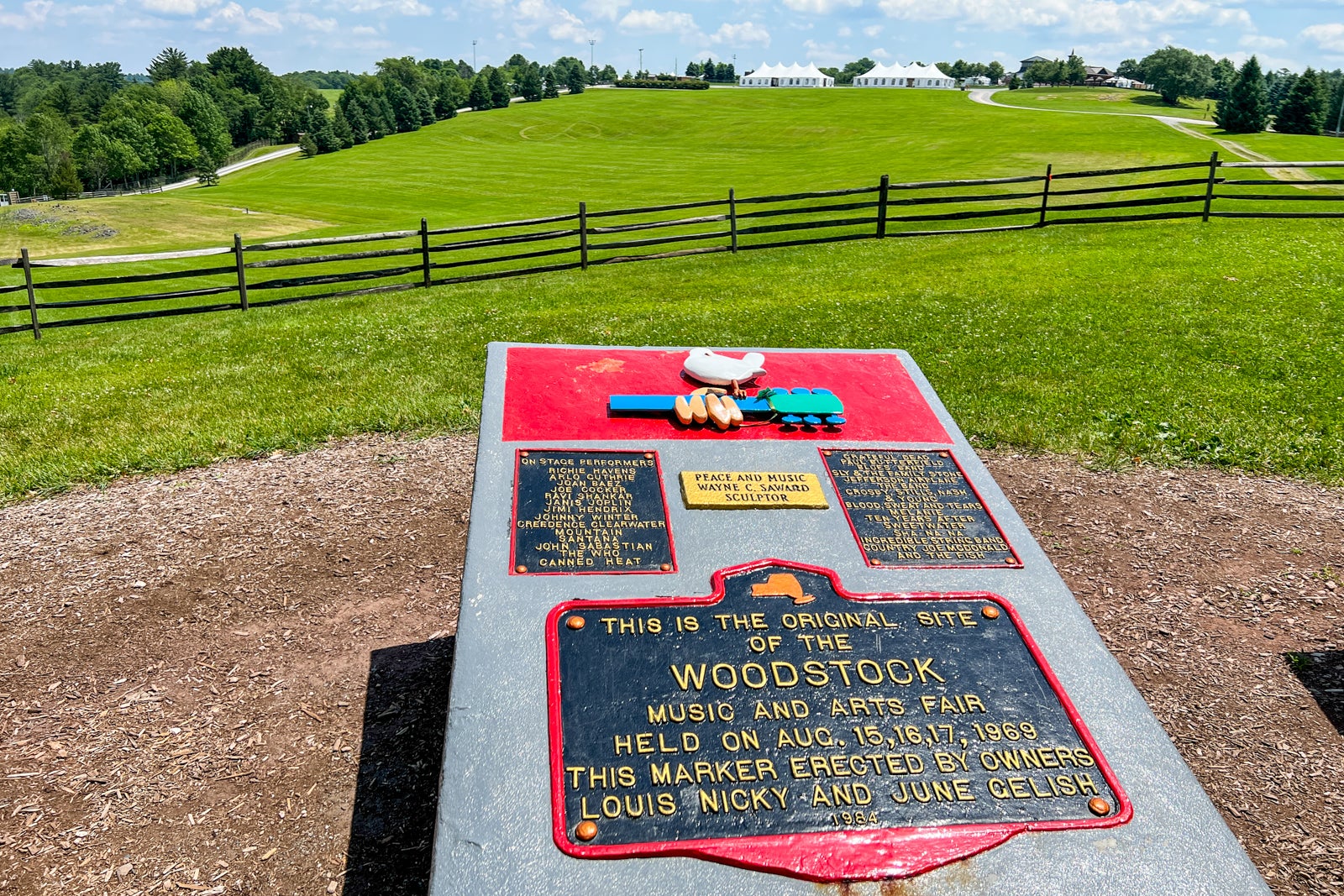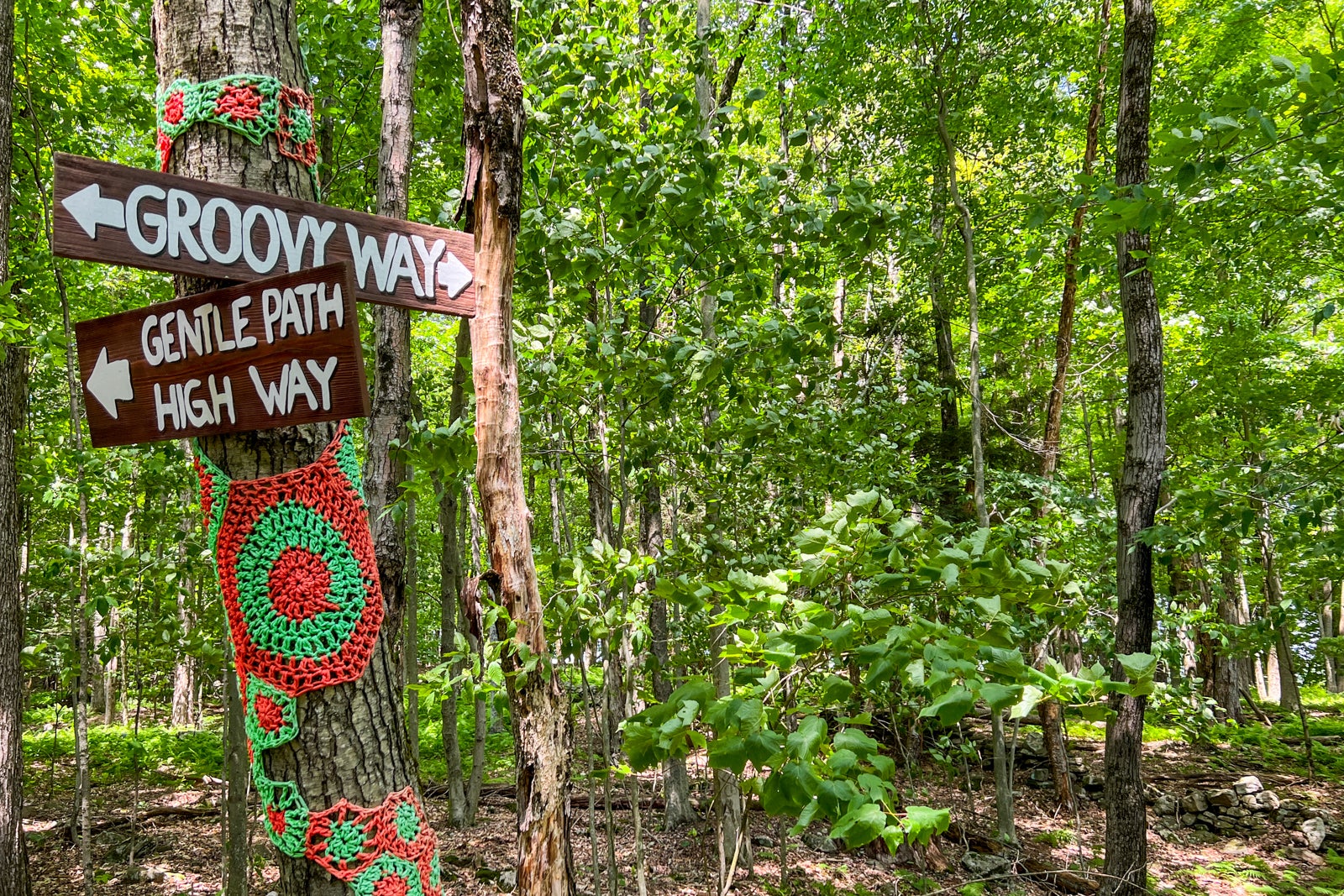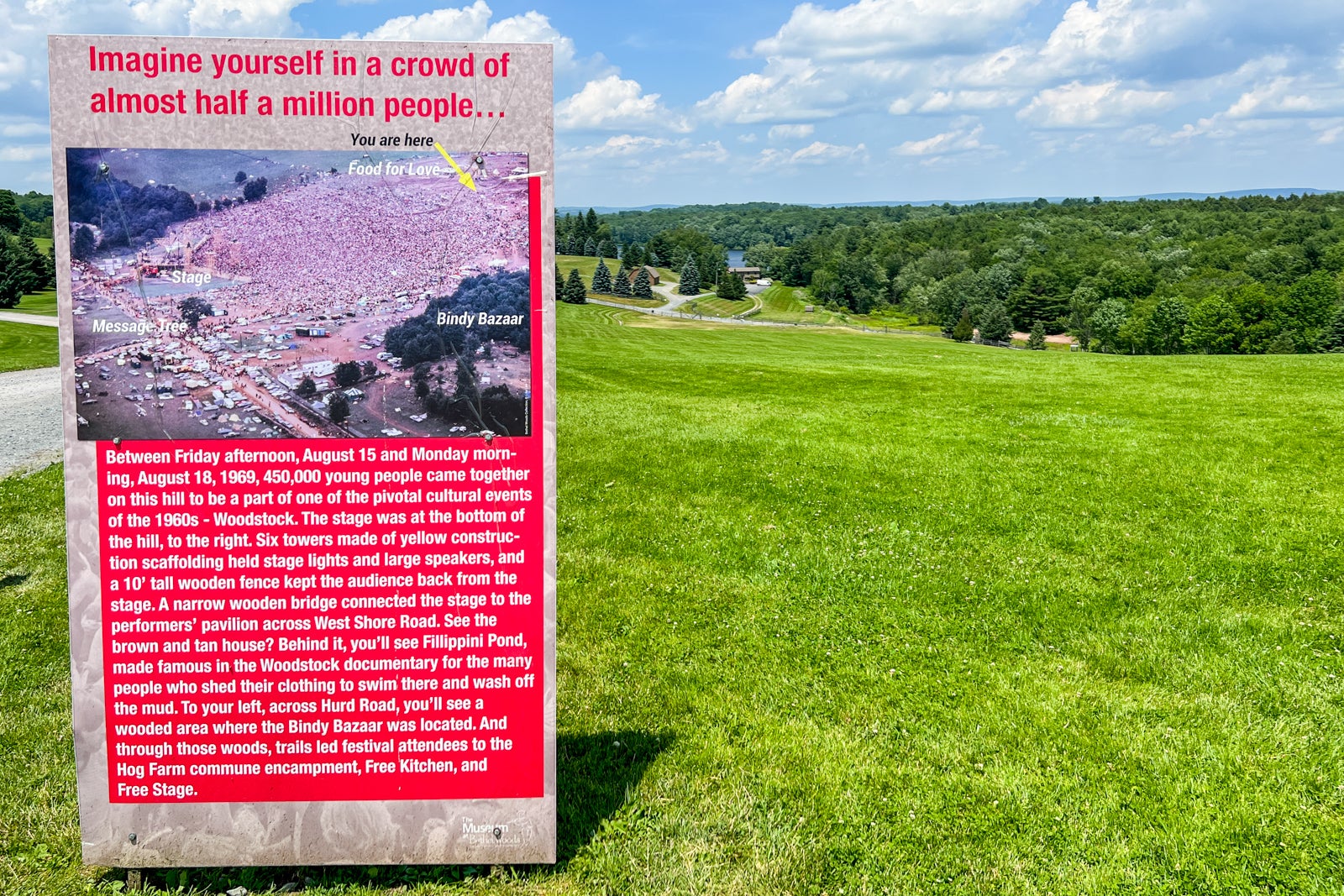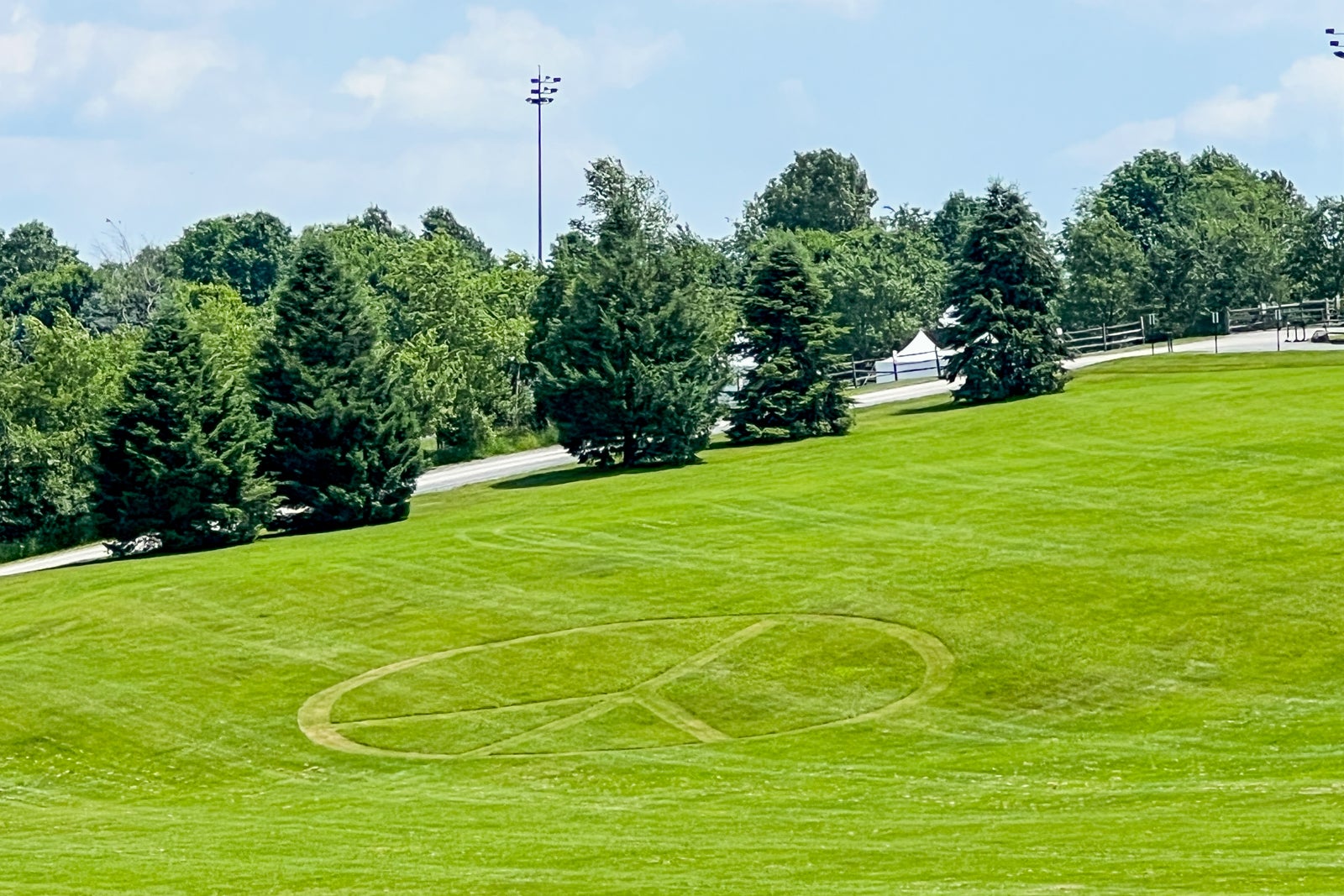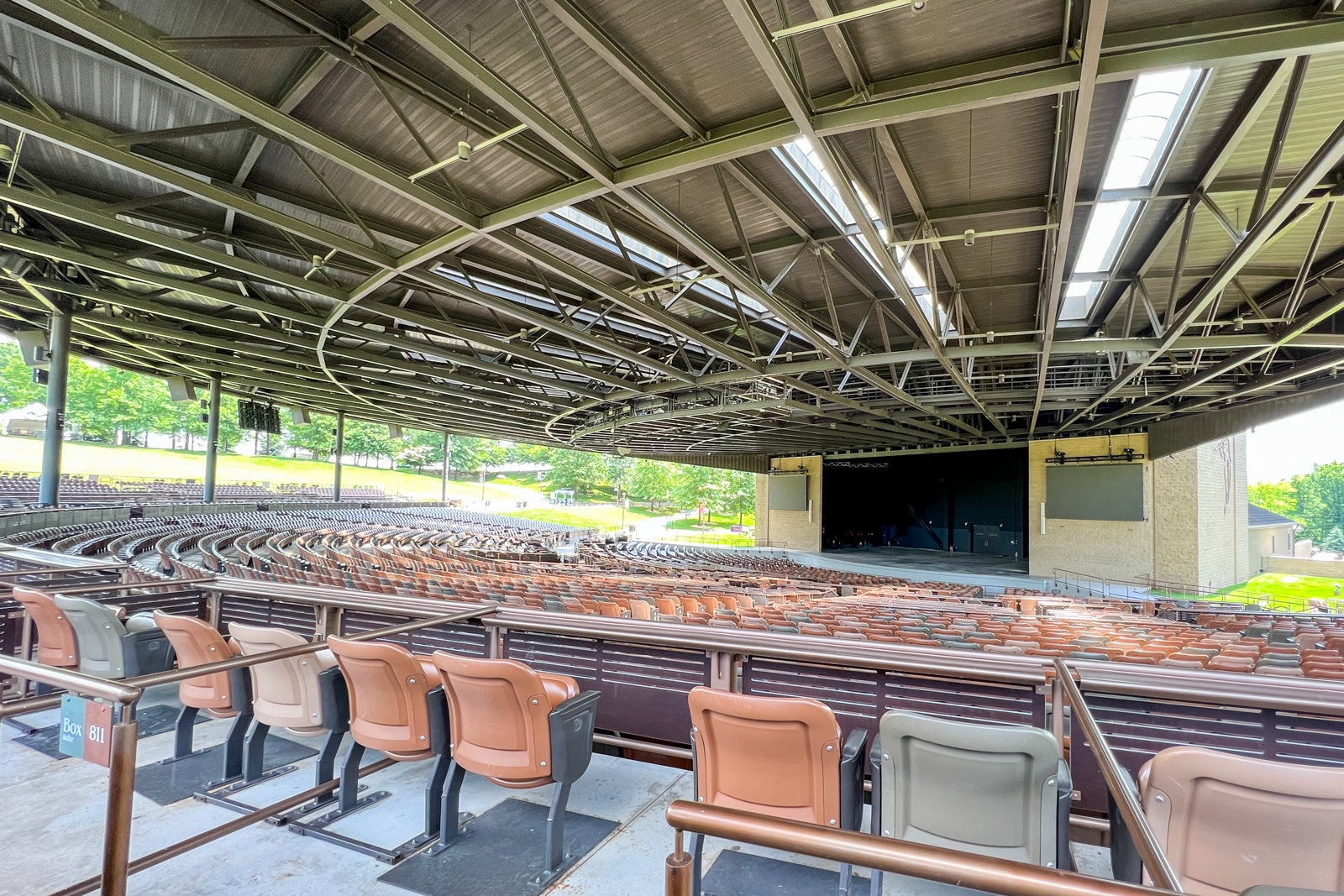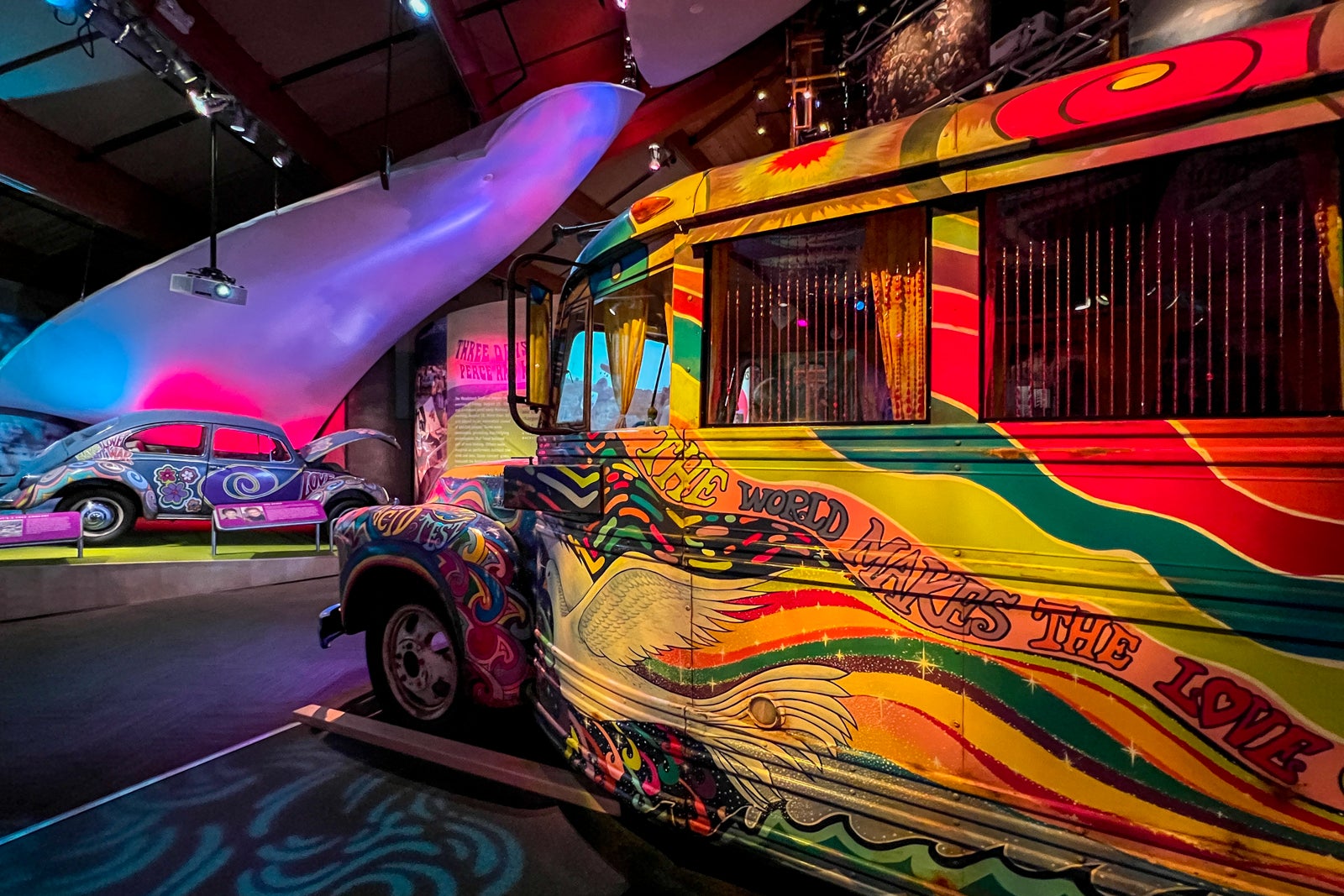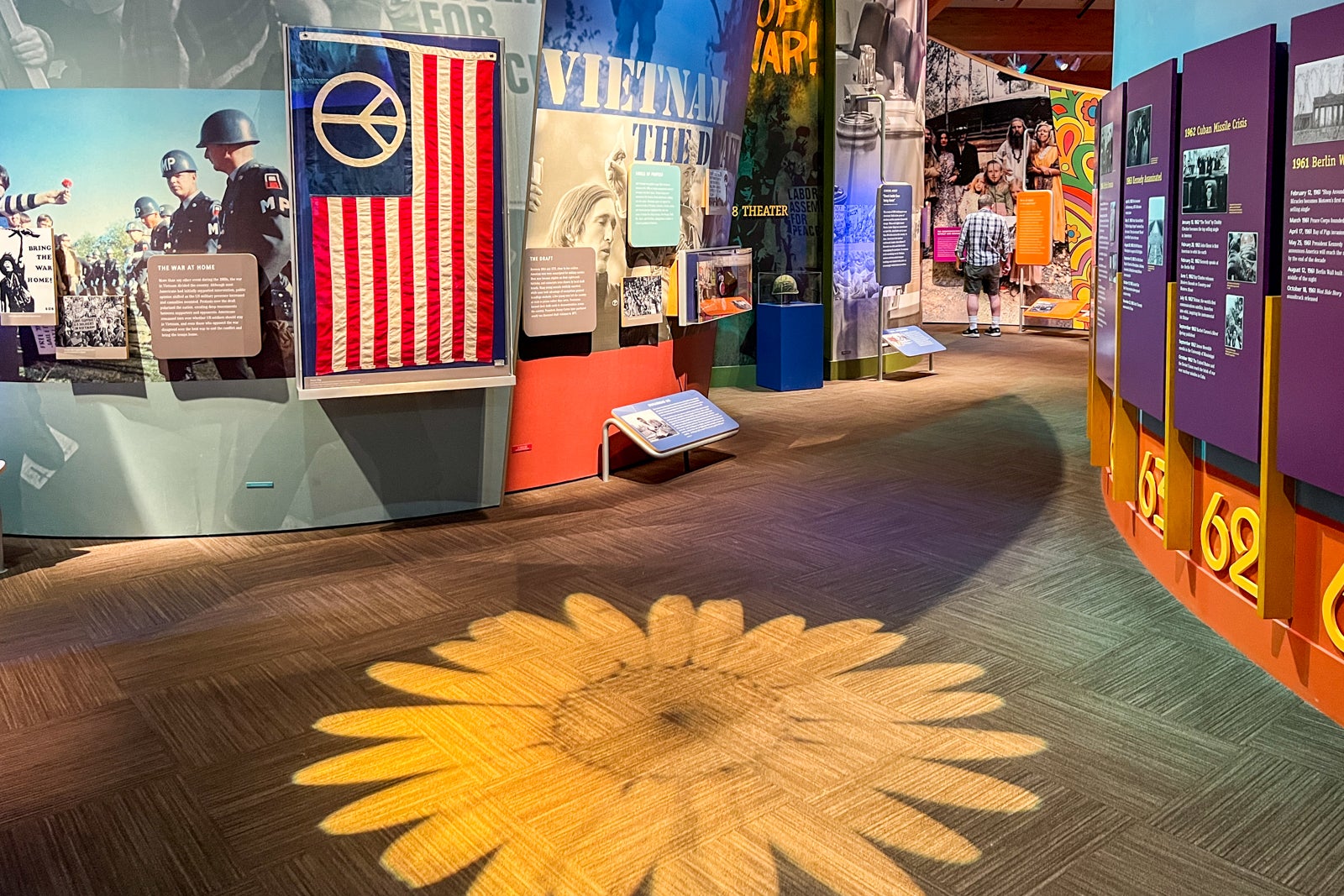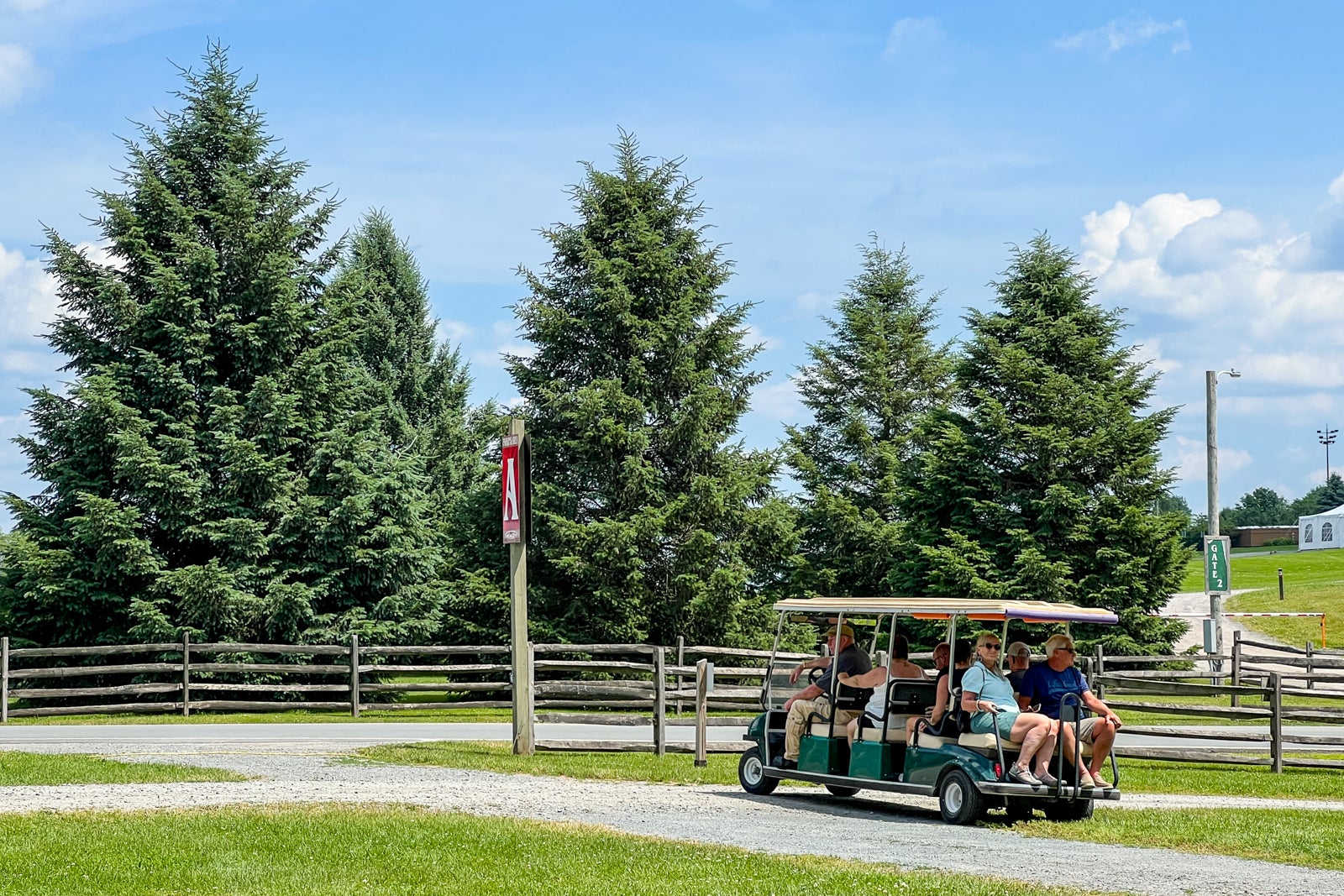 Bottom line
The new Chatwal Lodge is a great addition to the New York weekend getaway circuit. The food and service were outstanding, and the few opening issues and quirks can hopefully be worked out in the coming weeks.
Unfortunately, the kitsch factor diminished the luxury vibe and made it all feel a bit too hokey. It's one thing to have a few taxidermic animals hanging from the lobby walls (yes, those were there too) but to have dozens of carved animals in the rooms and around the property was just too much to bear.
I think my wife summed it all up best.
As we walked back to our room after a lakeside afternoon, she turned to me and said, "It's very peaceful here; I feel bad for making fun of the bears and the raccoons."
Featured photo by Scott Mayerowitz/The Points Guy.
**Disclaimer – My article contains affiliate links. All products are ones I have. If you choose to buy one of these items through the link , I will receive a small commission at no extra cost to you.