This orange miso glazed carrots is an easy side dish that is absolutely spectacular served up any time of the year.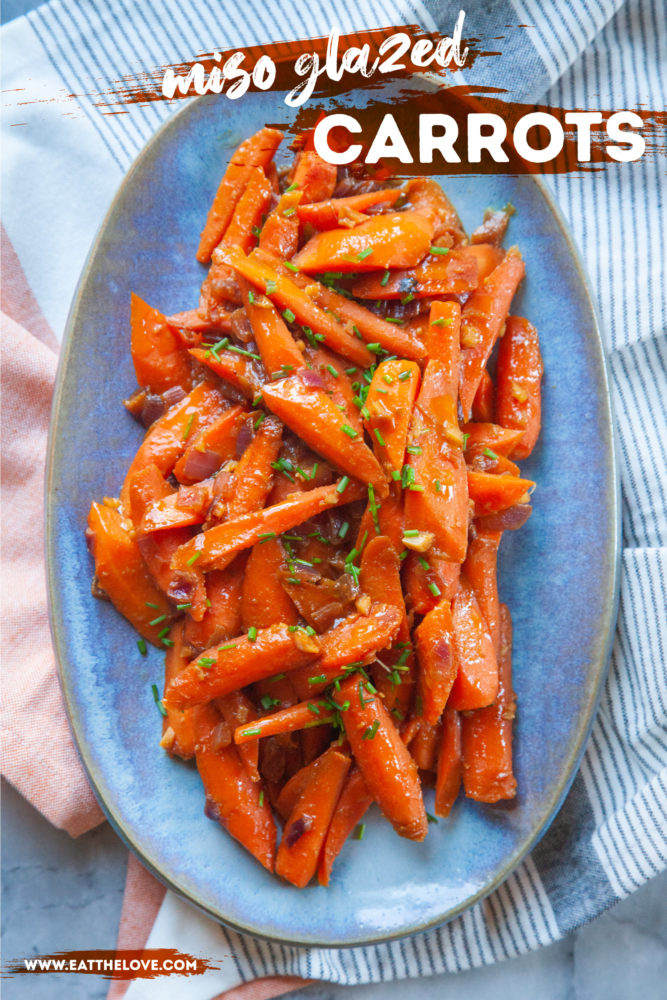 Dana Cowin, former editor-in-chief of Food and Wine magazine once called miso paste the "little black dress" of ingredients in the kitchen. Basically, you can add it to most anything and you'll get something super sophisticated and delightful. I'm a firm believer that miso paste DOES add a little bit of funky umami salty depth that I absolutely love. I love adding as an unexpected ingredient to cookies like my peanut butter chocolate chip cookies and my funky cranberry cookie, giving it an extra layer and dimension that is super addictive. But I've been tinkering a lot with miso spiced dishes and ended up developing this miso orange glazed carrots that are so good they'll be a main staple on my dinner table as a quick and easy side dish!

How do you make these glazed carrots?
This glaze carrot dish is made on the stovetop. First chop the carrots into 1 1/2-inch pieces. I like to chop them at an angle, to give them more surface area to cook, but you can cut them anyway you want. You can even use baby carrots if you want an easier prep.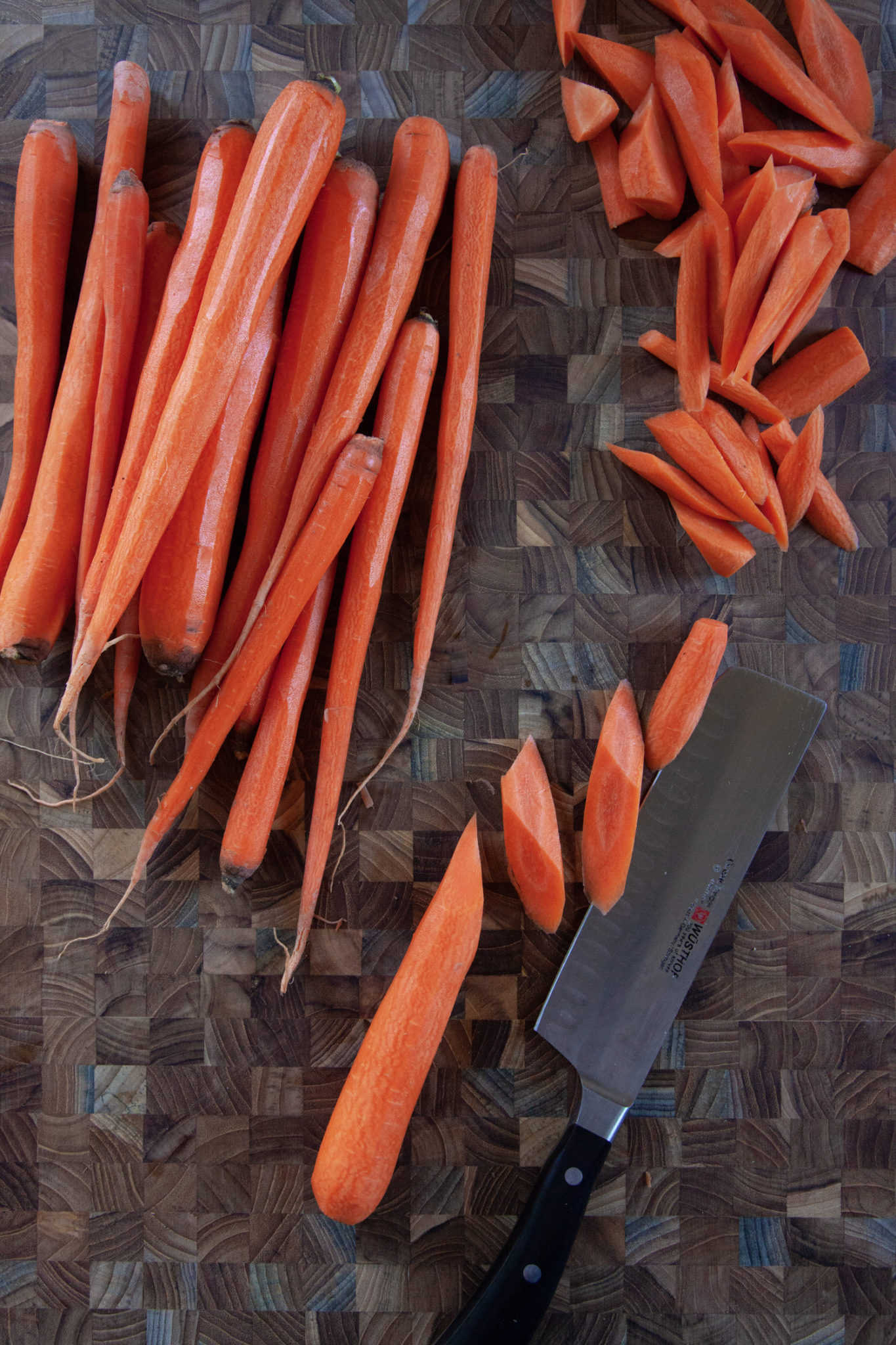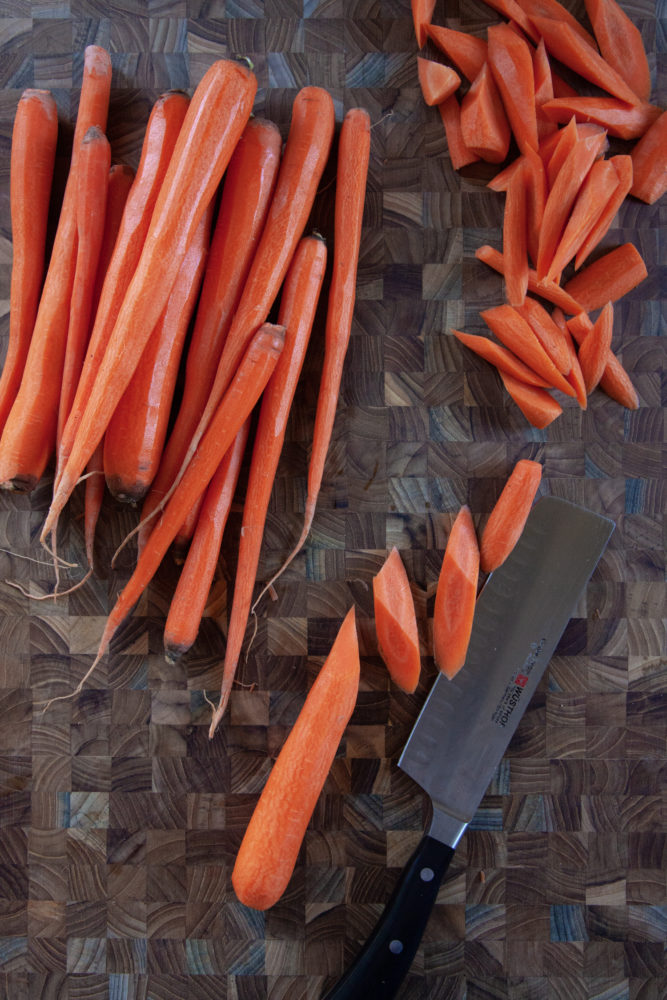 Cook the carrots in a pan with some oil, to help caramelize them a bit. Then lower the heat and add chopped ginger, garlic, red onion, honey, orange juice, water and miso paste. Stir to combine and then loosely cover the pan with parchment paper or a lid that is ajar to let the steam out. 
Cook slowly on the stove top until a glaze forms and the carrots are cooked to your liking. Taste and season with salt and pepper. Garnish with some chopped chives and serve.
What is miso? What kind should I use in this recipe?
Miso paste is a Japanese fermented soybean paste. It is a salty umami ingredient that adds depth and flavor to dishes. If you've ever eaten at a Japanese restaurant, they will often serve you miso soup, which is a soup made with the miso paste, as well as a bonita flake stock. 
Miso typically comes in three different types, red, yellow and white. The type of miso is often associated with regional areas of Japan. Red miso is aged the longest and is most assertive in flavor, yellow miso is in the middle and white miso has the lightest most delicate flavor. I used red miso in this recipe, because I like the robust salty umami flavor that it gives, and I can use less of it and still taste the miso flavor. But you can use whatever miso you have on hand. If you use yellow or white miso, I might recommend increasing the amount of miso to 3 tablespoons instead of 2. 
Can you make this ahead of time?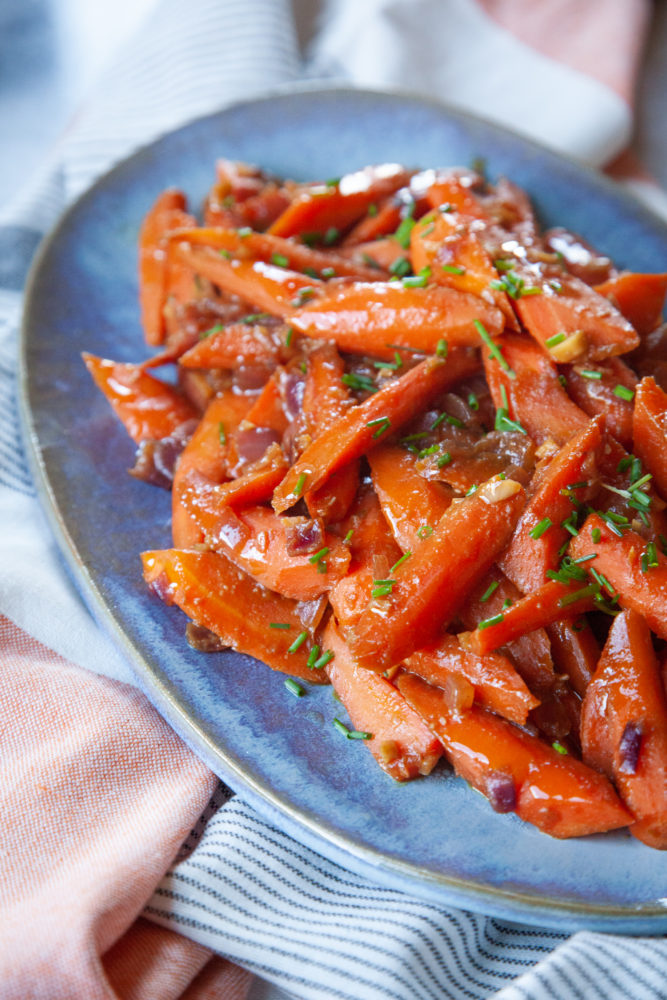 Yes! These miso glazed carrots can totally be made ahead of time. Just cook them completely, and then store them in an airtight container in the fridge. You can warm them up on the stove top (just add a couple of tablespoons of water, as the liquid will have absorbed into the vegetables) or warm them up in a microwave.
Keep in mind that the carrots tends to be a little more on the soft side if you are warming them up after you've cooked them. So you may want to cook them a little less done if you plan on making them ahead of time.
If you like this Orange Miso Glazed Carrots, check out some of these other side dishes:
Print
Orange Miso Glazed Carrots
This orange miso glazed carrots are a great side dish to any fall or winter meal. The miso adds an allusive depth and umami dimension that accentuates the sweet earthy flavor of the carrots. Because miso is fermented soybean paste, this recipe is also naturally vegetarian and vegan friendly.
Cuisine
American, vegan, vegetarian
Keyword
carrots, miso, vegan, vegetarian
Ingredients
2

pounds

carrots

2

tablespoons

olive oil

3/4

cup

chopped red onion

about 1 small red onion

1

tablespoon

minced garlic

about 3 medium cloves

1

tablespoon

minced or grated fresh ginger

1/2

cup

orange juice

1/4

cup

water

2

tablespoon

red miso

1

tablespoon

honey

use maple syrup if vegan

Salt and pepper to taste

1

tablespoon

chopped chives
Instructions
Peel and cut the carrots into 1 1/2-inch pieces.

Place the olive oil and carrots in a large skillet or sauté pan. Cook on high heat, stirring frequently, until the carrots have started to brown on the sides, about 3 minutes.

Reduce the heat to medium and add the red onion, garlic and ginger. Cook for an additional minute or until the mixture starts to smell fragrant.

Add the orange juice, water, miso, and honey to the pan. Stir to dissolve the miso and honey. Cook until the liquid is boiling, then reduce the heat so it is just barely simmering. Cover with a piece of parchment paper or with a lid on top slightly ajar, to let the steam out.

Cook for an additional 15 to 20 minutes, or until the carrots are done to your liking and a glaze has formed. Carrots with some bite will be done at about 15 minutes, while softer carrots will take 20 minutes.

If the carrots are done to your liking but the glaze hasn't formed, uncover the pan and increase the heat to medium high, stirring frequently until the glaze has formed. If you wish to cook the carrots until they are more tender but a glaze has already formed, add 1 tablespoon of water to the pan and continue to cook until the carrots are done to your liking.

Taste the carrots with the glaze and add salt and pepper to taste. Plate the dish and sprinkle the top with the chopped chives and serve.
Notes
You can use yellow or white miso in place of the red miso. Just increase the miso paste to 3 tablespoons.
Nutrition
Calories:
144
kcal
|
Carbohydrates:
23.9
g
|
Protein:
2.4
g
|
Fat:
5.1
g
|
Saturated Fat:
0.8
g
|
Sodium:
319
mg
|
Potassium:
579
mg
|
Fiber:
4.5
g
|
Sugar:
13.1
g
|
Calcium:
61
mg
|
Iron:
1
mg
The post Orange Miso Glazed Carrots appeared first on Eat The Love.
**Disclaimer – This post contains affiliate links. All products are ones I recommend. If you choose to buy one of these items through the link , I will receive a small commission at no extra cost to you. All proceeds help support the blog.