Are you looking for a new way to make potatoes? How about some delicious oven roasted parmesan potatoes.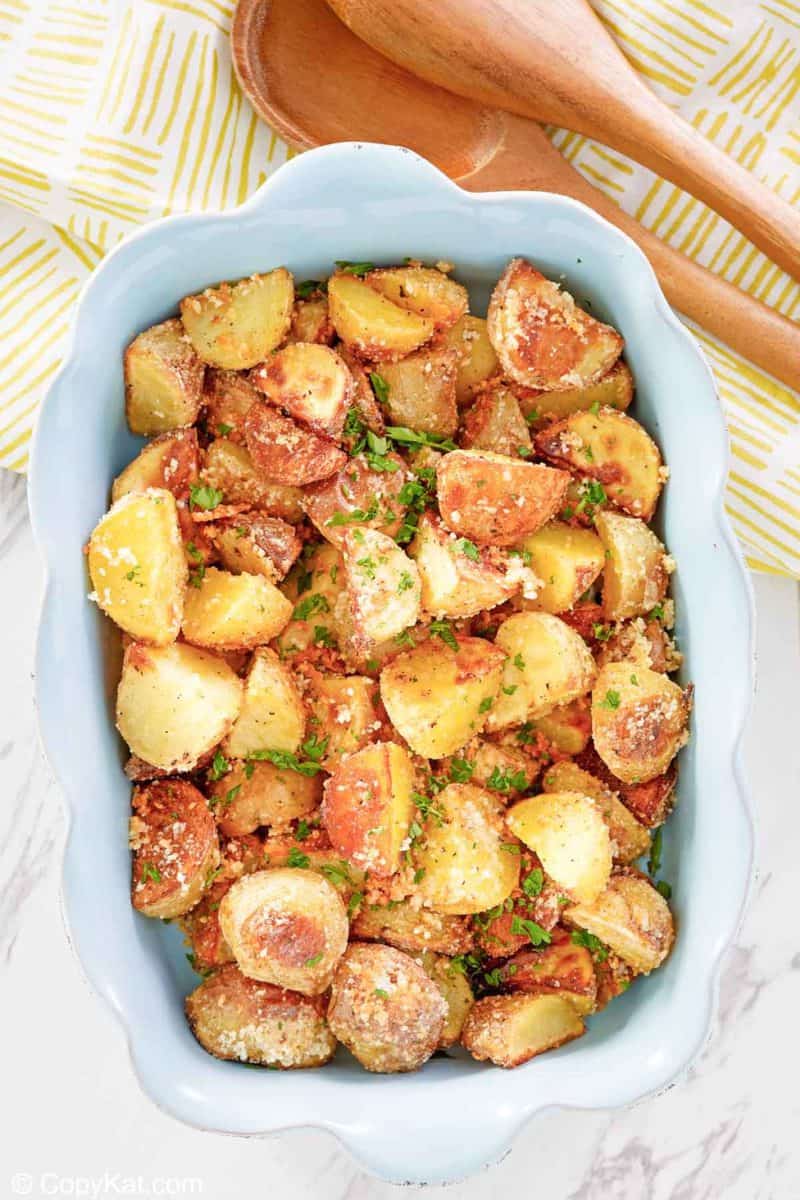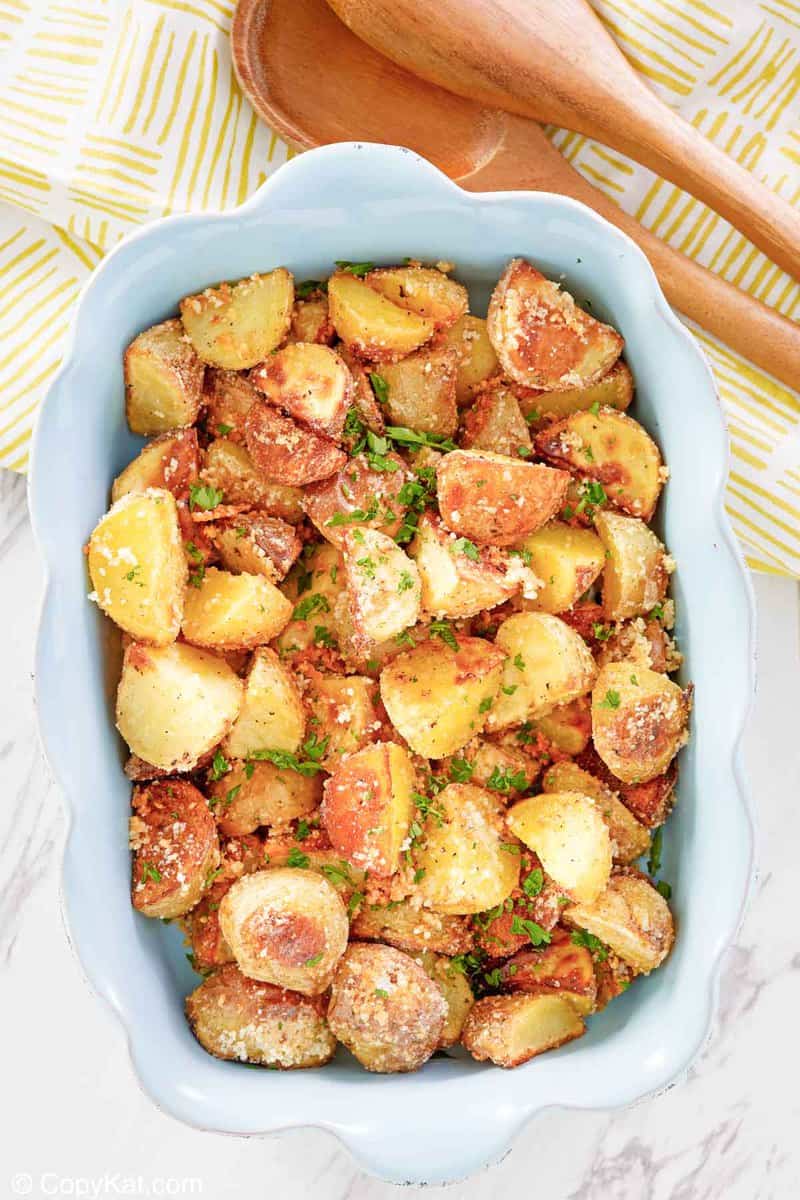 This post contains affiliate links. As an Amazon Associate, I earn from qualifying purchases.
Oven Roasted Parmesan Potatoes
If you are looking for a new way to make roasted potatoes, how about roasting them with some Parmesan cheese? The potatoes for this Parmesan roasted potatoes recipe are baby potatoes you can roast quickly in the oven.
For me, roasted potatoes are the ultimate comfort food. Forget French fries or mashed potatoes; this is the way to go!
Maybe you work long days, but you still look forward to a home-cooked meal in the evening. There is really nothing better! Roasted Parmesan potatoes are simple to make and the perfect side for anything – roasted chicken, homemade meatloaf, or even a quick grilled steak.
Why This is the Best Recipe for Roasted Parmesan Potatoes
If you've tried a few roasted potato recipes, you'll keep coming back to this one. These easy oven-roasted Parmesan potatoes are crispy on the outside and soft and creamy inside.
You don't need to parboil baby potatoes beforehand, they take minutes to prep, and you can cook them in less than 30 minutes. That crispy, golden Parmesan crust makes this easy Parmesan roasted potatoes recipe epic! These roasted baby potatoes with Parmesan are so delicious, be prepared to sigh with satisfaction!
Since you are using small pieces of potatoes, they won't take very long to cook. While these roasted baby potatoes with Parmesan are in the oven roasting, you can make pork chops and gravy or chicken tenders. Voila! In less than 30 minutes, dinner is on the table!
Easy Oven-Roasted Parmesan Potatoes Recipe Ingredients
Parmesan cheese adds a little something extra to potatoes. You are going to love these crispy and cheesy potatoes. Here are the ingredients you will need.
Small potatoes
Olive oil or vegetable oil
Salt
Ground black pepper
Grated Parmesan cheese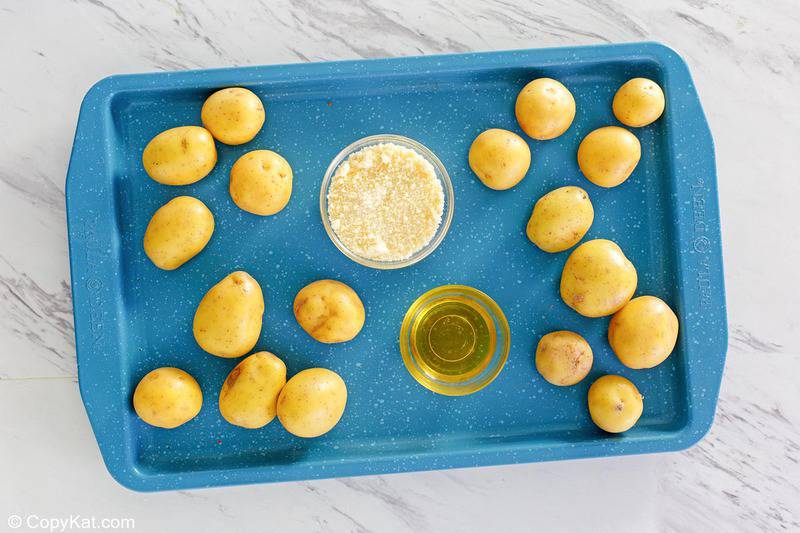 Ingredient Notes and Substitutions
In many produce departments, you can find bags of small potatoes that are almost bite-sized. They are pre-washed and ready for you to turn into dinner in just a few minutes.
All you have to do is slice them, drizzle on some oil, season with salt and pepper, and roast until they are brown and crispy. Then you sprinkle on some Parmesan cheese and roast them a little longer. The cheese browns and adds a lot of extra flavor.
You don't have to buy those bags of small potatoes to make this roast potato recipe. You can use regular potatoes if you want, but you will have a little extra work because you will have to wash them. 
If you prefer vegetarian Parmesan potatoes, you can go with vegetarian Parmesan-type cheese.
How to Make Roasted Baby Potatoes with Parmesan
Parmesan roasted potatoes are really easy to make. They take just a few minutes to prep before they are tossed in the oven to roast until golden brown. Your favorite thing about this recipe (apart from the irresistible taste) will be how easy it is to prepare. Here are the simple steps to follow:
Cut the potatoes in half and place them in a bowl. If you have larger potatoes, you'll need to cut them into smaller pieces.
Drizzle oil over the potatoes, toss the potatoes in the oil, and season them with salt and pepper.
Place potatoes cut side down onto a rimmed baking sheet in a single layer.
Bake at 425°F for about 30 minutes, or until they begin to crisp.
Flip the potatoes over.
Sprinkle Parmesan cheese on the potatoes.
Place the potatoes back in the oven.
Bake for another 5 minutes or until the cheese begins to brown.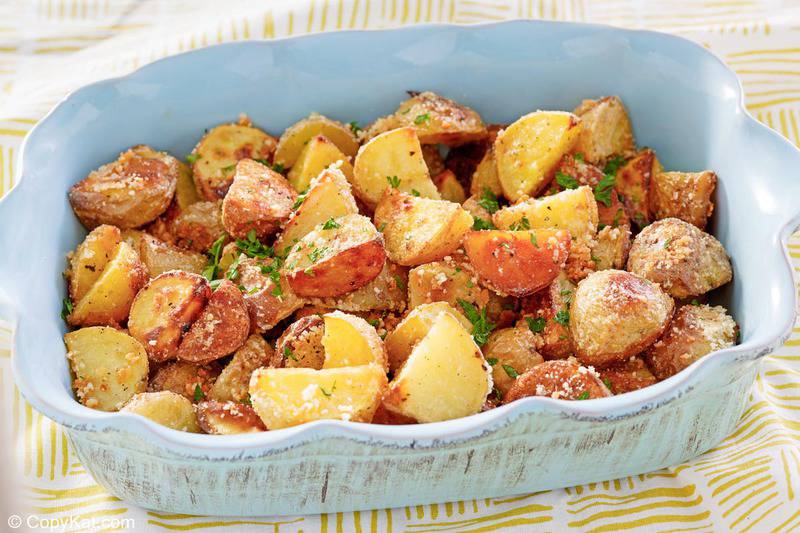 Parmesan Roasted Potatoes – Recipe Variations
Substitute roasted garlic olive oil for regular olive oil.
Swap out Parmesan for asiago, pecorino, or Romano.
Make the dish more colorful by using an assortment of potatoes – from red to purple.
Combine the potatoes with other veggies – carrots, cauliflower, sweet onions.
Try Parmesan roasted sweet potatoes.
Add some fresh herbs – parsley, rosemary, or thyme. If you use dried herbs, go easy because they can overpower the delicate flavor of the potatoes.
Tips for Making Parmesan Roasted Potatoes
Here are some great cooking tips for these delicious potatoes:
Don't peel the potatoes. The best part is that thick, crispy crust to enjoy after baking.
Keep your potato cuts small enough to ensure the potatoes cook through in the prescribed time. As long as you're using small pieces, these tasty little potato nuggets will cook super fast.
Instead putting them in a bowl, place your cut potatoes in a large zip-close bag and add the olive oil. Then shake the bag to coat the potato wedges.
Use a hot oven (425°F) to give the outside of the potatoes a nice crisp edge while keeping the insides nice and melt-in-your-mouth fluffy.
Use a large baking sheet, and make sure you leave space between the potatoes. If you crowd them, you risk not getting that super crispy exterior we all love!
How to Serve Easy Oven-Roasted Parmesan Potatoes
Make a double batch of these roasted Parmesan potatoes and then serve them with eggs and bacon for breakfast the next morning.
These cheesy potatoes would also be fabulous served as finger food to pass around at a party!
What Goes With These Parmesan Roasted Potatoes?
This recipe is the perfect side for many meat dishes. Smoked steak for the grown-ups and hot dogs for the kids, plus a crisp wedge salad. Here are a few recipes to pair with your potatoes:
What to Do With Roasted Potato Leftovers
When cool, place your leftover roasted potatoes in your refrigerator. Properly stored in an airtight container, cooked potatoes will last for 3 to 5 days.
To reheat, place in a baking pan cheese side up and bake at 400°F for 5 minutes or until just heated through and cheese is crispy again. 
Can You Freeze Roasted Potatoes?
Roasted potatoes freeze well in airtight containers or heavy-duty freezer bags. Properly stored, they will maintain their best quality for up to 4 months. You can check out this helpful article on freezing all kinds of potatoes.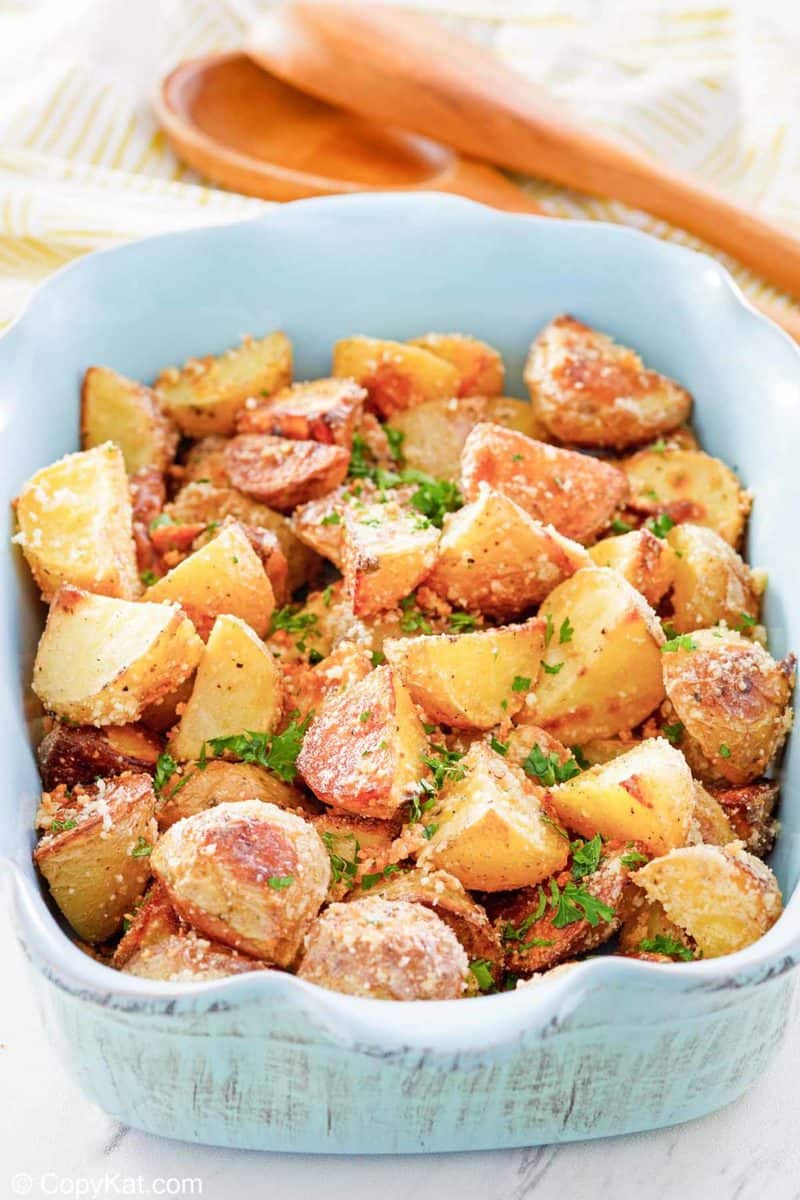 Favorite Potato Recipes
Are you looking for other great ways to prepare potatoes? You can't go wrong with a good potato side dish. Here are some ideas:
Popular Roasted Vegetable Recipes
Check out more of my easy vegetable side dish recipes and the best holiday recipes here on CopyKat!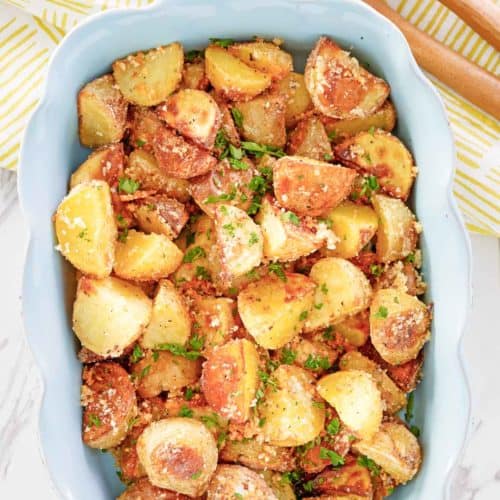 Print
Add to Collection
Go to Collections
Parmesan Potatoes
Oven Roasted Parmesan Potatoes are so easy to make.
Keyword
Parmesan Potatoes, Roasted Parmesan Potatoes, Roasted Potatoes
Ingredients
1 1/2

pounds

small potatoes

2

tablespoons

olive oil or vegetable oil

1

teaspoon

salt

1/2

teaspoon

ground black pepper

1/4

cup

grated Parmesan cheese
Instructions
Preheat the oven to 425°F.

If you are using small potatoes, make one cut in them. Cut large potatoes into smaller pieces so they take less time to cook.

Place the potatoes into a bowl.

Drizzle the oil over the potatoes and season with salt and pepper.

Place the potatoes cut side down onto a baking sheet and bake for about 30 minutes, or until they begin to crisp.

Flip the potatoes over and sprinkle with Parmesan cheese.

Place the potatoes back in the oven and cook for another 5 minutes, or until the cheese begins to brown.
Nutrition
Calories:
123
kcal
|
Carbohydrates:
14
g
|
Protein:
4
g
|
Fat:
5
g
|
Saturated Fat:
1
g
|
Cholesterol:
2
mg
|
Sodium:
465
mg
|
Potassium:
468
mg
|
Fiber:
2
g
|
Sugar:
0
g
|
Vitamin A:
35
IU
|
Vitamin C:
13
mg
|
Calcium:
83
mg
|
Iron:
3.7
mg
The post Parmesan Potatoes appeared first on CopyKat Recipes.
This post often contains affiliate links. All products are ones I like. If you choose to buy one of these items through the link provided, I will get a small commission at no extra cost to you. All proceeds help support the blog.