I'm an aviation geek who has always had a fascination with inflight meals. This started early, since I was able to fly the world's airlines before deregulation, thanks to my father's career as an Air Force officer. Back then, flying was only for the wealthy and it was a true experience.
That included the meals served onboard. For the second time, I am digging into Northwestern University's Transportation Library, a collection of more than 400 menus from 54 national and international airlines, cruise ships and railroad companies. The collection spans from 1929 to the present.
Related: See the meals U.S. airlines were serving passengers in the 1960s
Most of the collection was donated in 1997 by George M. Foster, a pioneering anthropologist and Northwestern alumnus, who took his first commercial flight in 1935. On the hundreds of flights he flew in his career as an anthropological researcher and as a consultant for such agencies as the World Health Organization and UNICEF, he saved every menu and added notes about what he ate.
This time, I'm looking at what U.S. carriers were serving onboard their flights during the 1970s.
For more TPG news delivered each morning to your inbox, sign up for our daily newsletter.
American Airlines: San Francisco to New York, N.Y., 1971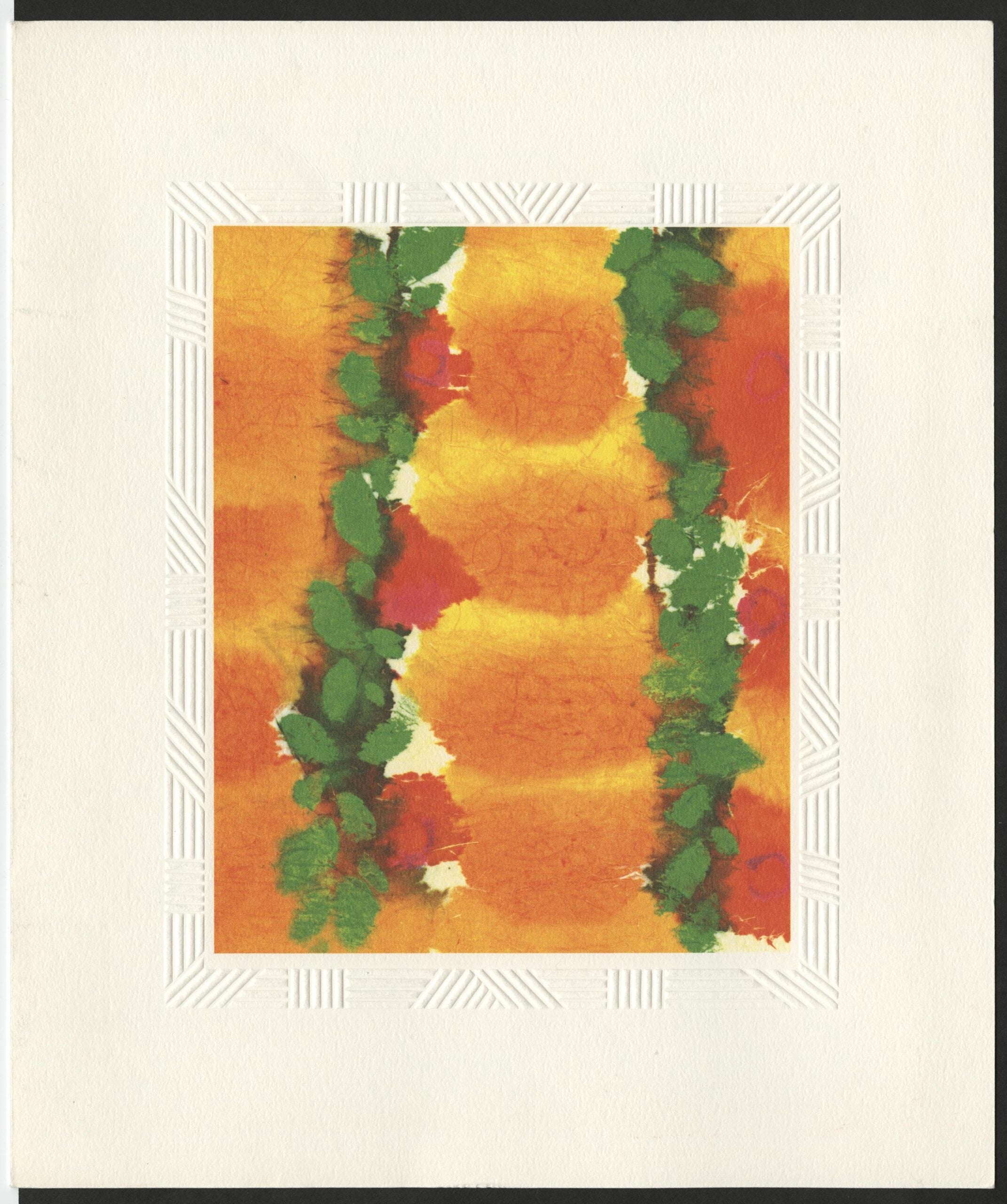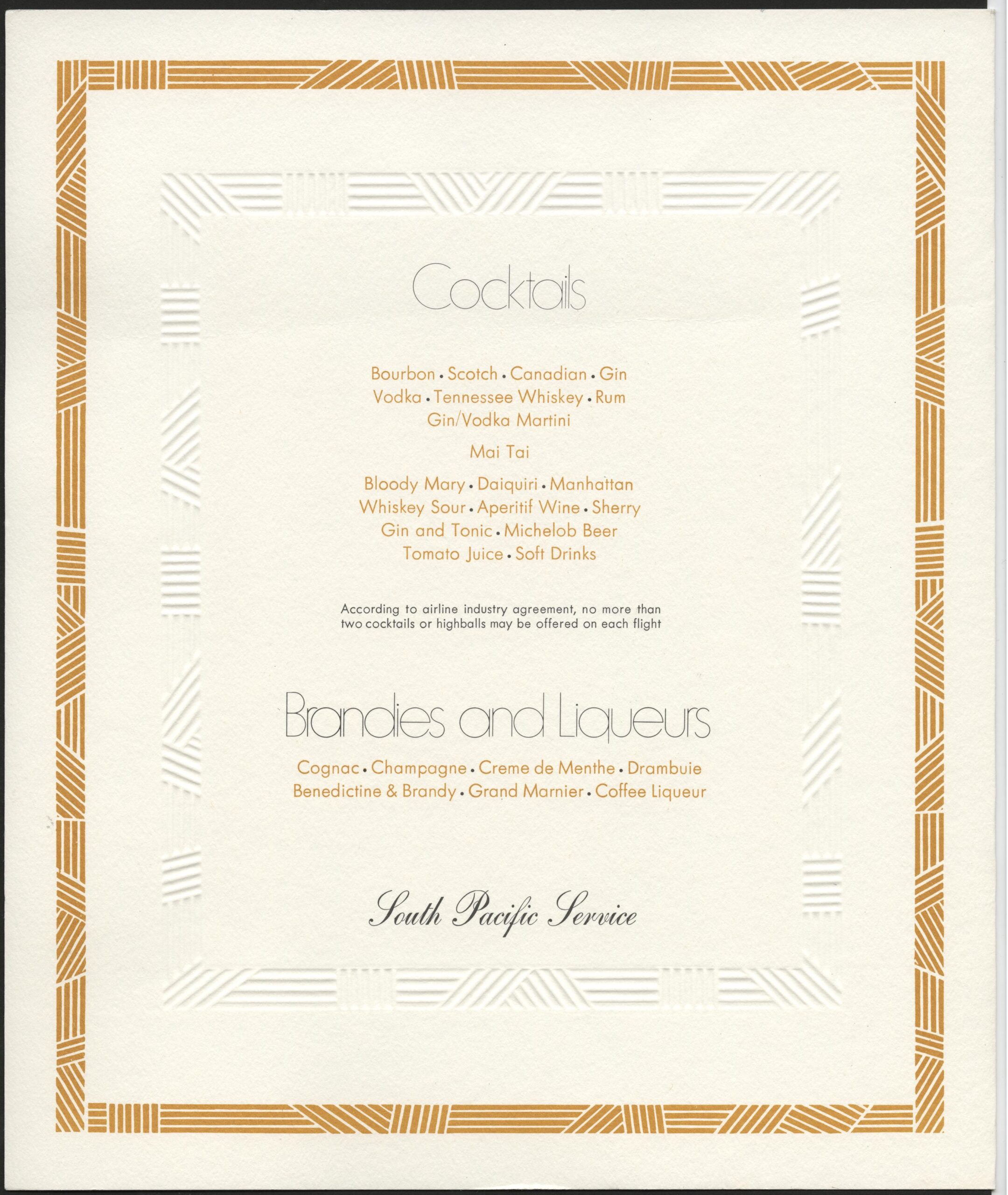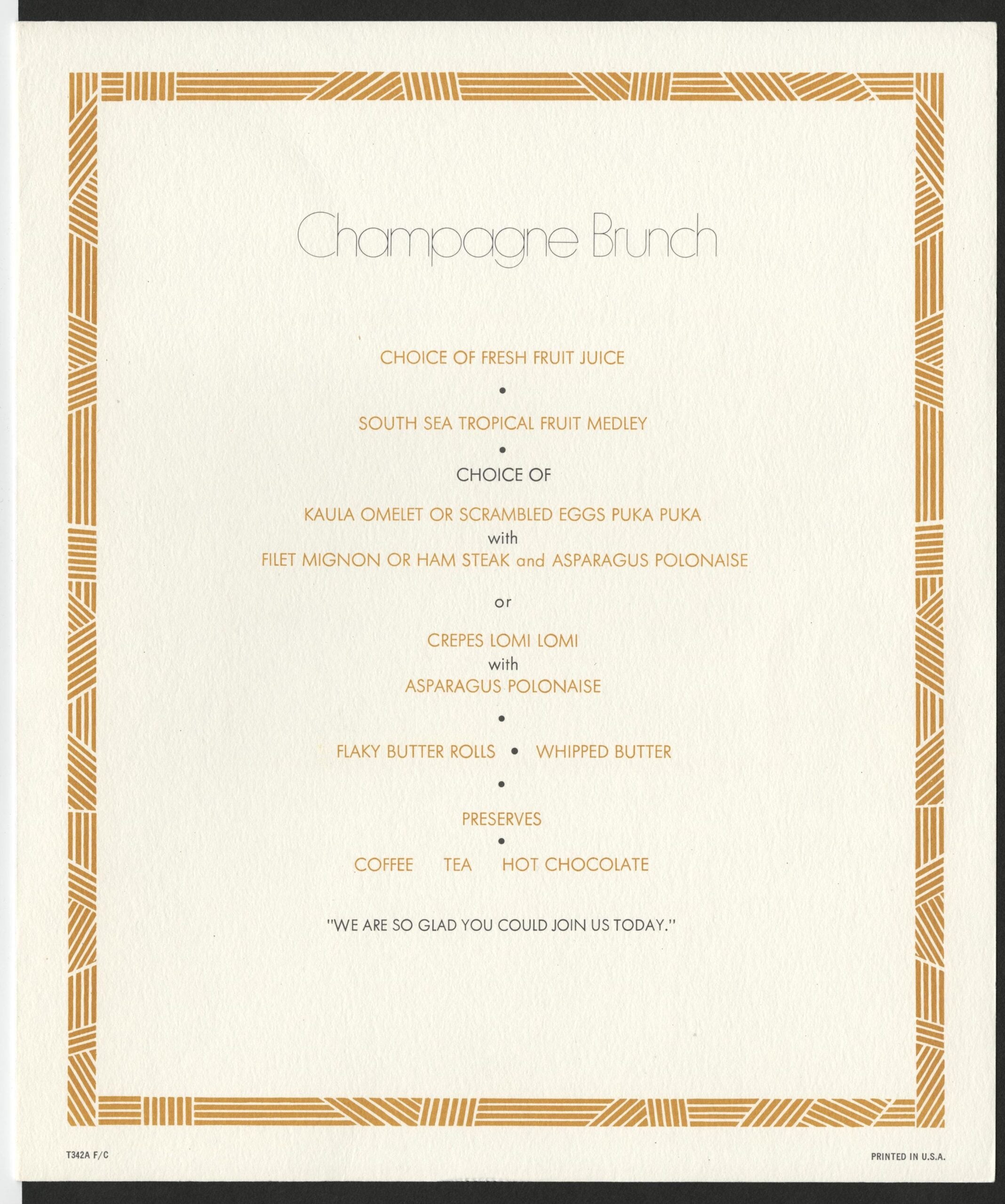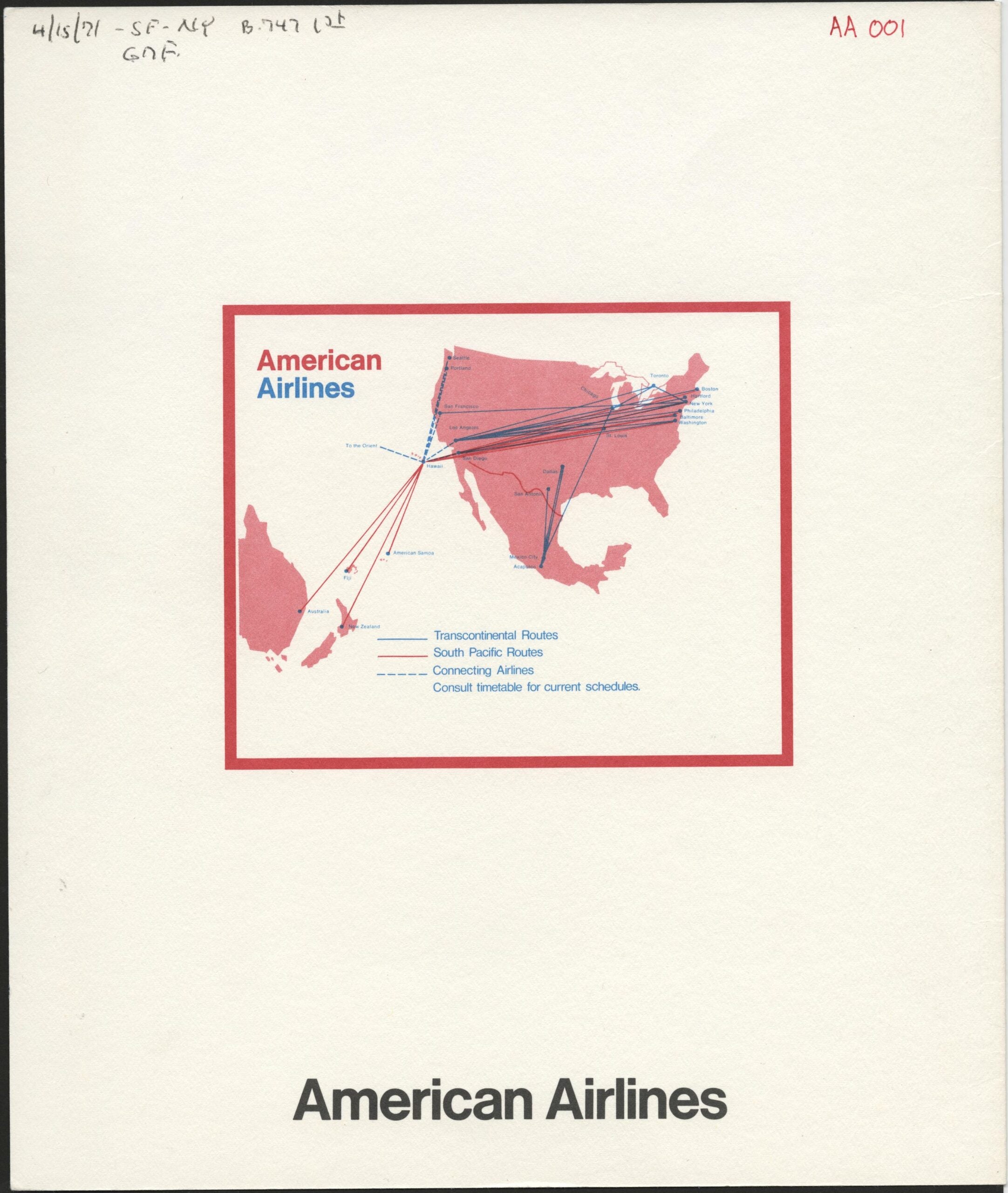 This was the brunch menu served aboard American's Boeing 747 flight, including breads and a choice of two entrees: Kaula omelet with a choice of filet mignon or ham steal; or Crepes Lomi Lomi with asparagus polonaise. A full bar was available, including Champagne, mai tais, gin and tonics and Bloody Marys, plus brandies and liqueurs.
Trans World Airlines: London, England to San Francisco, 1976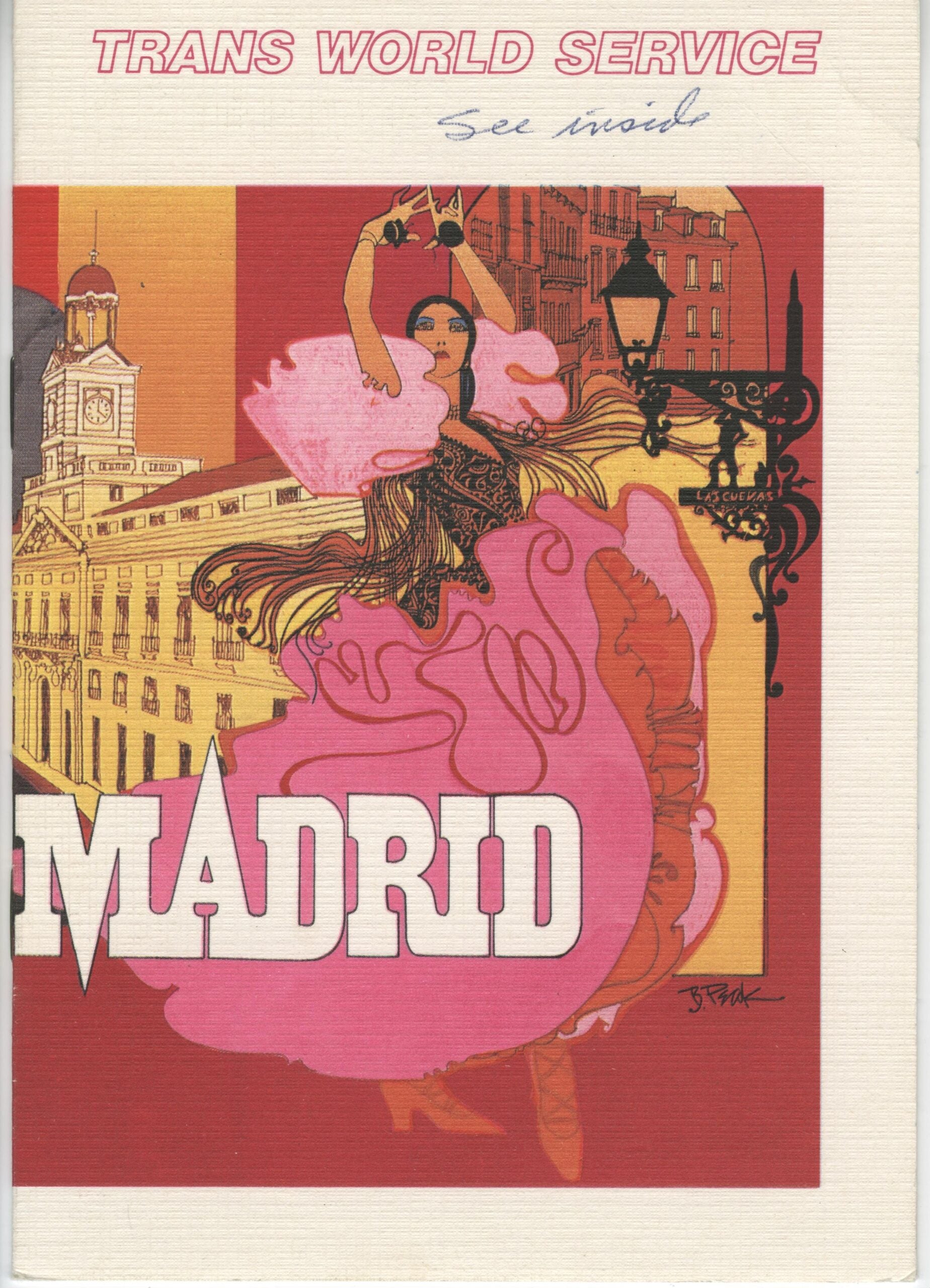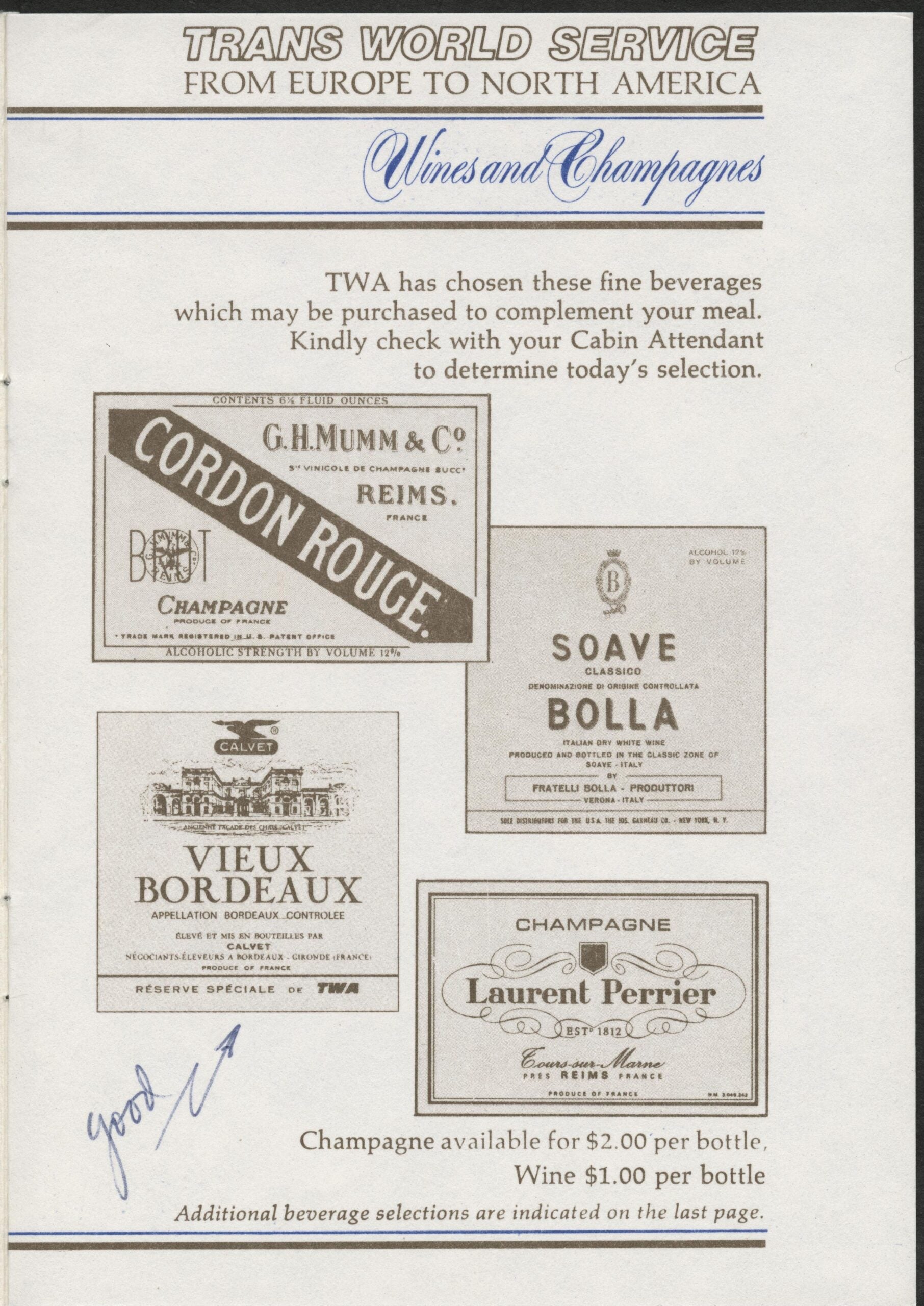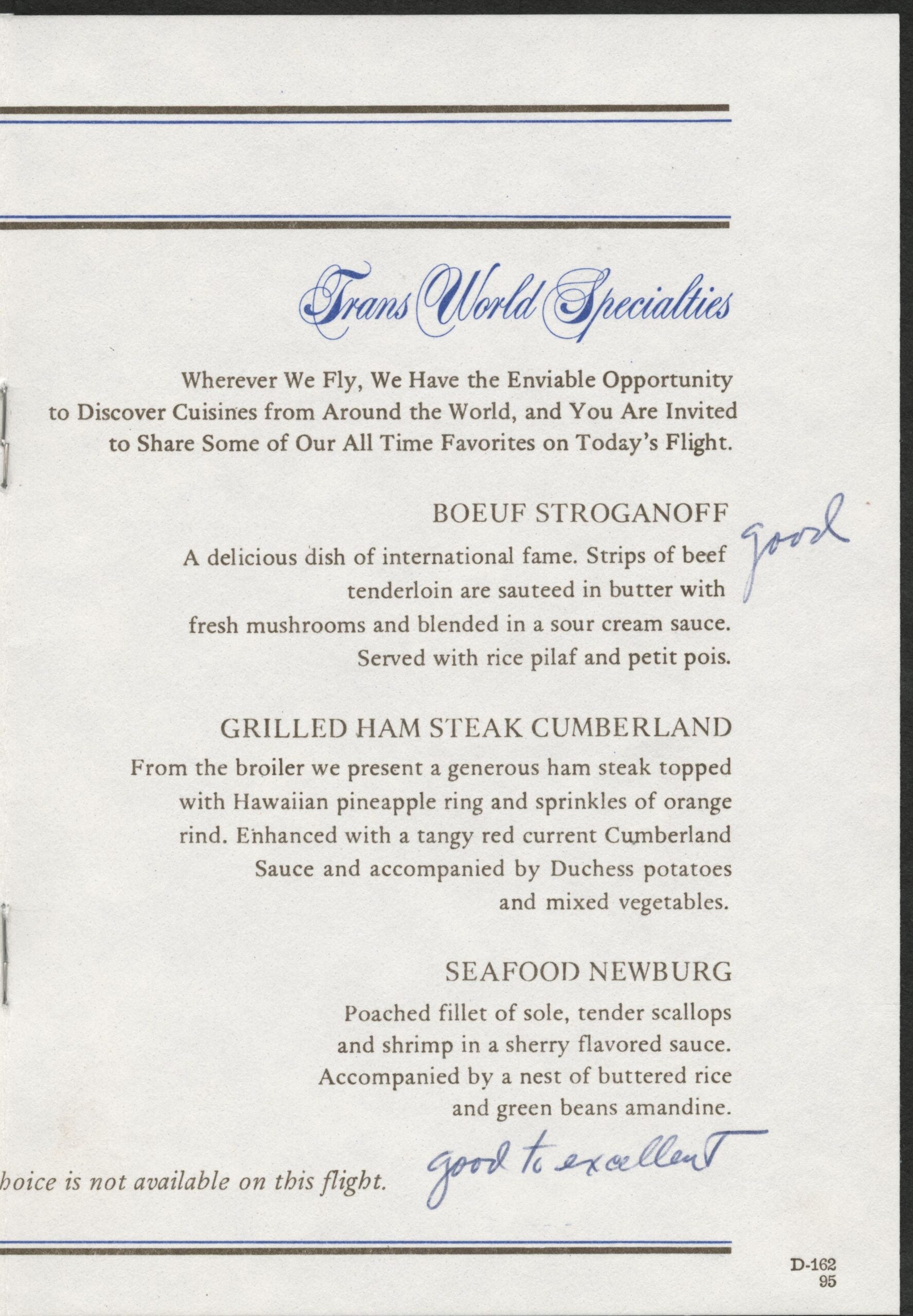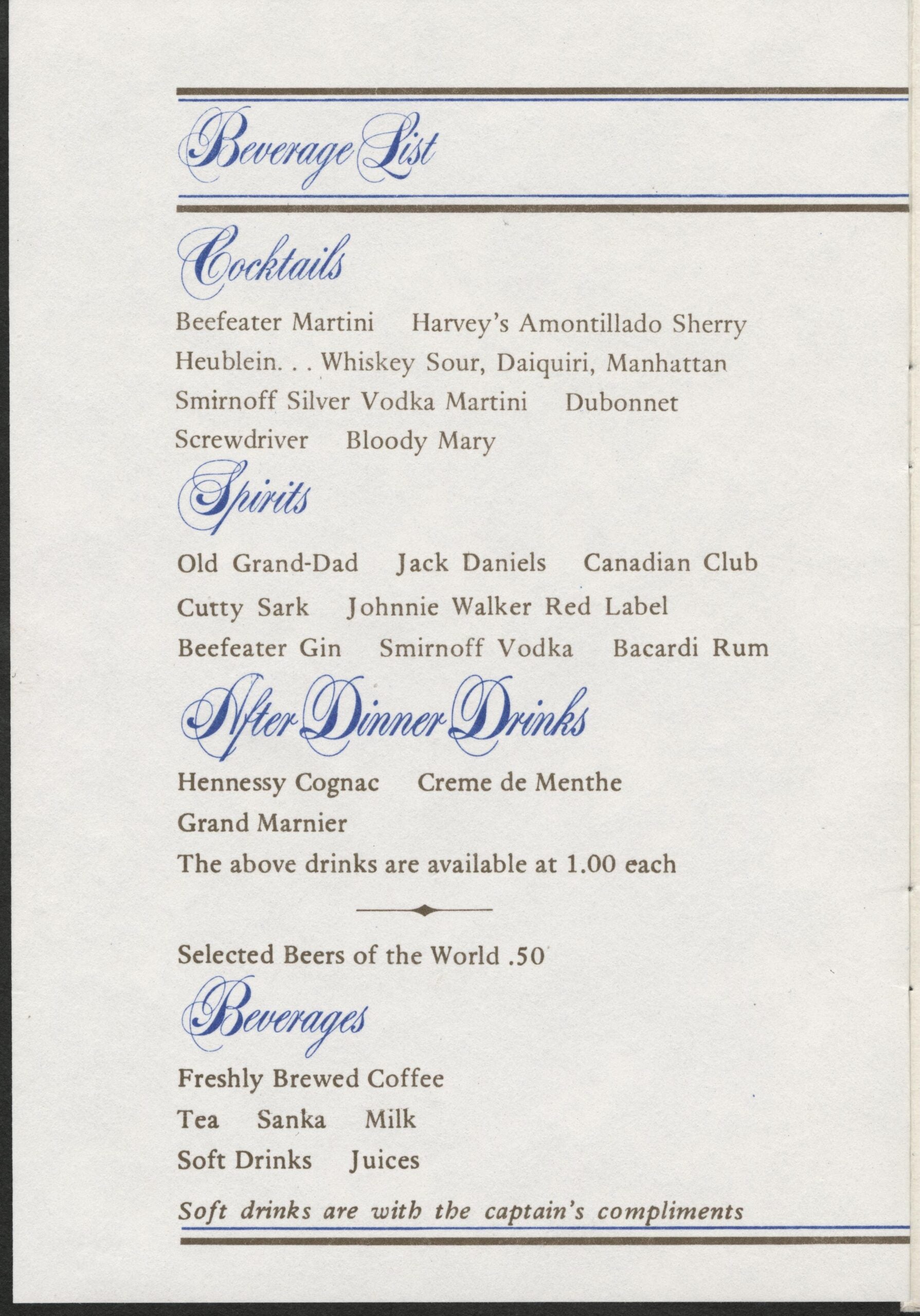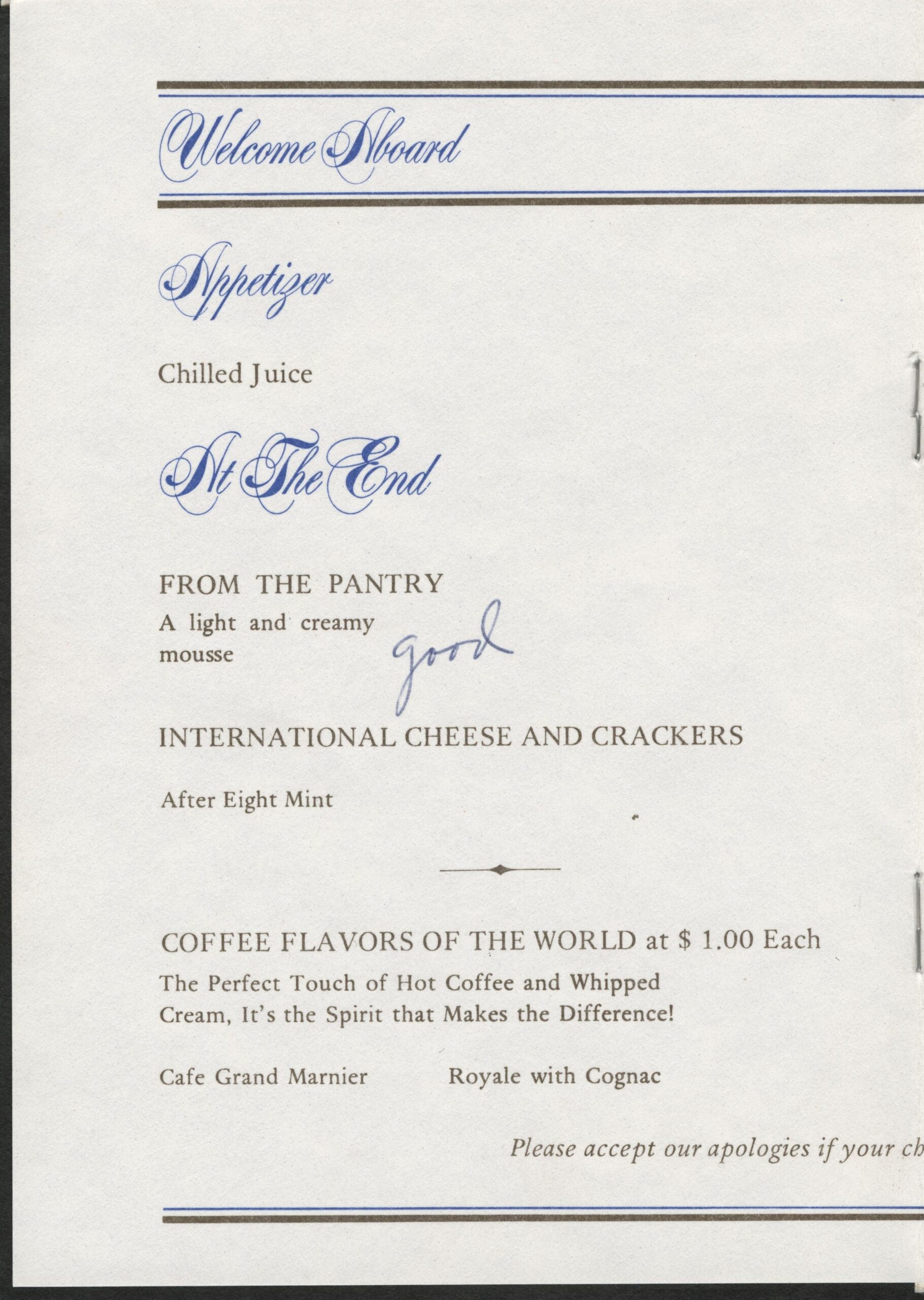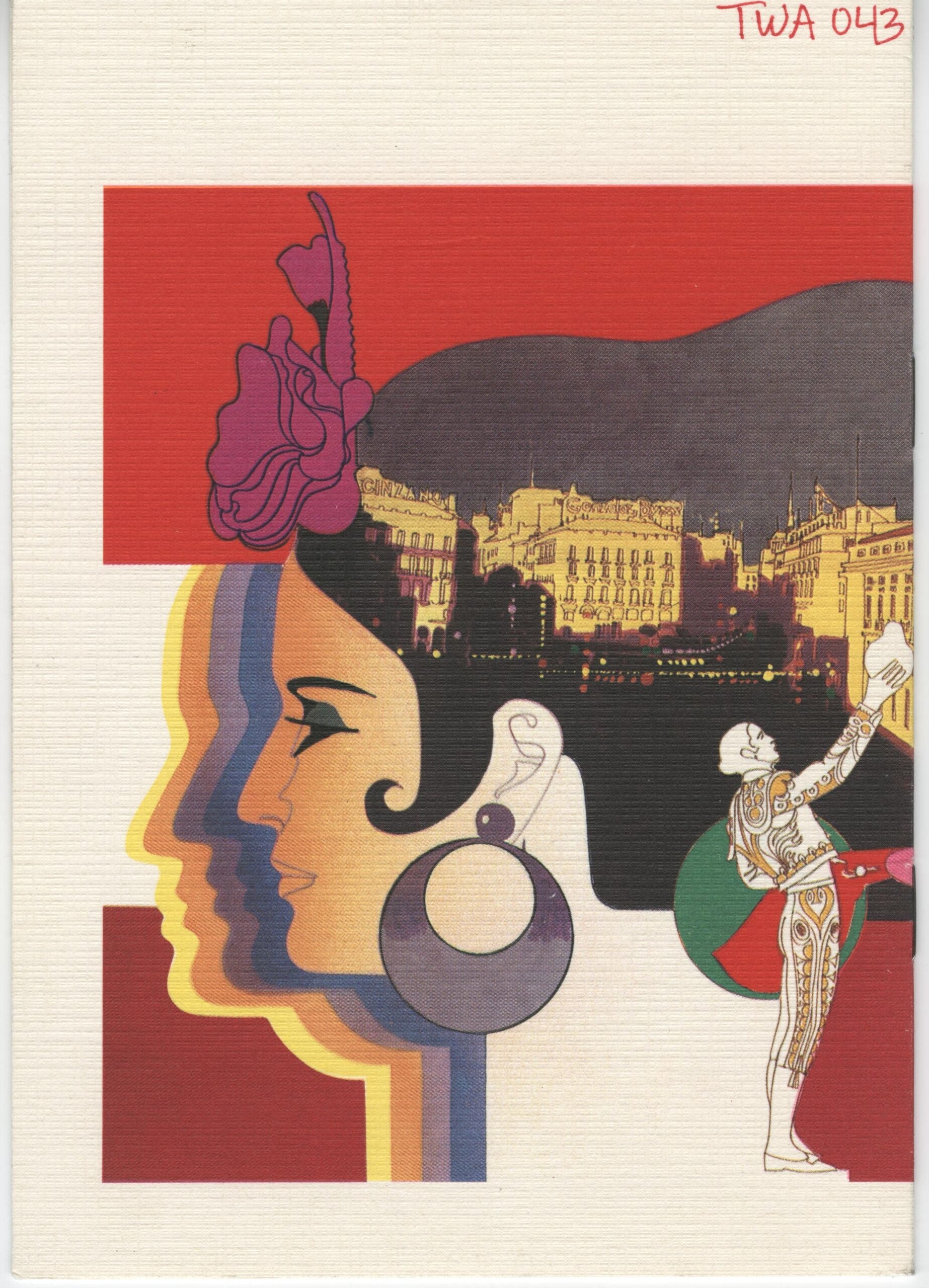 TWA was determined to make sure you had enough to eat on the flight. The menu started with two Champagnes, along with a red and white wine. The appetizer was a chilled juice, then you got a choice of three entrees. Foster found the seafood newburg "good to excellent," while the beef stroganoff was "good." The cocktail menu included a full assortment of drinks and charged $1 for Hennessy cognac, creme de menthe, Grand Mariner, and coffee with either a shot of cognac or Grand Mariner.
United Airlines: San Francisco to Detroit, 1974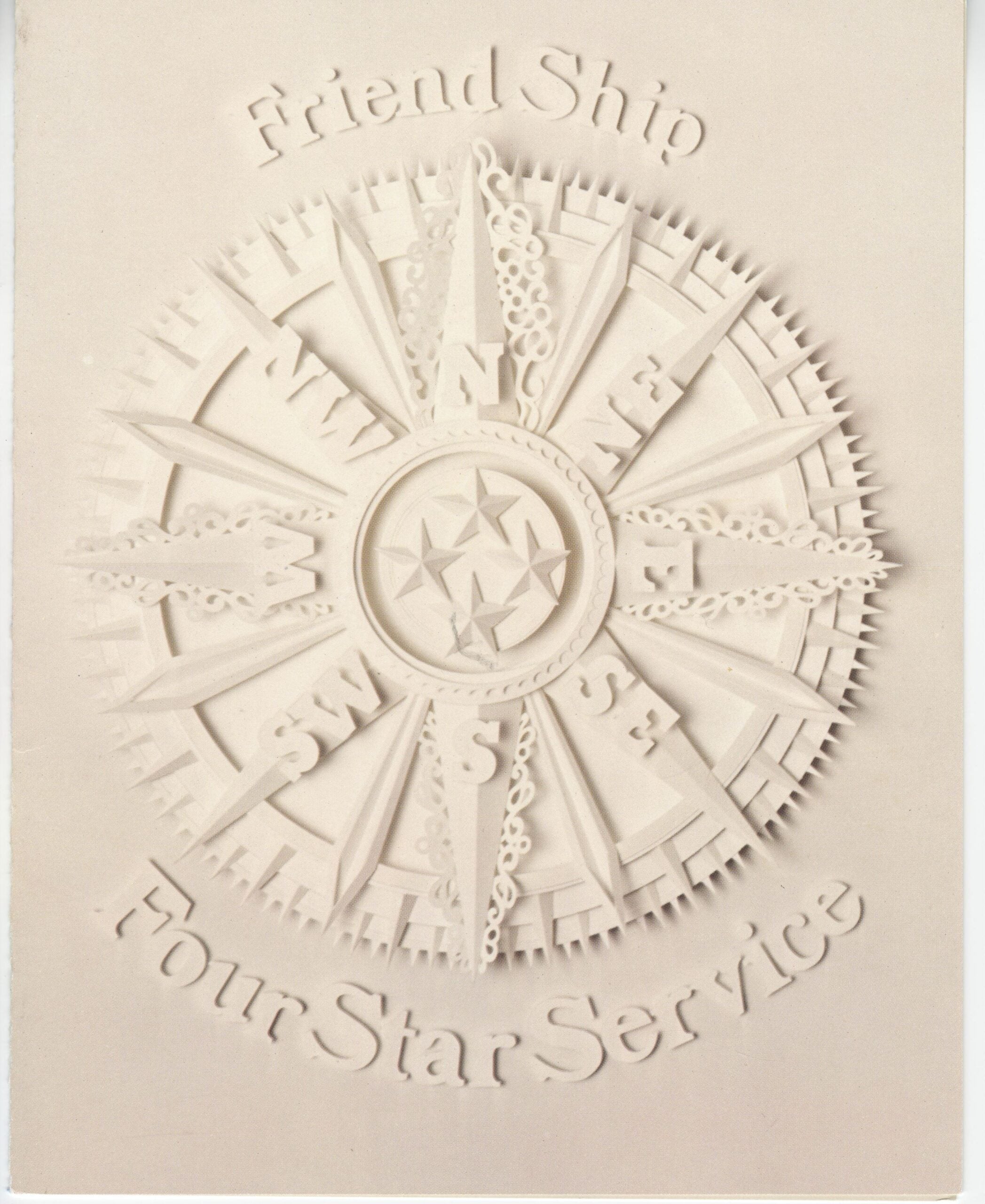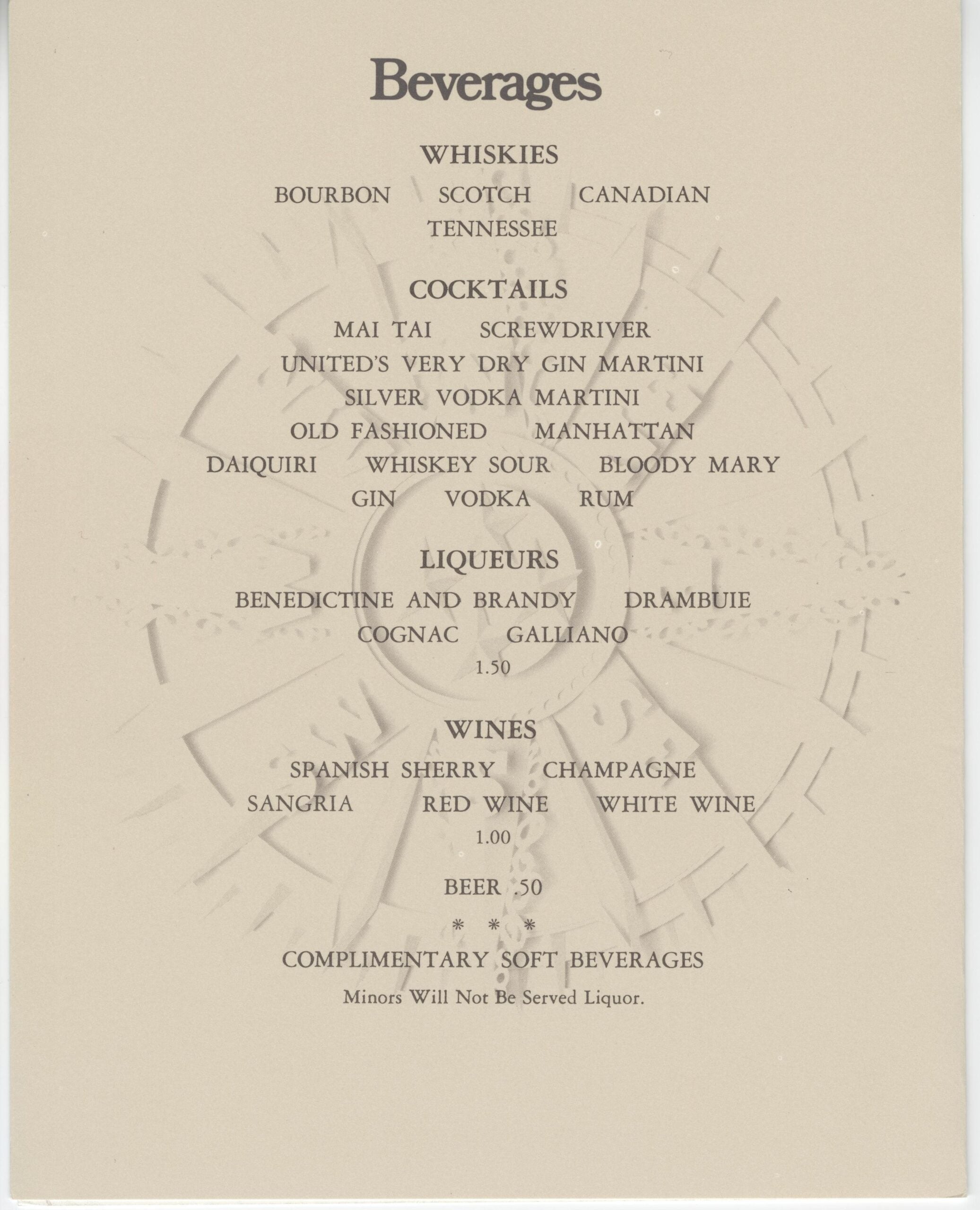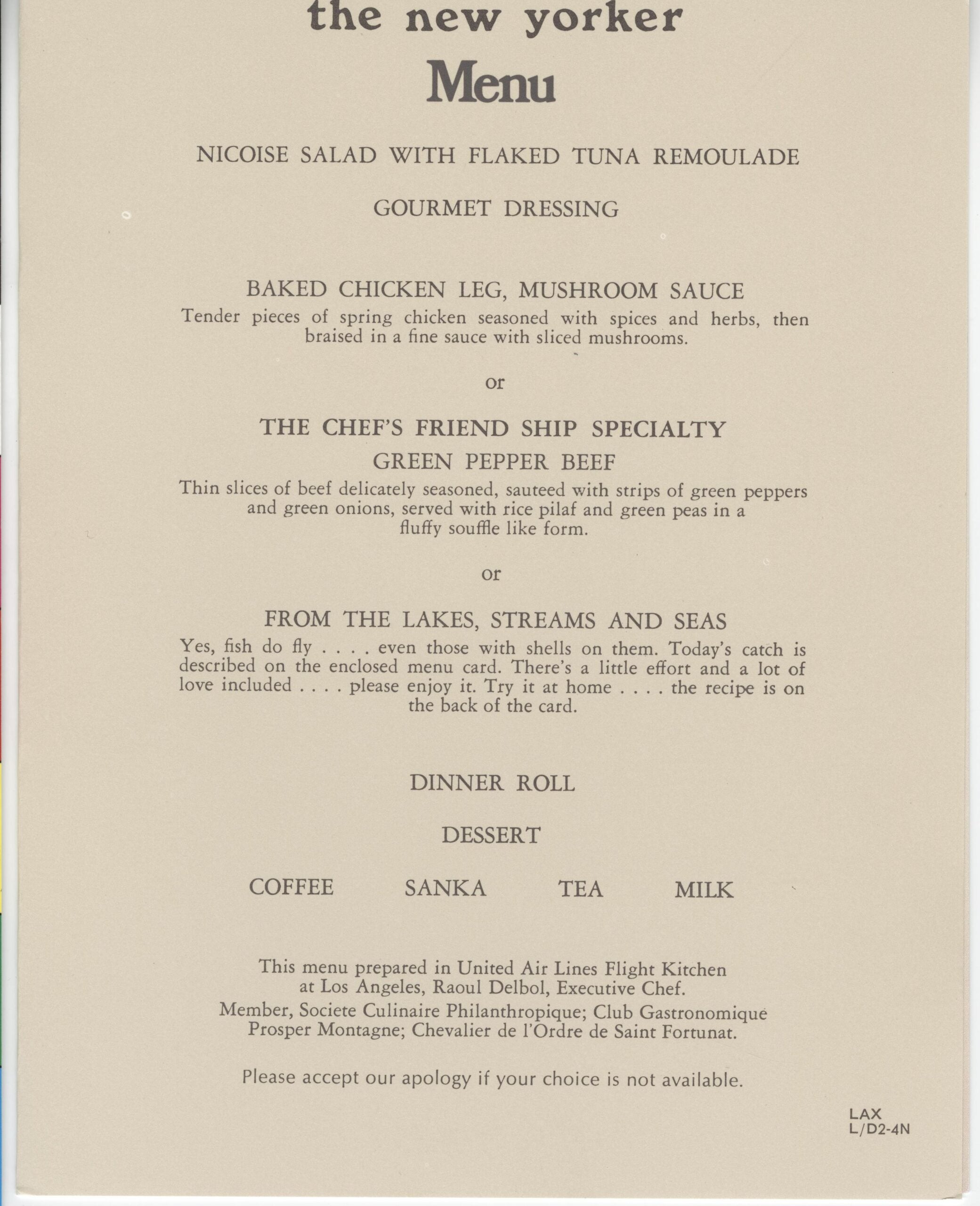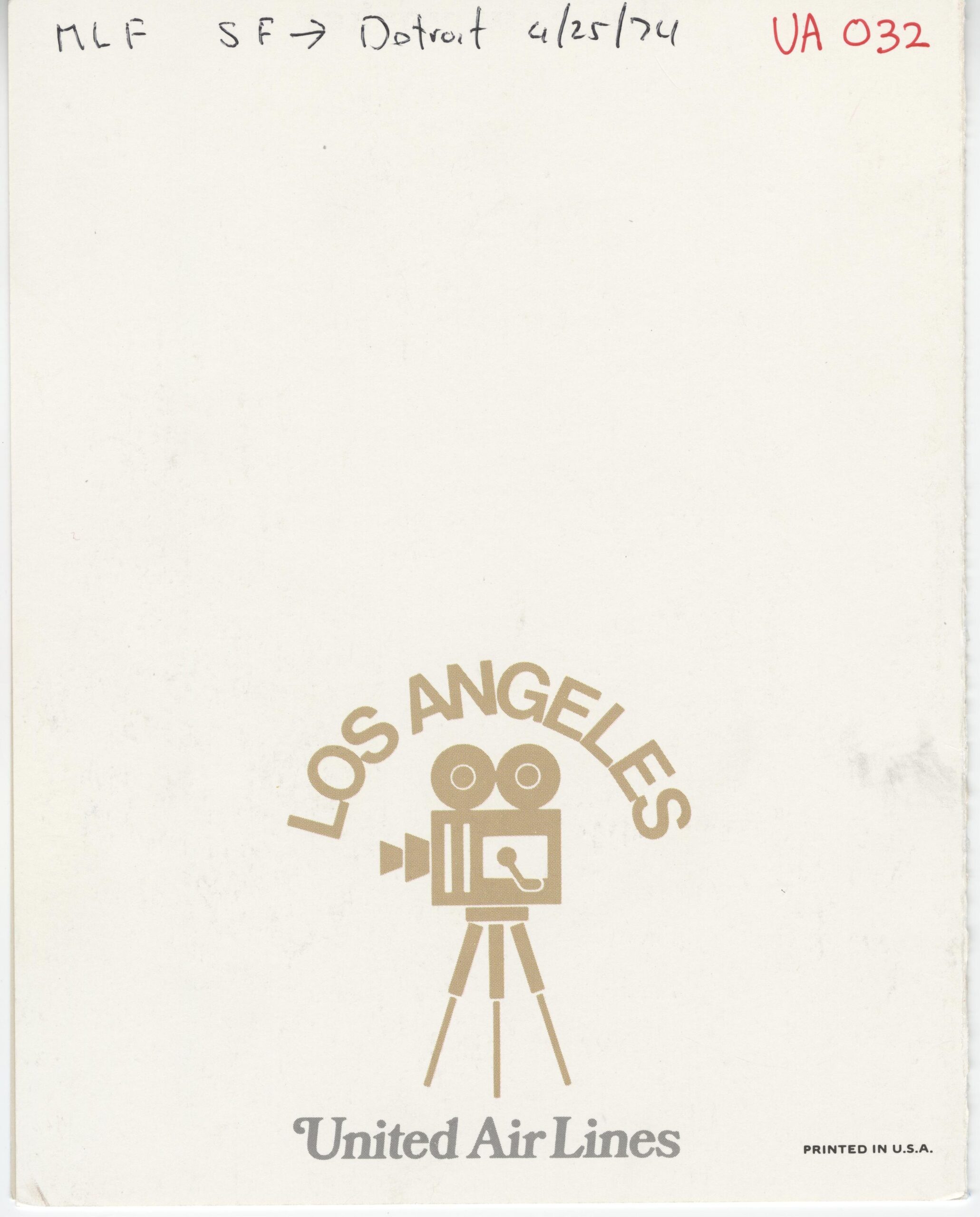 United gave passengers free hard alcohol — but charged $1.50 for liqueurs, $1 for wine and 50 cents for beer — on this menu. One of the entrees was the catch of the day, and United gave a shout out to Executive Chef Raoul Delbol, who oversaw the airline's Los Angeles flight kitchen. He was also a member of the Société Culinaire Philanthropique, Club Gastronomique Prosper Montagné and the L'Ordre Gastronomique de Saint-Fortunat. Fancy!!
American Airlines: New York, N.Y. to San Francisco, 1971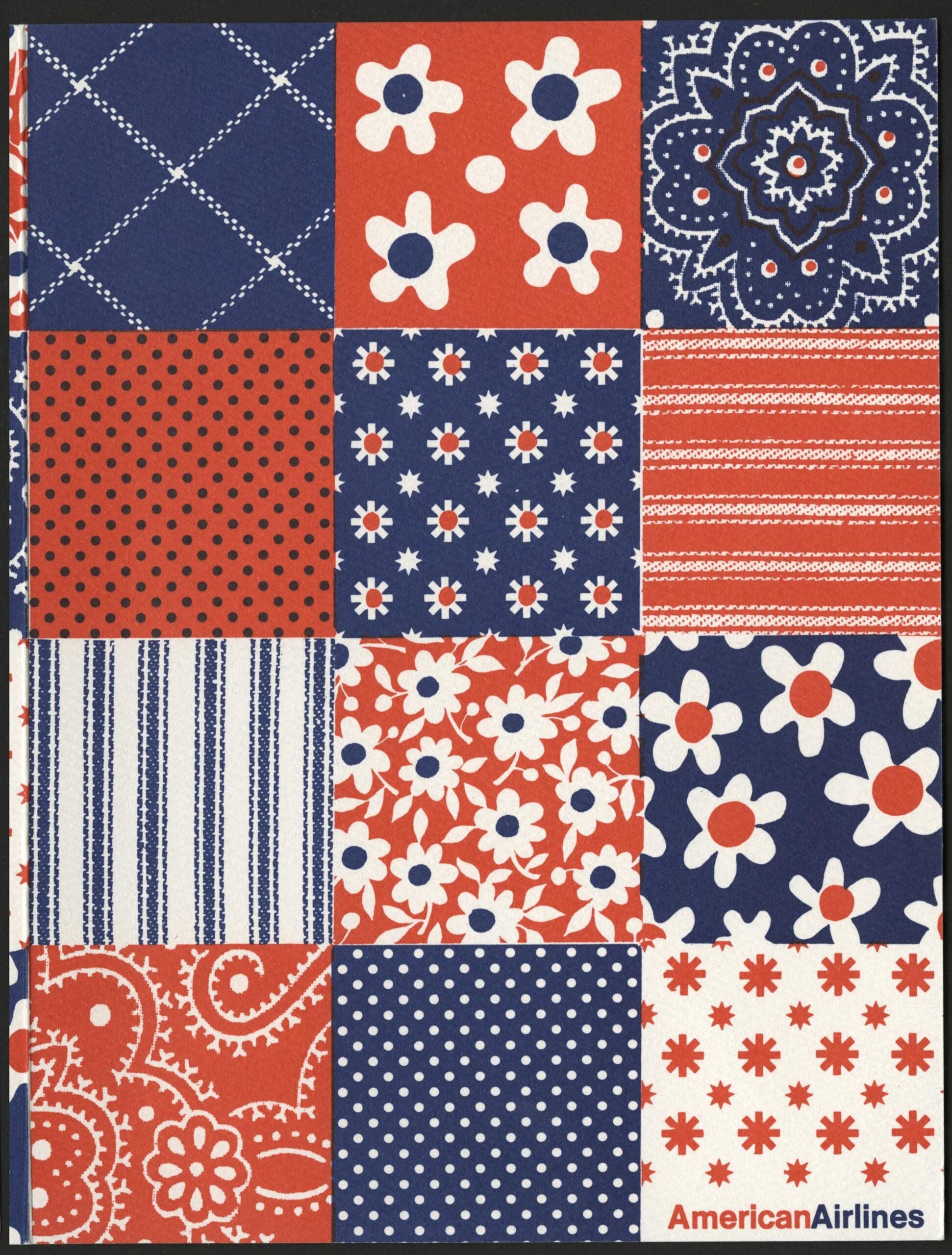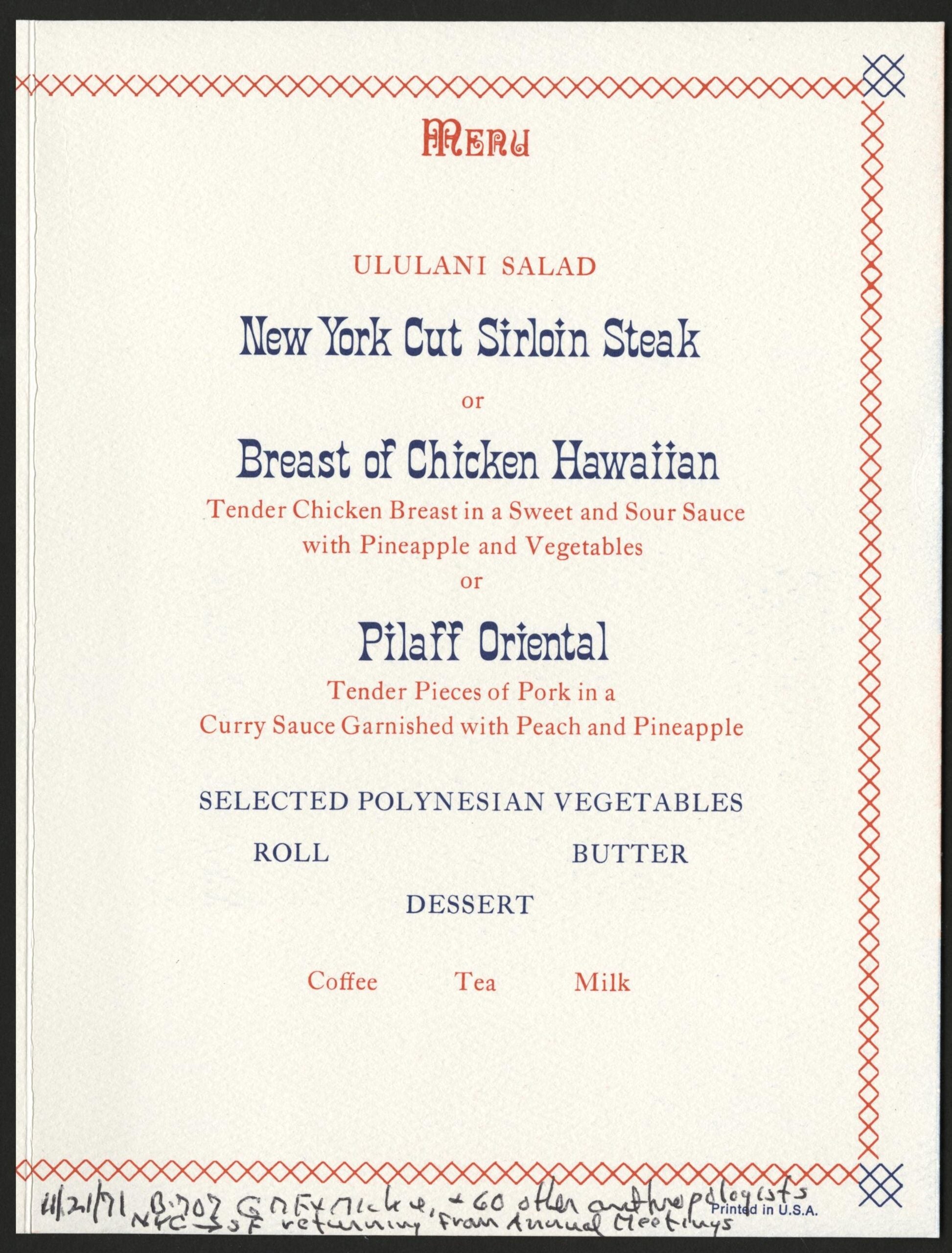 American offered a short, two-page menu for a 5.5-hour flight. There was no vegetarian option or a cocktail menu, although it could have been separated from the main menu.
Trans World Airlines: Washington to San Francisco, 1977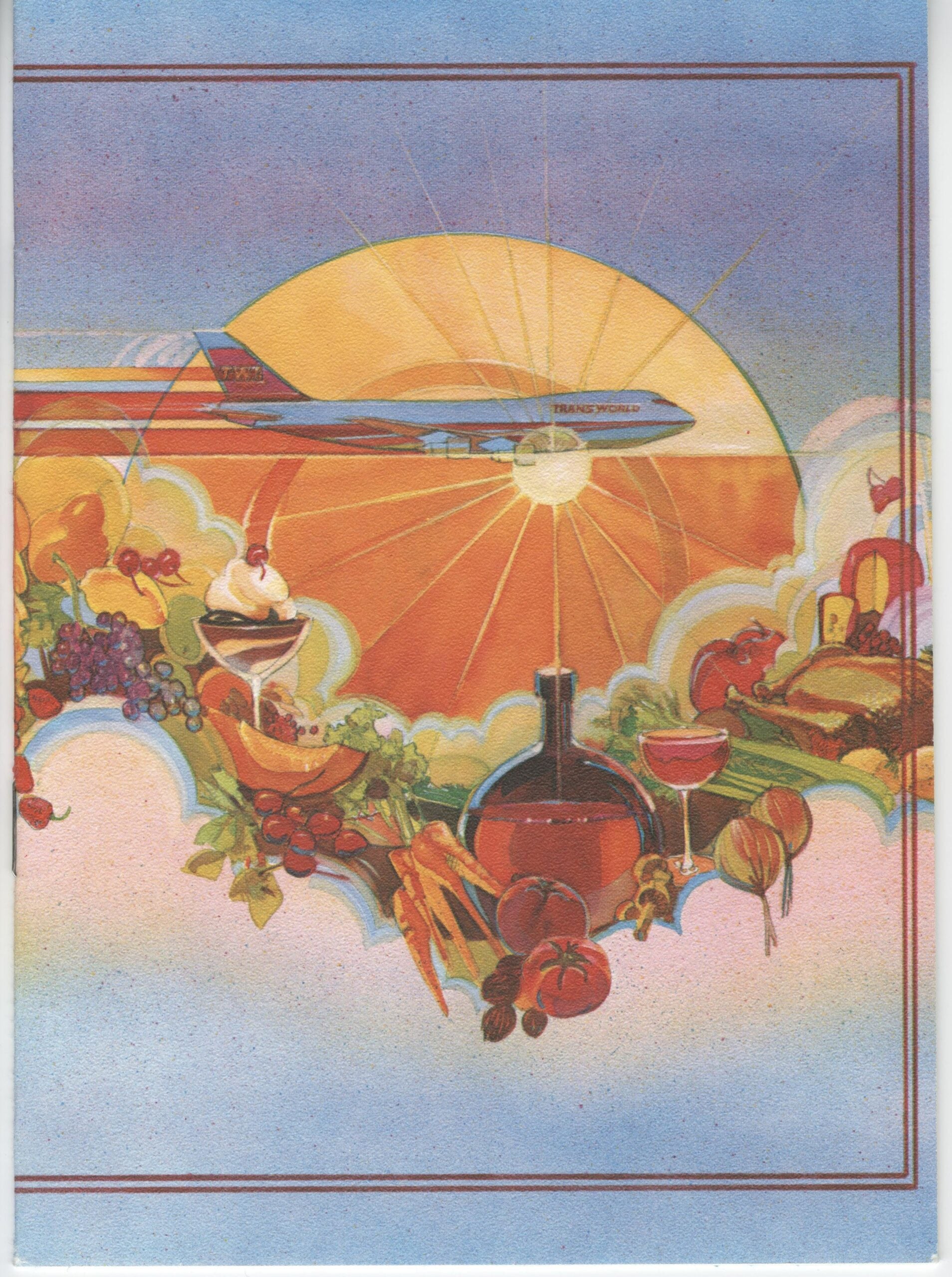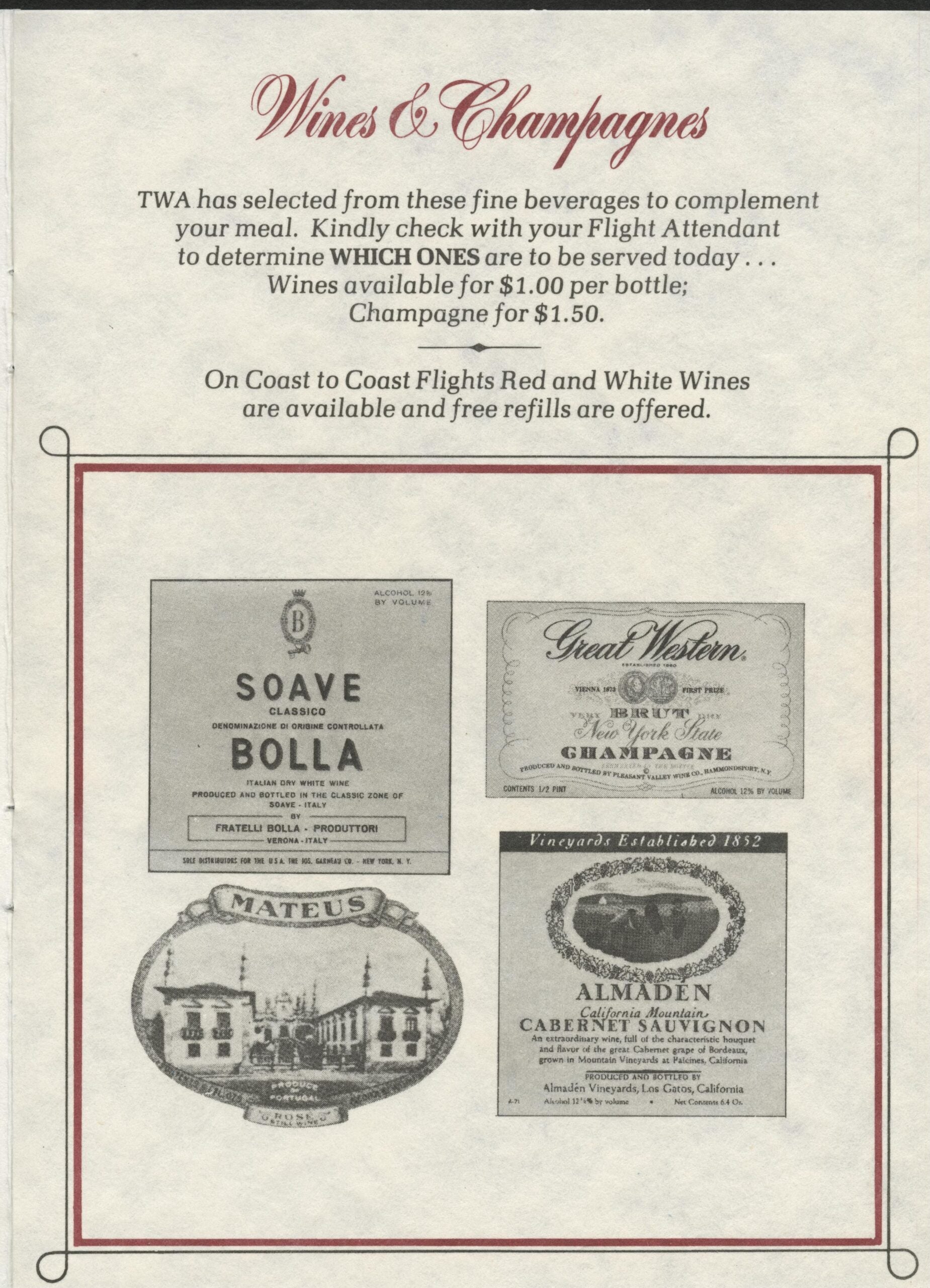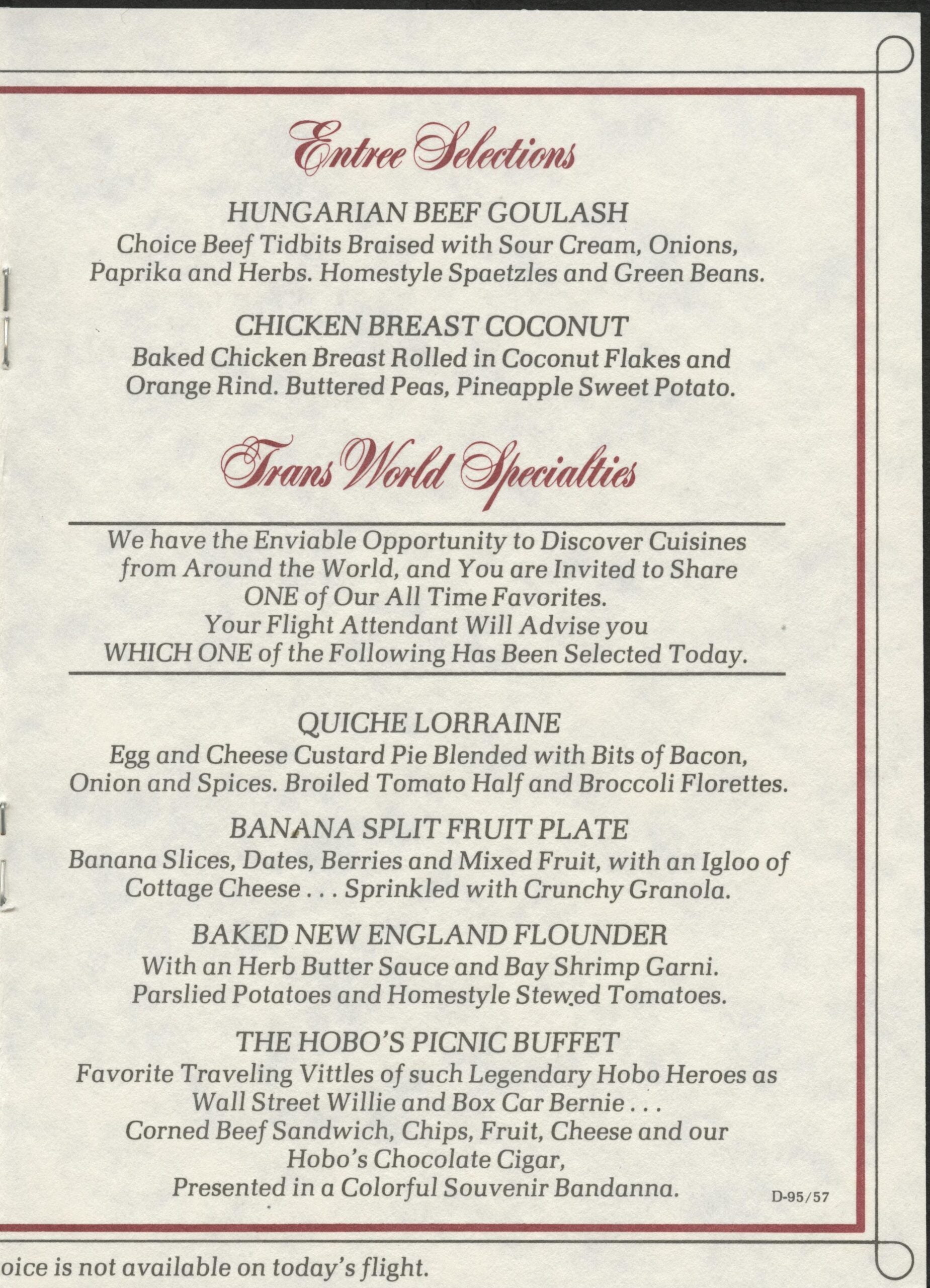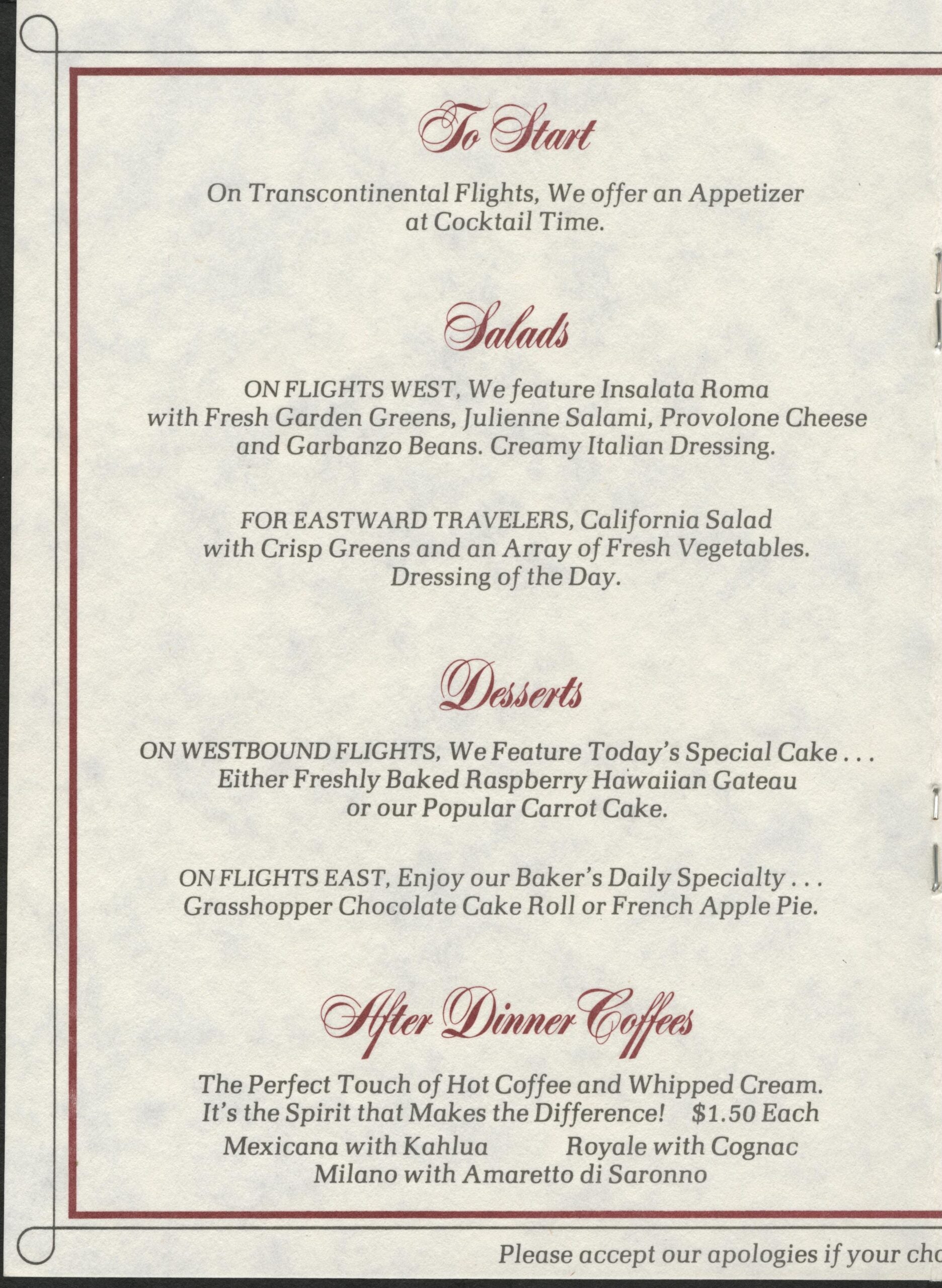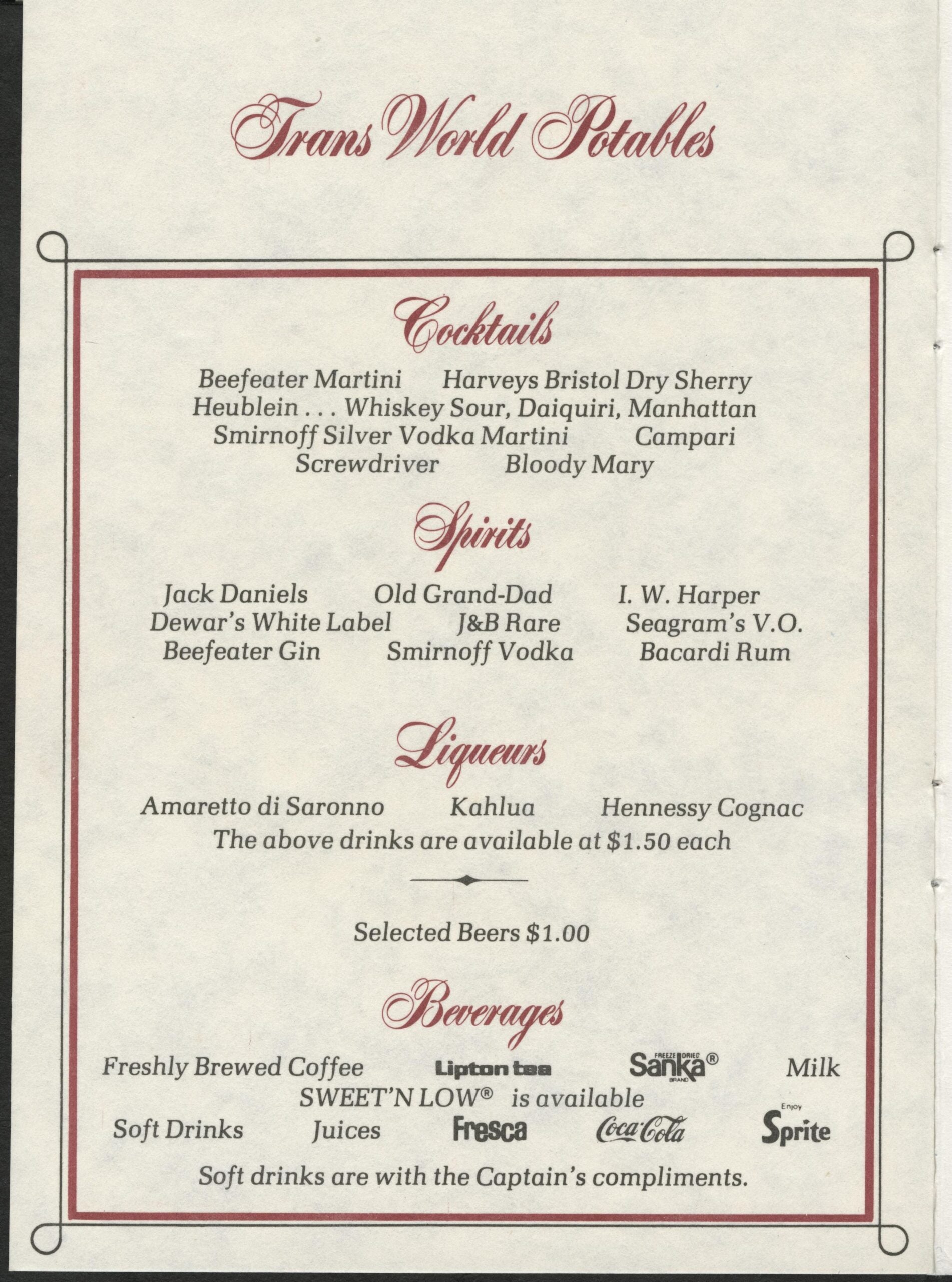 While American Airlines took the minimalist approach with its coast-to-coast menu, TWA went the other way, going all out to ensure passengers had plenty of food and drink on the trip. You could choose from three wines and Champagne. There was an Insalada Roma as the starter. Entrees included Hungarian beef goulash, a banana split fruit plate (I assume this was for vegetarians) and an item called the Hobo's Picnic Buffet. Cocktails and spirits were complimentary, but you did have to pay $1.50 for liqueurs, 50 cents for beer and $1.50 for coffee with whipped cream and your choice of Kahlua, cognac or Amaretto de Sarona. Dessert choices included baked Hawaiian raspberry gateau or their "popular carrot cake."
United Airlines: Trader Vic's recipe, 1973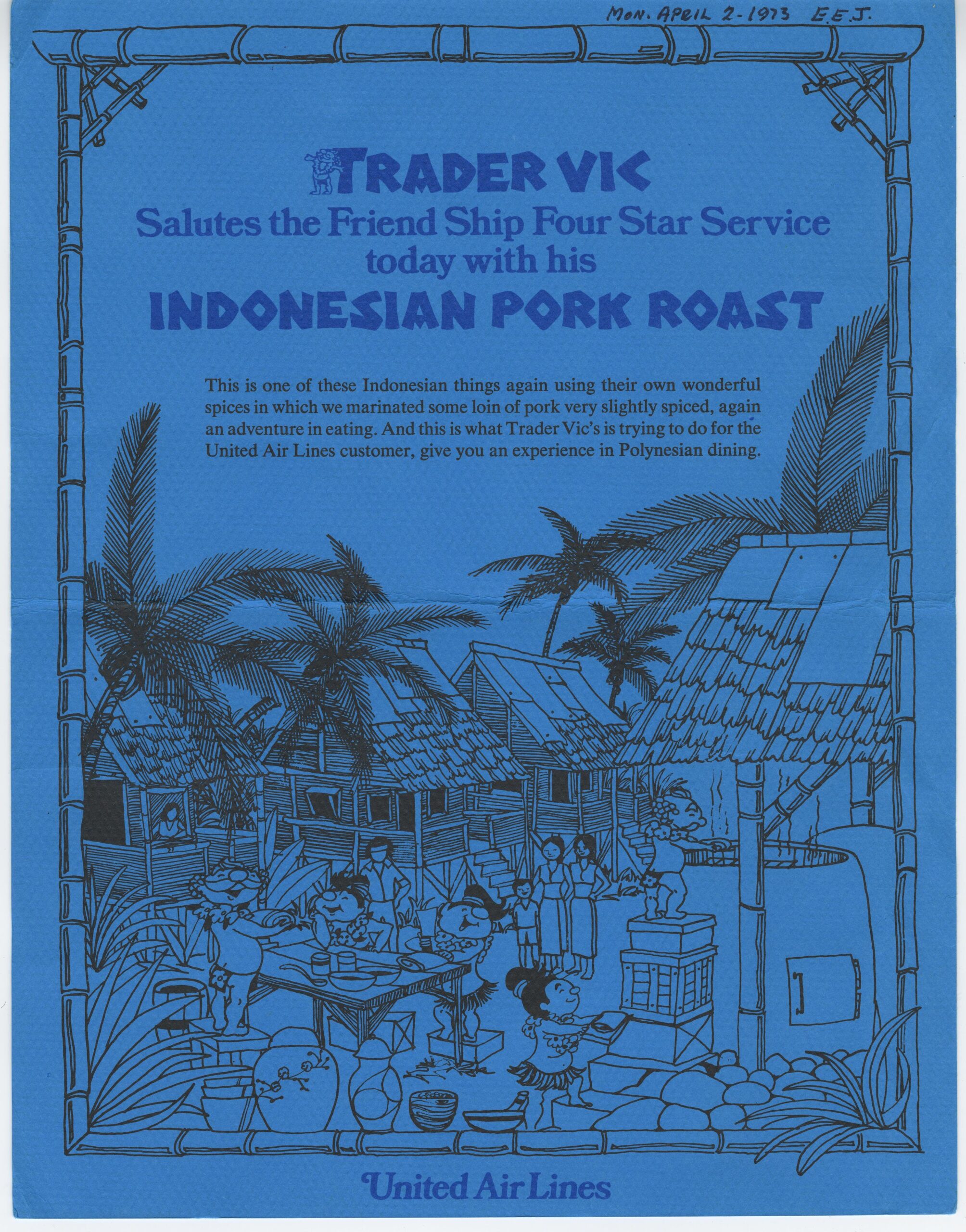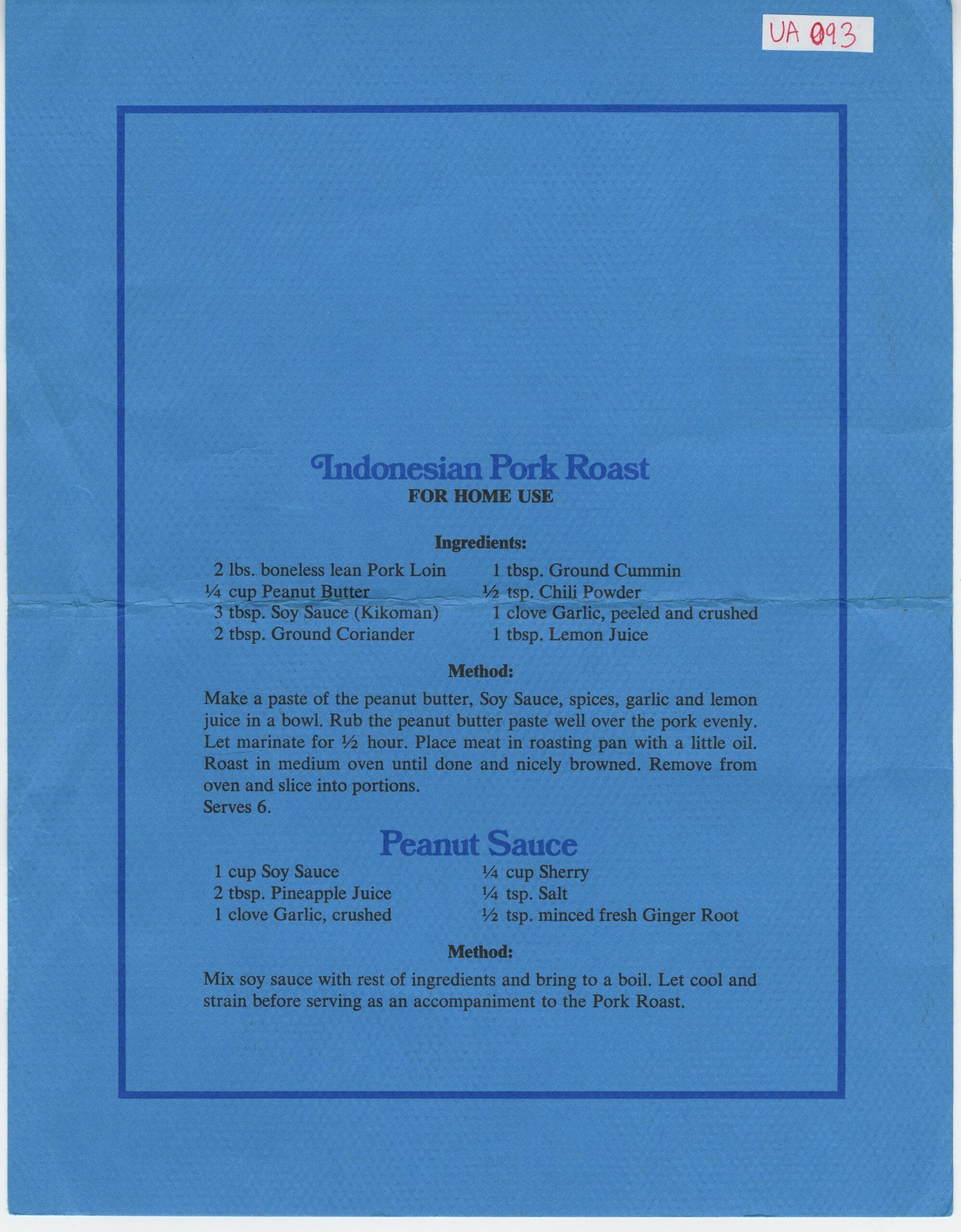 In November 2017, I was one of the lucky ones who snagged a seat on United Airlines' last Boeing 747 flight, from San Francisco to Hawaii. They recreated the first flight, flown in July 1970, right down to the flight attendant uniforms and Trader Vic's menu. George Foster added this recipe for Indonesian pork roast to his collection.
Featured photo courtesy of the Northwestern University Transportation Library
This article contains affiliate links. All products are ones I use. If you choose to buy one of these products through the link provided, I will get a small commission at no extra cost to you. All proceeds help support the blog.