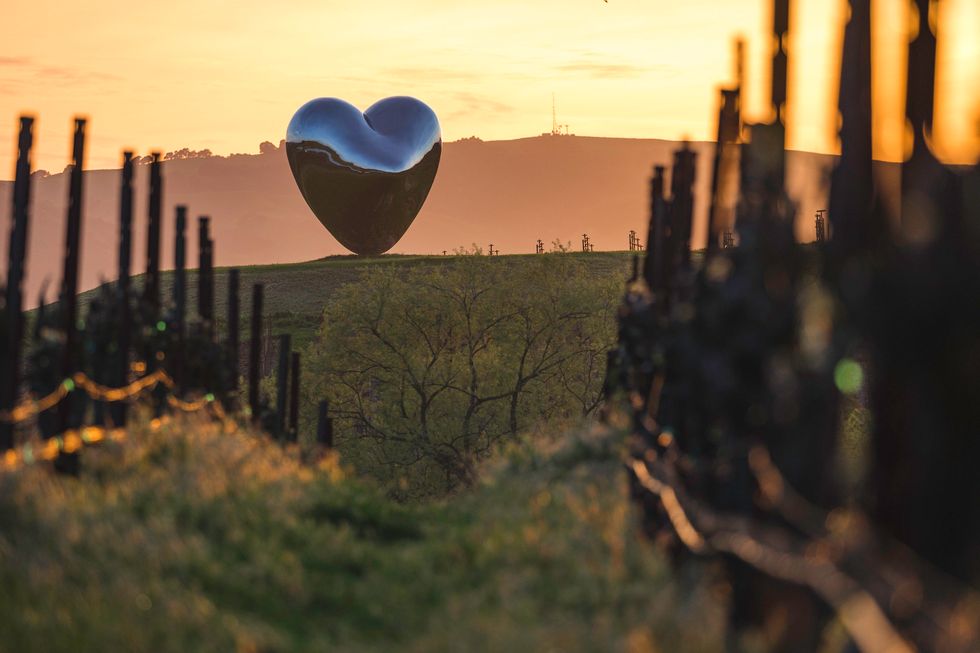 After two and a half months of strictly takeout food and drink, the arrival of June brings us slightly closer to "normal." Soon, we'll be able to eat outside at restaurants, shop for clothes in an actual store, and even take an outdoor yoga class.
But, before all of that happens (tentatively on June 15th), we can at least have a toast at Sonoma County wineries, which are opening to visitors again. Seriously, how much could we all use some bucolic scenery and a great glass of wine?
---
Of course, nothing is quite the same nowadays and visiting a winery is no exception. Don't even think about showing up without a reservation or a mask to wear while you aren't drinking, and know that tastings are currently only allowed when served with food—a curveball for wineries that don't have kitchens, not that cheese, charcuterie, and nuts are anything less than perfect pairings. You and your party will definitely be sitting outside; take it as a bonus, this is California, after all, and the settings are spectacular.
All these new requirements mean that tastings are more unique than ever, going well beyond the wine club spiel and cheese plate format. There are hikes, art tours, tasting menus, and more. As is the new rule of thumb during the Covid-19 pandemic, information and offerings can change any moment; call the winery to confirm details and make reservations before visiting.
Here are some Sonoma County wineries welcoming us back with exciting experiences outside of the tasting room.
Iron Horse Vineyards
Iron Horse is legendary for its bubbles in Sonoma County—this is one of the few wineries making sparkling wine in Northern California, and it's certainly one of the best. Right now, the winery is offering a flight ($30) of three sparkling wines, a single vineyard chardonnay, and a single vineyard pinot noir. Tastings are poured at picnic tables beneath the palm trees; a redwood gazebo is usually reserved for groups and bottle service. Food comes courtesy of Guerneville's Big Bottom Market, Monday through Saturday. And, as an exciting nod to normal times at Iron Horse, the Oyster Girls are back on Sundays, just like in the ole pre-pandemic days. Get your oysters and bubbles and on.
// 9786 Ross Station Rd. (Sebastopol); find tasting details and make an appointment at ironhorsevineyards.com.
Jordan Winery
The grand Alexander Valley estate reopened in May with a creative twist: Since on-property consumption wasn't allowed, guests could "buy" a hike on the property, and then take wine and food home to enjoy. Those four-mile hikes are still available for exploring the stunning 1,200 acres of vineyard, but the day now ends with a picnic and wine pairing on Jordan's terrace. For a shorter hike, reserve a 90-minute tasting and a visit to Jordan's new Chateau Block Vineyard, home to 9,352 cabernet sauvignon vines. Plus, since we're all aching to travel, Jordan had the smart idea of giving us a little afternoon trip to Paris. "Paris on the Terrace" alfresco lunches begin on June 18th, with guests seated at well-spaced bistro tables under the welcoming shade of oak trees (Jordan is inspired by a French chateau, after all).
// 1474 Alexander Valley Rd. (Healdsburg); make reservations at jordanwinery.com.
Zo Wines
Contactless tasting is the new normal at this Dry Creek Valley producer where everything is hands-off. At Zo Wines, you'll pour your own tastes of five wines into a disposable glass that can be taken home; enjoy a self-guided vineyard hike via an online map; and catch the wine club speech via YouTube video. The wines are superb, and the setting just outside central Healdsburg is postcard-perfect.
// 3232 Dry Creek Rd. (Healdsburg); book your experience at zowines.com.
Ram's Gate Winery
At the southern edge of Sonoma County, Ram's Gate has always been a Bay Area favorite for its panoramic views and stellar pinot noir and chardonnay—not to mention that its location is as convenient as it gets from San Francisco. The winery has also carved out a niche in recent years for its strong culinary program. While the regular tasting includes the usual cheese, charcuterie, and olive suspects, the real fun comes via executive chef Stacey Combs' seasonal food pairings with three premier wines from Ram's Gate. The pairing is $105, and of course comes with vistas from the winery's pond to the sweeping plains and vineyards.
// 28700 Arnold Dr. (Sonoma); reservations may be made at exploretock.com; ramsgatewinery.com.
Bricoleur Vineyards
You can't predict pandemics, and some wineries just happened to be on course to open in Spring 2020. So, as much as we love to revisit our favorite wineries, it's also important to welcome the newcomers during these difficult days. Bricoleur's impressive new culinary/tasting/event space, the Winery Barn, opened in May and was forced to make its debut with takeout only. Now, the estate chardonnay and pinot noir—plus varieties including viognier and zinfandel—can be enjoyed with sunshine and food courtesy of executive chef Shane McAnelly, who hails from two of Healdsburg's top restaurants, Chalkboard and The Brass Rabbit.
// 7394 Starr Rd. (Windsor); for more info and reservations, go to bricoleurvineyards.com.
Benovia Winery
When it comes to magnificent Wine Country settings, it's pretty hard to beat hanging out on the deck of Benovia's Ranch House overlooking the acclaimed Martaella Vineyard, on the outskirts of Santa Rosa. All tastings here let you soak up the sun while gazing out at those celebrated vines. The winery makes particularly noteworthy chardonnay and pinot noir, which are considered some of the finest in the Russian River Valley, but don't miss the Sonoma Mountain grenache, either.
// 3339 Hartman Rd. (Santa Rosa); for details, go to benoviawinery.com.
The Donum Estate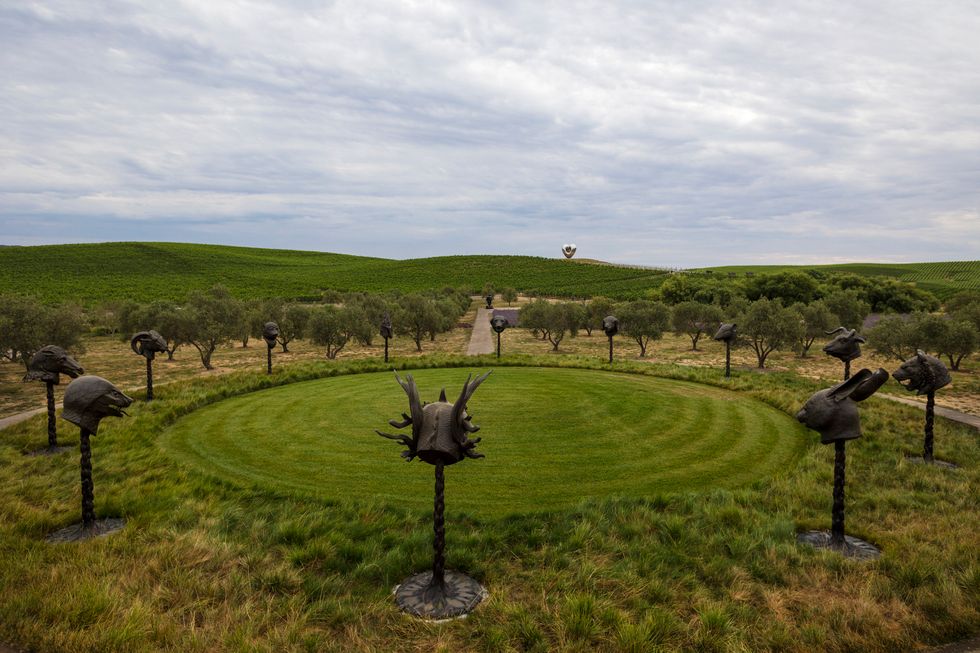 With more than 40 magnificent sculptures by the likes of Doug Aitken, Tracey Emin, Jaume Plensa, and Ai Weiwei, this glitzy Carneros-area winery moonlights as one of the finest open-air art museums in the Bay Area. For some social distancing fresh air and culture, Donum is offering guided walks by appointment for $50 per person. With no kitchen on-site, there is no food offered, which presently means there's no wine either. Don't worry, there is plenty of terrific Donum pinot noir and chardonnay to be purchased to take home afterward.
// 24500 Raval Rd. (Sonoma); book your visit at thedonumestate.com.
Muscardini Cellars
This popular Kenwood producer is open for wine by the glass, bottles, and tasting flights served with boxed lunches during the day; on Friday and Saturday nights in early June, wine lovers can reserve a table in Muscardini's backyard for the four-course Safe Social Wine Dinner Series by chef Catherine Venturini of Cuvée Wine Country Events. The menus are sparkling with all kinds of early summer produce (nectarines, cherries, white corn, peas, asparagus). Combine those dishes with some Muscardini ainfandel, rosato di sangiovese, and warm June nights, and for at least a few hours 2020 won't feel so messed up.
// 9380 Sonoma Hwy (Kenwood); for experience details, go to muscardinicellars.com.
**Disclaimer – This post contains affiliate links. All products are ones I use. If you choose to buy one of these items through the link , I will get a small commission at no extra cost to you.