Hey friends, meet my favorite and most frequently made meal, Spaghetti and Meat Sauce. This hearty homemade blend of high-quality real San Marzano tomatoes, fresh herbs and spices, perfectly seasoned and browned ground beef, and a big pile of steaming pasta will quickly have you skipping those overly-expensive fancy jarred versions to make a big batch of your very own to enjoy for days (or freeze for an easy dinner in the future.)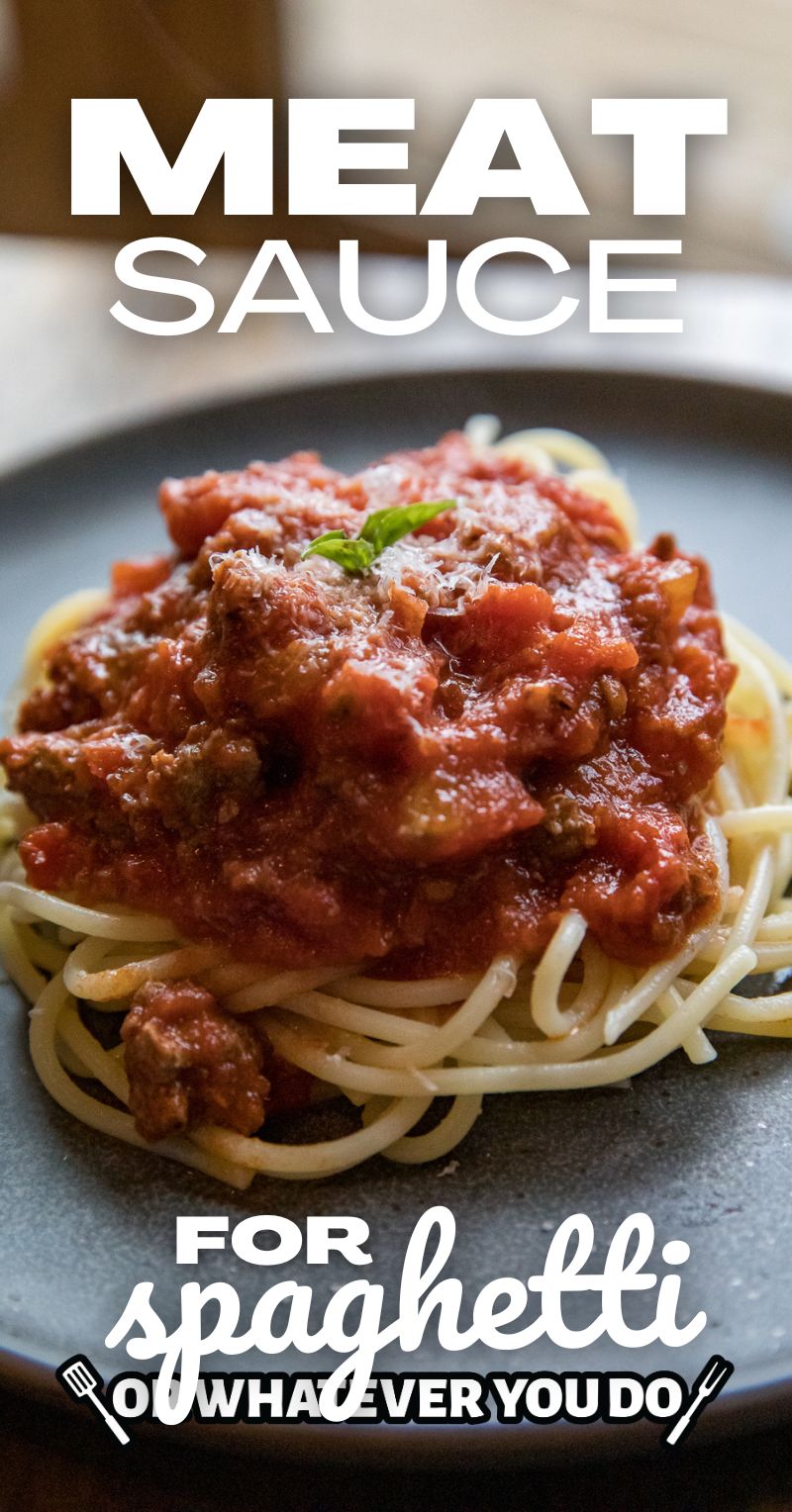 Spaghetti and Meat Sauce Recipe
We eat this meal so frequently that I put my tomatoes on Subscribe & Save.
There was a pretty decent chunk of time where if I was cooking dinner, there was at LEAST a 75% chance that this was what I was cooking. I make it so much it is basically mindless at this point, but I wanted to get it down on the site so that someday if my kids want to make "mom's spaghetti," they'll know where to look.
Like most recipes on our site, this one is also great for tweaking and customizing to your tastes. Sometimes I'll chop up half a red bell pepper and toss it in the mix. Other times I'll shake some red pepper flakes in for a touch of heat. Make this recipe your own, and make a big batch! It freezes very well for a quick dinner in the future.
Call it Spaghetti Bolognese, marinara sauce with meat, beef and tomato sauce, or spaghetti and ground beef, as long as you call it delicious!
Why you'll love it!
This is easy to make and so much better than jarred sauce.
Who doesn't like spaghetti? This one is a family-pleaser. And if it isn't? Throw some parmesan and butter on a serving for the picky one. No judgement.
You can hide vegetables in this sauce really easily! Have bell peppers? Add them! Toss whatever you want in here. The tomatoes have you covered.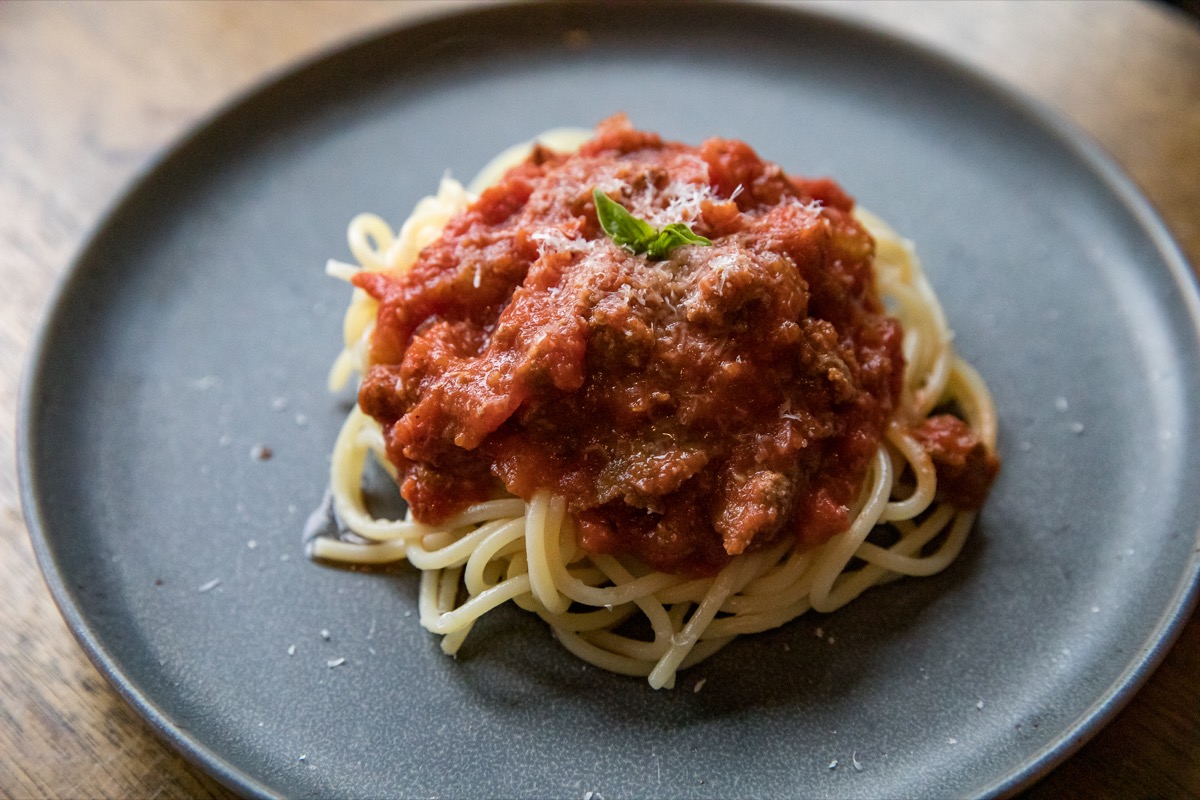 Spaghetti and Meat Sauce shopping list
Wondering if you have to hit the store? Here's the list of items you'll need to make this recipe. For specific amounts, please refer to the printable recipe card at the bottom of the post.
Olive oil
Onion
Garlic
Ground beef
Salt & pepper
Red wine
Fresh basil
Fresh oregano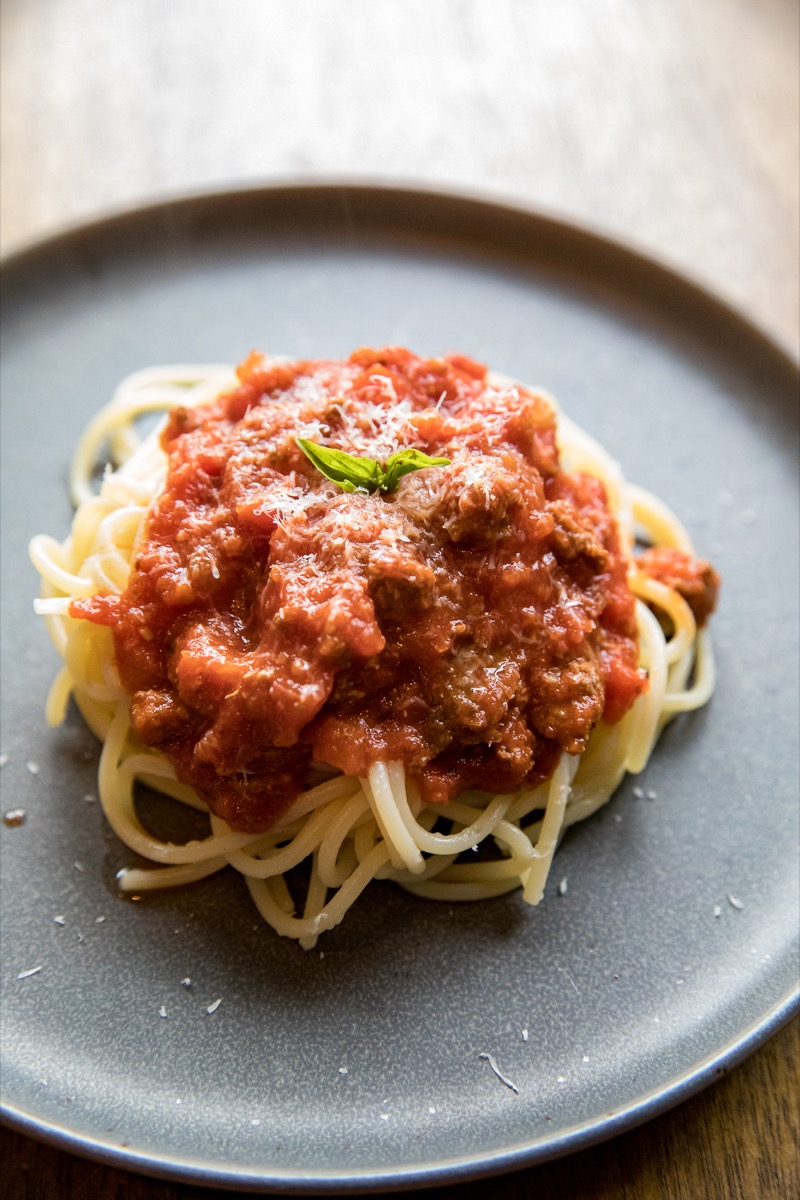 How to make homemade Spaghetti and Meat Sauce
This is just the overview so you can see what you're actually getting into here. When you are cooking, you'll want to use the full recipe at the bottom of the page.
Saute
Get out a decently sized saute pan and put it over medium to medium-low heat. Drizzle in the olive oil and add the diced onions. We're going to precook them so they are nice and tender in the sauce. That cuts down the overall cook time of the sauce itself.
Ground Beef
In a BIG sauce pot over medium to medium-high heat, add the ground beef. Sprinkle over the salt, pepper, and Italian seasoning blend.
Buy one of these meat smashers if you don't have one. It'll change your life.
Drain the excess fat once the meat is browned.
Sauce it!
Add the cooked onions to the ground beef in the sauce pot. Add in the tomatoes, tomato sauce, and red wine. Simmer.
Taste and adjust
Taste the sauce and add as much of the remaining salt and pepper as necessary. How much depends on your tastes and what specific brand of tomatoes and tomato sauce you used.
Enjoy
Cook your noodles in well-salted water until they are al dente. Drain well and serve hot with lots of the sauce poured over top!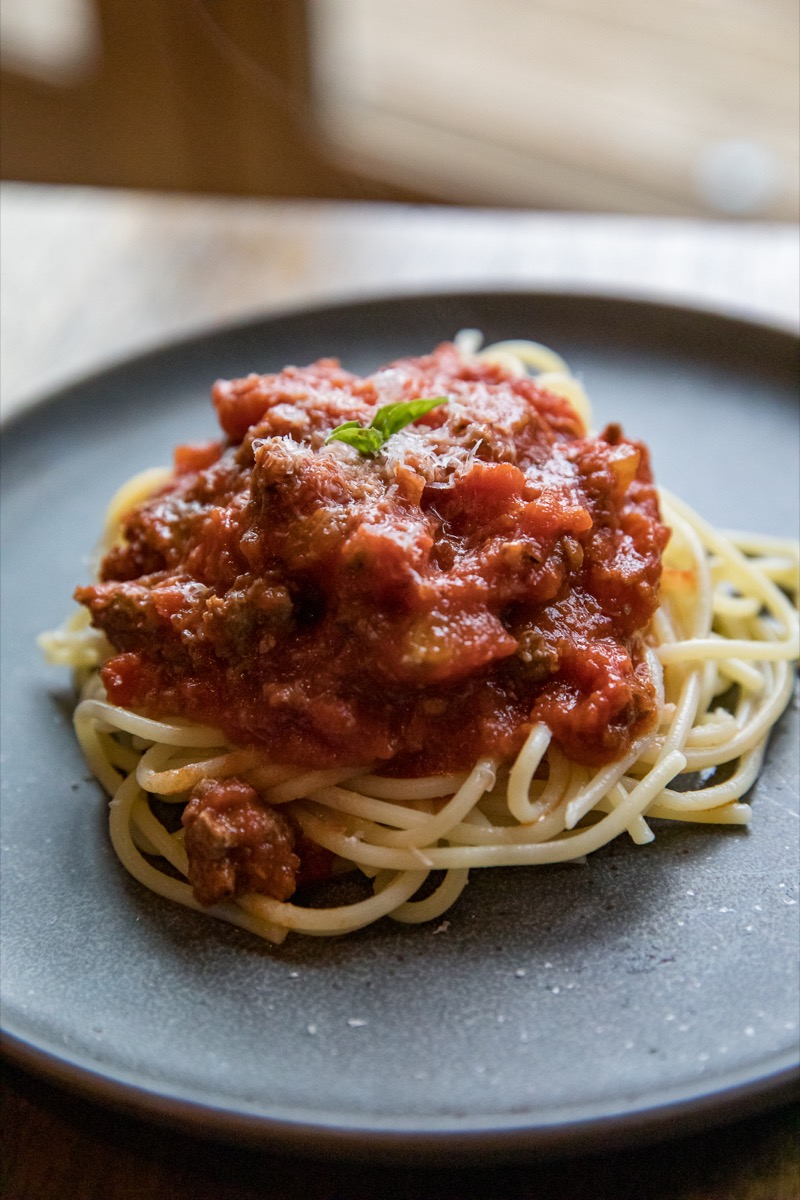 Spaghetti and Meat Sauce FAQ
What's the best way to store and reheat leftovers?
Store the sauce and noodles separately in airtight containers. Reheat in the microwave. Easy stuff! That's why I like making a BIG batch. We eat the leftovers for a couple of days, at least, and it is simple for the kids to reheat whenever they feel like a snack. Which is always. They are never bottomless pits.
Can you substitute another type of tomato?
You can use whatever type of tomatoes you'd like for this recipe. I linked to the ones I use in the recipe card, but any kind will work. You'll need to adjust the salt and pepper levels but you'll need to do that anyway.
Can you make homemade spaghetti and meat sauce ahead of time?
Yes! This dish is perfect to make in advance, to freeze for a quick and easy meal, or to send to a friend who just had a baby or is going through a hard time. What problem can a big plate of spaghetti not fix?? I recommend making the noodles right before serving, however. Pasta is best fresh.
Round out your meal with…
More great PASTA recipes to love!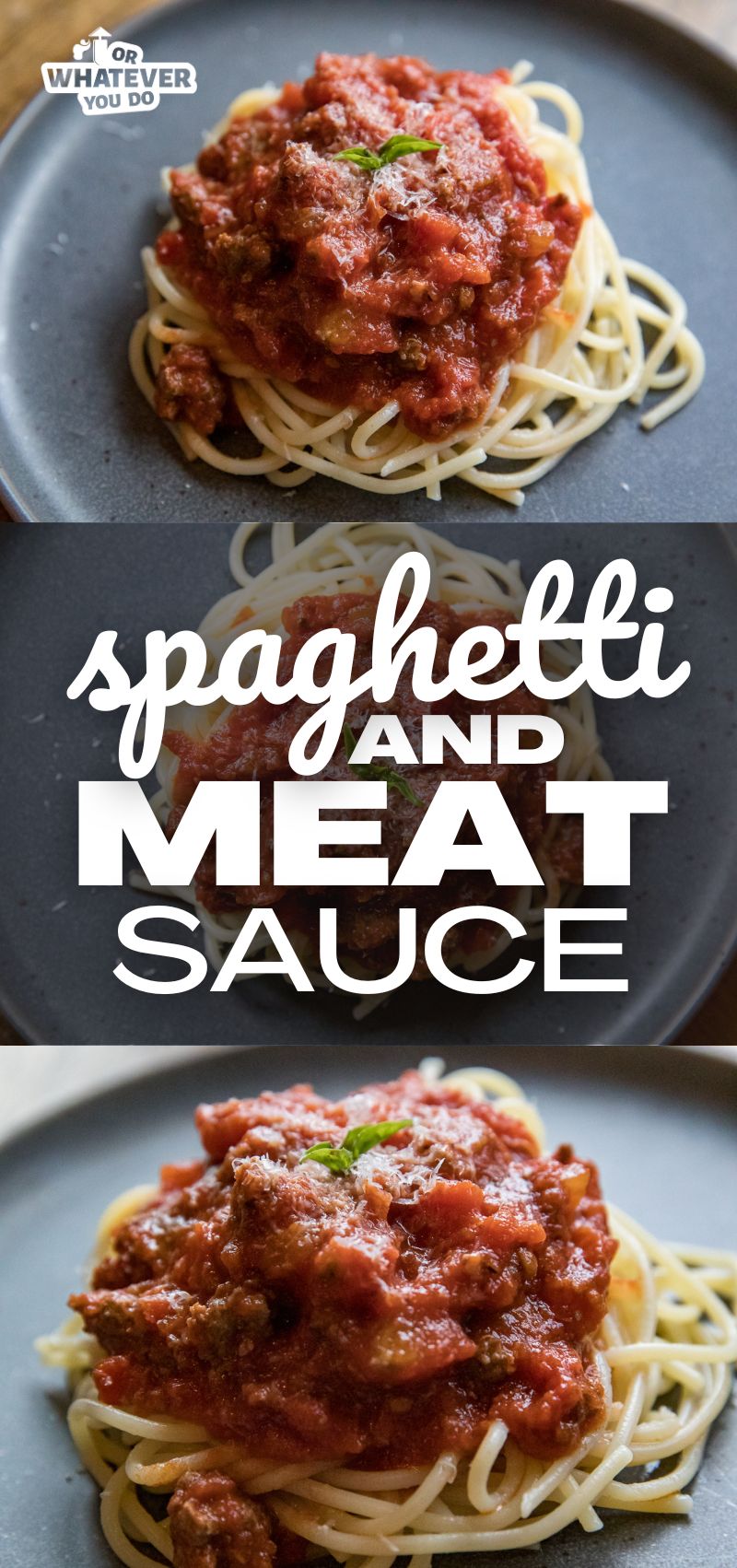 Yield: 10 servings
Spaghetti and Meat Sauce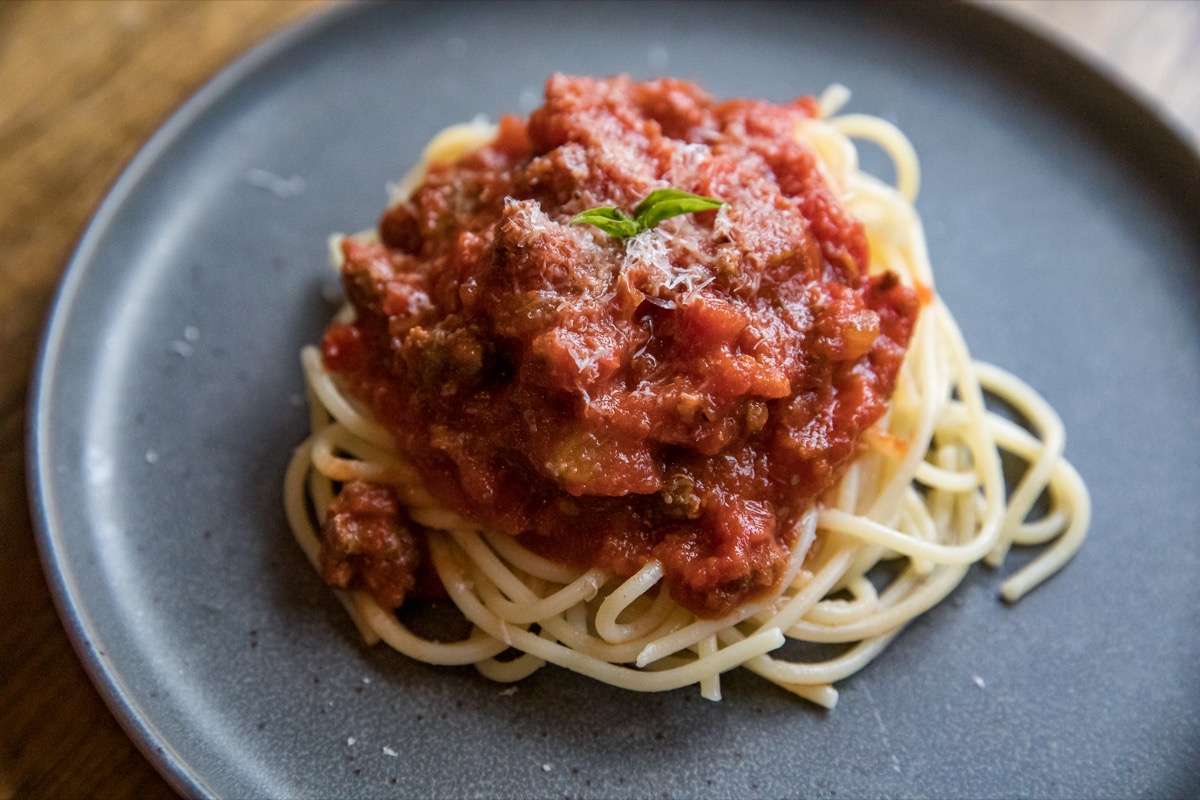 Our hearty homemade spaghetti and meat sauce is a weekly dish around here! There will be some leftovers, and they work great for freezing!
Total Time
1 hour
10 minutes
Ingredients
4 tablespoons olive oil
1 medium onion, diced
3 cloves garlic, minced
2 pounds ground beef
1 teaspoon salt
1/2 teaspoon pepper
1 teaspoon dry Italian seasoning
2 - 28-ounce cans whole peeled San Marzano tomatoes
1 - 28-ounce can tomato sauce (I prefer Contadina or Hunts)
1/2 cup red wine (Pinot Noir or Cabernet)
1 1/2 teaspoons salt (approximately - see notes)
1/2 teaspoon pepper
1 teaspoon fresh chopped oregano (or 1/2 teaspoon dry)
2 tablespoons fresh chopped basil (or 1 tablespoon dry)
2 pounds spaghetti
Instructions
Put the olive oil into a saute pan over medium to medium-low heat and add the onions. Saute until translucent. Add the garlic and cook for an additional 1 minute before removing from the heat.
In a large sauce pan, brown the ground beef. Add the 1 teaspoon salt, 1/2 teaspoon pepper, and 1 teaspoon dry Italian seasoning to the ground beef while it is cooking. Drain off the excess fat.
Add the olive oil, cooked onions, and garlic from the saute pan to the ground beef mixture. Keep it over medium heat. Add the tomatoes, tomato sauce, and red wine. Break up the tomatoes with a spatula or a meat masher (link below, it'll change your life). Let the sauce come to a simmer and reduce the heat as necessary to keep it at a low simmer. Stir frequently. Let simmer for 30-45 minutes.
Taste and add as much of the remaining salt as necessary. How much will depend ENTIRELY on what brand of tomatoes and tomato sauce you used. They all have varying levels of sodium. You may need way less salt than is called for. You might need a little more. You do you, and then taste and add slowly.
Add the fresh herbs during the last 10 minutes of cooking.
Cook the pasta in well-salted water (it should taste like ocean water) and don't overcook it! Serve hot with some parmesan cheese on top.
Recommended Products
As an Amazon Associate and member of other affiliate programs, I earn from qualifying purchases.
Nutrition Information:
Yield:
8
Serving Size:
1
Amount Per Serving:
Calories:

621
Total Fat:

28g
Saturated Fat:

9g
Trans Fat:

1g
Unsaturated Fat:

16g
Cholesterol:

101mg
Sodium:

1289mg
Carbohydrates:

50g
Fiber:

6g
Sugar:

11g
Protein:

40g
Nutrition data provided here is only an estimate.
The post Spaghetti and Meat Sauce appeared first on Or Whatever You Do.
My article often contains affiliate links. All products are ones I recommend. If you choose to purchase one of these items through the URL , I will receive a small commission at no extra cost to you.