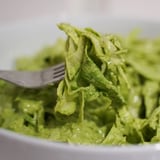 "If you love iceberg and you love ranch, you will love this," Baked by Melissa founder Melissa Ben-Ishay declares in a TikTok video as she chows down on a salad made with a homemade dressing that she calls "Mother Earth's Ranch."
Her claim may seem bold, especially to those who are picky about ranch, but it's hard not to accept Ben-Ishay's words as fact. So many of her TikTok salads have gone viral that you could easily say she's just as famous for them as she is for her cupcake business. By far, her most popular recipe is her Green Goddess dressing, a vinaigrette that gets its flavor and color primarily from chives, spinach, garlic, and shallot. Ben-Ishay's latest dressing recipe, Mother Earth's Ranch, can be best described as Green Goddess's creamier counterpart. It's made with most of the same ingredients, but with a generous amount of olive oil and raw cashews.
The consistency of Mother Earth's Ranch is perhaps the most obvious similarity it has to traditional ranch, but its flavor profile is also comparable. Much like the original, Ben-Ishay's version (or, rather, Mother Earth's) is seasoned with dill, chives, garlic, and onion. However, instead of mayonnaise and buttermilk, the creamy taste and texture comes from olive oil, cashews, and nutritional yeast. Without the heaviness of the mayo and buttermilk, the herbaceous flavors are able to shine through, resulting in a ranch that's zesty and bright yet still rich - and also, surprisingly, vegan.
The majority of the salad recipes Ben-Ishay shares to the Baked By Melissa TikTok page involve a good amount of chopping, slicing, and in some cases, using up all the ingredients in the fridge, but Mother Earth's Ranch comes together much more easily. As per Ben-Ishay's instructions, you simply toss everything in the blender. Since it's already packed with flavor, iceberg lettuce alone acts as the perfect vehicle for the dressing, Ben-Ishay says in her TikTok.
Whether you ultimately consider it ranch or just a ranch substitute, there's no denying you'll find this recipe tasty if you already like creamy, flavorful dressing. Curious to see how Mother Earth's Ranch compares to the real deal? If so, check out all the steps to make it below.
Mother Earth's Ranch
Melissa Ben-Ishay
Ingredients
3 cloves garlic
1 small shallot
3 lemons
1/2 cup olive oil
1 cup spinach
1 cup dill
1 cup chives
1 cup green onion
1/3 cup nutritional yeast
1 cup raw cashews
1 teaspoon salt
Directions
Remove skin from garlic and shallot.
Juice the lemons, discarding of any seeds that fall.
Add all ingredients into blender and pulse until smooth.
Serve over chopped iceberg lettuce and enjoy!
Information
Category

Condiments/Sauces, Dressings

Total Time

9 minutes, 59 seconds